The 16 Best Denim Jackets For Men
When spring time rolls around, there's one piece of outerwear that should still remain in your rotation. Its roots, like most iconic styles, run deep. And the styling potential, like most iconic styles, is definitely high. It's not the essential navy blazer, nor is it something like a slim cardigan — we're talking about the denim jacket.
It's a style that's endured for so many decades thanks to plain old utility, toughness and wearability. The denim jacket traces its roots back to workwear and the old West, yet it's retained a modern aura and has been adopted in part by every generation of style aficionados and rebels. Its associated with rugged cool, and it's seemingly weathered bad style trends through the years (namely, the '70s and '80s). It' the rare unifying piece that's perfect for the changing seasons — it breaks in like your favorite pair of jeans, and looks just as great with time and care. It's also a universally accepted style in a way that few pieces of clothing are. Case in point: You can find 'em nowadays on everyone from modern-day fashion heroes like Daniel Craig to down-to-earth rockers the world over.
Typically crafted to fit slimmer and hit above the waist, the best denim jackets are rugged, tough and seemingly convey practiced nonchalance. That's why they look so great over everything from a classic white oxford to a rugged henley. They even manage to mimic a great navy overcoat when cut right; in short, they're the perfect way to switch up your everyday work look, and an even better option to throw on when heading out on the town after. But where to start with a jacket that's got so much history? We're taking the guesswork out of buying a denim jacket for you with this handy guide.
Clicking on these links and making a purchase may earn us a small referral fee. Learn more here.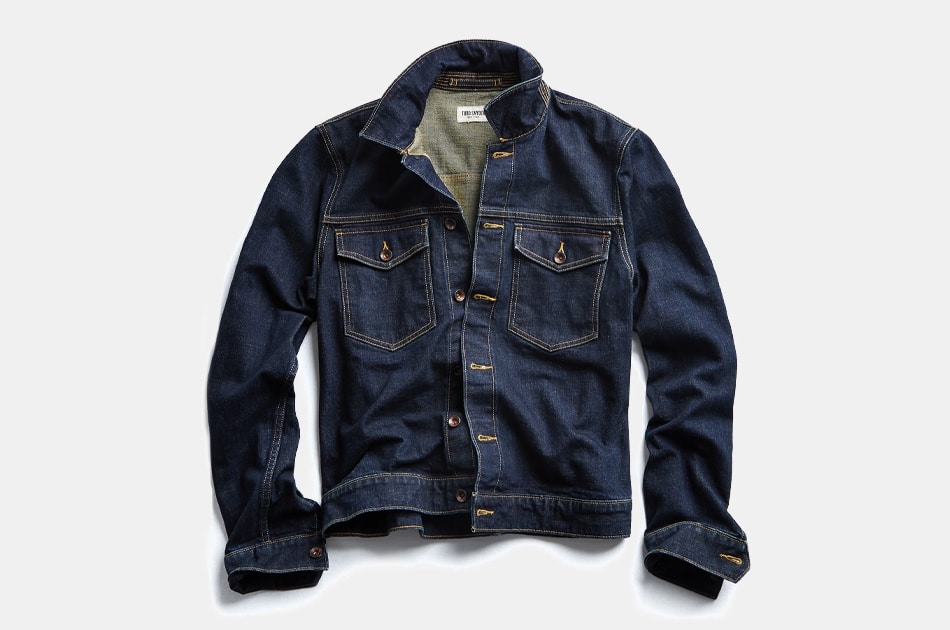 Todd Snyder Japanese Stretch Selvedge Denim Jacket
The denim jacket is among the most revered American style staples in terms of outerwear, with the sort of pedigree that most other silhouettes can't come close to matching. And when done the right way — as in, when designed by inimitable American menswear designer Todd Snyder — the denim jacket is as good as it gets. As easy to wear with olive chinos and a grey slub tee as it is with burgundy cords and a chambray shirt, this particular denim jacket is one of the best denim jackets on the market, all owing to the use of incredible Japanese stretch denim.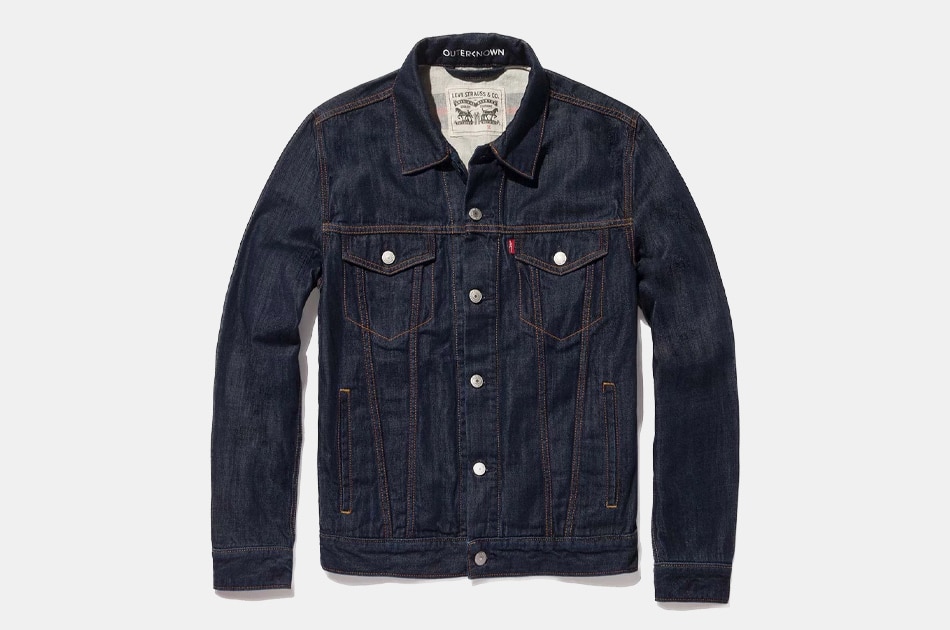 Levi's x Outerknown Wellthread Lined Trucker Jacket
How could an iconic Levi's denim jacket get any better? Why, if you imbue it with the sustainability and style expertise of the good folks at Outerknown. They've been partnering up with the historic denim brand on modern, forward-thinking and eco-conscious updates to classic Levi's products, such as this lined trucker jacket. It's durable, it's dependable, it's built to last, and it'll only get better with age. That's all you need to know, right? Right.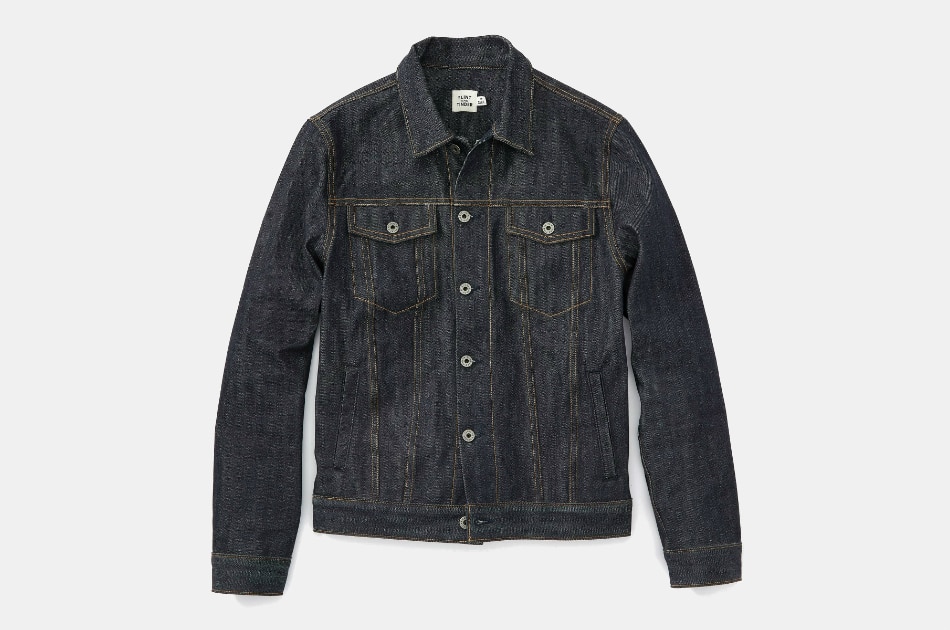 Flint and Tinder Defender Denim Trucker Jacket
Think of your favorite denim jacket (yes, you should have one), and then think of the gear being made by Flint and Tinder, everyone's favorite American-made menswear brand. Now imagine if the quality and dependability of Flint and Tinder's work (from henleys to tees to slim jeans) was translated into one heck of a denim trucker jacket. It sounds too good to be true, but that's what you're getting with the remarkable and tough-as-nails Flint and Tinder Denim Trucker Jacket.
Exceptionally high-quality selvedge denim would be great enough to start, but Flint and Tinder fine tunes this remarkable denim trucker jacket a step further through using Aramid fibers for three percent of the fabric weave — the result is a hard-wearing raw denim jacket that's going to act as a reliable outer layer all through the fall (and even into early winter, if you're feeling badass).
We also love the rich, unwashed denim — crafted to break in day by day — not to mention the custom Flint and Tinder antique metal buttons. This new Flint and Tinder option has the capacity to expand and enliven your outerwear rotation from the moment it shows up on your doorstep.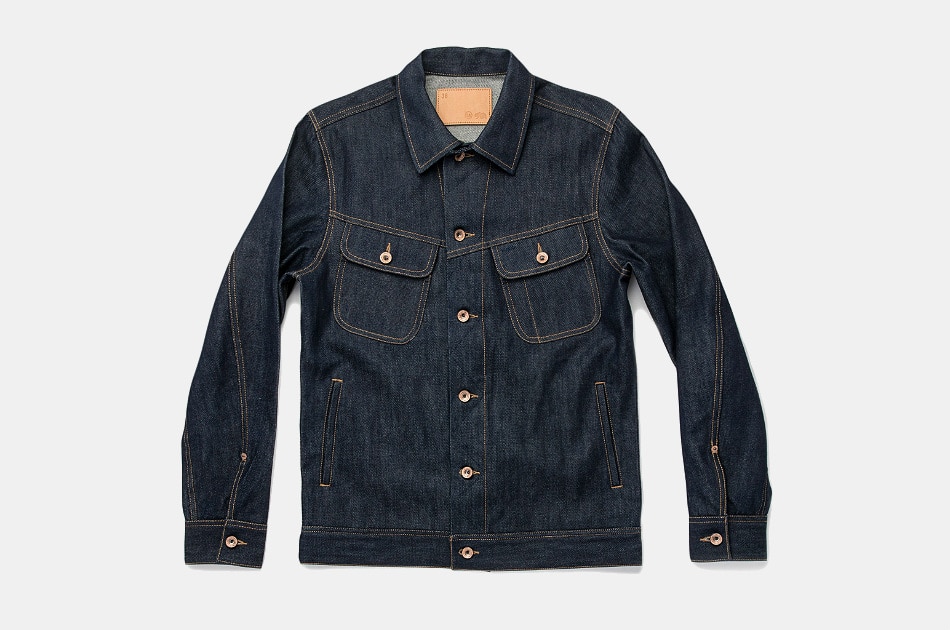 Taylor Stitch Long Haul Jacket in Organic '68 Selvage
When we talk about denim jackets that break in like your favorite jeans, this is perhaps the jacket we're talking about. Taylor Stitch turned the hard-wearing, 13-oz. 100% organic cotton custom developed with famed ISKO Mills into an excellent, inky-blue denim jacket built to last 50 years or more. Building it in America ups the ante even further, and only ensures even better quality. The custom copper buttons add a touch of refinement to a tough 13.5-oz. denim jacket that's truly built for the long haul and beyond.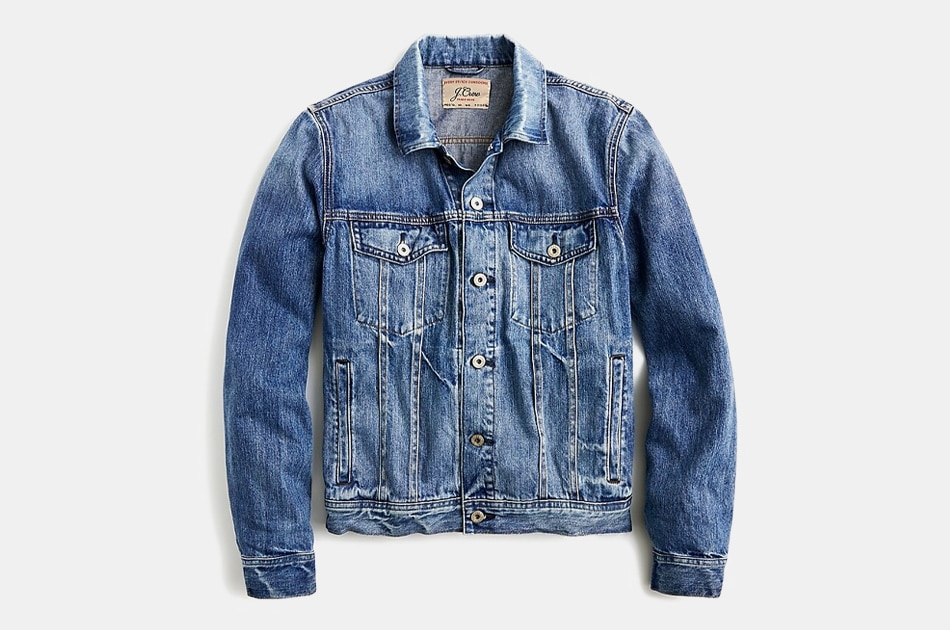 J.Crew Classic Denim Jacket
If you've perhaps stepped away from buying gear at J. Crew for the past few years, it's time to bring the staple brand back into your life (and your wardrobe). The J. Crew Classic Denim Jacket is the perfect example of the kind of easygoing-yet-versatile style sensibility for which J. Crew is known. That means you can readily wear this jacket into fall with slim grey chinos or olive corduroys in equal measure (preferably from J. Crew, of course).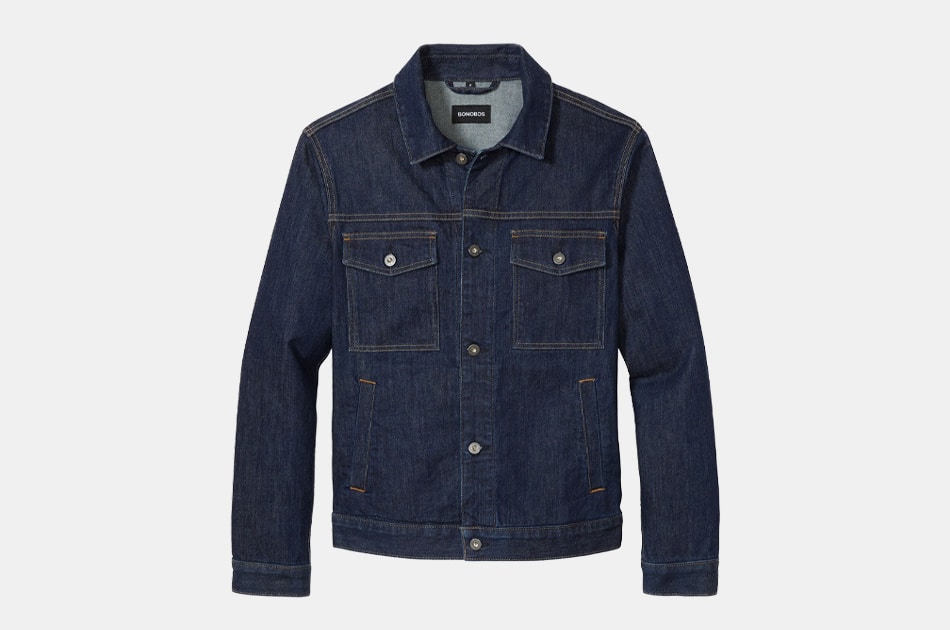 Bonobos Stretch Denim Jacket
We're all about brands that give you the potential to build outfits all at once, and all from within the digital (or physical) shopping confines of that brand's store. The Bonobos Stretch Denim Jacket is exactly what you need when it comes to both major style points and wearability, particularly when drawn up in a tailored fit and Rinse wash. It's the kind of jacket to wear with the brand's chinos and perhaps a classic Oxford shirt for a fall brunch, naturally.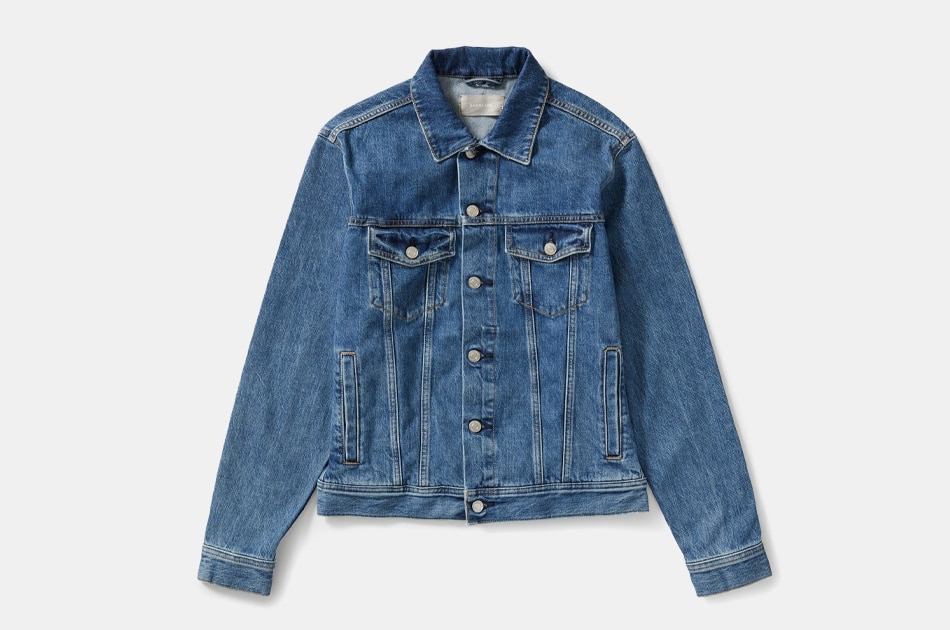 Everlane Uniform Denim Jacket
A denim jacket can be part of the uniform of daily style staples of the modern man — Everlane knows this all too well, and that's why the San Francisco-based outfitter took it upon themselves to craft up the Uniform Collection. That collection is 12 under-$100 pieces made to be mixed and matched, including the Uniform Denim Jacket in a pleasingly classic blue wash. Wear it with the Performance Chinos and a classic tee from the same collection, then get ready to turn heads anywhere you go.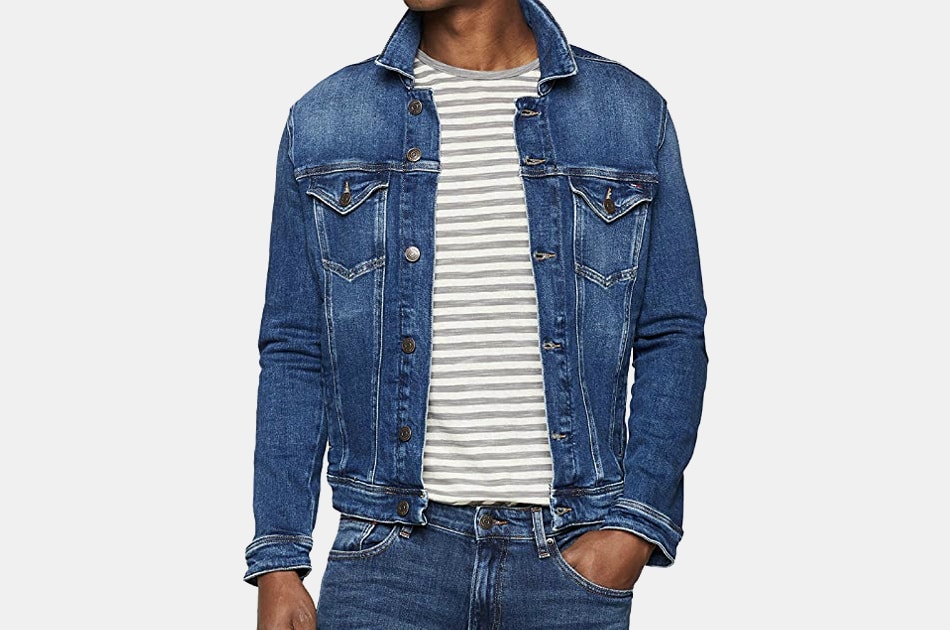 Tommy Hilfiger Classic Denim Trucker Jacket
Retro style is all the rage these days, and what better brand to channel that style than the iconic Tommy Hilfiger? Cut in a classic fit to pair with straight leg chinos and white leather sneakers, this denim jacket is destined to be a new fall layering favorite. We'd wear it with a grey crewneck sweater and black denim for go-to everyday style — the indigo color calls to mind 90's style in a way that's not overpowering. To us, it sounds like the Classic Denim Jacket belongs in your rotation for fall, and well beyond that.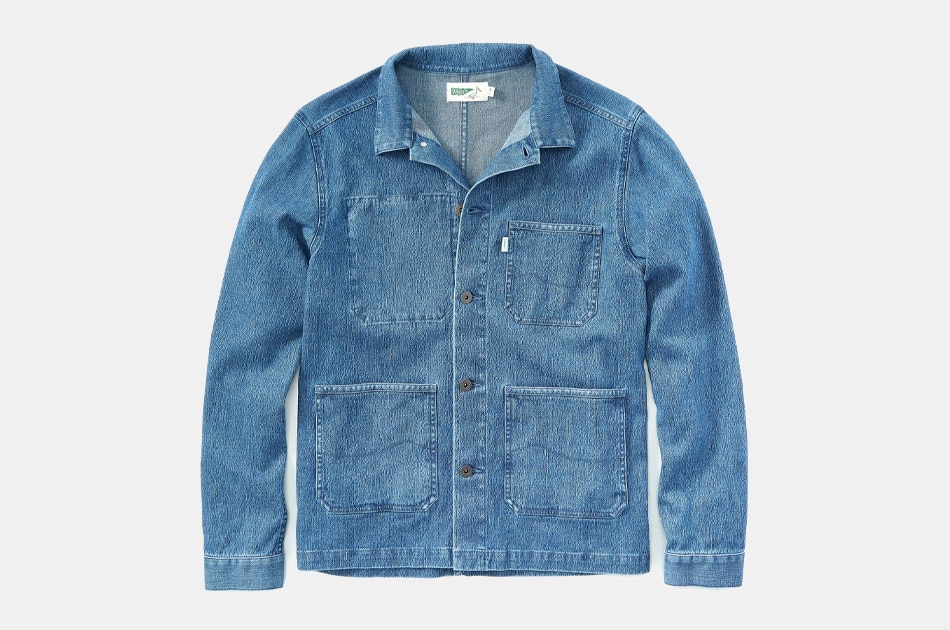 Wellen Stretch Chore Coat in Denim
The great thing about wearing a classic denim jacket is the ease with which it can be matched up with other style staples — especially when the denim jacket in question is actually done up to mimic the silhouette of a rugged chore coat. We love the unique take on the denim jacket from the new in-house line at Huckberry, and we think you'll feel the same way.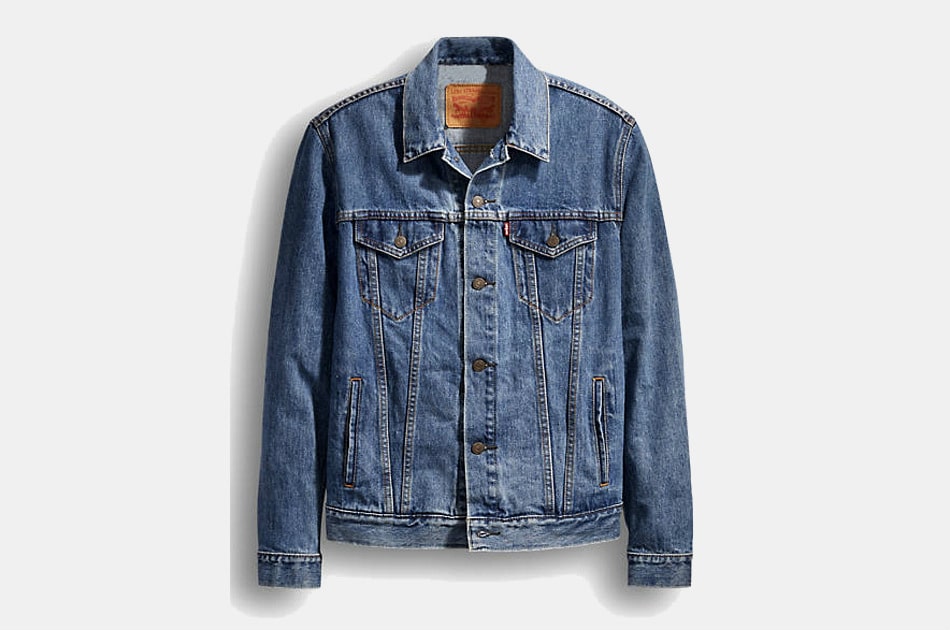 Levi's Denim Trucker Jacket
The brand that revolutionized the denim jean has also, unsurprisingly, taken that same approach to crafting a rugged, timeless and eternally stylish denim jacket. Cut in a crisp, edgy silhouette and featuring distinctive touches like the small red pocket logo patch, this trim denim jacket is an easygoing fall layering essential. Pair it with grey denim and tan moc toe boots for a quick fall weekend coffee run, or wear it with a sharp white Oxford, tan chinos and brown leather dress shoes in place of a blazer — with a brand like Levi's, it's easy to do it all.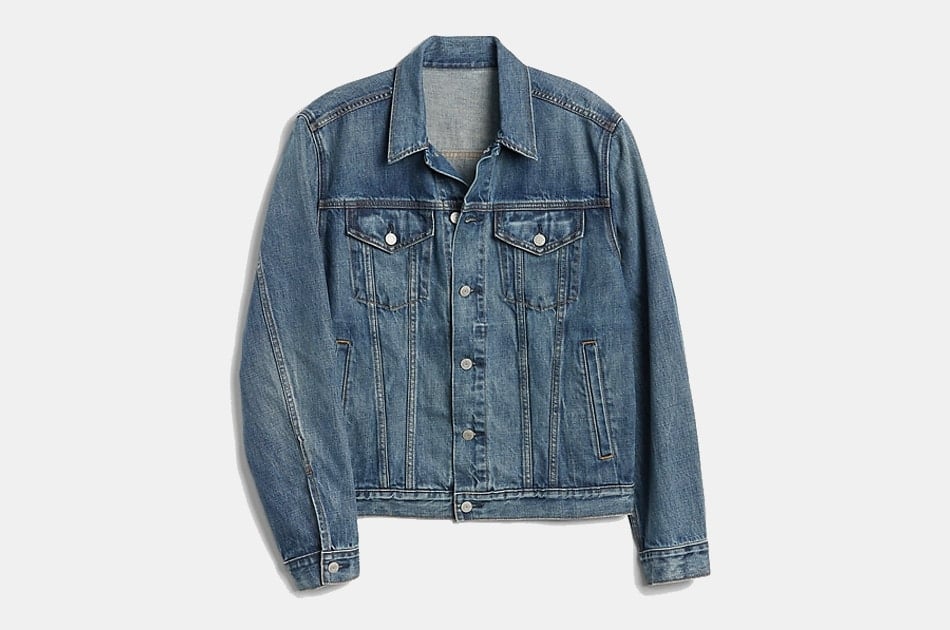 Gap Icon Denim Jacket
GAP is among a host of brands that continue to stick to the basics — in the best way possible — when it comes to easygoing, everyday style. The Icon Denim Jacket, in a pleasing shade of indigo, is the perfect layering choice when it comes to throwing on a grab-and-go piece over your favorite henley (plus tan chinos and rugged moc toe leather boots). It's reasonably priced and made to last; if we were you, we'd wear it with dark black denim from GAP, plus a crisp white T-shirt and classic high-top sneakers — now that's a style move that no one can argue with.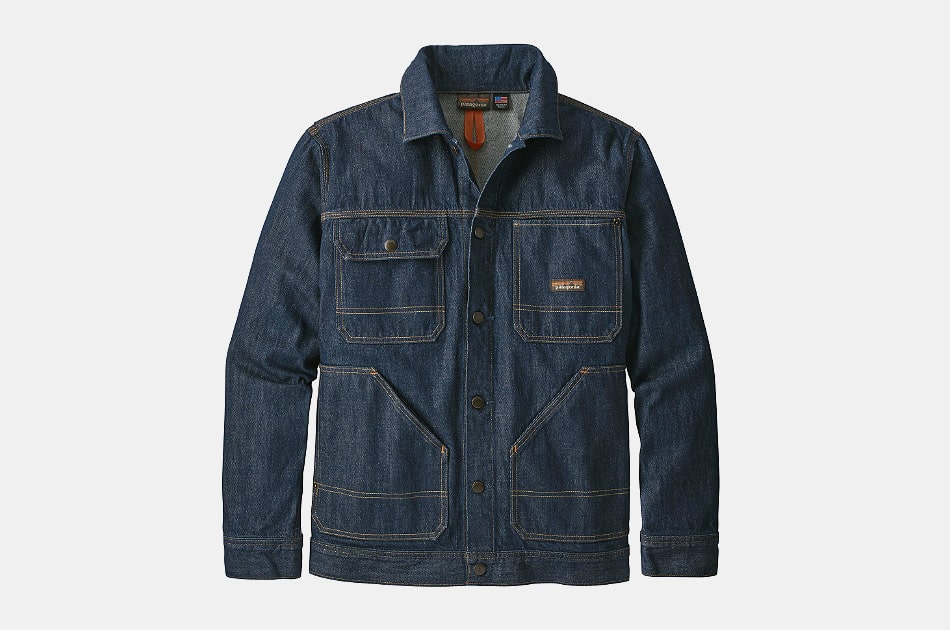 Patagonia Men's Steel Forge Denim Jacket
Since when does Patagonia make a jacket that can compete with the best of 'em? Since right now, that's when. The Steel Forge Denim Jacket blends the best of workwear inspiration with cool and classic style, and they throw in a touch of rugged functionality, too. That's evident in the use of both sustainable organic cotton and Dyneema fabric, for a tough outer layer that'll wear well with your favorite chore pants and broken-in hiking boots for a chilly Saturday hike. The fact that you can wear it to a brewpub afterward and still look great? That's just icing on the cake.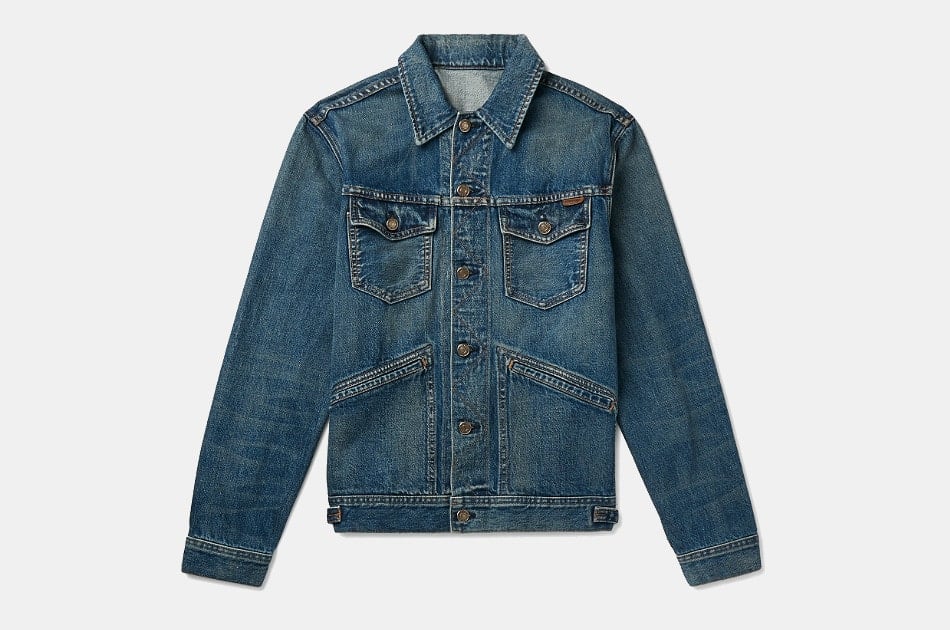 Tom Ford Denim Jacket
In recent years, Mr. Tom Ford has taken on seemingly every category across menswear and men's grooming, including the denim jacket — yes, the lauded designer known the world over for beautiful, expertly tailored suits and formalwear can also make a heck of a casual coat. Made with indigo-dyed cotton for a lived-in look and feel that'll only get better with time, pocket detailing and rich fabric make this a bold choice when worn with a crisp white tee, slim black jeans and tan Chelsea boots — Tom Ford would be proud.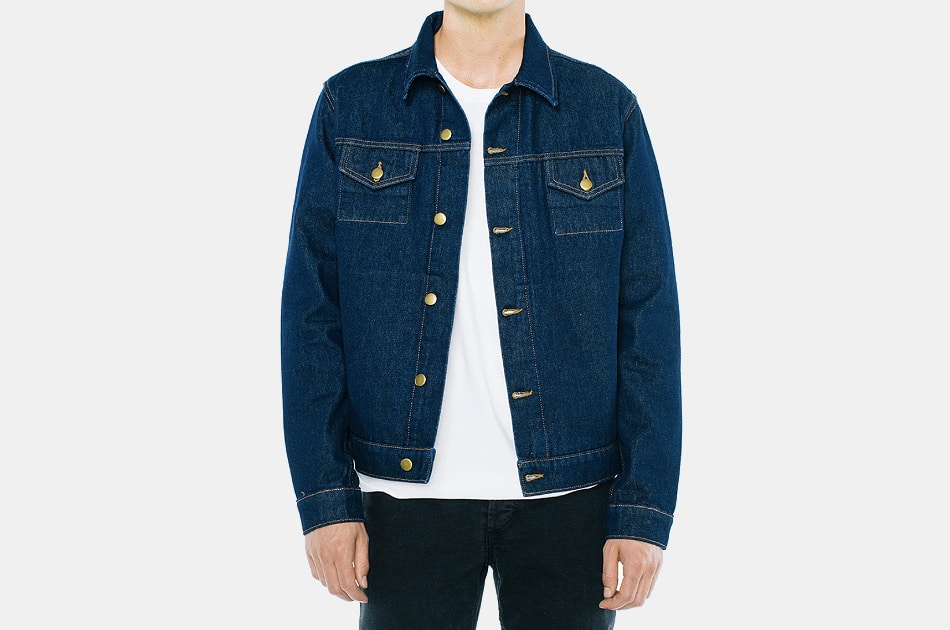 American Apparel Denim Jacket
From the unique front pocket detailing to the agreeable price and quality production, American Apparel makes a heck of a stylish, easygoing denim jacket to add to your repertoire. It should come as no surprise, seeing as denim is one of the bedrocks of the company. This crisp denim jacket is a stone-cold classic, able to pair with tobacco chinos and crisp white sneakers for standout early fall style. We say you should go with the Light Wash, for a striking and unique ensemble to step out from the pack. Your average denim jacket, this is not.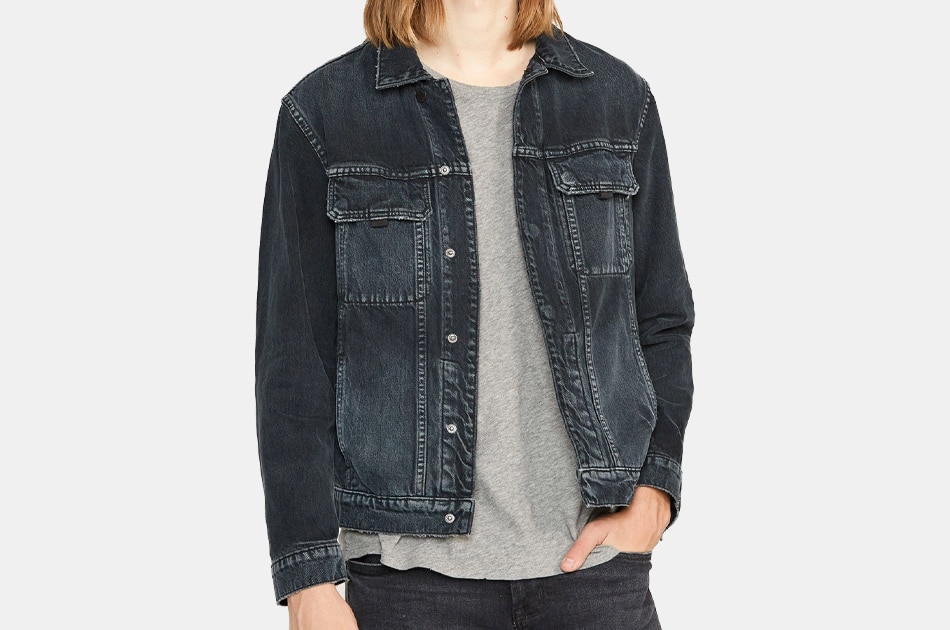 Hudson Denim Trucker Jacket
When you want one of the best denim jackets on the market, it makes sense to turn toward a brand that focuses almost exclusively on, well, denim across the board. The Hudson Denim Trucker Jacket is edgy and yet easy to wear, stylishly able to pair with a slub T-shirt and slim light wash denim for a double-denim effect. Team it with suede chukka boots and a grey crewneck sweater when it starts to get cold, too.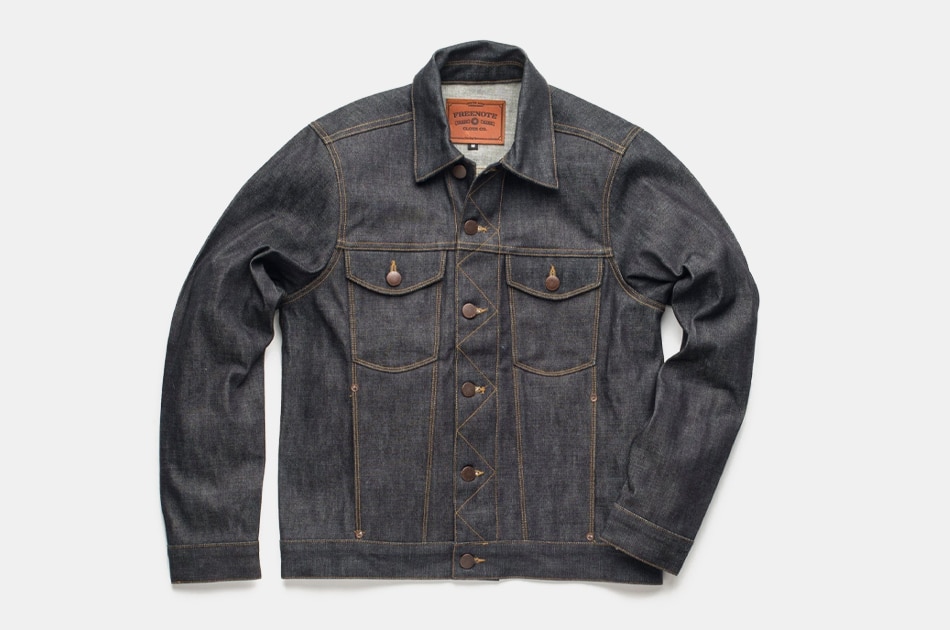 Freenote Cloth Classic Denim Jacket
If you want a brand that goes above and beyond in pursuit of men's denim (and the best denim jacket out there, naturally), you'd do worse than to reach for an option from Freenote Cloth. This brand is all about rich craftsmanship and small details, and in this case, they all come together in a way that only Freenote Cloth can manage to produce. This could be your new favorite denim jacket for fall — you'll certainly want to wear it all the time.
Disclosure: Clicking on these links and making a purchase may earn us a small referral fee, at no extra cost to you. Learn more here.