The 16 Best Denim Jackets For Men
When fall rolls around, there's one piece of outerwear to add to your rotation. Its roots, like most iconic styles, run deep. And the styling potential, like most iconic styles, is definitely high. It's not the essential navy blazer, nor is it something like a slim cardigan — we're talking about the denim jacket.
It's a style that's endured for so many decades thanks to plain old utility, toughness and wearability. The denim jacket traces its roots back to workwear and the old West, yet it's retained a modern aura and has been adopted in part by every generation of style aficionados and rebels. Its associated with rugged cool, and it's seemingly weathered bad style trends through the years (namely, the '70s and '80s). It' the rare unifying piece that's perfect for the changing seasons — it breaks in like your favorite pair of jeans, and looks just as great with time and care. It's also a universally accepted style in a way that few pieces of clothing are. Case in point: You can find 'em nowadays on everyone from modern-day fashion heroes like Daniel Craig to down-to-earth rockers the world over.
Typically crafted to fit slimmer and hit above the waist, the best denim jackets are rugged, tough and seemingly convey practiced nonchalance. That's why they look so great over everything from a classic white oxford to a rugged henley. They even manage to mimic a great navy overcoat when cut right; in short, they're the perfect way to switch up your everyday work look, and an even better option to throw on when heading out on the town after. But where to start with a jacket that's got so much history? We're taking the guesswork out of buying a denim jacket for you with this handy guide.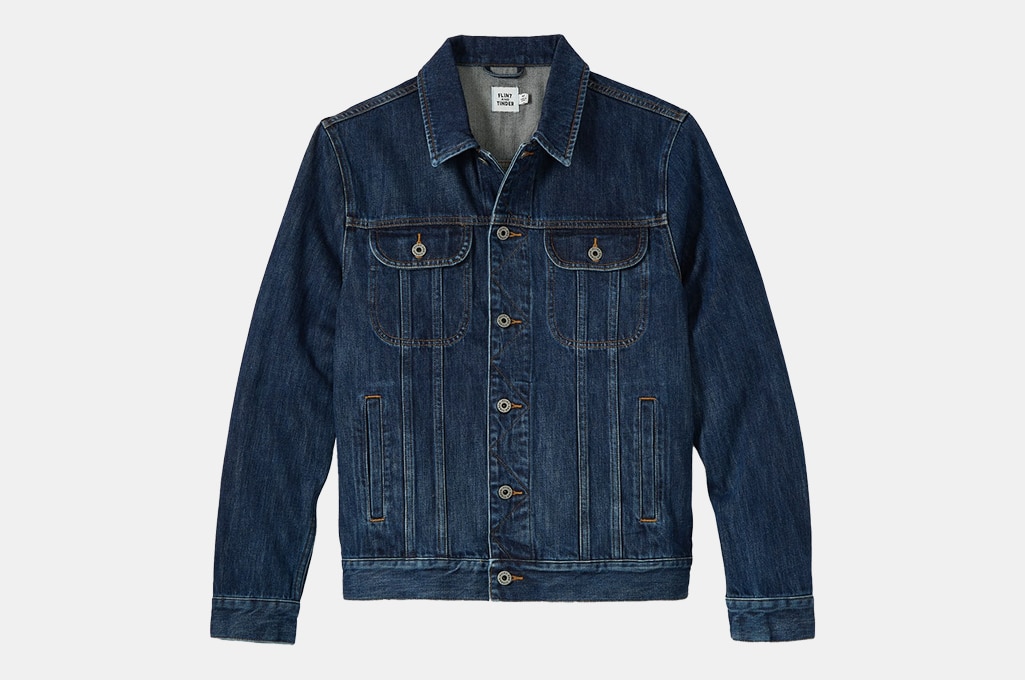 Flint and Tinder Denim Jacket
If ever you've tried classic Flint and Tinder denim or the legendary Flint and Tinder Waxed Trucker Jacket, you know the brand is assuredly up to snuff — to say the very least. The classic denim jacket gets the Flint and Tinder treatment here, in a dark wash that'll develop a unique patina, making it ideal to wear with some Flint and Tinder 365 Pants any day of the week (Zoom calls and brewery runs included).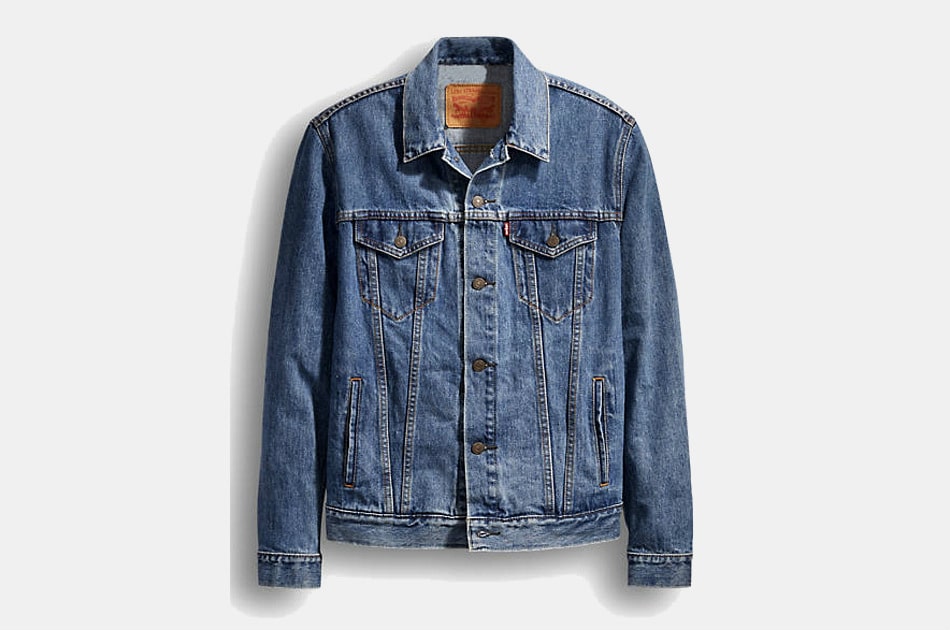 Levi's Denim Trucker Jacket
The brand that revolutionized the denim jean has also, unsurprisingly, taken that same approach to crafting a rugged, timeless and eternally stylish denim jacket. Cut in a crisp, edgy silhouette and featuring distinctive touches like the small red pocket logo patch, this trim denim jacket is an easygoing fall layering essential. Pair it with grey denim and tan moc toe boots for a quick fall weekend coffee run, or wear it with a sharp white Oxford, tan chinos and brown leather dress shoes in place of a blazer — with a brand like Levi's, it's easy to do it all.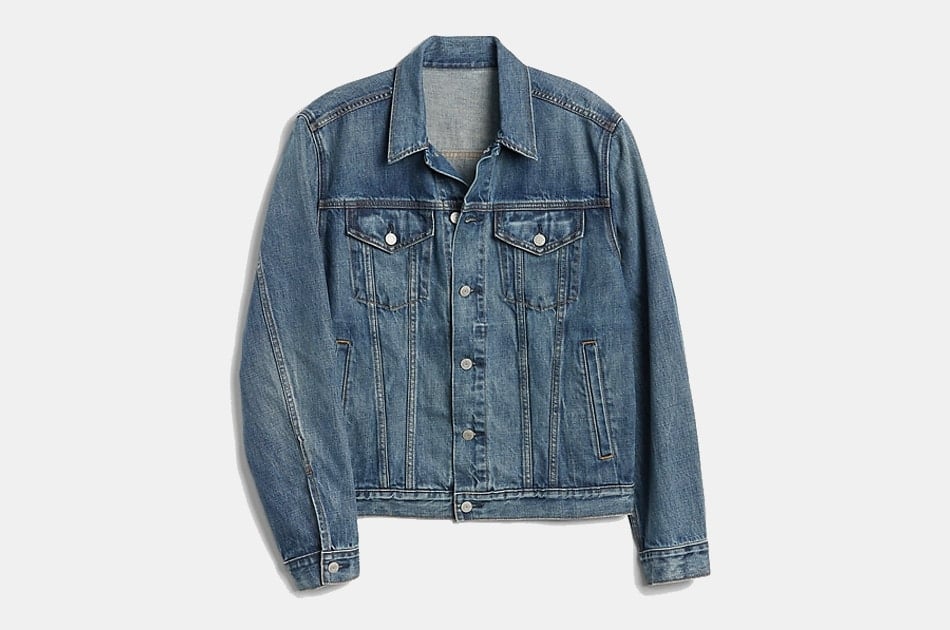 Gap Icon Denim Jacket
GAP is among a host of brands that continue to stick to the basics — in the best way possible — when it comes to easygoing, everyday style. The Icon Denim Jacket, in a pleasing shade of indigo, is the perfect layering choice when it comes to throwing on a grab-and-go piece over your favorite henley (plus tan chinos and rugged moc toe leather boots). It's reasonably priced and made to last; if we were you, we'd wear it with dark black denim from GAP, plus a crisp white T-shirt and classic high-top sneakers — now that's a style move that no one can argue with.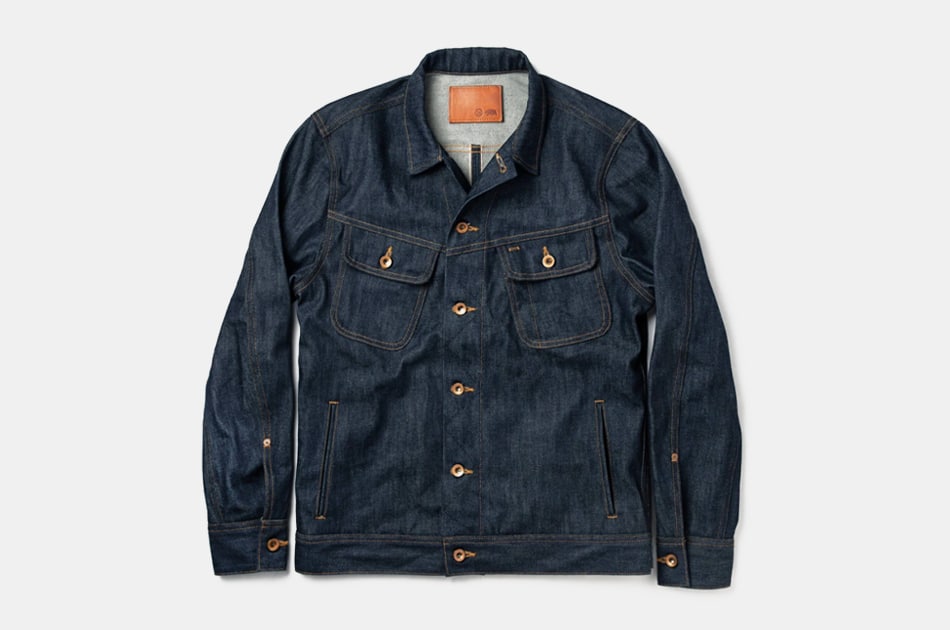 Taylor Stitch Long Haul Jacket in Selvage Denim
It'd be one thing for Taylor Stitch to simply make one of the best denim jackets around, and it's another thing entirely when you consider that they're using some of the most rare denim fabric on the planet to craft the latest Long Haul Jacket. That's right: The good folks at Taylor Stitch are using Cone Mills Reserve Selvage, from the now-closed and legendary denim factory Cone Mills, to make one of the coolest denim jackets we've seen in a long time. Act accordingly to get yours now.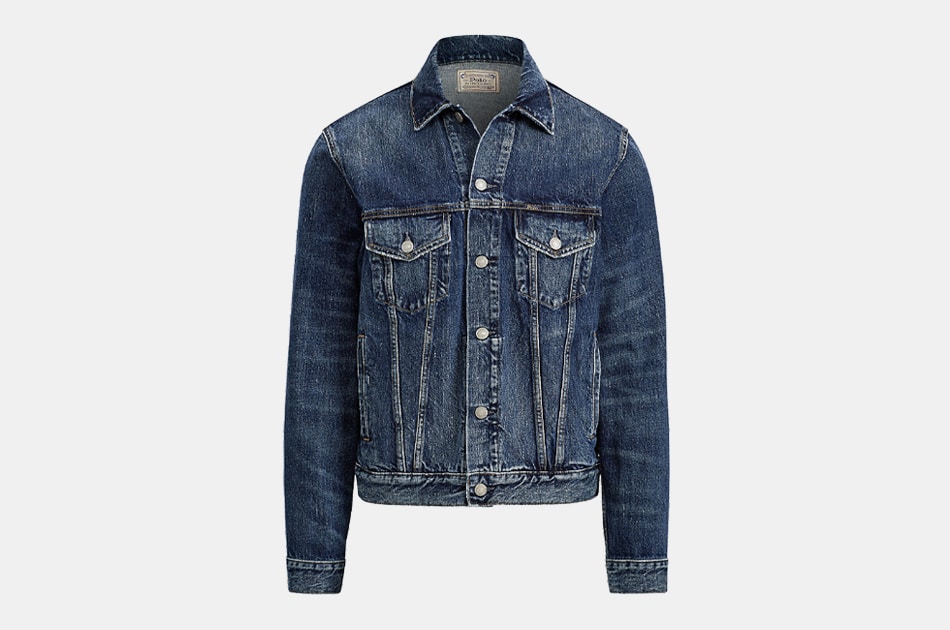 Polo Ralph Lauren Faded Denim Trucker Jacket
Polo Ralph Lauren has excelled at making truly classic, iconic menswear for decades, so it should come as no surprise that the brand can also churn out one of the best denim jackets, no sweat. The Polo Ralph Lauren Faded Denim Trucker Jacket checks all the right boxes as far as iconic, casual and cool style goes, making it the perfect transitional jacket for these days.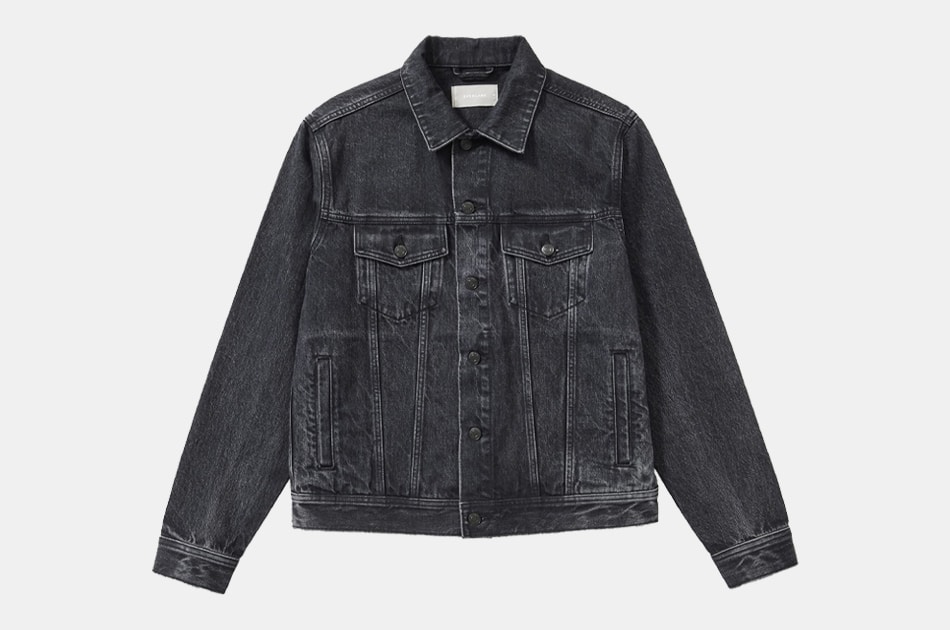 Everlane Denim Uniform Jacket
The Everlane Uniform Collection is the stuff dreams are made of, featuring plenty of men's style essentials for the modern man that can be mixed and matched at will. The Everlane Denim Jacket, especially in an edgy and yet easy-to-style Washed Black colorway, is as good as it gets if you want a bit of rock 'n' roll style on a budget this season (and who doesn't want that?).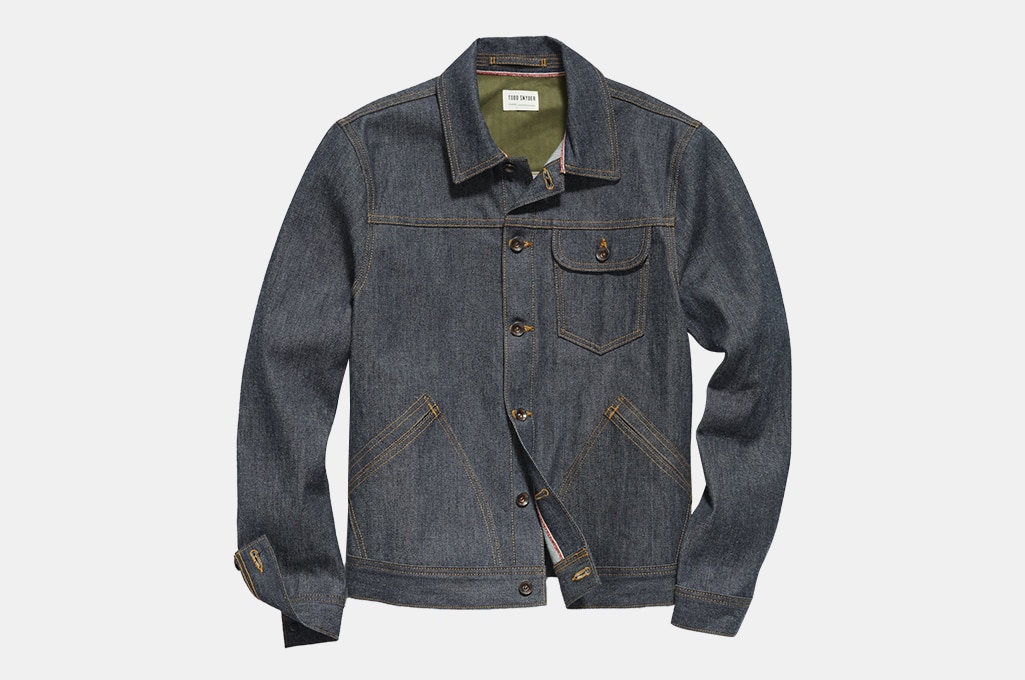 Todd Snyder Made in USA Rigid Jacket in Indigo
American fashion designer Todd Snyder brings it back to the classic, timeless jacket look we fell in love with all those years ago. The Made in USA Rigid Jacket in Indigo is woven on Vidalia Draper looms in Louisiana, using "small batch denim" made entirely from locally grown cotton. Designed after workwear from way back in the '40s, the jacket comes with special trapunto stitching under the neck. Side tab adjusters at the back waist make it better fit your frame. It starts out stiff on your first few wears, but once you break in the fabric, it will quickly become your all-time favorite jacket and one of the most comfortable things you'll ever wear.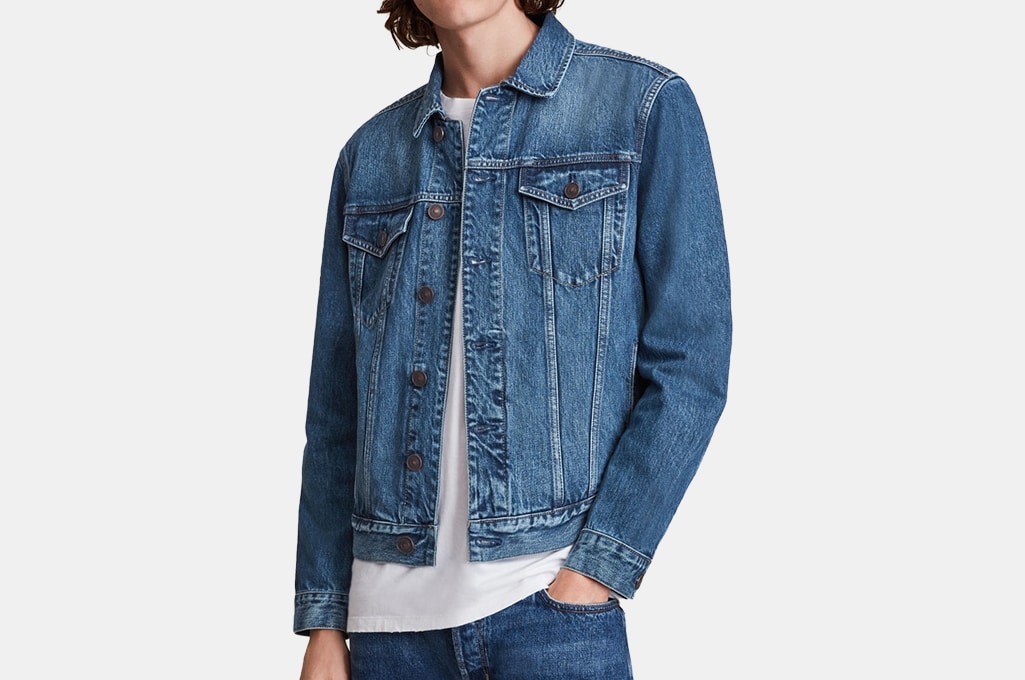 AllSaints Kirkby Denim Jacket
Take this jacket with you on the road, and you'll always travel in style. The AllSaints Kirkby Denim Jacket is cut in the "trucker jacket" fashion, made using AllSaints sustainably farmed cotton and recycled fabric. Even the coloring comes from natural indigo plant dye, giving it that vintage denim jacket look you know and love. Pair it with jeans or your favorite pair of chinos—this jacket looks good no matter what you wear it with, and as long as you've got it on, you'll be ready for anything.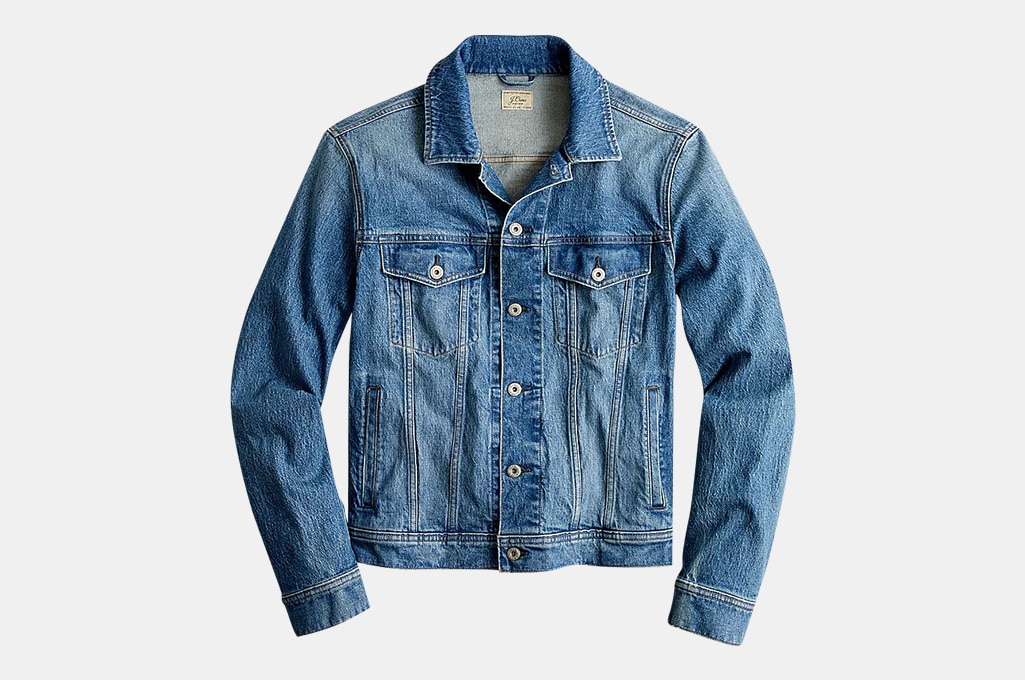 J.Crew Denim Jacket
J.Crew keeps it simple, with tried and tested designs that have been around forever and still look amazing. Their Denim Jacket delivers on top-notch quality while still offering a bargain-priced garment, one you'll love wearing around town. Made from rugged pure cotton denim, it's patterned after the original denim jackets, those worn by railway workers and cowboys way back when denim first made its appearance in the fashion world. It's tough, classy, and once broken in, a truly comfortable jacket with just the right amount of fading.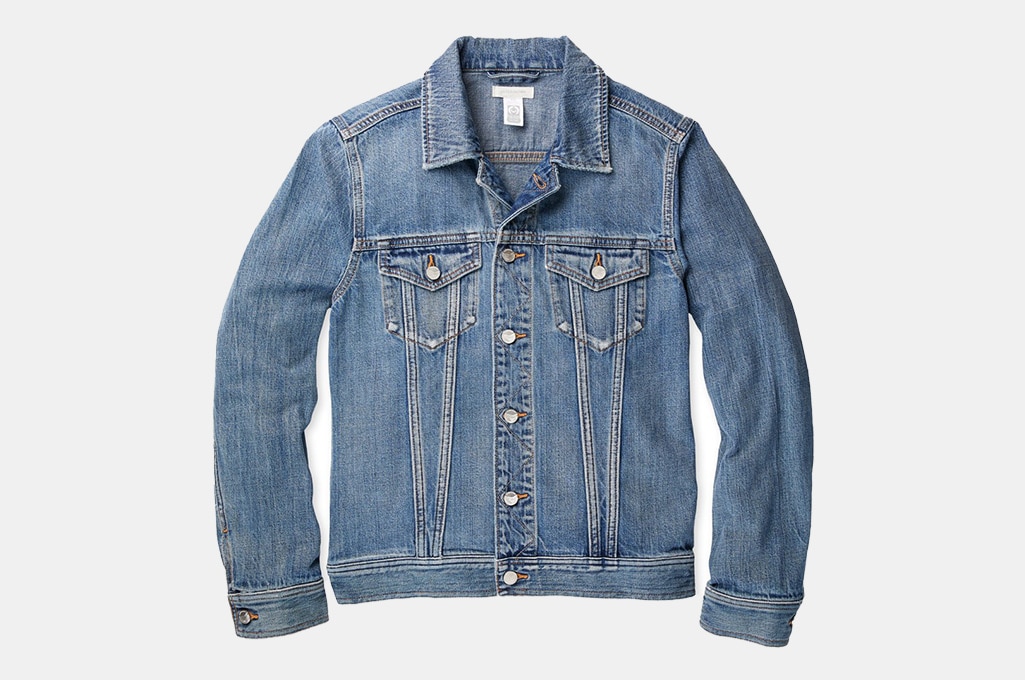 Outerknown Peacenik Denim Trucker
Outerknown brings a truly marvelous outer layer in the Peacenik Denim Trucker jacket, an item you'll love wearing in every corner of the country, on every long-haul trip. It's made using a blend of recycled and organic cotton, making it an eco-friendly and environmentally responsible product. It's even sewn in a Fair Trade Certified factory, so you know it's a quality product positively impacting the lives of all those who have a hand in producing it. And for your comfort, it's given an extra washing to make it feel super-soft and well-worn before you slip it on for the first time—and it just gets better from there.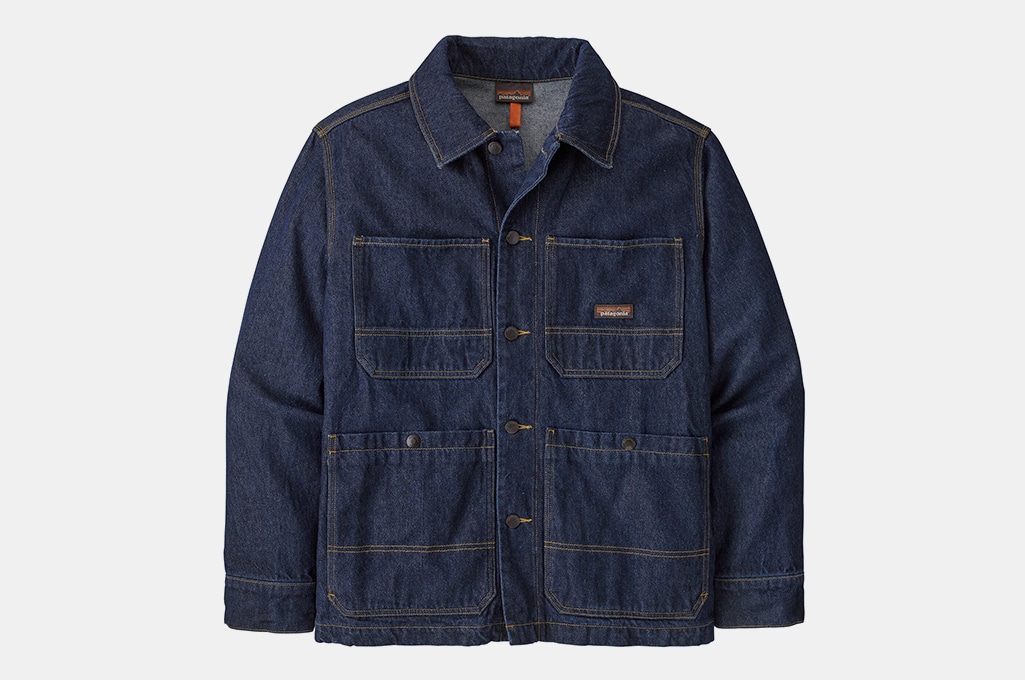 Patagonia Men's Hemp Denim Chore Coat
For a truly hardcore, work-style coat, this Hemp Denim Chore Coat from Patagonia is exactly what you need. It's cut in the chore coat style ideal for guys who do heavy lifting or put in a full day of work, and the hemp denim blend fabric is far tougher than any pure cotton denim around. In fact, combining these two materials makes this one of the longest-lasting denim jackets you can wear to work, with a highly abrasion-resistant exterior and comfortable, broken-in feel. With two drop-in pockets on the chest, a couple of drop-in pockets on the lower front, side-entry handwarmer pockets, and rear drop-in pockets, it's a workman's dream coat to carry all the tools they need on the job.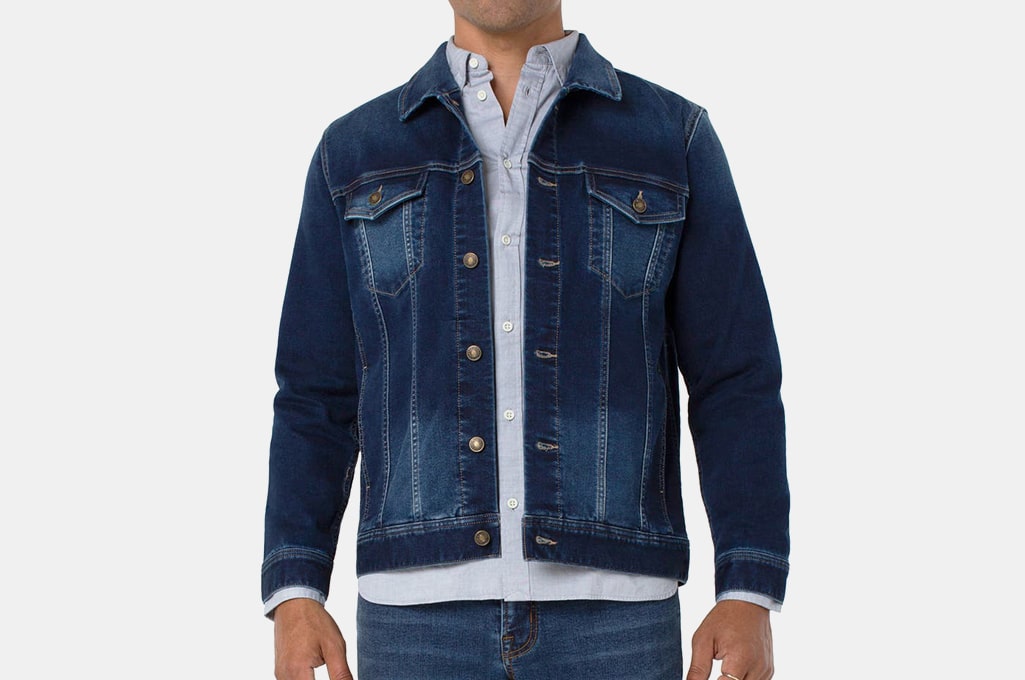 Liverpool Los Angeles Liverpool Stretch Denim Jacket
Cotton denim can be stiff and inflexible at first, making the breaking-in process a bit uncomfortable. Not so with the Liverpool Stretch Denim Jacket from Liverpool Los Angeles. Mixed into the cotton denim is just a hint of polyester and spandex, fabrics that give elasticity and provide excellent breathability to the denim. The jacket looks absolutely stylish thanks to its faded "washed out" finish, and it's guaranteed to be one of the comfiest denim jackets you'll ever wear.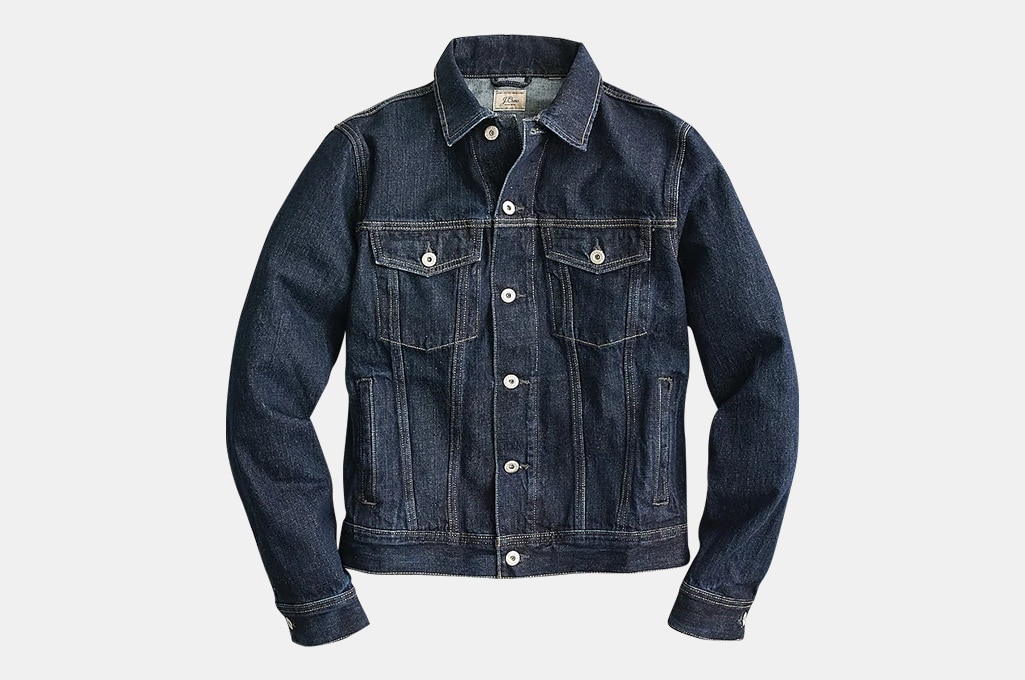 J.Crew Rigid Denim Jacket
When you want a jacket you can trust to handle anything life throws at it, consider the J.Crew Rigid Denim Jacket. Made from stiff, tough-as-nails denim, it's a heavier-weight coat than most on our list, which offers extra protection against both wear and the weather. It's a stylish addition to your casual going-out wardrobe and a great workwear garment, with a dark coloring that pairs perfectly with everything from casual slacks to your favorite work pants. Plus, it's cut in the classic style that throws back to the days of cowboys and railroad workers, a timeless look for sure.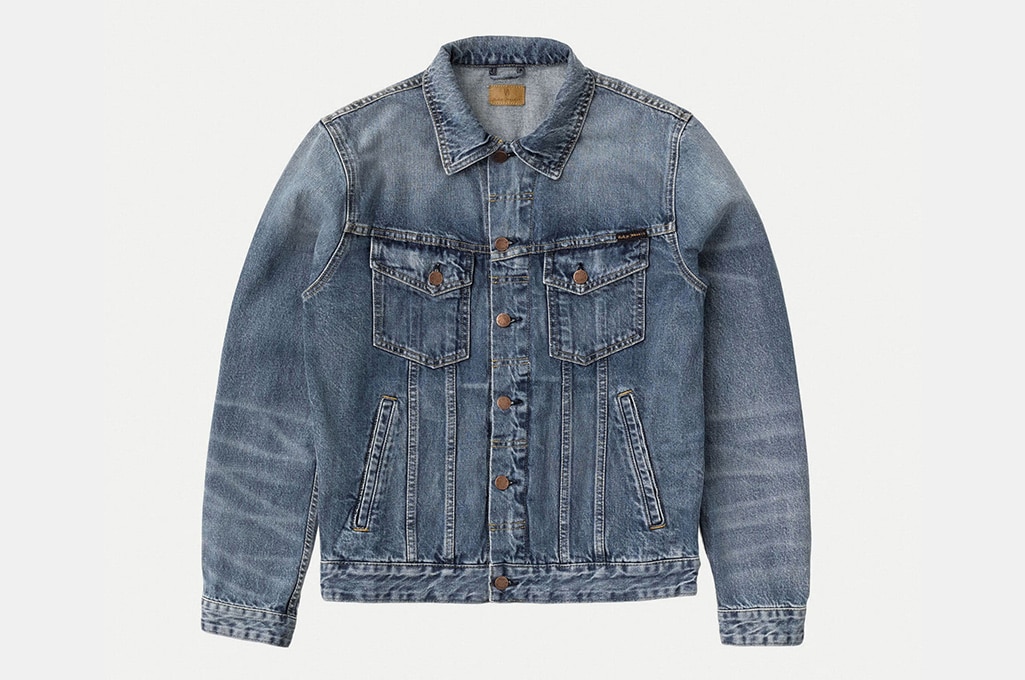 Nudie Jeans Bobby Blue Tribe Denim
The Nudie Jeans brand lives by the idea that clothing should be well-made so they can be well-loved and worn forever, but it should also protect the environment and those working to manufacture them. It's no surprise, then, that the Bobby Blue Tribe Denim jacket ends up on this list. It's a work of art, cut and finished in a vintage style you're absolutely going to love, made using a mix of organic and pre-consumer recycled cotton. Guys with leaner physiques will love the slim fit, but everyone who wears it will find it quickly becomes their favorite jacket because it just works.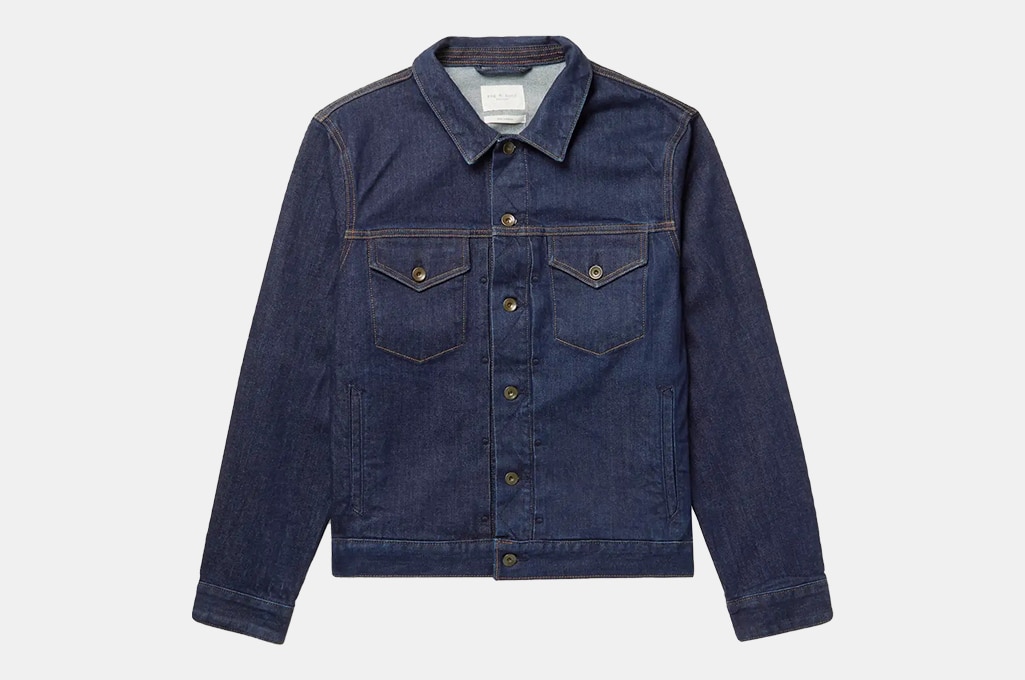 Rag & Bone Definitive Rinsed-Denim Jacket
Rag & Bone is a brand that loves to play around with classic styles, giving them an upgrade to bring them up-to-date with the latest and greatest fashion. One look at the Definitive Rinsed-Denim Jacket, and you'll know exactly what I mean. It's cut in the classic trucker style but given an update by adding synthetic fibers into the cotton denim, producing a blend that lasts longer and wears better. The more you use it, the more it will fade and "whisker" until it's that perfect jacket you've worn and loved for years.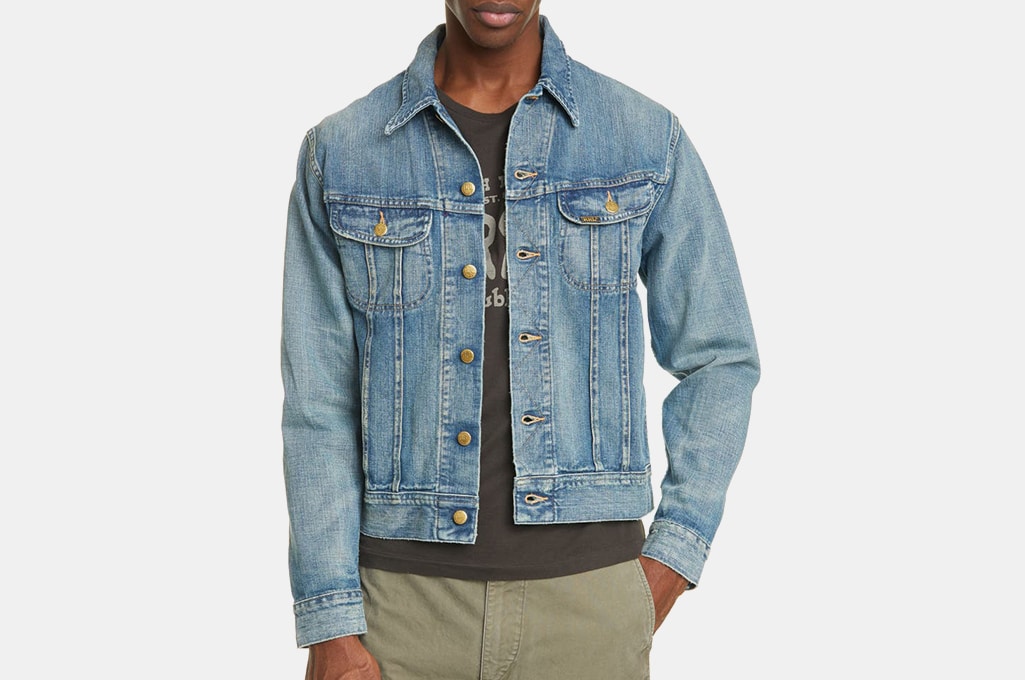 RRL Lot 271 Midweight Denim Jacket
The RRL Lot 271 Midweight Denim Jacket is unlike any of the other coats on this list. It's made from mid-weight denim that offers surprisingly good protection against the cold without feeling bulky or stifling. The jacket uses Japanese denim, often considered the best denim in the world thanks to the fact that it's woven on shuttle looms using natural indigo dyes and only premium yarns. The jacket's unique stone-washed and faded finish gives it a look that harkens back to the 1950s, and everything from the double-stitched seams to the pointed collar to the button cuffs screams "classic and classy."
Disclosure: Clicking on these links and making a purchase may earn us a small referral fee, at no extra cost to you. Learn more here.
freestar.config.enabled_slots.push({ placementName: "gearmoose_leaderboard_btf", slotId: "gearmoose_leaderboard_btf" });