The 16 Best Denim Jackets For Men
When fall rolls around, there's one piece of outerwear to add to your rotation. Its roots, like most iconic styles, run deep. And the styling potential, like most iconic styles, is definitely high. It's not the essential navy blazer, nor is it something like a slim cardigan — we're talking about the denim jacket.
It's a style that's endured for so many decades thanks to plain old utility, toughness and wearability. The denim jacket traces its roots back to workwear and the old West, yet it's retained a modern aura and has been adopted in part by every generation of style aficionados and rebels. Its associated with rugged cool, and it's seemingly weathered bad style trends through the years (namely, the '70s and '80s). It' the rare unifying piece that's perfect for the changing seasons — it breaks in like your favorite pair of jeans, and looks just as great with time and care. It's also a universally accepted style in a way that few pieces of clothing are. Case in point: You can find 'em nowadays on everyone from modern-day fashion heroes like Daniel Craig to down-to-earth rockers the world over.
Typically crafted to fit slimmer and hit above the waist, the best denim jackets are rugged, tough and seemingly convey practiced nonchalance. That's why they look so great over everything from a classic white oxford to a rugged henley. They even manage to mimic a great navy overcoat when cut right; in short, they're the perfect way to switch up your everyday work look, and an even better option to throw on when heading out on the town after. But where to start with a jacket that's got so much history? We're taking the guesswork out of buying a denim jacket for you with this handy guide.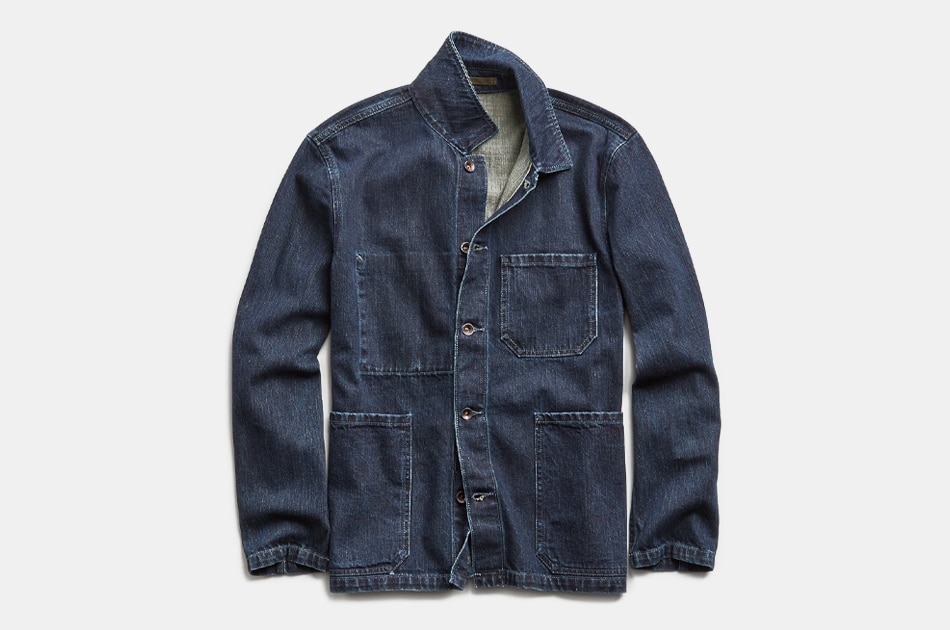 Todd Snyder Japanese Indigo Rinsed Chore Coat
If you want some of the best menswear on the planet, you can hardly go wrong with Todd Snyder. The famed NYC designer has turned his considerable prowess toward the classic denim jacket, using standout Japanese denim to craft a rinsed indigo chore coat that's at once modern and yet old-school, and perfectly wearable atop your favorite Todd Snyder henley.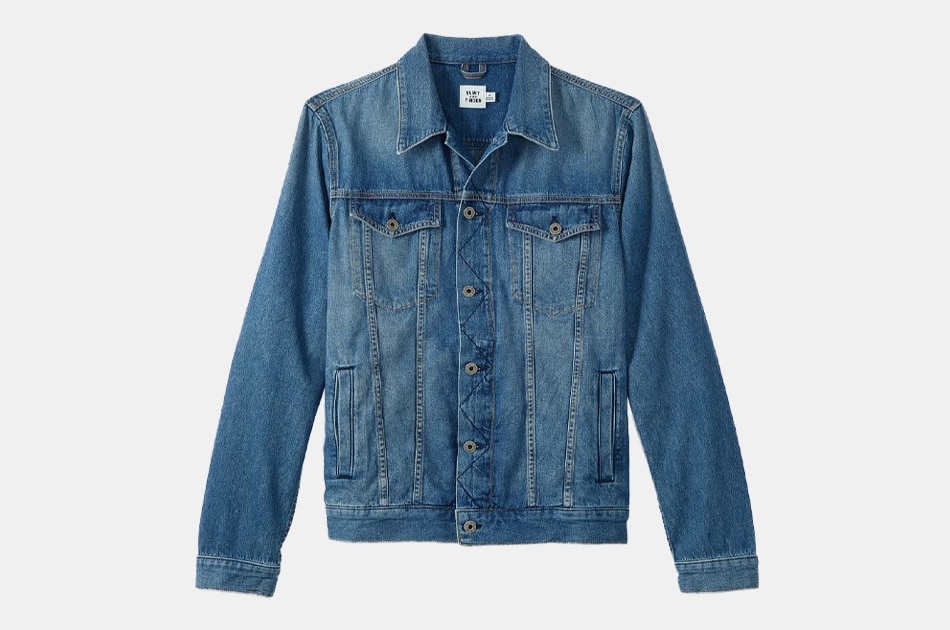 Flint and Tinder Light Wash Denim Jacket
If ever you've tried classic Flint and Tinder denim or the legendary Flint and Tinder Waxed Trucker Jacket, you know the brand is assuredly up to snuff — to say the very least. The classic denim jacket gets the Flint and Tinder treatment here, in a cool wash that's not too faded out, making it ideal to wear with some Flint and Tinder 365 Pants any day of the week (Zoom calls and brewery runs included).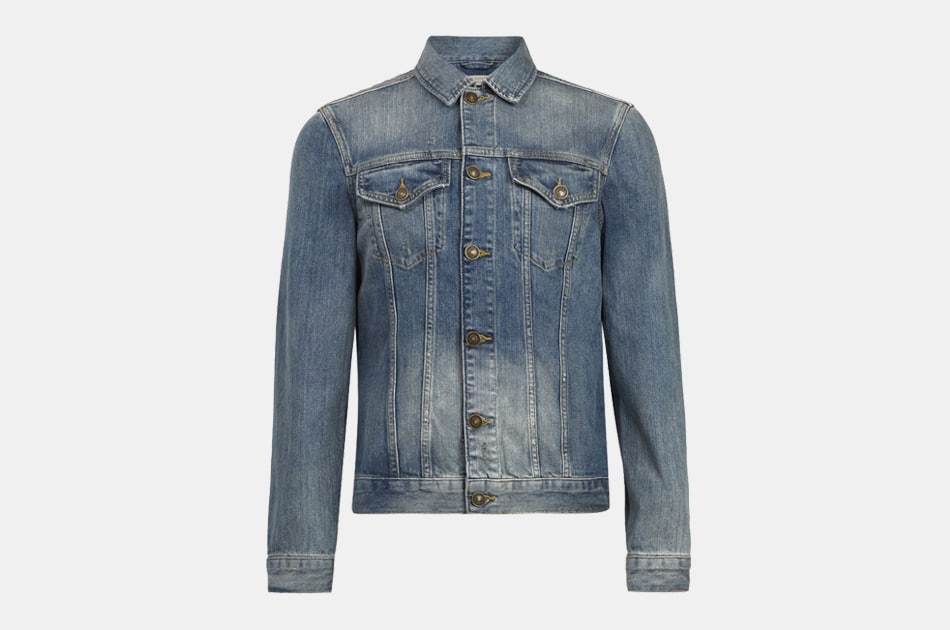 AllSaints Inverness Denim Jacket
AllSaints cuts no corners with this seriously cool denim jacket, the kind that would look great at a rock concert or a dive bar in equal measure. It's got that throwback appeal and yet the sort of modern fit and design details that make it reliable and ready to pair with slim black jeans, a fresh white tee, and scuffed-up moto boots, to name but a few stellar supporting menswear essentials.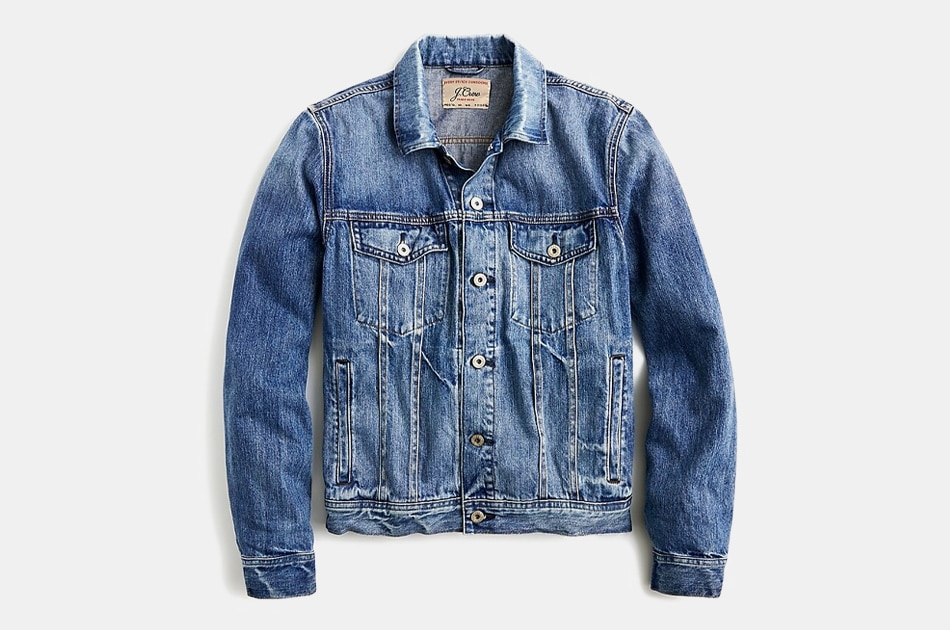 J.Crew Classic Denim Jacket
If you've perhaps stepped away from buying gear at J. Crew for the past few years, it's time to bring the staple brand back into your life (and your wardrobe). The J. Crew Classic Denim Jacket is the perfect example of the kind of easygoing-yet-versatile style sensibility for which J. Crew is known. That means you can readily wear this jacket into fall with slim grey chinos or olive corduroys in equal measure (preferably from J. Crew, of course).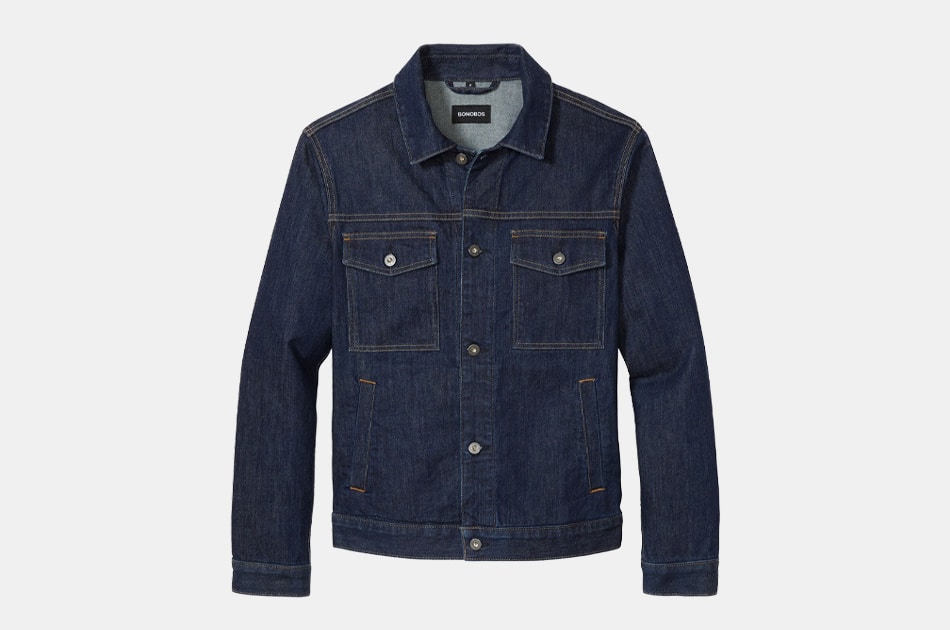 Bonobos Stretch Denim Jacket
We're all about brands that give you the potential to build outfits all at once, and all from within the digital (or physical) shopping confines of that brand's store. The Bonobos Stretch Denim Jacket is exactly what you need when it comes to both major style points and wearability, particularly when drawn up in a tailored fit and Rinse wash. It's the kind of jacket to wear with the brand's chinos and perhaps a classic Oxford shirt for a fall brunch, naturally.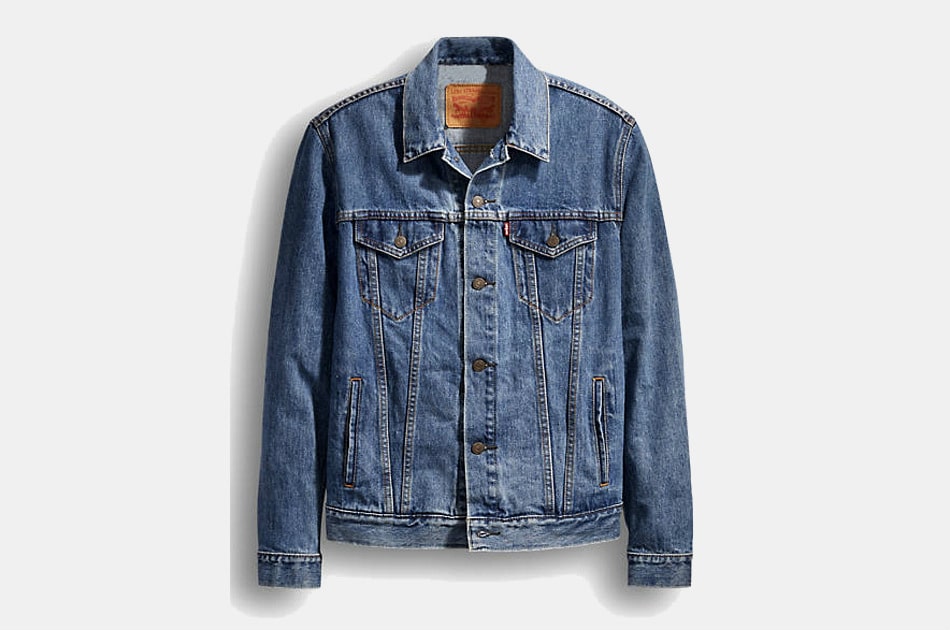 Levi's Denim Trucker Jacket
The brand that revolutionized the denim jean has also, unsurprisingly, taken that same approach to crafting a rugged, timeless and eternally stylish denim jacket. Cut in a crisp, edgy silhouette and featuring distinctive touches like the small red pocket logo patch, this trim denim jacket is an easygoing fall layering essential. Pair it with grey denim and tan moc toe boots for a quick fall weekend coffee run, or wear it with a sharp white Oxford, tan chinos and brown leather dress shoes in place of a blazer — with a brand like Levi's, it's easy to do it all.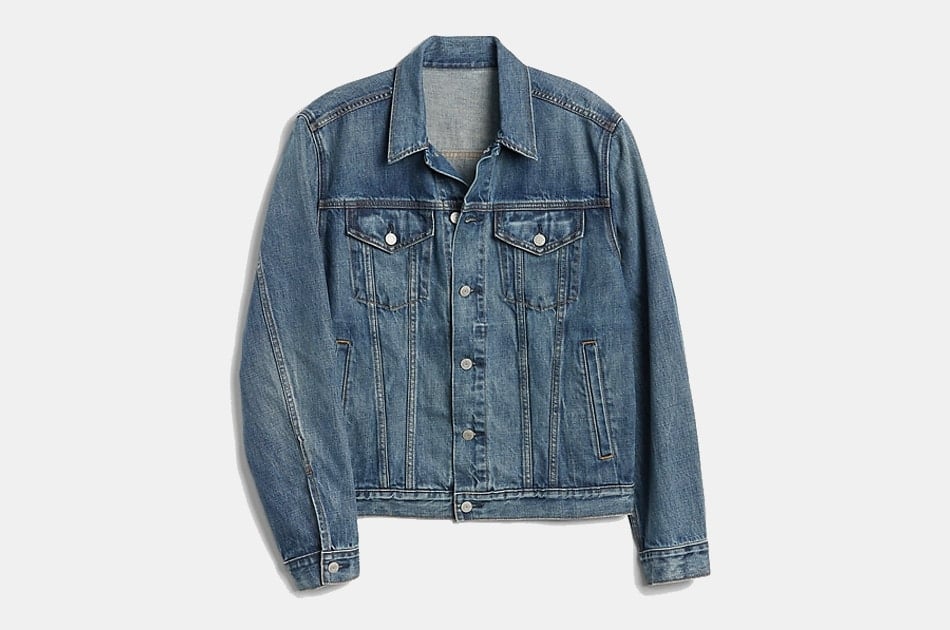 Gap Icon Denim Jacket
GAP is among a host of brands that continue to stick to the basics — in the best way possible — when it comes to easygoing, everyday style. The Icon Denim Jacket, in a pleasing shade of indigo, is the perfect layering choice when it comes to throwing on a grab-and-go piece over your favorite henley (plus tan chinos and rugged moc toe leather boots). It's reasonably priced and made to last; if we were you, we'd wear it with dark black denim from GAP, plus a crisp white T-shirt and classic high-top sneakers — now that's a style move that no one can argue with.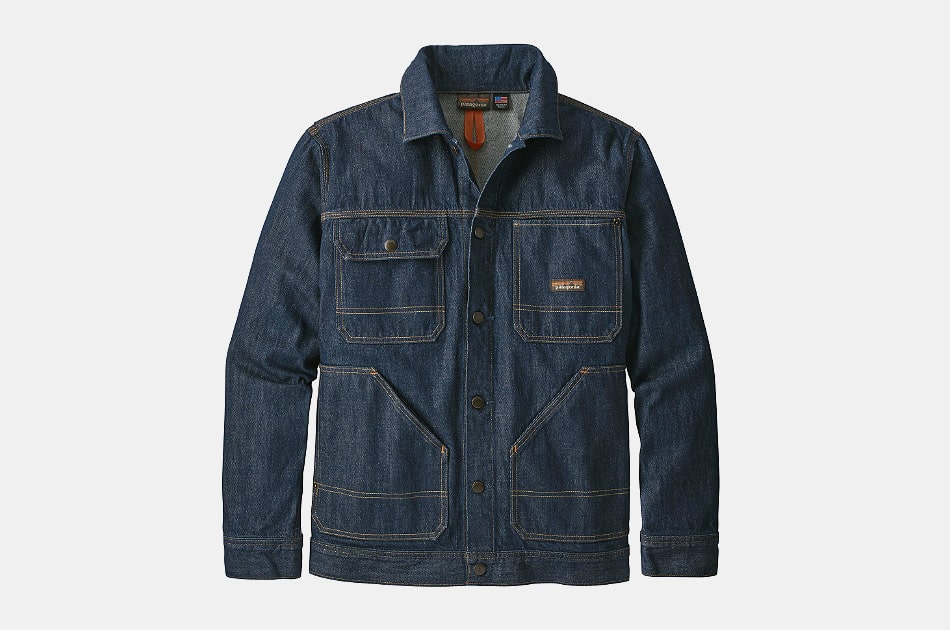 Patagonia Men's Steel Forge Denim Jacket
Since when does Patagonia make a jacket that can compete with the best of 'em? Since right now, that's when. The Steel Forge Denim Jacket blends the best of workwear inspiration with cool and classic style, and they throw in a touch of rugged functionality, too. That's evident in the use of both sustainable organic cotton and Dyneema fabric, for a tough outer layer that'll wear well with your favorite chore pants and broken-in hiking boots for a chilly Saturday hike. The fact that you can wear it to a brewpub afterward and still look great? That's just icing on the cake.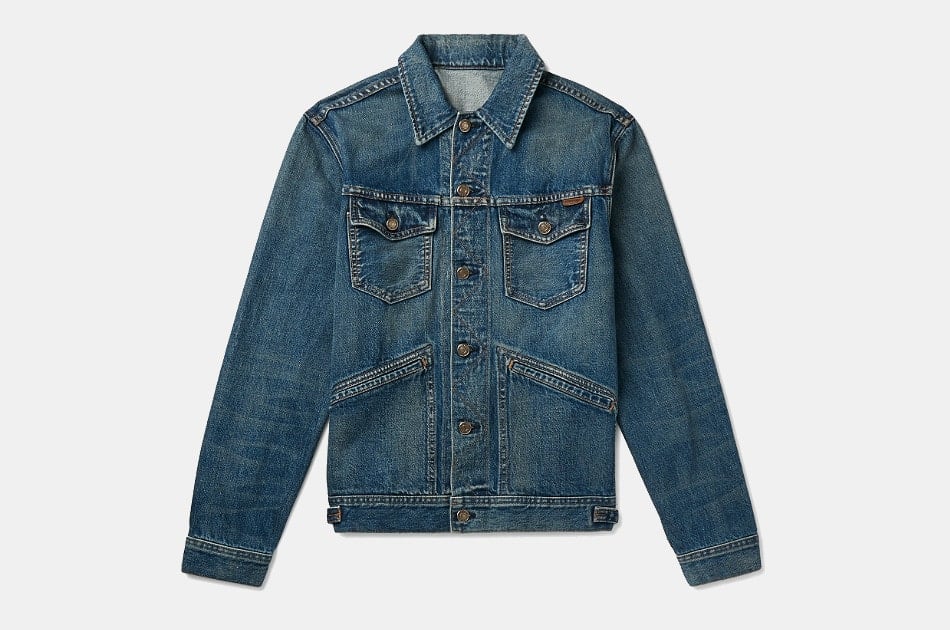 Tom Ford Denim Jacket
In recent years, Mr. Tom Ford has taken on seemingly every category across menswear and men's grooming, including the denim jacket — yes, the lauded designer known the world over for beautiful, expertly tailored suits and formalwear can also make a heck of a casual coat. Made with indigo-dyed cotton for a lived-in look and feel that'll only get better with time, pocket detailing and rich fabric make this a bold choice when worn with a crisp white tee, slim black jeans and tan Chelsea boots — Tom Ford would be proud.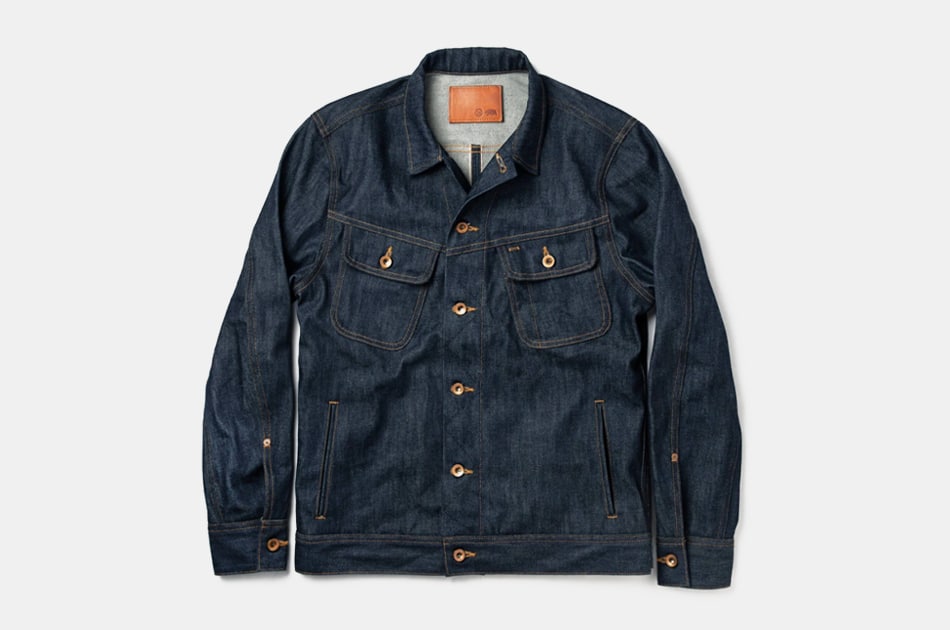 Taylor Stitch Long Haul Jacket in Cone Mills Reserve Selvage
It'd be one thing for Taylor Stitch to simply make one of the best denim jackets around, and it's another thing entirely when you consider that they're using some of the most rare denim fabric on the planet to craft the latest Long Haul Jacket. That's right: The good folks at Taylor Stitch are using Cone Mills Reserve Selvage, from the now-closed and legendary denim factory Cone Mills, to make one of the coolest denim jackets we've seen in a long time. Act accordingly to get yours now.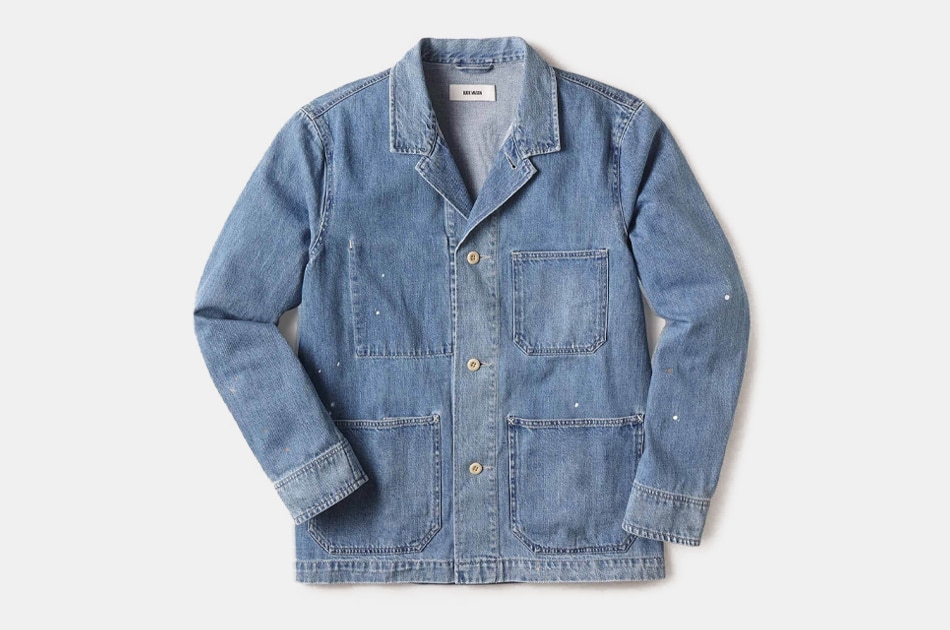 Buck Mason Denim Chore Jacket
Buck Mason puts its own spin on the denim jacket, turning it into a rugged chore jacket that pairs up nicely with the rest of your favorite Buck Mason style staples (a henley and faded black denim come to mind). This is the kind of all-American update for which Buck Mason is known, and if you ever had any doubt as to whether you should pick it up, we say go right ahead and get it done.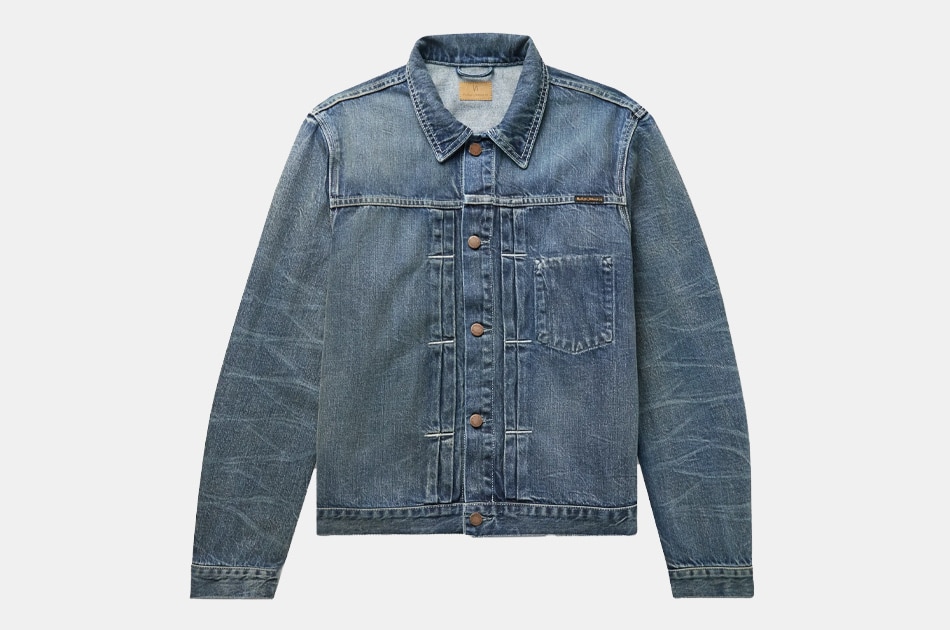 Nudie Jeans Vinny Pleated Organic Denim Jacket
Nudie Jeans, as one might expect, can absolutely produce one of the best denim jackets on the market, given the brand's experience when it comes to crafting the best jeans for men, period. It should come as no surprise, then, that the Vinny Pleated Organic Denim Jacket is about as good as it gets, featuring a pleated design for a bit of throwback appeal. Wear it with a pair of Nudie Jeans for the ultimate in style.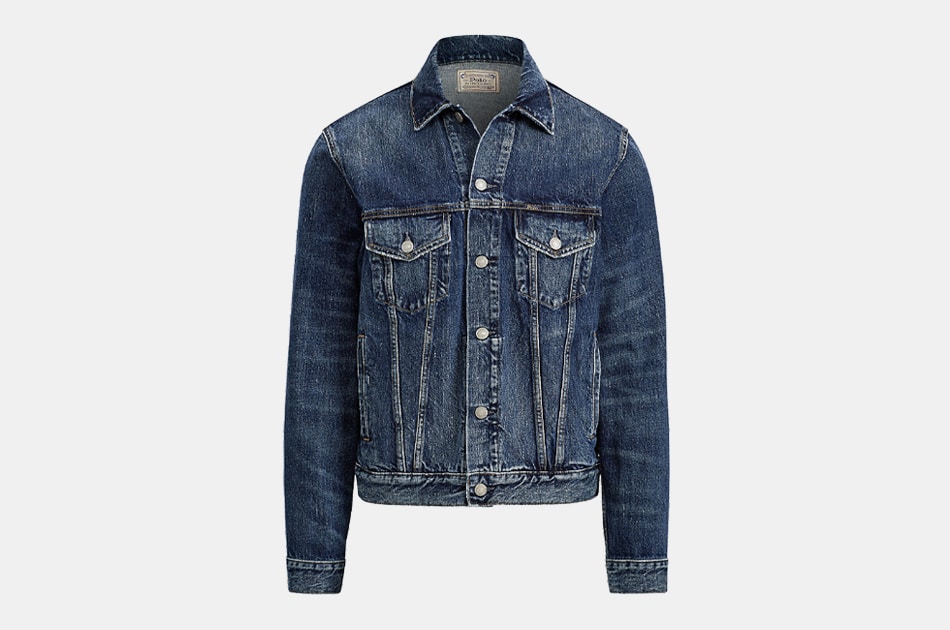 Polo Ralph Lauren Faded Denim Trucker Jacket
Polo Ralph Lauren has excelled at making truly classic, iconic menswear for decades, so it should come as no surprise that the brand can also churn out one of the best denim jackets, no sweat. The Polo Ralph Lauren Faded Denim Trucker Jacket checks all the right boxes as far as iconic, casual and cool style goes, making it the perfect transitional jacket for these days.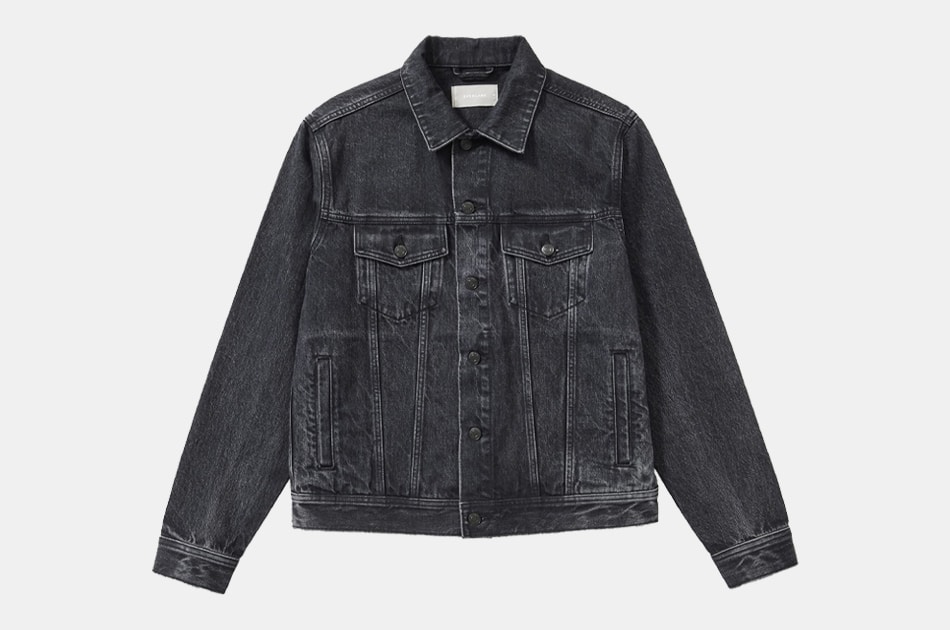 Everlane Denim Uniform Jacket
The Everlane Uniform Collection is the stuff dreams are made of, featuring plenty of men's style essentials for the modern man that can be mixed and matched at will. The Everlane Denim Jacket, especially in an edgy and yet easy-to-style Washed Black colorway, is as good as it gets if you want a bit of rock 'n' roll style on a budget this season (and who doesn't want that?).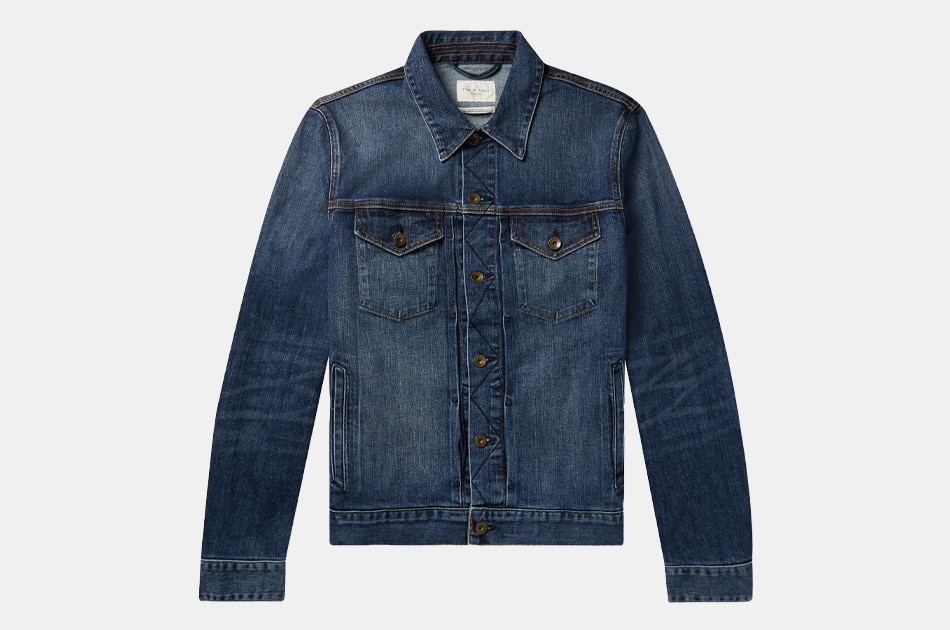 Rag & Bone Definitive Stretch-Denim Jacket
You only get one of the best denim jackets around by using the best fabric on the planet, and that's what Rag & Bone has done with the Definitive Stretch Denim Jacket. Japanese stretch denim is the real kicker here, translated into a seriously cool and sharp denim jacket you can wear with everything from a white tee to a rugged henley.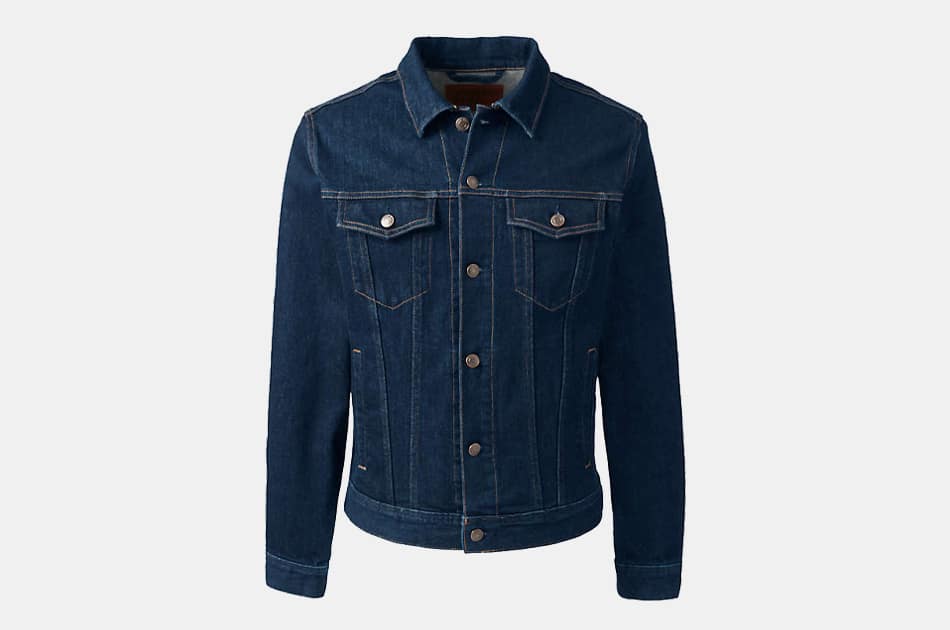 Land's End Men's Comfort-First Denim Trucker Jacket
Get an incredible deal right now on this exceptionally made and affordably priced denim trucker jacket, then reap the rewards as you wear it with everything from tan chinos and a white Oxford shirt to your favorite T-shirt and dark black denim for a bit of rugged-yet-classic style.
Disclosure: Clicking on these links and making a purchase may earn us a small referral fee, at no extra cost to you. Learn more here.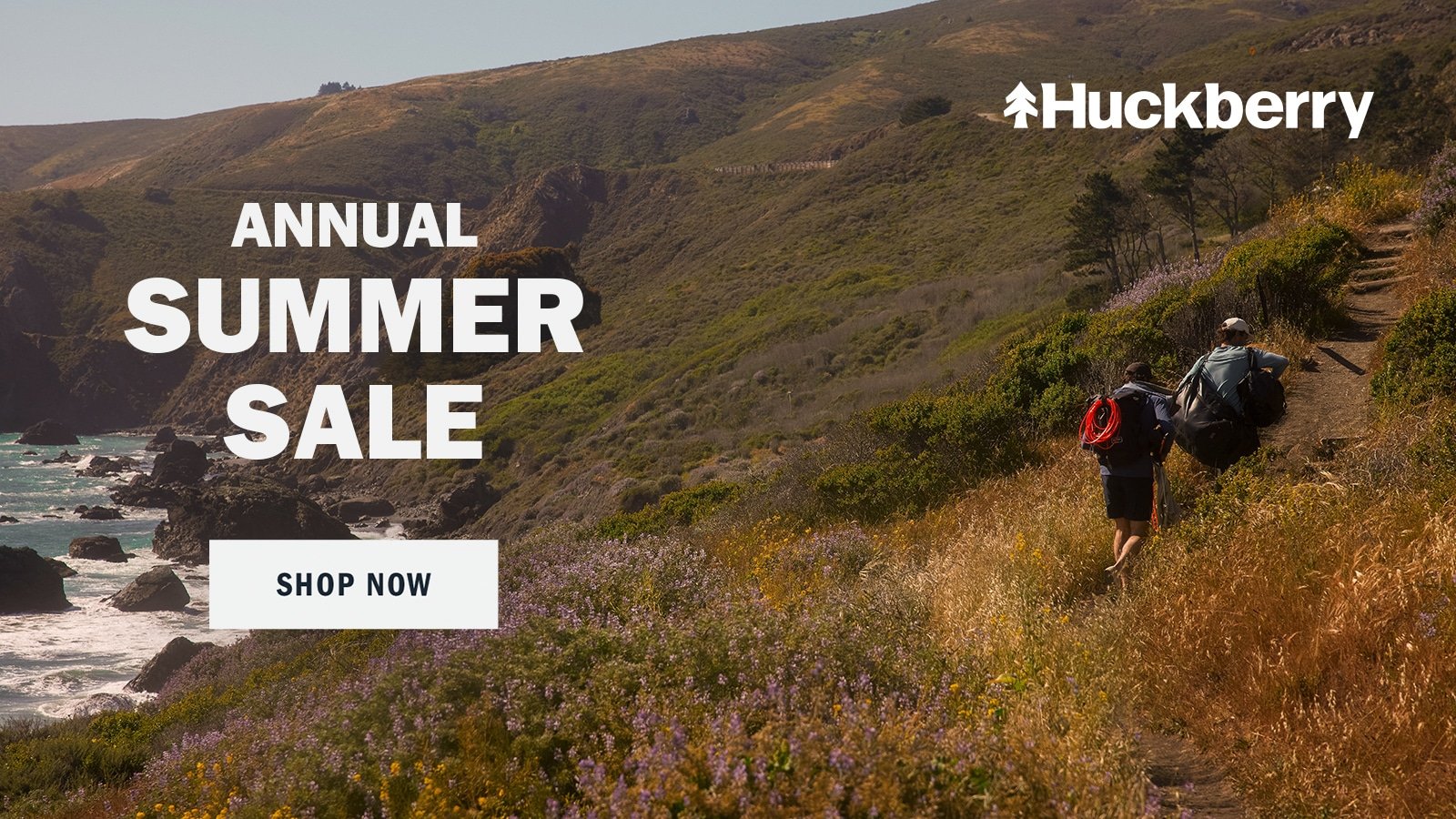 freestar.config.enabled_slots.push({ placementName: "gearmoose_leaderboard_btf", slotId: "gearmoose_leaderboard_btf" });