The 16 Best Blazers For Men
The humble blazer is surely one of the jackets every guy should have in his wardrobe — to say the very least. The best blazers combine aspects that are essential in most pieces of menswear nowadays, from versatile fabric to an excellent fit and quality materials. That's the case with our favorite picks below, which can be fine-tuned and styled just about any way you please for the fall season ahead (and several seasons beyond that).
Whether your weapon of choice is a classic navy blazer in year-round wool or a lightweight blazer in a bright color made from sustainable materials, there's a blazer on this list for you. Men's blazers should be worn however you feel like — but mostly with classic, everyday staples like a white Oxford, tan chinos and brown leather brogues. Heck, the right blazer can — and should — be layered over a slub T-shirt and worn with your favorite pair of dark denim, plus canvas high-top sneakers.
That's the sort of versatility you're getting when you invest in the best. All we know is this: When you start with a great blazer, the styling potential is nearly limitless — trust us, you'll start to believe it when it works for you.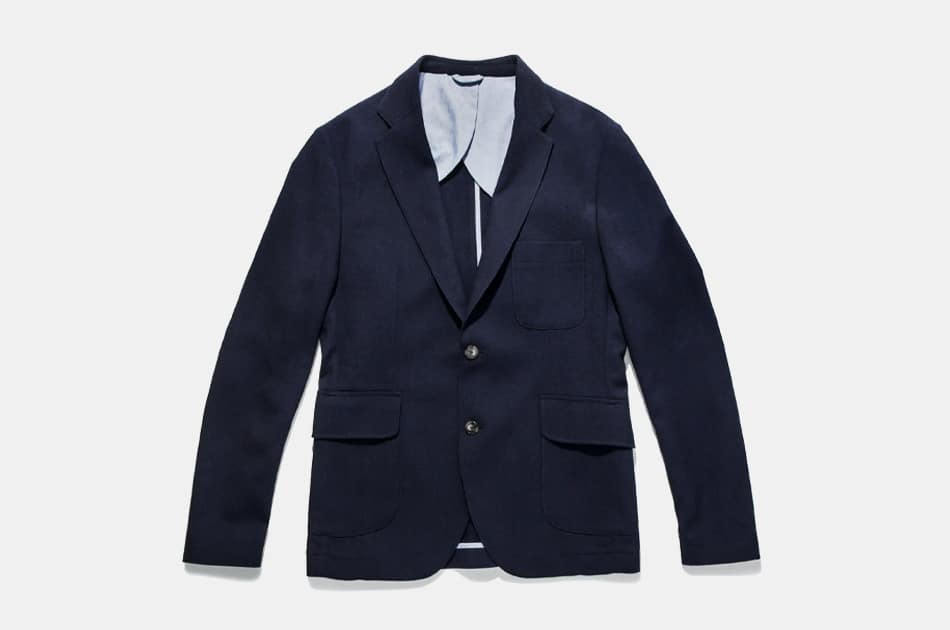 Taylor Stitch Everyday Blazer
If there's one blazer — and one brand — that we can get behind when it comes to crafting a blazer for true four-season wear, it would of course have to be Taylor Stitch. The Everyday Blazer does a darn fine job of living up to its name, featuring comfortable, well-tailored construction, casual patch pockets and a year-round suiting wool construction.
This is the blazer you can wear with charcoal chinos and black Chelsea boots — plus a white Oxford — to nail your next business pitch, and you can certainly wear it more casually (think white leather sneakers, tan chinos and a grey slub tee). The lightweight chambray-lined back allows for easy wearability even when it gets hot — who can argue with that blend of design and style?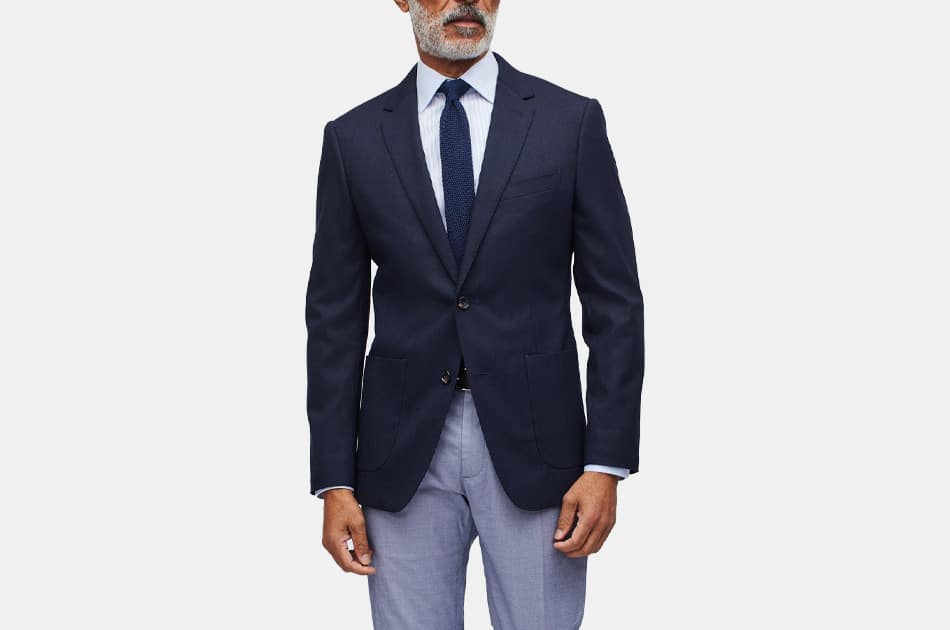 Bonobos Jetsetter Stretch Italian Wool Blazer
We always recommend that you accentuate your favorite Bonobos gear — like the brand's lauded chinos — with equally versatile, well-made picks from the rest of the E-commerce giant's retail line. In this instance, we're specifically calling out the Jetsetter Stretch Italian Wool Blazer, perhaps the perfect blazer for travel this fall (and beyond, of course).
Made with premium fabric in the exacting fit for which Bonobos is known, this cotton-wool blazer is a far cry from the slouchy sweatpants others might be wearing on your next flight — that's why we're all for it. Pair it with a white slub tee, tan chinos and brown suede Chelsea boots for easygoing-yet-sharp travel style in advance of your next fall weekend getaway.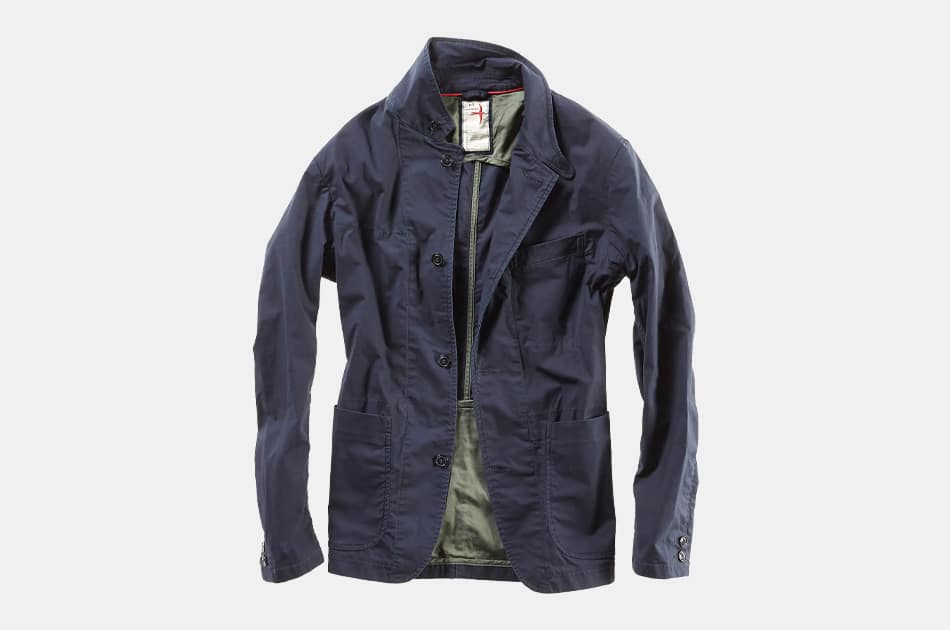 Relwen Flex Field Blazer
For those who like their blazers with plenty of functionality and a surprising dash of rugged style, turn toward Relwen. As sold by our friends at Huckberry, the Relwen Flex Field Blazer does so much more than you would expect it to, doubling as a travel jacket and serving as a lightweight, sharp-as-can-be blazer that's perfect for spring, summer, and well, any old time at all. Wear it with a white Oxford shirt and light wash jeans for sharp style on the daily.
North & Mark Union Stretch Blazer
It makes sense that the best purveyors of some of the best blazers for men might be brands that specialize in outerwear first and foremost. Perhaps that's what makes the Union Blazer so stylish, essential and necessary in upgrading your wardrobe — it's got that rare combination of functionality and classic style that stylish guys (like you!) tend to crave.
We like the surprisingly bright Navy option seen here, the perfect pairing alongside some tobacco chinos and beat-up leather boots this fall for that elusive blend of high-low style. Add in the fact that this blazer is lined in comfortable jersey and made from water and stain-repellent fabric, and you're looking at a winning combination, to say the least.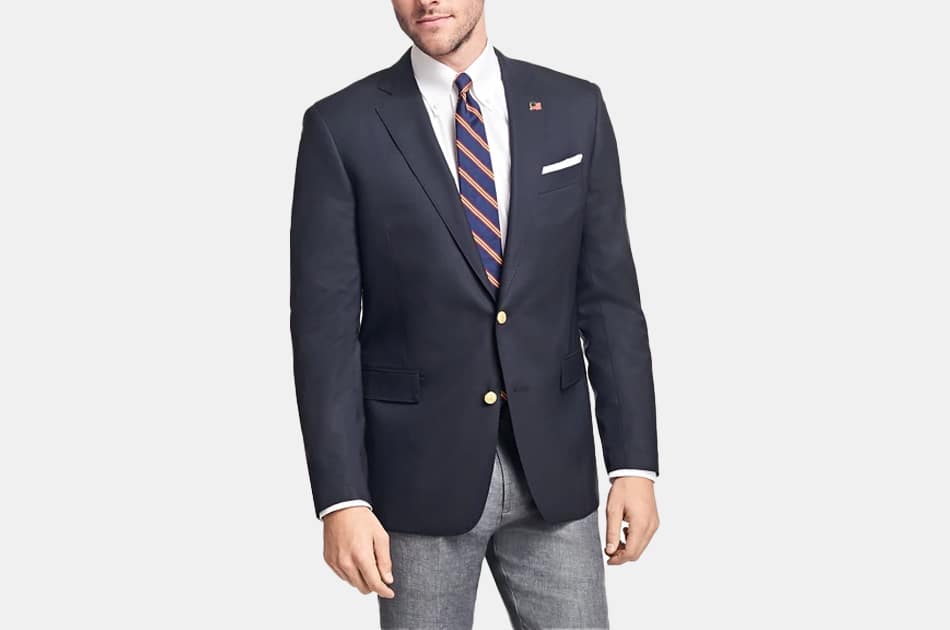 Brooks Brothers Regent Fit Two-Button 1818 Blazer
Surely, you know Brooks Brothers for the brand's classic Oxford shirting and timeless chinos, but what about the brand's blazers? Well, that's likely on your wish list too, right? And when it comes to the best men's blazers, you can rest assured that the Regent Two-Button 1818 Blazer fits the bill quite nicely — if ever there was such a thing as a heritage-quality blazer, this would be it. From the gold buttons to the navy wool to the classic fit, this is an easy purchase when it comes time to upgrade your blazer game.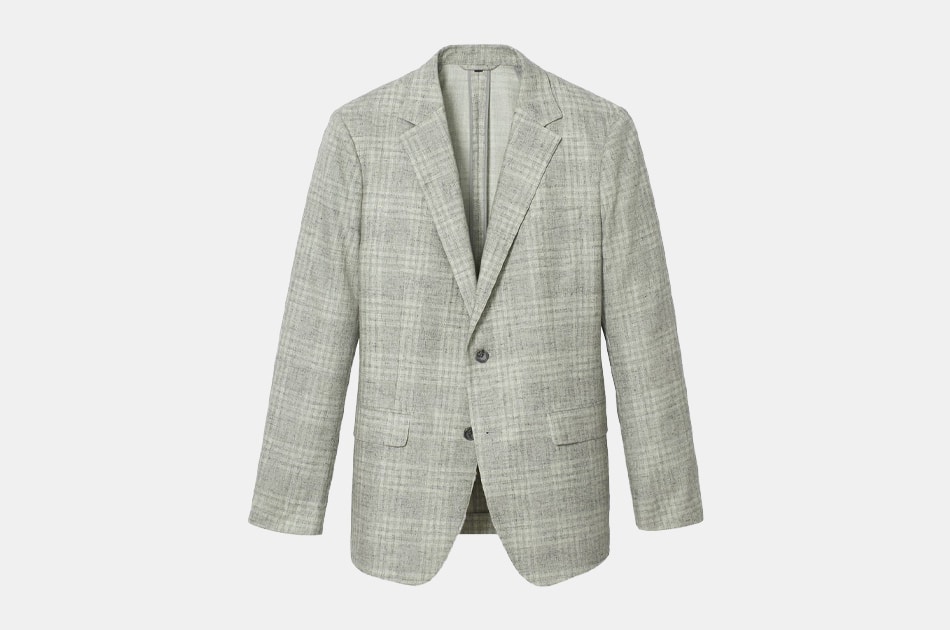 Bonobos Unconstructed Italian Linen Blazer
Finding the right blazer is often about finding the right brand. Be it a brand that makes your favorite chinos (like Bonobos), or another reliable standby, we'd bet that plenty of companies regularly in your shopping rotation for everyday essentials are also making standout investment pieces. That's the case with the handsome and refined Unconstructed Italian Linen Blazer, a breezy spring and summer blazer to wear with slim chinos and leather loafers.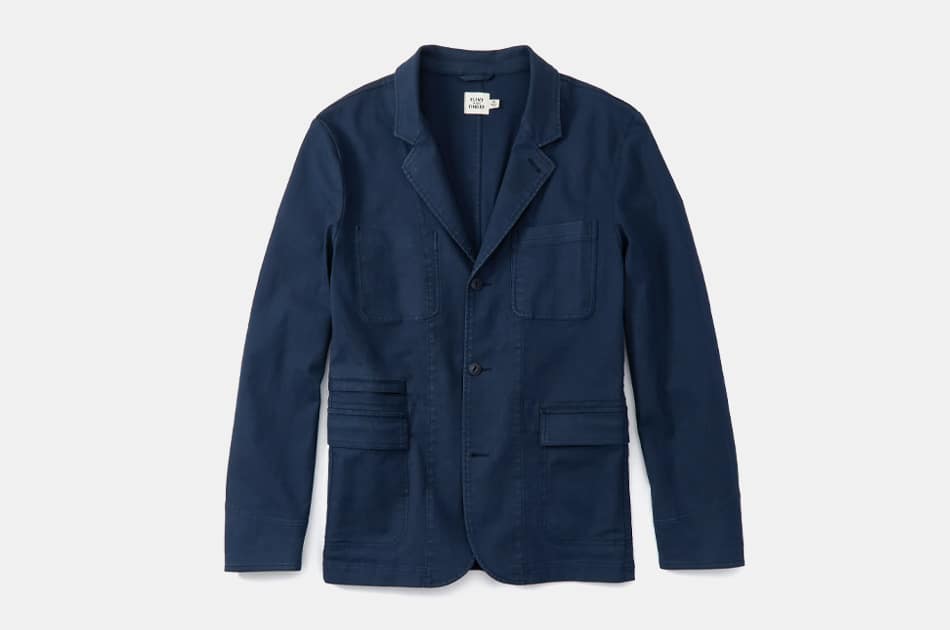 Flint and Tinder Desert Field Blazer
That crucial blend of functionality and rugged appeal that you look for in your everyday outerwear is also something that can come in mighty handy when shopping for your new favorite blazer. Take the Flint and Tinder Desert Field Blazer. It's a one-of-a-kind blazer, the likes of which only Huckberry can produce, made from casual garment-dyed fabric and featuring plenty of pockets and a reliable fit.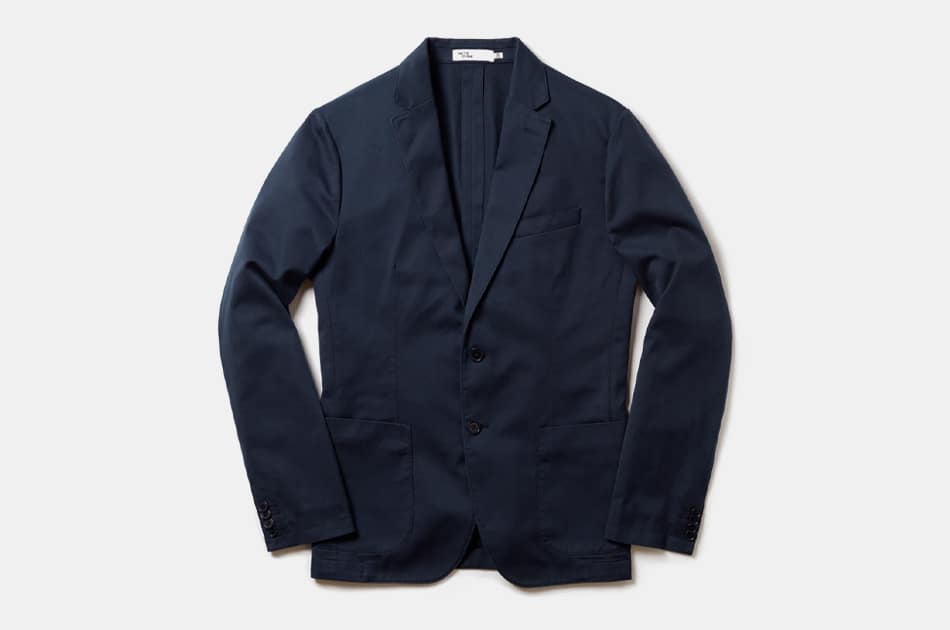 Tact & Stone Performance Blazer
If you're of the mind that you want to pack light and travel quickly and easily without fuss to your next business meeting, then you need gear that works with you — not against you. Particularly for long days on the road, that can mean finding the right kind of blazer: A travel blazer, if you will, which brings us to Tact & Stone's Performance Blazer. Made with a blend of performance and cotton twill plus polyester for stretch and durability, it's a true day-to-night jacket.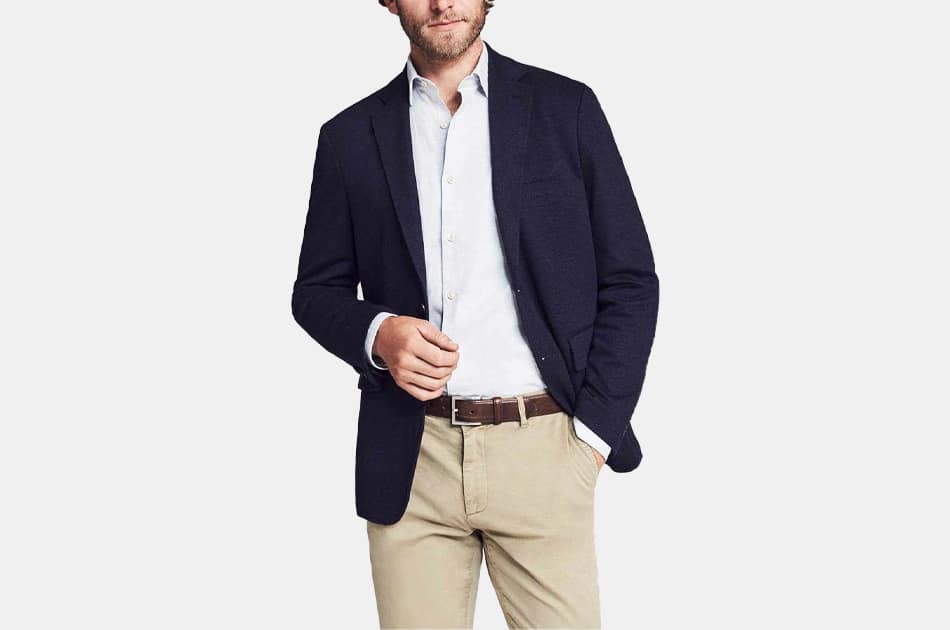 Faherty Reserve Ideal Blazer
Although we love Faherty for the brand's coastal gear, soft-as-heck shirts and classic chinos, they've been doing something ever-so-slightly different with the premium and refined Faherty Reserve line. Think of these as upgraded business casual essentials, including the excellent Faherty Reserve Ideal Blazer.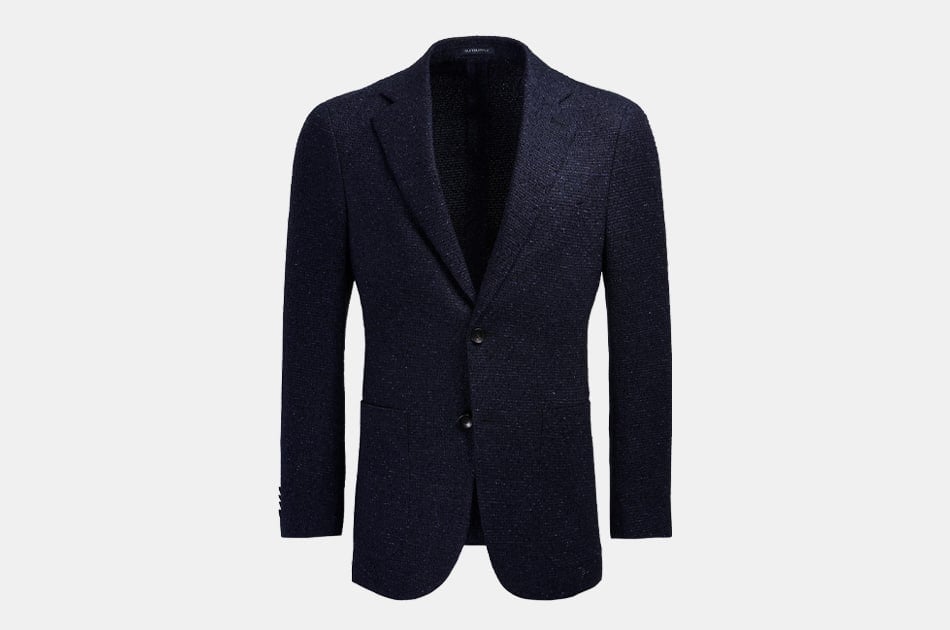 SuitSupply Havana Jacket
SuitSupply has truly mastered what some guys want out of their tailoring, which is a flair for the dramatic and bold — yet classic. The Havana Jacket is made for the guy who wants to in a way that's style-forward, but not too crazy — in this case, a well-fitting, remarkably well-made cotton-linen blazer in a handsome shade of navy is almost the perfect blazer for spring and summer.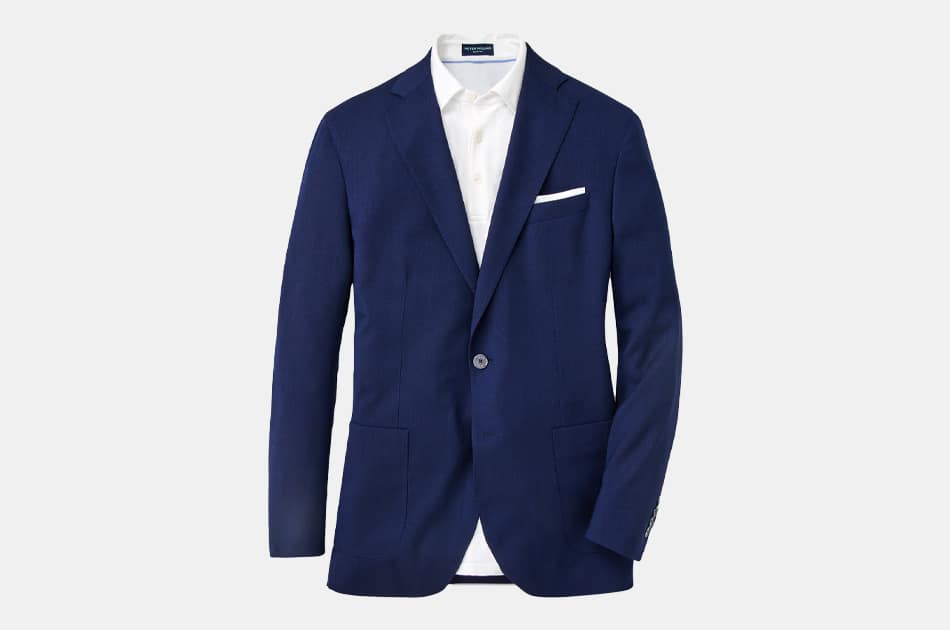 Peter Millar Excursionist Flex Blazer
Your blazer really should match your life — seriously. You need a blazer that's made to go wherever you go and look great while doing it, and that's why we think you need the Peter Millar Excursionist Flex Blazer. Made to fit great while you're on the go, this Peter Millar blazer is absolutely worth the investment, made with a beautiful merino wool-silk-elastane blend for the ultimate in refined-yet-accessible luxury.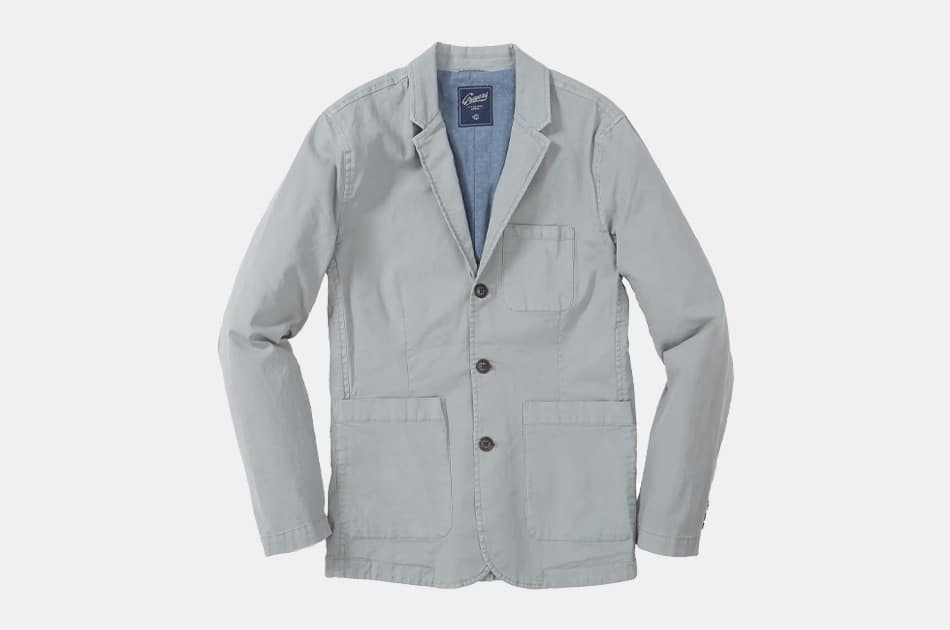 Grayers Newport Stretch 3 Button Blazer
The art of wearing a blazer is something that takes practice and repetition, and yet, pieces like the Grayers Newport Stretch 3-Button Blazer make it might easy. This is the type of blazer you'll want to wear over and over again, especially with everything from a garment-dyed Oxford shirt to a crisp white tee and slim chinos.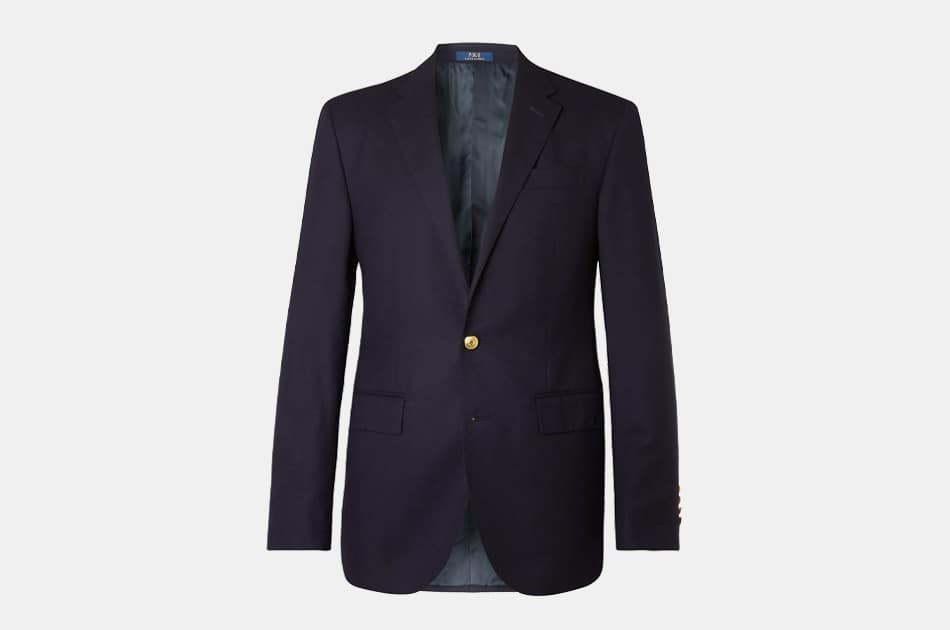 Polo Ralph Lauren Slim-Fit Unstructured Linen-Blend Blazer
Does it surprise anyone that Polo Ralph Lauren makes one of the best blazers for men? It certainly shouldn't, seeing as Ralph Lauren has pioneered the art of iconic style made for the modern gentlemen — add this slim-fitting, breezy and unstructured blazer to your summer wardrobe, then watch the compliments start to roll in.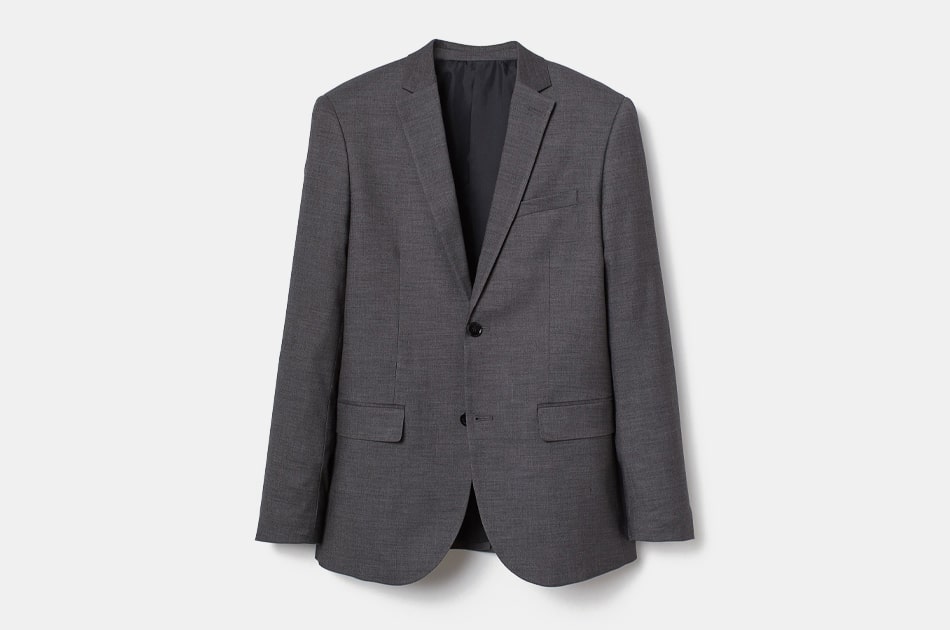 H&M Slim Fit Blazer
If you don't have a ton of extra cash in your pocket and need a stylish blazer in a hurry, you can do worse than turning to H&M. This slim-fit blazer is made to grab and go, as it were, seeing as it's easily wearable atop everything from a denim shirt to a crisp white Oxford (just add a navy knit tie).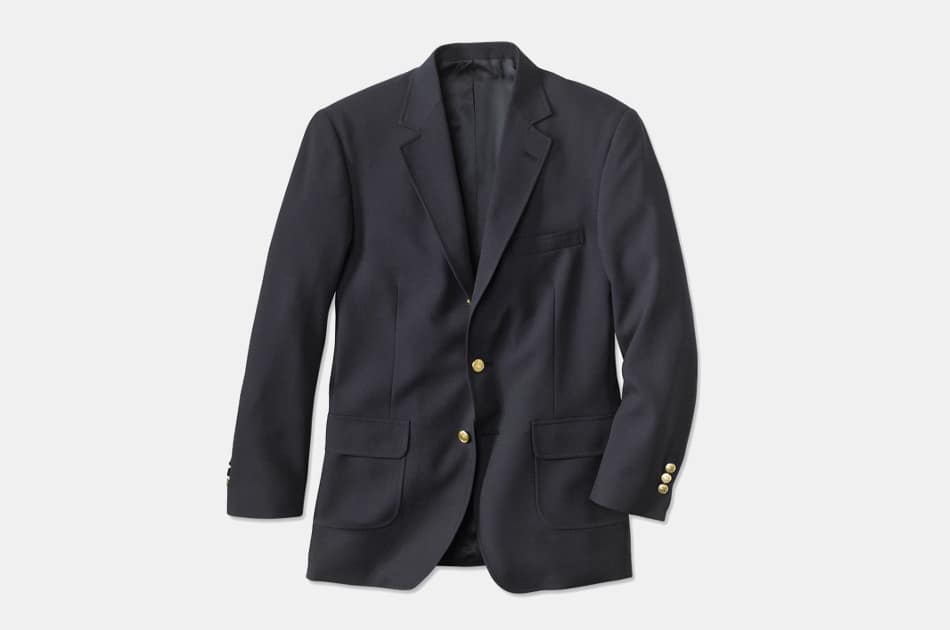 Orvis Traveler's Hopsack Blazer
We appreciate Orvis for the brand's rugged takes on outdoor classics, from field coats to chore pants, and we also appreciate them for new essentials like one of the best men's blazers. The Traveler's Hopsack Blazer is one of the best blazers for men for good reason, all owing to its rugged versatility and its wearability on the road (and at the lodge). Pair it with dark denim and classic chukka boots for cleaned-up style any day of the week.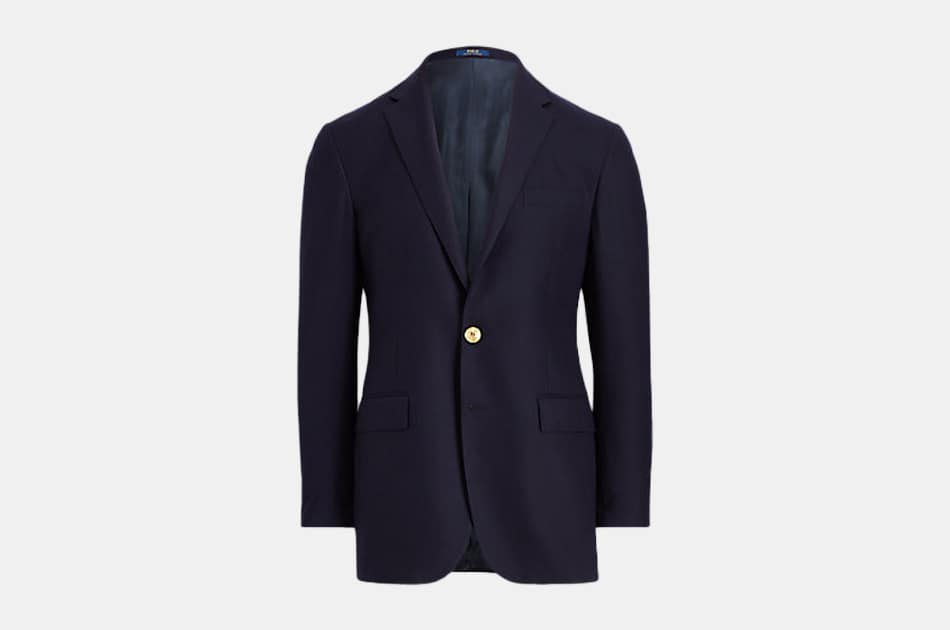 Ralph Lauren Polo Doeskin Knit Blazer
Closing out the list — last, but certainly not least, as it were — is Ralph Lauren, purveyors of all-American style for decades on end now. It's the epitome of a perfect blazer, the classic ideal updated in a modern cut with tapered sleeves and high armholes for a clean look and maximum versatility no matter what the situation calls for.
It'll set you back nearly a grand, but that's a small price to pay for a blazer that could feasibly last a lifetime. Made in a northern Italy mill that's been around for more than a century, we'd wager you're going to have this blazer for decades.
Disclosure: Clicking on these links and making a purchase may earn us a small referral fee, at no extra cost to you. Learn more here.
freestar.config.enabled_slots.push({ placementName: "gearmoose_leaderboard_btf", slotId: "gearmoose_leaderboard_btf" });