The 10 Best Men's Jackets For Fall and Winter
What's your jacket style? Long or short, puffy or slim, cozy or badass? Are you a one-jacket-for-everything sort of guy, or is your closet full of outerwear options for every occasion? In this guide, we've collected the best jackets in every style, so you're sure to find one that calls to you.
We've been on the hunt for the best men's jackets for years, looking for heritage brands that make buy-it-for-life top layers. They're not just capable of making you look great and stay warm—these jackets are made for the long haul, and will be faithful companions for years to come. Think of this as your comprehensive guide to finding a coat that's as adventurous as you are.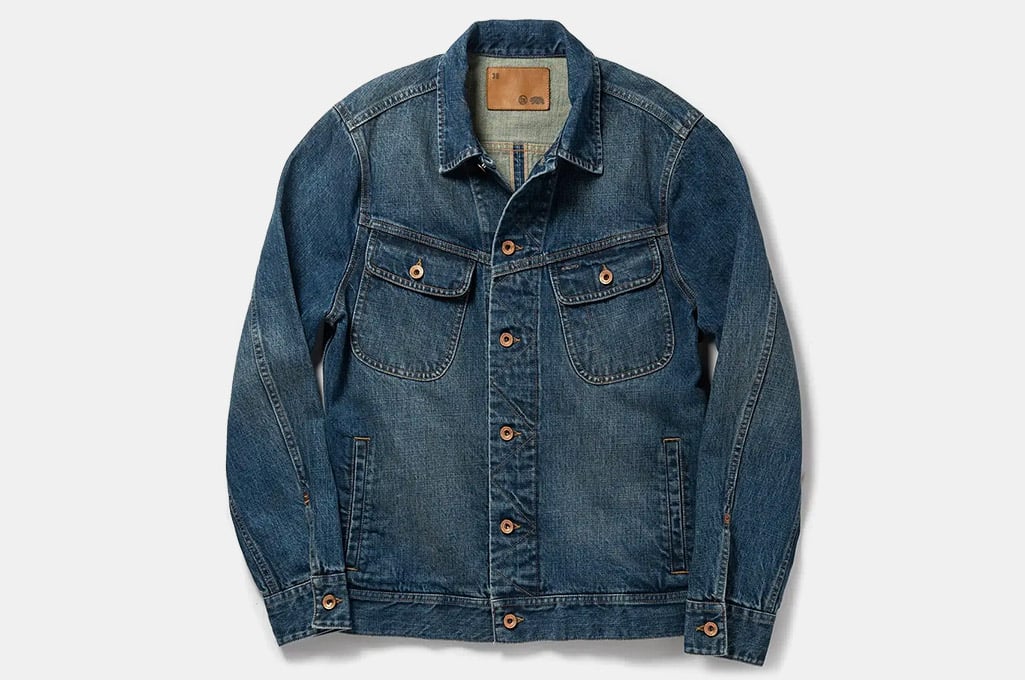 The Best Denim Jacket
Taylor Stitch Long Haul Jacket
Gone are the days where denim jackets were only the province of truckers, hippies, and cowboys. Now, the durable and hard-wearing style is a favorite of fashion-conscious dudes everywhere. Dress it up with a button down, or throw it on with chinos and a t-shirt for a casual look.
Taylor Stitch's Long Haul Jacket is a perfect example of the style, made with 100 percent organic cotton selvage denim for an already-broken-in feel. Little details like the map-printed pockets, zigzag reinforced stitching on the collar, and copper YKK buttons and rivets really put it over the top.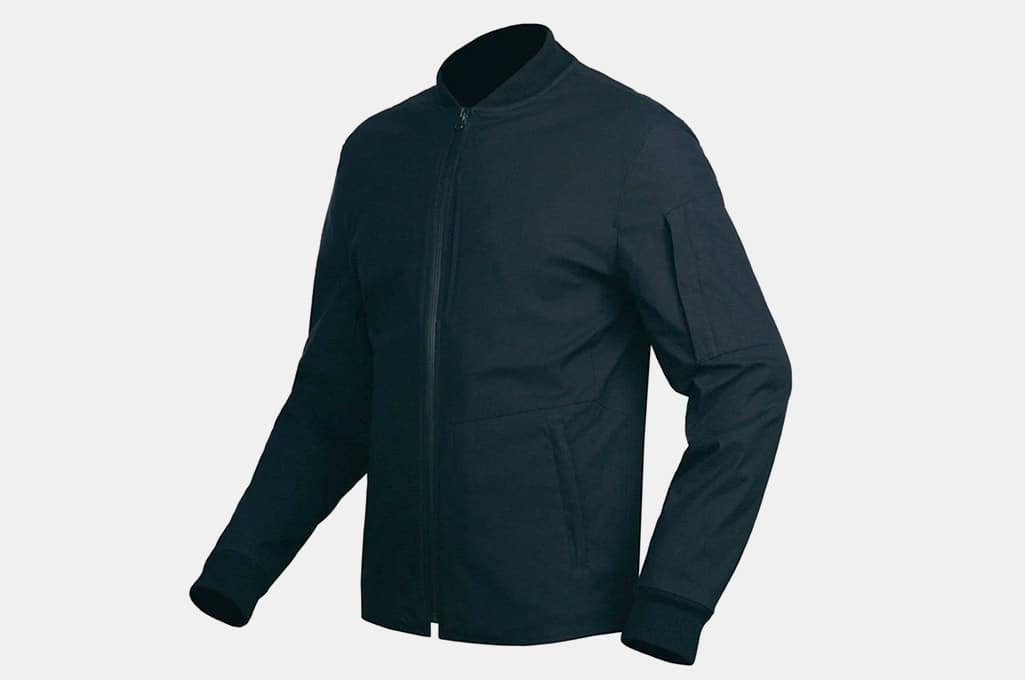 The Best Bomber Jacket
Mission Workshop Mission Bomber Jacket
Bomber jackets were favorites of WWII era fighter pilots for good reason: Their close-fitting cuffs and collars keep you warm where other jackets let in a draft. And when you're flying in an open cockpit, every little bit of warmth you can save makes a world of difference. After airmen brought the style back with them, designers went crazy with it—making every possible variation on the basic bomber jacket style.
Mission Workshop's Mission Bomber Jacket is a thoughtfully pared down, minimalist bomber with extreme attention to detail in its materials. A water-repellent finish combines with lightweight 40gsm insulation and a 66 percent cotton, 30 percent polyamide, 4 percent elastane fabric to make it lightweight yet warm, and fit for all seasons and activities.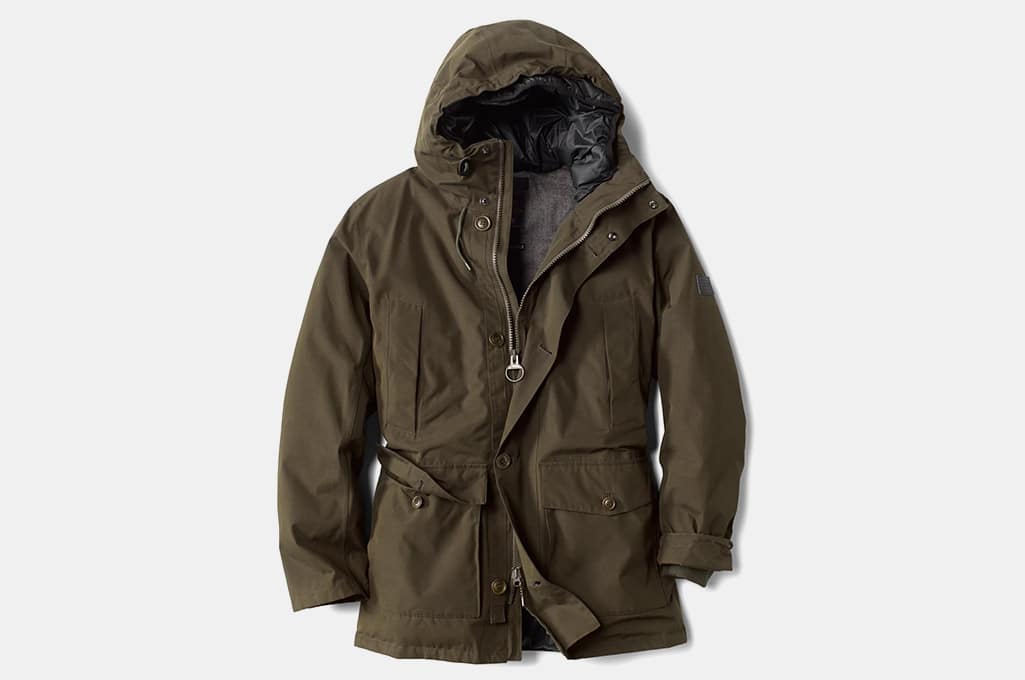 The Best Parka
Barbour Arctic Parka Jacket
Any jacket that comes from traditional Inuit seal hunts in the frigid arctic has to be pretty good for winter, yeah? That's where the parka's origins lie, as well as the very similar anorak jacket. Parkas are known for their warm, lined hoods and more generous lengths, keeping you covered head to hip in cozy insulation.
Barbour's Arctic Parka Jacket forgoes the usual fur lining (gotta save those animals), replacing it with a quilted lining that allows for complete waterproof protection. A two-way zip with a storm flap completes the package, guaranteeing that you'll stay comfortable no matter how cold it gets this winter.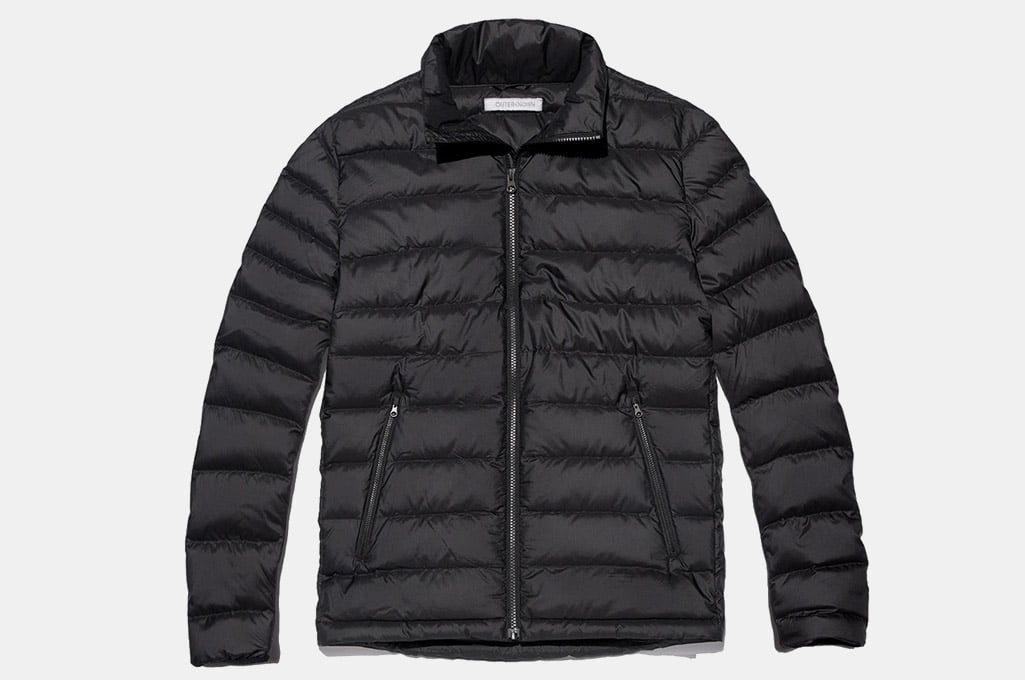 The Best Puffer Jacket
Outerknown Puffer Jacket
Pro surfer Kelly Slater's Outerknown has been leading the field of eco-friendly and sustainable gear since its founding in 2015. That's because for over two years before the company went public, Slater himself was traveling the world to meet the makers and artisans who felt the same way about respecting our planet as he does.
The results are incredible—like with the Outerknown Puffer Jacket, made with polyester recycled from raw material like plastic bottles. It's equal parts comfortable, fashionable, and functional, and an excellent addition to any guy's winter wardrobe.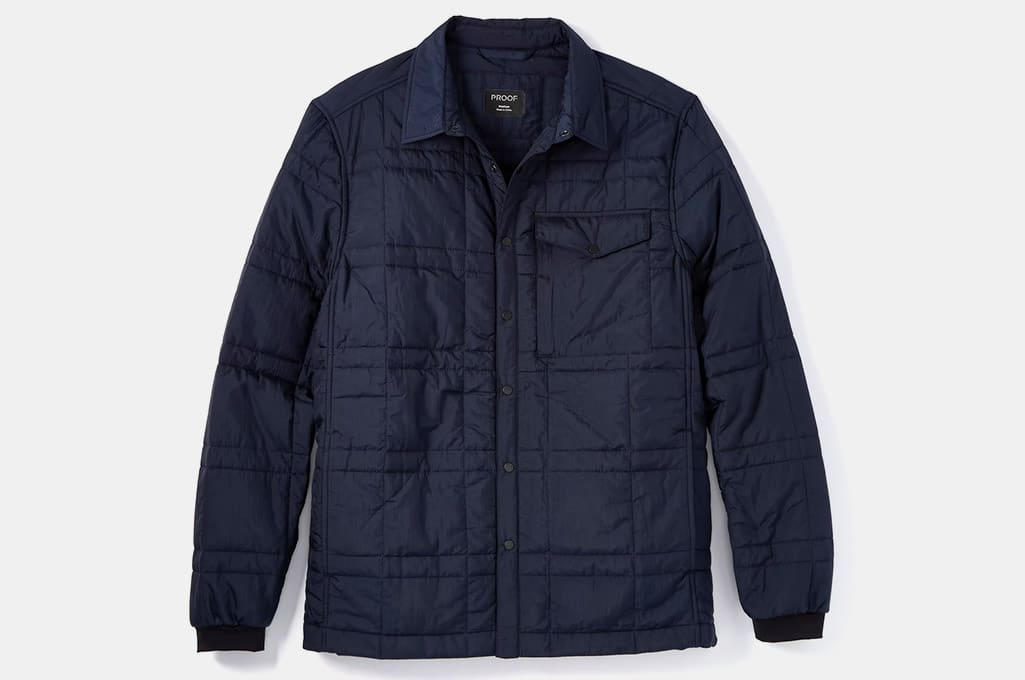 The Best Shirt Jacket
Proof Moonweight Shirt Jacket
As I'm writing this, I'm wearing a shirt jacket. And on any other given day in the fall or winter, I'll still be wearing a shirt jacket. Why? Because they're only the most versatile piece of clothing that a man can have in his closet. Toss one on over a t-shirt to be instantly work-ready in the fall, or layer it up with an extra outer layer as the days get colder. Leave it untucked while you're raking leaves, or button it down and get snazzed up.
There's no wrong way to wear one, and Proof's Moonweight Shirt Jacket makes this even more apparent. It's lightweight, water-resistant, and ready for travel throughout the chillier months of the year.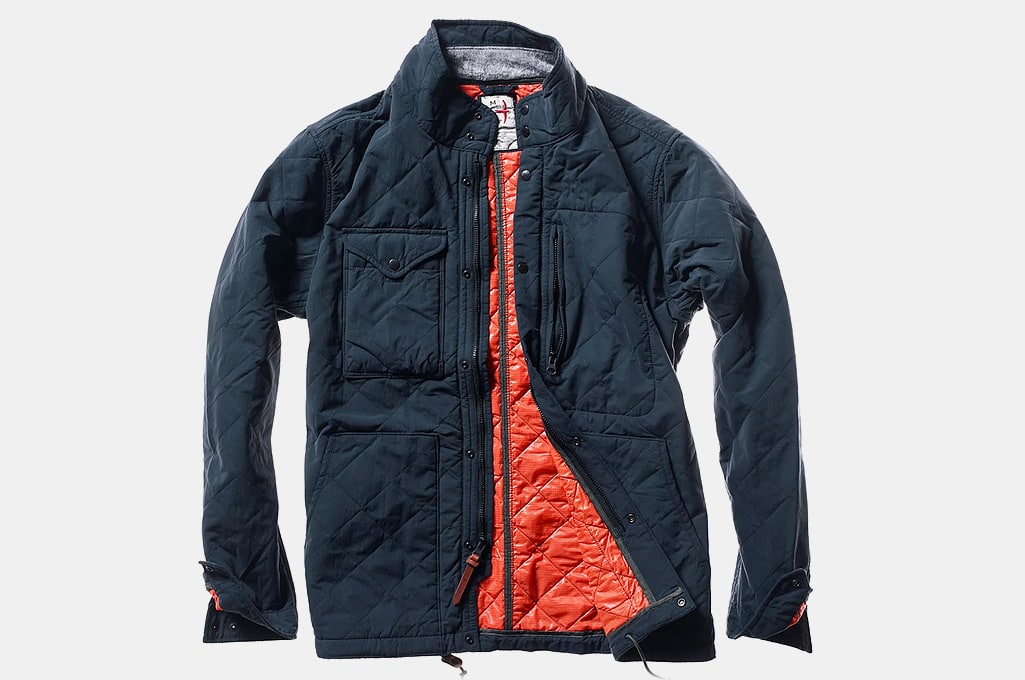 The Best Quilted Jacket
Relwen Quilted Tanker
Take a regular jacket. Sandwich a layer of insulation between the interior and exterior. That's a great start for winter wear. But over time, it'll lose its shape and its warm-making capabilities. Add some quilting though, and bam—suddenly, it's ready to rock on any cold night, and durable enough to wear for decades.
Relwen makes this sort of buy-it-for-life jacket with their Quilted Tanker, a handsome medium-weight top layer with an ultra-soft brushed finish. Then they really gild the lily by finishing with a garment wash for maximum comfort and a broken-in feel.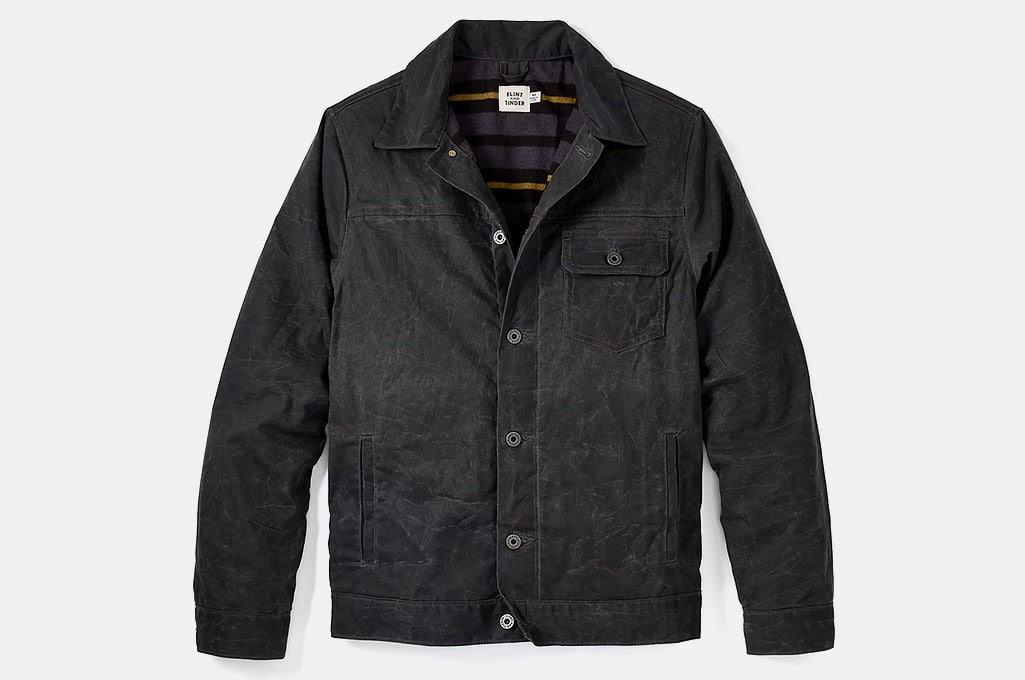 The Best Waxed Jacket
Flint and Tinder Flannel-Lined Waxed Trucker Jacket
Canvas is a great heavyweight material that's used for everything from duffel bags to ships' sails to some of the most durable tents you'll ever use. But as a wearable fabric, it's kind of rough around the edges (pun intended). To take full advantage of its unbeatable durability without chafing your style, you'll need to look for a well-designed waxed jacket like Flint and Tinder's Flannel-Lined Trucker Jacket. The seven ounce Martexin sailcloth it's made with will only get better with age, kind of like a fine leather or high quality denim. And since it's lined with buttery soft flannel, it's comfortable to wear right out of the box.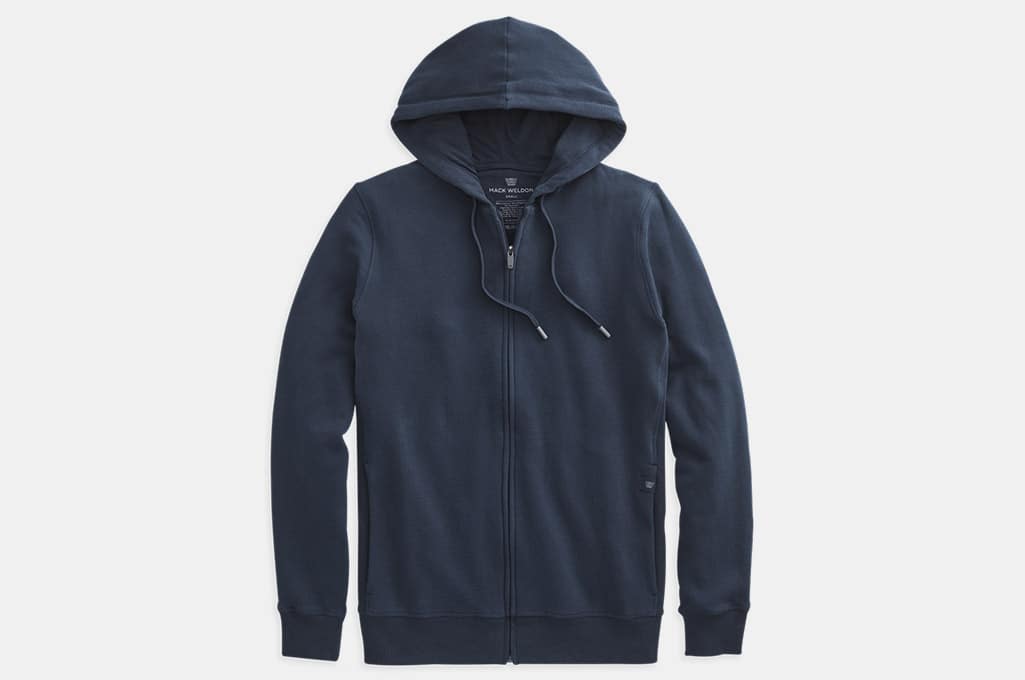 The Best Hoodie
Mack Weldon Ace Full-Zip Hooded Sweatshirt
Can you imagine a time before the hoodie? I mean, of course you can—it's only been around for 90 years. Wait, what? It's true: Today's most popular outerwear has been around since 1930, when legendary sportswear brand Champion first sewed a hood onto a sweatshirt to keep upstate New Yorkers warm through the winter.
But let me tell you, hoodies have gotten so much better since then—with the sort of attention to detail that Mack Weldon's Ace Full-Zip Hooded Sweatshirt really exemplifies. The fit is modern and on-point, and nothing like wearing a potato sack. And stretch rib side panels ensure it'll stay that way while still moving with you during any activity.
The Best Rain Jacket
Vuori Palisades Rain Jacket
You don't have to live in Seattle or London to appreciate having a good rain jacket in your closet. Whether it's drizzle, a downpour, sleet, or snow, staying dry relies on having the right gear with you. And amongst waterproof jackets, Vuori's Palisades Rain Jacket might be the most impressive of all. Its three-layer waterproof protection combines with woven ripstop fabric and a form-fitting hood to keep the damp off of you no matter how hard it's coming down.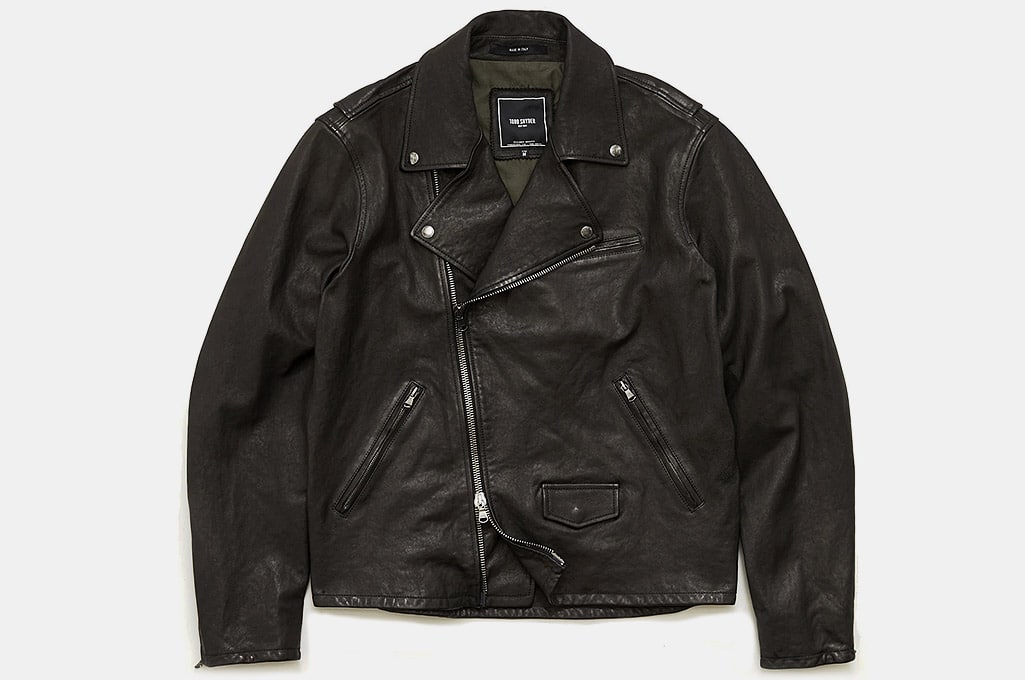 The Best Leather Jacket
Todd Snyder Italian Leather Moto Jacket
Is there any jacket that screams "cool" any louder than a leather motorcycle jacket? I don't think so. A favorite of counter-cultural icons in every generation since its invention, the leather jacket has become a staple for anyone who wants to put a little attitude into their wardrobe.
Todd Snyder's version of an Italian Leather Moto Jacket keeps the traditional details like a chunky zipper and oversized cross-button collar, then ups the game by making it with a tumbled and washed calfskin leather. The result? A leather jacket that feels like you've been wearing it for years as soon as you put it on, giving you an effortlessly cool air.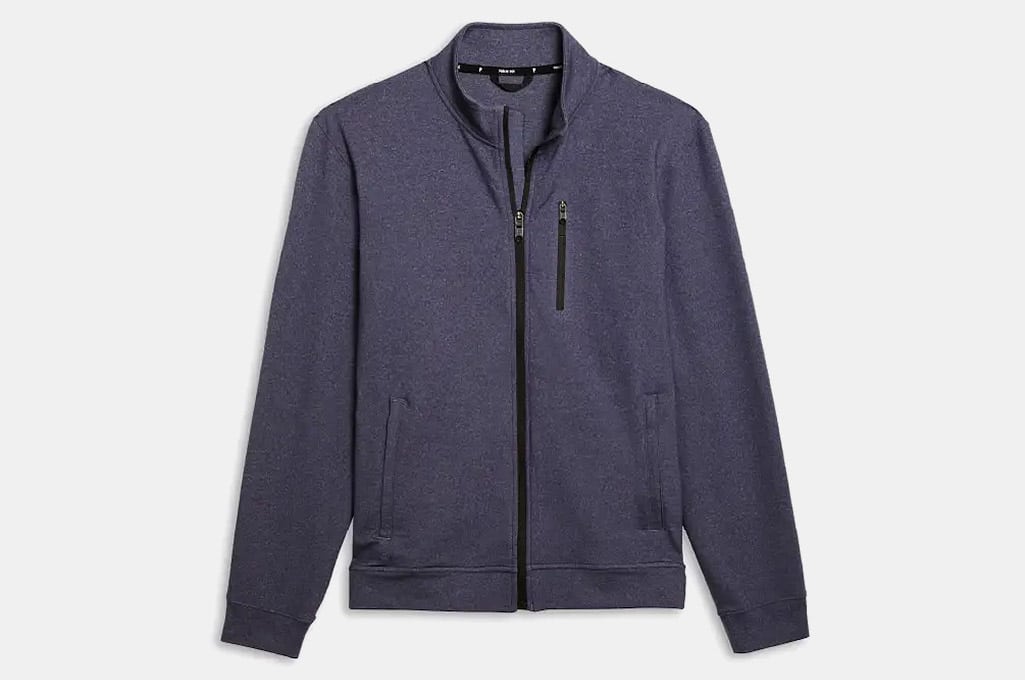 The Best Everyday Jacket
Public Rec All Day Every Day Jacket
Has a jacket become a part of your everyday wardrobe, like a favorite t-shirt or pair of jeans? If not, it's about time that one does. Public Rec's All Day Every Day Jacket is just the garment for the job, with a casual nylon/spandex blend that breathes easily and stretches to fit your whole day's activities.
Made with a modern athletic fit, it's great for laying around the house, heading out to run errands, and maybe even stopping by the gym to break a sweat. Stylish, comfortable, and affordable—what more could you ask for in an everyday jacket?
Disclosure: Clicking on these links and making a purchase may earn us a small referral fee, at no extra cost to you. Learn more here.
freestar.config.enabled_slots.push({ placementName: "gearmoose_leaderboard_btf", slotId: "gearmoose_leaderboard_btf" });