The 20 Best Shirt Jackets For Men
Is it a shirt or a jacket? Technically, it's both. The shirt jacket, cleverly referred to as the shirt-jac or shacket for short, is one of the most versatile articles of clothing a man can hang in his closet. A shirt jacket is typically constructed from a warm yet rugged material such as waxed cotton canvas, fleece, cotton flannel, or wool along with a warm inner lining for comfort.
Shirt Jackets are thinner than a typical lightweight jacket or field jacket, yet thicker than the average oxford button down shirt, which renders them a solid choice for wearing in both warm and cooler weather, while a perfect blend of style and durability makes them versatile enough for the trail in inclement weather as well as a night out on the weekend in suburbia. To help you decide which shacket is right for you, we've compiled this list of the 20 best men's shirt jackets available right now, in no particular order.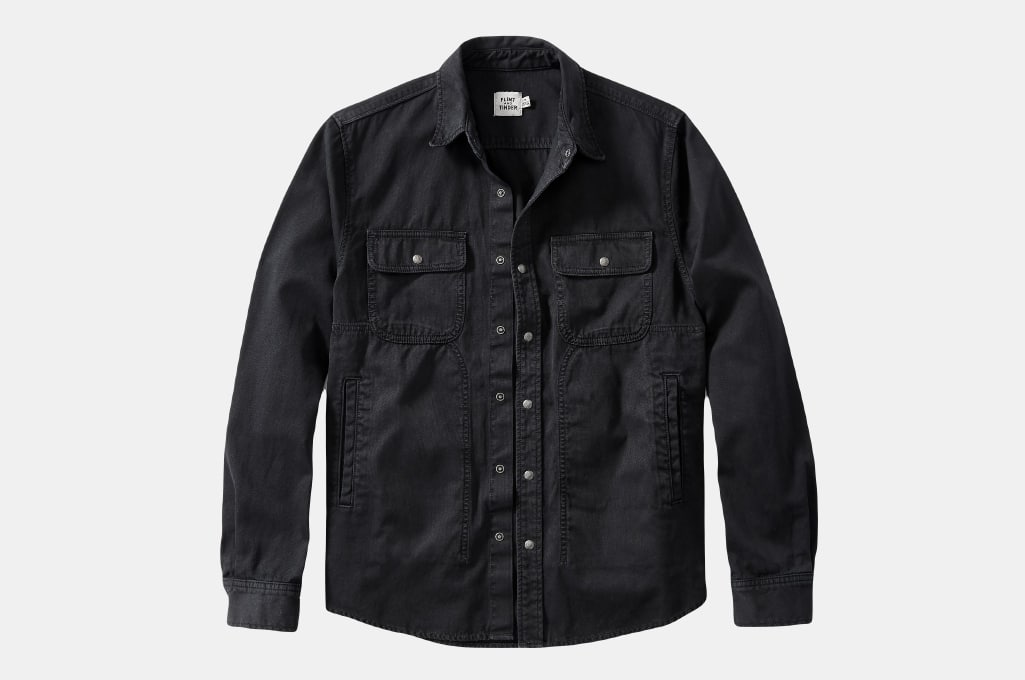 Flint and Tinder Bedford Cord Shirt Jacket
We saved the best for first. Made in the US from a hyper durable yet super soft corded fabric, Flint and Tinder's Bedford Cord Shirt Jacket will likely never see the inside of your closet. Because you'll be wearing it. On its own, as a midlayer, or an outer layer, it's got just the right heft to handle all configurations. After all, versatility is front and center here. Wear it when you reorganize the garage, to the pub for some drinks, or when you take that fall foliage hike. This handsome fellow is down for all of it.
Material: soft, washed Bedford Cloth fabric
Color Options: Black, Hickory
Weatherproofing: No
COO: United States
Price: $110.98
The Takeaway: Keep this handy for anything you do outside. Versatile and built-tough, this Flint and Tinder workhorse is made for every adventure.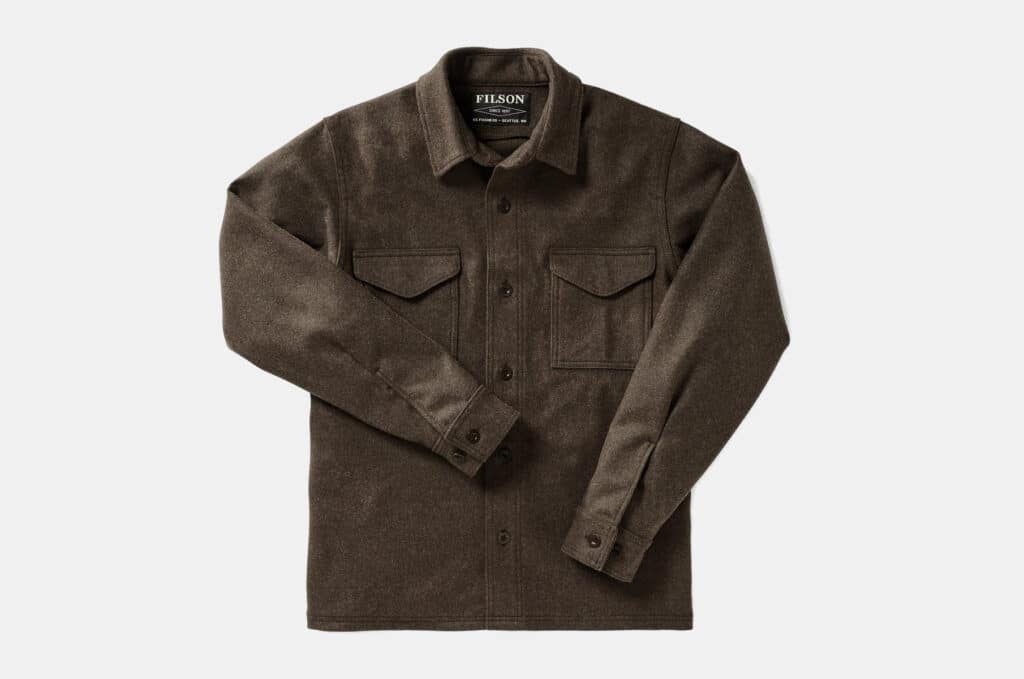 Filson Jac-Shirt
There are absolutely brands that we know we can count on when it comes time to gear up for inclement weather — and one such brand would have to be Filson. The Jac-Shirt is a stone-cold classic from an iconic brand, and it rises above the rest in details large and small (take the use of 100 percent virgin wool and the work-ready Navy color). It's made to be layered up with a thermal henley and paired with tough chore pants when you need it the very most.
Material: 100% virgin Seattle wool
Color Options: Navy
Weatherproofing: Natural lanolin-coated wool water-resistance
COO: United States
Price: $350
The Takeaway: For guys who need hard-wearing, rugged clothing to keep pace with their active lifestyle, this shirt is a dream come true.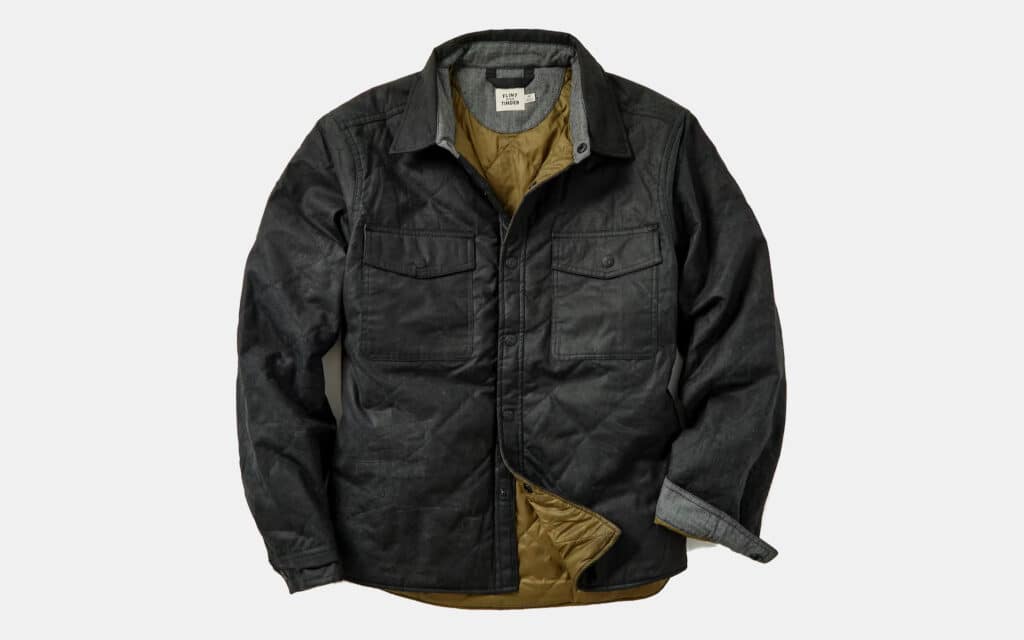 Flint and Tinder Quilted Waxed Shirt Jacket
Looking for a comfortable garment that'll make the perfect middle layer in the winter and top layer in the cooler autumn months? Give this Flint and Tinder Quilted Waxed Shirt Jacket a try. The interior and exterior both feature the stylish diamond-quilting pattern that maximizes warmth retention and increases durability. The soft-touch Japanese polyester interior lining guarantees excellent comfort as long as you're wearing it, and the waxed canvas exterior will keep off the rain and snow. With just a hint of lightweight recycled Primaloft insulation, it's excellent at protecting you from the chilly days. There's even plenty of storage space—dual chest pockets, hidden side pockets, and inside zippered and drop-in pockets—for everything you'll need to carry around town.
Material: British Millerain Cambridge 6 Wax cotton canvas
Color Options:  Black, Brown, Gray, Camo, Dark Forest
Weatherproofing: Yes
COO: United States
Price: $258
The Takeaway: Ranch hands, cowboys, hikers, and CEOs alike will love this modern take on a classic design, featuring cutting-edge materials capable of withstanding anything you thr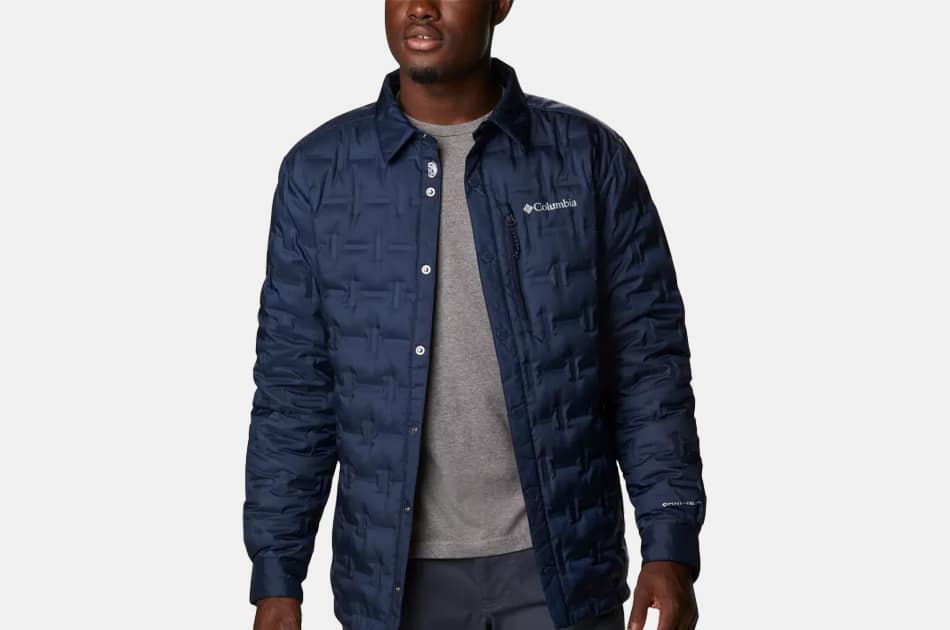 Columbia Men's Delta Ridge Shirt Jacket
Columbia is the ideal brand for stylish winter wear, pairing excellent insulation with guy-friendly looks. The Delta Ridge Shirt Jacket is perfect for autumn hikes, late-season camping trips, and even early winter outdoor activities. The Omni Heat thermal reflective traps body heat close to your skin, and the Heat Seal construction makes sure to keep you warm no matter how cold the air gets. The fabric is fully water-resistant (perfect for rain or snow) and the power down insulation will keep out the chill well into the winter months.
Material: 100% polyester shell, 80% duck down and 20% duck feather
Color Options: Black
Weatherproofing: Yes
COO: Imported
Price: $88.07
The Takeaway: The game has been changed with this sports-friendly, lightweight jacket—the perfect top layer to pack for every trip into the great outdoors.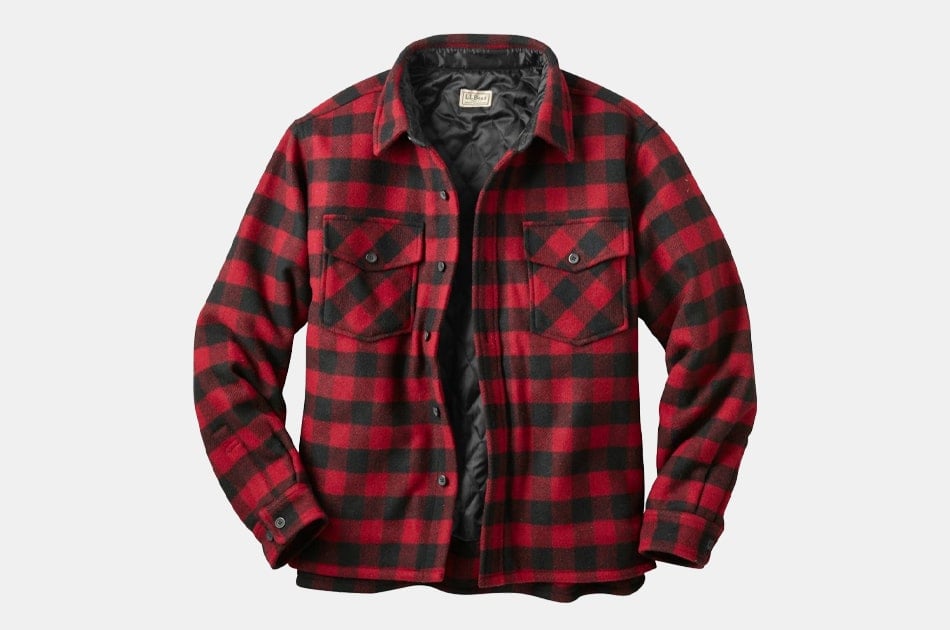 L.L. Bean Men's Maine Guide Shirt Jacket
We always appreciate when brands go the extra mile to produce a full line of gear that complements other iconic pieces perfectly. In this case, we appreciate the fact that the classic Men's Maine Guide Shirt from L.L. Bean should be the ideal pairing for fall and winter weather with classic L.L. Bean "Bean Boots" (you know exactly the pair we mean). The Maine Guide Shirt is practically made for chilly fall and winter mornings, starting right now.
Material: 85% premium wool with 15% nylon
Color Options: Cobalt/Black, Red/Black, Green/Black
Weatherproofing: No
COO: Imported
Price: $149
The Takeaway: Heavy-duty premium wool, a super-warm PrimaLoft interior lining, and the classic lumberjack pattern make this a cold-weather champion for guys' guys.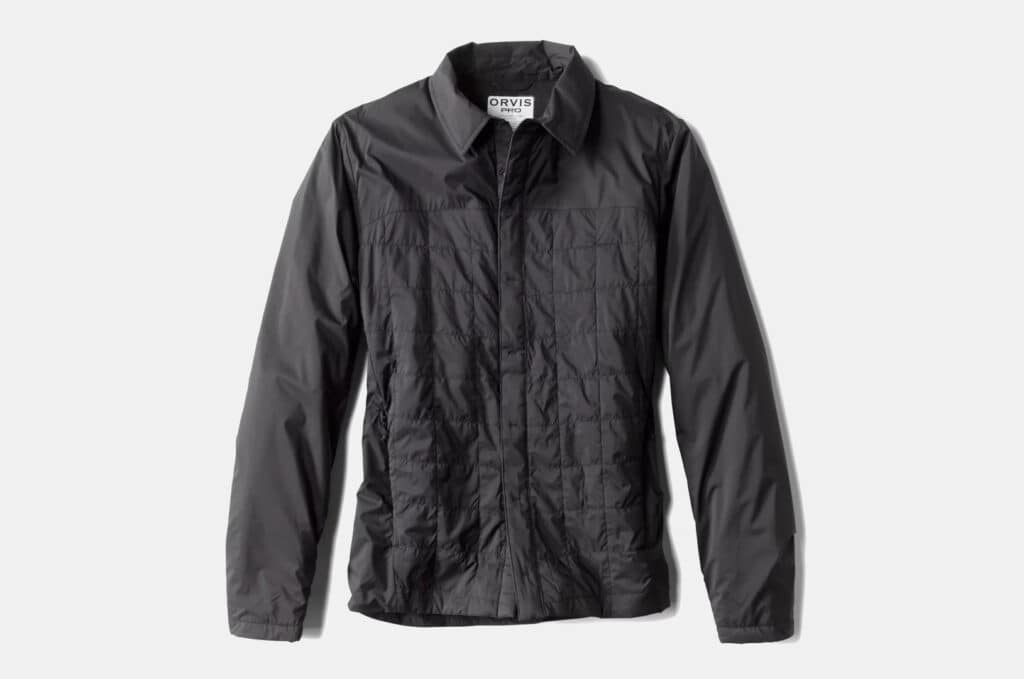 Orvis Pro Insulated Shirt Jacket
Orvis is THE fisherman's brand, founded by a lover of fly fishing and priding itself on delivering the best clothing for fishermen who want to look their best while being totally comfortable. The PRO Insulated Shirt Jacket is just what you need for those fall fishing trips when the weather is turning chill but not yet fully cold. The PrimaLoft Gold Active insulation keeps you warm even in wet conditions—rain, snow, or spray from your boat—and you have total upper body mobility so you'll always be able to fly fish or wingshoot in comfort.
Material: 20D mechanical ripstop nylon
Color Options: Atlantic Blue, Blackout Black
Weatherproofing: Yes
COO: Imported
Price: $198
The Takeaway: Built for travel, comfort, and warmth, this is the lightweight shirt jacket you'll always want in your carry-on in case the weather turns cold.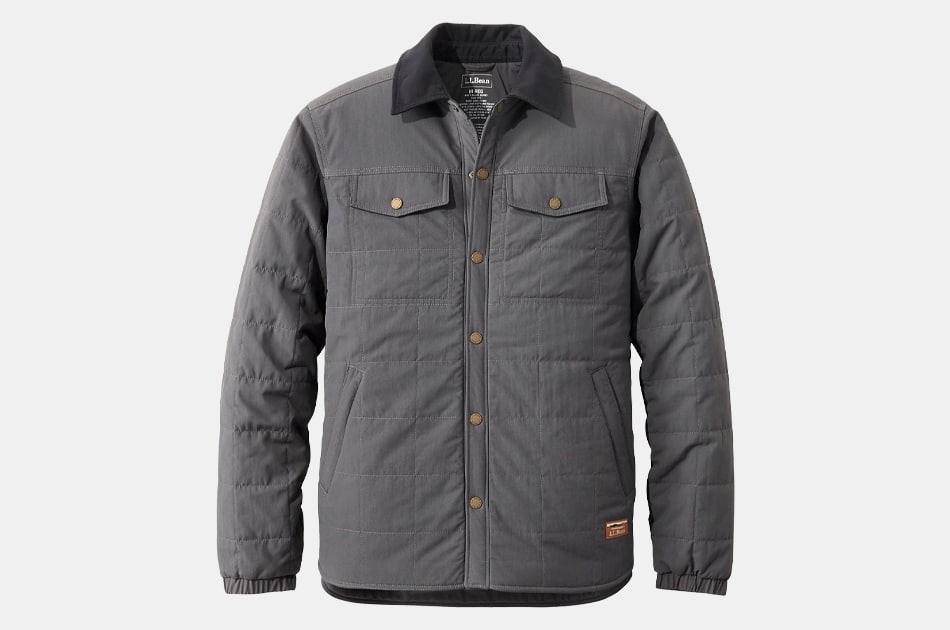 L.L.Bean Men's Insulated Utility Shirt Jacket
L.L. Bean is all about making your home as cozy as possible, with cloud-soft clothing options that will make you feel comfy and warm no matter what you're doing. The Insulated Utility Jacket delivers that cozy comfort for you to take to any work site, outdoor camping adventure, or winter hike. The pure nylon shell keeps out the weather, and the recycled polyester fleece lining makes sure you never feel the chill. The relaxed fit and snap-on buttons make it a truly wearer-friendly garment—really, the only item of clothing you'll want to wear anytime the weather gets a bit chilly.
Material: Nylon, polyester
Color Options: Alloy Gray, Carbon Navy
Weatherproofing: Weather-resistance
COO: Imported
Price: $119
The Takeaway: Whether used for work or relaxation, this hard-wearing garment is as versatile as you could want.
Journeyman Shirt Jacket
Featuring the same rugged utility you would expect from Carhartt or Edgevale but at half the price, the Journeyman Shirt Jacket by Legendary Whitetail features a rugged waxed cotton exterior with a flannel lining, side hand warmer pockets, triple needle stitching, and antique brass closure buttons. It's the perfect shirt jacket to throw on before chopping wood or hitting the campsite for a few days.
Material: Cotton and polyester
Color Options: Barley, Tarmac, Dark Army, Navy, Tobacco, Twig, Copper Rust
Weatherproofing: No
COO: Imported
Price: $79.99
The Takeaway: Hunt and fish in truly comfortable fashion with this signature jacket that definitely lives up to its claims of "legendary".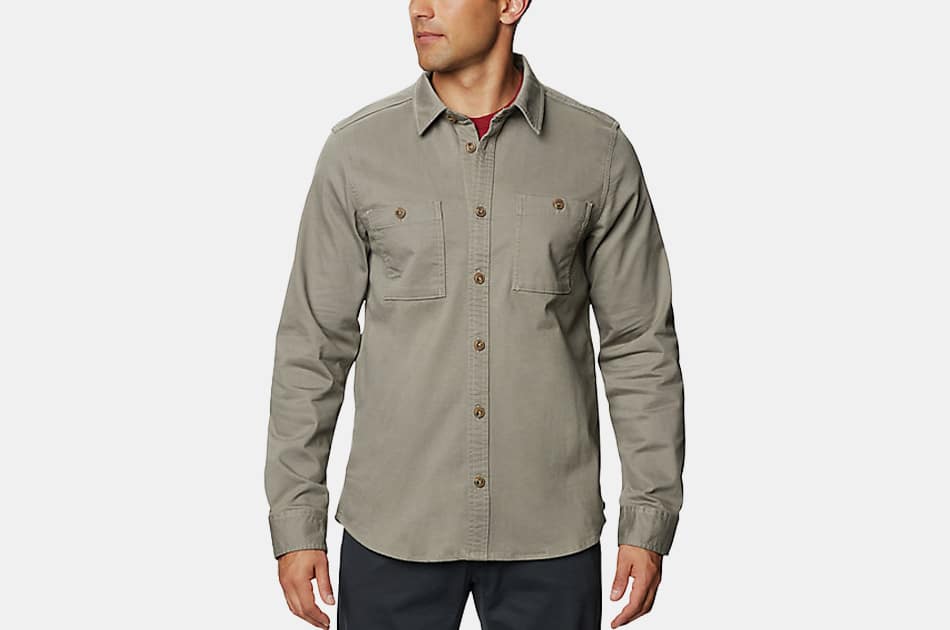 Mountain Hardwear Men's Tutka Shirt Jacket
Mountain Hardwear's brand mission is exactly what its name suggests: to bring you hard-wearing clothes perfect for mountain use. The Tutka Shirt Jacket is your perfect winter hike garment, beautifully warm yet light enough that it won't weigh you down for a long trek. The inner lining is also moisture-wicking so you'll stay cool throughout your hikes, and the blend of cotton and polyester is tough enough to handle anything the trail can throw at you.
Material: Cotton, polyester, nylon, elastane
Color Options: Dark Storm, Dunes
Weatherproofing:
COO: United States
Price: $108.99
The Takeaway: Sleek as your favorite button-up but still warm enough for the chill, this winter-weight shirt looks as good on the trail as around your city.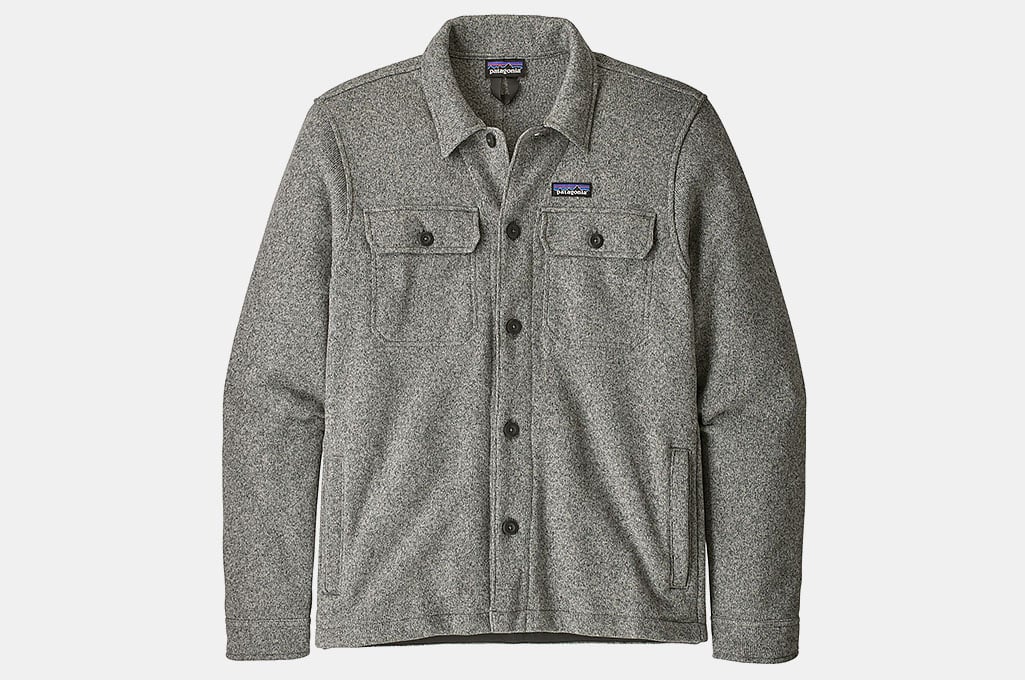 Patagonia Better Sweater Shirt Jacket
The Patagonia Better Sweater Shirt Jacket nearly needs no introduction these days, but we'll provide one anyways. It's one of the best shirt jackets on the market for plenty of reasons, starting with the fact that it's both outdoor-ready and perfectly well-suited to wear hanging by the fire at home (the sweater-knit fleece fabric helps in that regard). It's also crafted from recycled polyester in an easy-to-layer fit, making it a reliable everyday layer this fall. Patagonia always delivers the best of the best, and it seems they've knocked it out of the park again here.
Material: Recycled polyester fleece
Color Options: Stonewash Grey, New Navy Blue
Weatherproofing: No
COO: Thailand
Price: $110.99
The Takeaway: If you want hard-wearing and ultra-comfortable, you'll never feel out of your element wearing this shirt jacket.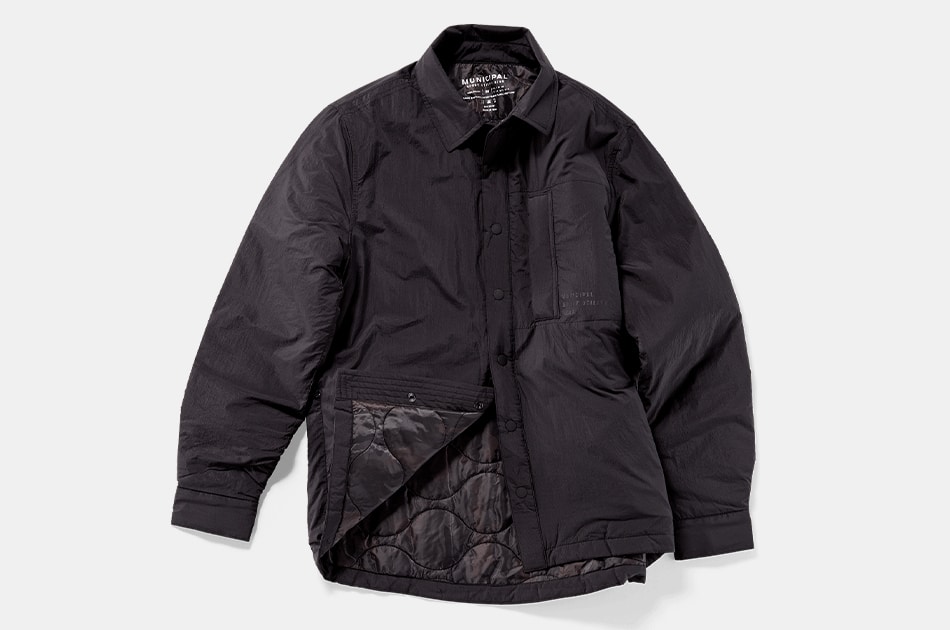 Municipal Revert Shirt Jacket
There's a reason Municipal calls the Revert Shirt Jacket "the shirt jacket everyone should have." It's a divinely comfortable garment with a cloud-soft, cozy quilted inner lining, with polyester fill that adds a layer of warmth to keep out the cold weather. Thanks to its pure nylon exterior, it's incredibly tough and resistant to rain, snow, and sleet. But don't worry about packing on extra weight. This wears more like a shirt than a jacket, and it's sleek enough to fit under a heavier coat for winter layering while still being the ideal outer layer for cool weather.
Material: Nylon, poly-fill insulation
Color Options: Black, Jungle Camo, Natural
Weatherproofing: No
COO: United States
Price: $98.00
The Takeaway: Light as a feather but with just enough insulation-filled "puff" to make it a winter-friendly coat, this is exactly what you want when out and about on the town.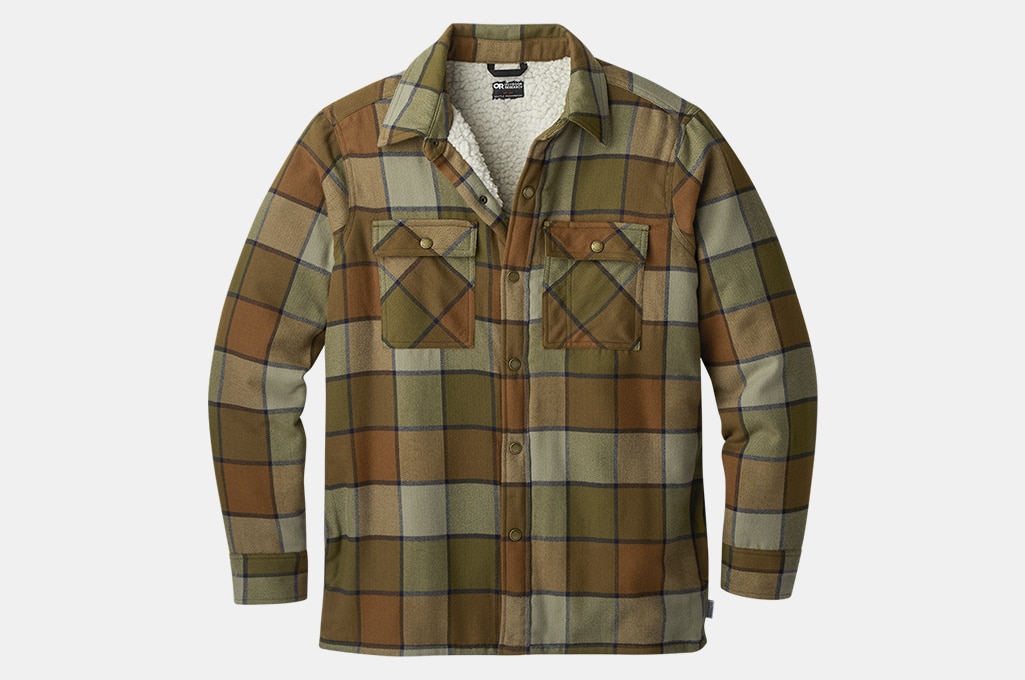 Outdoor Research Men's Feedback Shirt Jacket
Outdoor Research is a brand best-known for making hard-wearing outdoors-friendly clothing, and the Feedback Shirt Jacket lives up to the brand's reputation. Made with a flannel exterior, Vertical EXO insulation, and super-soft Sherpa fleece for the interior, it's hands-down one of the most comfortable shirt jackets you'll ever wear while also being suitably warm for the winter months. The insulation is made using primarily recycled materials, and the fabric is both UPF-protected and breathable enough that you won't overheat as you run, jump, and play in the cold weather.
Material: Polyester Sherpa Fleece
Color Options: Fatigue Plaid, Saddle Plaid, Ink Plaid
Weatherproofing: No
COO: Indonesia
Price: $74.50
The Takeaway: The combination of super-warm Sherpa fleece and VerticalX ECO insulation makes this a shirt not even the winter cold can touch.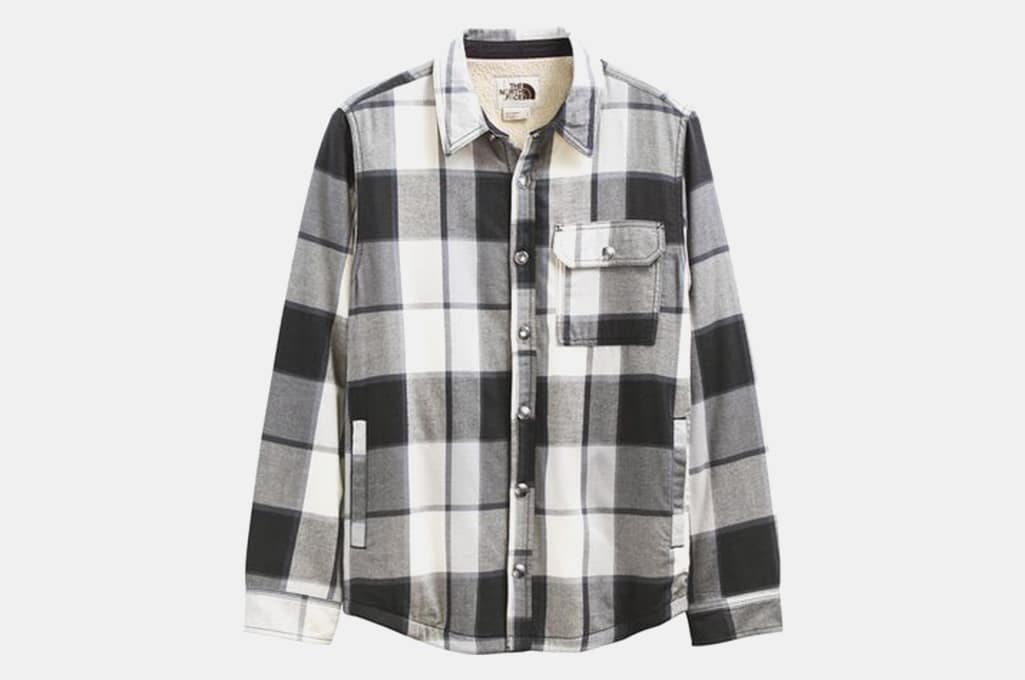 The North Face Campshire Shirt
Take this shirt jacket with you on any camping trip, and you'll always be prepared for the cold. The North Face Campshire Shirt is a simple yet stylish flannel shirt in classic colors: grey, white, and black. It's cut to a regular fit so it'll be great to wear on its own while still being compatible with a heavier winter jacket or parka. The insulated fleece lining packs some serious warmth and also makes the shirt super soft on your skin. Best of all, the shirt jacket comes with hidden hand pockets that allow you to keep your hands warm in any winter weather. Now that's a camping shirt jacket you can love.
Material: Cotton, Sherpa fleece
Color Options: Aviator Navy, Utility Brown
Weatherproofing: No
COO: Unspecified
Price: $76.26
The Takeaway: A lifetime warranty makes this one of the longest-lasting casual shirts you'll ever own—and it's insanely comfortable, too.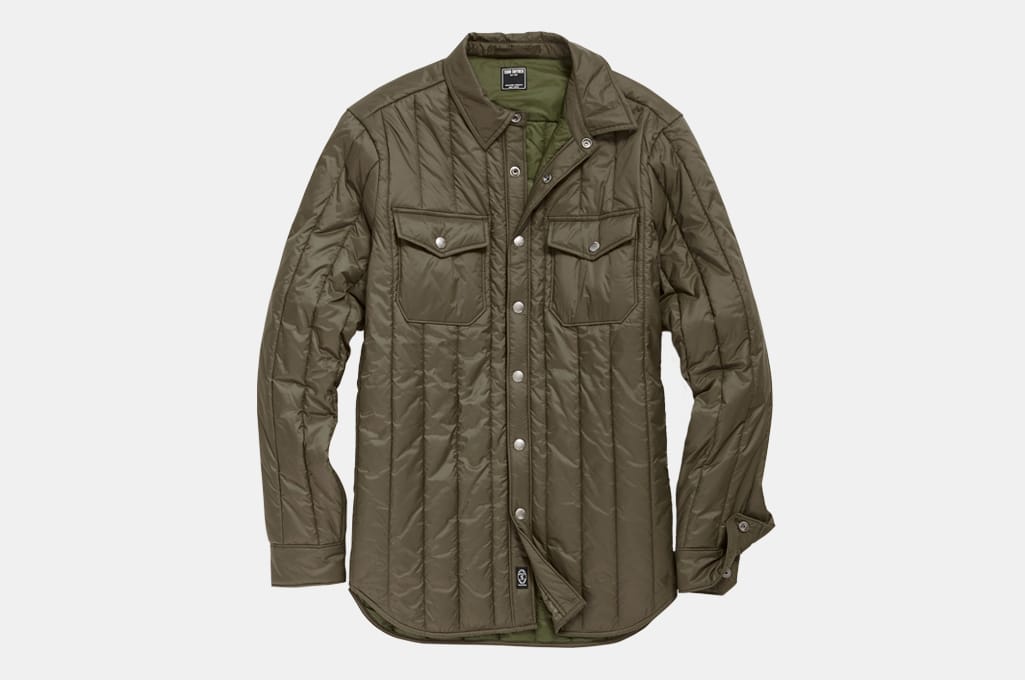 Todd Snyder Italian Quilted Shirt Jacket in Olive
American designer Todd Snyder reimagined the "Sloane Ranger" look in a way that emphasizes versatility and practicality. The Italian Quilted Shirt Jacket is designed to wear both uptown and downtown, with rugged workwear details (like snap-front chest pockets, snap-button closure, and side-entry hand-warmer pockets) that still look great when dressed up. It's suitable as a top layer during the cool months, but when the weather turns chilly, it's compact enough that it'll fit under any winter coat. Thanks to the Primaloft insulation, it's a shirt jacket you'll love wearing all year long.
Material: Italian nylon
Color Options: Olive, Grey Donegal, Navy, Khaki, Red, Wool Tartan
Weatherproofing: No
COO: China
Price: $175.00
The Takeaway: Style combines with versatility in this workwear-meets-western shirt jacket, with warm but light Primaloft insulation.
J.Crew Eco Nordic shirt-jacket with PrimaLoft
J.Crew brings a touch of Scandinavia to your wardrobe with a shirt jacket that just works for any season. The Eco Nordic shirt-jacket features lightweight Primaloft insulation that is more than warm enough to keep out the early winter cold, but you'd be surprised by how well it holds up in the face of a snowstorm or blizzard. The jacket is made using only eco-friendly materials, all high-performance and sleek good looks while still being environmentally conscious. The recycled fabric shell has just enough elasticity that it will bend and flex with your movements, and it has the iconic "puffer coat" feel. To top it all off, for every one of these coats purchased, J.Crew will donate $1 to non-profit organization One Warm Coat.
Material: Recycled poly/spandex
Color Options: Navy, Catskill Green
Weatherproofing: No
COO: Imported
Price: $79.99
The Takeaway: Keep it simple and clean-looking with this sleek, lightweight shirt jacket, but expect to stay warm through the winter thanks to the PrimaLoft insulation.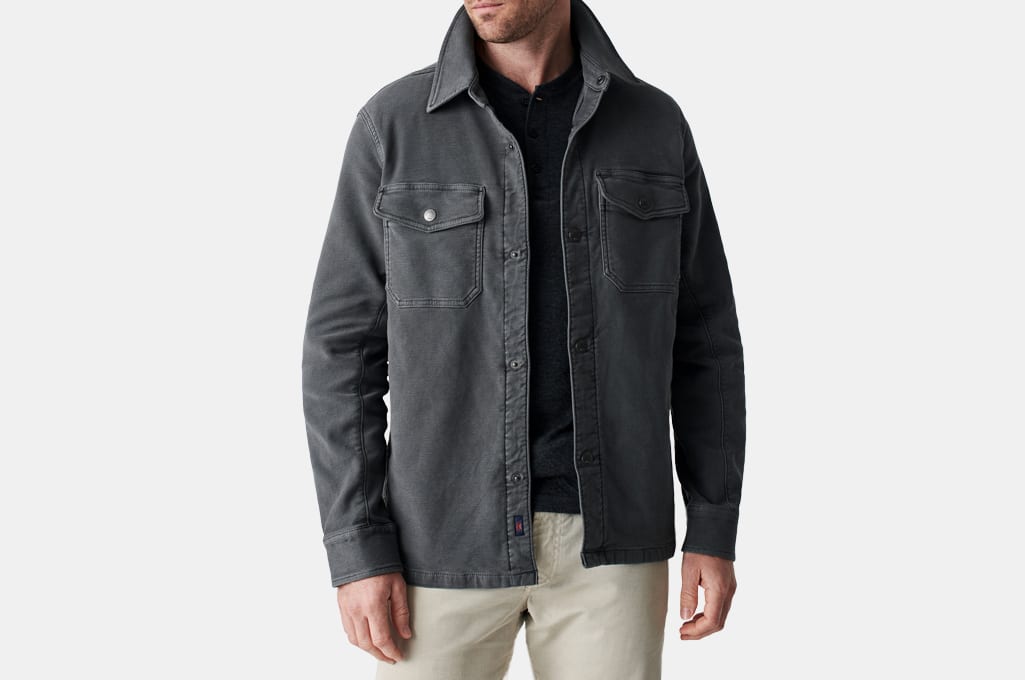 Faherty Stretch Terry Shirt Jacket
When you want to dress up while still looking casual and relaxed, you want the Faherty Stretch Terry Shirt Jacket. Made primarily with cotton, it's a lightweight and comfy shirt jacket, but it's got just enough synthetic fabric blended in to be stretchy and flexible. The addition of antique brass snaps and zipper give it a timeless look that will pair well with your favorite jeans, and the button cuffs make it a garment suitable for the days you want to look your best. The thick knit fabric is warm enough for both a top layer and a middle layer beneath a heavier winter coat.
Material: Cotton, Rayon, Lyocell, Spandex
Color Options: Gray
Weatherproofing: No
COO: Imported
Price: $228
The Takeaway: Classic utilitarian style and a bit of stretch for movement in a layering shirt that can handle all temperatures.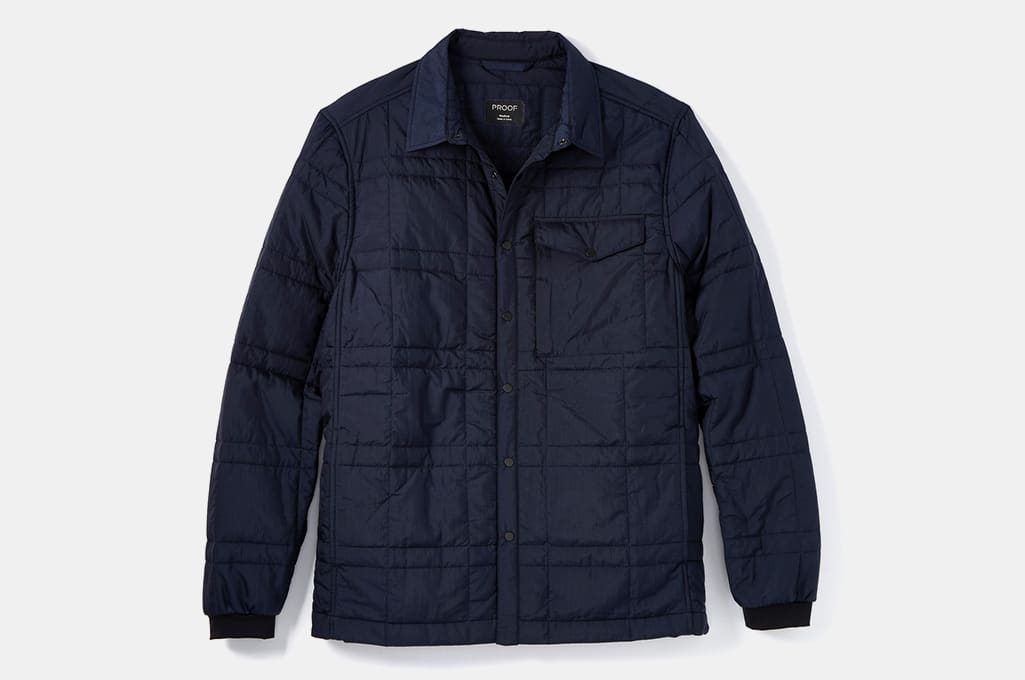 Proof Moonweight Shirt Jacket
If you're looking for a garment that will be the perfect travel companion, the Proof Moonweight Shirt Jacket is just what you need. It's lightweight enough that it'll be comfortable worn onto the plane and small enough to fit into your luggage, but thanks to the polyester insulation, it'll keep you warm against all but the bitterest cold. The snap-front closure makes it easy to button up tight, or you can pop it open when you're getting hot to prevent overheating. Thanks to the graphene infused into the nylon fibers of the exterior and interior, the shirt jacket is both more durable and odor-resistant than most of its competitors. Whether you wear this out camping or strolling through the city center, it's a shirt jacket ideal for any situation.
Material: Graphene-infused and DWR-coated nylon
Color Options: Carbon Blue
Weatherproofing: No
COO: Unspecified
Price: $121.98
The Takeaway: Ultra-lightweight and compatible as both a mid- and outer-layer, this is the perfect shirt jacket to step up your winter shirt game.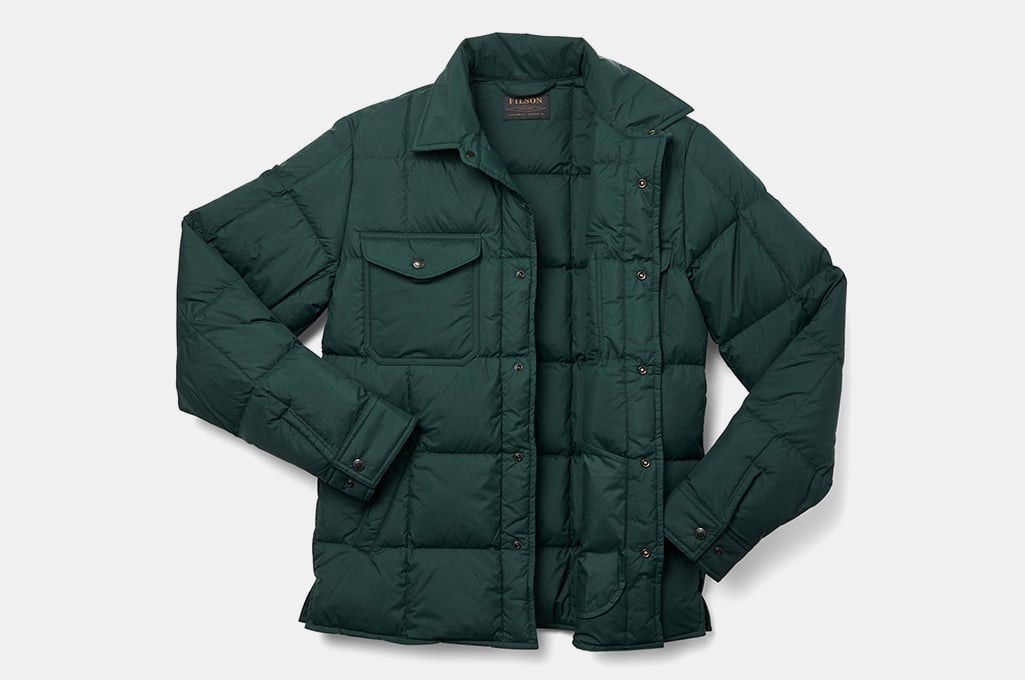 Filson Lightweight Down Jac-Shirt
Dress yourself as warm as possible in the Filson Lightweight Down Jac-Shirt. It's more than just a shirt jacket: it's a down-filled, lightweight hug that will keep you warm and cozy all day long. It's beautifully versatile, designed to be as warm as a parka but not so heavy it'll slow you down on the days when you want to move quickly and get things done. All of the goosedown used for the insulation is certified according to "Responsible Down Standards," using only humanely treated geese. Thanks to the lightweight nylon shell, it's both water- and wind-resistant even on the blusteriest of blustery days. And you'll never stop loving how soft and sleek the Alaskan Guide flannel interior feels against your skin.
Material: Nylon, Goose down, cotton flannel
Color Options: Dark Tan, Fir
Weatherproofing: Water-resistant nylon shell
COO: Imported
Price: $250
The Takeaway: Combining the warmth of down with the mobility of a shirt jacket, Filson's offering keeps you warm when there's a job to be done.
REI Co-op Trailsmith Moleskin Shirt Jac – Men's
REI is an excellent go-to choice for mountaineers, hikers, and campers who want hard-wearing, reliable gear. The REI Co-op Trailsmith Moleskin Shirt Jac brings warmth and comfort to your outdoorsman's wardrobe without burdening you with a cumbersome parka, so it's perfect for the cool-weather camping trips when you want to make absolutely sure you're protected against a possible cold snap. The exterior is made using organically-grown cotton moleskin, which keeps it lightweight and offers impressive durability. Though it doesn't feature any insulation, it's surprisingly effective at keeping out the cold nonetheless. Best of all, it's eco-friendly and environment-conscious, so you can buy and wear this knowing you're doing your part to encourage a greener planet.
Material: Organically grown cotton
Color Options: Pirate Black, Waterbuck Brown
Weatherproofing: No
COO: Imported
Price: $99.95
The Takeaway: You've never felt an over-shirt quite as soft as this moleskin shirt jacket, but it's more than sturdy enough to handle the rigors of any trek, climb, or campsite.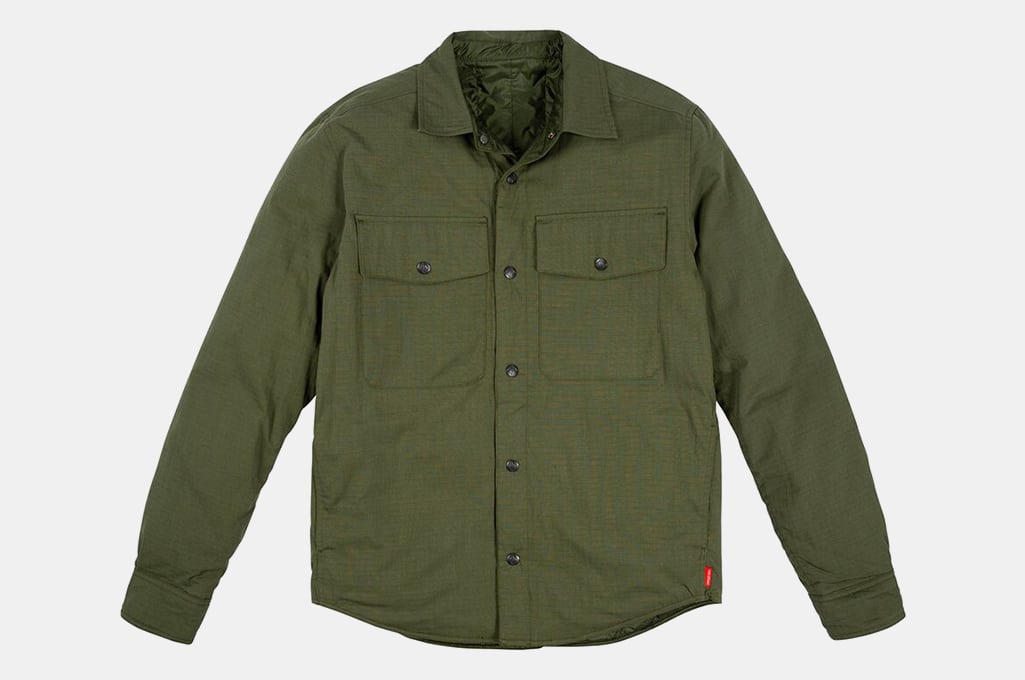 Topo Designs Insulated Shirt Jacket
For the perfect three-season garment, you'd do well to consider the Topo Designs Insulated Shirt Jacket. The exterior shell is made using an interesting blend of natural and synthetic fabrics, which pairs the lightness and breathability of cotton with the added durability and water-resistance of ripstop nylon. There's just enough Primaloft insulation added into the mix to keep you warm, but not so much it becomes bulky or over-heavy. One very cool feature unique to this shirt: it's designed to be worn inside out, with a reversible design that gives you twice the style choices for the same price.
Material: Ripstop cotton, nylon
Color Options: Olive
Weatherproofing: Water-repelling nylon inner layer
COO: United States
Price: $179.00
The Takeaway: Enjoy the PrimaLoft insulation when the weather is cold, but if the rain starts to fall, simply turn this bad boy inside out and enjoy the comfort of a rain-repellent jacket.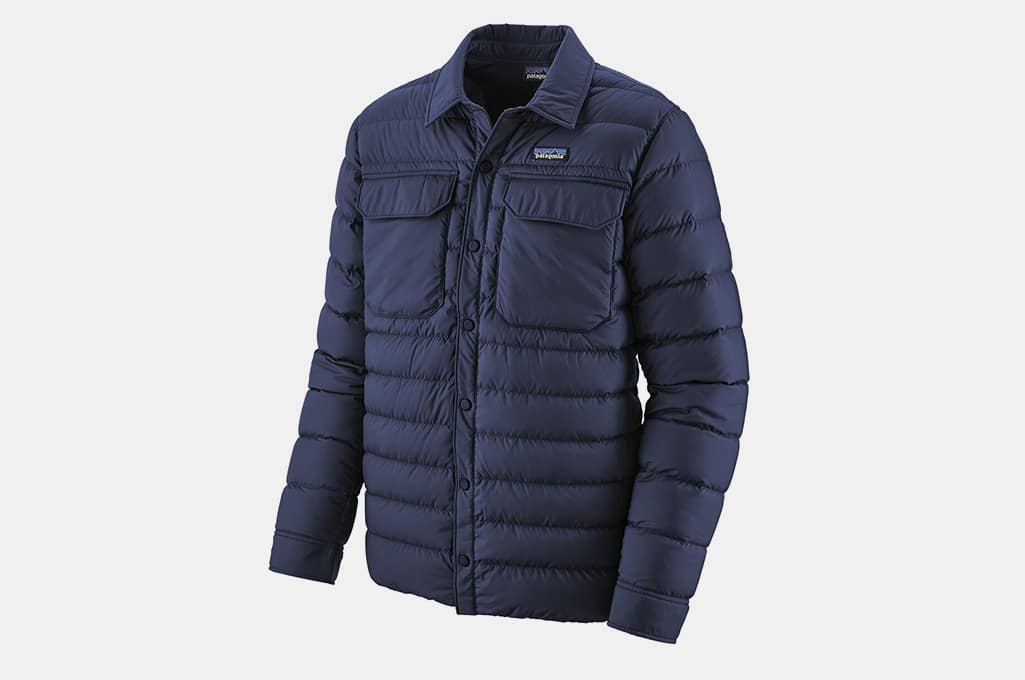 Patagonia Men's Silent Down Shirt Jacket
Patagonia is THE brand for guys who want the toughest outdoorsman's gear around. The Silent Down Shirt Jacket combines Patagonia's classic durability with its sleek sense of style, delivering a garment that is incredibly warm but still hugs your frame to cut down on the bulk. The shirt jacket is made using primarily recycled materials, including the super-soft synthetic shell and inner lining, as well as the 700-fill recycled goose and duck down. Wear this out on any trekking, skiing, or camping trip, and you'll stay toasty warm.
Material: Polyester taffeta (70% recycled)
Color Options: Navy, Black, Nest Brown
Weatherproofing: DWR finish
COO: Vietnam
Price: $159.99
The Takeaway: Don't let the super-soft, super-comfy look fool you; this is a rough-and-rugged jacket resistant to wind and weather, with enough filling to stave off even the worst cold in your city.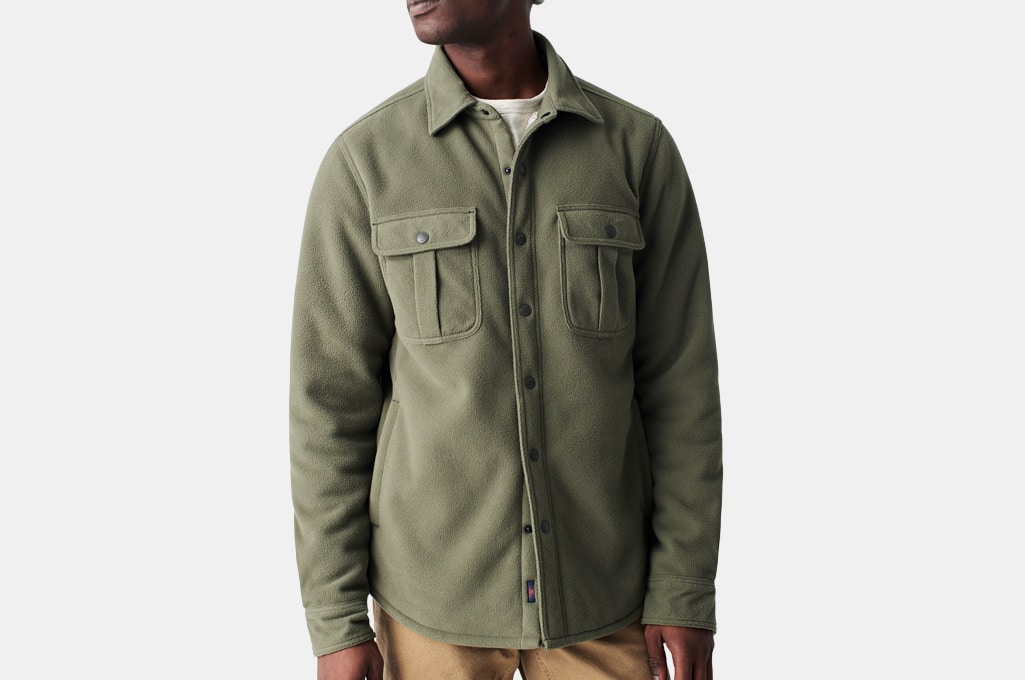 Faherty Sherpa Lined Shirt Jacket
The Faherty Sherpa Lined Shirt Jacket is a garment designed for men who want a piece that's neither too form-fitting nor too boxy, but fits to perfection. It's a workwear-inspired piece that looks as durable as it feels, and you'll find the synthetic fabrics—including recycled polyester—makes for a truly hard-wearing outfit that'll keep you cozy and comfy all day long. The synthetic Sherpa fleece lining is incredibly warm and soft on your skin, and it's warm enough to wear on its own while also being lightweight enough to serve as a mid-layer beneath a heavy parka or puffer coat.
Material: Polyester
Color Options: Olive, Koi Blue, Washed Black
Weatherproofing: No
COO: Imported
Price: $129
The Takeaway: With classic work shirt details and soft recycled fleece, this is the perfect shirt jacket for unpredictable weather as it can go under a parka or over a hoodie.
Disclosure: Clicking on these links and making a purchase may earn us a small referral fee, at no extra cost to you. Learn more here.
freestar.config.enabled_slots.push({ placementName: "gearmoose_leaderboard_btf", slotId: "gearmoose_leaderboard_btf" });