The 25 Best Men's Leather Jackets
What's the epitome of casual, rugged and refined cool? Easily wearable no matter who you are or what you have planned? The classic leather jacket. From Brando and Dean to Beckham, leather jackets in their various iterations are the widely accepted finishing touch for everything from a crisp white pocket tee to a grey henley to a chambray dress shirt and tie.
There's a style out there for everyone, from rough-and-tumble moto jackets to bomber jackets to leather military jackets that add flair, form and function to your favorite style staples. And there's perhaps no better time to break out a great leather jacket than early fall — it ditches the weight of your heavy winter parka but it can stand up to a bit of a chill as you crunch leaves underfoot. In the right fit — ideally slim and sharp — it can work in place of a blazer just as seamlessly as it can at a weekend rock concert.
Our picks for the best men's leather jackets are detailed below, and trust us — you're going to want to buy more than a few of these.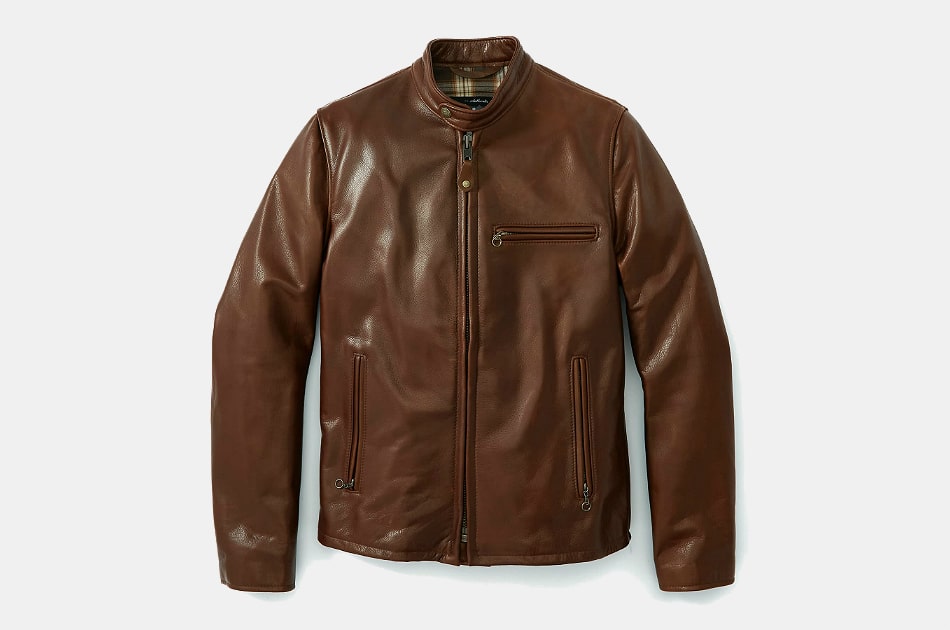 Schott Waxed Natural Pebbled Cowhide Café Leather Jacket
When we first got wind that our favorite gear purveyors at Huckberry (assuredly, one of the best online shops for men) were stocking an assortment of handsome, timeless and seriously rugged Schott leather jackets, well, we were impressed (and jealous). And the arrival of the Schott Vintage Fitted Leather Motorcycle Jacket calls for its inclusion on this list — no doubt about it. The Perfecto leather construction, flannel lining, and slightly trim fit mean you'll be protected while riding your motorcycle, and look sharp at the same time. It's an iconic jacket that's well worth the investment, made to be worn each and every single day.
Ionic Black Leather Jacket
When we search for a leather jacket, we look for a few things in particular, starting with quality construction, a sleek design and the right fit and feel. On the surface, it sure does look like the Ionic Black Leather Jacket checks all the right boxes, and then some. Featuring a slim fit, a classic cafe racer design and the sort of styling potential that works with darn near anything (but especially slim black jeans, a henley and moto boots), this leather jacket is your new favorite piece of fall outerwear.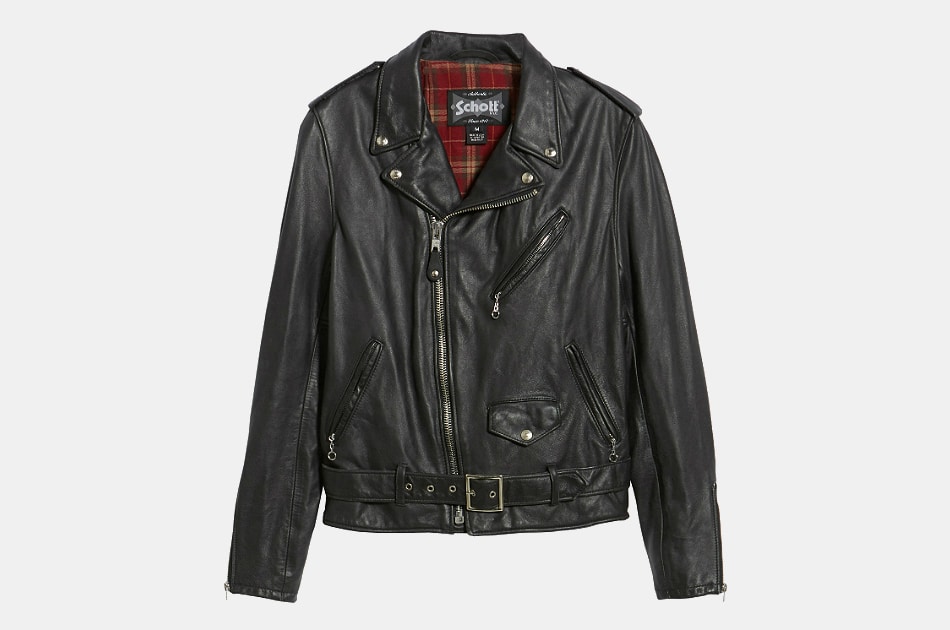 Schott Vintage Fitted Leather Motorcycle Jacket
With a reputation that precedes it, this Perfecto leather jacket is a stone-cold American icon, crafted with classic touches like nickel-plated brass hardware and hand-cut leather — all rolled into one to make this a jacket you won't be able to live without. It's the perfect leather jacket to wear with beat-up black jeans and black leather boots, plus a white tee — that's a look dating back decades that you can still wear to this very day. And of course, it's all possible thanks to this Schott leather jacket. Don't sleep on this one, folks.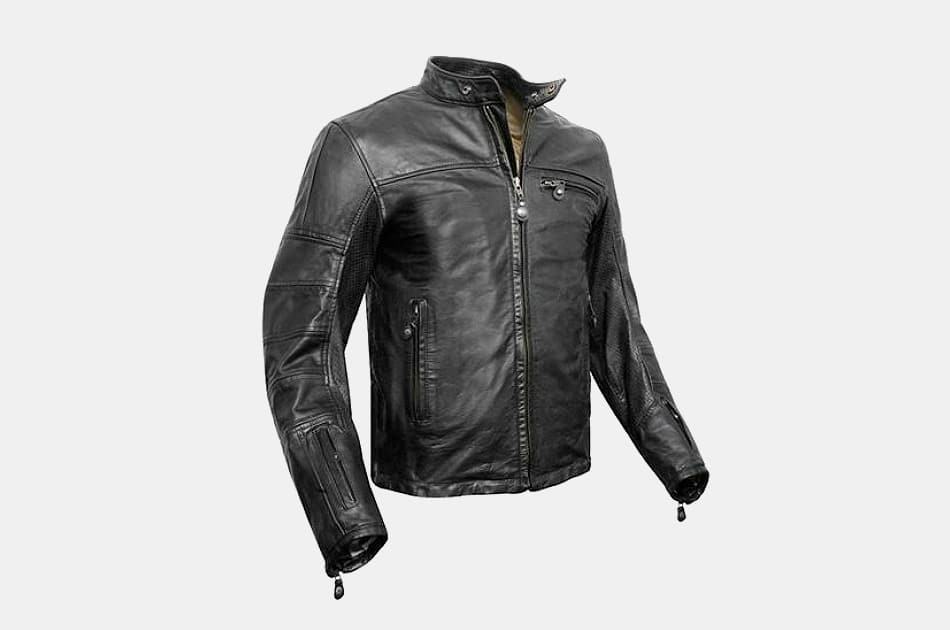 Roland Sands Ronin Leather Jacket
If you want a leather jacket that can absolutely do it all — and then some — reach for the stellar Roland Sands Ronin Leather Jacket. Made from hand-waxed and finished leather and featuring a snap collar and front pockets for plenty of storage space, it's absolutely the right jacket to wear when you need a dependable finishing touch for a motorcycle ride. It's built for the road yet stylish enough to work at the office or a concert, and with its great looks, you'll want to wear it all those places and beyond — for the price, that's versatility that can't be beat.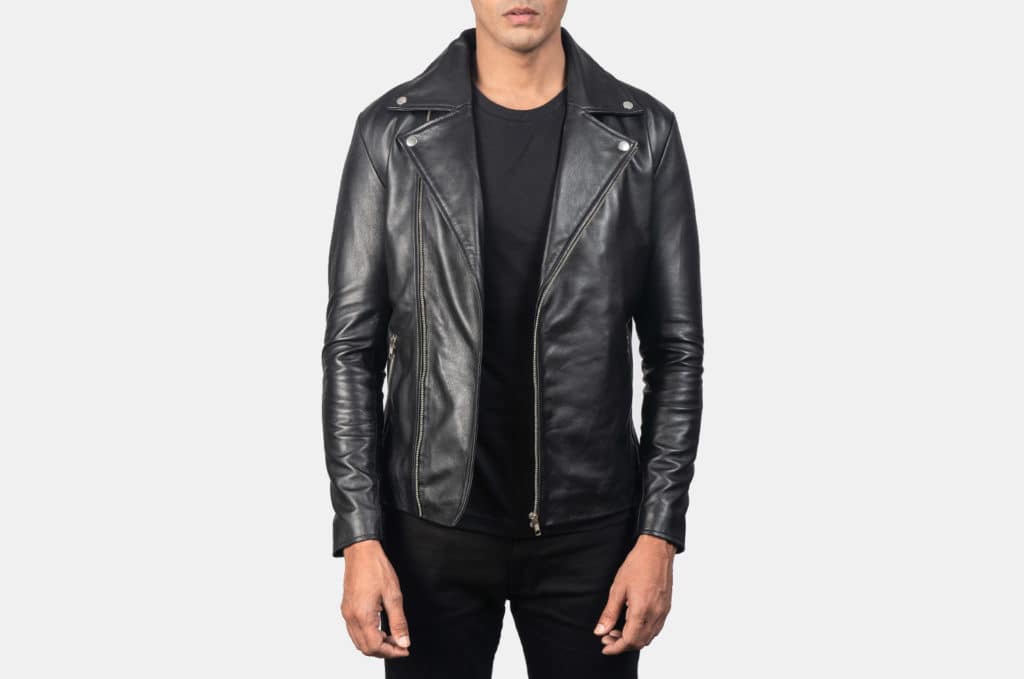 Noah Black Leather Biker Jacket
The Jacket Maker really is the place to go if you want to outfit yourself with a quality leather jacket that won't break the bank, and with a range of options at highly agreeable prices, you're getting plenty of bang for your buck. The Noah Black Leather Biker Jacket turns things up to 11 when it comes to badass style, featuring the sort of classic profile that's flattering on any guy. Wear it with a grey tee and black moto jeans for a sharp everyday look.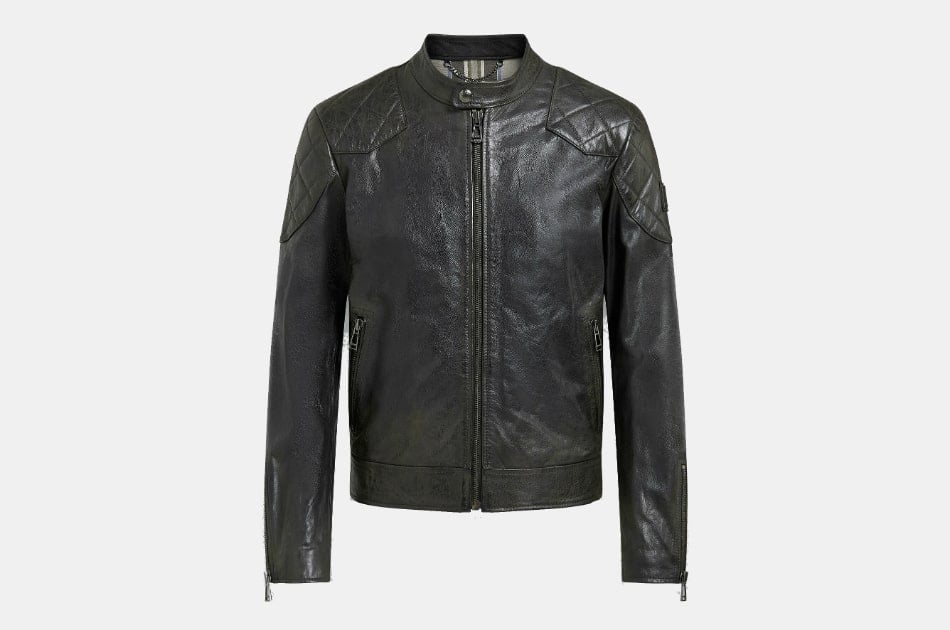 Belstaff Outlaw Leather Jacket
If there's a brand we think of when we think of outstanding, heirloom-quality leather jackets, it just might be Belstaff. The brand makes some of the best leather jackets, no doubt about it, and the Outlaw is but a prime example of the type of jacket you're going to want to buy now, then wear all the time. With quilted shoulder detailing and a razor-sharp cut, plus a hefty price tag to match, it's an incredible leather jacket for what you're investing in it.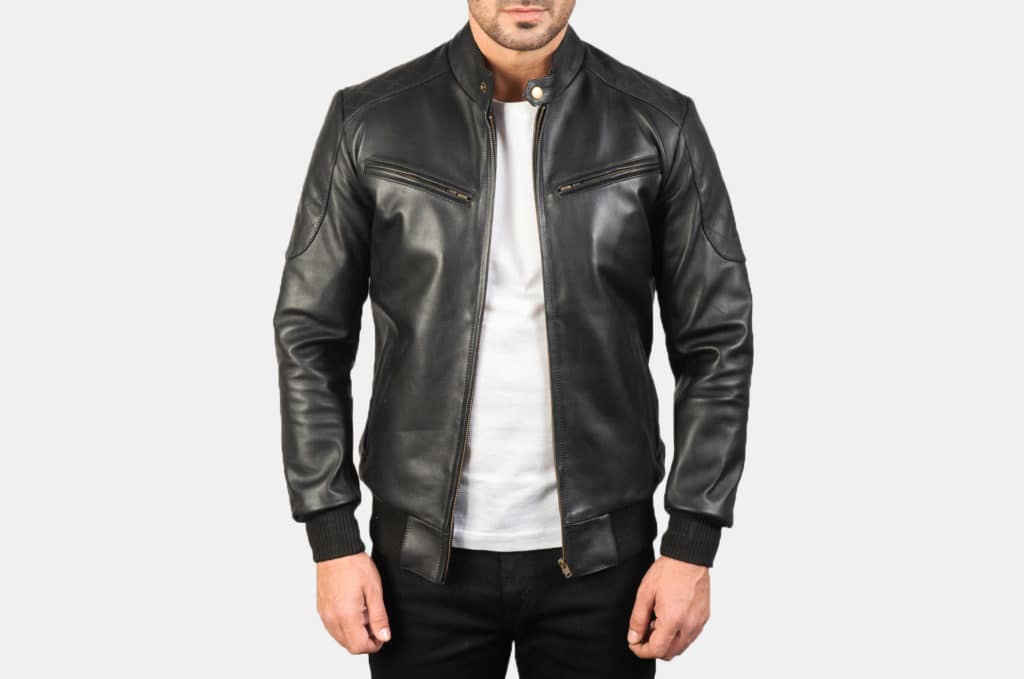 Sven Black Leather Bomber Jacket
The great thing about finding a rugged leather bomber jacket is the instant boost in confidence it can give you, especially when the jacket in question is the Sven Black Leather Bomber Jacket. Yes indeed, The Jacket Maker comes through once again with a seriously cool option that'll look great with all your favorite rugged style staples (think blue jeans and scuffed-up black boots, for starters).
AllSaints Milo Leather Biker Jacket
For classic cool that won't break the bank, consider adding AllSaint's Milo Leather Biker Jacket to your fall wardrobe rotation. It's made from soft lambskin leather and sports classic biker jacket details — an asymmetric front zipper, a variety of zipper pockets, and an old-school ticket pocket — in a modern, slim-fit design that will look great both on and off your motorcycle.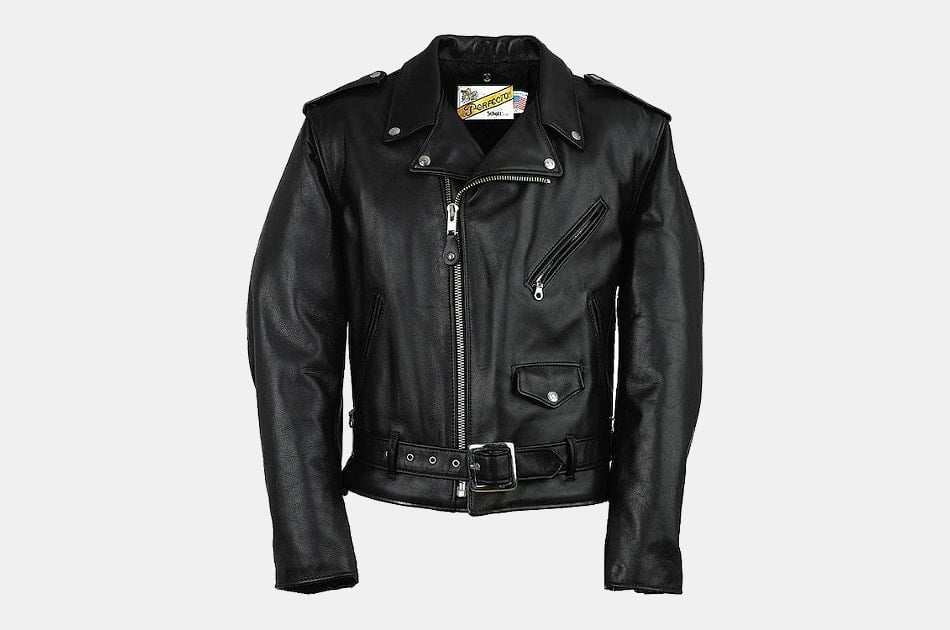 Schott Perfecto Leather Jacket
When it comes to iconic leather jackets, Schott practically wrote the book. The Schott Perfecto is among a set of legendary silhouettes developed decades ago by the iconic brand, and they've got some serious staying power. This particular jacket is still designed and made right in America using the brand's classic attention to detail and rugged style — it's nearly the definition of the perfect leather jacket, and the best part is that you can snag it for under a grand. It'll more than make up for that initial cost, with quality and longevity that's known worldwide. What are you waiting for? Your new fall jacket is here.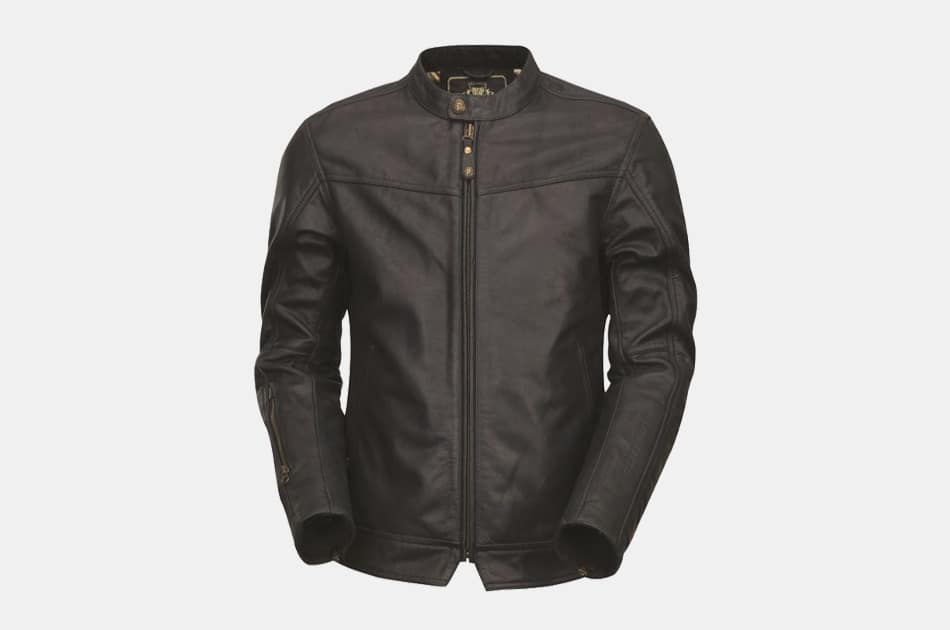 Roland Sands Walker Jacket
Want a leather jacket that's sleek, sharp and tough as nails? One that goes with the coolest style staples in your wardrobe — think a rugged short-sleeve henley, slim blue jeans and scuffed-up brown leather boots? Then you want the Roland Sands Walker Jacket, made to be worn on the road through all kinds of conditions. It's fairly priced for the quality you're getting, so you can't go wrong with either the black or brown colorway.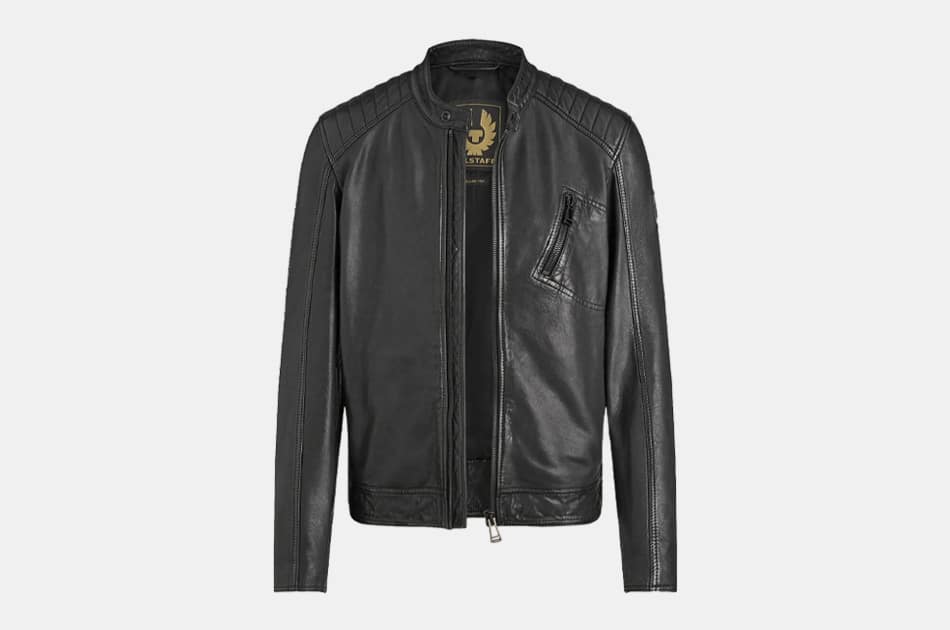 Belstaff V Racer 2.0 Leather Jacket
If a brand like Belstaff is good enough for a modern-day style icon like David Beckham, it's assuredly good enough for the fall adventures you're dreaming up this season — right? Right. The V Racer 2.0 Leather Jacket certainly belongs under serious consideration as you shop for your new favorite leather jacket, what with its sleek cafe racer design, a sharp fit and reinforced shoulders for real-life durability on the road. Whether or not you've got a motorcycle of your own, consider getting this cool-as-heck leather jacket for fall road trips aplenty.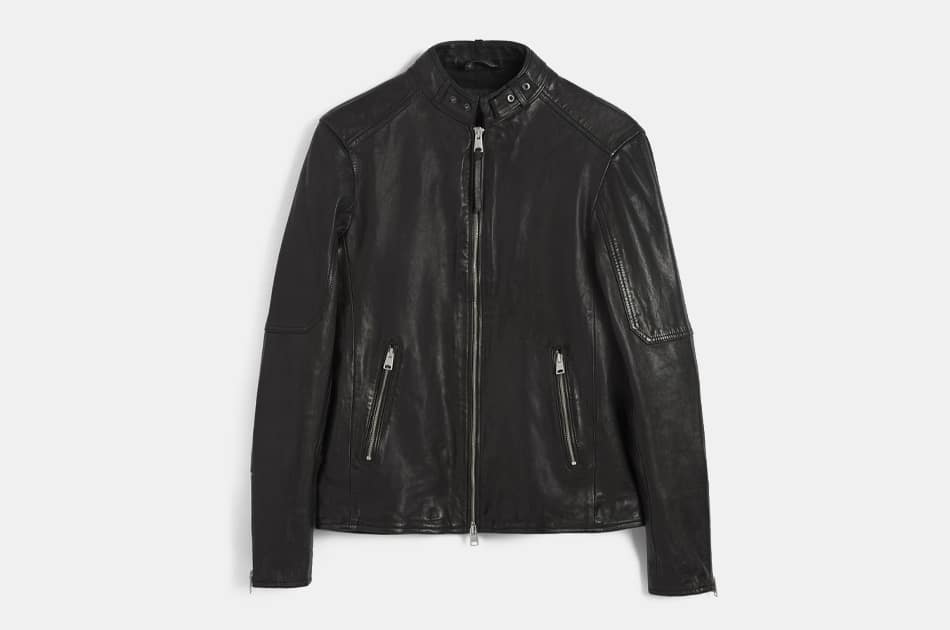 AllSaints Cora Leather Jacket
When it comes to upgrading your leather jacket, there are a few places your search should start. First off, start with a brand that knows a thing or two about making one of the most sleek, coolest leather jackets. Second, get ready to do your research (that's why we're here), and then invest. Third, be prepared to be seriously impressed by the quality and everlasting cool of the AllSaints Cora Leather Jacket, blending the classic style of a bomber with the fast appeal of a biker jacket. In short, it's the perfect leather jacket for fall.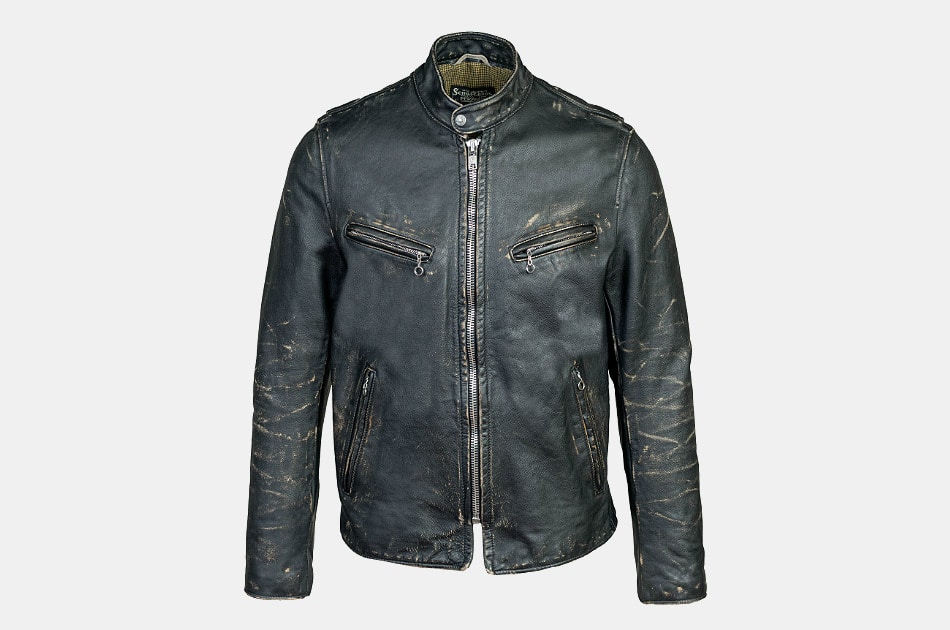 Schott Hand Vintaged Cowhide Café Racer Jacket
When we're on the hunt for a heritage-quality leather jacket — and believe us, it's a topic we dive into frequently here at GearMoose — there's a natural starting point in terms of quality, rugged appeal and timeless style. That starting point, naturally, is Schott NYC, a brand with a name and reputation that precedes itself. You know the brand's iconic moto jackets, but did you know they've also taken a stab at the classic racer silhouette … with equally stylish and covetable results? This is going to be a jacket that transforms your entire wardrobe, no doubt about it.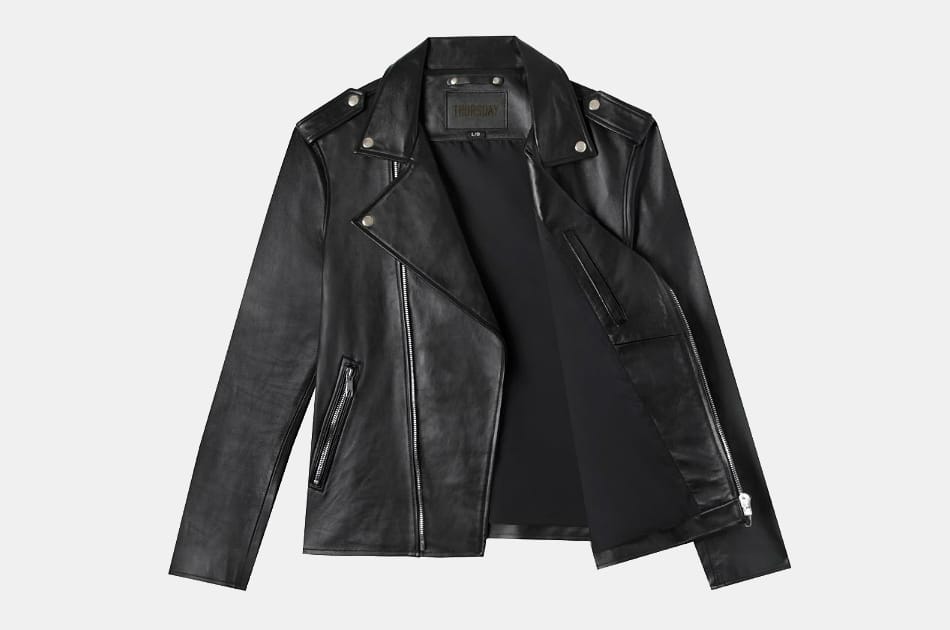 Thursday Boot Co. Motorcycle Jacket
You know Thursday Boots for the brand's enviable, extremely high-quality dress boots, waterproof wingtip boots and durable hiking boots — but did you know they also make a heck of a leather jacket? The outerwear line from this excellent footwear brand recently launched, and we think pieces like the beautiful Motorcycle Jacket are instantly classic and easily wearable. Try pairing this slick moto jacket with slim black denim and a white henley to head to a rock concert — it's a jacket that oozes authenticity and tough style.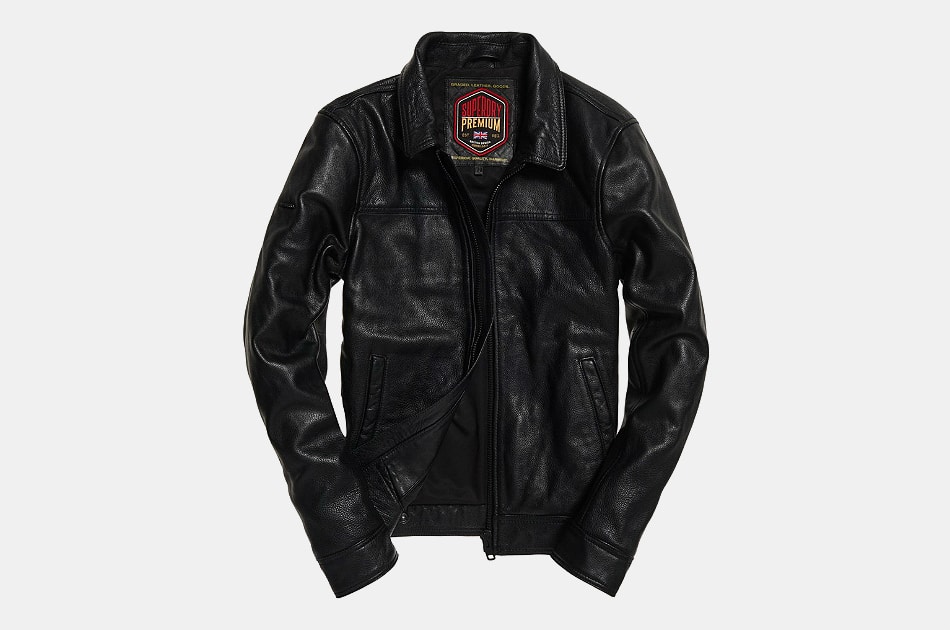 Superdry Curtis Light Leather Jacket
For those who seek a forward-thinking edge when it comes to their outerwear collection, and particularly when searching for one of the best leather jackets out there, you've got Superdry and pieces like the seriously sharp Curtis LightLeather Jacket (not pictured). In an inky Black leather, it's the perfect pairing with slim black denim and yes, naturally … black leather Chelsea boots.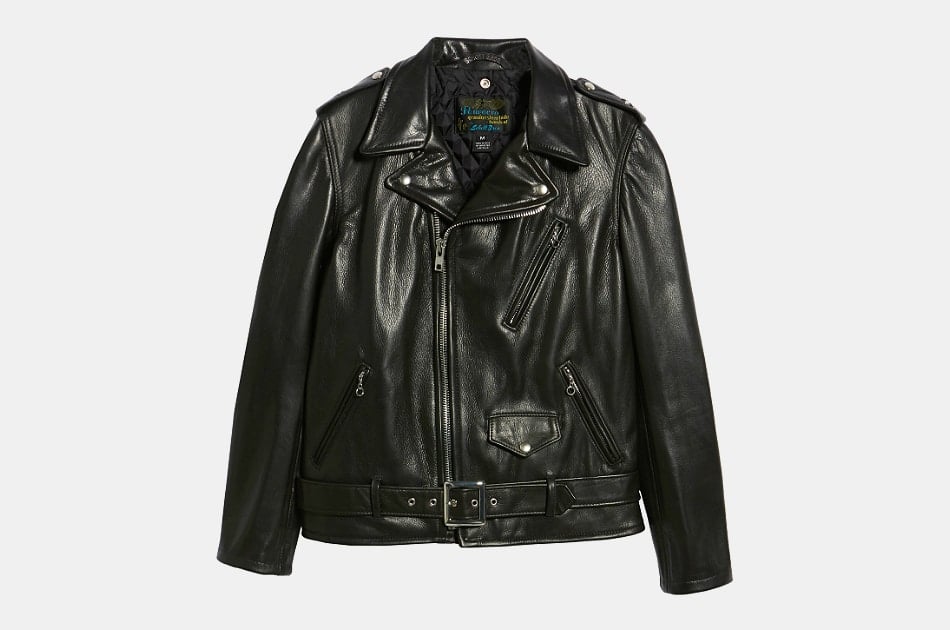 Schott 50's Oil Tanned Leather Moto Jacket
If you want to truly go all-in when it comes to picking up your next leather jacket, well, you might as well start with Schott. Practically the gold standard when it comes to timeless leather jackets, the '50's Oil-Tanned Leather Moto Jacket is truly badass and built to last. It's an everyday-type of leather jacket, if ever there was one.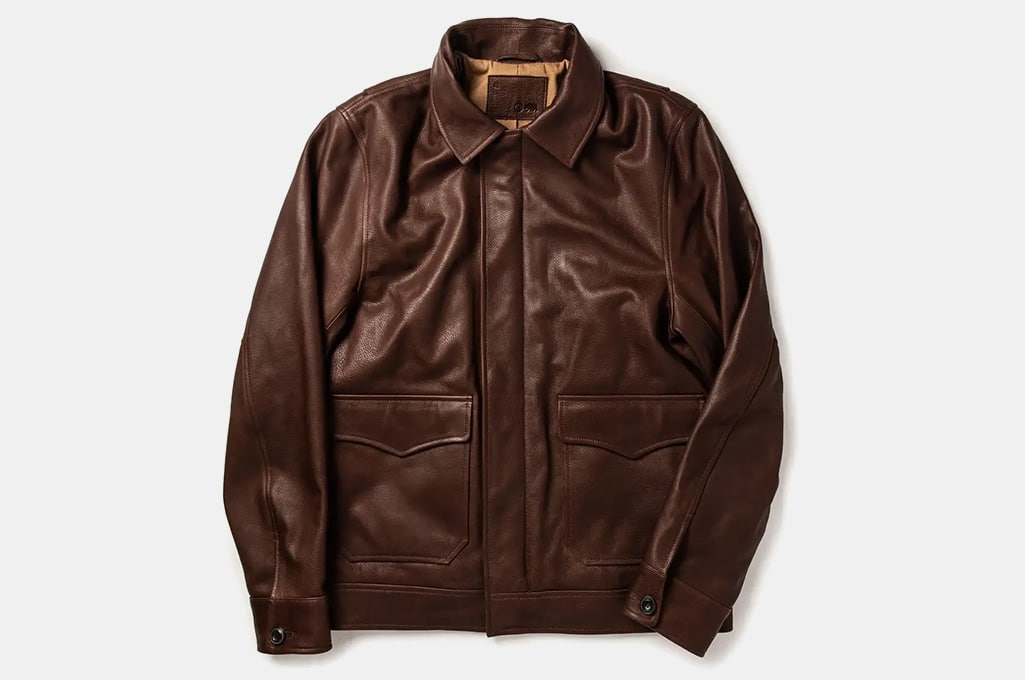 Taylor Stitch Hangar Jacket
The classic flight jacket cut has never looked better. Taylor Stitch crafts products using top-quality materials sustainably produced, with the goal of delivering clothing you can wear for years and years to come. The Hangar Jacket certainly lives up to that brand goal. Made using three-ounce cowhide and a cotton twill lining, the jacket is truly rugged but uber-stylish thanks to its Espresso leather finish. It's got all the pocket space you could ask for, articulated shoulders to allow for excellent freedom of movement, and a streamlined look that will make you feel like a true badass.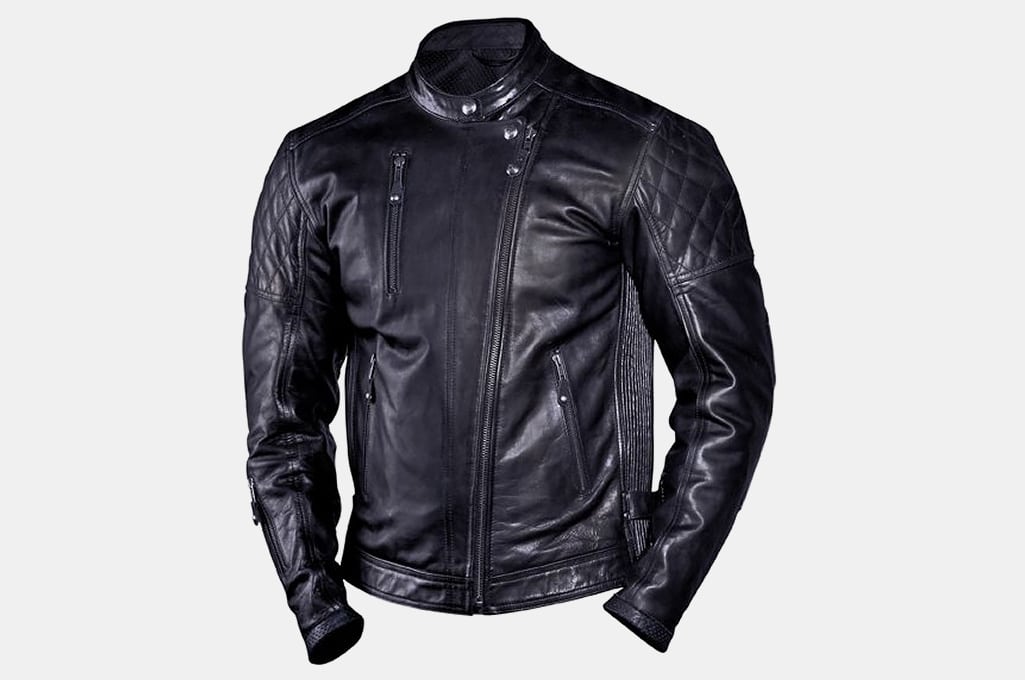 Roland Sands Clash Leather Jacket
Whether you're hitting the road on your Harley or just want to look your best around town, the Roland Sands Clash Leather Jacket has your back. The detailed rocker style and shorty snap collar give you the "bad boy" look you want, and you'll find the hand-finished, washed, and oiled/waxed leather is truly tough enough to handle anything the road throws at it. Thanks to the performance riding fit, you'll be comfortable swinging a baseball bat or gripping your handlebars, and the reinforced riveted elbows extend the sleeves' lifespan exponentially. All in all, it's a jacket as tough as you are.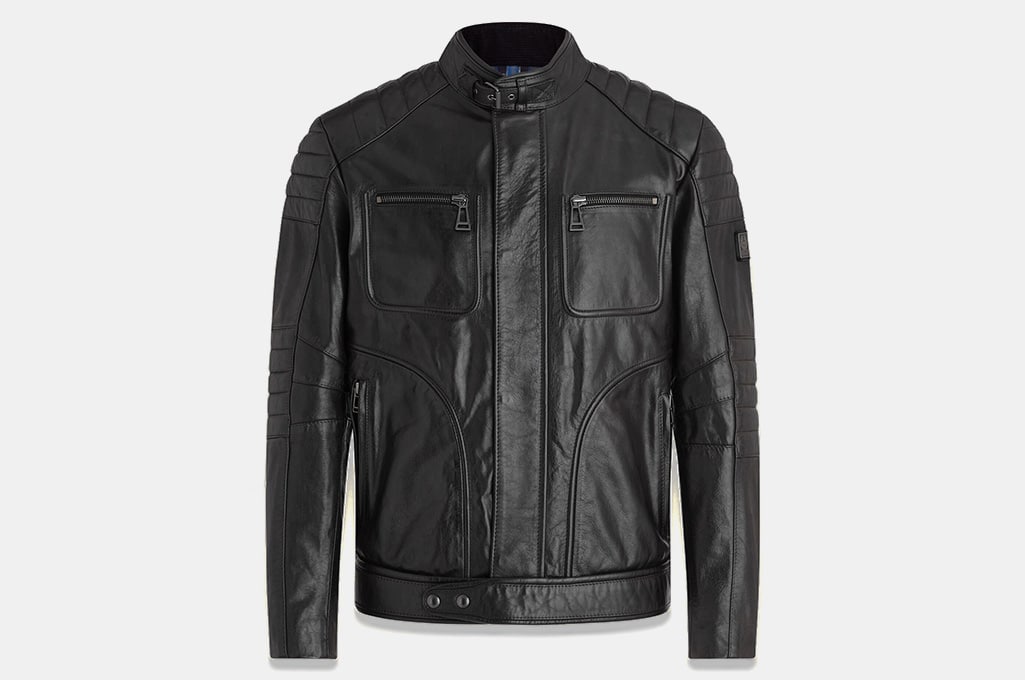 Belstaff Weybridge 2.0 Leather Jacket
For over a century, Belstaff has been providing rough-and-rugged men with tough leather jackets to match their vibe. The Weybridge 2.0 Leather Jacket is hand-waxed for maximum shine, and the classic café racer motorbike jacket is perfect for any fan of bikes and racing. The short cut gives you excellent ease of movement, and thanks to the iconic quilted elbows and shoulders, you'll look bigger and tougher the moment you slip this bad boy on. Best of all, it's finished with a lightweight water-repellent polyester coating that will keep away rain, snow, and sleet.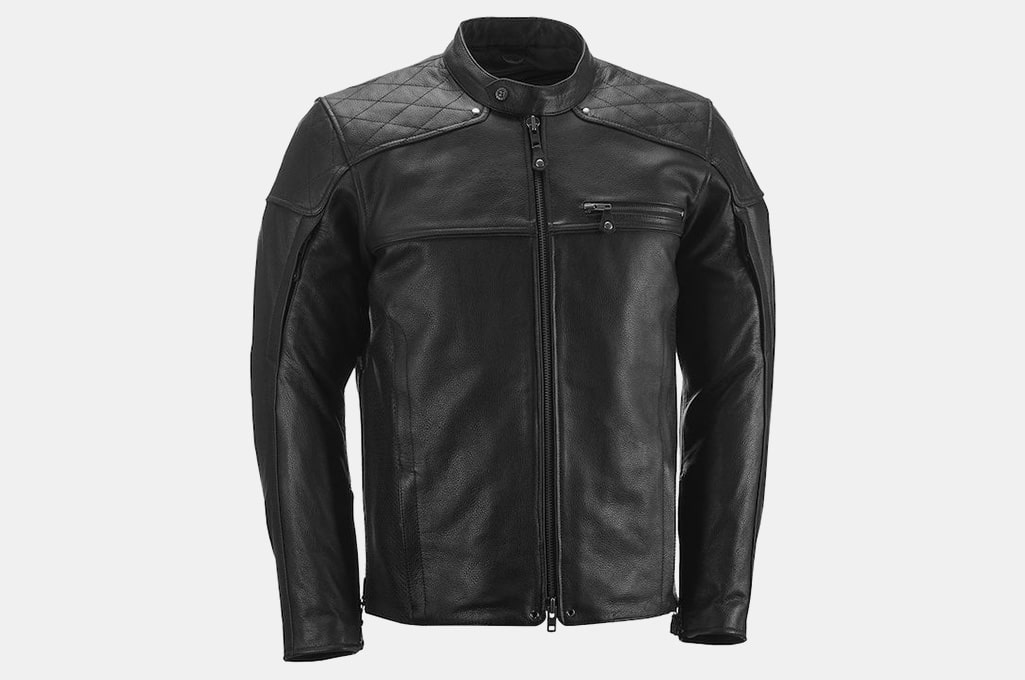 Highway 21 Gasser Leather Jacket
If you're addicted to speed, then you need the Highway 21 Gasser Leather Jacket. Say goodbye to any fluff or frills; with this sleek work of art, you'll be lean, mean, and ready to hit the speed limits. The premium genuine leather can stand up to any ordeal you'll face on the road. For the cold and wet weather, you'll love how warm the Hydraguard interior liner is, but it's easily removable so you can keep wearing the leather jacket well into the warmer months. With the black reflective piping, you'll always be safe on any dark country road.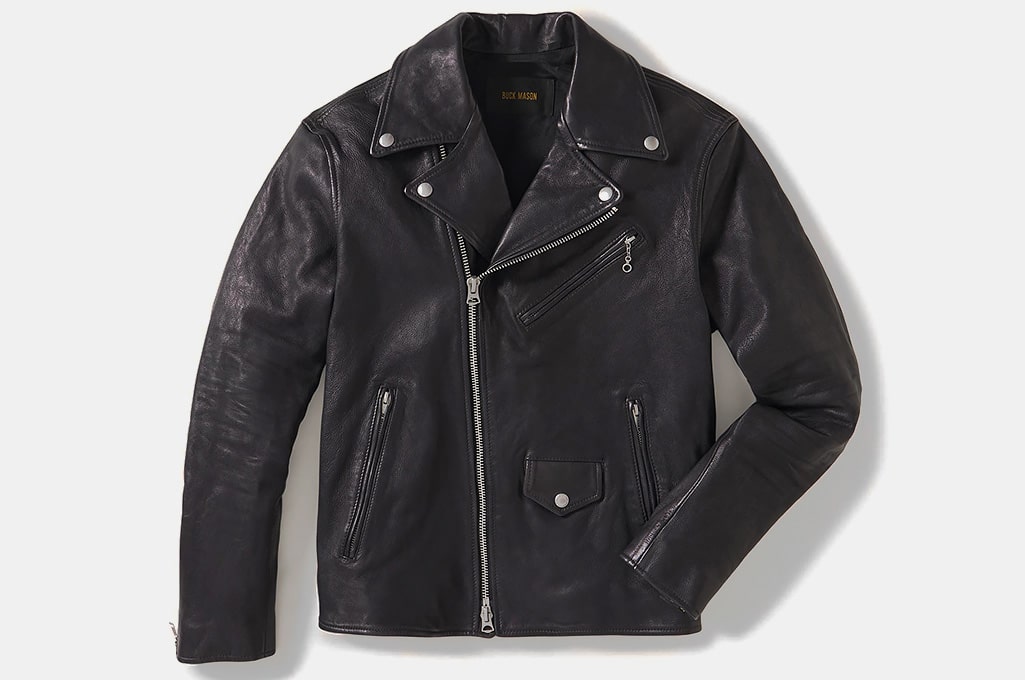 Buck Mason Bruiser Leather Moto Jacket
Sometimes, a coat is more than a coat—it's a way of life. The Buck Mason Bruiser Leather Moto Jacket is exactly that: a garment that defines who you are, your signature look no matter where you go. The Bruiser Style is incredibly warm for the cold weather and accentuates the breadth of your chest and shoulders to show off your grit. Made from pure leather and waxed to a glistening shine, it's a leather jacket you'll never get tired of wearing.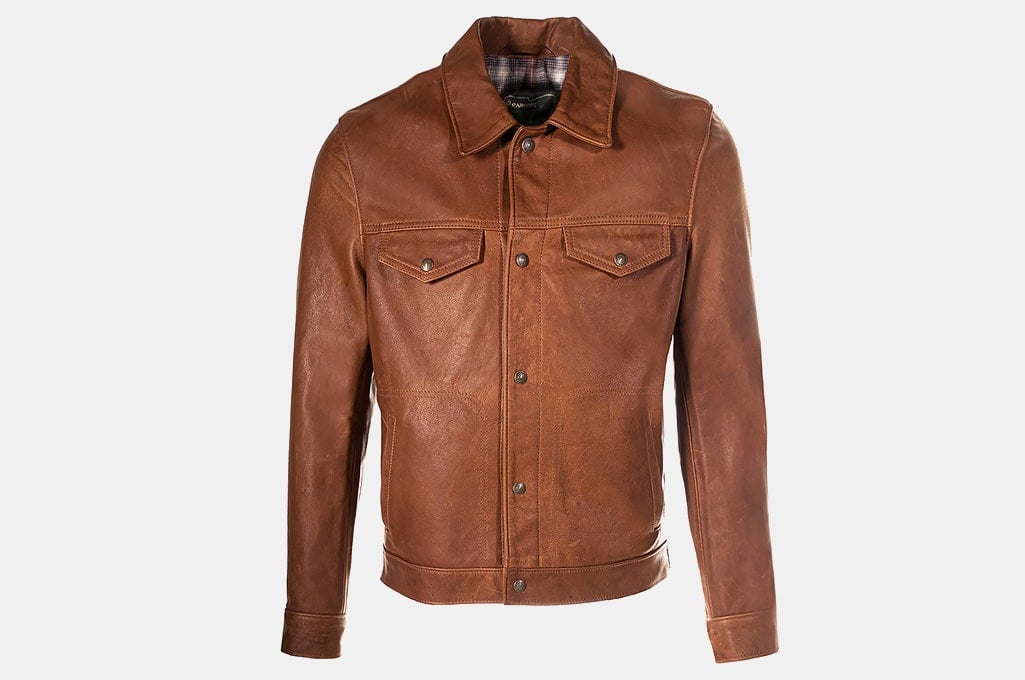 Schott Waxy Cowhide Trucker Jacket
This classic American signature look is everything you need for a road trip in style. The Schott Waxy Cowhide Trucker Jacket has the vintage style you love, and American-made durability only possible from locally sourced leather. The aniline cowhide is waxed to perfection, adding a touch of flair to the long-lasting material. It's designed to be worn year-around, with a medium weight and unparalleled toughness. You'll love how soft it feels from the moment you slip it on, and it will break in faster than any other leather coat you've owned. Now this is a real jacket.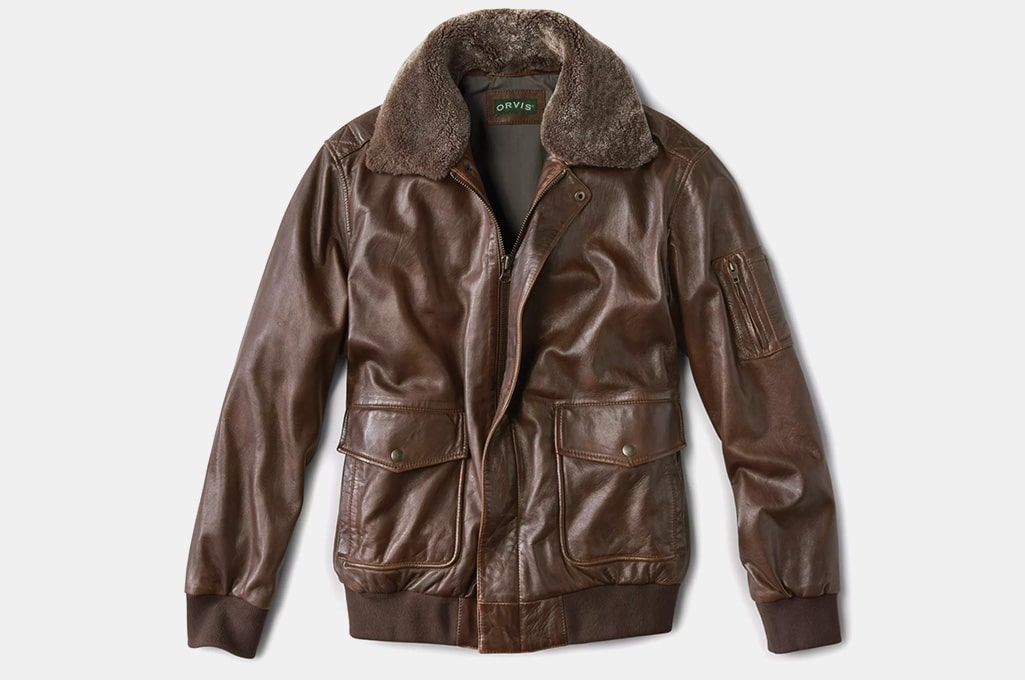 Orvis Spirit II Leather Jacket
For the cold winter months when you want to stay warm, the Orvis Spirit II Leather Jacket is just what you need. The high shearling collar fits snugly around your neck and blocks out all the wind and cold, and the thick leather is tough enough to handle anything, even high-altitude, fast speeds, and freezing weather. The leather is sheep nappa rather than cowhide, but that makes for a far more supple, lighter fabric that just feels right on your skin. The longer you wear it, the better it looks.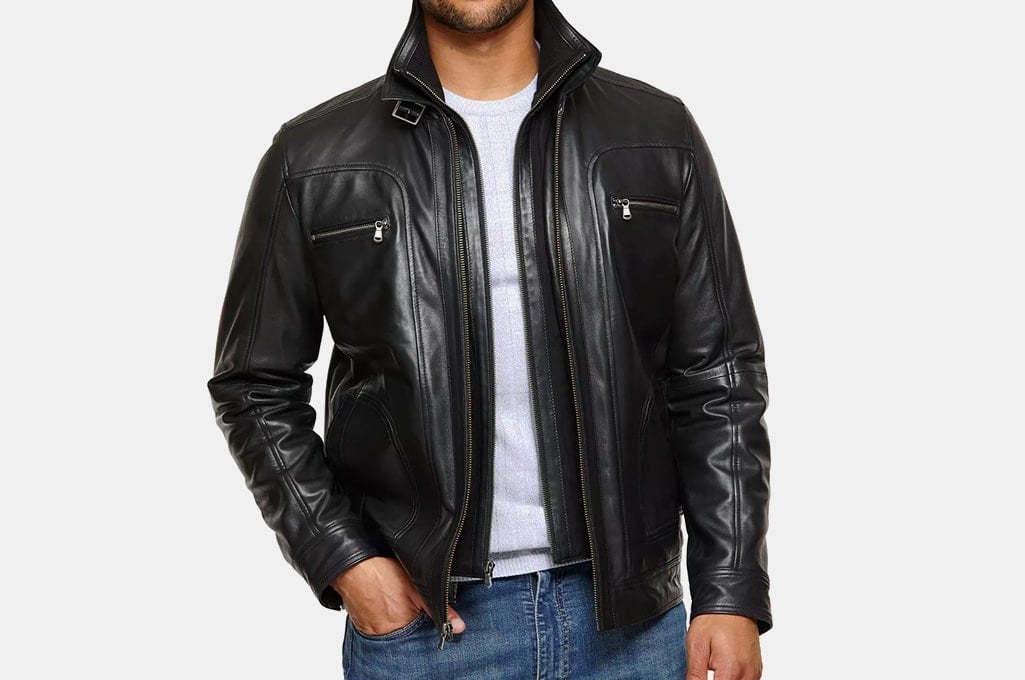 Overland Memphis Lambskin Leather Bomber Moto Jacket
Overland took two of the most iconic leather jacket styles—the bomber jacket and moto jacket—and combined them into one. With the Memphis Lambskin Leather Bomber Moto Jacket, you get both maximum versatility and durability. The sleek look pairs well with jeans and a tee, or even a lightweight cardigan when the weather turns cold. Whether you match it with full biker leathers or trendy urban wear, this waxed lambskin coat will always make you look your best.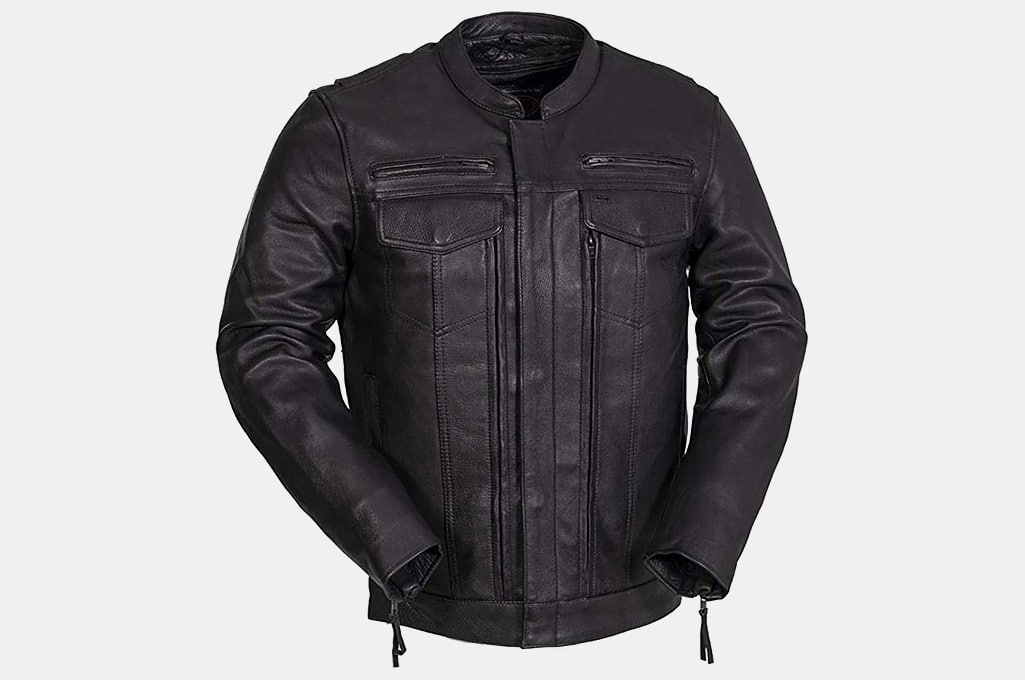 First MFG Co. Leather Motorcycle Jacket
Tough is the name of the game with the First MFG Co. Leather Motorcycle Jacket. Made with genuine Diamond Naked cowhide leather, it's a coat rugged enough to withstand the rigors of a longhaul trip in your truck or on your bike. But don't think it sacrifices style for durability. The scooter jacket is beautifully sporty, perfect for zipping around town on your bike or taking a leisurely afternoon stroll with that special someone. And wait until you hear about the pocket space: two zippered chest pockets, two buttoned chest pockets, two vertical slash pockets, and eight hidden utility pockets. Now that's a coat you can wear for literally everything.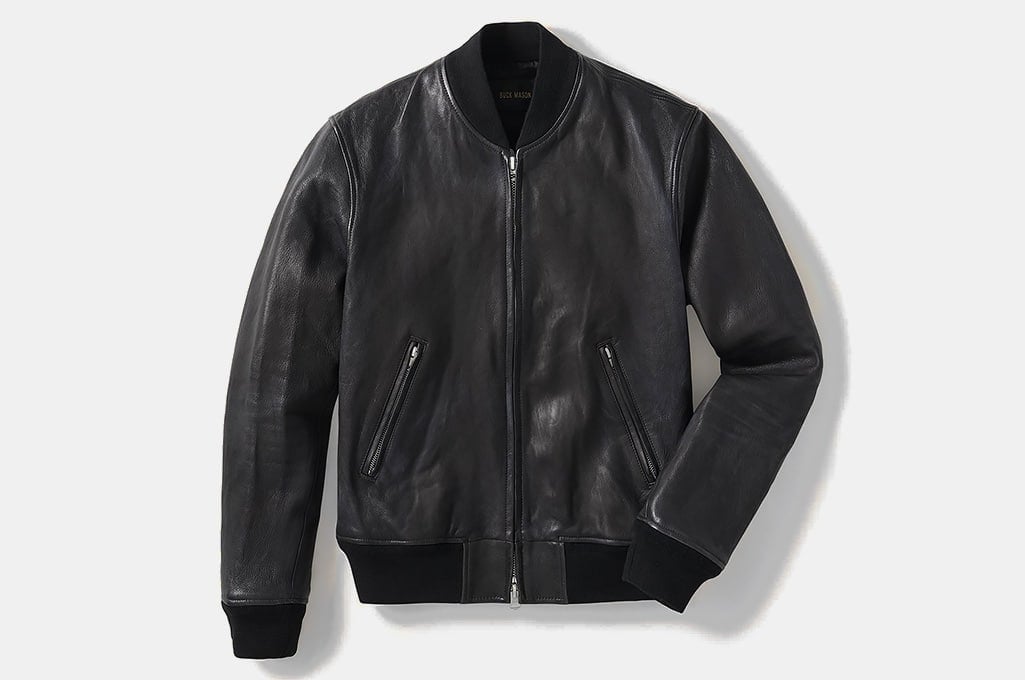 Buck Mason Bruiser Leather Bomber Jacket
Keep it simple and sleek with the Buck Mason Bruiser Leather Bomber Jacket. With this bad boy, you won't have to worry about an overly thick collar or heavy snap cuffs getting in your way. No, this is a slim-profile jacket that will work just as well for a casual outing as a long-haul road trip. It's not overly heavy, but warm enough to use almost all year around. Pair it with a T-shirt and jeans, and you've got one heck of a look.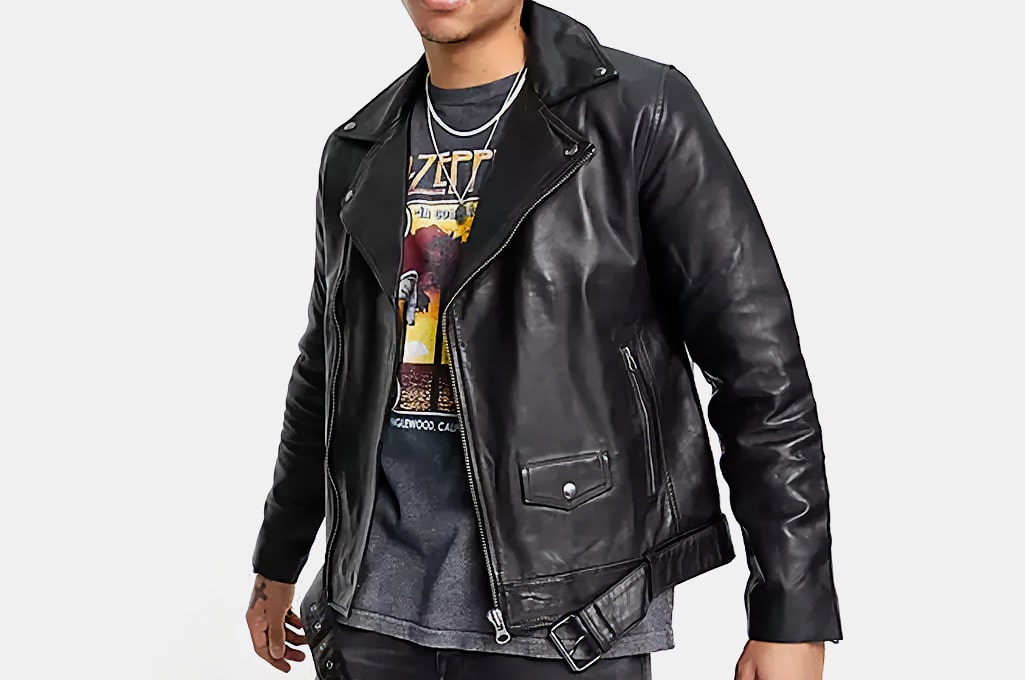 Topman Leather Biker Jacket
Don't you love that "new jacket" feeling? Everything from the heavy leather smell to the crisp feel of the leather—that's what makes the Topman Leather Biker Jacket such a winner from the get-go. The combination of zip fasteners, side pockets, and an adjustable hem make it a wonderfully versatile overcoat, and you'll find the regular true-to-size fit makes for the ideal subtle, understated style choice. The matte finish on the smooth leather just screams elegance. Pair it with slim-fit jeans and your favorite T-shirt, and you're ready to hit the town.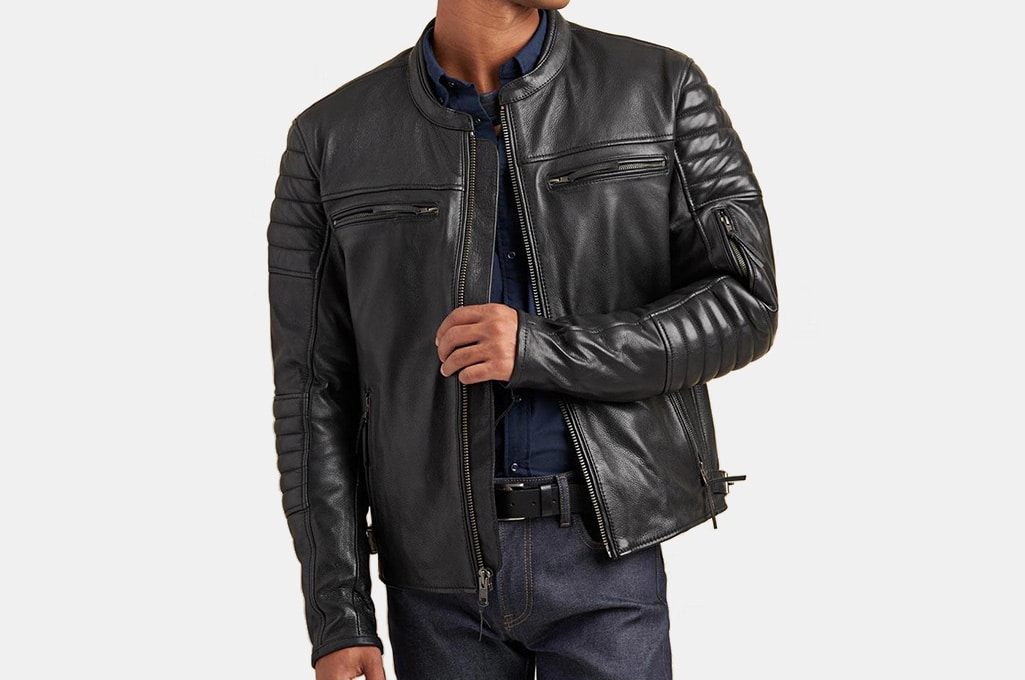 Wilsons Hooded Leather Motorcycle Jacket
Keep it simple and classy with the Wilsons Hooded Leather Motorcycle Jacket. The scooter style looks particularly good on guys with well-defined shoulders and chests, but the padded shoulders and forearms adds a bit of extra breadth to your profile. The jacket comes with pockets compatible with CE-rated armor, perfect for taking on a cross-country motorbike trip. Thanks to the vented chest pockets and zippered exhaust vents on the back, you'll never have to worry about overheating no matter how high the temperature rises. Made from Naked Diamond cowhide leather and insulated with the zip-out thermal liner, it's the leather jacket you'll love for the rest of your life.
Disclosure: Clicking on these links and making a purchase may earn us a small referral fee, at no extra cost to you. Learn more here.
freestar.config.enabled_slots.push({ placementName: "gearmoose_leaderboard_btf", slotId: "gearmoose_leaderboard_btf" });