25 Best Men's Leather Jackets
What's the epitome of casual, rugged and refined cool? Easily wearable no matter who you are or what you have planned? The classic leather jacket. From Brando and Dean to Beckham, leather jackets in their various iterations are the widely accepted finishing touch for everything from a crisp white pocket tee to a grey henley to a chambray dress shirt and tie.
There's a style out there for everyone, from rough-and-tumble moto jackets to bomber jackets to leather military jackets that add flair, form and function to your favorite style staples. And there's perhaps no better time to break out a great leather jacket than early fall — it ditches the weight of your heavy winter parka but it can stand up to a bit of a chill as you crunch leaves underfoot. In the right fit — ideally slim and sharp — it can work in place of a blazer just as seamlessly as it can at a weekend rock concert.
Our picks for the best men's leather jackets are detailed below, and trust us — you're going to want to buy more than a few of these.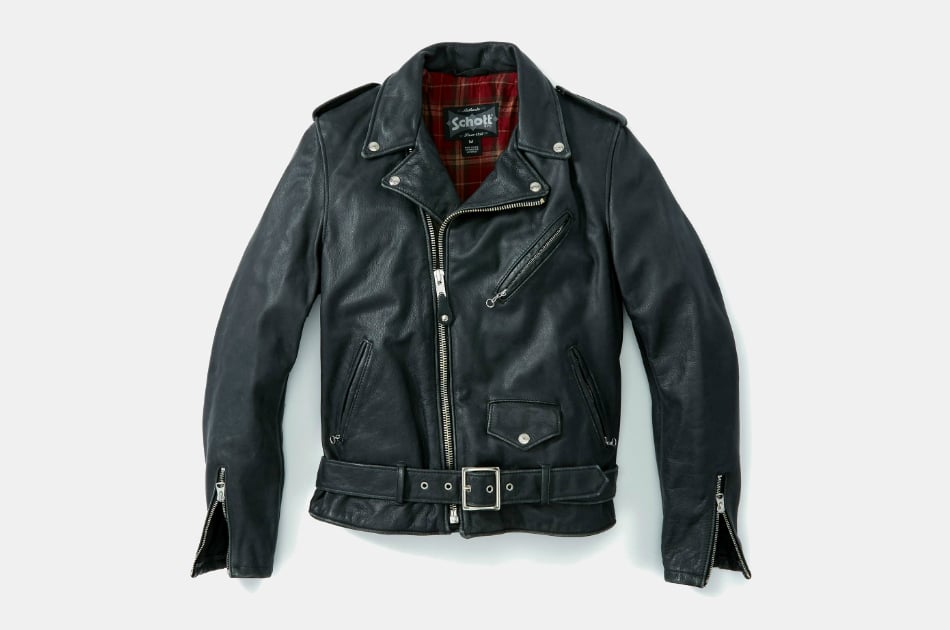 Schott Vintage Fitted Leather Motorcycle Jacket
When we first got wind that our favorite gear purveyors at Huckberry (assuredly, one of the best online shops for men) were stocking an assortment of handsome, timeless and seriously rugged Schott leather jackets, well, we were impressed (and jealous). And the arrival of the Schott Vintage Fitted Leather Motorcycle Jacket calls for its inclusion on this list — no doubt about it. It's an iconic jacket that's well worth the investment, made to be worn each and every single day.
With a reputation that precedes it, this Perfecto leather jacket is a stone-cold American icon, crafted with classic touches like nickel-plated brass hardware and hand-cut leather — all rolled into one to make this a jacket you won't be able to live without. It's the perfect leather jacket to wear with beat-up black jeans and black leather boots, plus a white tee — that's a look dating back decades that you can still wear to this very day. And of course, it's all possible thanks to this Schott leather jacket. Don't sleep on this one, folks.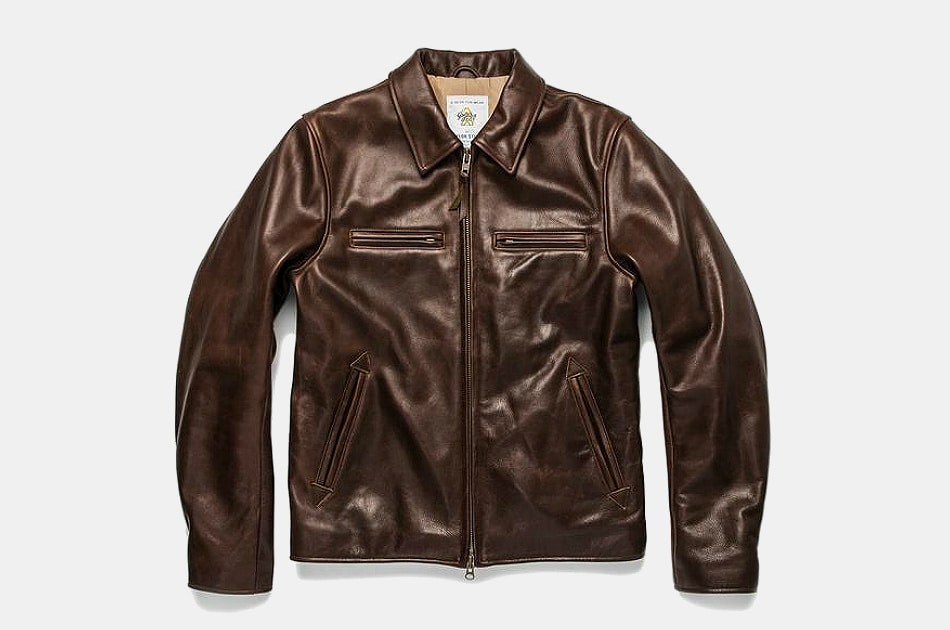 Taylor Stitch Leather Moto Jacket
This is the type of jacket that just jumps right off the page at you — it's that stunning. Done up by Taylor Stitch in conjunction with the fine folks at Golden Bear, it's based on an authentic, decades-old jacket — yet this piece has been updated for modern times, and that's a very good thing indeed.
They're handmade in San Francisco, and features everything from an insulated diamond-quilted liner to YKK zipper hardware, not to mention that rich whiskey brown steerhide leather and optional espresso and Loden steerhide leathers. It's beautiful, it's timeless and it'll be the last leather jacket you need to buy. Make it a staple of every outfit you can dream up.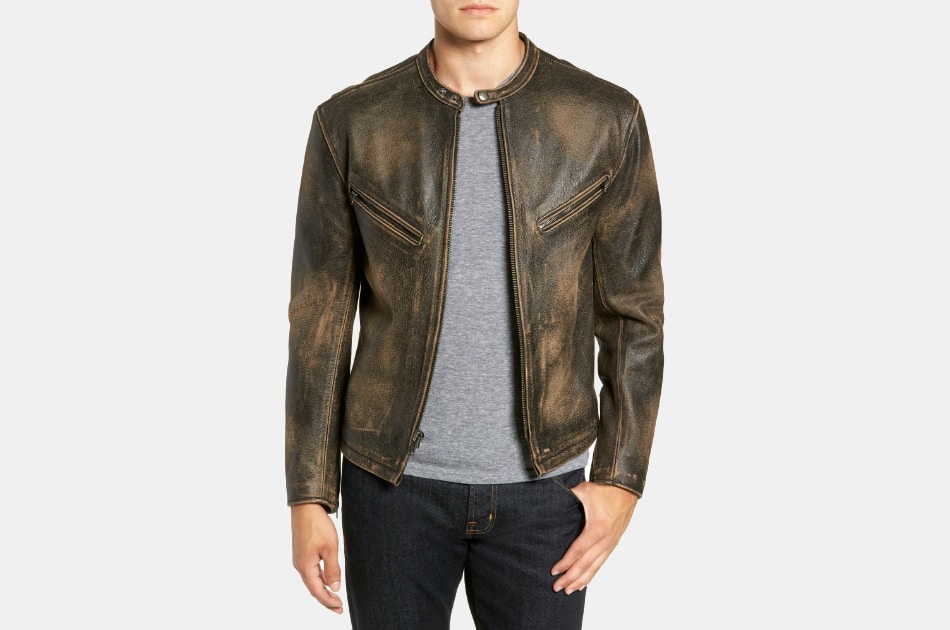 Frye Calfskin Leather Racer Jacket
When the longest-operating shoemaker in the U.S. offers up a leather racing jacket to compliment their one-of-a-kind leather boots, you'd best stand up and take notice. This motorcycle-friendly offering from the brand draws it's inspiration from 1960's racer culture complete with a band collar and snap-tab throat latch for those who put serious miles on their motorbike. And no need to wear it for two decades before it starts looking the part, as the racer jacket comes with a life's worth of patina already worn into it for an authentic vintage look.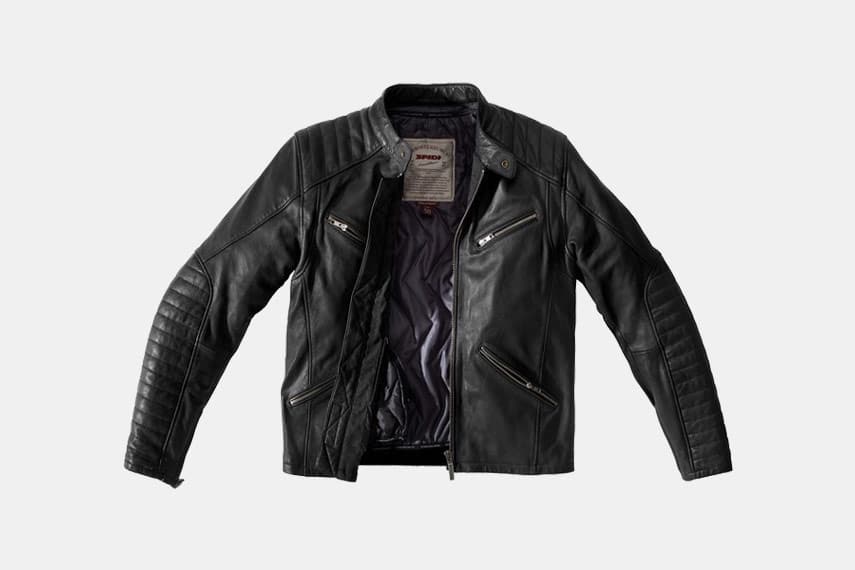 Spidi Metal Jacket
The best part about finding a stylish new leather jacket that you've had on your wish list for some time? It's got to be the potential to make it entirely your own through both your own adventures and the unique twist you put on it in terms of styling potential. Take the sleek, futuristic-leaning Spidi Metal Jacket, the perfect modern leather jacket to add to your wardrobe right now.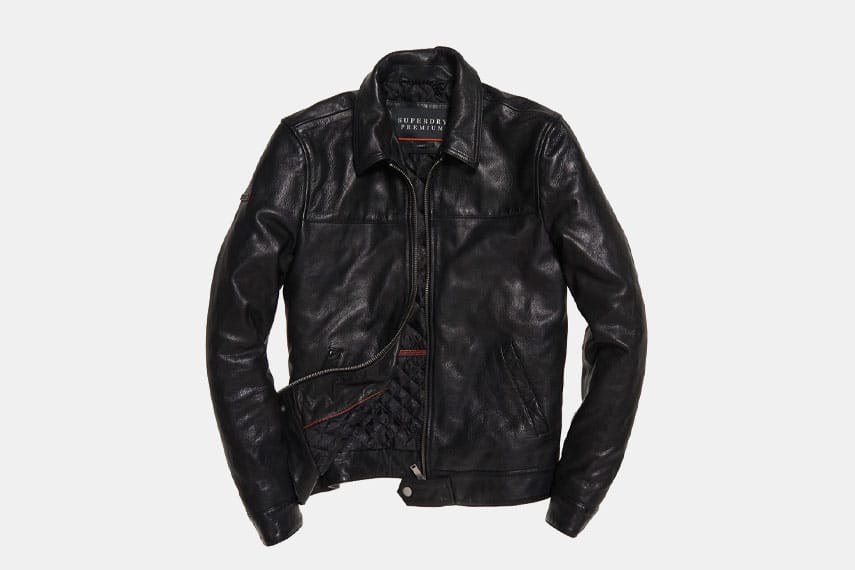 Superdry Indiana Leather Jacket
For those who seek a forward-thinking edge when it comes to their outerwear collection, and particularly when searching for one of the best leather jackets out there, you've got Superdry and pieces like the seriously sharp Indiana Leather Jacket. In an inky Black leather, it's the perfect pairing with slim black denim and yes, naturally … black leather Chelsea boots.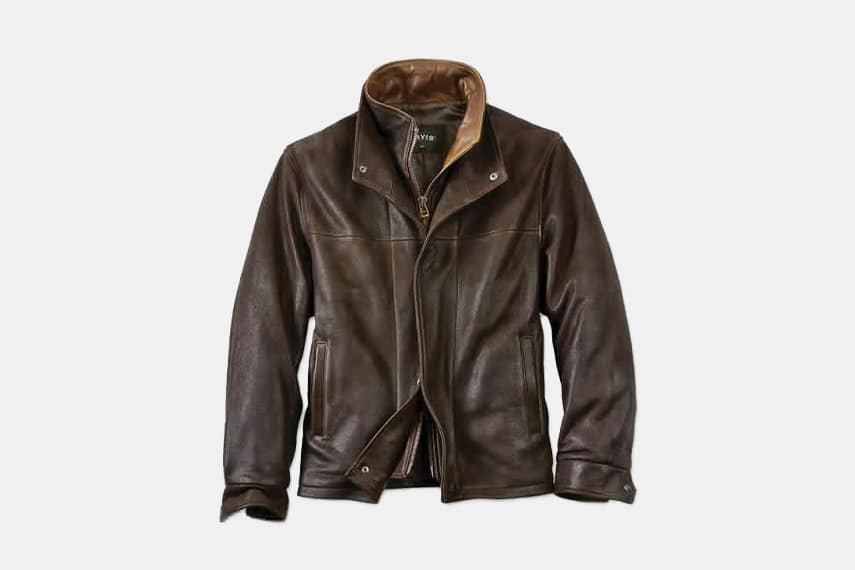 Orvis Romano Leather Jacket
Orvis has long made tough, heritage-quality gear for the field and for the modern gentleman explorer, and that adage holds true with the Romano Leather Jacket, a potential new favorite when it comes to your outerwear rotation (especially heading into early fall). We love the use of goatskin leather, sure to break in over time, plus the rugged layering options you've got (try it with dark denim and a thermal henley).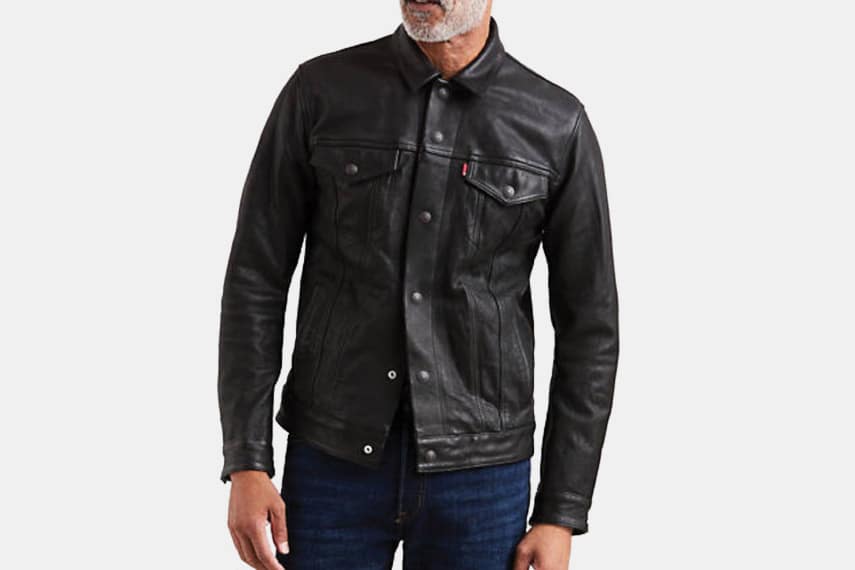 Levi's Leather Trucker Jacket
If, when you first think of Levi's, your mind immediately jumps to the iconic brand's slim denim and classic denim trucker jackets, well, that's perfectly fine. But there are other areas in which this heritage denim maker is excelling, chief among them stylish complements to the brand's perfect denim — as in, the rugged, edgy and seriously cool Levi's Leather Trucker Jacket seen here.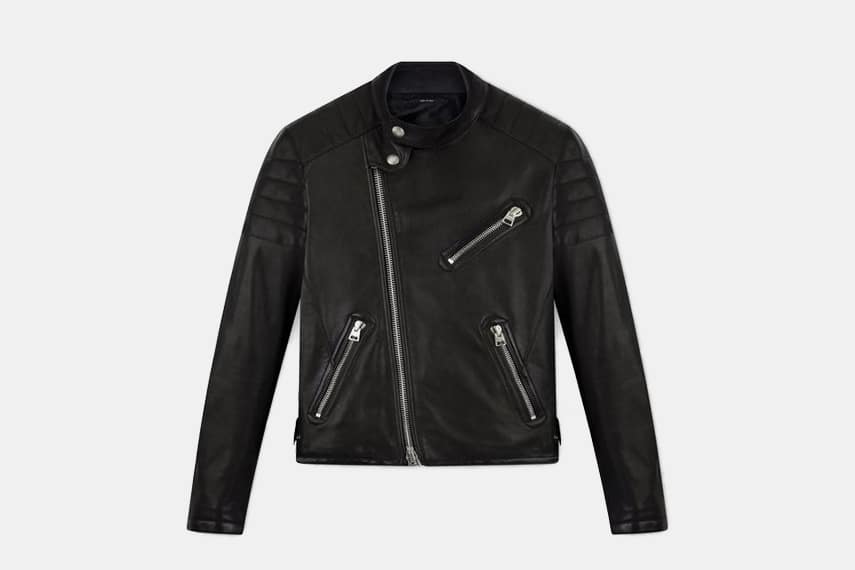 Tom Ford Icon Biker Jacket
If you follow Tom Ford, you know the iconic brand is continually pushing the envelope when it comes to entering (and conquering) new categories — take everyday items like sneakers and cologne, plus the Icon Biker Jacket, and add the unique Tom Ford edge. When wearing this jacket, there's no wrong way to go.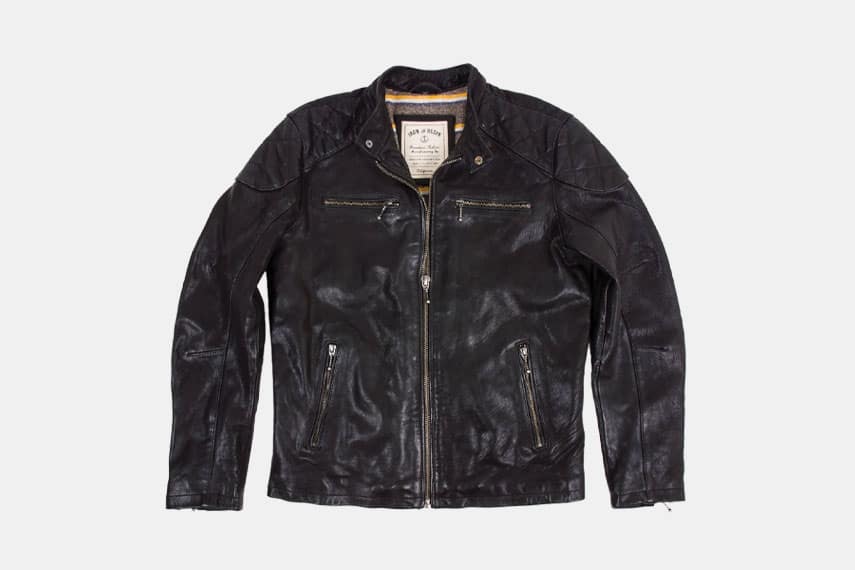 Iron & Resin Elsinore Leather Jacket
We've long admired the road-ready toughness and potential that Iron & Resin brings to the table, even with gear as simple and yet functional as its motorcycle gloves. Well, add the rough-and-tumble Elsinore Leather Jacket to that list, a truly tough and hard-wearing jacket to take on the road, and also keep handy to head to your favorite bar in town on the weekend.