The 25 Best Men's Bomber Jackets
There are few outerwear silhouettes that epitomize both retro cool and modern style, yet the bomber jacket is one of them. There also aren't that many jacket styles that can work seamlessly and comfortably (not to mention stylishly) in multiple weather situations — but yet again, the bomber jacket is one of them. In versions inspired by the military and versions that riff off more modern shapes, it's proven classic, timeless, rugged and durable. Certain versions — like the MA-1 Bomber — have gained notoriety and iconic status, and others feature more subtle design touches.
Regardless of origin, great bomber jackets are widely accepted now as a sharp blazer replacement and a suitable outerwear option in just about every fall style situation. As the temperatures drop and a light breeze chills the air, it's going to be even more reliable and essential. The same goes for spring, when you need a layer to transition to warmer weather. With that being said, it can be tough to pick out just one. So, we've gone ahead and done the legwork for you. Here are 25 of the best bomber jackets for men — any one is suitable to buy now, wear now and keep in your rotation for years and years ahead.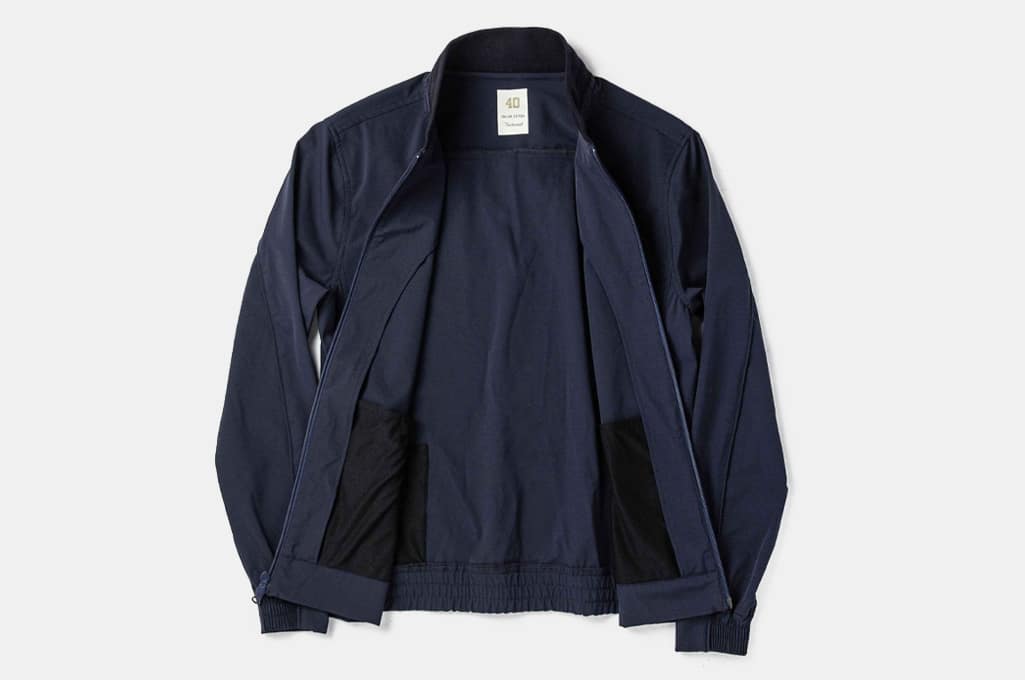 Taylor Stitch The Park Bomber Jacket
For the consummate athlete, The Park Bomber Jacket by Taylor Stitch is by far the best men's bomber jacket on the market right now and exactly what you need to keep you warm on those cold early morning workouts. The bomber jacket has been updated and combined with a track style, delivering both sport-friendly performance and all the storage space you'll need for your keys, wallet, ID/cards, and cash. It's beautifully lightweight, perfect for your daily training session, but still keeps you nicely warm. Best of all, it's built to eco-friendly standards using BlueSign approved fabric that is as weather-resistant as it is durable.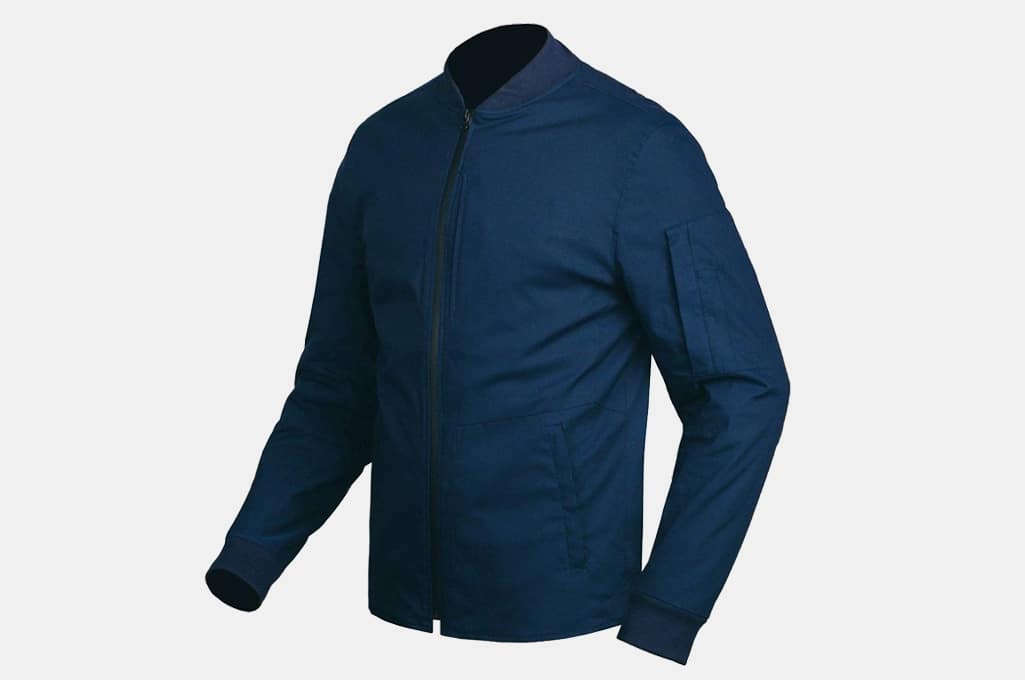 Mission Workshop The Mission Bomber Jacket
If you're looking for a truly unique bomber jacket, Mission Workshop has just the thing. The Mission Bomber Jacket delivers clean, elegant style and neat lines that just look great no matter what you wear with it. The combination of cotton and synthetic fabrics, including elastane, makes this a truly versatile jacket, one made for performance as well as comfort. Thanks to the lightweight insulation, you'll be warm on chilly days without overheating once the sun shines brighter.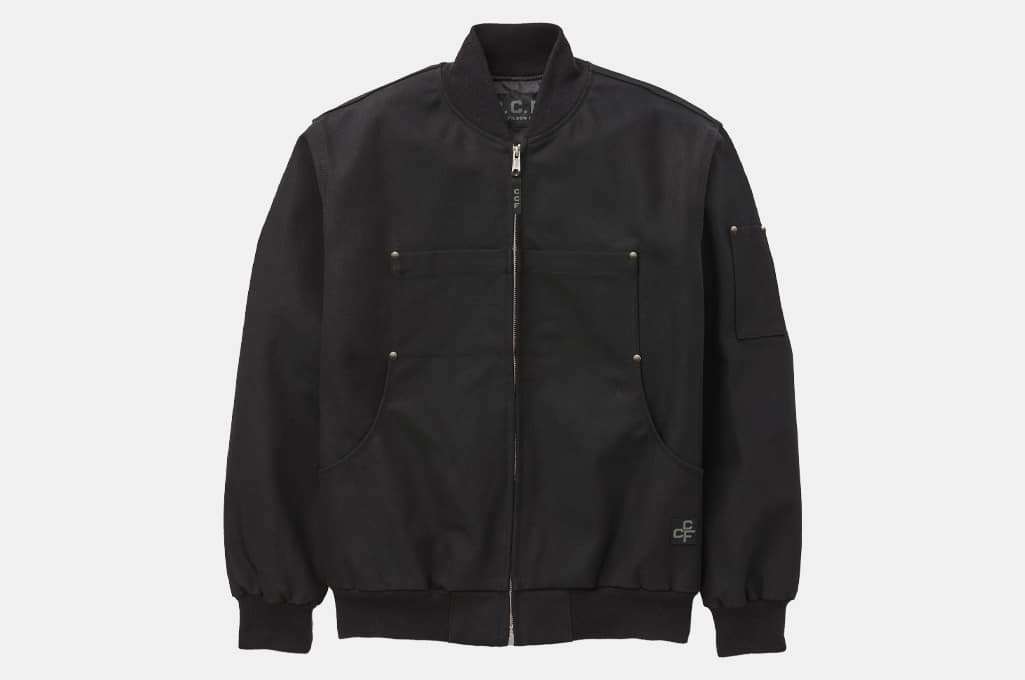 Filson CCF Bomber Jacket
You've never worn a bomber jacket quite like this one. The Filson CCF Bomber Jacket is made using a hyper-durable cotton duck canvas, which is both durable and offers surprisingly good water-repellence. The hip-length cut makes it perfect for wearing over jeans or cargo pants, but it's also compatible with your tool belt and work pants. Thanks to the triple stitching and added rivets, it's a jacket you can wear on any job site with total confidence that it will last for years to come.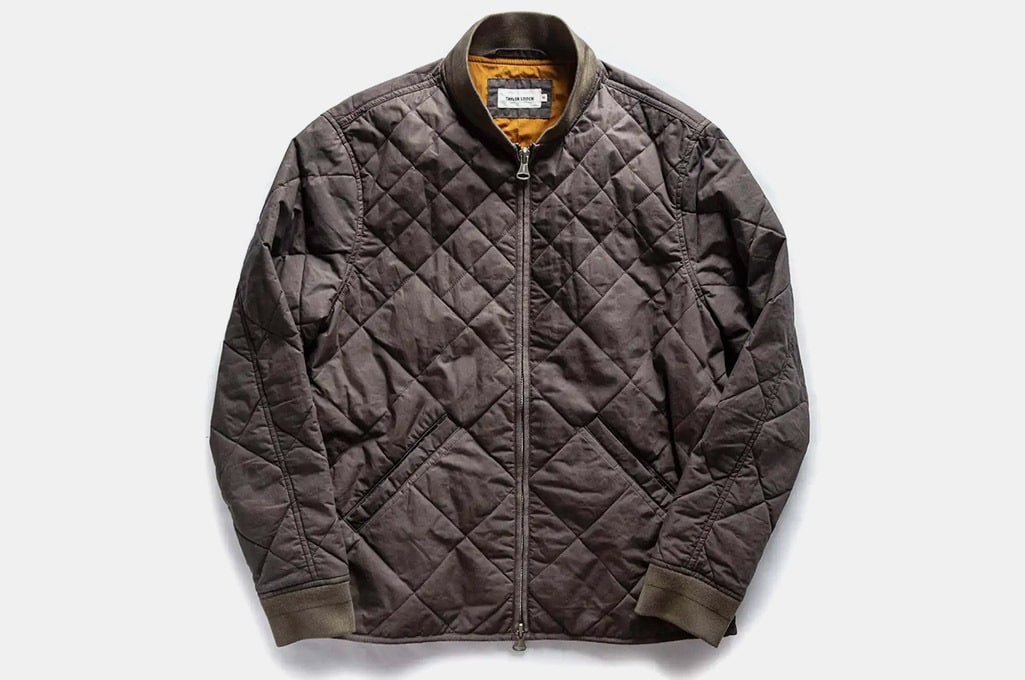 Taylor Stitch Quilted Bomber Jacket in Espresso
Anyone considering himself wise to the current world of heritage fashion has heard of Taylor Stitch and Halley Stevensons. One makes rugged, classic staples for men. The other has been manufacturing indestructible waxed cotton for 150 years. Put them together and you get the Taylor Stitch Quilted Bomber Jacket, an envy-worthy outer layer that'll keep you dry, warm, and looking a cut above the average Joe on the street. It's got a weatherproof exterior, an insulated interior, and a silhouette that elevates everything you pair it with.
Public Rec Crosstown Bomber Jacket
For all of their rugged and road-ready appeal, the best bomber jackets also offer up comfort and casual style without missing a beat. The Public Rec Crosstown Bomber Jacket is one such jacket, featuring a comfortable spandex-nylon blend and the right colors to wear with everything from tapered joggers to light wash denim. It's as comfortable a travel jacket as you're apt to find, too, complete with a trim fit and plenty of pockets for your everyday carry essentials.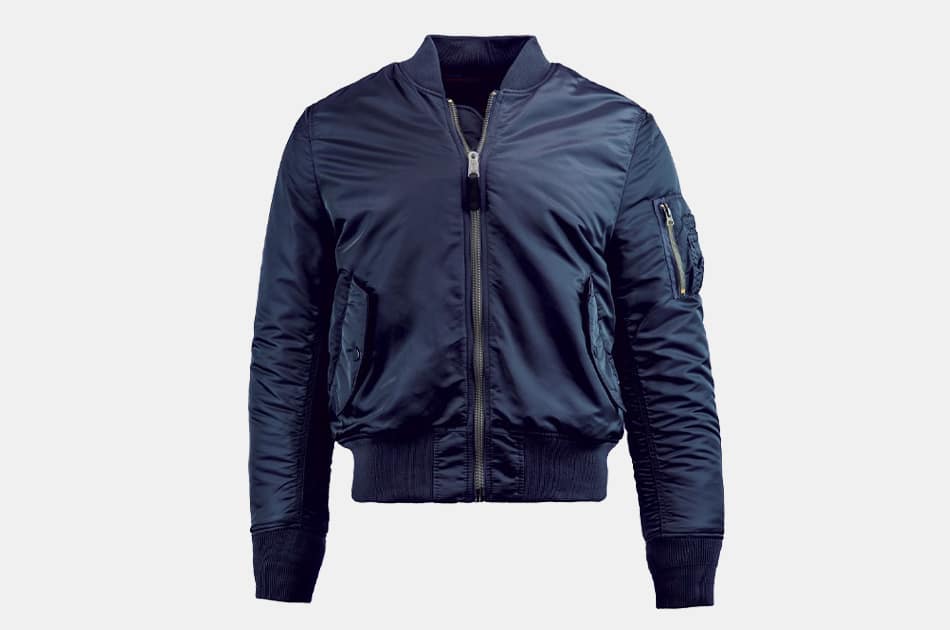 Alpha Industries MA-1 Slim Fit Bomber Flight Jacket
The Alpha Industries MA-1 has been a mainstay of the bomber jacket silhouette since before it exploded in popularity, and so there's no better place to go to get a classic style. Add in the fact that it's upgraded in a slim fit and available in a host of neutral colors, and it's easy to see why it's become a celebrity staple — and a global icon, no doubt. Get the classic navy bomber and wear it with light wash blue denim for a study in contrasts, or pair it with your favorite pair of chinos for an all-American look.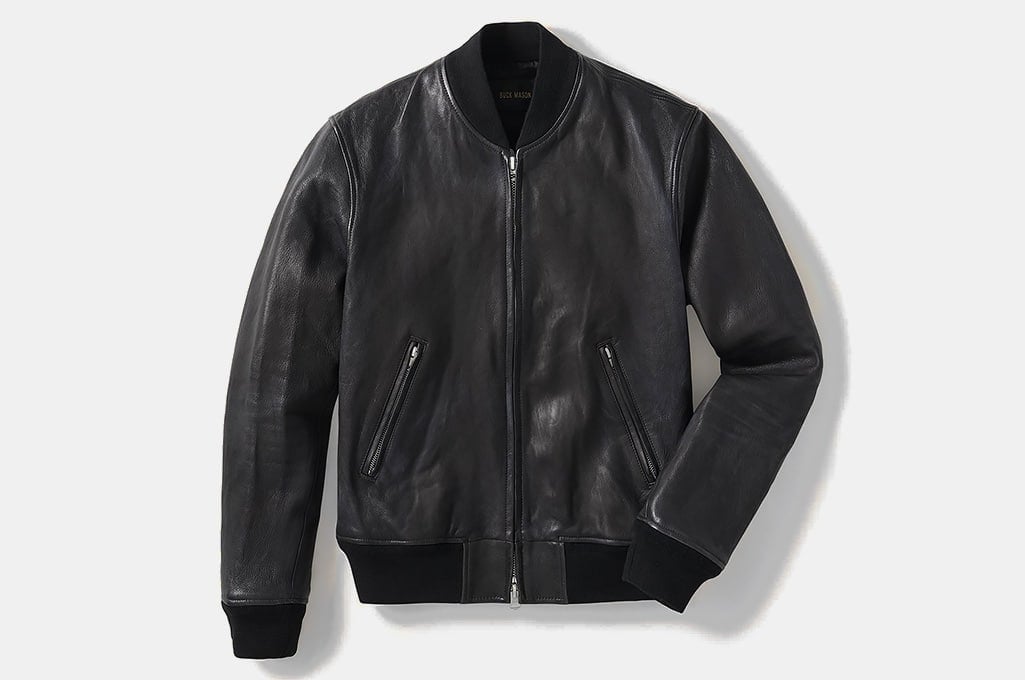 Buck Mason Bruiser Leather Bomber Jacket
Among brands that consistently produce all-American style staples time and time again, Buck Mason might just take the cake when it comes to variety and versatility. All of that is to say, Buck Mason can craft a ruggedly handsome denim shirt or a slubby white tee just as expertly as it can make one of the best bomber jackets — and the Bruiser Bomber Jacket assuredly belongs on our list. Lambskin leather in sleek black meets heavyweight ribbed cuffs, all the better to wear through fall and into winter.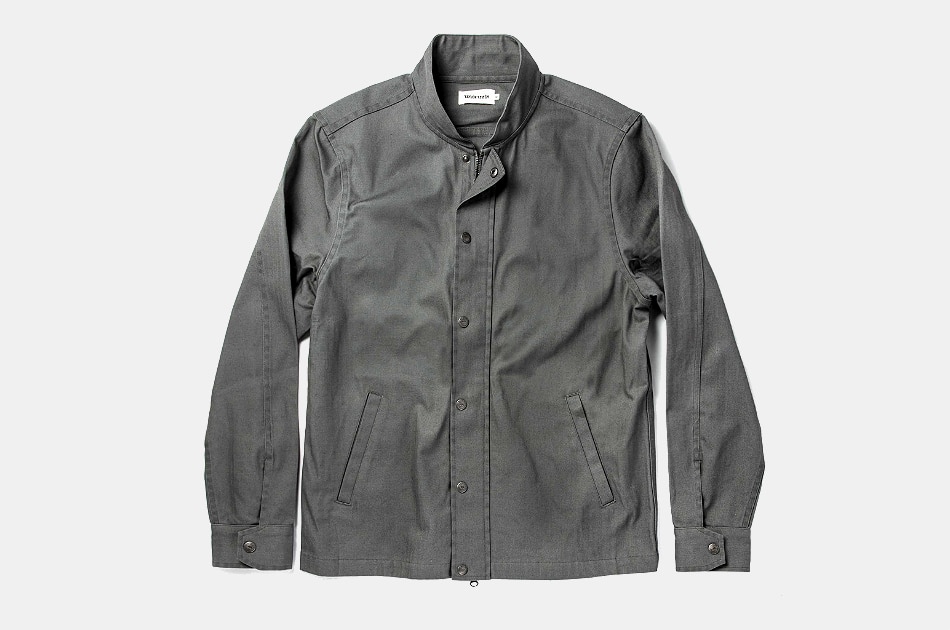 Taylor Stitch Bomber Jacket
If ever you doubted the ability of the team at Taylor Stitch to churn out reliable, authentic, truly excellent style staples, doubt no more — the Bomber Jacket in Navy Dry Wax is as good of an example of a perfect fall jacket as we've seen. It starts with the tailored fit and custom Halley Stevensons fabric, and it ends with a custom antique brass zipper and YKK snaps for excellent versatility. It's essentially the perfect Taylor Stitch jacket to layer over your favorite shirt from that same brand, easily.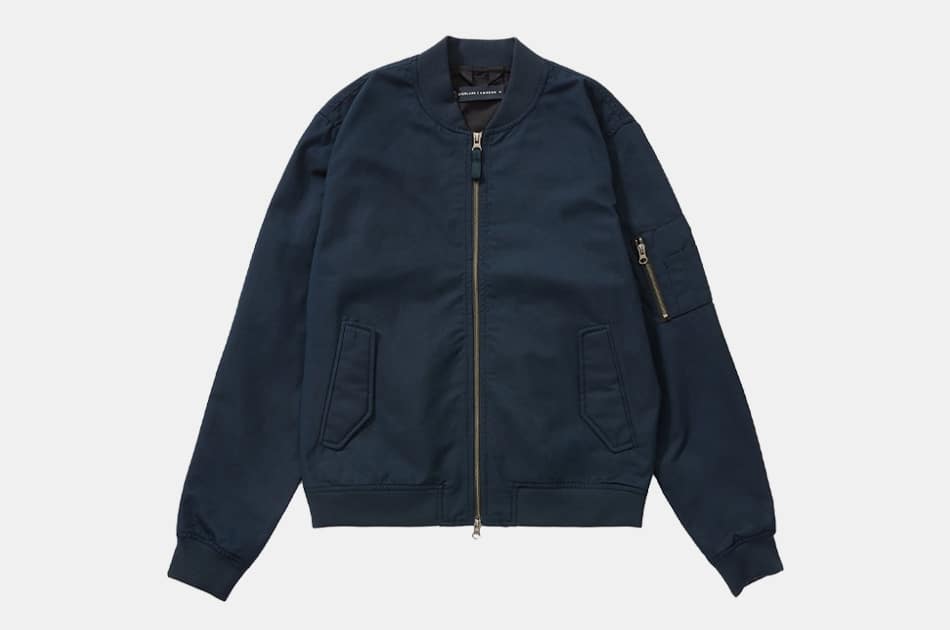 Everlane Uniform Bomber Jacket
Everlane's well-appointed Uniform Collection offers up the kind of basics a guy needs for a life well-lived, and by that, we mean the sort of pieces that can be mixed and matched with ease for style situations aplenty. The Everlane Uniform Bomber Jacket is, in that case, the right layering move if you need one of the best men's bomber jackets in your life, and it helps that the Navy colorway goes with most anything.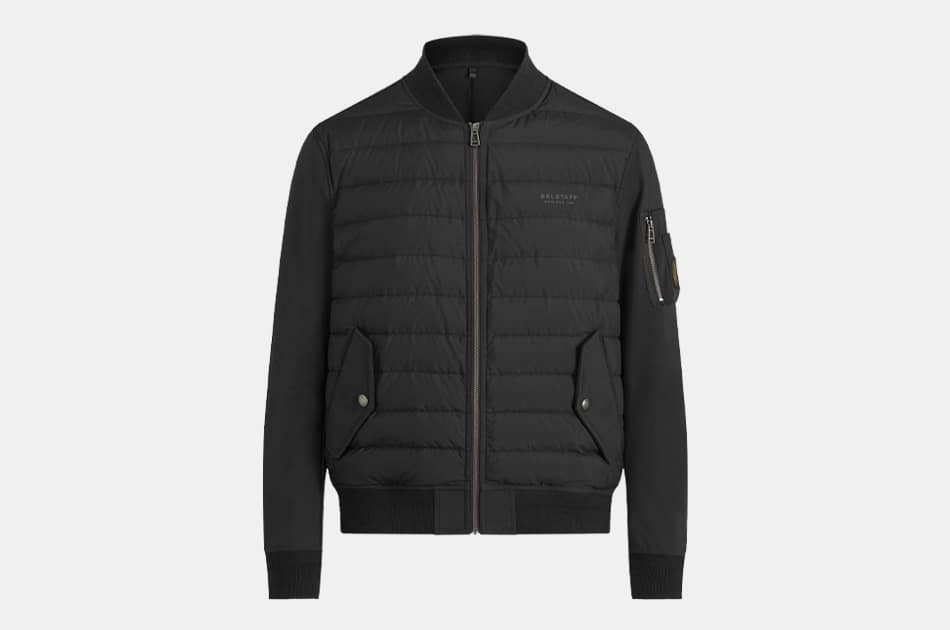 Belstaff Mantle Jacket
Leave it to Belstaff to make the bomber jacket even more badass than you previously thought possible, thanks to options like a sleek black colorway and fabrication that turns this into a multi-season beast. Wear this sharp jacket with black jeans and a white henley the next time you'd like to blend the edgy and the classic together in an ensemble featuring one of the best bomber jackets around.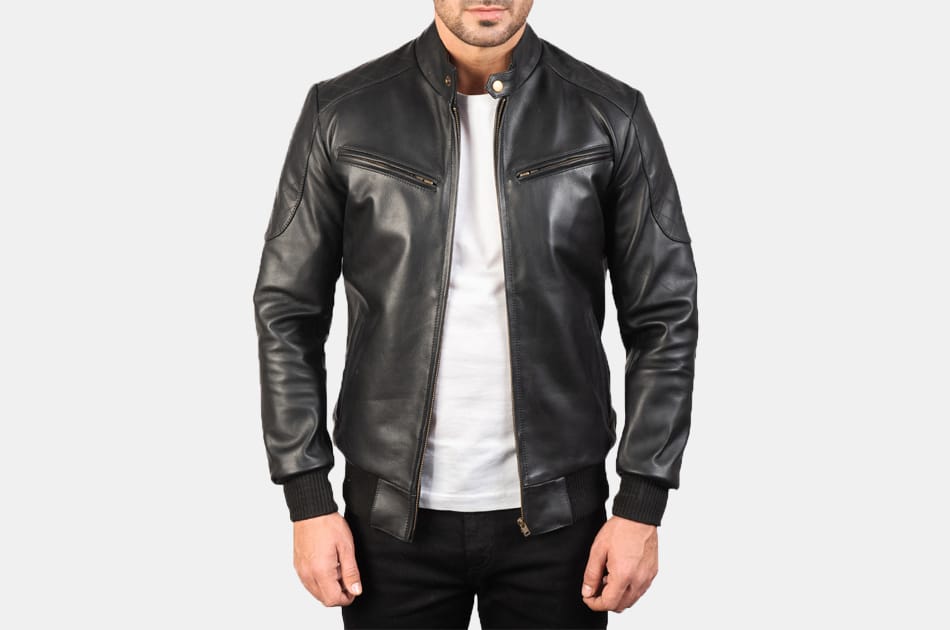 Sven Black Leather Bomber Jacket
Yes indeed, your new favorite fall jacket could just be this sharp and tough-as-nails black leather bomber jacket from The Jacket Maker. It looks cool as heck, it wears well with classics like a crisp white T-shirt and slim black jeans, and it's the type of jacket that's going to break in more than readily over time. If that sounds like something you can get on board with, head to The Jacket Maker today.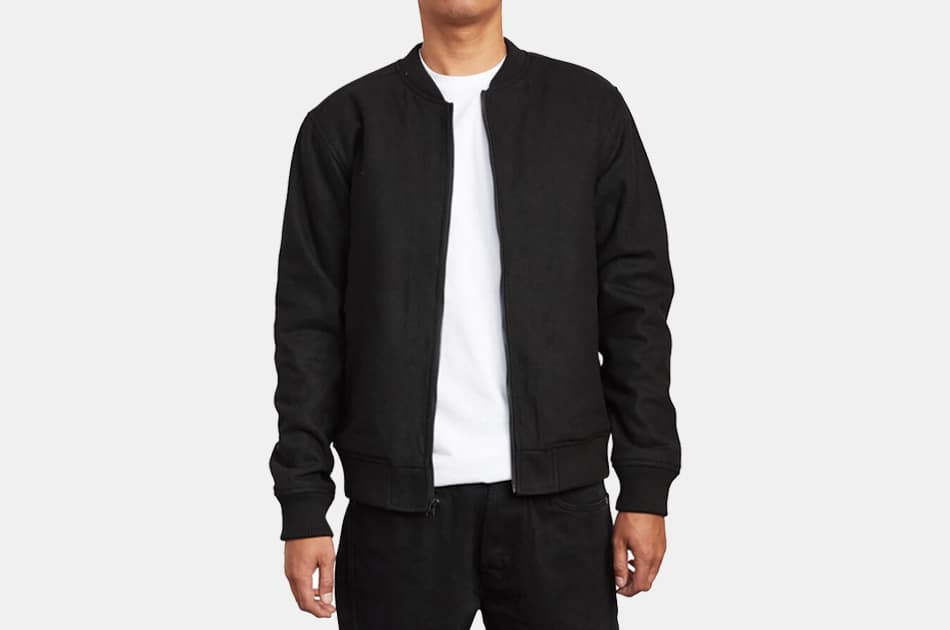 RVCA Troy Bomber Jacket
RVCA has a knack for making versatile gear that comes through in the clutch, and they do so at accessible prices that make it easy to stock up on the rest of the outdoor gear you need for adventures near and far. Take the Troy Bomber Jacket, for instance, a subtly stylish addition to your wardrobe that should provide useful, effective style for years and years to come.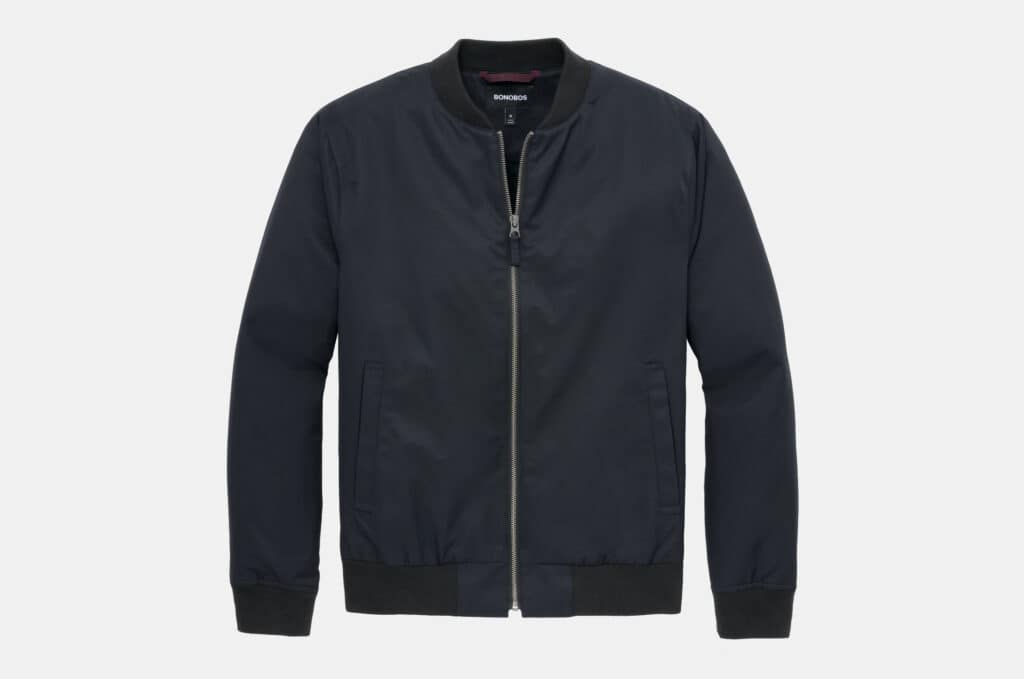 Bonobos Boulevard Bomber Jacket
The classic bomber jacket, when done right, can pair with just about anything in your wardrobe — that goes for pieces more casual (I.E. A white slub tee, tan chinos & white sneakers) or slightly formal (like a blue Oxford, a knit tie and dark denim). Such is the case with the Boulevard Bomber Jacket from Bonobos, a luxurious and modern take on the silhouette without an outrageous price tag. With classic ribbed cuffs and an array of color options available, we think you should feel free to try out more than one.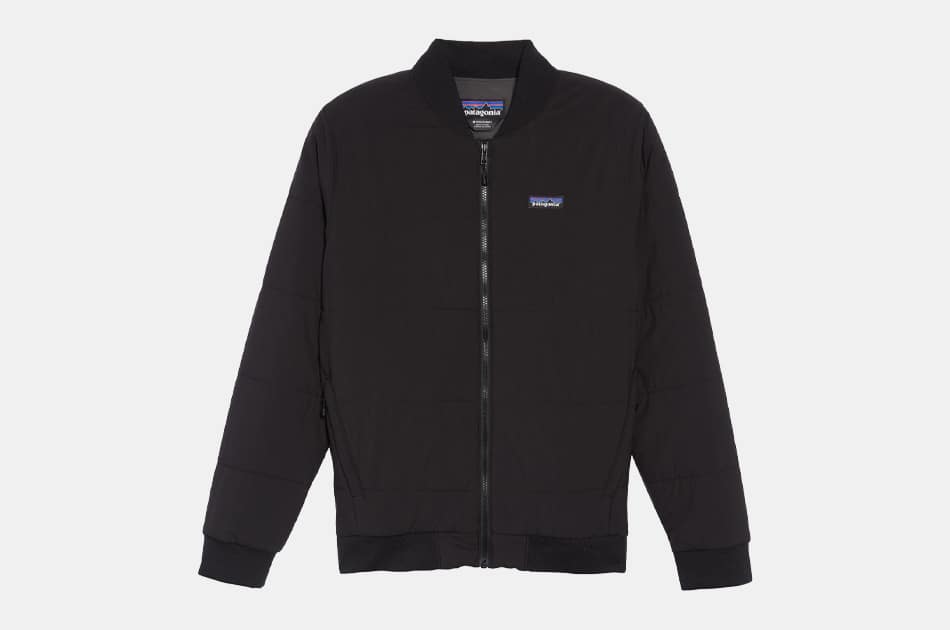 Patagonia Zemer Bomber Jacket
Patagonia takes on a trendy silhouette in classic fashion with its Zemer Bomber Jacket, available in two easy-to-wear colors and featuring the sort of tough-yet-sustainable construction you can really only get with Patagonia. The real kicker here is the Thermolite insulated fabric, crafted to deliver stretch and mobility combined with warmth and fall-ready functionality. We can't get enough of the Sage Khaki color for its ability to layer up with your favorite fall style staples (take a grey crewneck sweater and light wash jeans, for instance).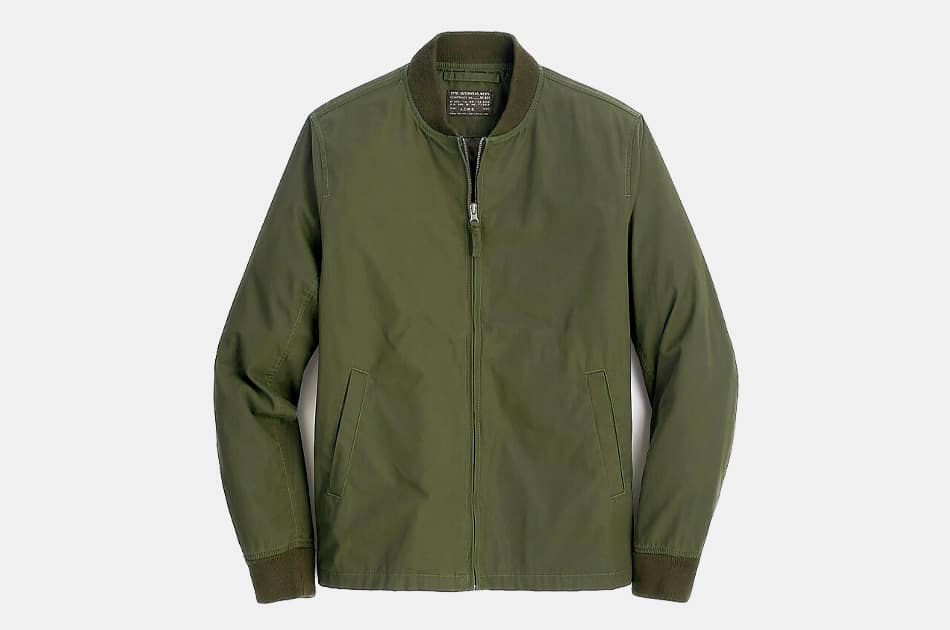 J.Crew Everyday Bomber Jacket
There are brands that have excelled at making everyday style staples for the modern man, and there are brands that have changed the way guys dress fundamentally — J. Crew has managed to do both. And pieces like the Everyday Bomber Jacket prove that J. Crew still has the chops to come through with a classically casual, easy-to-style bomber jacket, this one done up in breezy cotton in a range of colors. Layer it over a slub henley on a weekend, or team it with a light blue Oxford to head to the office. J. Crew has you covered.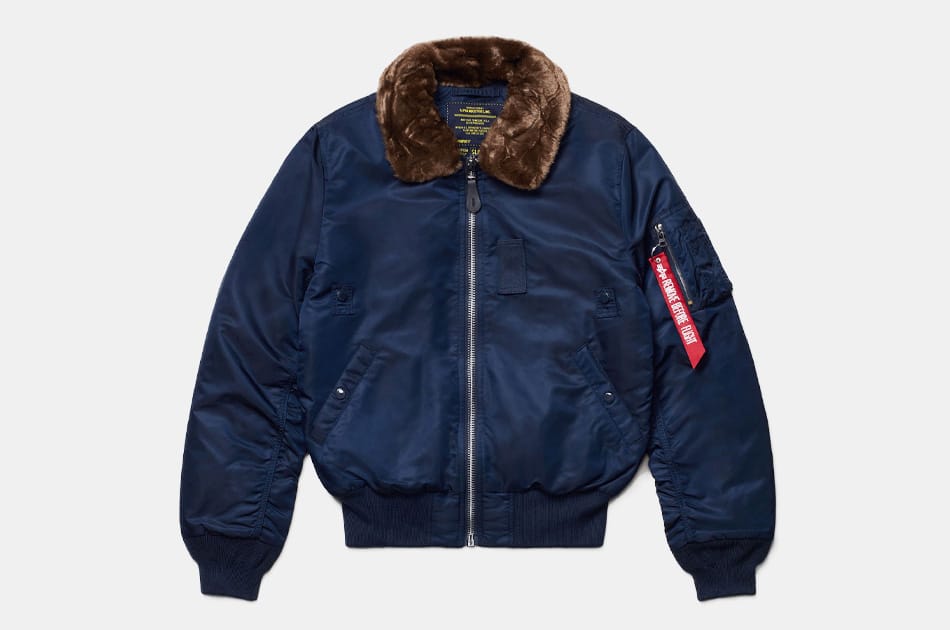 Alpha Industries B-15 Slim-Fit Bomber Jacket
If you're going to shop for a bomber jacket, you might as well reach for a brand that defined the category and made products good enough for the U.S. military for years on end. That's what you're getting with Alpha Industries, along with dependable style, classic looks and tough functionality. Starting with the mid-weight satin nylon — with water-resistant capabilities — and a cool-looking faux fur collar, the B-15 is a perfectly durable and stylish jacket for early fall. It'll team nicely with beat-up tan leather boots and black jeans, plus your favorite white slub T-shirt.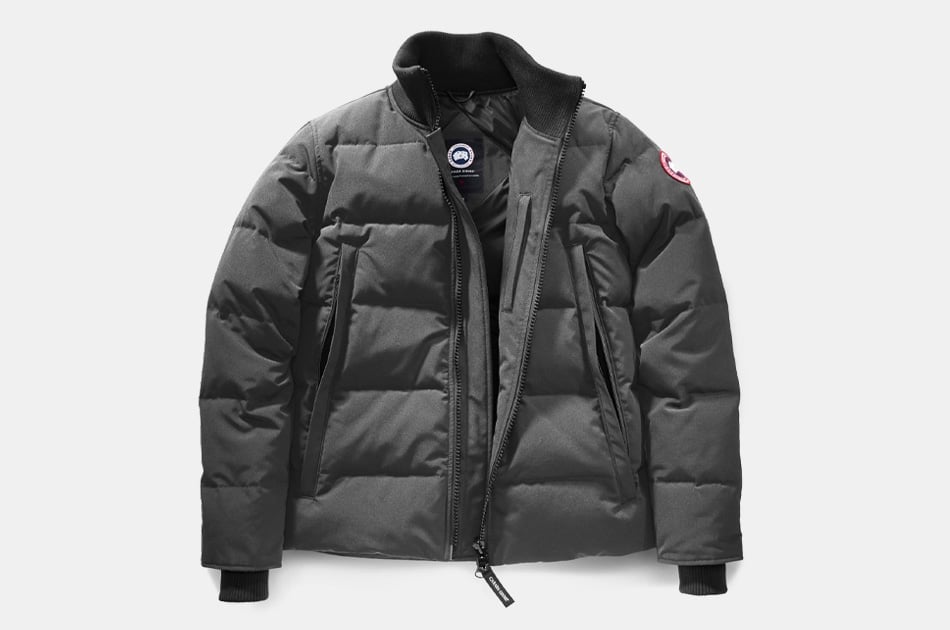 Canada Goose Woolford Down Bomber Jacket
With a reputation for crafting durable, stylish outerwear that's very tough to top, it should come as no surprise that Canada Goose has turned that same focus toward making a heck of a stylish, lightweight and mobile bomber jacket. The Woolford Down Bomber Jacket is an investment, certainly, but it's made in Canada featuring a modern slim fit and DWR fabric. It's also wind-resistant and able to stand up to fall's fiercest weather, so we'd recommend you wear the Woolford with your broken-in hiking boots and toughest chore pants to go off-trail this season.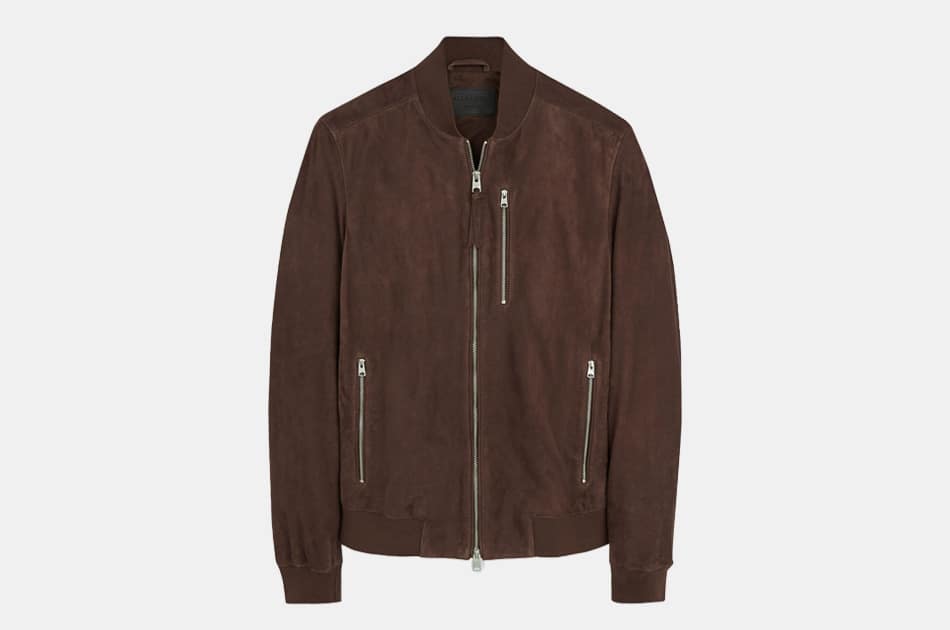 AllSaints Kemble Suede Bomber Jacket
The best bomber jackets for men often do the unexpected as well as they nail the classic stylings of a tried-and-true bomber jacket. In this case, the unexpected is the fact that the Kemble Bomber Jacket from AllSaints is made with premium goat suede for a modern look and a bit of rock star edge. We think this jacket will look its best with a white short-sleeve henley, slim black denim and your favorite pair of tan Chelsea boots — after all, an edgy jacket calls for some edgy details, right?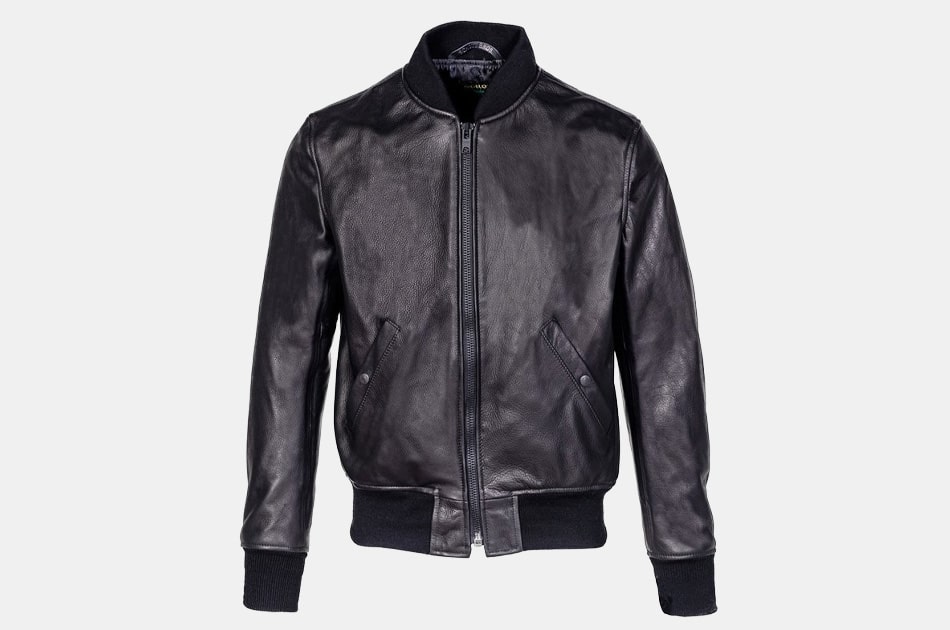 Schott Lightweight Leather MA-1 Bomber Jacket
Schott exists in a league of its own when it comes to investment-worthy, heritage-quality outerwear that just happens to exude downtown cool and timeless style all at once. The MA1-1 silhouette gets an edgy remake thanks to the Schott brand's leather-heavy remake — and that means it's a piece of outerwear that'll upgrade even the most toned-down menswear ensembles. It's also going to get better as you wear it — we're certain of that. Take it and wear it with a crisp white tee and blue jeans or classic chinos for Americana-inspired style.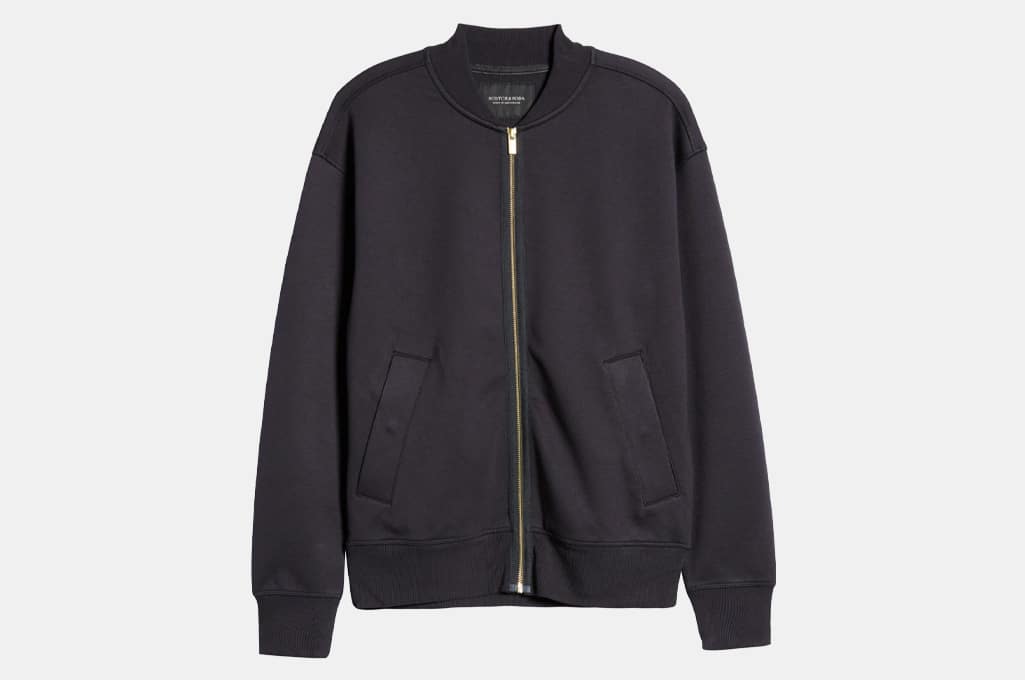 Scotch & Soda Men's Bomber Sweatshirt Jacket
Scotch & Soda went a different direction with the Men's Bomber Sweatshirt Jacket: instead of heavy-duty warmth, they chose lightweight comfort and cutting-edge style. This sweatshirt jacket is light enough to be worn beneath a thicker coat, but warm enough to serve as the outer layer when the weather isn't too chilly. The fabric is hyper-soft to the touch and just feels right when you slide it on. Made of pure viscose, it's a lightweight jacket that is the perfect "cool casual" addition to your wardrobe.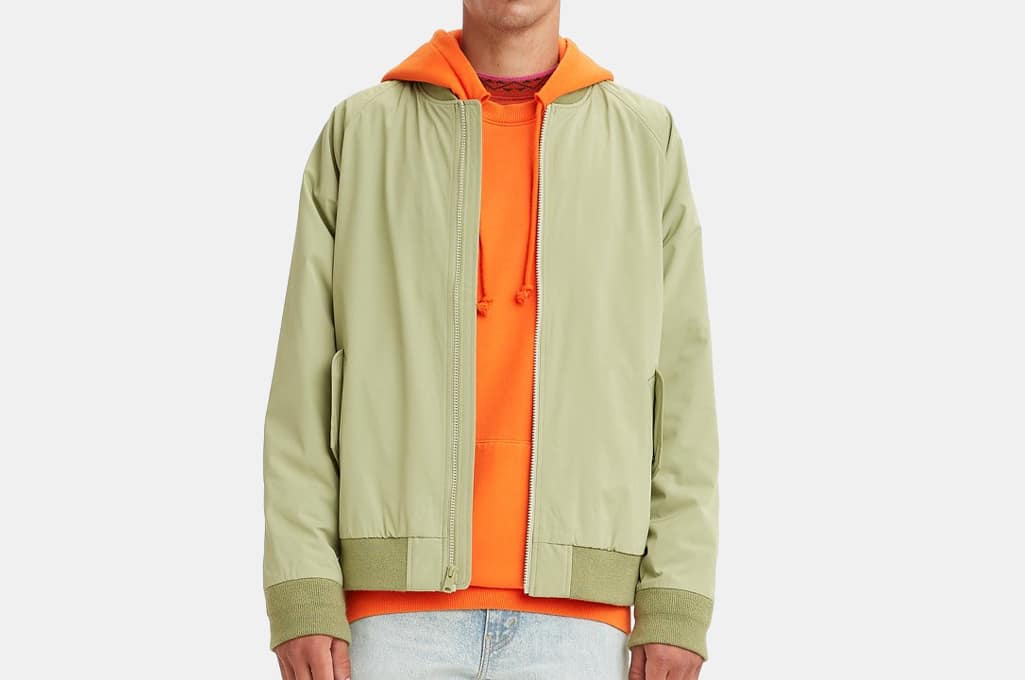 Levi's Battery Bomber Jacket
Who knew that Levi's, the brand of everyone's favorite jeans, could bring so much style and class to a bomber jacket? The Levi's Battery Bomber Jacket is cut in the classic style, with angled pockets, a ribbed collar, cuffs, and waistline, and a front zip closure that seals the coat against the weather. It's more than just a fashion choice, though; it's also water-repellant with a durable rip-resistant exterior shell. You'll love this jacket when traveling around town or enjoying the great outdoors.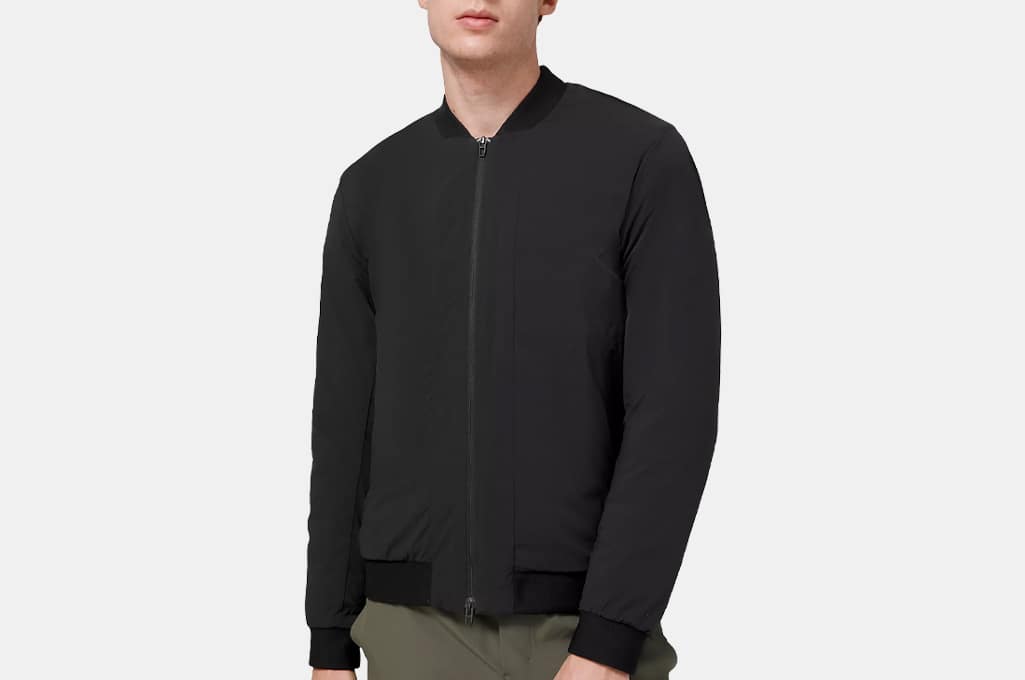 Lululemon Intermission Bomber Jacket
The Intermission Bomber Jacket by Lululemon is made specifically to keep you warm as you move from your car to the gym and back again. The jacket looks and feels lightweight, but the 700-fill-power goose down insulation is impressive in its ability to insulate you against the cold. You'll find that it moves and flexes easily, adapts to your workout or run, and is the ideal coat to wear when you're getting stuff done around town or strolling outside.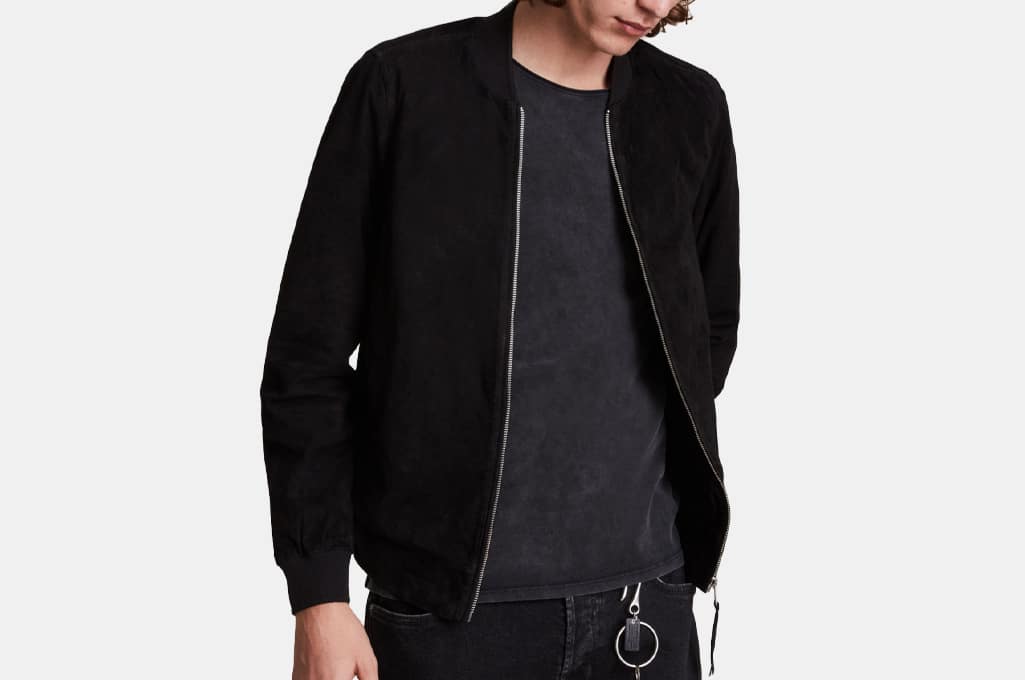 AllSaints Ronan Suede Bomber Jacket
Don't bother with fluff and fuss; the AllSaints Ronan Suede Bomber Jacket keeps it simple and elegant in this classic, reliable style. The smooth suede shell feels wonderfully velvety against your skin, and the addition of metal hardware and ribbed trims add a layer of both durability and style. The lower side pockets are sized just right to keep your hands warm on those chilly days. It's stylish enough to pair perfectly with any outfit you want—from jeans and a T-shirt to khakis and a collar shirt.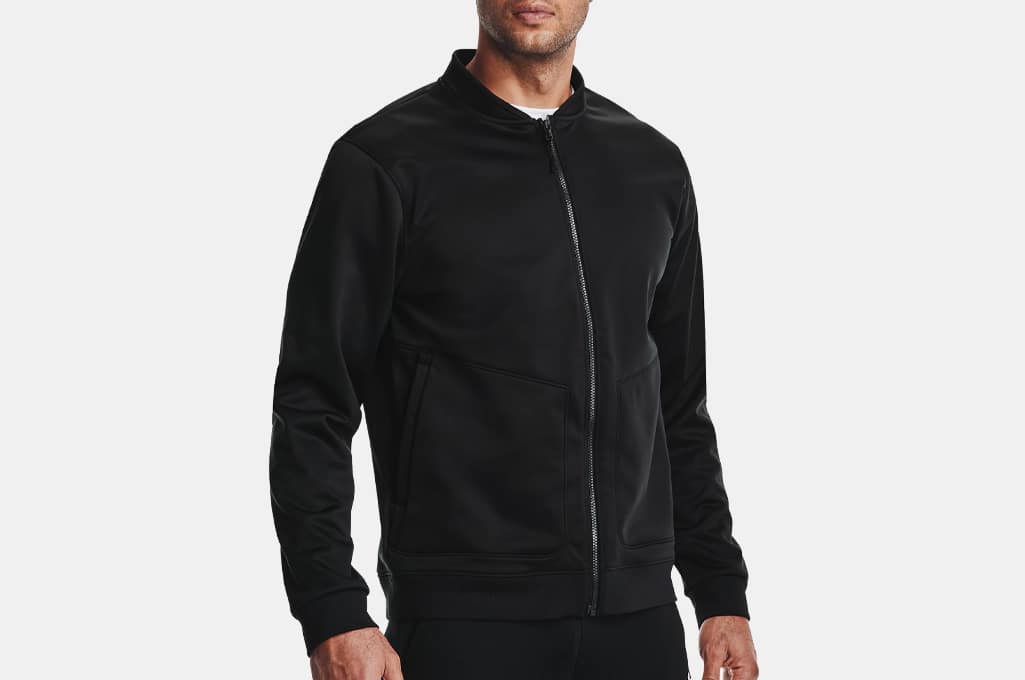 Under Armour Men's UA Dugout Bomber Jacket
Under Armour builds clothes designed to keep up with your active, athletic lifestyle, and the UA Dugout Bomber Jacket is the perfect addition to your gym wardrobe. The UA Storm technology makes the jacket water-repellent, and the synthetic fabric used for the exterior shell makes it beautifully windproof, keeping you warm even on gusty days. Despite its close fit, the jacket offers excellent freedom of movement and versatility. You'll love running, jumping, and playing around in this bad boy.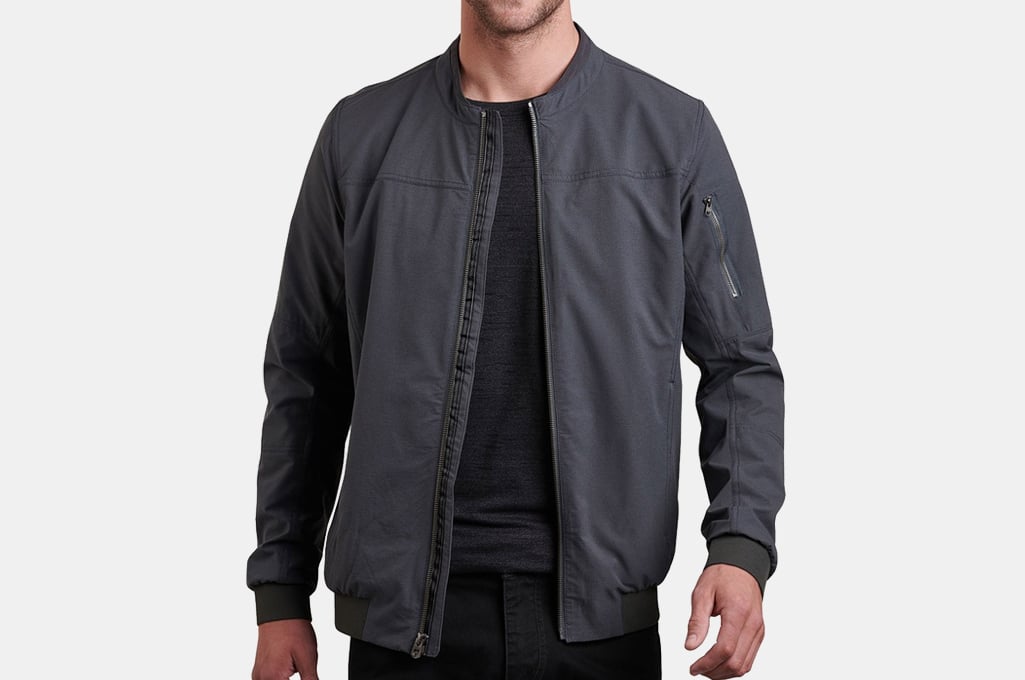 KUHL Silencr Bomber Jacket
KUHL aims to hit that perfect intersection of versatility, durability, and stylish comfort with the Silencr Bomber Jacket. Though it's beautifully lightweight, the shell is incredibly tough and resistant to damage and wear, even if you're rough on your clothes. The finish isn't just water-resistant; it's also got built-in UPF50+ protection to shield your skin from the UV radiation in sunlight. The blend of polyester, spandex, and nylon keeps the jacket supremely flexible, with just enough elasticity that you'll move more easily through any workout, walk, or chore.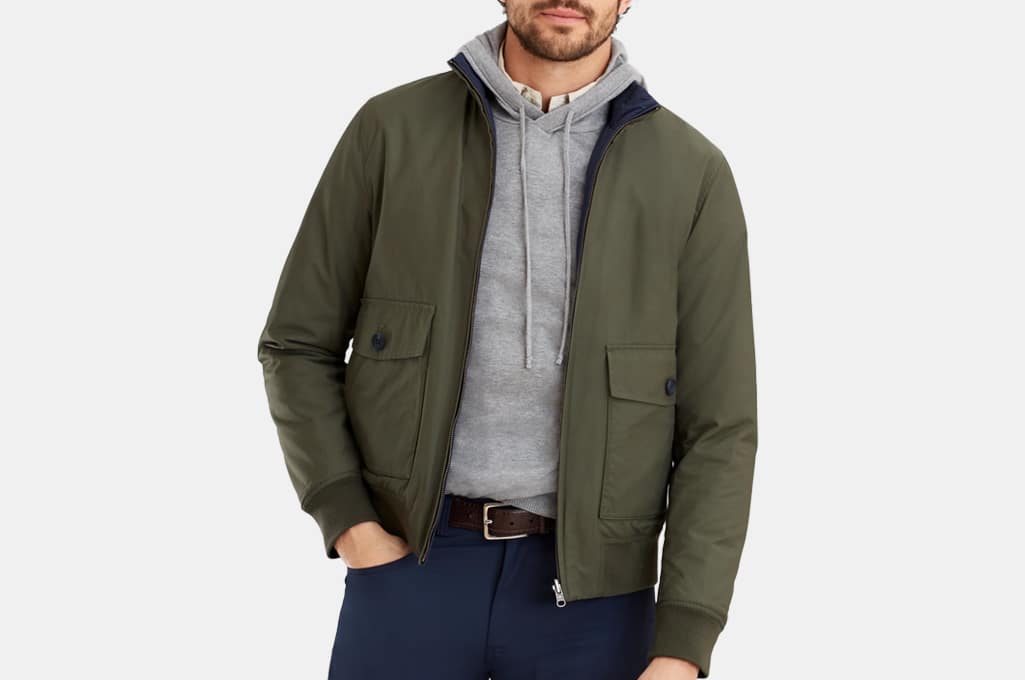 Brooks Brothers Reversible Bomber Jacket
Carry versatile comfort with you all day long—that's the promise Brooks Brothers makes with the Reversible Bomber Jacket. Not only does the bomber jacket combine two styles and color schemes into one item of clothing, but the fabric itself is both tough-as-nails and water-repellent. With the Thermore Ecodown filling, you'll stay warm even when the weather turns chilly. This Italian-made jacket really does deliver on all fronts, and at a value absolutely well worth the price.
Disclosure: Clicking on these links and making a purchase may earn us a small referral fee, at no extra cost to you. Learn more here.
freestar.config.enabled_slots.push({ placementName: "gearmoose_leaderboard_btf", slotId: "gearmoose_leaderboard_btf" });