25 Best Men's Bomber Jackets
There are few outerwear silhouettes that epitomize both retro cool and modern style, yet the bomber jacket is one of them. There also aren't that many jacket styles that can work seamlessly and comfortably (not to mention stylishly) in multiple weather situations — but yet again, the bomber jacket is one of them. In versions inspired by the military and versions that riff off more modern shapes, it's proven classic, timeless, rugged and durable. Certain versions — like the MA-1 Bomber — have gained notoriety and iconic status, and others feature more subtle design touches.
Regardless of origin, great bomber jackets are widely accepted now as a sharp blazer replacement and a suitable outerwear option in just about every fall style situation. As the temperatures drop and a light breeze chills the air, it's going to be even more reliable and essential. The same goes for spring, when you need a layer to transition to warmer weather. With that being said, it can be tough to pick out just one. So, we've gone ahead and done the legwork for you. Here are 25 of the best bomber jackets for men — any one is suitable to buy now, wear now and keep in your rotation for years and years ahead.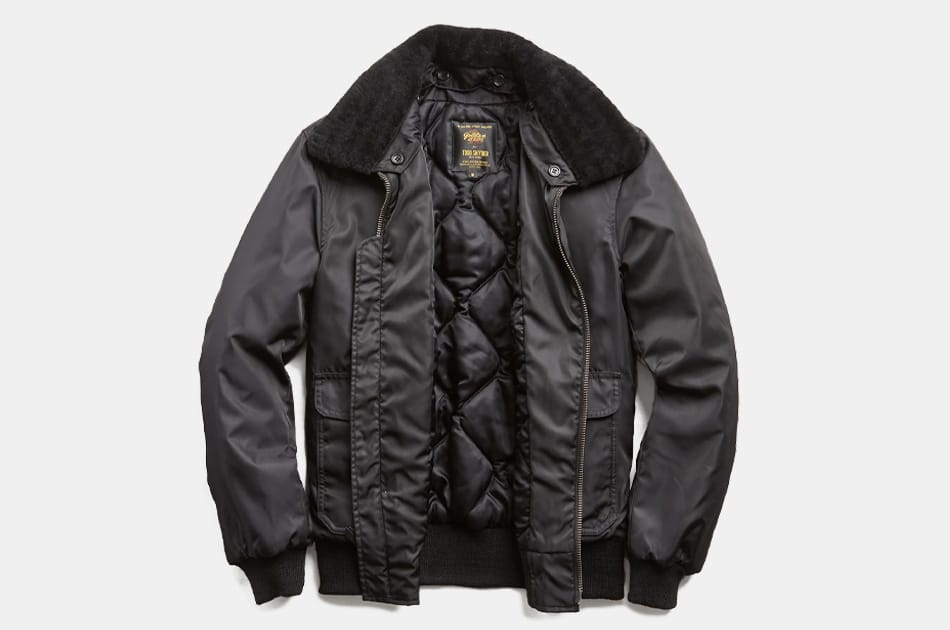 Todd Snyder + Golden Bear Shearling Collar Bomber Jacket
American menswear designer Todd Snyder has teamed up with Golden Bear, an equally lauded San Francisco outerwear purveyor, to craft a new shearling collar bomber jacket. This handsome bomber jacket features all the trappings of a jacket you won't be able to take off this fall and winter, from the refined satin shell and shearling collar to the luxurious craftsmanship. Snag one for yourself now at Todd Snyder before they sell out once again.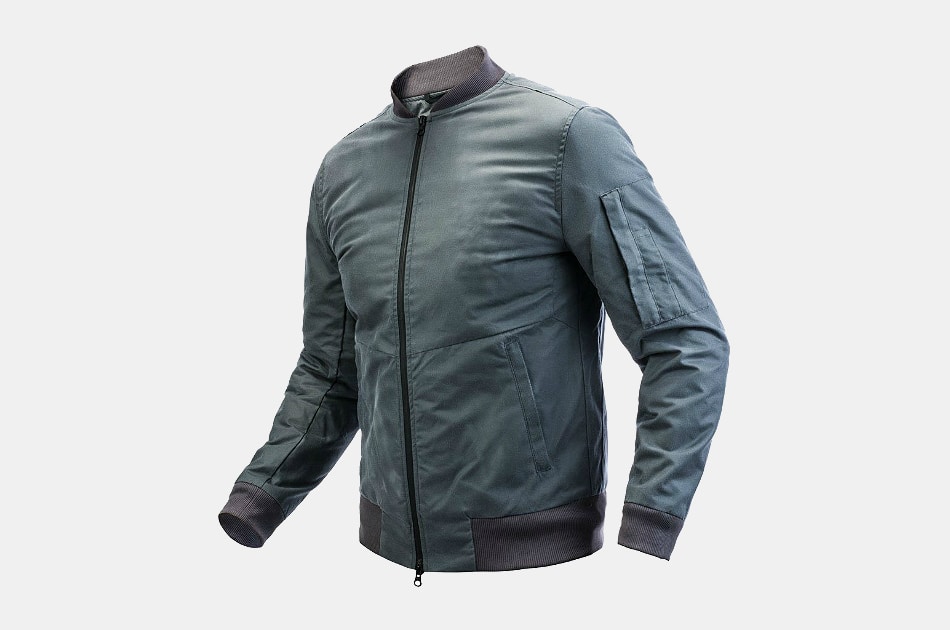 Mission Workshop Mission Bomber : WX
When it comes time to layer up for inclement weather and everyday wear, we'd say you've got no choice but to grab one of the best bomber jackets we've seen in a long time: That just so happens to be the Waxed Cotton Bomber from Mission Workshop.
It's a remarkable feat of design and construction, updating the iconic MA-1 silhouette in a modern fit while at the same time using revered Halley Stevensons from Scotland. The result? A truly perfect bomber jacket you'll have for years, available at an investment-worthy price in rich colors like Desert Olive and Charcoal Grey.
The tailored fit lends this jacket some serious edge in terms of style, and that's great news: You'll want to wear it all the time. The even better news? It's made to be worn in temperatures ranging from 45 degrees Fahrenheit on up to 70 degres. It's also water-repellent, and it's finished off with Polartec insulation for multi-season versatility. In short: Pair it with a crisp white tee and faded blue jeans, or try it over a classic chambray shirt. Mission Workshop has done the impossible, updating an icon in a way that's thoroughly unique and modern.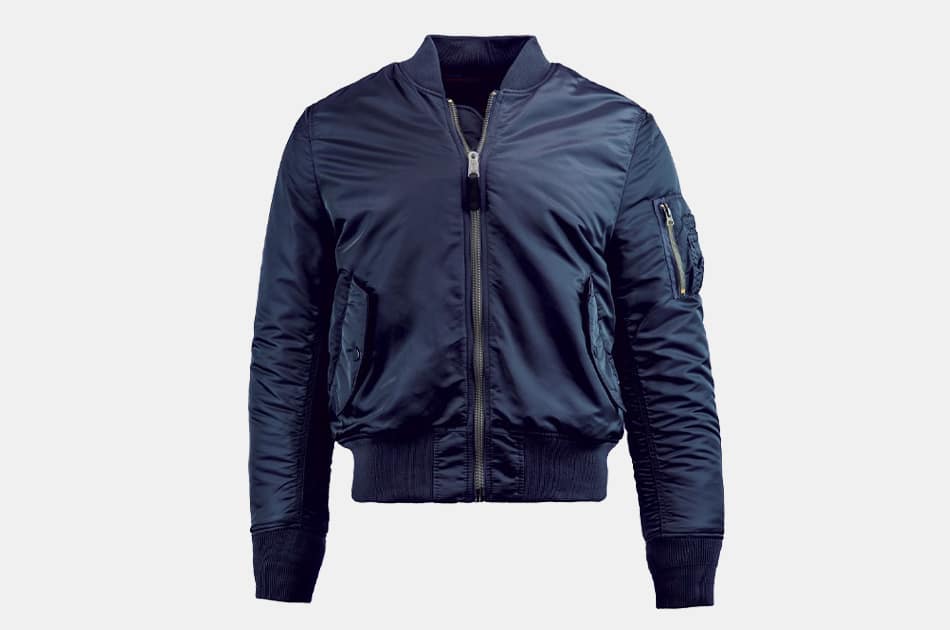 Alpha Industries MA-1 Slim Fit Bomber Flight Jacket
The Alpha Industries MA-1 has been a mainstay of the bomber jacket silhouette since before it exploded in popularity, and so there's no better place to go to get a classic style. Add in the fact that it's upgraded in a slim fit and available in a host of neutral colors, and it's easy to see why it's become a celebrity staple — and a global icon, no doubt. Get the classic navy bomber and wear it with light wash blue denim for a study in contrasts, or pair it with your favorite pair of chinos for an all-American look.
Taylor Stitch Bomber Jacket
If ever you doubted the ability of the team at Taylor Stitch to churn out reliable, authentic, truly excellent style staples, doubt no more — the Bomber Jacket in Navy Dry Wax is as good of an example of a perfect fall jacket as we've seen. It starts with the tailored fit and custom Halley Stevensons fabric, and it ends with a custom antique brass zipper and YKK snaps for excellent versatility. It's essentially the perfect Taylor Stitch jacket to layer over your favorite shirt from that same brand, easily.
Public Rec Crosstown Bomber Jacket
For all of their rugged and road-ready appeal, the best bomber jackets also offer up comfort and casual style without missing a beat. The Public Rec Crosstown Bomber Jacket is one such jacket, featuring a comfortable spandex-nylon blend and the right colors to wear with everything from tapered joggers to light wash denim. It's as comfortable a travel jacket as you're apt to find, too, complete with a trim fit and plenty of pockets for your everyday carry essentials.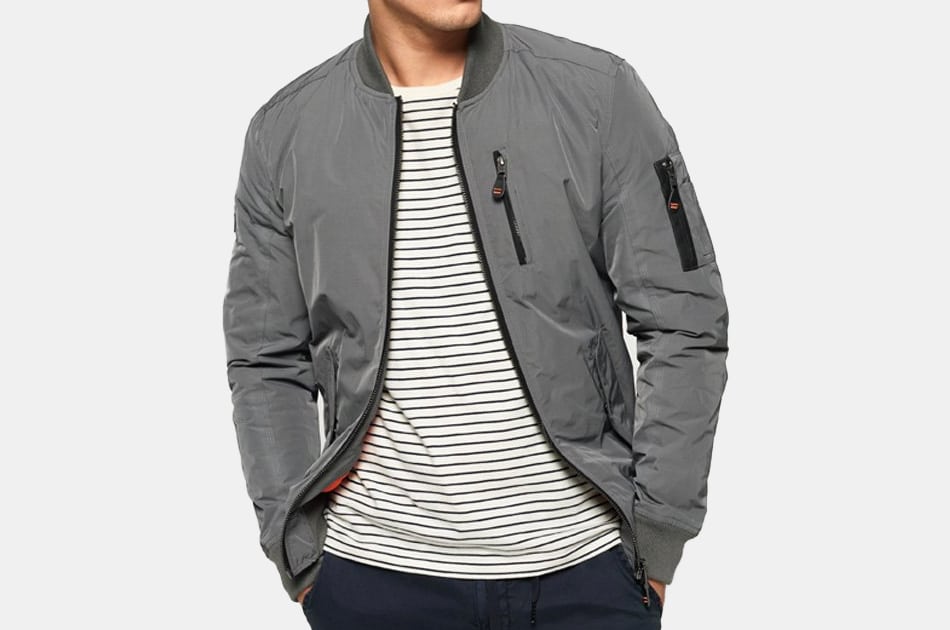 SuperDry Wax Flight Bomber Jacket
The folks at SuperDry keep giving us reasons to add to our outerwear collection, and the sleek, modern and suitably tough Wax Flight Bomber Jacket is assuredly reason enough … don't you agree? It keeps with the brand's penchant for modern and dependable outerwear that also manages to be properly striking in terms of street style. Doesn't get much better than that.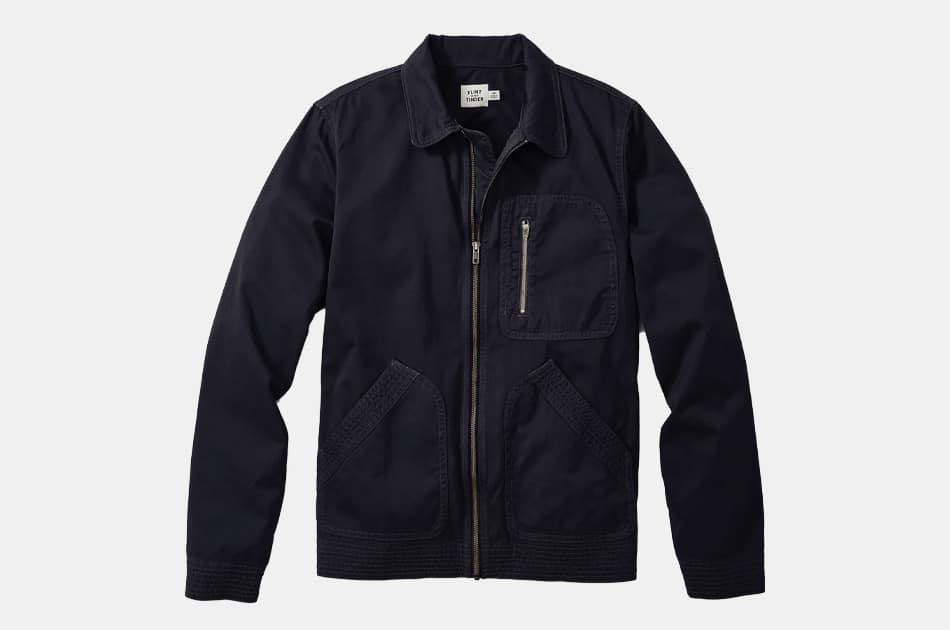 Flint and Tinder Flight Jacket
Ever wondered what it would be like if the fine folks at Huckberry turned their attention toward making an everyday-friendly bomber jacket? That's what you're getting here with the Flint and Tinder Flight Jacket, a modern flight jacket that retains its old-school heritage and construction — USA-made, remarkably tough, and built to last. Available in the perfect shade of deep olive or a rich black, this is the kind of jacket you wear with a slub grey T-shirt and your favorite pair of jeans on a casual Friday night. Conversely, we'd encourage you to load up your duffel bag, throw on this jacket, then hit the road. This bomber jacket can do it all.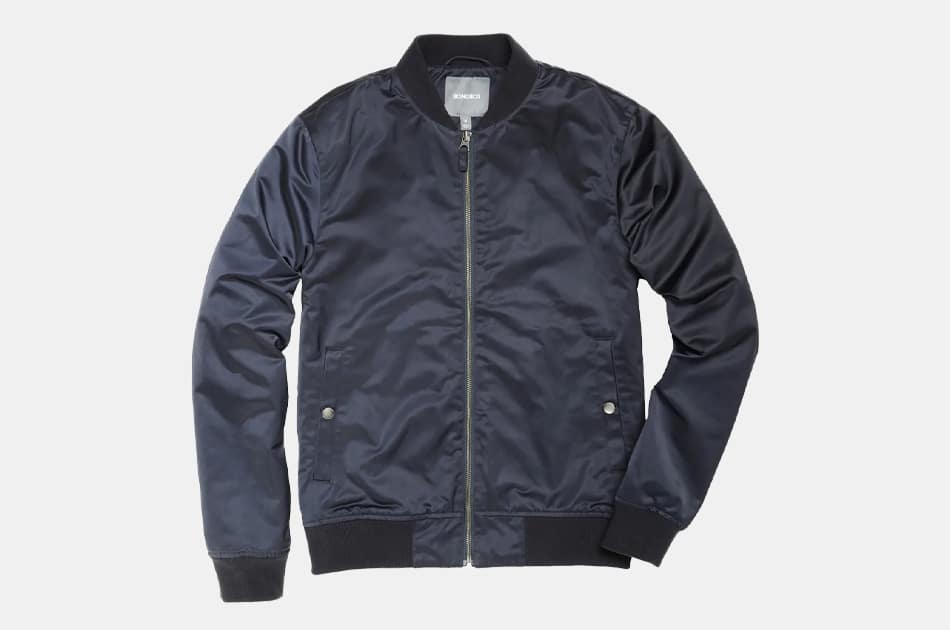 Bonobos Boulevard Bomber Jacket
The classic bomber jacket, when done right, can pair with just about anything in your wardrobe — that goes for pieces more casual (I.E. A white slub tee, tan chinos & white sneakers) or slightly formal (like a blue Oxford, a knit tie and dark denim). Such is the case with the Boulevard Bomber Jacket from Bonobos, a luxurious and modern take on the silhouette without an outrageous price tag. With classic ribbed cuffs and an array of color options available, we think you should feel free to try out more than one.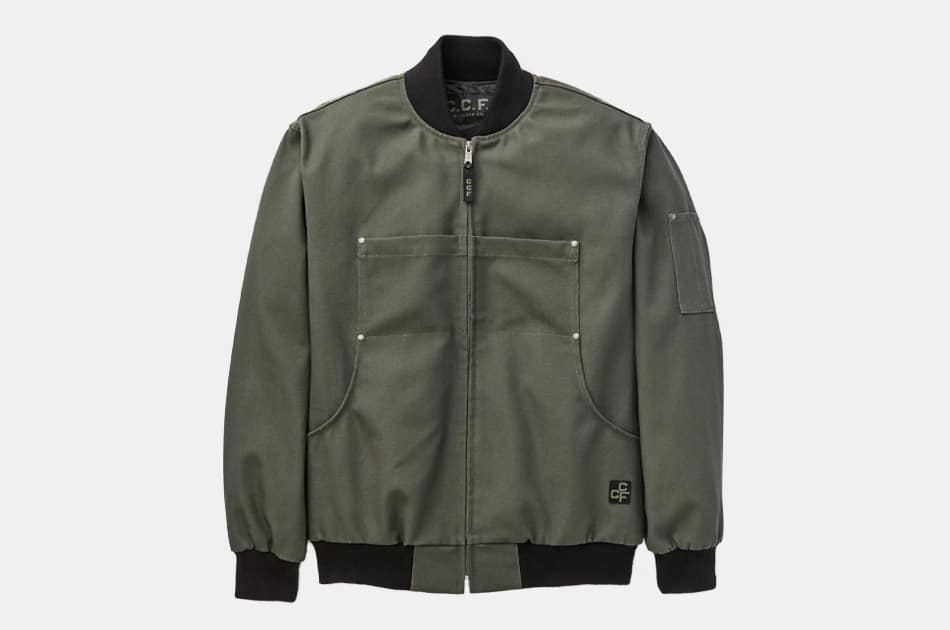 Filson C.C.F. Bomber Jacket
The best bomber jackets have one thing in common — OK, maybe more than one thing in common. The right bomber jacket is tough yet stylish, equally rugged and classic. And if you can find one like the Filson C.C.F. Bomber Jacket, we'd recommend you do your best to get your hands on it. It's part of Filson's C.C.F. line of workwear, rooted in the past and yet made to be worn by the modern adventurer (so, made to be worn by you). It's exactly the type of jacket we'd expect from a lauded Northwest brand, and it'll stand up to plenty this fall.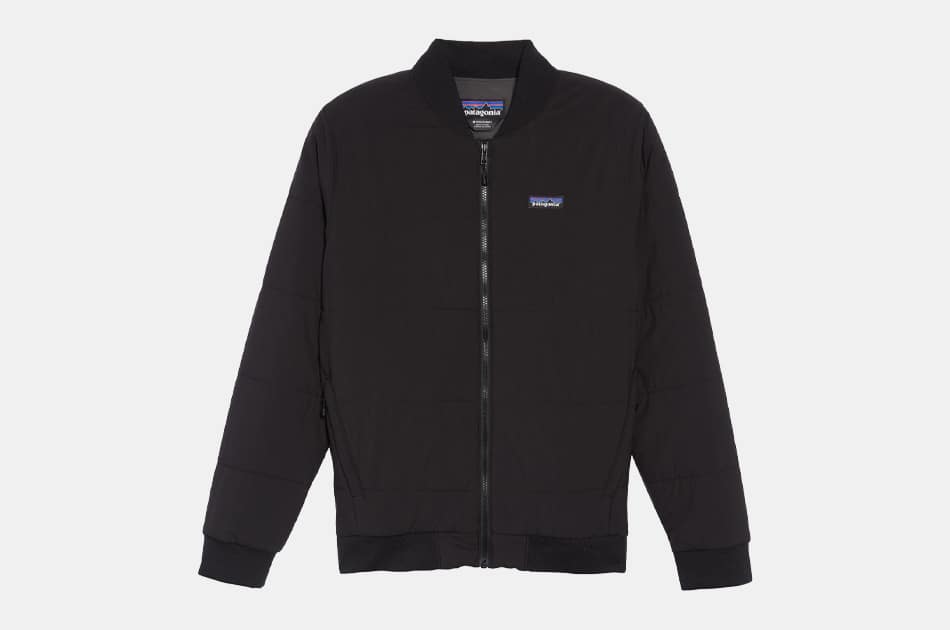 Patagonia Zemer Bomber Jacket
Patagonia takes on a trendy silhouette in classic fashion with its Zemer Bomber Jacket, available in two easy-to-wear colors and featuring the sort of tough-yet-sustainable construction you can really only get with Patagonia. The real kicker here is the Thermolite insulated fabric, crafted to deliver stretch and mobility combined with warmth and fall-ready functionality. We can't get enough of the Sage Khaki color for its ability to layer up with your favorite fall style staples (take a grey crewneck sweater and light wash jeans, for instance).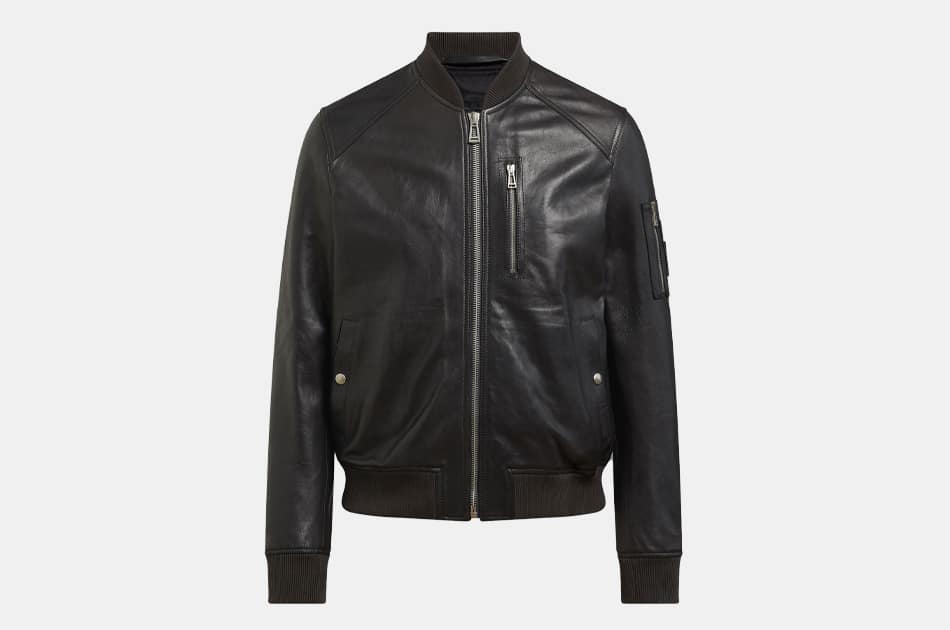 Belstaff Clenshaw Leather Bomber Jacket
If you're on the hunt for a fall-ready leather motorcycle jacket, then Belstaff is always the best place to start shopping. They also offer a leather bomber jacket in their current lineup — a refreshing change from the classic moto jacket silhouette. The Leather Bomber Jacket is made in Italy and features a classic, minimalist design with a ribbed collar, a ribbed hem and cuffs, zipper pockets at the sleeves, and front snap button pockets.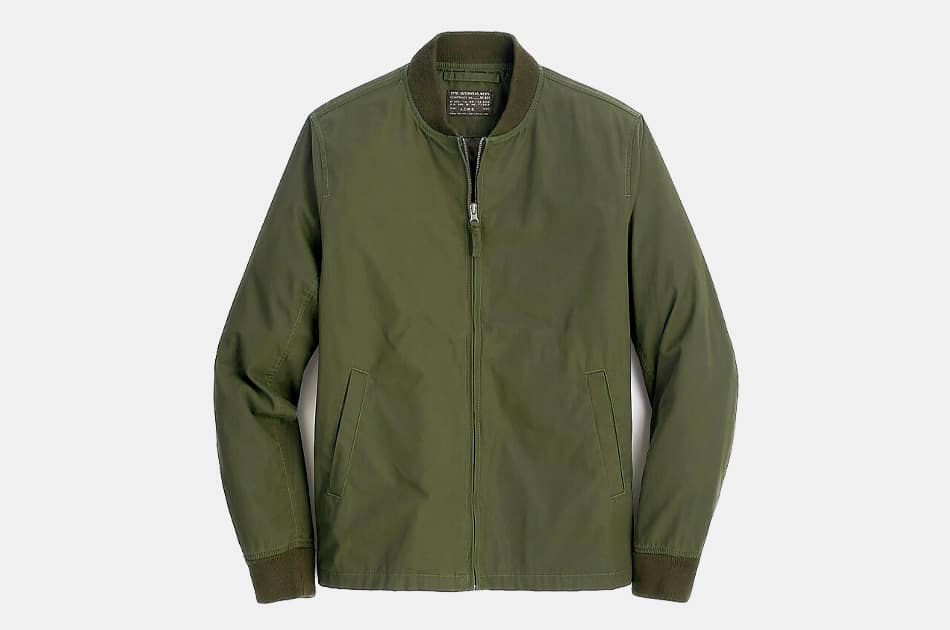 J.Crew Everyday Bomber Jacket
There are brands that have excelled at making everyday style staples for the modern man, and there are brands that have changed the way guys dress fundamentally — J. Crew has managed to do both. And pieces like the Everyday Bomber Jacket prove that J. Crew still has the chops to come through with a classically casual, easy-to-style bomber jacket, this one done up in breezy cotton in a range of colors. Layer it over a slub henley on a weekend, or team it with a light blue Oxford to head to the office. J. Crew has you covered.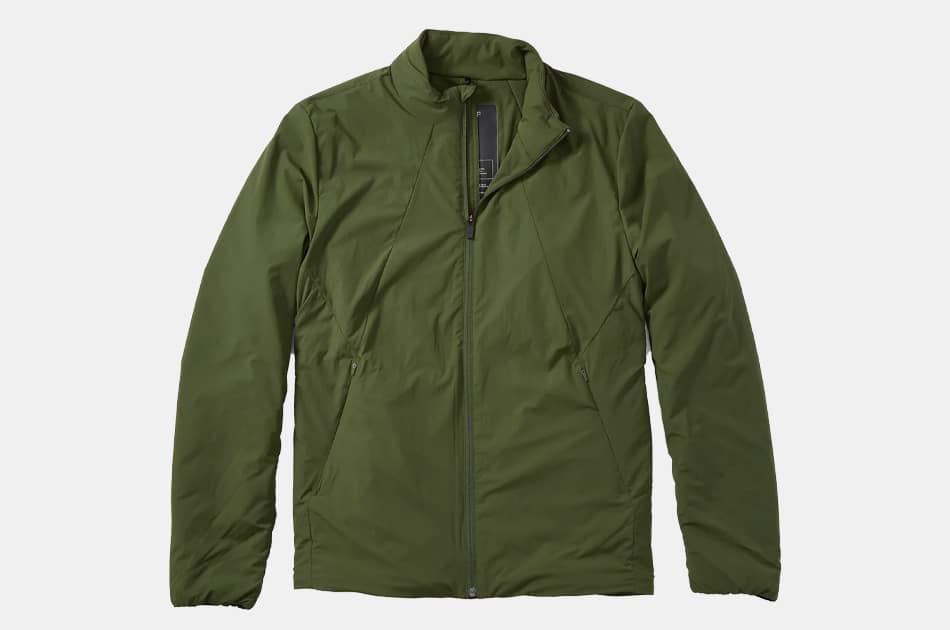 Proof Nova Series Insulated Jacket
If you thought a bomber jacket couldn't possibly stand up to anything beyond only slightly breezy weather, think again — the Proof Nova Series Insulated Jacket is made with four-way stretch material and water-repellent fabric, all the better to take on whatever fall throws your way. We love the Olive color for pairing up with like-minded khaki chinos and tan suede chukka boots as we properly get into fall.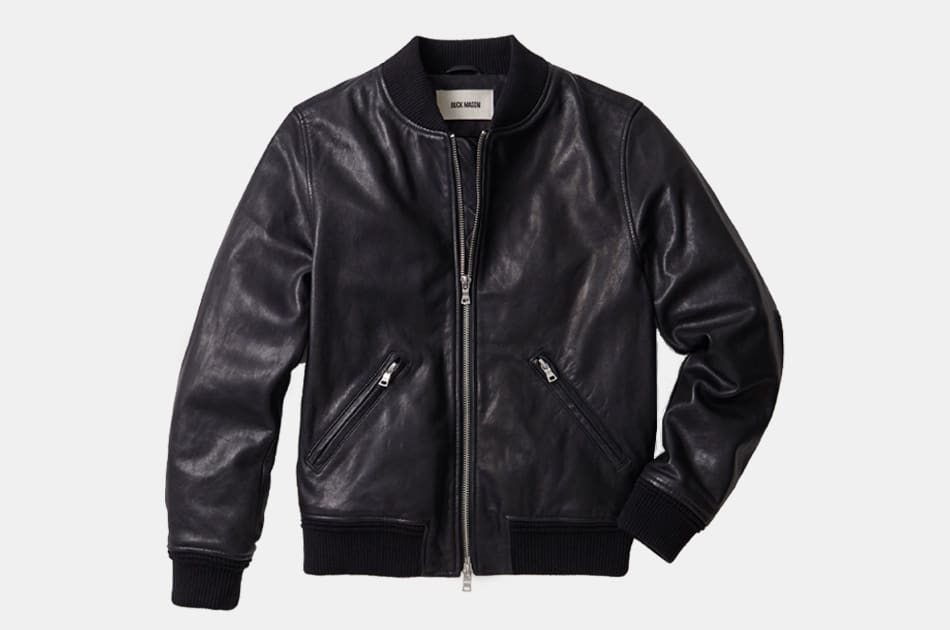 Buck Mason Bruiser Bomber Jacket
Among brands that consistently produce all-American style staples time and time again, Buck Mason might just take the cake when it comes to variety and versatility. All of that is to say, Buck Mason can craft a ruggedly handsome denim shirt or a slubby white tee just as expertly as it can make one of the best bomber jackets — and the Bruiser Bomber Jacket assuredly belongs on our list. Lambskin leather in sleek black meets heavyweight ribbed cuffs, all the better to wear through fall and into winter.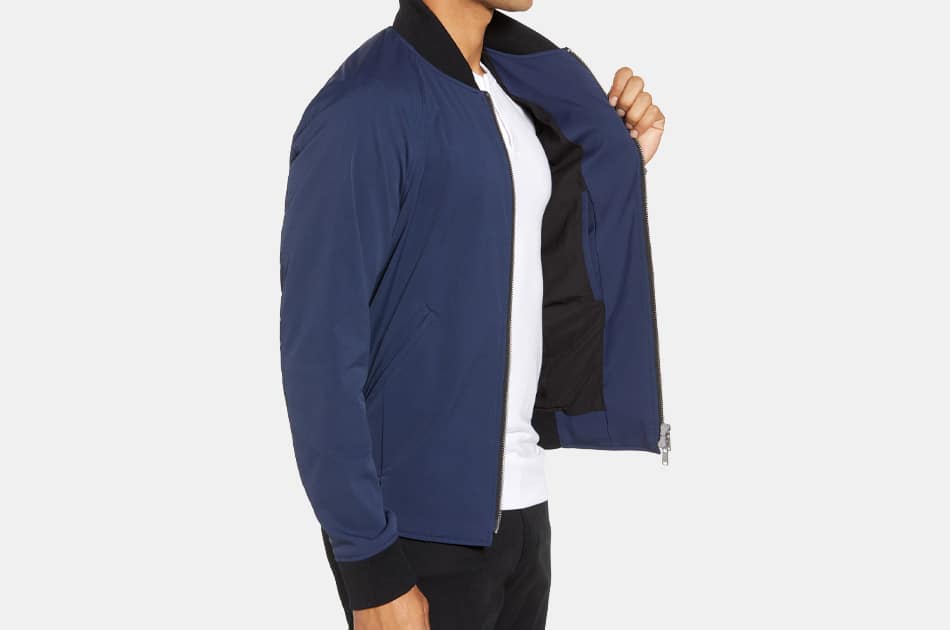 Theory Furg HL Neoteric Bomber Jacket
Theory continues to advance menswear in modern and unexpected ways, as perhaps best evidenced by the Furg HL Neoteric Bomber Jacket — the raglan sleeves call back to classic bomber jackets, while the neoprene construction embodies modern materials. The bright blue color used here is appropriate for any season, but particularly transitioning into fall. It'll stand out nicely against everything from tan chinos and white sneakers to dark grey denim and a dark navy henley for monochromatic style. You're investing in this bomber jacket at nearly $500, but it'll certainly pay off.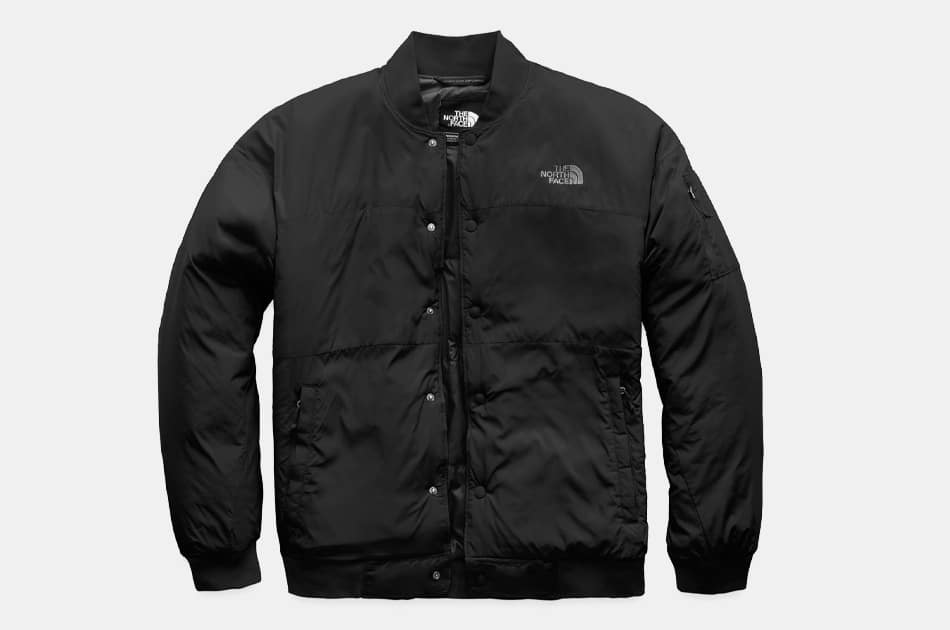 The North Face Presley Insulated Bomber Jacket
If you thought your closet was already filled up when it comes to the best men's fall jackets, think again — The North Face's Presley Insulated Jacket is here to change your mind, and to do so in style. It's worth considering adding this insulated bomber jacket to your rotation, if only given the fact that it's water-resistant and done up in a sleek grey color at the same time. It's the perfect blend of form and function, and it also features the brand's signature Heatseeker insulation.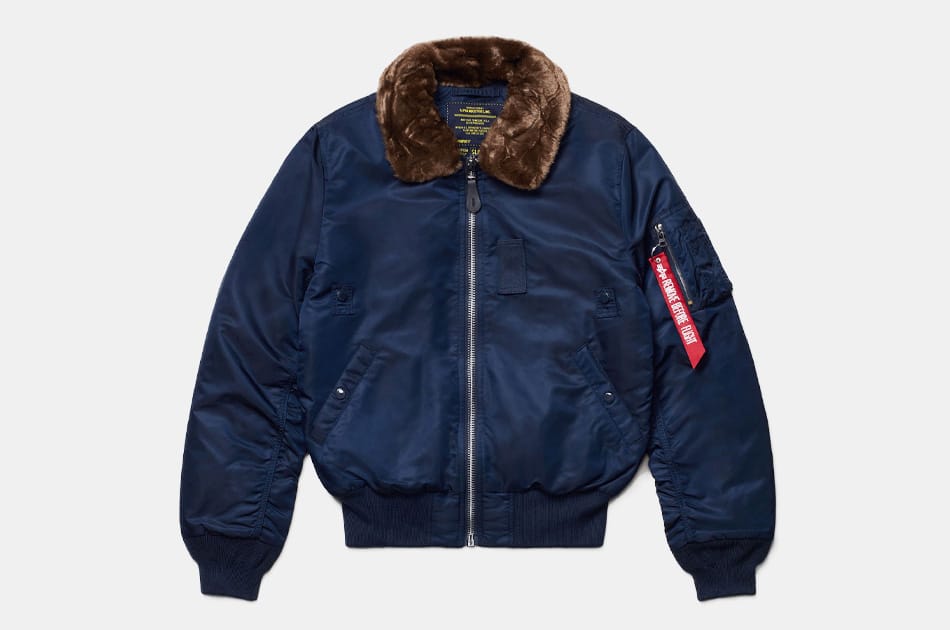 Alpha Industries B-15 Slim-Fit Bomber Jacket
If you're going to shop for a bomber jacket, you might as well reach for a brand that defined the category and made products good enough for the U.S. military for years on end. That's what you're getting with Alpha Industries, along with dependable style, classic looks and tough functionality. Starting with the mid-weight satin nylon — with water-resistant capabilities — and a cool-looking faux fur collar, the B-15 is a perfectly durable and stylish jacket for early fall. It'll team nicely with beat-up tan leather boots and black jeans, plus your favorite white slub T-shirt.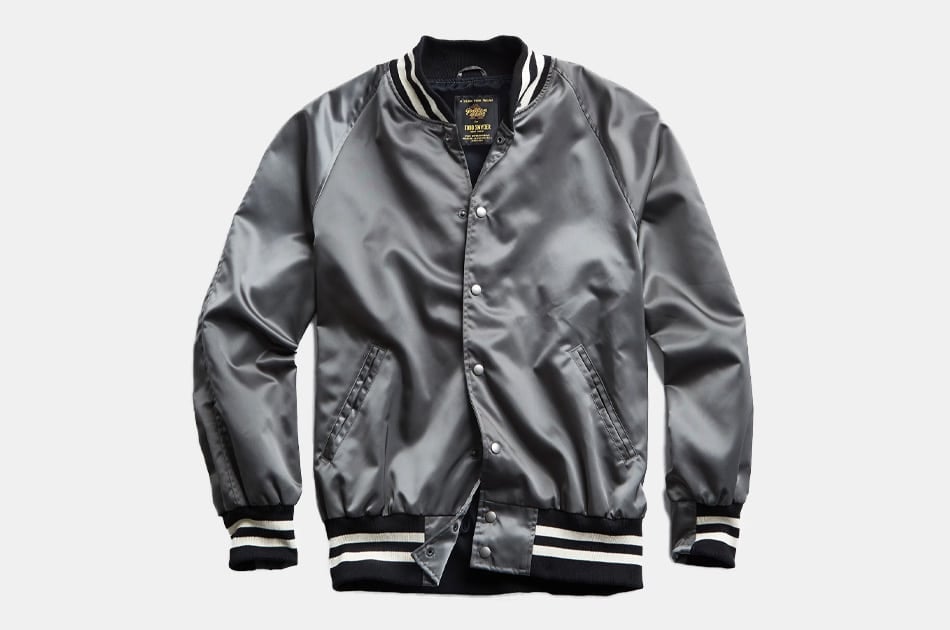 Todd Snyder + Golden Bear Japanese Nylon Bomber Jacket
When Todd Snyder and Golden Bear team up, you'd do your best to pay attention — and quite close attention, at that. It only makes sense that the American designer, who's nurtured a growing love for sportswear among stylish guys, teamed up with an iconic pioneer in the outerwear space for a sporty take on a new fall jacket. The specs on this Japanese nylon bomber jacket are enviable and highly stylish, made to be mixed and matched with your favorite fall basics, from thermal shirts to your favorite Oxford button down. This is a jacket worth investing in for fall, we know that much.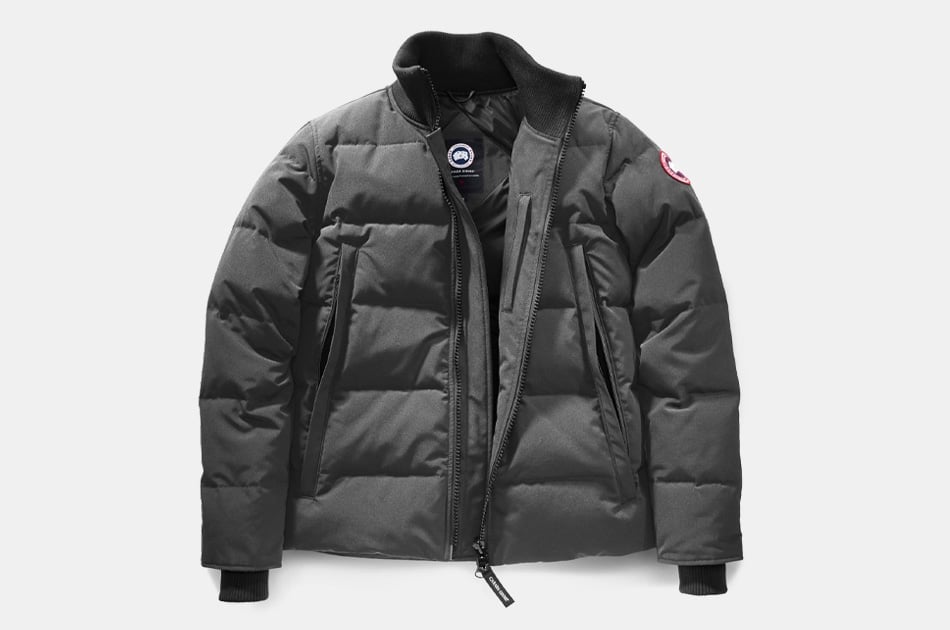 Canada Goose Woolford Down Bomber Jacket
With a reputation for crafting durable, stylish outerwear that's very tough to top, it should come as no surprise that Canada Goose has turned that same focus toward making a heck of a stylish, lightweight and mobile bomber jacket. The Woolford Down Bomber Jacket is an investment, certainly, but it's made in Canada featuring a modern slim fit and DWR fabric. It's also wind-resistant and able to stand up to fall's fiercest weather, so we'd recommend you wear the Woolford with your broken-in hiking boots and toughest chore pants to go off-trail this season.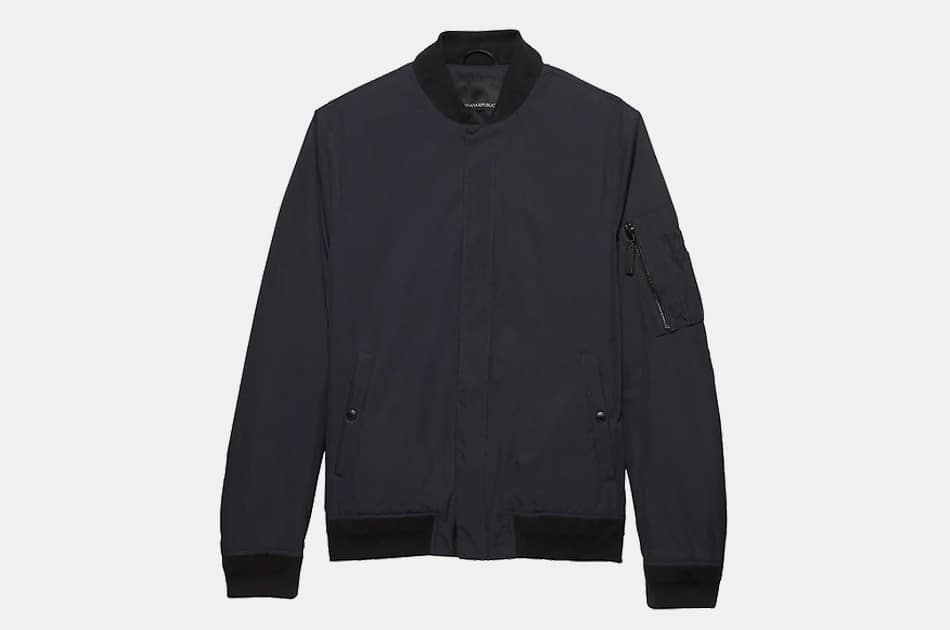 Banana Republic Water-Resistant Lightweight Bomber Jacket
Best known for timeless, sharp office staples and more recent product innovations like its Rapid Movement Chinos, we think that Banana Republic's outerwear line surely deserves a second (or third) look. That's especially the case if you're on the hunt for wearable, versatile staples that are easy to pack or easy to style for fall travel. The Water-Resistant Lightweight Bomber Jacket is one such style staple, ready to pair with a crisp white Oxford shirt, light tan khakis and brown leather sneakers for a bit of high-low office style. The best part? You'll stay dry, no matter the weather this season.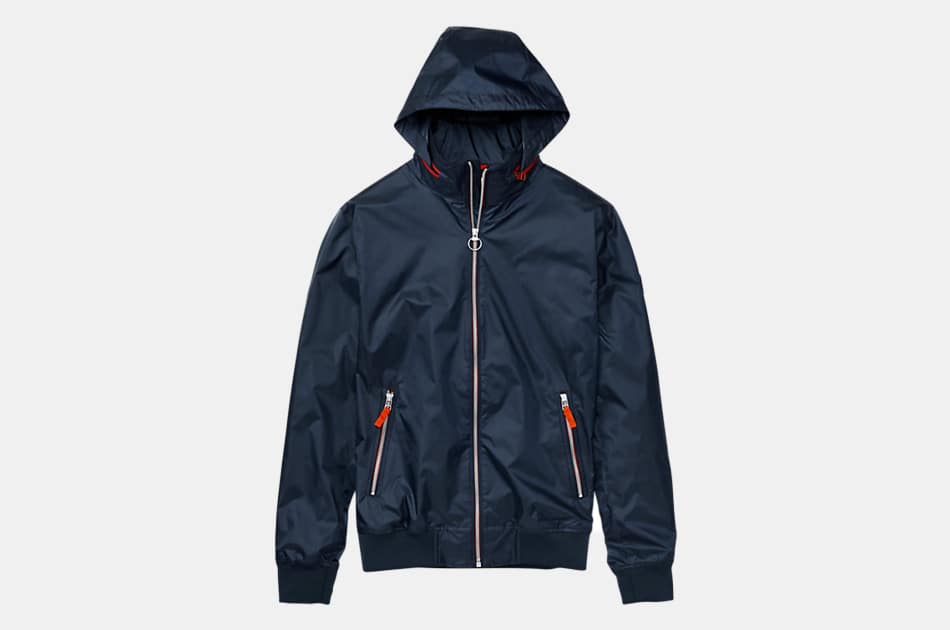 Timberland Mt. Lincoln Bomber Jacket
Didn't think Timberland had any versatility beyond its classic and much-loved Wheat 6-Inch Boots? Think again, because the lightweight and classically designed Mt. Lincoln Bomber Jacket is a heck of a fall style upgrade. Made with the brand's characteristic attention to detail, it's a sleek, tough jacket, fit for wearing with a short-sleeve henley, black denim and scuffed-up Timberland boots as you head to your next rock concert no matter the impending weather. It's the type of jacket that'll turn heads, in the best way, this fall.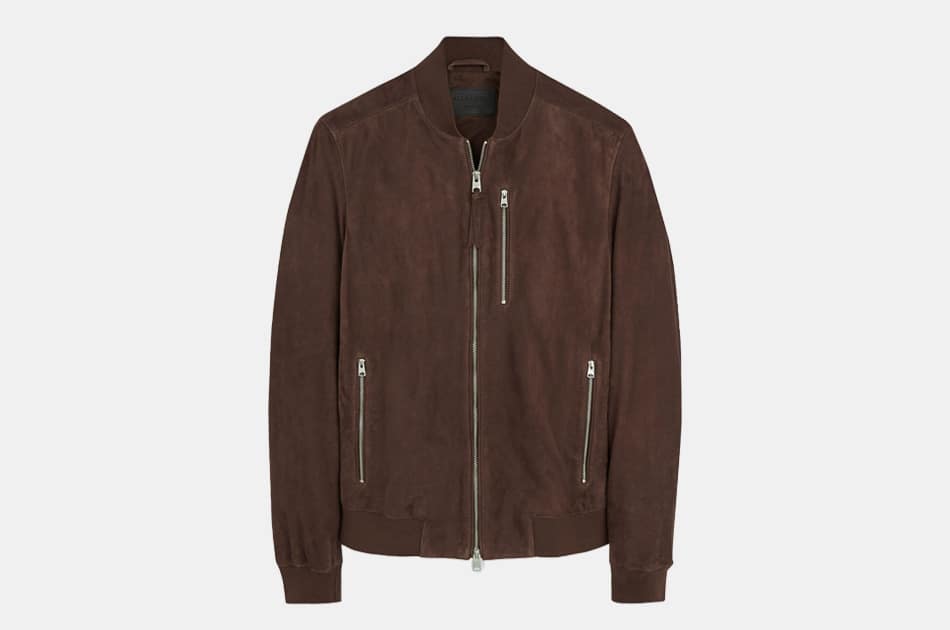 AllSaints Kemble Suede Bomber Jacket
The best bomber jackets for men often do the unexpected as well as they nail the classic stylings of a tried-and-true bomber jacket. In this case, the unexpected is the fact that the Kemble Bomber Jacket from AllSaints is made with premium goat suede for a modern look and a bit of rock star edge. We think this jacket will look its best with a white short-sleeve henley, slim black denim and your favorite pair of tan Chelsea boots — after all, an edgy jacket calls for some edgy details, right?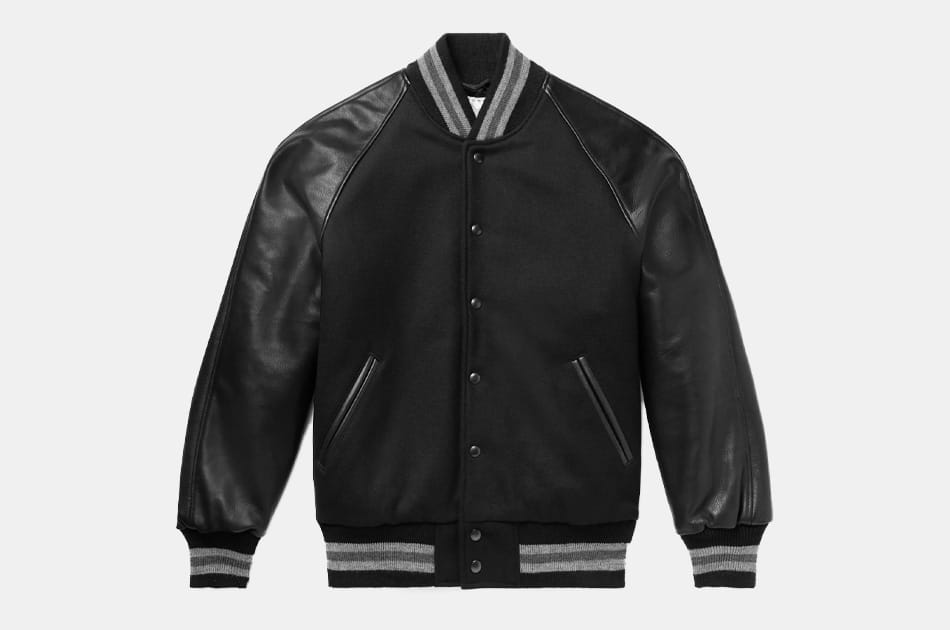 Golden Bear Leather and Wool Bomber Jacket
Golden Bear can compete with the best in luxury menswear just as well as it can reach into its own archives and drum up a classic style — and the brand's Leather and Wool Bomber Jacket does a bit of both. From Loro Piana wool to sleek black leather sleeves and a sporty-leaning striped ribbed trim, you get quality the whole way through. The price tag reflects that — but it's certainly worth it. And lest we forget, this is a heck of a stylish jacket, too — wear it with slim black denim, clean white sneakers and a grey tee to head to a night on the town.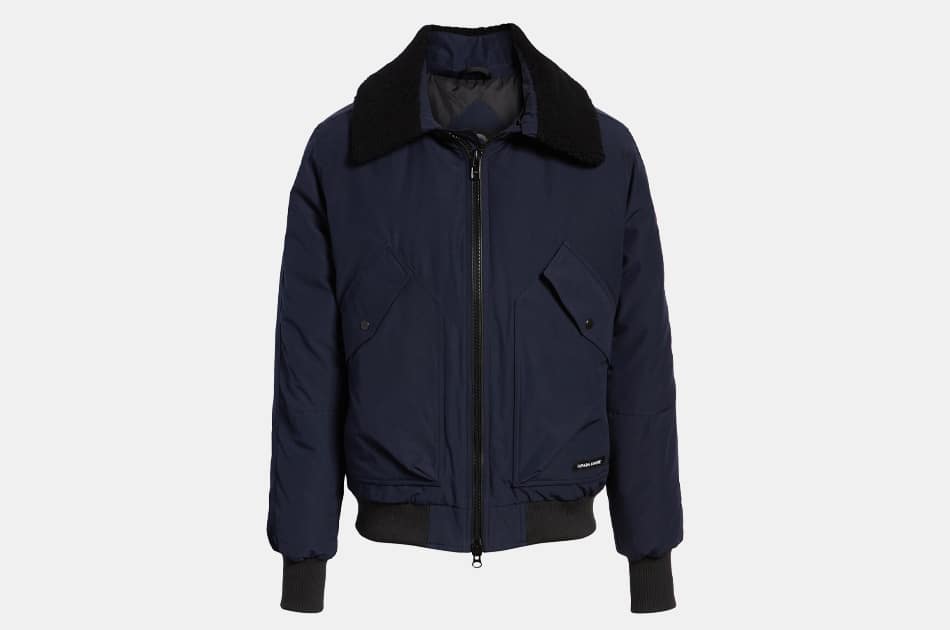 Canada Goose Bromley Bomber Jacket
Reputation and performance are certainly critical when it comes to reliable cold-weather outerwear, and Canada Goose more than steps up to the plate in that regard. The Bromley Bomber mixes duck down and polyester fills with a nylon lining, a detachable sherpa collar and a heavy front zip. That's durability at its finest, and the trademark sleeve patch certainly denotes quality. Four front pockets provide plenty of space for your everyday carry, and just about anything else you'd need to take with you There are few bomber jackets that can blend in on the city streets and perform in inclement weather, but this bomber is one.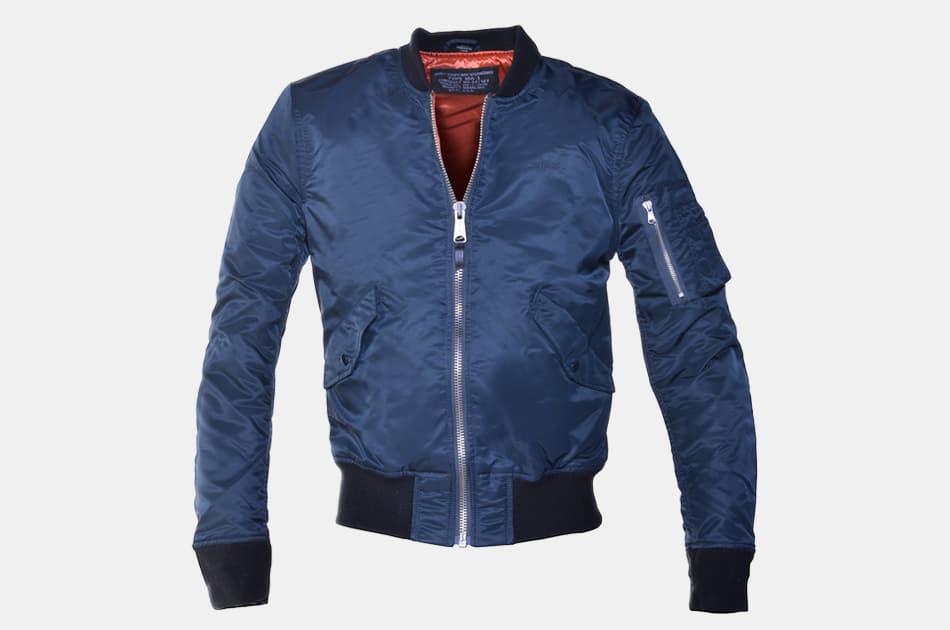 Schott Slim-Fit Nylon Flight Jacket
For all its prowess making slim-fitting, perfectly cut and supremely stylish leather jackets, Schott knows its way around making a classic flight jacket just as well. Available in three classic shades, including the military-approved Khaki version and a "downtown cool" take on navy, this sharp jacket is going to add edge to even the most essential of outfits (we like it with grey denim, brown leather sneakers and a white tee). It's the kind of bomber jacket you would do well to invest in — not just pick up on the fly. And you shouldn't expect anything less than great performance from Schott.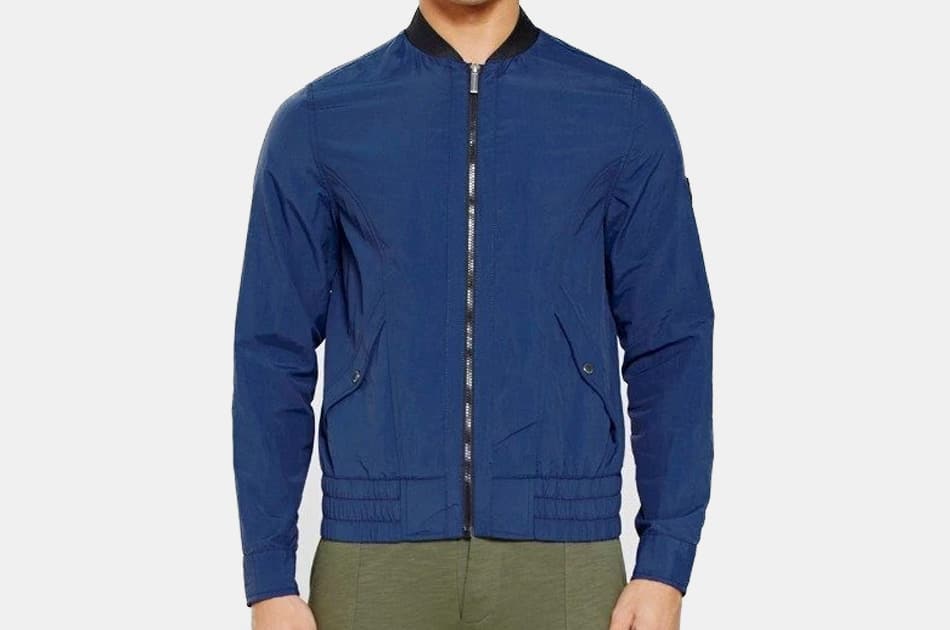 Native Youth Venture Bomber Jacket
Just tipping your toes into the bomber jacket market? You might as well reach for one that merges quality and affordable style, plus a unique color, all into one handy package. So, the Native Youth Venture Bomber Jacket is the way to go there, complete with a slim fit and the versatility to pair with casual weekend style staples like grey denim, brown leather sneakers and a beige pocket tee — that should be a go-to fall weekend ensemble, if ever there was one. Try this affordable option and see for yourself.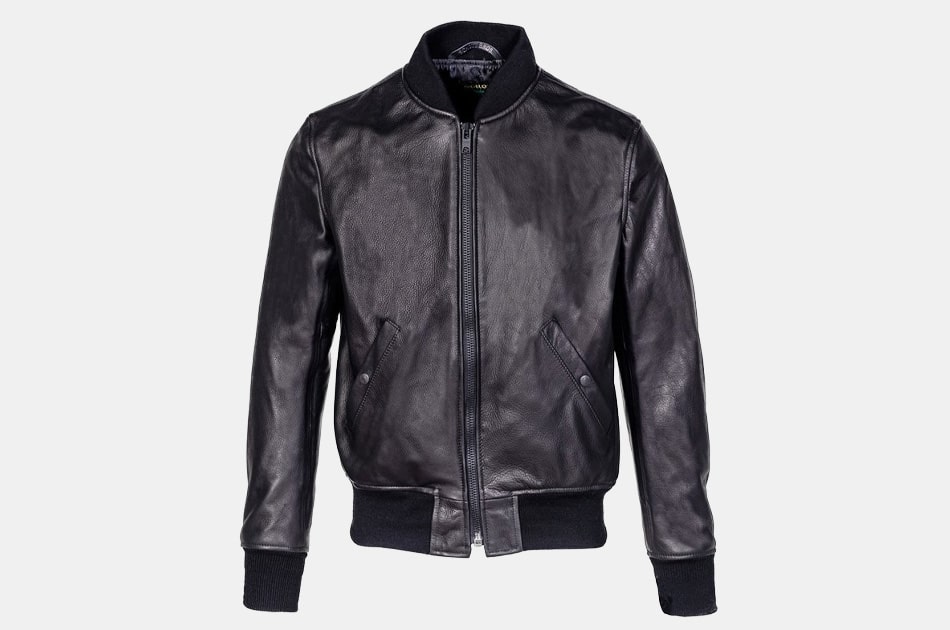 Schott Lightweight Leather MA-1 Bomber Jacket
Schott exists in a league of its own when it comes to investment-worthy, heritage-quality outerwear that just happens to exude downtown cool and timeless style all at once. The MA1-1 silhouette gets an edgy remake thanks to the Schott brand's leather-heavy remake — and that means it's a piece of outerwear that'll upgrade even the most toned-down menswear ensembles. It's also going to get better as you wear it — we're certain of that. Take it and wear it with a crisp white tee and blue jeans or classic chinos for Americana-inspired style.
Disclosure: Clicking on these links and making a purchase may earn us a small referral fee, at no extra cost to you. Learn more here.