The 18 Best Men's Chinos For 2022
So you've got your tough, durable dark denim — maybe even a pair of grey or black denim. And perhaps you're covered off with a crisp suit and shorts for spring and summer. But a go-between option is lacking in your wardrobe. That's where the best chinos for men come into play.
The best men's chinos nowadays aren't just a casual Friday option, and they likely don't feature the baggy fit or pleats you might associate with chinos. Brands nowadays have rid themselves of the excess fabric of years past, and they've taken the approach that bold (yet still wearable) colors are fair game when it comes to a great pair of chinos. What's more, they're an underrated wardrobe workhorse, able to be paired with nearly any and every combination for which you might turn to dark denim. The best chinos on the market are even more wearable than that — they can be paired up with a tee and a blazer, a polo or a crisp dress shirt. Grab one of our favorite pairs of men's chinos and break them out as often as you can.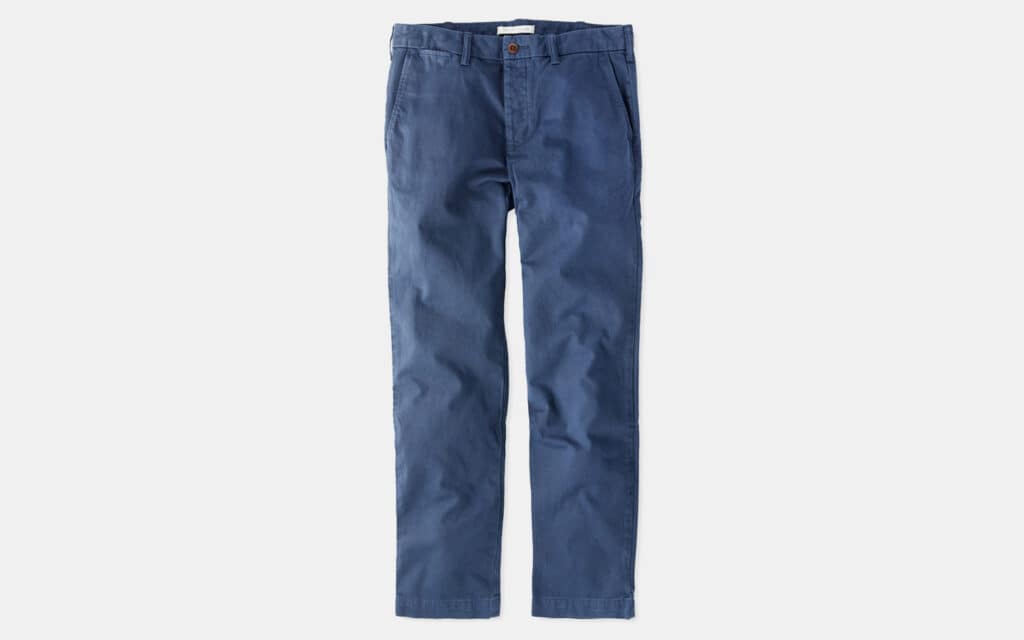 Outerknown Fort Chino Pants
If you're looking for a pair of chinos that buck the norm and chart their own path, consider the Outerknown Fort Chino Pants. They may look like your favorite straight-leg chinos, but they do things a bit differently, using a garment-dying process that gives the pants a lovely "lived-in" feel and look.
Made of a tough organic cotton twill, these chinos will grow more beautiful with every use, until they become your all-time favorite pair of pants, hands down. Thanks to the many pockets (front side-angle + back welt pockets), you have enough space to carry all of your EDC items with room to spare.
Price: $138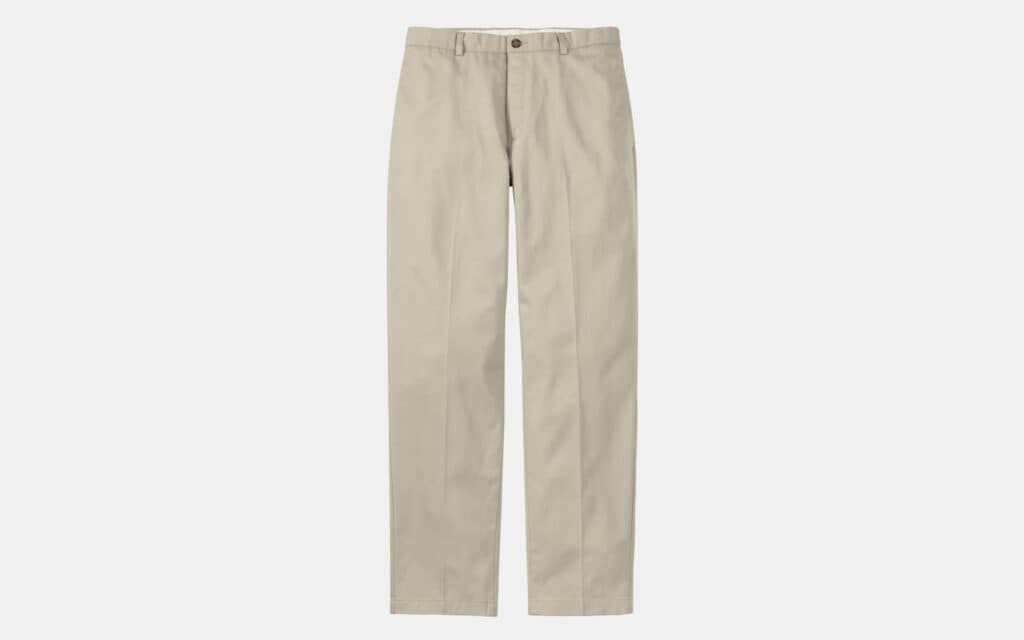 L.L.Bean Men's Wrinkle-Free Double L Chinos, Classic Fit Plain Front
Wrinkle-free and classy to boot: that's what you get with these L.L. Bean Double L Chinos. Made of 100% premium cotton, these pants are given an innovative treatment that not only shrugs off stains, but keeps the fabric ultra-soft and protects against wrinkles.
The lightweight cotton holds its shape and pairs perfectly with both polos and collar shirts, perfect for casual and business events. Best of all, they're shrink-resistant and built to last for years of regular use. Available in five different colors—from light khaki to dark navy—they're an excellent budget-friendly option.
Price: $55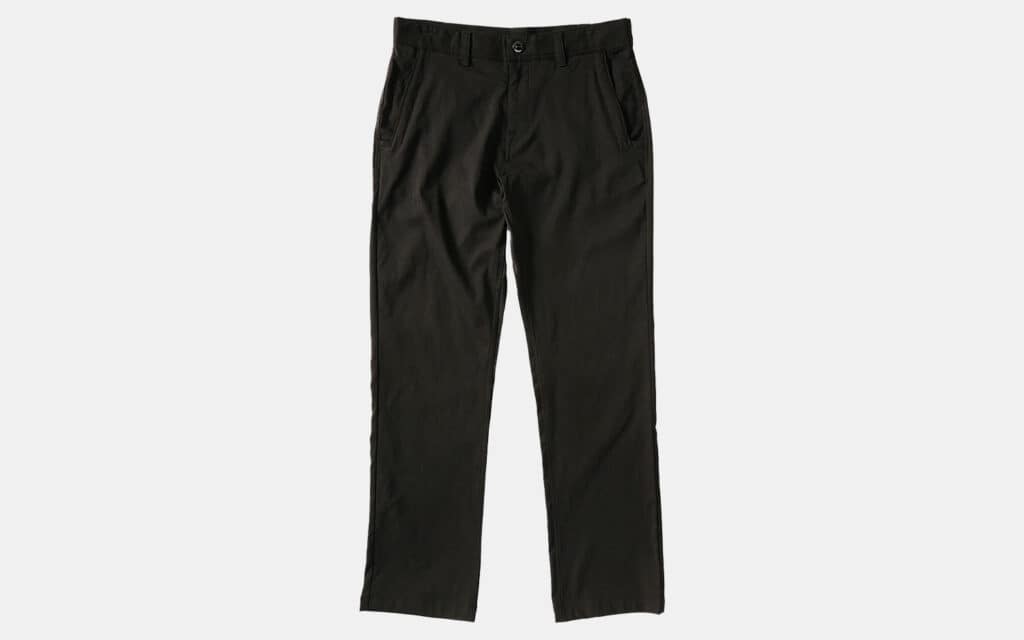 Volcom Frickin Tech Chino Pant – Men's
It's no exaggeration to say that you've never worn a pair of chinos quite like the Volcom Frickin Tech Chino Pant. Instead of the usual stuffy business-oriented pants, these are a hard-wearing, ultra-versatile garment that will be just as comfortable on a hiking path as in a skate park or the office.
The modern look makes them ideal for dressing both down and up, and the synthetic stretch fabric used in their construction is perfect for an active lifestyle. Thanks to a special proprietary treatment, these pants are water-resistant enough that you'll never have to worry even when the rain starts coming down hard. With moisture-wicking properties and four-way stretch, they'll serve you well anywhere, anytime.
Price: $68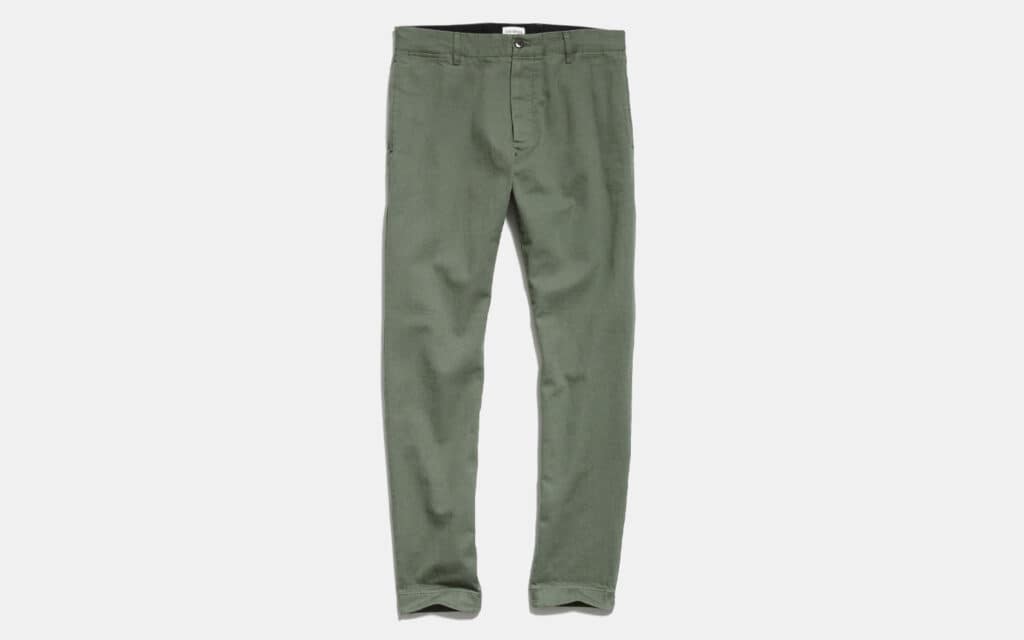 Todd Snyder Japanese Selvedge Chino Pant in Olive
American fashion designer Todd Snyder delivers a truly trendy, modern taken on chinos. The Japanese Selvedge Chino Pant is made from pure cotton farmed from the legendary Kuorki mill and fabricated on shuttle looms. The result is a handfeel much like vintage khaki, but far softer and cutting-edge.
It's got a vintage look reminiscent of old Japanese military pants, down to the button fly, back Besom pocket, and on-seam pockets, but they're hard-wearing enough to be used as work pants in a pinch. It's a style choice unlike anything you've ever seen before or since.
Price: $198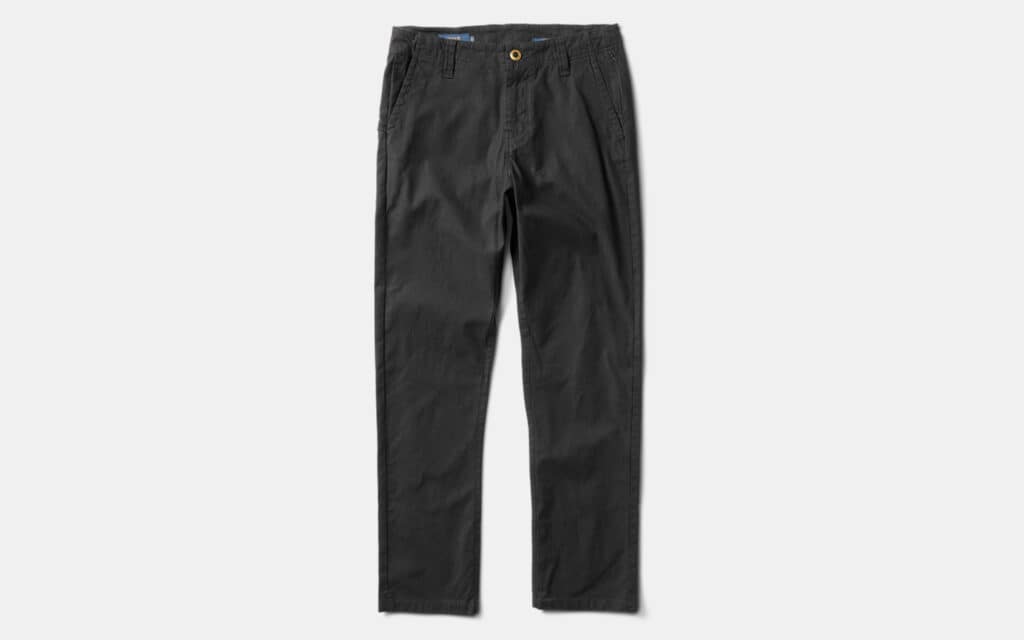 Roark Porter HD Chino Pants
Roark steps up its offerings with the Porter HD, the latest update to its classic Porter Chino Pants. The Porter HD is the everyday garment you'll love to wear, made with a durable blend of tough cotton and stretchy nylon. Not only is the fit consistent and comfortable, but the color never bleeds or fades with regular use, and the pants hold their shape even after years of wear.
The anti-microbial lining will combat odors and extend the pants' already impressive lifespan.  Whether you pair them with a collar shirt, your favorite tee, or athletic wear, they're a pair of chinos that can do it all in style.
Price: $69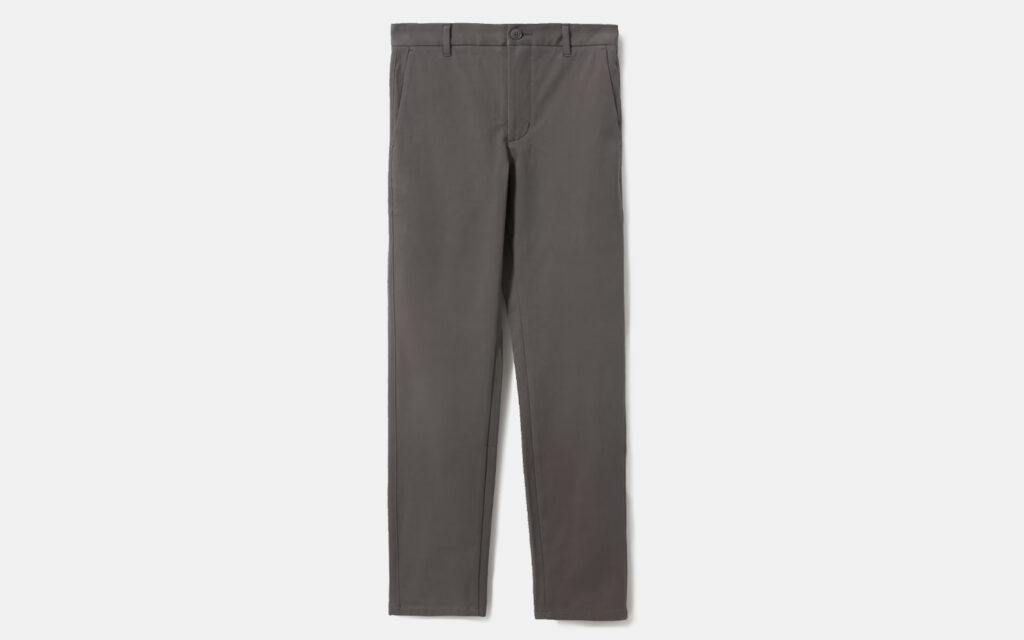 Everlane The Performance Chino | Uniform
The Performance Chino by Everlane does something truly original: it delivers the chino look, but packaged in the form of technical pants that will never wear out or lose their edge. The result is a truly rugged and versatile pair of pants you'll be glad to have in your wardrobe for years to come. The combination of tough cotton and versatile elastane makes for a beautifully stretchy pair of chinos, perfect for running an errand, popping into the office, or going hiking in the woods.
The four-way stretch fabric is incredibly comfortable and flexible, perfect for keeping up with an active lifestyle while still looking great when paired with work clothes. Best of all, they're both moisture-wicking and quick-drying, guaranteed to keep you cool all day long.
Price: $88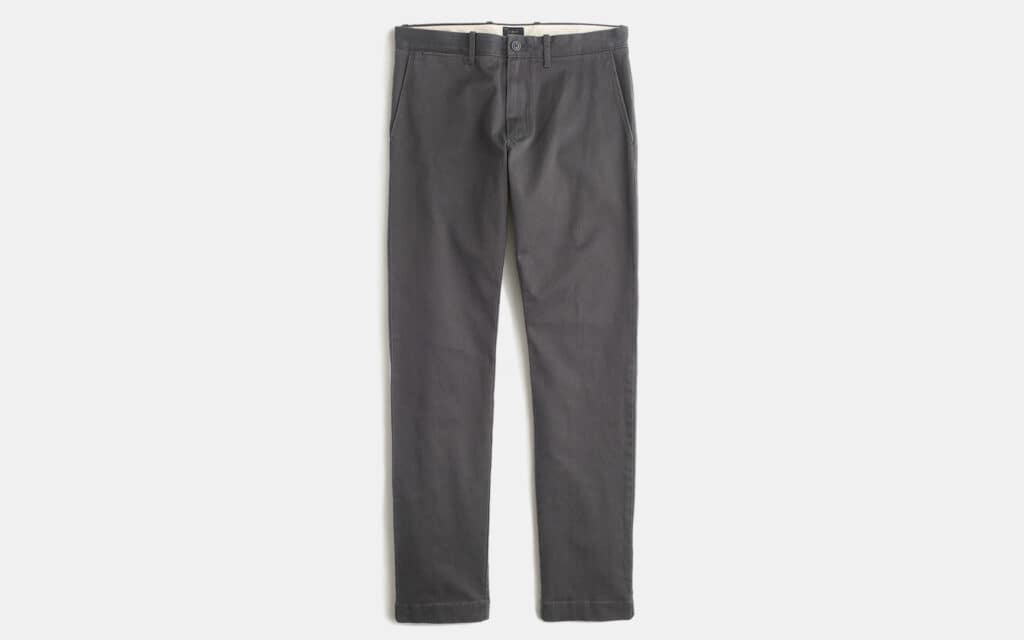 J.Crew 484 Slim-Fit Stretch Chino Pant
If you want simplicity and consistency at an affordable price, J.Crew is a decent option to consider. No surprise that their 484 Slim-fit stretch chino pant ended up on our list, then. These slim-fitting pants are perfect for men with a lean, athletic build, but have just enough elasticity to flex with your movements. 
The narrow, tapered leg pairs perfectly with deck shoes, Chucks, or your favorite low-tops, and the pants sit just far enough below the waist to emphasize your broad torso and shoulders. The old-school look and feel are consistent with their high quality and reasonable cost; a great pair of pants all around.
Price: $80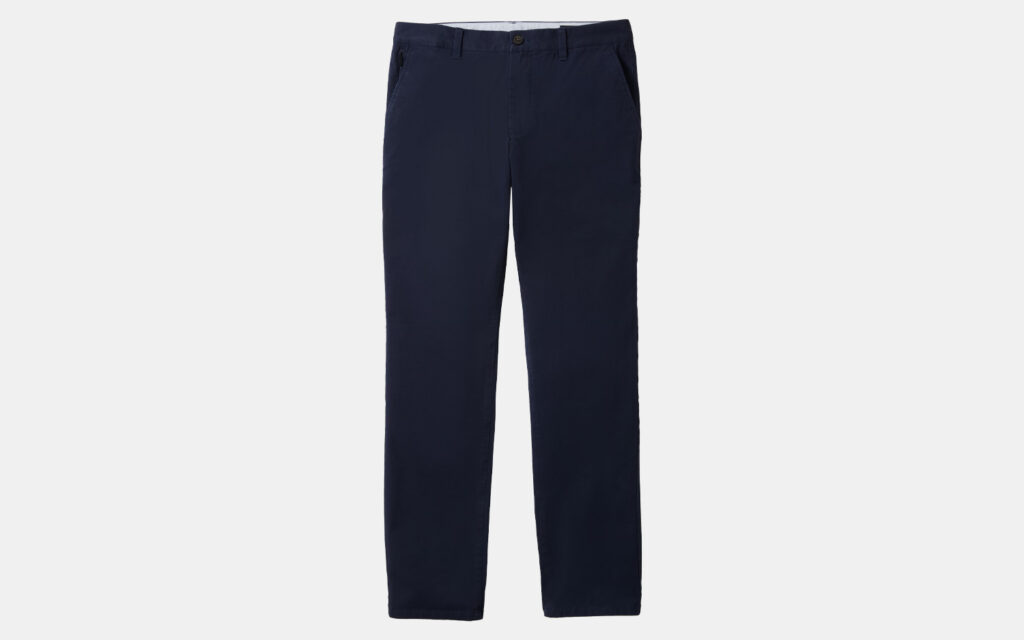 Bonobos Stretch Washed Chino 2.0
The Bonobos Stretch Washed Chino 2.0 takes fashion and style to the next level, delivering a pair of pants perfect for the modern, well-dressed man. They'll never need to be ironed, but always stay wrinkle-free and looking like a million bucks, crisp and clean with every wear.
The stretch cotton keeps you comfortable while hustling down the sidewalk but still looks amazing in the boardroom, and the wide range of color options make it easy to find the perfect pants to pair with any top and footwear. Best of all, the zippered pocket ensures your most important EDC items are securely protected—ideal for commuters who ride the train, subway, or bus.
Price: $99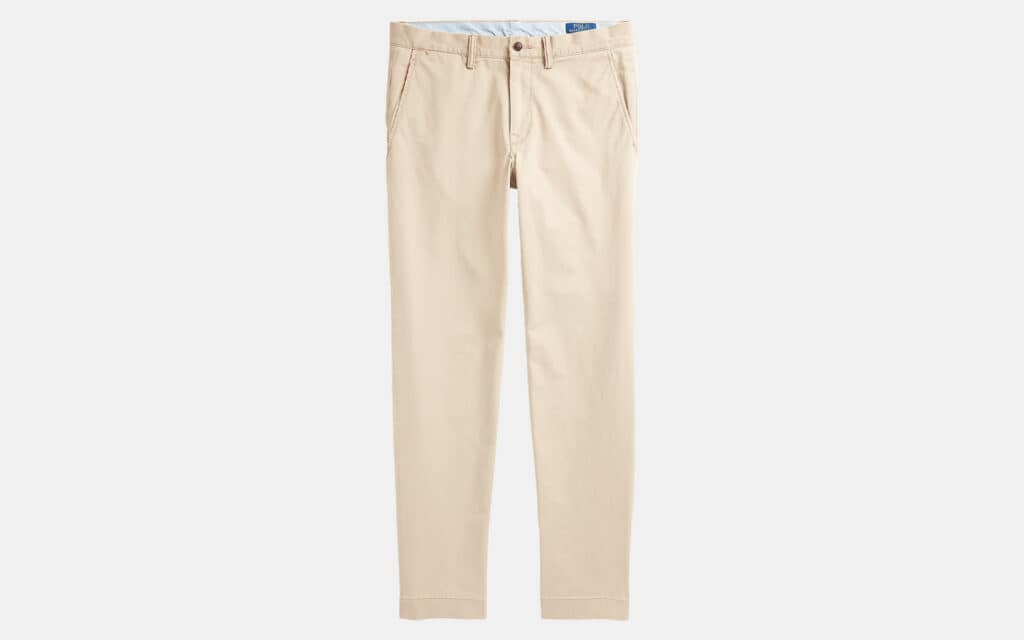 Polo Ralph Lauren Washed Stretch Chino Pant – All Fits
When you think man-friendly stylel, Polo Ralph Lauren is typically one of the first names that spring to mind. These Washed Stretch Chino Pants are suitable for any man who wants to dress to the nines while still being absurdly comfortable at the office.
Made from a blend of natural and synthetic fibers, these pants hold their shape and maintain their rich, bold color no matter how often you wash them. They're striking and eye-catching without being over-the-top, blending perfectly with any formal, business, or business casual ensemble. Wear them with a collar shirt or under a sports coat to max out the "cool" factor.
Price: $70+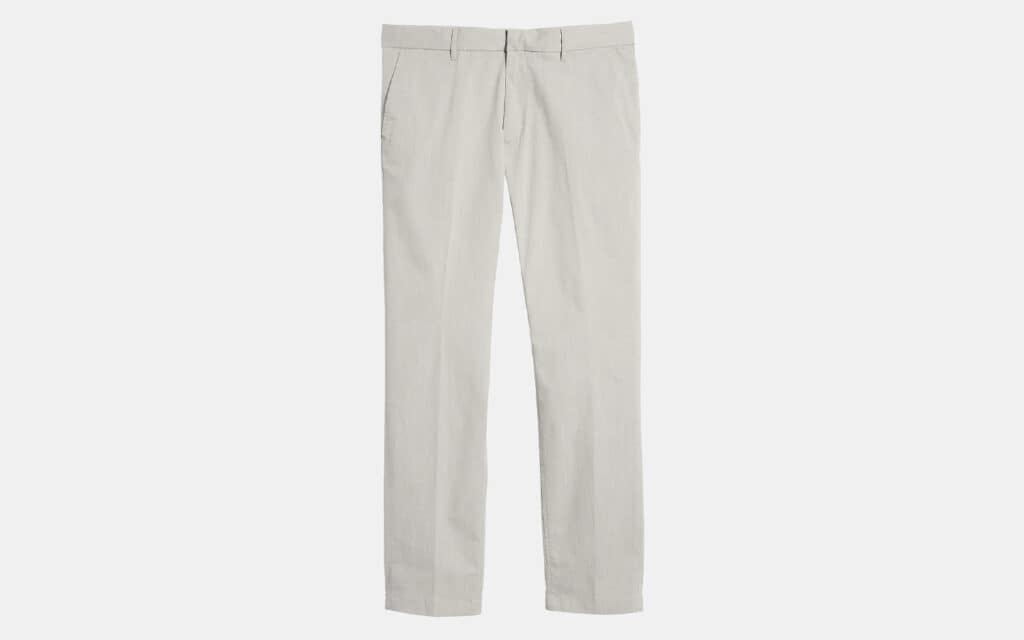 Nordstrom Athletic Fit CoolMax Flat Front Performance Chino Pants
The idea of an "athletic" pair of chinos may seem like an odd idea, but boy does Nordstrom pull it off in style. The Athletic Fit CoolMax Flat Front Performance Chino Pants combine the best of both worlds: an action-friendly synthetic-blend fabric that stretches and flexes with your movement, but still holds their crisp, sharp shape with every wear.
The pants are just moisture-wicking enough that you'll never overheat when on the bus, hustling down the street, or sitting in a stuffy boardroom, and they're cut for men of a more athletic build. Thanks to the natural ventilation inherent in the cotton twill fibers, they're the perfect pants to keep you cool all summer long.
Price: $80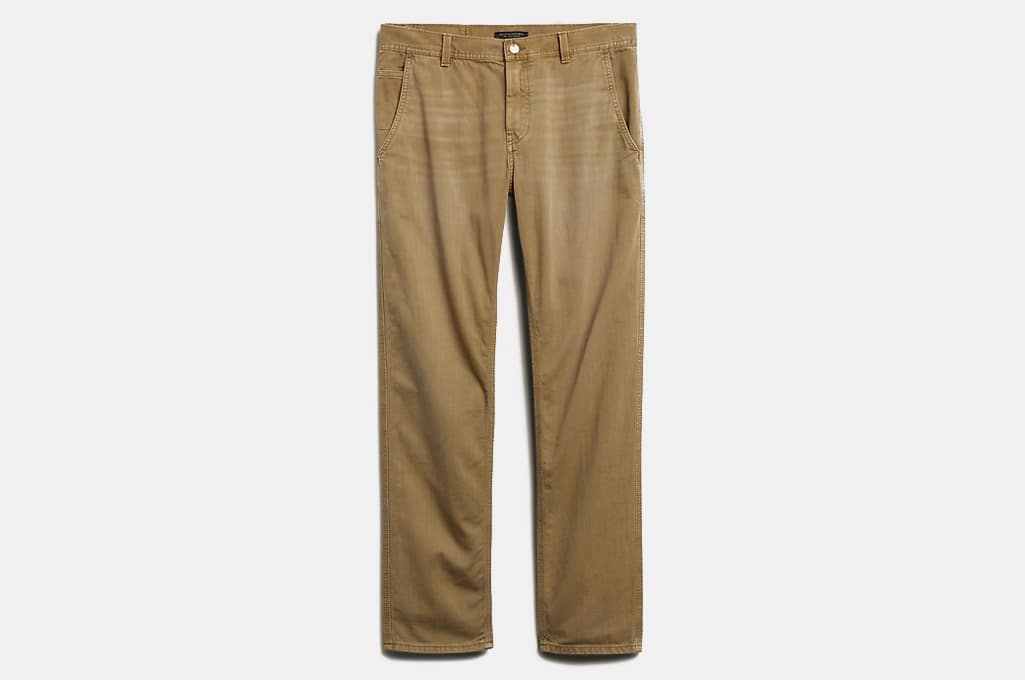 Banana Republic Tapered Authentic Chino
Banana Republic is a brand ideal for men who like the effortless, laid-back look while still dressing snappy and in the latest fashions. Their Tapered Authentic Chino pants have the "well-worn" feel you love, but are still dressy enough to fit your work attire or take to a business meeting.
Made entirely from organic cotton, they're a surprisingly hard-wearing pair of chinos that can stand up to the rigors of your work life and daily commute, but feel ultra-soft to the touch and will never lose their color. Though they don't have much in the way of stretch (some say they feel a bit stiff), they're lightweight enough you'll soon forget you're wearing them.
Price: $100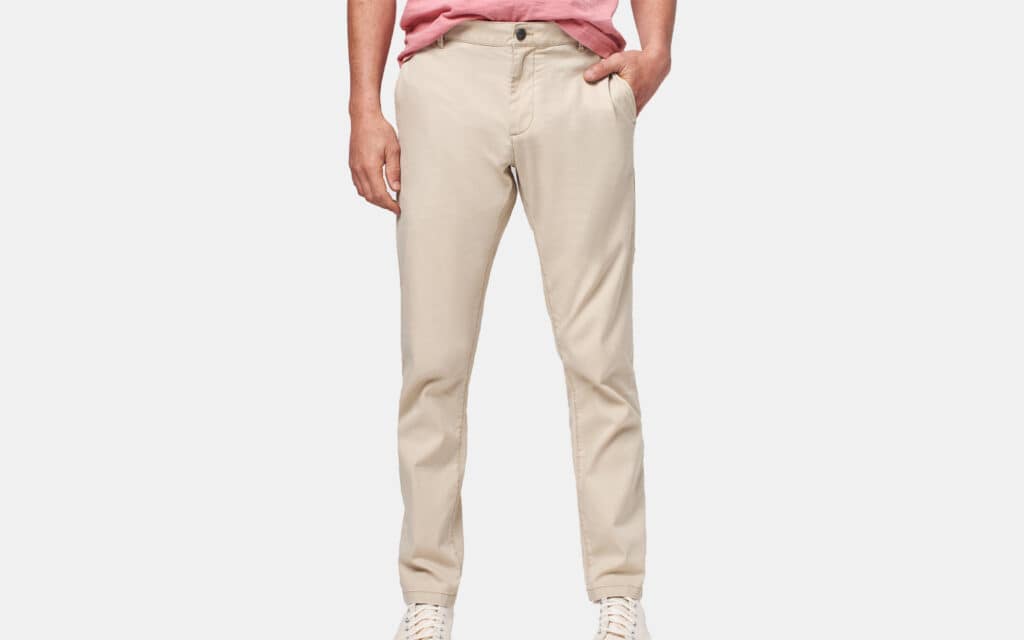 Faherty Island Life Chino
For the days you want to take it a bit slower and enjoy the good things in life, the Faherty Island Life Chino is the pair of pants for you. This all-occasion garment pairs great with tees and Chucks and business shoes and a collar shirt, ultra-versatile and highly stylish.
The relaxed look and soft handfeel makes them timeless, and they feel broken-in from the first moment you put them on. The combination of organic cotton, elastane, and Tencel makes them versatile enough for both the beach and boardroom, and the straight leg and below-the-waist cut will go well with both business and casual outfits.
Price: $148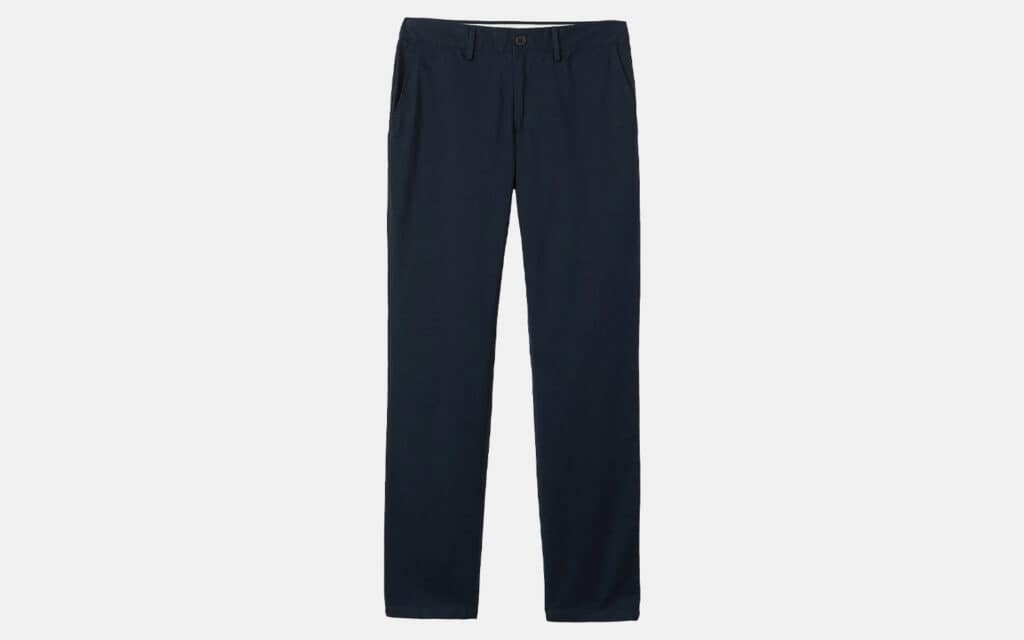 Frank and Oak The Brunswick Slim Chino Pant in Deep Blue
For guys who want a tighter, slimmer-cut pair of pants, the Frank and Oak The Brunswick Slim Chino Pant in Deep Blue is just what you need. Made from fabric with just the right amount of elasticity, these slim-fitting pants will accentuate your lean build and height, drawing just enough attention to all of your best attributes.
Roll up the hems to pair with your favorite all-white sneakers, or keep them rolled down to match with dress shoes and a fine leather belt. However you wear them, you can always trust you're dressed well and staying comfortable all day long.
Price: $90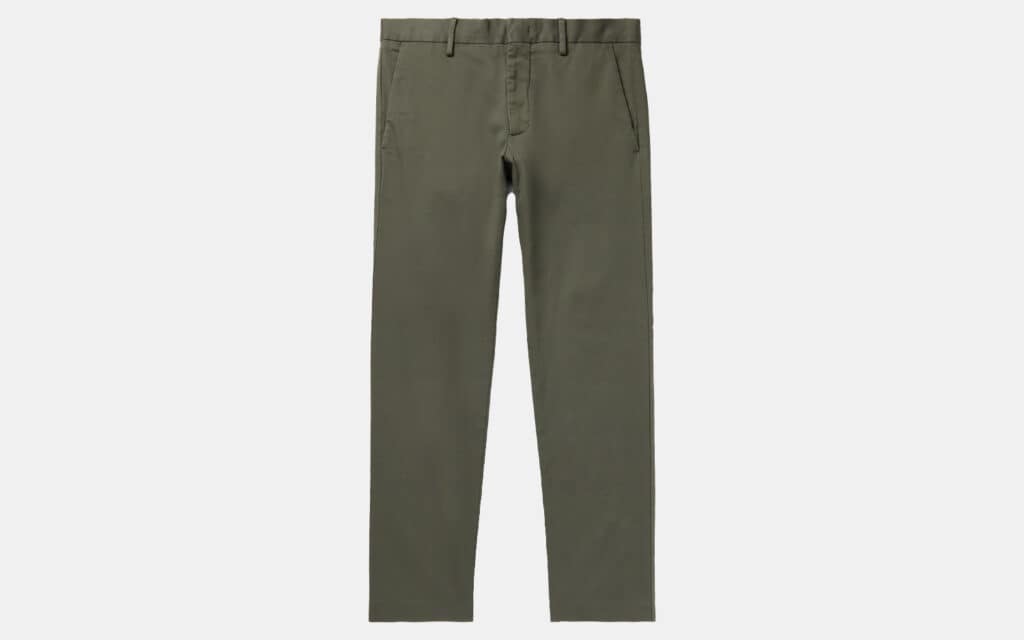 NN07 Theo Tapered Stretch Organic Cotton-Twill Chinos
Dress to impress in the NN07 Theo Tapered Stretch Organic Cotton-Twill Chinos by Mr. Porter, and trust that the pants can handle anything you throw at them. Made from tough organic cotton with just a hint of synthetic elastane, the pants are tough and hard-wearing but still feel comfortable no matter what mischief you get up to in your off-hours.
The army-green color is as classic as the tapered-leg cut, and looks just as stylish. Fair warning: sizes do run on the small side, so make sure to order a size larger to get the right fit.
Price: $230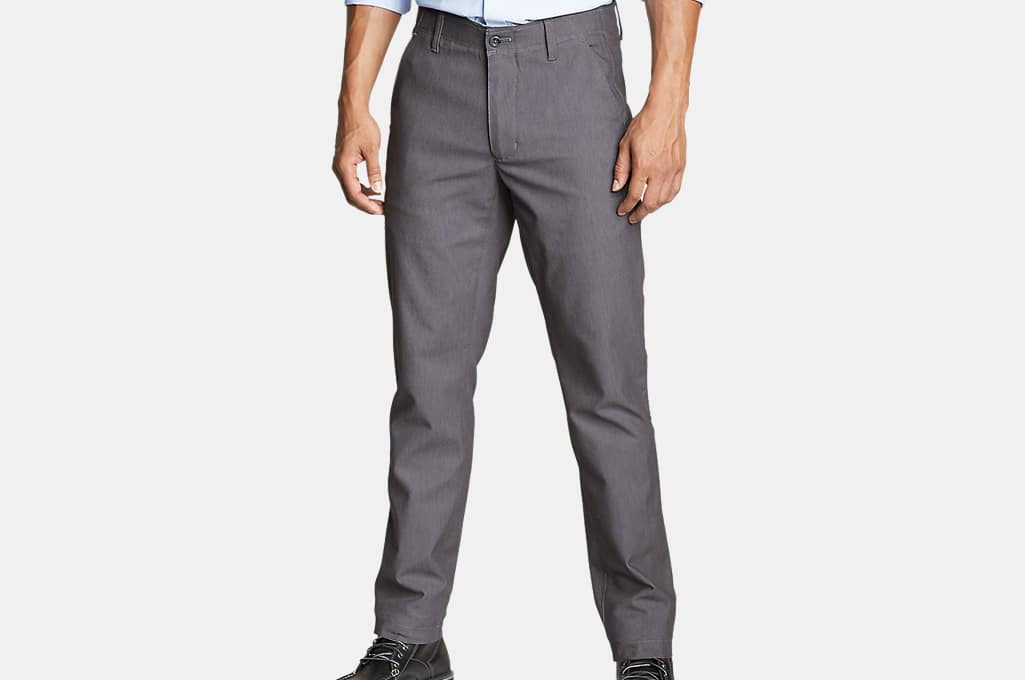 Eddie Bauer Flex Wrinkle-Resistant Sport Chinos – Classic
Eddie Bauer is the go-to brand for golfing clothing, and these Flex Wrinkle-Resistant Sport Chinos will be an instant classic on the links. Made from a combination of cotton and stretchy synthetic fibers, these chinos will swivel with your swing, flex when you climb, and keep up with you through all eighteen holes. All the while, they'll keep you looking your absolute best, thanks to their wrinkle-resistant treatment and crisp, stylish look.
The natural fit keeps you comfortable on the green or setting up for a long drive, and the active waistband will hug your hips snugly to ensure they always stay in place. Definitely the active chinos your golfing ensemble has been missing.
Price: $56+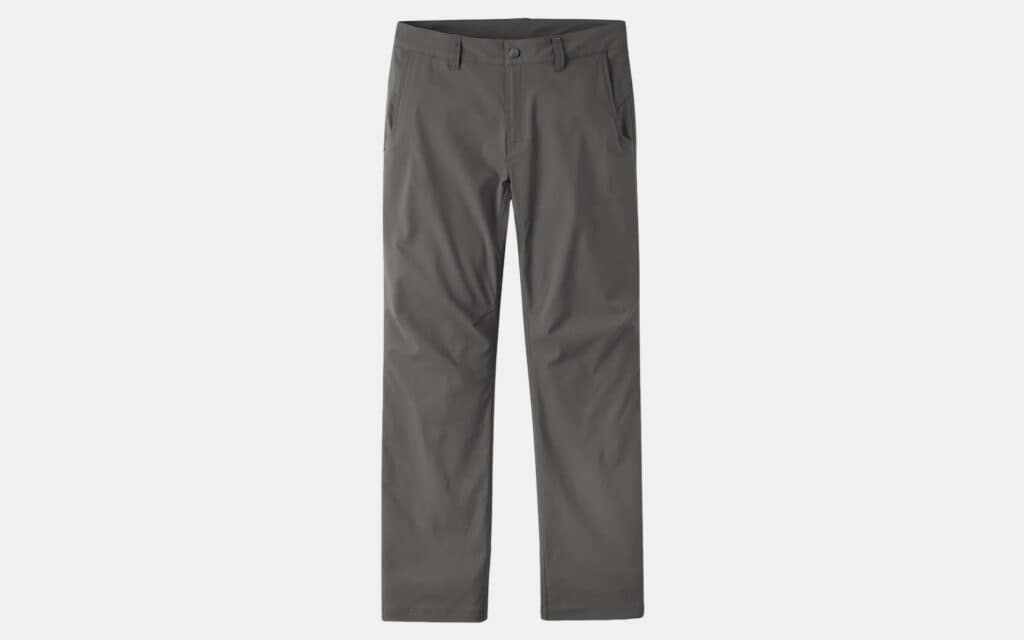 Stio Men's Coburn Pant
The Stio Coburn Pant strikes just the right balance between technical performance and classic style, making them the ideal work-and-play-friendly pants to add to your wardrobe. The cotton Tetonic twill features a hint of synthetic fabric and an articulated, gusseted fit that will enable you to move easily—whether you're hiking a trail, climbing a mountain, or pacing your office.
Though they look like your favorite business casual pants, they can handle adventure like a champ, with reinforced stitching and double kick cuff patches that will withstand the rugged outdoor life.
Price: $119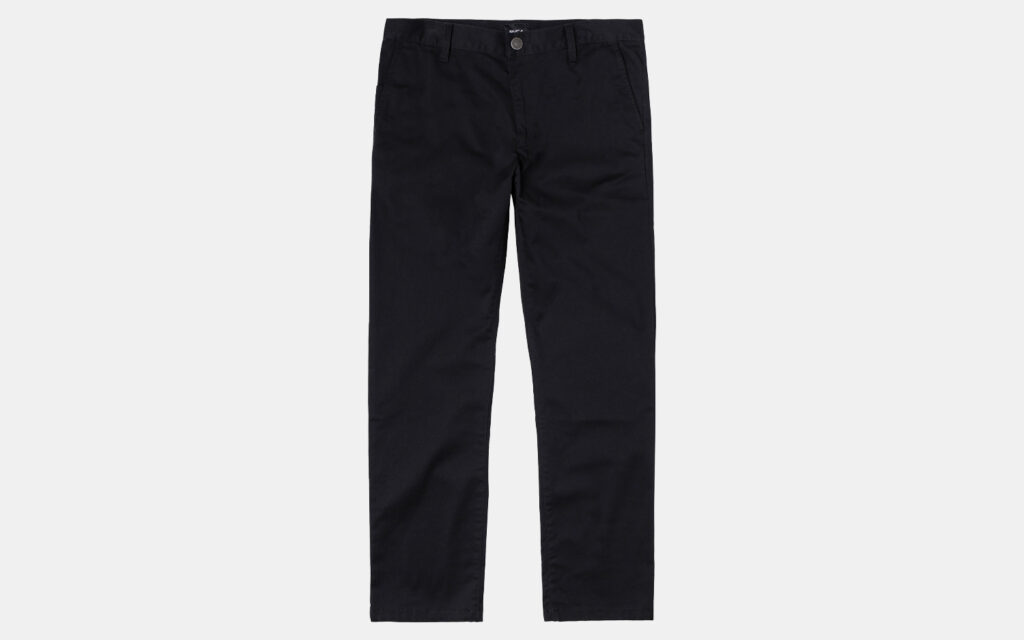 RVCA The Week-End Stretch Pants
RVCA's The Week-End Stretch Pants makes sure you're absolutely comfortable all weekend long, but still look your best come Monday back at the office. The clean lines and modern design of these pants will be the ideal business casual wear, and the cotton denim is sturdy and crisp enough that they'll look amazing whether paired with dress shoes or slip-ons.
You'll find the straight fit and medium rise goes well with either a tuck-in collar shirt, comfy tee, even a sports coat. Thanks to the blend of cotton and synthetic fibers, the pants are stretchy and versatile—perfect to wear any day of the week.
Price: $60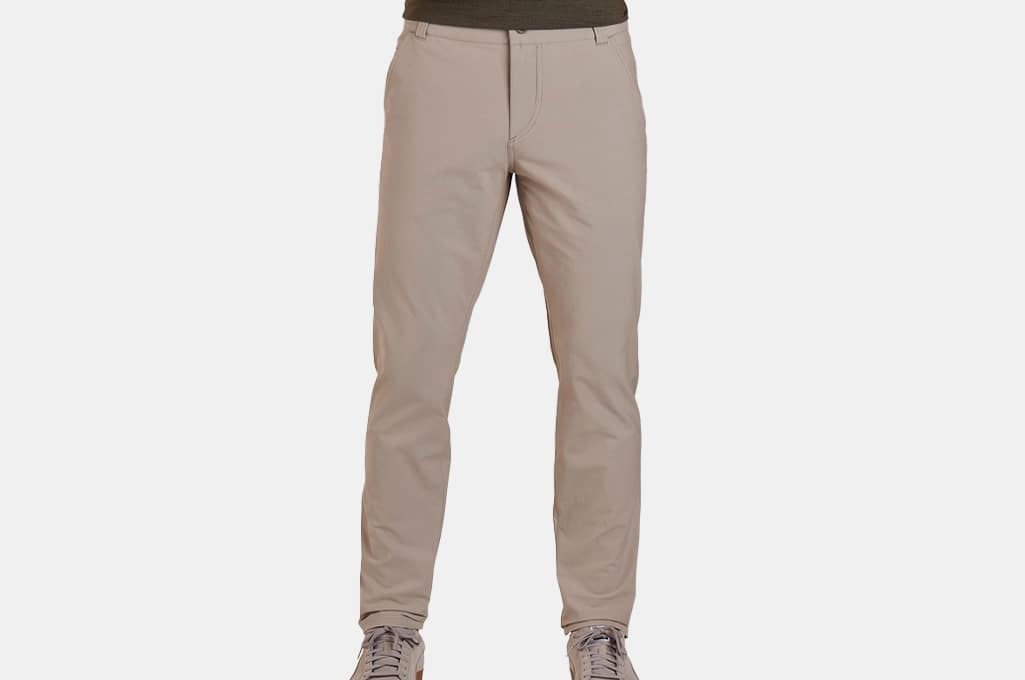 KUHL Resistor Chino
"Tough as nails but soft as cotton"—that's what the KUHL Resistor Chino promises. And boy, do they deliver in spades. These pants strike just the right note, hitting both technical durability and chino sleek looks. The cotton fabric is tough-as-nails and water-resistant, but still holds its shape and looks suitably stylish for work wear.
Thanks to the articulation in the back of the legs, you can run, jump, and play without worrying about your pants, but the clean front leg is business-compatible. Whether you're at the office or out camping in nature, you'll love the drop-in cell phone pockets, which are large enough for any size smartphone.
Price: $119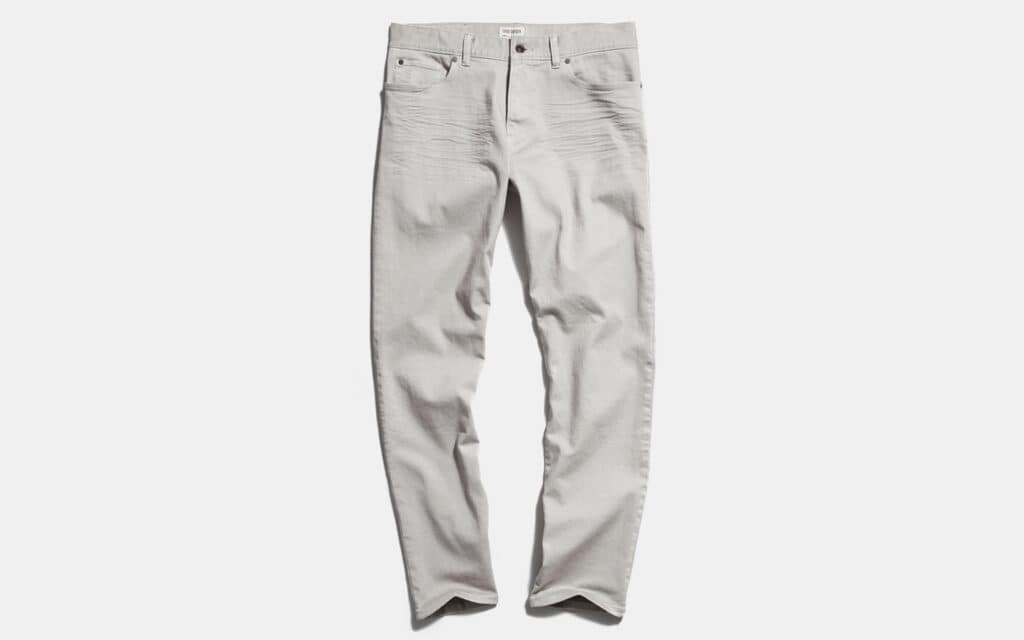 Todd Snyder Straight Fit 5-Pocket Chino in Manor Grey
Todd Snyder brings a truly remarkable and unique pair of pants into the game with these Straight Fit 5-Pocket Chinos. The straight-fit is tailored and tight without being snug or constricting, and you'll love how the stretch twill flexes with your movement. The pre-wrinkled front is comparable to your favorite pair of jeans, but so low-key that they'll still be suitable workwear. Thanks to the classic five-pocket construction, you'll have space enough for all your EDC items—smartphone, wallet, keys, IDs, cards, even a self-defense knife. All this in a wide range of colors and retailing at a reasonable price tag. How's that for the perfect "Tuesday gift" to yourself?
Price: $148
Disclosure: Clicking on these links and making a purchase may earn us a small referral fee, at no extra cost to you. Learn more here.