The 18 Best Moisture-Wicking Shirts For Summer Workouts
Summer's heating up! Well, not quite, but it's almost that time of year when just the thought of going outside might make you break out in a sweat. But if the heat's not a bother and you're itching to reinvigorate your fitness routine, you should take your workouts outside — the mental health benefits are endless.
Studies show that exercising outdoors and spending time in nature can have a positive impact on our overall health, including increased well-being, energy and positive engagement, and decreased tension, anger and depression.
While you can only workout as good as you feel, being fashionable while exercising may seem like an impossible feat, but, thankfully, today's offerings of moisture-wicking shirts are as stylish as they are functional.
No matter how you plan on breaking a sweat in 2022, we're weighing in on some of the best moisture-wicking shirts to help you transition your workouts into summer.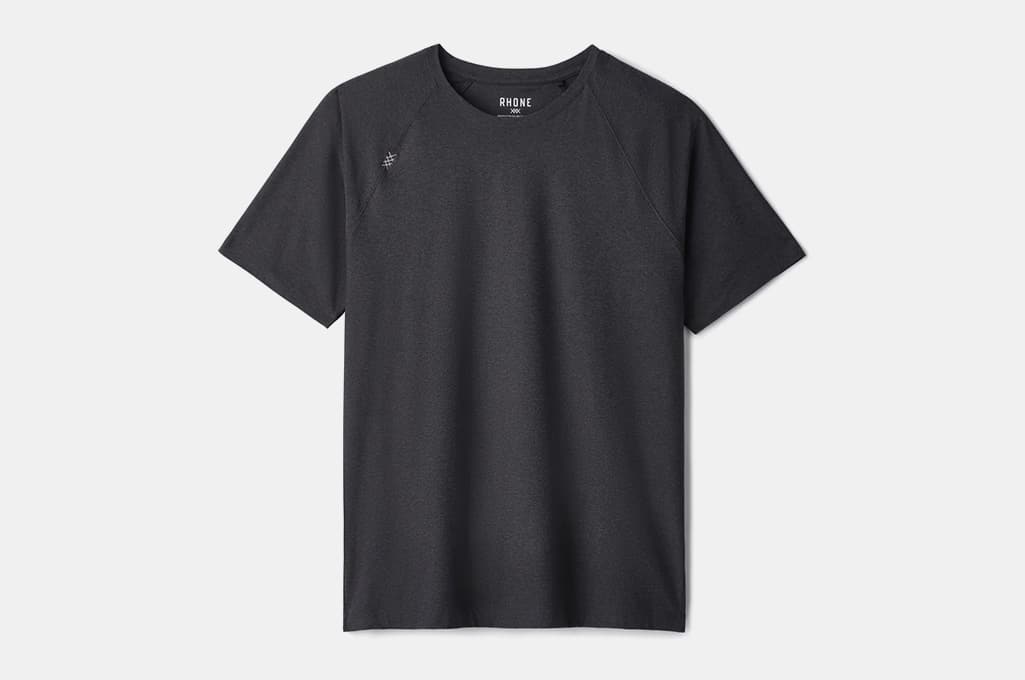 Rhone Reign Short Sleeve Shirt
Throw this bad boy on, and you'll stay cool and dry all day. I (Andy) have been wearing this shirt for nearly two years now, and I've used it for hiking, kickboxing, running, paddle boarding, Yoga, and resistance training. Thanks to its moisture-wicking and quick-drying properties, it's versatile enough to wear all day long for every activity.
I particularly like the form-fitting cut (especially around the biceps to show off my "guns") that accentuates my broader shoulders and hides the extra pounds around my midsection. Every time I'm packing for a vacation or getaway where I expect to get sweaty, I'll throw this shirt in my bag because I know it'll hold up to active use but still look good.
Price: $68
Material: Nylon, Polyester, and Elastane (unspecified quantities)
Key Feature: GOLDFUSION Anti-Odor technology keeps it smelling nice even after hours of heavy sweating.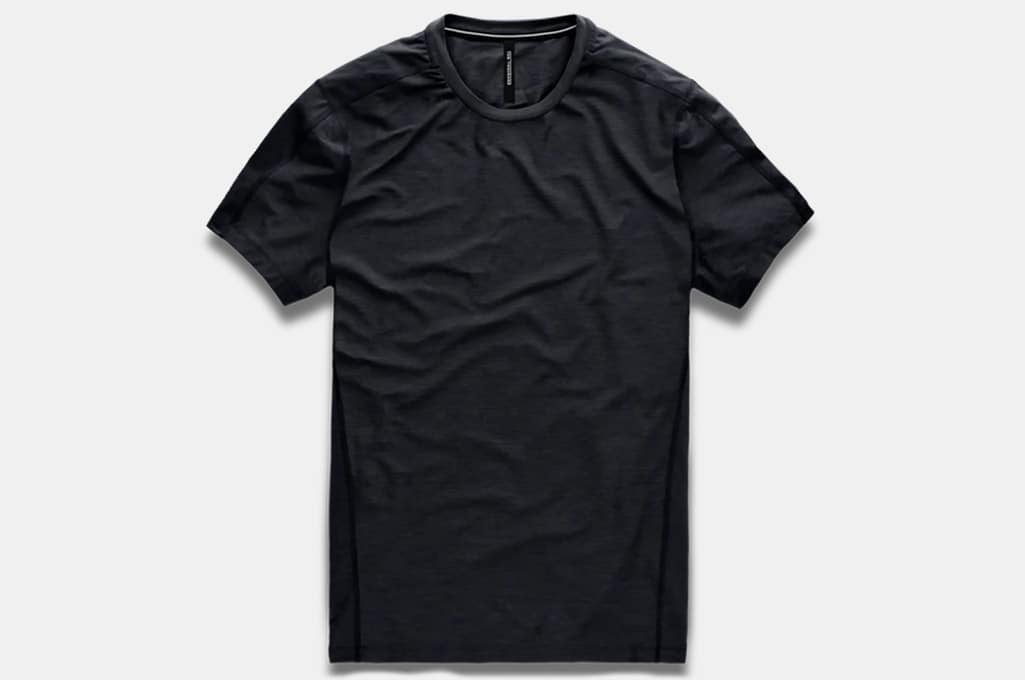 Ten Thousand Versatile Shirt
When it comes to workout gear, Ten Thousand's Versatile Shirt checks off all the boxes: permanent anti-odor treatment, check; enhanced breathability, check; anti-chafe seams, check; and shrinkage protection, check, check, check. But it's the brand's field testing that really makes their approach to apparel stand out.
Composed of core athletes, CrossFit head coaches, and elite trainers, Ten Thousand's wear testing team put their Versatile shirt through the ringer, ensuring it could withstand just about any workout you put it through. And if you struggle with finding the right fit, the brand evaluated 40 different fabrics and utilized thousands of body measurements to find the best options to create their fit range recommendations.
Price: $58+
Material: 84% polyester / 16% spandex
Key Feature: All of Ten Thousand's shirt styles endure 50 intense wash cycles guaranteeing no surprising shrinkage.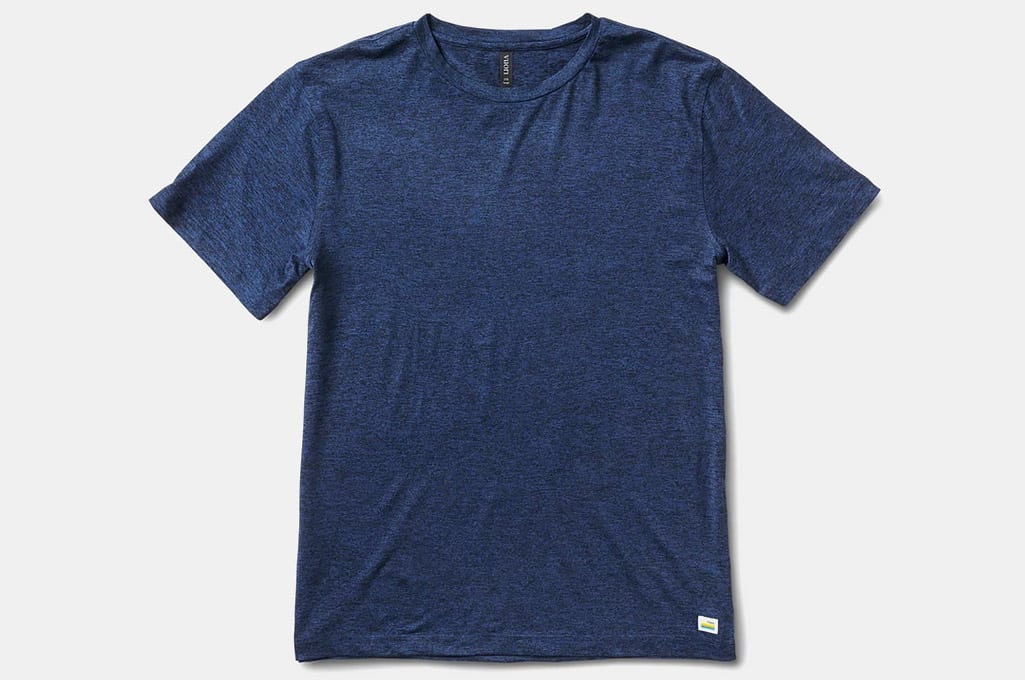 Vuori Strato Tech Tee
Scientific studies show that an outdoor workout session has been linked to reduced fatigue, improved self-esteem, and lessened feelings of tension when compared to those who exercise inside.
If you're not going to have the opportunity to reapply sunscreen, Vuori's Strato Tech Tee provides UPF sun protection in an extremely lightweight, intensely soft material. Featuring a modern athletic fit, it's also equipped with anti-odor technology, anti-chafe seams, and at $44, buying one in each of the eight different colorways is not such a bad idea.
Price: $54
Material: 96% polyester / 4% elastane
Key Feature: Vuori calls it the softest piece of workout apparel on the planet, and it's made with an extremely quick-drying thin fabric to keep you cool even on sweltering days.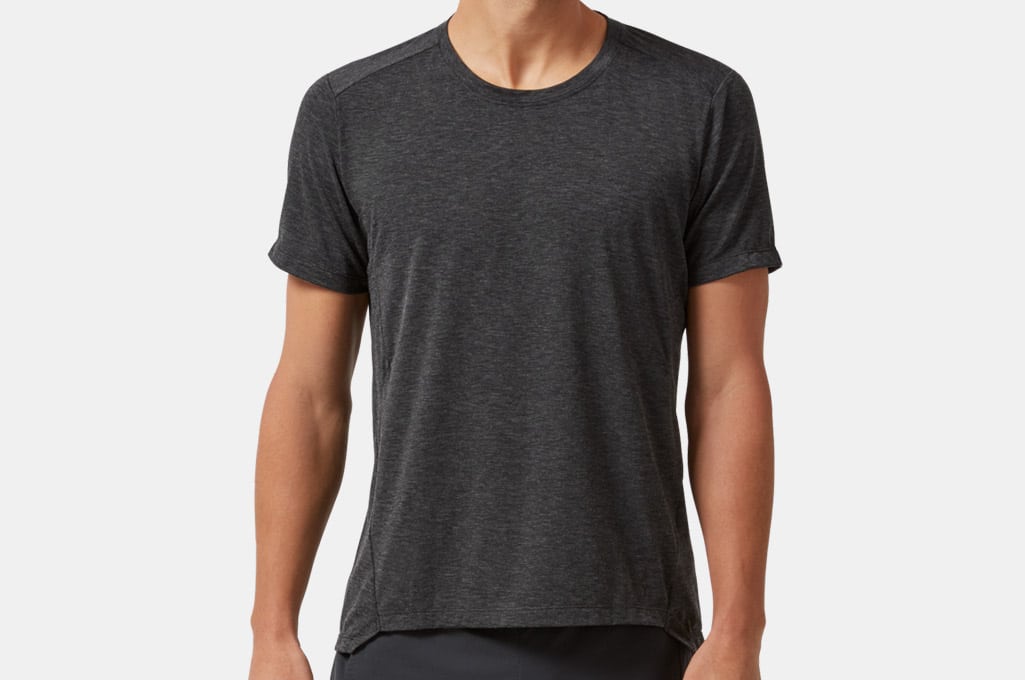 On Active-T
If you're on the market for a tee with a flattering fit that's not too loose, On's Active-T fits the bill. Blending the look of a classic cotton t-shirt with a functional focus, the addition of anatomical seams gives it the look of a neat but unrestrictive design, and a blend of cotton, modal, and elastane makes it adaptable and resilient. Treated with antibacterial properties to keep odor and sweat away, it's available in five colorways including Mulberry, Olive and Denim.
Price: $70
Material: 55% cotton / 37% modal / 8% elastane
Key Feature: The Active-T is Swiss-engineered specifically to manage temperature and breathability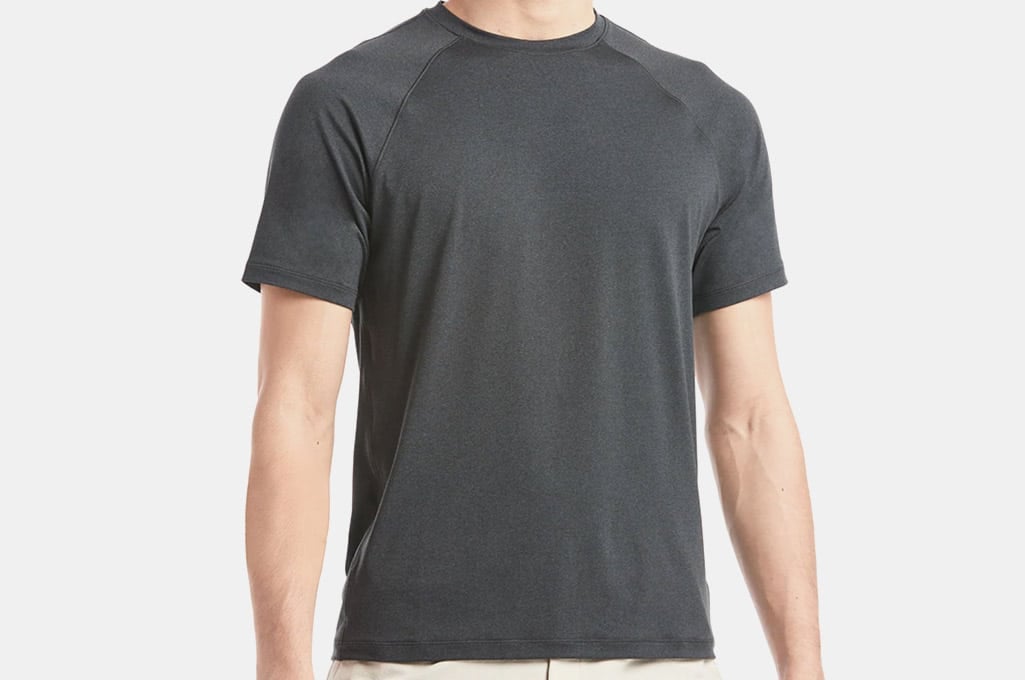 Public Rec Elevate Crew T-Shirt
Public Rec makes ridiculously comfortable clothes that pack a technical punch. The brand's Elevate Crew T-Shirt is made with PROTX2 polyester, a powerful eco-friendly, zinc based technology that provides antibacterial, antimicrobial, anti-mold, anti-mildew, and anti-odour protection.
This means you can wear the shirt for longer periods without worrying about having to launder it, which translates to less color fading, so it will last longer, and you'll be doing your part to support a sustainable fashion brand.
Price: $58
Material: 87% PROTX2 polyester / 13% spandex
Key Feature: A lightweight tee that's built to last in an ultra-breathable fabric.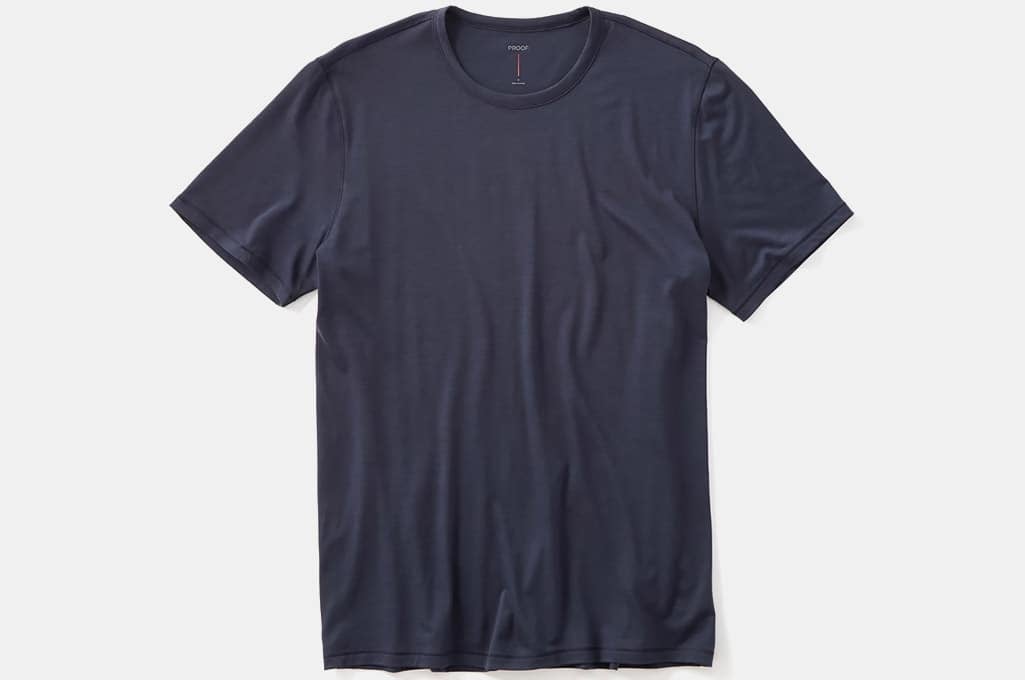 Proof 72-Hour Merino Tee
The folks at Proof — Huckberry's in-house brand, are so confident that their 72-Hour Merino Tee will live up to its name, that each year, they take a roadtrip to test it out. Wearing the same shirt all weekend long, the boys headed to Utah where they roamed the desert for three days. Spoiler alert: the tee passed with flying colors yet again.
Made with a specialized blend of nylon and merino wool — a fabric that's known to wick moisture, resist odors and regulates temperatures — it comes in a rainbow of hues spanning dark olive to heather grey. On the fence? We tested the 72-Hour Merino Tee too.
Price: $88
Material: 87% 16.5 micron merino wool / 13% nylon
Key Feature: The ultimate travel shirt, merino wool is sustainably sourced from New Zealand farms.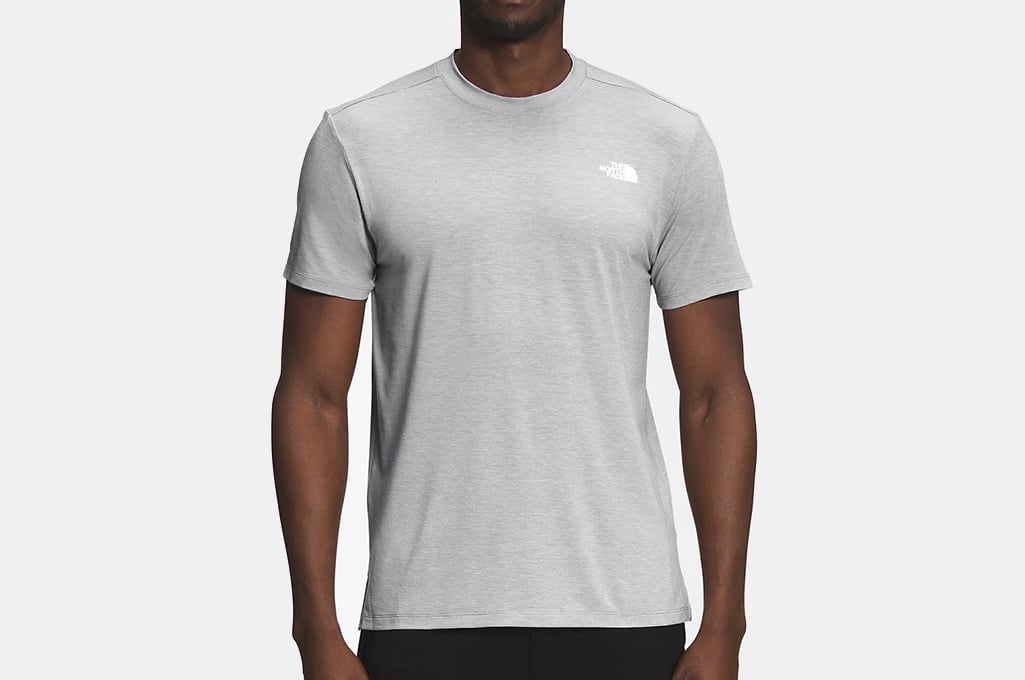 The North Face Wander Short-Sleeve Tee
Planning a day out in the sun exploring your city, strolling along parks, and taking in the nightlife? The North Face Wander Short-Sleeve Tee will be your ideal companion. It's breezy and soft against your skin, but it's still built for action and tough enough to endure a run, lifting session, or a hike.
The split hems on the side allow it to flex and move with you no matter how active you are. And because it's so light weight, you'll find it's the perfect summer shirt to keep you cool on a scorching hot day.
Price: $45
Material: 96% recycled polyester, 4% elastane jersey
Key Feature: The heat transfer logo on the chest allows body heat to escape, keeping you cool all day long.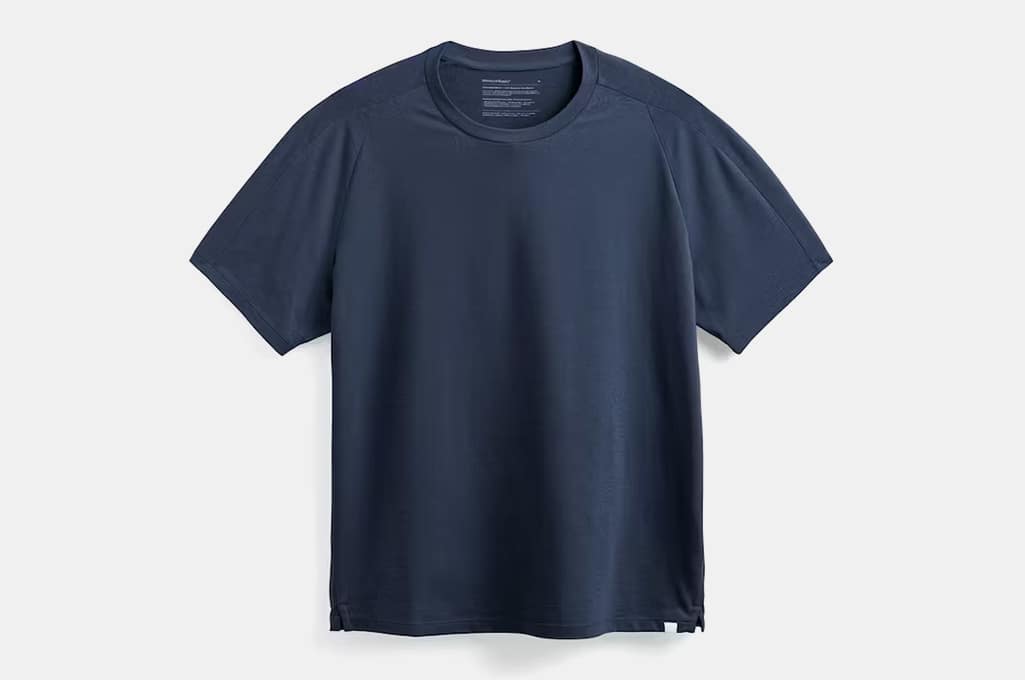 Ministry of Supply Men's Composite Merino Active Tee
Sick and tired of your synthetic shirts stinking after a hard workout? The Ministry of Supply Men's Composite Merino Active Tee solves that problem very simply: it blends in Merino wool, a naturally odor-resistant material that will smell fresh all day long.
The moisture-wicking properties make the shirt a great choice to transition from your couch to the street to your gym to a night out on the town. And because Merino wool is one of the toughest natural fibers around, you can trust this shirt will last you for years of regular use without fading, fraying, or wearing out.  
Price: $48
Material: 82% Recycled Polyester, 14% Merino Wool, 4% Elastane
Key Feature: Raglan style accentuates your shoulder musculature for a more "masculine" look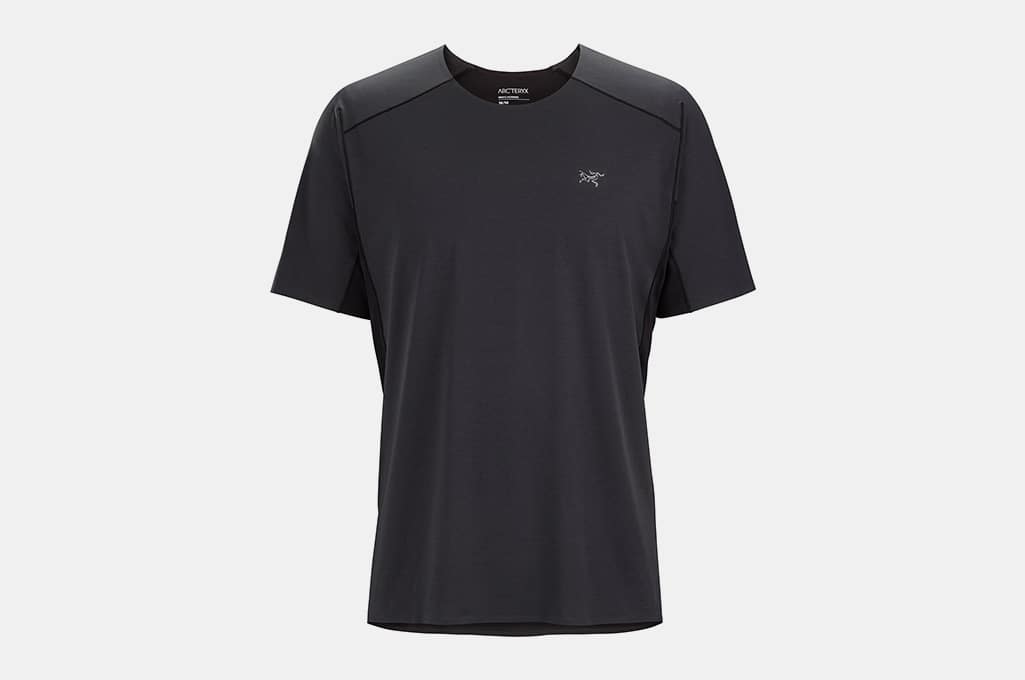 Arc'Teryx Norvan T-Shirt
For long days of trail running, marathon racing, or competing in an IronMan, the Arc'Teryx Norvan T-Shirt is built to keep you comfortable no matter how long or hard you go. The shirt is crafted to emphasize freedom of movement and moisture management, with a composite synthetic fabric engineered for maximum performance.
You'll find it's wonderfully soft on your skin and won't chafe or rub you raw over an hours-long run or cycling trip. Plus, to make sure you stay cool, there's mesh integrated into the back to allow air to blow through the shirt. It's even designed to fit specifically beneath a hydration vest. 
Price: $90
Material: 100% polyester 
Key Feature: Finished with both Durable Water Repellent and Durable Anti Odor treatments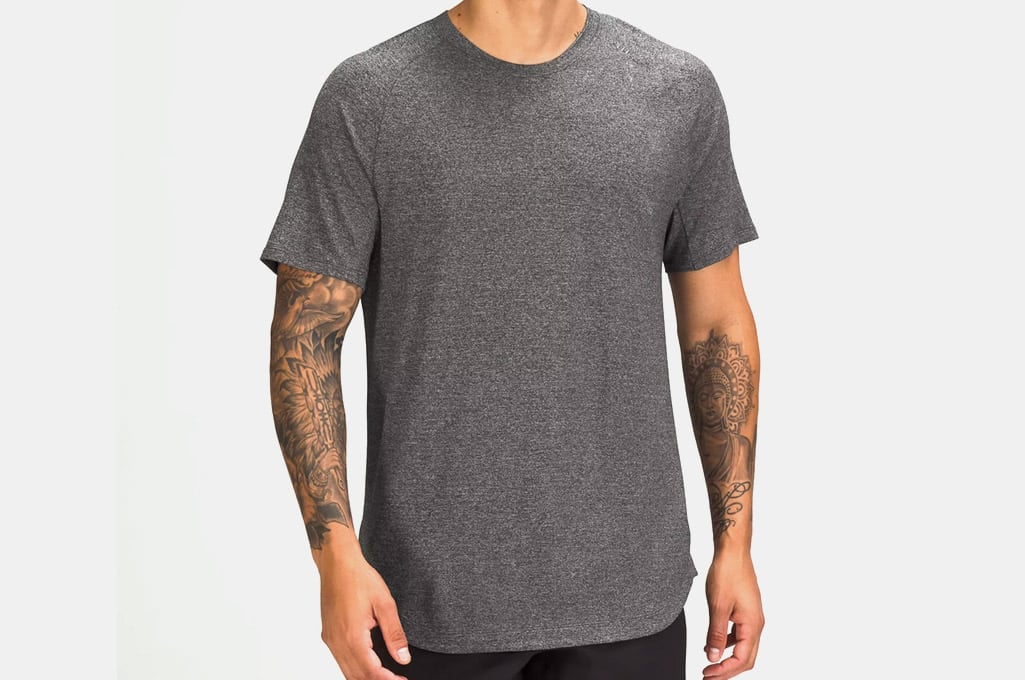 Lululemon Drysense Training Short Sleeve Shirt
If you're looking for a shirt that feels as good as it looks, Lululemon's Drysense Training Shirt is unbelievably soft and it's powered by the brand's anti-stink technology, which inhibits the growth of odor-causing bacteria. Featuring a relaxed fit and an underarm gusset for increased mobility, we like the addition of a locker loop to keep it from wrinkling, and it's partly made from recycled polyester — a sustainable material constructed from plastic bottles.
Price: $78
Material: 60% recycled polyester / 33% nylon / 5% lycra elastane / 2% x-static nylon
Key Feature: The brand's Silverscent fabric technology stops the odor-causing bacteria from reproducing — permanently.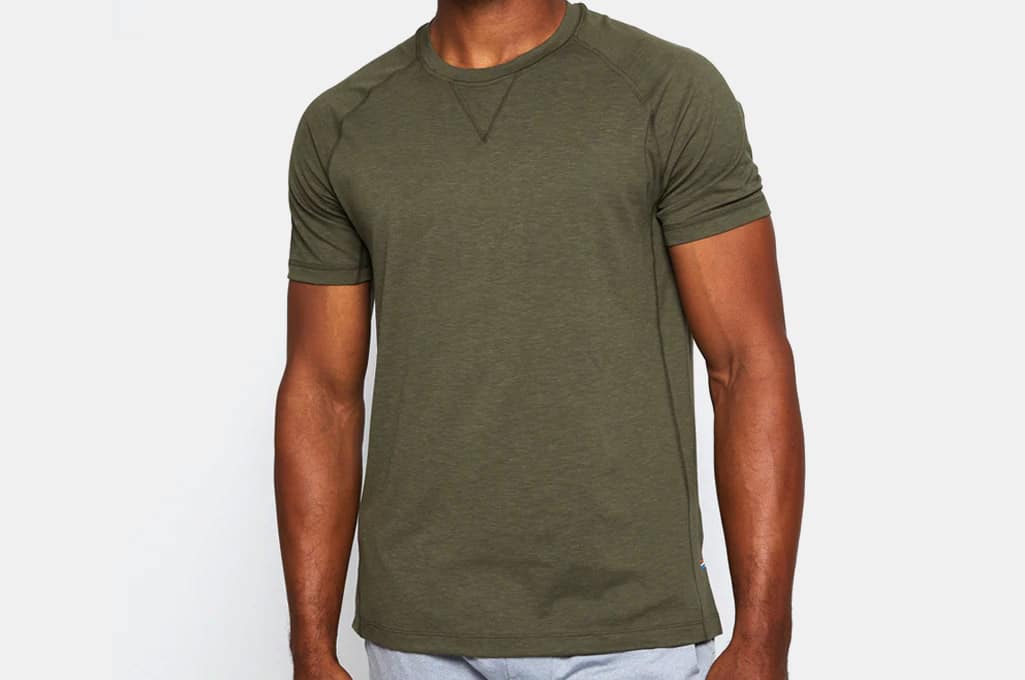 FourLaps Level Tech Tee
An athletic apparel brand designed for urban professionals, Fourlaps entered the market after its founder, Daniel Shapiro, realized that high-quality well-designed men's training gear was missing in the market. The Level Tech Tee was voted Runners number one year-round running top. Equipped with 37.5 technology — which helps keep your body at the ideal core temperature of, you guessed it, 37.5 degrees Celsius — it also traps odors and releases them when washed.
Price: $68
Material: 52% recycled polyester / 34% 37.5 recycled polyester / 7% wool / 7% spandex
Key Feature: The brand believes in taking less from the planet, that's why 88% of their products are made with recyclable or biodegradable materials.
Tracksmith Twilight Tee
With the Twilight Tee, Independent running brand Tracksmith has designed a shirt that's light enough for race speed, but tough enough to handle repeat workouts. Choosing a luxe material for the shirt was no easy feat, and the brand turned to technical knitwear masters Borgini to craft their Bravio blend. The result is a breathable, moisture-wicking fabric that feels cool against the skin, while subtle details like a reinforced double stitch construction adds durability, and stretch gussets and an inverted arc back yoke allow for greater stretch.
Price: $68
Material: 85% polyester / 15% elastane
Key Feature: Understated in all the right ways, the shirt is deliberately unflashy and
silky soft.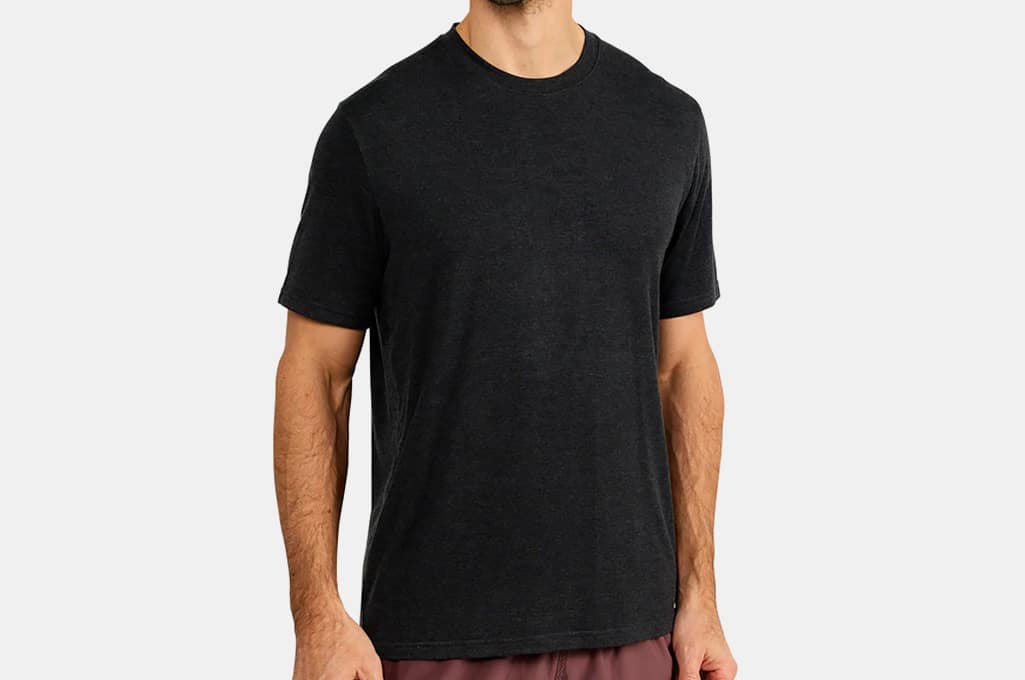 Free Fly Bamboo Motion Tee
After years of fabric research, the team at Free Fly discovered that when blended with quick-dry material, certified organic bamboo offered unparalleled comfort and performance. The Bamboo Motion Tee has recently been redesigned for a more modern look and feel and combines the buttery-soft comfort of bamboo with adeed stretch, all while delivering natural UV protection, with no added chemicals. The result is a naturally odor-resistant, moisture-wicking shirt.
Price: $48
Material: 68% viscose from bamboo / 29 % polyester / 3% polyester
Key Feature: Bamboo fibers make Free Fall's fabric blends more breathable than cotton, hemp, wool, or synthetic fabrics.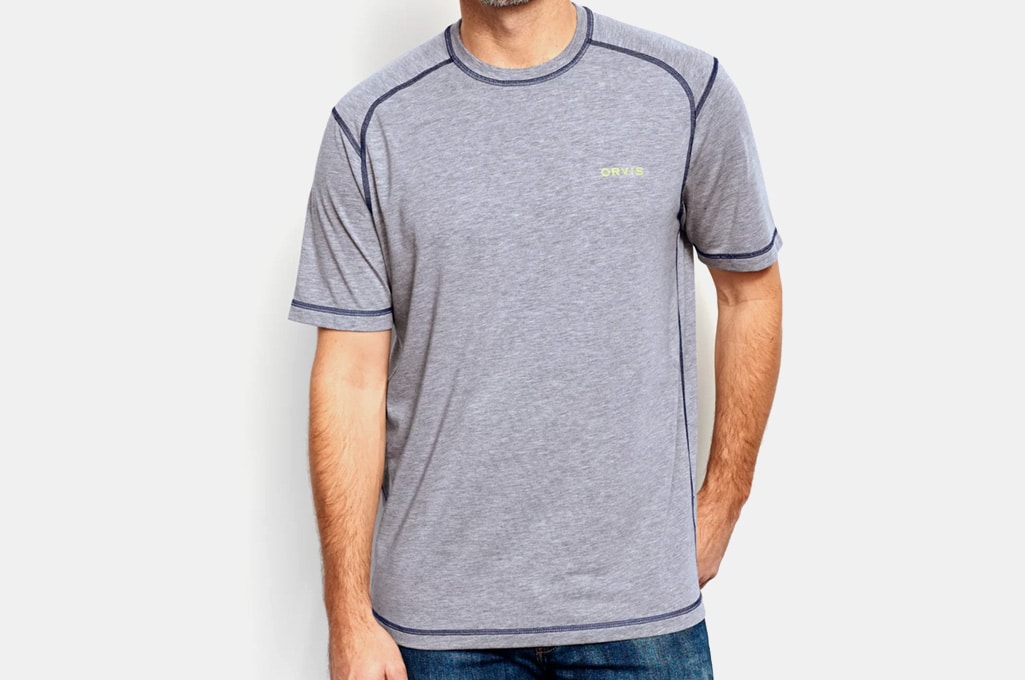 Orvis Drirelease Short-Sleeved Tee
The Drirelease Short-Sleeved Tee from Orvis, is made with the brand's best selling drirelease fabric — an incredibly soft blend of wicking cotton fibers and fast drying polyester fibers. The result is a classic crewneck with superior moisture management without the use of chemicals. Now that you're staying dry, the addition of OutSmart Fresh will also keep you smelling fresh: odor blocking and eco-friendly, the addition of stink-free technology also means less washing which will prolong the life of the shirt.
Price: $49
Material: polyester / cotton
Key Feature: Ultra-soft and breathable with a comfortable fit, it's available in four shades including Faded Red and Bright Cobalt.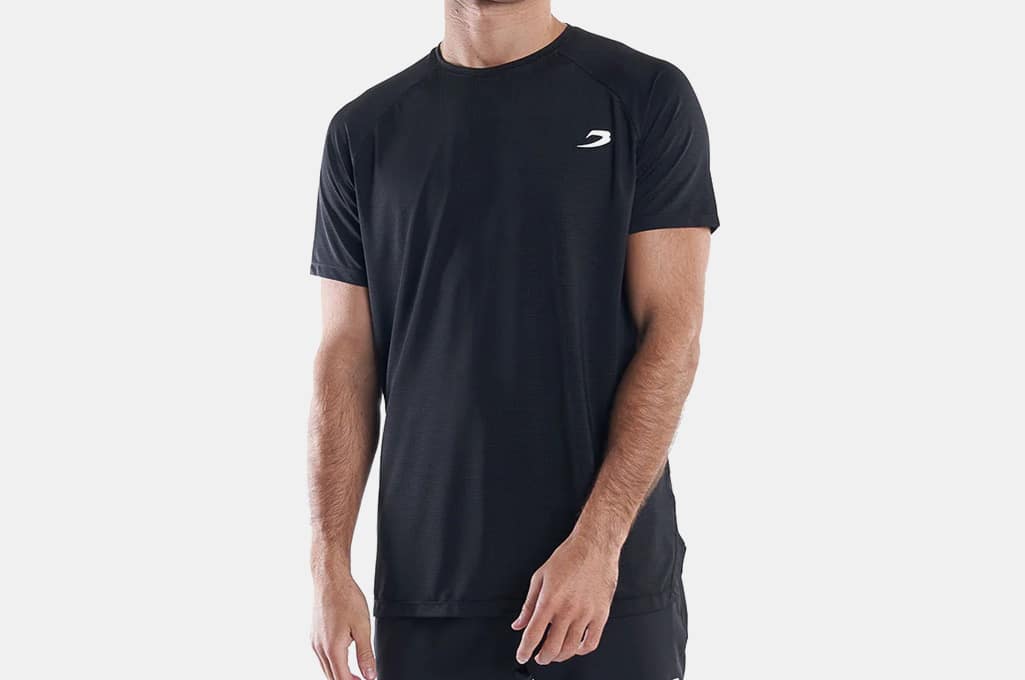 BoxRaw Valdes T-Shirt
This is my favorite shirt to take to my twice-weekly kickboxing sessions. Thanks to its lightweight and flexible fabric (a mix of elastane, nylon, and polyester), I have total freedom of movement to throw those punches and kicks without the shirt slowing me down.
It also does a great job of wicking moisture away so even though I sweat hard, I don't get that annoying chafing sensation of soggy cotton shirts. It also does a great job of keeping me cool when the kickboxing gym starts to overheat. And, thanks to its tailored fit, I look fit and trim while working out. 
Price: $33
Material: 75% Polyester, 13% Nylon, 12% Elastane
Key Feature: SMRT-TEC weave fabric cools and dries quickly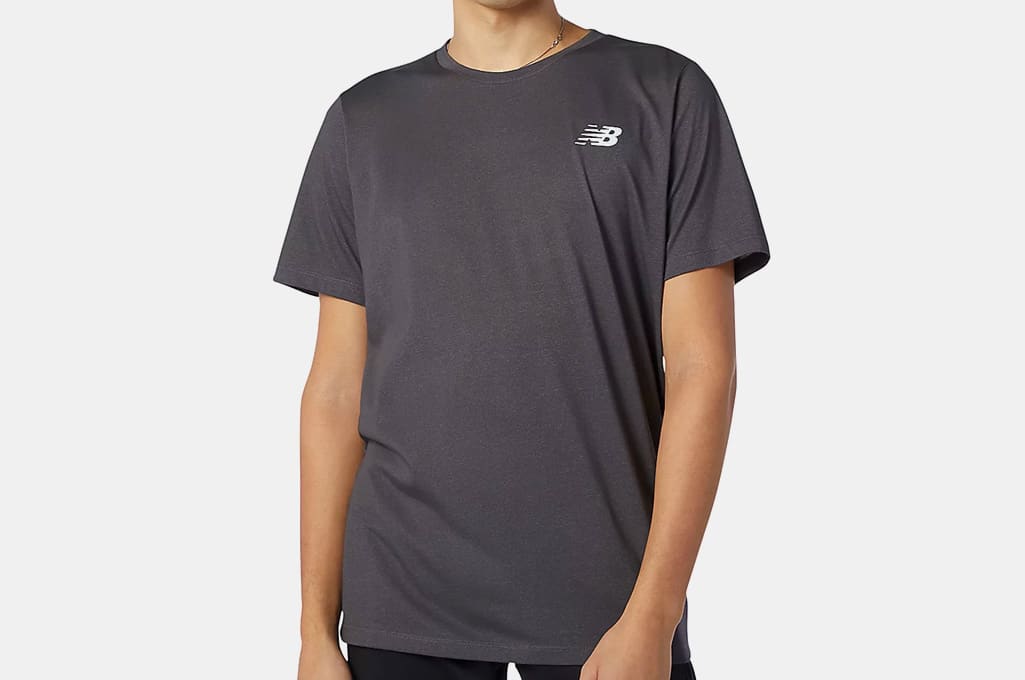 New Balance Heathertech Tee
For intense workouts, the Heathertech Tee from New Balance will help you stay cool and dry. Built with NB DRY fabric technology that wicks moisture away, it's made of a lightweight cotton blend, while an athletic fit is meant to skim the chest, waist, and hips to allow for active movement while not being too tight.
Price: $24+
Material: 60% cotton / 40% polyester
Key Feature: Featuring a subtle understated design and a cotton blend that won't cling even as your body heats up.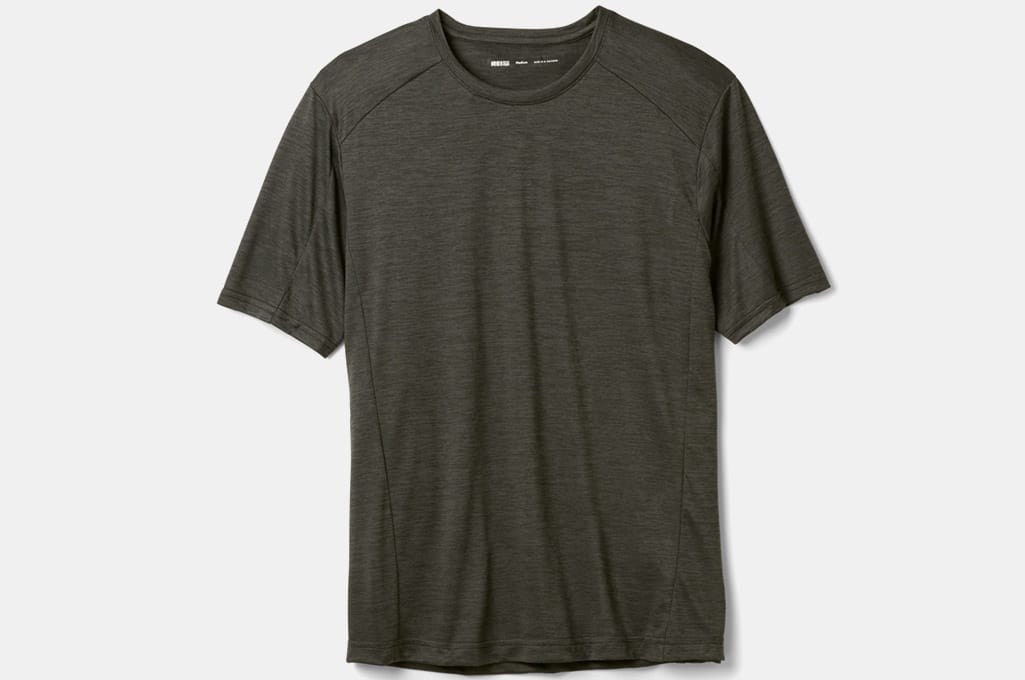 REI Co-op Active Pursuits T-Shirt
Rei Co-op's Active Pursuits T-Shirt is versatile enough to be worn for at-home workouts but still sleek enough for outdoor activities. It's made from 100% polyester which wicks moisture away from skin and dries extremely quickly. Super lightweight, and featuring two-way stretch for easy mobility, reflective tape on the back collar will help keep you visible in low-light situations and it's available in a range of sizes from small to XXL tall.
Price: $15+
Material: 100% polyester
Key Feature: Flatlock stitched seams and underarm gussets allow for a comfortable range of motion.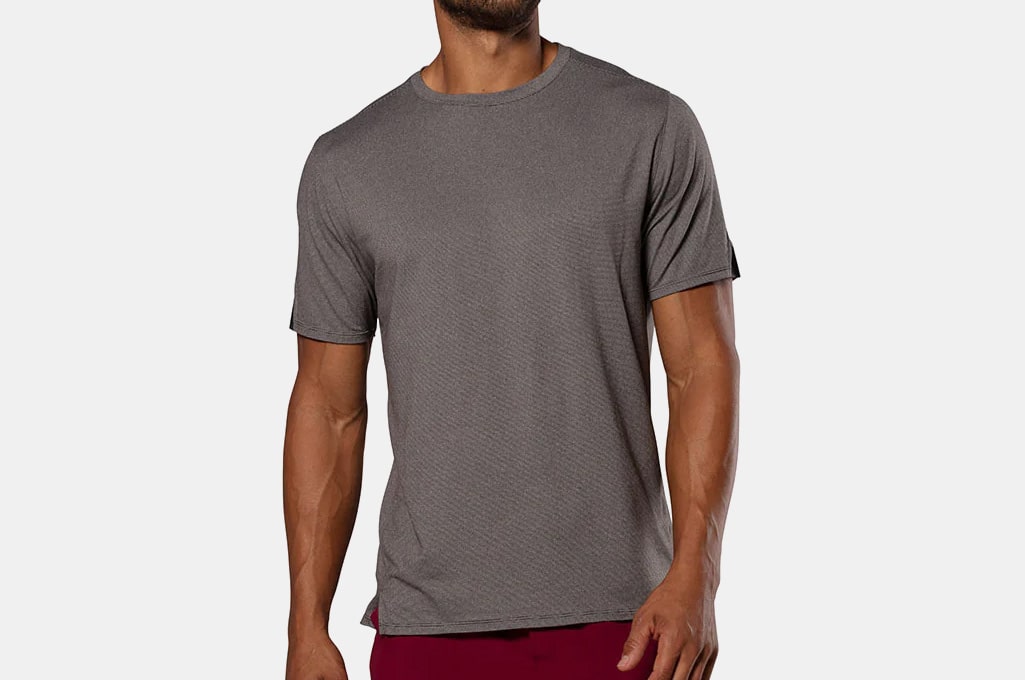 Nathan's Men's Dash Short Sleeve Shirt
If you're the kind of guy (like me, Andy) who's constantly dashing from one task to the next, you'll love this Nathan's shirt. The Dash Short Sleeve Shirt is crafted for an active lifestyle, with moisture-wicking and quick-drying properties that lets me go from my desk to the gym to the bank to a coffee date with my wife without ever needing to stop at home for a change.
The Tri-Blend fabric is wonderfully comfortable against my skin when I run or kayak, and I can use it for Yoga and kickboxing thanks to the split side seam that allows it to twist and flex with me. And for my late-night runs or evening bike rides, the reflective detail makes me visible to passing cars.  
Price: $40
Material: 58% Nylon, 35% Polyester, 7% Elastane
Key Feature: Flatlock seams don't rub or chafe when I run, lift, paddle, or train
Disclosure: Clicking on these links and making a purchase may earn us a small referral fee, at no extra cost to you. Learn more here.
freestar.config.enabled_slots.push({ placementName: "gearmoose_leaderboard_btf", slotId: "gearmoose_leaderboard_btf" });