The 20 Best Men's Polo Shirts
It's been a style choice that's undergone a lot of changes through the years — from the brightly colored iterations of the '90s and '00s to its resurgence as a style favored by James Bond, so there's a great case for stocking your wardrobe with one of the 20 best men's polo shirts. It's a summer style choice that can be both breezy and casual or dressed-up and refined.
Today's best polos are cut slim, made with breathable, versatile fabrics and available in colors that are subtle, stylish and definitely not too bright or loud. A great polo shirt can upgrade your style where a simple T-shirt wouldn't (although a slim-fitting T-shirt can even work with a suit nowadays); you can rock a polo on its own with chinos and white sneakers, or you can pair with pieces like your favorite pair of slim chino shorts. Grab one, grab two or grab all 20 — there's plenty of time this summer to wear them on repeat.
Proof 72 Hour Merino Polo Shirt
Most polo shirts are now a cut above the rest — forgot the baggy, overly stuffy polos you might have worn back in high school or college. No sir, the Proof 72-Hour Merino Polo is one of the best men's polo shirts you can spend your money on, made with versatile merino fabric for extra breathability and moisture-wicking qualities. From the links to the runway to an evening on the town, the Proof 72-Hour Merino Polo just gets the job done. Plus, the two-button placket is visually interesting and subtly stylish — in short, this has all the qualities you should look for in a summer weight shirt. – Shop Now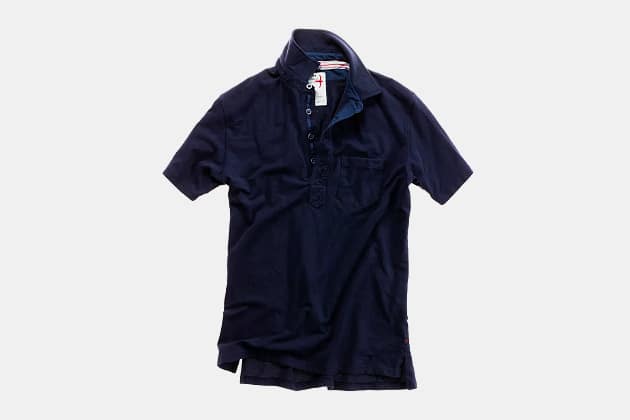 Relwen Pique Slot Polo
When seeking out a quality polo shirt for the warmer months, it's natural to turn toward the E-commerce retail heroes at Huckberry, who stock and sell an enviable collection of the best gear for men across the board — including in categories like polo shirts.
The Relwen Pique Slot Polo in particular is a highly stylish yet surprisingly rugged polo, with design touches like slot button openings and the sort of fabric & feel that makes it seem like you've worn it yourself for years on end. We appreciate the eternally classic Navy color, which easily pairs with grey chinos and brown leather loafers as easily as you can pair it with chino shorts and white leather sneakers. You can even layer it under a denim jacket for an able pairing of two stone-cold menswear favorites in spring or summer. While other polos on this list can do that, too, this one might just take the cake as the best polo right now. – Shop Now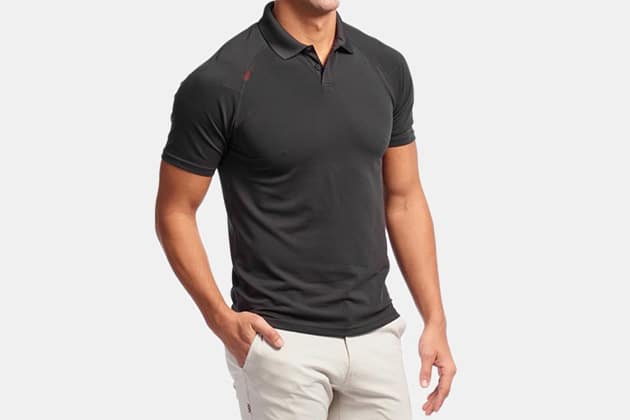 Rhone Delta Pique Polo
It's ideal when you find a menswear essential that you can wear in more than just one situation — take the normally humble polo, for instance. Rhone has flipped the traditionally preppy style staple on its head with its Delta Pique Polo, a crisp and fresh polo shirt made to cool your body while maintaining its fit and feel. All of that is to say, this is a new modern classic, made to wear for 18 holes on the course and then just as stylish and durable to wear to drinks afterward. We'd pick up one in every color if we could. – Shop Now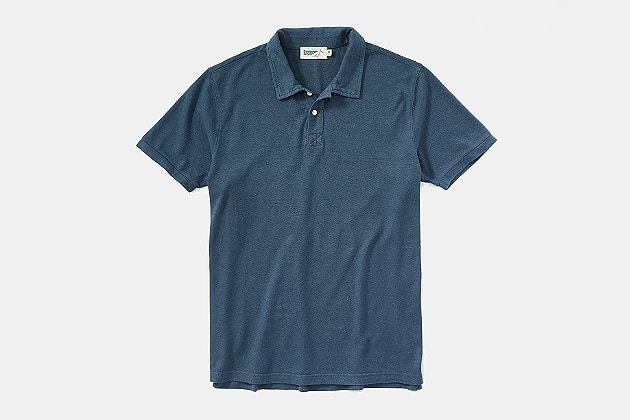 Wellen Hemp Polo
Just when you thought Huckberry couldn't possibly stock gear that's any more stylish or essential, they come through with the Wellen Hemp Polo. Courtesy of the Wellen brand — a newly launched in-house line focused on style and sustainability — the Wellen Hemp Polo is easily one of the best men's polos, made to be worn at the office or at a summer BBQ in equal measure. We appreciate the range of color options and the breathable-yet-flattering fit, while the use of a blend of hemp and organic cotton makes these stylish polos all the more essential in terms of space in your closet. In fact, you might want to wear nothing else other than these polos all season long — they're as comfortable as your favorite T-shirt, yet more polished & durable, too. That, to us, sounds like a recipe for a new style essential — don't you agree? – Shop Now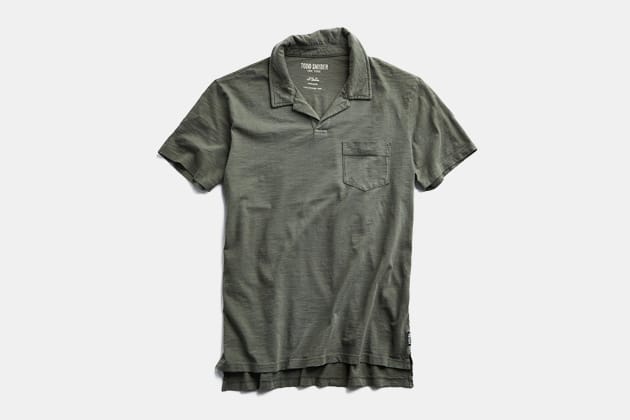 Todd Snyder Made in LA Montauk Polo
When we really want the best of the best in every category — from denim to henleys to, yes, the best polos for men, we often turn toward one designer. That designer is American menswear luminary Todd Snyder, and pieces like the Made-in-Los-Angeles Montauk Polo make it easy to see why. Like the rest of the designer's versatile, classic, ever-so-slightly rugged gear, the Montauk Polo features fine fabrication and the sort of easygoing wearability that makes it easy to team with off-white denim and suede chukka boots — the perfect spring uniform, in short. – Shop Now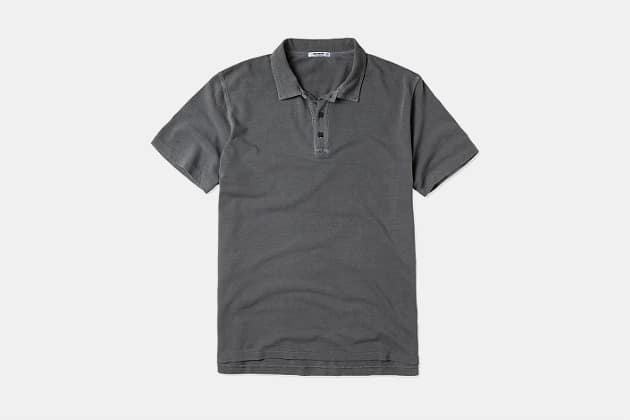 Buck Mason Tennis Shirt
If you thought your wardrobe had its fill of Buck Mason gear — from the brand's essential denim to its perfectly fitted Oxford shirts and tough leather jackets — think again. The brand's new Tennis Shirt is the polo you never knew you needed, what with the type of classic style that'll be just as relevant decades from now as it is right now. Available in a range of easy-to-wear colors — we like the look of the Faded Black option — these are made with comfortable combed pique cotton and garment dyed for extra softness and style. – Shop Now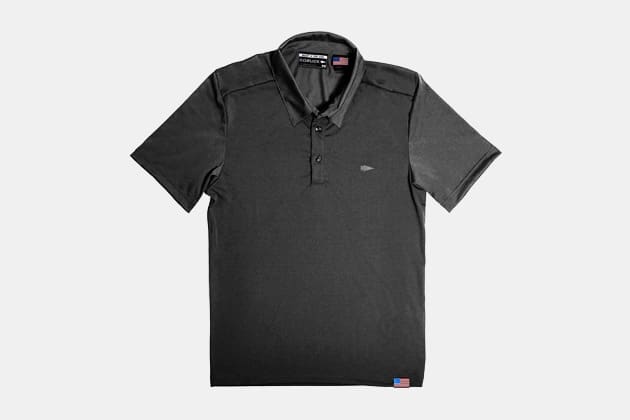 GoRuck American Polo
You surely know GoRuck for the brand's wildly dependable, ridiculously well-made everyday carry gear, tough bags and tough apparel — add the GoRuck American Polo to that list now, no doubt about it. It's refreshing when a brand can apply the same principles across a wide variety of categories, and thanks to the trademarked Tough365 fabric, the brand really has done just that. This is truly a go-anywhere polo, as at home on the beach or the boardwalk as it is scaling a mountain or strolling through a park. Add in a slew of neutral color options, and you've just found your new favorite polo. – Shop Now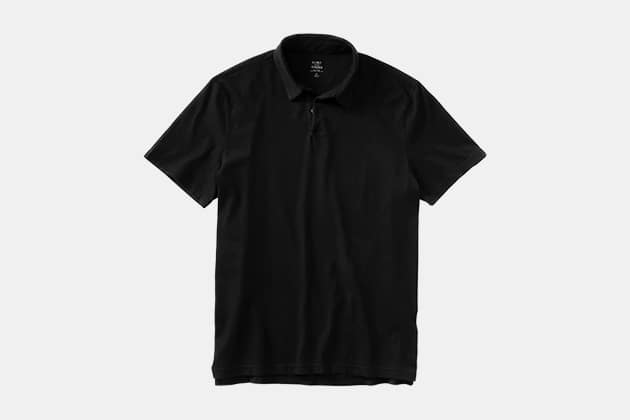 Flint and Tinder Supima Air Knit Polo
Where can you find one of the best men's polos for under $60? First of all, that price tag is absolutely correct — we had to double-check, as the Flint and Tinder Supima Air Knit Polo (as sold by our friends at Huckberry) absolutely delivers when it comes to quality and style in spades. It's an essential spring polo, made with a light weight and easy style in mind. Pair up any of the multiple colors with slim chino shorts and clean white sneakers — it's really as simple as that. – Shop Now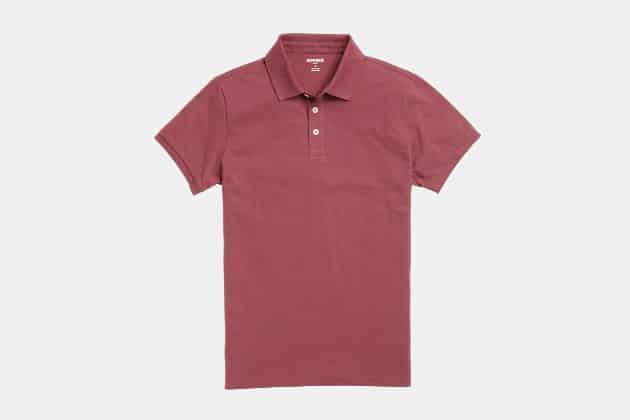 Bonobos Classic Pique Polo
With a strong expertise in crafting the kind of clothing you want to wear all the time, Bonobos has turned its attention to another summer essential — the polo shirt you need in your closet right now. Available in an array of striking colors (including cool options like Faded Burgundy and Olive), the Bonobos Classic Pique Polo is just that — a classic. Available in two fits, both reliably tailored for any body type — you could do worse than to pick up a handful of these polos to wear all summer. – Shop Now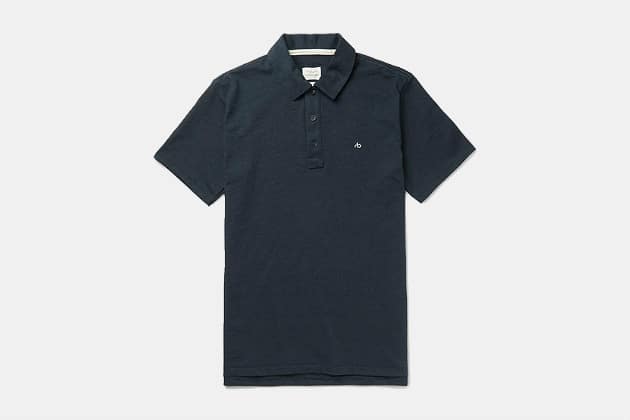 Rag & Bone Standard Issue Polo Shirt
If you normally think of staple pieces like slim black denim and minimal, slightly distressed tees when you think of Rag & Bone, start thinking of summer basics like your new favorite polo shirt instead. Crafted in a very cool and unique midnight blue cotton, this polo is simple yet stylish, and just the right option to wear with slim light wash denim and white leather sneakers. It's also office-ready thanks to the tailored fit, and would look great with a navy blazer and breezy linen trousers. It's everything you need in a polo, and then some. – Shop Now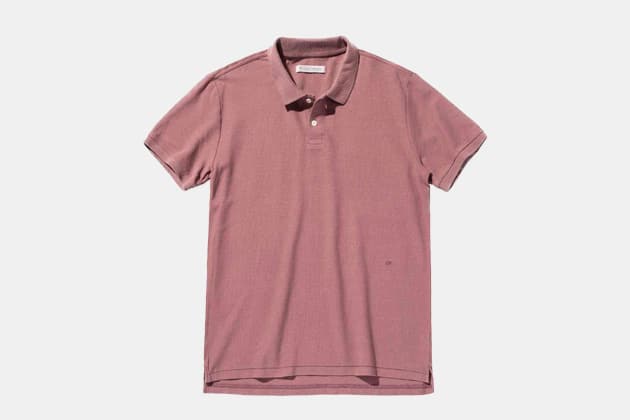 Outerknown Nomadic Polo
Take your pick from 12 classic, iconic colors and patterns when it comes to the Outerknown Nomadic Polo — and then just wait, because it gets better over time. We love the design sensibility behind Outerknown (founded by menswear ace John Moore and legendary surfer Kelly Slater), and we love the brand's commitment to using unique, sustainable fabric blends like hemp and organic cotton, as found in the Nomadic Polo. Wear it with a pair of the brand's S.E.A. Denim, and call it a day. – Shop Now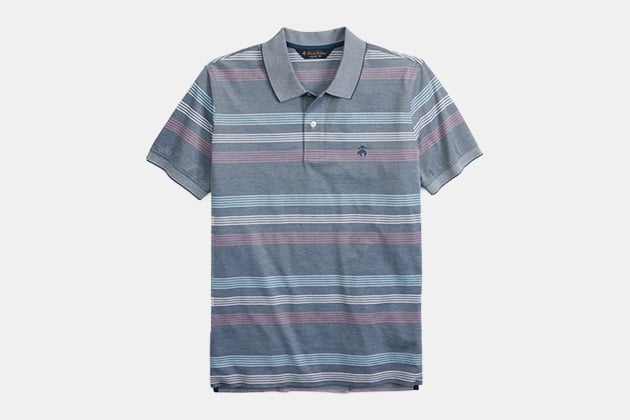 Brooks Brothers Original Fit Bold Stripe Polo Shirt
What goes well — no, not just well, but perfectly — with a pair of classic chinos from Brooks Brothers? Why, the brand's Original Fit Bold Stripe Polo Shirt. Sure to become every bit as beloved as the brand's staple items (like navy blazers and white Oxford shirts), this polo shirt is a solid change of pace that would do particularly well underneath a quarter-zip sweater for a casual-yet-sharp Sunday brunch this spring. – Shop Now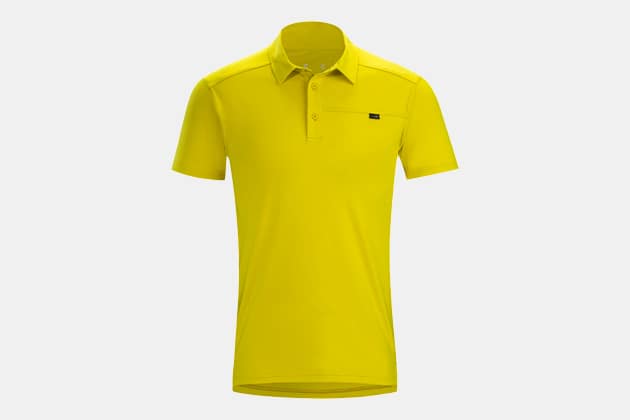 Arc'teryx Captive Polo Shirt SS
We're not quite done with our list of the best men's polos. Last but certainly not least on this list just so happens to be Arc'teryx, with the technically inspired, well-made Captive Polo Shirt. It's a rare polo that gives you form and function for under $70 (kind of like some of our other favorites on this list), and the use of DryTech technology only helps the cause. Pick one up in a bold and bright color, then hit the links or hit the road this spring and summer. – Shop Now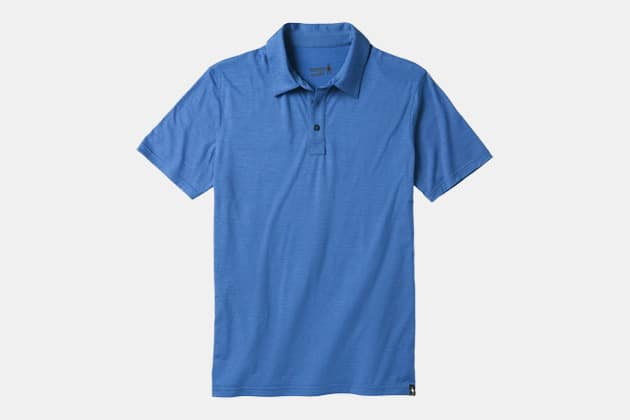 Smartwool Merino 150 Pattern Polo Shirt
We think that merino is some of the most versatile, useful fabric in the world — and Smartwool does a better job than any (as the brand's name would imply) at turning merino wool into all manner of timeless, useful menswear essentials. Case in point: The Merino 150 Pattern Polo Shirt, a subtly stylish yet effortlessly cool take on the polo shirt, made with a classic fit that complements your best Sunday brunch picks easily. – Shop Now
Mack Weldon Vesper Polo
Perhaps the best polo introduced this summer season comes from a brand who draws on style inspiration from 007 himself. The Vesper Polo — named for 007's original martini — uses a micro-mesh fabric for extra breathability, and comes with modern details like a slim fit & a two-button collar that stands on its own underneath a suit or a lightweight summer jacket. It's available in four neutral and very versatile colors — the navy shade would be ideal to rock as Bond does, with a pair of beige chinos and brown suede chukka boots in warm weather. It's perfect secret agent, summer style made easy. – Shop Now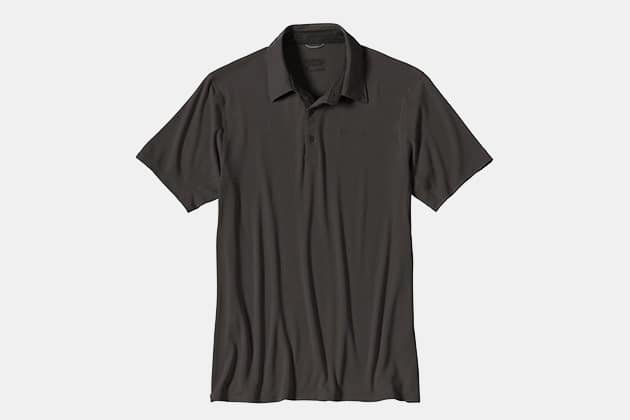 Patagonia Men's Cactusflats Polo
When you want a polo that can do more than just look sharp, you turn toward a brand like Patagonia. Made with technical proficiency plus clean, classic style, the Cactusflats Polo takes everything you love about the brand and distills it into one new favorite polo. It's a worthy entry on our list of the best polos, particularly given that it features TENCEL and spandex for breathability and ease of movement. It's also affordably priced, meaning you're going to want more than one for the season ahead. – Shop Now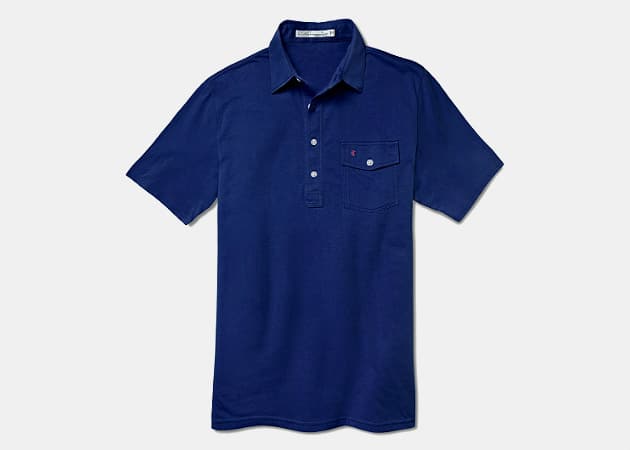 Criquet Player's Shirt
The Player's Shirt from Criquet is yet another essential inspired by sporting days of old — namely, the original golf shirt. Yet, it takes a decidedly modern approach, with a trimmer fit, a sporty chest pocket and super soft, 100 percent organic cotton. Those factors blend together for a polo shirt that's supremely stylish and easily wearable with light grey chinos, linen trousers or your favorite pair of swim trunks for a backyard cookout. Collar stays help the shirt stay crisp throughout the day, so you can certainly pair it with a suit for a laidback, unique yet put-together look at your next summer wedding. – Shop Now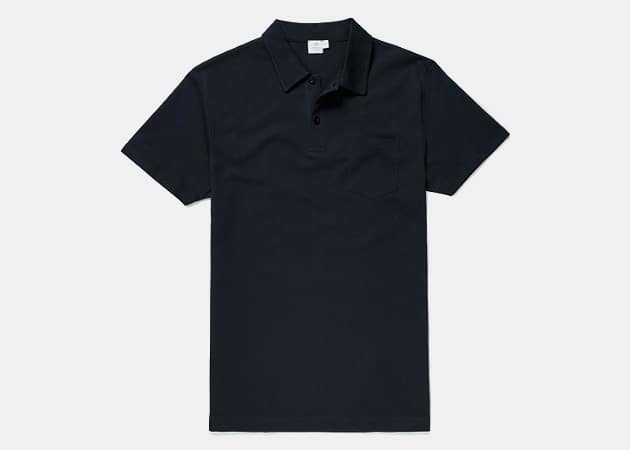 Sunspel Riviera Polo Shirt in Navy
As if the above homage to the polo worn by James Bond wasn't enough, this list wouldn't be complete without the style pioneered by the secret agent in the groundbreaking film Casino Royale. The Riviera is a timeless classic, cut with a modern fit and a two-button collar for a breezy-yet-tailored feel. The Navy color is the same shade worn by 007 in the film, and while the price is definitely an investment, it's one that's worth making if you want to channel seriously killer style — that holds true if you're heading to a casual patio date or out on the town. – Shop Now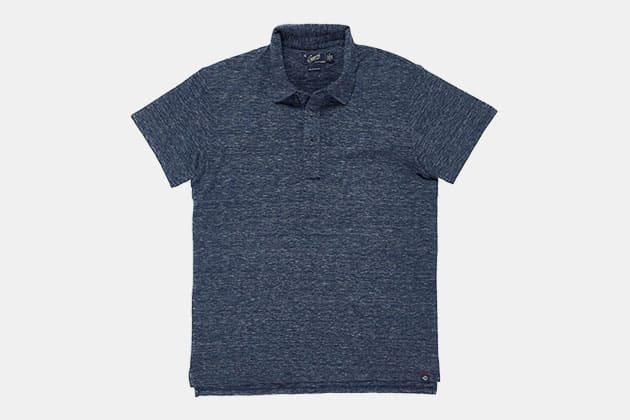 Grayers Hartford Slub Nep Jersey Polo
Since we first discovered Grayers and the brand's classic, preppy-but-modern menswear classics a few years back, we've been huge fans. It all starts with the brand's excellent use of premium fabrics, as seen in the slubby feel and texture of the aptly named Hartford Slub Nep Jersey Polo. Practically made to be worn on a breezy spring night, it's fitting to wear with slim tan chinos and your favorite pair of white leather sneakers — as often as possible, too. – Shop Now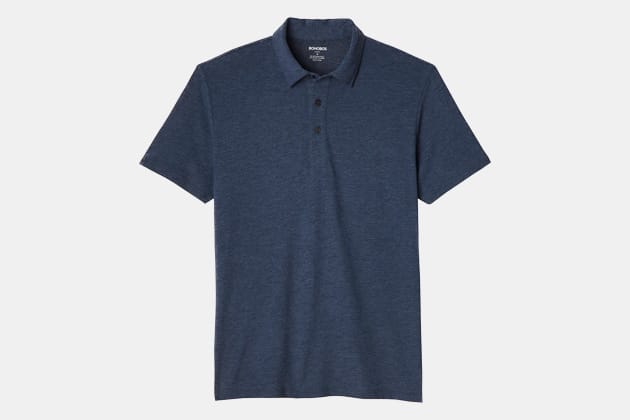 Bonobos Softest Performance Polo
What better way to complement a pair of classic, slim Bonobos chinos than with an equally classic, well-fitting Bonobos polo? We're big fans of the ways in which Bonobos continues to branch out from the "pants that started it all," as it were, and the introduction of performance fabric into a sharp, easy-to-style polo only reinforces that. We'd wear this all spring and summer, and suggest that you do the same. While you're at it, stock up on Bonobos chinos and denim for a range of options — complemented perfectly by one of the best men's polos we've seen. – Shop Now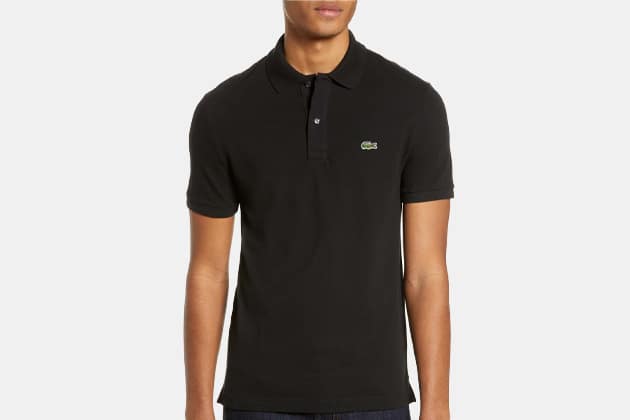 Lacoste Slim Fit Piqué Polo
It really wouldn't be a list of the best men's polos without including a pick from the brand that pioneered the form and function of this now-legendary silhouette, would it? The Slim Fit Pique Polo is an iconic take on the style, one that never fails to impress or to match up with everything from slim light wash denim and leather loafers to tan chinos and sharp grey leather sneakers. Wear it as often as you can, in as many ways as you can, this spring and summer. – Shop Now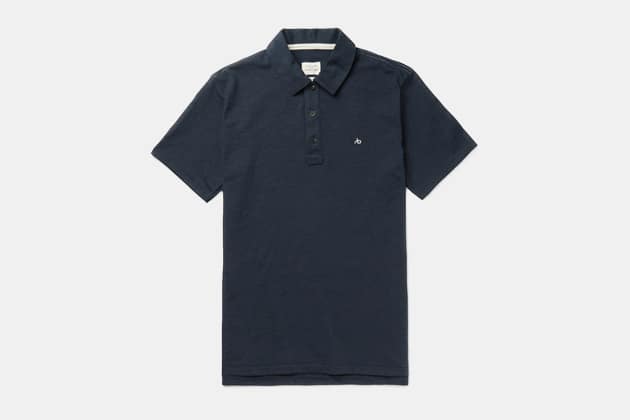 Rag & Bone Standard Issue Cotton Polo Shirt
Normally known for slim, rock-and-roll style staples like expertly cut black jeans and slim, minimal T-shirts, Rag & Bone gets in the polo game with its take on the classic polo. The Standard Issue Cotton Polo Shirt is as good as it gets, from the slim fit to the sleek black color and premium fabrication. You'll invest in this one at $125, but seeing it's a stylish polo you can wear with a suit, that's all the better. Heck, you could even wear it with a pair of the brand's tried-and-true black jeans. – Shop Now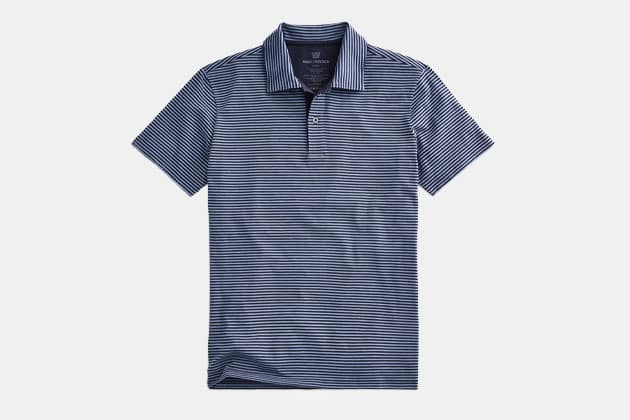 Mack Weldon Intrepid Polo
If you want a slew of men's style essentials that blend both form and function, well, you could certainly do worse than Mack Weldon. From the brand's handsome merino T-shirts to items like the Intrepid Polo, each piece has crucial utility and style baked right in. Take the use of anti-microbial pima cotton, merged in this case with Lycra for stretch — the end result is a clean, sharp polo with subtle stripes, one that wears well and looks just great when worn with slim chinos and leather loafers. – Shop Now