The 15 Best Chukka Boots For Men
Having a dependable, reliable pair of shoes that you can reach for day-after-day can present a taxing search for the seasoned style vet or the beginning menswear aficionado alike. Some shoes — like a classic pair of sneakers — are only fit for the warmer months of spring and summer. Other — like durable winter boots — can be a bit too heavy for seasonal wear. But there's one style that's reliably classic and ready to stand up to everything from rugged denim and a henley to slim chinos, a blue Oxford and a navy knit tie. That would be the classic leather chukka boot.
It's a style of ankle boot that's not to be confused with the desert boot (which features a crepe sole), but chukka boots are every bit as wearable as any other pair of shoes in your closet. Even if you thought you had all your four-season footwear needs covered, there's no telling how fair a dependable pair of chukka boots can take you, especially with their more casual open lacing and yet sturdy construction & dressy looks. Grab one or grab all 16 of the best men's chukka boots below — they won't let you down.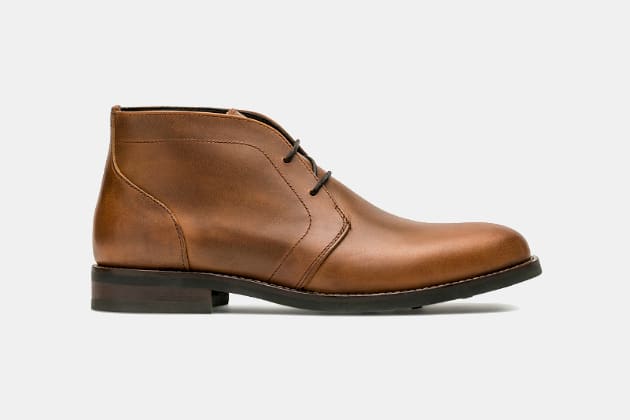 Rhodes Felix Chukka Boots
Leave it to Huckberry to craft and deliver some of the best chukka boots on the market — no question about it. The Rhodes Felix Chukka Boots join the current rotation of Huckberry-sold Rhodes leather boots just in time for fall, and not a moment too soon. With handsome options like Tan Nubuck (our personal favorite) and Rust up for the taking, crafted from premium calf leather uppers, these are tough-yet-sleek chukka boots made to stand the test of time. Built atop an insulated insole and a stud rubber outsole, you're looking at your new favorite pair of go-anywhere chukka boots. – Shop Now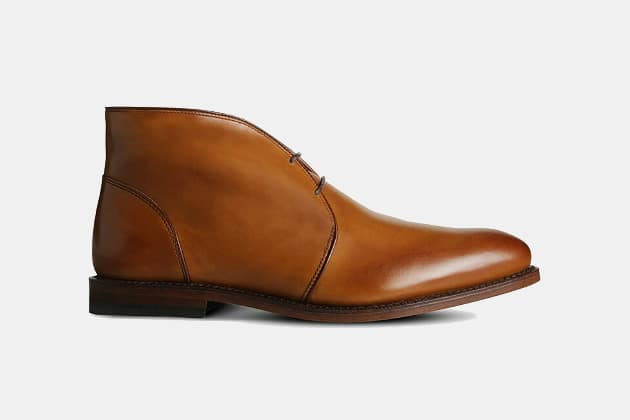 Allen Edmonds Williamsburg Chukka Boots
Among the best men's chukka boots, there are certain brands that nearly go without saying. Brands like Allen Edmonds, so consistent in its delivery of certified menswear classics that we'd be remiss not to include them here. Take the pleasingly refined-yet-versatile Allen Edmonds Williamsburg Chukka Boots, featuring a sleek silhouette and an imported European calfskin leather upper, plus dressier construction. These are boots to wear with your best worsted wool suit or your favorite pair of dark blue denim. – Shop Now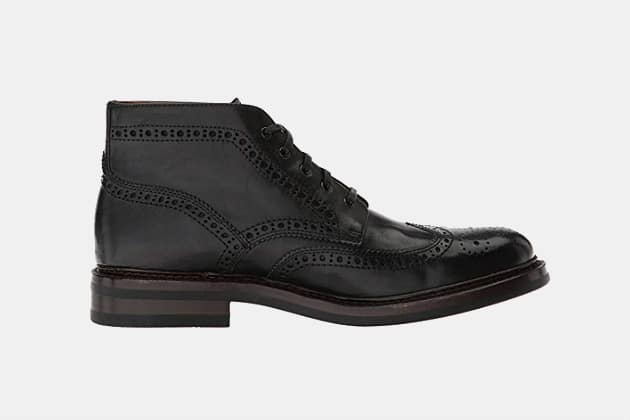 Frye Graham Brogue Chukka Boots
The great thing about a pair of chukka boots — particularly the best chukka boots for men as covered here — is that they can exist in two worlds at once. They can be edgy and rugged just as easily as they can be versatile and polished. Such is the case with the stellar Frye Graham Chukka Boots, featuring rich black leather and wingtip detailing. The black leather gives 'em an air of rock n'roll cool — wear them to a rock show with slim blue denim and a chambray shirt after a casual day at the office. And the slim profile means that, yes, you can wear these to your next meeting when accessorized with slim tan chinos, a navy blazer and a white Oxford. – Shop Now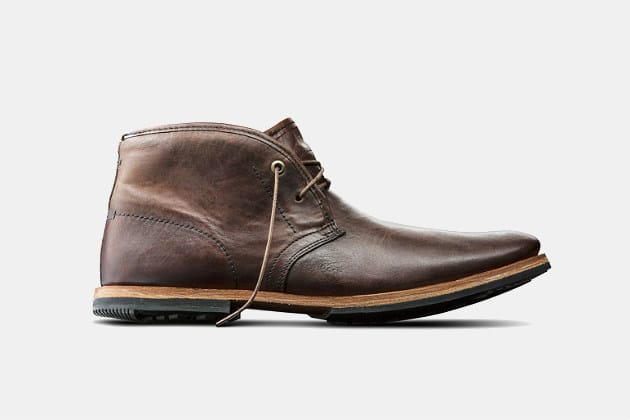 Timberland Wodehouse Chukka Boot
A slim profile, rich leather and a surprisingly dressy vibe doesn't normally sound like Timberland, does it? And yet, the Wodehouse Chukka Boots convey that vibe precisely, right up to the premium price point and premium construction. These are a surprisingly unique offering from the legendary brand, better known for its work boots than dressy chukka boots like these. Yet, that's the beauty of the best chukka boots for men — they can be unexpected, surprisingly versatile and pleasingly rugged all at once. Wear these with dark denim and a grey crewneck sweater this fall. – Shop Now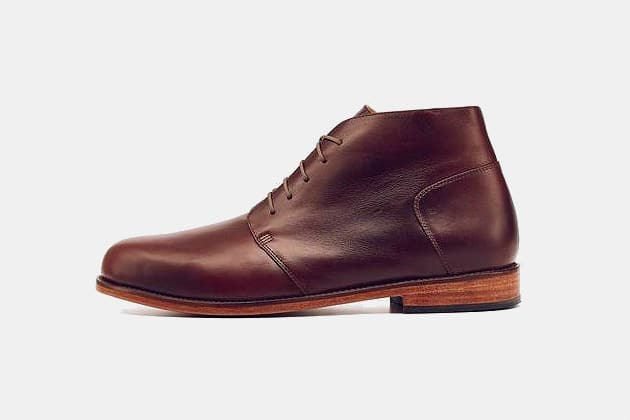 Nisolo Emilio Chukka Boot
Nisolo says that the Emilio Chukka Boots can take you from the boardroom to the bar, and we tend to agree. The rich Steel color is unique among chukka boots out there, and that's but one o the fine qualities that make the Emilio Chukka Boots worthy of a spot on our list of the best chukka boots for men. The other defining factors? An agreeable price (under $200), durability and sustainable construction — pair them up with a leather Nisolo tote, classic cotton chinos and an olive pocket tee for reliable weekend style. – Shop Now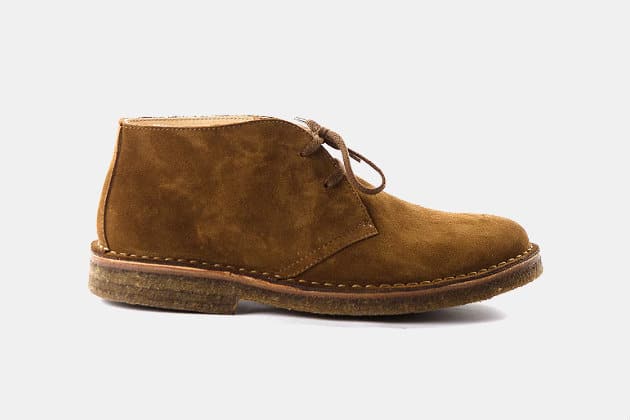 Astorflex Greenflex Chukka Boots
When the fine folks at Huckberry continue to vouch for a certain brand, we're inclined to listen — and listen closely, at that. Such is the case with Astorflex, which makes a heck of a stylish pair of sustainable, comfortable chukka boots. Made with quality suede and eco-conscious materials, the Greenflex is as classic a pair of chukka boots as it gets, featuring a casual design, a comfortable rubber sole and our personal favorite, a rich Dark Khaki color. Looking for a pair of the best men's chukka boots for early fall? You're looking for these — step on into them. – Shop Now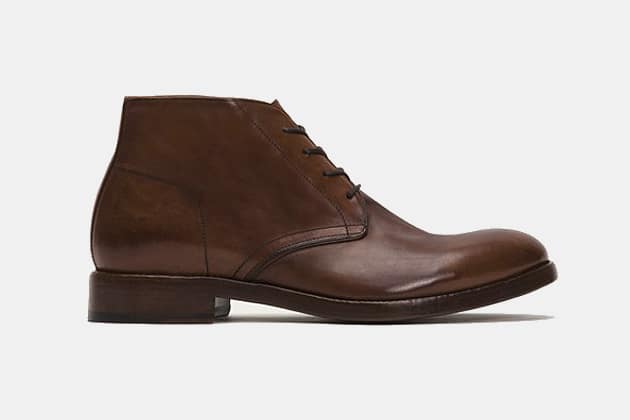 Frye Chase Chukka Boots
The chukka boot, what with its hard-wearing origins and association with all manner of rugged style icons (think Steve McQueen, for one) can be tough to pull off in terms of designing in a more refined manner. And yet, that's exactly what Frye has managed to do with the Chase Chukka, a beautiful pair of stylish chukka boots available in sleek Black or rich Redwood, with Italian construction and a refined silhouette to match. These are chukka boots you could certainly wear with a flannel or tropical wool suit with ease. – Shop Now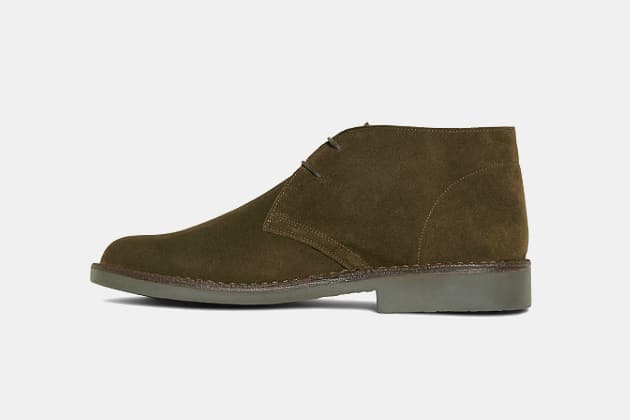 Brooks Brothers Field Chukka Boots
You've surely shopped here for your classic Oxford shirt and your timeless navy blazer — now, consider looking toward Brooks Brothers to amp up your footwear situation, as well. The Field Chukka Boots feature the kind of classic looks you might expect from Brooks Brothers, including a slim profile and easy-to-style dark brown suede — in short, they're the type of chukka boots that are going to work quite well with cotton Brooks Brothers chinos and a blue Oxford for Sunday brunch. Yet, they've also got a rugged outdoor vibe — keep 'em handy to wear as an apres-ski shoe this winter at your cabin. Comfort, style and multi-season versatility? Sign us up. – Shop Now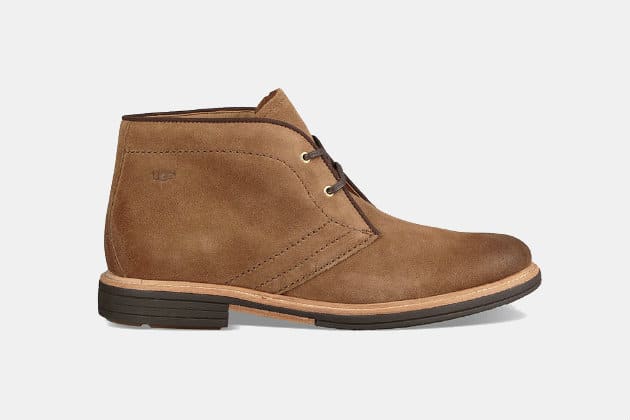 UGG Dagman Chukka Boot
Best known for cozy slippers and boots that your girlfriend or wife might love, the UGG Dagman Boot continues to represent the brand's stylish push into the menswear arena — and that's something we certainly appreciate. The Dagman Boots feature a soft lamb leather lining and rich suede for the type of style that works particularly well with essentials like a grey heather tee, an olive military jacket and light khaki chinos. A combo Treadlite and rubber outsole fuses durability and comfort for maximum longevity — when did you think you'd be able to say about UGG men's boots? Best get to shopping. – Shop Now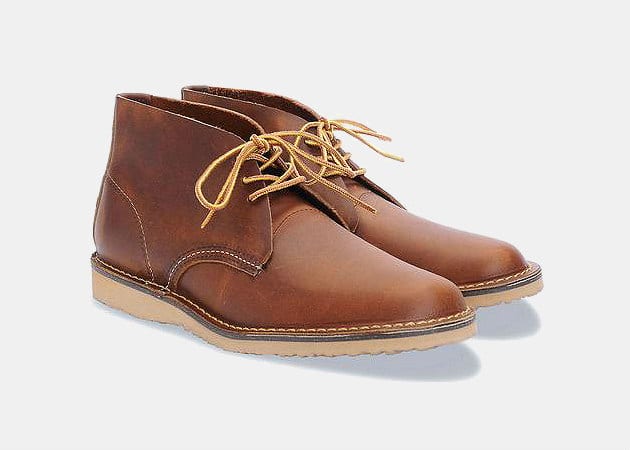 Red Wing Heritage Weekender Chukka Boot
As stunning as the Hawthorne Muleskinner iteration of this silhouette is, the Copper leather variety is something else entirely. They use that same water, stain and perspiration-resistant leather, and they do so in a unique silhouette that looks smart under jeans or chinos alike. The made-in-America construction absolutely makes them keepers, and there's a good chance they'd look just as stylish with a casual suit as they would with a thick sweater and jeans. – Shop Now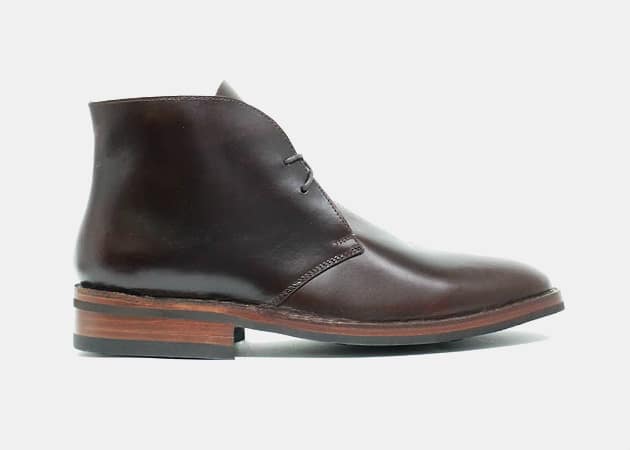 Thursday Boots Brown Scout Chukkas
Combine the looks of a premium dress boot on top — that's thanks to the rich brown chrome leather — with the dependability of a durable rubber outsole, and you've got a pair of chukka boots that give you some major bang for their buck. At under $150, the Brown Scout Chukka Boot is sharp and almost effortlessly wearable year-round — it just looks that great, right down to the flat wax laces that provide some dressy appeal. The cut of this chukka boot is slightly higher on the ankle than other similar varieties, so it looks just as sharp with a tailored suit as it does with beat-up denim. – Shop Now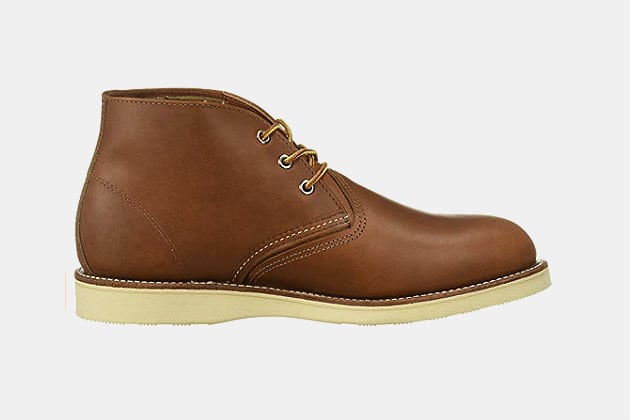 Red Wing Heritage Work Chukka
Suffice to say, Red Wing Heritage has never let us down when it comes to dependability, rugged style and performance in crunch time. Whether that crunch time happens to be getting dressed for a sharp business casual day on the job or a day of tough work in the field is up to you, but the Red Wing Heritage Work Chukka is an exceptional silhouette, made with the legendary bootmaker's Rough and Tough leather in a rich shade of Copper. The Goodyear welt construction means you can wear them for years to come, too. – Shop Now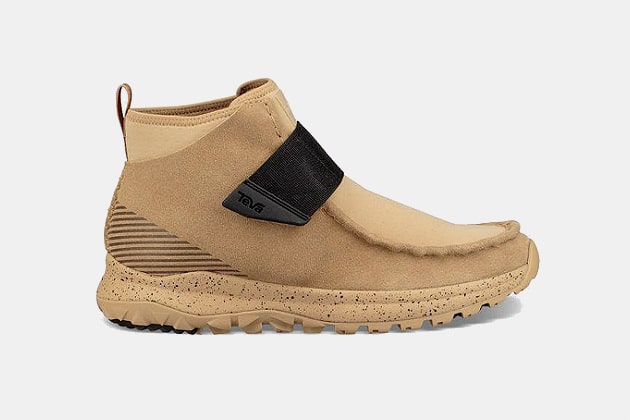 Teva Peralta Chukka Boot
Teva is a classic brand that's long been known for one thing, and nearly one thing only — sandals. That's been the focus for a long time, but like so many other companies across the footwear industry, they've pivoted to making more futuristic, stylish and yes, equally comfortable takes on classic styles — like the chukka boot. The Teva Peralta Chukka Boots have a lot going for them, from the forward-thinking design to the waterproof suede upper to the athletic sole. – Shop Now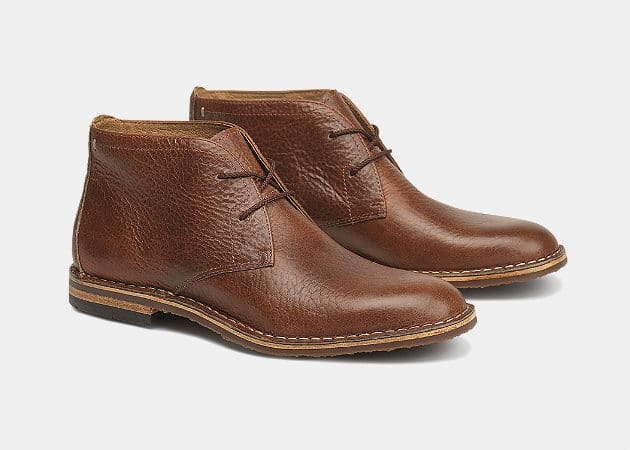 Trask Brady Chukka Boots
If you want a pair of chukka boots crafted to last year after year, there's one type of leather you want to look for, and that would be Horween. Saddle tan American bison leather makes these chukka boots one-of-a-kind, as does the Ortholite cushioned insole and a sturdy Vibram outsole (the best in the business). Stitchout construction allows for greater flexibility and ease of movement, resulting in a pair of chukka boots that's durable, stylish and supremely comfortable. Like the other great chukka boots on this list, this pair will work right now with a khaki chino suit, and it'll work in the fall with a thick cardigan and jeans. – Shop Now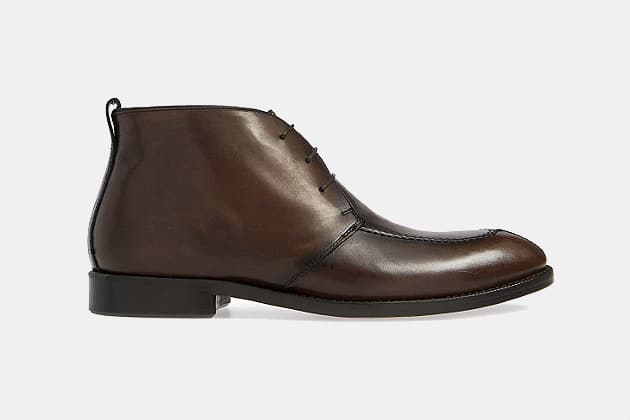 Allen Edmonds Rafael Chukka Boots
Allen Edmonds long ago mastered the art of making the best American footwear — or arguably the best — out there, and the Rafael Chukka Boots are no different. As handsome and stylish a pair of chukka boots as you're apt to find, the textured leather and cross-bar lacing make these a fine pair of dress chukka boots that you can also wear with ease to happy hour alongside indigo denim and a blue chambray shirt. – Shop Now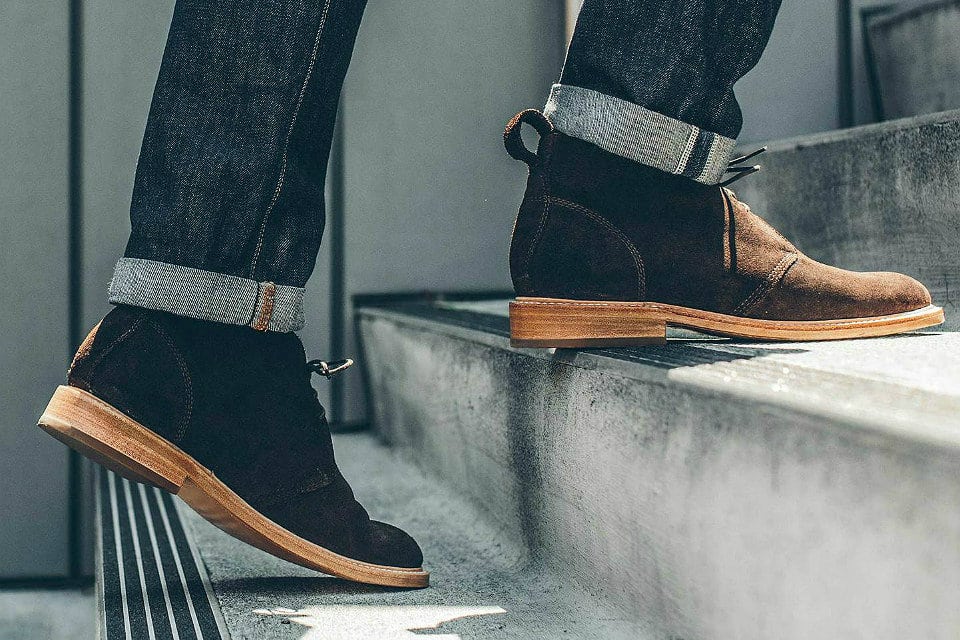 Disclosure: Clicking on these links and making a purchase may earn us a small referral fee, at no extra cost to you. Learn more here.
freestar.config.enabled_slots.push({ placementName: "gearmoose_leaderboard_btf", slotId: "gearmoose_leaderboard_btf" });