The 50 Best Watches For Men
With a rabbit hole of brands, styles, and functions, it's impossible to dub a single watch the best of them all. Also, different kinds of timepieces suit different kinds of men. For some, a wristwatch is either a practical tool or a style accessory, and for others it's a lifestyle, showing the world who they are or who they want to be. While there's no one best timepiece, there just might be 50. So here, we present the 50 best watches for men.
Whether you're a newbie trying to figure out if you're a dive watch man or team-chronograph, or a seasoned collector looking for your next grail, every style and purpose is represented.
Best Pilot Watches
The world was still in the pocket watch age in 1904 when Louis Cartier designed a gold wristwatch for pilot Alberto Santos-Dumont, enabling him to tell time while flying. Most importantly, pilot watches need to be larger and legible. Common features include a leather strap with rivets, which were originally used to keep the watch from sliding, a large winding crown since aviators wore gloves, and dual time or GMT functions. The DIN 1451 typeface, which is used for road signs in Germany, is associated with classic pilot watches.
IWC Big Pilot's Watch
IWC was the leading producer of civil aviation watches in the 1930s, and the go-to high-end pilot watch brand today. This piece is vintage and timeless, featuring a 46mm case and that quintessential white DIN font. The twin-barrel 52000 caliber boasts a whopping seven-day power reserve so you don't have to worry about the perpetual calendar depleting the watch's energy — keep an eye on that via the stylish power reserve complication.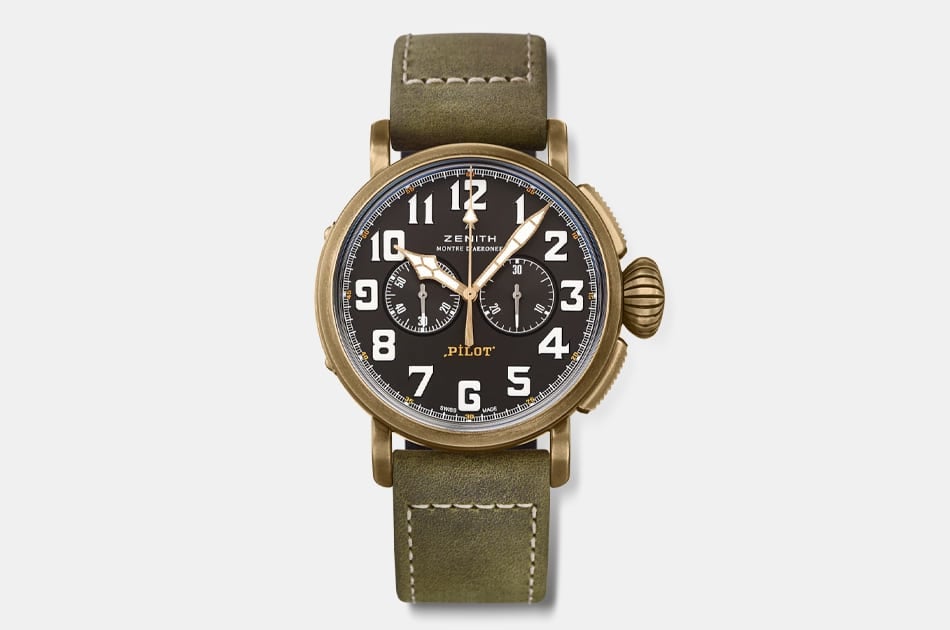 Zenith Pilot Type 20 Chronograph Extra Special
This timepiece will make you look like the lead detective in a Guy Ritchie steampunk flick. It combines industrial, vintage, and manual-tech design languages on its multi-layered dial. However, the solid quality guarantees that it's a grown man's watch and not a costume piece. The bronze case will develop a patina over time, so expect it to wear in before ever wearing out. The supple textured leather is held together by a titanium pin buckle, and the oversized Arabic numerals are easy to read and luminous.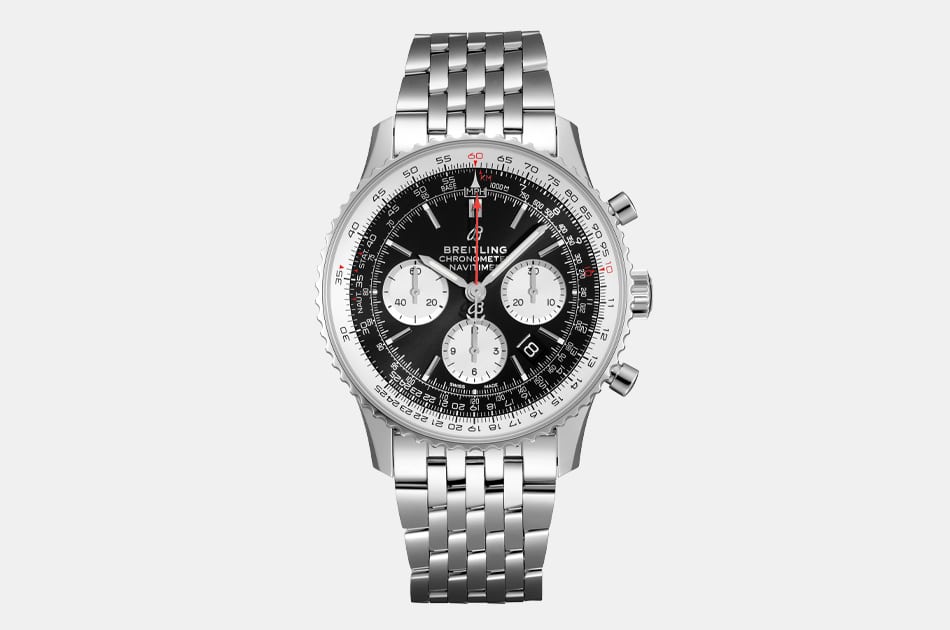 Breitling Navitimer B01 Chronograph
This scientific-looking maximalist watch is loved not only by pilots, but the aeronautical community. The several complications add to its gadget aesthetic, but none more so than the slide rule analog computer around the dial. The reliable 47-jewel Breitling 01 caliber features a column wheel chronograph, auto-centering reset hammers, instantaneous date, a customizable index regulator, and 70 hours of power. The caliber also has a modular design, which conveniently facilitates self-maintenance.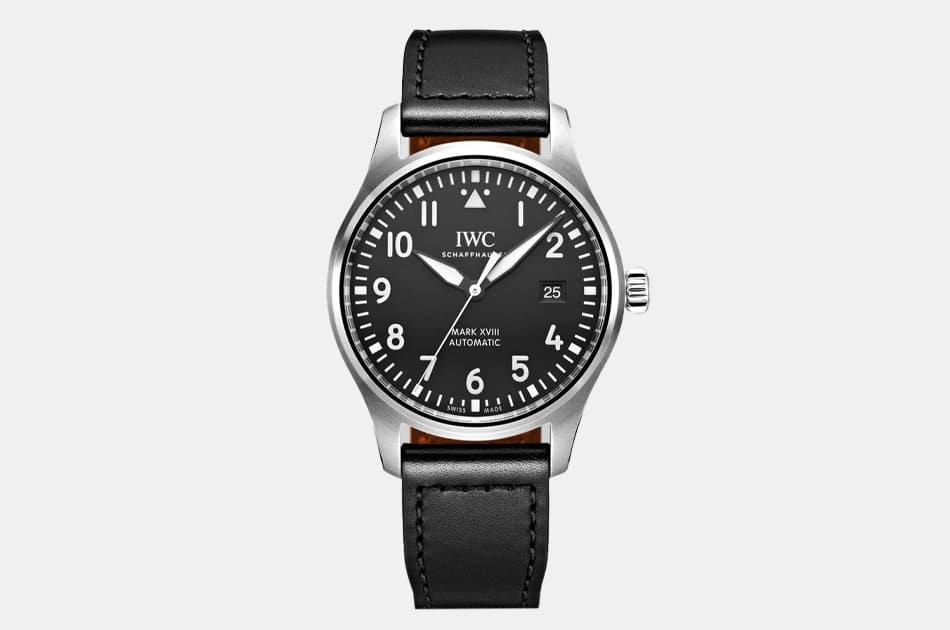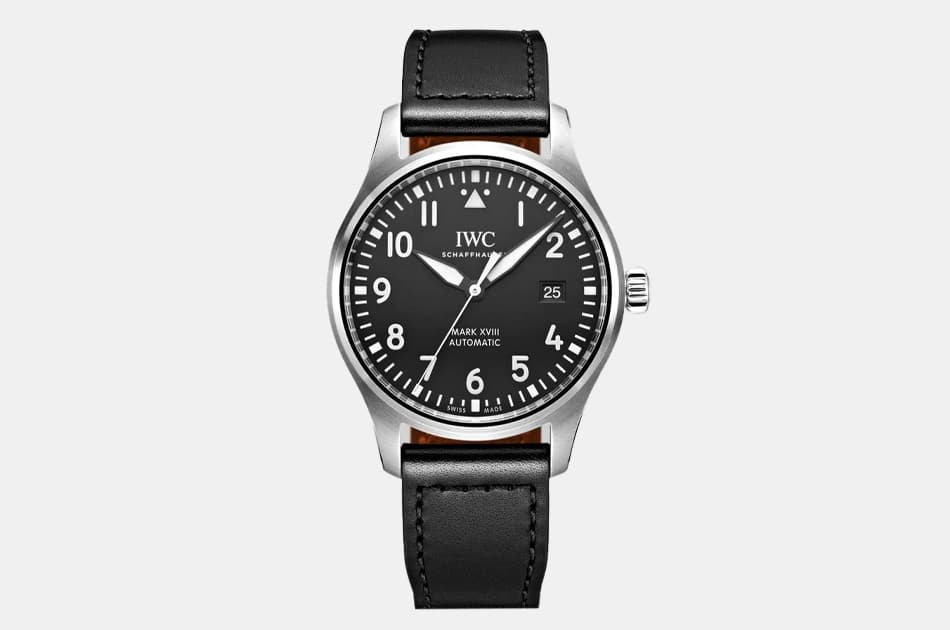 IWC Pilot's Watch Mark XVIII
IWC serves up another classic aviator with the Mark XVIII. If the Big Pilot is too busy, too expensive, or too generously-sized, go for this equally superb timepiece. Don't think of Mark as the Robin to Big Pilot's Batman though. It's aesthetically similar with the legible typeface and high-contrast color palette. However, it suits most men's wrists at a reasonable 40mm, it's paired with a beautifully stitched calfskin leather strap, and it runs on an automatic, self-winding Swiss movement.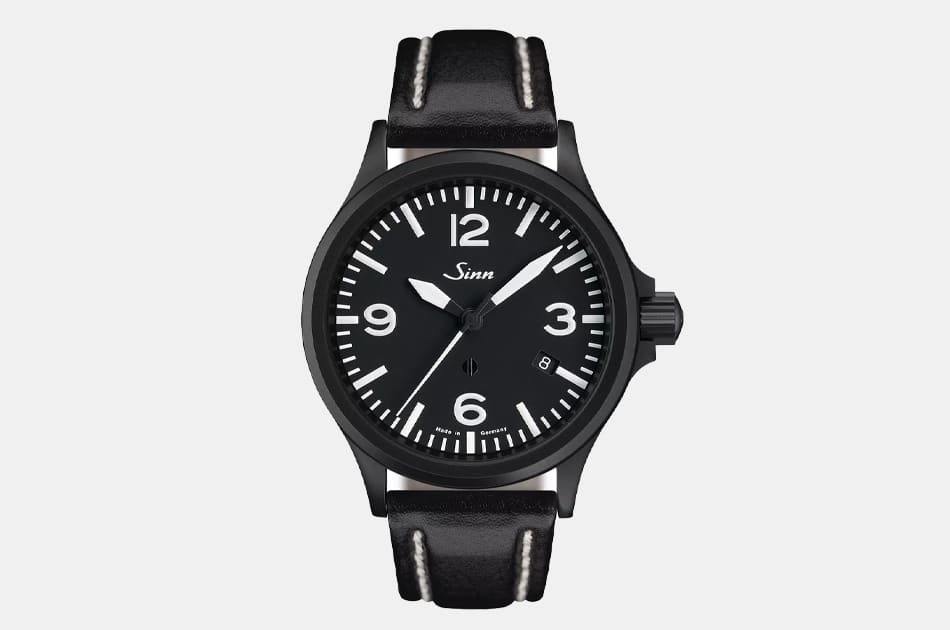 Sinn 856 S
This no-nonsense, practically designed pilot is a high-functioning timepiece, but doesn't brag about it. Its face is legible and seemingly inspired by Swiss railway clocks. Because of the simple design, you'd never guess that it boasts so many impressive qualities including air-dehumidifying technology, a hard black coating construction for maximum durability, magnetic field protection, and pressure-resistance. This watch is the strong but silent type.
Best Dive Watches
Ever since Connery paired a dive with his dinner jacket in Dr. No, this tool watch has been an essential for all mens' collections, even those who prefer to stay on dry land.
At minimum, a dive watch is water-resistant at 100m, though 200m is required for professional diving. They're able to manage elapsed time, usually in the form of a rotating bezel. Today, modern scuba divers use computers to manage time, so working bezels are just an homage or a contingency plan. Other common features include luminescence and a screw down crown and caseback.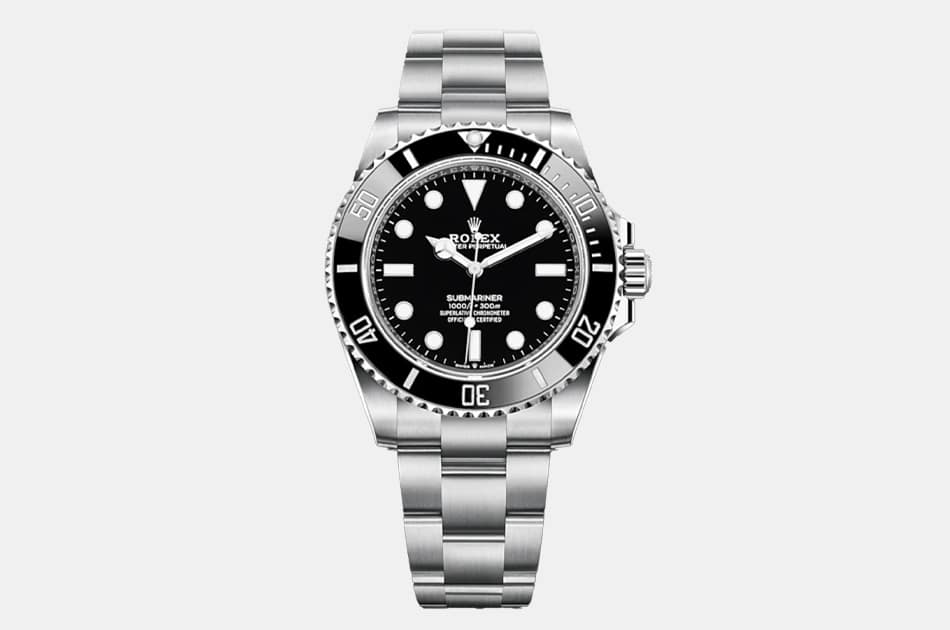 Rolex Submariner
As the most recognizable watch in the world, you won't always be the only one in a room with a Submariner. However, for every one guy also wearing a Sub, there's 500 who aren't and wish they were. No watch has more cultural street cred or historical importance, having been worn by iconic diver Jacques Cousteau, and of course, Bond. Contemporary Subs boast a Cerachrom bezel and either a 3230 caliber or 3235 caliber with date. Both calibers are reliable, in-house Swiss movements, certified by the Official Swiss Chronometer Testing Institute (COSC). Plus, the Sub famously holds its value over time.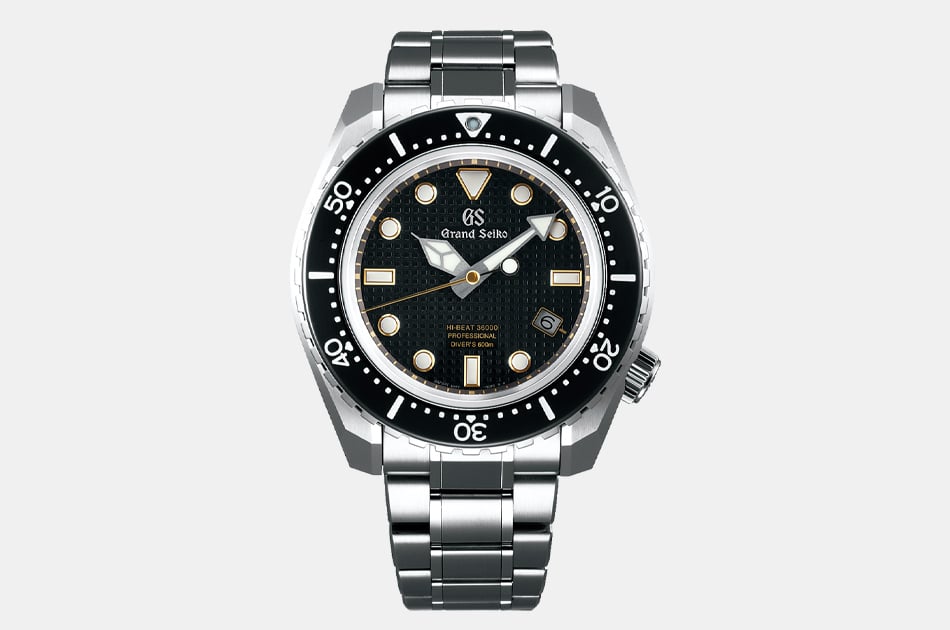 Grand Seiko SBGH255 Professional Diver's Watch
This stunner is an authentically professional dive. It's constructed with titanium, which is as strong as steel but half as light, and has a pure iron dial, which protects the movement from magnetic fields. Functionally, the watch is pressure-resistant, has a remarkable 600m of water resistance, and a movement that's accurate between +5 to -3 seconds a day. Design-wise, it's a classic dive with fun color accents, textures, and Zaratsu polishing, which gives it mirror-level shine.
Omega Seamaster Diver 300M
To highlight its cultural importance, people often point out how the Seamaster overtook the title of Bond watch from the Sub (then was name-dropped in 2005's Casio Royale, fully cinching the status). People often forget that the decision to switch to Omega was based on the Seamaster's real-life affiliation with the British Navy, to which Bond fictionally served. The historical importance and authority of this watch thus go beyond fiction. Horologically, contemporary Seamasters feature a COSC-certified movement, an iconic wave pattern on the dial, and a sapphire crystal.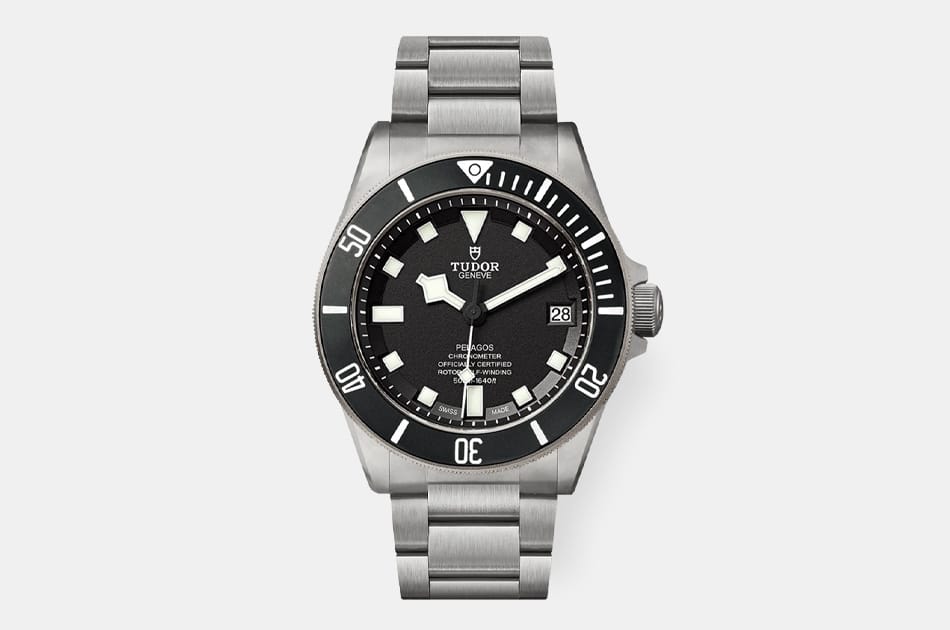 Tudor Pelagos
Just as Tudor is Rolex's sibling company, the Submariner and the Pelagos are brothers with distinct strengths. Some upgrades include a titanium construction, making it stronger but much lighter, and water resistance at 500m, 200m deeper than the Sub. It runs on an in-house Swiss movement with an impressive 70-hour power reserve. Go for this watch if you want a Rolex-quality dive that doesn't wear its brand on its, or your, sleeve.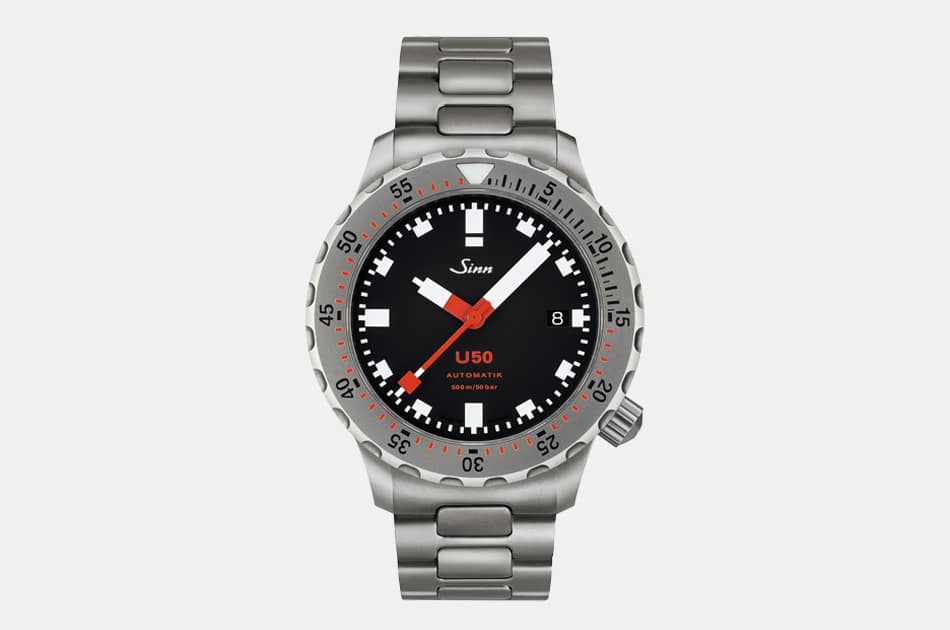 Sinn U50
If you combined a classic dive watch with a Swiss railway clock, you'd get this legible, slightly playful timepiece. Its impressive construction includes a German Submarine steel body which is durable and especially resistant to seawater and magnetism, and a sapphire crystal that's anti-reflective on both sides for perfect clarity at every angle. It's also low pressure resistant and water resistant at 500m.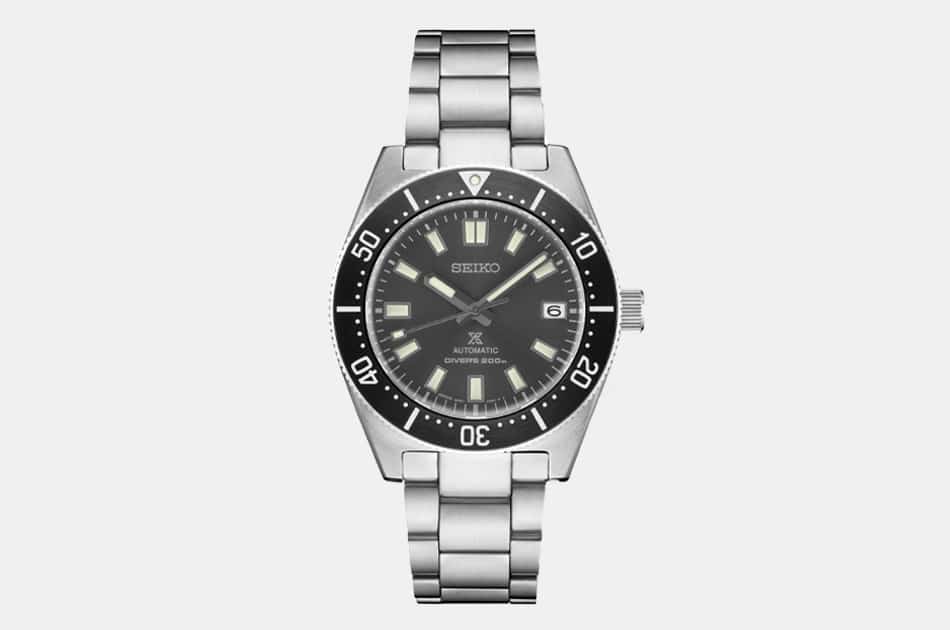 Seiko PROSPEX SPB143
PROSPEX is Seiko's professional line of high-functioning tool watches, and this dive is a limited edition recreation of Seiko's first diver from 1965. The hard-coated stainless steel case is sleek, for a more contemporary look than the original. The charcoal dial features a date calendar and LumiBrite hands and markers. Its 24-jewel automatic movement can be wound manually if needed and possesses 70 whole hours of power. It's no wonder this dive is standard equipment for Japan's Antarctic Research Expedition.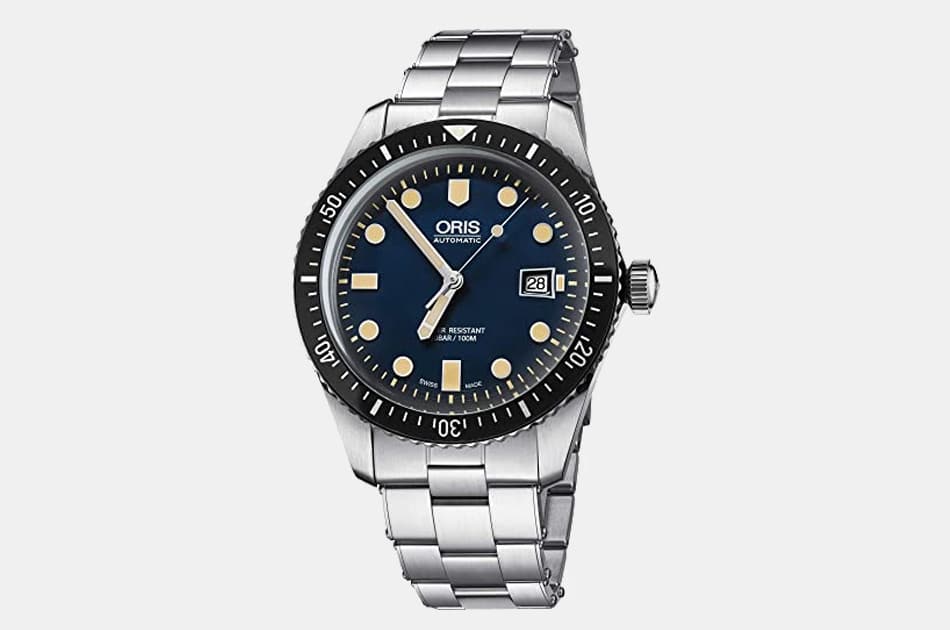 Oris Divers Sixty-Five
Oris designs are what I call "boardroom-free" because they're a rare, independently-owned Swiss brand. Their unstifled creative freedom is evident in the Sixty-Five, modeled after their beloved 1960s dive watch all the way down to the old school 36mm case. The worn color of the indices and bubble-curved sapphire add to its nostalgic charm. However, it also has a modern anti-corrosive stainless steel construction and an automatic winding movement.
Best Field Watches
Wristwatches were originally considered women's jewelry. The birth of the field watch during WWI and WWII then brought tiempieces to the wrists of men. Soldiers needed an accurate, dustproof, and waterproof watch that they could quickly glance at in the trenches.
Field watches are necessarily high-contrast or large, though not as big as pilot watches, for legibility. For durability, they're often stainless steel. A green military aesthetic with a canvas strap is well-liked because it harkens back to the field watch's soldier roots, while a simple all-stainless steel build is popular for those who want a field watch for every day.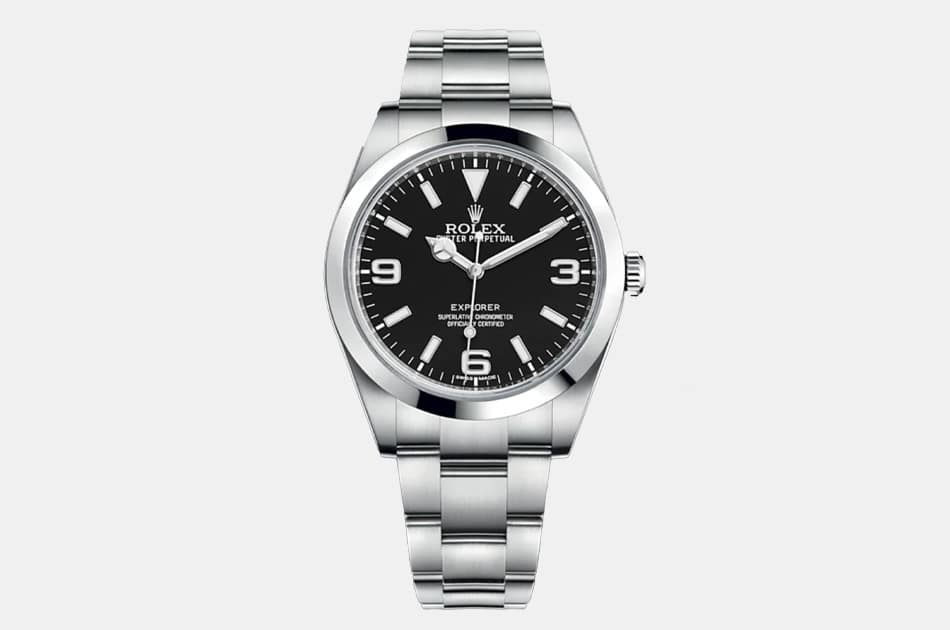 Rolex Explorer
The Explorer is the quintessential luxury sport watch, built to commemorate Sir Edmund Hillary successfully climbing Mount Everest. It's known for durability because of its Oystersteel construction and 3132 caliber that comes with Paraflex shock absorbers. This watch on a suit guy will remind people that he's still tough, while a rugged country man rocking an Explorer ensures those around him know he's still discerning and cultured. The Explorer II has its own rich heritage, with its classy white dial and iconic orange second hand being immediately recognizable.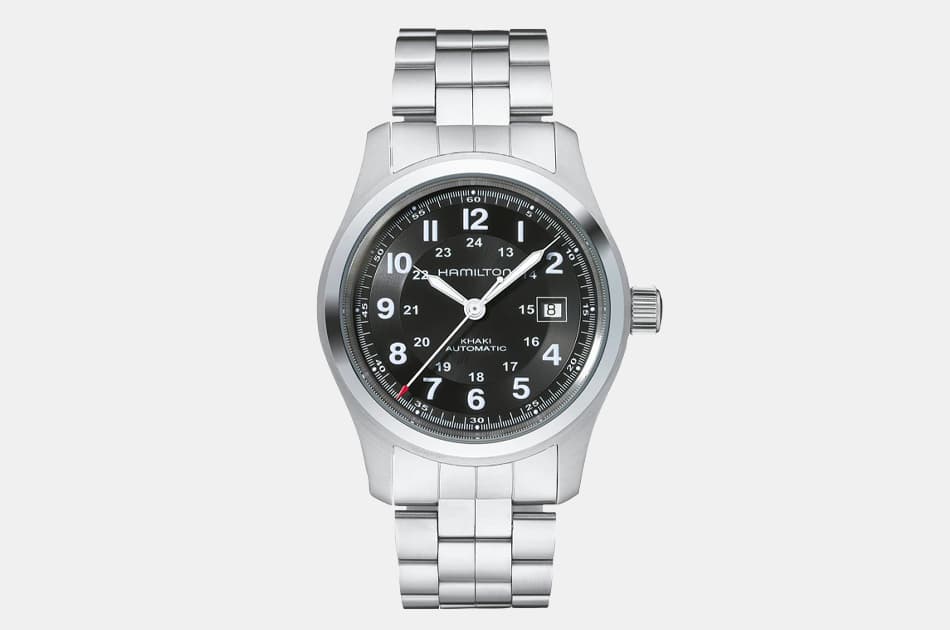 Hamilton Khaki Field Automatic
This timepiece is as clean as a dress watch and as legible as a pilot watch, allowing it to easily transition from day to night and from office to campsite. The black dial features a subtle race track highlighting the hour indices, providing further readability and a distinct, sectioned style. It runs on the 80-hour H-10 caliber, a baroque-looking movement with a snail and pearl pattern that you're able to observe via the display caseback. This bang-for-buck automatic is perfect for newbies and seasoned collectors alike.
Seiko Prospex SPB121J1 Alpinist
The original Alpinist was built for Japanese mountaineers in the early '60s, but became popular with the general public because of its unique look. These out-of-production models have skyhigh resale prices, so Seiko relaunched and remixed the Alpinist within their Prospex line resulting in the SPB121J1. It's 39.5mm case and high-gloss green dial with gold indices is stylishly retro, while its 6R35 caliber and scratch-resistant sapphire are functionally modern. Go for this watch if you're nostalgic or want a field watch that stands out without being too loud.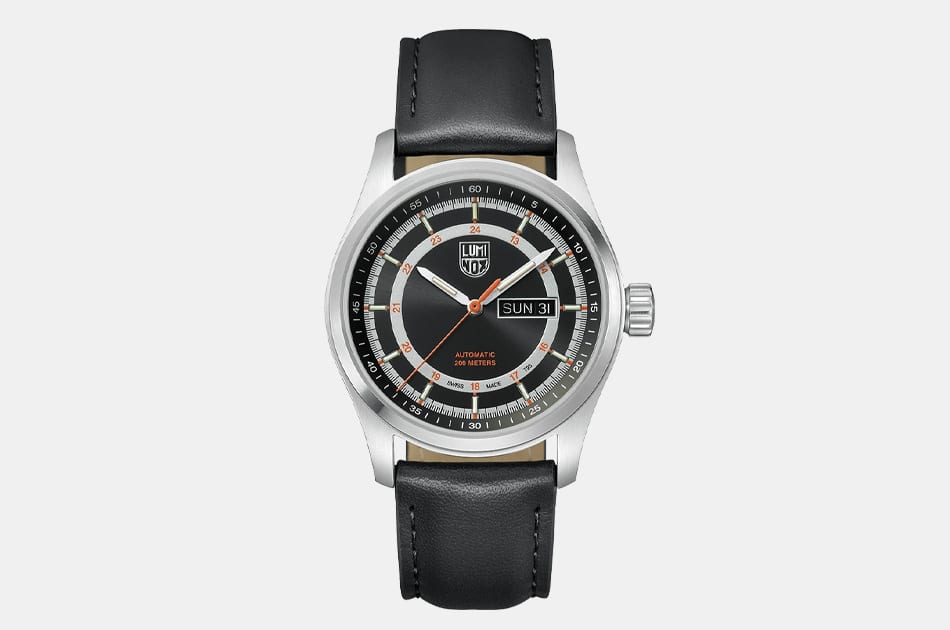 Luminox Atacama Field Automatic 1901
If Lawrence of Arabia were alive today, he'd rock this watch. The center military hour indices are fashionably professional, and make the wearer look competent and adventurous enough that he'd survive a week in the desert. It features a 44mm stainless steel case, an anti-reflective sapphire, and an eye-catching orange and black color combo. Some impressive functions include a Swiss automatic movement and 200m of water resistance that's individually tested.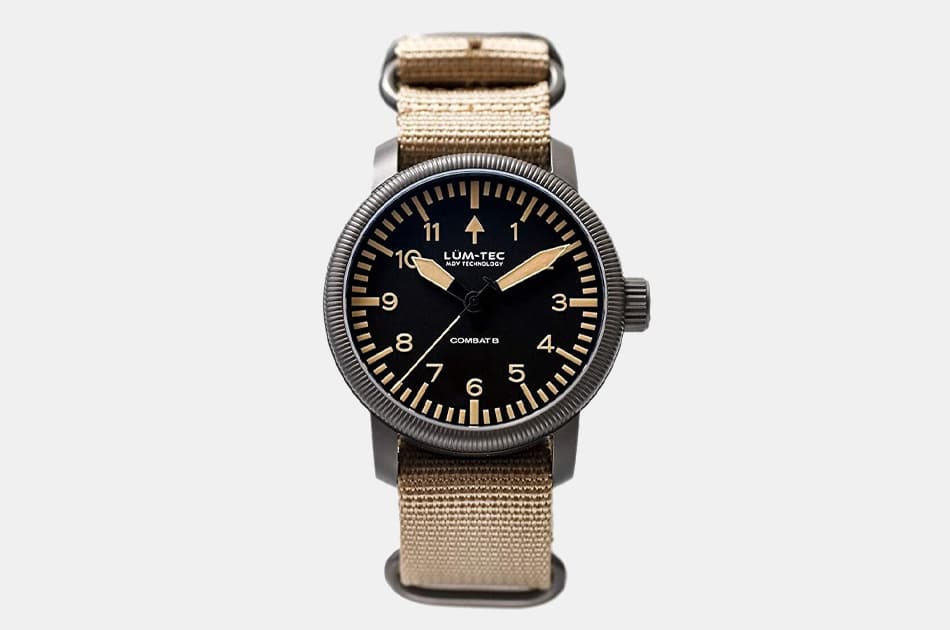 LÜM-TEC Combat B46
LÜM-TEC is known for robust timepieces for the great American outdoors, so it's no surprise that the Combat B46 looks exactly like the first military watches our soldiers sported. Classic good looks aside, it's made of surgical-grade stainless steel and a Titanium Carbide gunmetal coating. It's assembled by hand in Ohio and features LÜM-TEC's proprietary Maximum Darkness Visibility lume technology. Made of several layers of Super-LumiNova and white-colored titanium dioxide, MDV is exceedingly bright.
Best Chronographs
A chronograph is a display watch and a stopwatch combined, with three hands and three subdials. It features the usual hour and minute hand to tell time, then an independent sweep second hand that's used for the stopwatch function. This second hand stays still until you activate it for time tracking. As seconds elapse, one subdial will track elapsed minutes and another will track elapsed hours. The last subdial is the running seconds dial for the time-telling function.
Chronographs were popular among pilots in the beginning of the 20th century. The initial US outer space explorations involved test pilots, which made chronographs the de facto astronaut watch. They're also popular with car racing.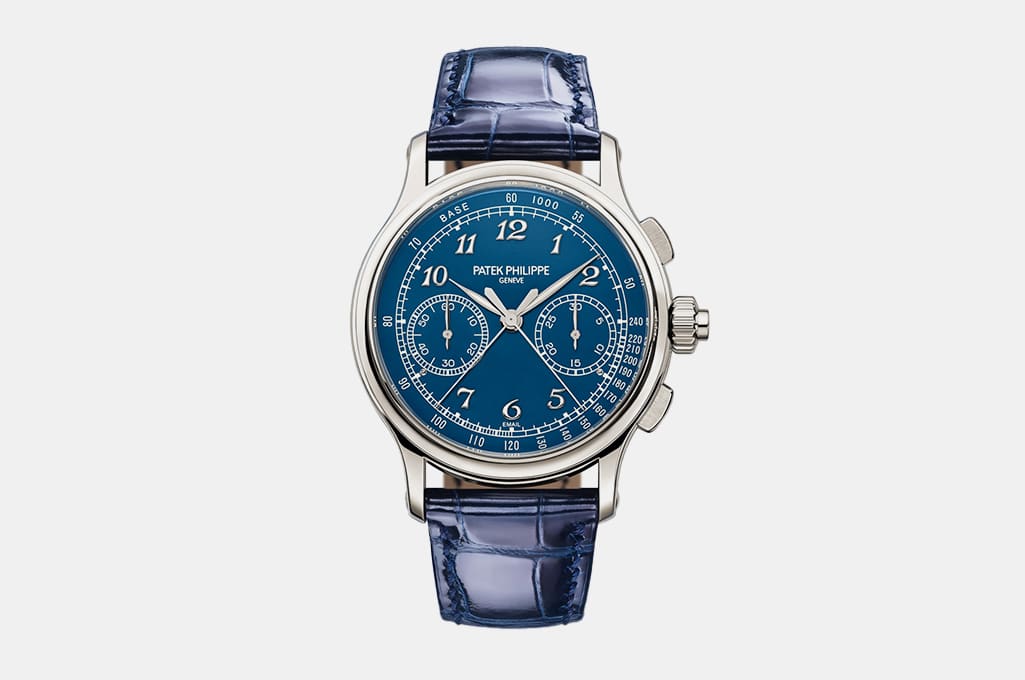 Patek Philippe Ref. 5370 Split-Seconds Chronograph
The utilitarian chronograph typically provides a practical or sporty aesthetic, yet the 5370 is elegant enough for a night at the opera. It features a rare blue dial made of Grand Fe enamel, a precious and sought-after hand-made material. On top of that are gold applied Breguet numerals and an 18K gold dial plate. The case is platinum and the shiny, hand-stitched bracelet is alligator. Go for this watch if you're as sporty as you are fancy.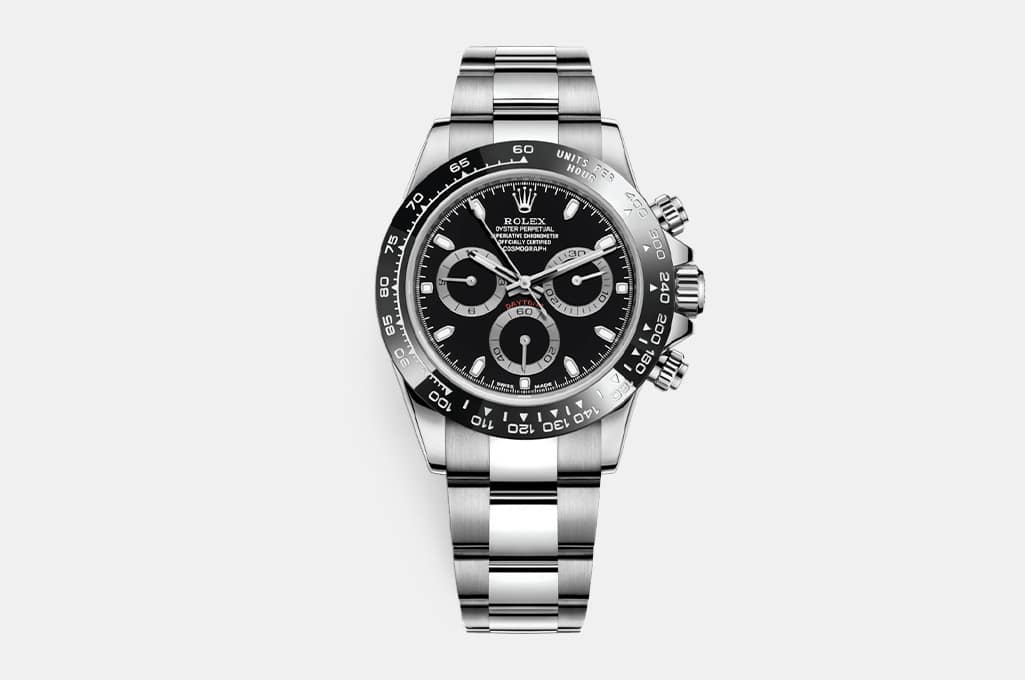 Rolex Cosmograph Daytona
This charmer is one of the world's prominent chronographs. While aesthetically complex, contemporary models are actually user-friendly, running on a 4130 caliber. The 4130 is known to be simpler than the average chronograph, making this timepiece reliable and serviceable. They're available in countless styles, from the practical classic black dial and stainless steel to all sorts of precious metals and bejewelment. Paul Newman's Daytona is the most expensive Rolex ever sold at 17.8 million in 2017.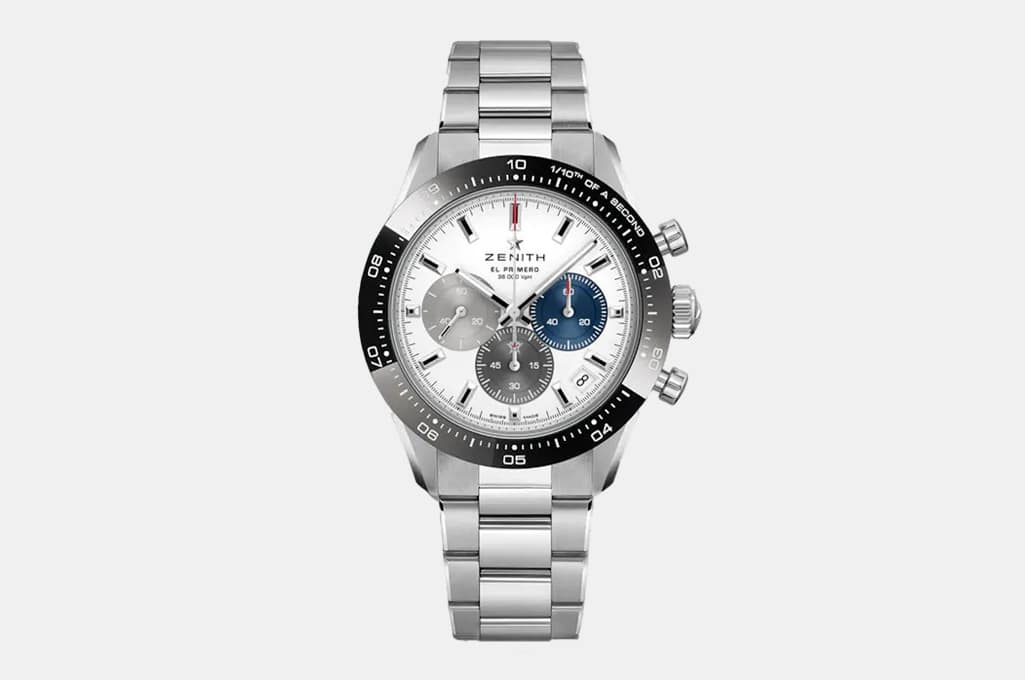 Zenith Chronomaster Sport
Zenith's column-wheel chronographs are one of the most accurate in the world. Rolex once used their movements before they went in-house. Visually, the modern-looking Chronomaster has a sleek 13mm case and simple design. Its dark subdials against the stark white main dial are like the white walls of a contemporary gallery decked with artwork. The pump-style pushers also make this watch satisfyingly tactile.
Grand Seiko SBGC223
The authoritative and hard-edged aesthetic of this watch makes it feel like superhero armor on your wrist. The bracelet combines robust ceramic and durable titanium links for strength and style. Its uniquely flat case is built with zirconia ceramic, the same non-cracking material used for medical devices, and the high-gloss polished surfaces create intricate reflections. Performance-wise, it's loaded with a 50-jewel spring drive movement that's accurate at ±1 second per day and a healthy 72-hour power reserve.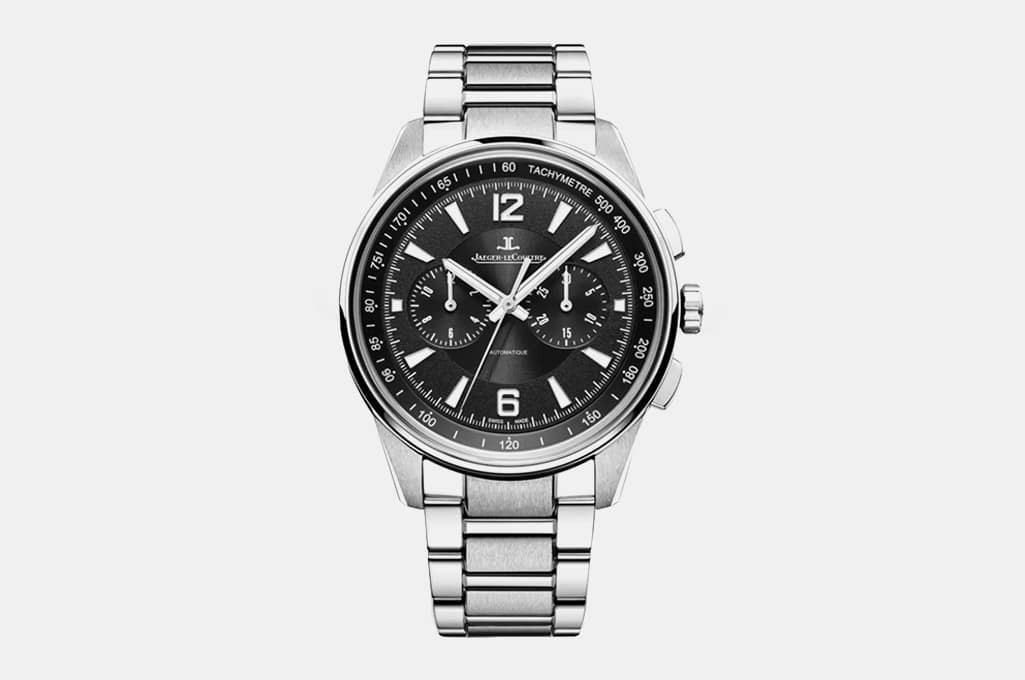 Jaeger-LeCoultre Polaris Chronograph
This timepiece abounds with layers and sections, giving it incomparable depth. The dial's tachymeter section has a metallic finish, the hour track has a grainy finish, and the center is high-gloss. Everything on the dial, including the logo, is applique, not printed. The bracelet is exquisite, its contrast center link sporting a satin finish and rectangular shape that matches the uniquely rectangular pushers. This watch looks cool from every angle, including the back where you can see the movement's efficient winder.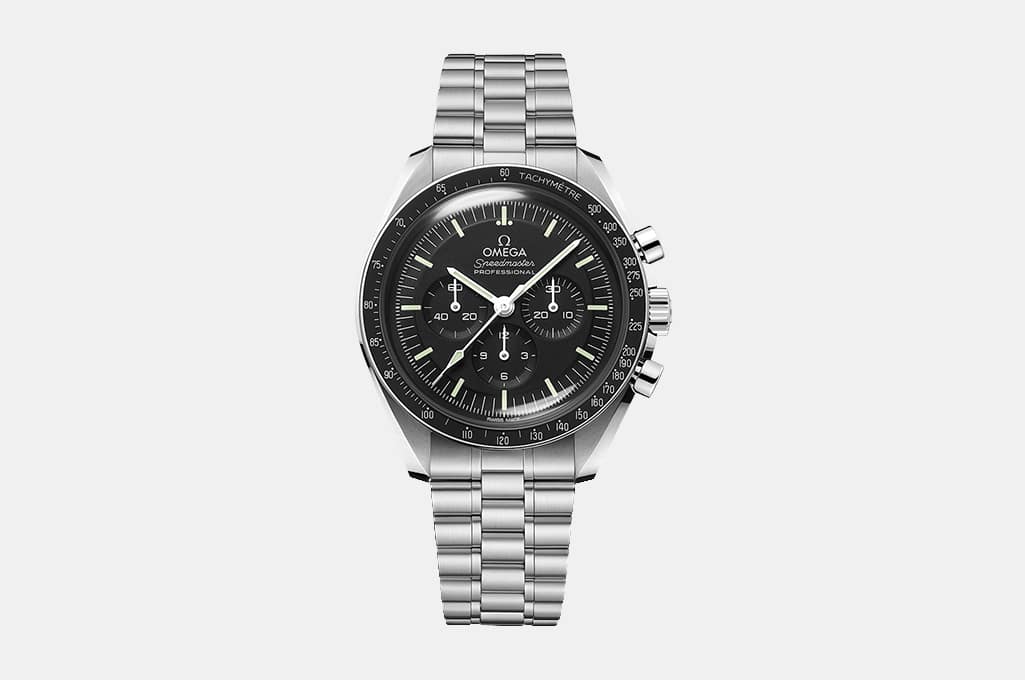 Omega Speedmaster Professional
The most famous chronograph in history was worn by Buzz Aldrin during the inaugural 1969 moonwalk and has been a part of every lunar mission since. Today, it's still the only NASA-qualified watch for extravehicular activity, which means the Speedy can be worn outside of earth's appreciable atmosphere, outside of a spacecraft. Contemporary Speedmasters look similar to their 1957 grandfathers, featuring the three subdials and iconic tachymeter scale. The Speedy Pro is exemplary in the watch world, but still classic and professional enough to suit most guys.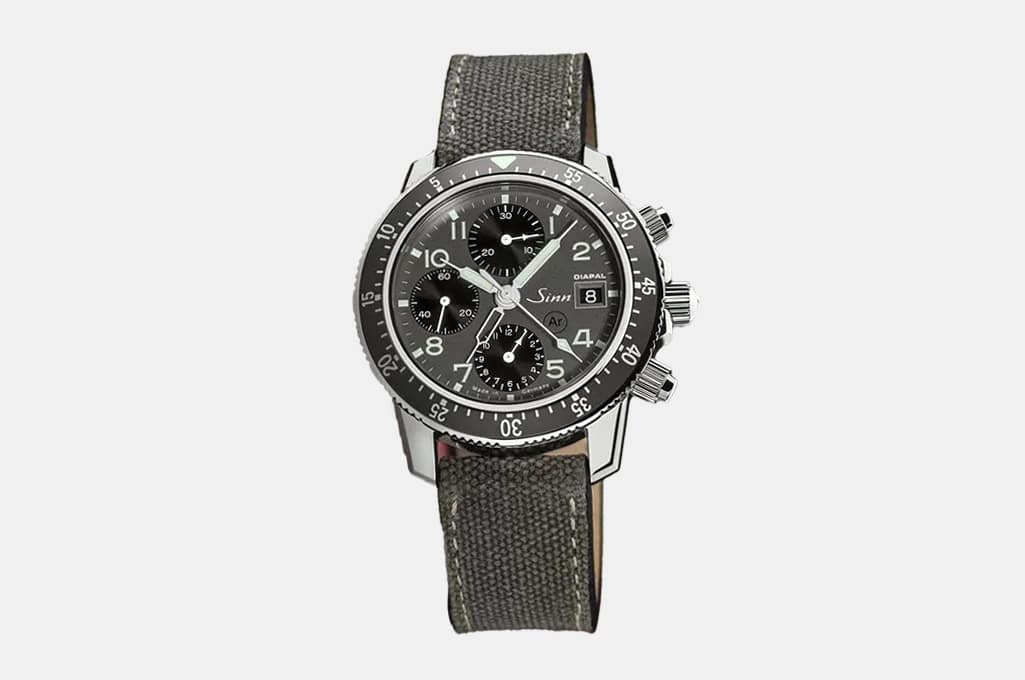 Sinn 103
As the Fatherland's brand of maximum functionality, the 103 bears a frenetic aesthetic, distinct from other typically minimalist German brands. It runs on a 25-jewel self-winding mechanism, is anti-magnetic, and comes in either a shock-resistant acrylic glass or a high-domed scratch-resistant sapphire crystal. In the '90s, certified engineer, Lothar Schmidt, took over Sinn, focusing on technological advancements and certifications, so this ultra professional timepiece definitely represents the science-as-art and engineering-as-style philosophy.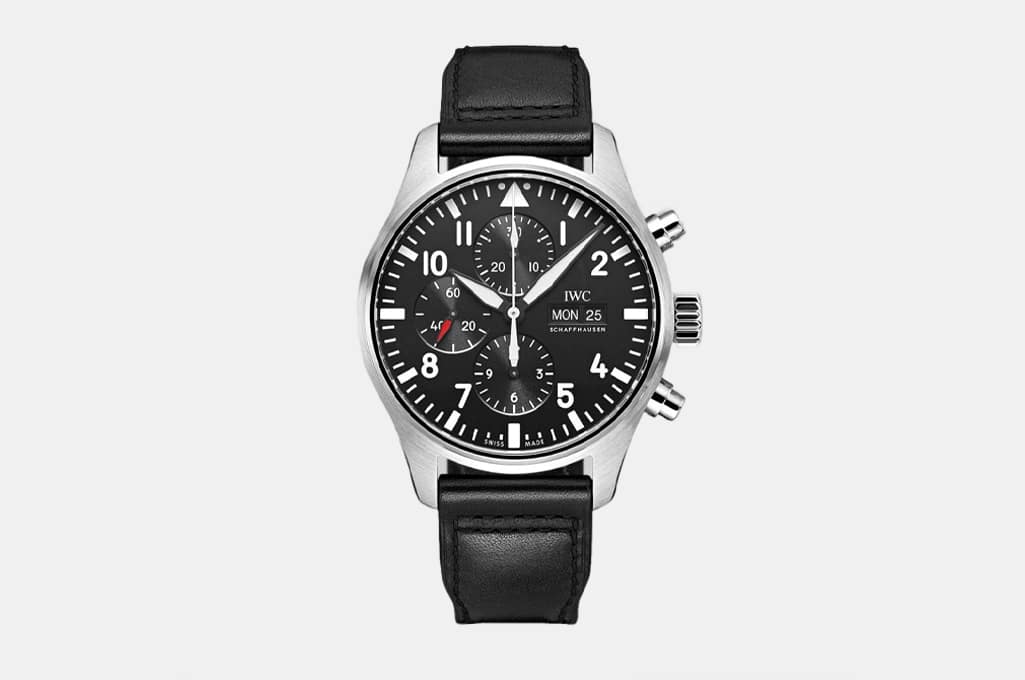 IWC Pilot's Watch Chronograph
There are those who think the Speedmaster is the too-obvious chronograph. While I respectfully disagree, I also turn these gentlemen to this equally impressive IWC. In fact, since the IWC is a pilot watch with Arabic indices and a 43mm case, it tops the Speedmaster in legibility. Each subdial is slightly depressed and textured, adding a sophisticated complexity. The 25-jewel automatic caliber is decorated with Côtes de Genève perlage, systematic delicate patterns engraved onto surfaces of the movement, which you can admire through the exhibition caseback.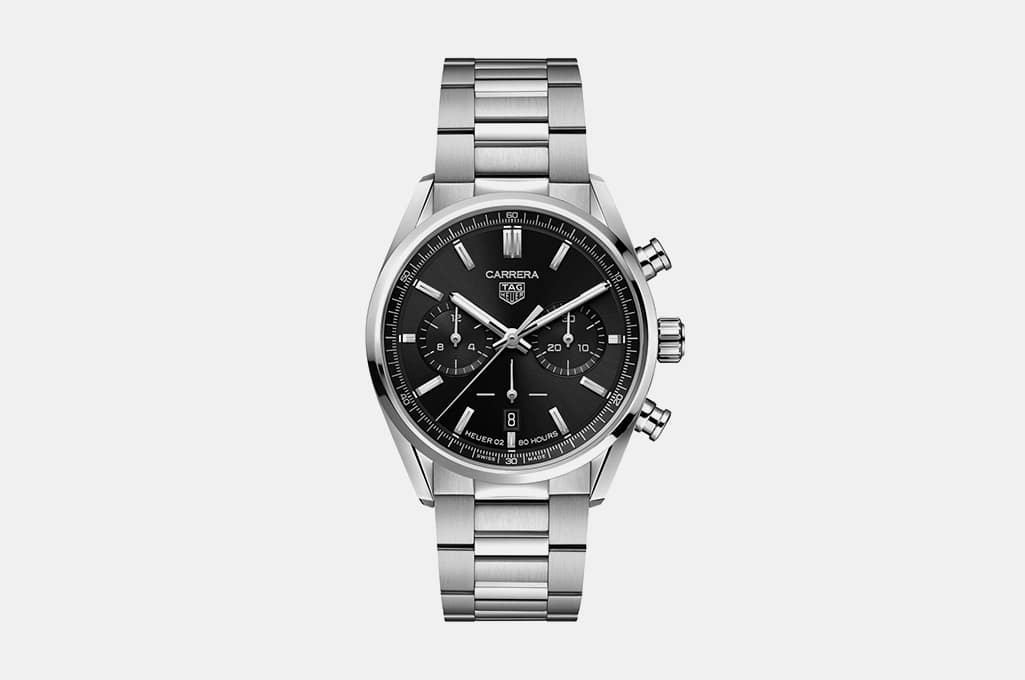 Tag Heuer Carrera Automatic Chronograph
This watch is a rare example of a clean chronograph, elegant enough for evening wear and sporty enough for the racetracks. The rhodium-plated indices and central hands match the glimmer of the fixed minimal bezel, and the sun-brushed black dial add contrast and readability. The Calibre Heuer 02 is an in-house automatic chronograph movement with 80 hours of power and an elegant gold rotor that you can see through the sapphire caseback.
Best Dress Watches
A dress watch is designed to pair with a suit or tuxedo. While there aren't as many hard and fast rules regarding what makes a formal timepiece today (comfort seems to seep into even the most buttoned-up style occasions), there are several marks of a traditional dress watch.
A true classic dress wristwatch has a smaller, slimmer case and a fine leather strap. It must be simple and feature few or no complications. Possible grand gestures include jewels, a pie-pan dial, precious metal construction, or fanciful complications like a moonphase. Historically, these would be implemented sparingly. Today, they can be used to create fancy look-at-me devices.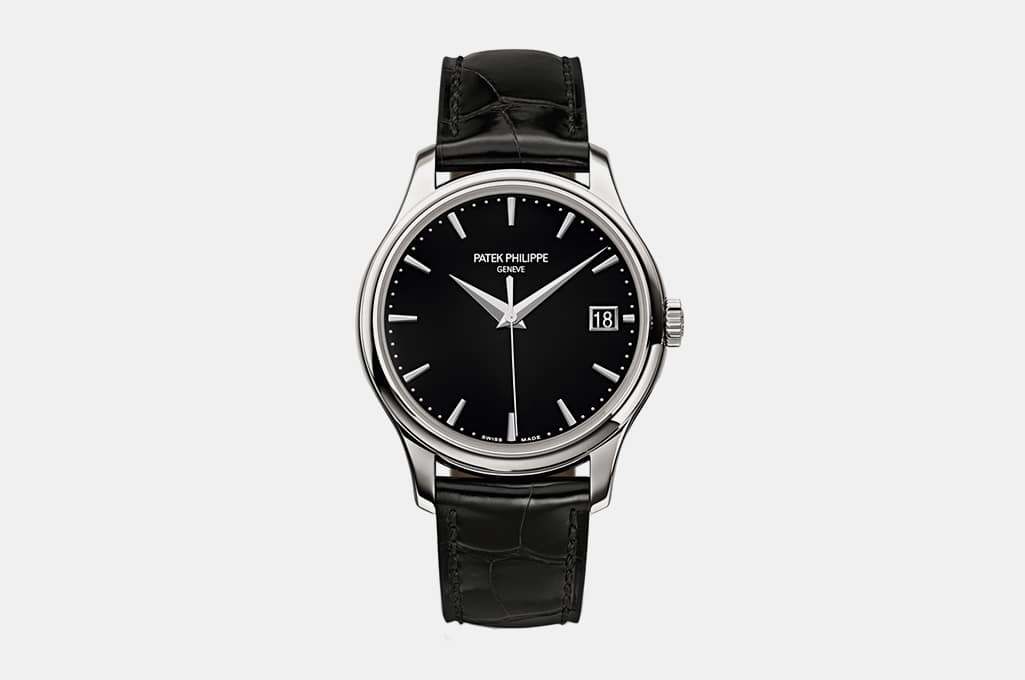 Patek Philippe 5227
This Patek strictly follows the classical dress watch rule book while sporting a sleek, minimalist design language and an excellent movement. So, both traditionalists and those with modern and efficient sensibilities love this watch. The case is white gold, the black lacquered dial has glimmery gold markers, and the hand-stitched alligator strap is elegantly scaled. It runs on Patek's Caliber 324 SC, a full rotor self-winding mechanical movement with 29 jewels. Caliber 324 SC is Geneva Seal certified, an accolade focused on the finish and beauty of the movement, which you can admire by simply opening the invisibly-hinged dust cover of the sapphire exhibition caseback.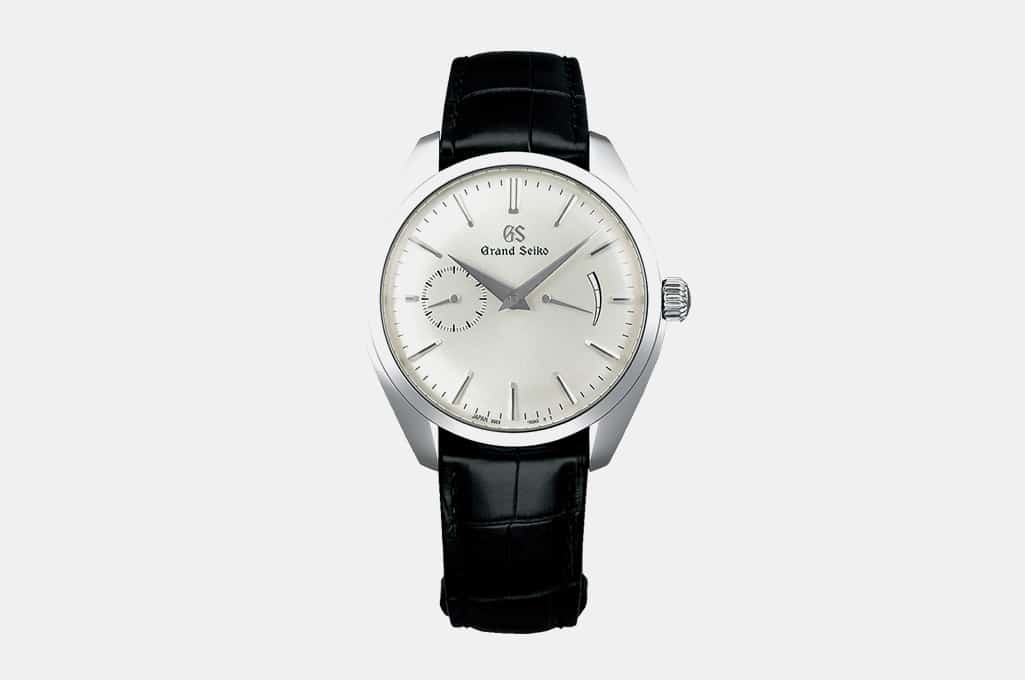 Grand Seiko SBGK007
This watch fits and feels as heavenly as its pearly white dial looks. Its case, 39mm in diameter and 11.6mm thin, slips under a dress shirt beautifully, and the supple calfskin on the underside of the strap is comfortable on the wrist. The outside of the strap is a high-gloss black alligator with a three-fold clasp. The pristine white dial is elegantly accented by the silver indices, hands, and power reserve display. This timepiece is perfect for black tie, white tie, and even no-tie occasions.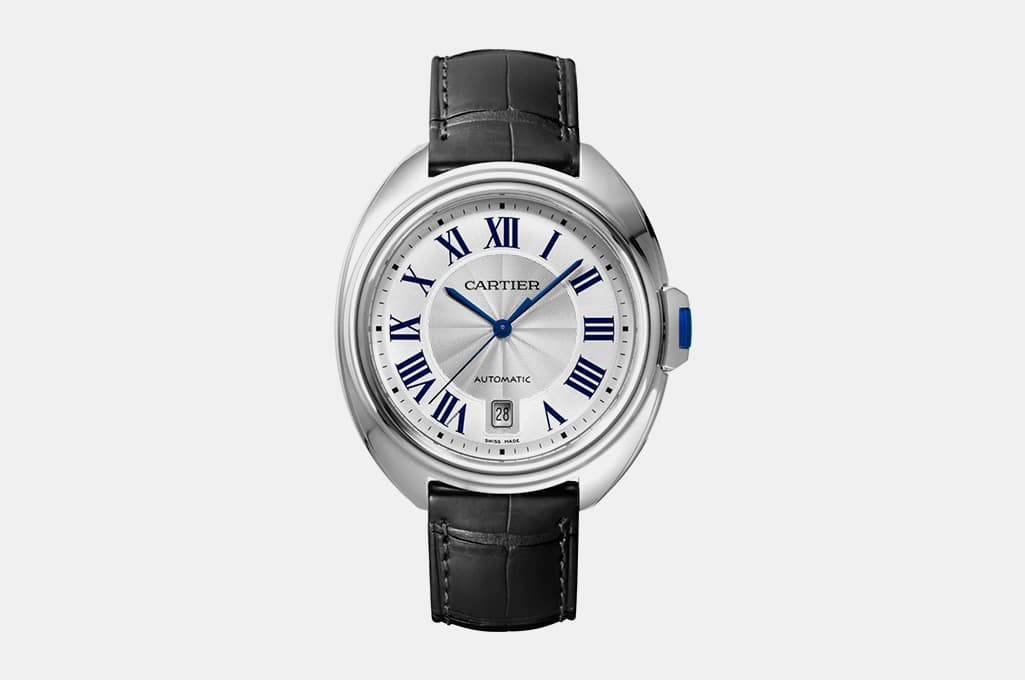 Cartier Clé
This handsome timepiece is both authoritative and elegant. It has a distinct silhouette, on-brand for Cartier, with a circular dial encased by a practical and masculine oval case. The face features sword hands made of blue steel and all the hours are marked by stately Roman numerals. However, this watch isn't just sleek lines and soft curves. It runs on Cartier's pragmatic 1847 caliber, which is built for stability.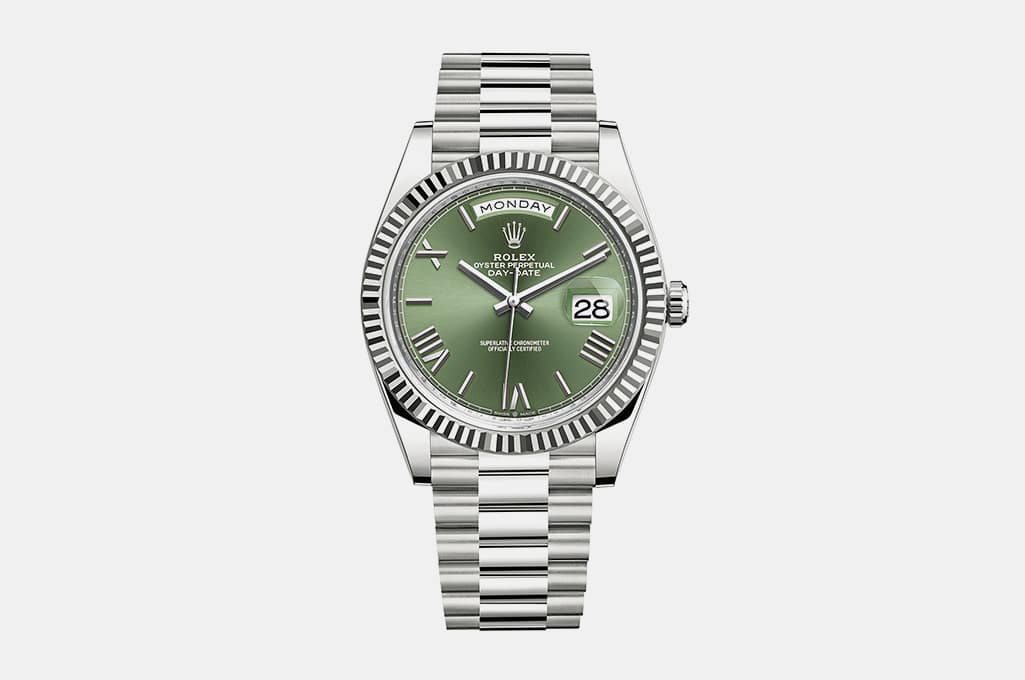 Rolex Day-Date
The "President's Watch" is instantly recognizable, especially with its legendary pie-pan bezel. It was also famously worn by President Lyndon Johnson. Despite being only available in gold or platinum, the Day-Date isn't just for fancy gents. It debuted in 1956 as the first chronometer with a date and day display, that's also waterproof and self-winding. Whether your version's indices are ceremonial Roman numerals, opulent jewels, or slick batons, the dial is thoroughly legible.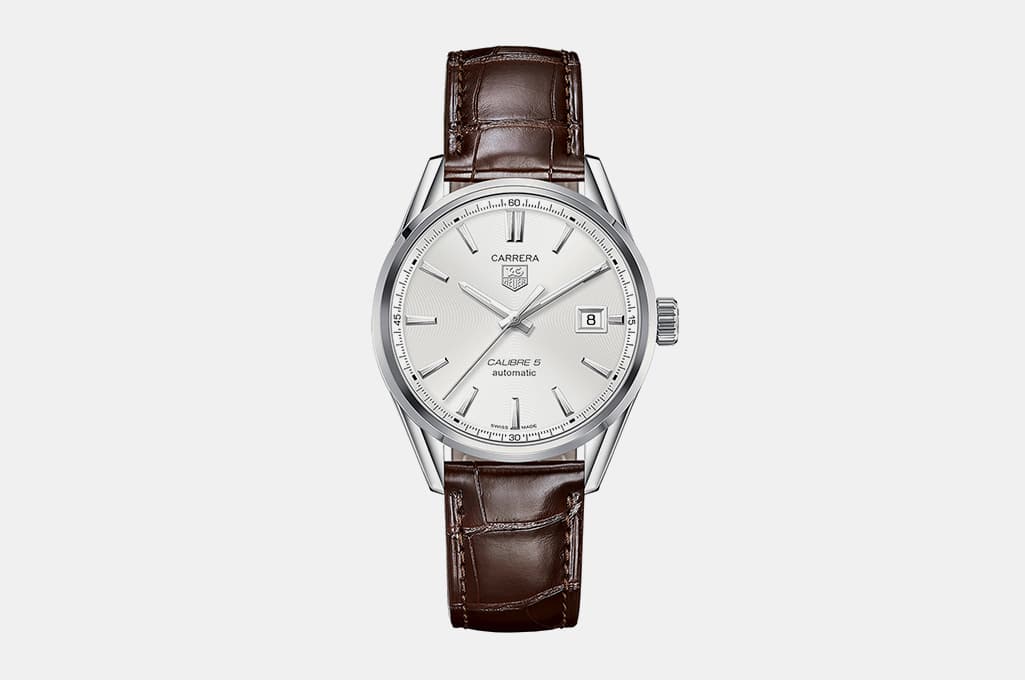 Tag Heuer Carrera Calibre 5 Automatic
This dress watch is unique because it combines the elegant minimalist face of a traditional formal timepiece with the Carrera's iconic sporty lugs. Because of its racing watch DNA, these lugs are boxy, thick, and tall with sharp edges that add a masculine quality. Moreover, the beautiful combination of the brown alligator strap with the polished steel case are reminiscent of the brown leather seats in a silver body race car, an homage to its racetrack roots.
Best Travel Watches
Travel watches come with special features specific to trekking and voyaging. This often means air travel, so being able to read multiple time zones is a common feature for watches in this category. However, it can certainly go beyond airplanes. A travel watch may have alarm features, so you don't miss your train stop, or even light up dials and GPS for sea excursions.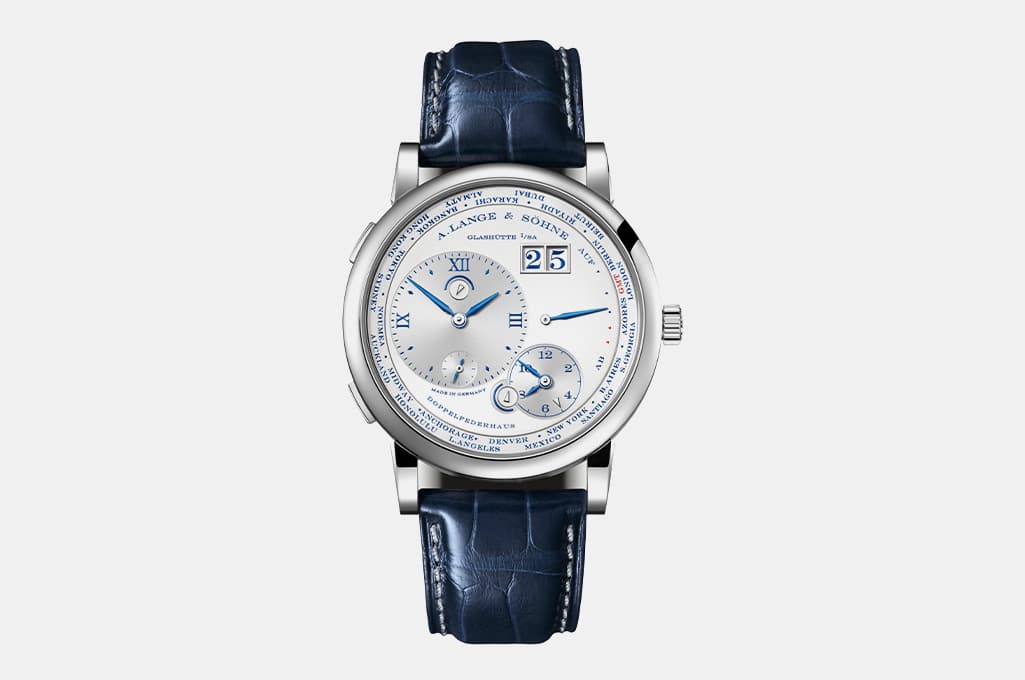 A. Lange & Söhne Lange 1 Time Zone
This fanciful watch's crown design feature is its oversized date window, which is modeled after the Five-Minute Clock of the Semper Opera House in Dresden. The 18kt gold case makes this timepiece appropriate for formal occasions, and the multiple fonts, subdials and power reserve indicator give the dial a delightful Wonderland-esque topography. The sapphire caseback exhibits the brand's manual-wind movement, stunningly placed in three-quarter German silver plate, which was invented by Ferdinand A. Lange himself.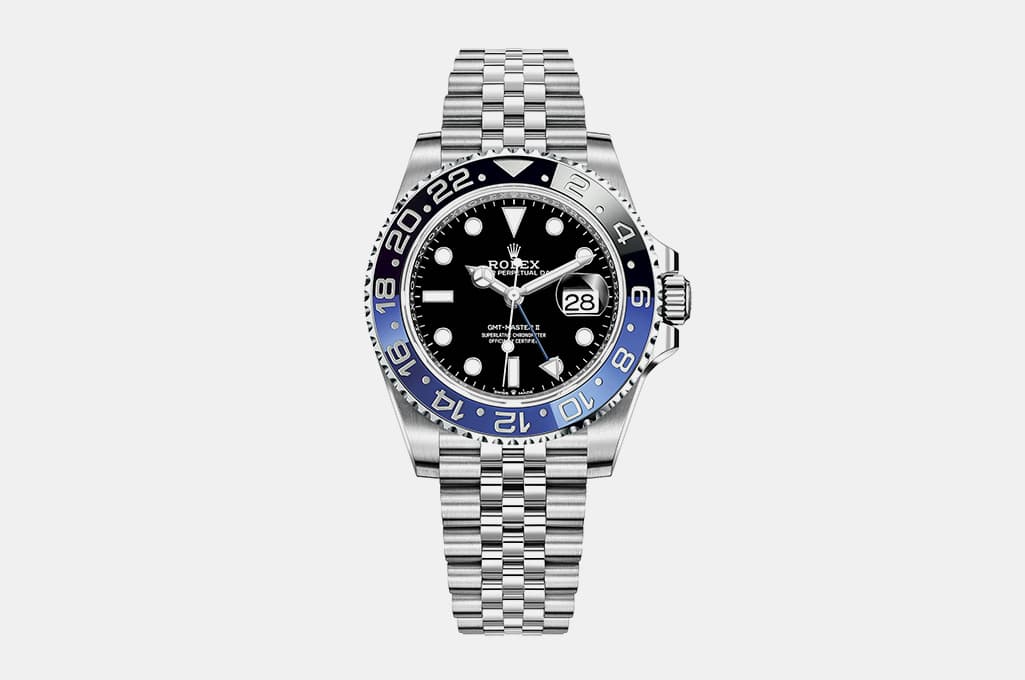 Rolex GMT Master II
The original GMT was born of a partnership between Rolex and Pan Am in 1988, designed to enable pilots to see the time in their destination and departure locations. Today there are many GMT watch models, but Rolex's Master II is still the criterion, the red and blue "Pepsi" version being a fan favorite. Contemporary Master IIs are waterproof at 100m, feature a cyclops window over the date, and often par with the ornate five-link Jubilee bracelet. Go for this historically important watch if you're nostalgic or love a good gadget.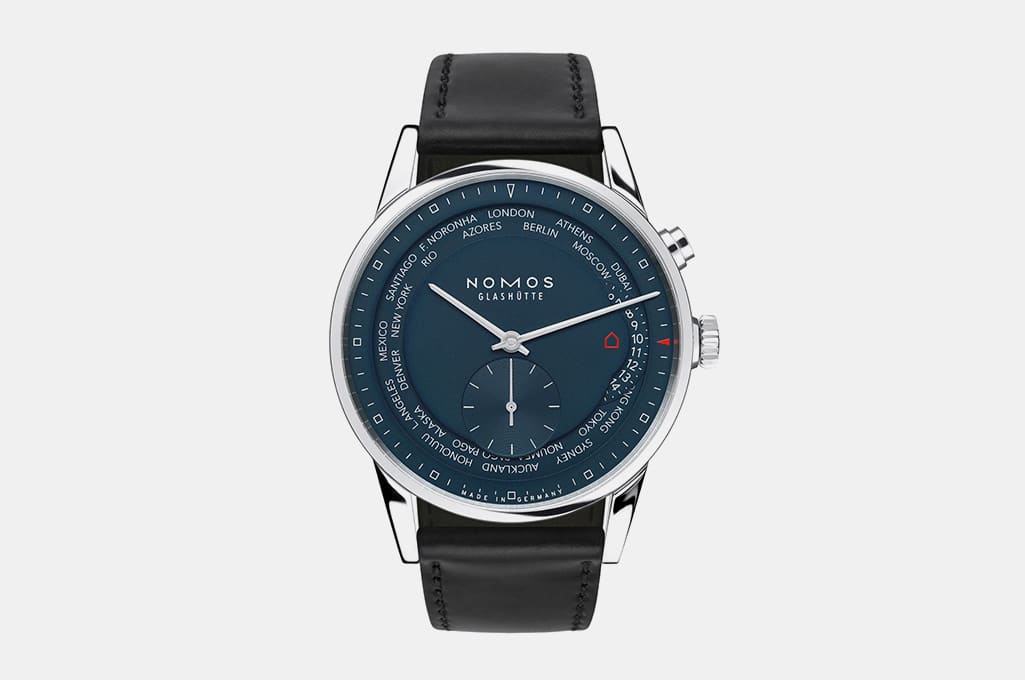 NOMOS Zurich World Time
NOMOS Glashütte's Bauhaus design philosophy is all about infusing industrial production with authentic hand-crafted art. In fact, their chronometry technicians make a majority of the watch parts by hand, which makes this already impressive travel watch even more extraordinary. The Zurich World Time is automatic, multilingual, and, with just a click, it can tell you what time it is almost anywhere from Dubai to Brazil. The midnight blue dial adds character and fun, but maintains the overall professional look.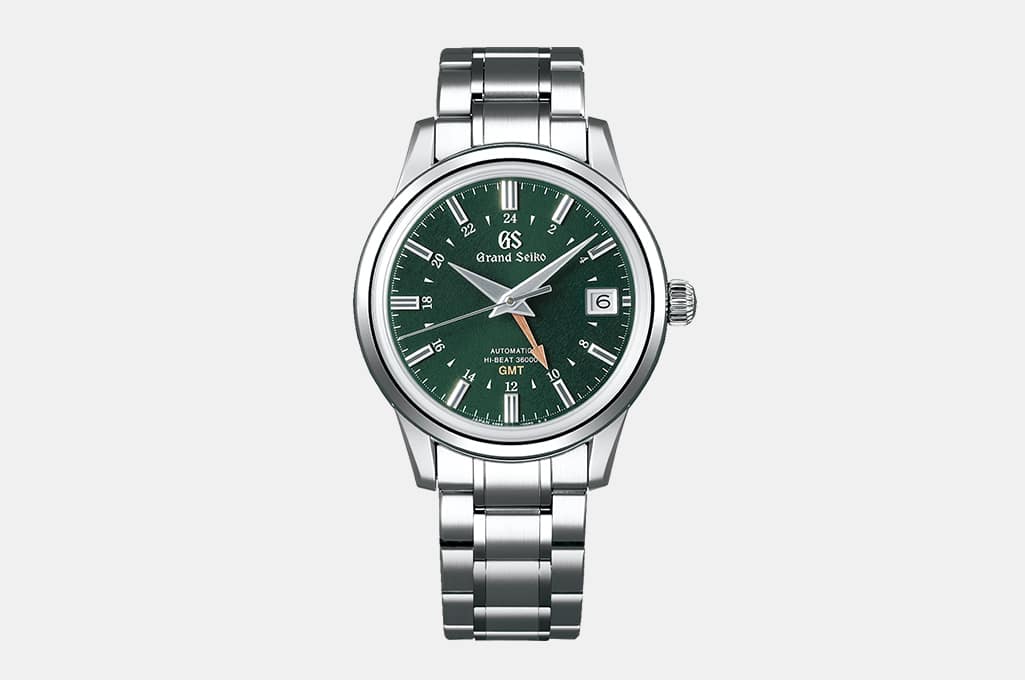 Grand Seiko GMT SBGJ251
Grand Seiko leans into its Japanese roots with this conceptually poetic timepiece. The aesthetic is a celebration of seasons, representing the spring equinox and blooming cherry blossoms with its rich green dial and rose gold accents. Besides its unique and striking color combination, the SBGJ251 also has a 24-hour hand for dual time display, calendar-linked time difference adjustment function, and a 37-jewel automatic movement making it an efficient watch to travel with.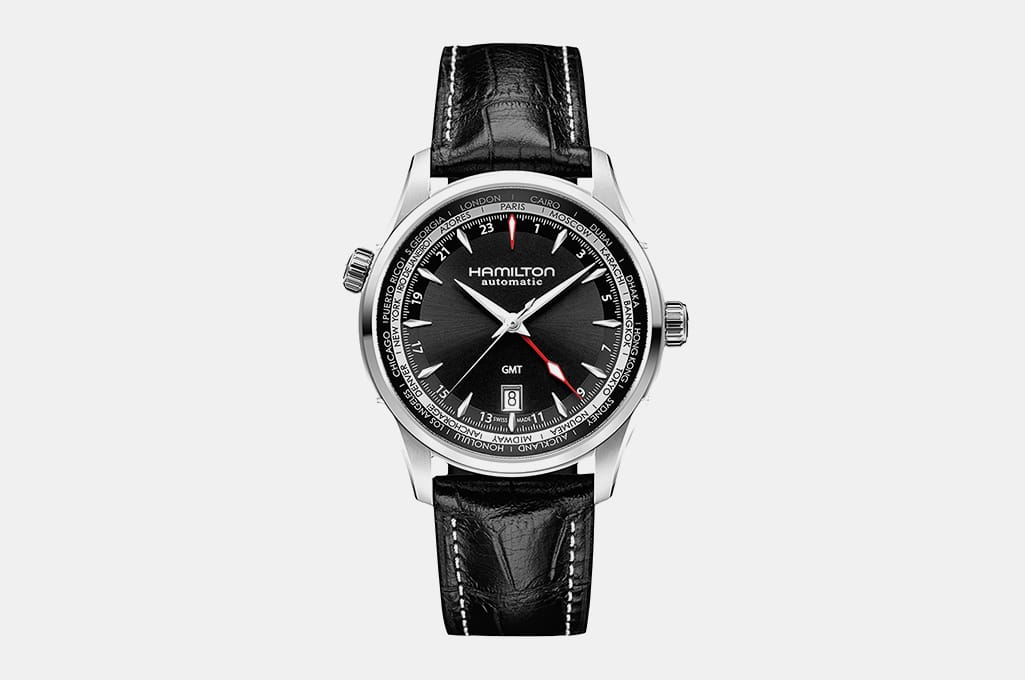 Hamilton Jazzmaster GMT Auto
While most travel watches focus on the glittering glamor of jet setting, this Jazzmaster is so tasteful it could even be worn as a dress watch. It's best qualities are understated and subtle, including the dark grey sunburst on the dial, the two-color chapter ring, and the outer ring's silky smooth rotation. Go for this watch if you want a classy and versatile GMT watch that's pure class.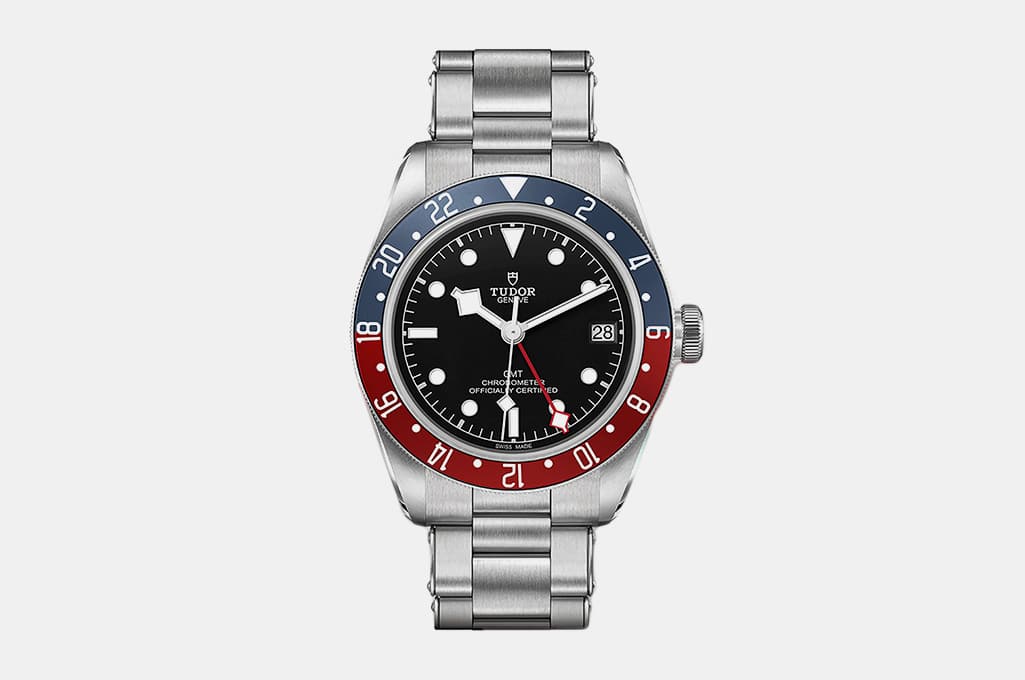 Tudor Black Bay GMT
This watch is a combination of Tudor's 1950's dive watches, sibling Rolex's GMT Master II, and several of Tudor's best practices from the past few decades. The result is a high-function GMT watch with 200m of water resistance, a steel screw-down winding crown, a bidirectional 48-notch bezel, and a COSC-certified movement with 70 hours of power. If the Master II is the GMT world's gold medalist, then the Black Bay is definitely its silver.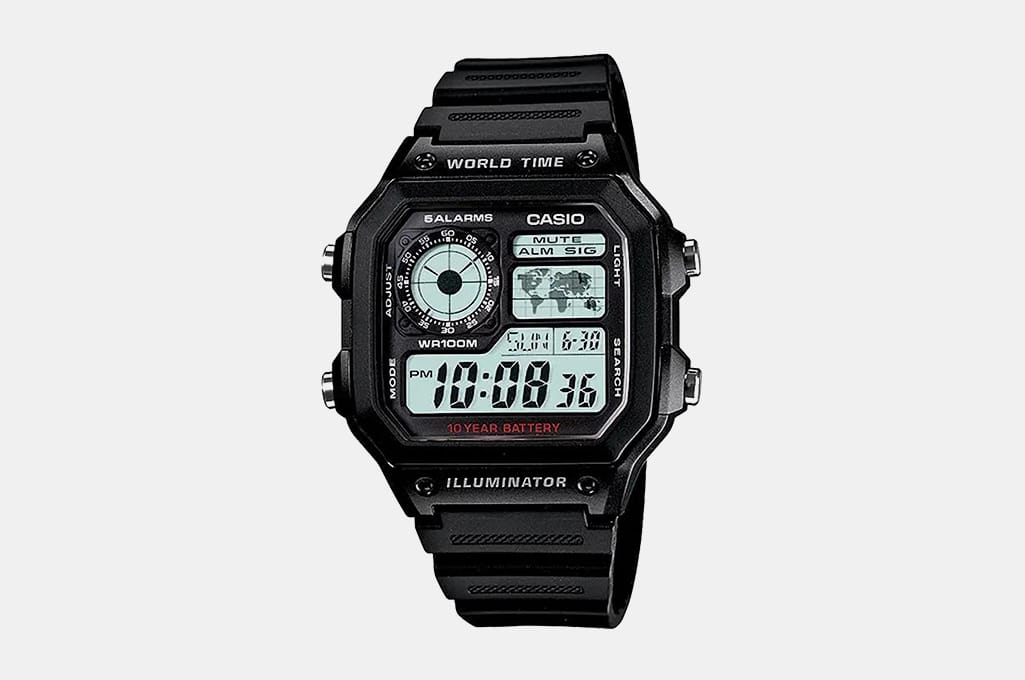 Casio AE1200WH-1A
This shockingly affordable watch is actually cooler than the luxury options in a few ways. It's resin construction, digital face, 10-year battery life, and quartz movement make it the most practical travel watch. Unlike any analog watch, it has a handy four-zone multi-time display, and a world map that indicates your selected time zone. On the style front, it strikes a Mission: Impossible tone, but actually looks nigh similar to Roger Moore's Octopussy watch.
Best Smart Watches
A smartwatch is a wearable with a touchscreen that you can use to access apps, the internet, fitness trackers, and, of course, the current time. Seiko introduced the Ruputer in 1998, which was the world's first, very elementary, smartwatch. The 2010s saw a boom of wearables aimed at athletes and technology buffs who were interested in step-counters, heart rate trackers, and navigation. This all culminated to the 2017 release of our first entry, the Apple Watch, the industry's barsetter.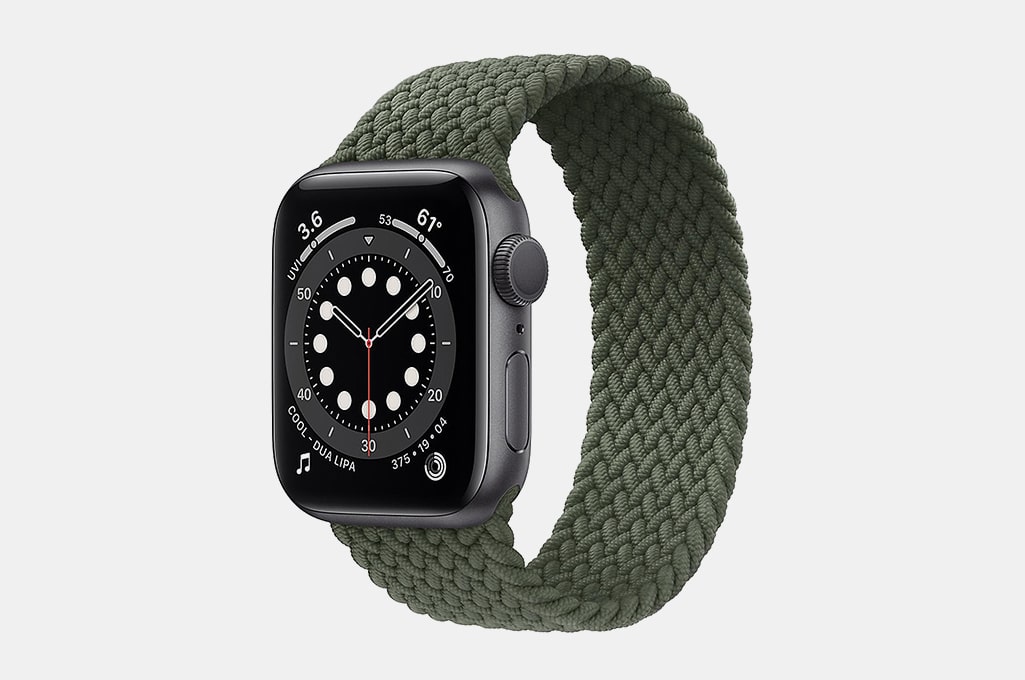 Apple Watch
With a sophisticated and exhaustive set of features and a ubiquitous modern aesthetic, the Apple Watch is considered the smartwatch gold standard. It comes with athletic apps and intuitive and nuanced body trackers, including a detector for changes in your blood oxygen level, which is a critical health metric. Every Apple Watch features a built-in GPS and compass, and a heart rate sensor. Compared to the Series 3, the Series 6 additionally features an always-on screen, family set-up support, and a heart rate sensor that's electrocardiogram-capable (ECG). An ECG checks for heart conditions by recording the electrical signal from your heart.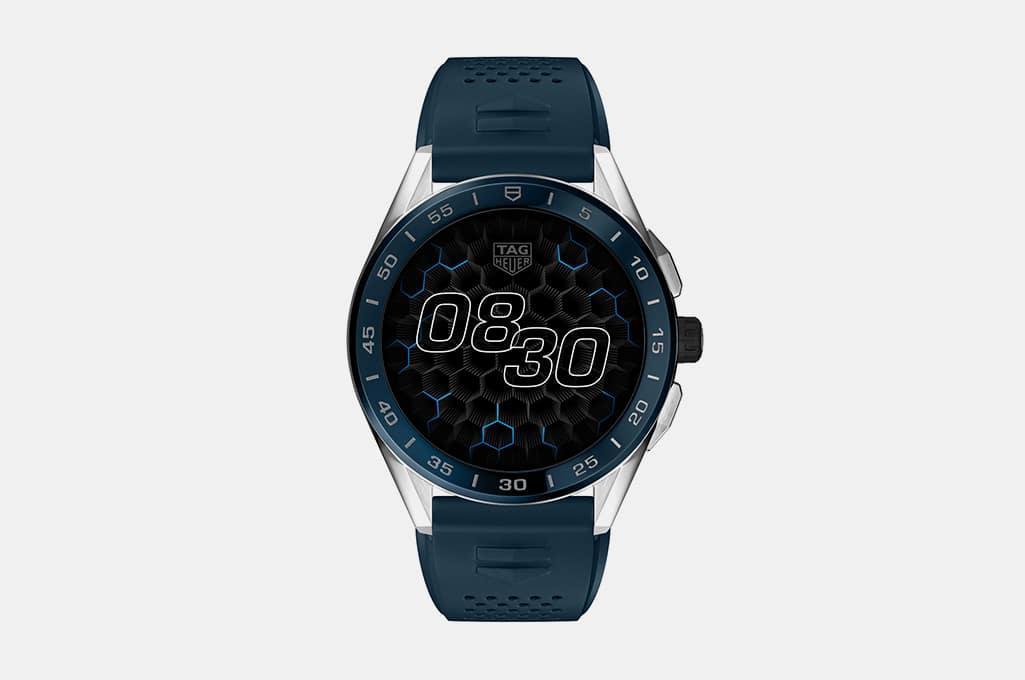 Tag Heuer Connected
The Connected features all the fitness trackers of a modern smartwatch, but its case is designed like a traditional luxury sports timepiece. It's constructed with polished and fine-brushed steel, a blue ceramic bezel, and a scratch-resistant sapphire crystal. The in-house TAG Heuer Sports app is accessible on the 45mm touchscreen dial, and measures heart rate, distance, speed, pace, and route tracking. If you want some Swiss heritage with your smartwatch, go for the Connected.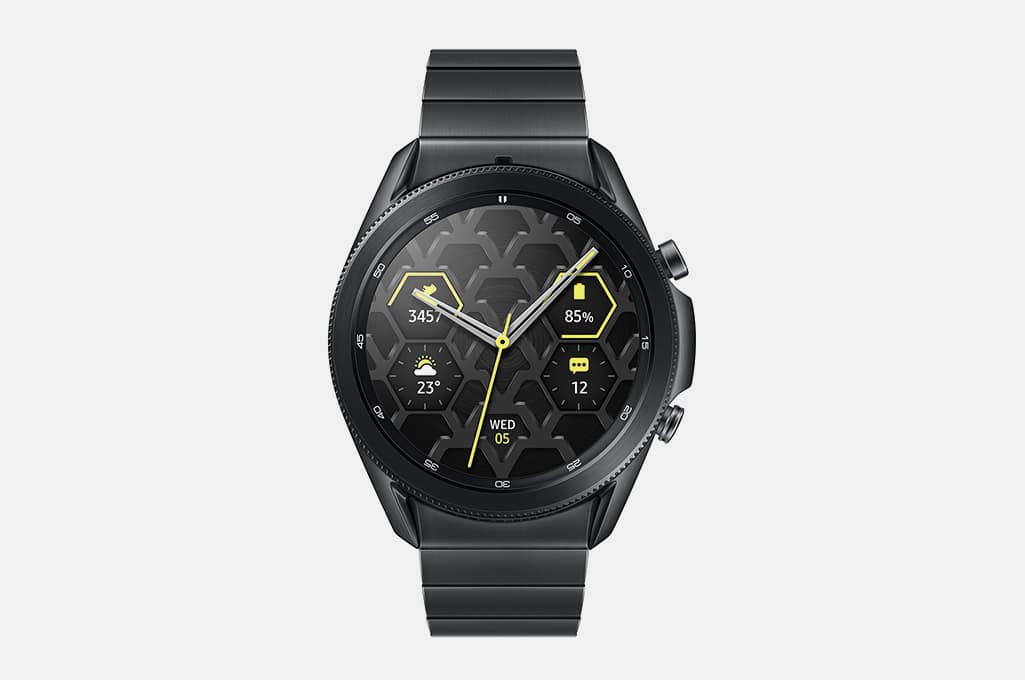 Samsung Galaxy Watch 3
This Android-powered wearable's biggest strengths are its especially sharp screen and its ability to motivate you to move. Even if you're sitting on the couch watching the game, it'll suggest exercises you can do right there, without getting up. So if you're going the smartwatch route for athletic reasons, the Galaxy Watch 3 is definitely one part personal trainer. It features a round case, rotating bezel, and all of the same tracking features as an Apple Watch.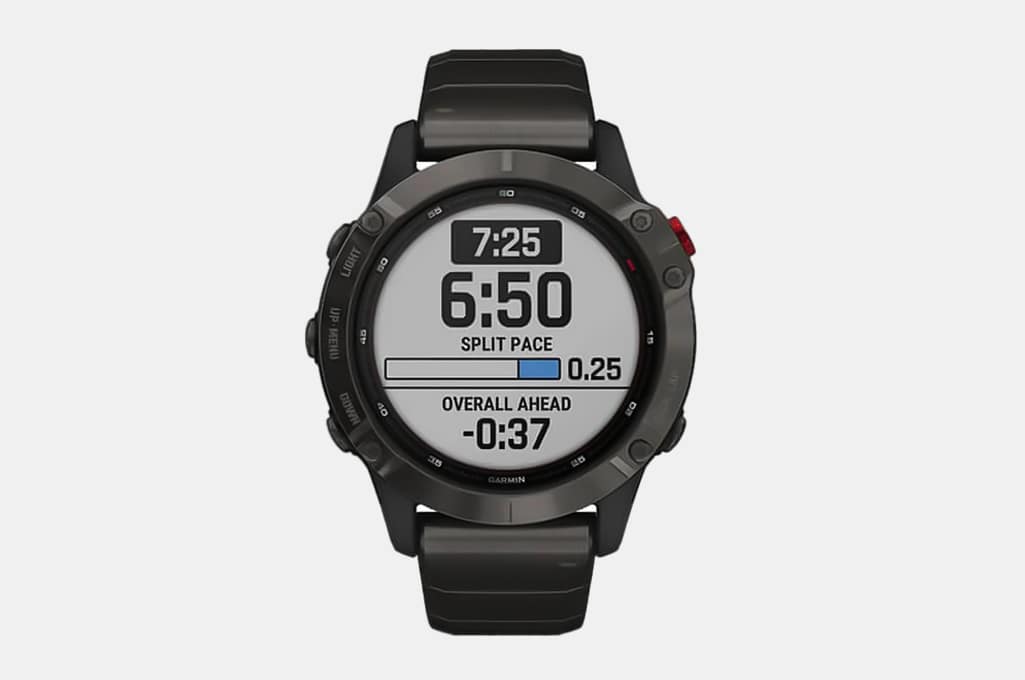 Garmin fēnix 6
This Garmin is basically a high-tech mountaineer's watch, making it perfect for you if you're looking for an athletic smartwatch that's built to last. The bezel and band boast a titanium construction with diamond-like carbon (DLC) coating for maximum durability, in a carbon gray finish for a cool Batman-like style. It's preloaded with over 2000 topographic maps and trail maps, and comes with incident detection. It has three navigation systems, GPS, GLONASS, and Galileo, in case one satellite or another isn't in view.
Best Tactical Watches
A tactical watch must have the functions and durability to serve extreme sportsmen and security or military forces. It's a combination of an athletic watch and a field watch, and can fully operate in intense outdoor situations, whether that's jumping off a plane or extreme weather. Some common features include long battery life, maps, remarkable durability and luminescence, and perfect accuracy.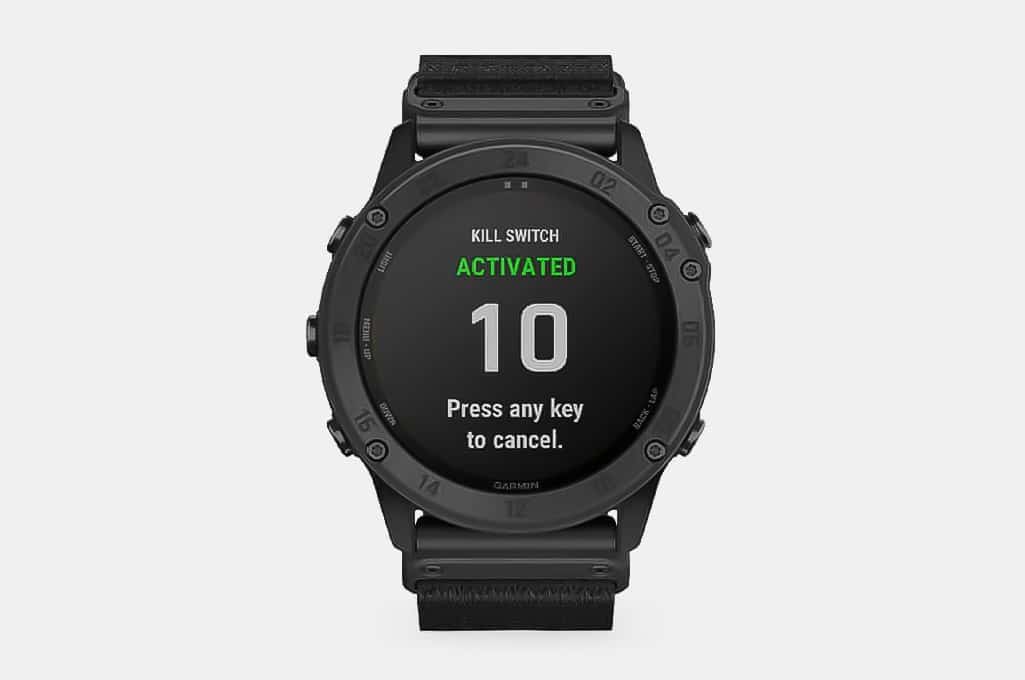 Garmin Tactix Delta Solar Edition with Ballistics
When it comes to tactical watches, Garmin has served up some ultimates and the Tactix is one of the best timepieces for outdoorsmen. Its special feature is the AB Elite software that allows you to calculate long-range field shooting. It also features a 24-day battery life in smartwatch mode and an excellent night vision compatibility, among other impressive tactical-specific features.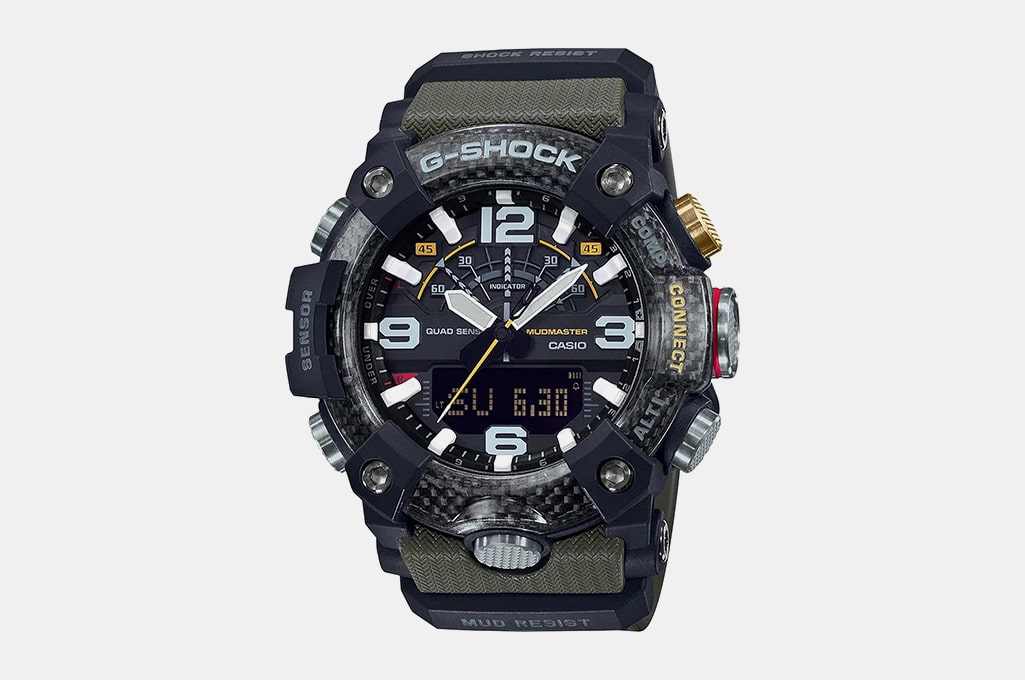 Casio G-Shock Mudmaster
Made for severe environments, the Mudmaster is built with high-rigidity carbon for protection, metal button pipes to protect against external weather conditions, and even a filter in the event of mud and dust. This allows the compass, altitude/barometer, temperature measurements, and accelerometer to function unaffected regardless of what comes at it. It also has a tough-guy aesthetic and legible analog-digital combination face.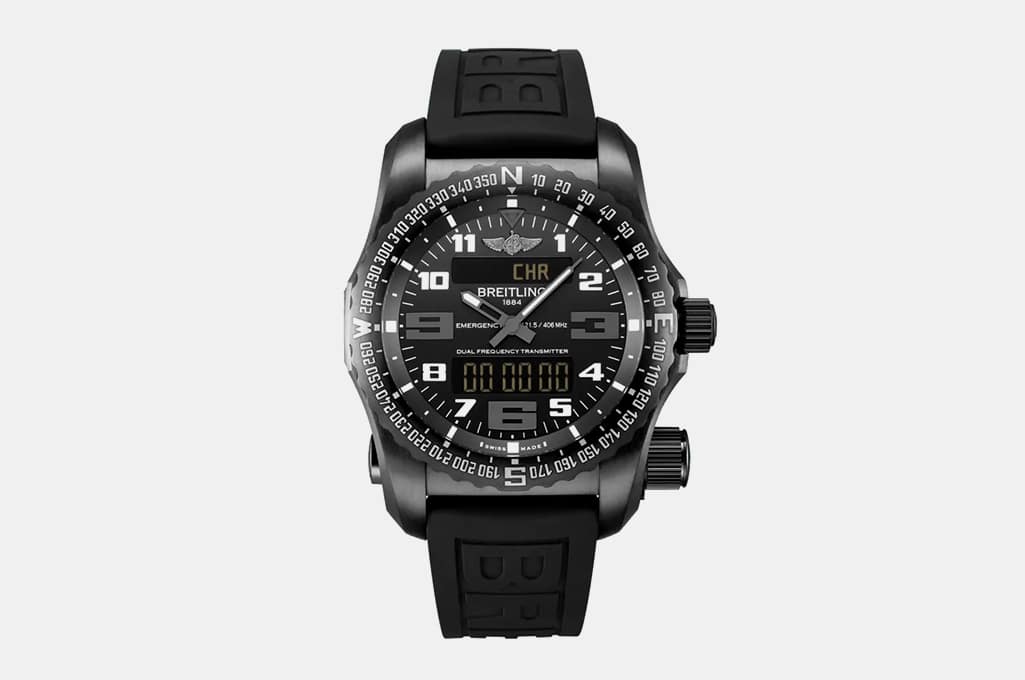 Breitling Emergency
This true professional timepiece features a genuine dual-frequency distress beacon, and is the world's first wristwatch to be built with one. It's a useful tool if your adventures take you off the beaten path often, or if you're on active duty. Moreover, Breitling reins in the usual rough and tumble tactical watch style with something a tad sleeker here, so it's also a dashing accessory to flaunt.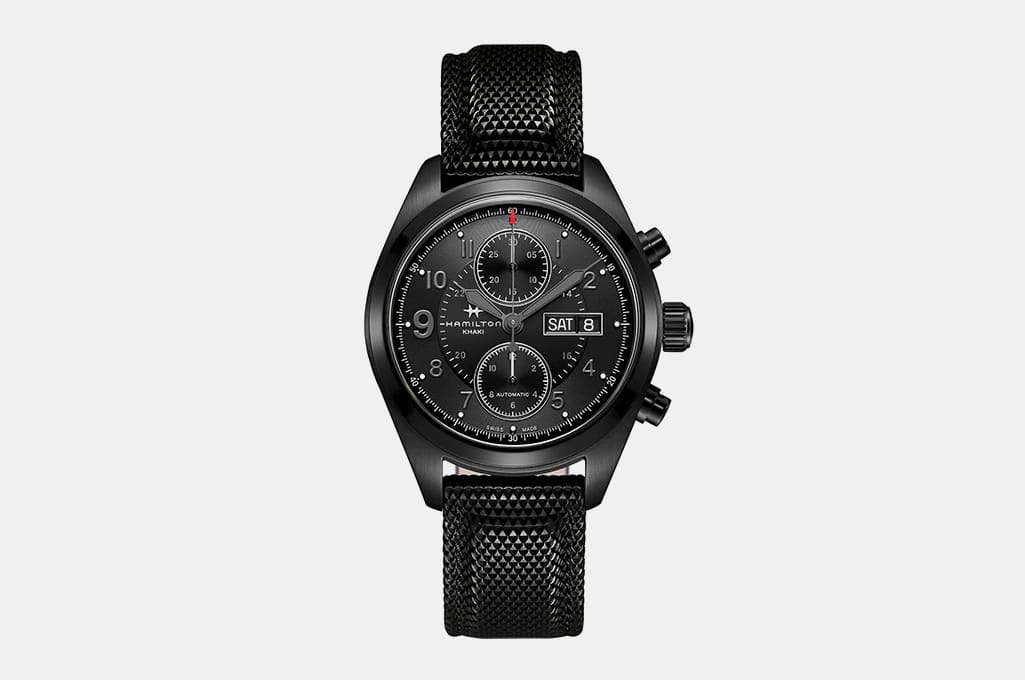 Hamilton Khaki Field Auto Chrono
The layers and contrasting textures throughout the face of this Khaki Field distinguish it from other blacked-out watches because of its surprising legibility. The PVD coating makes it extra durable, and the stable 80-hour automatic chronograph movement makes it extra reliable. Its robust rubber strap is also textured, giving it a sophisticated complexity, so the whole package is as stylish as it is useful.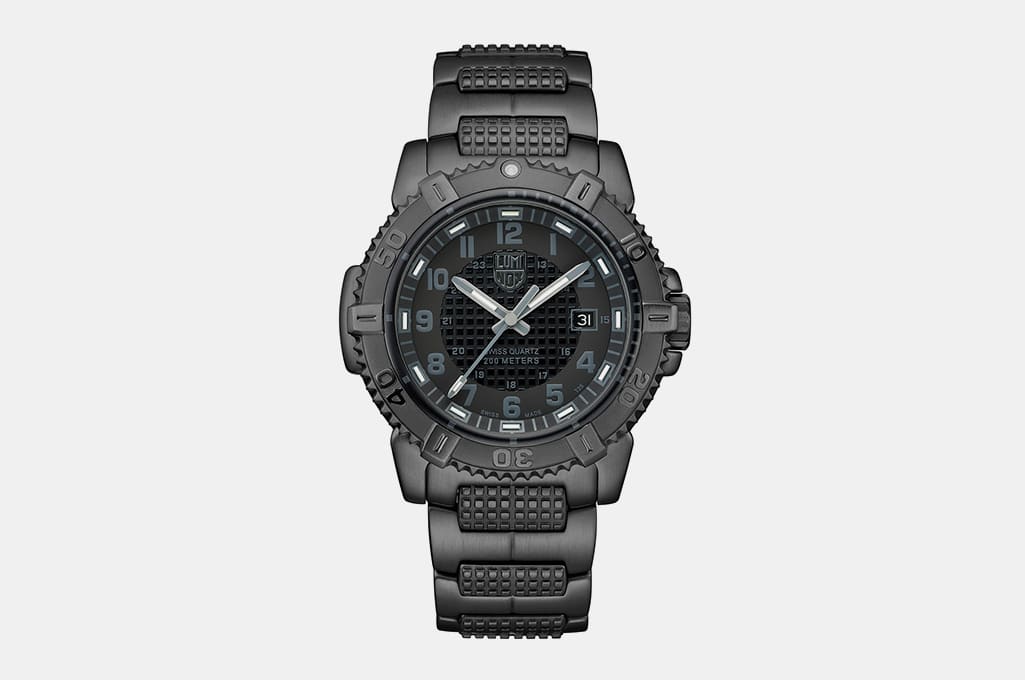 Luminox Modern Mariner
This Swiss workhorse is equipped with tritium tubes that provide an always-on lume that glows for up to 25 years without any light source or battery. It's built with a tank-like PVD-plated stainless steel case, a scratch-resistant sapphire crystal, and a laser accurate quartz movement. It's no wonder that Luminox has been trusted by special forces and police and fire departments for over 20 years.
Best Quartz Watches
Quartz watches use an electronic oscillator to keep time. It's regulated by a quartz crystal and provides a precise frequency far more accurate than mechanical movements. When Seiko debuted the world's first quartz watch, the Astron, in 1969, the horological word experienced a revolution now dubbed "the quartz crisis." Not only are quartz watches more accurate, they're more affordable too.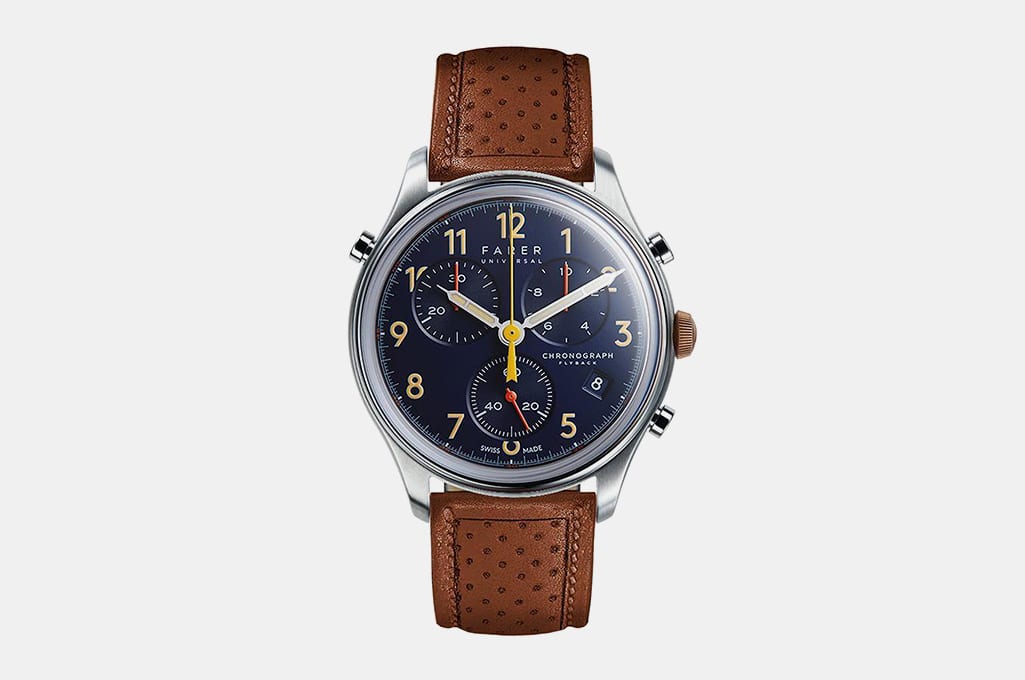 Farer Ainsdale Chronograph
This charming vintage-inspired racing watch sports a high-gloss deep blue curved dial with a delightful orange Super LumiNova. The recessed subdials have brighter orange hands creating a playful cool color/warm color contrast throughout. It comes with several strap options including multiple perforation styles and leathers in blue, tan, and black, each fully transforming the watch. Go for this timepiece if you have fun mixing, matching, and experimenting.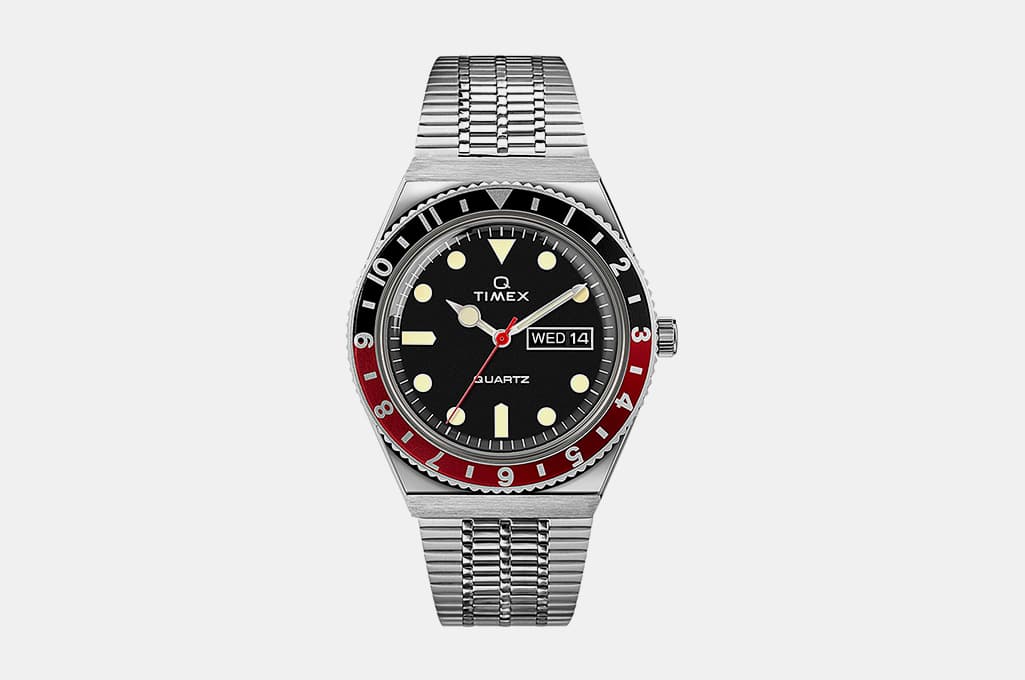 Q Timex Reissue
Timex is the patron saint of the cool guy. This remix of the popular Q Timex 1979 Reissue fully owns that by incorporating all of their popular design features like they were unlimited pizza toppings. As Timex describes it, "everything you loved, and then some." It has a functional battery hatch, a domed crystal, the black and red rotating bezel, and that unusual woven stainless steel bracelet that really makes this watch stand out.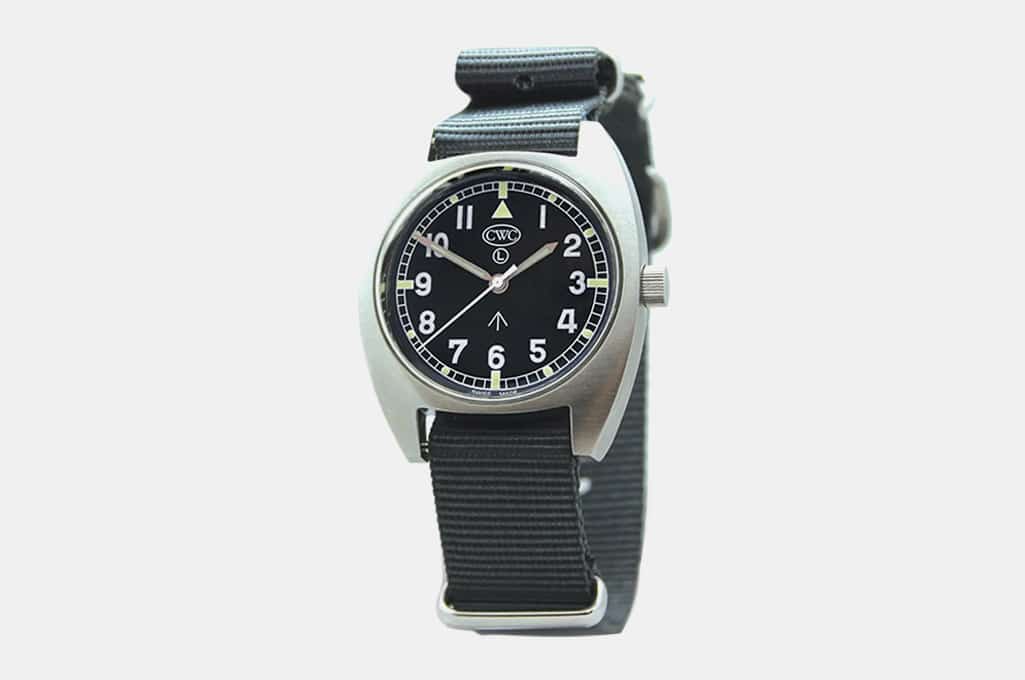 CWC T20 General Service Watch
This practical timepiece features the distinct tonneau shape that was specified for the British forces in 1980. At 38mm, its stainless steel case will sit comfortably on most wrists, and each case back is marked with a NATO number and an individual serial number for a sense of officialness. Its Ronda 715 movement is a Swiss-made 5-jewel quartz that's accurate and reliable. If you want a sensible casual watch with a unique look, go for this guy.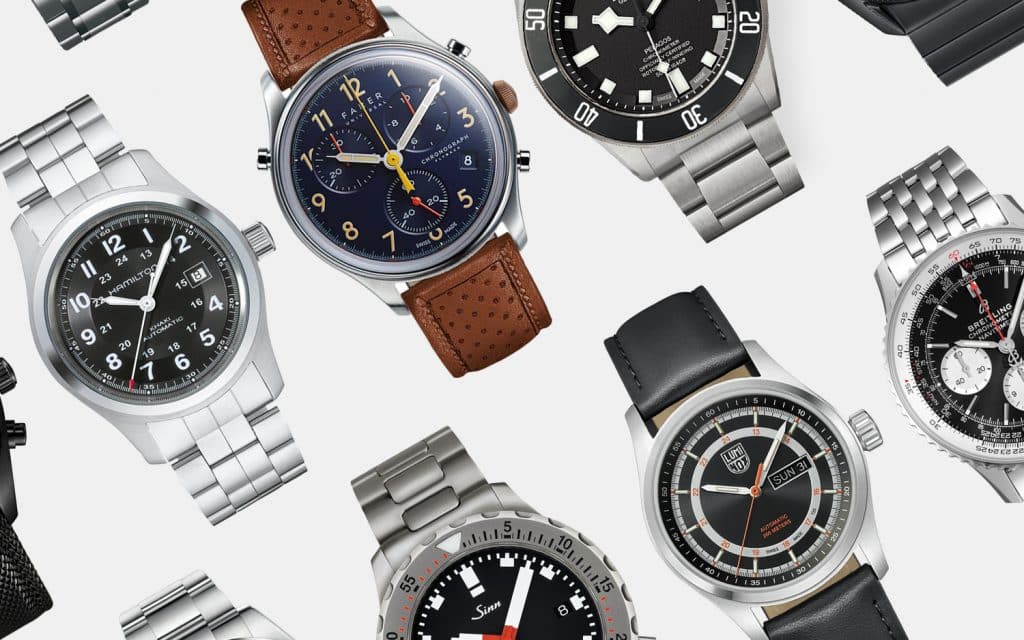 Disclosure: Clicking on these links and making a purchase may earn us a small referral fee, at no extra cost to you. Learn more here.
freestar.config.enabled_slots.push({ placementName: "gearmoose_leaderboard_btf", slotId: "gearmoose_leaderboard_btf" });