Truly, the history of the Rolex GMT Master begins before its debut, on July 15, 1954. This was the day that a Boeing 707 prototype took off for the first time. Soon after its maiden voyage, Pan American Airways made two important requests: From Boeing, 20 jetliners for Transatlantic use. From Rolex, a wristwatch that could be used to track multiple time zones.
As if overnight, the world was thrust into the Jet Age. The Rolex GMT-Master encapsulated this glamorous and bold new era, standing out from its siblings in the litter. Compared to the Rolex Submariner and Milgauss (which came out the same year), the GMT's 24-hour hand made it the only Rolex '54 debutante with a complication. Secondly, its red and blue bezel was daring then and iconic now.
When the updated GMT-Master II debuted at 2018 Baselworld, this Pepsi bezel design graduated from retro-cool to timeless. The road getting there was certainly a winding one though.
The Design: Come Fly With Me
In the 1950s, Pan Am was the largest international airline. Several of their most experienced pilots, who were already required to wear accurate and legible wristwatches, worked directly with Rolex to build the first GMT-Master, reference 6542.
The red portion of its 24-hour bezel indicates PM, while the blue half signifies AM. The dial's extra GMT hand is recognizable because of its length and red color. It points to the time on this two-tone bezel.
The inaugural reference 6542 also featured an easily cracked bakelite bezel, lumed indices, a black gilt dial, and no crown guards. Its case was 38mm, which was large for its time.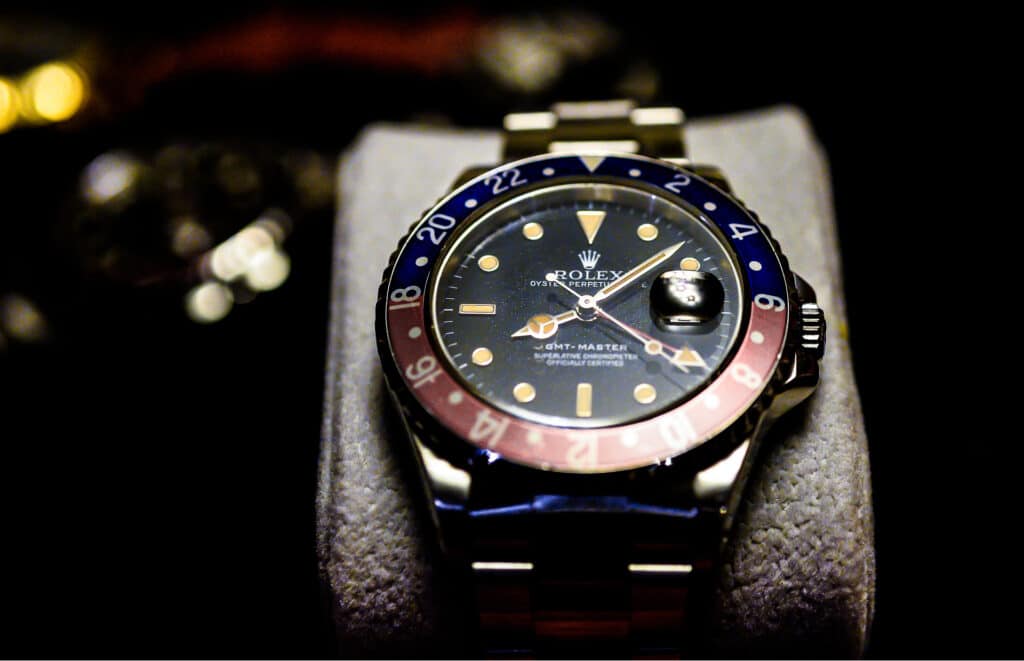 GMT refers to Greenwich Mean Time, the exact time in London's Greenwich borough. In 1884, the Meridian Conference was held to determine a prime north-south line for astronomy. Greenwich, having zero longitude, was chosen as the "prime meridian" also making it the center of time in the world.
While the GMT was designed for pilots, 1958 marked the beginning of the Boeing 707's service on the New York to London route. Non-pilots would soon know jet lag. This was also the year that Sinatra released a croon asking everyone to fly with him to Bombay for some exotic booze. It was official—Well-heeled travelers preferred jets to boats, Frank's "Come Fly With Me" was a certified hit, and so was the Rolex GMT-Master.
The Original 6542
Towards the end of its production, the original 6542's luminous bakelite bezel was replaced with a more durable aluminum. Today, these bakelite GMT-Masters are scarce collector's items. This is partly because they were fully recalled after a Naval officer claimed the lumed bezel made him sick.
Even within this one reference number, 6542s varied quite a bit. Rare earlier models featured the "GMT-Master" appellate in pink. Some had narrower edges and bevels, while others had broad ones. A few 6542s even had a long-neck Mercedes hand like the Submariners of the time.
A 6542 with bigger lume plots are referred to as Big Lume GMTs with a Maxi dial. This was a moment of experimentation for Rolex, as they soon reverted back to smaller lume plots. Other experiments include an 18k gold GMT and the use of alpha hands instead of the recognizable Mercedes hour-stick second combination.
References Through Time
Between 1959 and 1980, the 1675 came along. This long-running reference established a lot of the design language in today's GMT-Master including a longer GMT hand and crown guards. Around 1966, the reference 1675s would switch out the original gilt dials for matt dials, which is a defining line of demarcation for collectors.
You don't stay in production for two decades without some wild left turns though. An all-black model, the "Rootbeer" variation, the rare "Blueberry" variation, and the "Pink Panther" all surfaced during the 1675 reference era.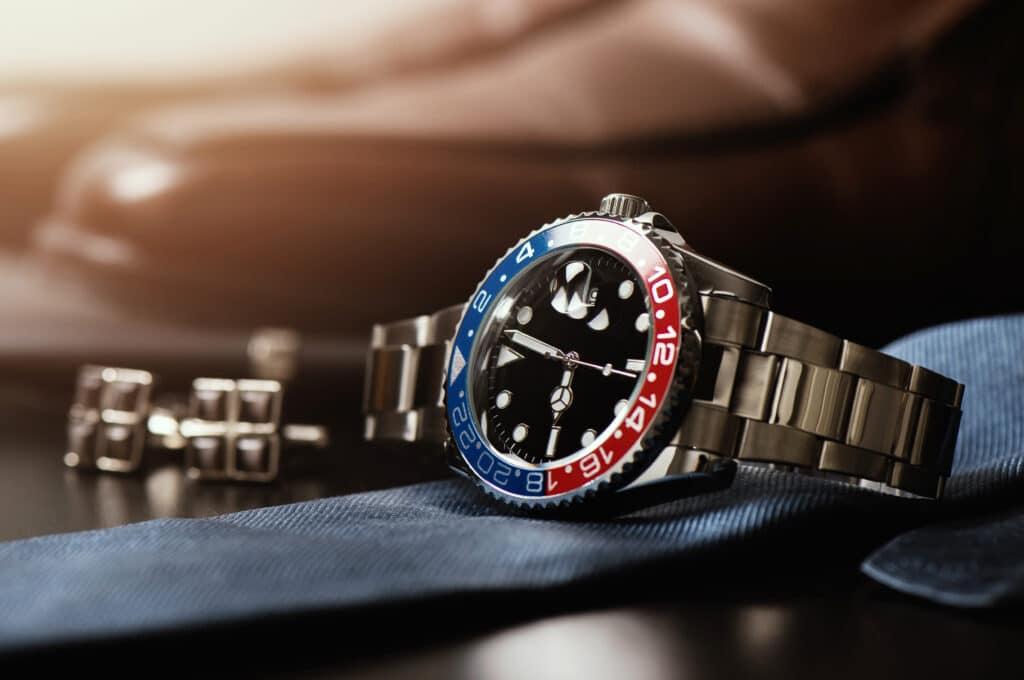 This was also the first time we'll see the GMT-Master on a Jubilee bracelet. To put into context how unconventional this was, the Jubilee was designed for the Rolex Datejust. This watch is so formal, it's considered a huge flex even on the wrists of the fanciest men. The Jubilee bracelet was originally made in solid gold exclusively. Its thin, rounded links easily catch light, making it exceedingly glimmery.
Other 1675 variations include the OCC dial and the SCC dial. OCC stands for "Officially Certified Chronometer" signifying the 1535 caliber, while the SCC "Superlative Chronometer Certified" dial means it runs on the 1565 movement. The 1565 introduced microstella regulation which vastly improved the movement's regularity.
In 1980, the glossy-dialed reference 16750 came out with an updated 3075 caliber, which boasted a quick-set date and an increased ticking number of 28,800 vibrations per hour.
The GMT-Master II: Pepsi vs Coke
The GMT-Master II skyrocketed in popularity in 1983, with its independent hour and 24-hour hands. Unlike the original Rolex GMT Master, travelers could now check a third time zone. 
Curiously, the GMT-Master stayed in production until the '90s. No one really knows why, but a safe assumption is that the last GMT-Master "one", reference 16750, was a good affordable offering next to the Master II.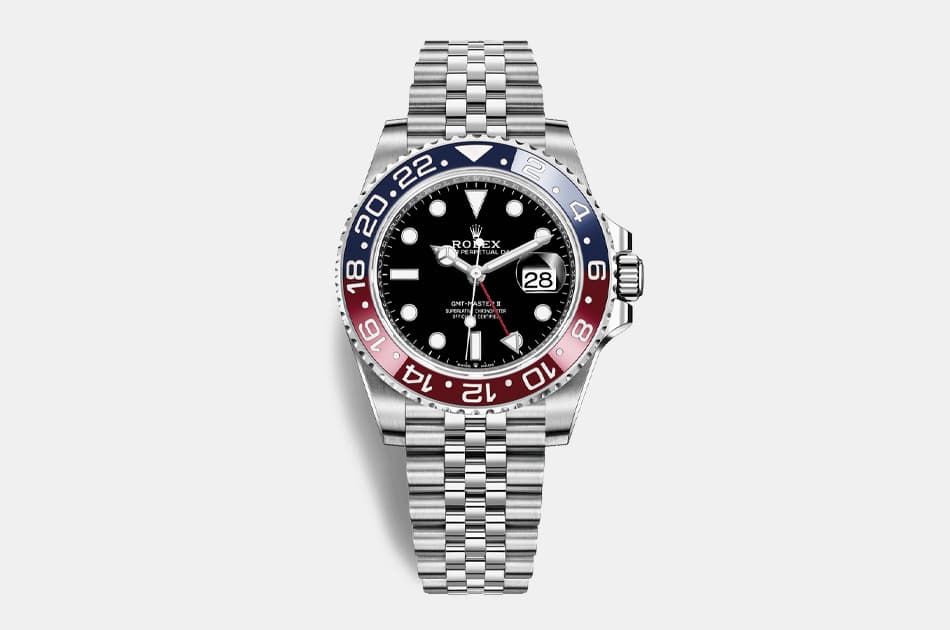 The GMT-Master II also introduced the world to the Coke bezel, a black-and-red counterpart to the classic blue-and-red. A new, chunky caliber called for a thicker case, which earned this variation the moniker of "Fat Lady." Moreover, to Jayne Mansfield's chagrin (or delight, perhaps), this curvy model is also called the "Sophia Loren."
Modernizations, Batman, and Back to Basics
The late aughts brought in a lot of necessary modernizations. Rolex couldn't carry on making GMT-Master IIs without upgrading its bezel from aluminum to ceramic, which was glossier and more scratch-resistant. Ceramic, however, couldn't be made satisfactorily in vibrant red shades. Sadly, this meant retiring the Pepsi bezel.
A consolation prize of sorts, the upgraded Master II came in a blue-and-black bezel, lovingly referred to as the "Batman" watch. It came out in 2013 and was the industry's first two-tone ceramic bezel. It also boasted a firmer 24 clicks. Today, Batman is one of the most sought-after GMTs out there.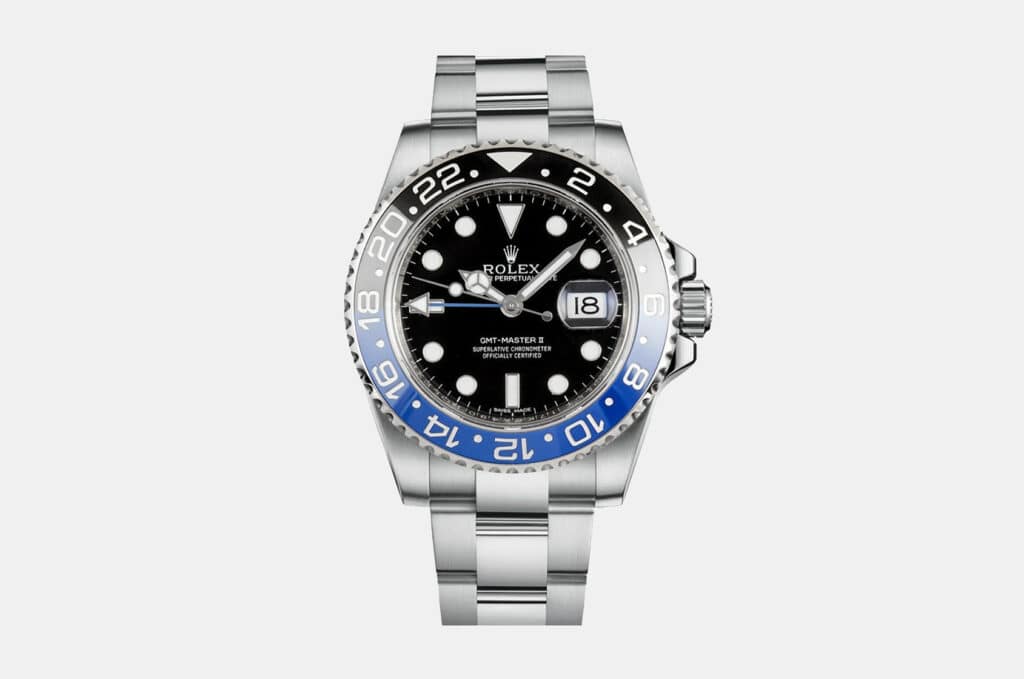 After ten years in a Pepsi-less existence, Rolex innovates again. This happened on the heels of their now patented cerachrom bezels. Cerachrom is a dynamic ceramic that's also famously unaffected by the sun's rays, meaning its colors stay vibrant forever. More importantly, they mastered the art of red cerachrom, effectively setting up the Pepsi bezel's comeback.
In 2014, the new white gold Pepsi GMT-Master II on a Jubilee bracelet was released. Then in 2018, the new and improved stainless steel version made its debut at Baselworld. The GMT-Master II had gone back to basics—but better.
The Legacy of the GMT-Master
The GMT-Master didn't necessarily need celebrity endorsements to reach icon status. Playing a pivotal role in the Jet Age, of course, is sufficient. That doesn't mean it didn't make its rounds in pop culture though.
Honor Blackman's Pussy Galore famously wore a GMT-Master in Goldfinger. Pablo Picasso, who might know a thing or two about color, was a fan of the original red-and-blue. It also gets cool factor points for making a cameo on Marlon Brando's wrist in Apocalypse Now and being Tom Selleck's go-to in Magnum PI. In history, Apollo 13 astronaut Jack Swigert wore a GMT-Master under his space suit.
Today's GMT-Master II sports a 40mm case, a sapphire crystal, and a cyclops date. It runs on the COSC-certified 3285 caliber, which also has a whopping 70 hours of power. As far as its modern cerachrom bezel, it comes in the Batman color scheme, the Coke version, a Rootbeer-esque Everose, and naturally, as the quintessential jetsetter's Pepsi variation.
Disclosure: Clicking on these links and making a purchase may earn us a small referral fee, at no extra cost to you. Learn more here.