Pictured: Rothwell 10 Piece Leather Watch Box
Regardless of how seriously you take your watch collection, having a purposeful storage place is always a good idea. If you stick to low-cost timepieces, chances are they aren't built with scratch-resistant material, so you don't want them banging around in a random drawer. If you're all about Rolexes and Pateks, well, you wouldn't just throw a Craftsman Professional tool set in a plastic lunch box. So, we've rounded up the 12 best watch boxes for watch collectors.
What's that, you say? The individual packaging that each timepiece comes in works just fine? Fair point, if you've got the space and an organization system for them. Truly, watch boxes are the most efficient, easy, and secure way to store your beloved timepieces. Plus, you can use multiple storage styles for active and inactive rotation pieces.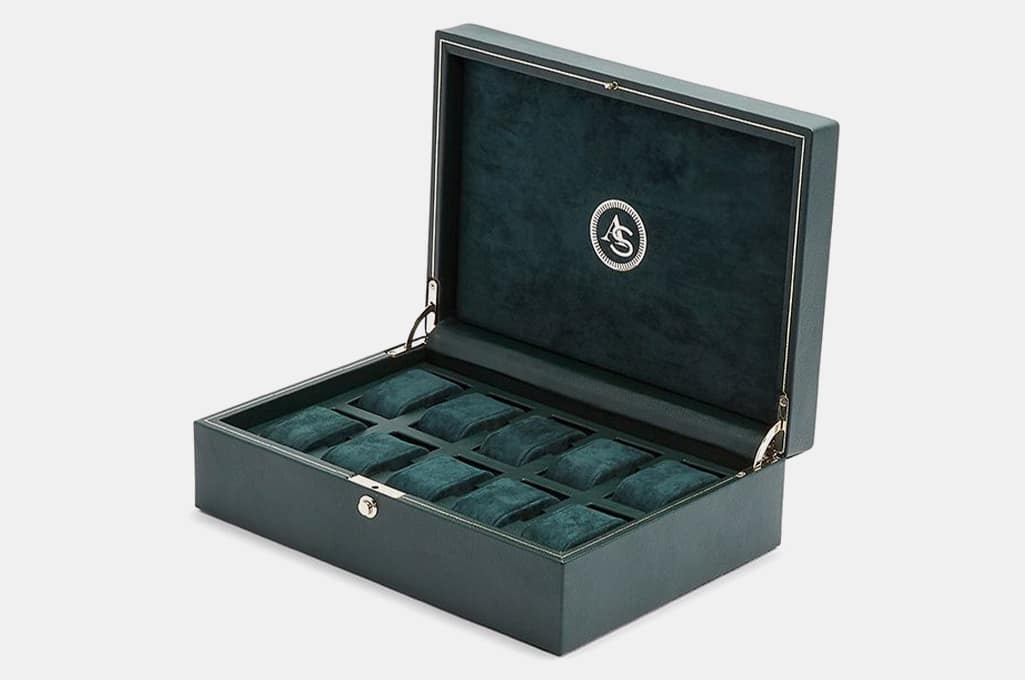 Wolf x Analog/Shift Vintage Collection Watch Box
An homage to a classic and downright aristocratic design, the Analog/Shift Vintage Box from Wolf holds a 10-piece watch collection in the most refined way. The coffin-style lid features jewel-like angles, an aesthetic that's reminiscent of a bygone era level of opulence. The pebbled vegan leather exterior and ultrasuede lining sport an Emerald City style green, perfectly accented with gold foil and gold hardware. This box is for grails, dress watches, or if you want to make your budget pieces feel like they won a stay at the Carlyle Hotel.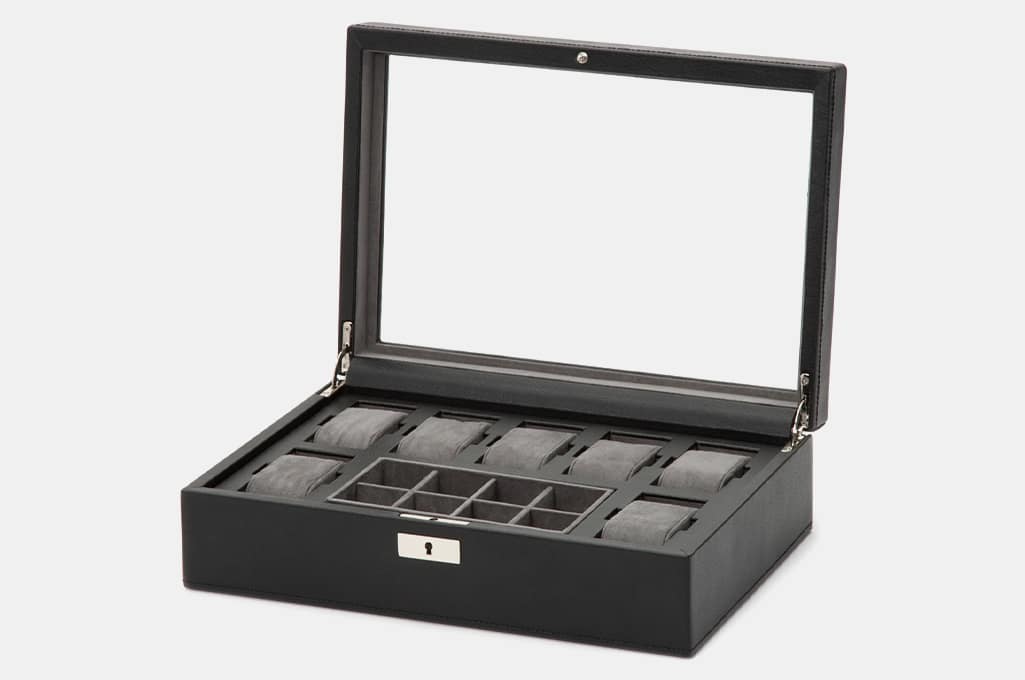 Howard Watch Box
The Howard Watch Box combines a traditional look with a contemporary twist. The leather exterior and suede interior come in three essential and elegantly muted colorways, including black, grey, and blue, all complemented by chrome hardware. This box is like an old-fashioned suit, tailored to stylishly contemporary standards. In addition to storing eight watches, the Howard Box will also keep small items, like cufflinks and pins.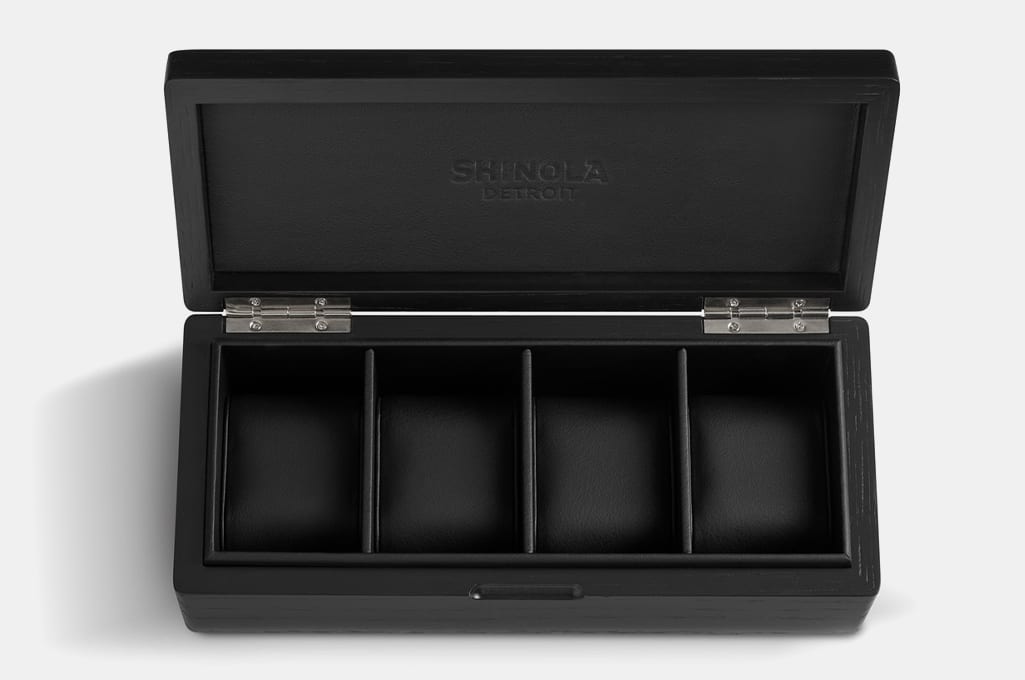 Shinola Watch Collector's Box
Leave it to Midwest-based Shinola to build a handsomely-chiselled watch box for the everyman. This Collector's Box is the smart-casual of watch storage units. The oak gives a strong look that says, "I can change a tire" while the leather cushions say, "I can choose a wine pairing on a date." The all-black option is versatile yet stylish, while the natural oak has a rustic and sturdy aesthetic. It holds four watches, and you can even customize the top with your initials.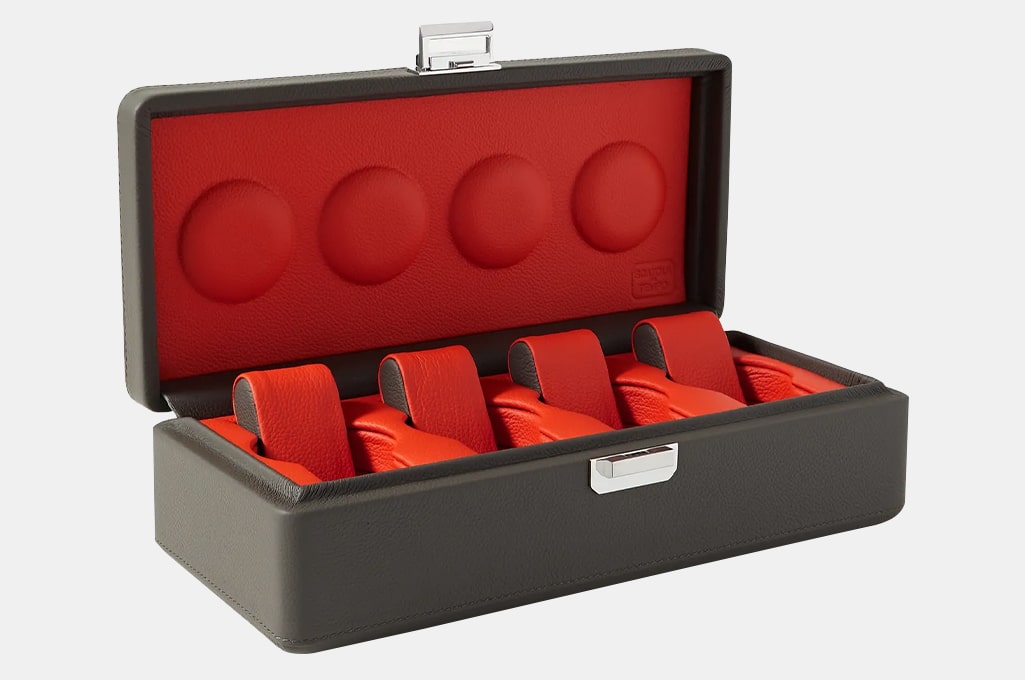 Scatola Del Tempo Leather Watch Box
Constructed from lush full-grain leather, the Scatola Del Tempo Watch Box is so sharp, it's like a Porsche for your watches. Now that I've caught the attention of you style-loving gents out there, I'll also mention that the fine calf leather is beautifully soft, and the orange lining gives a really poppy background. The Del Tempo flaunts a sturdy build, a clasp fastener, and like a luxury sports car, each watch seat can move forward or back, so you can stand your timepieces up to show them off.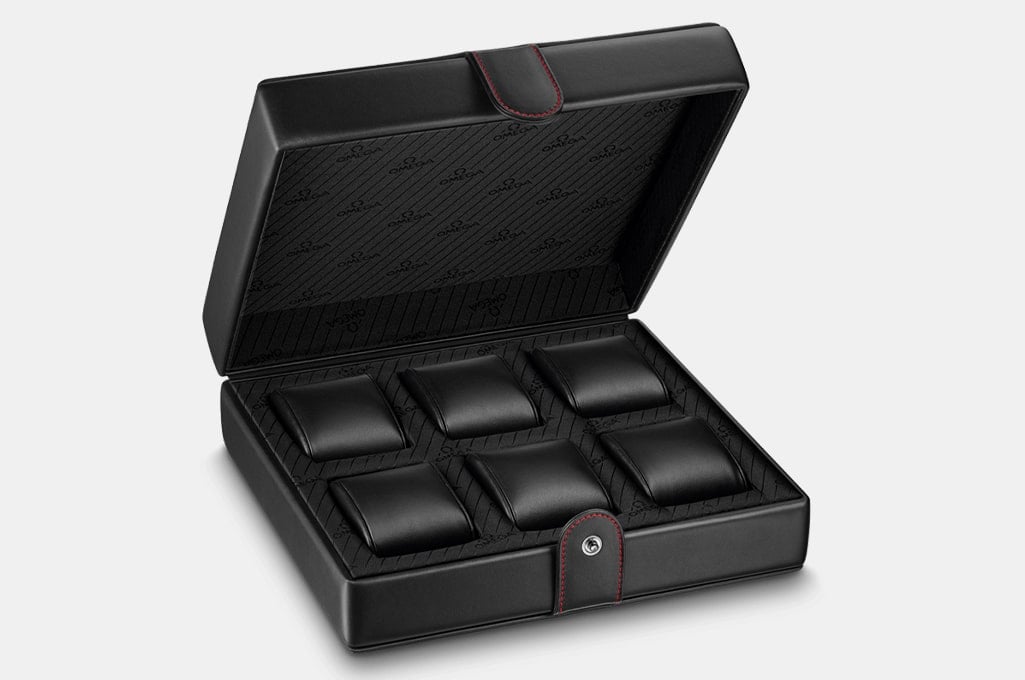 Omega Leather Watch Box
Where better to get a watch box than from a hard-hitting Swiss watchmaker? Classy and practical, the Omega Leather Watch Box is made of calfskin leather, which is light, soft, and durable. The brown colorway is adorned with a brilliant orange contrast stitch, while the black version has a pop of red. This box's design language is like many of Omega's watch models, often a productive balance of fun and timeless. The inside is lined with a silky interior and the Omega logo, with luxurious leather seats for your timepieces.
Leatherology Leather Watch Box
Leatherology's Leather Watch Box is for you full-grain hide aficionados out there. Not only is it made with high-end European leather, but it comes in four striking but timeless shades. The black and brown versions are classy and all-purpose, while the navy and cognac make a dapper storage unit for field watches and dress watches. Inside each box is a beautifully napped leather, an excellent visual contrast with the buttery exterior. And since this is Leatherology, this rich material will only get better with age and use.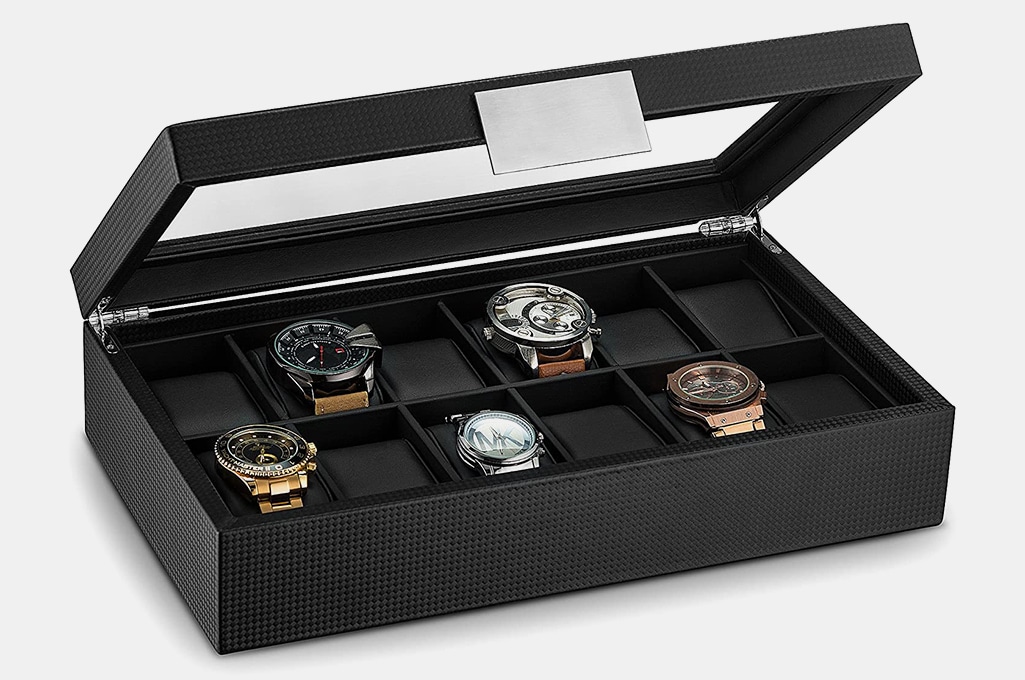 Glenor Co. Watch Box
The Glenor Co. Watch Box is efficiently standard and impressively functional. It's made out of carbon fiber, which boasts high tensile strength and won't crack under pressure, and astounding lightness in weight. Style-wise, the carbon fiber's weaved aesthetic gives the box a subtle complexity that looks great under any lighting, but doesn't take away from the star of the show: Your watches. With its exhibition glass top, your timepieces are always on display.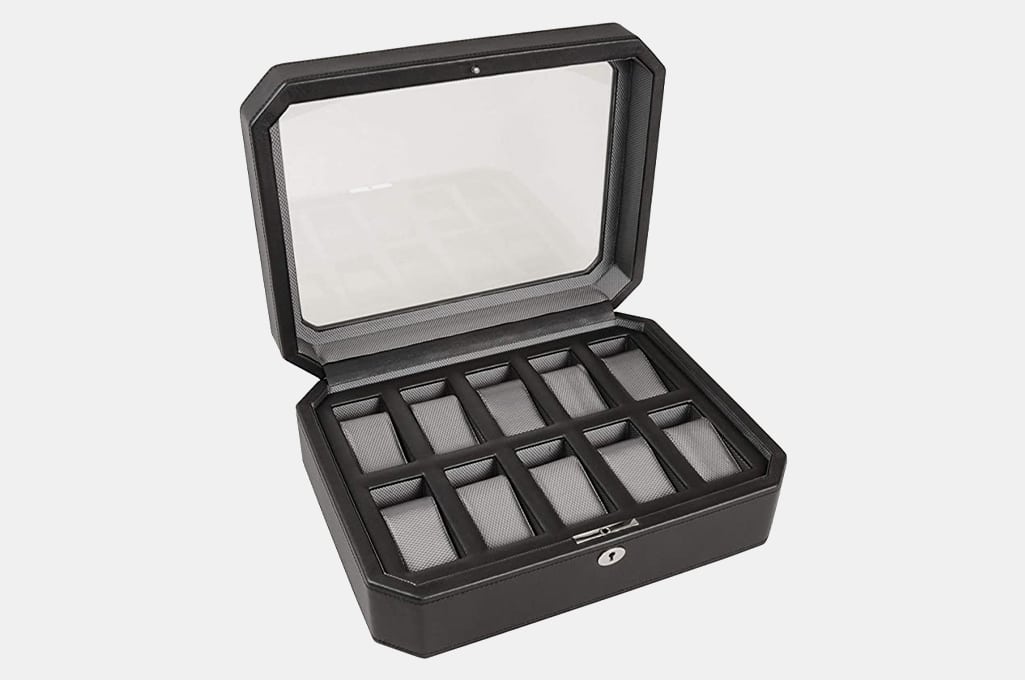 Wolf Windsor Watch Box
If you're looking for a no-frills storage unit, the Wolf Windsor Watch Box is your guy. It's a standard 10-piece exhibition case, though it's not without its charm. The lining is both silky and textured, while the hardware sports a clean chrome finish. Meanwhile, the flat corners of the aerial silhouette also showcase an attention to design that you don't typically find at this price point. The best part about the Wolf Windsor is that literally any watch looks great in it, from extra fancy Vacherons to delightfully collectible Swatches.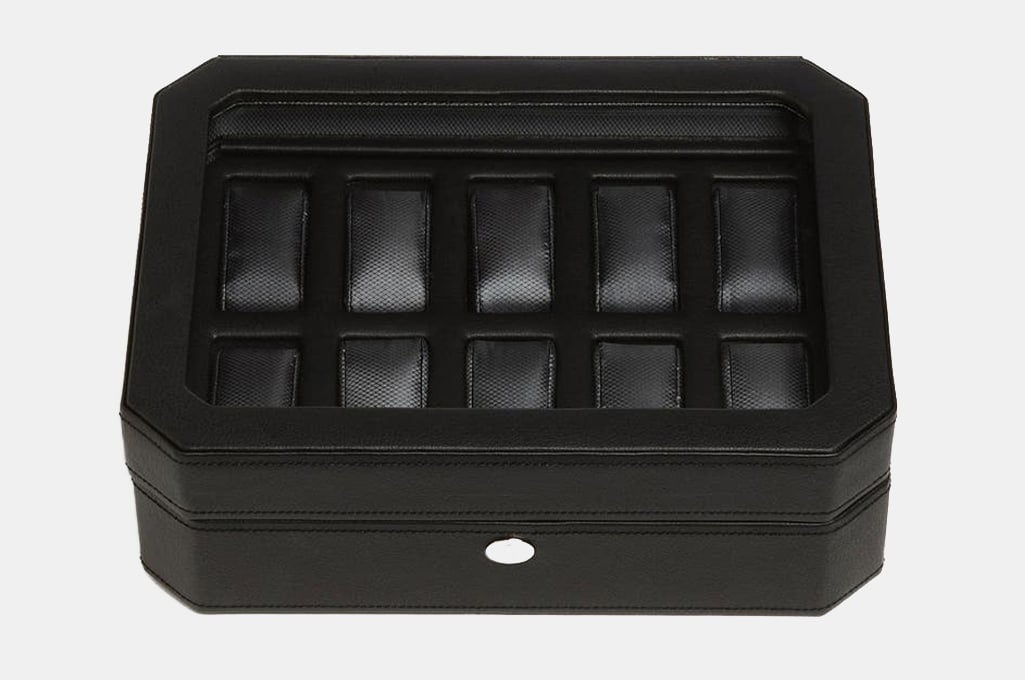 Nordstrom 10 Piece Watch Box
The Nordstrom 10 Piece Watch Box is made with polyurethane leather, which is smoother and more even-grained than real leather. This is actually a huge benefit for watch boxes since it's much easier to clean and maintain. This unit is rich-looking with a strong nylon lining, a glass display panel, and that flat-cornered polygon shape that dresses up an otherwise standard rectangle, giving it more of a jewelry box vibe.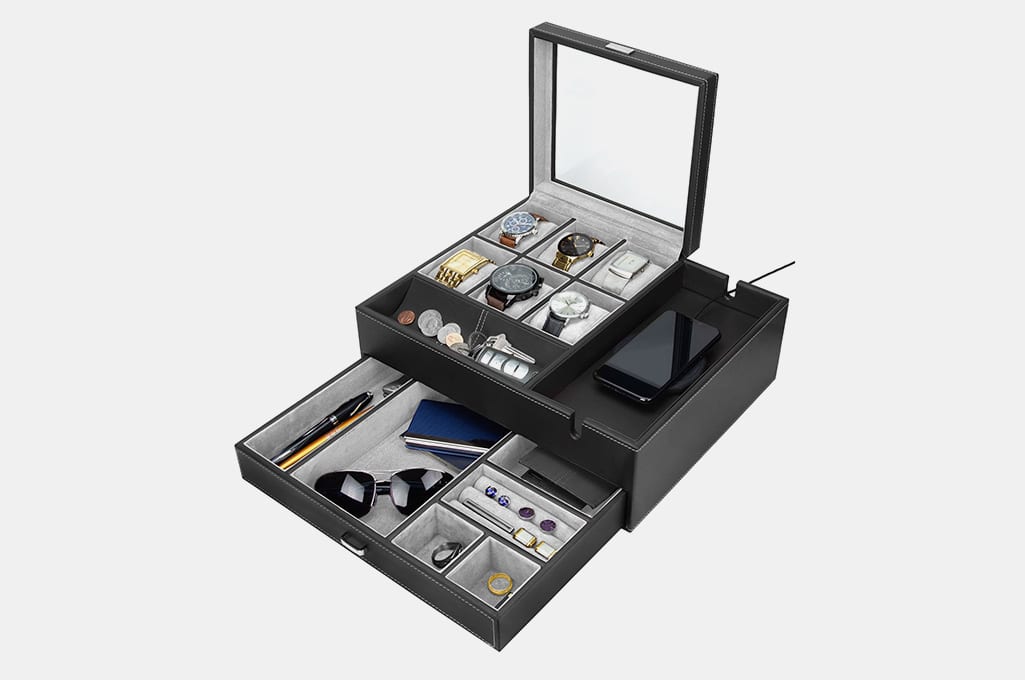 Houndsbay Commander Dresser Valet Watch Box
If it can fit in your pocket, it will fit in the Houndsbay Commander Dresser Valet Watch Box. We're talking watches, cufflinks, knives, wallets, pens, and so on. Basically, the Houndsbay is a place where all of your EDC can live in harmony in a modular Megazord-like vehicle. There's a six-watch display, a curved catch-all tray, a deep and multi-compartment drawer, and a phone carriage that can also be used for keys (or individually wrapped chocolates). The Houndsbay Commander is made out of hand-crafted leatherette, felt, and faux suede, with an exhibition panel for the watch section.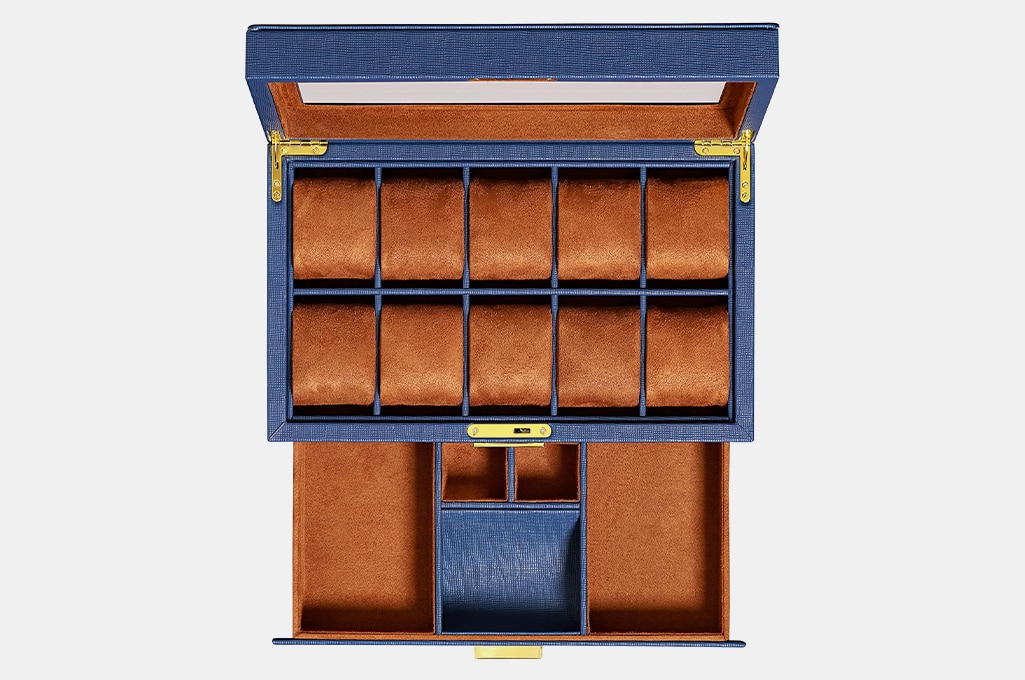 Rothwell 10 Piece Leather Watch Box
The Rothwell 10 Piece Leather Watch Box is a bang-for-buck case with a sophisticated and fun design. Each watch holder can cradle a timepiece up to 60mm, which means that even the most robust tuna-can divers can live in these units. The slide out drawer can hold other accessories like sunglasses or rings, or you can use them for watches that aren't in your current rotation. All interior parts are a napped suede-like material, while the exterior is a strong and exquisitely textured PU leather. Another cool thing about the Rothwell is its four colorways. Go for red-and-black for an eye-catching and posh look, or green-and-tan for a military-style tone.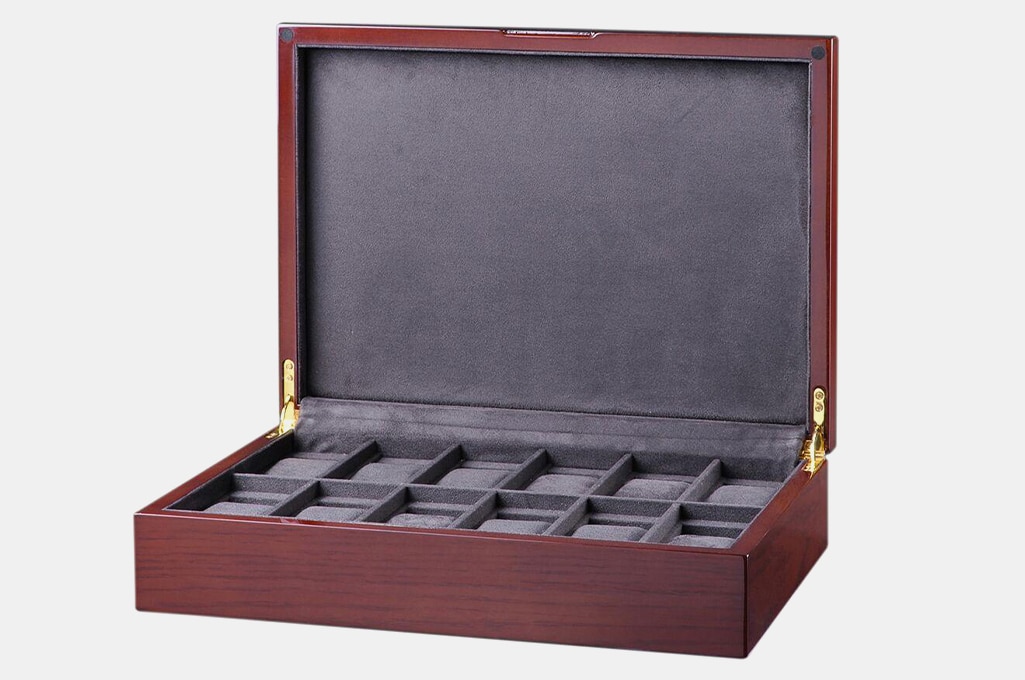 Diplomat Mahogany 12-Piece Watch Box
Few woodgrains infuse rusticness with worldly class like mahogany does. The Diplomat 12-Piece Watch box features a mahogany wood piano finish. For the microfiber suede interior of this high-capacity unit, you can choose between a plush black or a ceremonial white. This case is so high-class, any watch you put in it will look like a valuable heirloom.
Disclosure: Clicking on these links and making a purchase may earn us a small referral fee, at no extra cost to you. Learn more here.