The 20 Best Valet Trays To Organize Your EDC
Whenever you find yourself on the go, you should make sure you're prepared with an everyday carry specially-curated to your needs. Whether it's the simple items — your keys and wallet, for starters — or more situational goods (a pocket knife or sunglasses to fight off the sun's rays), there's one crucial step to keep in mind before you head out the door. That'd be organizing said everyday carry.
It's a small detail that can make a big difference when it comes to de-cluttering your home, making your day more efficient and adding a bit of a stylish flair to your living space. From the handsome and slightly rugged to the premium and polished, there's seriously a valet tray out there for everyone — trust us on this one, we did the legwork. Designed to add a bit of personality to even your desk or cubicle, the best valet tray to organize your everyday carry will also upgrade your style in a small, yet noticeable way. An added bonus? You'll never misplace your keys or wallet again. Read our list below of the 20 best valet trays for organizing your EDC.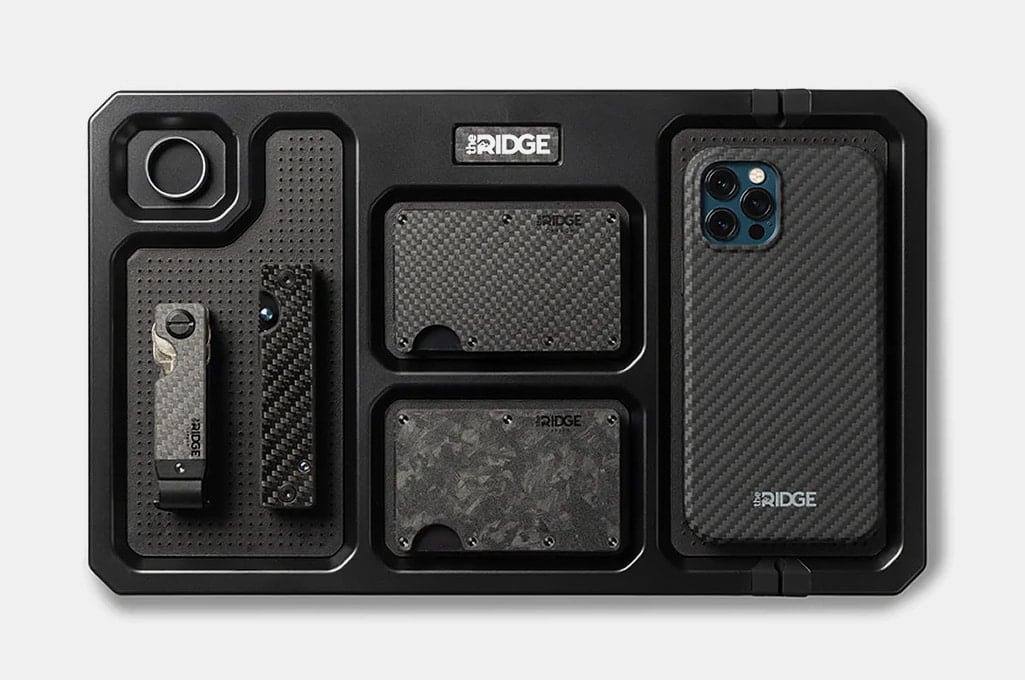 The Ridge Valet Tray
The Ridge builds their wallets insanely tough, so it should come as no surprise that their valet tray is equally durable. The tray features dedicated compartments for all your EDC items, including your smartphone, your Ridge (or other brand) card wallets, your knives and multi-tools, and even rings, cuff links, and other small items. The combination of polycarbonate and ABS plastic makes this tough enough to survive drops, falls, and even direct impacts without scratching or breaking, and the perforated anti-slip leather footing keeps everything securely in place. For the guy who needs only the toughest items, you can't beat the Ridge Valet Tray.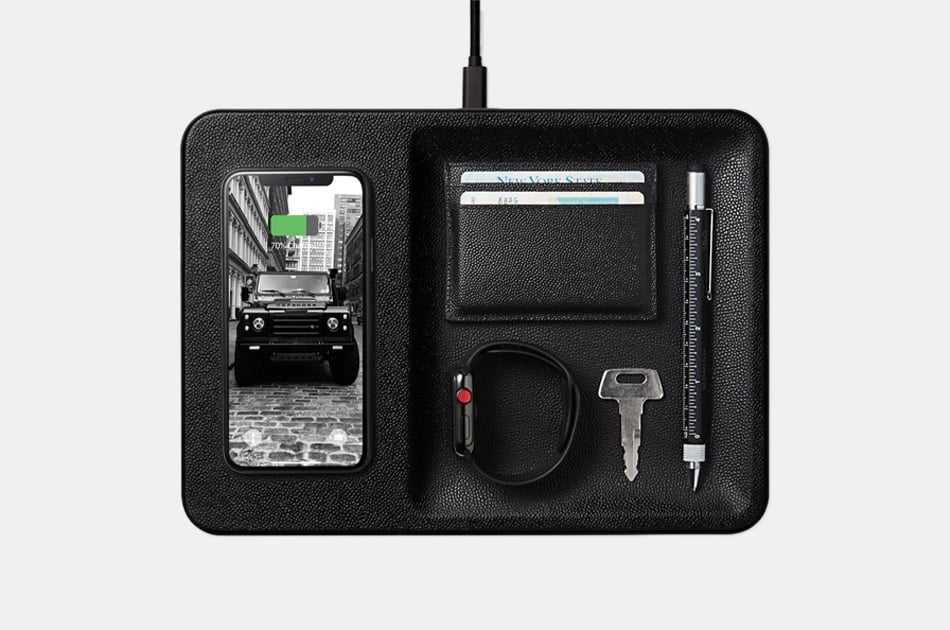 Courant Catch: 3 Wireless Charging Tray
Is it worth it to shell out some serious cash for a valet tray? In short: Yes. Especially if it's the Catch 3 Wireless Charging Tray, a must-have for any guy on the go — and any guy that needs a way to store his everyday carry essentials in one stylish spot. The Catch 3 Wireless Charging Tray is made from premium pebble-grain leather and features wireless charging that's both certified and fast. Plus, it's got enough space for your keys and your slim leather card case.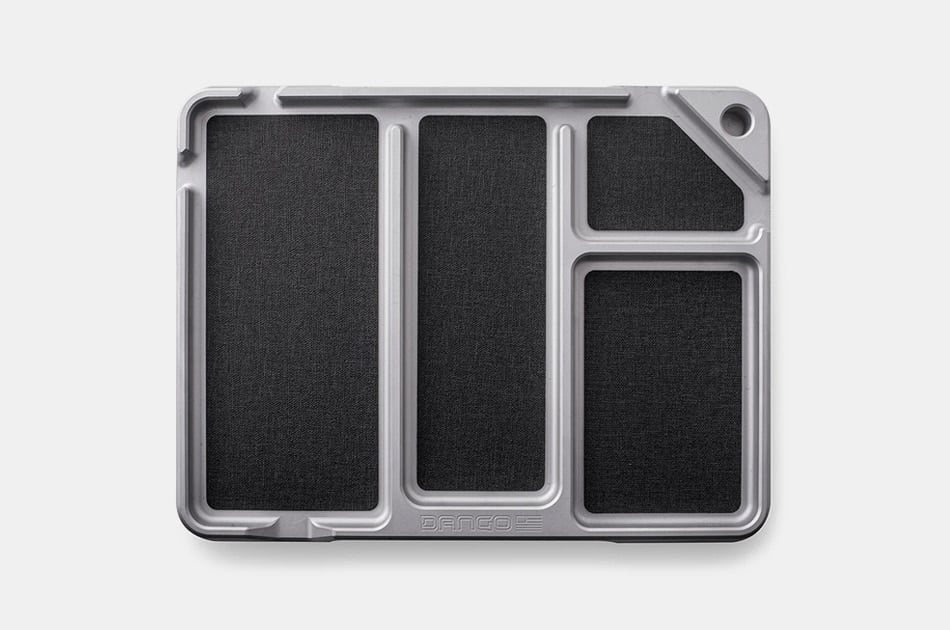 Dango EDC Valet Tray
It's only fitting that a brand that makes the best EDC gear would also make a reliably rugged, undeniably cool, and well-designed way to store said gear, right? Meet the Dango EDC Valet Tray, one of the more intuitive uses of durability and design that we've seen in some time. Call it a great EDC valet tray, call it one of the best EDC valet trays… just make sure you've got this compartmentalized, machined aluminum tray the next time you need to keep track of your valuables. In that regard, it's something you'll use, well, every single day.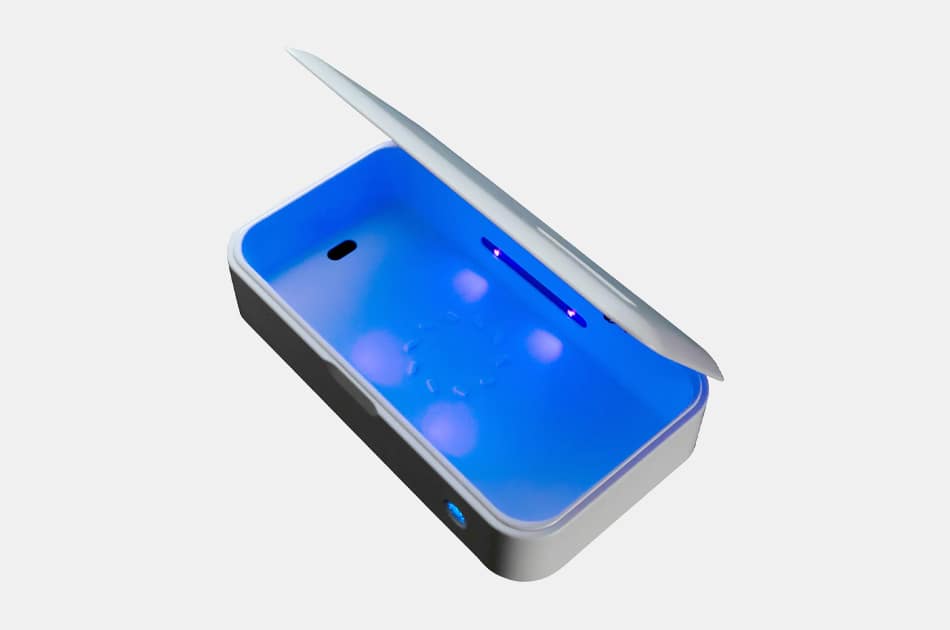 Keysmart CleanTray
Staying safe and in good health is more important than ever, and in times "like these," you really can't afford to cut any corners. Enter one of the best EDC valet trays from Keysmart — the Clean Tray UV Sterilization Pod is like nothing else on the market, so we say go for it. Germs and bacteria don't stand a chance, as the pod kills 99.99 percent of germs and bacteria, and is able to disinfect everything from knives to phones and sunglasses (while also storing your gear at the same time).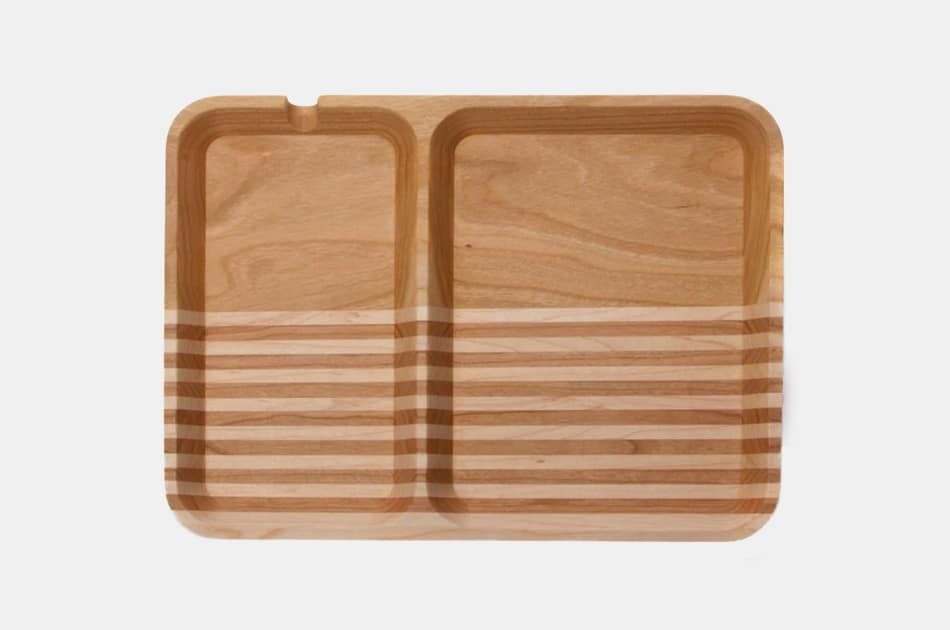 Maxx & Unicorn Rectangle Valet Tray
We've talked leather valet trays, we've talked concrete valet trays and we've talked leather AND concrete valet trays. What we haven't yet talked about, though is a stylish, entirely one-of-a-kind wooden valet tray like the one seen here from Maxx & Unicorn. The use of sustainably harvested cherrywood and maple helps this valet tray stand out quite handsomely alongside the polished contents of your everyday carry (ideally, including a rich leather wallet and watch). It'll bring both style points & organization to your life.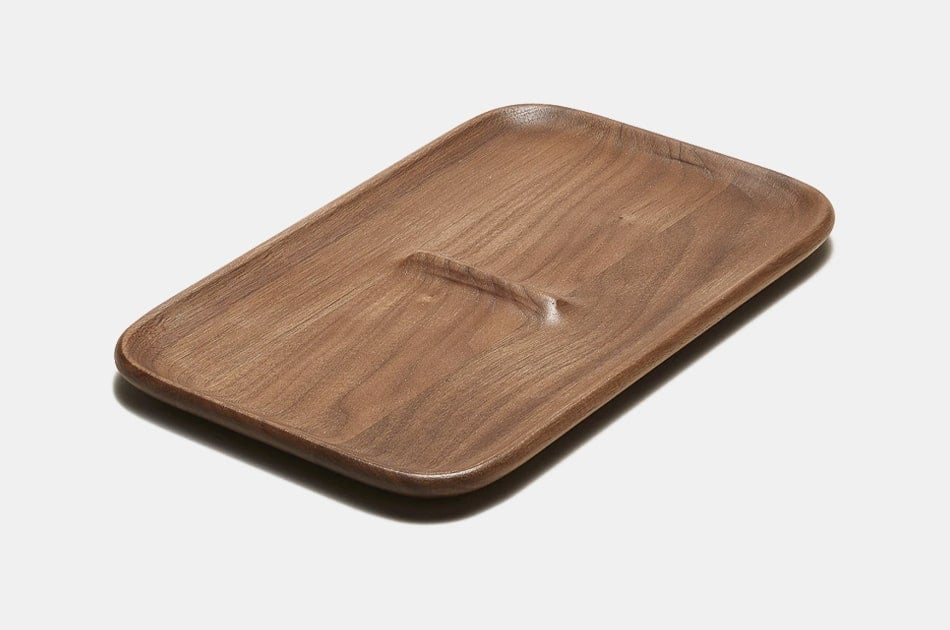 Craighill Nocturn Catch Valet Tray
If you appreciate clean, sharp design and products with purpose and style, then we'd wager you're going to appreciate — and use frequently — the Craighill Nocturn Catch. Milled and finished in Michigan, it's a richly crafted place to store your leather lanyard, your wallet or your AirPods. It's also distinctive enough to fit right in with the decor of your home without missing a beat.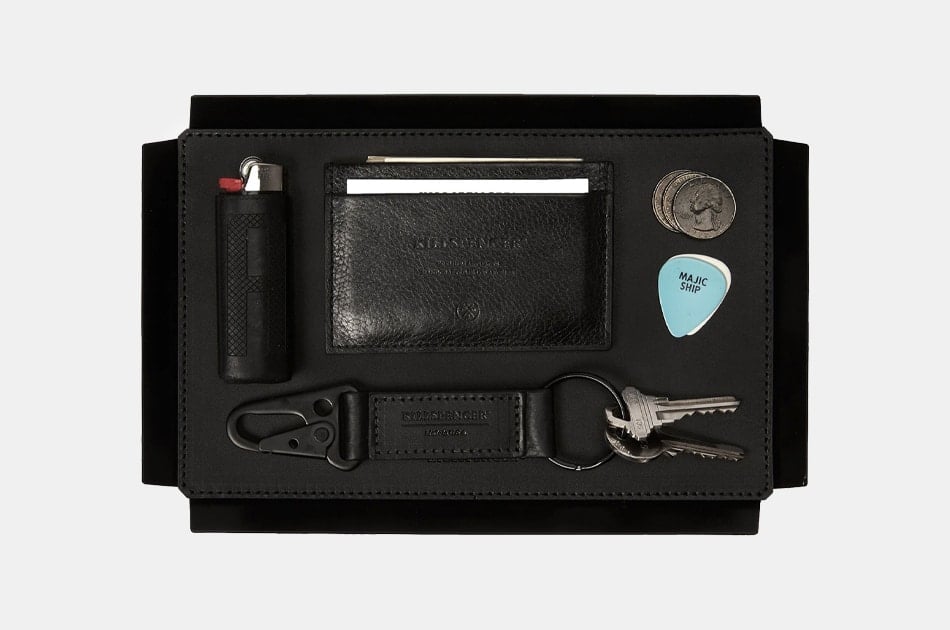 Killspencer Valet Tray
Can a valet tray be, dare we say it, swoon-worthy? So well-designed as to inspire awe and instant envy? In the case of the Killspencer Valet Tray, the answer is yes — this is one handsome, sharp and stylish valet tray that'll both store your everyday carry essentials in style and look great while doing it. The key here is the use of tough bullhide leather, made to age nicely over time while keeping your gear safe and quickly accessible.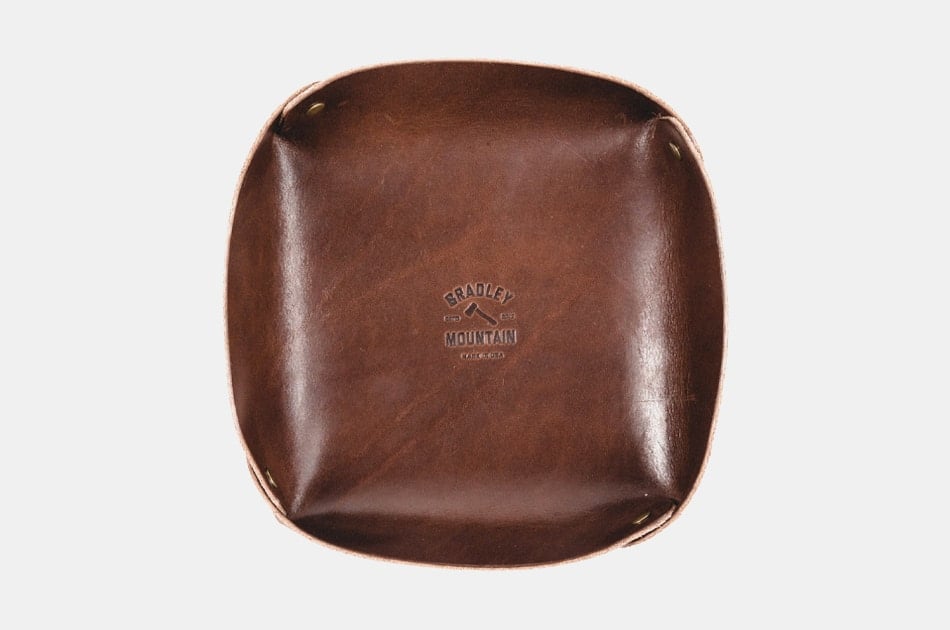 Bradley Mountain Large Valet Tray
From a go-to utility bag to small leather goods, Bradley Mountain takes care to produce rugged, tough staples for use on the daily. And when it comes time to drop your wallet, sunglasses, multi-tool .. you name it, the brand's Large Valet Tray can hold it. This vegetable-tanned leather tray is oiled and waxed for a unique finish and high quality; the American craftsmanship and cooper rivet detailing aren't half-bad touches, either. All you need to do now is grab your favorite selection of everyday goods and get out there.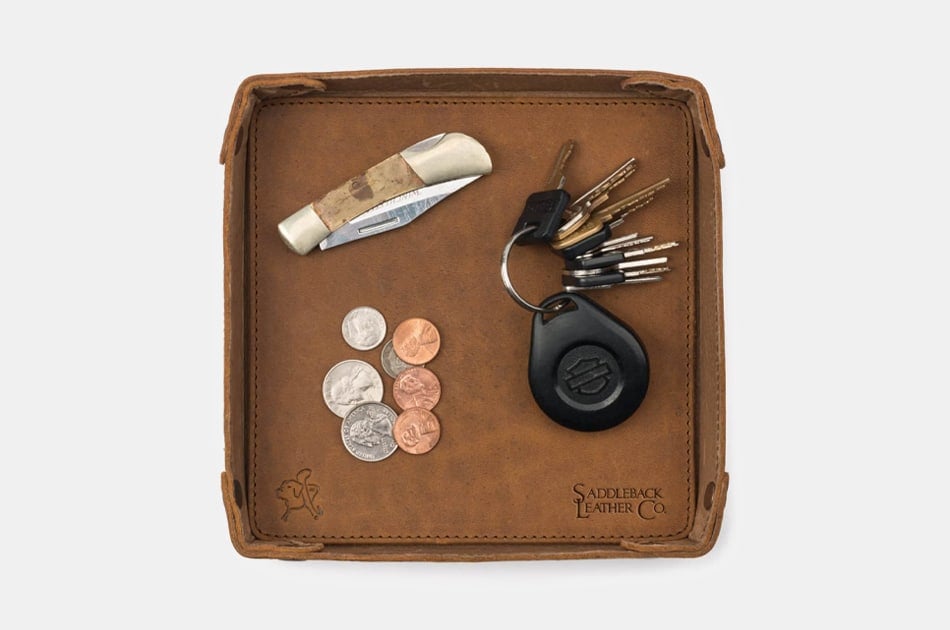 Saddleback Leather Catchall Valet Tray
If you've had the pleasure of trying Saddleback leather goods over the years, you know that the leather the brand uses is as thick and tough as it gets, yet it breaks in wonderfully over time. That should also be the case for the Saddleback Leather Catchall Valet Tray, a rugged, heirloom-quality valet tray that'll build up a nice patina the more you use it. Given the fact that you'll be using it on the daily to store your keys, watch, and card case, that process might not take as long as you think. And hey, you can remove the bottom liner to store cash. Not bad, ehh?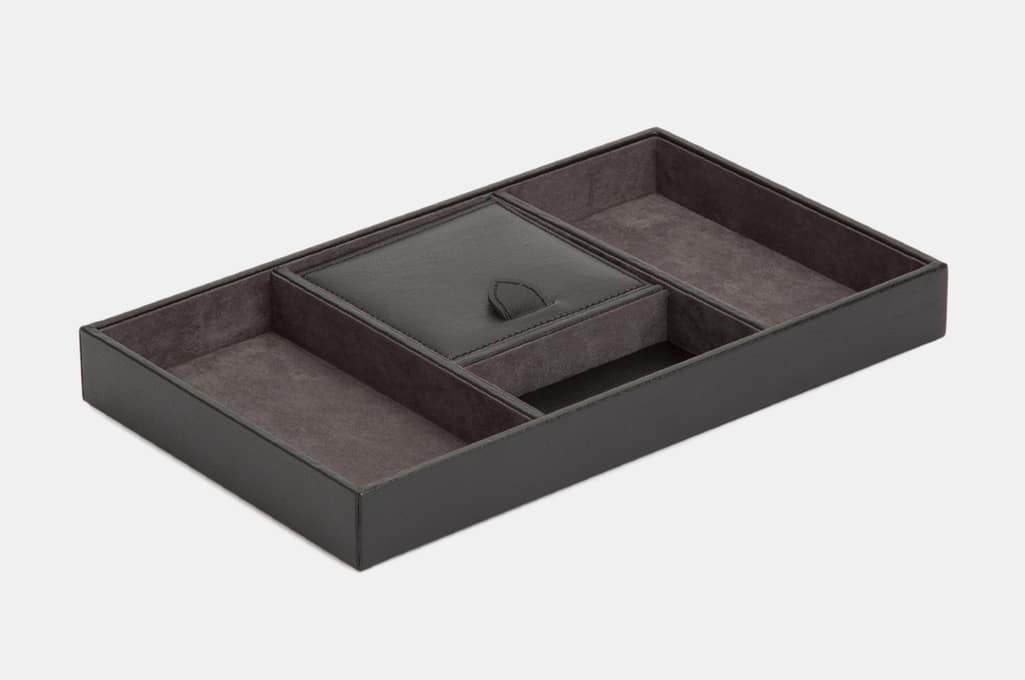 Wolf Blake Valet Tray
For the classy gentleman, the Wolf Blake Valet Tray offers a perfect blend of function and form. Fashioned with top-grain leather and lined with hyper-soft velvet, this tray is the perfect dresser-top storage solution for your watch, cufflinks, wallet, and keys. With four built-in compartments—including one with a lid—you'll find it provides an easy way to organize everything you carry around with you.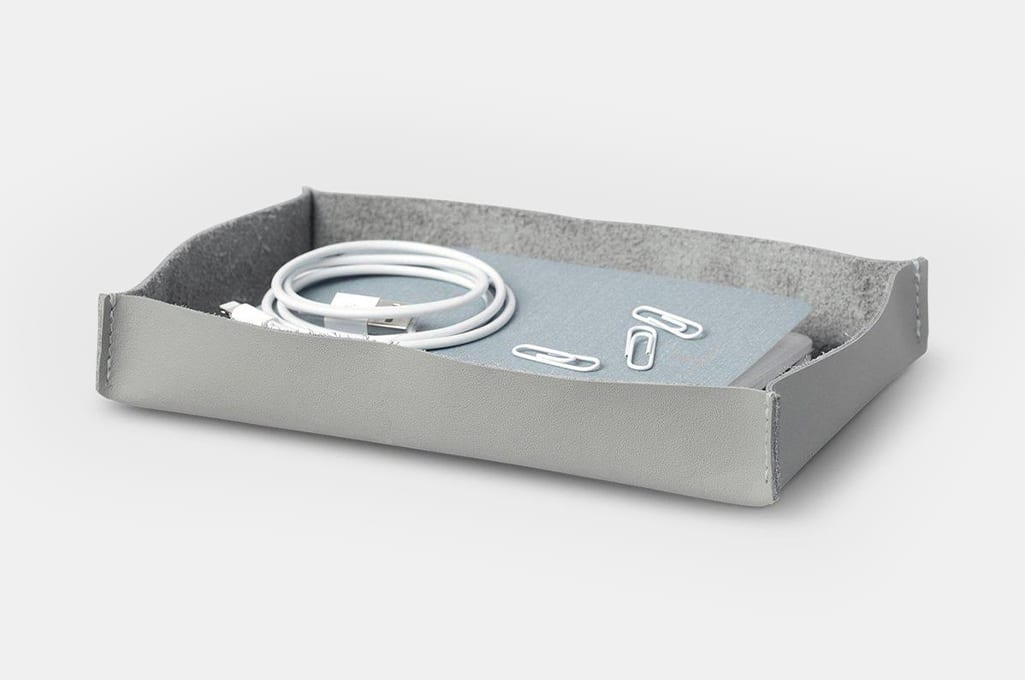 Artifox Valet Tray
Want a small valet tray that'll blend in on any nightstand? Give the Artifox Valet Tray a try, and you'll find it suits your need to perfection. Made from genuine top-grain latigo leather and hand-stitched by skilled artisans, this valet tray will look better with age, as it will develop a patina that'll make it glow with a richness and luster that new leather simply can't match. Thanks to its high-walled design and solid base, it makes the perfect storage space for small, easy-to-lose items that you want to keep always at hand.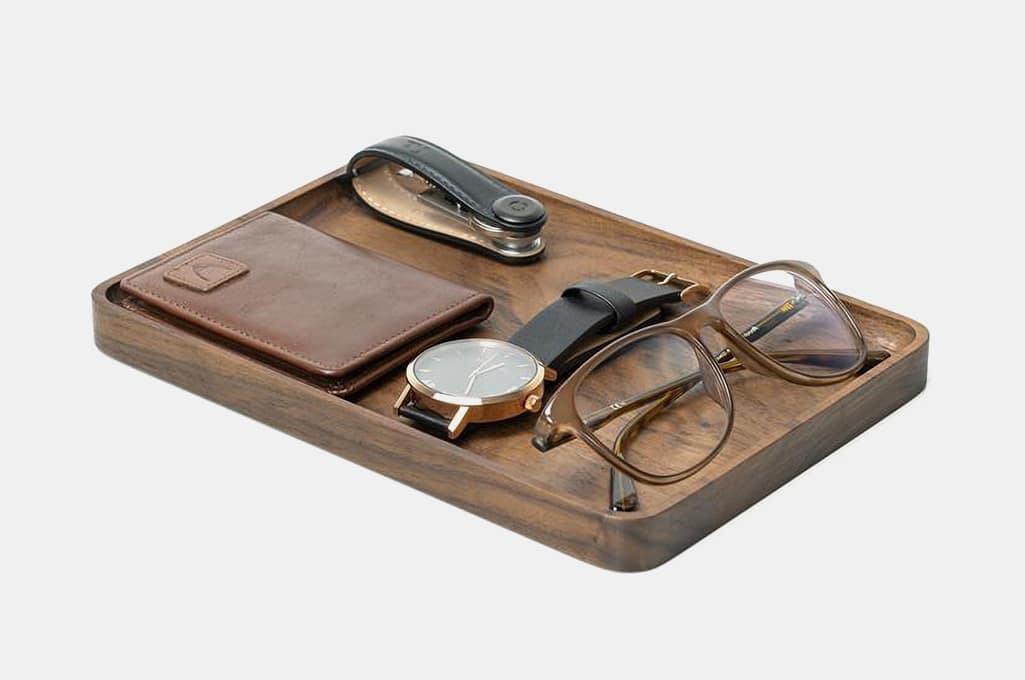 Oakywood Wooden Catchall Tray
Make a statement with the Oakywood Wooden Catchall Tray. Whatever you want to keep organized—pens, notebooks, glasses, keys, money clips, your wallet, even paper clips—this wooden tray delivers an easily accessible and beautifully elegant solution. This high-quality, handcrafted tray is the perfect option to sit on your wooden office desk or next to your favorite armchair, and it'll be an accent piece that draws just the right amount of attention.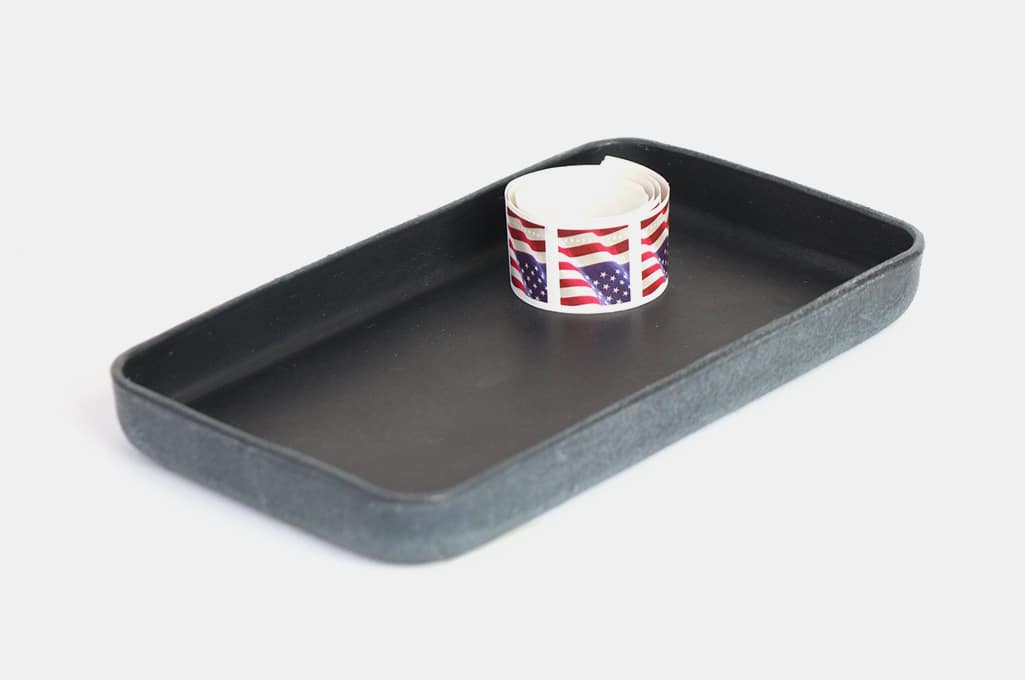 Bar W. R. Molded Black Leather Valet Tray
Keep your office or workspace better organized with this beautiful valet tray. The Bar W. R. Molded Black Leather Valet Tray is made using a single piece of vegetable-tanned cowhide leather, and its seamless finish radiates professionalism and no-nonsense elegance. The more you use it, the more the leather interior will age and develop a rich sheen. It's not just super practical; it's built to last you a lifetime, and guaranteed to serve your EDC organization needs.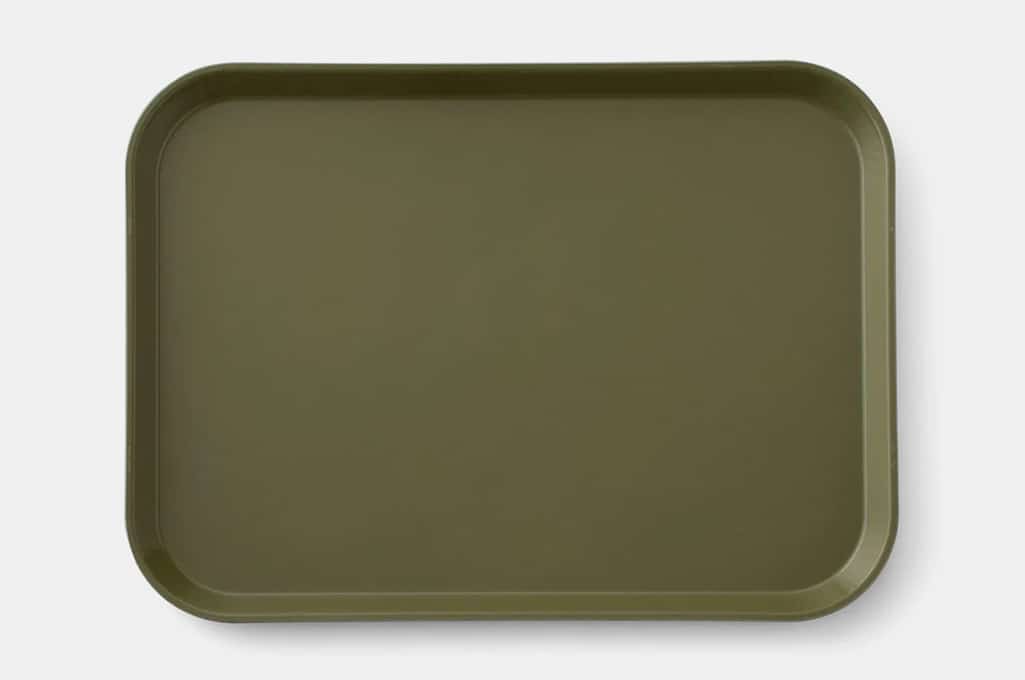 Schoolhouse Everyday Tray
Keep it simple and stylish with the Schoolhouse Everyday Tray. This little tray is designed to use in any room in your house: your bedroom for your EDC loadout, your office to keep your daily work essentials organized, or beside your front door to store keys and mail. Built from tough fiberglass, they won't break easily or scratch even if you store heavy items on them. They come in a wide range of colors and a number of sizes, and can be stacked for easy storage and to bring a pop of brightness to your home décor. They're both dishwasher safe and can be used to serve food in a pinch. Now that's a valet tray you can love.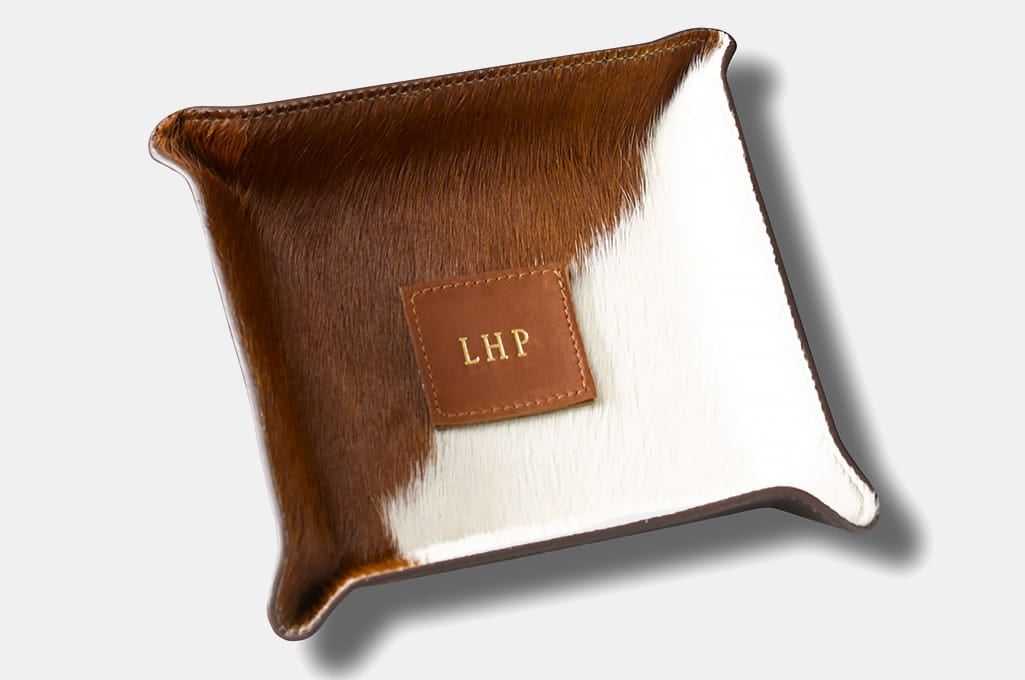 Orvis Leather Valet Tray
For the leather-loving gentleman, this leather valet tray will be the perfect addition to your home décor. The valet tray is seven inches across, with a full five inches of interior flat surface to keep your tools, keys, watch, knife, and rings neatly organized. Thanks to the genuine haircalf leather used in its construction, it will keep all your delicate items securely protected from scuffs or dings, and look absolutely stunning while doing so. It's an heirloom-quality item that you will be proud to pass down to the next generation and those to come.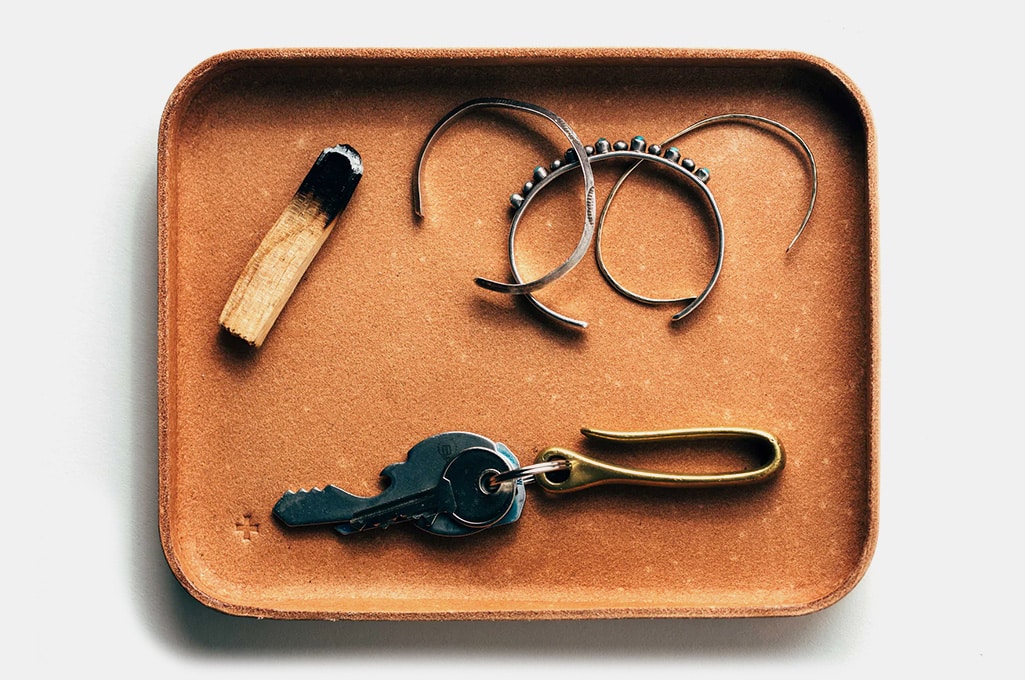 Imogene + Willie Emil Erwin Leather Valet Tray
For those who want a pop of style and a touch of Nashville's finest craftsmanship in their home, the Imogene + Willie Emil Erwin Leather Valet Tray is the perfect finishing touch. Designed by Emil Erwin, this leather valet tray is crafted with amazing attention to detail, every aspect of it finished to perfection, a masterpiece of design art. Built with sturdy leather, it's designed to stay securely in place on any table, nightstand, or desk, and give you more than enough space to store all your most important daily essentials. The "roughness" of the leather surface looks stunning, but it's a truly beautifully-crafted tray that will last for years of daily use.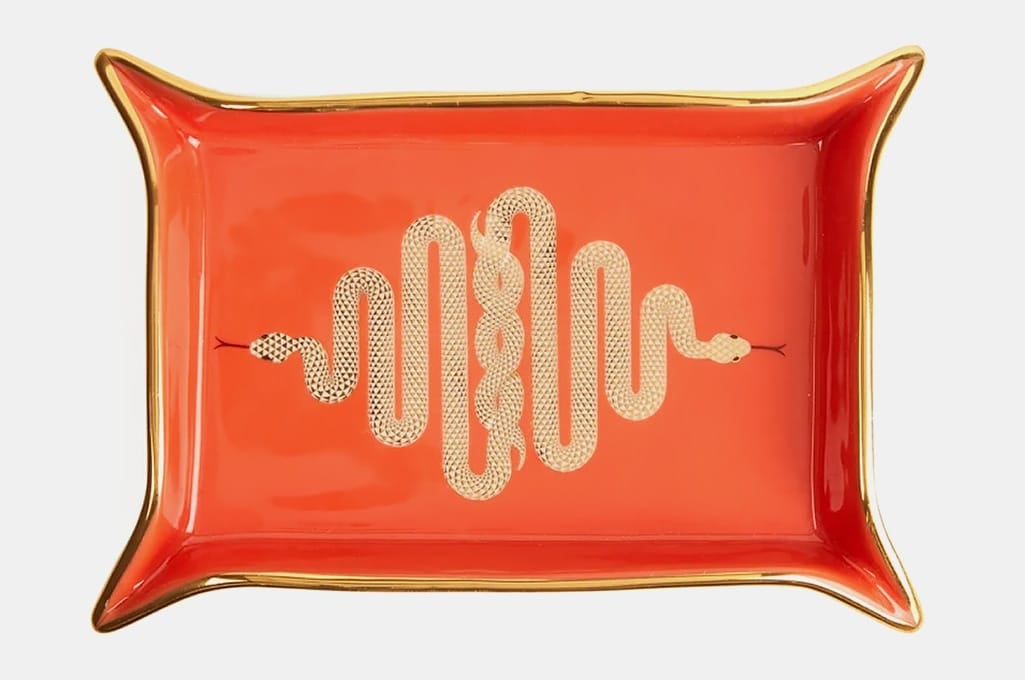 Jonathan Adler Snake Valet Tray
Though the Jonathan Adler Snake Valet Tray resembles the classic leather valet tray, it's actually crafted using fine porcelain and finished with a gorgeous glaze that adds durability and elegance both. The animal details are protected beneath the glaze, featuring a winding serpent in brilliant 16K gold on a poppy orange background. The tray comes in a gift box and makes a great gift for that special friend in your life or anyone who appreciates beautiful ceramic décor. It's sure to turn heads and catch the eye—the perfect statement piece for the entryway to your home.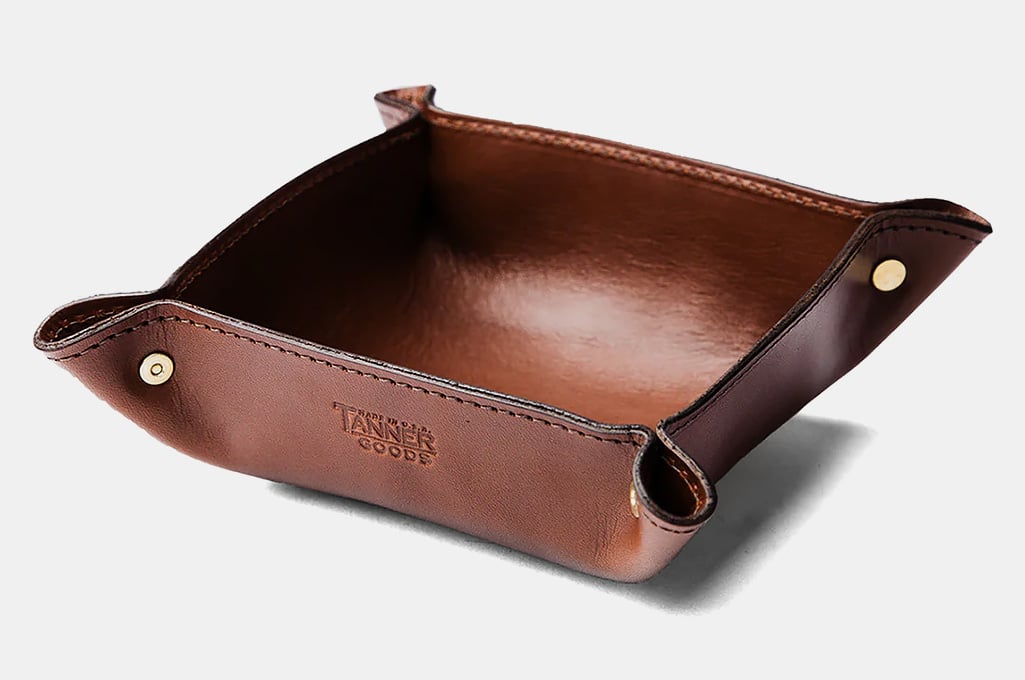 Tanner Goods Leather Valet Tray
This gorgeous leather valet tray stands out from the crowd for so many reasons. First, the cognac color is unique, a rich, deep brown with just a hint of red that makes it look truly elegant. Second, there's the dual-layered construction, with two pieces of Meridian English bridle leather stitched together for added durability and elegance. The addition of bright, bold brass rivets stands out from the classic simplicity of the leather, and there's the maker's mark stamped into the side so you know it's a leather item to be proud of.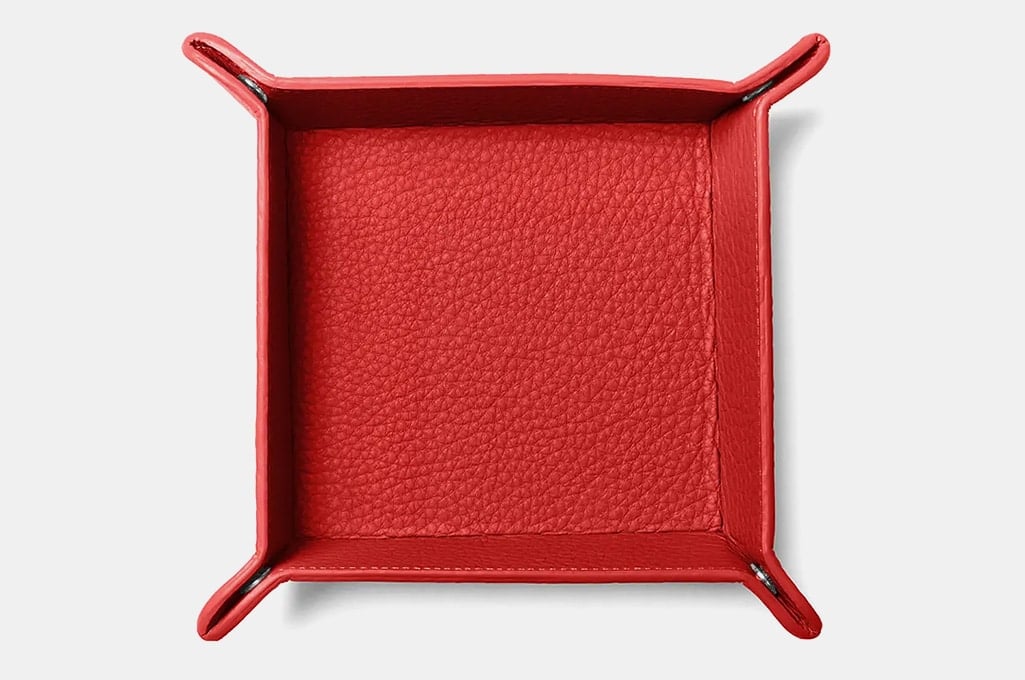 Leatherology Square Valet Tray
If you want a catch-all for your daily essentials and want to keep it simple, this square valet tray by Leatherology is just the ticket. Don't get me wrong: it's built using beautiful leather, an eye-catching design, and bright colors that will stand out from every other tray on our list. But it's also built with no frills or fluff; just a simple, sturdy, reliable tray that can be packed up when not in use, but provide you plenty of storage space for everything you want to keep at hand. Thanks to the snap-button corners, the tray will secure your stored items and keep them from sliding out or getting lost, with beautiful nickel hardware that will enhance the look of the leather.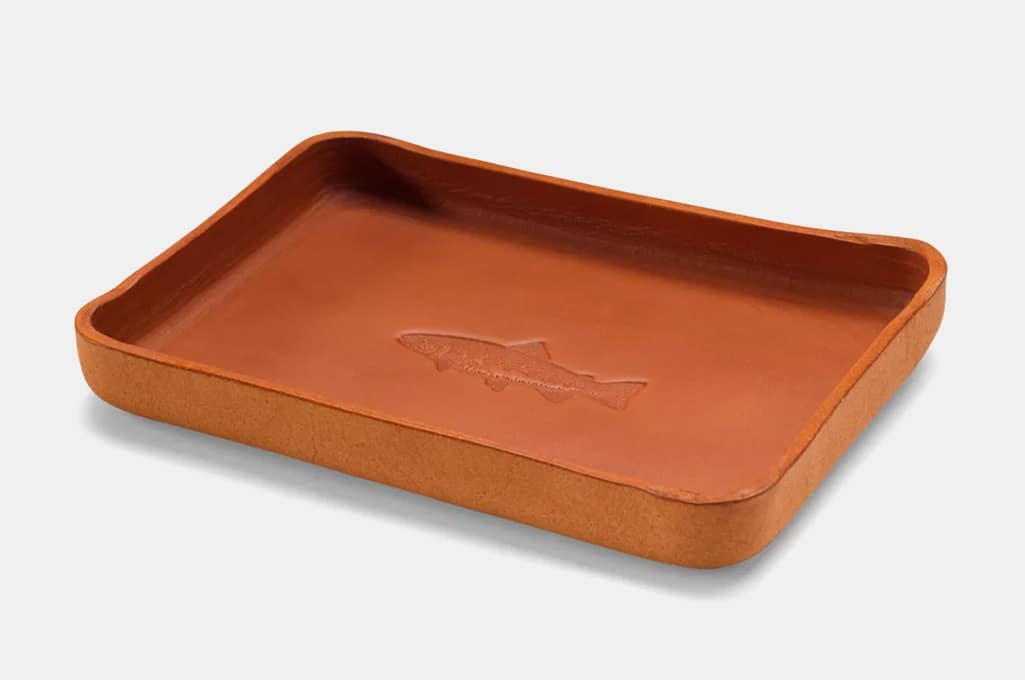 Orvis Leather Desktop Fish Tray
For the fisherman or hardcore angler, this tray is just the thing for you. The bottom is stamped with an embossed trout, a way for you to proudly remind everyone who enters your home where your true passions lie. Built using vegetable-tanned leather sourced in the USA, this valet tray is rugged and tough, constructed to endure even the roughest handling. Keep it on your nightstand to make sure your wallet, keys, knife, and other essentials are always within easy reach and where you can easily get at them—no more struggling to remember where you left your important daily items.
Disclosure: Clicking on these links and making a purchase may earn us a small referral fee, at no extra cost to you. Learn more here.