16 Valet Trays To Organize Your EDC
Whenever you find yourself on the go, you should make sure you're prepared with an everyday carry specially-curated to your needs. Whether it's the simple items — your keys and wallet, for starters — or more situational goods (a pocket knife or sunglasses to fight off the sun's rays), there's one crucial step to keep in mind before you head out the door. That'd be organizing said everyday carry.
It's a small detail that can make a big difference when it comes to de-cluttering your home, making your day more efficient and adding a bit of a stylish flair to your living space. From the handsome and slightly rugged to the premium and polished, there's seriously a valet tray out there for everyone — trust us on this one, we did the legwork. Designed to add a bit of personality to even your desk or cubicle, the best valet tray to organize your everyday carry will also upgrade your style in a small, yet noticeable way. An added bonus? You'll never misplace your keys or wallet again. Read our list below of the 16 best valet trays for organizing your EDC.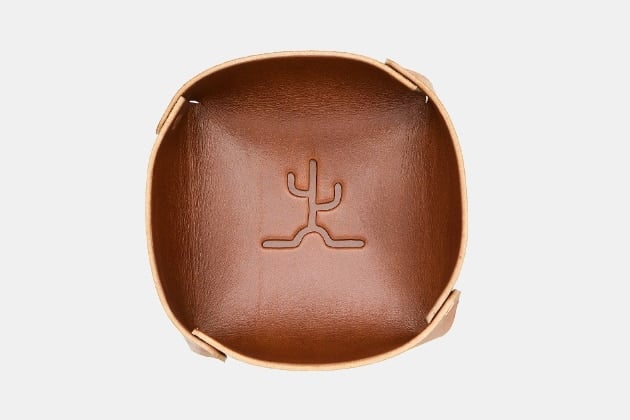 Bexar Goods Leather Valet Tray
We're big proponents of having the right place to store your critical everyday carry gear. It's a simple fact of life that the right storage system can really make your day-to-day routine that much easier and more consistent. Need to find your keys? Your wallet? Your phone charger? Those headphones you can never seem to keep track of? The Bexar Goods Leather Valet Tray is the answer to all your questions: Buy this handsome valet tray now, and then never wonder where your most important goods are ever again.
It's the kind of valet tray that's so simple and subtly stylish, yet so well-made, you'll wonder how you ever did without it. From the tough copper rivet construction to the use of handsome Bridle leather (guaranteed to age remarkably well), this is one of the best valet trays your money can buy, and in a crowded market, that's certainly saying something. – Shop Now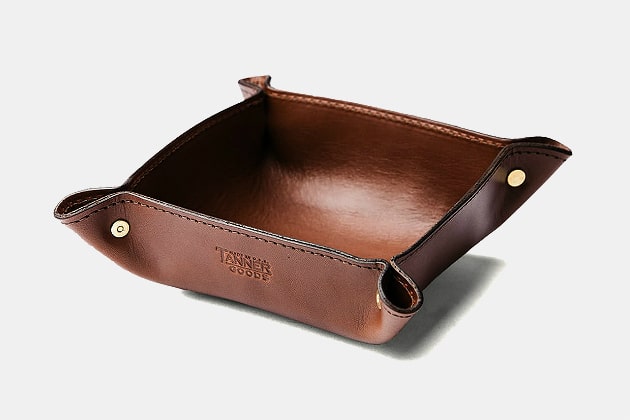 Tanner Goods Leather Valet Tray
The best valet trays all have something in common: First of all, they're best-in-class when it comes to dependability and durability for storing your everyday carry essentials. Second of all, there's no telling how useful you could find the right valet tray to be. Lost car keys? A misplaced wallet? A missing set of AirPods? All is forgiven if you start to use the Tanner Goods Valet Tray, one of our new favorite valet trays when you consider its classic design and rugged appeal.
The little things make all the difference in terms of earning you added style points — and particularly if you've gone to great lengths to find the right leather wallet or the perfect do-it-all phone case, then the best valet tray on the market is only going to accentuate those crucial gear finds. Trust us — and trust Tanner Goods — to upgrade your home goods collection accordingly. – Shop Now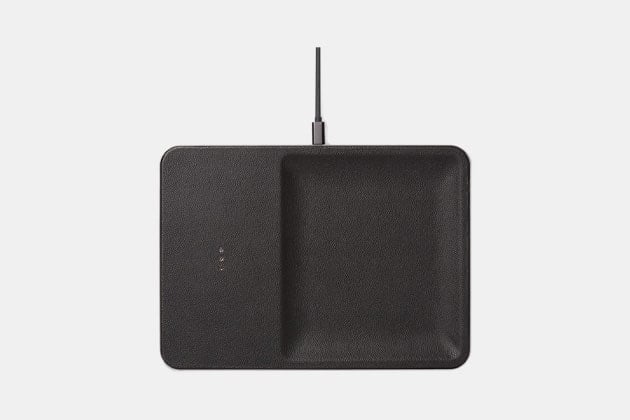 Catch 3 Wireless Charging Tray
Is it worth it to shell out some serious cash for a valet tray? In short: Yes. Especially if it's the Catch 3 Wireless Charging Tray, a must-have for any guy on the go — and any guy that needs a way to store his everyday carry essentials in one stylish spot. The Catch 3 Wireless Charging Tray is made from premium pebble-grain leather and features wireless charging that's both certified and fast. Plus, it's got enough space for your keys and your slim leather card case. – Shop Now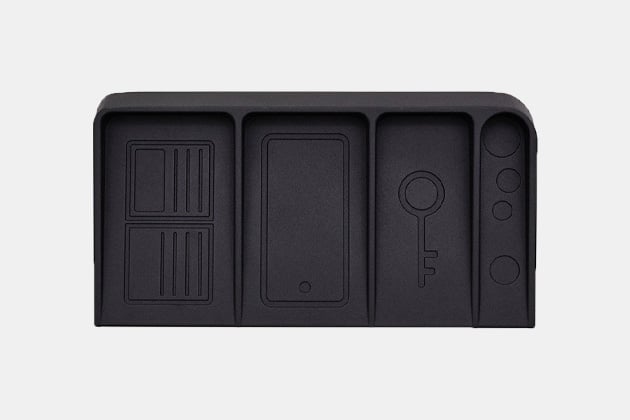 DOIY Black Metal Valet Tray
The best design is sometimes the most simple and straightforward — no fuss and no frills, just quality and attention to detail … sans all the bells and whistles other brands tend to clutter into their designs. Take the DOIY Black Metal Valet Tray, with simple symbols meant to call out space for your keys, your wallet and other EDC must-haves. Available for under $40, it's a steal for something you'll use every single day. – Shop Now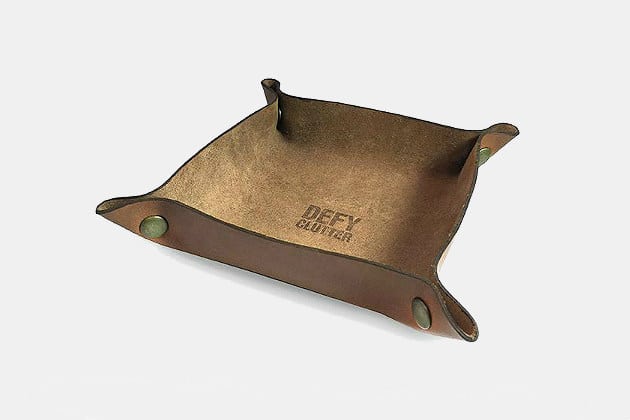 Defy Snappy Valet Tray
Made from Rio Latigo leather from Horween, the Defy Snappy Valet isn't your average valet tray to toss your everyday carry into after work. It's better — to say the least. It's cut from a single piece of quality leather, then finished with hand-painting and distressed brass snaps for extra durability. If you want a valet tray that stands out for its style and rugged appeal just as much as the contents of your everyday carry, this is the one to buy. – Shop Now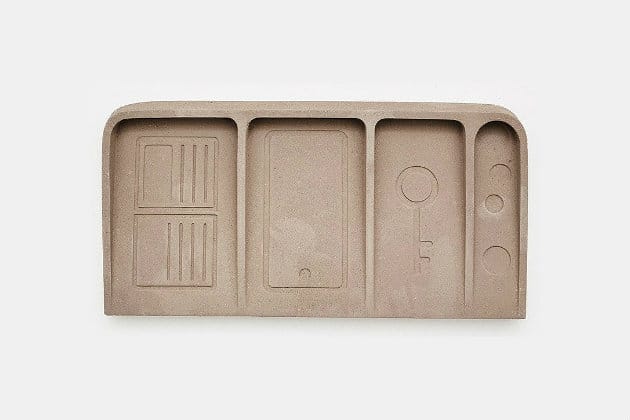 DOIY Concrete Valet Tray
While exceptional, heritage-quality leather works just fine — heck, better than fine — when it comes to providing a way to stow your everyday carry — concrete is a more minimal option preferred by some. And if that happens to be you, the DOIY Concrete Valet Tray is a great way to store your daily haul. Available for a low price, this is one valet tray that features handy slots to organize everything from change to your wallet. With essential functionality and a clean design, it's a winner. – Shop Now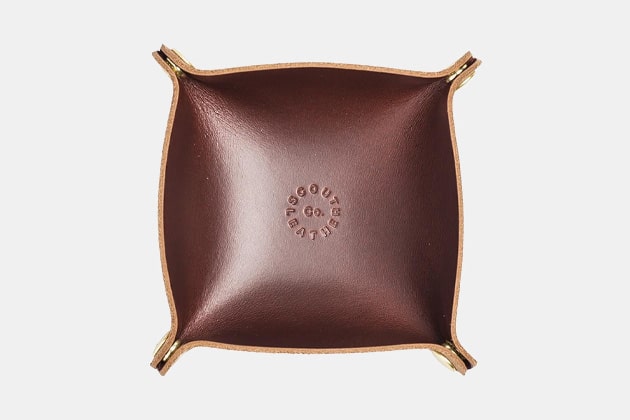 Scout Leather Mini Valet Tray
The more you read this site, the more you might realize we appreciate the finer things in life, from aged whiskey to expertly crafted leather boots, and of course, a handsome leather valet tray like this one from Scout Leather. The name says it all, really: A valet tray finished off with durable metal straps and crafted from Horween leather in the States. The best way to store your favorite everyday carry essentials? We certainly think so. – Shop Now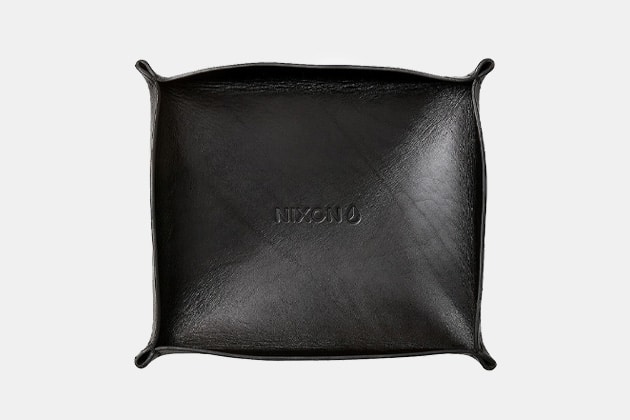 Nixon Leather Valet Tray
The brand that makes your favorite outerwear also does a fine job crafting smaller essentials that are still just as fit for everyday use. Take the Barbour Leather Valet Tray, easily one of the best valet trays on the market. It's instantly recognizable thanks to the quality craftsmanship and also the cotton tartan lining on the bottom, ensuring your keys and leather goods have a safe (and stylish) home. – Shop Now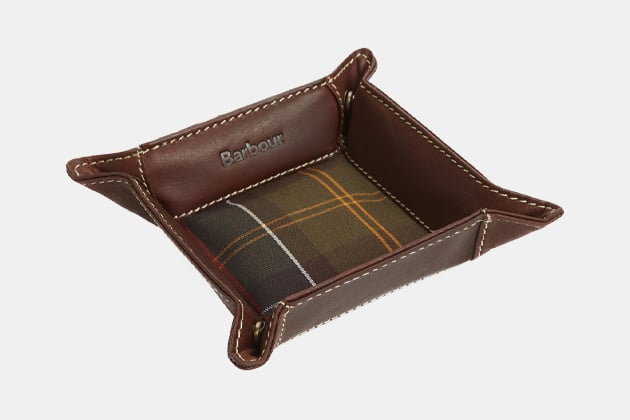 Barbour Leather Valet Tray
The brand that makes your favorite outerwear also does a fine job crafting smaller essentials that are still just as fit for everyday use. Take the Barbour Leather Valet Tray, easily one of the best valet trays on the market. It's instantly recognizable thanks to the quality craftsmanship and also the cotton tartan lining on the bottom, ensuring your keys and leather goods have a safe (and stylish) home. – Shop Now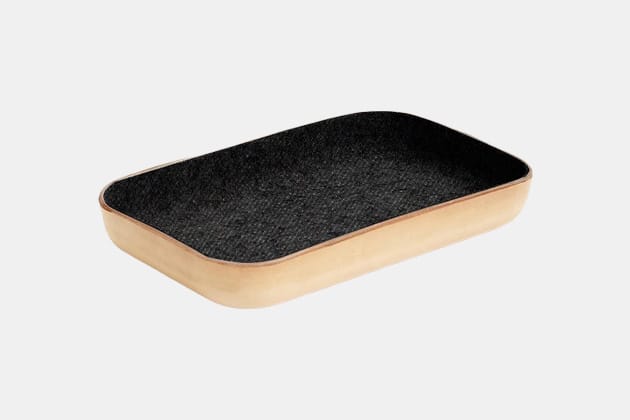 Graf & Lantz Kawabon Valet Tray
Even the smaller items in your day-to-day life should be well-designed and well-made — right down to your selection of one of the best valet trays to keep all your essentials organized. It's something that can add a sense of routine and purpose to your day — arrive home, place your essentials in the stylish black denim-and-leather Kawabon Valet Tray from Graf & Lantz, then go about your evening. Made sustainably in the U.S.A., this is a prime valet tray selection. – Shop Now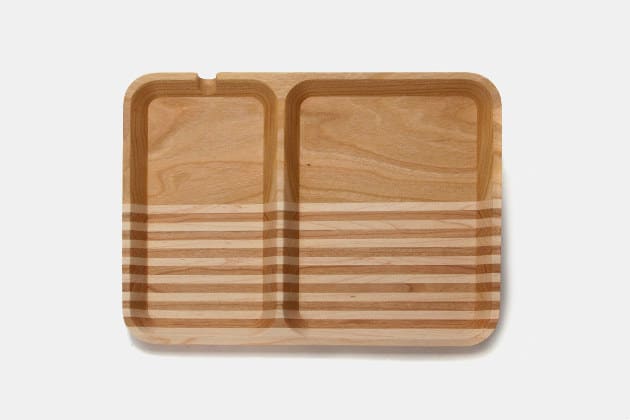 Maxx & Unicorn Rectangle Valet Tray
We've talked leather valet trays, we've talked concrete valet trays and we've talked leather AND concrete valet trays. What we haven't yet talked about, though is a stylish, entirely one-of-a-kind wooden valet tray like the one seen here from Maxx & Unicorn. The use of sustainably harvested cherrywood and maple helps this valet tray stand out quite handsomely alongside the polished contents of your everyday carry (ideally, including a rich leather wallet and watch). It'll bring both style points & organization to your life. – Shop Now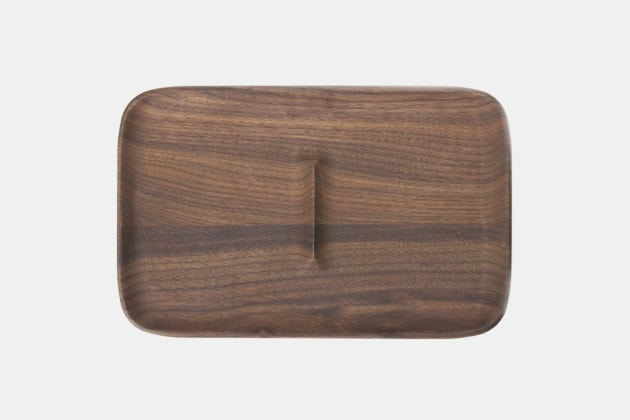 Craighill Nocturn Catch Valet Tray
If you appreciate clean, sharp design and products with purpose and style, then we'd wager you're going to appreciate — and use frequently — the Craighill Nocturn Catch. Milled and finished in Michigan, it's a richly crafted place to store your leather lanyard, your wallet or your AirPods. It's also distinctive enough to fit right in with the decor of your home without missing a beat. – Shop Now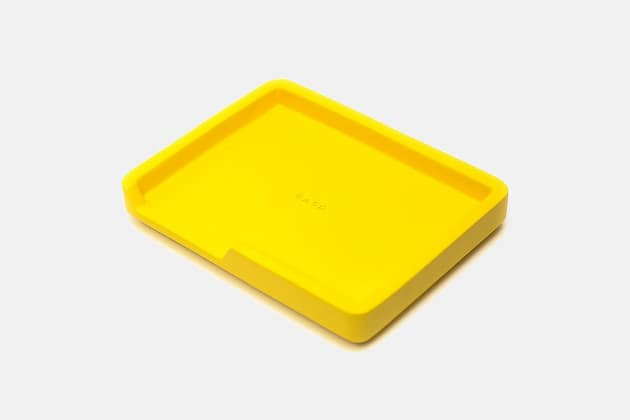 Base Object 004 Valet Tray
With the kind of modern design that's not found too often when it comes to valet trays, the Object 004 Valet Tray from BASE might be what you need to shake up your approach to storing your everyday carry. The bright yellow color is as striking as the clean design, and with a smaller size and minimal branding, it does most of the talking. Of course, the simple silhouette is effective at storing your favorite everyday pieces, and would provide a nice shot of color to your daily desk or home office set-up. – Shop Now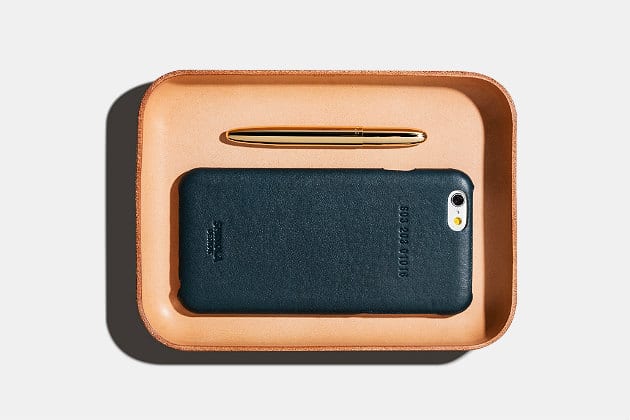 Shinola Small Leather Valet Tray
Where to store your trusty everyday Shinola watch at the end of a long day at the office? A handsome Shinola leather valet tray, of course. Made with easy access and a complete lifestyle in mind, this ridiculously well-made valet tray is crafted from a single piece of leather in a unique way. That means small variations in the leather set it apart from other valet trays — and it'll help your everyday carry stand out stylishly even when you're done with the day's adventures. – Shop Now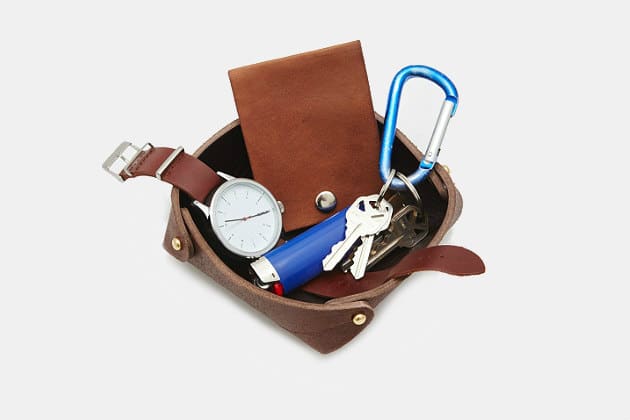 Panhandler EDC Valet Tray
When you start with belt-weight leather and fashion it into a rugged, practically unbreakable valet tray, you're going to be pleased with the results — style points and functionality included. The Panhandler EDC Valet Tray wins on both of those fronts, made with the handy ability to fold flat for travel and store your stuff when you're at home. Whether you toss in a leather lanyard or a slim card case (or preferably both), the Panhandler Valet Tray is going to store your gear in style and help you stay organized on the go. – Shop Now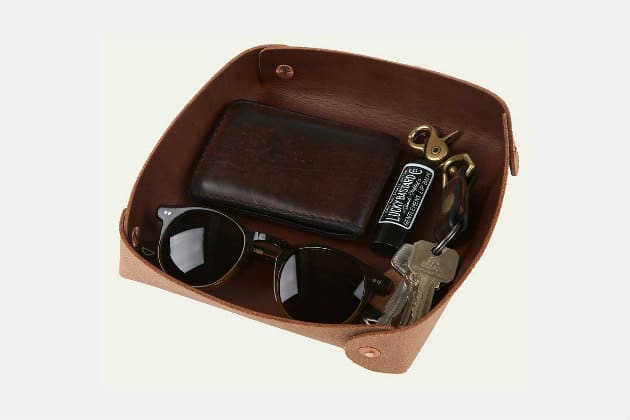 Bradley Mountain Large Valet Tray
From a go-to utility bag to small leather goods, Bradley Mountain takes care to produce rugged, tough staples for use on the daily. And when it comes time to drop your wallet, sunglasses, multi-tool .. you name it, the brand's Large Valet Tray can hold it. This vegetable-tanned leather tray is oiled and waxed for a unique finish and high quality; the American craftsmanship and cooper rivet detailing aren't half-bad touches, either. All you need to do now is grab your favorite selection of everyday goods and get out there. – Shop Now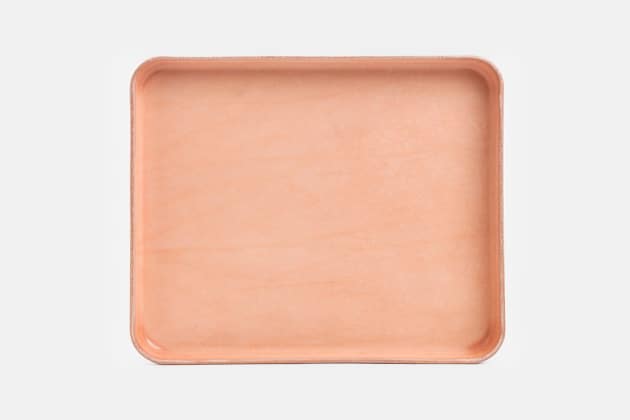 BillyKirk No. 471 Large Valet Tray
For years, Billykirk has been delivering gear for the modern man that defies expectations and sets the standard by which other accessories brands should be judged — yes, that's high praise, but premium products like the lauded No. 471 Large Valet Tray back it up. Made from rich undyed leather that'll break in every time you use it — be it through sunlight or oil — this premium valet tray is one of the best we've seen in a long while (and there's plenty of space for all your essentials). – Shop Now