15 Desk Accessories for Your Home Office
When I started working from home four years ago, a stool was my desk and the floor was my desk chair. Since then I've managed to find the little (and big) things that turn a carved-out corner of the living room into a space where work gets shown who's boss.
If you're new to this whole home office thing or you've been at it for years, this round up of clever and useful desk accessories will help make your home office uniquely yours — effective, good-looking, cool, and ready to crush what needs crushing.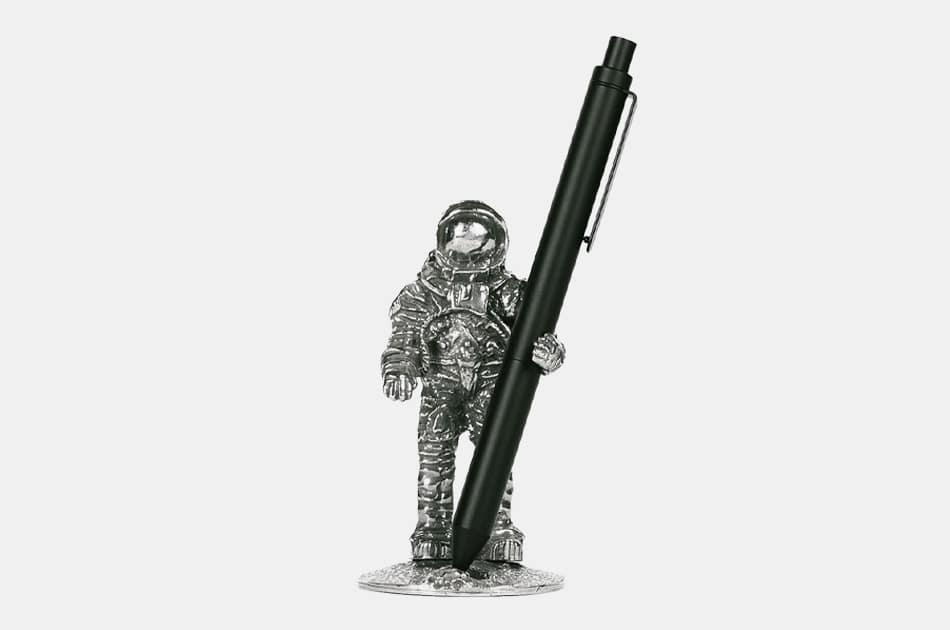 Astronaut Pen Holder
You buy the good pen and then can't find it? Madness! This little pewter space explorer is made in the US and ready to keep your pen exactly where you can find it (and looks cool even when empty). Honestly, computers and apps are nice and all, but nothing beats sketching out the really good ideas by hand.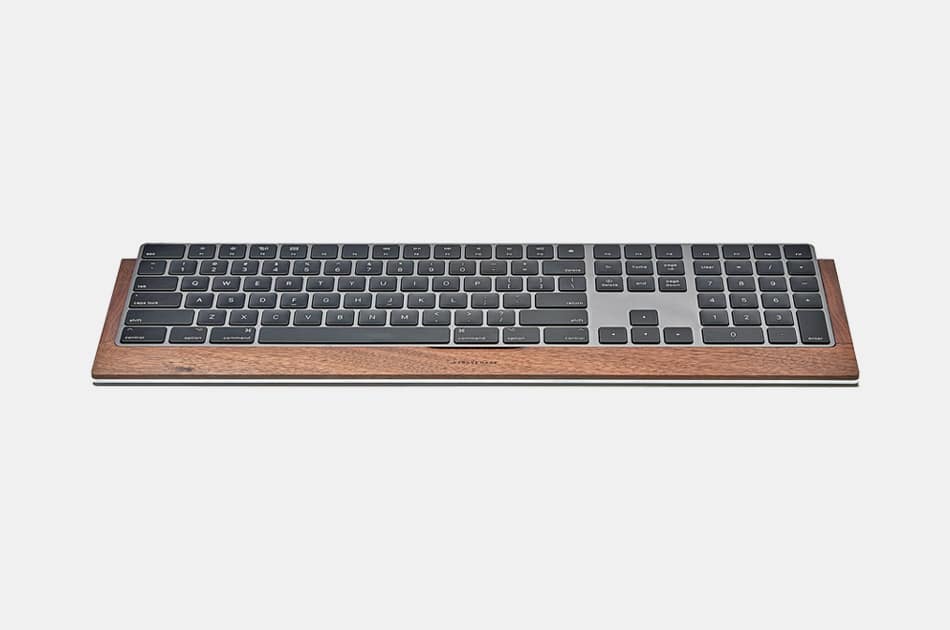 Grovemade Wood Keyboard Tray
Apple products are awesome, but sometimes so sleek they threaten to disappear completely. This keyboard tray is made from solid walnut or maple and cork in Portland, Oregon and not only does it give your wireless keyboard a sharp looking landing spot, it offers just enough tilt and lift off the desk for better ergonomics.
Yamazaki Home Office Desk Organizer
There's space for all the usual office supplies — from pens to paper clips to rulers — but what sets Yamazaki's desk organizer apart is its ability to hold your watch and phone. Your watch slips around the wood ledge while your phone stands upright and facing you so all those Slack notifications and get-moving reminders don't get neglected.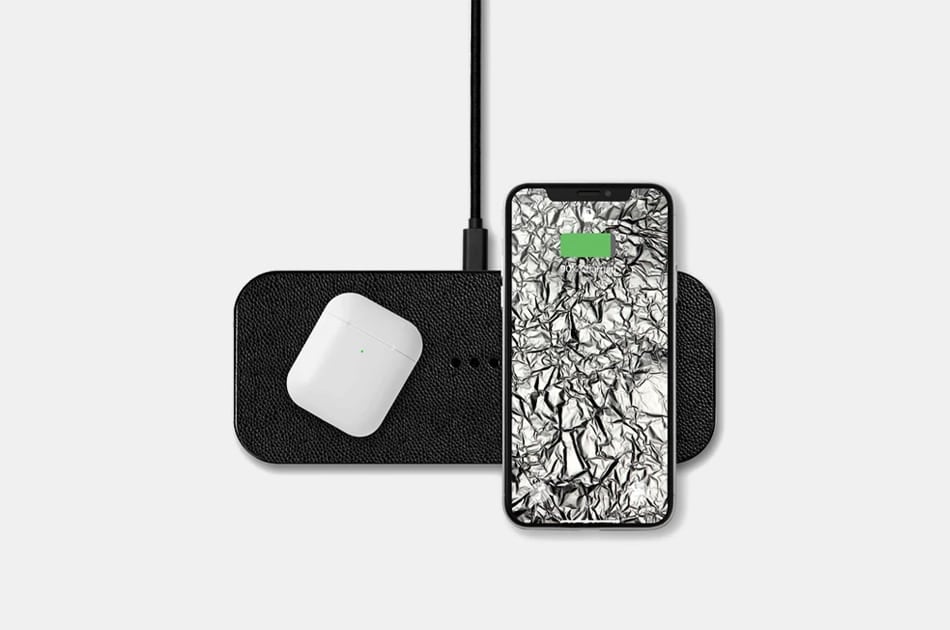 Courant Catch:2
If you've got more than one device to charge, whether it's an extra phone for work or your wireless earbuds, the Catch:2 is a must. The sleek pebbled leather top looks great and the wireless coils are not fussy about where you place your phone, ie, no "dead spots." Just sleek modern charging.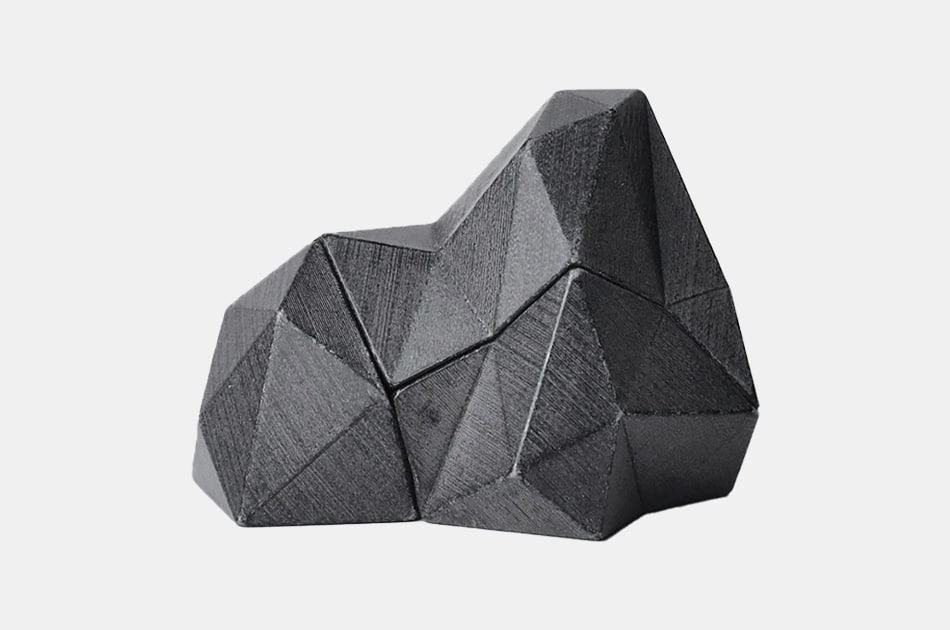 Desk Object 01
Where does desk organization start? At the beginning. Object 01, the first word in form, the nexus of geometry and geology. It's a paperweight? Yes. Also a secret store for your paperclips? Indeed. Set it on your desk. Marvel at its puzzle-like interconnections. Just don't stare too long, we're here to work.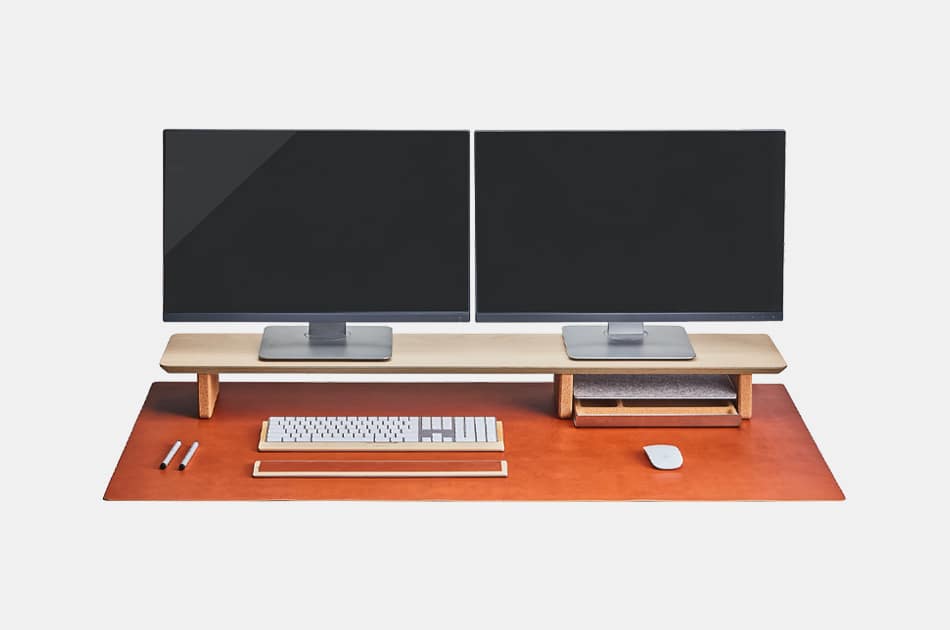 Grovemade Leather Desk Pad
Made from veg-tanned, US leather from Wickett and Craig, the Leather Desk Pad goes under your mouse and keyboard with the smaller size, or under the whole shebang, monitor and all, with the larger sizes. Laminated to a cork underside, Grovemade die cuts each mat for a smart and finished delineated space that only looks better with time.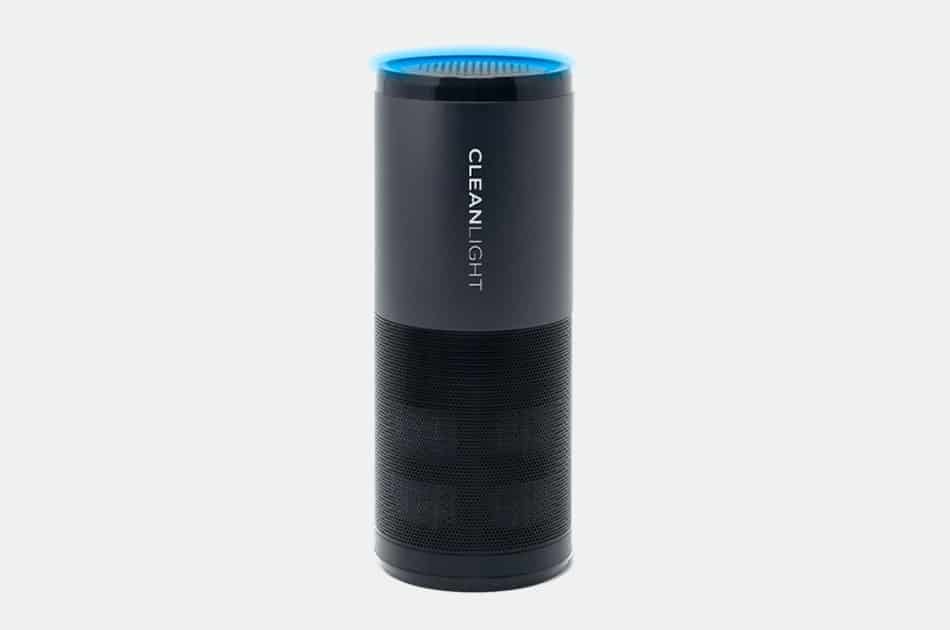 Keysmart CleanLight Air Purifier
When it's time to clear the air, literally, rely on this tallboy-sized gadget. Powered via USB and using two quiet fans, the CleanLight moves air past its LED UV light to kill airborne pathogens with a 99.99% efficiency. The internal HEPA filter clears out smoke, pet dander, and other particulates and you can even charge your phone while it's running with the USB outlet.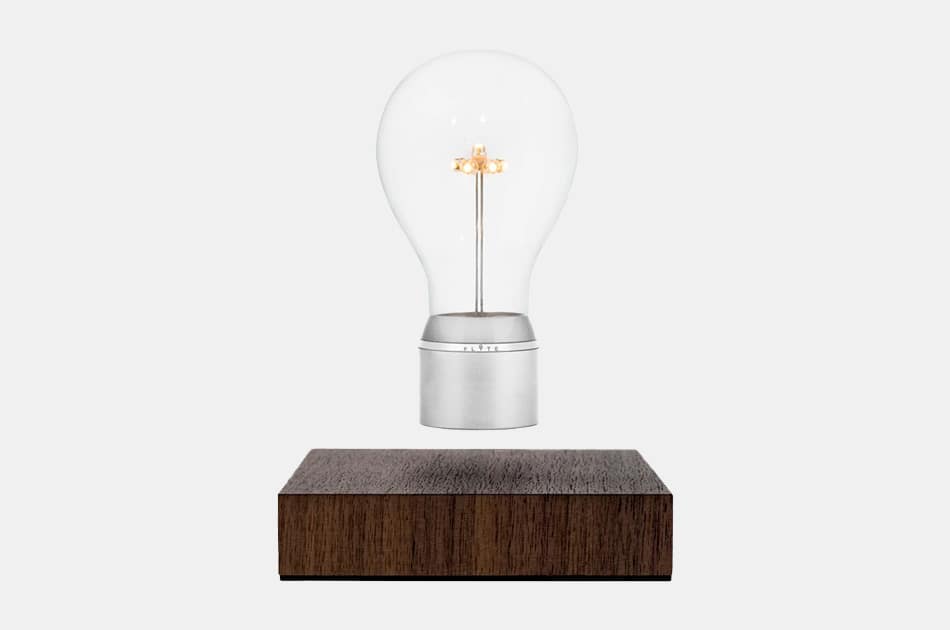 Flyte Manhattan Levitating Light Bulb
When the sun sets and you're still at it, you need a desk lamp. Designed in Sweden, the Flyte Levitating Light Bulb looks like an old fashioned Edison glass bulb — that just happens to be floating above a block of wood. It may take you a few attempts to get the bulb floating just right, but when you do, it's all you'll want to look at.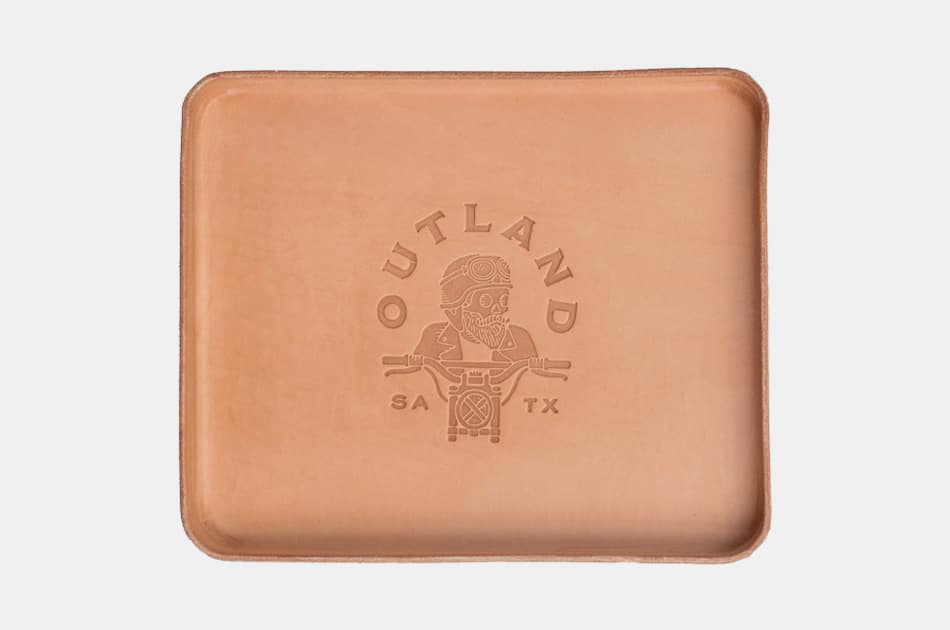 Bexar Goods Leather Valet Tray
Maybe you think a valet tray is just for the nightstand/dresser. Maybe you don't think about valet trays at all. But putting one on your desk is a good way to clear up your space. Coins, clips, stuff in your pockets, the lighter for your calm candle, they'll all fit perfectly in this pressure-molded leather tray from Bexar Goods.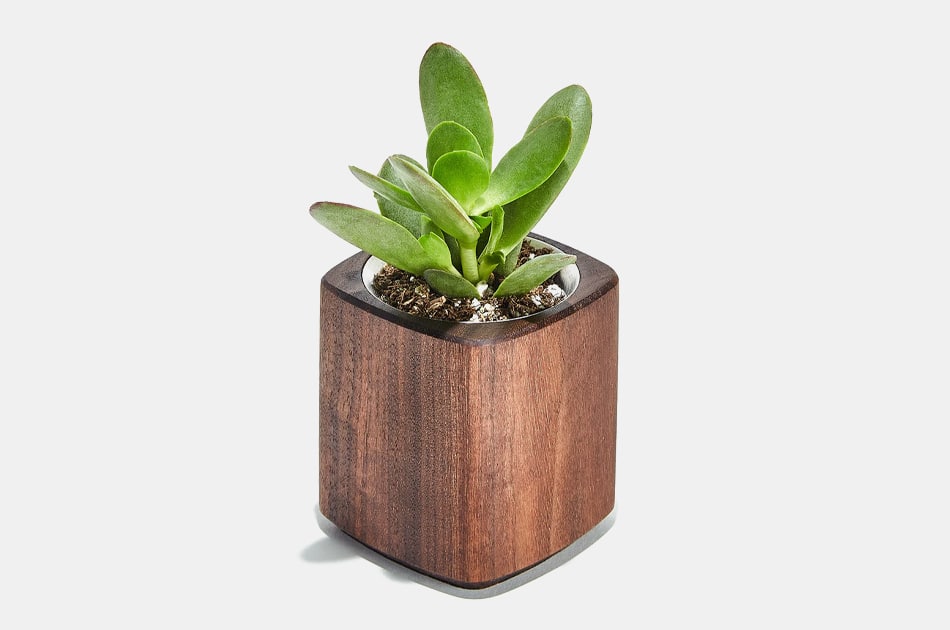 Grovemade Wood Planter
Grovemade's purpose in life is to create functional and beautiful accessories for your desk and office. Most of their stuff is made out of their Oregon workshop and all of their stuff will make you like your workspace more. For example, the Wood Planter. Pop a succulent in there and you'll have a coworker who never chats too much and only asks for a little water now and then.
Craighill Eyewear Stand
If you have glasses you only wear for work (thinking of you, blue light glasses) you need a place to put them when you're done working. Otherwise you'll spend fifteen minutes of productivity hunting for them. This Eyewear Stand by Craighill is cast in solid brass and weighs a satisfying fourteen ounces.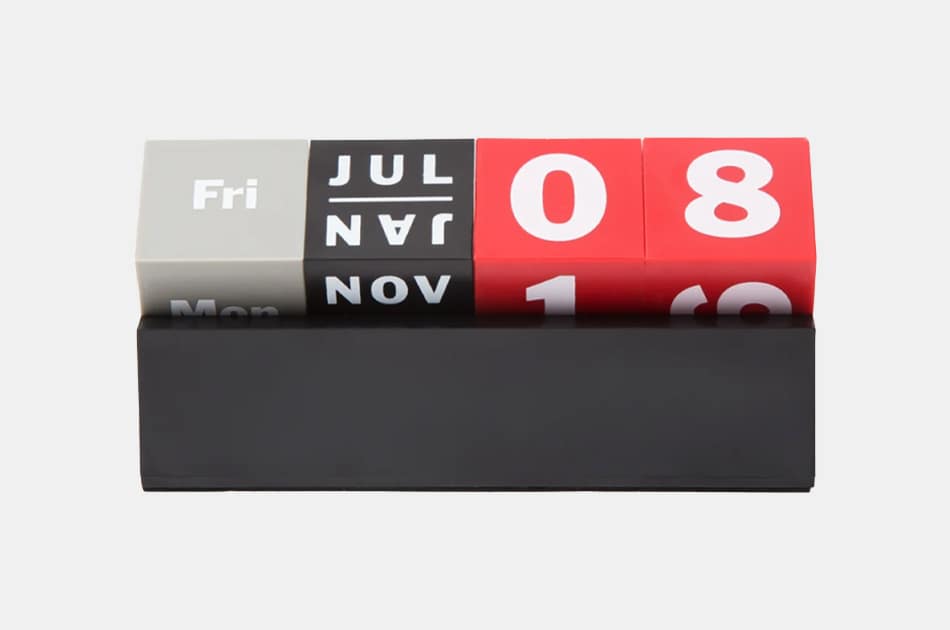 MoMA Block Daily Calendar
Take five seconds each day to set this block calendar and think about the day ahead. Designed by MoMA, this non-electric, analog, manual desk piece is all about l'art pour l'art.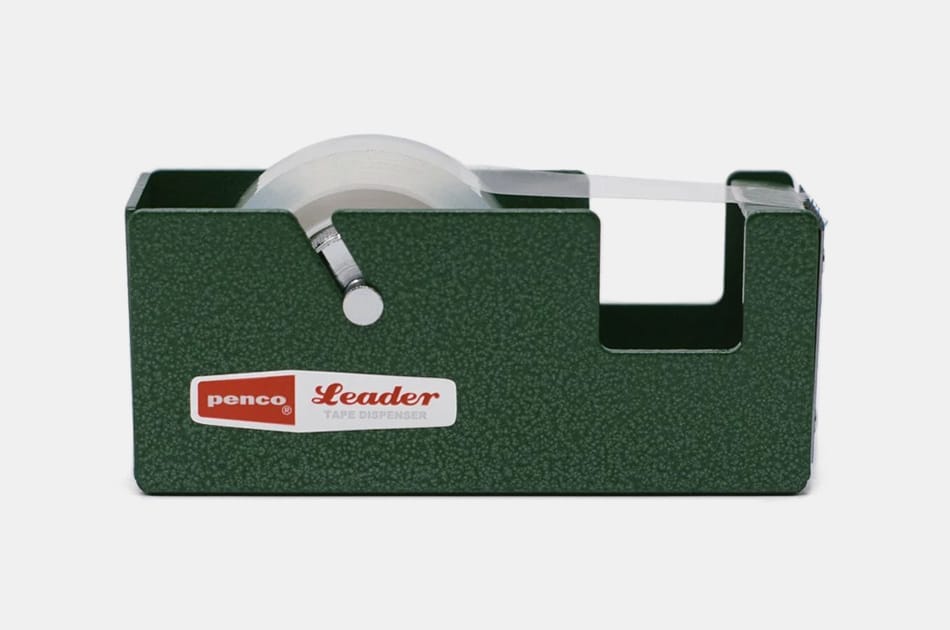 High Tide Steel Tape Dispenser
Looking like something you got at a liquidation sale over at Sterling Cooper, this Steel Tape Dispenser has that hammered green steel effect like your grandad's old work lunchbox and enough heft and style to justify its position on your desk.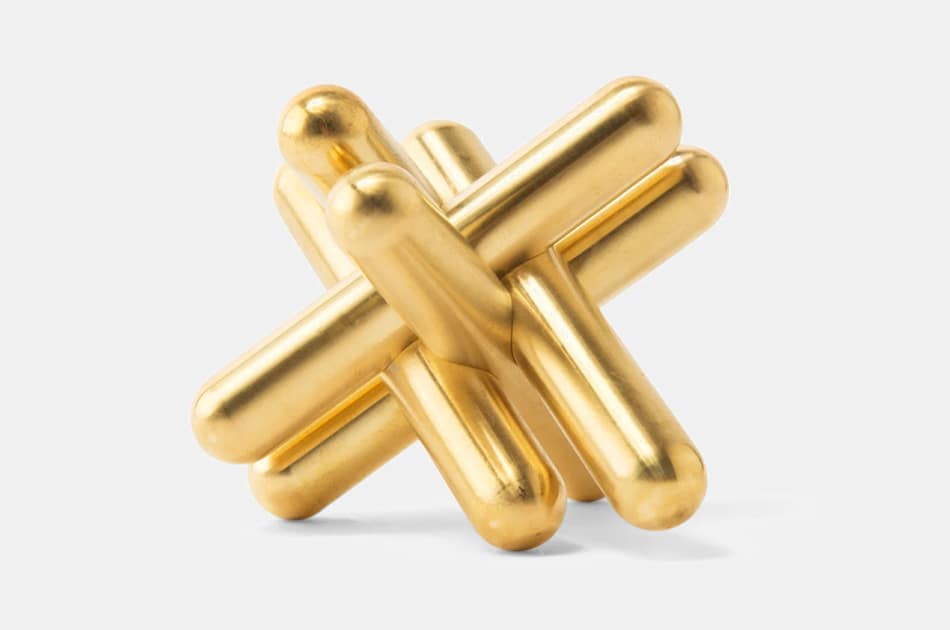 Craighill Jack Puzzle
When your mind grapes have been over-squeezed, you need a break. Looking at Reddit does not count. This hands-on puzzle is made from solid brass in Rhode Island and weighs nearly a pound. Finished, it looks great on your desk. Deconstructed, it's a challenging activity — at the end of which, that work conundrum plaguing you will seem totally surmountable.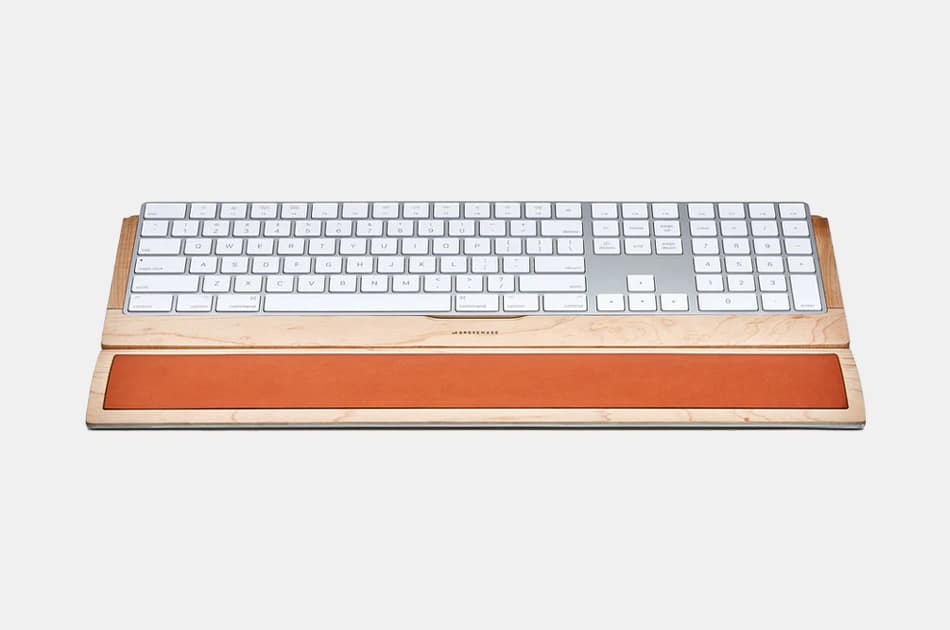 Grovemade Leather & Wood Keyboard Wrist Pad
For proper ergonomics, your wrists are supposed to be straight. Your hands shouldn't angle up or down. The easiest way to ensure you're doing it right is with a wrist pad. The best looking and most luxe way to ensure you're doing it right is with this wrist pad. Made from rubber wrapped in leather and seated in a wood base, it's one more way these desk geniuses are improving your whole set up.
Disclosure: Clicking on these links and making a purchase may earn us a small referral fee, at no extra cost to you. Learn more here.
freestar.config.enabled_slots.push({ placementName: "gearmoose_leaderboard_btf", slotId: "gearmoose_leaderboard_btf" });