The 20 Best Men's Hoodies
Your hooded sweatshirt is all grown up — at least, if you stick to our list of the best men's hoodies, that is. If you once considered the hoodie an afterthought to throw on for a weekend day of lounging around after a few too many at your local watering hole, think again. Your favorite designers and brands — stalwarts like Todd Snyder and American Giant — are doing right by the hooded sweatshirt.
From cozy-yet-upgraded fabrics to slimmer fits and small-but-helpful design touches, the hooded sweatshirt is better than it used to be. Our list of the best men's hoodies covers all of those positives and plenty more. That doesn't even get into the fact that a hoodie is a layering essential useful in fighting the chilly fall and winter weather. And when made the right way, you can wear your new favorite hoodie over your other style staples — like an American-made Oxford, slim chinos and handsome leather sneakers. Yessir, the new crop of hoodies are that great. Start filling up your cart now — and make room in your closet.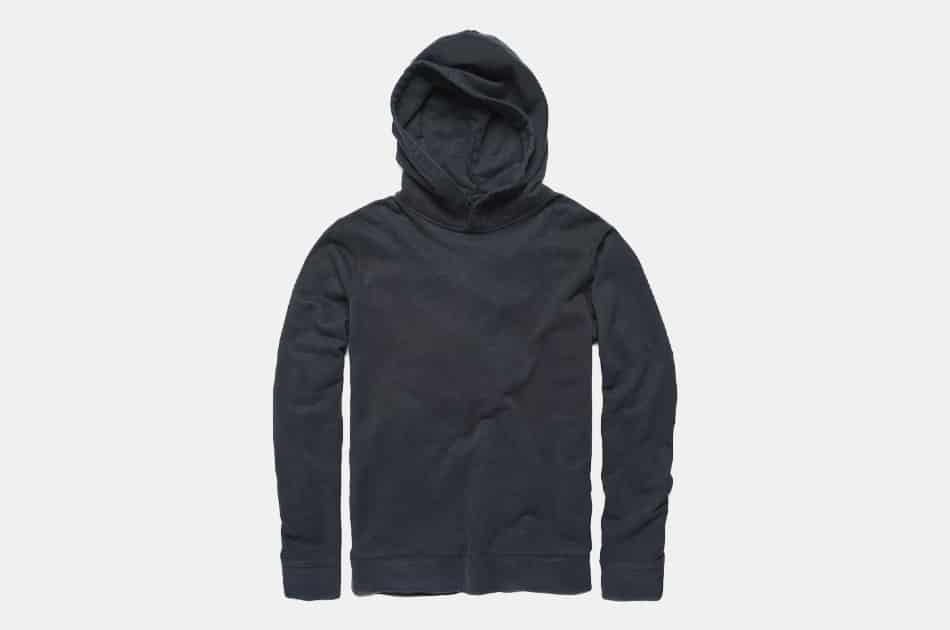 Outerknown Sur Snap Hoodie
Think of the perfect hoodie to throw on to head to your local park, or your favorite brewery, or the best coffee shop in town — the kind of versatile, anything-goes hoodie that you can wear comfortably and casual with well-worn jeans and a garment-dyed tee. Folks, that hoodie is the Outerknown Sur Snap Hoodie, an exceptionally well-crafted hoodie that's made from a sustainable blend of hemp and cotton. Does it get any better? Not quite. Great work from one of your favorite brands? Absolutely.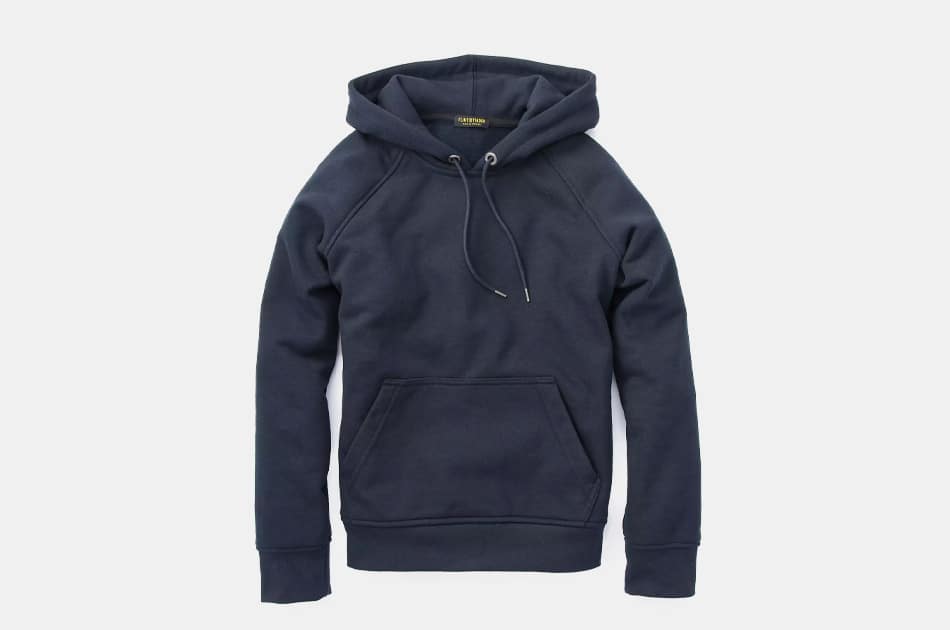 Flint and Tinder 10-Year Pullover
If there's one hoodie on our list that we'd say you need right now, it's the Flint and Tinder 10-Year Pullover. As sold by Huckberry, it's an utterly classic, dependable sweatshirt made for near-daily wear. Particularly in a crisp black color, it's the answer to overly loud hoodies you might have worn in high school and college. With its quality construction and timeless fit, it's even able to be paired up with your favorite Flint and Tinder jeans and a classic Oxford on casual Friday.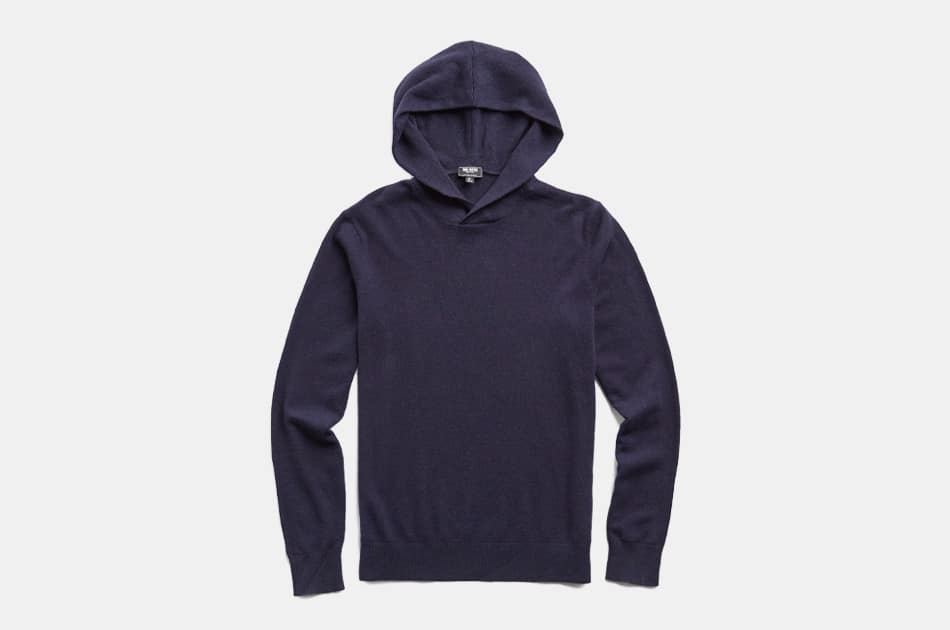 Todd Snyder Cashmere Hoodie
Didn't think a hoodie could be the height of luxury? Try again — Todd Snyder gets it absolutely right with this handsome cashmere hoodie, the perfect way to layer up through fall's impending chill. It's a surprisingly premium take on the athletic wear staple, something at which the Todd Snyder brand continually excels at. As a matter of fact, this stylish hoodie is so premium, it's nearly suitable to be worn with slim herringbone trousers, moc toe leather boots and a chambray shirt at the office — the perfect mix of high-low style.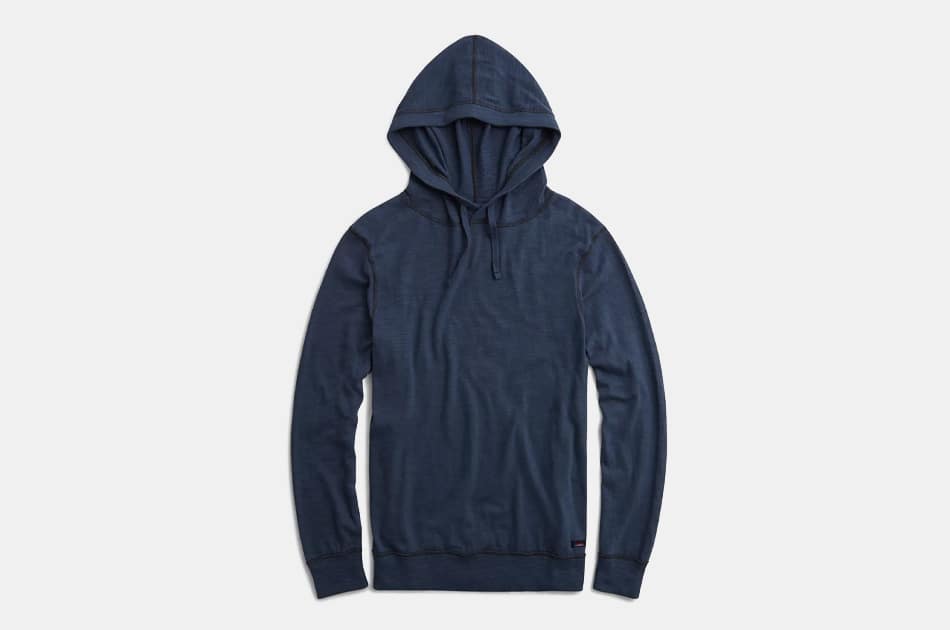 Faherty Brand Slub Cotton Hoodie
In the way of brands that just intuitively understand how to make casual basics work in unexpected ways, Faherty Brand has to top the list. That's because the brand uses unexpected fabrics and silhouettes in conjunction with one another, including with this Slub Cotton Hoodie. It's a piece that's imbued with the Faherty Brand DNA, meaning it's casually cool and laidback, as easy to layer on a late summer night as it'll pair up in early fall with slim light wash jeans and a thermal long-sleeve shirt.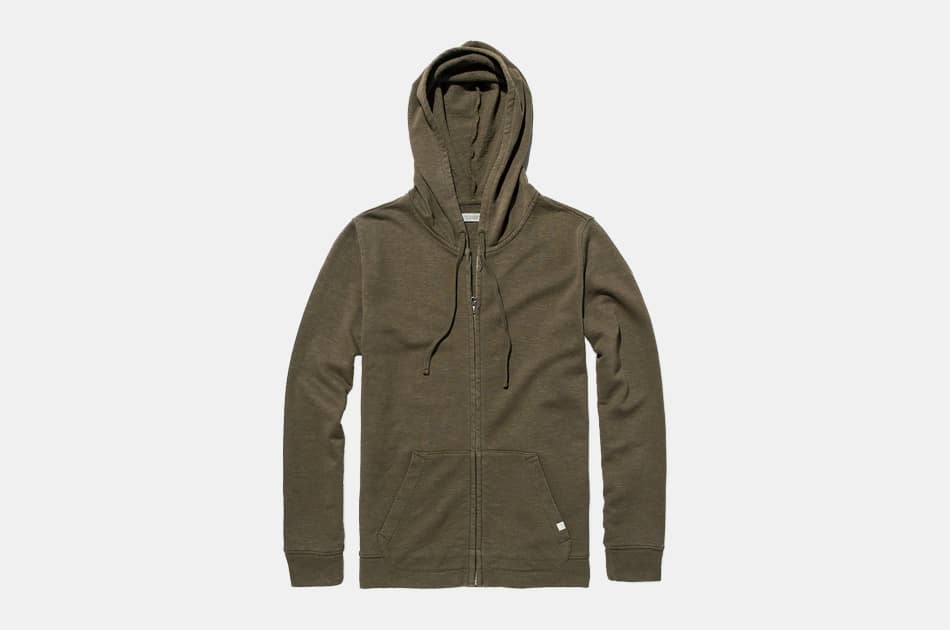 Outerknown Sur Zip Hoodie
Launched by surfing legend Kelly Slater, it only makes sense that Outerknown would design gear that's both surf-ready and city friendly like the brand's Sur Zip Hoodie, made from hemp and organic cotton for a premium look and feel. It's light, it's flexible, it's well-fitting and it's made to wear with your favorite jeans and your most casual, garment-dyed T-shirt on fall weekends aplenty. Available now in nine color options.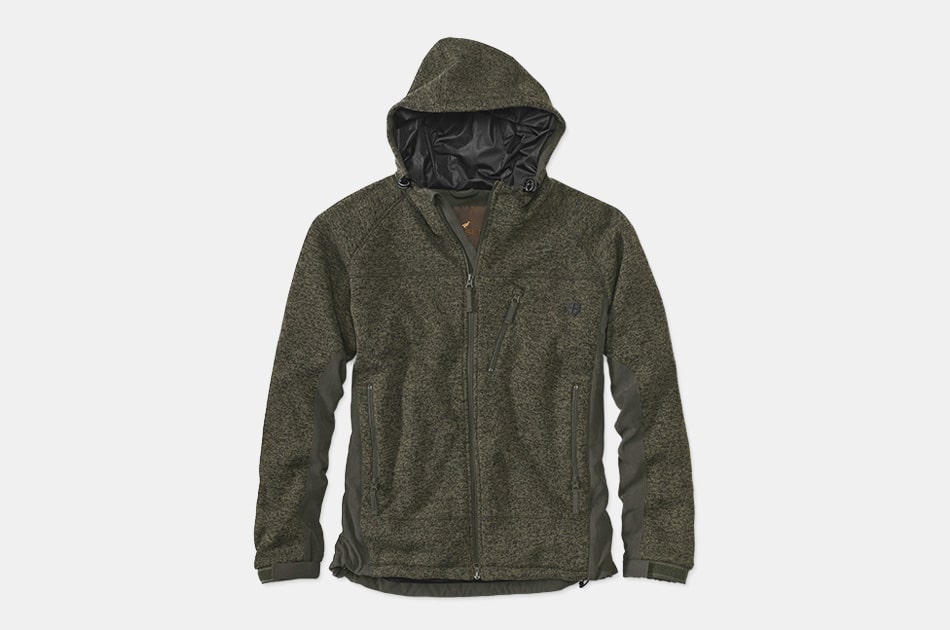 Cairn Knitted Water Resistant Fleece Hoodie
If you want gear that's going to be more than suited for bundling up through a chilly fall, then you want gear sold by Orvis — and specifically, something like the Cairn Knitted Water Resistant Fleece Hoodie. It's pretty rare to find that combination out there among hooded sweatshirts, and yet, that's just what this hoodie brings to the table — and the combination of durability and style is perfect for wearing on a chilly fall or winter morning.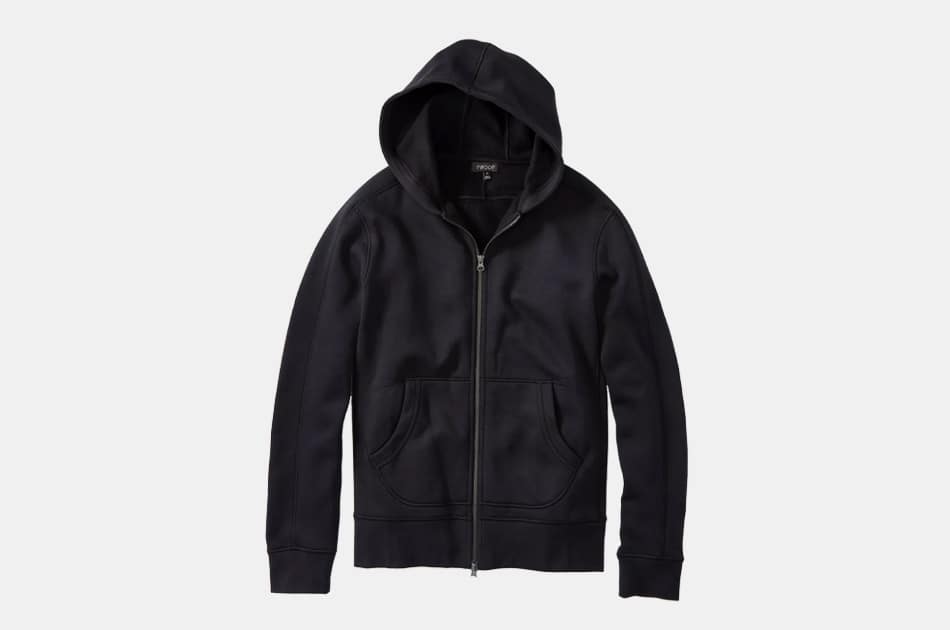 Proof City Merino Hoodie
Merino is quickly proving its mettle when it comes time for you to find the best men's gear, and that's just a fact. The Proof Performance brand exemplifies this approach perfectly, what with its unique takes on a functionally minded Oxford shirt, the brand's excellent Rover Pants, and now, the Merino Hoodie. Each of those pieces could be worn together with ease, all at once, and it's that approach that we applaud. Heading into fall, this is one of the best men's hoodies you can buy.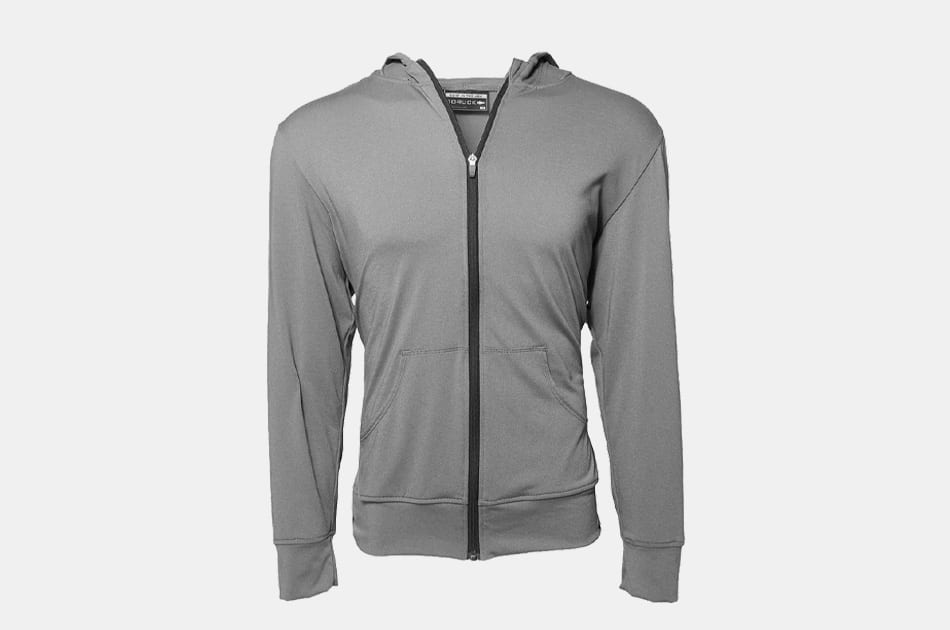 GoRuck Tough Hoodie
When we want a hoodie that simply refuses to quit, no questions, asked we turn toward GoRuck. If you didn't think this brand could churn out one of the best men's hoodies (and one of the toughest, at that), then think again — this is rugged, performance-ready style in a trail-ready hooded sweatshirt, to the max. Think lightweight performance, tactical stretch, a casually rugged style and a range of color options, all at an agreeable price — that's just the GoRuck way.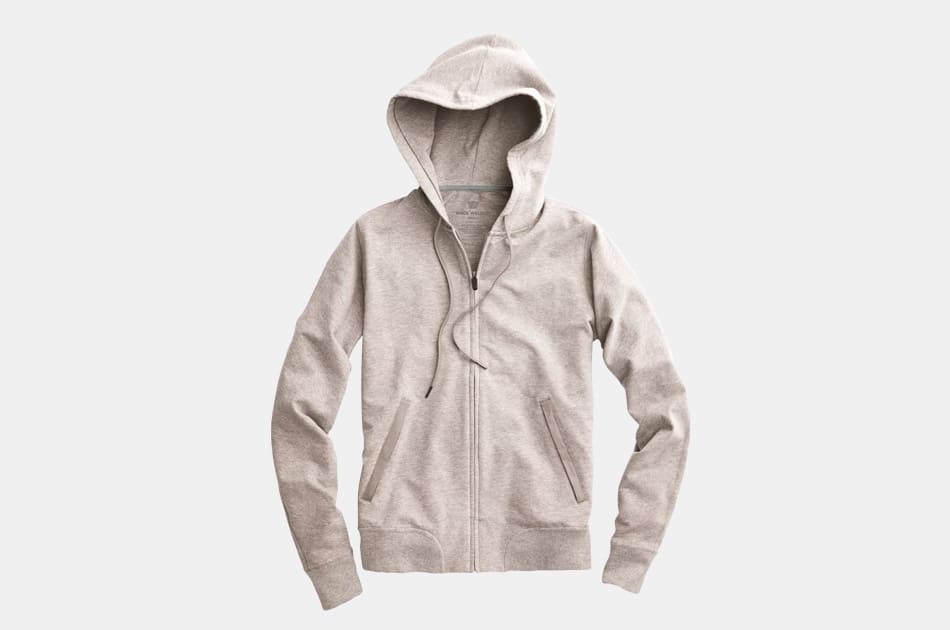 Mack Weldon Ace Hooded Sweatshirt
There are brands that make logo-heavy hoodies, and there are brands that make the type of laidback, smart-casual hooded sweatshirts that you can wear to the gym or on a morning coffee run in equal measure — and Mack Weldon specializes in the second type. Particularly when it comes to the Ace Hooded Sweatshirt, variety and versatility are everything, and from the range of color options to the silky smooth fabric, this hoodie has it in spades. Go casual with a pair of the brand's tailored sweatpants, or wear it with a merino tee and slim light wash denim.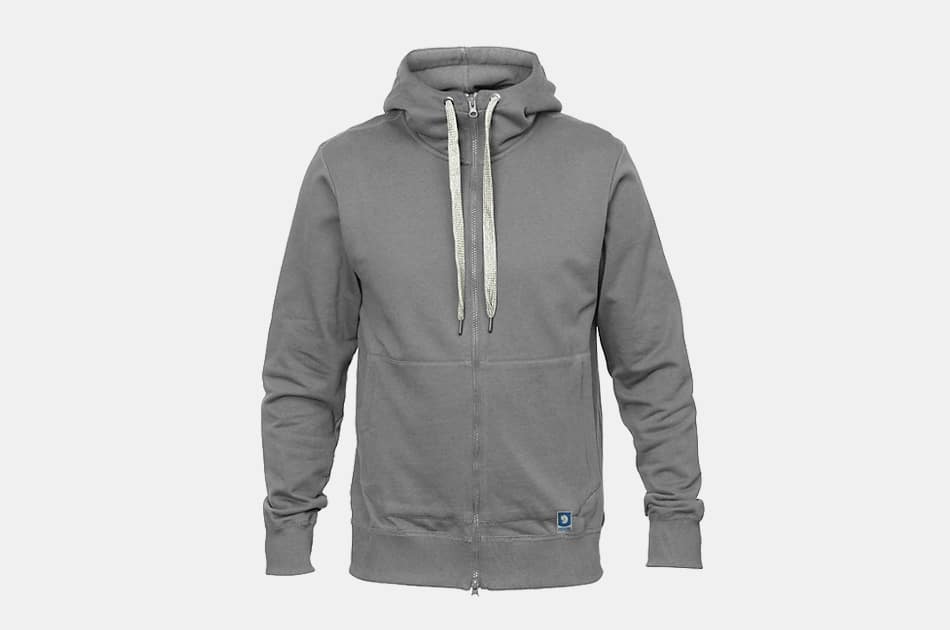 Fjallraven Men's Greenland Zip Hoodie
You're very likely well acquainted with Fjallraven's line of durable and highly accessible bags and everyday carry gear — but perhaps you're not as in touch with must-haves like the Greenland Zip Hoodie. It's the perfect complement to your everyday carry (hauled in a Fjallraven bag, of course), and it comes in a range of accessible and highly wearable colors, at that.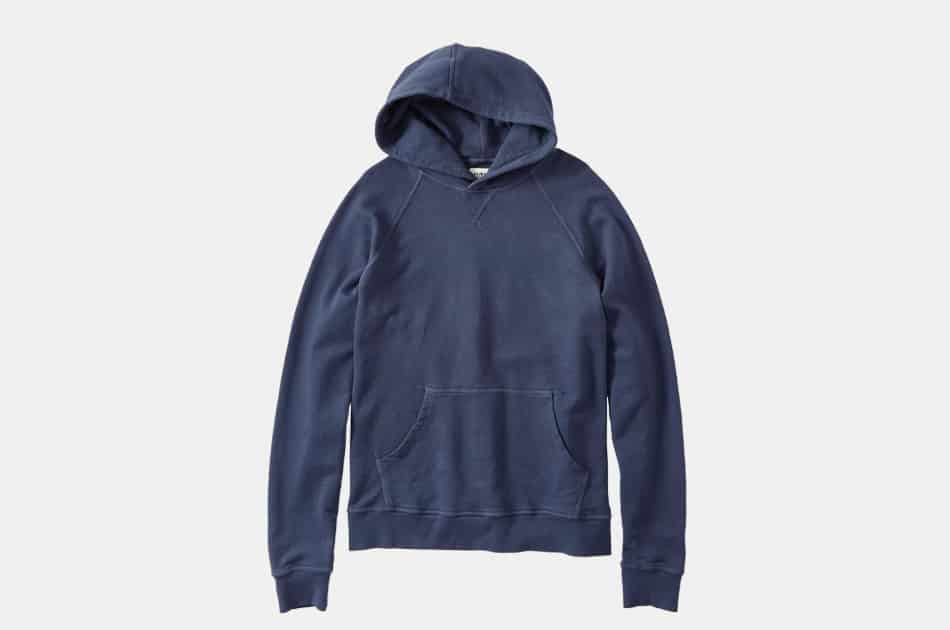 Flint and Tinder French Terry Pullover Hoodie
Among brands we know and love, brands that continue to come through in the clutch in terms of craftsmanship, style and durability, Flint and Tinder absolutely reigns supreme. If you read this site, you know that the in-house brand at Huckberry just delivers, time and again — and that goes for the casually rugged, utterly perfect Flint and Tinder French Terry Pullover Hoodie. Perfectly soft and incredibly well-executed, it's the best hoodie you can throw on this fall.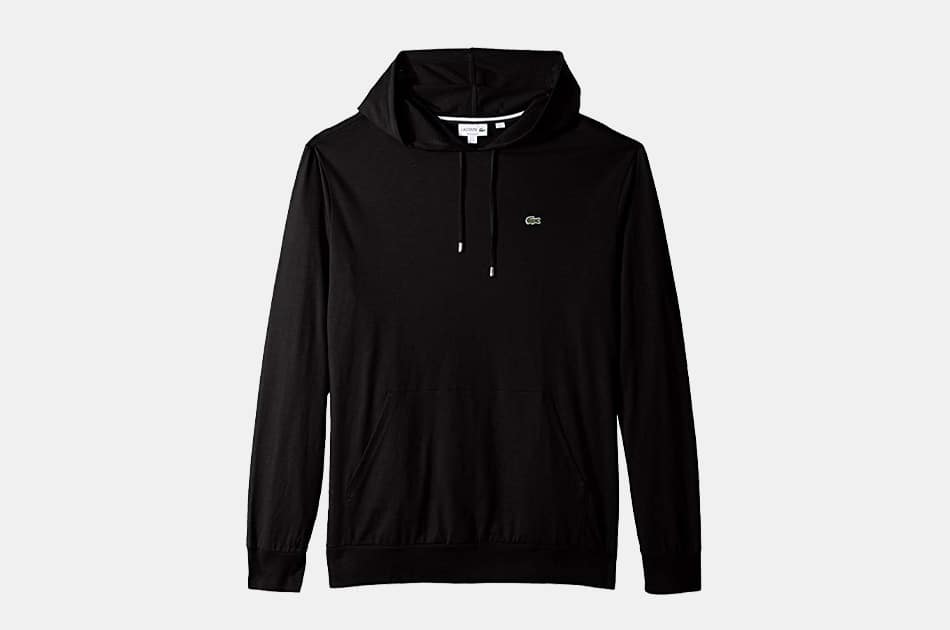 Lacoste Pullover Hoodie
If you're familiar with Lacoste for its utterly classic, instantly recognizable polos, you might want to add another item to your closet from the brand — the brand's Pullover Hoodie. It's a unique and refined take on the hooded sweatshirt, made with the type of breathable cotton that works perfectly for layering under a denim jacket or a leather moto jacket for instantly cool and casual style. It's a bit of a splurge at nearly $90, but it's a piece that you can easily wear all four seasons (as long as you layer properly, that is).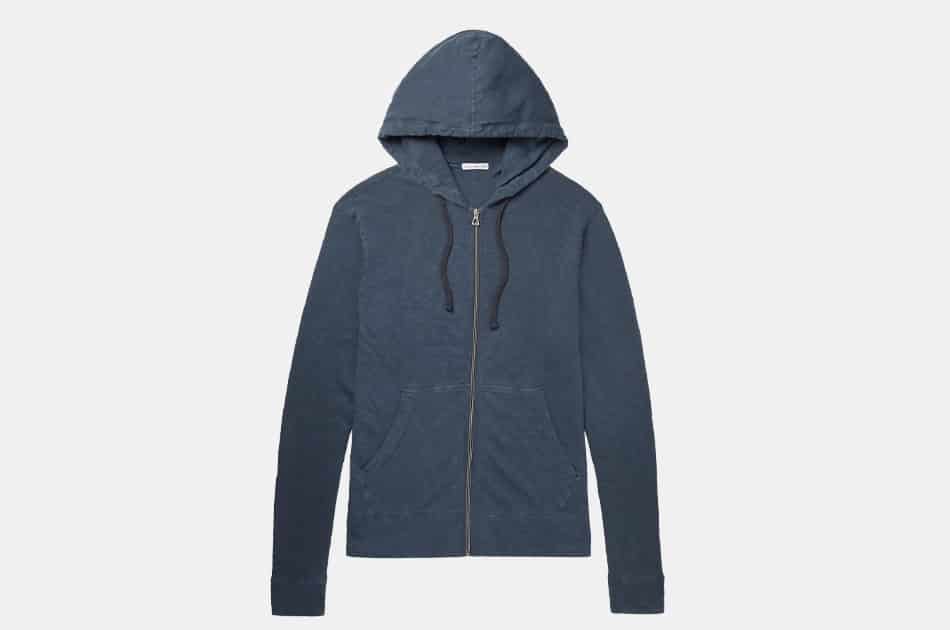 James Perse Loopback Supima Cotton-Jersey Zip-Up Hoodie
There are surprising ways in which the best men's hoodies can become so much more than what you'd expect — take the James Perse Loopback Supima Cotton-Jersey Zip-Up Hoodie, a classic hooded sweatshirt that comes courtesy of a retailer that's masterful at minimalist essentials. Made from handsome supima cotton for an easygoing fit, this is one hooded sweatshirt you'll find hard to take off.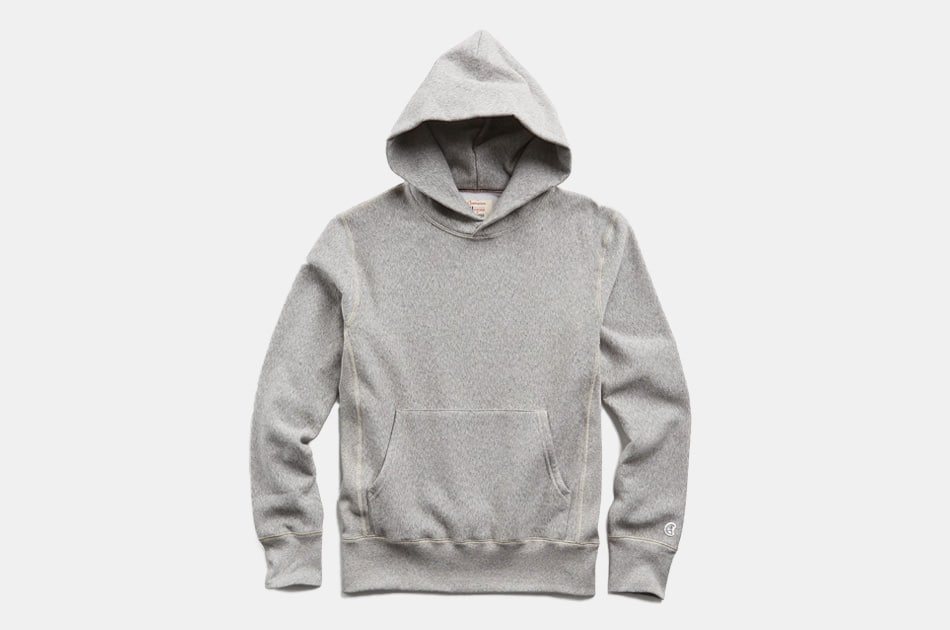 Todd Snyder x Champion Fleece Popover Hoodie
Is the Todd Snyder + Champion Popover Hoodie worthy of wearing this fall? We'll leave that up to you, but for our money's worth … it just might be. It features the kind of expert design and sleek styling potential that Todd Snyder has gotten right time and again, from a slim fit to a versatile color to the premium Canadian-made construction. Without any front chest logo, it's a streamlined upgrade to your old college hoodie. The Popover Hoodie is casual enough to wear with jeans and a classic tee, or clean enough to throw on over a chambray shirt with tan herringbone trousers.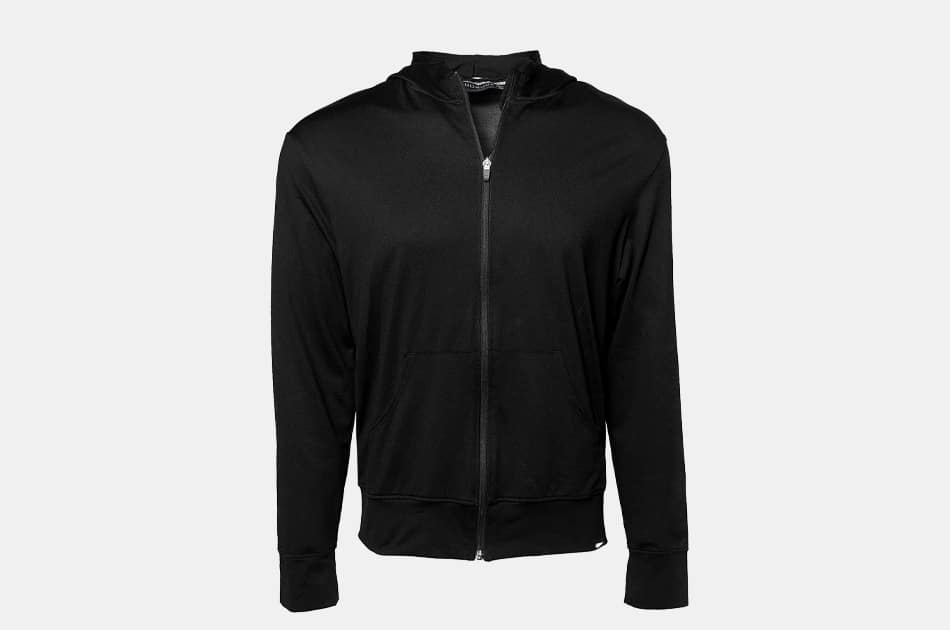 GoRuck Rucking Hoodie
All the gear that GoRuck makes can be categorized as remarkably tough and durable — the Rucking Hoodie is no exception. And if you get the chance to put together a full, adventure-ready look featuring the brand's gear, you should go for it. Why's that? Well, the Rucking Hoodie is the perfect topper for any fall or winter pursuits, featuring durable, breathable and moisture-wicking PolarTec fabric. That quality construction is just the tip of the iceberg. Like the brand's other gear, it features a soft interior and durable exterior. Between the lack of hood strings and the versatile color options, you might have just found your new favorite hoodie.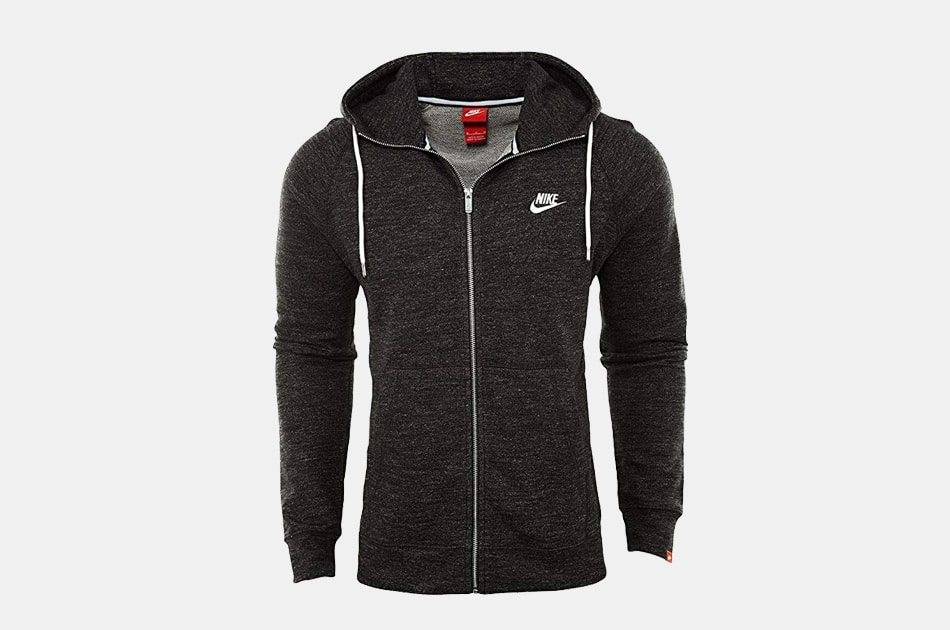 Nike Legacy Hoodie
It wouldn't be a list of the best men's hoodies without including a sporty, stylish pick from Nike — agreed, right? The Legacy Hoodie absolutely plays off the brand's, well, legacy of creating gear that looks great and performs quite well. The swoosh logo is instantly recognizable anywhere, and it's a design touch that means this hoodie will work seamlessly with dark blue denim or slim grey joggers. And given that it's Nike making it, you can certainly wear this hoodie to the gym or out on an early morning run — that's a great mix of unbeatable casual and sporty style.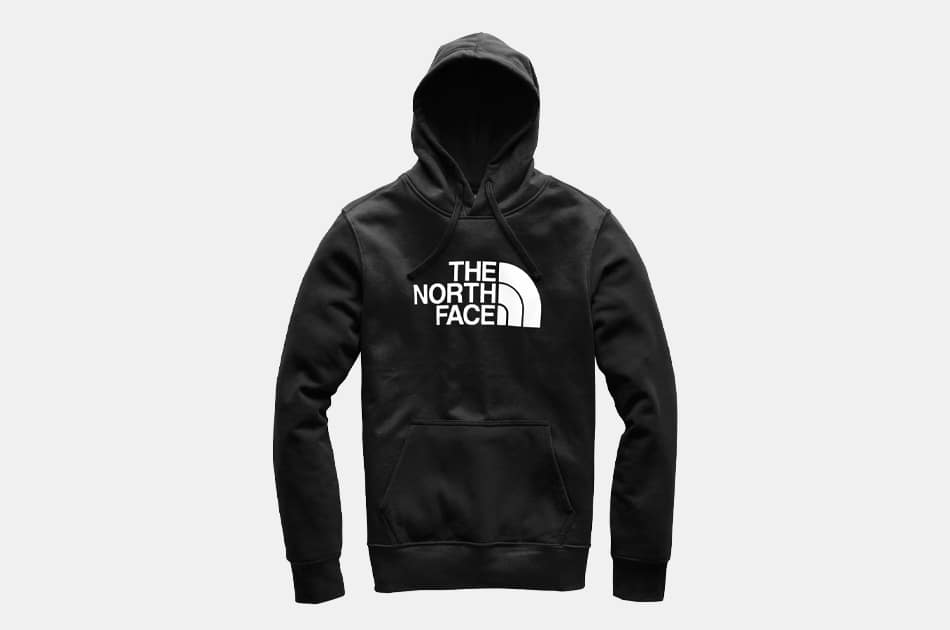 The North Face Half Dome Hoodie
When you pick up a hoodie with the North Face stamp of approval — quite literally — it's going to be good. Right? Right. The Half Dome Hoodie blends the distinctive (and streetwear-approved) logo of the brand with the technical qualities for which they're known. Those touches include athletic-style cuffs and a ribbed hem, plus warm jersey lining in the hood. The North Face is also offering an array of color options to pick from — simply grab one (or two, or even three) and layer with ease. How to style them? Wear them with hiking pants and boots for an outdoor getaway, or simply layer it up with a denim jacket and black jeans.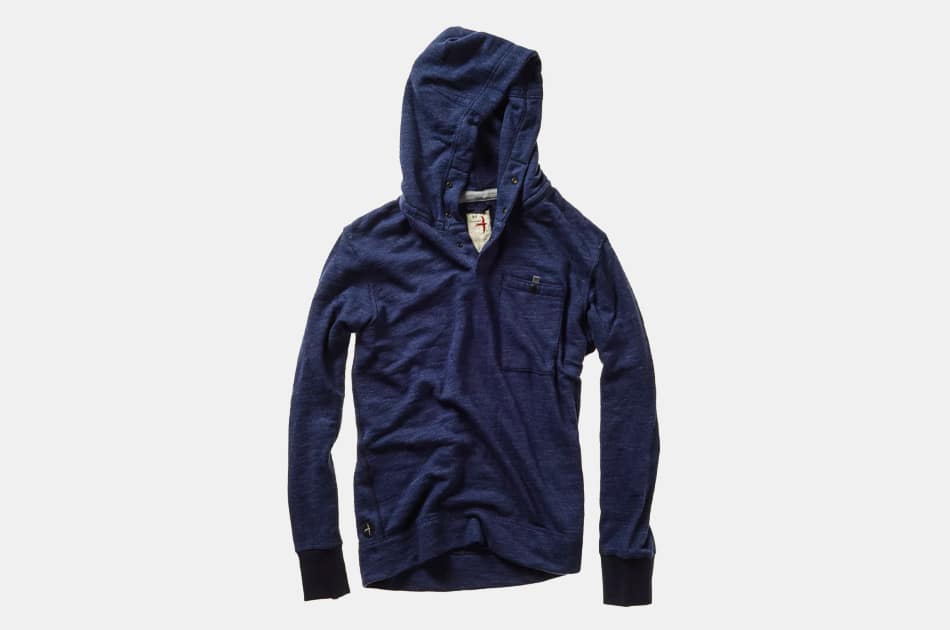 Relwen Windsurf Hoodie
Want a brand that gets it right across several different categories of menswear — almost too many to count? Want a brand that delivers uncompromising quality and rugged style in spades? That brand is Relwen, and products like the Relwen Windsurf Hoodie are a perfect example as to how it's done. The fabric is durable and tough, the fit is tailored yet easy to layer, and the overall approach is one that works on the weekend when worn under a denim jacket, or thrown on as you head to Sunday brunch.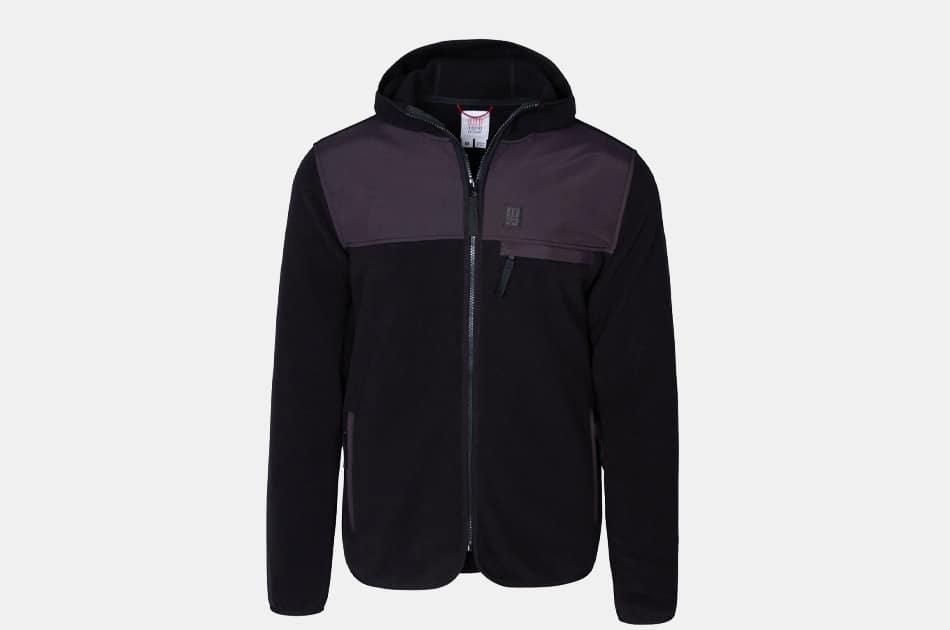 Topo Designs Fleece Hoodie
Can a hoodie be technical, retro and decidedly stylish at the same time? The answer is yes, at least when it comes to the Topo Designs Fleece Hoodie. The trim fit is a modern touch to a piece that looks like it's straight out of an old-school hiker's pack, and the performance is similarly versatile. The hard face fleece sleeves add durability and functionality, while wind protection on the upper chest helps you brave the elements with ease. Full-front closure should also help keep you warm and dry, but the biggest point here is that this is one stylish hoodie.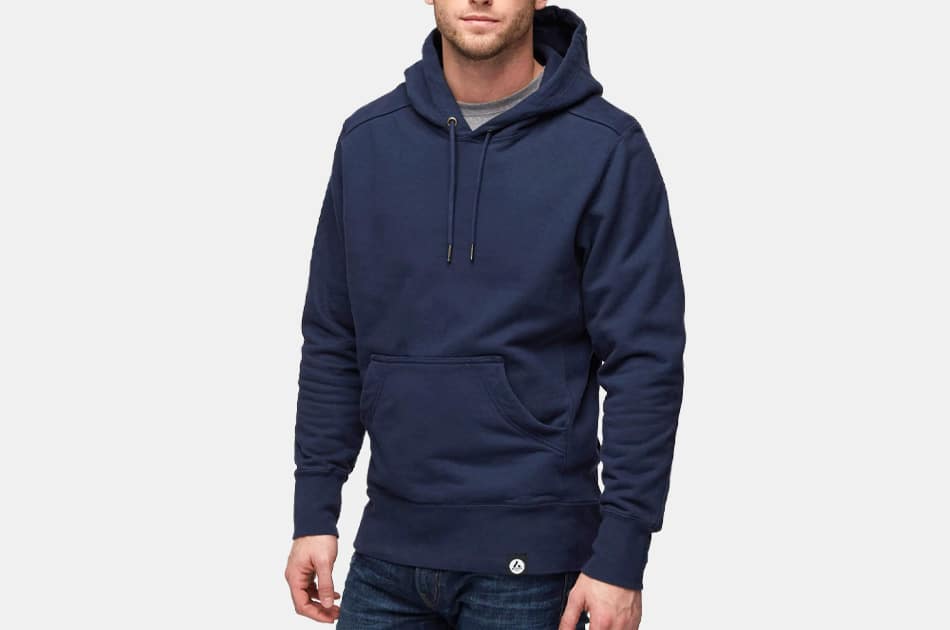 American Giant Classic Pullover
American Giant is among a host of brands who've brought the hoodie back into prominence, thanks in large part to the brand's durable construction and American manufacturing focus. The fact that the brand focuses on a great fit and an array of easily wearable colors is also a bonus for guys looking to upgrade their hoodie (something you should definitely be doing). And that simple style makes it easy to wear an American Giant hoodie with classic dark denim or chinos, plus easygoing staples like leather high-tops. That's essential fall style to us.