The 20 Best Men's Hoodies
Your hooded sweatshirt is all grown up — at least, if you stick to our list of the best men's hoodies, that is. If you once considered the hoodie an afterthought to throw on for a weekend day of lounging around after a few too many at your local watering hole, think again. Your favorite designers and brands — stalwarts like Aether and American Giant — are doing right by the hooded sweatshirt.
From cozy-yet-upgraded fabrics to slimmer fits and small-but-helpful design touches, the hooded sweatshirt is better than it used to be. Our list of the best men's hoodies covers all of those positives and plenty more. That doesn't even get into the fact that a hoodie is a layering essential useful in helping you move from winter into spring with ease. And when made the right way, you can wear your new favorite hoodie over your other style staples — like an American-made Oxford, slim chinos and handsome leather sneakers. Yessir, the new crop of hoodies are that great. Start filling up your cart now — and make room in your closet.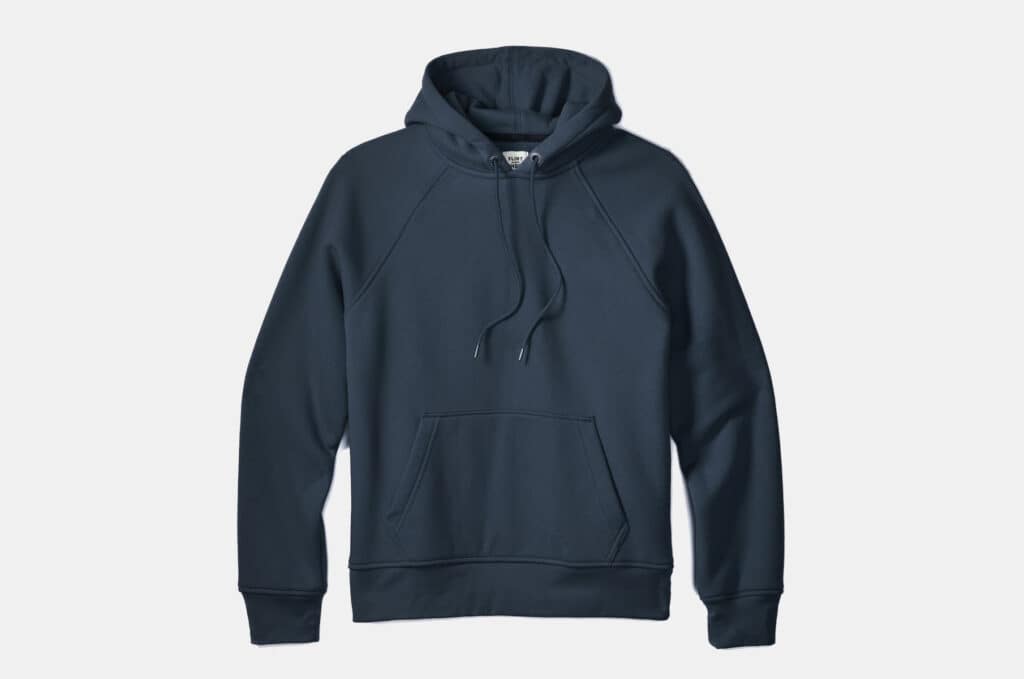 Flint and Tinder 10-Year Pullover Hoodie
If there's one hoodie on our list of the best men's hoodies that we'd say you need right now, it's the Flint and Tinder 10-Year Pullover. As sold by Huckberry, it's an utterly classic, dependable sweatshirt made for near-daily wear. Particularly in a crisp navy color that goes with everything, it's the answer to overly loud hoodies you might have worn in high school and college. With its quality construction and timeless fit, it's even able to be paired up with your favorite Flint and TInder jeans and a classic Oxford on casual Friday.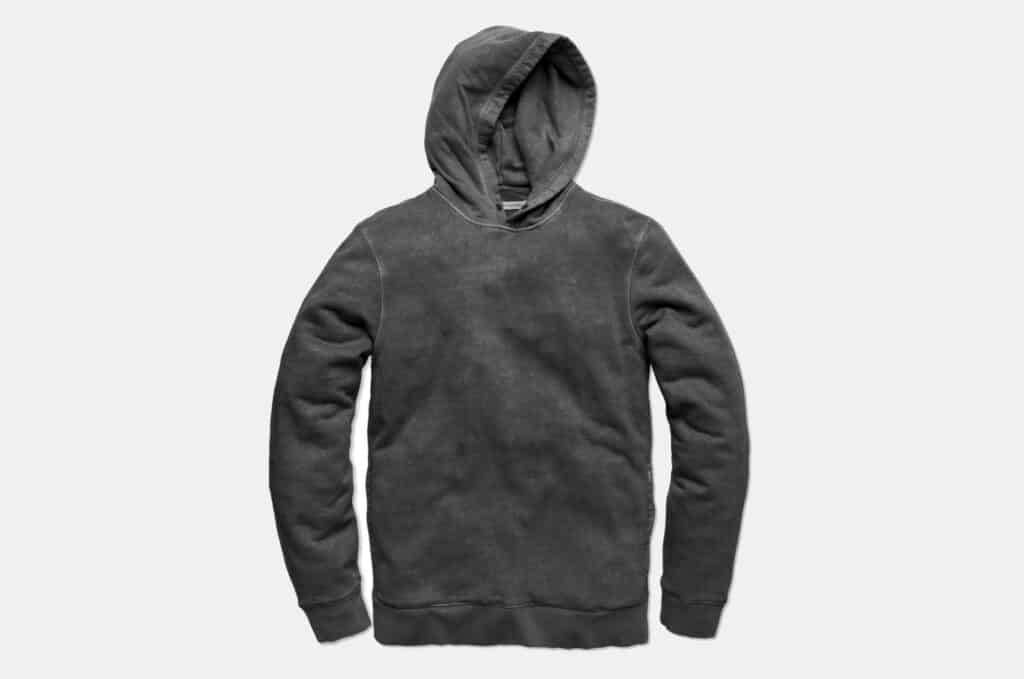 Outerknown Sur Snap Hoodie
Think of the perfect hoodie to throw on to head to your local park, or your favorite brewery, or the best coffee shop in town — the kind of versatile, anything-goes hoodie that you can wear comfortably and casual with well-worn jeans and a garment-dyed tee. Folks, that hoodie is the Outerknown Sur Snap Hoodie, an exceptionally well-crafted hoodie that's made from a sustainable blend of hemp and cotton. Does it get any better? Not quite. Great work from one of your favorite brands? Absolutely.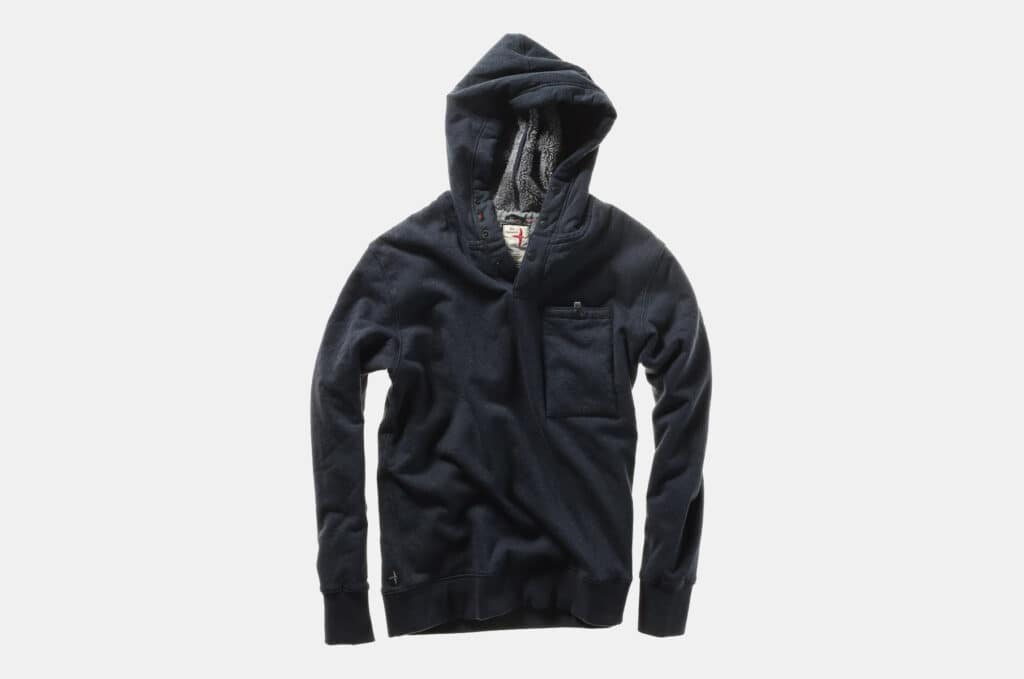 Relwen Superfleece Hoodie
Meet the Relwen Superfleece Hoodie, a perfect lined sweatshirt for chilly fall nights and cold, crisp mornings (and everything in between, for that matter). Made from cotton jersey, just like your much-loved college logo sweatshirt, this is a hoodie that's ready for both the trail and for Netflix binging alike. It's got a chest pocket that offers unexpected storage space for your everyday carry essentials, too. It's even finished off with a neck snap closure to keep the wind out on blustery trail hikes this season.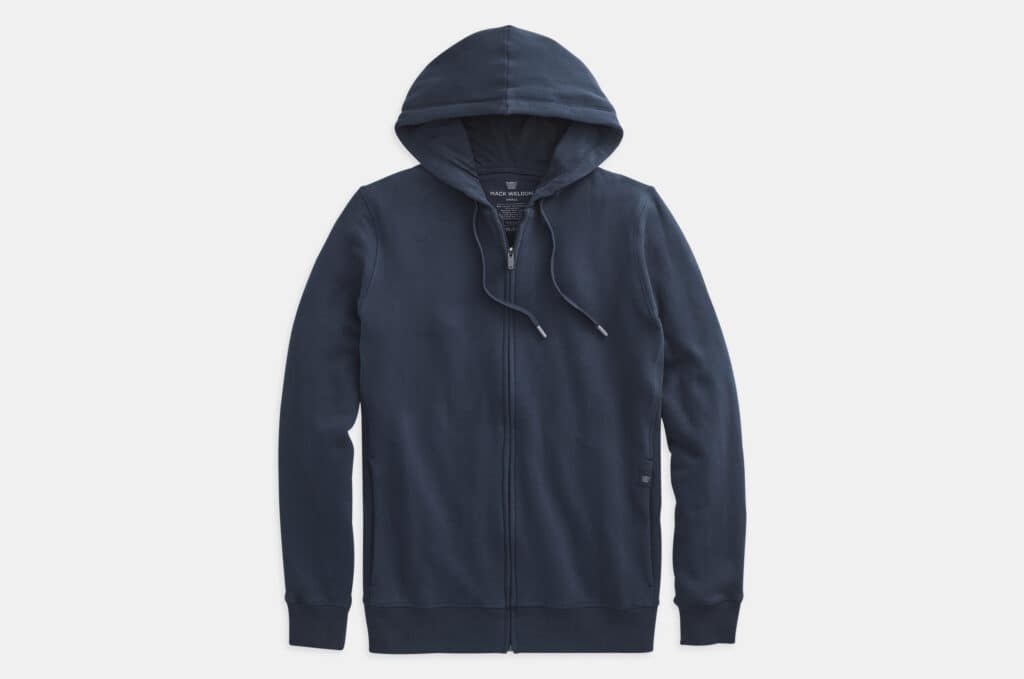 Mack Weldon Ace Full-Zip Hoodie
There are brands that make logo-heavy hoodies, and there are brands that make the type of laidback, smart-casual hooded sweatshirts that you can wear to the gym or on a morning coffee run in equal measure — and Mack Weldon specializes in the second type. Particularly when it comes to the Ace Hooded Sweatshirt, variety and versatility are everything, and from the range of color options to the silky smooth fabric, this hoodie has it in spades. Go casual with a pair of the brand's tailored sweatpants, or wear it with a merino tee and slim light wash denim.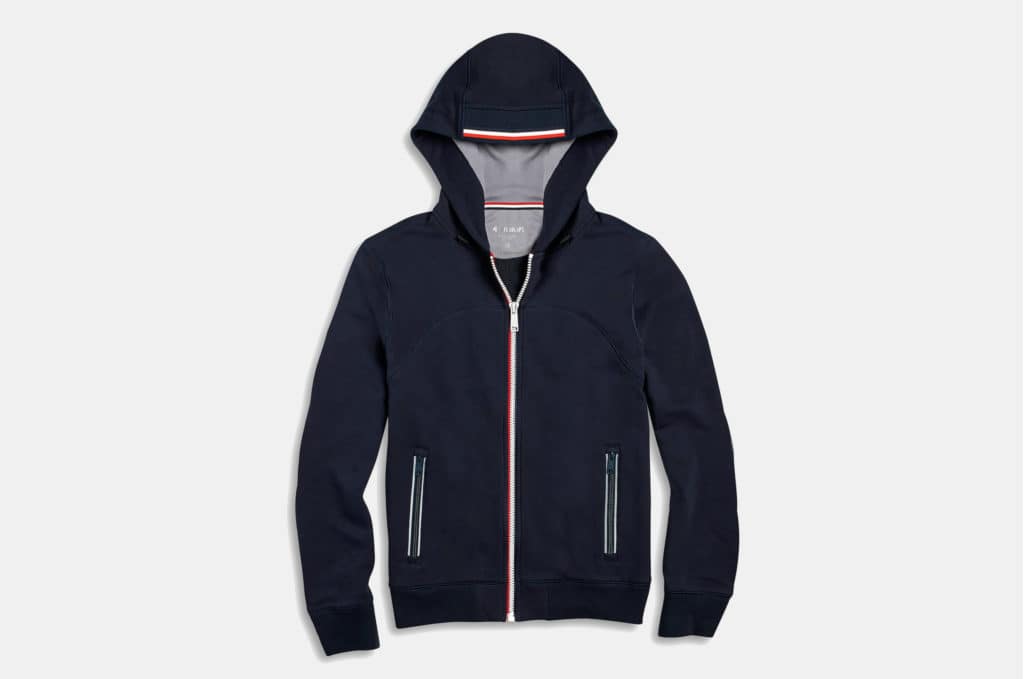 Fourlaps Rush Hoodie 2.0
Fourlaps excels at delivering the kind of gear that straddles the line between performance-minded and expertly casual, and that's certainly the case with the Fourlaps Rush Hoodie 2.0. With distinctive red-and-white color accents and a classic navy fabric made from soft French terry, it's the kind of hoodie meant to power cold-weather workouts or provide inimitable laidback style when you need it the most (a cold winter weekend morning, coffee in hand, comes to mind).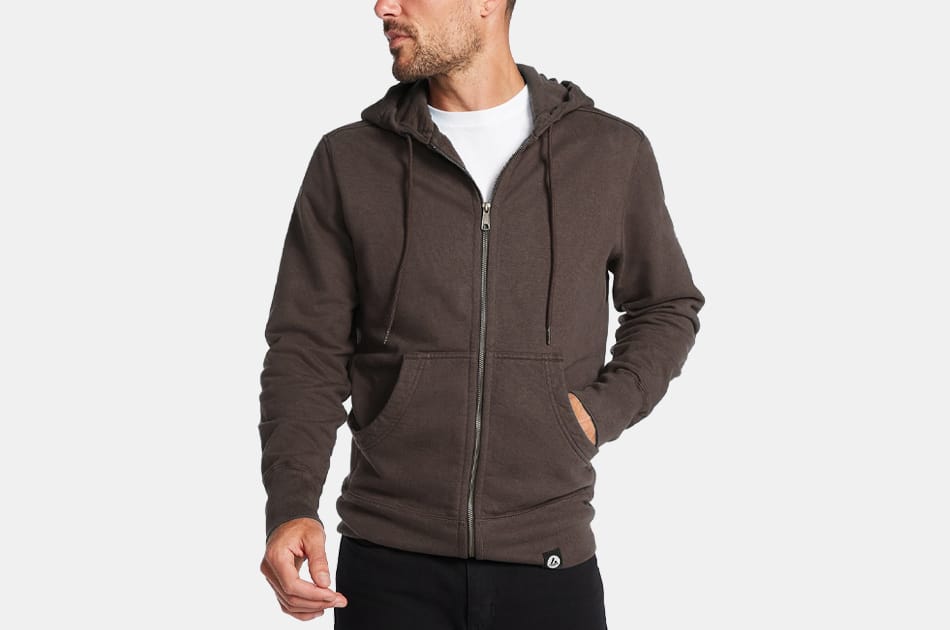 American Giant Classic Full Zip Hoodie
We appreciate the approach taken by American Giant as far as made-in-America craftsmanship goes. It's an approach that too few brands take, after all, and the results speak for themselves.This is particularly true from the moment you lay eyes on the Classic Full Zip Hoodie, one of the brand's flagship products (and one of the best men's hoodies on the market, to boot). Get the Iron color, then wear it with deep blue American Giant denim.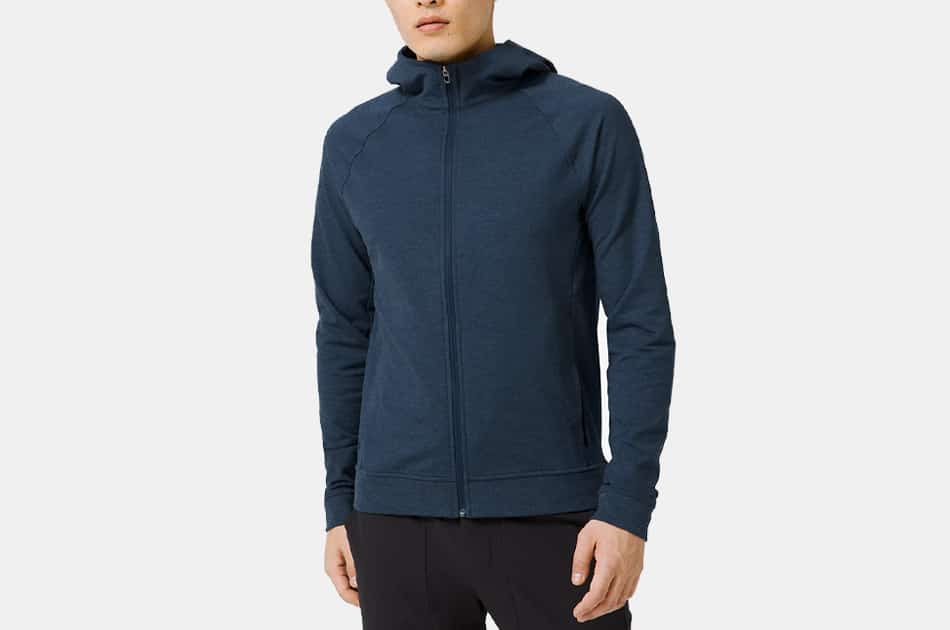 Lululemon City Sweat Zip Hoodie
As we've said before, Lululemon is no longer just the purview of your wife or girlfriend's workout gear — the brand does a standout job when it comes to delivering the best men's hoodies and the best men's workout gear. The City Sweat Zip Hoodie is a fine example of this new approach, what with soft French terry fabric and a fit that works for performance situations or Netflix binges alike.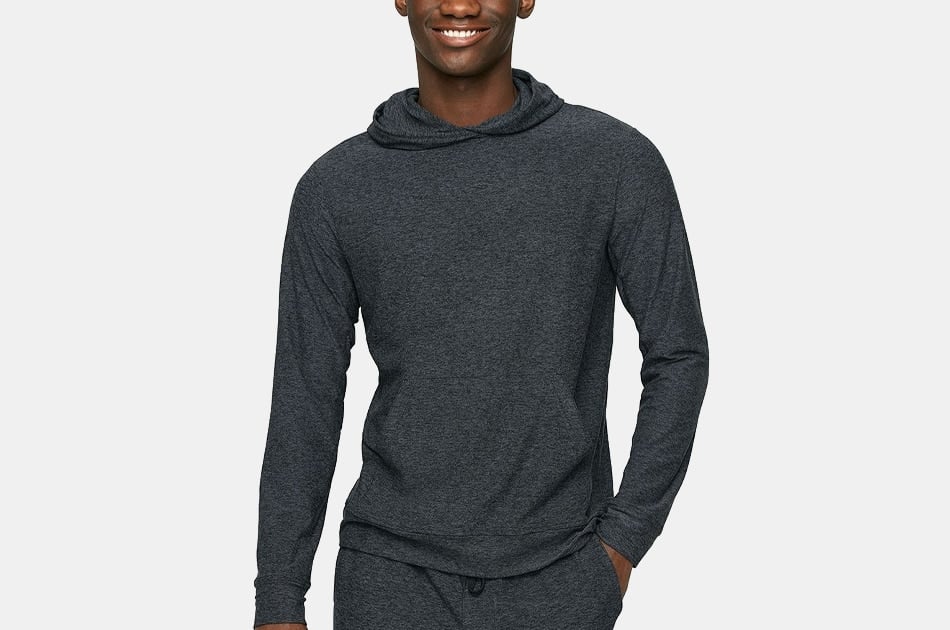 Outdoor Voices All Day Hoodie
Like Lululemon, Outdoor Voices is yet another brand that deserves your attention in the men's space these days, and the All Day Hoodie is one of the reasons why. Made from the brand's proprietary fabric in neutral-yet-interesting color options, it's a grab-and-go hoodie to keep you warm during early fall training sessions.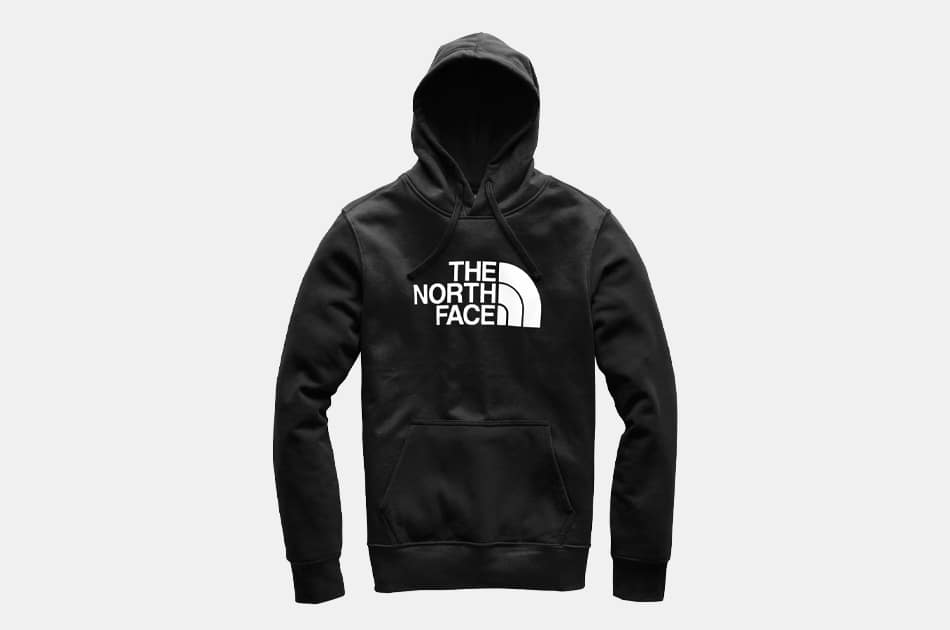 The North Face Half Dome Hoodie
When you pick up a hoodie with the North Face stamp of approval — quite literally — it's going to be good. Right? Right. The Half Dome Hoodie blends the distinctive (and streetwear-approved) logo of the brand with the technical qualities for which they're known. Those touches include athletic-style cuffs and a ribbed hem, plus warm jersey lining in the hood. The North Face is also offering an array of color options to pick from — simply grab one (or two, or even three) and layer with ease. How to style them? Wear them with hiking pants and boots for an outdoor getaway, or simply layer it up with a denim jacket and black jeans.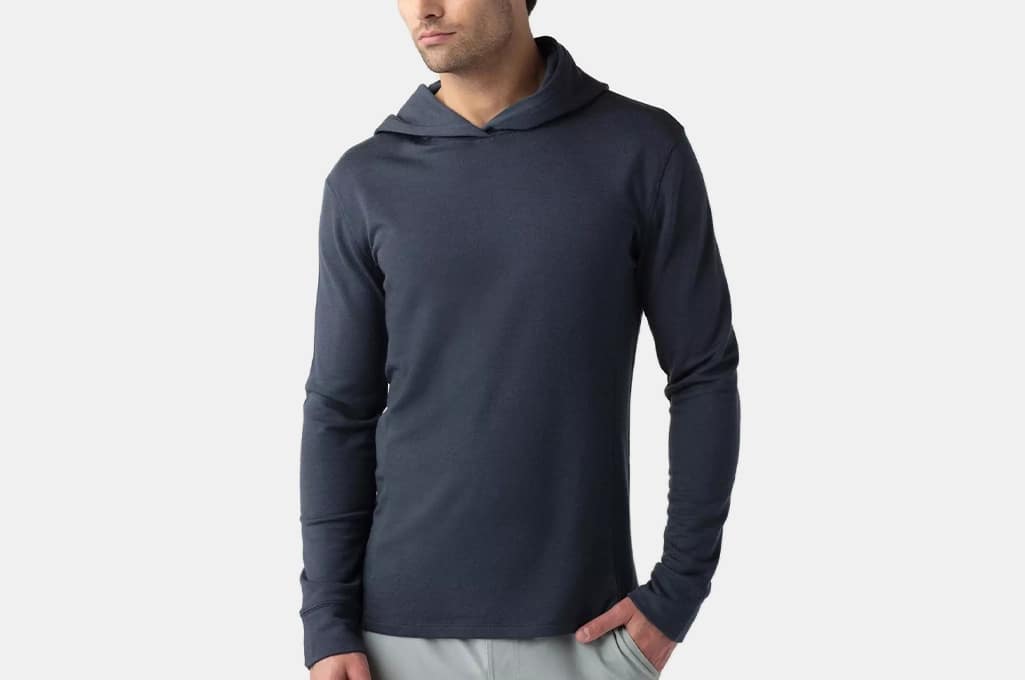 Olivers Porter Hoodie
What better way to gear up for your next training session — or your next day spent hanging at home — than with some comfortable, functional Olivers Apparel shorts and of course, one of the brand's expertly cut hooded sweatshirts? The answer is, perhaps, that there's no better way to gear up, and that's exactly how Olivers would like it. The Porter Hoodie absolutely gets it right by using soft, performance-minded 100 percent Australian merino wool, some of the finest fabric on the planet — ideal for one of the best hoodies out there.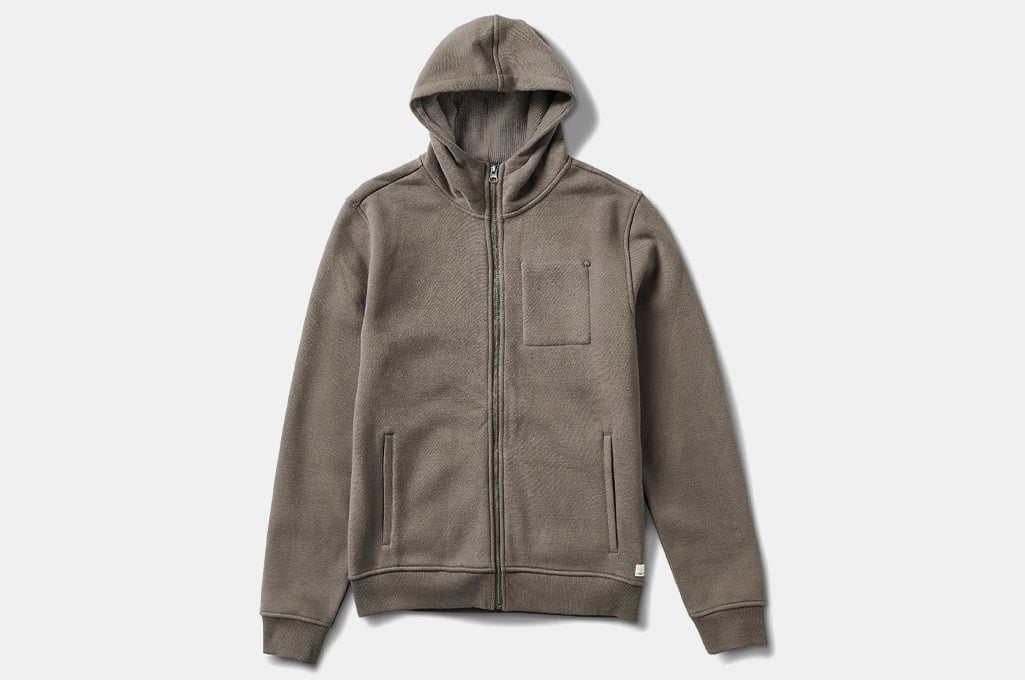 Vuori Seaside Hoodie
We love the moisture-wicking performance and streamlined fit of Vuori training shorts and joggers (plus its laidback lounge pants), and if you feel the same way, then the Vuori Seaside Hoodie is the right hooded sweatshirt to add to your rotation now. The Vuori Seaside Hoodie sits at the intersection of comfort and performance, using both soft French terry cotton and four-way stretch for a hoodie that's easy to throw on any day of the week. It's especially well-suited for early morning coffee runs and late night bonfires, for starters.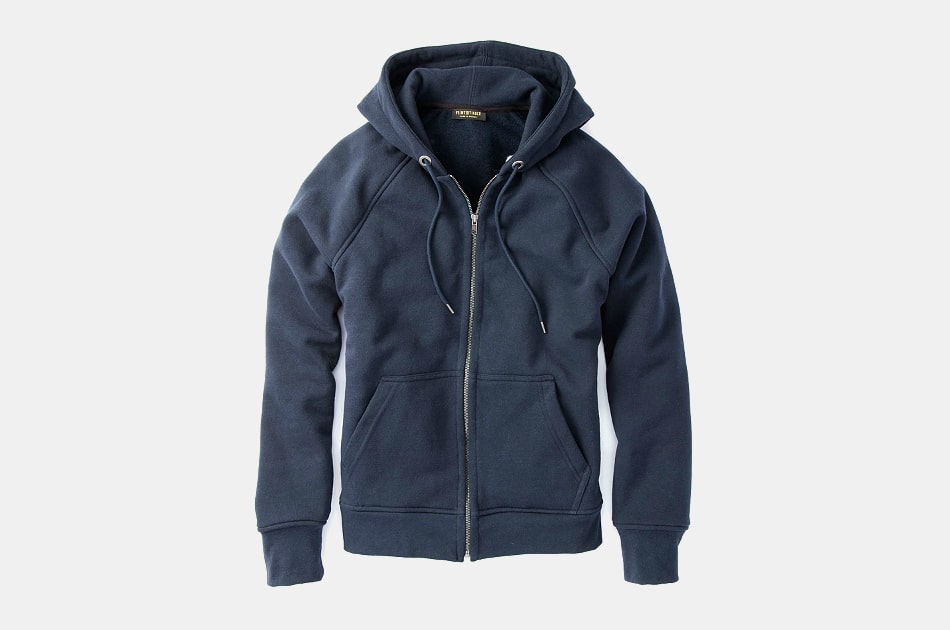 Flint and Tinder 10-Year Hoodie
The 10-Year Hoodie from Flint and Tinder is the stuff of legend for good reason, its outfitted with upgraded metal hardware and a modern, structured fit. It's one of the products that put the brand on the map, and we can't think of a better casual style staple for fall than this durable zip hoodie. Wear it with your favorite faded denim and a thermal henley for all the relaxed and easygoing style you need this season, and then some.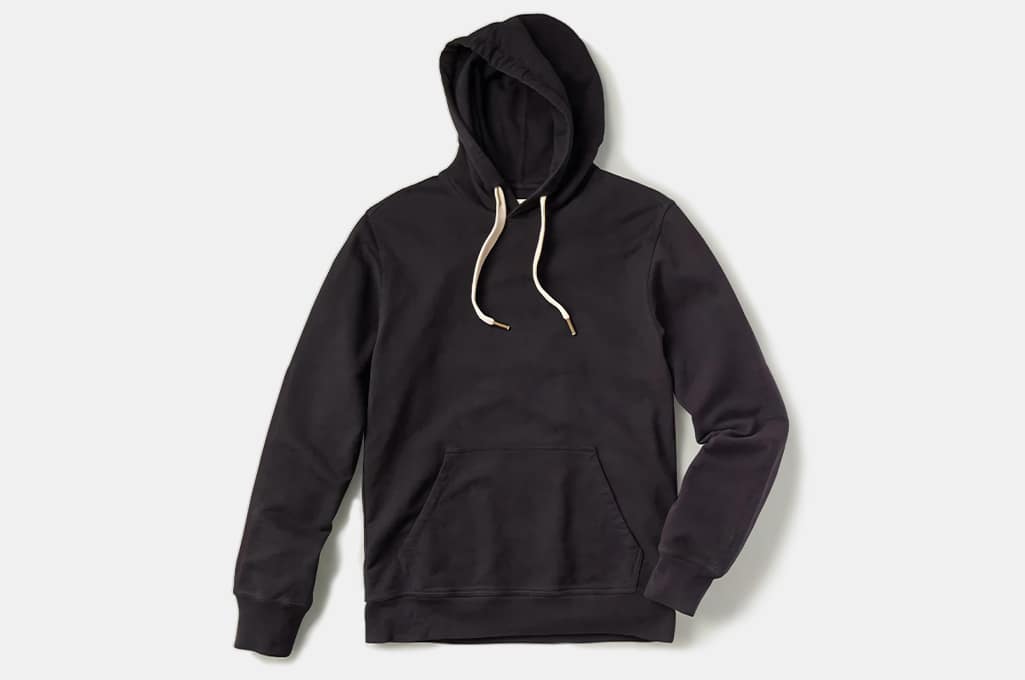 Buck Mason Brushed Loopback Hooded Sweatshirt
The best hoodies for men can go anywhere you want to go without missing a beat. It's got to be the right mix of classic looks and comfortable fabric that makes the difference, and it doesn't hurt if the sweatshirt in question is a bit rugged, too. That's where the essential Buck Mason Brushed Loopback Hooded Sweatshirt enters your rotation. It's the perfect hoodie to wear with jeans and a long-sleeve T-shirt for weekend errands, brewery beers and more. Plus, you can easily team it with Buck Mason jeans.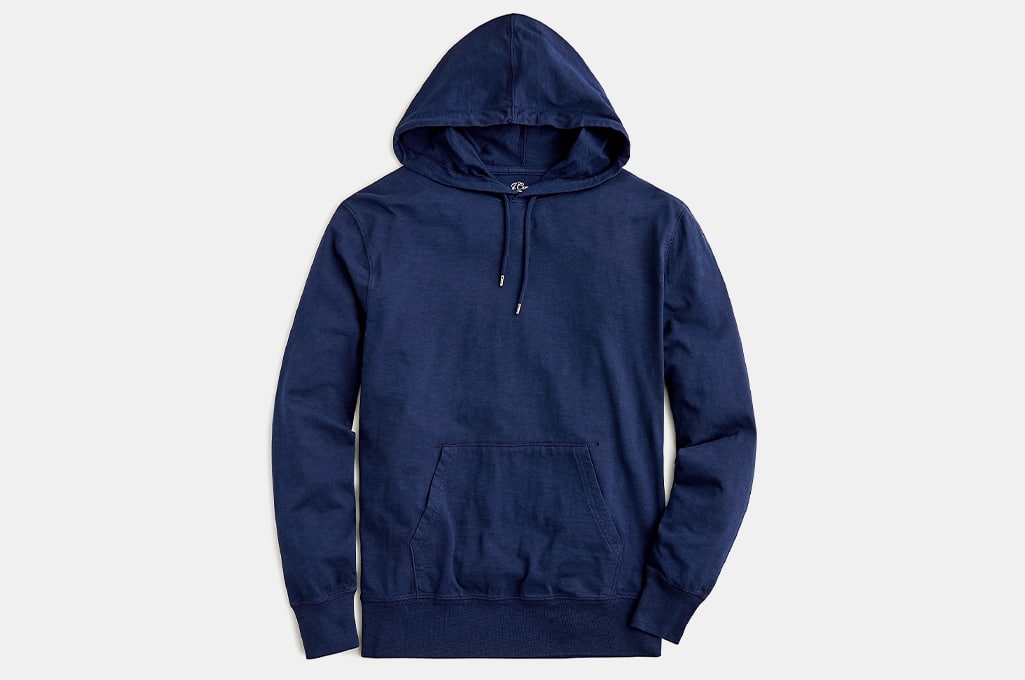 J.Crew Slub Cotton Hoodie
It seems these days, you can trust J. Crew for just about anything as far as classic men's style essentials are concerned, and that's certainly the case with something as seemingly simple as a hooded sweatshirt. The always-timeless hoodie gets an update here as only J. Crew can do it, using slub cotton and a range of versatile colorways to craft a hoodie that looks great with darn near anything. Wear it with tan chinos and white high-top sneakers for an easygoing weekend look.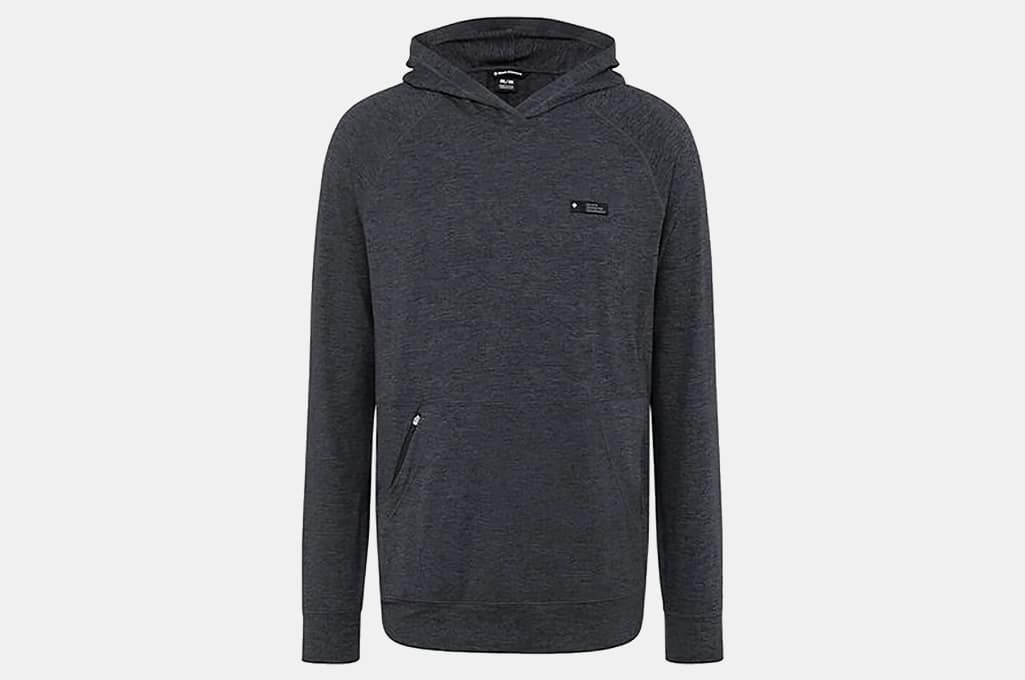 Black Diamond Stone Hoodie
The great thing about the best hoodies for men is the fact that the right hoodie can function as so much more than just a casual style move. Take the Black Diamond Stone Hoodie, for instance. It's the right hoodie to pack in your bag on camping trips, hikes and cabin getaway visits aplenty, made with the outdoors in mind and featuring moisture-wicking, quick-dry fabric to keep you moving without missing a beat. Select from four easy-to-style color combinations, grab your durable work pants, lace up those boots and get out there.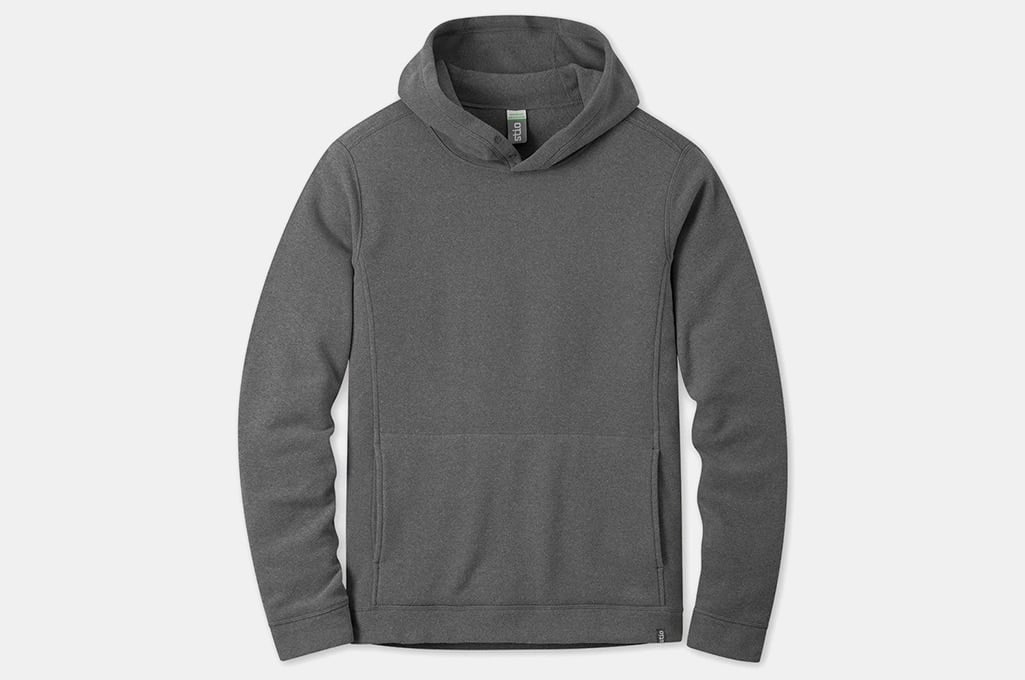 Stio Turpin Fleece Hooded Pullover
Stio takes things to the next level with its Turpin Fleece Hooded Pullover, both in terms of form and function. We can't help but love the fact that it's made for everything from weekend lounging to winter road trips and days on the trail, all thanks to the use of the brand's REPREVE® fiber for sustainability, warmth and performance. It should feature a tailored fit you can wear atop a thermal shirt or perhaps a rugged flannel shirt for prime seasonal layering.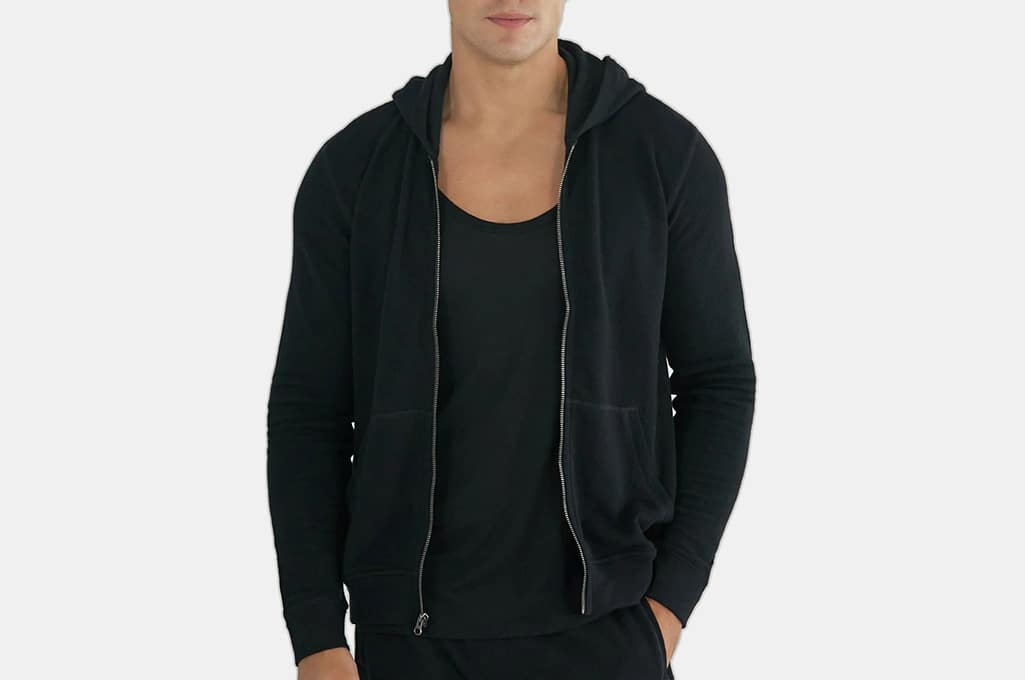 ATM French Terry Zip-Up Hoodie
ATM gives you the ease and comfort of a zip hoodie, to go along with the added benefit of soft fabric and easygoing style potential. The best men's hoodies should be the kind that you can grab and throw on at a moment's notice atop everything from a thermal shirt to a henley to a classic flannel shirt (especially when temperatures plummet drastically), and the ATM French Terry Zip-Up Hoodie helps you get the job done with ease.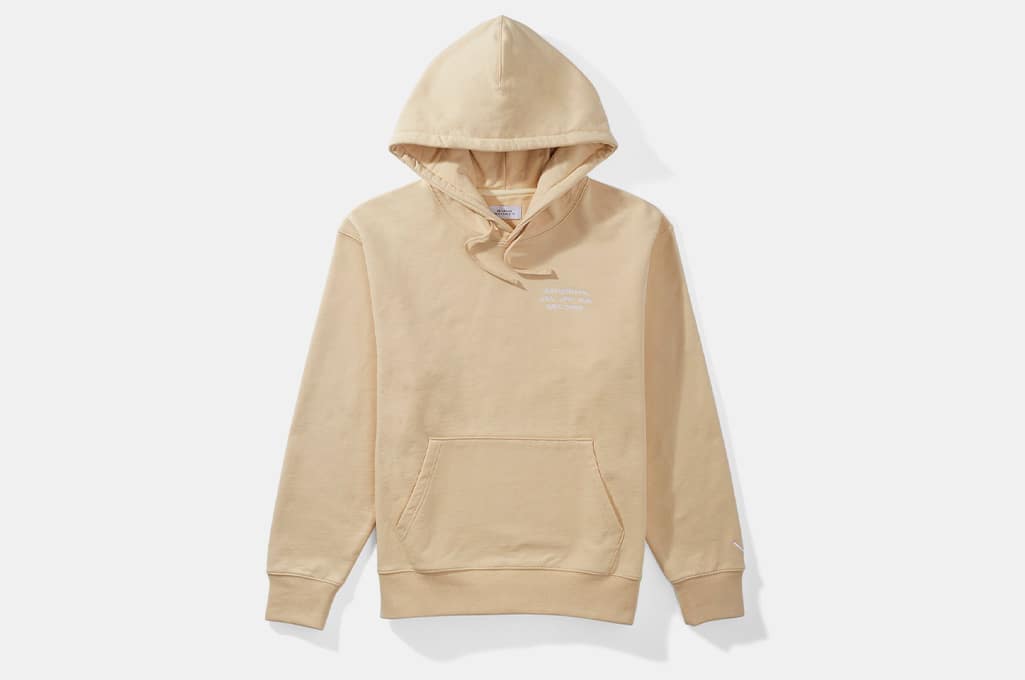 Saturdays NYC Ditch International Hoodie
It's pretty fitting that Saturdays NYC makes one of the best hooded sweatshirts for men, the sort of hoodie that'd be perfect to throw on after a morning surf session (that's why Saturdays was founded after all — stylish and effective surfing gear). The Ditch International Hoodie is made with cotton loopback French terry fabric for the ultimate in premium comfort and cool styling potential. Wear it with canvas work pants and a cozy long-sleeve thermal for perfectly cool weekends aplenty.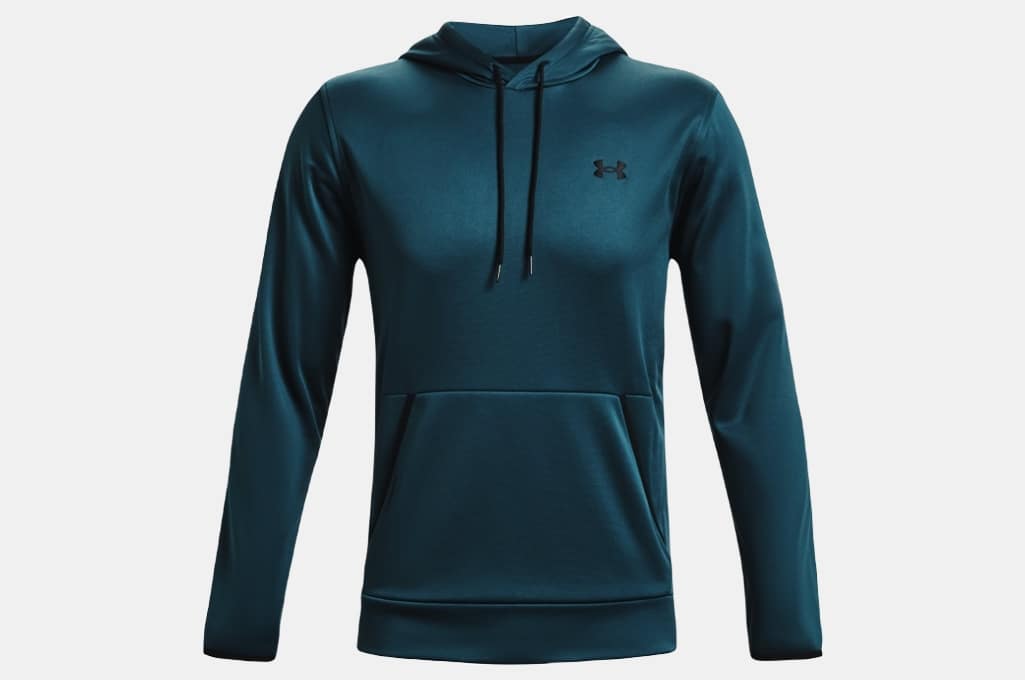 Under Armour Men's Armour Fleece Hoodie
Weather turning chilly on you, but you still want to get in your daily runs or training sessions? Let Under Armour's Armour Fleece Hoodie keep you warm all through the coldest days. This comfortable hoodie serves as the perfect autumn top layer or winter middle layer. It's made from a special polyester knit that is light and beautifully breathable, keeping you from overheating on your long-distance runs while still trapping in enough body heat that you stay toasty warm. The crossover hood construction keeps air from blowing down your neck, and you'll find the elastic cuffs are perfect for wind-proofing your outfit while running.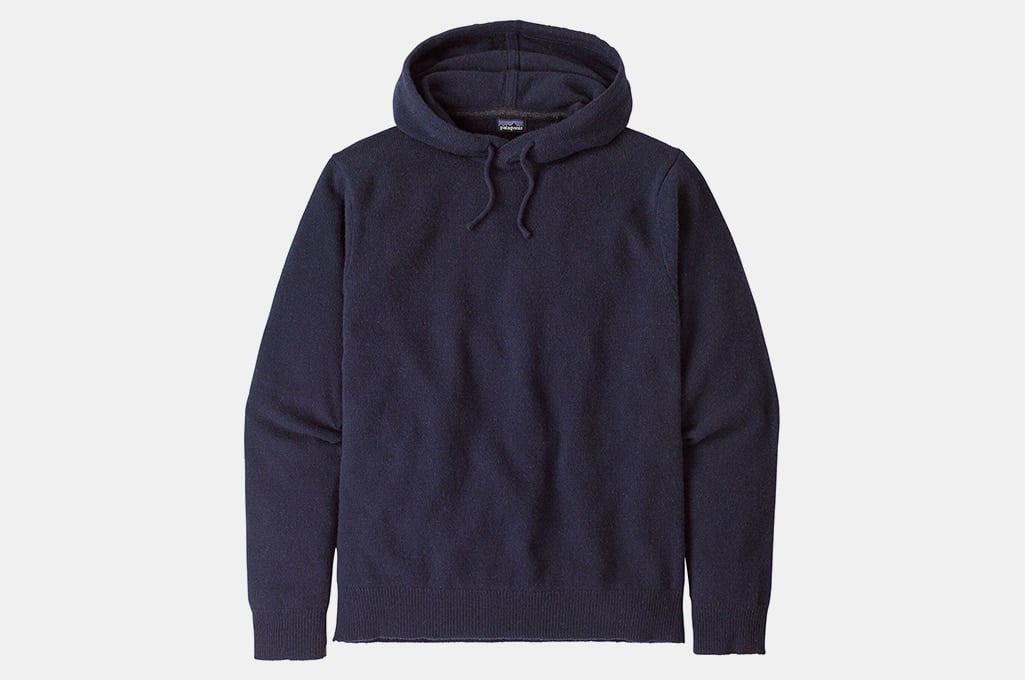 Patagonia Men's Recycled Cashmere Hoody Pullover
What could be better than cloud-soft cashmere to keep you snug and cozy all winter long? The Patagonia Men's Recycled Cashmere Hoody Pullover uses recycled cashmere to make the softest hoodie you'll ever wear, cut in a style that will look classy with chinos, jeans, or even sweatpants. The yarn is made from both hyper-warm wool and pre-consumer cashmere waste, making it an eco-friendly product you'll be proud to own. It's sized to fit slightly large so you'll always move easily and comfortably whether you're lounging, hiking, or working in cold weather.
Bonobos Supersoft Fleece Hoodie
Run your fingers across the Bonobos Supersoft Fleece Hoodie, and it will feel like you're touching the finest velvet. The cotton and polyester fleece is one of the sleekest, smoothest fabrics you'll ever wear, and you'll love how the midweight hoodie keeps you warm in chilly weather without causing you to overheat. The style is classic and timeless, the fit relaxed, and the sweater truly a game-changing addition to your cold-weather wardrobe.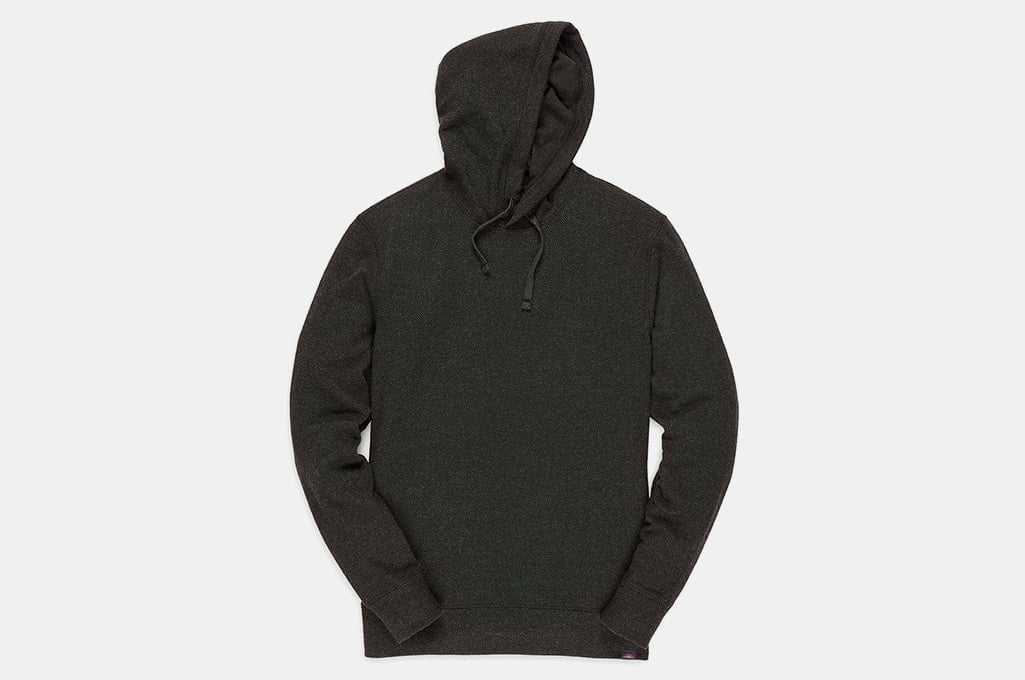 Faherty Legend Sweater Hoodie
Look and feel like a legend in the Faherty Legend Sweater Hoodie. Made from a blend of durable cotton, breathable polyester, and elastic viscose, it will move with you when you run, jump, and play. The herringbone twill pattern looks classy, making this the perfect outer layer to throw on over a pair of jeans or casual chinos. The banded hem and cuffs will keep out the cold and ensure the sweater hugs your body and arms just right. Thanks to the relaxed chest and fitted waist, it helps accentuate broad shoulders.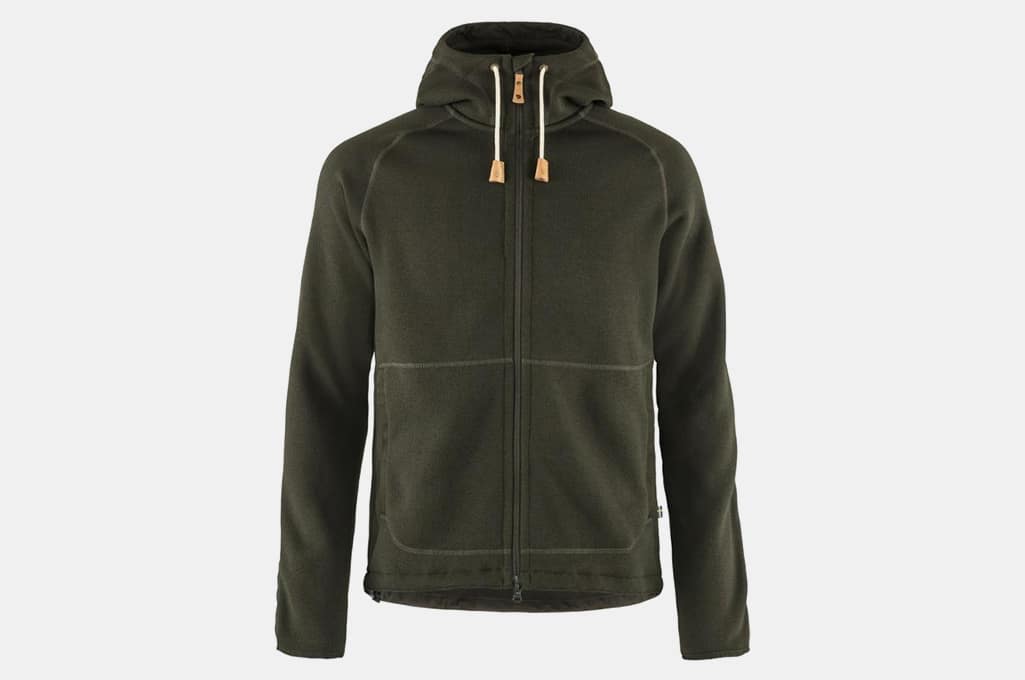 Fjallraven Ovik Fleece Hoodie
Take this comfy sweater with you on any trekking, hiking, fishing, or camping trip, and you'll never have to worry about the cold. The Fjallraven Ovik Fleece Hoodie is built for casual and outdoor use, with a water-resistant finish, quick-drying polyester fabric, and reinforced hood, pockets, and elbows. The mesh zippered pockets make it easy to keep all your EDC items secure no matter what you're doing. And you won't have to worry about getting too hot—this medium-weight fleece has just enough breathability to let out excessive body heat without sacrificing a shred of warmth when the weather turns truly brutal.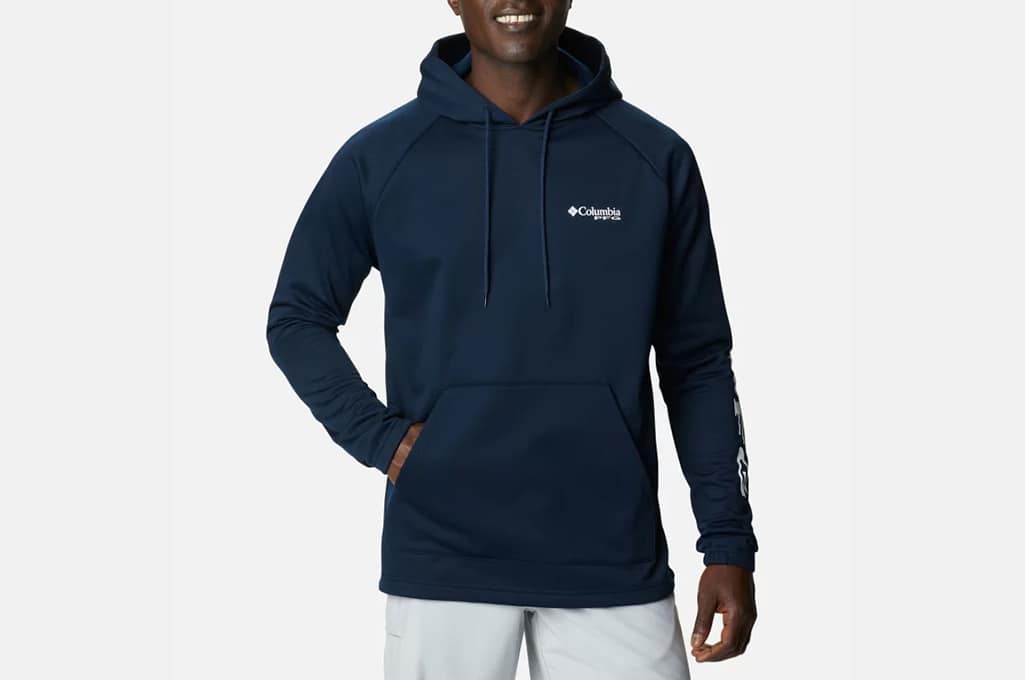 Columbia Men's PFG Terminal Tackle Fleece Hoodie
Columbia knows how to shield you from the worst of the winter chill, which is what makes them one of the best cold-weather brands not just in the country, but in the world. The PFG Terminal Tackle Fleece Hoodie delivers exactly what you'd expect from a Columbia-brand hoodie: warmth, comfort, moisture-wicking and quick-drying properties, and maximum versatility. This is particularly great for fishing; the synthetic fabric will keep out the cold and damp, making sure you stay warm and dry all day long.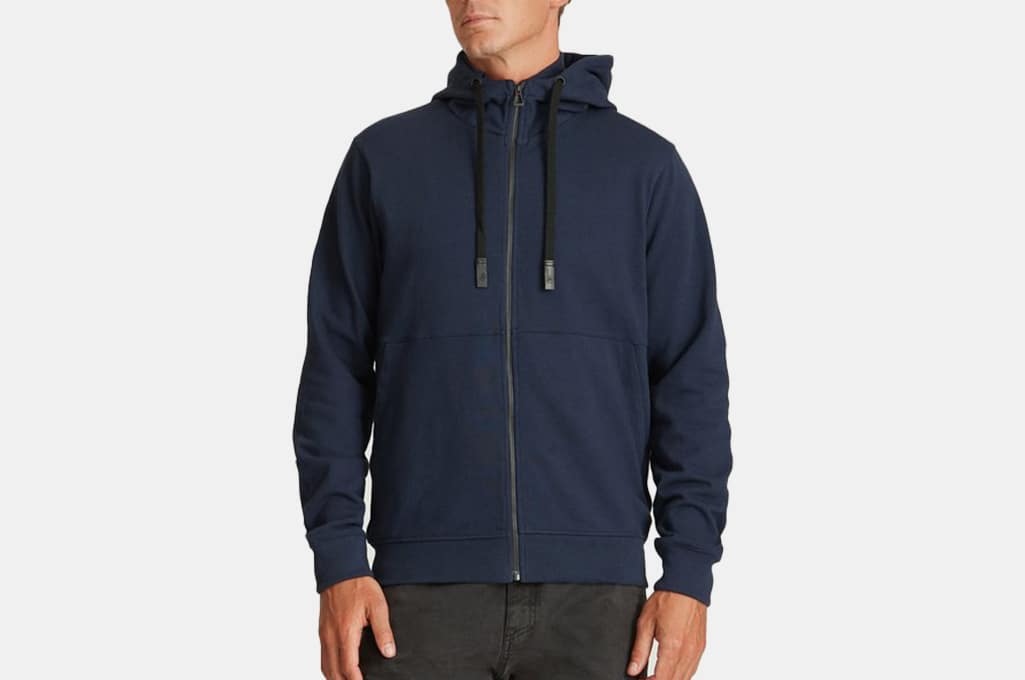 Aether Jersey Hoodie
If you want to look your absolute best around town, the Aether Jersey Hoodie is your top style pick. This hoodie is made from pure cotton, with rib-knit details on the collar, cuffs, and hem specially designed to keep you warm and cozy all day long. The interior is lined with an ultra-soft jersey knit fabric that will not only maximize comfort, but also trap in enough body heat to ward off the cold. Slide your hands into the specially angled front pockets, and you'll keep your fingers toasty warm all winter long.
Disclosure: Clicking on these links and making a purchase may earn us a small referral fee, at no extra cost to you. Learn more here.
freestar.config.enabled_slots.push({ placementName: "gearmoose_leaderboard_btf", slotId: "gearmoose_leaderboard_btf" });