If there was one thing we can assure you about fall and winter, it's that a chilly — a deep, dark chill — will roll into town one day. And it won't leave for a while. And when it does, you're going to want to outfit yourself with one of these men's beanies.
There's assuredly a right way and a wrong way to go about this. Plenty of brands specialize in making standout winter accessories that merge function and fashion with ease — some brands focus solely on those crucial men's accessories, like beanies. Other picks come from your favorite menswear companies, time-tested staples that should complement other gear you already own.
One thing is clear: When that first "snowpocalypse" rolls around, you really aren't going to want to leave the house without one of the best beanies for men — it could be the item that keeps out of serious trouble on a winter ski trip or a log cabin weekend, after all. And if you find one that looks great and complements easygoing weekend (and weekday) pieces? Well, that's all the better. Let's get started, then let's get bundled up — winter is knocking at the door.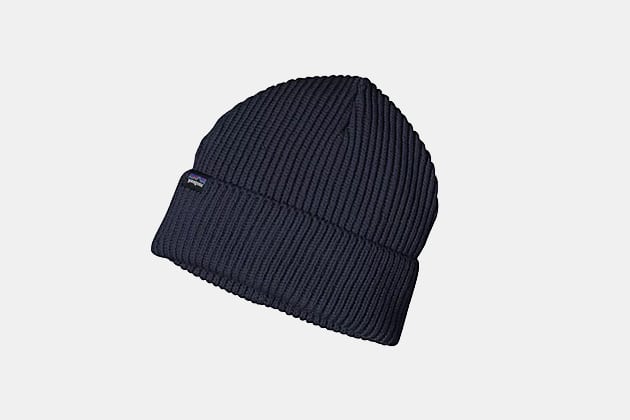 Patagonia Fisherman's Rolled Beanie
Want to channel the great outdoors and the spirit of the sea? The Fisherman's Rolled Beanie is the one you need, what with a classic rib knit and a tough navy color — ideal for standing out against a vibrant yellow fisherman's parka. The use of recycled polyester and spandex makes this one a cool, easy-to-buy option (it's only $35, after all). – Shop Now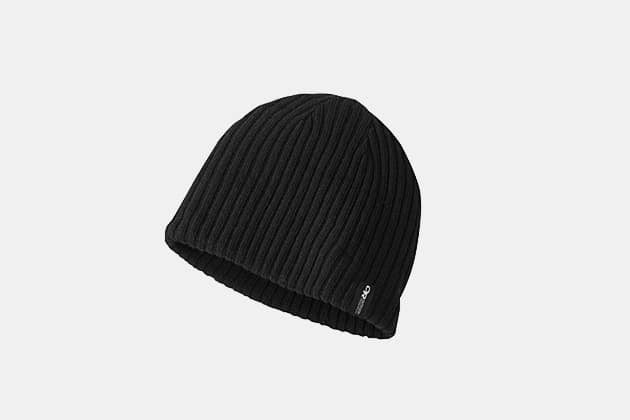 Outdoor Research Camber Beanie
Outdoor Research says its Camber Beanie is the gold standard when it comes to insulated beanies, and it would behoove you to get one of your own before the first major snowfall. Pick up one or multiple — for every style situation — if you're really into the dependable functionality you get from Outdoor Research. PrimaLoft Gold plus acrylic makes the difference. – Shop Now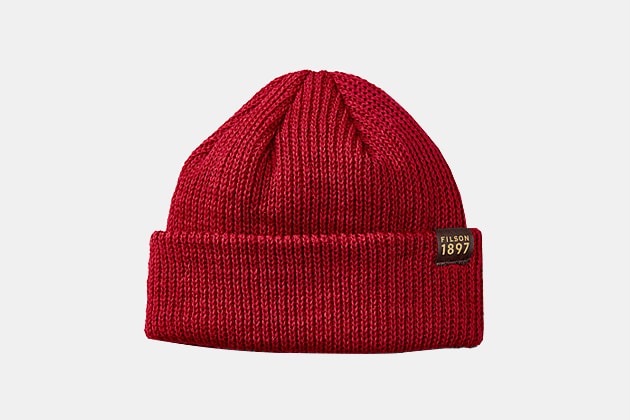 Filson Watch Cap Beanie
With the ability to insulate your noggin through rain and sleet, the Watch Cap Beanie is a fitting accessory from Filson — and hopefully, it's not the only Filson piece you have in your wardrobe. If so? Well, it's a great place to start. We're huge fans of the vibrant Red color in particular — use it to cap off a chambray shirt-denim jacket combo. Throw in tough leather boots and slim tan chinos, then head to your favorite brunch spot. – Shop Now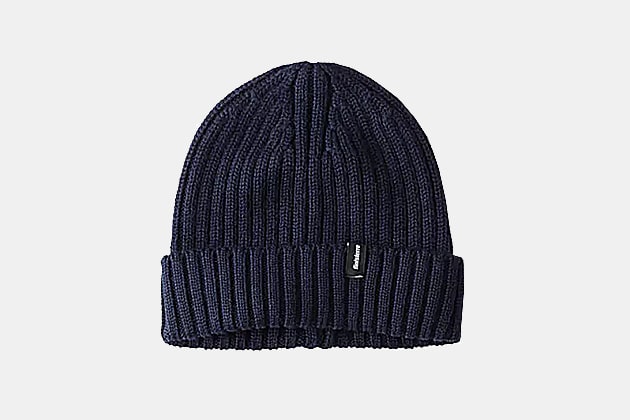 Finisterre Fisherman's Beanie
Is there a better place to go than blustery, chilly Cornwall — where Finisterre has laid roots — to find gear that's going to protect you from winter's chill? Probably not, and that's why the tried-and-tested Fisherman's Beanie is a must-have accessory for the cold weather. Maybe it's the merino wool, or the traditional fisherman's rib knit, or the versatile navy color, but there's plenty of reason to make this your go-to winter beanie. – Shop Now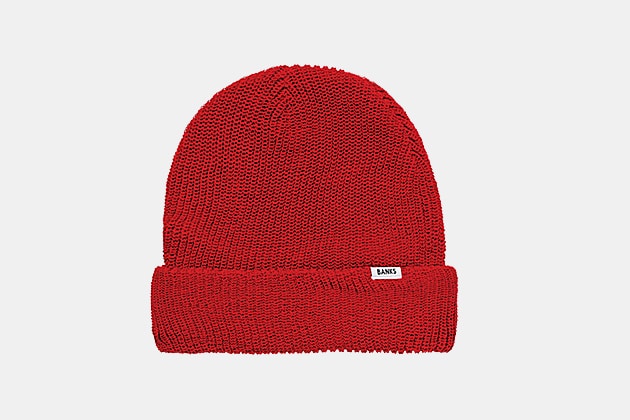 Banks Primary Beanie
BANKS always surprises us with the type of low-key, casually cool gear that wouldn't look out of place when worn by a style icon such as, say, David Beckham (I.E. Tough shirt jackets, easygoing cotton shirts and slim chinos). The ultimate companion to the rest of the brand's offerings, then, has to be the Primary Beanie. Go with bright red to shake up the rest of your ensemble, then be prepared to watch the complements roll in. – Shop Now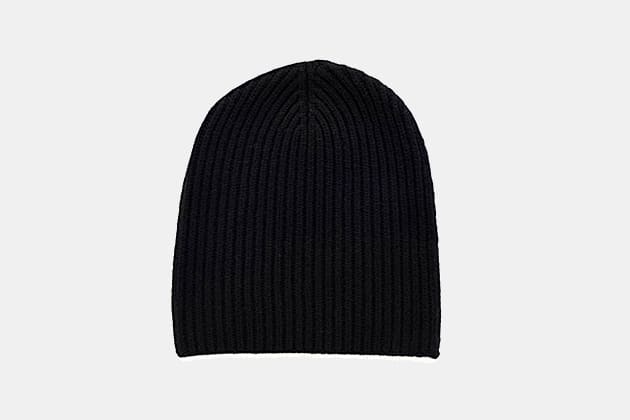 8.6.4 Cashmere Beanie
Go super luxurious with your beanie for fall and winter, if you so please. The 8.6.4 Cashmere Beanie is absolutely the one you're going to want to go with in that regard, made in Scotland from premium fabric. The design is simple and streamlined, able to top off outfits both classic (a blue Oxford and tan chinos) or streetwear-ready (black joggers and a black crewneck). – Shop Now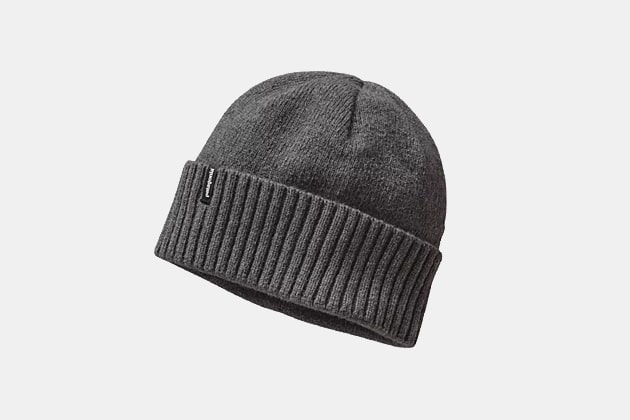 Patagonia Brodeo Beanie
What's more essential for late fall and early winter than a stylish, warm beanie cap? A stylish, warm beanie cap that's made with sustainability in mind. That's one of the qualities we've long appreciated about Patagonia, and the Brodeo Beanie drives that point home nicely (and in a neutral shade of grey,no less). This beanie is adventure-ready — whether that takes you into town or out of the city. – Shop Now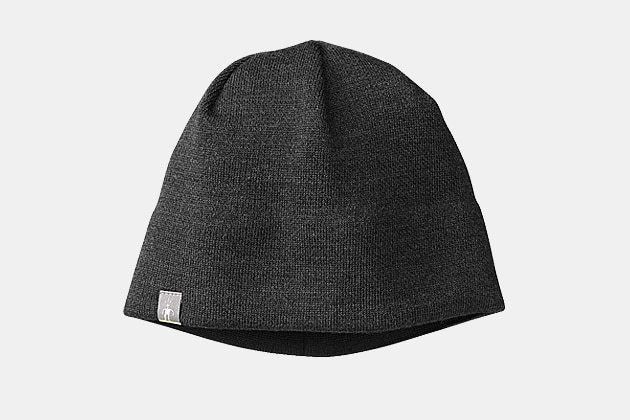 Smartwool lid Beanie
If there's a more innovative fabric out there than the ones being made by Smartwool, we have yet to see it executed properly — that's what makes the Lid Beanie worthy of buying before it gets too late. Made in part from merino wool, this is a no-frills beanie designed to keep you warm, dry and safe through the worst winter chill. – Shop Now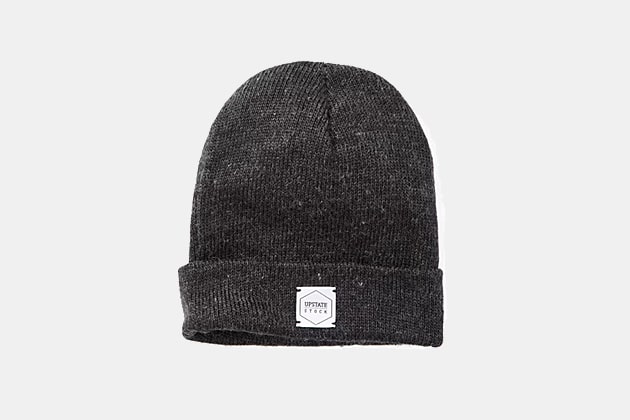 Upstate Stock American Mohair Beanie
If ever you get the chance to explore Brooklyn, we can't recommend Upstate Stock enough. This handsomely appointed shop features rich wood furniture, handsome industrial fixtures, strong coffee and yes, stylish accessories to boot. Like the American Mohair Beanie. The fabric is smooth and soft, the construction takes place right across the river in New Jersey, and the ultimate kicker? It's stylish and cool — but it'll keep your head warm. – Shop Now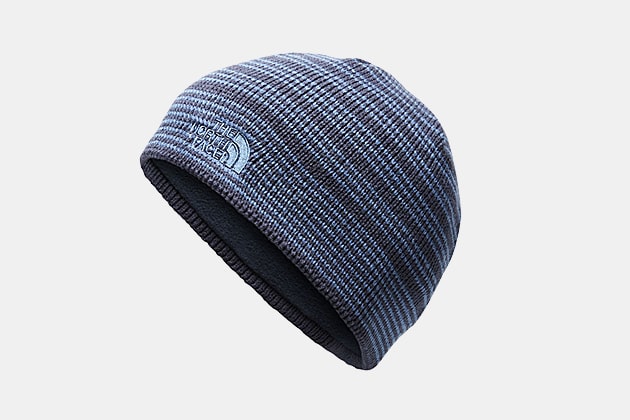 The North Face Bones Beanie
We're always surprised at how well The North Face manages to blend comfort, style and serious technical performance for agreeable prices. Take the $20 price tag on the Bones Beanie, plus the simply huge assortment of colors — one for every style and taste this season. Mountaineer or outdoorsmen — or neither — there's an understated, performance-ready beanie in the mix from the brand for winter. – Shop Now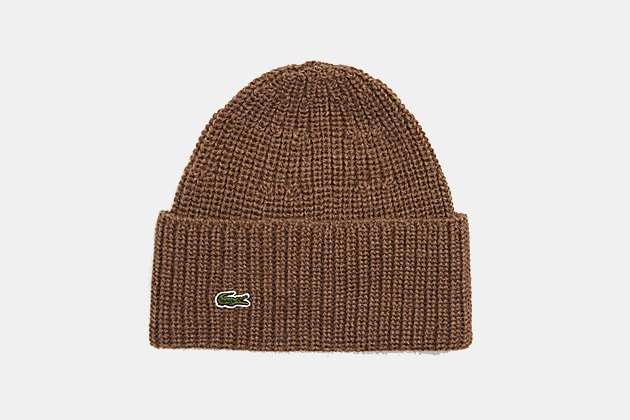 Lacoste Ribbed Wool Beanie
While you surely know Lacoste for its preppy, crisp style staples made for warm weather, the brand's winter accessories are starting lately to pack a serious punch — like the Ribbed Wool Beanie shown here, for instance. The Dark Renaissance Brown color is our favorite, a cool finishing touch when worn with a chambray shirt, a thermal henley and faded blue denim. Did we mention it's from a brand that makes some of your favorite polos? Yep. – Shop Now
Arcteryx Diplomat Toque Beanie
When we think of brands that consistently push the envelope in terms of fabric, construction and fashion-forward looks at the same time, Arcteryx tops the list. Simple,subtly stylish and functional pieces like the Diplomat Toque are exactly why. Made from natural fiber highlighted by a merino wool blend, the Nighthawk color is our favorite — find one for yourself. – Shop Now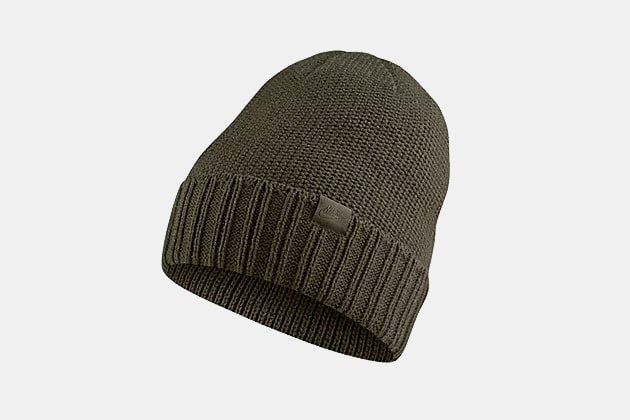 Nike Sportswear Beanie
It would only make sense that Nike makes the type of gear to outfit you from head to toe, throwing in a dash of athletic-inspired style and functionality to top it all off. This beanie might appear simple on the surface, but it's anything but. The knit honeycomb pattern is unique and eye-catching, but in the right way. Sounds like a winter beanie you just have to buy, doesn't it? – Shop Now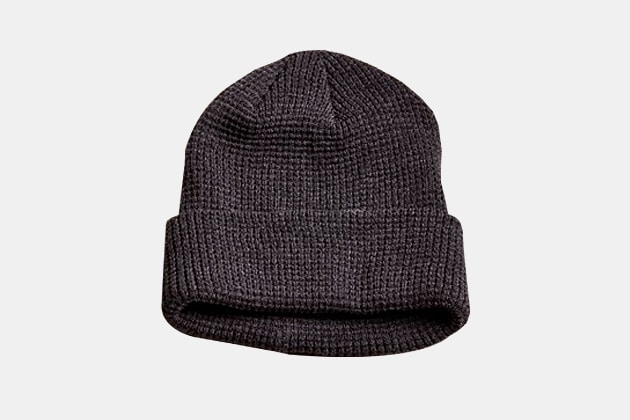 Urban Outfitters Waffle Beanie
Head to Urban Outfitters for just about anything you need in matters of men's style, from stylish shirting to game-changing crewneck sweaters and now, stylish and subtle accessories. For just $15, you're getting a laidback beanie that's easy to grab and throw on as you head out on a chilly weekend morning. It doesn't hurt that the grey color goes with darn near everything in your wardrobe. – Shop Now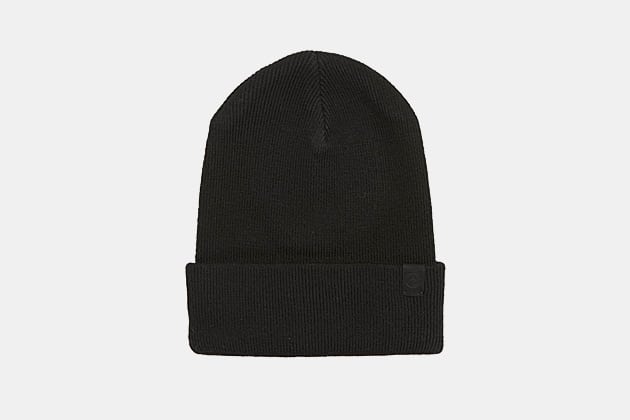 Rag & Bone Addison Merino Wool-Blend Beanie
The minimal, edgy menswear purveyors at Rag & Bone take a decidedly high fashion, seriously premium approach to crafting incredible outerwear, denim and yes, accessories like the Merino Wool Blend Beanie shown here. Go with classic black for a sleek look that would complement a black leather moto jacket and slim black denim, or reach for the engaging burgundy color to pair with a camel topcoat, slim blue jeans and caramel leather wingtip boots. – Shop Now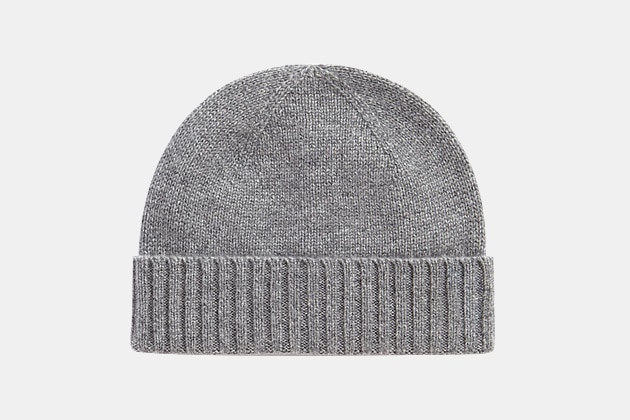 All Saints Solid Cashmere Beanie
AllSaints rounds out our list of the best beanies for men, particularly with this sleek solid cashmere beanie. If ever there was a beanie that was made to be worn with a black leather moto jacket, black jeans and beat-up black boots, this is the one. It's an investment, but what better place to invest than in accessories that go the distance day after day this winter? – Shop Now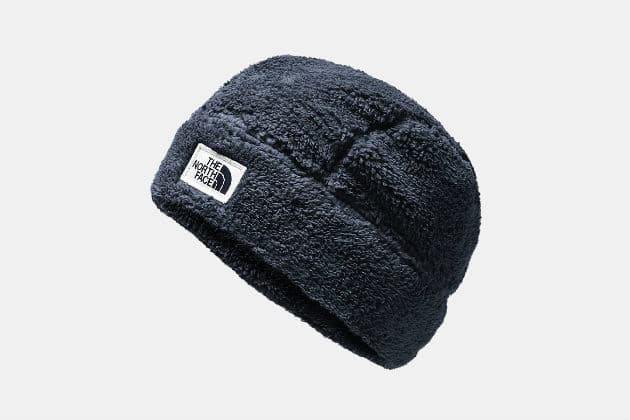 The North Face Campshire Beanie
For every beanie that stands out in terms of color or styling potential, the Campshire Beanie is one that separates itself in terms of fabric — to say the very least. Sherpa fleece will keep your head nice and toasty through chilly winter, while colors like Vintage White are eye-catching and unique, no matter whether you wear it on the slopes or into town later. – Shop Now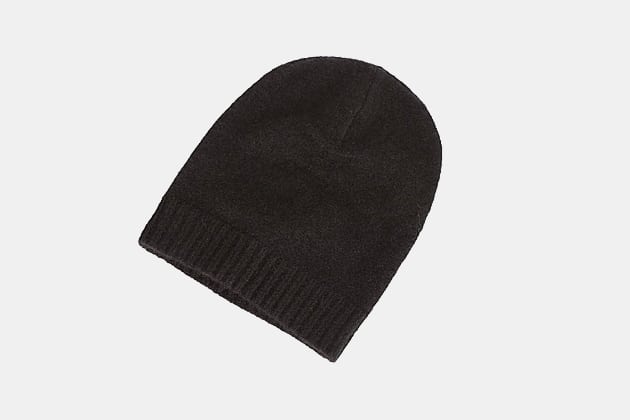 Laneus Fitted Beanie
Some chilly winter mornings or evenings call for the nearest beanie you can find — one that's durable, well-made and easy to throw on as a finishing touch, of course. The Laneus Fitted Beanie is one such beanie, made from a handsome blend of cashmere and silk for quite possibly the most comfortable beanie you're going to find on this list. – Shop Now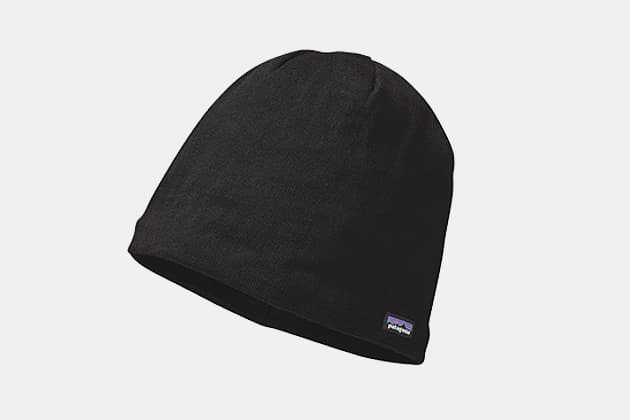 Patagonia Beanie Hat
Patagonia keeps the hits coming with this low-profile beanie cap, made from 100 percent recycled polyester. It's a unique approach that makes this beanie comfortable for long outdoor pursuits, something that can be hard to find from time to time. The array of color options is agreeable for any style, as is the sub-$40 price tag. Throw on your dependable parka, tough chore pants and hiking boots, then get off the trail. – Shop Now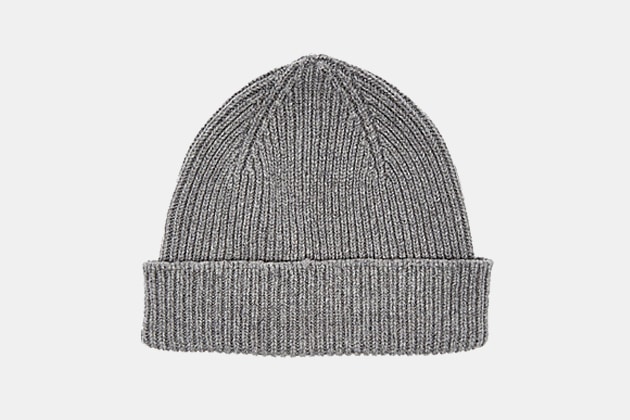 Paul Smith Cashmere and Merino Wool-Blend Beanie Hat
If you fancy splurging on your most reliable and much-needed winter accessory, Paul Smith's handsome cashmere and merino wool-blend beanie is the way to go. It's exceedingly rare to find a beanie that wouldn't look out of place as a rakish accessory alongside your favorite tan herringbone suit. For that price, you'll surely want to take it for a spin as often as you can. – Shop Now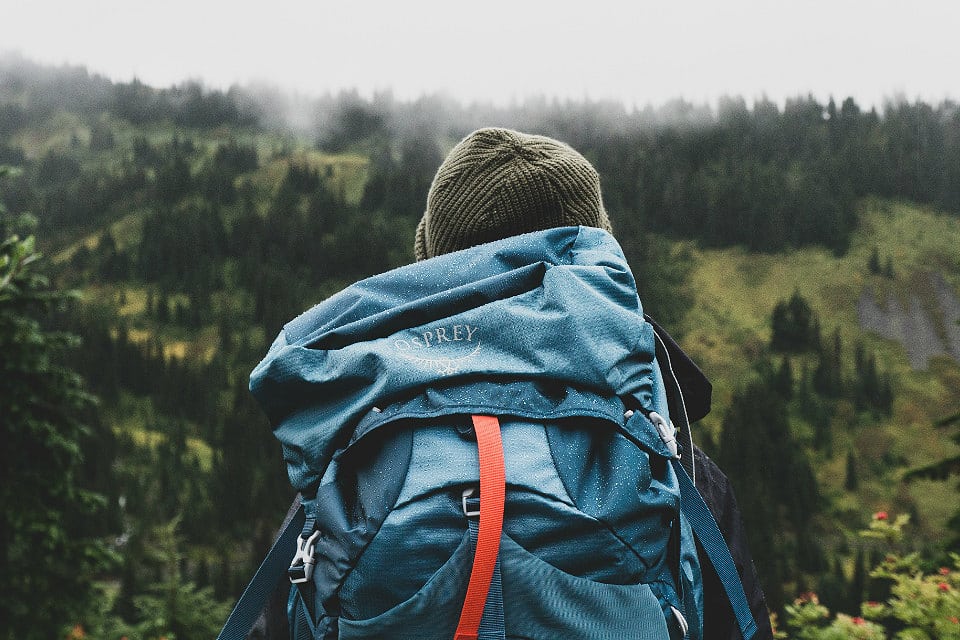 Disclosure: Clicking on these links and making a purchase may earn us a small referral fee, at no extra cost to you. Learn more here.