The 20 Best Beanies For Men
If there was one thing we can assure you about fall and winter, it's that a chilly — a deep, dark chill — will roll into town one day. And it won't leave for a while. And when it does, you're going to want to outfit yourself with one of these men's beanies.
There's assuredly a right way and a wrong way to go about this. Plenty of brands specialize in making standout winter accessories that merge function and fashion with ease — some brands focus solely on those crucial men's accessories, like beanies. Other picks come from your favorite menswear companies, time-tested staples that should complement other gear you already own.
One thing is clear: When that first "snowpocalypse" rolls around, you really aren't going to want to leave the house without one of the best beanies for men — it could be the item that keeps out of serious trouble on a winter ski trip or a log cabin weekend, after all. And if you find one that looks great and complements easygoing weekend (and weekday) pieces? Well, that's all the better. Let's get started, then let's get bundled up — winter is knocking at the door.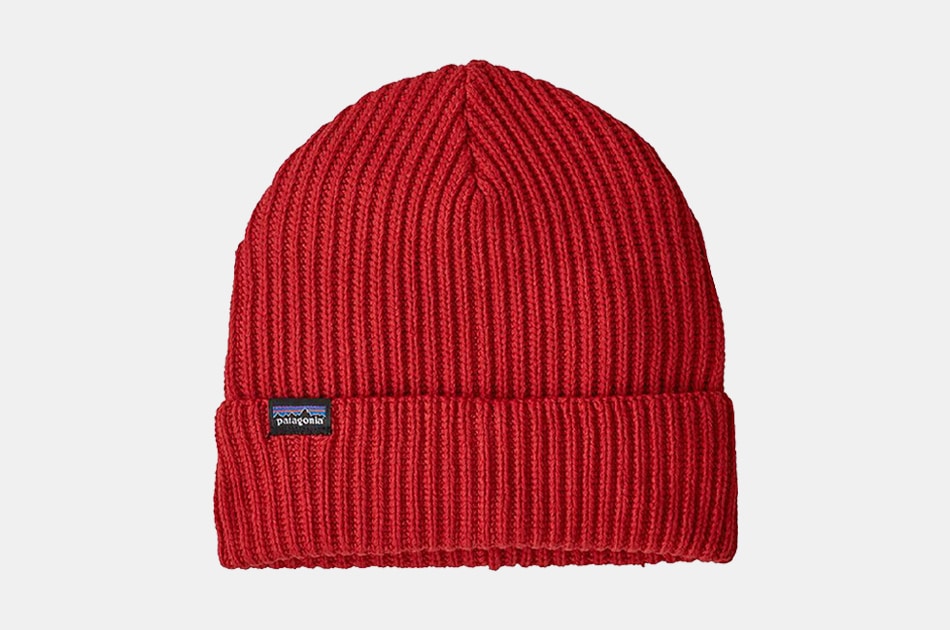 Patagonia Fisherman's Rolled Beanie
Want to channel the great outdoors and the spirit of the sea? The Fisherman's Rolled Beanie is the one you need, what with a classic rib knit and a tough navy color — ideal for standing out against a vibrant yellow fisherman's parka. The use of recycled polyester and spandex makes this one a cool, easy-to-buy option (it's only $35, after all).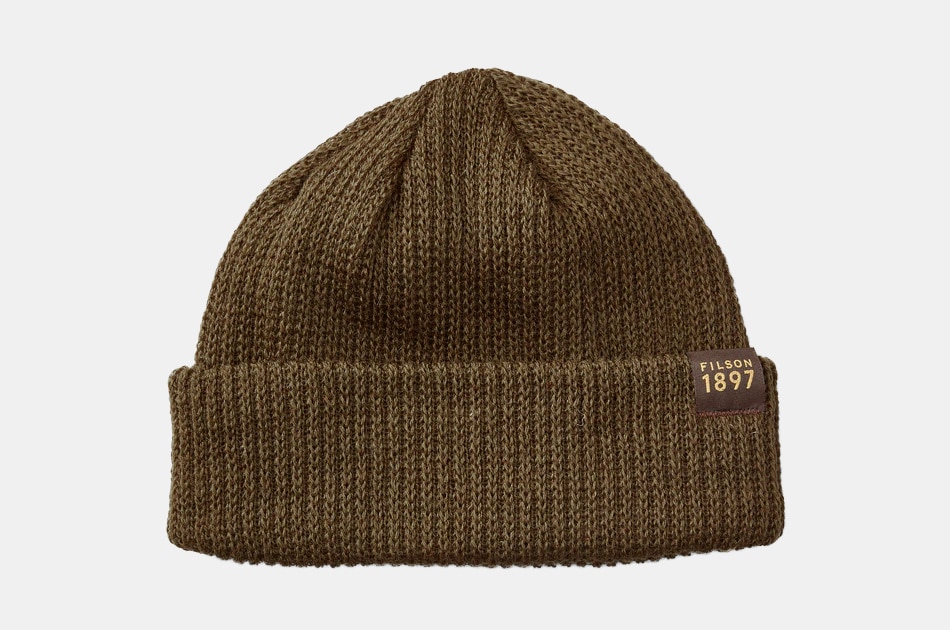 Filson Watch Cap Beanie
With the ability to insulate your noggin through rain and sleet, the Watch Cap Beanie is a fitting accessory from Filson — and hopefully, it's not the only Filson piece you have in your wardrobe. If so? Well, it's a great place to start. We're huge fans of the vibrant Red color in particular — use it to cap off a chambray shirt-denim jacket combo. Throw in tough leather boots and slim tan chinos, then head to your favorite brunch spot.
Banks Primary Beanie
BANKS always surprises us with the type of low-key, casually cool gear that wouldn't look out of place when worn by a style icon such as, say, David Beckham (I.E. Tough shirt jackets, easygoing cotton shirts and slim chinos). The ultimate companion to the rest of the brand's offerings, then, has to be the Primary Beanie. Go with bright red to shake up the rest of your ensemble, then be prepared to watch the complements roll in.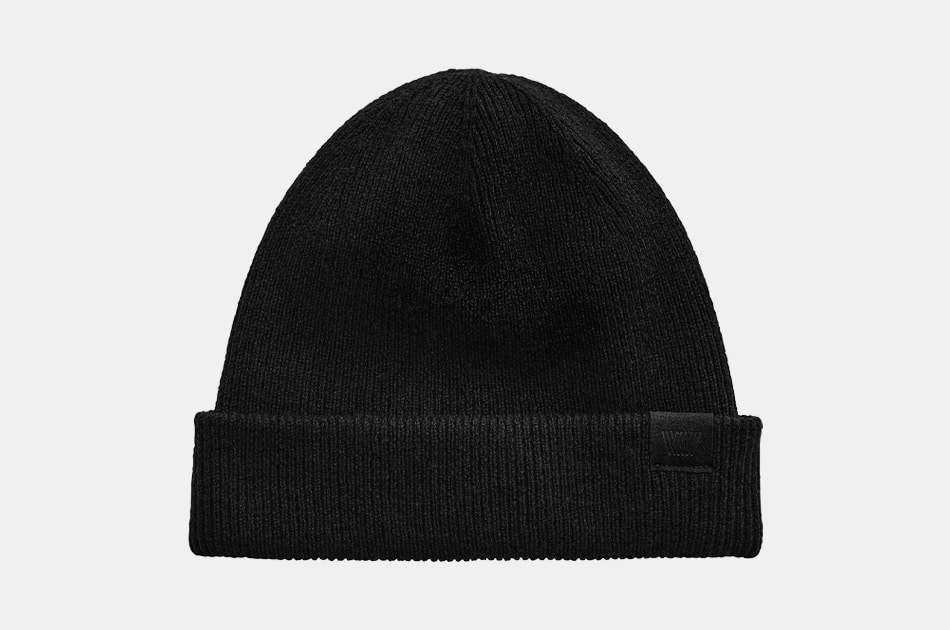 Mack Weldon Tech Cashmere Hat
We're certainly big fans of the technical expertise and style that Mack Weldon brings to the table (and to your wardrobe, to be more specific), and that's especially true when it comes to one of the best beanies for men. The Tech Cashmere fabric is crafted to naturally regulate your temperature, so you won't get too hot or stay too cold when wearing this stylish winter beanie. That sounds like another serious Mack Weldon winner to us. How about you?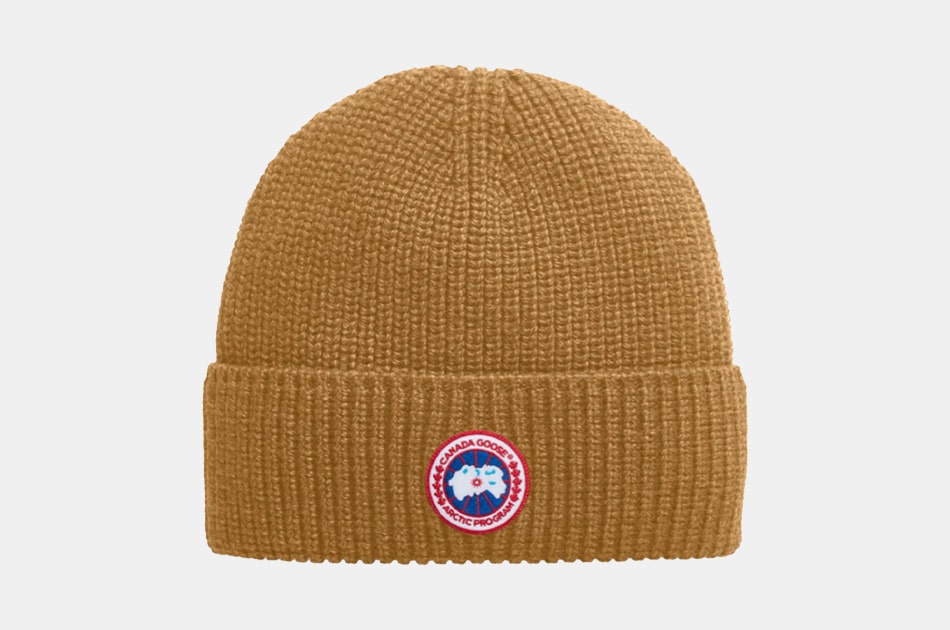 Canada Goose Arctic Disc Ribbed Toque Beanie
When the going gets tough this winter, you're definitely going to need a warm winter hat to wear, and it helps if it's a rugged number that's going to pair up nicely with your favorite winter jacket. Such is the expertise that Canada Goose has honed over the years, and it shines through in the effective, functional, and stylish Canada Goose Arctic Disc Ribbed Toque Beanie. Consider it the ideal complementary piece to your tough, durable Canada Goose parka, day after day this winter.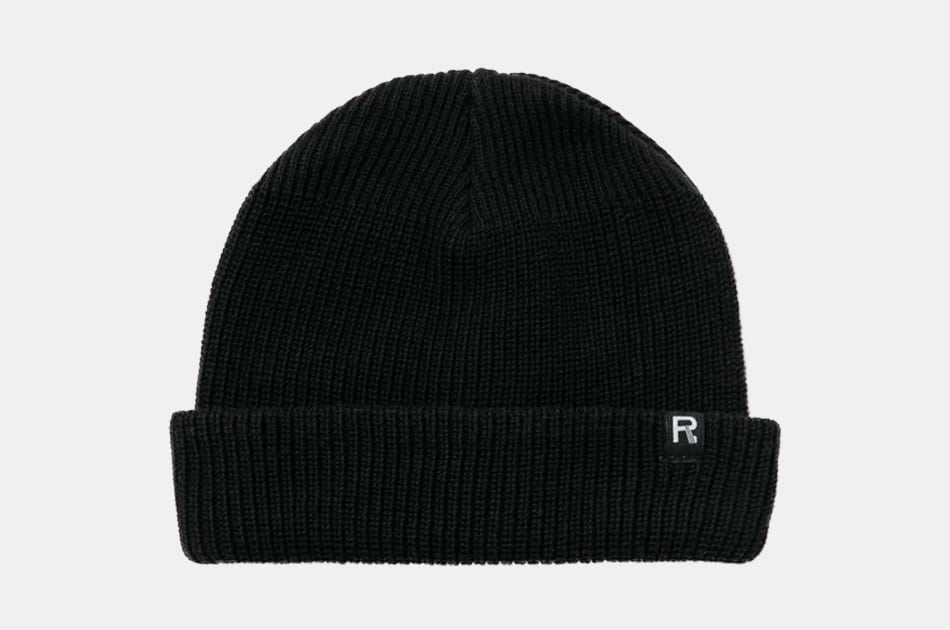 Richer Poorer Beanie
You very well might know Richer Poorer mostly from the brand's focus on solid, easygoing, and easy-to-wear basics, from T-shirts to sweatpants and hoodies. Now, you can add a minimal and cool beanie cap to your Richer Poorer-focused ensemble, and it's here not a moment too soon as cold weather begins to roll through in earnest. It helps that this beanie is sleek, subtle and made to pair up with anything (but especially a tough waxed trucker jacket, your favorite henley and slim blue denim).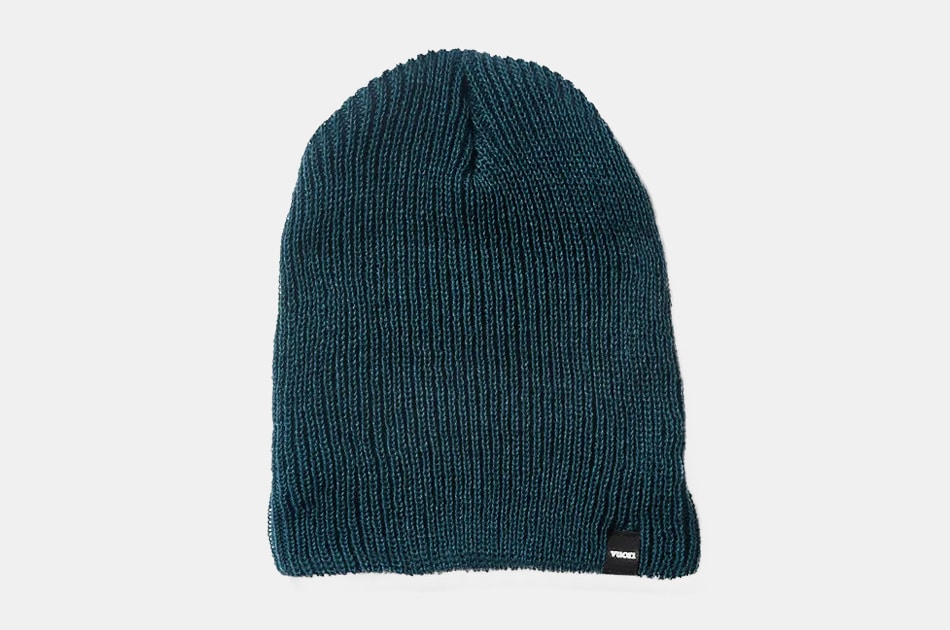 Vuori California Beanie
Take your pick from six stylish, essential colors when it comes to the well-made and affordably priced Vuori California Beanie. It's the kind of grab-and-go beanie that'll provide just enough lightweight warmth and comfort as temperatures plummet, and if you decide to go with any eye-catching color, it'll even add a nice pop to your ensemble. If you've tried out Vuori's joggers or workout shorts, you know the brand's quality speaks for itself, and that's certainly the case here with this stylish winter hat.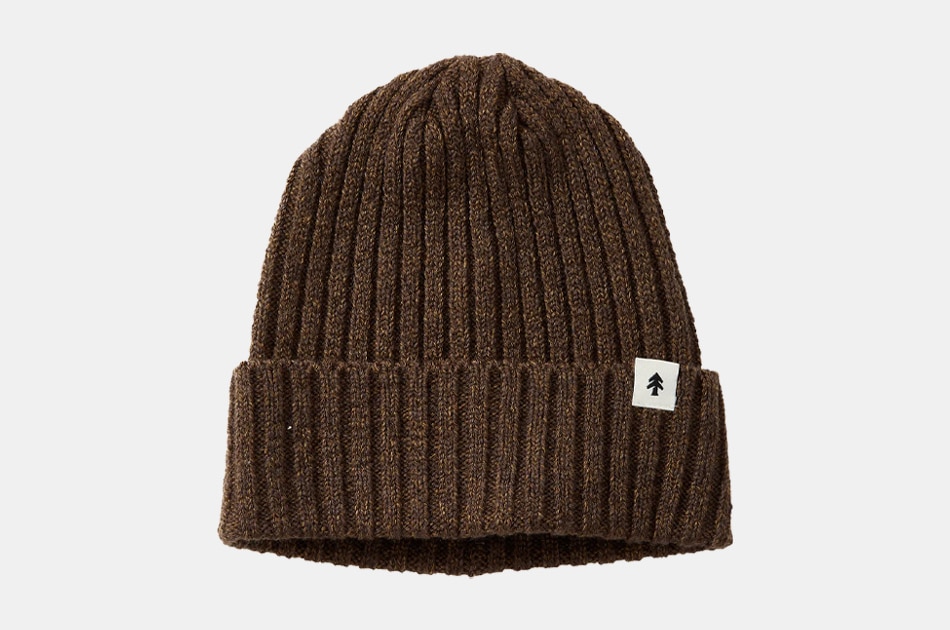 Huckberry Beanie
We've long been fans of the gear stocked and sold by Huckberry, and it helps that in recent seasons, they've also been doing quite the job at producing their own line of in-house gear that looks great, wears well, and comes through in the clutch. Such is the case with the Huckberry Beanie, featuring a subtle Huckberry logo, knit rib construction, and of course, a highly agreeable price point.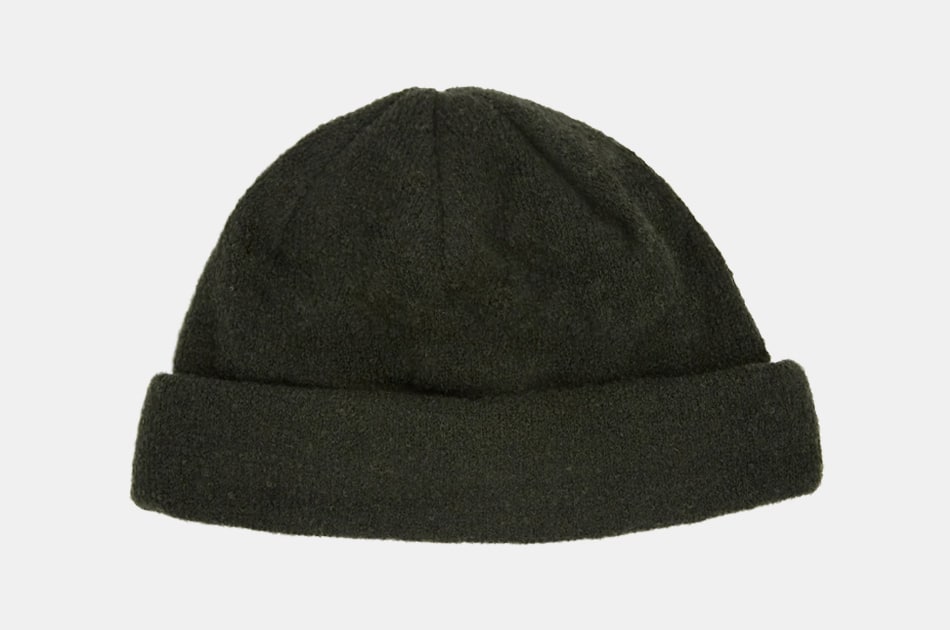 RoToTo MOF Watch Cap
Modern beanies tend to shake things up and do things differently than you might expect, and that's certainly the case with the RoToTo MOF Watch Cap. As sold by master menswear designer Todd Snyder, it's the kind of beanie that blends both traditional and modern craftsmanship to come up with a hat that'll stand the test of time and look great with plenty of other Todd Snyder pieces (as the designer intended, of course).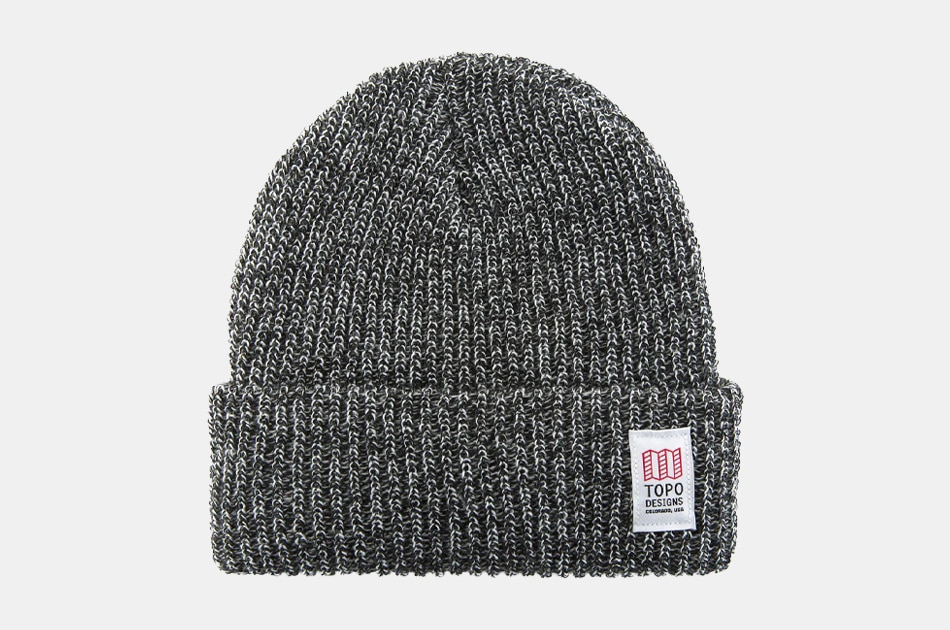 Topo Designs Watch Cap
We're big fans of the outdoor-ready, adventure-approved gear being designed by Topo Designs, and it's with the spirit of the season in mind (plus excellent functionality) that the brand has come through again with the Topo Designs Watch Cap. Take the Black Marl Watch Cap and wear it anytime you need protection from the elements, all thanks to its acrylic yarn construction for durability and warmth.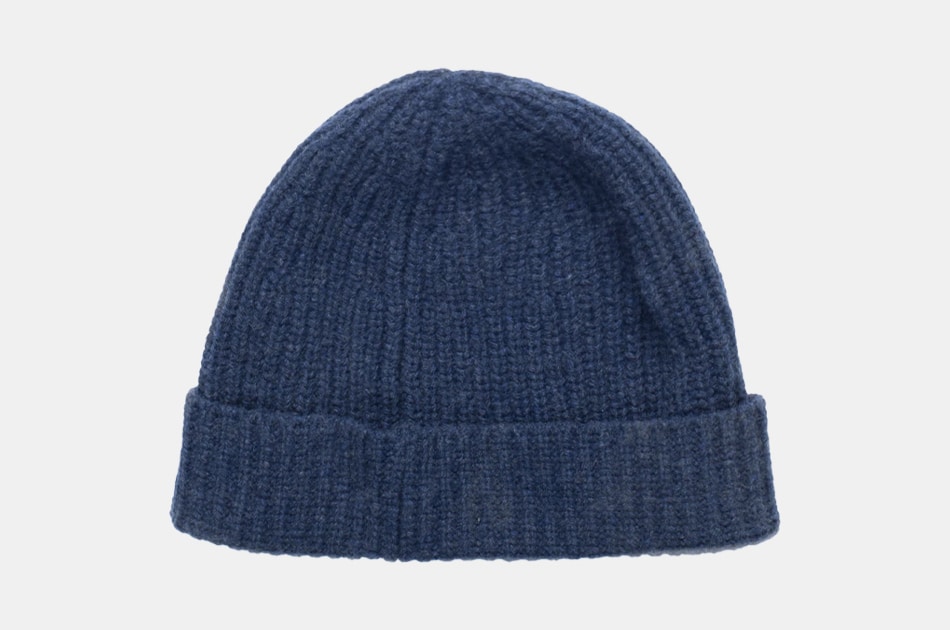 Outerknown Reimagine Cashmere Beanie
Is it possible for us to love Outerknown any more than we already do these days? The brand expertly blends sustainability and style in spades, and that's certainly the case with the Reimagine Cashmere Beanie. At once rugged and refined, eco-conscious and just plain stylish, this handsome beanie is made from recycled cashmere and sustainable merino wool, making it one of the best beanies for men we've seen in some time.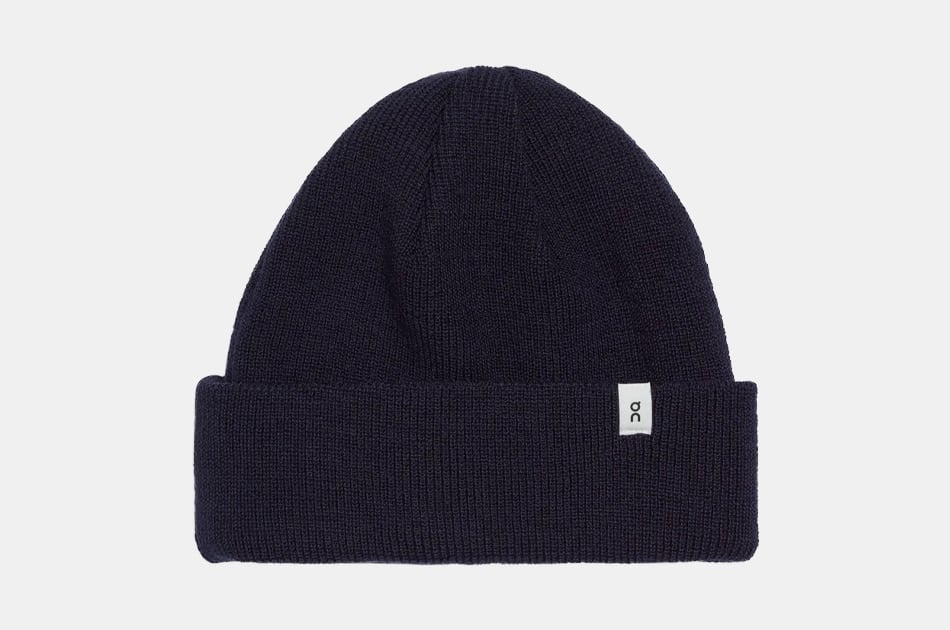 On Merino Beanie
When you've simply got to get out there and hit the road, you need gear that can pass muster, and that's doubly the case when you've got to crank out the miles during a fall and winter run. Turn to the experts at On Running for both your functional running shoes and of course, your running gear, including one of the best beanies for men. Designed to keep you warm on the streets as you pound out those miles, it's the rare beanie made to be worn when running, and we think that's worthy of applause.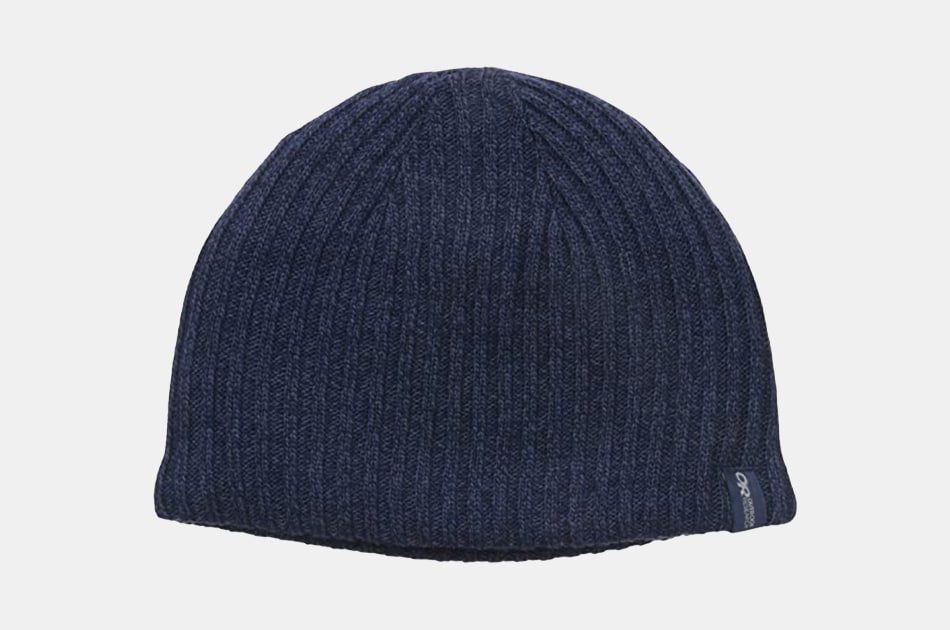 Outdoor Research Camber Beanie
Outdoor Research says its Camber Beanie is the gold standard when it comes to insulated beanies, and it would behoove you to get one of your own before the first major snowfall. Pick up one or multiple — for every style situation — if you're really into the dependable functionality you get from Outdoor Research. PrimaLoft Gold plus acrylic makes the difference.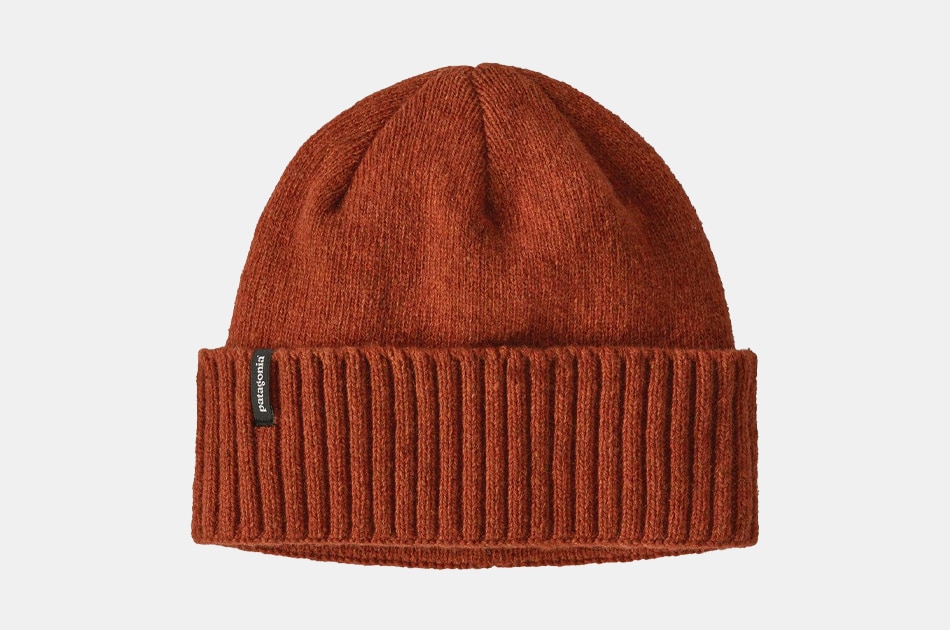 Patagonia Brodeo Beanie
What's more essential for late fall and early winter than a stylish, warm beanie cap? A stylish, warm beanie cap that's made with sustainability in mind. That's one of the qualities we've long appreciated about Patagonia, and the Brodeo Beanie drives that point home nicely (in a neutral shade of grey or a nice desert orange). This beanie is adventure-ready — whether that takes you into town or out of the city.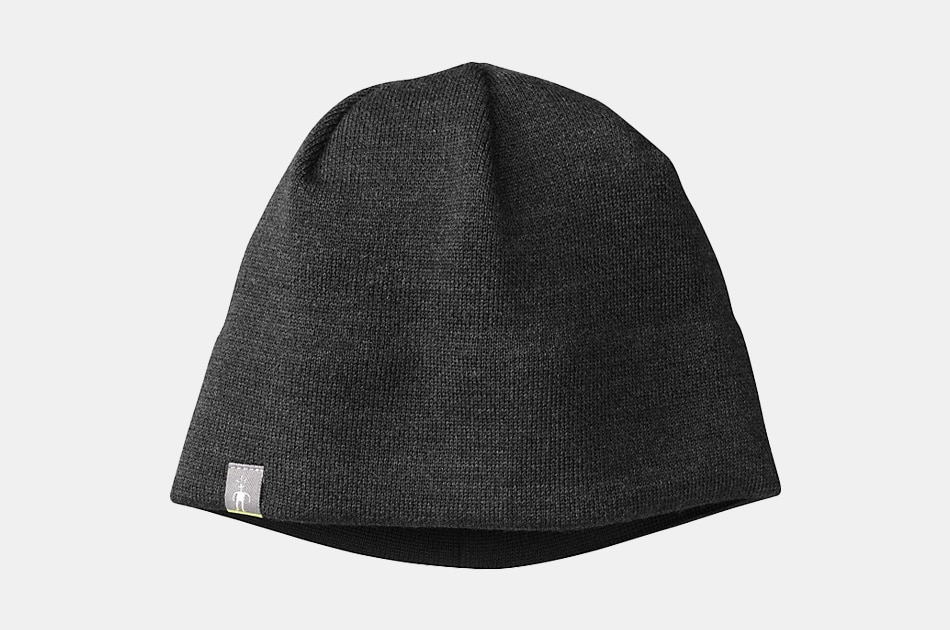 Smartwool Lid Beanie
If there's a more innovative fabric out there than the ones being made by Smartwool, we have yet to see it executed properly — that's what makes the Lid Beanie worthy of buying before it gets too late. Made in part from merino wool, this is a no-frills beanie designed to keep you warm, dry and safe through the worst winter chill.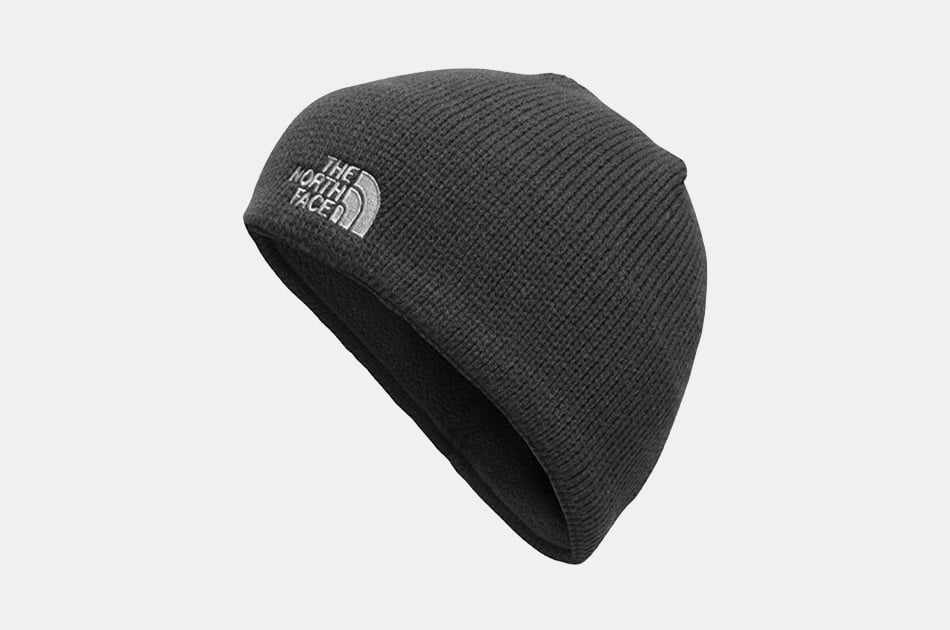 The North Face Bones Beanie
We're always surprised at how well The North Face manages to blend comfort, style, and serious technical performance for agreeable prices. Take the Bones Beanie, with its assortment of colors — one for every style and taste this season. Mountaineer or outdoorsmen — or neither — there's an understated, performance-ready beanie in the mix from the brand for winter.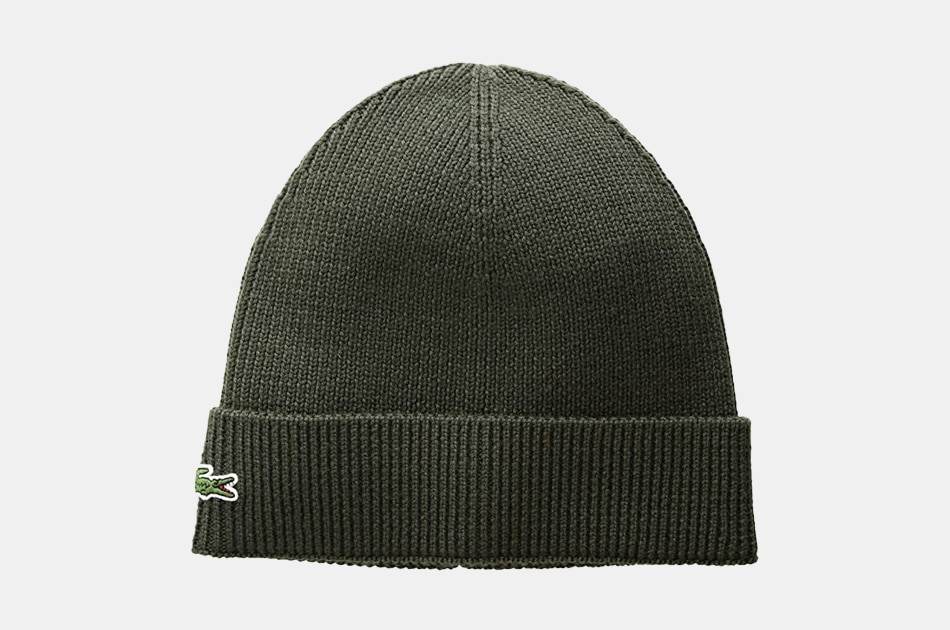 Lacoste Ribbed Wool Beanie
While you surely know Lacoste for its preppy, crisp style staples made for warm weather, the brand's winter accessories are starting lately to pack a serious punch — like the Ribbed Wool Beanie shown here, for instance. The Baobab color is our favorite, a cool finishing touch when worn with a chambray shirt, a thermal henley and faded blue denim. Did we mention it's from a brand that makes some of your favorite polos? Yep.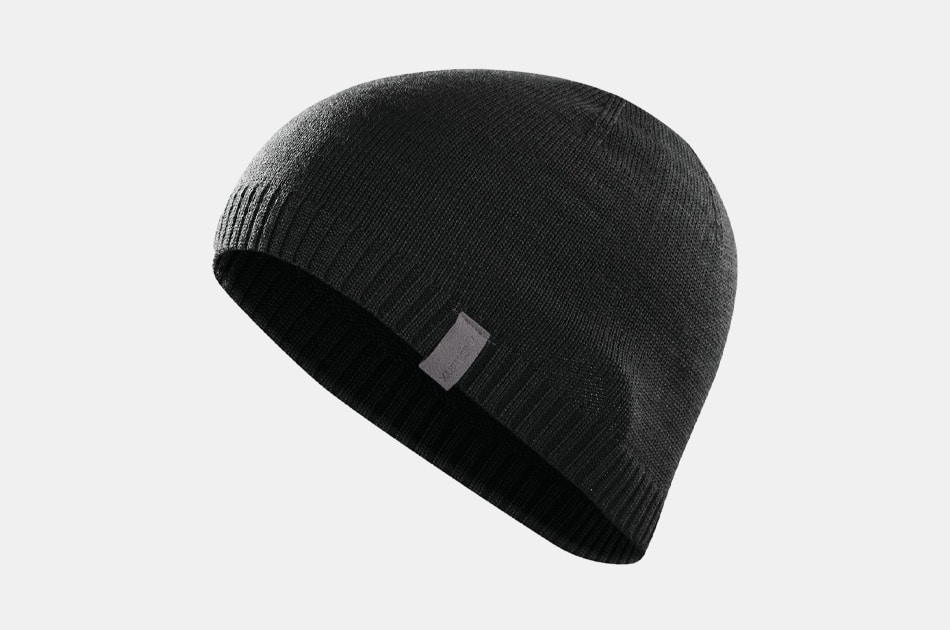 Arcteryx Diplomat Toque Beanie
When we think of brands that consistently push the envelope in terms of fabric, construction and fashion-forward looks at the same time, Arcteryx tops the list. Simple, subtly stylish and functional pieces like the Diplomat Toque are exactly why. Made from natural fiber highlighted by a merino wool blend, the Nighthawk black color is our favorite — find one for yourself.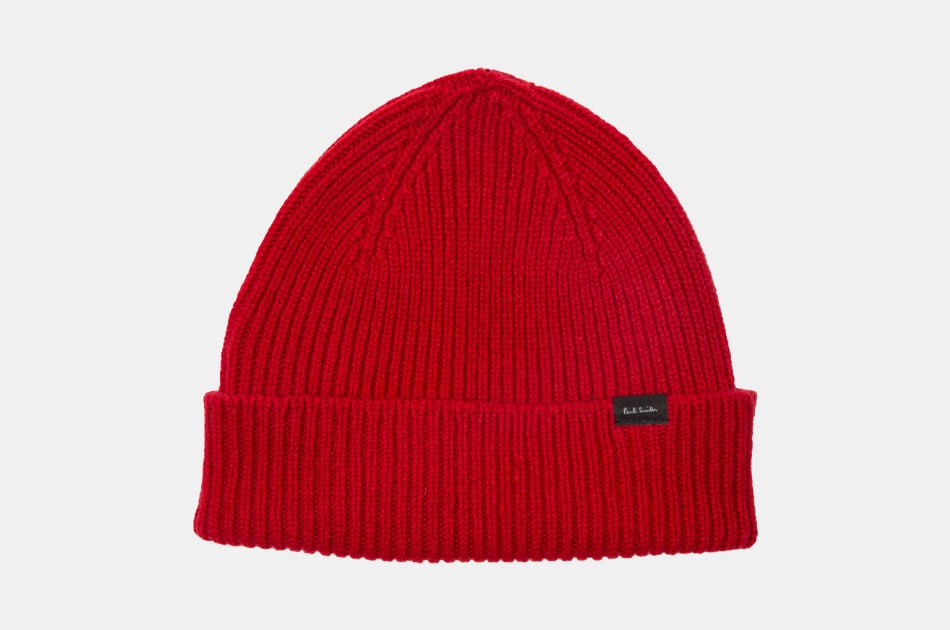 Paul Smith Cashmere and Merino Wool-Blend Beanie Hat
If you fancy splurging on your most reliable and much-needed winter accessory, Paul Smith's handsome cashmere and merino wool-blend beanie is the way to go. It's exceedingly rare to find a beanie that wouldn't look out of place as a rakish accessory alongside your favorite tan herringbone suit. For that price, you'll surely want to take it for a spin as often as you can.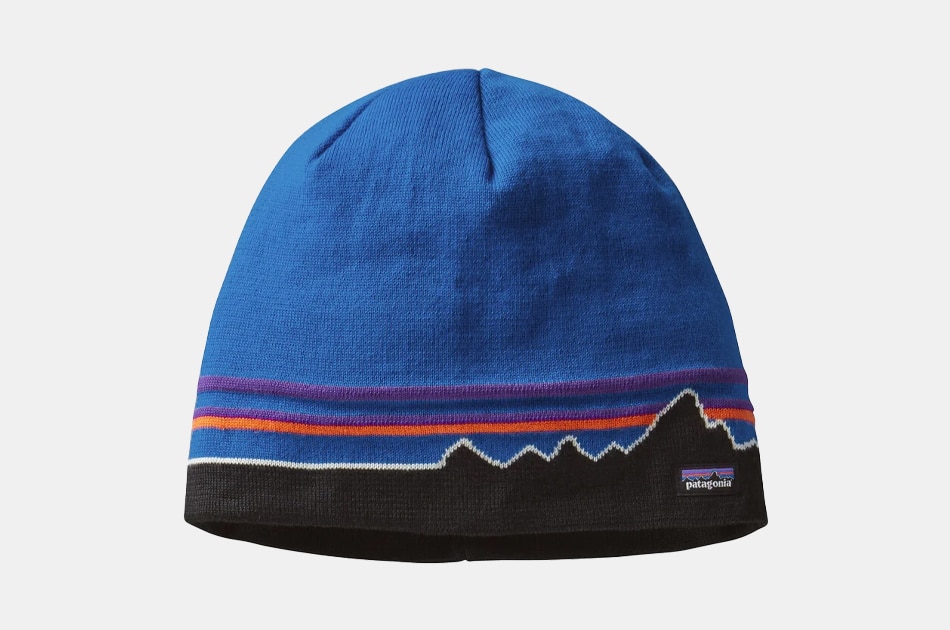 Patagonia Beanie Hat
Patagonia keeps the hits coming with this low-profile beanie cap, made from 100 percent recycled polyester. It's a unique approach that makes this beanie comfortable for long outdoor pursuits, something that can be hard to find from time to time. The array of color options is agreeable for any style, as is the pattern selection. Throw on your dependable parka, tough chore pants, and hiking boots, then get off the trail.
Disclosure: Clicking on these links and making a purchase may earn us a small referral fee, at no extra cost to you. Learn more here.