The 16 Best Fishing Vests
The simple, primal experience of fishing has a way of working its way into the hearts and minds of men everywhere. Retreating into nature, relaxing into the flow of water all around you, and then suddenly—action on the other end of the line that brings your whole self into intense focus. Or as Norman MacLean so elegantly put it: "Eventually, all things merge into one, and a river runs through it."
And while not every fishing trip will be a transcendent experience, there's a lot you can do to prepare for those special moments. That's where the best fishing vests come in, allowing you to keep everything you need for a day on the water right next to you. So I've collaborated with Brandon Cruse, a fire department captain and longtime angler, to bring you our curated list of the fishing vests that will keep you in good stead all year long.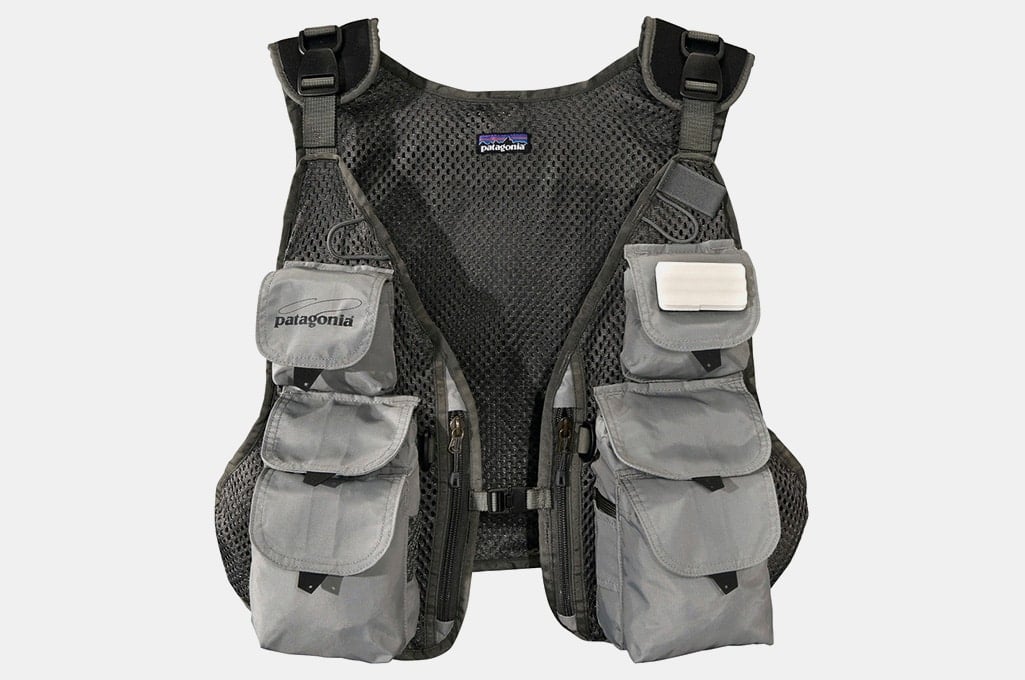 Patagonia Convertible Fly Fishing Vest
Anyone who loves fishing should also, in time, come to love the water that makes it possible. That's why Patagonia's Convertible Fly Fishing Vest holds the first place on our list: Not only is it an excellent fishing vest, but it's made by a company that's actively conserving nature and our waterways with every sale they make. Multiple ballistic nylon pockets and detachment options at the shoulders and waist mean it's capable of a versatile range of fits—and the vest front can easily attach to the Patagonia Sweet Pack, Stormfront Roll Top Pack, or Stormfront Pack. Together with a polyester mesh construction for quick drying, that makes for a vest that any fisherman will wear for years.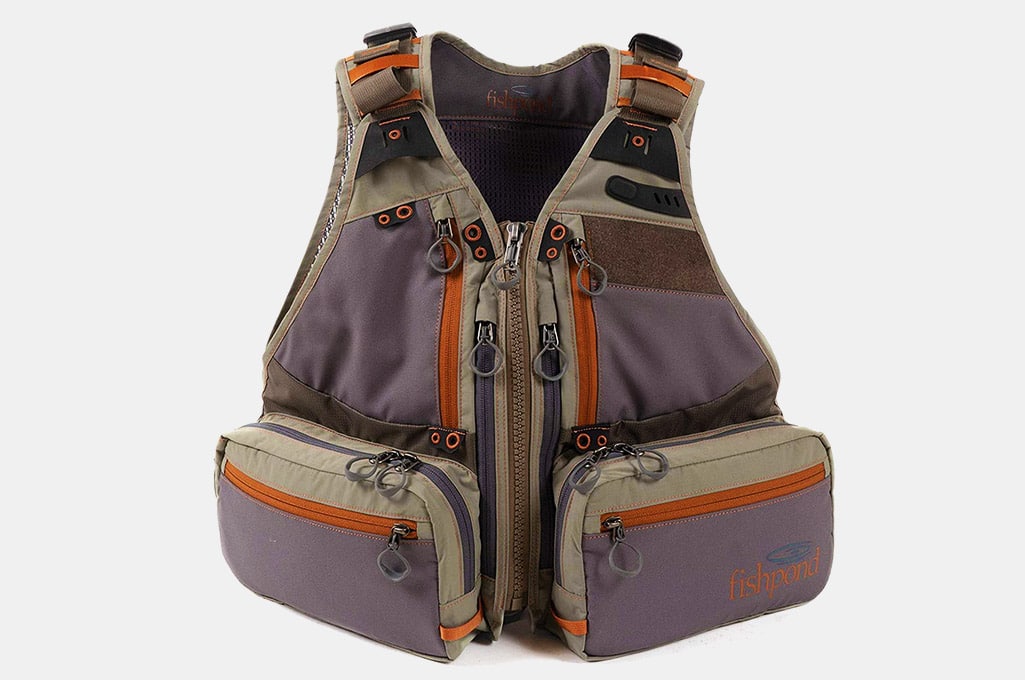 Fishpond Upstream Tech Vest
The major strength of Fishpond's Upstream Tech Vest is its ability to accommodate a wide range of body shapes and sizes. Between its adjustable padded shoulder straps, waist straps, and both a front zipper closure and sternum strap, you can customize your exact fit for all-day comfort on the water. And with 14 interior and exterior pockets and multiple Hypalon tool attachment points, you'll be able to put that fit to good use as you carry your entire day's gear kit without stress or strain. Add in a large back panel pocket and integrated net slot, and you get a fishing vest that's ready for anything.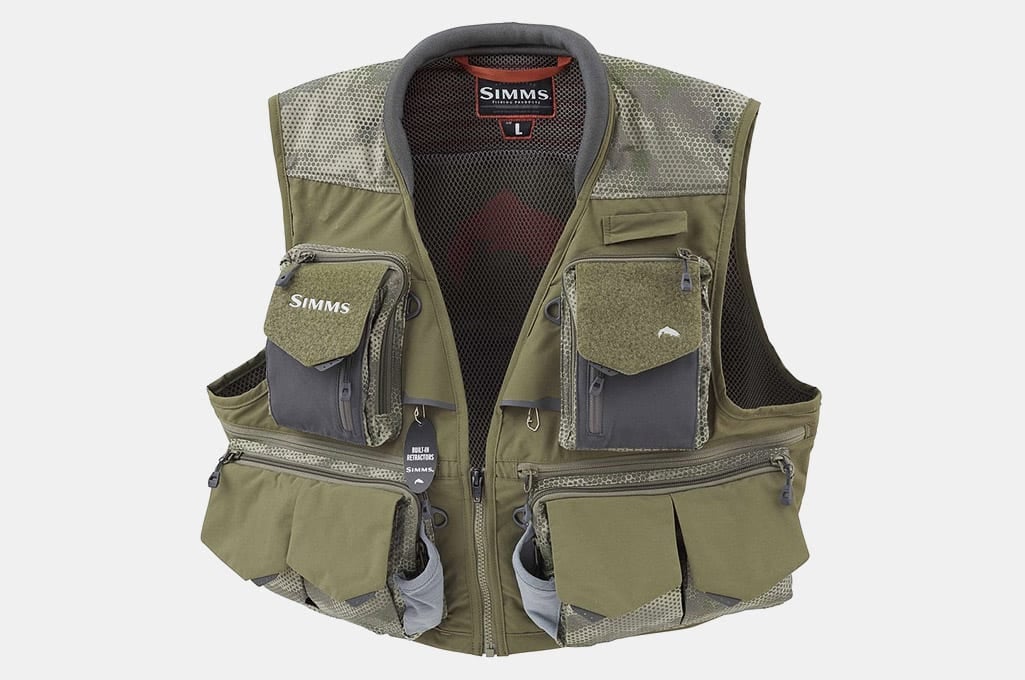 Simms Guide Fishing Vest
Frustrated by a shortage of pockets in most fishing vests? Then you should take a serious look at the Simms Guide Fishing Vest. With a whopping 26 pockets distributed across its chest, waist, and back, as well as two patented built-in retractors for tools and a "third hand" rod holder, it's fully equipped to carry an entire gear loadout. But even more amazing is how thoughtfully arranged these pockets are. The entire setup feels natural, with both quick access and larger, more secure pockets that are perfectly sized to carry your essentials. And lest all that gear weigh you down, this vest's padded collar and shoulders guarantee that you'll be comfortable wearing it all day long.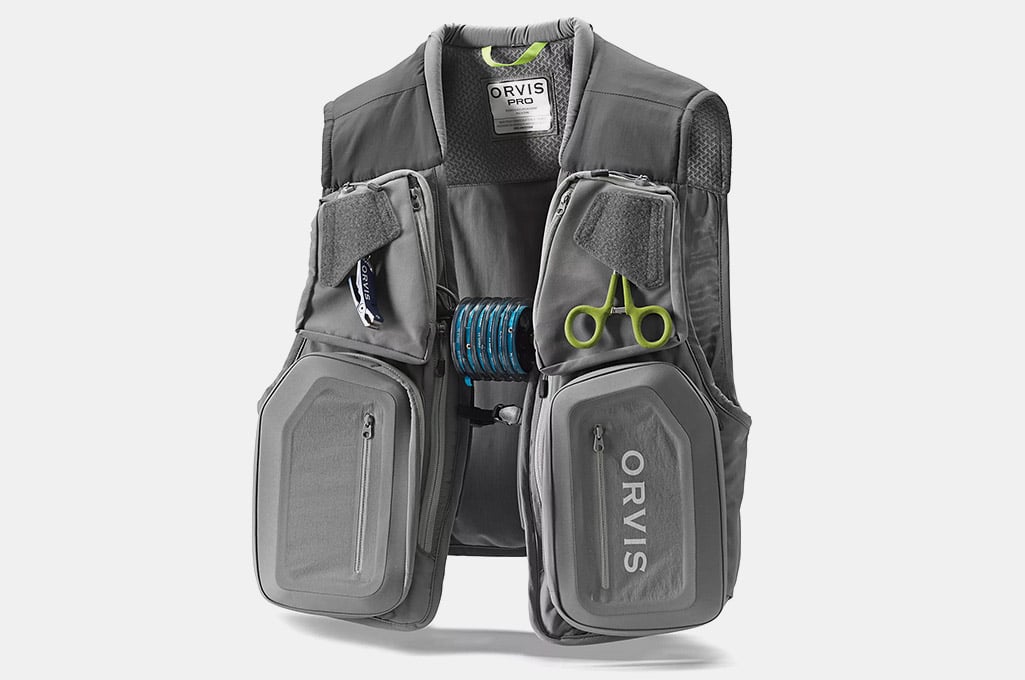 Orvis PRO Vest
Lightweight, breathable, and built for comfort, the Orvis PRO Vest is a masterclass in gear design. Though its nylon fabric is lightweight, it's fully abrasion resistant and treated with durable water repellent coating to keep you dry. A fitted design keeps it close to your body, minimizing irritation as the vest won't shift around. Lofted spacer mesh makes the shoulder straps feel as if they're barely there. And 18 pockets, including Orvis's custom hideaway tool pouches and two large compression-molded front pockets, give it a huge carrying capacity without feeling bulky.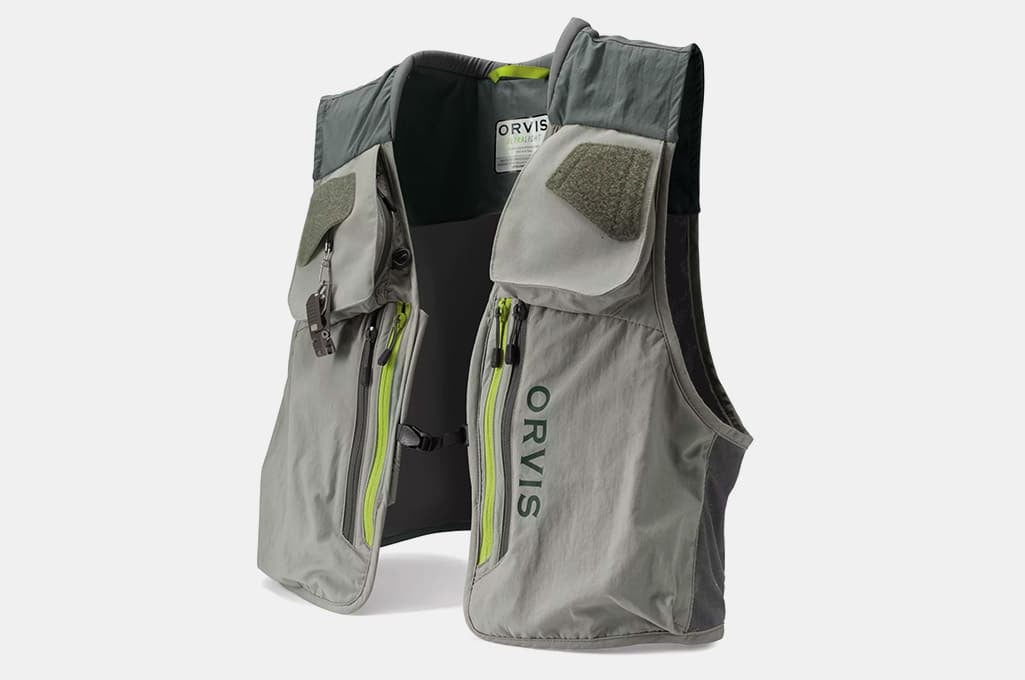 Orvis Ultralight Vest
When you want as little as possible between you and the fishing experience, Orvis's minimalist Ultralight Vest is the way to go. Its slim and low profile design is equipped with just 11 pockets, keeping your gear close to the body and easy to carry. That's further emphasized by the padded collar and form-fitting mesh interior, designed to keep you comfortable and dry all day long. Owners say that it's the most ergonomically perfect vest they've ever had, with pockets that are easy to access without craning your wrists like a T-rex. Overall, it's a next-generation fishing vest for the minimalist angler.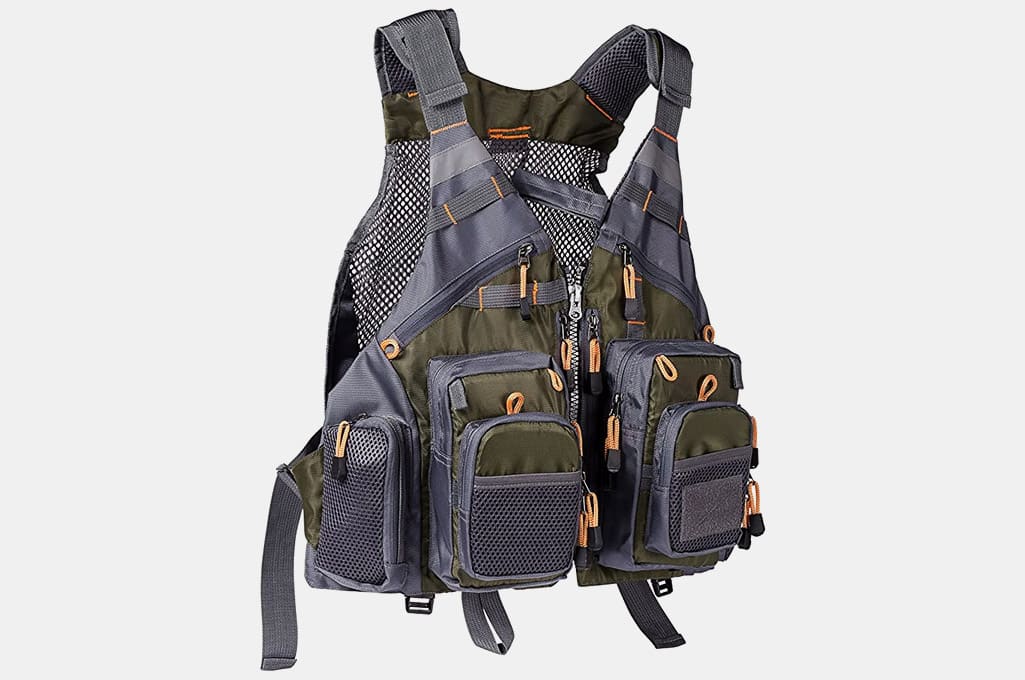 BASSDASH Strap Fishing Vest
If you don't have the money to invest in big-name fishing vests like Orvis and Simms, the BASSDASH Strap Fishing Vest is a very affordable alternative. Its adjustable suspension system makes it easy to get a comfortable fit, and the padded shoulder straps make it easy to carry as much gear as you need in the vest's 18 pockets. Made from a lightweight and fast-drying material, it's a surprisingly well-made fishing vest that's available at an unbeatable low price.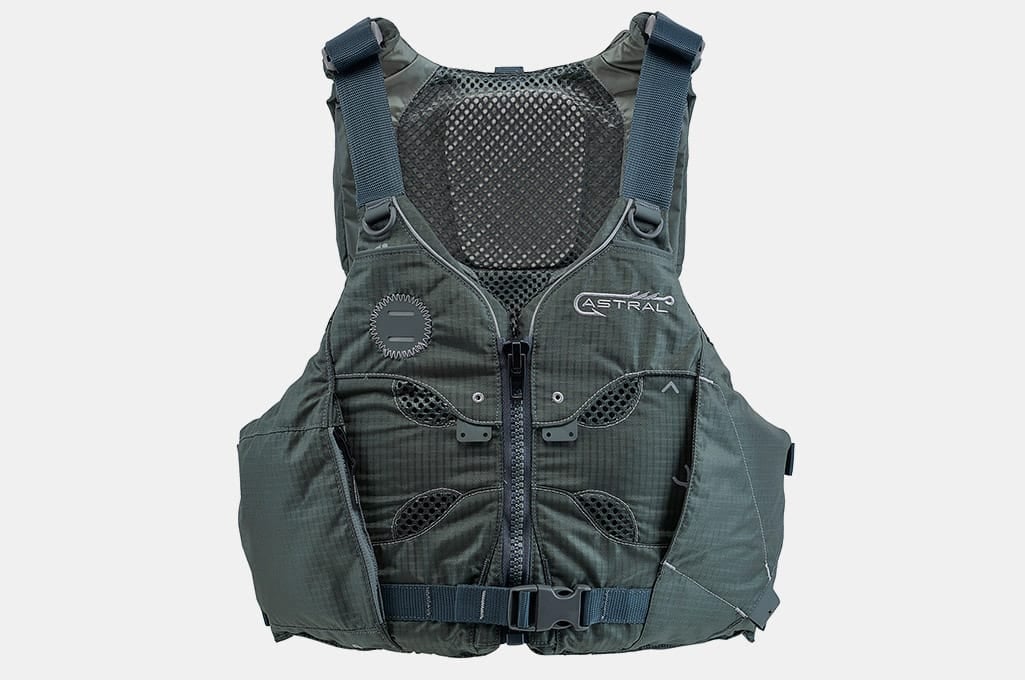 Astral V-Eight Fisher PFD Vest
Though perhaps better known for their footwear, Astral makes cleanly designed products that are perfect for kayaking, too. Their V-Eight Fisher PFD Vest is an excellent example, with its durable cordura construction and an integrated airflow system for releasing excess body heat. Shorter on pockets than the vests we've featured so far in this article, it's a pared-down storage solution that's meant primarily for keeping your essentials safe in case of an unexpected dip in the river. If you're looking to spend a long day paddling and fishing, Astral's vest is an excellent choice.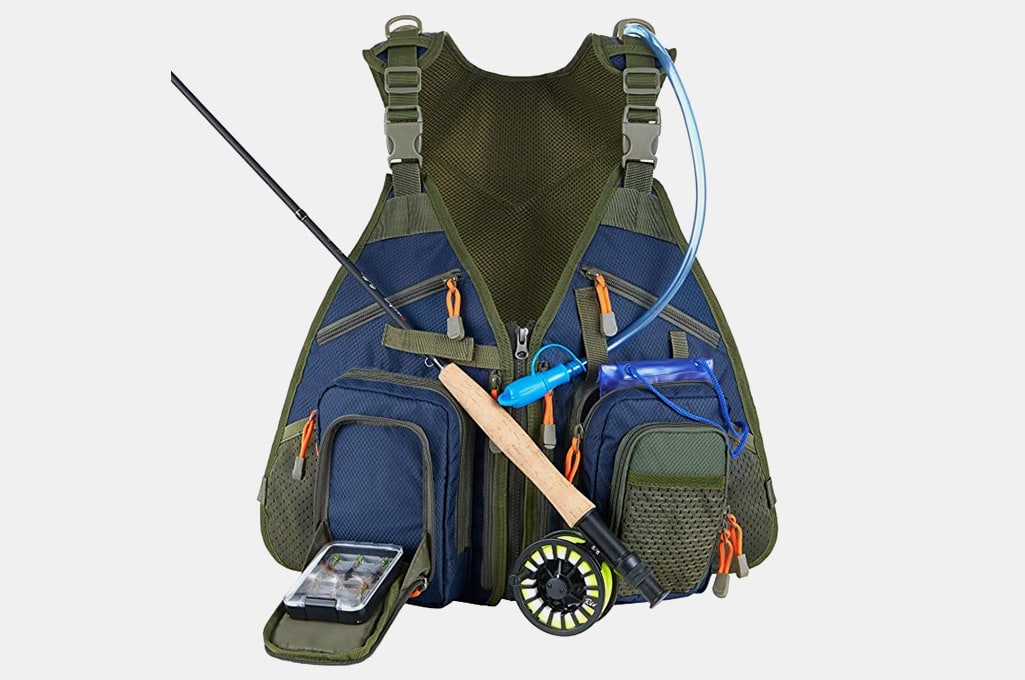 Piscifun Fishing Vest Backpack with Water Bladder and Waterproof Phone Pouch
Does your idea of a great fishing trip involve a hike to the river, and a whole day spent out in the great outdoors? If so, Piscifun's Fishing Vest Backpack should catch your attention. As the name implies, it's a two-part gear storage system—with a large capacity backpack in addition to a quick-access vest, all in one connected wearable. Equipped with 17 pockets and the ability to carry a water bladder, it's great for staying hydrated and prepared for all day trips. Both lightweight and durable, it's a surprisingly well-made fishing vest given how affordable it is.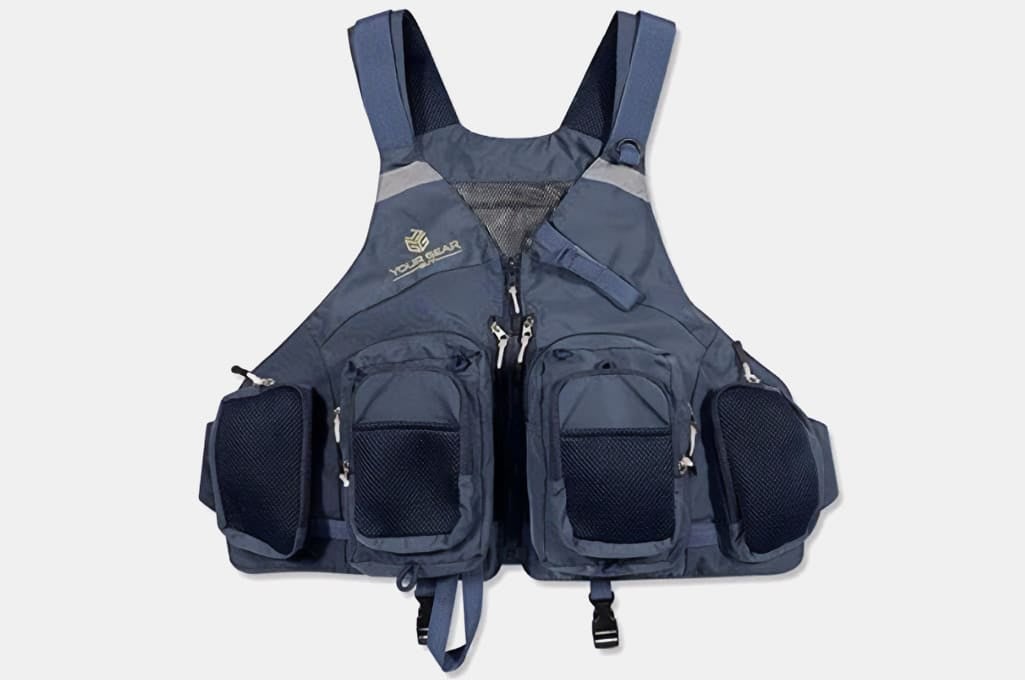 Your Gear Guy: Fly Fishing Heated Vest
The onset of fall and movement into winter doesn't mean you have to hang up your fishing vest for the season—just that you need to put a new, warmer one on instead. Your Gear Guy's Heated Fly Fishing Vest uses a battery pack to provide heated pockets, and doubles as a power source for lighted fingertip gloves for those dark and chilly morning outings. On top of that, it's loaded down with dozens of pockets, comes with an integrated rod holster, and is made of a lightweight and quick drying material. If you're intent on continuing your fishing trips well into the cold months of the year, it's a great solution to keep yourself warm and comfortable.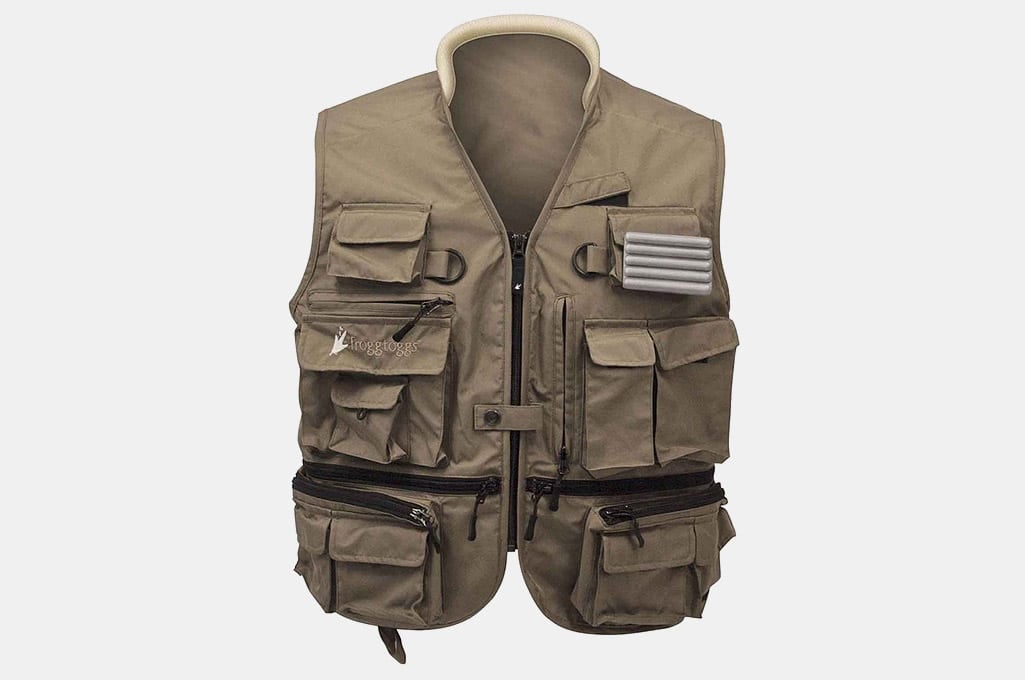 Frogg Toggs Men's Hellbender ToadSkinz Fishing Vest
If I had to nominate just one gear company as the most innovative with their fabric choices, it would almost definitely be Frogg Toggs. For each piece of gear, they choose from a selection of 13 different fabric families before narrowing down the exact qualities they're looking for in each item of clothing. And if it's not a perfect fit? Well, then they set out to make a proprietary fabric blend to create the ideal solution. That's why their Hellbender ToadSkinz Fishing Vest is so awesome — it's made with their proprietary DriPore Gen2 technology for maximum temperature regulation and the fastest drying fabric around. It'll keep you cool when it's hot outside, and warm on those chilly morning trips.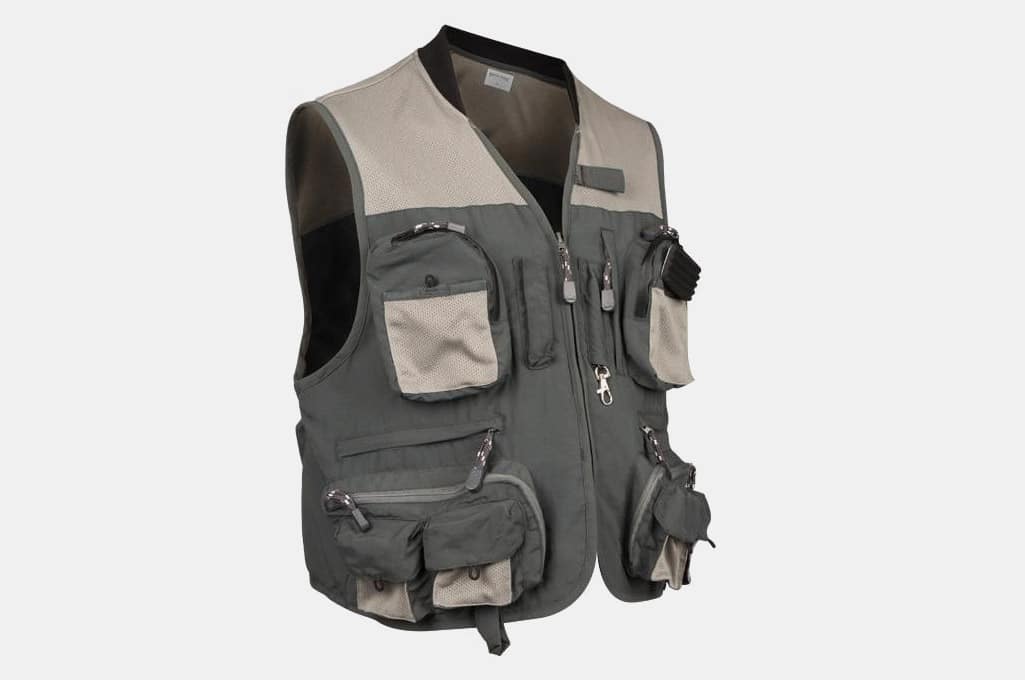 Rustic Ridge Green River Fishing Vest
Simple, well-made, and affordable: Those are the three qualities that best describe Rustic Ridge's Green River Fishing Vest. It does away with the fancy sales pitches and space-age technology of many other fishing vests, focusing instead on a trimmed-down aesthetic and targeted pocket construction. 14 pockets, most of them zippered, will keep your gear in place without a worry, and the two big rear storage pockets have enough room in them to pack water bottles for longer trips.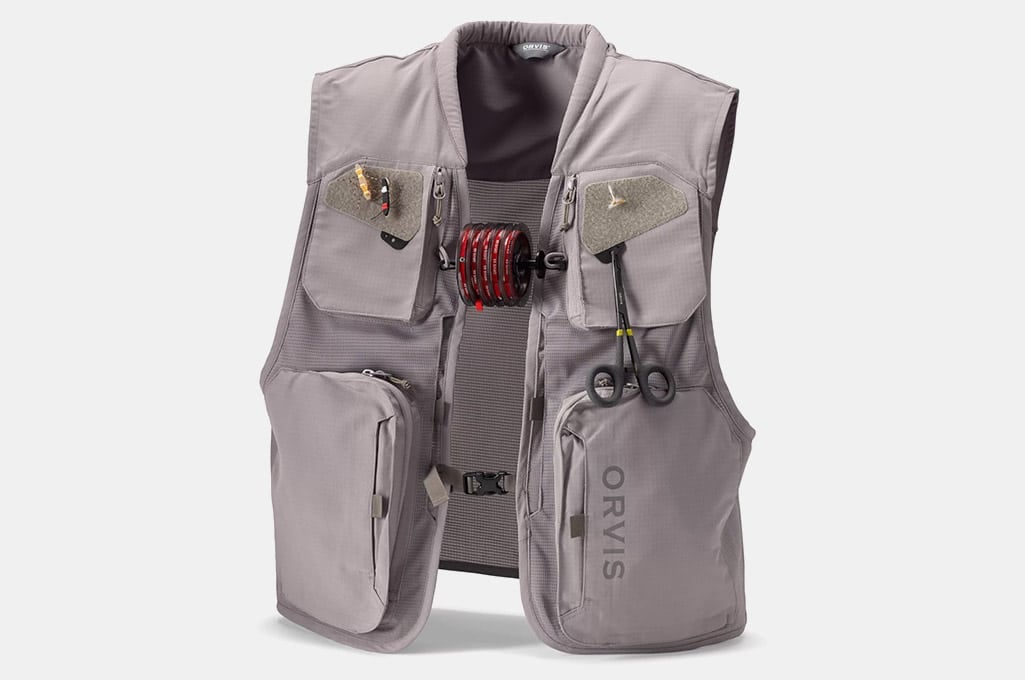 Orvis Clearwater Mesh Fly-Fishing Vest
In the fly fishing business, Orvis is usually associated with top quality products—sold at top dollar prices. Their Clearwater vest is a notable exception, though, focusing on providing the signature Orvis quality at a significantly reduced price. Its lightweight, form-fitting construction and simplified eight-pocket design make it a favorite of fishing minimalists, while the padded collar adds a touch of comfort that traditional fly fishing vests are often lacking. Thanks to its recycled polyester mesh construction, it's both lightweight and durable, too.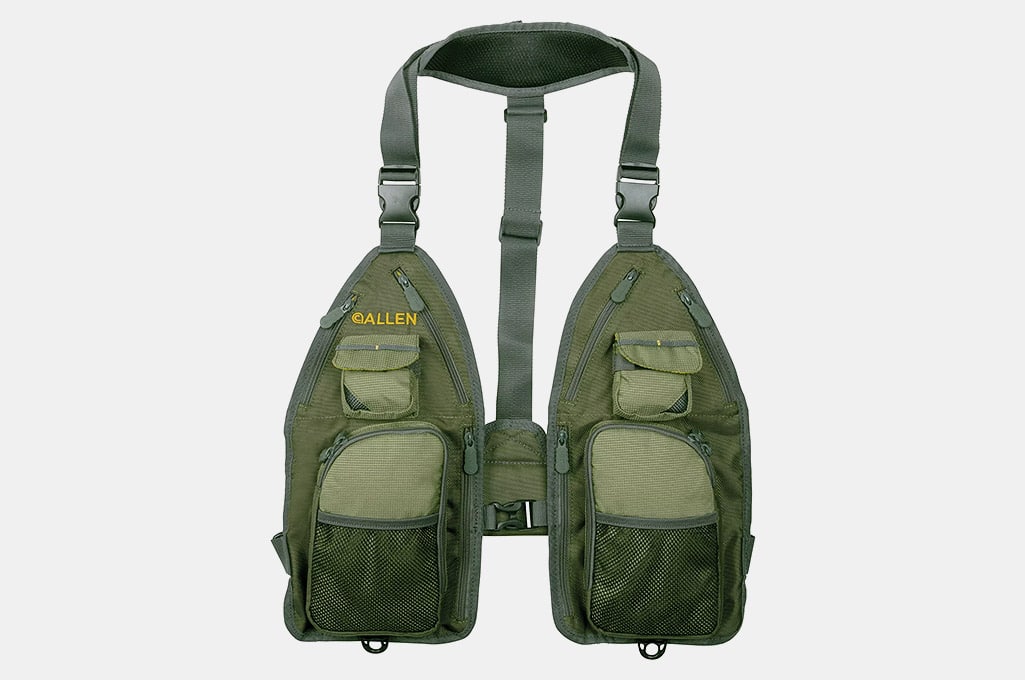 Allen Gallatin Ultra Light Strap Pack Vest
Take away all of the material from a standard fly fishing vest, and leave the pockets and adjustable straps, and you'll get something very close to Allen Gallatin's Ultra Light Strap Pack Vest. The padded neck strap (with an integrated d-ring for your net) keeps it comfortable for all day wear, while the zip close and mesh-filled pockets ensure that your gear stays right where you need it. And since it's made with significantly less material, this ultralight vest is also about half the price of a standard fly fishing vest.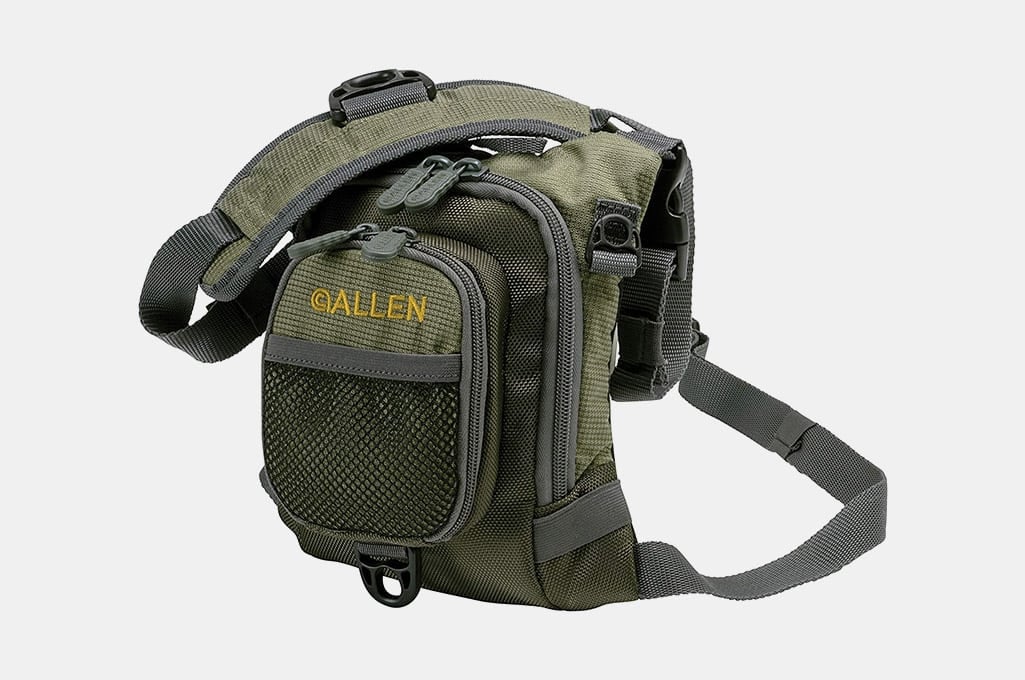 Allen Bear Creek Micro Fishing Chest Vest
Sometimes, you really just don't need a full fishing vest for your trip. If all you really need is a fly box and your net, Allen's Bear Creek Micro Fishing Chest Vest will do the trick. It's extremely lightweight, pared down to the essentials: A handful of pockets, a padded neck strap, and a d-ring for your net. Even so, the two zippered pockets and one mesh exterior pocket can hold a surprising amount of gear—and the dry pocket is big enough to hold the most recent smartphones. It's darned affordable to boot, making this an excellent addition to any angler's gear storage options.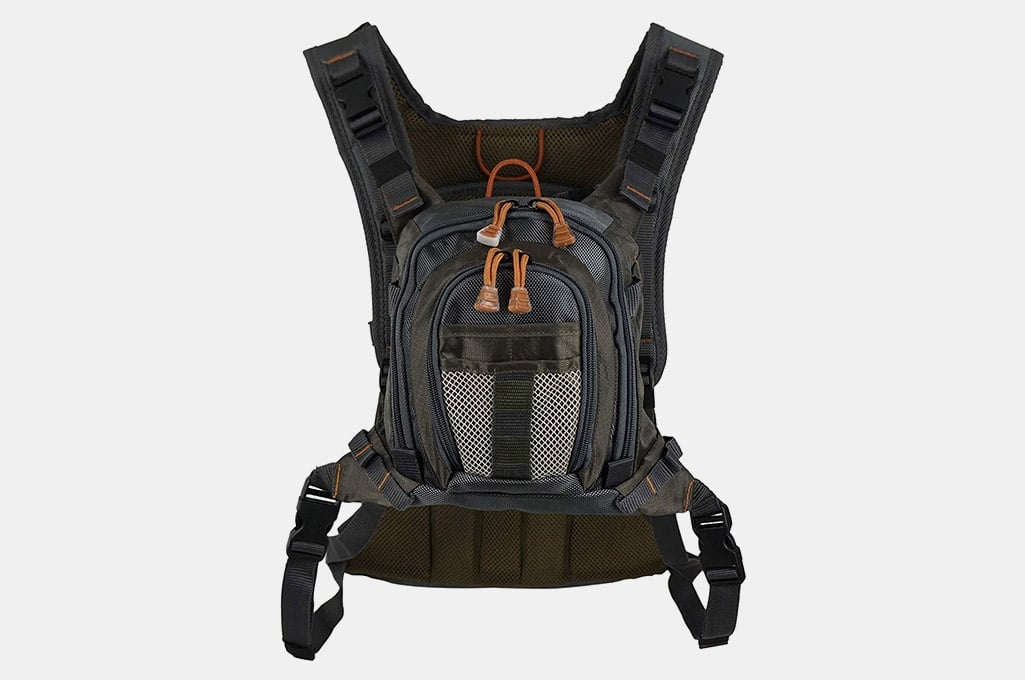 Aventik Fly Fishing Vest Backpack, Fishing Chest Pack Fishing Vest
Combining a chest pack and backpack into one piece of gear means that you'll always have an even balance, taking the strain off your back that standard fly fishing vests can't. So if you're tired of going home with a sore back and shoulders at the end of your trips, consider Aventik's Vest Backpack. It's compact enough to lay close to your body, and the padded shoulder straps and adjustable waist straps make for the most comfortable fit possible. But even so, it's not lacking in storage options, with a big two liter internal pocket and nearly a dozen smaller zippered pockets.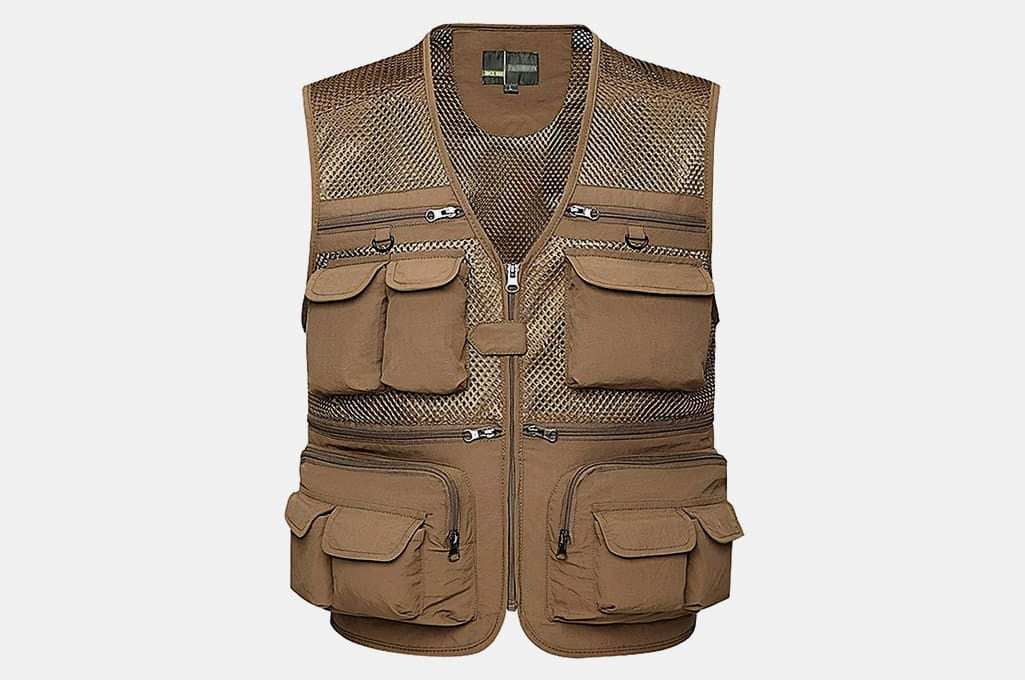 Lentta Mens Summer Outdoor Work Safari Fishing vest
Looking for one vest that can do it all for your outdoor adventures? Consider this one from Lentta. Rather than being designed as a dedicated fishing vest, it's fully functional for a variety of outdoor activities: Hunting, fishing, photography, hiking, and more. 16 zippered or velcro pockets give you plenty of storage space, and the mesh body will keep you cool and dry. Overall, it's a fantastic all-rounder of a vest at a great price.
Disclosure: Clicking on these links and making a purchase may earn us a small referral fee, at no extra cost to you. Learn more here.
freestar.config.enabled_slots.push({ placementName: "gearmoose_leaderboard_btf", slotId: "gearmoose_leaderboard_btf" });