20 Best Men's Rain Jackets
When it comes time to put away your winter gear, the hardest part can sometimes be figuring out what to wear next. That's particularly true when dealing with transitional weather — it's not warm enough to bust out a nice tee all on its own, yet it's not quite chilly enough to to unpack your parka. Add in rain and that's another variable entirely.
Staying dry, as with other style upgrades, means combining style and function in equal parts — not sacrificing style entirely. Plenty of brands are researching new technologies or design additions and upgrading their designs by the season. That gives you a bumper crop of styles to pick from, most of which can be layered up, dressed down or worn any which way in between. Given that staying dry often used to come down to how long your cheap grocery-store parka might last, it's refreshing to see companies across the globe take a nuanced, effective and investment-worthy approach to the humble rain jacket.
Some on this list are certainly fit for more extreme conditions, and that's all the better if you need a rain jacket to keep you dry for simpler occasions. Other pieces have touches like durable waxed canvas, or draw heavily from workwear styles — so you know they're up to the test. Just keep in mind that if you're going to be reaching for the same rain jacket for rainy day after rainy day, it had better be versatile and tough. Luckily, that's why we're here with our picks for the best rain jackets for men — fill up your shopping cart and get ready to brave the elements.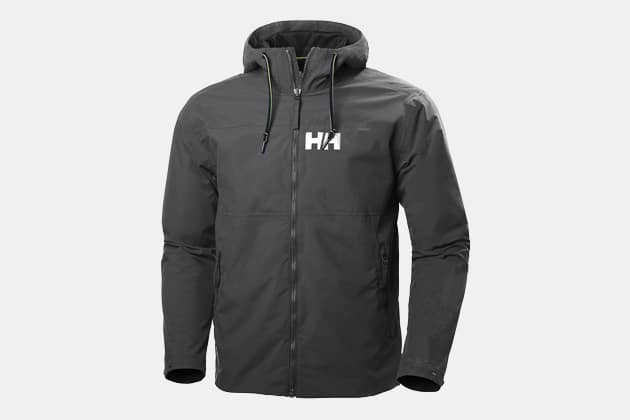 Helly Hansen Rigging Rain Jacket
With a bold spirit of innovation and performance supporting some of the world's foremost adventurers (and average Joes alike), Helly Hansen certainly belongs on any list of the best men's rain jackets. It's never too early to consider stocking up for early spring, and the Rigging Rain Jacket makes a fine argument as to why, from the trademark Helly Tech protection to the waterproof and windproof capability. – Shop Now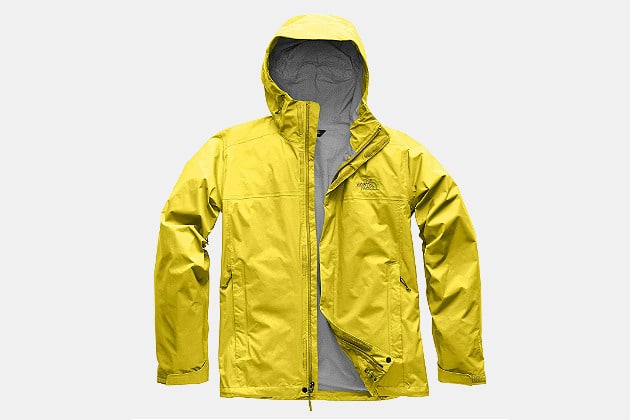 The North Face Venture II Jacket
The North Face offers its take on the standard rain jacket by delivering a piece that's simple in looks but complex (in a good way) in terms of functionality. The outer layer is waterproof and breathable, with a fully adjustable hood that has a hidden drawcord system to keep rain out for good. Hand-zip pockets and a chin-guard lining ensure you can stow your gear and fight the elements no matter where you're headed — or what the weather might be like. – Shop Now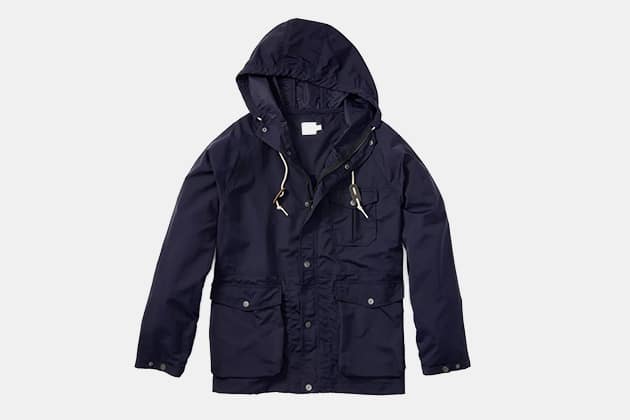 Flint and Tinder Ridge Shell
Rainy, windy, blustery weather is no match for the Flint and Tinder Ridge Shell — that's what we think, at least. The durable Ridge Shell is a dependable addition to your outerwear rotation from a respected brand, one that can make everything from Oxford shirts to washed denim. And this jacket just so happens to be tear-resistant and water-resistant for maximum longevity. The best part? You can use the Flint and Tinder Ridge Shell as the final layer in an ensemble packed with the brand's stellar menswear. – Shop Now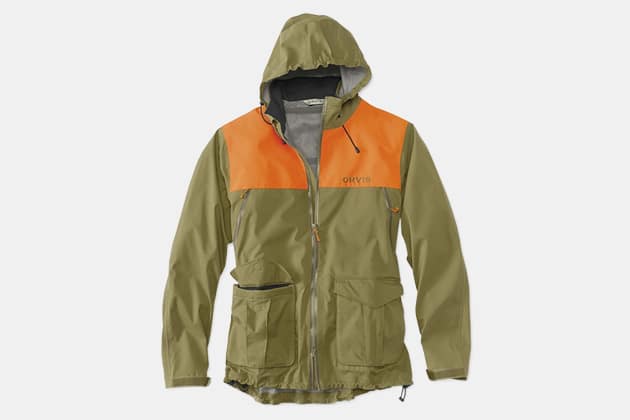 Orvis Toughshell Waterproof Upland Jacket
Sometimes, the name of a product says it all — in this case, it's the ToughShell Jacket from Orvis. It really is just that: A remarkably tough and durable shell jacket made for hunting in the field, from sun up to sun down. All along the way, it provides premium protection (thanks to a breathable two-layer jacket system and the brand's proprietary hard shell fabric). – Shop Now
Arc'teryx Alpha SV Jacket
Arcteryx has always held a certain fascination for those who seek to get outdoors and adventure — but with more minimal, modern style in mind than the colorblocked retroi jackets worn by explorers and outdoorsmen in decades past. All of this is to say, if you want a sleek rain jacket that offers no-frills performance and no-fuss styling potential, the Alpha SV Jacket is the one for you. The Gore-Tex Pro hardshell offers reliable performance in severe weather, while this jacket is made for extreme alpine conditions overall. If you ask us, that's not bad — not bad at all. – Shop Now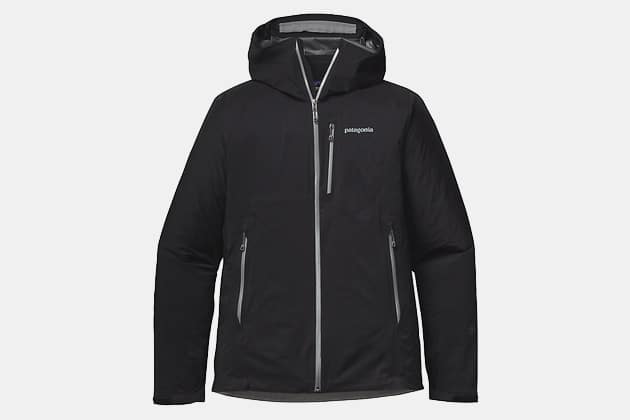 Patagonia Stretch Rainshadow Jacket
Long known for outerwear that can span the globe in all sorts of conditions, Patagonia's Stretch Rainshadow Jacket carries on that legacy in fine form. It features 2.5-layer waterproof and breathable shell fabric that incorporates a H2No Performance Standard fabric for versatility and durability by the bucketful. Even the front zipper is watertight and coated to keep out the harshest wind and rain, while the self-stuff feature and carabiner loop should make it remarkably easy to pack and unpack. – Shop Now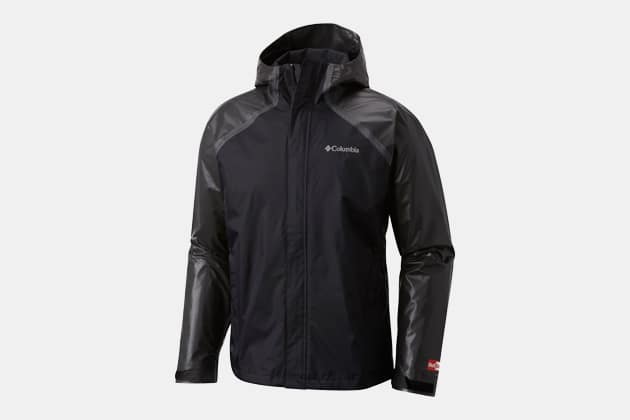 Columbia OutDry Hybrid Jacket
With the OutDry Hybrid Jacket from Columbia, you can outlast the competition — it's that simple, whether you happen to be on a cycling excursion or a day hike. That might seem like a tall order, but Columbia has built this jacket with just the right amount of bells and whistles, from the excellent price (under $100) to the seam-sealed design. That it's all finished off with the brand's OutDry technology is really the icing on the cake, because it's stylish and minimal enough in its own right to last you all spring. – Shop Now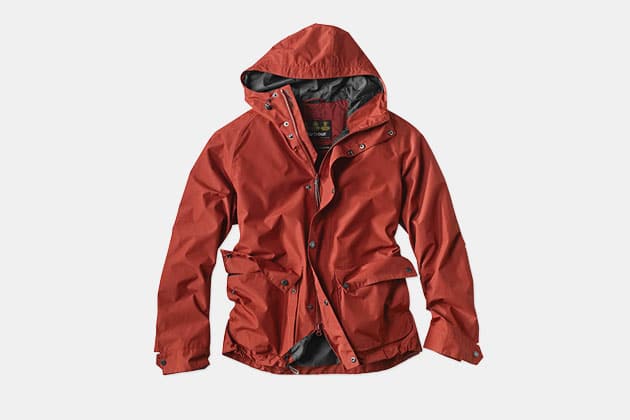 Barbour Gunwale Jacket
Barbour says that the elements "can't beat" what the Gunwale Jacket brings to the table, and one look at the tough specs and stellar design of this classic rain jacket (assuredly one of the best men's rain jackets) would seem to prove that point. It's refreshing to find a weather-ready jacket that also manages to be lightweight and easy to wear — the fixed hood also offers complete protection from the outside world, and we love the bright and engaging color combo, too. – Shop Now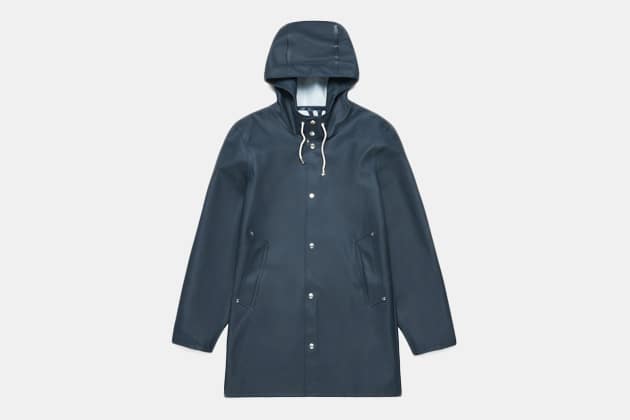 Stutterheim Stockholm Basic Raincoat
Where else to go for the best men's rain jackets (and really, some of the best menswear out there in general) than lauded American designer Todd Snyder, right? Right. The designer is now stocking Stutterheim, a brand that's as capable as any at designing the best men's rain jacket you're going to wear all season. The Stockholm Basic Raincoat features a tough, rubberized PVC coating and a cool, crisp Navy color — both touches we appreciate, and we think you will, as well. – Shop Now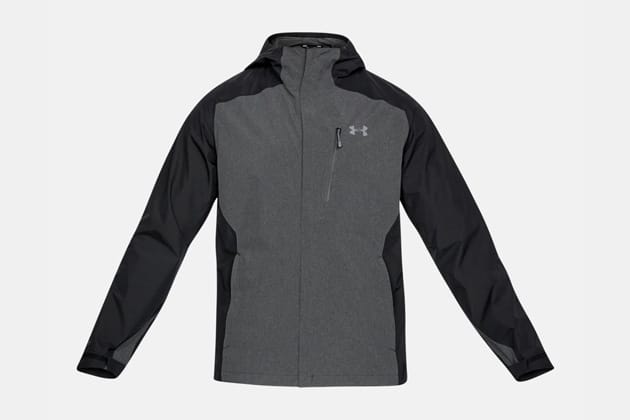 Under Armour Roam Paclite
The brand that makes sporty sneakers for runners, CrossFit athletes and basketball players just so happens to be making the right gear for rainy weather, too — athlete or not. As you've probably gathered, that brand is Under Armour, and the UA Roam Paclite is a multi-functional jacket geared toward hiking and outdoor excursions (in the rain, of course). The Roam Paclite comes complete with Gore-Tex fabric and 100 percent waterproof construction — both must-haves for the outdoor or urban explorer. – Shop Now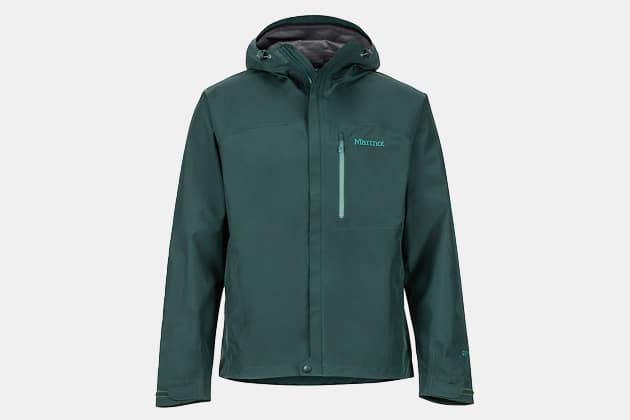 Marmot Minimalist Rain Jacket
Marmot's Minimalist Jacket is just that — nice, clean and decidedly minimal. In a straightforward and simple grey colorway, it features Gore-Tex PacLite technology and seam taping for long-lasting protection. It's the perfect kind of jacket to toss on when commuting via bike, train or cary (after all, that walk from parking lot to office can still be a rainy one). Even the chest pocket makes use of a water-resistant zipper, while the adjustable hood can be re-worked to fit any sort of storm. – Shop Now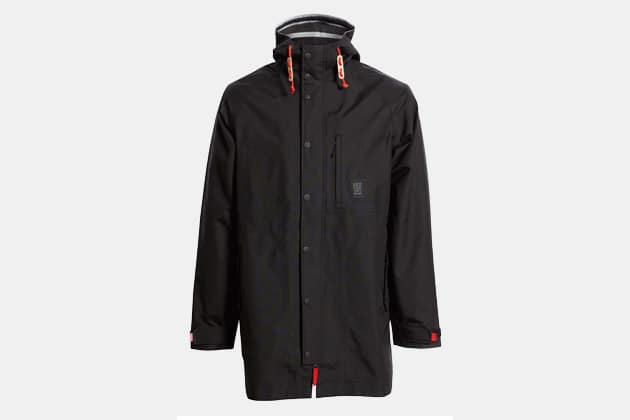 Topo Designs Waterproof Rain Jacket
Topo Designs is quickly becoming a brand we turn toward for head-to-toe protection from the elements — from its canvas bags to pieces like this essential Waterproof Rain Jacket, the brand merges serious style with the spirit of the outdoors. Made from a waterproof nylon shell, this jacket is sleek, easy to wear and easy to pack for your next rainy day adventure. – Shop Now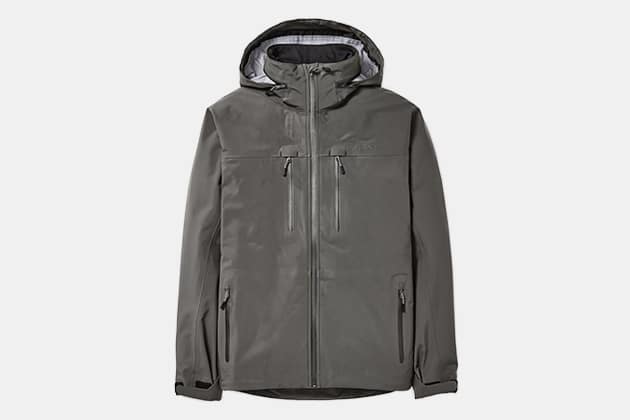 Filson Neoshell Reliance Jacket
Filson is normally known moreso for its heavier outerwear pieces and tough waxed bags — thus, the Neoshell Reliance Jacket is a well-considered and unique addition to the brand's heritage-quality product line across the board. It's waterproof and also highly breathable, a travel-friendly and adventure-ready jacket at its finest. – Shop Now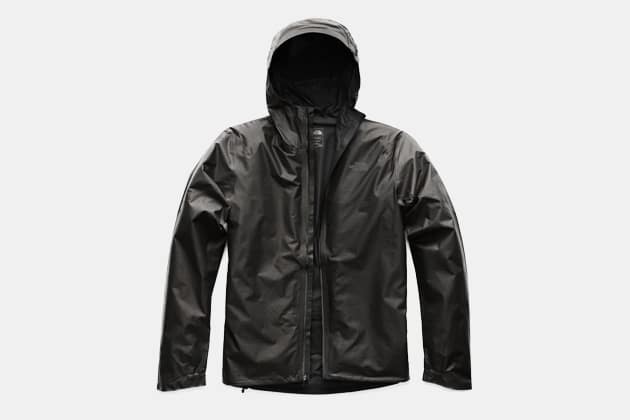 The North Face HyperAir Gore-Tex Trail Jacket
When the weather calls for it, you need to find the toughest fabric — and the best-built rain jacket — that you can possibly track down. In this case, the brand is The North Face, the jacket is made with Gore-Tex … and the results are nothing less than stunning and highly functional. Made to be waterproof and windproof — and backed by a lifetime guarantee — this is the right jacket to wear during a nasty Nor'easter. – Shop Now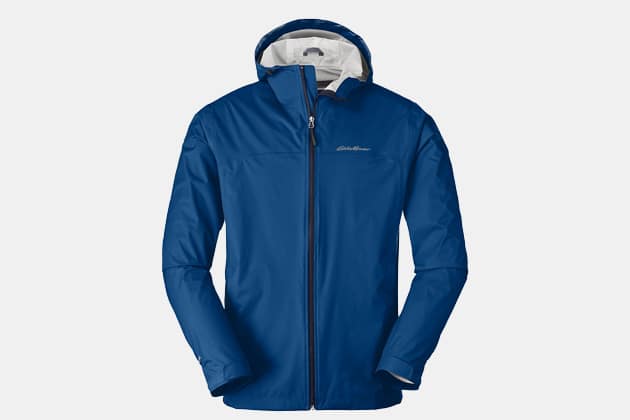 Eddie Bauer Cloud Cap Lightweight Rain Jacket
There's a reason Eddie Bauer is so revered as a brand — they've carried through the same spirit of outdoor heritage and innovation from founding to the present day. Helpfully, pieces like the Cloud Cap Lightweight Rain Jacket capture that approach in full, from the bold and bright range of outdoor-friendly colors to the agreeable price (a steal at under $70 when on sale). – Shop Now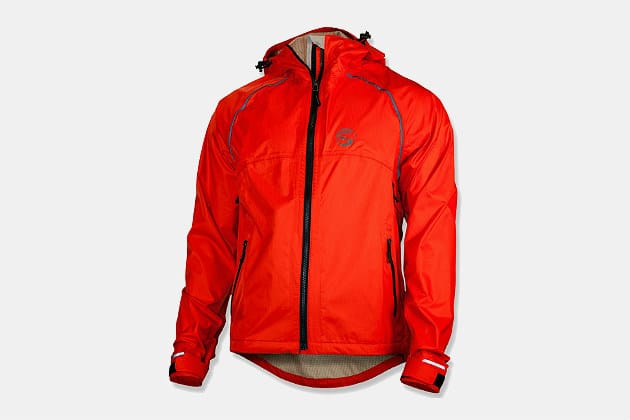 Showers Pass Syncline Bike Jacket
The Syncline Bike Jacket from Showers Pass draws heavily off the Columbia River Gorge Trail for which it was named — that is, it's tough and ready for anything. Cross-core vents keep you from overheating, while the reflective trim detailing makes you visible no matter how inclement the weather might be. The adjustable hood even fits under a helmet, so you can be sure this jacket can go just as long as you can while riding. – Shop Now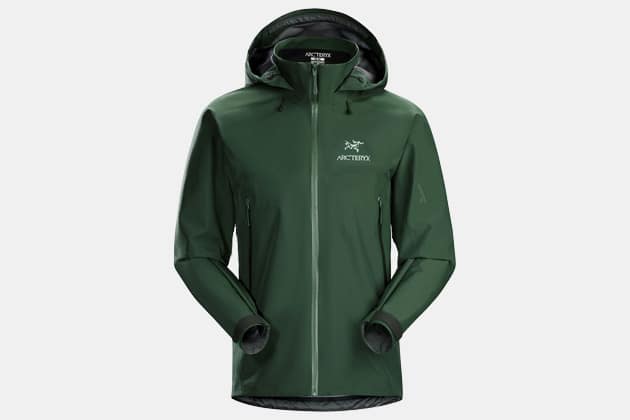 Arc'teryx Beta AR Jacket
The Beta AR Jacket — while pricey — combines sleek style with high-tech features guaranteed to make you glad you invested in one when you need it. The 3-layer Gore-Tex membrane and fully taped seams pair perfectly with remarkably tough WaterTight zippers and a hood that's fully compatible with your helmet. Make no mistake, this rain jacket is ready for backcountry adventures galore — and then some. – Shop Now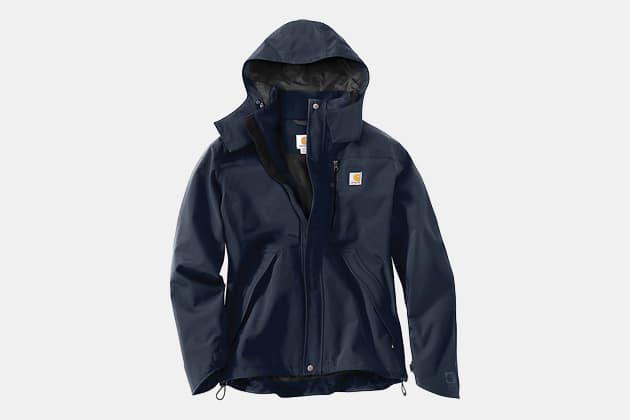 Carhartt Shoreline Jacket
If there's a brand that knows its outerwear, it's certainly Carhartt. The Shoreline Jacket is heavy-duty and waterproof — it's certainly as tough as it looks. To boot, it's built with a breathable membrane and features a durable 8.25oz. Nylon oxford shell. Talk about the best of both worlds — it also features a snap-on, detachable visored hood and inner-sleeve rib-knit cuffs, both features geared directly toward keeping water out no matter how hard the rain falls. – Shop Now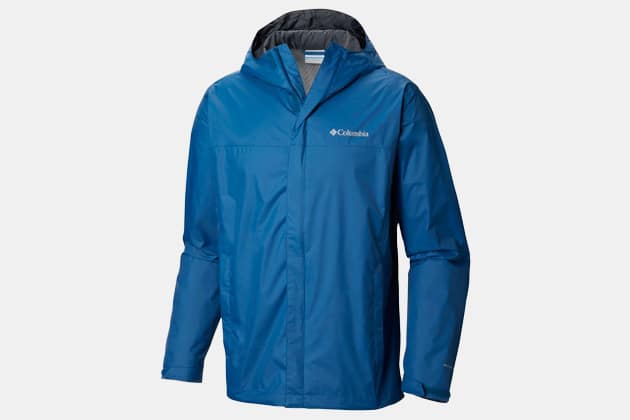 Columbia Men's Watertight II Jacket
It's hard to beat just $60 for a jacket that does all that Columbia's Watertight II Rain Jacket can. It's packable into it's own pocket for greater ease of transport, and at that price, you should get as much use out of it as you can — there's perhaps no better value on the market for a rain jacket. A storm hood & cuffs add in greater protection, and the bright red color ensures you'll stand out for the right reasons when exploring or commuting. – Shop Now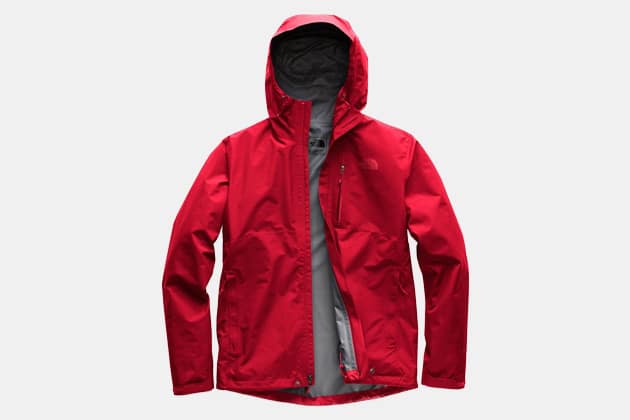 The North Face Dryzzle Jacket
The Dryzzle Jacket from North Face is aptly named — it's more than appropriate for combatting showers throughout the spring and into summer and fall when layered up in the right way. Best of all? It features plenty of best-in-class technology from Gore-Tex, specifically waterproof protection combined with lightweight, breathable fabric. Throw in a storm flap and an adjustable hood, and you've got a prime candidate for the jacket that you just might wear the most between now and summer. – Shop Now