The 20 Best Work Pants For Men
For every time you're able to reach for slim dark denim or cool corduroys or go-anywhere chinos in the fall months, there are times where you simply have to get down to business. For those times, as the chilly fall air whips around you, you need a durable, rugged and dependable pair of pants cut out for work this season and beyond. So, what you really need is one of our picks (or more) for the best work pants for men, as it were.
The great thing about durable work pants is that plenty of them feature the same DNA as other favorite pants in your arsenal — including a dependable fit and quality construction — yet this breed of pants features something a little more, well, work-ready. And seeing as fall projects tend to abound (especially if you've been putting off a few items in the summer heat), well, you're going to need to be able to hit the ground running — or rather, working — in the new season ahead.
There's not a better time of year to stock up on dependable work pants than right now. The changing of the seasons seems to call out for gear that can get the job done — regardless of what the weather is like outside. Be it a crisp, cool morning with dew still wet on the grass, or a hard day of work in the field that swiftly turns into an evening's work lit by lamps and fire light — yes, your work pants have to be able to do it all.
So, whatever might be on your to-do list doesn't have to wait for fall weather to clear up — one of these pairs of hard-wearing men's work pants can take it on more than reliably.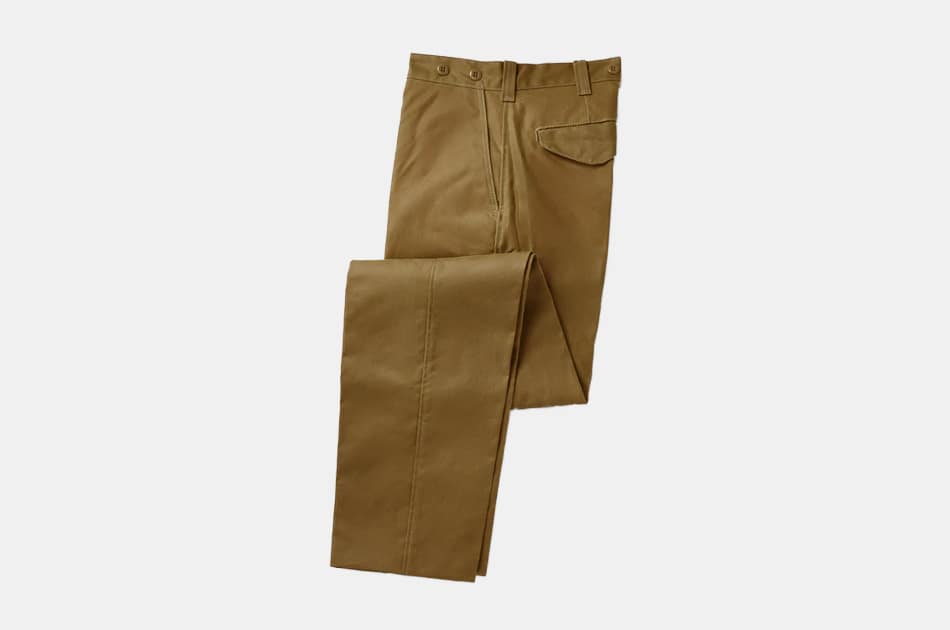 Filson Oil Finish Single Tin Work Pants
We're big fans of Filson to begin with, so call us biased — but the Pacific Northwest retailer cut its teeth on making the toughest, hardest-wearing gear for men who needed to be able to get the job done, day after day, in seriously adverse conditions. So, it should come as no surprise that we're fully confident in the ability of the Filson Oil Cloth Finish Single Tin Work Pants to help you tackle your own adventures, excursions and projects, be it hauling brush, rebuilding your cabin or simply, well, sipping coffee on a cold fall morning, whether or not you've got a long to-do list.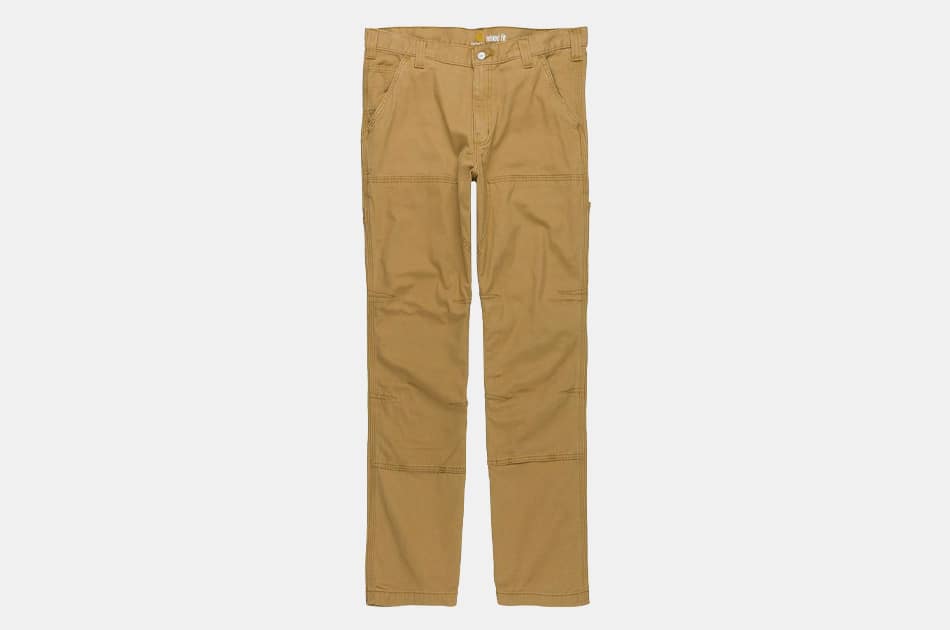 Carhartt Rugged Flex Rigby Double-Front Utility Pant
When you think of men's work pants, perhaps your mind jumps right away to Carhartt and its iconic, tough workwear. For performance that kicks into high gear right when you need it (say, during a fall storm), the Rugged Flex Rigby Double-Front Utility Pants are exactly the way to go — plus, the pricing is more than agreeable, meaning you can pick up multiple pairs for tough performance.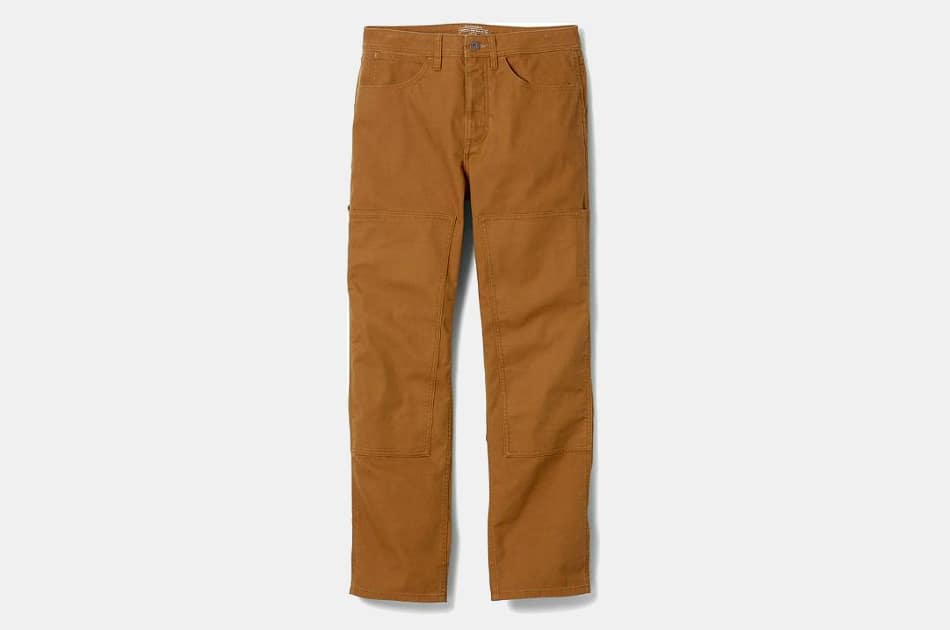 REI Co-Op Trailsmith Pants
You know you can head to REI to get the best men's deals on plenty of gear positively made for the wide open outdoors — and of course, they stock and sell plenty of gear that would work quite well for tackling your list of home projects this fall. Such is the case with the Trailsmith Pants, made from a cotton-poly-spandex blend for stretch plus durability, and finished off with extra reinforcement at key stress points (a la the knees). It doesn't hurt that they look pretty great for when the only item on your list is starting up the bonfire and cracking another beer, either.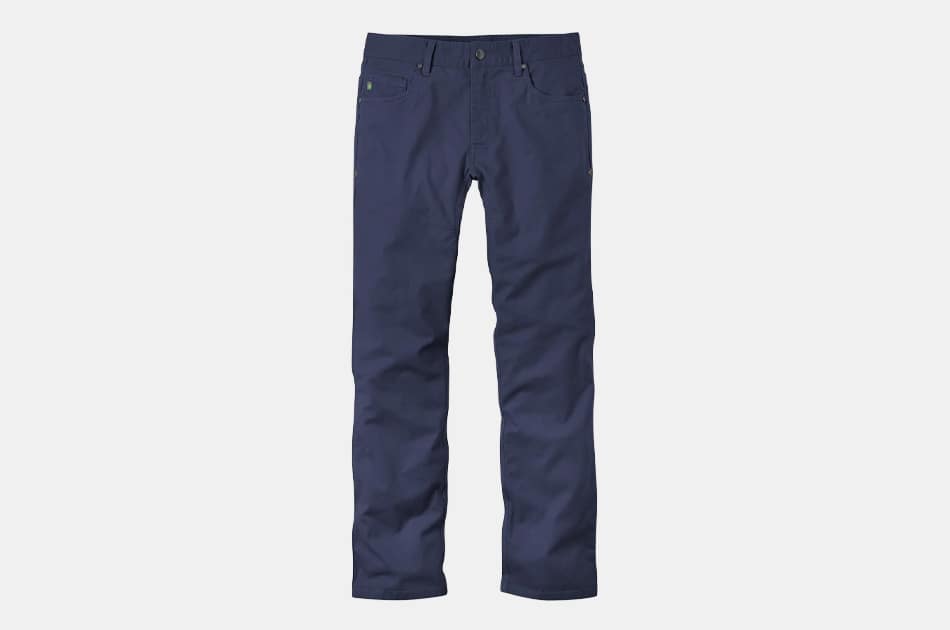 Stio Men's Rivet Canvas Pants
Reinforcement in critical areas is something that Stio knows is a must when it comes to men's work pants — as such, the Stio Rivet Canvas Pants are just what the doctor ordered the next time you need a pair of the best men's work pants. Made from a cotton and spandex stretch basketweave fabric, these are a pair of work pants that assuredly won't let you down.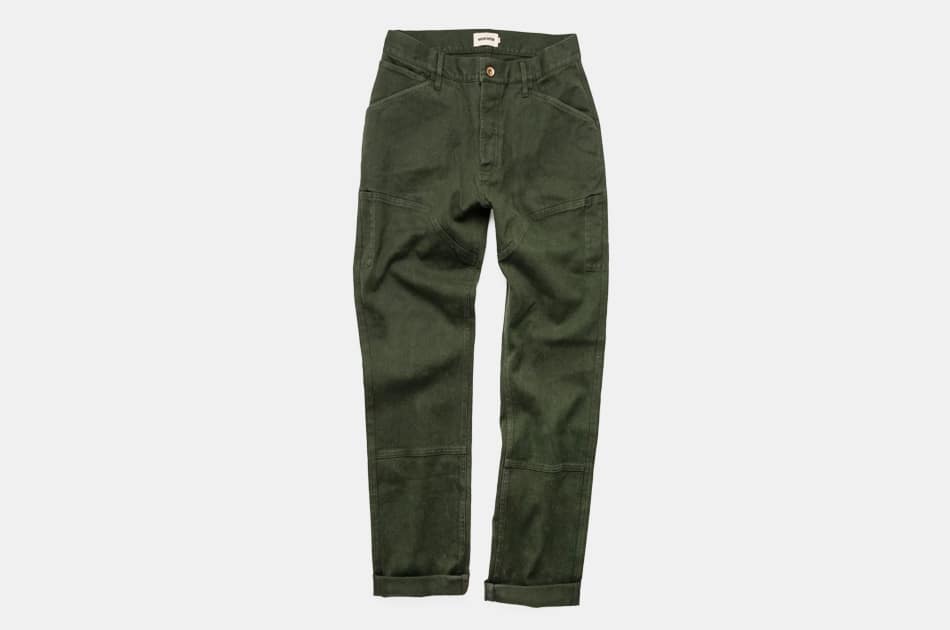 Taylor Stitch Chore Pants
Where to go but Taylor Stitch when it comes to tough menswear that can take a beating? The brand brings its same attention to detail and style to bear on its Chore Pants, offered in a range of versatile colors and featuring a stone-washed duck canvas for better mobility. Details like double-knee reinforced construction add mobility for tough projects, while front slash pockets make it easy to access your multi-tool or a pocketknife when you need it most. Does it get better than the Taylor Stitch Chore Pants when it comes to men's work pants? Not really.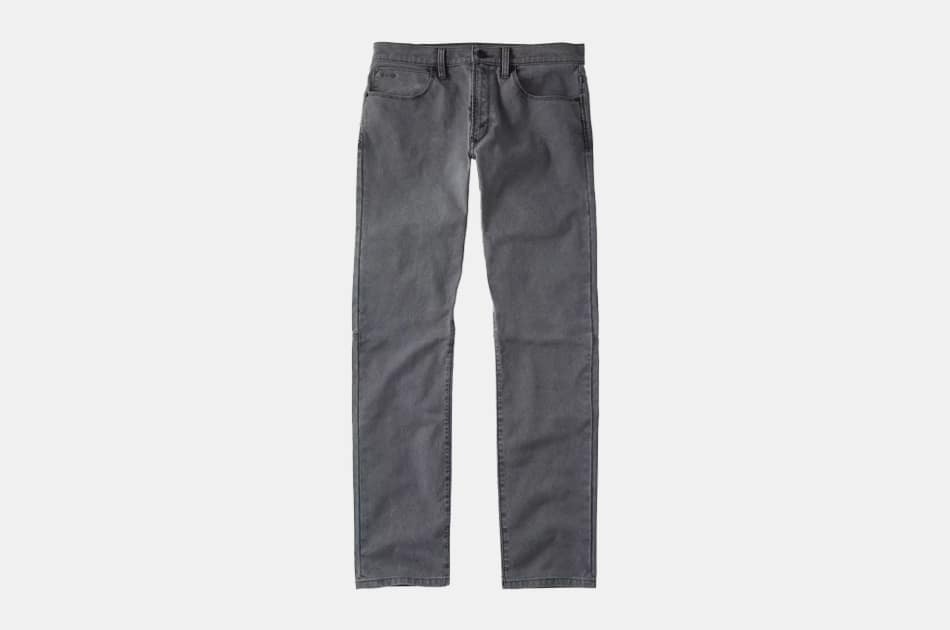 Proof Rover Pants
If at first the Proof Rover Pants don't quite look like the work pants you're used to seeing, that's perfectly fine. Today's best work pants are rugged, durable and dependable — yet also stylish and made for wearing off-duty in some cases, too. The Proof Rover Pants in particular come in neutral colors for an agreeable price, featuring a cotton-Sorbtek-lycra blend for mobility and engineered performance, along with a gusseted crotch for extra durability. What's not to love about that?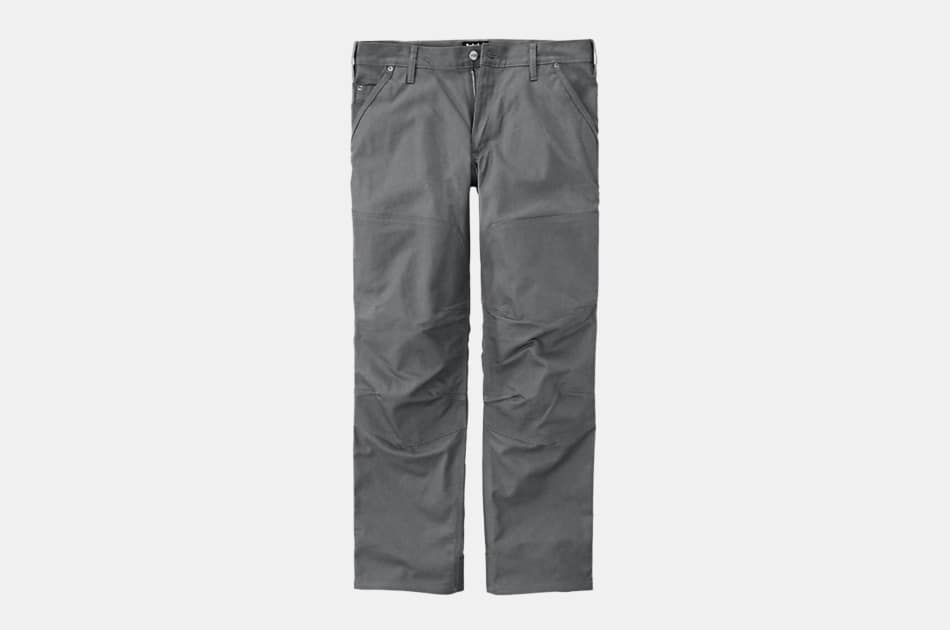 Timberland PRO Gridflex Canvas Work Pants
In addition to Timberland's rock-solid boots and hard-wearing outerwear, the Timberland PRO line is continually impressive in its scope and its dependability. Take the Timberland PRO Gridflex Canvas Work Pants, a no-fuss, no-frills pair of work pants that provide nothing but the best in reliable performance and durability. The perfect complement to your Timberland PRO boots, to be sure.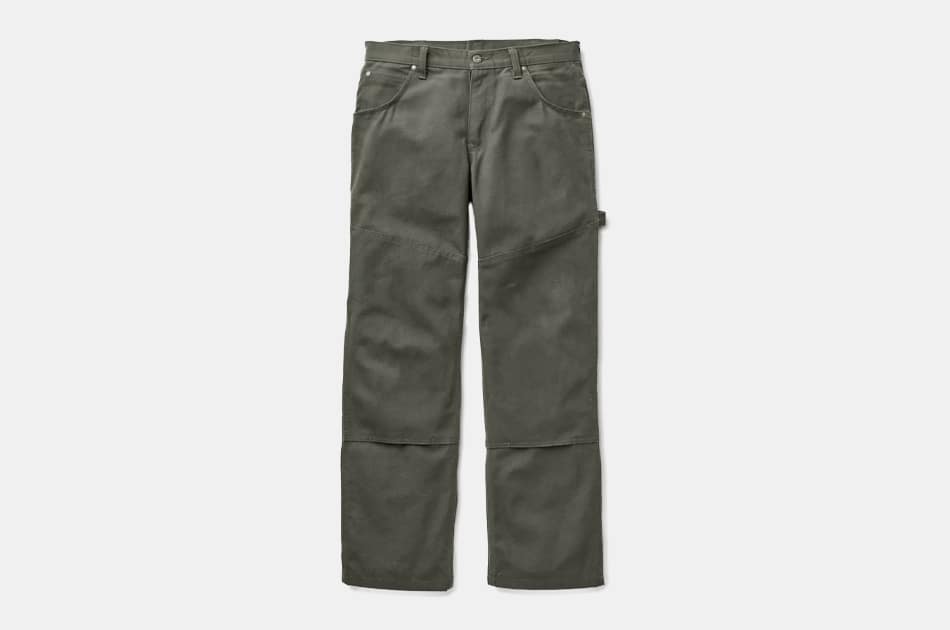 Filson C.C.F. Utility Canvas Pants
The Filson C.C.F. line is the latest addition to Filson's storied heritage and history, and it's a collection that expands on the brand's tough approach to workwear and performance. The Filson C.C.F. Utility Canvas Pants are but the latest example of this, made from cotton duck fabric with remarkable triple-needle stitching that makes 'em some of the hardest-wearing work pants around. Rugged performance is the name of the game when it comes to the best men's work pants, and Filson drives this home nicely.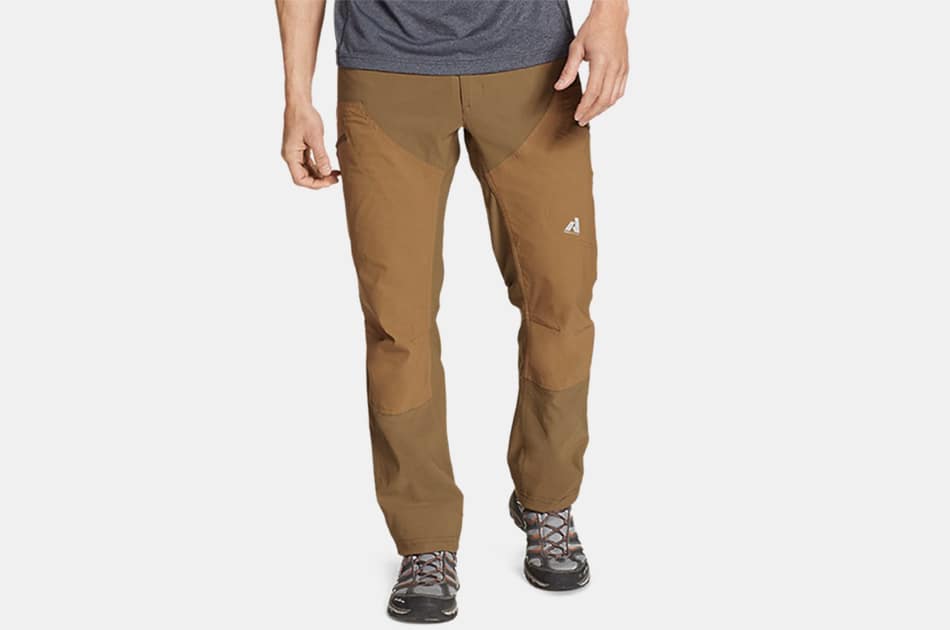 Eddie Bauer Guide Pro Work Pants
The good folks at Eddie Bauer know plenty about outfitting adventures and explorers for the great outdoors, and we see no reason why you can't put the brand's Guide Pro Work Pants to use this fall — even if your pursuits mostly extend toward your backyard treeline and not a mountain peak. These are made from tough stretch fabric with a DWR finish, all the better for long days out on the job, and they also feature built-in UPF 50+ sun protection. All your bases are covered with these tough, dependable work pants.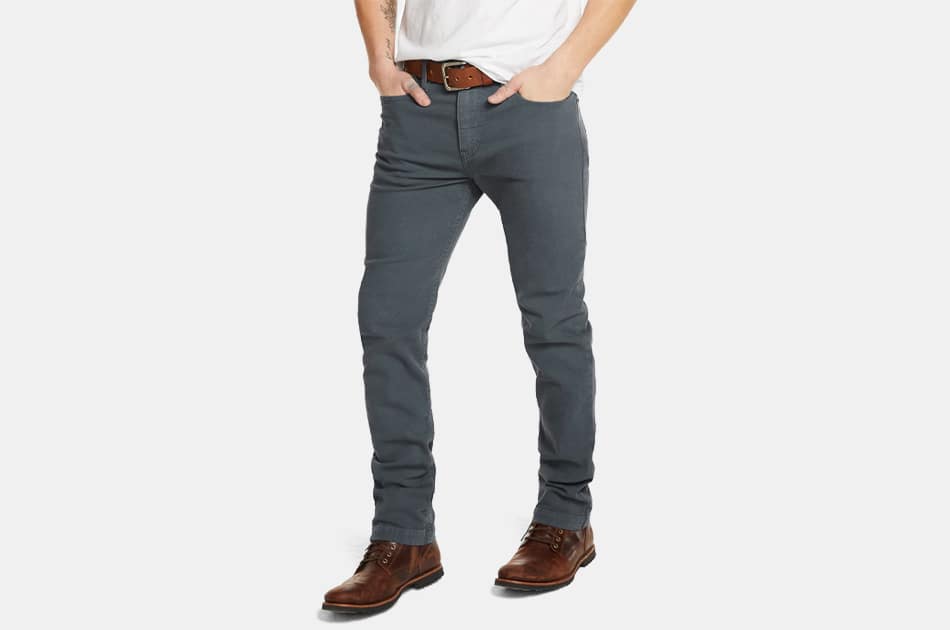 American Giant Roughneck Pants
The thing we love about American Giant is that the brand truly is all-American, and from production to materials to craftsmanship, they've turned that ethos into a cornerstone that any company to which any company should aspire. Another thing we love? The fact that the brand's gear performs with the utmost durability in mind (seriously, have you ever worn an American Giant crewneck sweatshirt), but it looks just as great back home. That's the case with the American Giant Roughneck Pants, some of the best workwear you'll ever buy.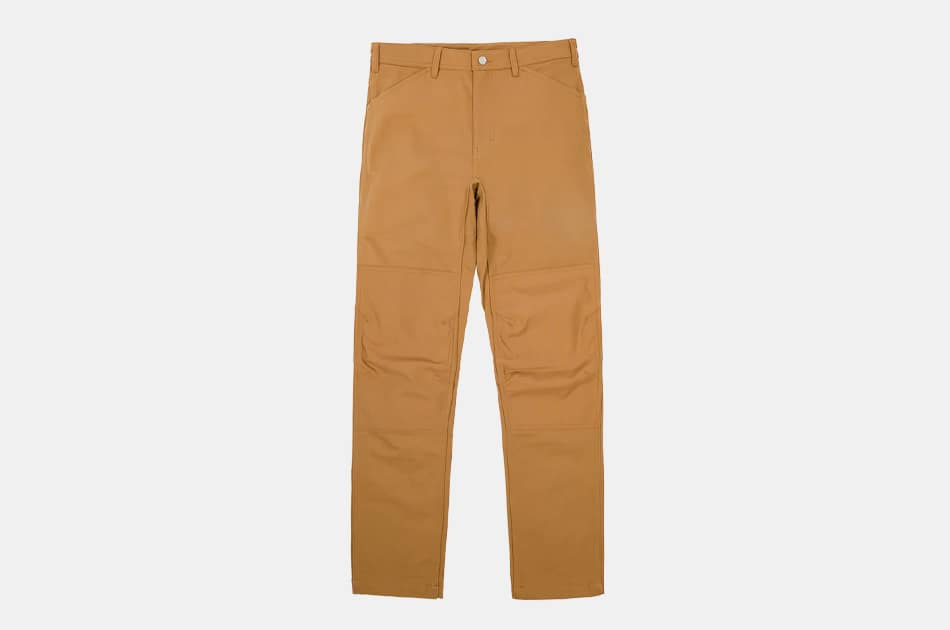 Topo Designs Dual Pants
We always appreciate the consideration Topo Designs puts into its gear, focused on making pieces that are suited for outdoor exploration, trail ascents, town brewery visits and plain, old-fashioned hard work on chilly fall and winter mornings in equal measure. Thus, meet the Topo Designs Dual Pants, your new favorite pair of work pants when the going gets tough. With the kind of cut that works for the trail, the town, or for whatever awaits in your pole barn, these pants feature a water-repellent finish & fabric that's made with cotton, nylon, and lycra stretch duck canvas. In short, everything's taken care of — except your next project.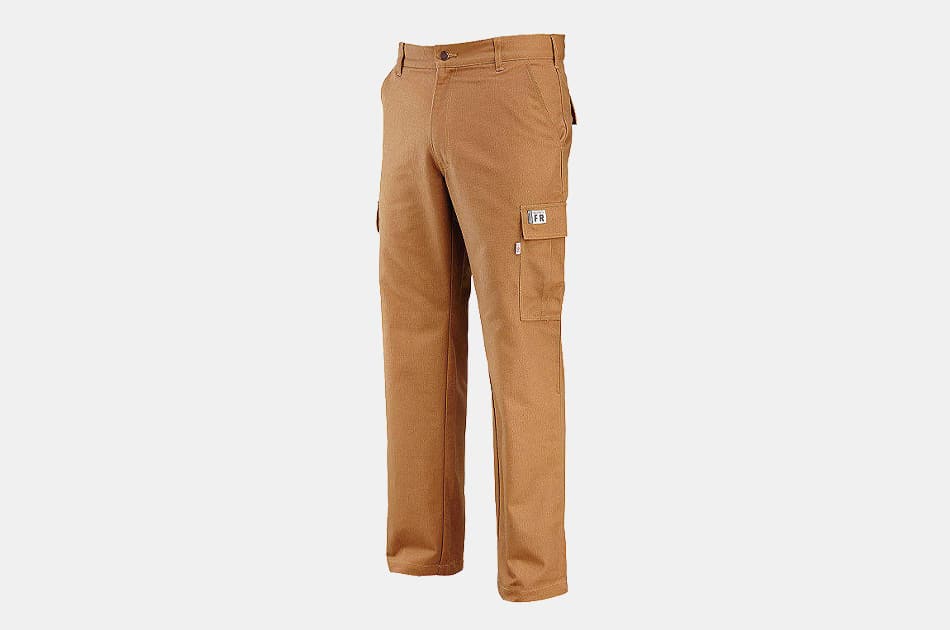 Wolverine Firezero Duck Cargo Pant
Is there a more ideal pair of pants for your rugged, hard-wearing Wolverine boots than the qually rugged, hard-wearing Firezero Duck Cargo Pant? Today's guy might best know Wolverine for making handsome style staples like the 1000 Mile Boots, but the Firezero Duck Cargo Pant exists in another class when it comes to tough gear for tough work. They're made with flame-resistant duck canvas and feature plenty of belt loops to handle your everyday carry — don't overlook that essential design touch. Cargo pockets add to their utility — again, these are a fine match with your toughest Wolverine boots, we guarantee it.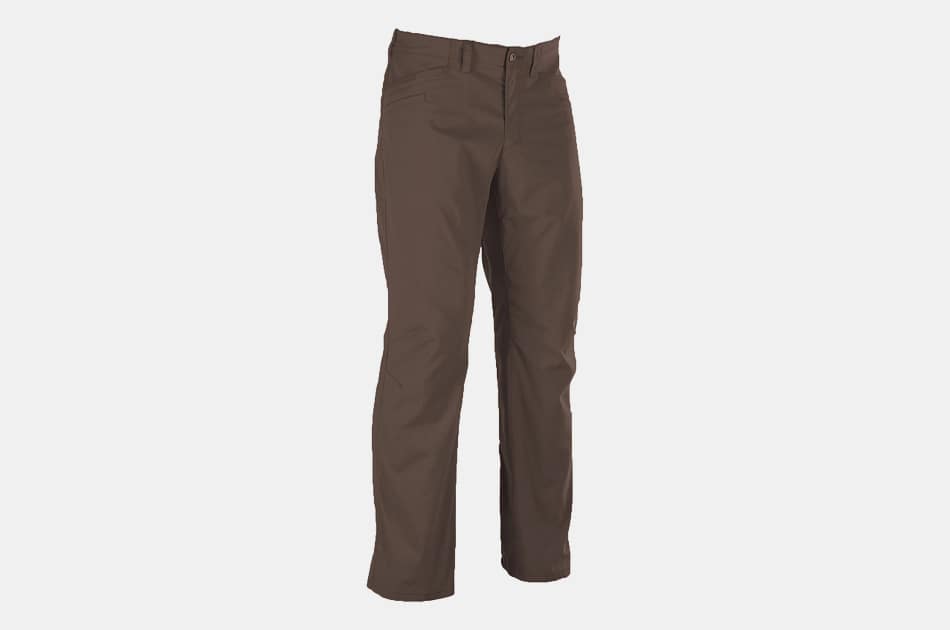 5.11 Ridgeline Pants
For just under $70, you get a pair of pants that pack a serious punch in terms of exceptional durability and covert looks that just simply get things done the right way. 5.11 Tactical fusses with the design and fabrication of its clothing, so you don't have to — at least, that's the way we see it. The Ridgeline Pant features Flex-Tac ripstop fabric, crafted with two-way stretch for comfort and durability. Plus, bar tacking at major seams, plus double-stitching throughout, adds another level of quality without added worry on your part.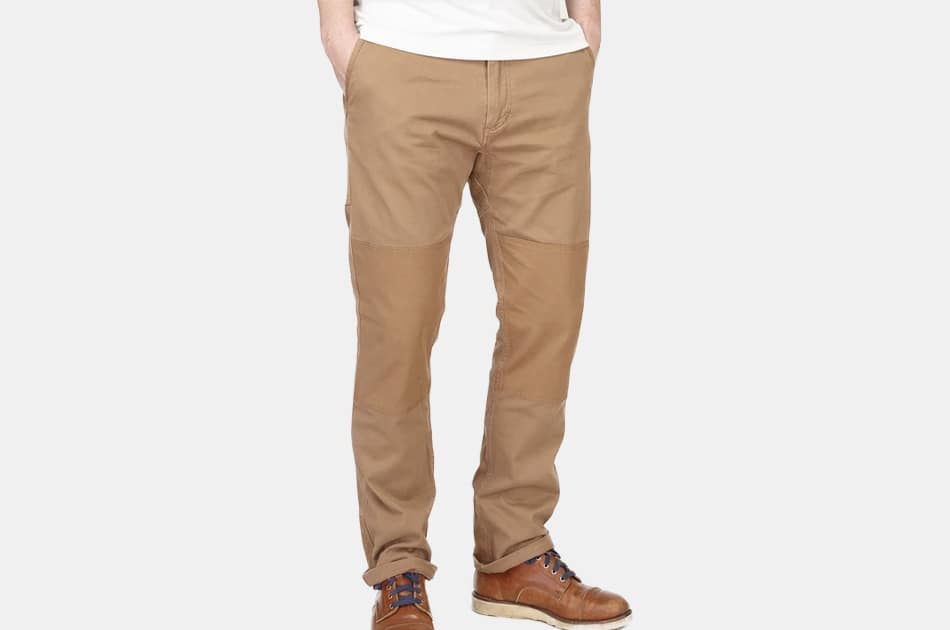 Howler Brothers ATX Work Pants
You might recognize Howler Brothers for the brand's innovative and performance-minded button down shirts, all the better to wear on an outdoor expedition when you don't want to go too outdoors-y. The Howler Brothers ATX Work Pants are similar in form and function, made with brushed cotton twill and finished off with reinforced cotton canvas knees — yet, they retain the silhouette of your favorite pair of jeans.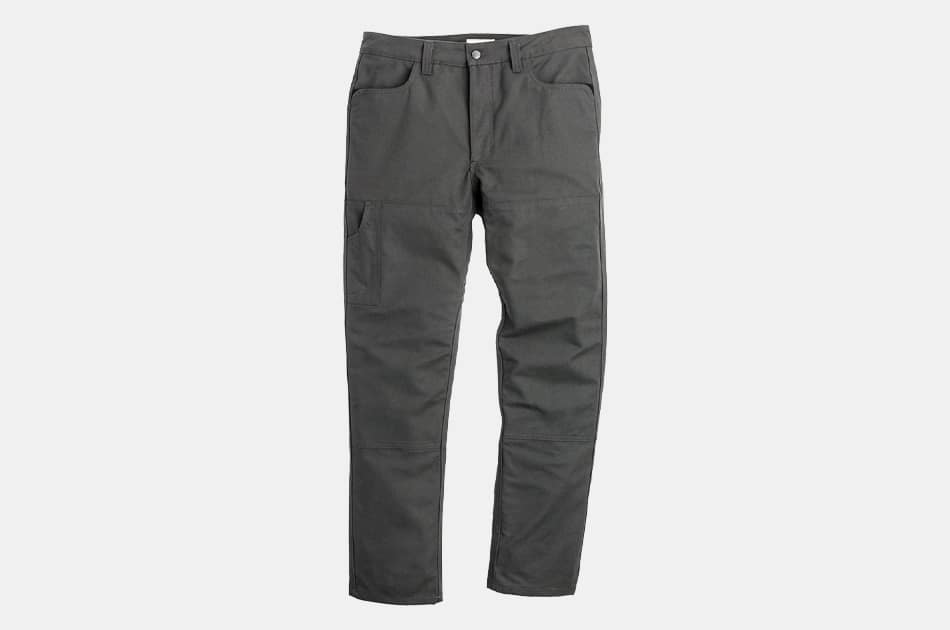 Edgevale Cast Iron Utility Pants 2.5
Edgevale knows how to make stylish, rugged shirt jackets and gear with the best of 'em, and the brand's Cast Iron Utility Pants fill a similarly dependable slot in your workwear wardrobe. They feature hard-wearing Cordura fabric, plus the brand's Rugged Slim Straight fit — that's versatility defined, without a doubt. And this fabric features terrific abrasion resistance, another quality that makes them a surefire workwear staple. A crotch gusset and curved waistband provide effective freedom of movement, too. And as with Edgevale's other essential gear offerings, you get an array of color options and a price that reflects a worthwhile investment.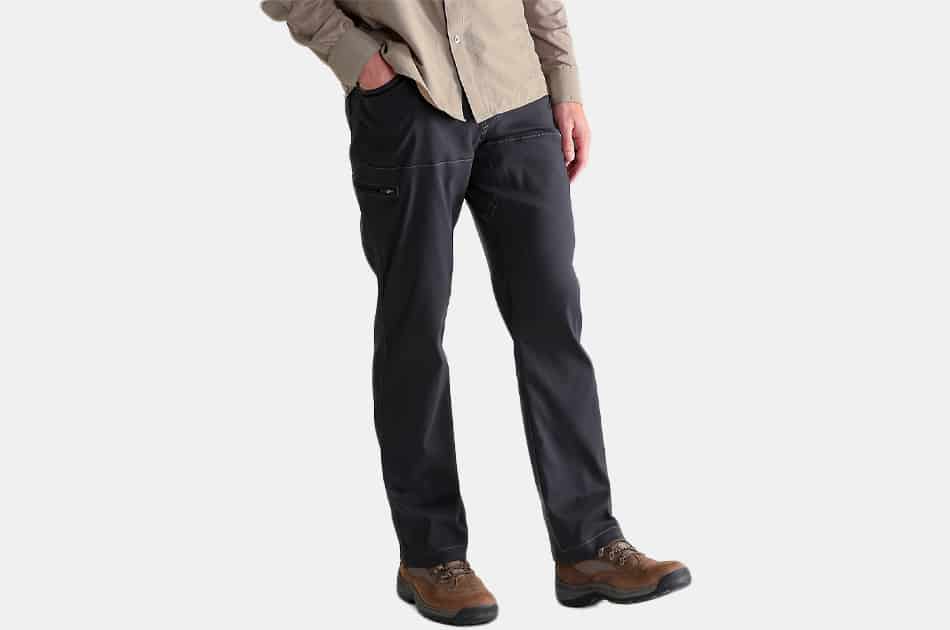 Wrangler Quick Dry Utility Pants
There's no telling what you'll get into as you tackle your next big project, and when the going gets tough — like, really tough — the Wrangler Quick Dry Utility Pants are the right way to get the job done. That quick-dry capability is going to be crucial when you've got to tackle early morning fall and winter yard work, and the more-than-agreeable price is another huge sticking point when it comes to Wrangler.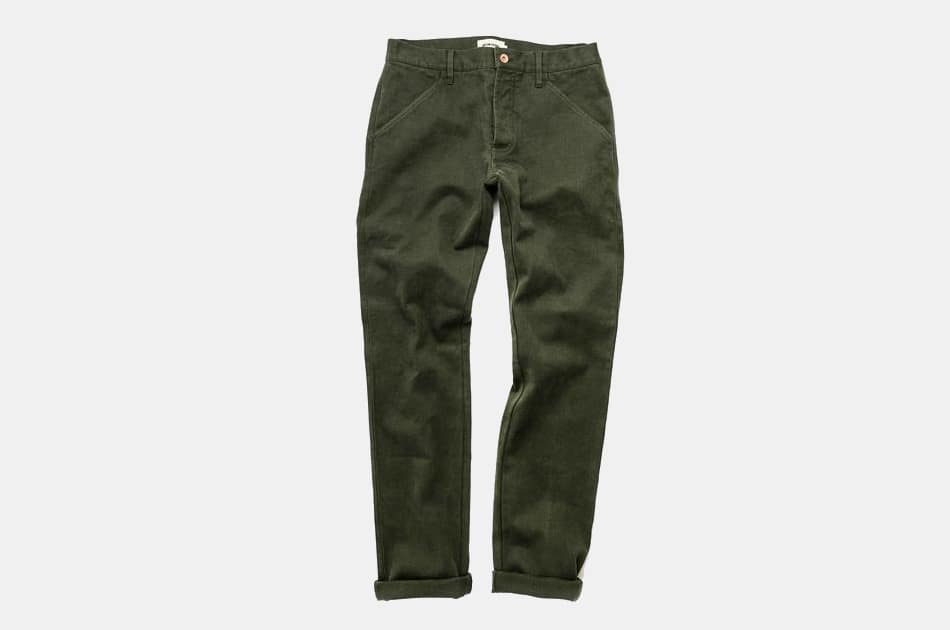 Taylor Stitch Camp Pants
It's tough to go wrong with Taylor Stitch gear, especially pants like the Camp Pants that are made with tough work in mind. Like the Taylor Stitch Chore Pants before them, the Camp Pants combine toughness and the utmost attention to quality, from the light stone wash to the angled front slash pockets and the use of Mount Vernon duck canvas. They're also handmade in California, a reflection of Taylor Stitch's commitment to uncompromising style and durability. They're cooler and sharper-looking than technical pants and that's something we could all use more of in our closets.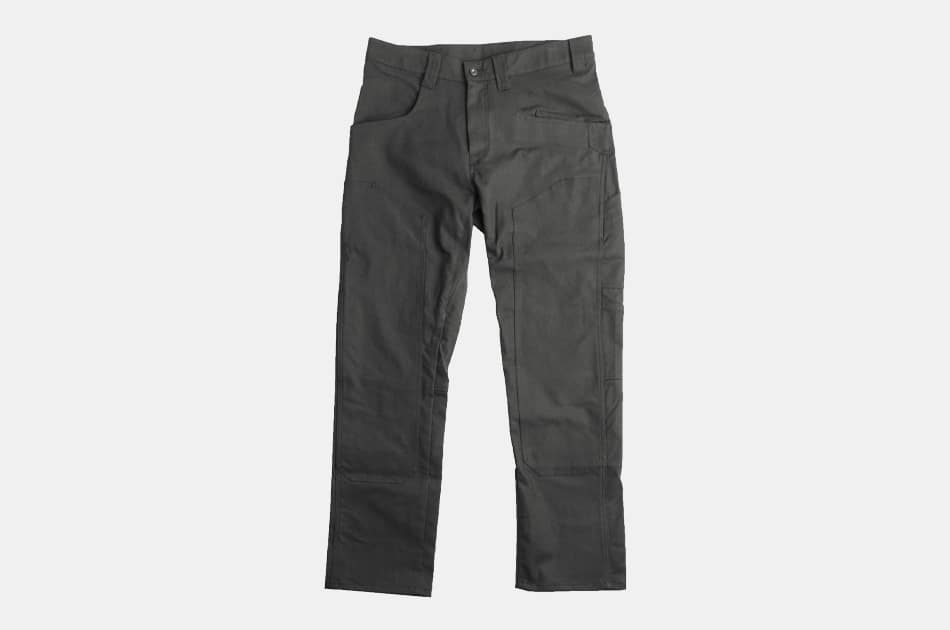 1620 Double Knee Utility Pants
When you want durable work pants with all the right bells and whistles, and nothing that will get in your way or slow you down, you want work pants like this pair from 1620 USA. With articulated knees and a gusseted crotch for ease of movement, these pants feature everything from a split tool/pen pocket (on the left leg) to watch and phone pockets. They'll handle your everyday carry and your essential gear with ease, no matter how much work you've got to get done.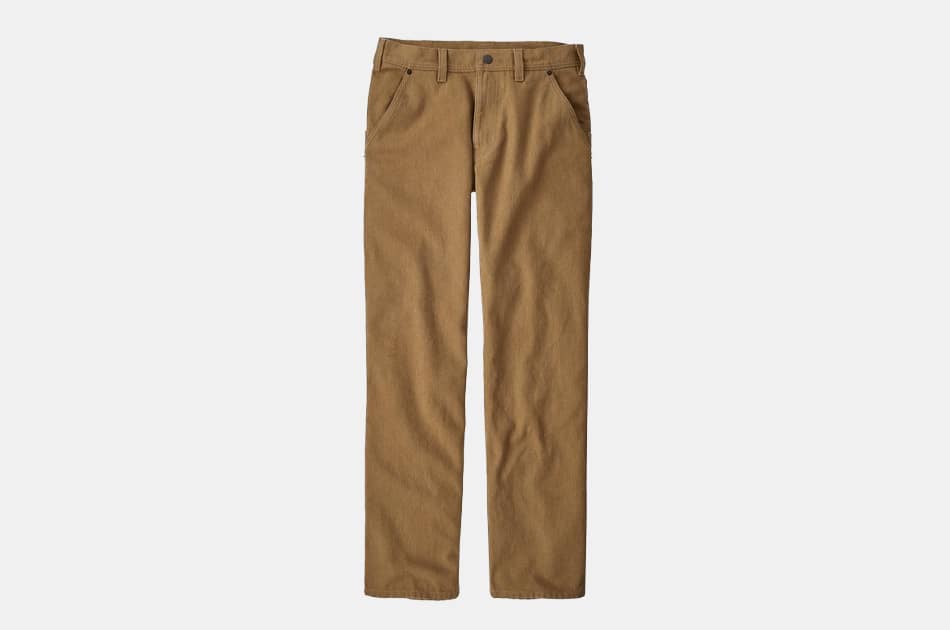 Patagonia Iron Forge Hemp Canvas 5-Pocket Pants
We admire Patagonia for the brand's unwavering commitment to sustainability and conservation, and it's certainly helpful that the gear they make lives up to the company's approach to making long-lasting, durable goods. So, meet the lauded and much-loved Iron Forge Hemp Canvas 5-Pocket Pants, made with a proprietary fabric that's more durable than regular cotton duck canvas. They're also finished off with tough riveted detailing and added pockets for your EDC tools.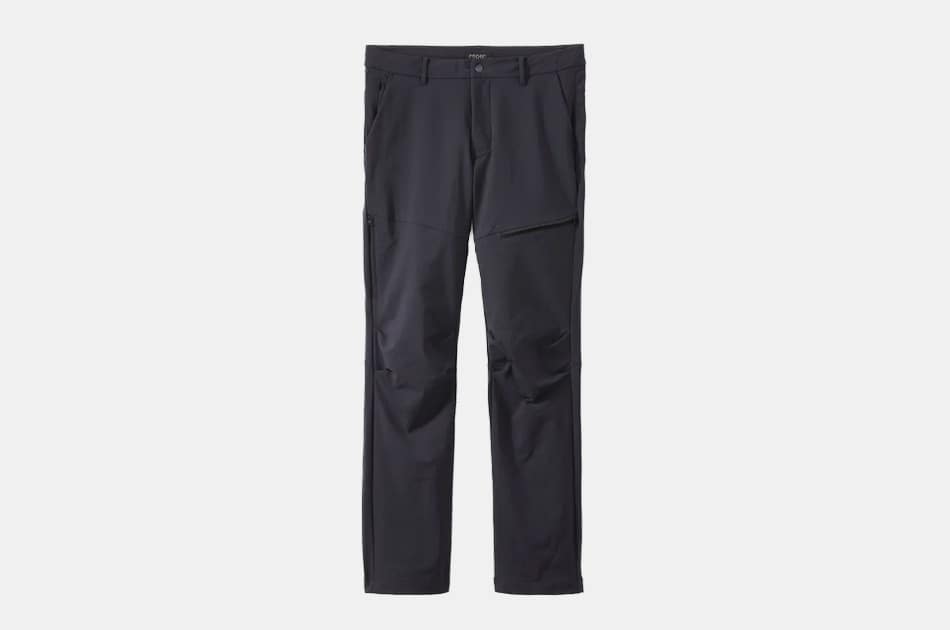 Proof Schoeller Trek Pant
If you're searching for a new brand making the best men's work pants, perhaps a brand that you didn't expect at first, look no further than Proof Performance. We're big fans of Proof's work when it comes to crafting mobile, versatile Oxford shirts and everyday pants, and the Schoeller Trek Pants check all the right boxes when it comes to tough work pants, too. There's the Ecorepel fabric (water, stain and mud-resistant, for one), and there's the fact that these are also very breathable for when you work up a sweat on the job. And that's about all you need to know if you're considering picking up a pair.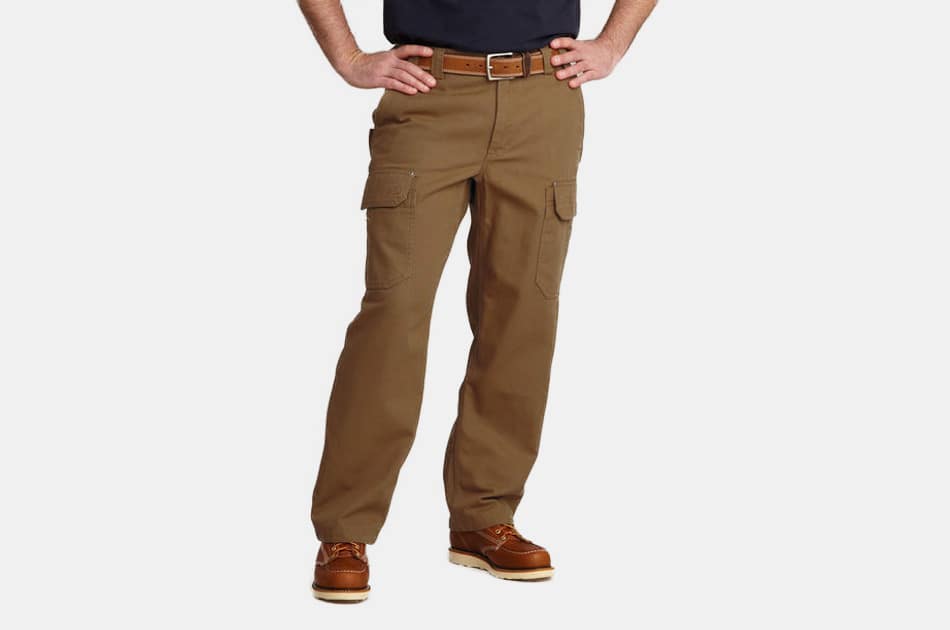 Duluth Trading Fire Hose Cargo Work Pants
You've seen the ads for the Duluth Trading Fire Hose Work Pants, right? While we don't know if these pants are quite that hard-wearing, we do know that they're more than dependable and durable for any situation you can think of in the cold months to come. Made with fire hose cotton canvas, these pants are actually pre-washed for softness — without losing any durability. Triple-stitched seams provide another dash of toughness, while the brand's Comfortable Crouch Gusset and FendOff fabric treatment are design touches that set Duluth Trading (and the Fire Hose Pants) apart.
Disclosure: Clicking on these links and making a purchase may earn us a small referral fee, at no extra cost to you. Learn more here.
freestar.config.enabled_slots.push({ placementName: "gearmoose_leaderboard_btf", slotId: "gearmoose_leaderboard_btf" });