The 16 Best Technical Pants For Men
The average wardrobe is built around a few key categories when it comes to pants, right? Classic jeans, the best chinos, sweatpants or joggers, and (increasingly less so these days) dress pants, yes? Well, there's another unexplored dimension that demands your attention, and that's the fast-growing world of technical pants for men. Yes, we said "technical pants." Think of these trusty, durable pants (often made from stretch fabric blends) as the worst nightmare of your jeans and chinos. Or perhaps, to put it more simply, think of the best technical pants as a nice change of pace when you want all the style of five-pocket pants, but none of the drawbacks.
After all, even the most comfortable jeans can leave something to be desired, especially when worn for long trips or long days working from home. That's where technical pants enter your wardrobe in dramatic (or just stylish) fashion. The best are meant to go where no pair of pants has gone before: They can function handily out on the trail, they'll pull their weight as a pair of road trip pants and of course, you can wear them to work from home or head into the office without missing a beat. To get you started in your search for your new favorite pants, we rounded up our picks for the 16 best technical pants for men.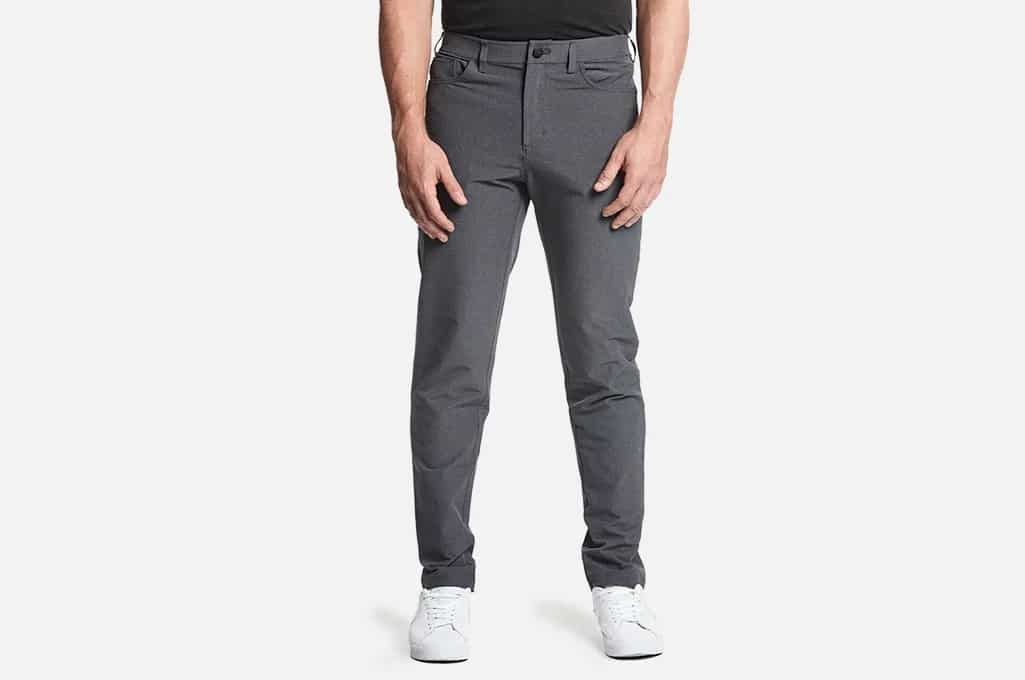 Public Rec Workday Pants 2.0
Public Rec made a name for itself by blending timeless silhouettes with next-level fabric and comfort. The Crosstown Bomber Jacket is a favorite of ours, and the Workday Pants are sure to become a favorite in many a rotation of stylish technical pants, too. Wear these on the road or to the golf course, or better still to the office. Stretch fabric, a tailored fit and that five-pocket design check all the right boxes.
Price: $145
Materials: 100% Polyester
Notable Features: Wind and water-resistant, modern cut, suitable for sports and office wear, looks like slacks but wears like joggers.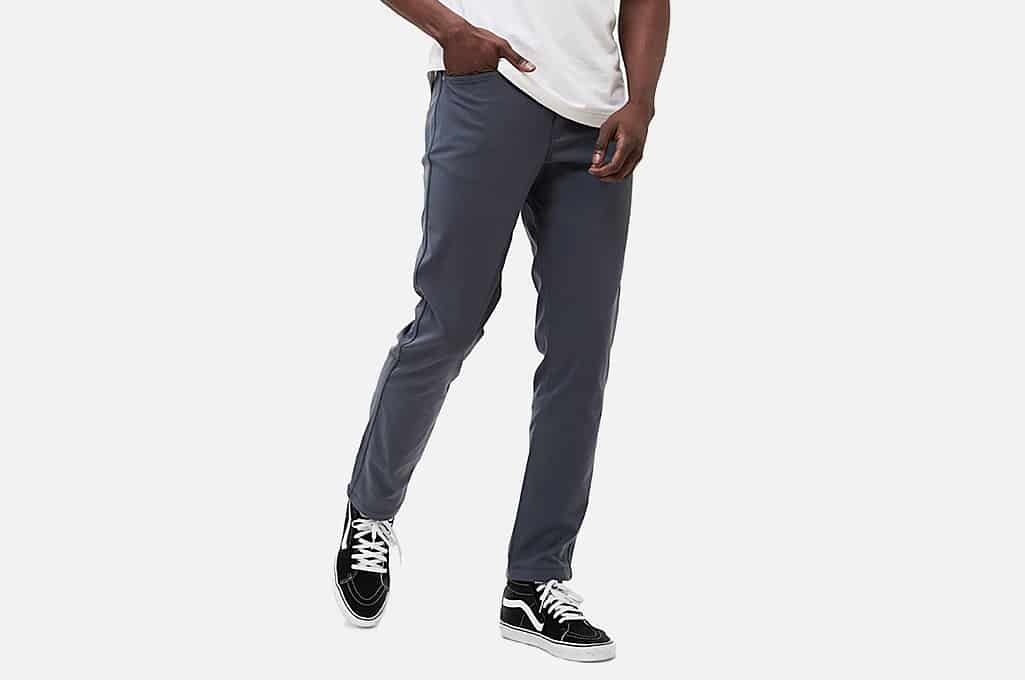 Western Rise AT Pants
If there's a brand that deserves plenty of praise as far as technical pants are concerned, it's Western Rise. These pants, crafted from two-way stretch fabric, are hard-wearing enough to the point that they can replace either your work pants or jeans, and they're also water and stain-resistant. Five versatile colors really help seal the deal — they could just become your new favorite pants.
Price: $128
Materials: 97% air-texturized Nylon, 3% Spandex
Notable Features: Tough as denim but 50% lighter, water-repellent coating, durable woven canvas, 2-way stretch, beautifully breathable even in hot weather.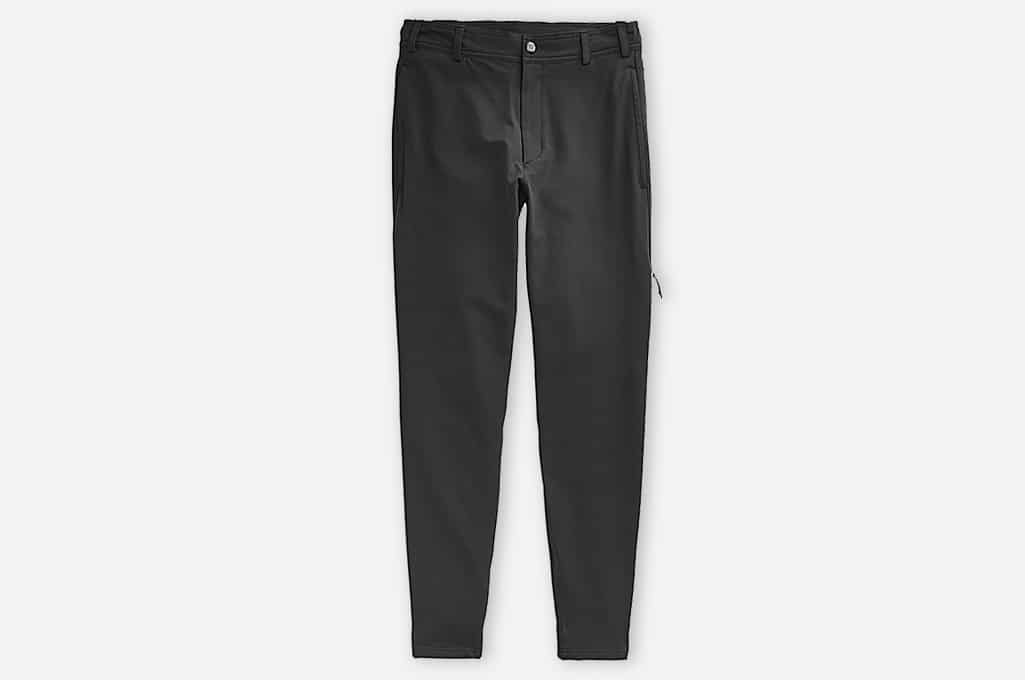 Mack Weldon Radius Flex Pants
You've tried Mack Weldon's famed boxer briefs and buttery soft T-shirts, so why not give the brand's equally famed Radius Pants a try? The Radius Pants are unlike any tailored pants you've tried, complete with water, wind and stain-resistant fabric and a trim fit. Pair them with everything from a stretch dress shirt to a Mack Weldon tee.
Price: $108
Materials: 91% Polyester / 9% Spandex
Notable Features: Good elasticity, sturdy design, resistant to wind, water, and spills, stylish, suitable for office-wear .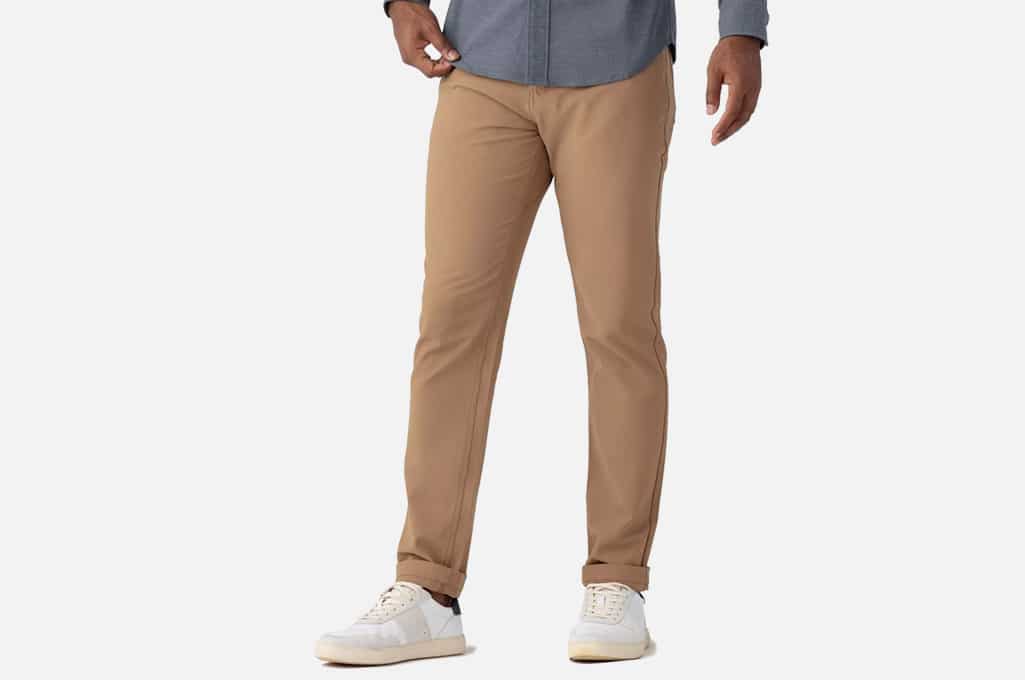 Olivers Passage Pants
If you've shopped Olivers, you know the brand has you covered as far as durable and performance-ready workout gear is concerned. It's also refreshing to know that the brand has your back for pursuits away from the gym, and the Passage Pants might just be Exhibit A in that regard. Made with CORDURA threads and Italian hardware, these pants seamlessly blend versatile style and performance fabric.
Price: $138
Materials: 91% Nylon, 9% Spandex
Notable Features: Italian stainless steel rivets and button, true-to-size fit, breathable, all-weather compatible, quick-drying.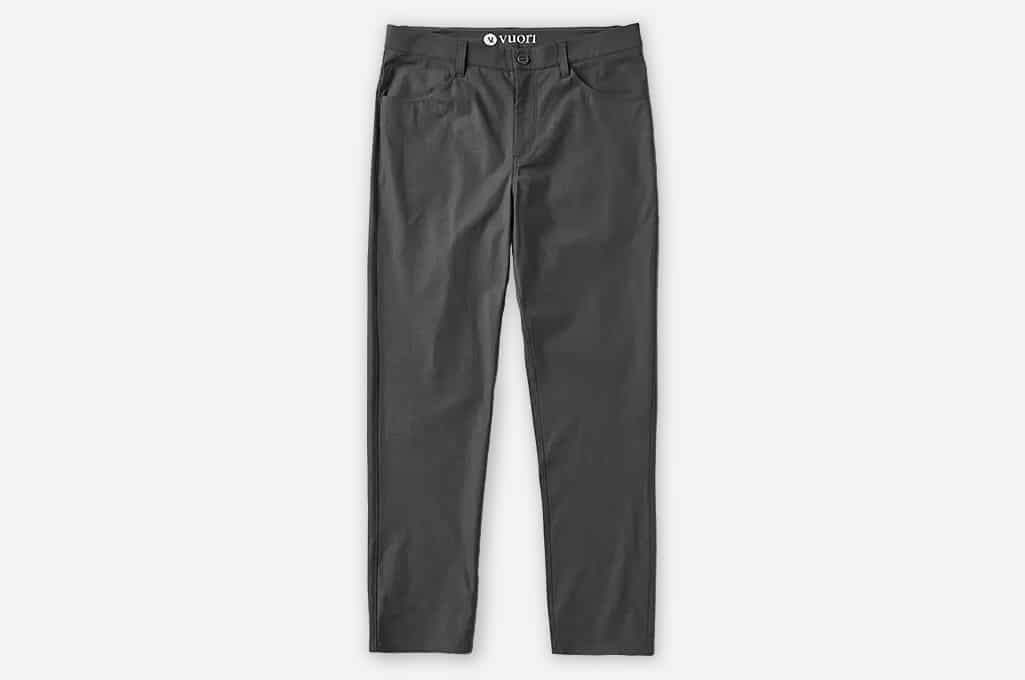 Vuori Meta Pants
When you want pants that are as comfortable as your tried-and-true sweatpants and yet as durable as your favorite jeans, that's where the Vuori Meta Pants will come in handy. Vuori made these pants with every bit as much technical detail as its much-loved workout gear, which means the Meta Pants feature anti-odor technology and come in five easily wearable colors.
Price: $98
Materials: 100% Polyester
Notable Features: Odor-resistant, excellent elasticity, built for movement and performance, tailored fit through the leg, moisture-wicking fabric, UPF rated.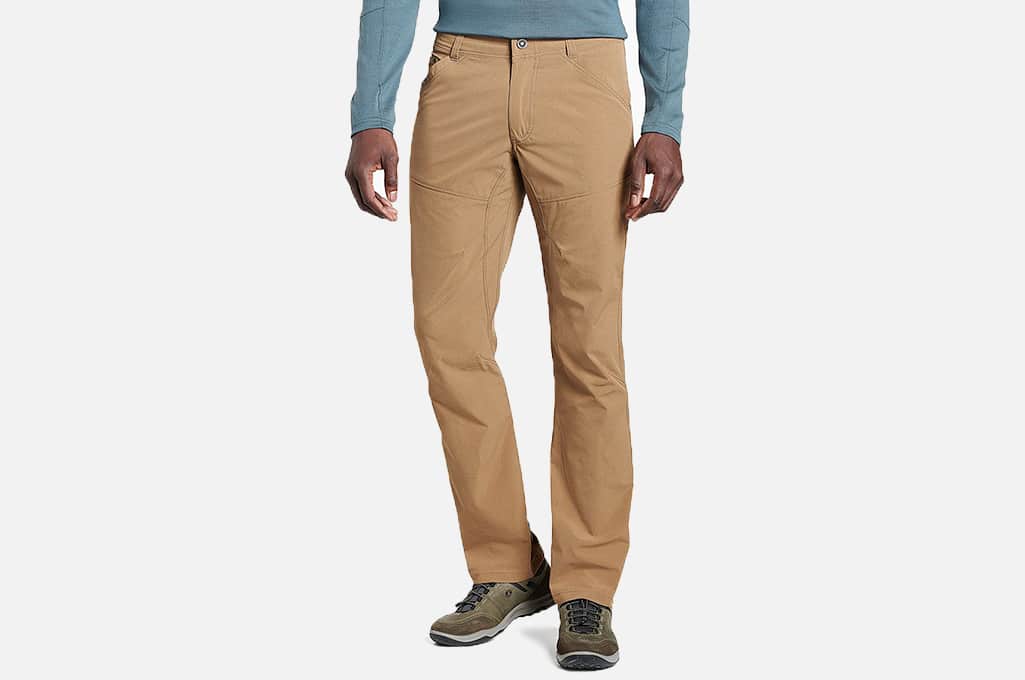 KUHL Silencr Pants
The KUHL Silencr Pants are quite unlike any technical pants you've tried out yet, and we think that's a very good thing for those who value style and adventure in spades. That's all owing to the fact that the Silencr Pants really are "different by design," as the brand says, made with UPF 50 sun protection for the great outdoors and a blend of stretch and recycled polyester for comfort back home.
Price: $95
Materials: 100% Mechanical Stretch Polyester
Notable Features: Lightweight, durable ripstop polyester, UPF50 rating, water-resistant coating, full fit, 7 total pockets, gusseted crotch and articulated knees.
Rhone Commuter Pants
You can assuredly wear Rhone's Commuter Pants just about anywhere you please: On a road trip and then out to dinner, grabbing a quick weekend coffee or to the office. Best of all? You won't look out of place in any of those pursuits, thanks to the tailored fit and of course, the stretch-filled Flex-Knit™ fabric and your pick of a half-dozen classic color options.
Price: $138
Materials: FlexKnit synthetic fabric
Notable Features: Traditional fit, sizes run small/tight, security zipper pocket + media pocket, gusseted for increased mobility.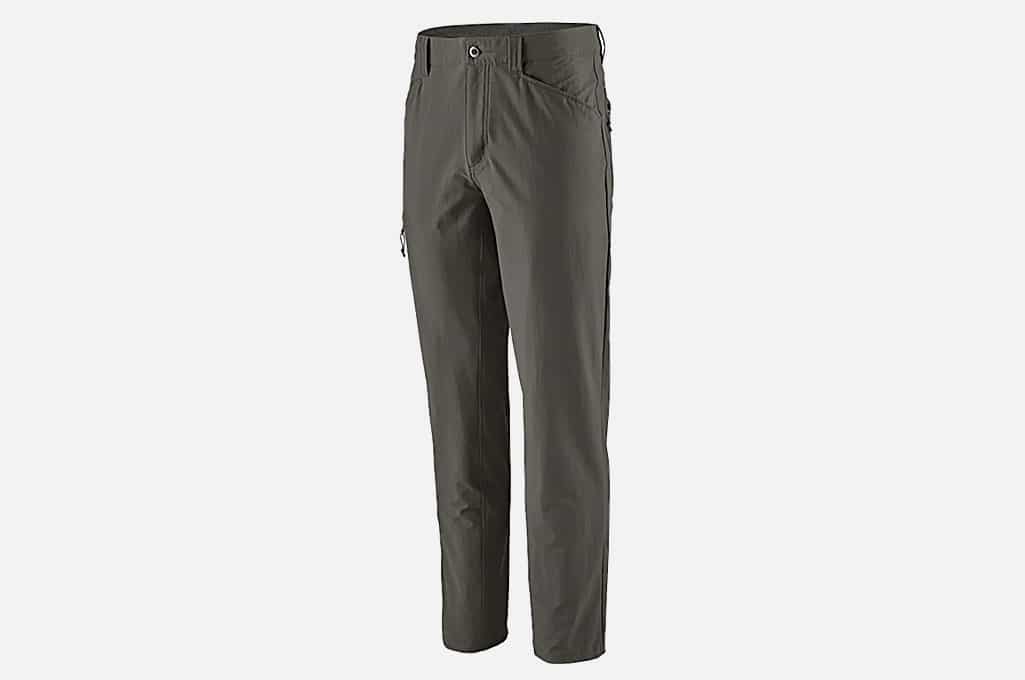 Patagonia Quandary Pants
Some pursuits call for you to take things to the next level if you want consistently reliable performance. For instance: Your old hiking pants might be in need of a refresh the next time you plan an outing, and that's where the Patagonia Quandary Pants come into play. They're everything you could ask for in a pair of technical pants, featuring a recycled nylon fabric blend and handy zipper pocket functionality.
Price: $79
Materials: stretch-woven (94% nylon, 6% spandex)
Notable Features: Bluesign Approved, Certified B-Corp, regular-straight fit, DWR coating repels water and spills, UPF50+, zippered thigh pocket for EDC items.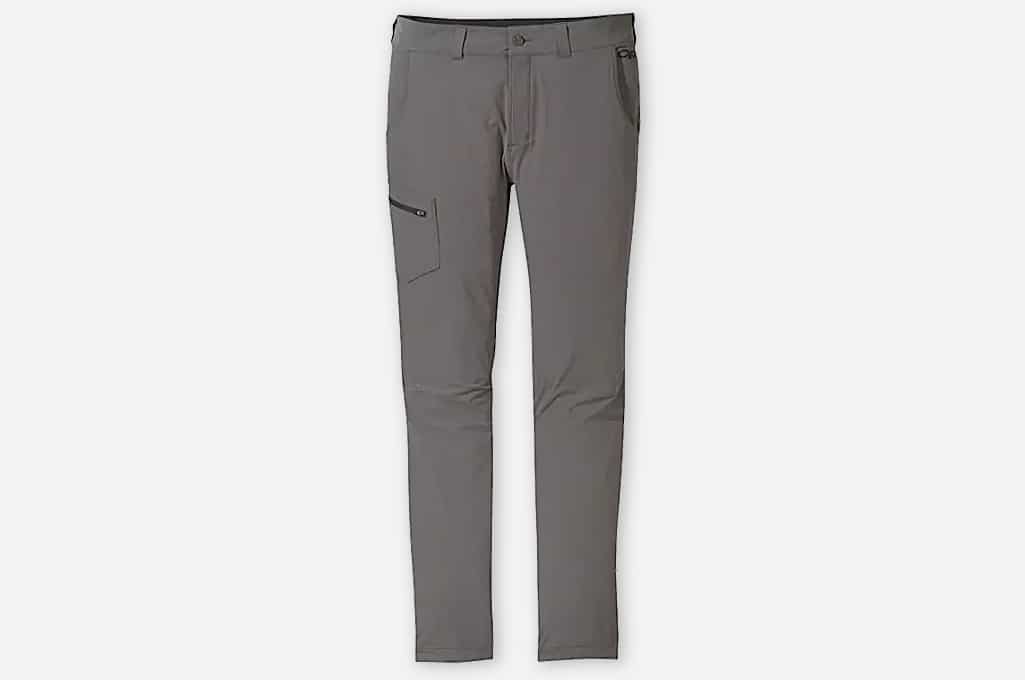 Outdoor Research Ferrosi Pants
The best technical pants on the market should be geared to do everything but slow you down, which is what makes the Outdoor Research Ferrosi Pants so covetable. Made to perform in a similar fashion to the lightweight shell jacket you might wear on your top half, these weather-resistant pants are a favorite for fans of the brand.
Price: $80
Materials: 86% nylon, 14% spandex 90D stretch woven ripstop
Notable Features: Abrasion-resistant, UPF50+, lightweight, quick-drying, breathable, versatile elasticity, great for hiking and climbing.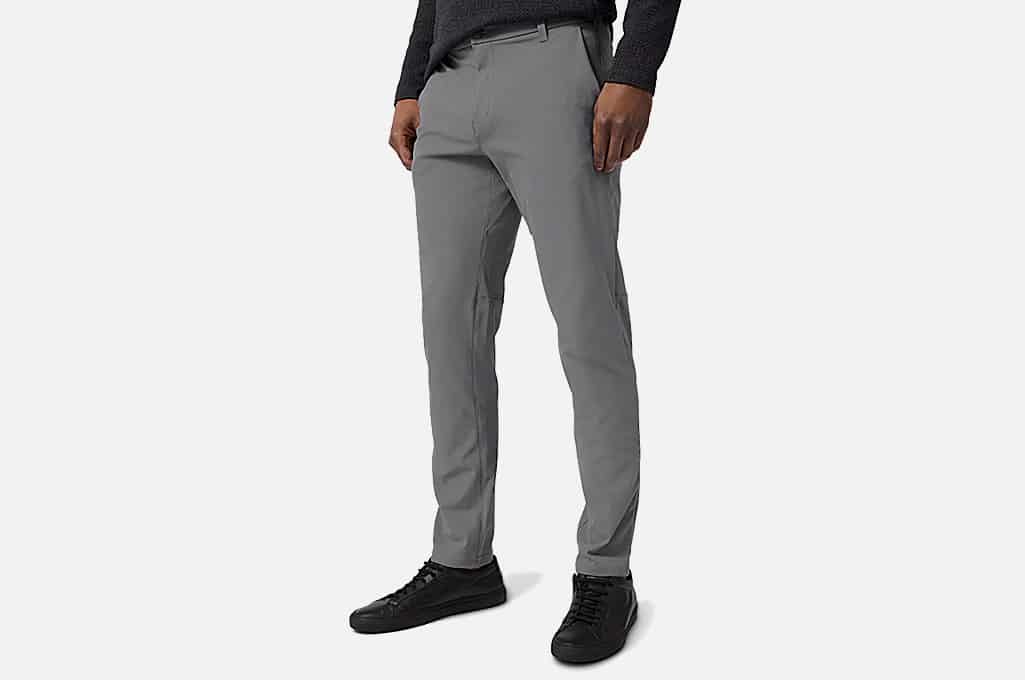 Lululemon Commission Pants
If you thought Lululemon only made sweatpants and workout gear (highly functional workout gear, that is), then think again. The brand is on a mission to take over the rest of your wardrobe, starting with the tailored Commission Pants, made with proprietary quick-drying, breathable fabric.
Price: $128
Materials: 53% Elastomultiester, 47% Recycled polyester
Notable Features: Shape-retention, breathable, quick-drying, wrinkle-resistant, 4-way stretch, smooth fabric, adaptable elasticity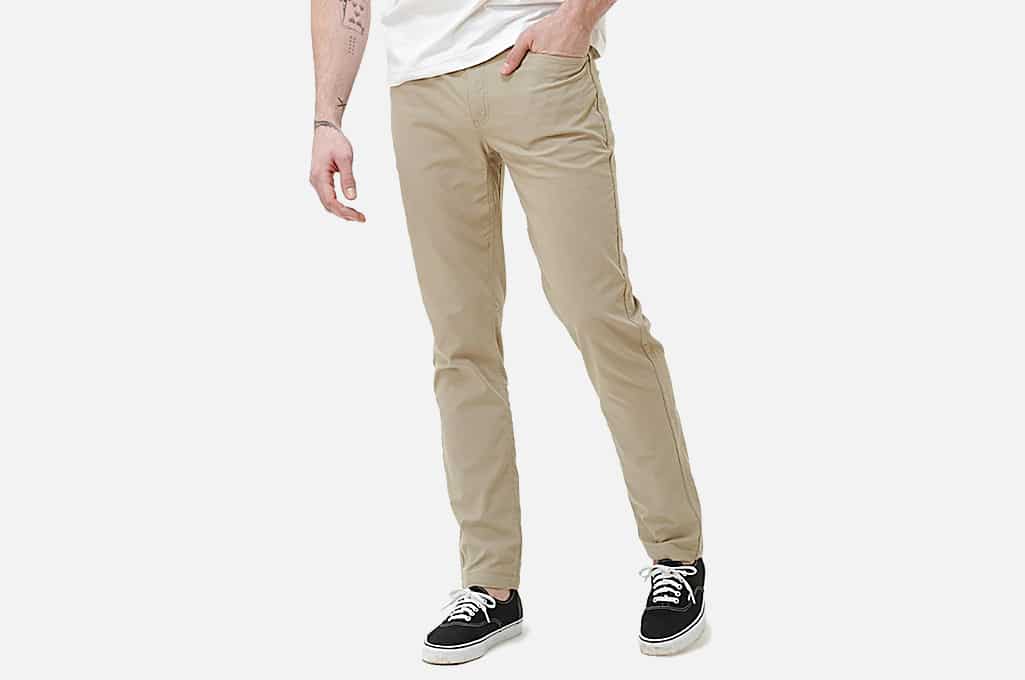 Western Rise Evolution Pants 2.0
Western Rise continually impresses us with its entire range of performance-minded menswear, with each piece offering something ever so slightly different than other products from this Colorado-based brand. Case in point: The Evolution Pants, crafted from a lightweight fabric and a streamlined design that's meant to replace your favorite chinos.
Price: $128
Materials: 96% nylon, 4% elastane
Notable Features: Water and stain-resistant, lightweight, 2-way stretch, casual and outdoors-friendly, breathable in hot weather, moisture-wicking.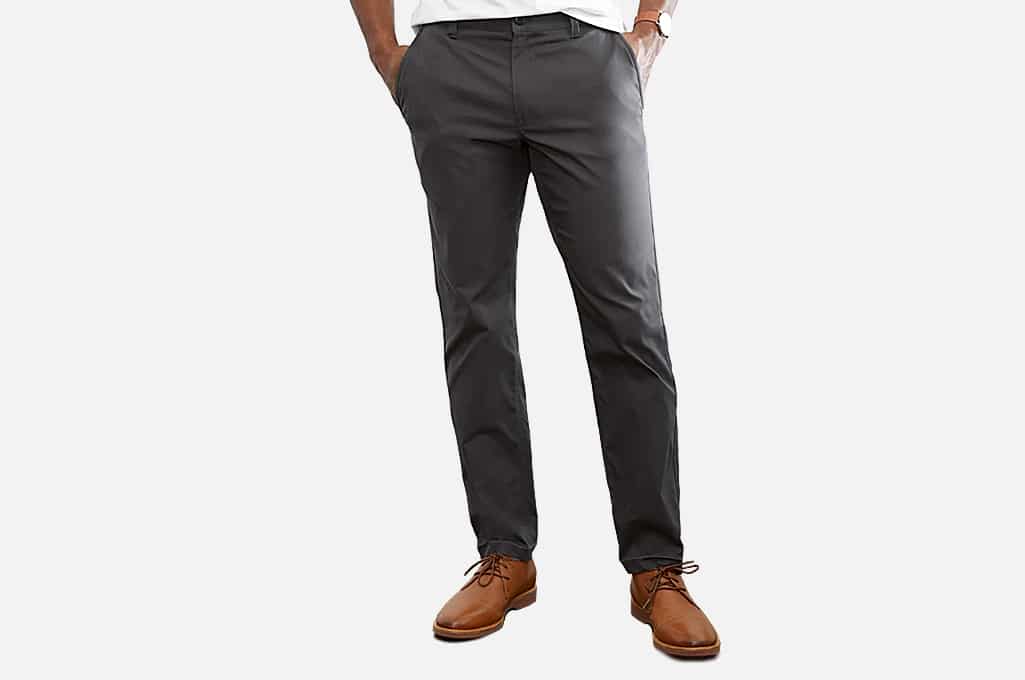 Bluffworks Ascender Chino
You've got your stretch dress shirt and blazer from Bluffworks, and now, we know exactly what you'll need to complete that perfect, commute-ready ensemble. The Ascender Chinos are an easy answer for the guy on the go, made with wrinkle-free fabric in a versatile shade of grey that comes with a cool name, to boot.
Price: $125
Materials: 100% polyester
Notable Features: Odor-resistant, stretch waistband, wrinkle-resistant, 10 total pockets, including 3 zippered + 2 phone pockets, EDC-friendly pocket for multi-tool/knife.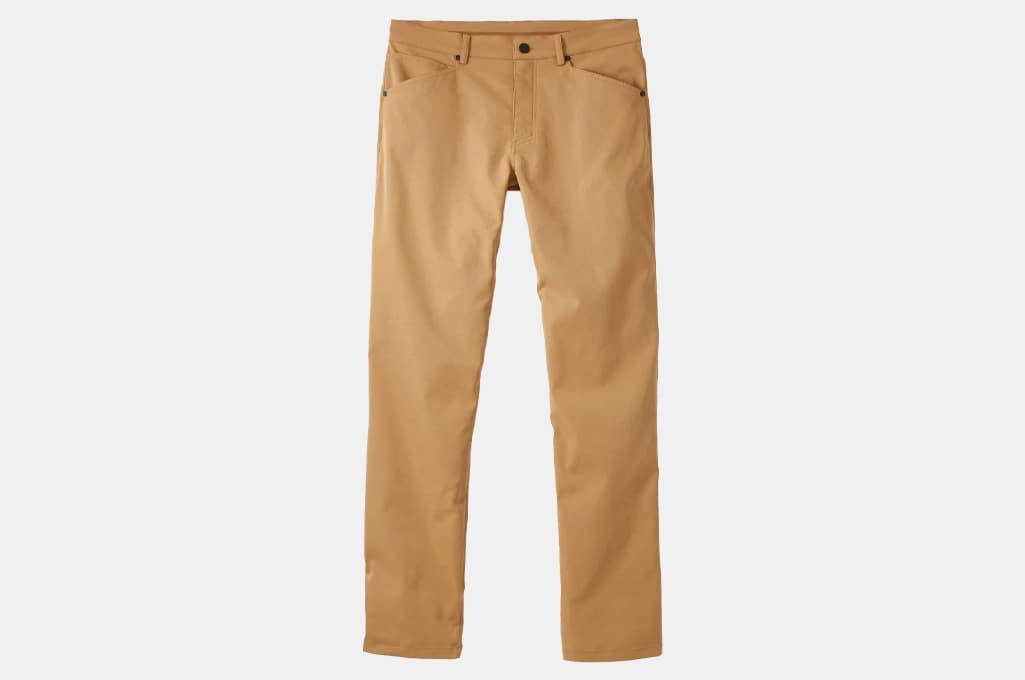 Myles Apparel Tour Pants
For the active man, these are the technical pants you'll love to wear. They're made with a highly breathable Toray polyester fabric that has just enough elasticity to be incredibly versatile for any hike, climb, or water adventure. They're also quick-drying and moisture-wicking, not to mention water-repellent. For guys who tend to get muddy or messy, the no-wrinkle and stain-free pants will be a dream come true. You'll love how the "stay tucked" grip waistband keeps your shirts securely in place, and the gussets will flex and twist with your legs to make for more comfortable sitting and standing. Best of all, they offer deep pockets for your hands and a hidden zip passport pocket to keep your most important travel documents always within easy reach.
Price: $128
Materials: Toray stretch woven twill
Notable Features: No-wrinkle, stain-resistant fabric, ultra-versatile, backed by a five-year guarantee, convenient passport/travel document pocket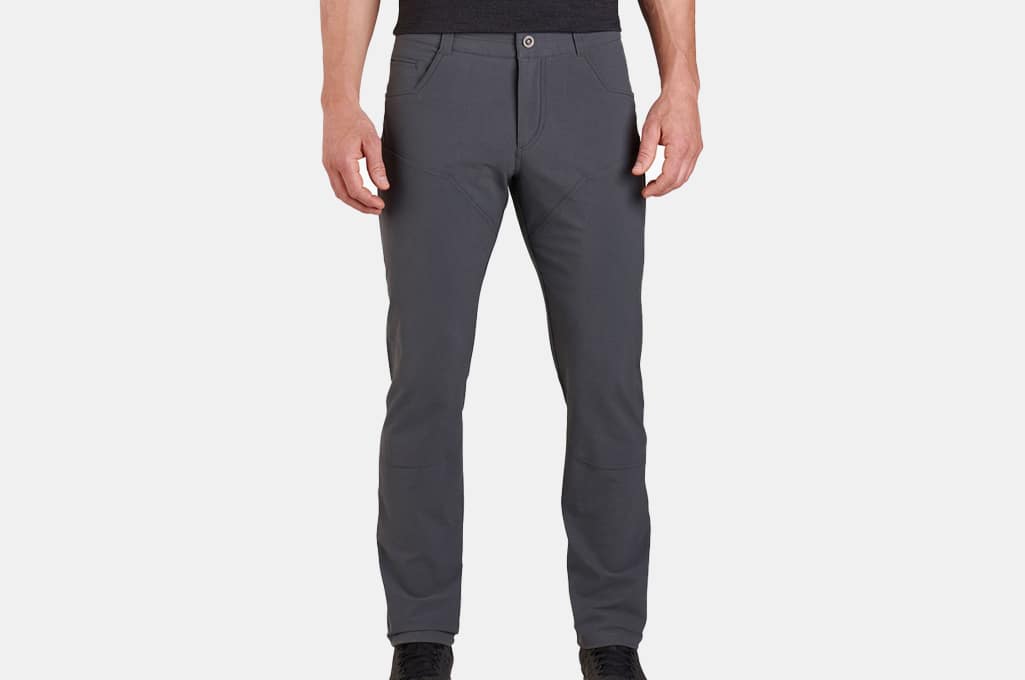 Kuhl Resistor Pants
One look at these beautiful Kuhl pants, and you won't be able to "resist" them (yes, terrible pun intentional). Made using advanced fabrics—a blend of spandex, cotton, and nylon—these pants have enough stretch to allow you to rock-hop like a mountain goat, but are still tough-as-nails and resistant to abrasion and punctures. The four-way stretch woven fabric holds its shape no matter how hard you wear it, and the added articulation in the upper thigh and knees makes for free movement. They even come with UPF50+ sun protection to keep your legs protected from solar radiation.
Price:$119
Materials: 58% Cotton, 29% Nylon, 13% Spandex
Notable Features: Water-repellent, abrasion-resistant, very difficult to tear UPF50+ sun protection, side-entry cargo pockets, comfortable tapered fit in the lower legs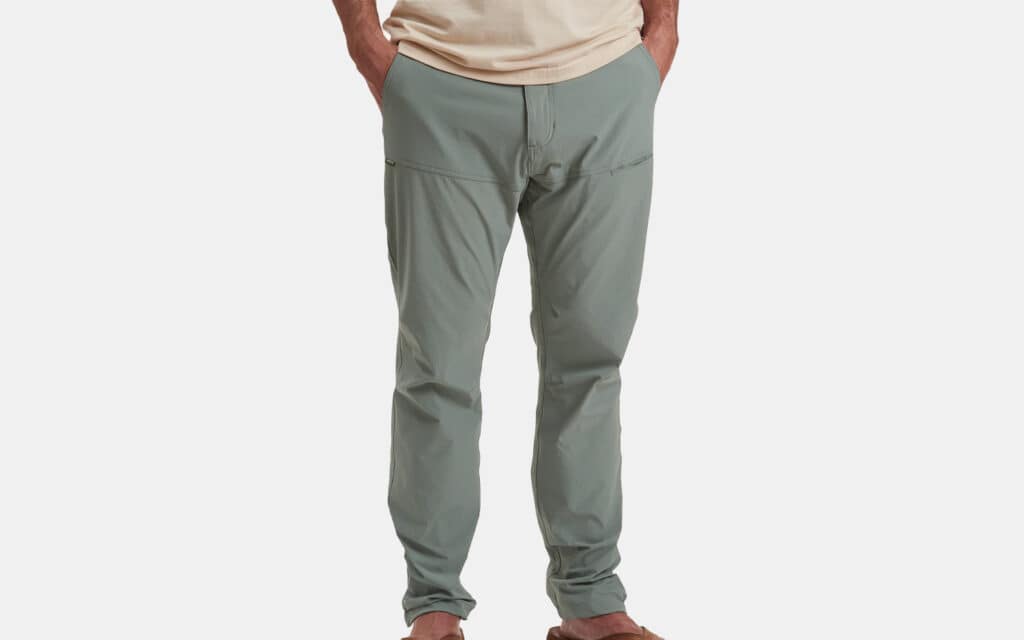 Howler Brothers Shoalwater Tech Pants
Take these Howler Brothers Shoalwater Tech Pants on any adventure—through the jungle, down a waterfall, or up a cliff—and they'll handle it like a beast. The combination of nylon and spandex makes these both versatile and highly durable, with flex enough to allow your legs to move freely. The straight-leg fit makes them roomier than you'd expect, and the articulated knee and crotch gussets ensure you're always comfortable whether sitting, standing, or lying down. They're fully amphibious, with self-draining mesh pocket bags that will dry quickly and keep you from getting bogged down even if you're slogging through a marsh or wading a river. For the price, you won't find many better pairs of technical pants on the market.
Price: $99
Materials: 85% nylon, 15% spandex
Notable Features: Quick-drying fabric, self-draining nylon mesh pocket bags, zippered stretch pocket, pliers pocket, drawcord waistband—no belt needed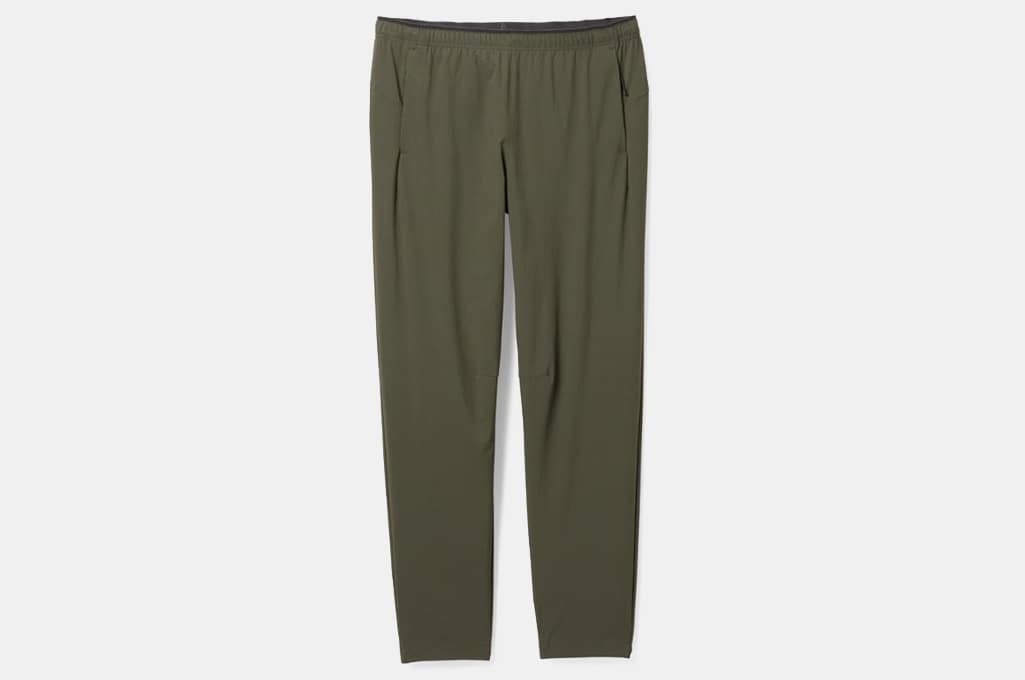 REI Co-op Active Pursuits Tech Pants
Whether the weather is cold, hot, or somewhere in between, these pants by REI Co-Op will be up for the challenge. Made with a nylon-spandex blend fabric and finished with a DWR (durable water repellent) coating, they're tough enough for any terrain, weather conditions, or humidity. The fit is standard but the tapered leg slides easily into the tops of your boots to keep your legs as dry as possible, and the thirty miles-per-hour wind resistance will shrug off light autumn and spring gusts like they're no big deal. In the summer, however, the perforated behind-the-knee panels will allow all your important parts to air out, preventing overheating.
Price: $69.95
Materials: 90% nylon/10% spandex
Notable Features: Articulated knees allow for easy movement, secure zippered pockets, DWR-coated, wind resistant up to 30 MPH, lightweight, simple but stylish
Disclosure: Clicking on these links and making a purchase may earn us a small referral fee, at no extra cost to you. Learn more here.
freestar.config.enabled_slots.push({ placementName: "gearmoose_leaderboard_btf", slotId: "gearmoose_leaderboard_btf" });