The 20 Best Vests For Men
As we turn another page on our calendars and step wholeheartedly into fall, it's time to revamp your shopping list. In place of summer-friendly sneakers and chino shorts, perhaps there sits a crucial series of gear picks for fall and beyond, from rugged leather boots to a durable waxed trucker jacket and a restock of your fall and winter henleys. And you know what should sit right near the top of that list, too? It's simple. A vest deserves a place of pride when it comes to your fall gear rotation, providing the kind of easy wearability and critical layering capacity that's so crucial right now. 
Why go for a vest when you've got an array of fall outerwear at your disposal? Well, actually having an array of outerwear up for grabs is as good a reason as any. Whether you want more mobility and range of motion for the trail, or you just want a more casual layer that allows you to more easily wear a thermal henley AND a flannel, a vest is precisely what the (gear) doctor ordered. They provide warmth and durability, yet cut away excess fabric and bulk. 
At the same time, a vest will actually do as reliable a job keeping you warm as your waxed trucker jacket. If that's not a great reason to buy a vest, then perhaps earning some serious style points will convince you? The best men's vests listed below are all yours for consideration.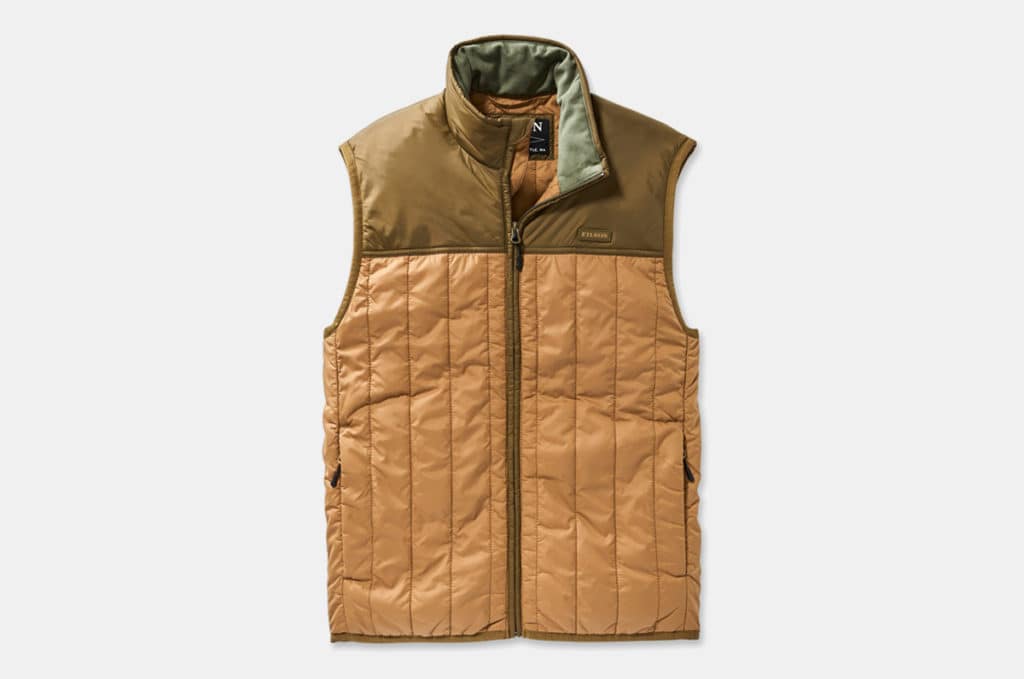 Filson Ultralight Vest
Here's what we mean when we say a vest can do a more-than-serviceable job in terms of fall performance, style, and layering. The Filson Ultralight Vest is exhibit A among many great vests up for grabs this fall, what with its warming PrimaLoft Gold insulation and a durable ripstop nylon shell. Plus, it's packable and more than ready to layer atop a Filson henley on cool fall mornings.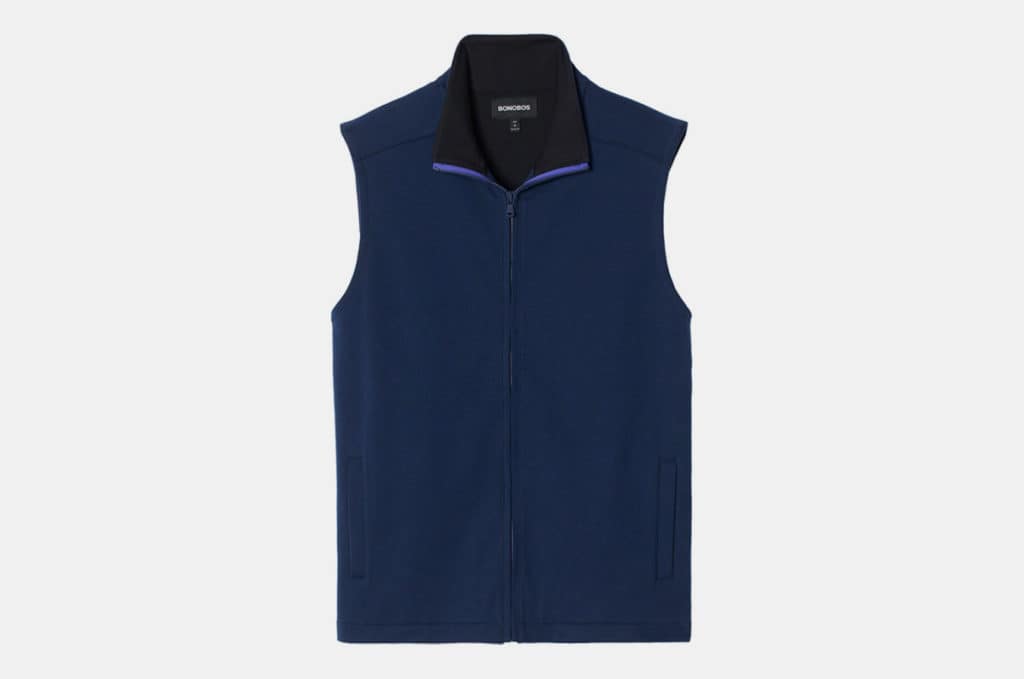 Bonobos Daily Grind Fleece Vest
Don't underestimate the versatility and depth of the Bonobos product line. The brand's Daily Grind pants are fit for the office and fit to wear to work from home, and the Daily Grind Fleece Vest is similarly versatile. Consider it the type of cozy fleece vest to wear on a commute or a road trip, and rest easy knowing that it pairs up with a Bonobos Oxford shirt and trousers.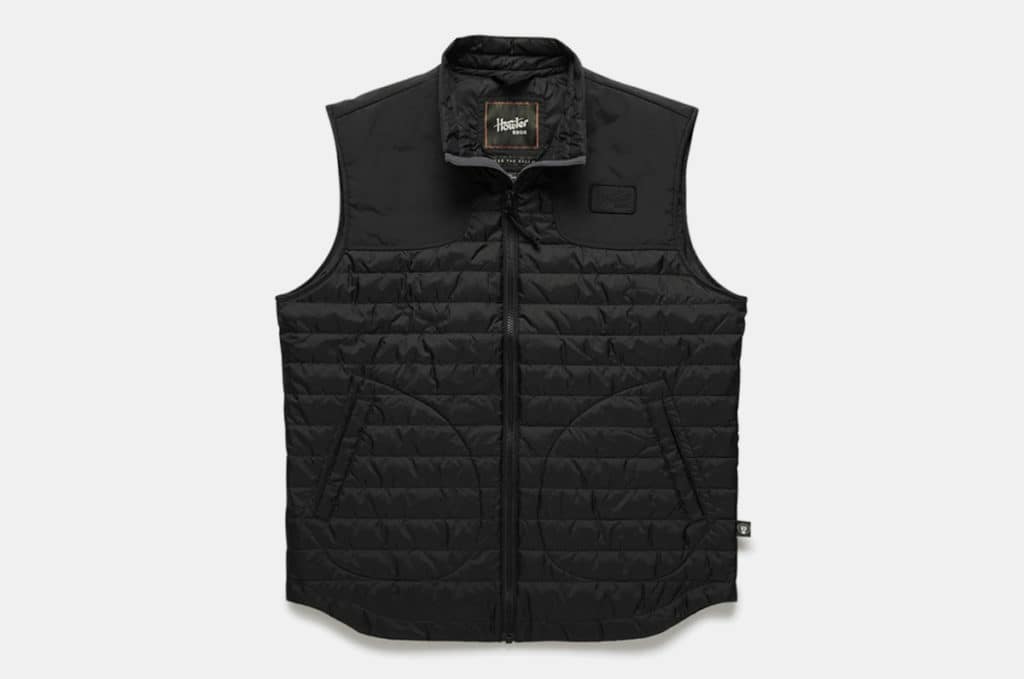 Howler Brothers Merlin Vest
The guys at Howler Brothers know how to take care of business in terms of adventure-friendly gear that just so happens to look mighty great, too. The Merlin Vest is no exception, complete with warm insulation, a trim fit and contrasting shoulder yokes that add some contrast to the tactically-minded Blackout colorway. This is the perfect vest for fall adventures, with some subtle style points thrown in.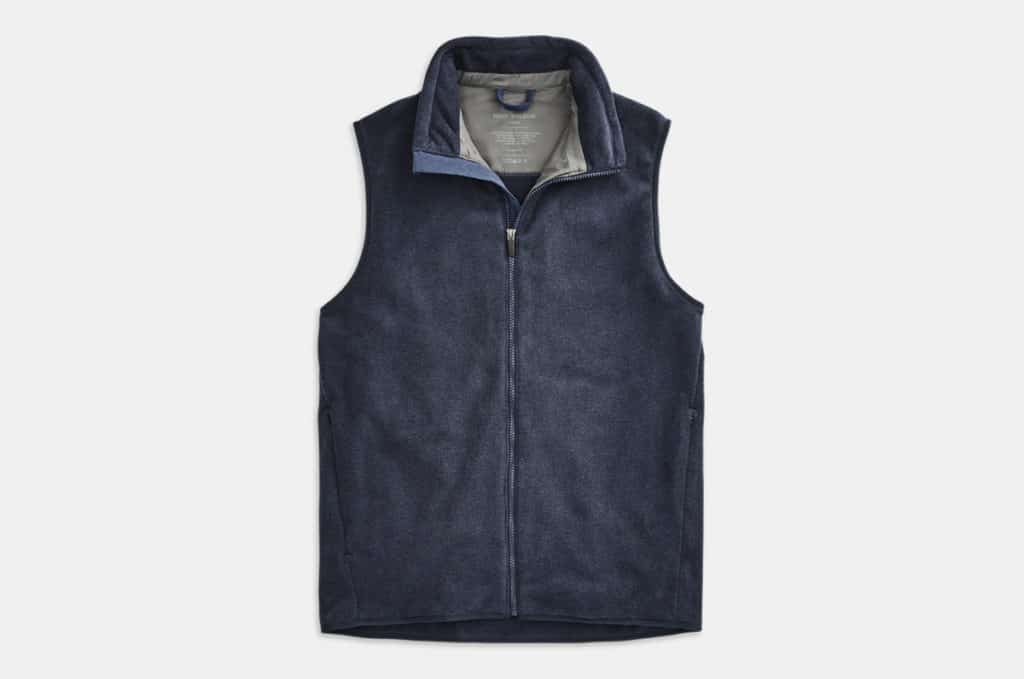 Mack Weldon WARMKNIT Fleece Vest
It's reassuring to us when we know that we can turn toward one brand to build a casual, comfortable, head-to-toe style ensemble. Mack Weldon is one such brand, with everything from premium boxer briefs to functional sweatpants and cozy long-sleeve shirts. Add in Mack Weldon's WARMKNIT technology as incorporated into products like this functional fleece vest, and it's no wonder why we dig 'em so much.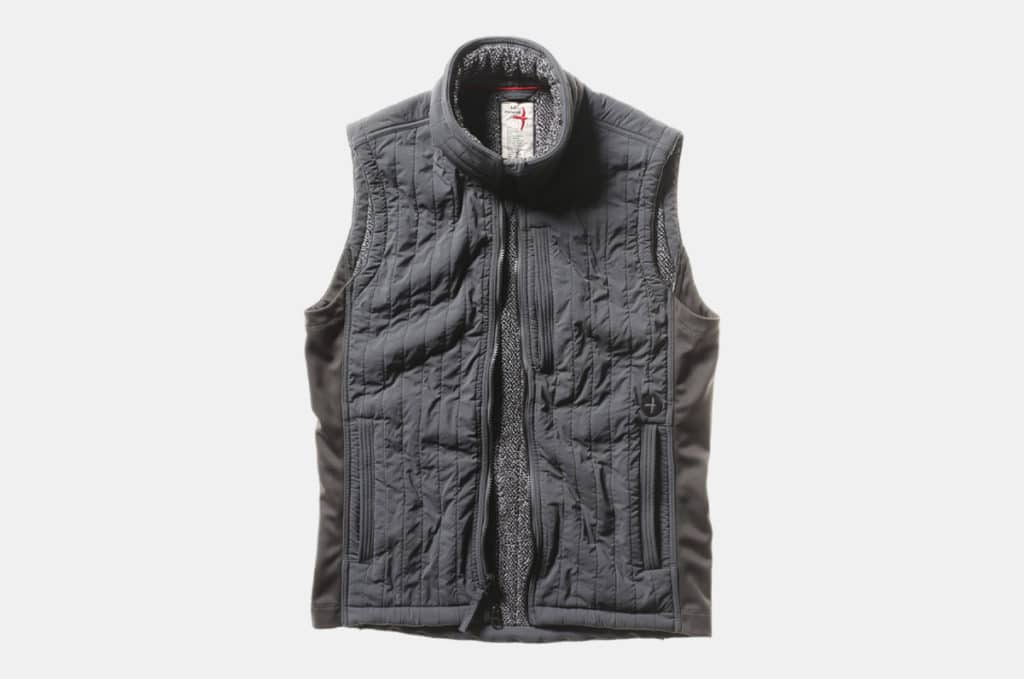 Relwen Vertical Insulator Vest
The best vests for men aren't flimsy or cheaply made — that much we know is true. We're so confident that the Relwen Vertical Insulator Vest is well above average that we'd recommend you add it to your shopping cart at Huckberry right this instant. Made from a water-resistant nylon-spandex shell and finished off with a warm sherpa lining, this rugged vest is the ideal vest to wear hiking, to wear camping, or to wear to grab some ice-cold Oktoberfest brews.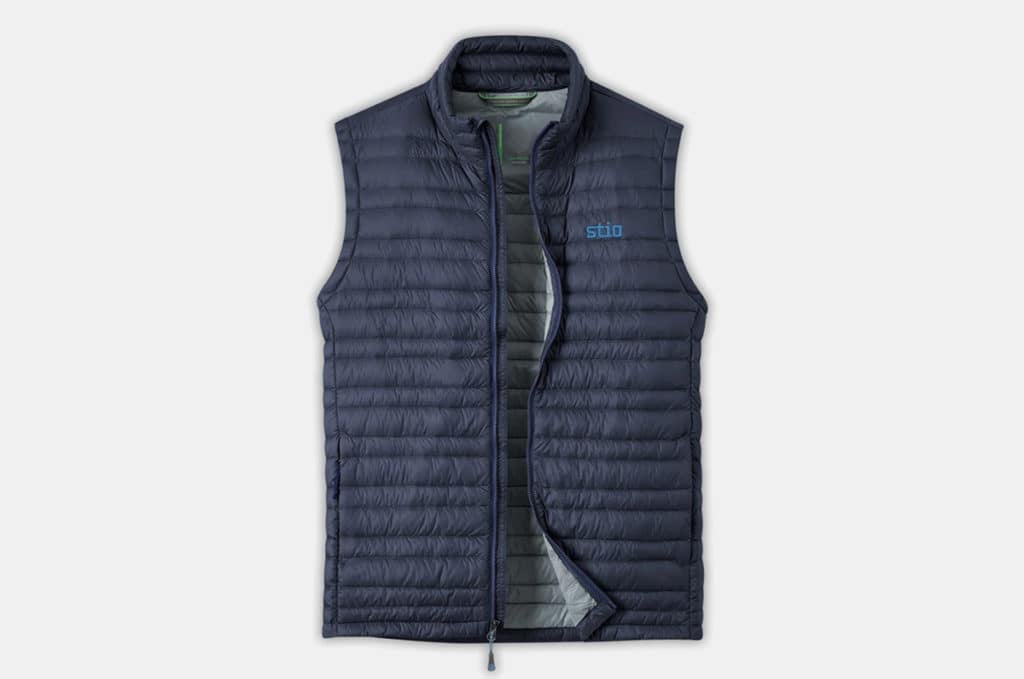 Stio Men's Pinion Down Vest
The best thing about adding a vest to your outerwear rotation (and indeed, to your fall road trip packing list) is the ease with which you can style it with just about anything. Toss in this packable vest to your weekender bag in a versatile navy colorway, then team it with a white thermal henley and tan chore pants for unstoppable fall style.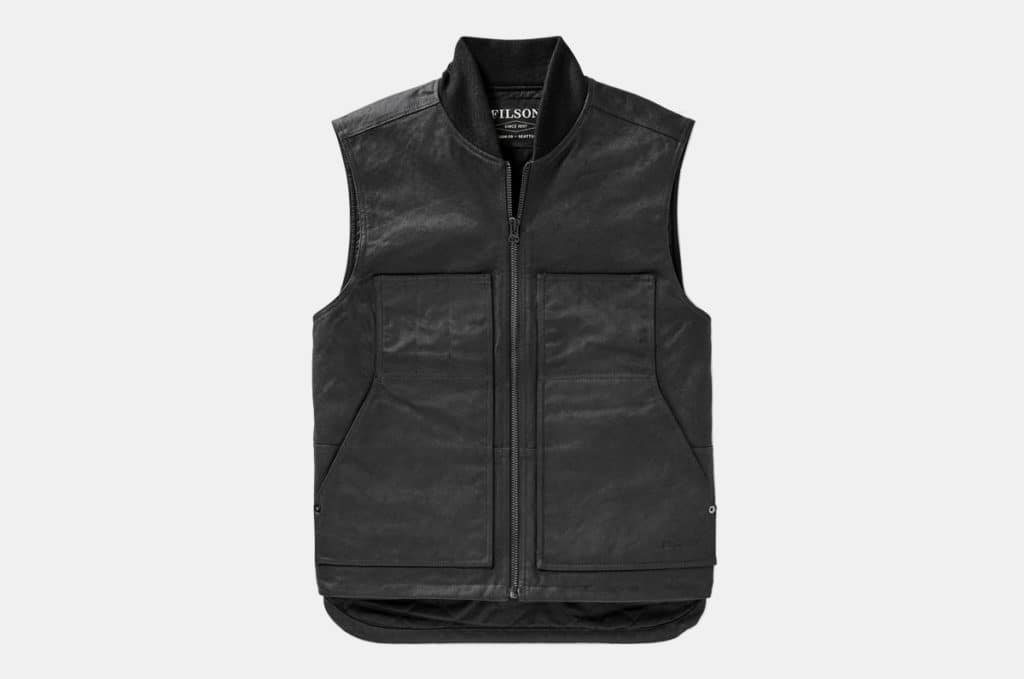 Filson Wax Work Vest
The best men's vests often start with the small details — like crafting the best fabric to turn into said vest. The team at legendary Pacific Northwest brand Filson knows there's only one way to go if you want a durable work vest, and that's with this waxed work vest made from water-repellent waxed cotton. Consider it the best vest to wear when tackling chilly fall morning chores, day after day.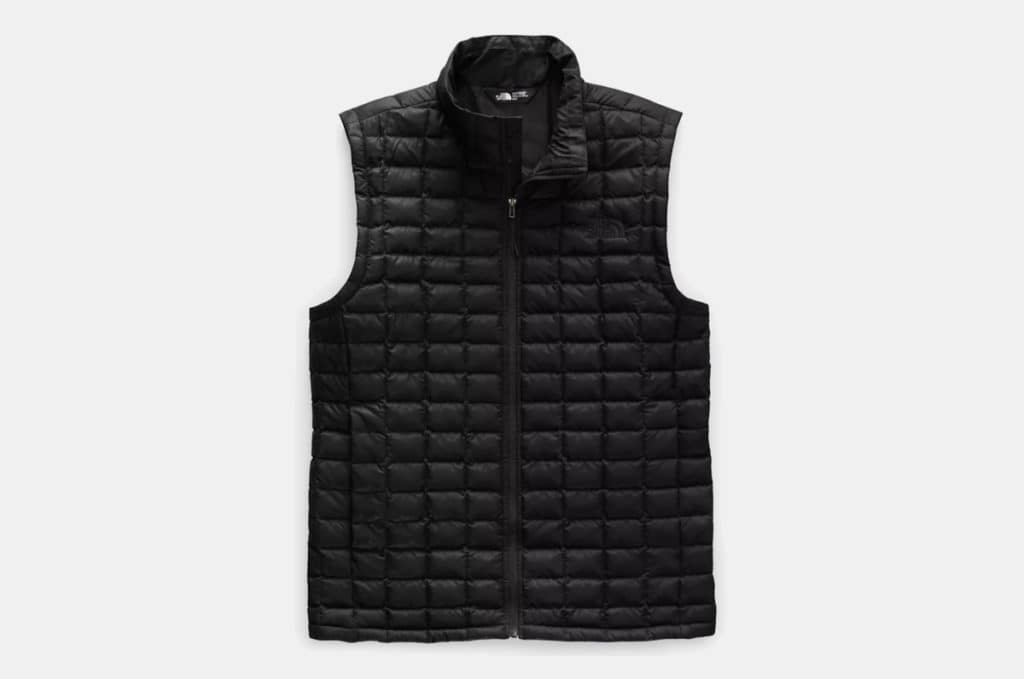 The North Face Thermoball Eco Vest
The North Face tackles sustainability, form and function with the Thermoball Eco Vest, made with eco-conscious insulation in a sleek and layering-friendly fit. Wear this vest on its own or throw it on beneath a North Face parka for maximum versatility on the trail and off. We prefer the Black Matte colorway for a look that teams with hiking pants or dark denim in equal measure.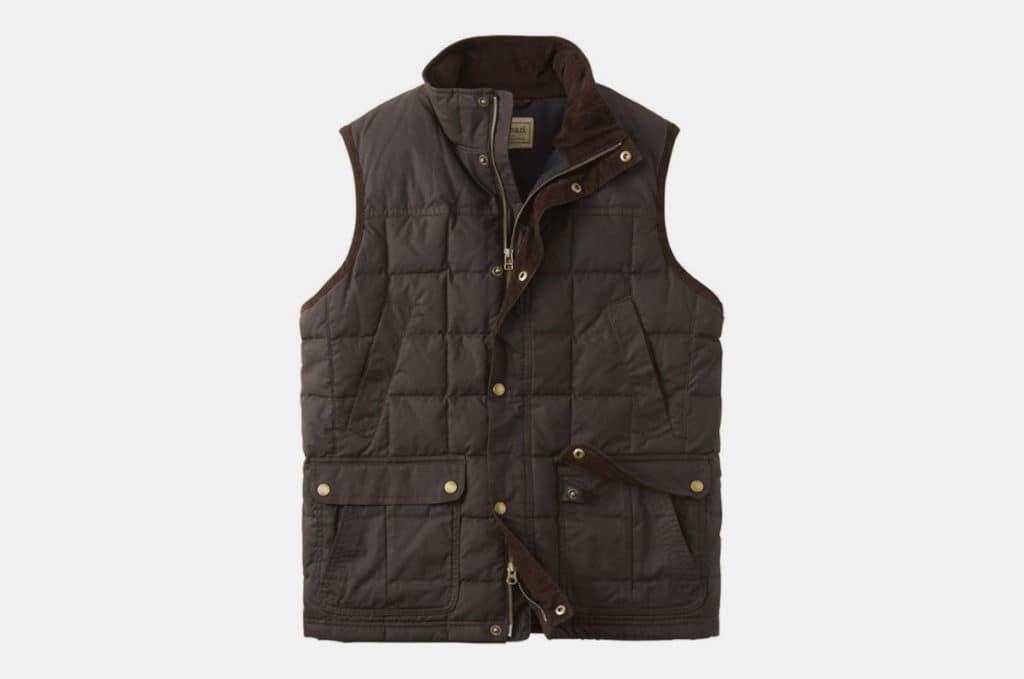 L.L.Bean Upcountry Waxed Cotton Down Vest
We're big fans of brands that take a heritage-minded approach to an entire line of products designed to work in perfect harmony. What exactly do we mean by that? Well, if you're just about ready to break out your L.L. Bean "Bean Boots," you'll be mighty pleased to know that this handsome waxed cotton vest is the perfect complementary layer up top for fall. Shop accordingly.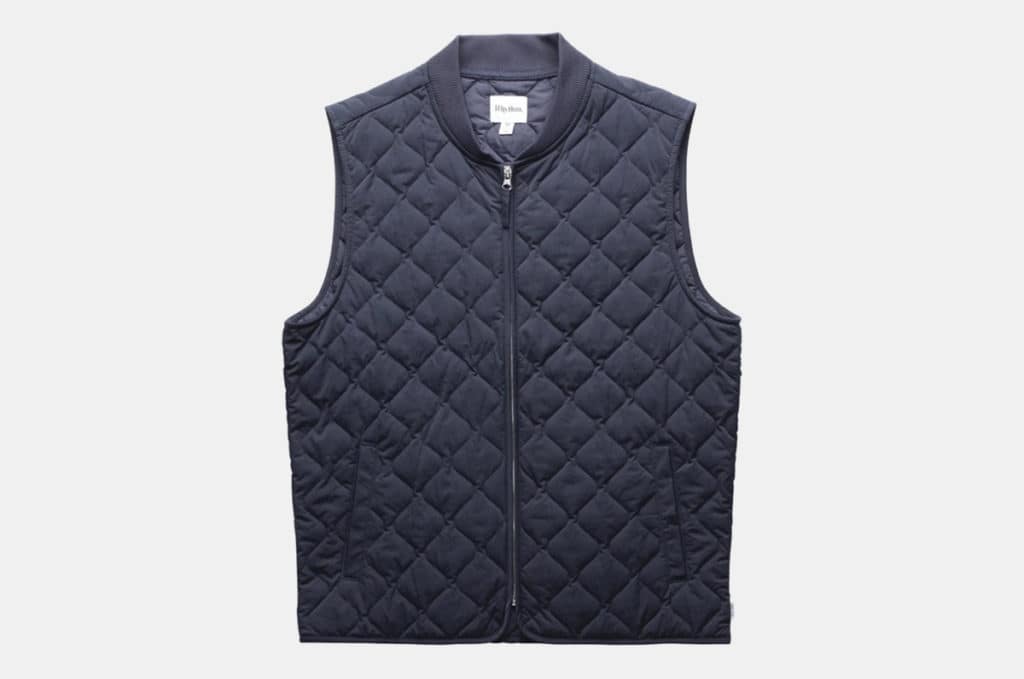 Rhythm Seafarer Vest
There's something about a vest — the right vest, mind you — that conjures up the rolling countryside and the cool air off the ocean or through the forest. Is it just us, or does the Rhythm Seafarer Vest look like the perfect vest to wear as you traverse the cool coastline this fall? Done up in a crisp navy color with warm quilting, you should wear this vest atop a chambray workshirt with grey chore pants for seasonal excursions on and off the trail.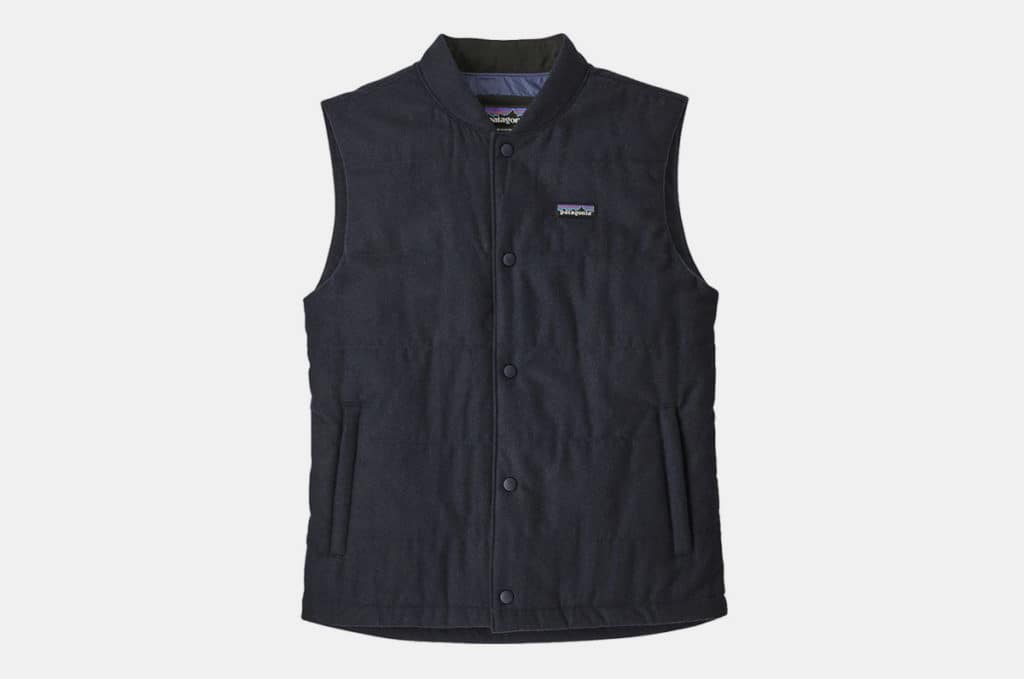 Patagonia Recycled Wool Vest
Add a wool vest from Patagonia to your list of fall road trip essentials, because it's one layer you shouldn't leave home without. Made from sustainable materials and constructed with longevity in mind, it upholds Patagonia's focus on making the world a better place while providing you the right gear to wear as you experience it. Set your sights on the horizon, because this Patagonia vest is but one piece of gear to take you there.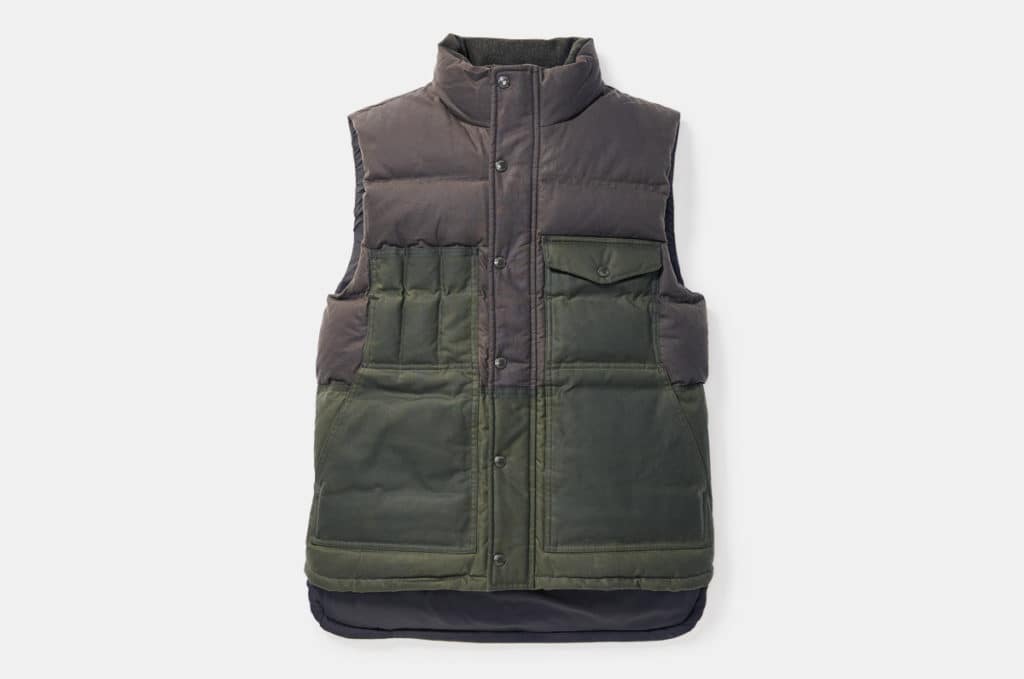 Filson Down Cruiser Vest
Some vests are so tough and well-made, they function more like a jacket than a vest (with added mobility still at the forefront). The hard-wearing Filson Down Cruiser Vest, made with the brand's lauded Cover Cloth fabric, is filled with ethically sourced goose down for extreme comfort on the inside and reliable, weather-ready performance on the outside.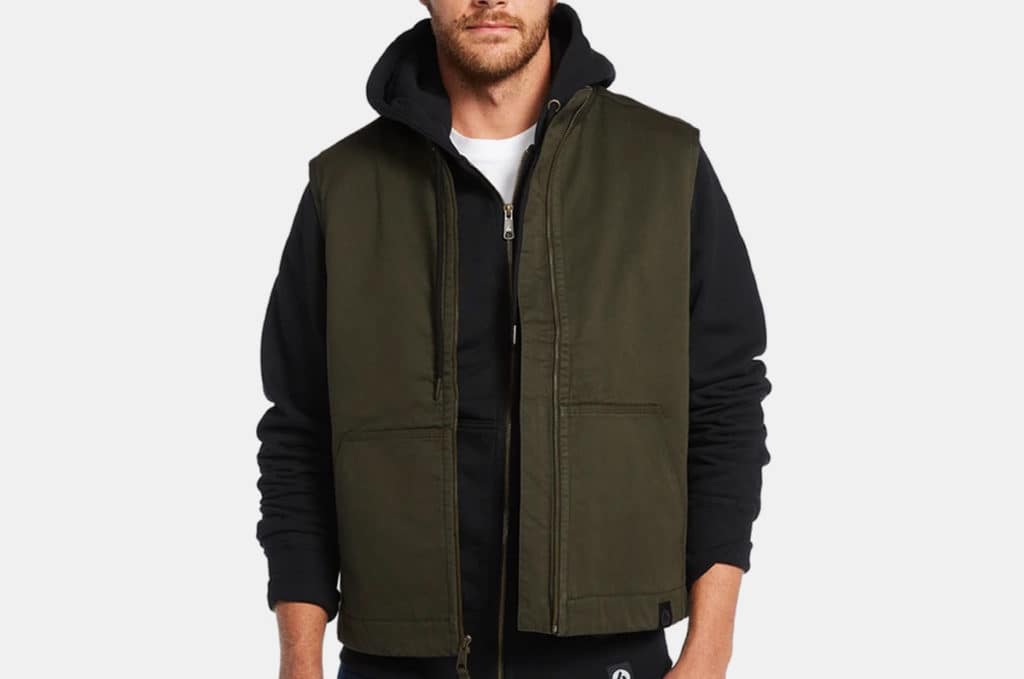 American Giant Hudson Insulated Twill Vest
Ever tried out one of American Giant's incredibly well-made pairs of pants or an exceptionally warm yet hard-wearing zip hoodie? It's the kind of craftsmanship we certainly appreciate, and we think you'll feel the same way, especially when you get a chance to try the Hudson Twill Insulated Vest. Made with three-ply cotton twill atop a nylon lining, it's the kind of vest that'll serve you remarkably well for fall projects and day hikes alike.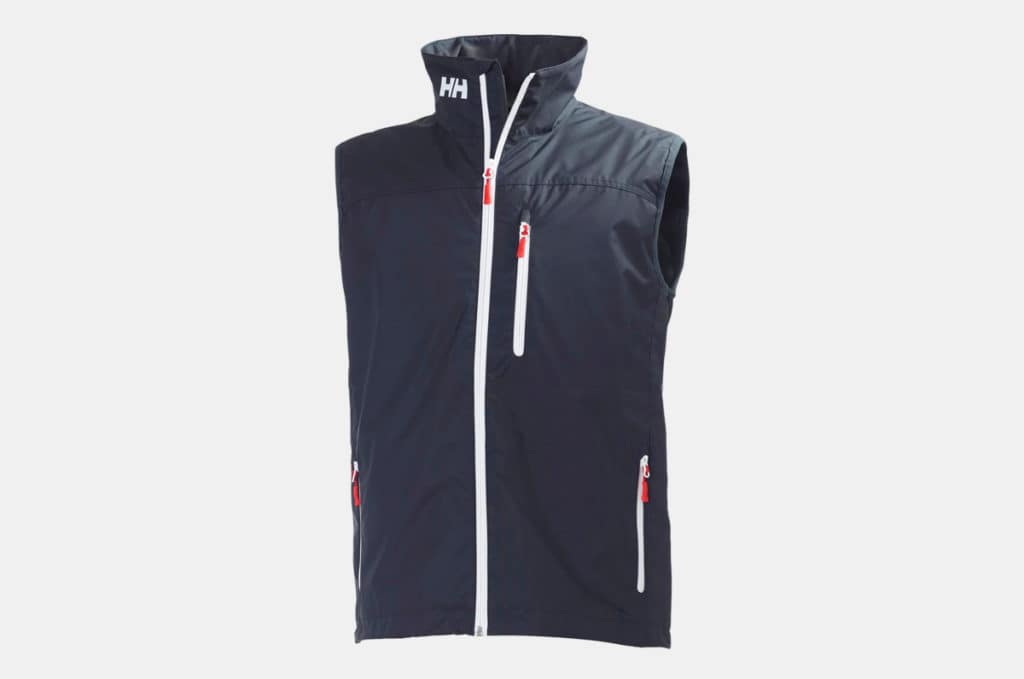 Helly Hansen Crew Vest
The most extreme conditions call for the most extreme gear, and Helly Hansen knows a thing or two about delivering gear for exactly those conditions. You might not be planning an epic mountain hike in the months to come, but even if your next fall outdoor excursion involves beers around a campfire, you can readily wear the Helly Hansen Crew Vest for the occasion — trust us.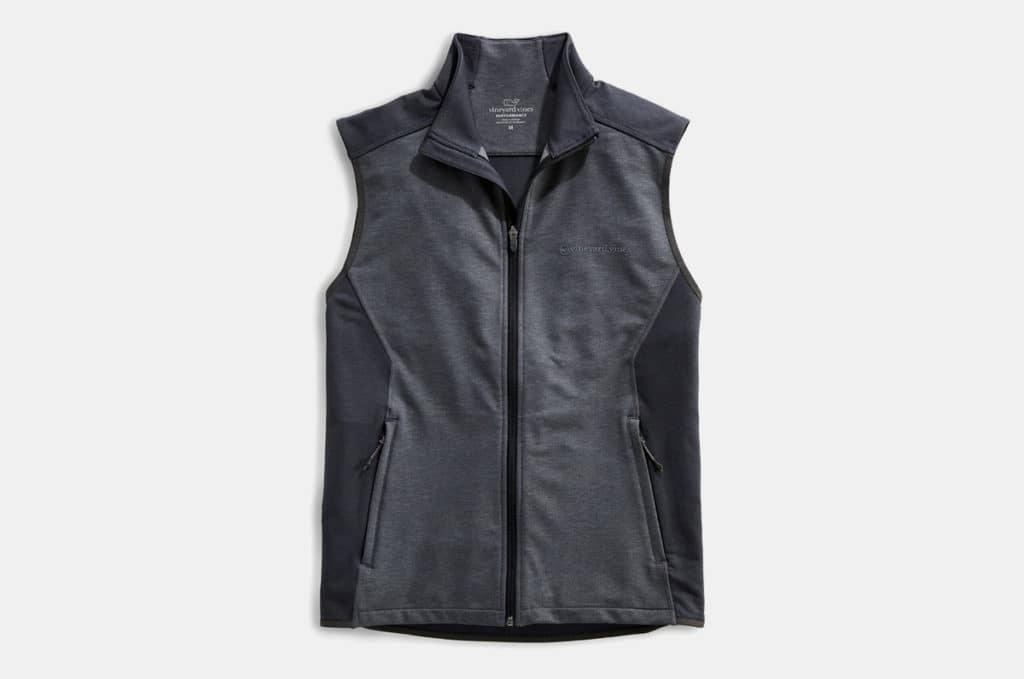 Vineyard Vines Oakfield Performance Vest
You likely know Vineyard Vines for the brand's prep-inspired style staples, including polos and chino shorts that reign supreme during the summer months. Get ready to rethink Vineyard Vines, however, with the Oakfield Performance Vest. Made with a blend of polyester and spandex for a lightweight performance function and feel, it's a new go-to layer for the fall months.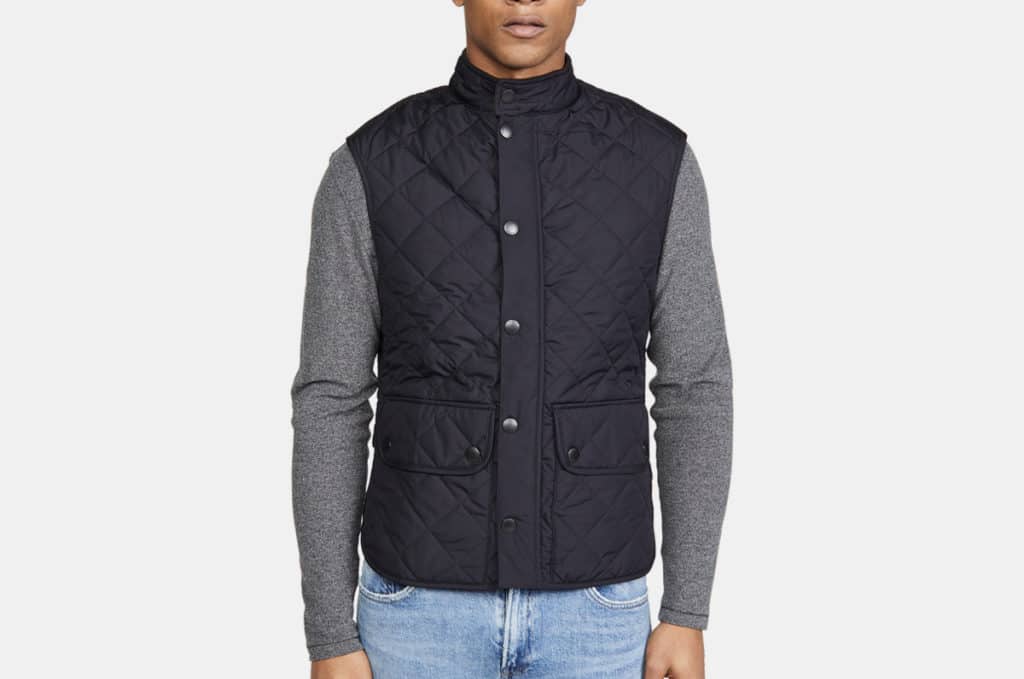 Barbour Lowerdale Vest
The Barbour outerwear game is the stuff of legend — trust us on that, we've tried the heritage company's dependable and rugged jackets, and they've never quit. The Barbour Lowerdale Vest takes a similar approach, but loses any pesky excess fabric while retaining that classic Barbour quality and heritage via a quilted, midweight fabric design. This vest is ideal for layering or wearing on its own this fall.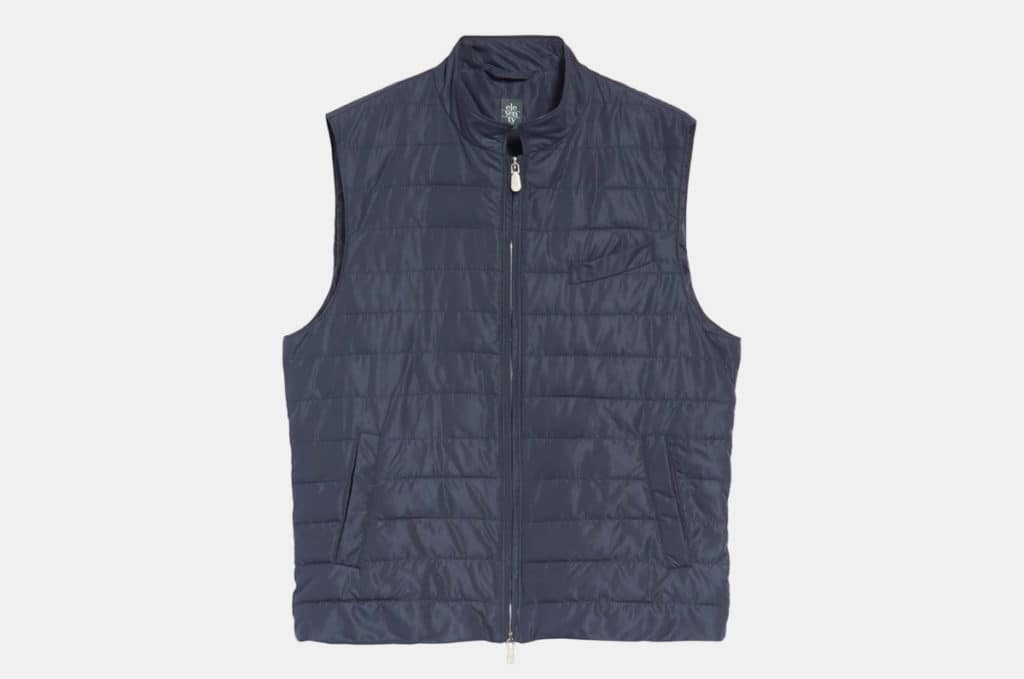 Eleventy Slim Fit Full Zip Vest
The best vests for men often blend functionality with subtle style without missing a beat, and that's what the Eleventy Slim Fit Full Zip Vest brings to the table. Snag it at Nordstrom alongside other fall style staples, like rugged chinos and lace-up leather boots, then get ready for endless fall style possibilities to open up.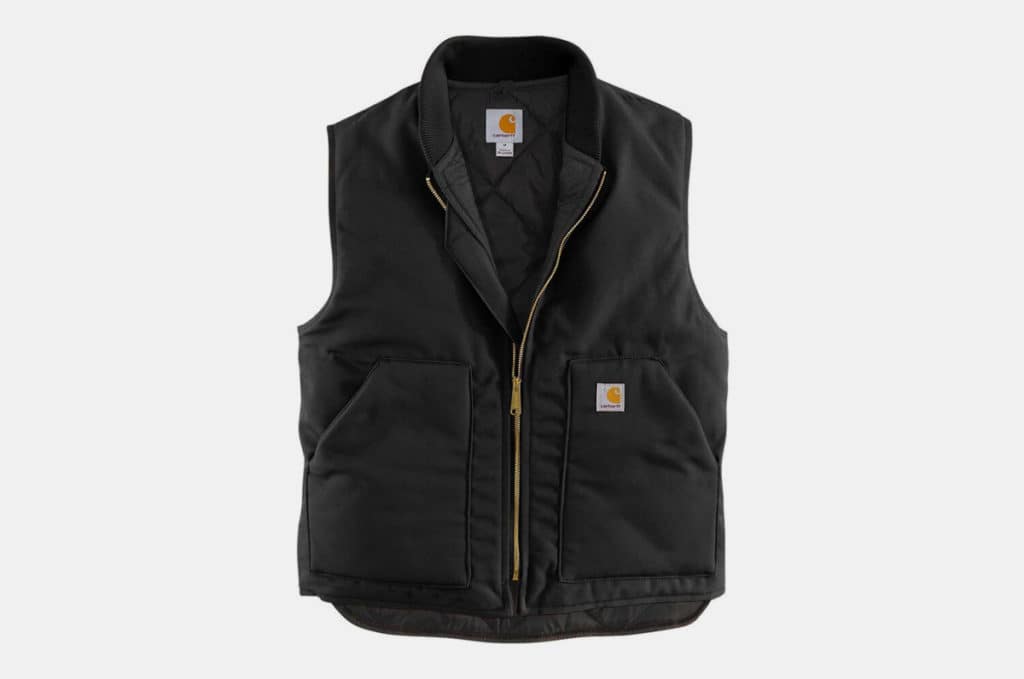 Carhartt Duck Vest
When the going gets tough, the tough among us wear Carhartt … or something like that, right? This rugged Duck Vest is the perfect vest for chilly fall and winter mornings when you need a layer to stand up to nature's worst. Carhartt carries on its expert tradition of the toughest workwear on the planet, and fittingly with one of the best men's vests.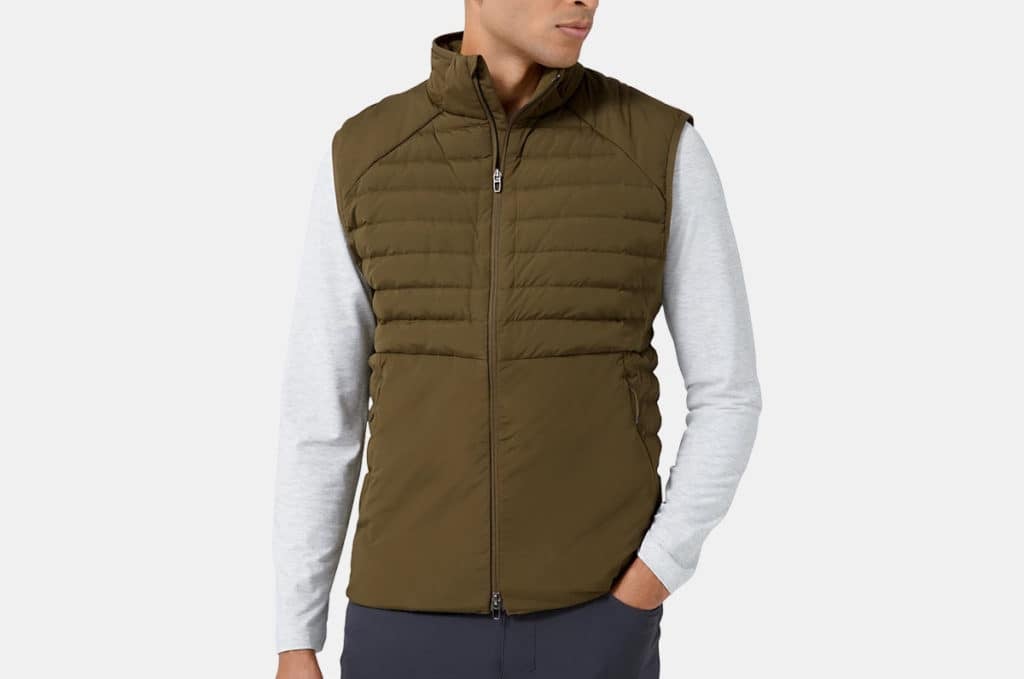 Lululemon Down For It All Vest
Lululemon bridges the gap between serious technical performance and even better style with the aptly named, versatile Down For It All Vest. This vest takes function and form to the next level through water-repellent fabric, a slim fit, versatile color options, and raglan shoulder detailing for ease of movement. It's assuredly one of the best vests for men out there.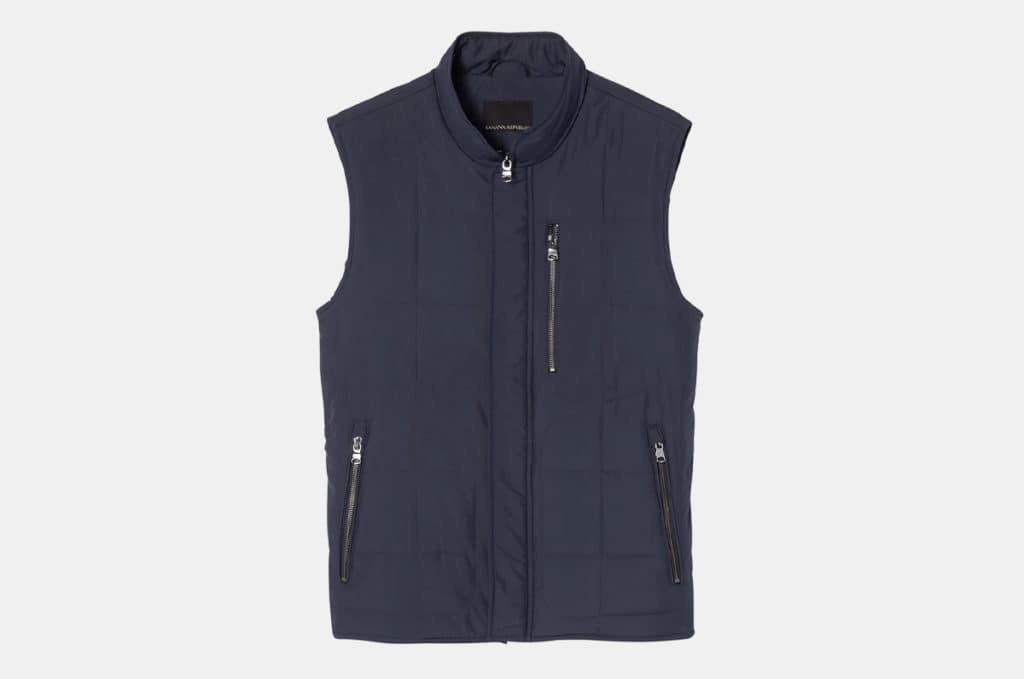 Banana Republic Water-Resistant Quilted Vest
We love Banana Republic for the brand's everyday style staples, the kind of pieces that work on the road, at home or perhaps, even back at the office. The Water-Resistant Quilted Vest is one of the best vests for men simply because it works in all of those locales — and plenty more. It's an excellent top layer the next time you hit the trail or run into some breezy weather on your commute or road trip.
Disclosure: Clicking on these links and making a purchase may earn us a small referral fee, at no extra cost to you. Learn more here.