The 15 Best Weekender Bags For Men
While the fall and winter are as good of times as any to escape your home base, there's a uniquely special and exciting feeling about packing for a summer weekend away — especially with Memorial Day coming up, and plenty of summer travel in store beyond that. The gear that you take with you needs to be ready for anything, especially if your travels involve activities you can only do in the summer, like a trek to the beach followed by an all-night bonfire followed by a repeat the next day.
Some weekender bags are more investment-worthy than others, and some are going to blend in sharply with a tailored suit as opposed to outdoor gear, but the best weekender bags all have one thing in common — the perfect size for the outdoor essentials you need, and all the style you need to go along with it.
Yes, the essential weekender bag should be one you carry with you for a long time, and there are plenty of classic brands that are taking the general idea and running (or hiking, or riding) with it. Grab one of the best weekender bags on the market now after reading our picks.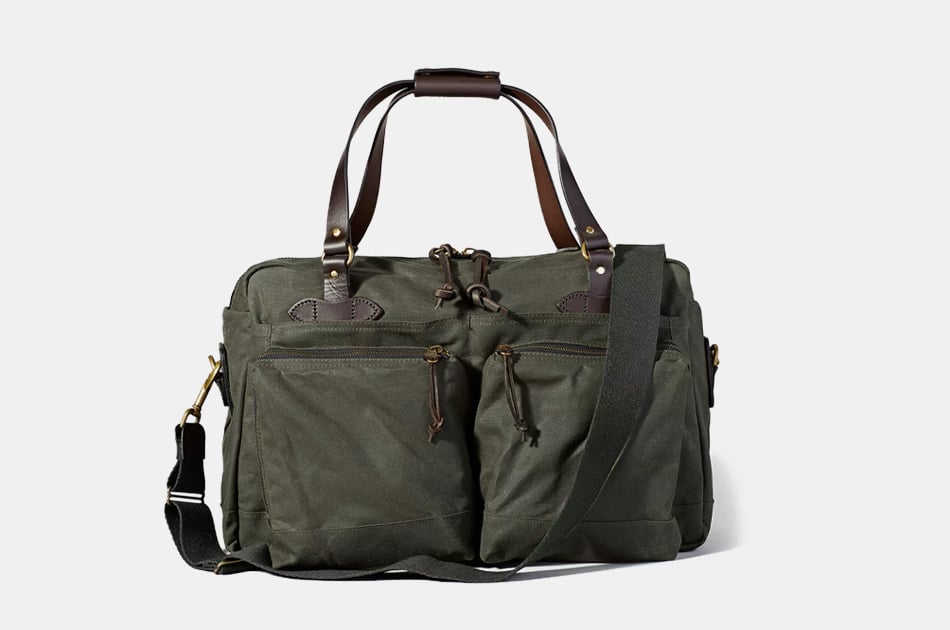 Filson 48-Hour Tin Cloth Duffle Bag
Chief among our picks for the best weekender bags? That would be Filson, rugged Northwest purveyors of the finest outerwear and gear for the outdoorsman (or the man who simply appreciates top-notch quality). Sized to accommodate enough gear to take you through 48 hours in style, the use of rugged Filson Tin Cloth is what separates this one from the pack. What should you pack within it? Stylish flannels, henleys & the like. It's a heritage-quality weekender, no doubt about it.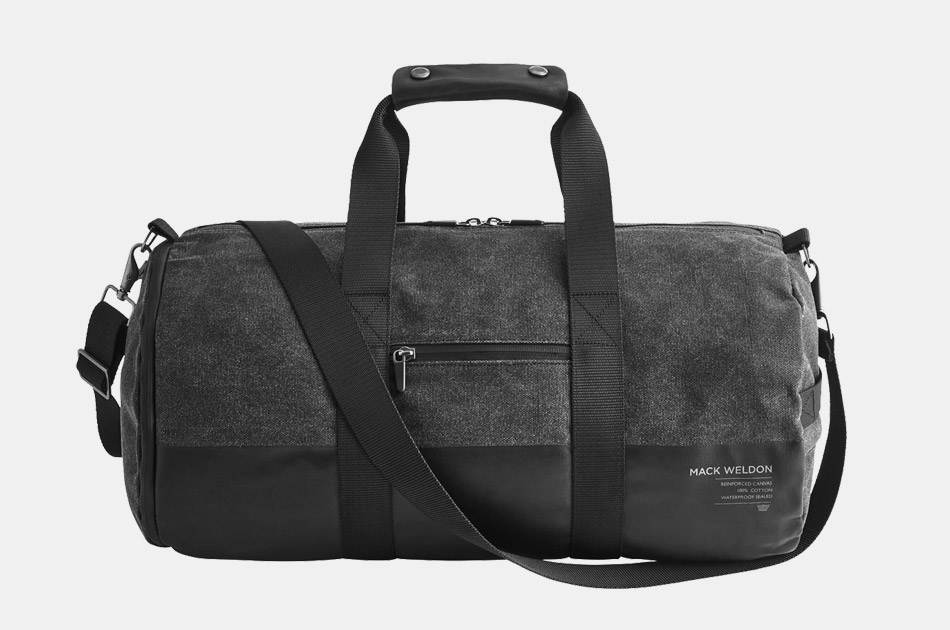 Mack Weldon GTX Duffel Bag
If you've not yet acquainted yourself with the work being done by Mack Weldon in the way of gear for guys on the go — from merino T-shirts to tailored sweatpants to essential shorts — then the Mack Weldon GTX Duffel Bag is a great place to start. Helpfully, it's also a unique and equally fitting way to carry your favorite (brand new!) Mack Weldon gear anywhere you please, from the gym to the office and out on the road for … you guessed it, the weekend.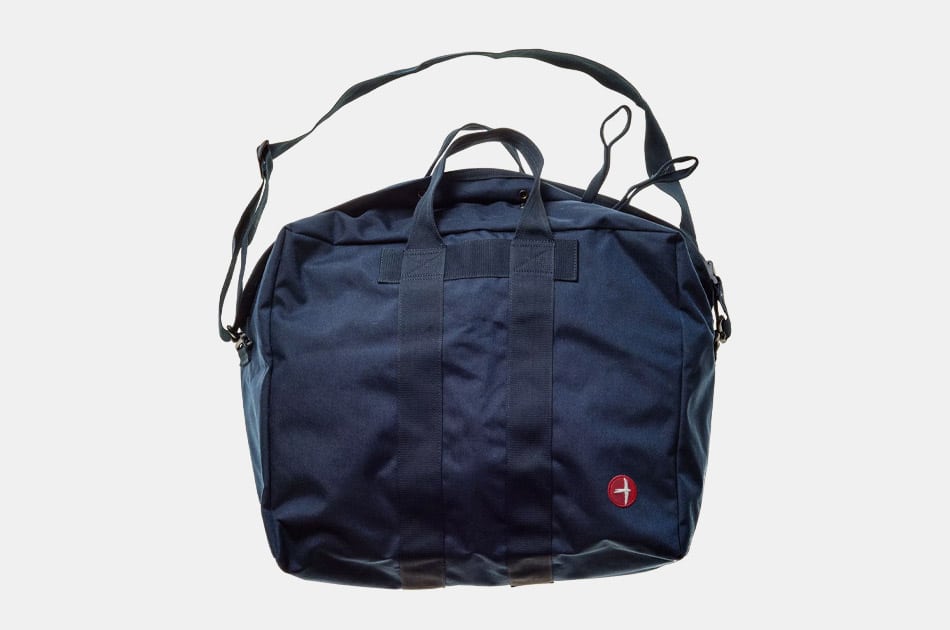 Relwen Bivouac Weekend Duffel Bag
Among the best weekender bags shown here, the Relwen Bivouac Weekend Duffel Bag might be among the more compact and highly functional that we've seen (and believe you me, that's saying something). Available in a sleek shade of navy (our personal favorite), the Relwen Bivouac Weekend Duffel Bag is perfectly rugged and yet versatile, the sort of go-anywhere weekender bag you'd be glad to have on your next trip — easily.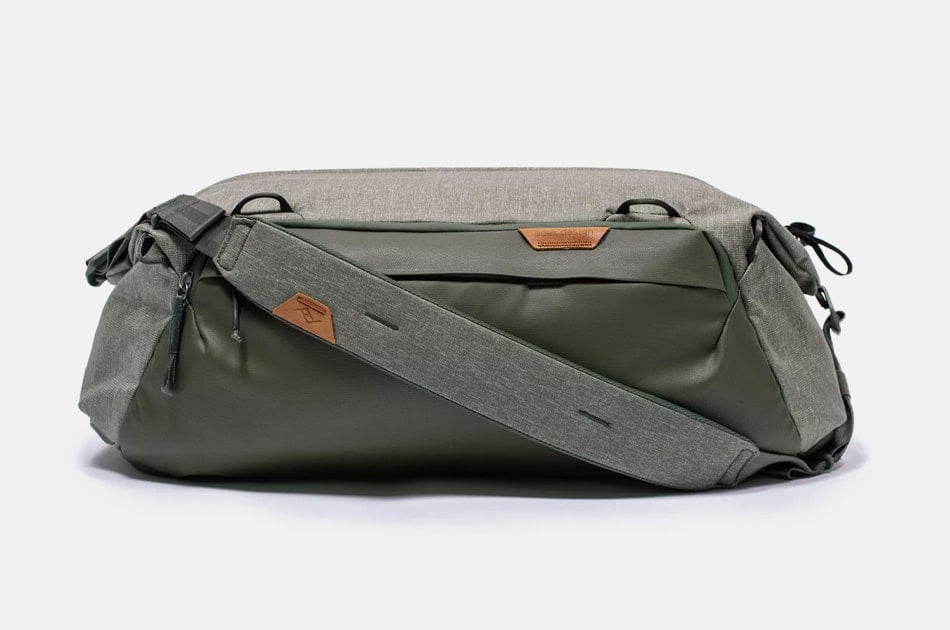 Peak Design Travel Duffel Bag
Peak Design doesn't pull any punches when it comes to the tough, rugged gear they make — gear rightfully sold by the folks at Huckberry, at that. The Peak Design Travel Duffel is exhibit A when it comes to the best men's weekender bags, offering the sort of minimal style and sleek performance that you need when you hit the road. This duffel bag is international carry-on approved, meaning it can go anywhere you dream up, and do it in minimal style.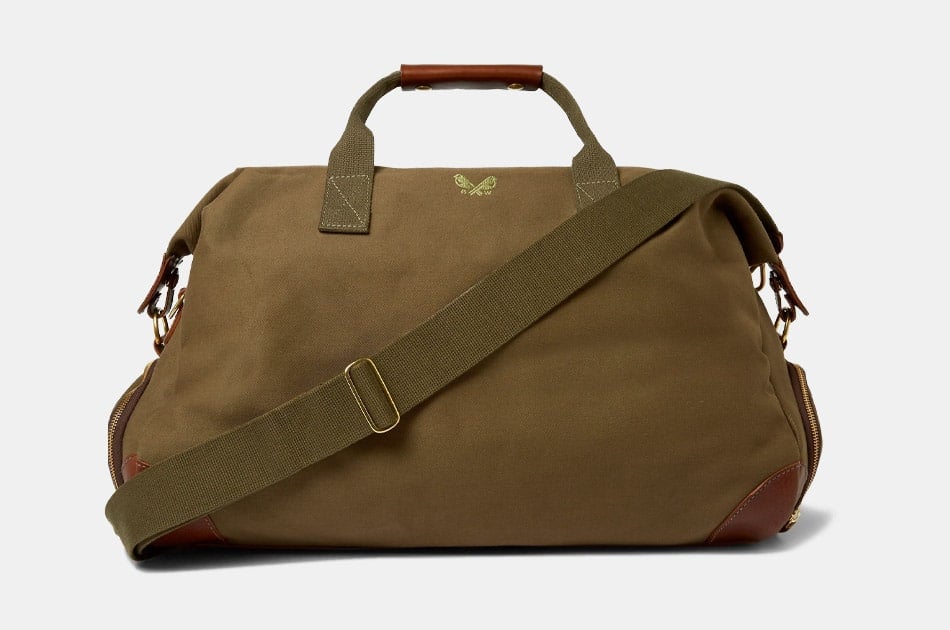 Bennett Winch Weekender Bag
Weekender bags can provide plenty of functionality, while also offering up the sort of essential style you know and love — and expect — from your favorite brands. The Bennettt Winch Weekender is arguably the best weekender bag for the modern gentleman, sold by Mr. Porter along with a host of ideal, refined style choices for your next weekend getaway. In fact, this bag is so stylish, it makes it easy to envision you bringing it around the globe.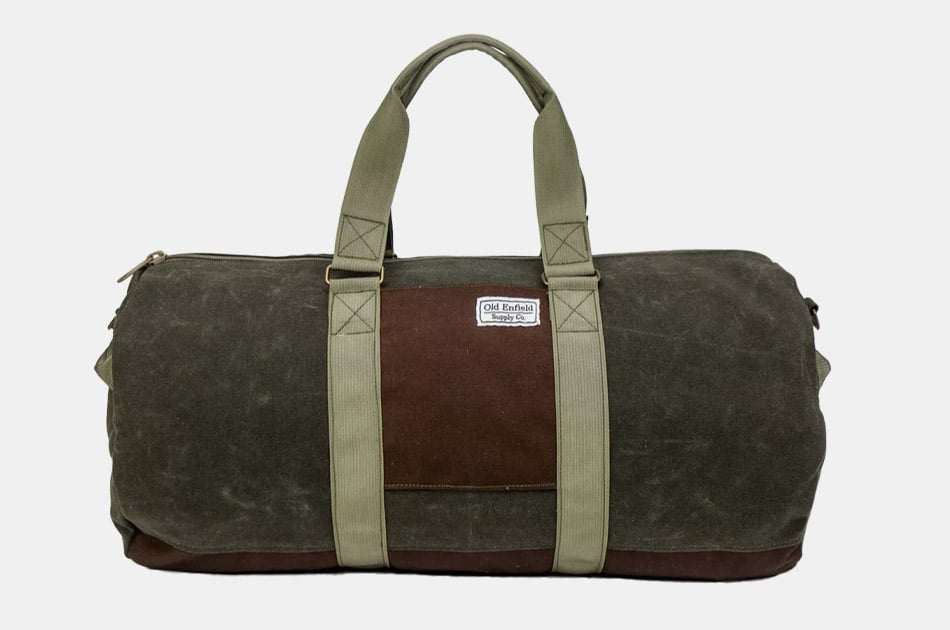 Old Enfield Supply Co. 48-Hour Duffel Bag
The notion of having all the gear you need for a weekend adventure, all within arm's reach in a tough and durable weekender bag, is one we certainly appreciate — and it would appear that the folks at Old Enfield Supply Co. have the same idea. The 48-Hour Duffel Bag is a unique and exceptional weekender bag, made the right way out of tough, water-resistant waxed canvas. Available in two color combos via Huckberry, we'd wager you'll have a tough time determining which is your favorite.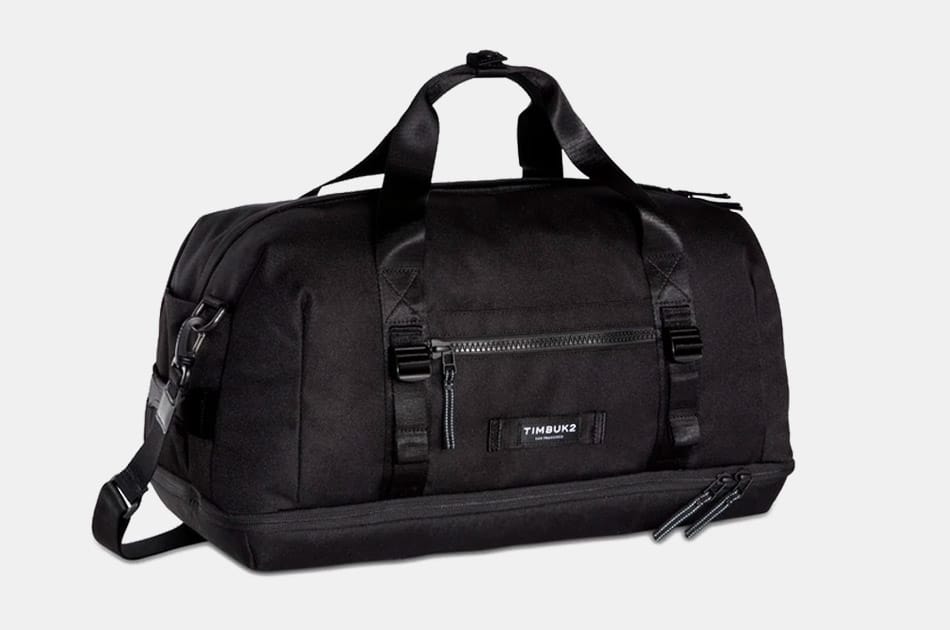 Timbuk2 Tripper Duffel Bag
Among brands that pioneered the idea of crafting exceptional gear for adventurers on the go, Timbuk2 stands alone. With a strong presence in NYC and San Francisco, the brand knows a thing or two about how to deliver on gear that moves with you, not against you — like its sleek Tripper Duffel Bag. Made for a weekend adventure out in the backcountry or a fast-paced weekend in the city, this thing should hold up in sleek style.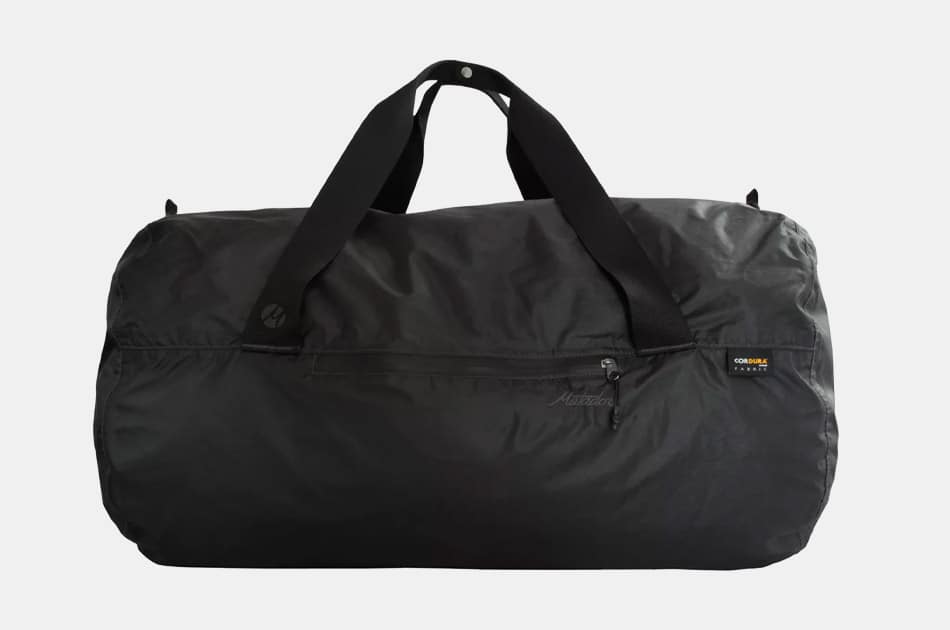 Matador Transit Packable Duffel
Turn once again to Huckberry — and Matador — for the perfect way to pack up on the go for the weekend. The Matador Transit Packable Duffel is a true feat, made to be very easily transported when not in use, and geared up to do just as much damage when it comes time to pack it up fully. The Transit Packable Duffel is, quite simply, one of the best weekender bags if you want to get in and get out quickly for a full 48 hours.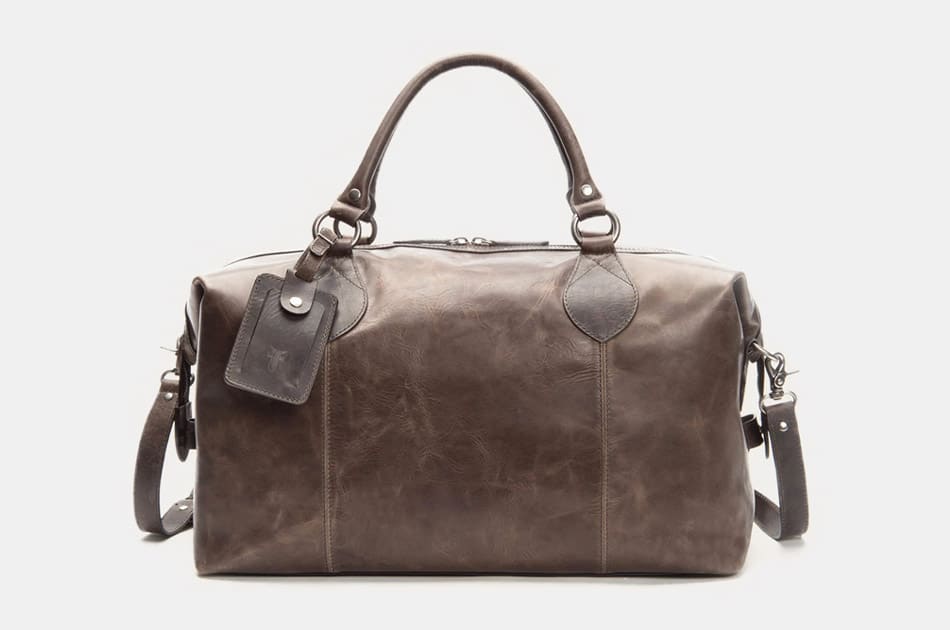 Frye Logan Overnight Bag
Looking for the perfect bag to pair with your rugged Frye leather boots? Look no further than the Frye Logan Overnight Bag, an incredibly timeless and utterly classic weekender bag that'll absolutely get better the more you use it (kind of like your Frye leather boots, no?). The Logan Overnight Bag is like no other bag on the market when you consider the use of slate pull-up leather — some of the best leather around.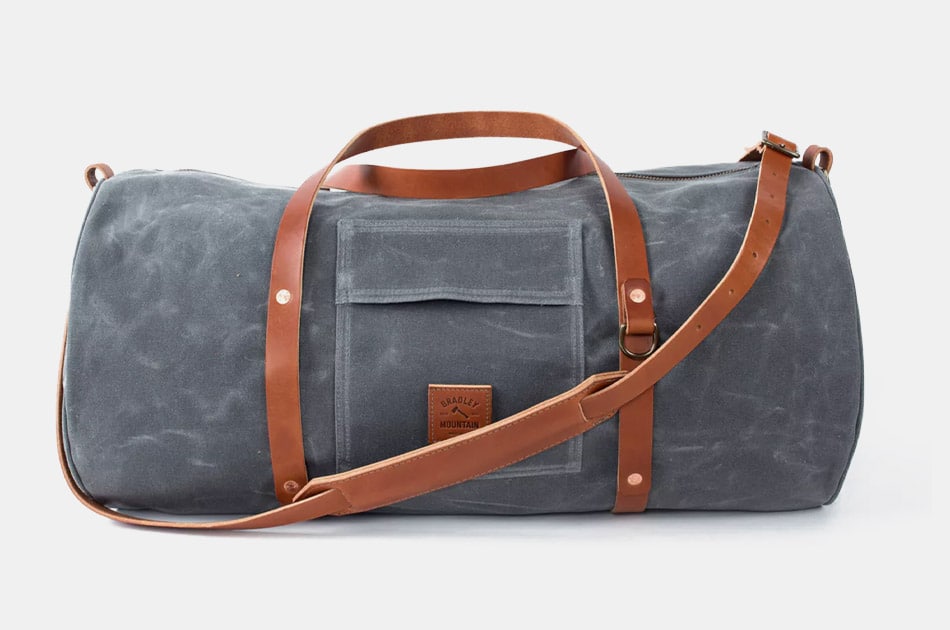 Bradley Mountain The Rambler – Waxed Canvas Weekend Bag
If you haven't caught on by now, we absolutely love the ability to pair up rugged good looks with modern functionality — in the case of the Bradley Mountain Rambler Weekender Bag, that versatility and balance is critical. As fall approaches, there's no better bag to have in your car or in that overhead compartment than one that's got room for the essentials, to go along with those ever-critical style points we mentioned earlier.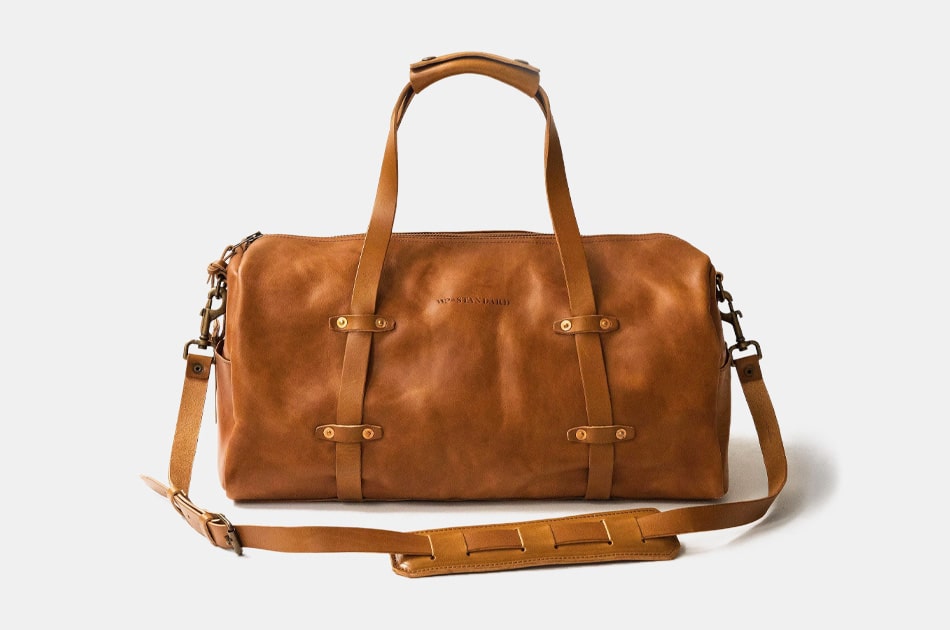 WP Standard Leather Weekender Duffel
In the way of handsome accessories that also offer up the potential for go-anywhere, tough style, the WP Standard Leather Weekender Duffel is the way to go. It's the sort of duffel that calls to mind vintage styling potential, mixed with the everyday carry potential you need for, well, weekend trips. Two external pockets provide the potential to carry more gear than you even planned on bringing — not to mention, this bag will garner some serious style points. What more could you want?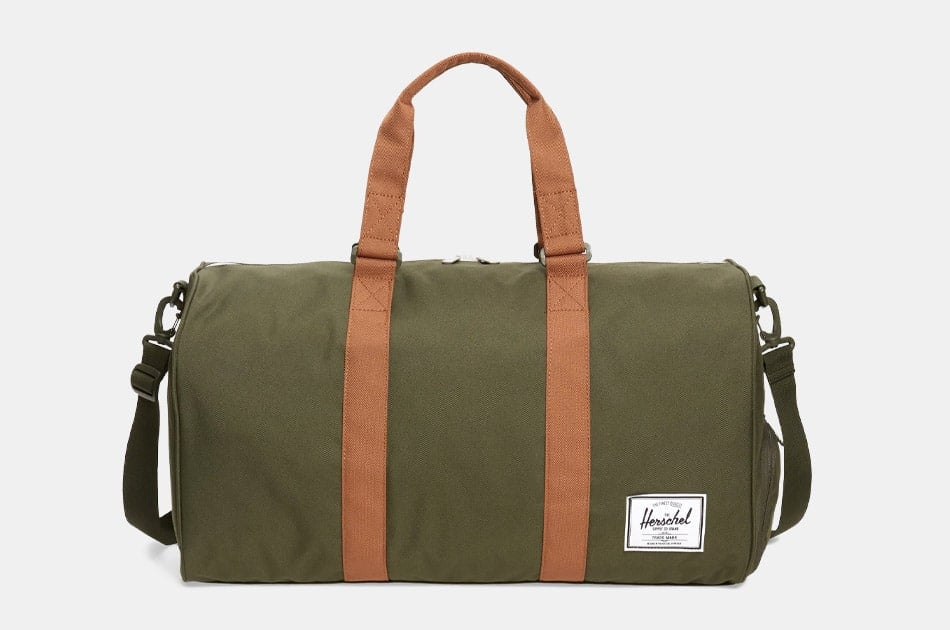 Herschel Supply Novel Weekender Duffel
Among bags that can get the job done subtly and stylishly, Herschel takes the cake. The Novel Duffle takes the nylon construction for which the brand is known and adds a super-handy and ingenious shoe compartment that can tidily pack your favorite pair of sneakers, a crisp chukka boot or a sharp set of leather Oxfords for day or night. Plus, the saddle leather handles and detailing add a new dimension to a bag that's understated and functional yet still stylish. And, you know exactly what type of bag you're getting thanks to the distinctive white logo patch, virtually synonymous with quality.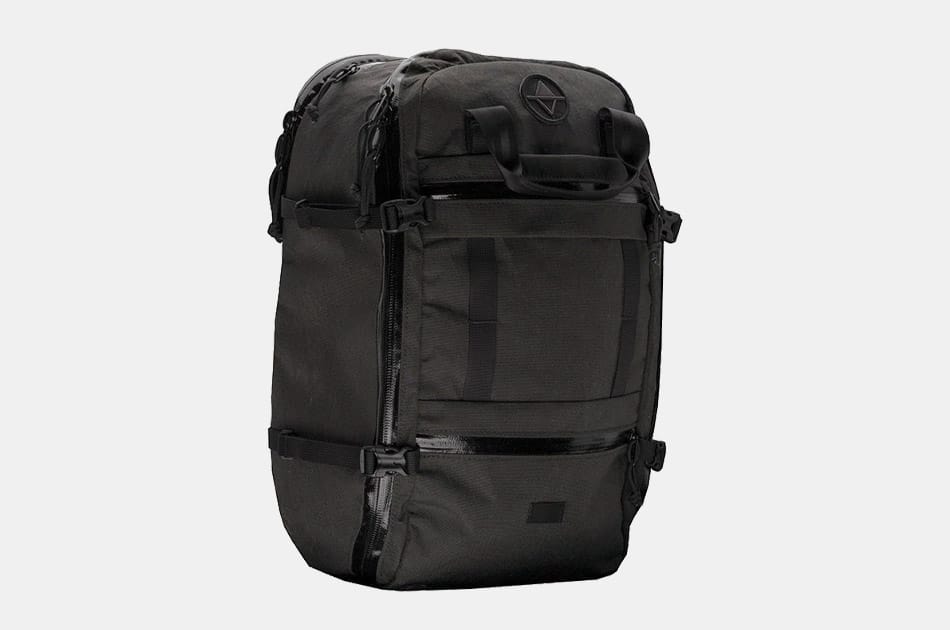 North St. Weekender Backpack
North St. Bags helpfully blends the adventure-ready with a city-focused sensibility, complete with vibrant color combinations and plenty of needed bells and whistles (but nothing additional that happens to be frivolous). Take the dual utility of the North St. Weekender Backpack, a two-for-one bag that's perfect for quick jaunts and more utilitarian, long-haul flights in equal measure. We'd recommend you pick it up just as soon as you can.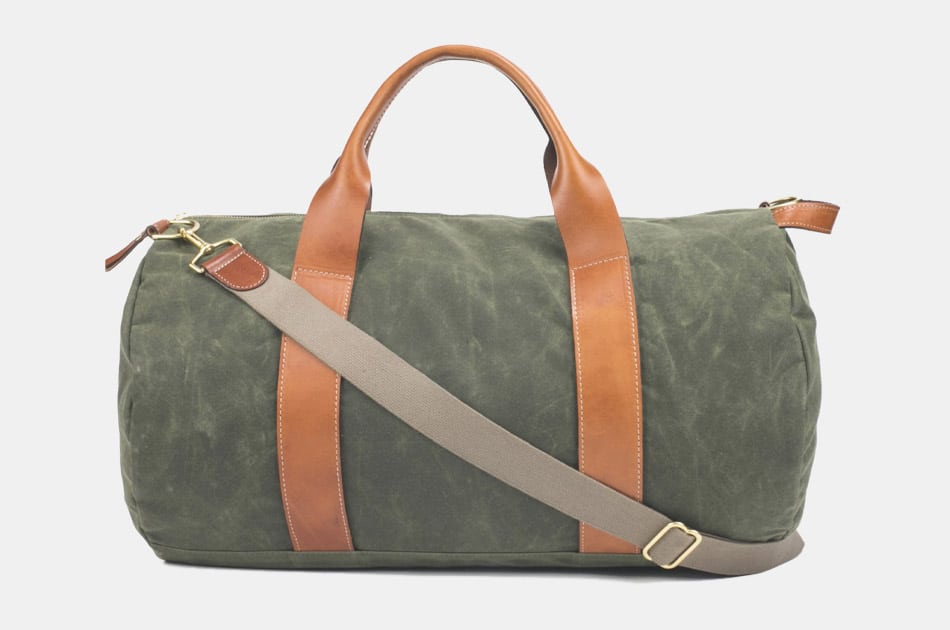 Boarding Pass NYC Voyager Waxed Weekender Bag
Boarding Pass's distinctive approach to excellent men's goods ("made great," as the brand says) is paying off in spades — particularly with the introduction of its new Voyager Waxed Weekender. As if the brand's functional, crisp aesthetic wasn't enough, this weekender bag also packs in some beastly specs, including waterproof and re-waxable 10oz. Martexin waxed canvas and harness leather straps that come from the likes of Wickett & Craig, one of the oldest tanneries in the country. Add in a navy twill lining that complements the bag's handsome exterior, and you've got one of the finest pieces on the market.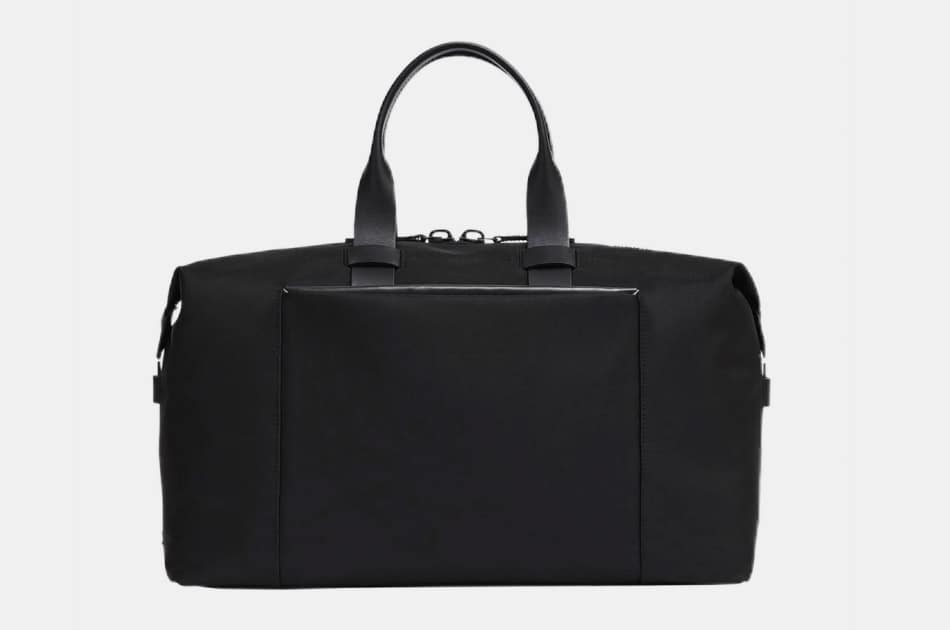 Adventure Troubadour Weekender
When it comes to making bags that blur the lines between exceptional functionality and luxury quality, Troubadour stands out — in a decidedly stellar way. The Fabric and Leather Duffle blends 100 percent natural, vegetable-tanned Italian leather with the more technical qualities you might expect to see in a bag built for the field, including rivet-reinforced straps injected with technical rubber, plus tough nylon. It's a heritage-quality duffle with the functional specs to make any head turn. A top flap, plus internal mesh side pockets, make it easy to access anything you might need on the go, from a premium pen to a nice dive watch.
Disclosure: Clicking on these links and making a purchase may earn us a small referral fee, at no extra cost to you. Learn more here.