The 20 Best Men's Quilted Jackets
The winter assuredly calls for an in-depth evaluation of your outerwear rotation — how many winter jackets do you have, and how many do you need? That's where we begin with our look at the best men's quilted jackets, an outerwear style that's rooted in functionality and sleek utility — yet also geared to provide some serious style points.
Coming from heritage brands and companies that are just cutting their teeth at this thing we call menswear, men's quilted jackets deliver on their promise of speedy style and performance. That is to say, when you just need to get out the door in a hurry — to evening cocktails or a day at the office — a quilted jacket is going to deliver on it's promise of dependable performance and standout style.
The quilted construction is a sleek way to insulate your body from the cold, and many of the best quilted jackets are adept at layering. That's the case whether you throw one on atop a thermal henley or layer it with a classic crewneck sweater. On your bottom half, the best men's quilted jackets wear ably with everything from slim chinos and leather chukka boots to durable moc toe boots and your toughest pair of chore pants. It's up to you to pick one out, now.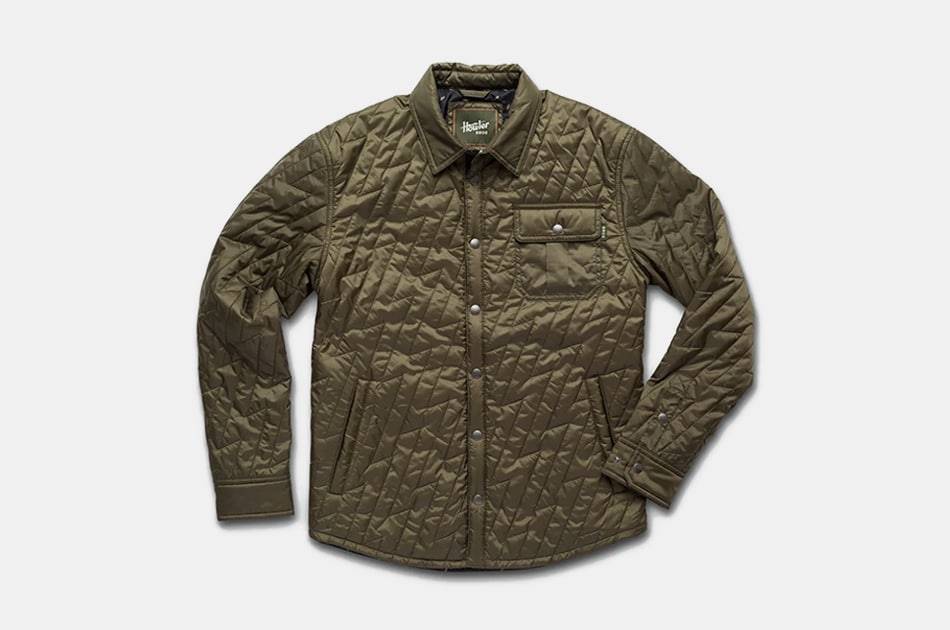 Howler Brothers Lightning Quilted Jacket
We know we can count on Howler Brothers to deliver gear that's at once outdoor-minded and performance-ready, yet highly stylish. That's just what the brand does, and that's what makes the Lightning Quilted Shirt Jacket such an essential — it's as ready for a day hike as it is for an evening at your favorite brewery, and it's stylish and versatile enough to tackle both of those challenges in the same day. Water-resistant micro-ripstop fabric gives it the ability to stand up to fall's harsh elements, while the reliable fit remains easy to layer atop your favorite henley.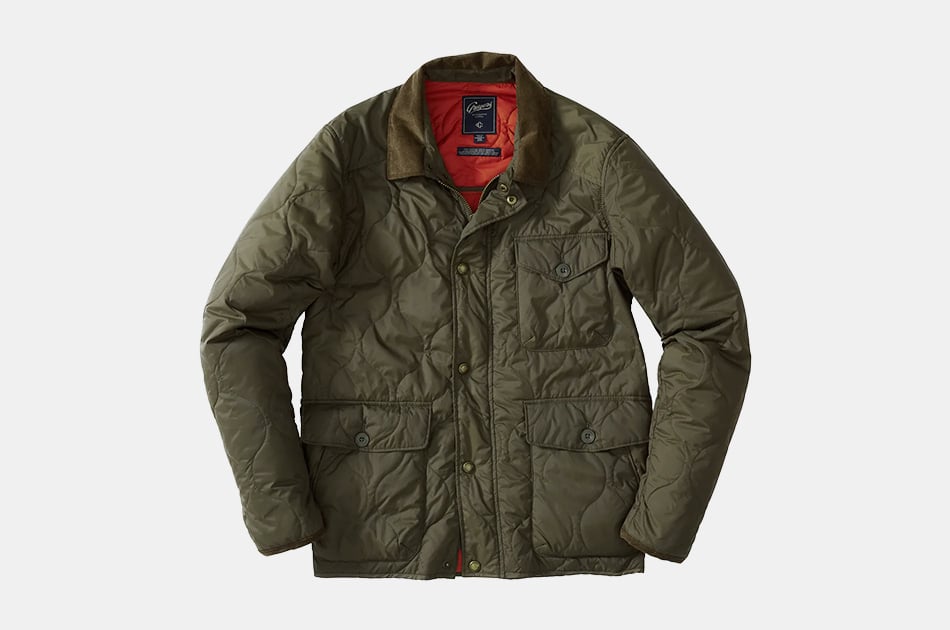 Grayers Andrew Lightweight Quilted Jacket
We appreciate what Grayers brings to the table in terms of the expert construction of shirting, chinos & sweaters — it's refreshing to see that the brand hasn't slipped up when it comes to reliabel outerwear, either. The Andrew Lightweight Quilted Jacket from Grayers features the kind of straightforward subtly stylish-yet-classic look for which the brand is known — that makes it one of the best men's quilted jackets, in our opinion.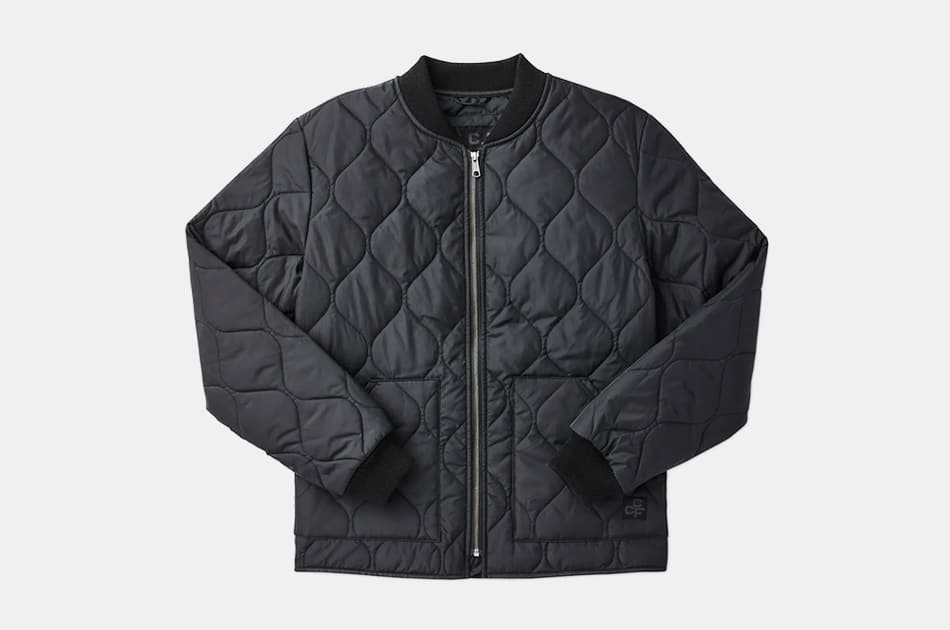 Filson C.C.F. Lightweight Quilted Jacket
For as much as Filson is known for heavier, burly outerwear and flannel shirting (not to mention tough work pants), the brand's C.C.F. line takes things a different direction while still maintaining the quality for which Filson is known. Take the C.C.F. Lightweight Quilted Jacket, a modern interpretation of the classic quilted jacket, made with more mobility and seasonal performance in mind. This is assuredly one of the best quilted jackets out there, and with its lighter weight, it could also reliably serve as a terrific travel jacket.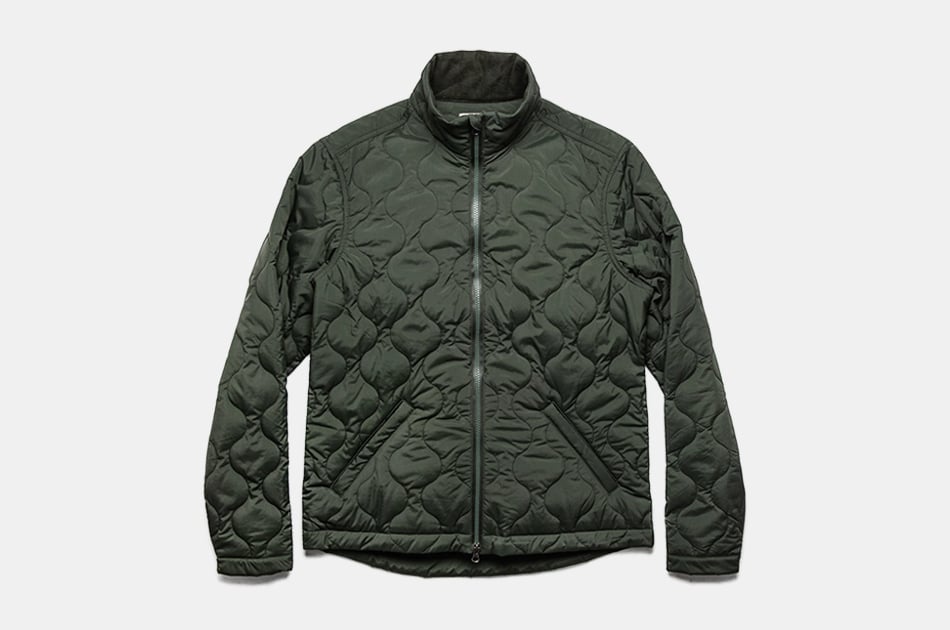 Taylor Stitch Vertical Jacket
When it comes to the best quilted jackets — indeed, the best jackets for men, period — Taylor Stitch always, always delivers. This we can be sure of, and pieces like the handsome, darn-near-essential Taylor Stitch Vertical Jacket make that quite plain. The Vertical Jacket is lightweight and easy to layer, yet exceptionally warm, crafted with tough nylon featuring warm organic cotton brushed twill inserts at the cuffs and collar for extra warmth. It's also water-repellent and finished off with recycled polyester, also critical when it comes to keeping you warm this season. It's yet another great effort from Taylor Stitch.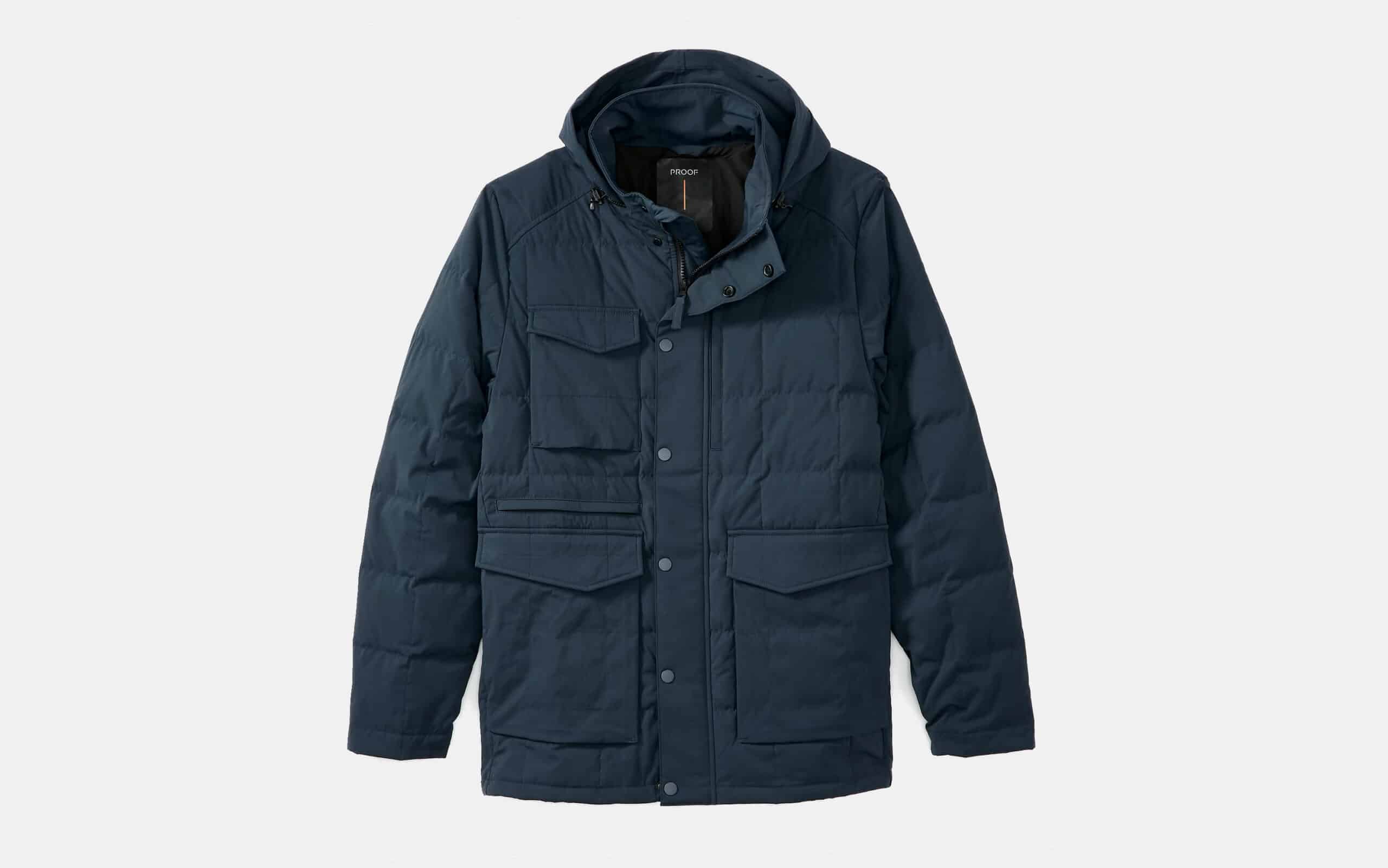 Proof Quilted Field Jacket
Proof delivers the goods in terms of style that's uniquely suited for the city and the great outdoors, and the sleek-yet-tough Proof Quilted Field Jacket is as fine an example of that approach as we've seen. The pairing of an insulated shell with a weather-ready exterior perfectly merges form and function, and this tough field jacket also comes complete with a hood that can be stowed away when you're not using it to brave the cold. For everyday wear, you also can't go wrong with the versatile shade of navy this jacket features.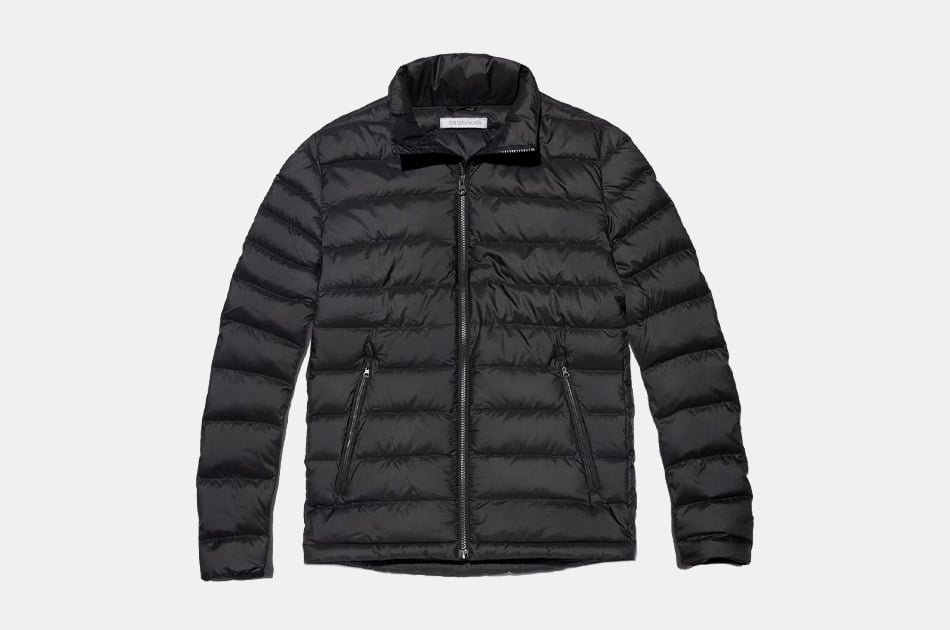 Outerknown Puffer Jacket
When you want a tough quilted jacket, and one of the best quilted jackets at that, it only makes sense that you're going to want to turn toward a brand that knows a thing or two about stylish, tough outerwear. That brand, my friends, is Outerknown, and it's through picks like the sleek-yet-functional Outerknown Puffer Jacket that they've built a name worth remembering. For this durable puffer jacket, Outerknown uses both recycled polyester and responsible down, to go along with plenty of color options.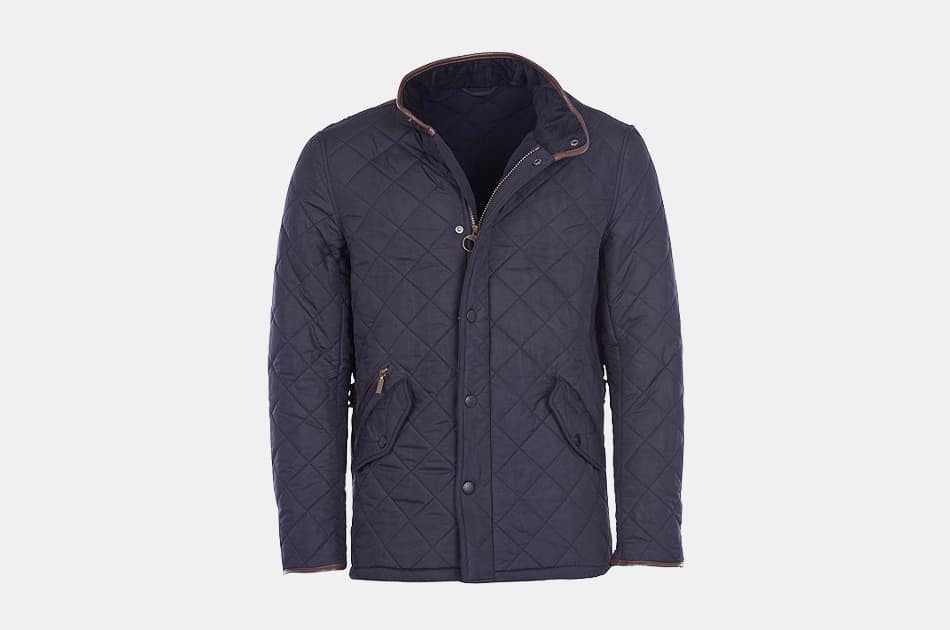 Barbour Powell Quilted Jacket
If you've read or researched something so wide-ranging as men's quilted jackets or field jackets, perhaps you're familiar with the legendary outerwear being churned out by Barbour, consistently. The Powell Quilted Jacket lives up to the lauded brand's lineage, lined with fleece and featuring classic details like a corduroy-lined collar. Pick it up if you happen to be venturing into the highlands this winter.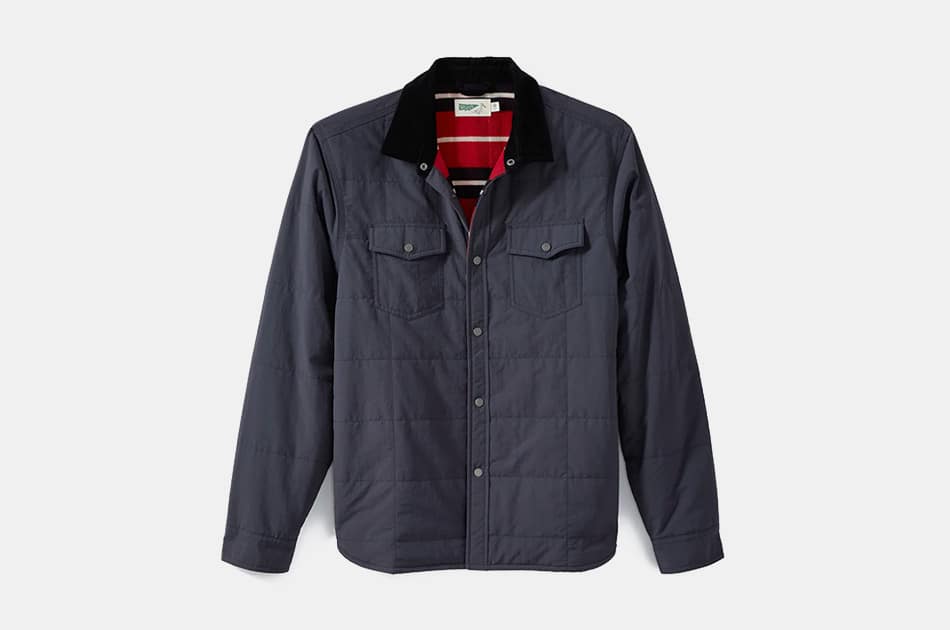 Wellen Quilted Shirt Jacket
Not yet familiar with the Wellen brand as crafted by the fine folks at Huckberry? Now's your chance to get acquainted, and it's quite the stylish chance, at that. The Wellen Quilted Shirt Jacket carries through the ethos of the Wellen brand, including sustainable style and rugged good looks, without missing a beat — it's naturally well-suited for the digital pages of Huckberry's site in that regard. We particularly love the wind-resistant recycled nylon shell (along with the Olive color) and applaud the use of thick flannel lining.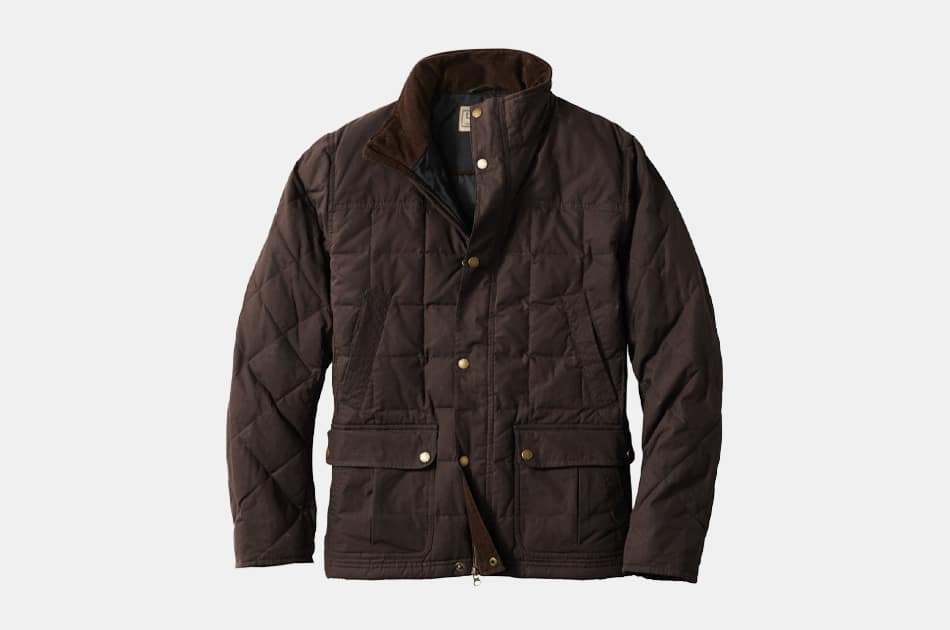 L.L. Bean Upcountry Waxed-Cotton Down Jacket
We often talk about brands that make products that are practically crafted to be mixed and matched — take L.L. Bean, what with the brand's stellar "Bean Boots" and now, handsome, rugged jackets like the Upcountry Waxed Cotton Down Jacket. It's every bit as well-made as the brand's essential winter boots, with a classic fit, the use of DownTek fill and a classic corduroy collar. You really can't go wrong with that combination.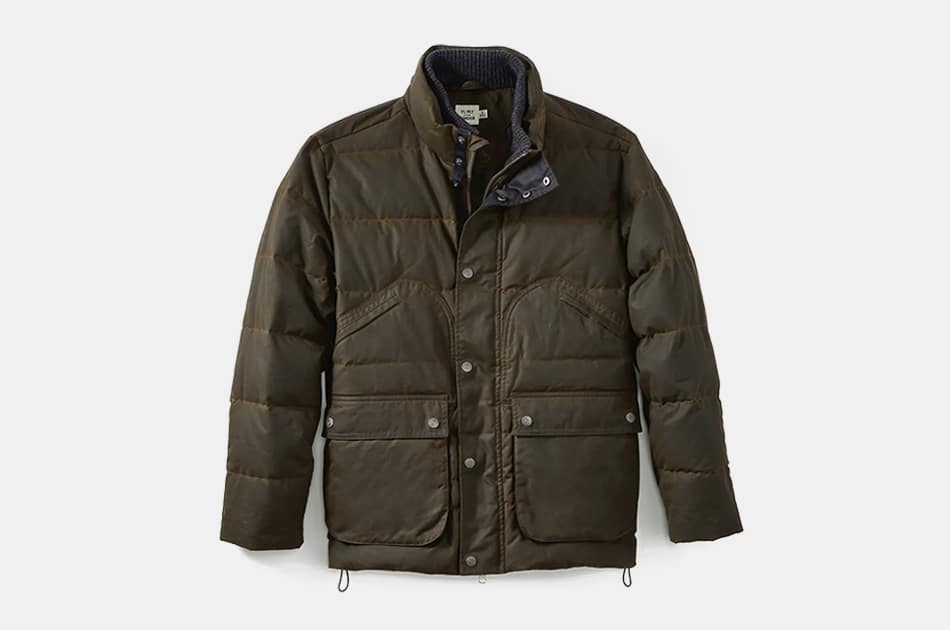 Flint and Tinder Quilted Waxed Field Jacket
When the nasty winter weather simply won't quit, and yet your job still calls, the Flint and Tinder Quilted Waxed Field Jacket is the one to buy to get the job done — and then some. Made the classic Flint and Tinder way with ridiculously tough British Millerain waxed canvas and featuring an easy-to-layer fit, it's one of the best men's quilted jackets for a reason — it never compromises quality.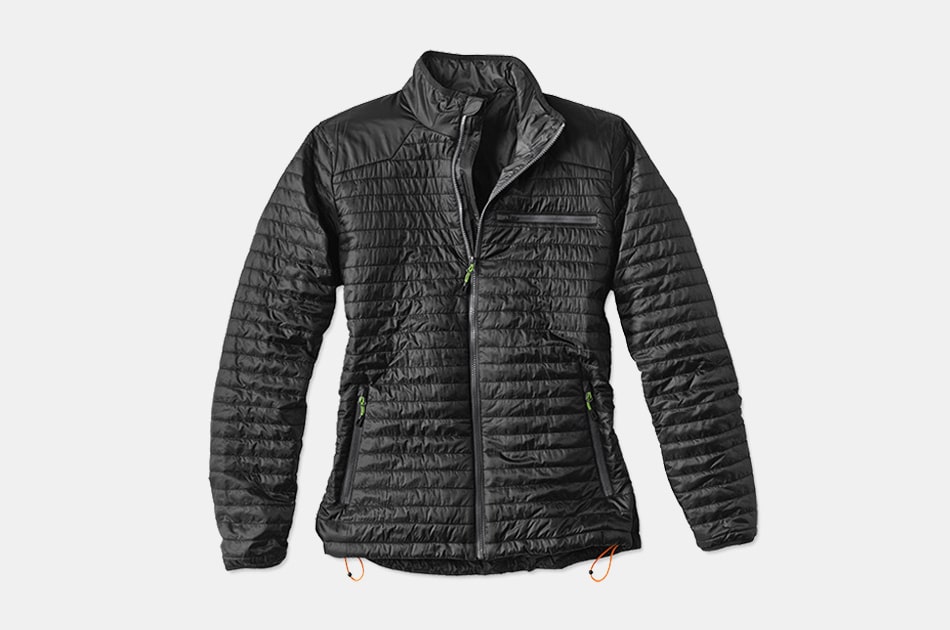 Orvis Drift Jacket
Orvis takes on the lightweight outerwear game with the easy-to-pack, easy-to-wear Orvis Drift Jacket. Made for the guy on the go who can't be bothered with an overly bulky jacket, the Drift Jacket might just be the perfect jacket to get from point A to point B, made with Primaloft Gold fill and built with neat details like contrast zippers, plus neutral color options.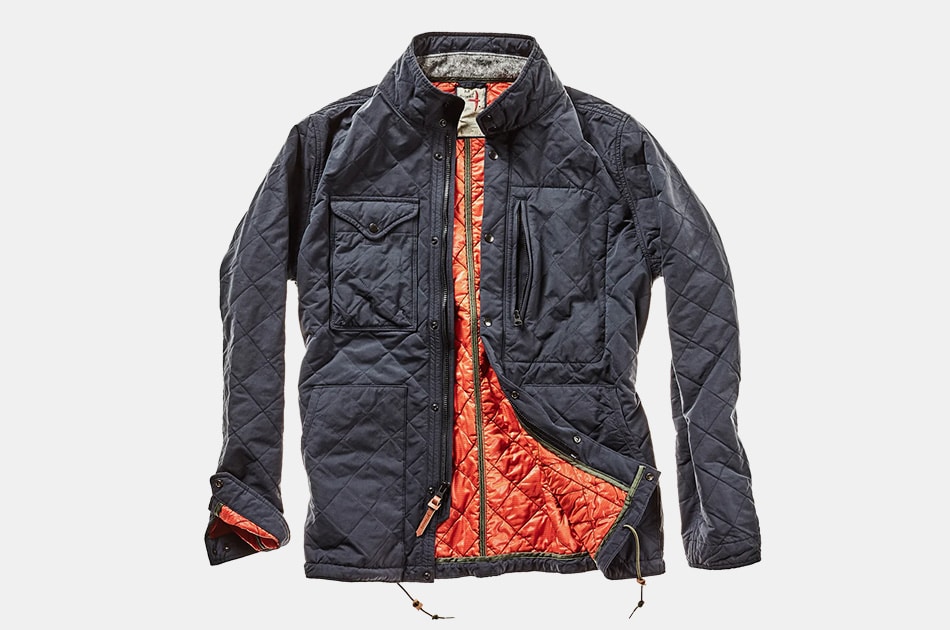 Relwen Quilted Tanker
Taking inspiration from the bold-yet-utilitarian styles of the military, the Relwen Quilted Tanker is a fine addition to the brand's line of modern essentials — and a fine addition to your menswear wardrobe. It's the perfect jacket to throw on for travel, packed as it is with pockets and sleek style in equal measure. Wear it on a cross country jaunt or an international flight in place of a blazer, seeing as it can handle all of your everyday carry essentials with ease.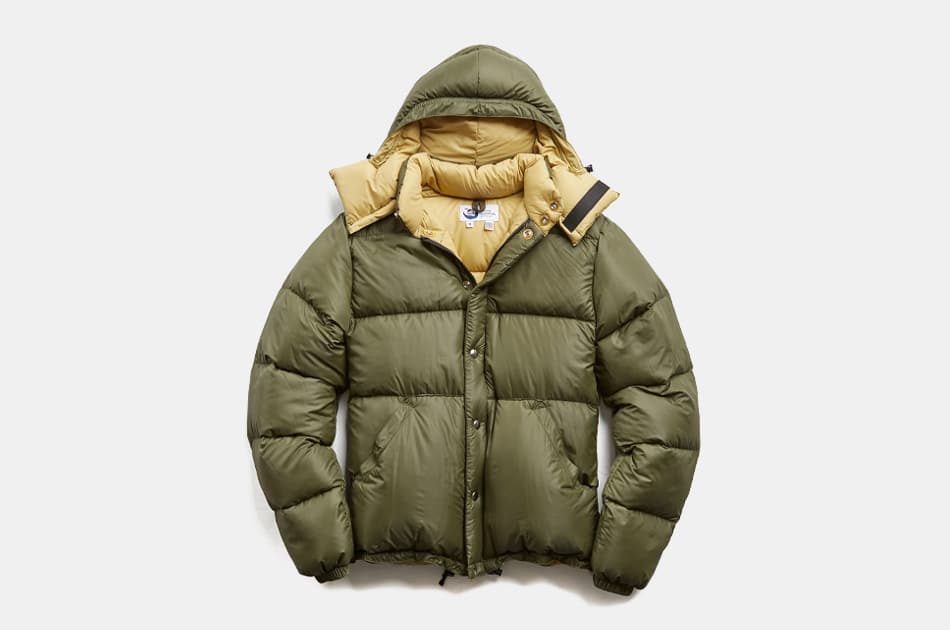 Crescent Down Works x Todd Snyder Olive Nylon Short Jacket
Is there anything that Todd Snyder can't do as a brand? The American menswear designer's ongoing partnerships with brands he admires, from Timex to this pairing with Crescent Down Works, really is admirable — and when the results are as dependable and stylish as the Olive Nylon Short Jacket, we can't complain at all. The brand says it's the "perfect puffer cold weather,"' and we couldn't agree more.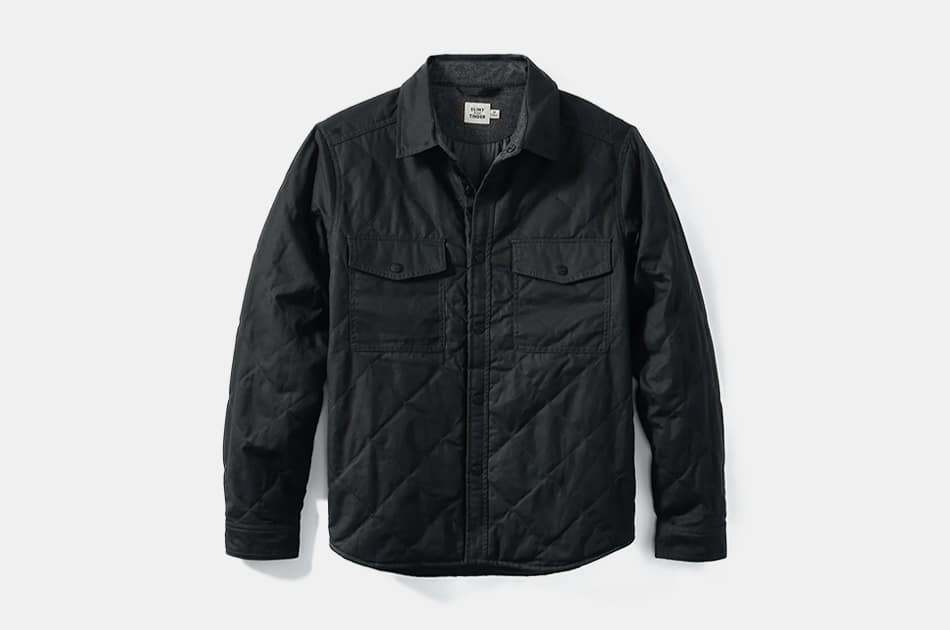 Flint and Tinder Quilted Waxed Shirt Jacket
Flint and TInder is another favorite of ours as made and sold by Huckberry, and with good reason — the brand always seems to get the small details right, from its well-made basics and rugged henleys to its iconic Waxed Trucker Jacket and of course, the Quilted Waxed Shirt Jacket seen here. The diamond quilting is sturdy and durable, while the Brown color provides holiday-friendly layering potential atop a forest green crewneck. Add in classic touches like chambray collar detailing and side pockets for your EDC, and you've got a jacket that's as ready as can be for cold weather.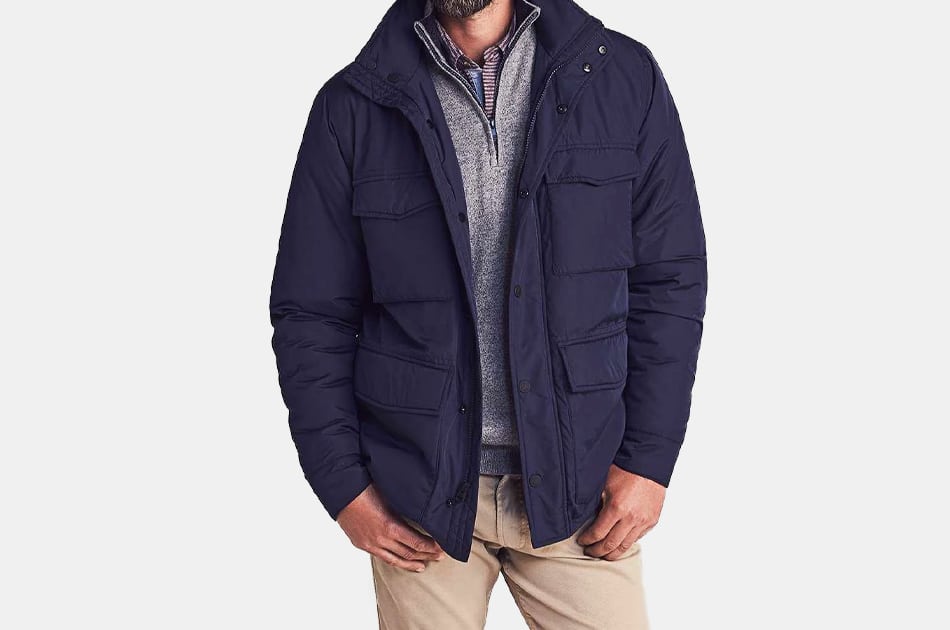 Faherty Quilted Thompson Field Jacket
We appreciate the approach to rugged style and tough performance that Faherty Brand brings to the table (and to our wardrobes), and it's helpful that the brand does this all with an air of laidback cool that really can't be topped. Maybe it's the brand's surf-inspired and coastal designs, but that doesn't mean they can't churn out one of the best men's quilted jackets — like the Quilted Thompson Field Jacket — with the best of them. The water-resistant cotton-poly blend is geared to stand up to anything, so you can be sure it's ready for the rest of fall and winter.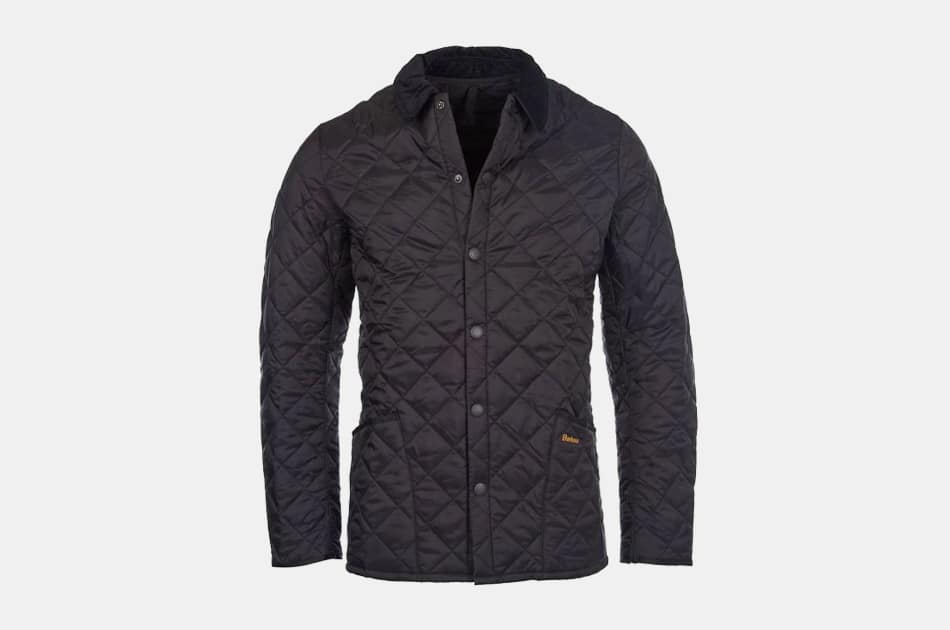 Barbour Heritage Liddesdale Quilted Jacket
The simple-yet-sharp navy color and functional diamond quilting of the Barbour Heritage Liddesdale Quilted Jacket are two touches you expect (and need) from Barbour — this handsome jacket is essential for exploration in the field (or in town) this winter.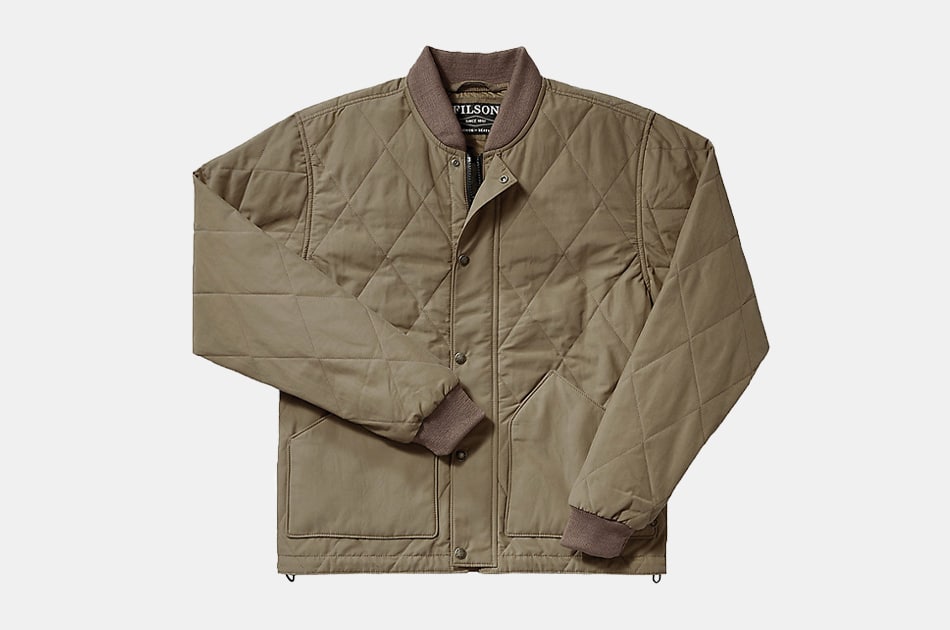 Filson Quilted Pack Jacket
Available in a new shade of what the brand calls Sportsman Tan, the Filson Quilted Pack Jacket is many things at once: Durable, rugged, versatile and yes, still stylish. We love that Filson makes all of its gear with the same uncompromising attention to detail, and this quilted jacket is no different. Cut in a classic bomber style in a nylon-cotton blend and filled with warm Primaloft insulation, it's a jacket that'll do as well in the field as it will at your favorite watering hole.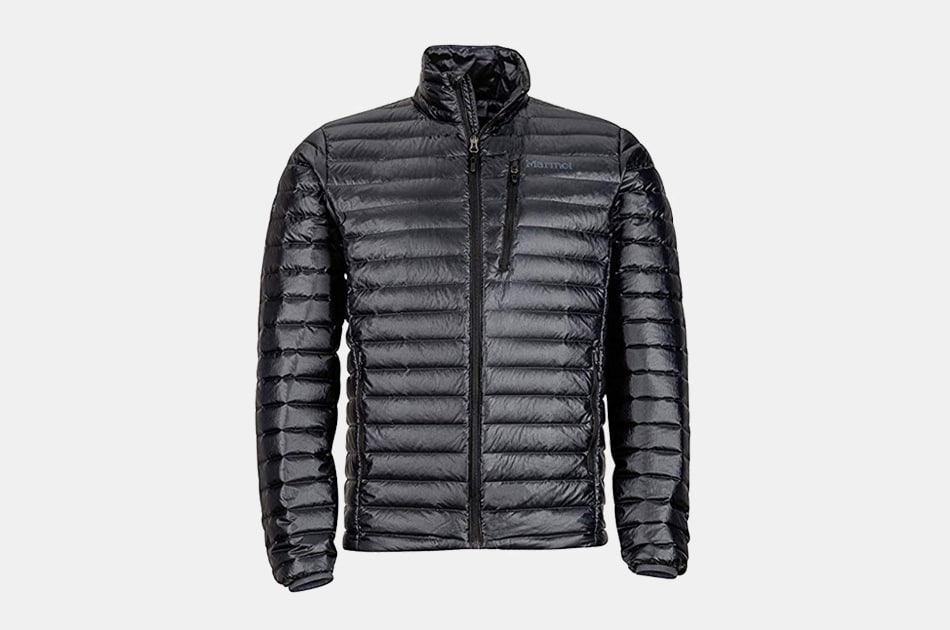 Marmot Quasar Nova Jacket
Marmot is a brand that sometimes tends to fly under the radar, but if you happen to get out and about, off-trail or off-road, in one of the brand's functional jackets, you know Marmot can provide functionality and style with the best of 'em. The Quasar Nova Jacket features 800 power fill goose down, for plenty of warmth in plenty of situations.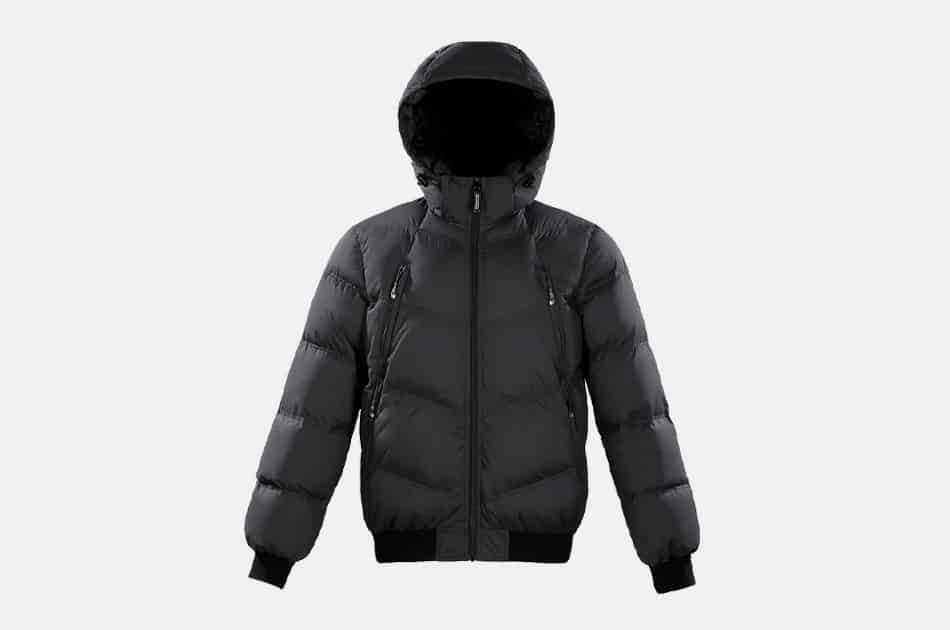 Triple F.A.T. Goose Reizen Puffer Down Jacket
Triple F.A.T. Goose has experienced a resurgence of sorts in recent years, and it's with good reason that a favorite jacket brand from the '90s is now popular again — Triple F.A.T Goose makes some of the toughest, warmest parkas on the market, and this Puffer Down Jacket is no different. We appreciate the slick black color and a hood that adds plenty of protection from winter's worst storms.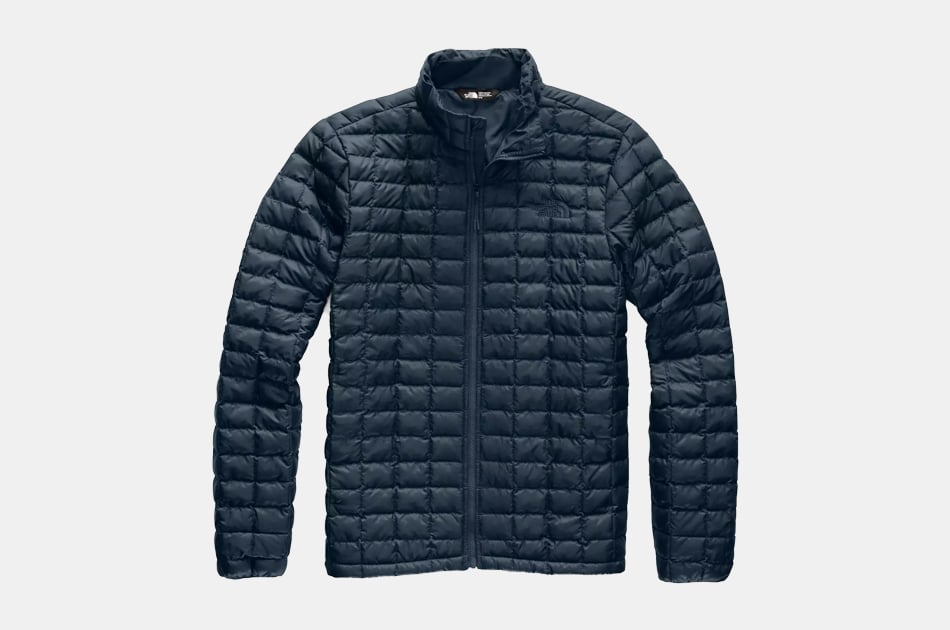 The North Face ThermoBall Eco Jacket
The winter months call for you — and all of us, really — to step up to the plate when it comes to reliable outerwear that performs in many a gnarly winter storm. The ThermoBall Jacket, while not made to scale mountains, is a warm layer that features a slim fit and ThermoBall insulation for added warmth when it. Use it as a reliable travel or rainy-day backpacking jacket.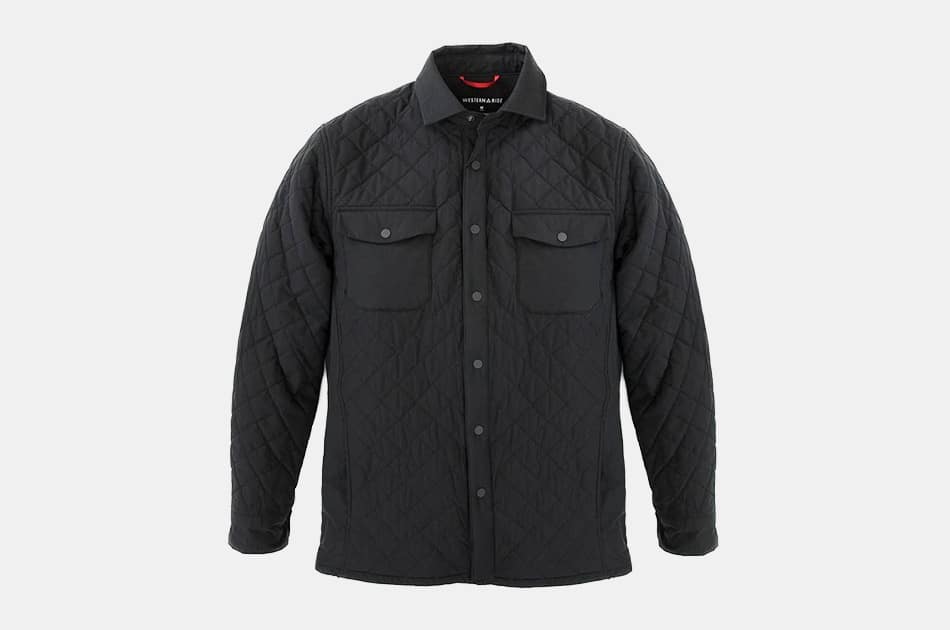 Western Rise AirLoft Quilted Jacket
The great thing about the best men's quilted jackets is the type of versatility they provide, including the ability to layer up like a shirt jacket atop your favorite winter shirting — that's at least what the Western Rise AirLoft Quilted Jacket can do. It's the AirLoft insulation — imbued with four-way stretch for high performance — that makes all the difference, sitting at the intersection of warmth and flexibility. It's another one of the best jackets for winter travel, and it can go anywhere you need it to (and then pack up back into itself along the way).
Disclosure: Clicking on these links and making a purchase may earn us a small referral fee, at no extra cost to you. Learn more here.