The 18 Best American-Made T-Shirts
T-shirts have become so commonplace in our wardrobes that they almost blend into the background. Short of an explosively colorful graphic T, it's not often that the humble T-shirt gets much attention as anything but a casual throw-it-on-anytime top.
We think that's a real shame, because the difference between a good t-shirt and a great one feels like the ultimate everyday upgrade. With that in mind, we searched high and low to find the 18 best American-made t-shirts—representing a wide range of cuts, fits, and prices sure to suit your fancy. Spend a few extra bucks on one of these tees, and you'll quickly find yourself wanting to replace your closet with something higher quality and more comfortable.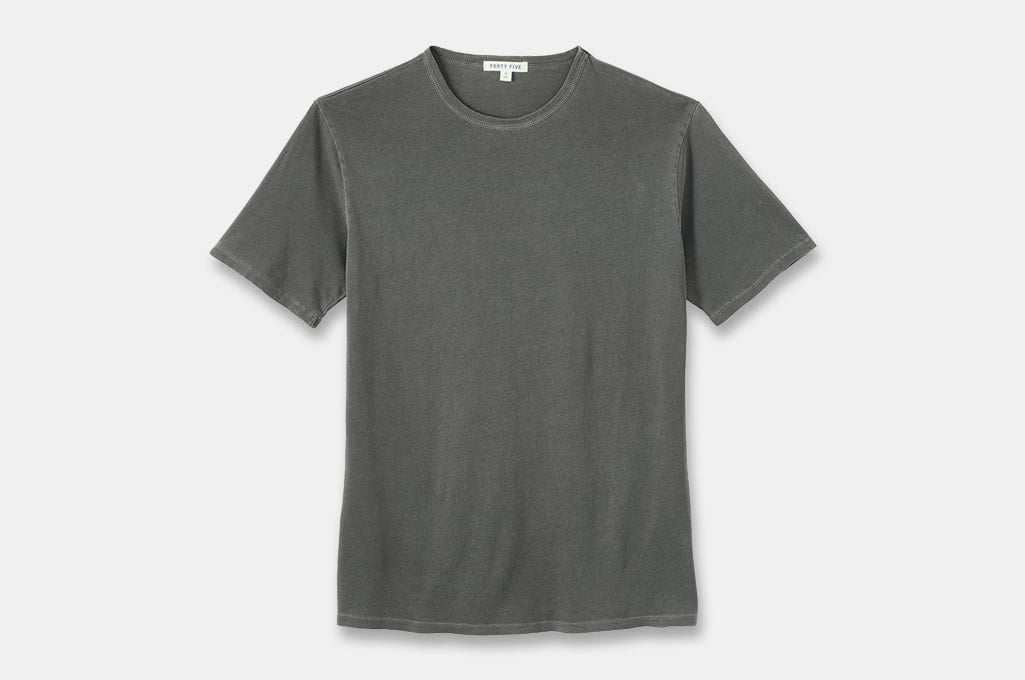 Forty Five Supima Crew Tee
A company named after the 45 RPM record is really on the nose for capturing the vintage Americana feel—and Forty Five's Supima Crew Tee feels like just as much of an instant classic as its namesake record. The supima cotton it's made from is crazy soft and more durable than standard cotton, and better yet, it's grown entirely in the USA. Garment-dyed and preshrunk, it'll feel like your old favorite shirt from the moment you put it on.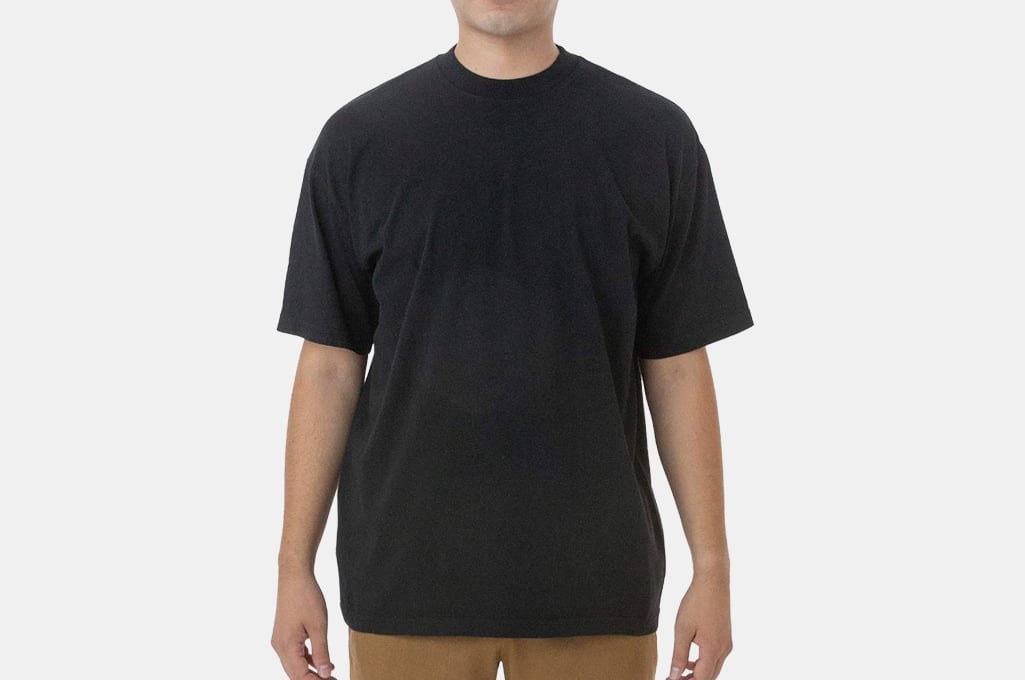 Los Angeles Apparel 6.5oz Garment Dye Crew Neck T-Shirt
Los Angeles Apparel makes a bold statement with their garment-dyed crew neck t-shirt: That it will "cause a thematic shift in the t-shirt industry." But honestly, they might be right. The heavyweight cotton is almost unheard of in t-shirts, and it offers unparalleled absorbency and shrink resistance. This makes it unlike any other t-shirt we've seen, with a buy-it-for-life feel that's the polar opposite of fast fashion. Keep an eye on this company, as it's poised to shake things up for men's essentials.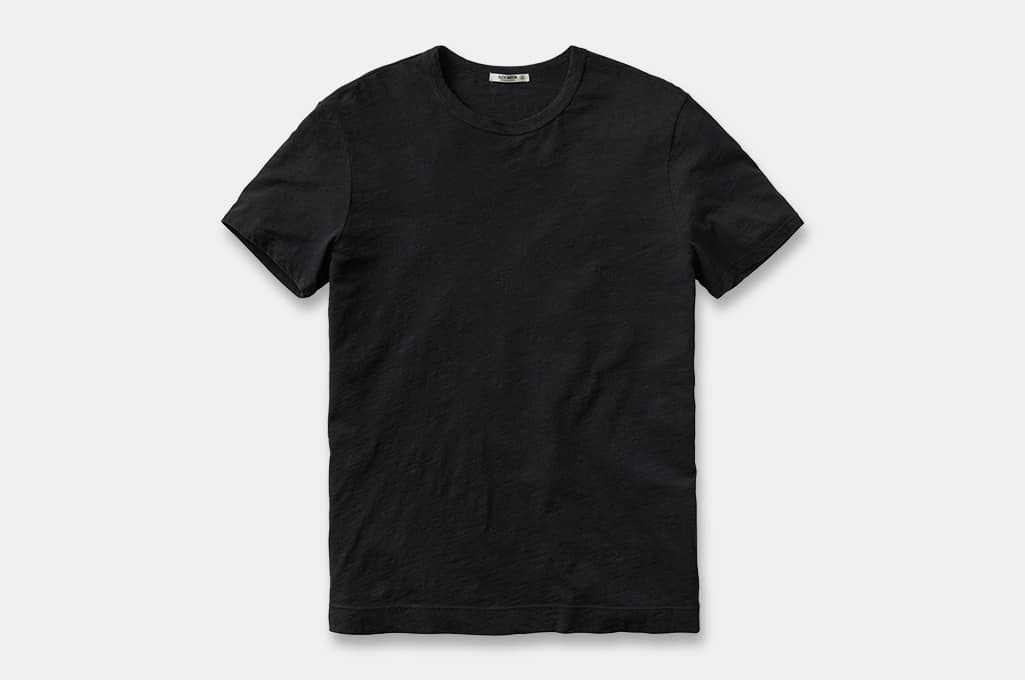 Buck Mason Black Slub Classic Tee
At some point in history, basically all cotton fabric was slub cotton—the kind that looks and feels like it has small, natural lumps in it. And while most T-shirt designers stay away from this "coarser" fabric, Buck Mason puts it to great use in making a tee that feels like a real vintage piece. It's cut straight to further emphasize that old school feel, and has shorter sleeves for those sun's out, guns out days.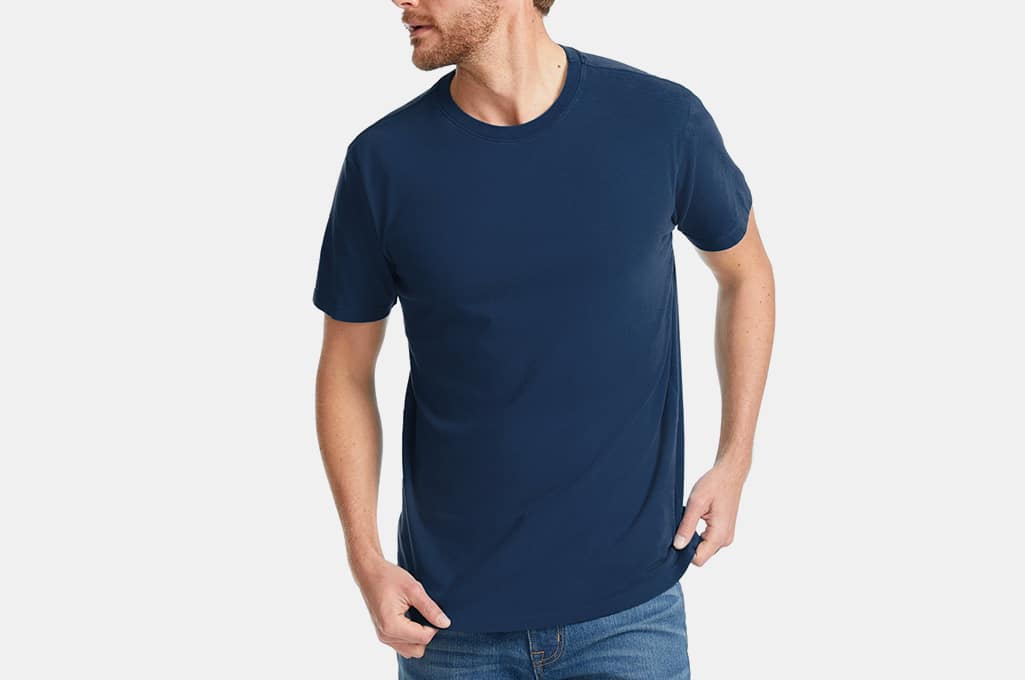 American Giant Classic Cotton Crew T
Advertised as "vintage from day one," American Giant's Classic Cotton Crew T lives up to the hype. It's pre-washed and -shrunk, and made with a sturdy 4.8 ounce cotton fabric. Double needle straddle-stitching makes it durable as heck, and the interior neck taping means it'll be itch-free for eternity. And with eight different classic colors to choose from, there's no shortage of options for pairing these tees with your favorite outfits.
Brooklinen Prospect Tee
Modal, in case you haven't heard of it, is the hottest new kid on the contemporary textile scene. Made from beech tree pulp, it has the right balance of stretch and soft—and an added bonus of being odor-repelling and antimicrobial. Brooklinen's Prospect Tee uses an approximate 50/50 blend of jersey cotton and modal, making for a shirt that's hella comfy, ultra soft, and keeps its shape well wash after wash.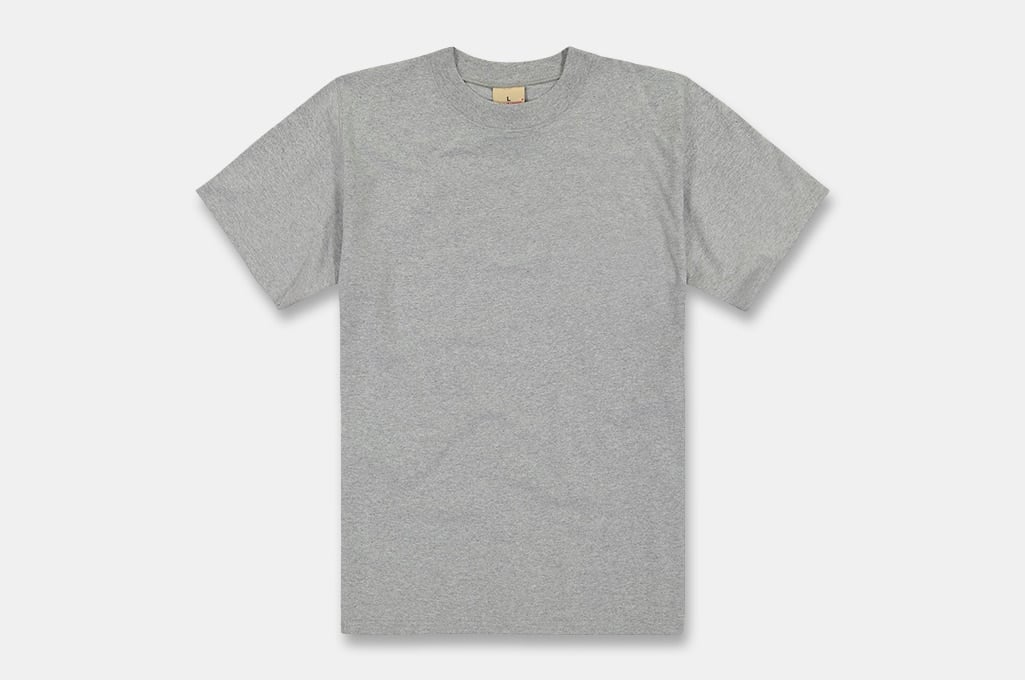 Goodwear Adult Short Sleeve Crew Neck Classic Fit
If you're looking for a single t-shirt style in the widest range of colors, Goodwear's Adult Short Sleeve Crew Neck is a solid option. Available in 12 gorgeous colors, each of these tees is made with a heavy duty 7.2 ounce cotton fabric. That means they're durable and absorbent, and do a better job of keeping their shape than almost any other t-shirt. And the cotton is all sourced from members of the Fair Labor Association & Cotton USA, so you know it's doing good in the communities it's purchased from.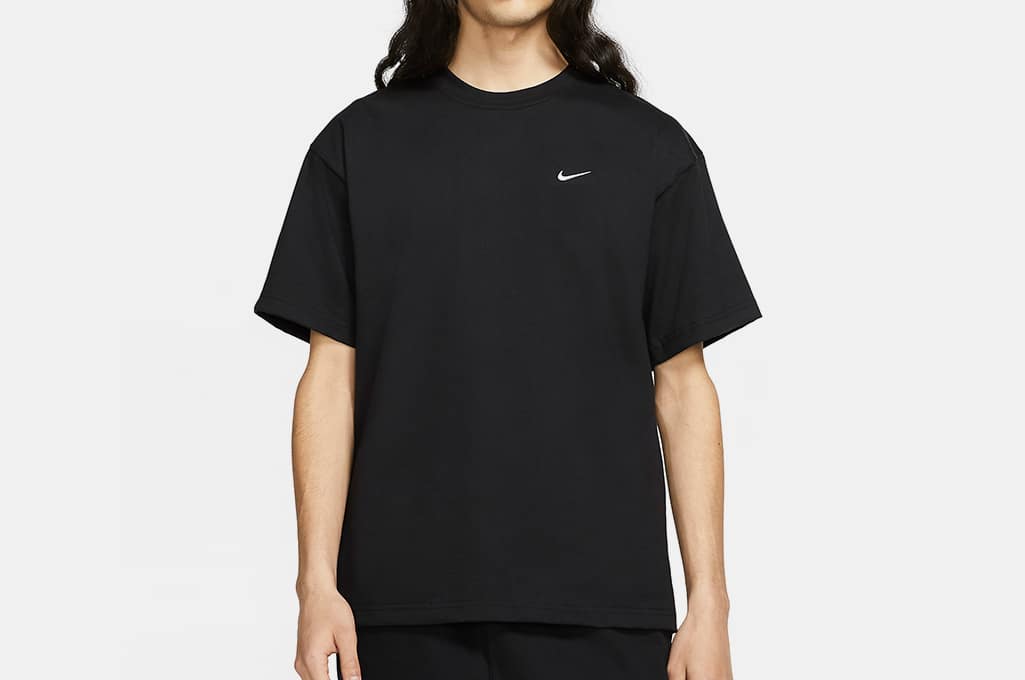 Nike Made in the USA T-Shirt
See the Nike swoosh, and you immediately think: "Just Do It." That's the power of this iconic brand, and it's given a reserved treatment with their Made in the USA T-shirt. Black is the color of choice for a classic look, but the bright orange seasonal is an excellent choice for standing out amongst layers. Pair it with a couple other pieces of Nike gear, and you'll be in high fashion on a reasonable budget.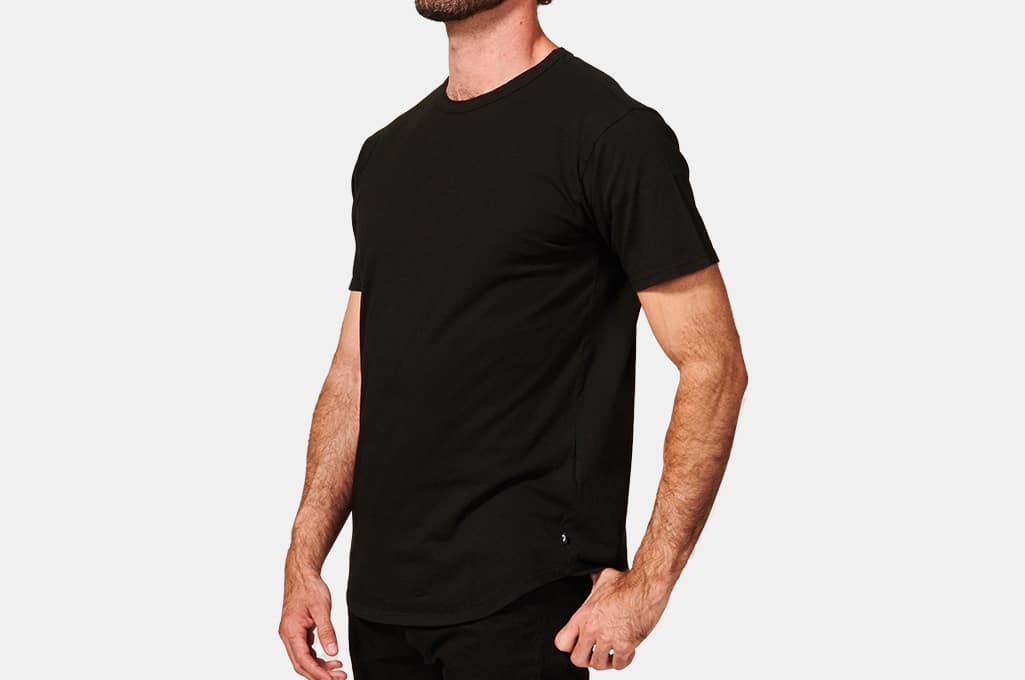 Rustic Dime Dime Tee
It's rare to find a pima cotton tee that's as affordable as Rustic Dime's, and as well made. They're garment dyed and pre-shrunk, guaranteeing that the slim fit will remain true as long as you're wearing it. Super soft and ideal for everyday wear, they're my tee of choice for replacing an old wardrobe with a new one. And their straight hem style and fitted cut give them a classic look that's timeless and classy.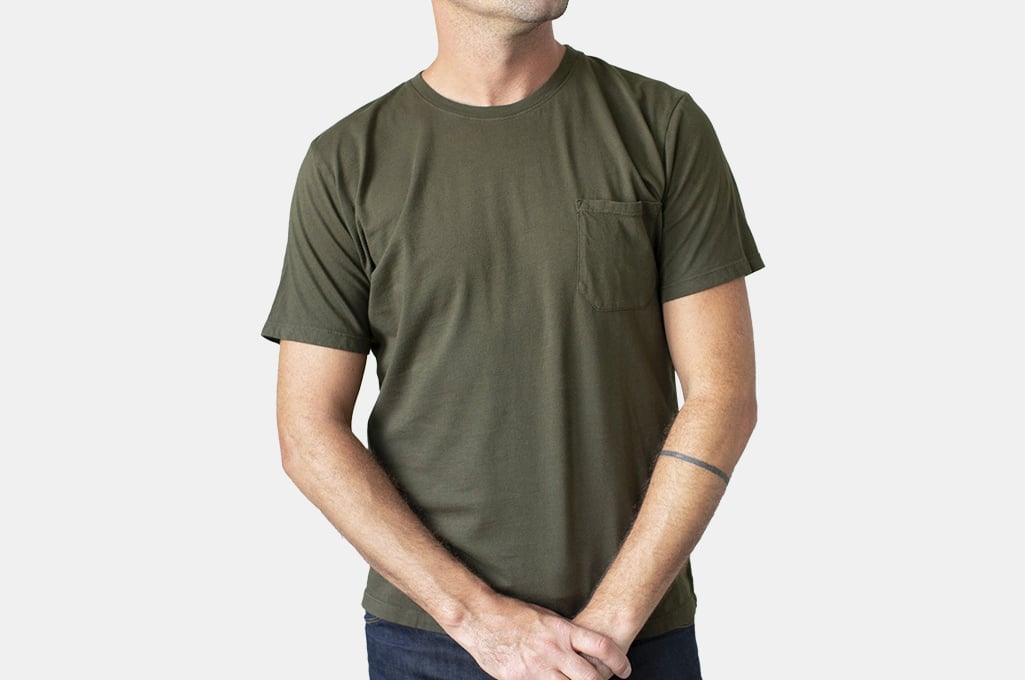 Raleigh Denim Workshop Organic Pocket Tee
So here's the deal: Whenever Raleigh Denim Workshop commits to making a new garment, they go hard. Their jeans are some of the best you'll find in America, with denim from the U.S.'s most well-regarded cotton producers. And their Organic Pocket Tee has just as much attention to detail as any of their other clothing options—it was in development for five years for god's sake. It's perfectly in the middle of everything, with its sleeves and hem just the right lengths and a medium-weight fabric that's comfortable but not smothering.
All American Clothing Co. 60/40 T-Shirt
Cotton/polyester blends get a lot of flack because they're often used in bottom-of-the-barrel clothing applications. But with a little care and attention, a solid blend of cotton and polyester can yield an affordable and durable t-shirt. That's exactly what All American Clothing Co. is doing with their 60/40 T-shirt—a super soft and durable classic that comes in at about half the price of most t-shirts on this list.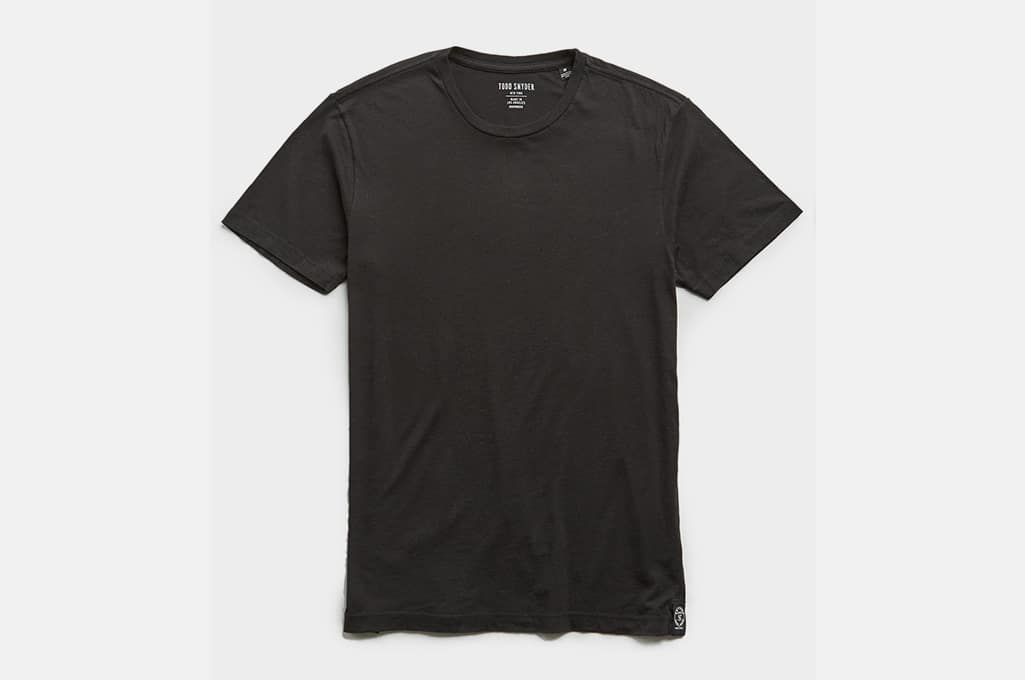 Todd Snyder Made in L.A.Premium Jersey T-Shirt in Black
New York-based designer Todd Snyder produces some of the nicest and most presentable wardrobe essentials you'll ever find. With production out of their Los Angeles workshop, they both support local economies and continually set guys up with some of the finest staples, and this Jersey T-Shirt is a perfect example. It's made with an athletic fit and garment-washed for great color and long-lasting durability.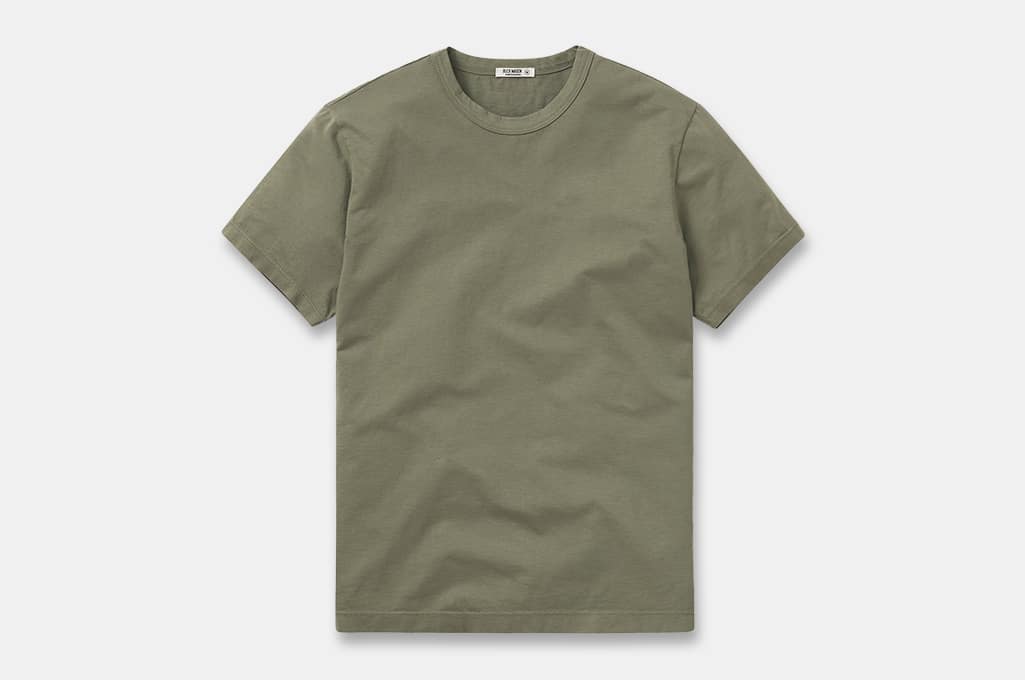 Buck Mason Pima Classic Tee
Did you know that there are different varieties of cotton, each with their own unique properties? The main difference between cheap cottons and nicer ones comes down to the length of their individual fibers—and pima cotton is among the longest (and therefore softest) of all cotton varieties. Buck Mason puts this to good use in their Pima Classic Tee, a vintage-inspired shirt with a modern material that makes it soft and durable.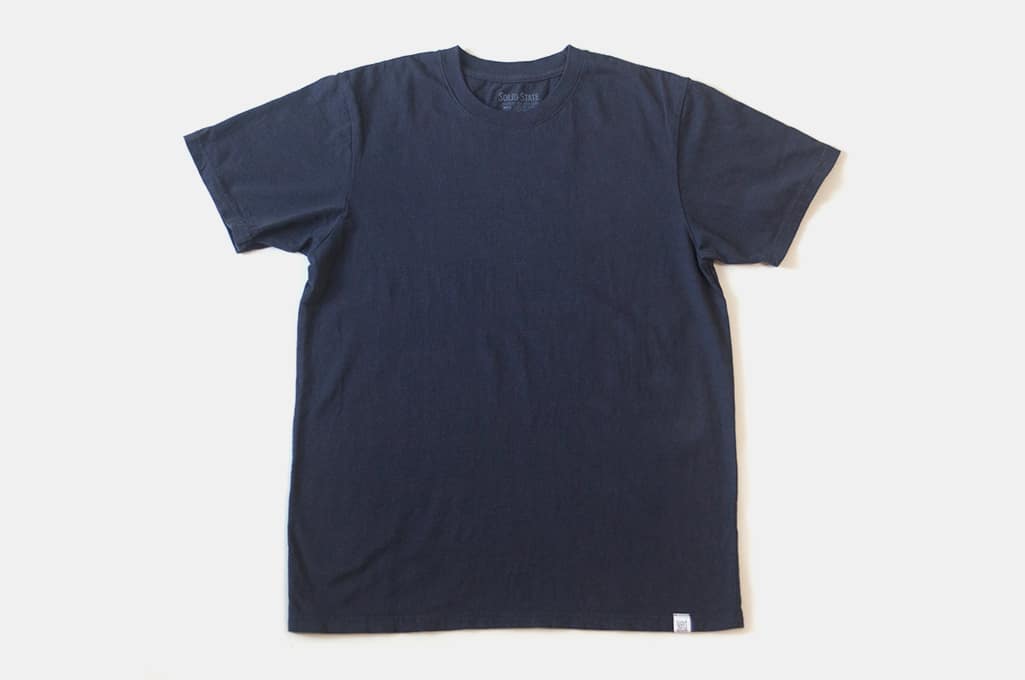 Solid State Clothing The North Carolina Cotton T-Shirt
We've become accustomed to paying attention to the sources of our foods—organic, pasture-raised, and so on. But what about the origins of the plants that get turned into our clothes? Solid State Clothing puts cotton under a microscope with their North Carolina Cotton T-Shirt. In fact, a unique QR code label on each t-shirt lets you track the making from dirt to shirt for every single garment the company produces. Far from just being cool, this ensures that your money is going towards improving the quality of life right in your own country and communities.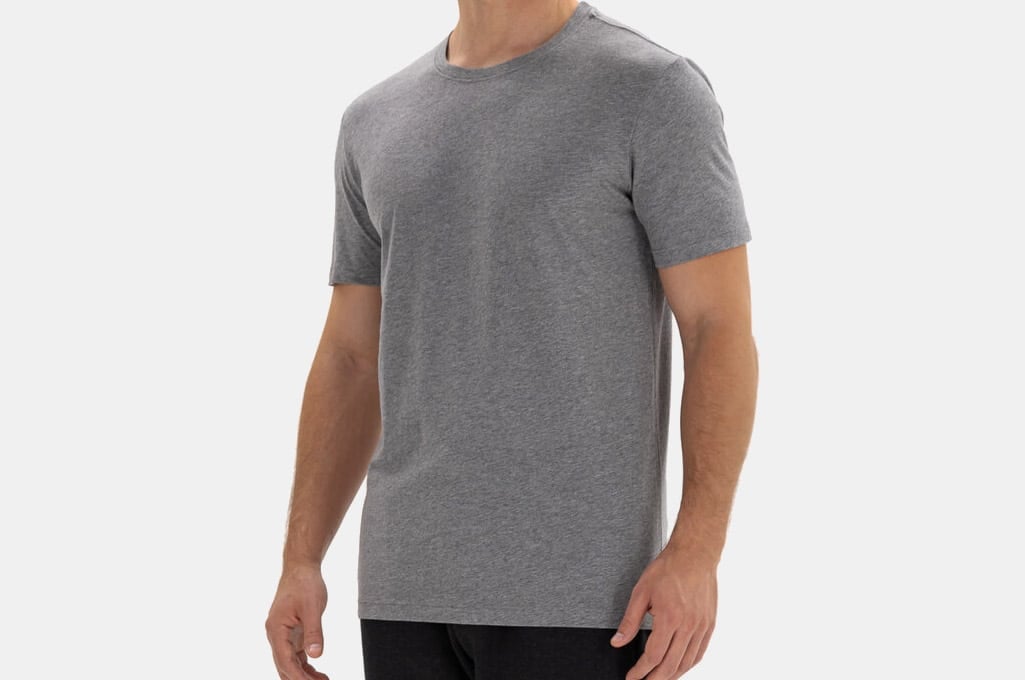 BGreen Slim Fit Crew Neck
BGreen's Slim Fit Crew Neck is an ideal layering piece. It's lightweight, with a slim fit that favors a slight but athletic build. Available in four colors, all at a reasonable price, it may soon become your favorite everyday shirt to wear underneath button-downs or shirt jackets. And if you're looking for some USA-made underwear, BGreen's selection doesn't disappoint.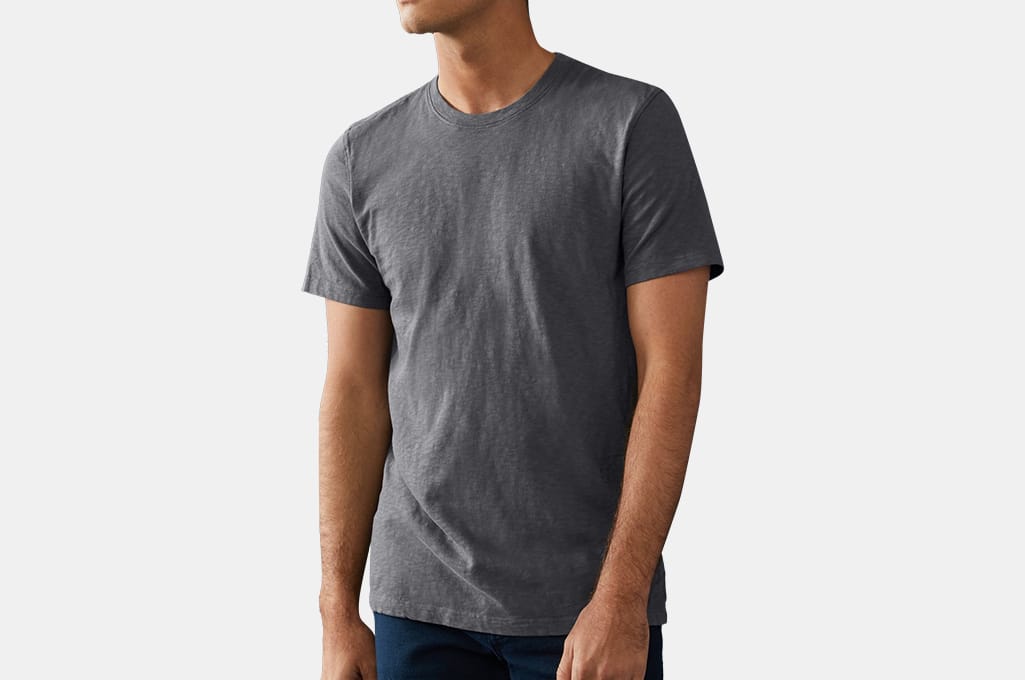 American Giant Premium Slub Crew T
The textured appearance of American Giant's Premium Slub Crew T pairs perfectly with their wide range of 11 colors. If you've ever been frustrated with your t-shirts being basically see-through, one of these tees is the solution. They're heavy-duty enough to be worn as a single piece of clothing without layering, but they also look classy worn underneath a blazer or suit jacket.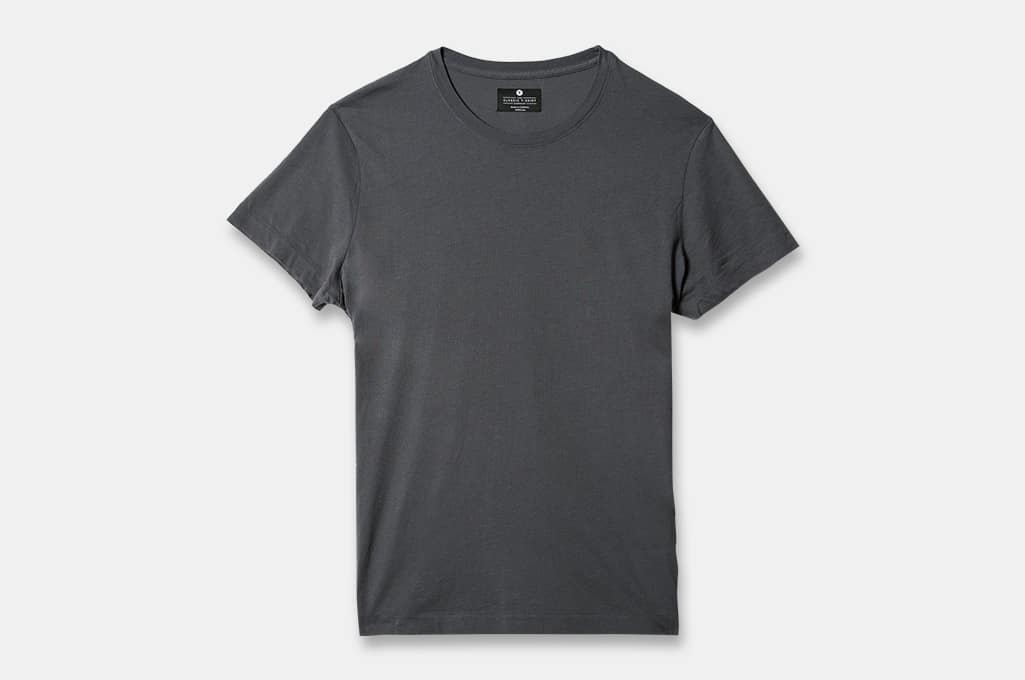 The Classic T-Shirt Company Men's Short Sleeve Crew Neck
Offered in 15 different colors of pre-shrunk organic cotton, The Classic T-Shirt Company's Short Sleeve Crew Neck is perfect for guys who want a lot of variety in their staples. It's cut for guys who are thin and tall, with a longer torso that lends itself well to being tucked in or worn long for taller guys.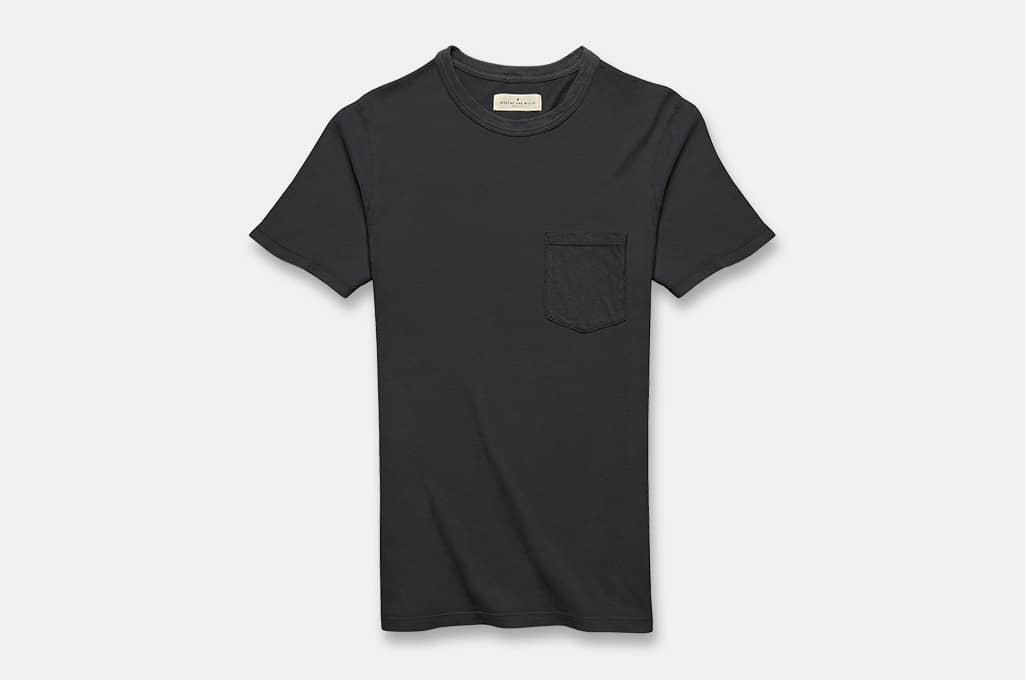 Imogene + Willie Pocket Tee
Let's face it: Everybody needs more pockets. Once you realize just how useful it is to have a breast pocket on your t-shirts, you'll never want to go back to the storage-free lifestyle. Imogen + Willie's Pocket Tee is a fantastic example of the style, with a garment dyed wash and vintage fit that give it a timeless cool look.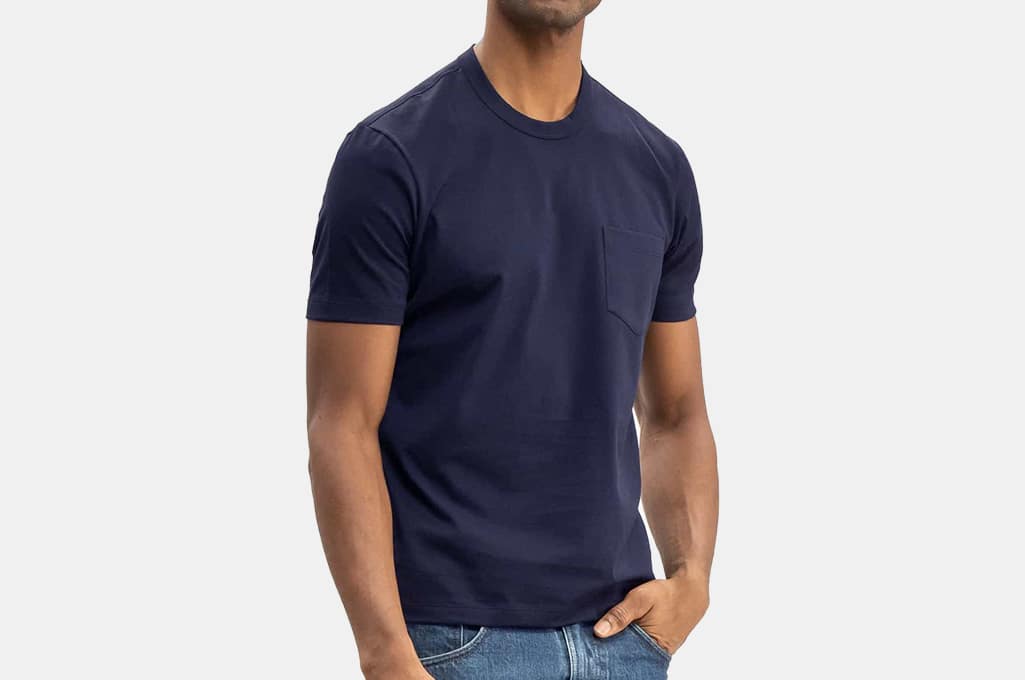 Todd Shelton 155 cc SS Crew Navy
The T-shirt fanatics over at Todd Shelton have put an absurd amount of work into making their 155cc SS Crew shirts. Years of research led to a special weave of yarn that makes their shirts twice as durable as standard tees, and truly fit for lifelong wear. They'll age gracefully into truly vintage t-shirts—a rarity in today's world of increasingly shoddy clothing quality. They're pricey, yes, but man will these shirts last for a long time.
Disclosure: Clicking on these links and making a purchase may earn us a small referral fee, at no extra cost to you. Learn more here.
freestar.config.enabled_slots.push({ placementName: "gearmoose_leaderboard_btf", slotId: "gearmoose_leaderboard_btf" });