The 20 Best V-Neck T-Shirts For Men
A T-shirt's just a T-shirt, right? In the wrong hands, sure. But when done right, a V-neck T-shirt can become a secret style weapon, an essential style upgrade that can take your off-duty menswear game from good to great.
It's more visually interesting than a plain crewneck tee, and when done up with textured fabric, a slim fit and high-quality materials, the best men's V-neck T-shirts are more than worth adding to your menswear arsenal this spring and summer. And the right V-neck tee can go just about anywhere — slide it on underneath a lightweight navy linen blazer for breezy casual Friday style, and then rock it to the bar or a concert with a tough leather moto jacket and slim selvedge denim. The great thing is, when priced right, you can pick up a whole set of v-neck shirts to get you through the warmer months — and well beyond.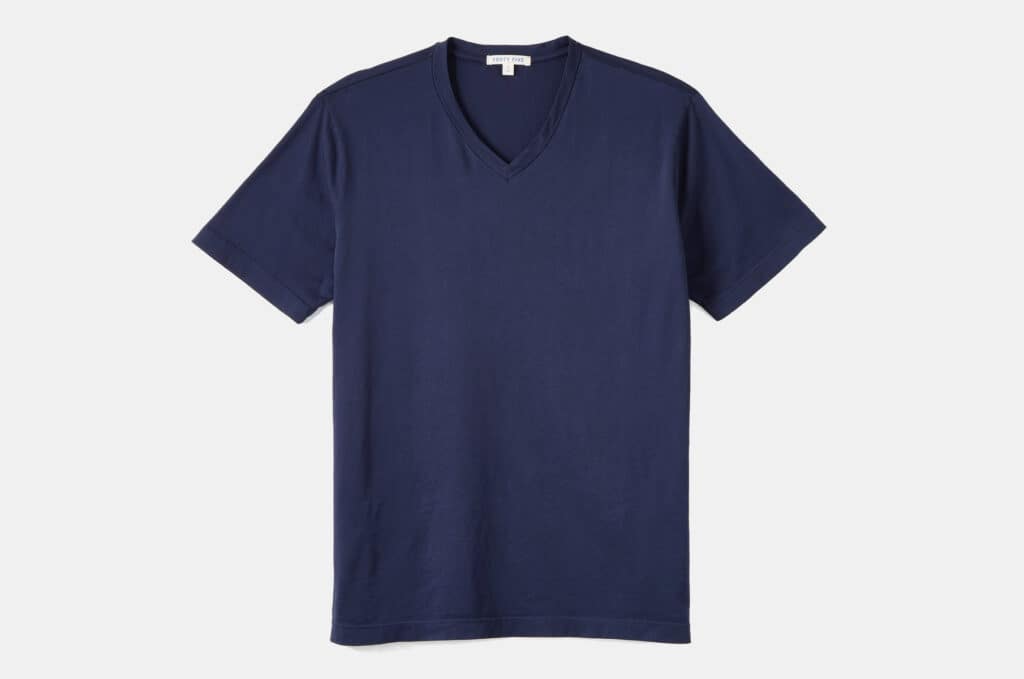 Forty Five Supima V Neck T-Shirt
This ultra-soft shirt is made for the guy who craves comfort without sacrificing style. With some of the softest fabric around (thanks to California Supima cotton), you'll want this shirt in every color. And with four neutral color options, there's a V-neck for every mood and nearly every occasion.
These tees are woven with a close-knit Baby Jersey technique that makes them feel like a high-end luxury brand, despite the very reasonable price tag. And thanks to Huckberry's commitment to local sourcing in and around the Los Angeles, California area, this is a product you can feel good about stocking up on.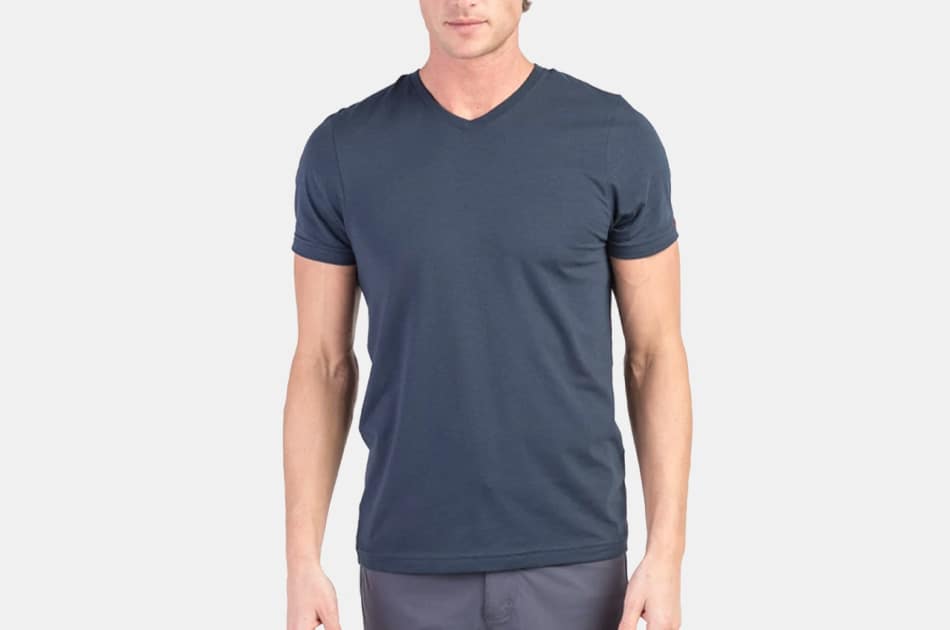 Rhone Element V Neck T-Shirt
The V-neck T-shirt used to be a much-maligned style of T-shirt that was hard to wear on its own, let alone in situations where you needed something with a bit of performance built right in (take the summer heat of a music festival, for instance). Now though, the Rhone Element V Neck has the potential to be your new favorite tee, made with four-way stretch, long-staple V-neck cotton and odor-fighting technology via SilverTech threads. It's everything you want in a V-neck tee, to say the least.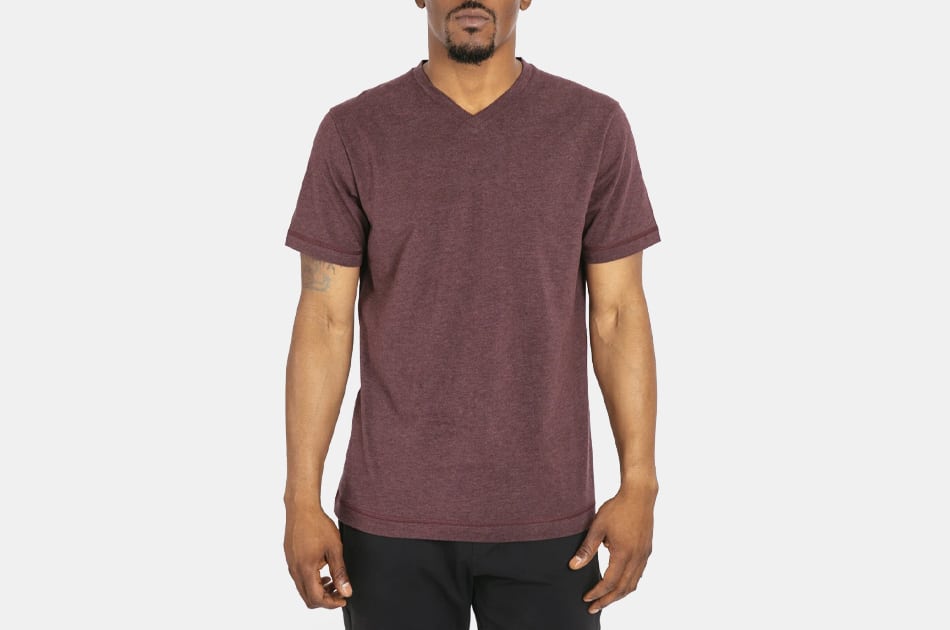 Public Rec Go-To V-Neck Tee
There are the standard tees you're used to wearing to run errands, head to the gym or hop in your car for a quick getaway, and then there's the next level of men's T-shirts, and more specifically, there's the Public Rec Go-To Tee. It's one of the best men's tees you're apt to find, and that's really saying something.
The V-neck cut is flattering and yet a nice upgrade from the "deep V-neck" tees of days gone by — make no mistake, the Public Rec Go-To Tee could be your new favorite T-shirt, and that's saying something. It al starts with the brand's custom Relux fabric, a blend of pima cotton, TENCEL and spandex that's engineered to be the softest, most comfortable tee in your rotation.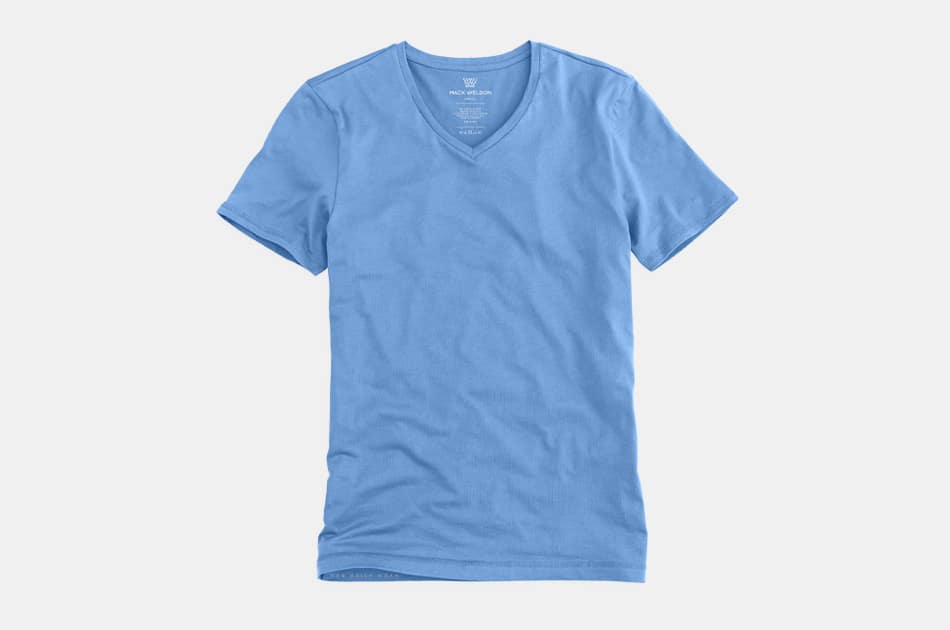 Mack Weldon Silver V-Neck T-Shirt
Mack Weldon is another brand that's taken its technical savvy and put it right into what we think is one of the best V-neck T-shirts on the market. You know the brand's boxer briefs and well-made crewneck tees, but the Silver V-Neck was specifically designed to function as an undershirt for all those times you need it most (so, pretty much every single day). The use of Pima cotton and Silver XT2 technology keeps you cool and wicks away moisture.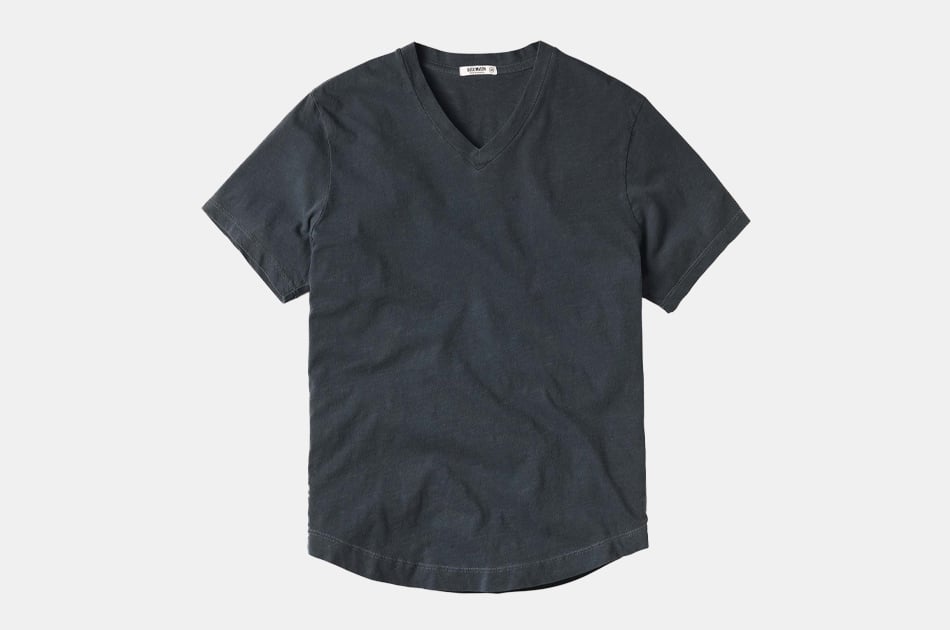 Buck Mason Slub Curved Hem V-Neck Tee
The days of the overly low-cut V-neck tee are over — to say the very least. Buck Mason delivers when it comes to crafting one of the best V-neck tees for men, the type of rugged V-neck made from premium fabric that's increasingly hard to find these days. Available in a range of versatile colors and washes, including our personal favorite — White Sand Venice Wash — this is a darn-near perfect line of V-neck T-shirts, easy to wear under a Buck Mason denim shirt with black jeans to head to your local bar.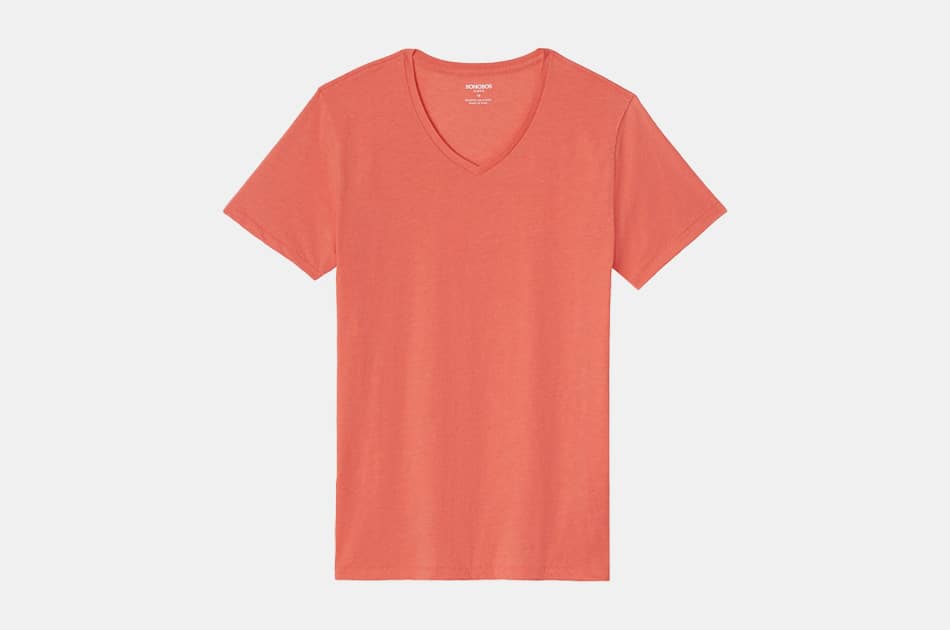 Bonobos Soft Everyday V-Neck Tee
We've often said that the brands we love the best do plenty of different things well — in the case of Bonobos, that means they make some of the best chinos for men, as well as some of the best pieces to pair with them. We're talking, of course, about the aptly named Soft Everyday V-Neck Tee, a simple, subtly stylish V-neck tee you should feel free to wear on its own or underneath a denim jacket on the daily.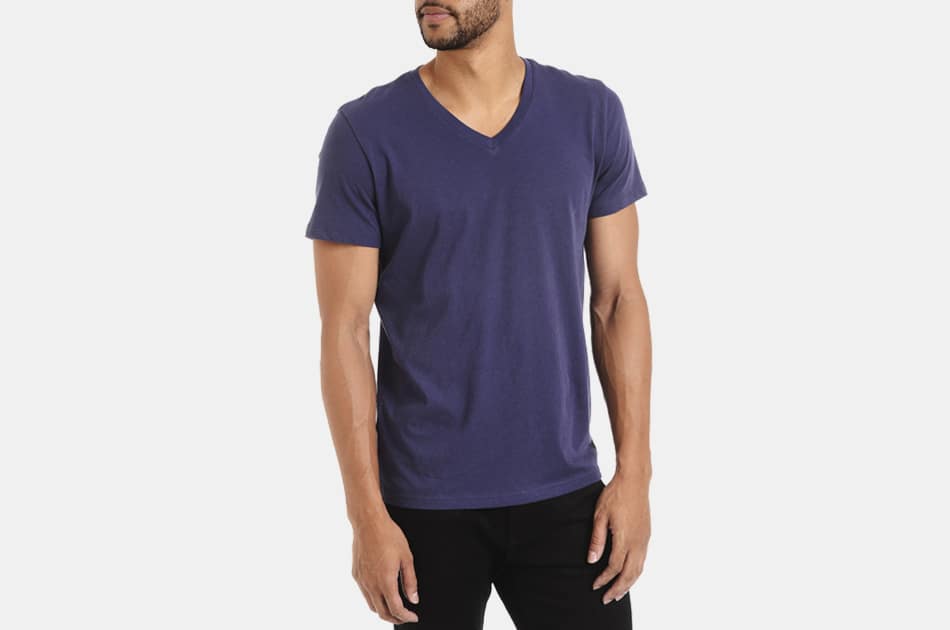 Mott & Bow Classic V-Neck Tee
Yet again, a brand that makes some of the best pants for men (in this case, the best men's denim) is also the right way to go to pick up your new V-neck T-shirt. The Mott and Bow Classic V-Neck Tee should prove reliably easy to wear and highly stylish, the kind of straightforward-yet-cool tee that's impossible to not look great wearing. At the right price, consider picking up more than one.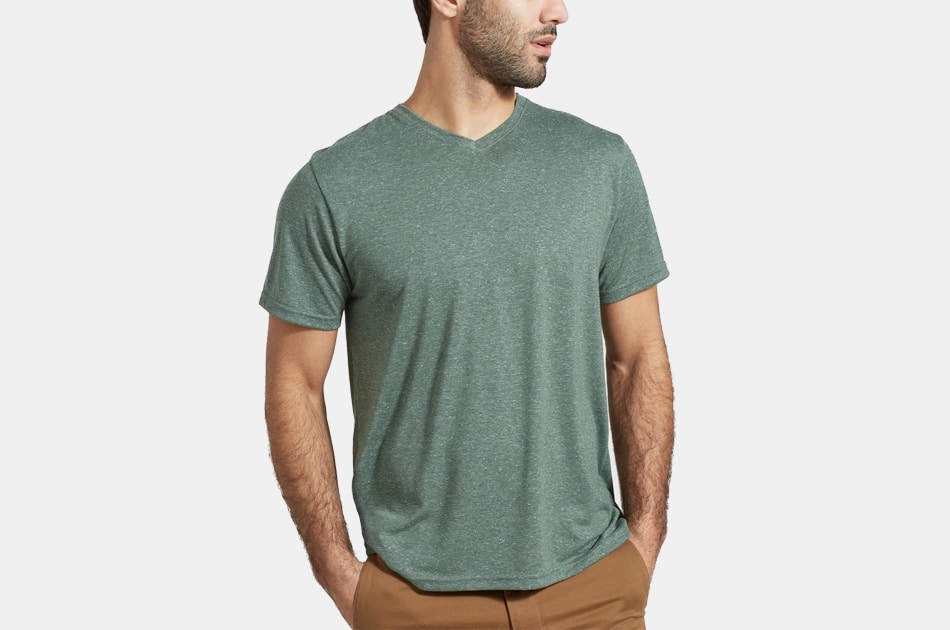 United By Blue EcoKnit V-Neck Tee
Sustainability and style is the name of the game with United By Blue and the brand's EcoKnit V-Neck Tee. Feel great about supporting the environment through your purchase (each item purchased helps clean oceans and waterways), then feel just as great when it comes to the styling potential from this adventure-ready V-neck T-shirt. Wear it on its own or as a base layer on your next hike.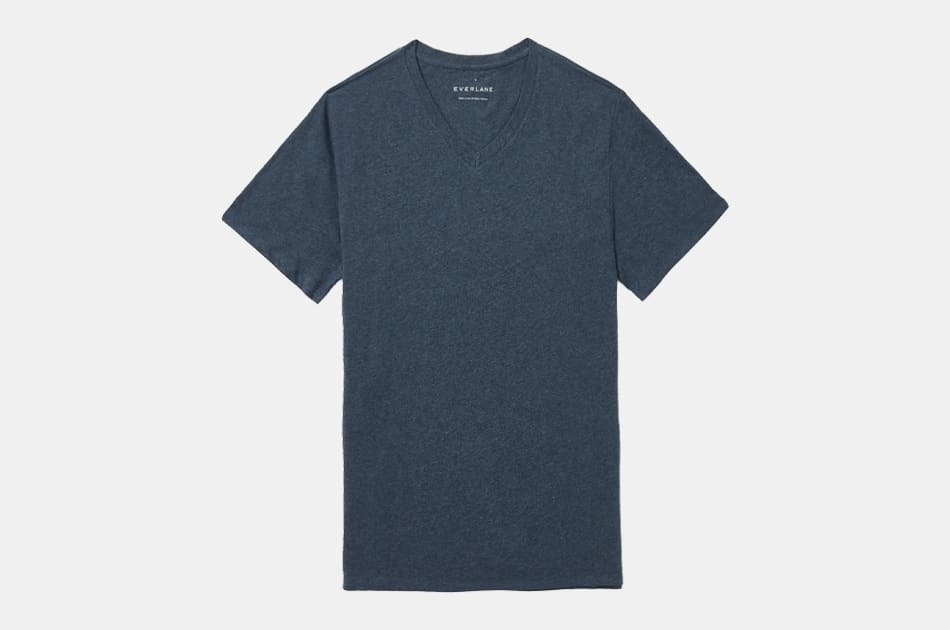 Everlane V-Neck T-Shirt
Where to go when you want some of the best basics for men, yet want to get pieces that are high-quality, well-made and responsibly priced? That, my friends, is where Everlane enters the equation. Get this classic cotton V-neck T-shirt, then wear it with the brand's slim chinos or jeans for effortlessly timeless style (add the brand's sustainably made sneakers if you feel so inclined, too). In a crisp color like navy, it's hard to go wrong with this Everlane tee.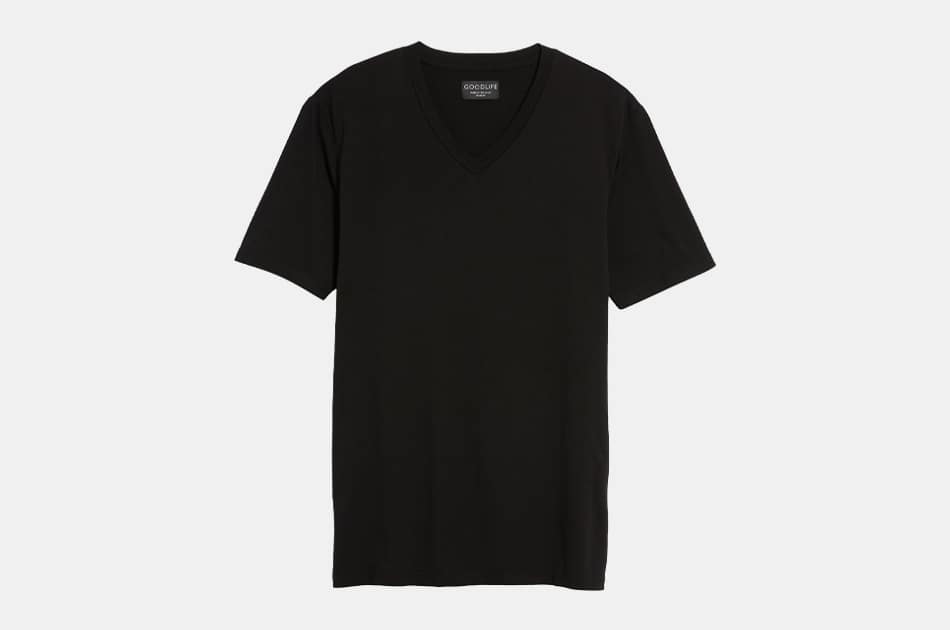 Goodlife Classic Supima Cotton Blend V-Neck T-Shirt
Jersey knit fabric featuring both soft Supima cotton and modal for breathability is the name of the game when it comes to what Goodlife is doing. They've managed to make a subtle-yet-stylish V-neck T-shirt that'll add plenty of style points to whatever style ensemble you pair it with for summer into fall and beyond. Pair this particular V-neck tee with a denim shirt and tan chinos for laidback seasonal style any day of the week.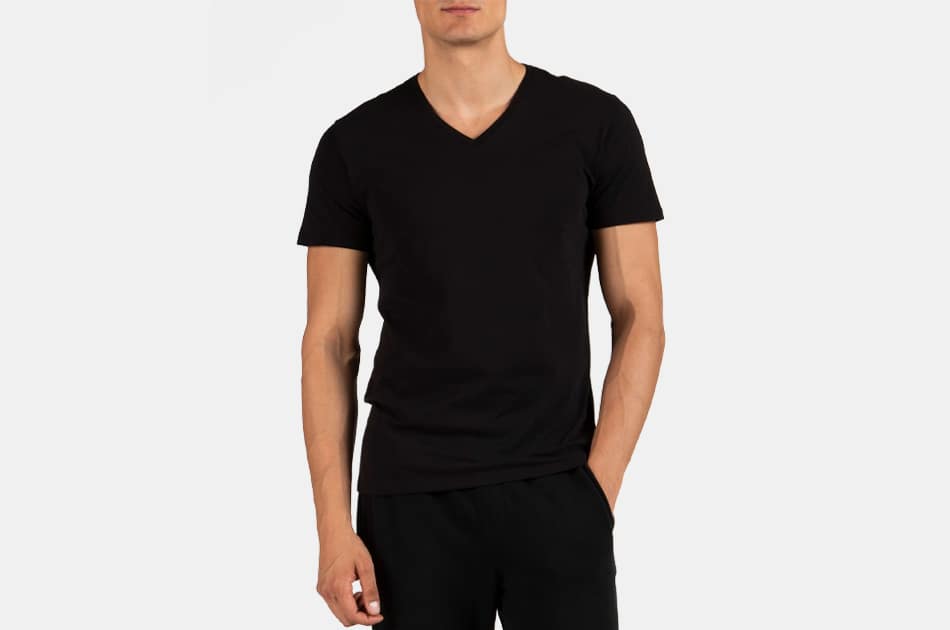 ATM Classic Jersey V-Neck Tee
It's easy to look great wearing a V-neck T-shirt when the T-shirt in question is the ATM Classic Jersey V-Neck Tee. Made in Peru from 100 percent cotton and available in classic colors like black and white, it's a V-neck tee worth investing in. This is the kind of T-shirt you can wear as a stylish base layer beneath a tailored, unconstructed navy blazer, and you can even team it with an open short-sleeve buttondown and linen trousers through breezy days aplenty. The choice is yours, so go right ahead and pick up at least one colorway.
Mack Weldon Pima V-Neck T-Shirt
The brand that makes your favorite underwear and merino tees also makes a heck of a V-neck tee — that much is true. And once you try one out, you might never go back to the tees you used to wear. Mack Weldon starts with excellent fabric (in this case, enzyme-washed pima cotton) and they consider every detail — down to the ladder-stitch sideseams. This is the perfect tee to wear out for casual weekend drinks, ideally alongside your favorite denim jacket. And while it's slightly pricey for a T-shirt, there's no question it's worth it.
Bluffworks Threshold Performance V-Neck T-Shirt
Bluffworks has a knack for making comfortable, cool gear for guys — think stretch jeans that last and last, plus travel-ready shirting and basics designed to help you get around with ease of movement and style in mind. Such is the case with the Threshold Performance V-Neck T-Shirt, a fittingly named and designed V-neck T-shirt to wear on summer road trips and at home this fall (preferably layered under a Bluffworks shirt).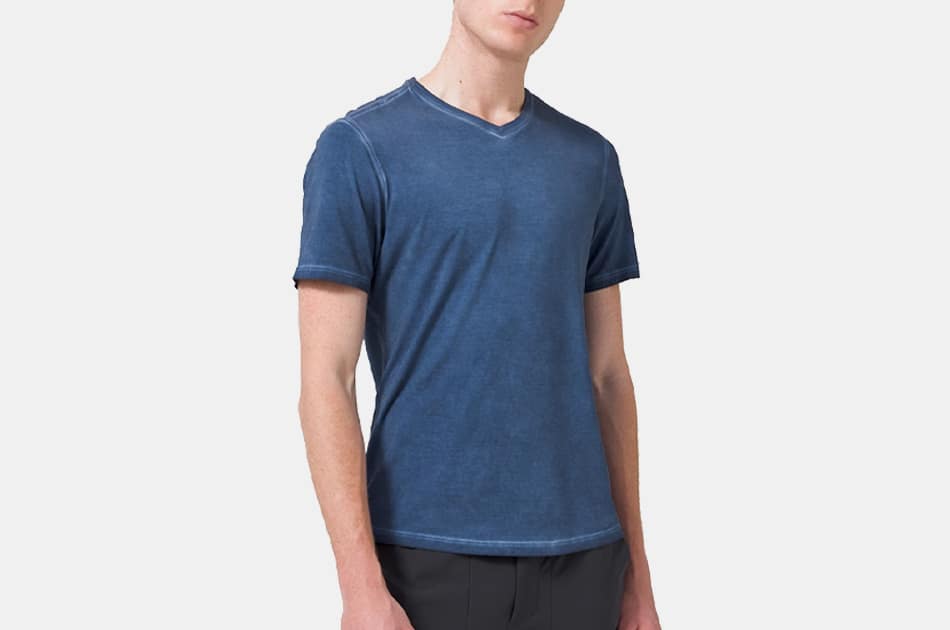 Lululemon 5 Year Basic V-Neck Tee
Skeptical about adding some Lululemon men's gear to your wardrobe? Don't be — this V-neck T-shirt is here to change the game when it comes to what you've thought about the brand (and about V-neck tees in general). The pleasingly faded wash and range of bright, eye-catching color options make this a V-neck tee you can wear on its own with tan chinos and white high-tops for easy-going style at home this season.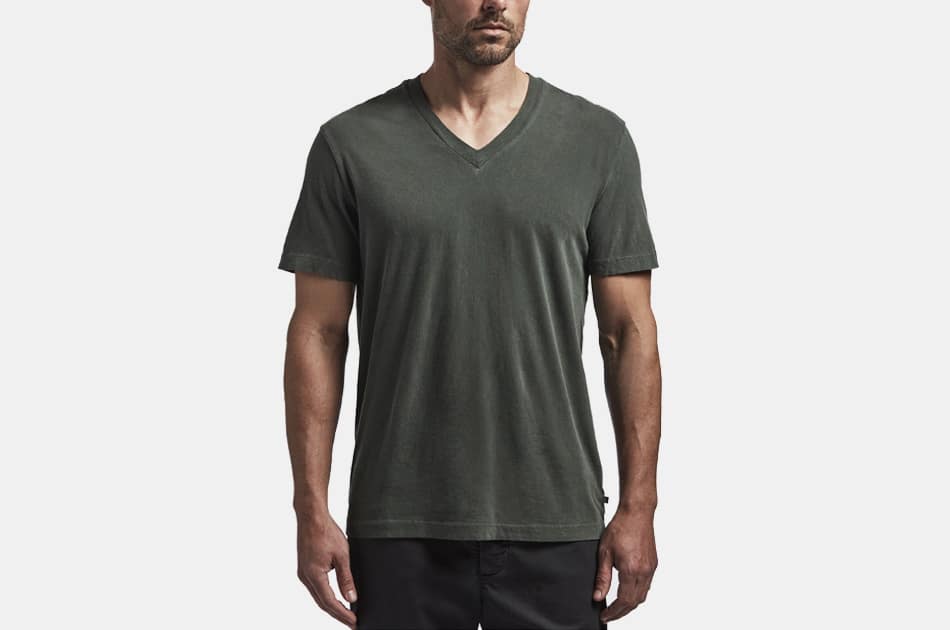 James Perse Short Sleeve V-Neck T-Shirt
For those who like their V-neck tees to have more of a high-fashion vibe — and a higher price point — there's James Perse and the brand's simple, effective and crisp Short-Sleeve V-Neck T-Shirt. Available via Nordstrom, it's made from combed cotton jersey fabric and should prove lightweight and comfortable for spring and summer afternoons galore. Wear it to the beach in place of a tank top and try it with your favorite rolled chinos and classic white canvas sneakers.
Tommy John Second Skin V-Neck Tee
Tommy John is another brand that, like Mack Weldon, knows quite a lot about stylish, effective and well-made men's basics. When they put that knowledge together and translate it into something as simple as a V-neck tee, the results are to be applauded — and purchased quickly. The Memory fabric is, in particular, made to stay wrinkle-free and keep its shape. Featuring a premium blend of Pima cotton and spandex, it's just the tee to pair up with your favorite pair of broken-in denim as you head to a summer music festival.
Georgia Regular Fit V-Neck T-Shirt
It's rare that a T-shirt could be described as sleek, but that's the case with the Georgia Regular Fit V-Neck T-Shirt, made with ultra-smooth cotton jersey fabric. Available in a range of clean, warm weather-ready colors, it could certainly be worth picking up one or two — or three. After all, you'll surely want to wear them with plenty of other spring style essentials — like a light wash denim jacket, navy chinos and white leather sneakers, for starters. It's also rare to get such a quality tee for an agreeable price, and that's what you're getting here.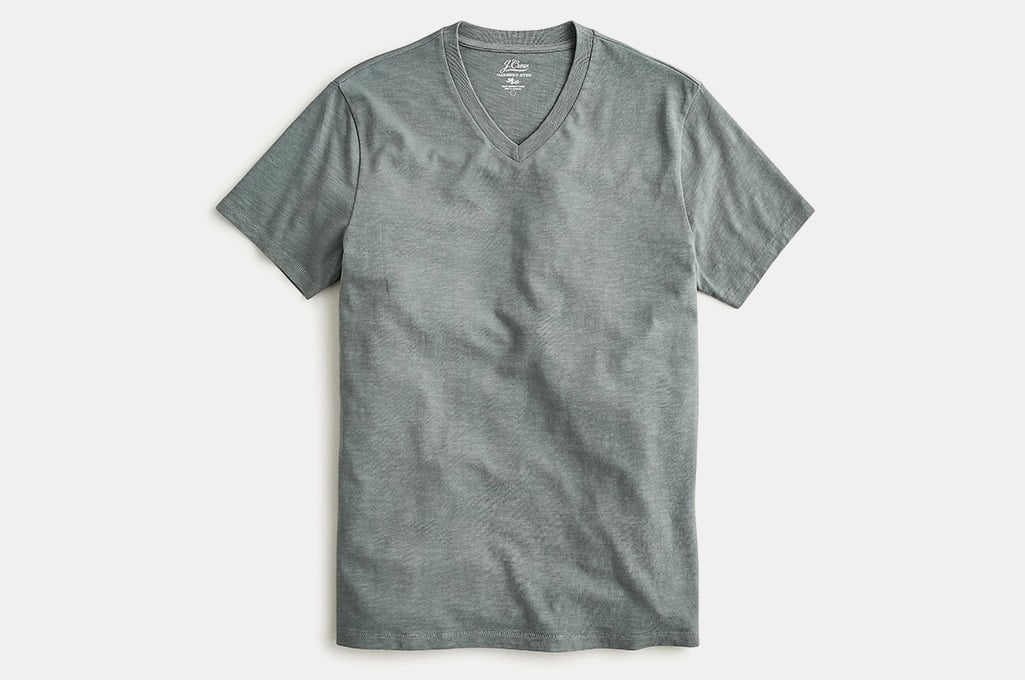 J.Crew Garment-Dyed Slub Cotton V-Neck T-Shirt
This is an ultra-comfortable V-neck shirt from J. Crew that you can feel good about buying and wearing. The slub cotton material is made from sustainable components and is carefully dyed for color that will withstand years of washing. The delicate rib trim around the neckline is a nice textural detail that sets this otherwise timeless tee shirt apart from the others. Well, that and the amazingly soft material that you'll never want to take off.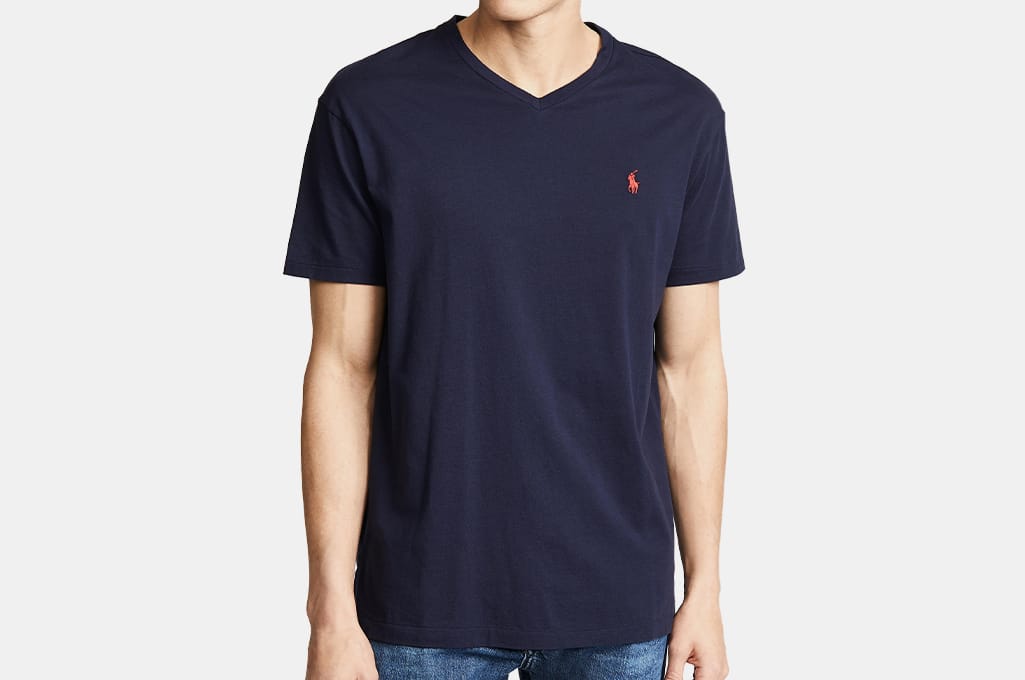 Polo Ralph Lauren V Neck Classic Fit T-Shirt
Polo Ralph Lauren is known for its classically preppy style. And the brand's Classic Fit T-Shirt does not disappoint. The iconic polo logo on the left breast gives this otherwise traditional t-shirt a subtle style upgrade and an extra pop of color without being loud. And the lightweight jersey material is comfortable and breathable enough that you can wear it all year round for work and other casual occasions.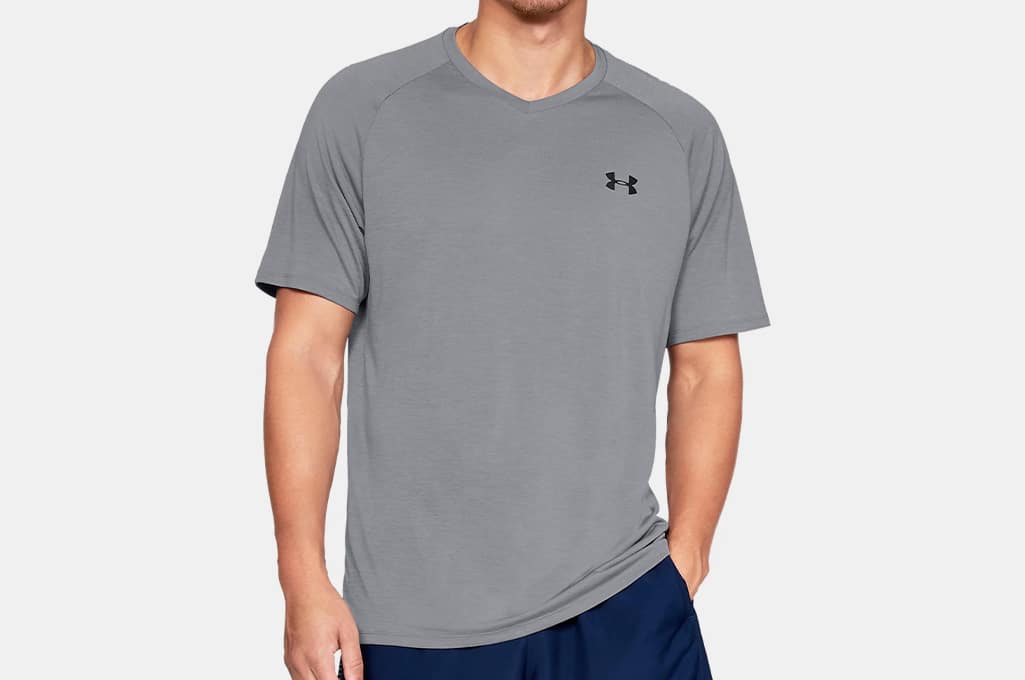 Under Armour Men's UA Tech V-Neck Short Sleeve
If you're looking for a V-neck short sleeve tee that makes great all-purpose weekend wear and is comfortable enough for your morning workout, Under Armour has you covered. The brand's classic Tech V-Neck Short Sleeve represents the best of its athletic sportswear engineering and materials. The technical fabric is both soft and breathable. It also dries quickly and doesn't have the heat-trapping or clingy feeling of thicker synthetic fabrics. Plus, anti-odor technology keeps you smelling fresh, no matter how hard you go at the gym.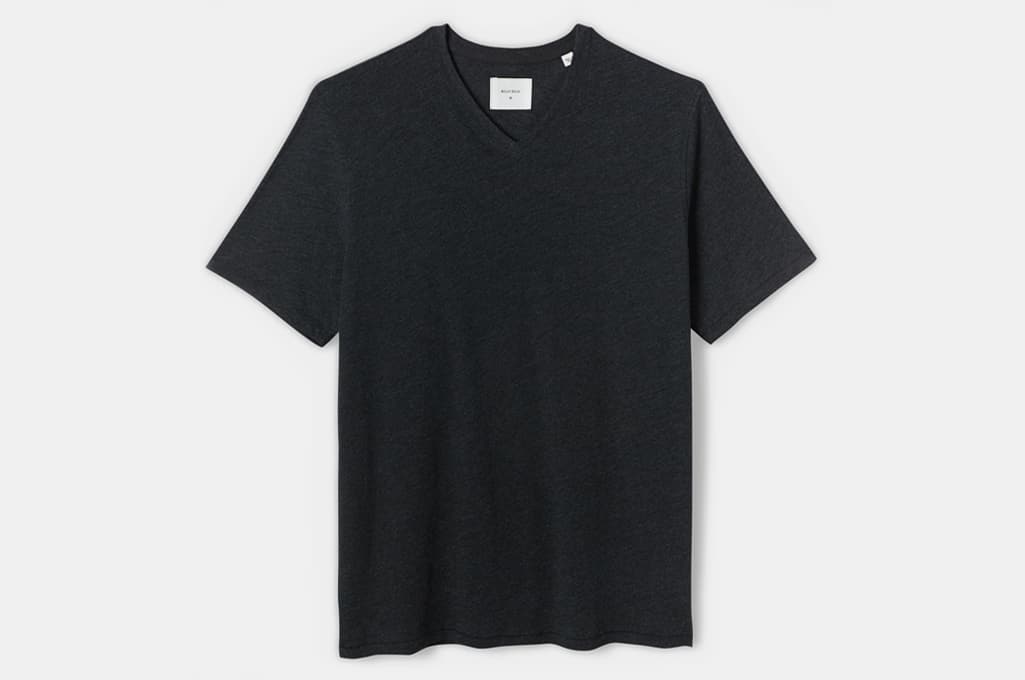 Billy Reid Cotton V-Neck Tee
If you like to keep your brand label off the front of your shirt but love the luxurious feel of a designer tee shirt, this cotton V-Neck Tee from Billy Reid is exactly what you need. Go ahead and pick up a shirt in each of the three neutral colors. Trust us, this is a V-neck shirt you can wear year-round at nearly any occasion. As a bonus, it's also easy to wash in the machine with cold water, making this a low-maintenance tee shirt ideal for the laid-back dresser.
Disclosure: Clicking on these links and making a purchase may earn us a small referral fee, at no extra cost to you. Learn more here.