The 20 Best V-Neck T-Shirts For Men
A T-shirt's just a T-shirt, right? In the wrong hands, sure. But when done right, a V-neck T-shirt can become a secret style weapon, an essential style upgrade that can take your off-duty menswear game from good to great.
It's more visually interesting than a plain crewneck tee, and when done up with textured fabric, a slim fit and high-quality materials, the best men's V-neck T-shirts are more than worth adding to your menswear arsenal this spring and summer. And the right V-neck tee can go just about anywhere — slide it on underneath a lightweight navy linen blazer for breezy casual Friday style, and then rock it to the bar or a concert with a tough leather moto jacket and slim selvedge denim. The great thing is, when priced right, you can pick up a whole set of v-neck shirts to get you through the warmer months — and well beyond.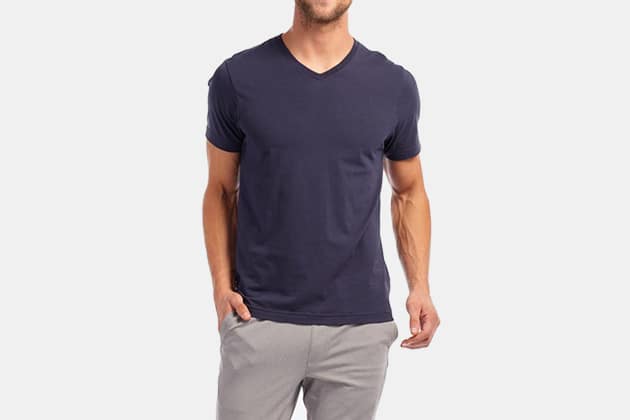 Rhone Element V Neck T-Shirt
The V-neck T-shirt used to be a much-maligned style of T-shirt that was hard to wear on its own, let alone in situations where you needed something with a bit of performance built right in (take the summer heat of a music festival, for instance). Now though, the Rhone Element V Neck has the potential to be your new favorite tee, made with four-way stretch, long-staple V-neck cotton and odor-fighting technology via SilverTech threads. It's everything you want in a V-neck tee, to say the least. – Shop Now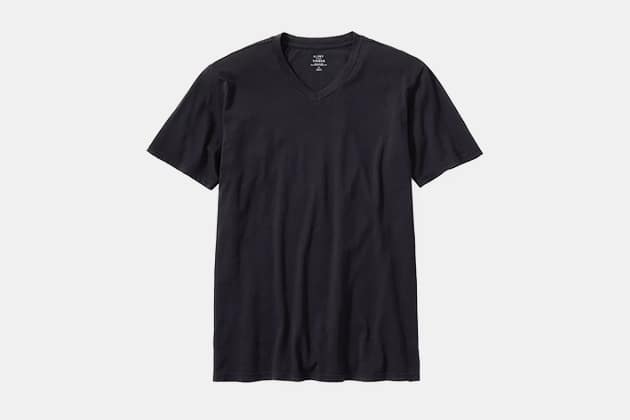 Flint and Tinder Supima Air Knit V-Neck Tee
We consistently recommend the full Flint and Tinder line — from slim denim to trucker jackets — because of the quality and attention to detail the brand brings to the table. That being said, Flint and Tinder — as sold by our friends at Huckberry — doesn't slack when it comes to your more standard basics, either. In fact, the Air Knit V-neck Tee, made from premium 100 percent Supima cotton, is far from basic. It's the perfect T-shirt to wear on a casual spring weekend day, without a doubt. – Shop Now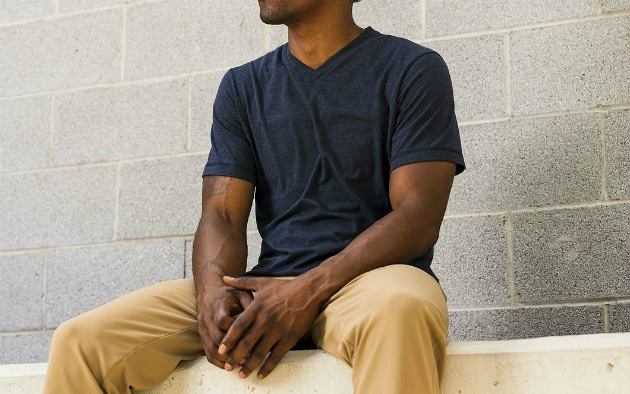 Public Rec Go-To V-Neck Tee
There are the standard tees you're used to wearing to run errands, head to the gym or hop in your car for a quick getaway, and then there's the next level of men's T-shirts, and more specifically, there's the Public Rec Go-To Tee. It's one of the best men's tees you're apt to find, and that's really saying something.
The V-neck cut is flattering and yet a nice upgrade from the "deep V-neck" tees of days gone by — make no mistake, the Public Rec Go-To Tee could be your new favorite T-shirt, and that's saying something. It al starts with the brand's custom Relux fabric, a blend of pima cotton, TENCEL and spandex that's engineered to be the softest, most comfortable tee in your rotation. – Shop Now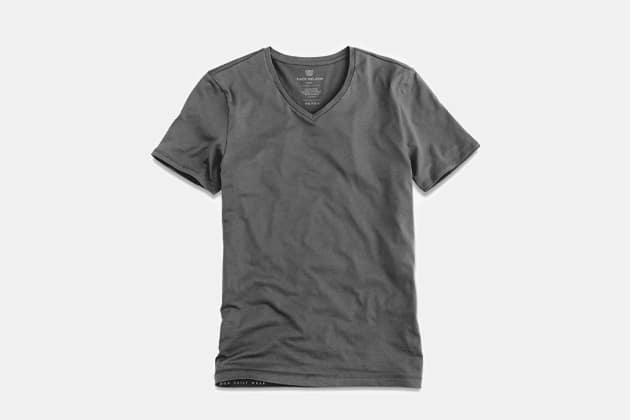 Mack Weldon Silver V-Neck Undershirt
Mack Weldon is another brand that's taken its technical savvy and put it right into what we think is one of the best V-neck T-shirts on the market. You know the brand's boxer briefs and well-made crewneck tees, but the Silver V-Neck was specifically designed to function as an undershirt for all those times you need it most (so, pretty much every single day). The use of Pima cotton and Silver XT2 technology keeps you cool and wicks away moisture. – Shop Now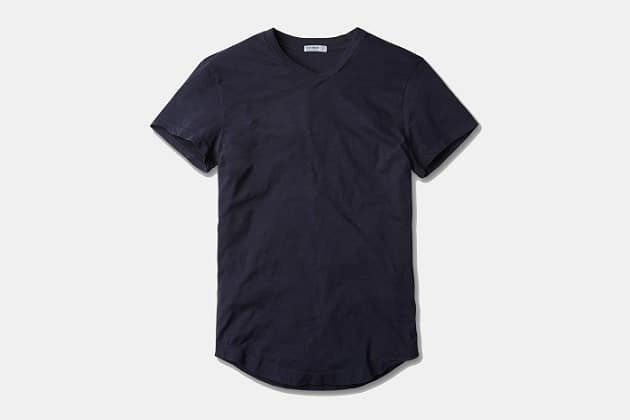 Buck Mason Slub Curved Hem V-Neck Tee
The days of the overly low-cut V-neck tee are over — to say the very least. Buck Mason delivers when it comes to crafting one of the best V-neck tees for men, the type of rugged V-neck made from premium fabric that's increasingly hard to find these days. Available in a range of versatile colors and washes, including our personal favorite — White Sand Venice Wash — this is a darn-near perfect line of V-neck T-shirts, easy to wear under a Buck Mason denim shirt with black jeans to head to your local bar. – Shop Now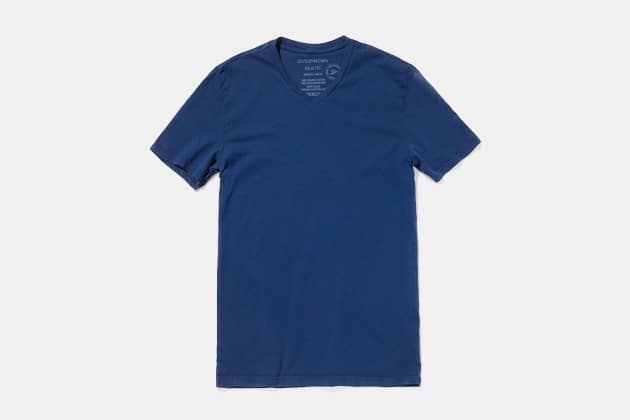 Outerknown S.E.A. V-Neck Tee
On the hunt for one of the best V-neck T-shirts for more casual, off-duty wear? Then Outerknown has you covered. We're big fans of the brand's approach when it comes to crafting classically made, perfectly fitted chinos and casual shirts, and the sustainably made S.E.A. V-Neck Tee truly is no different. It's available in more than a dozen colors and made with 100 percent organic cotton for a purchase you truly can feel good about — and it's going to look stylish any day of the week. – Shop Now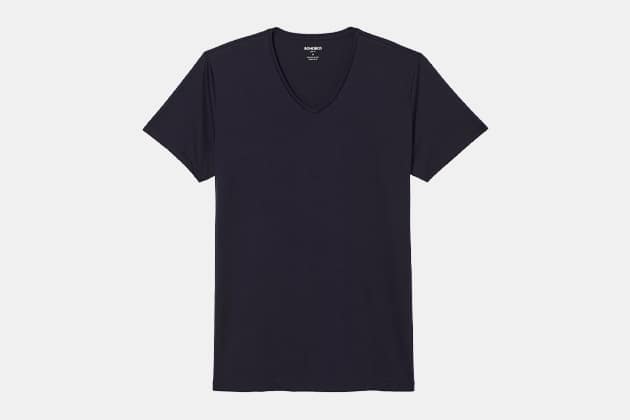 Bonobos Superfine V-Neck Tee
If you just so happen to be searching for a stylish T-shirt to pair with your expertly cut, slim Bonobos chinos, then the Superfine V-Neck Tee is absolutely the one to buy right now. As with everything from Bonobos, you should probably look to pick up more than one — you're going to love it that much. Pima cotton gives this tee a "luxury finish," according to the brand. To us, that means you can wear it on its own, or else pair it with a tan shirt jacket and slim chinos on a breezy summer night. – Shop Now
Mack Weldon Pima V-Neck
The brand that makes your favorite underwear and merino tees also makes a heck of a V-neck tee — that much is true. And once you try one out, you might never go back to the tees you used to wear. Mack Weldon starts with excellent fabric (in this case, enzyme-washed pima cotton) and they consider every detail — down to the ladder-stitch sideseams. This is the perfect tee to wear out for casual weekend drinks, ideally alongside your favorite denim jacket. And while it's slightly pricey for a T-shirt, there's no question it's worth it. – Shop Now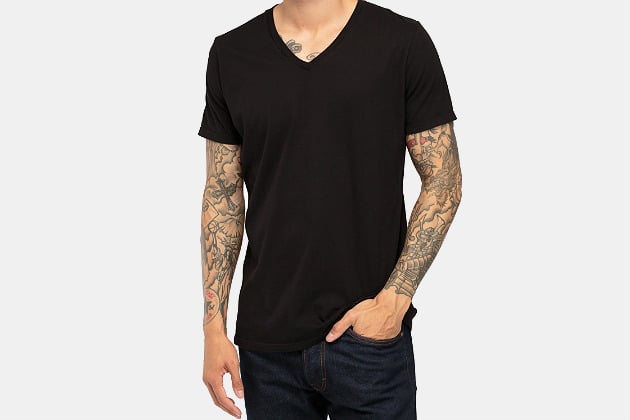 Richer Poorer V-Neck Tee
Sometimes, all a guy needs is a simple, well-cut, utterly classic V-neck tee. It's a favorite of rock stars and regular guys, especially in a classic black color (see Brian Johnson of AC/DC's stage attire on past tours, for instance). That being said, if you want to channel a similarly cool, classic vibe — perhaps to head to a rock show yourself — you'd do well to pick up the Richer Poorer V-Neck Tee, a soft and well-crafted tee that's going to work perfectly for laidback weekends aplenty. – Shop Now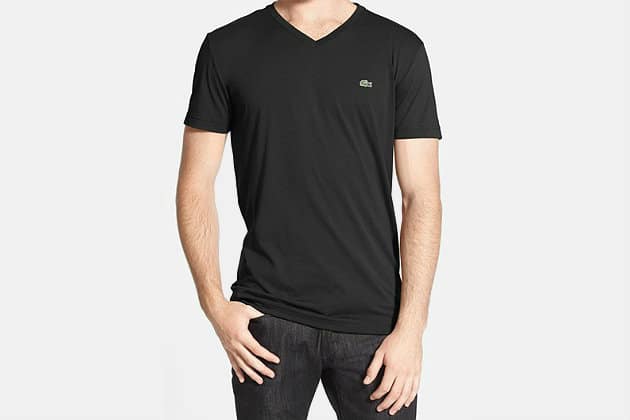 Lacoste PIMA Cotton Jersey V-Neck T-Shirt
Lacoste is yet another classic prep brand with sporty roots that does a fine interpretation of the simple, essential V-neck tee. Made with what the brand calls supersoft pima cotton jersey fabric, it's a reliable move to wear with a suede bomber jacket or a tough leather jacket and your favorite pair of trusty dark blue denim. Pick up the navy option for an agreeable price and wear it with olive or khaki chinos and classic Converse sneakers — the combo is as good as it gets for the warm weather ahead. – Shop Now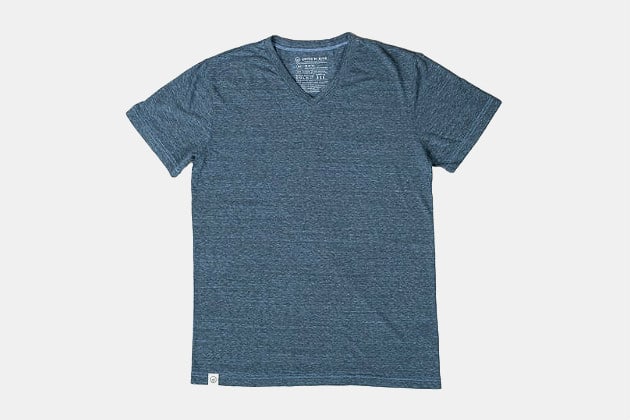 United By Blue Standard V-Neck
Although United By Blue calls its V-neck tee "Standard," it's clear that at a glance, it's anything but that. Made using an overdye process that results in great texture and plenty of wearability, it's as clean and classic of a V-neck tee as it gets. Seriously, pair it with everything from slim chinos to light wash denim this spring. And in keeping with the company's focus on giving back, it helps that the brand cleans up oceans and waterways with every purchase — there's no better way to look stylish and give back than that. – Shop Now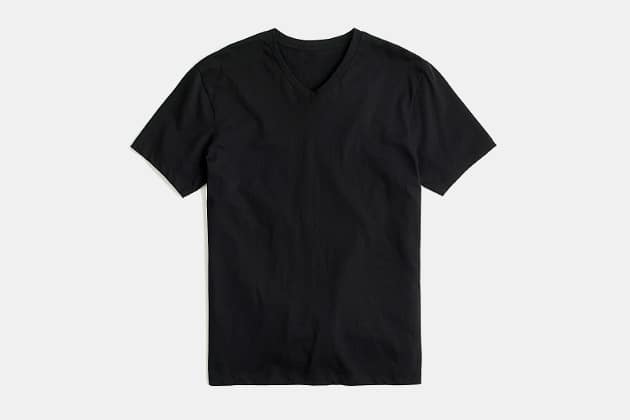 J.Crew Essential V-Neck T-Shirt
Perhaps you're like us, and have long turned to J. Crew for the latest and great men's style essentials, from slim-cut suits to chambray shirts to yes, perhaps even … the seemingly humble V-neck T-shirt. The J. Crew Essential V-neck T-shirt isn't wildly over-the-top at first glance, and that's what makes it so great. It's just a well-crafted, accessible V-neck tee to throw on with a lightweight merino cardigan and light wash jeans this fall. Simple as that. – Shop Now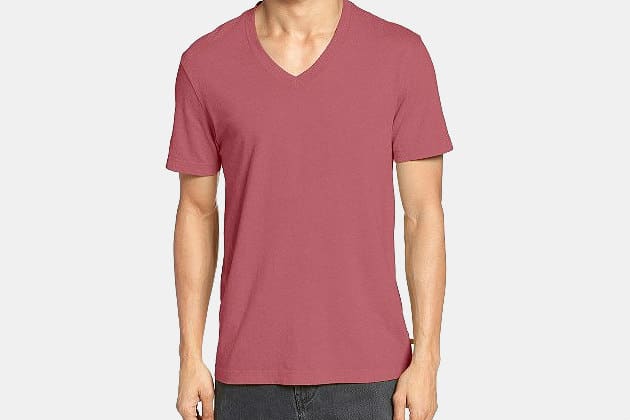 James Perse Short Sleeve V-Neck T-Shirt
For those who like their V-neck tees to have more of a high-fashion vibe — and a higher price point — there's James Perse and the brand's simple, effective and crisp Short-Sleeve V-Neck T-Shirt. Available via Nordstrom, it's made from combed cotton jersey fabric and should prove lightweight and comfortable for spring and summer afternoons galore. Wear it to the beach in place of a tank top and try it with your favorite rolled chinos and classic white canvas sneakers. – Shop Now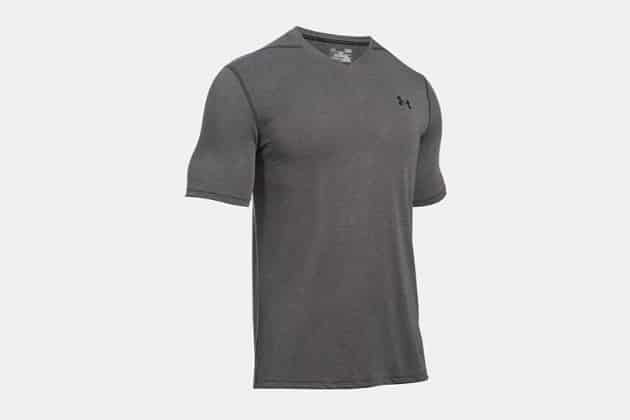 Under Armour Threadborne Siro V-Neck
Not every V-neck tee need be thought of as a fashion accessory — in fact, some are all the better for being more technical and functional. The Threadborne Siro V-neck from Under Armour checks those boxes nicely, featuring a fuller cut and the brand's Threadborne Siro fabric for comfort and breathability. It's the upgrade that your workout gear needs, as soon as possible. It'll wick moisture speedily and perform no matter how hot it gets during your workout — suit up and get your sweat on in the months to come. – Shop Now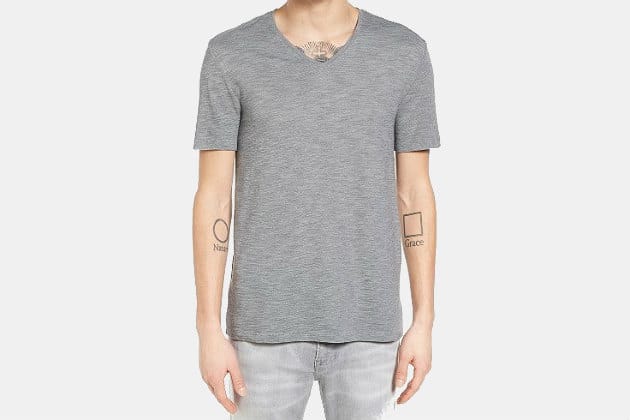 John Varvatos Star USA V-Neck T-Shirt
Is there any combo more rock-ready than a cool, clean V-neck tee and a slick leather jacket? Particularly when the V-neck tee is from a rock-inspired and rock star-approved brand like John Varvatos? It'd certainly be tough to top that combo for a Saturday night out. The Star V-Neck T-Shirt could be the coolest T-shirt you own, what with a soft cotton blend woven into a carefree silhouette with a slim fit. Wear it with black denim and broken-in leather boots to your next show — and the one after that. – Shop Now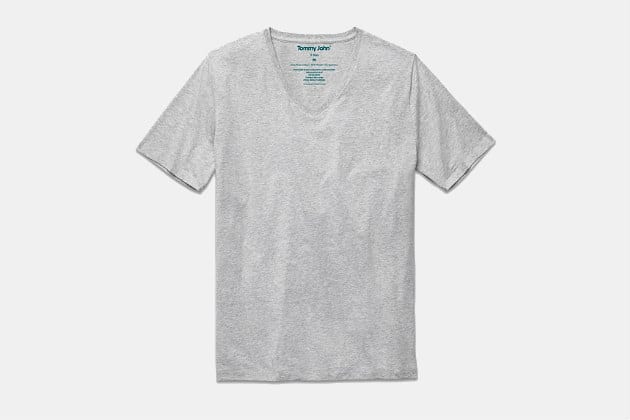 Tommy John Second Skin V-Neck Tee
Tommy John is another brand that, like Mack Weldon, knows quite a lot about stylish, effective and well-made men's basics. When they put that knowledge together and translate it into something as simple as a V-neck tee, the results are to be applauded — and purchased quickly. The Memory fabric is, in particular, made to stay wrinkle-free and keep its shape. Featuring a premium blend of Pima cotton and spandex, it's just the tee to pair up with your favorite pair of broken-in denim as you head to a summer music festival. – Shop Now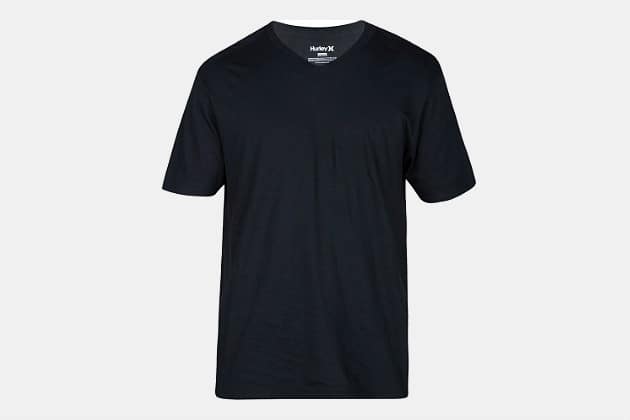 Hurley Staple V-Neck T-Shirt
With performance and effective style in mind, the Hurley Staple V-Neck T-Shirt could become just that — a true staple in your warm-weather wardrobe. Clocking in at under $20, it's a very affordably priced alternative to a plain crewneck tee. The heathered cotton and stretchy polyester blend should make for a comfortable tee no matter the occasion, and it's tough to argue with the fact that every guy looks good in a black V-neck. It's the tee to wear on a hike outside town, and provided it's still in good shape, you can wear it right out to dinner after. – Shop Now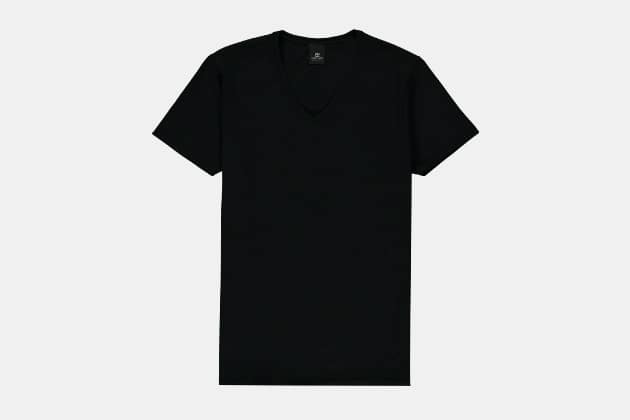 Scotch & Soda V-Neck Tee
Scotch & Soda reliably blends European style with easygoing wearability for guys on this side of the pond — in the case of simple, subtly stylish pieces like its V-Neck Tee, that's good news. If you've tried the brand's rugged denim, you know the fit and styling details are on point, and such is also true with this T-shirt. Made with a more relaxed fit and designed to be worn with casual pieces like light wash denim and olive cargo pants, it doesn't get any better than a Scotch & Soda tee (in addition to our other picks, of course). – Shop Now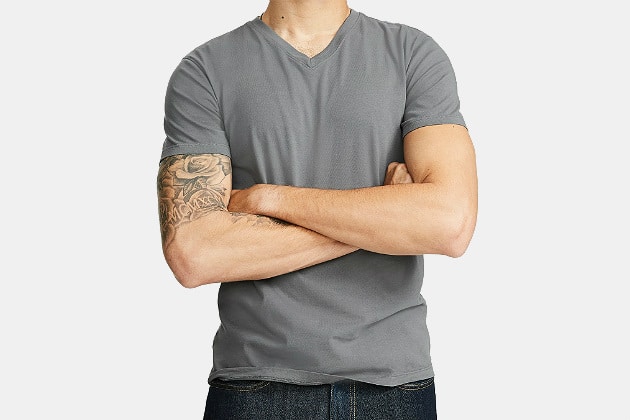 American Giant Classic V-Neck Tee
The search for the best V-neck T-shirt out there just got a whole lot more simple — take the American Giant Classic V-Neck Tee, for instance. It's a classically American-made tee (as the name would imply) that blends quality craftsmanship with the sort of effortless style you need from your everyday basics. We appreciate the timeless Dove Grey color, and recommend you wear this underneath a navy shawl cardigan to grab coffee on a chilly fall weekend. – Shop Now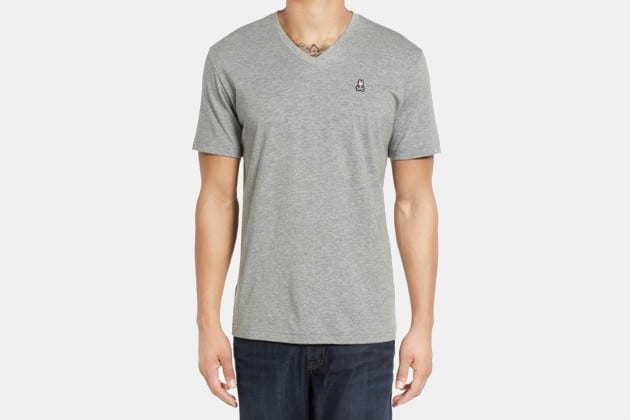 Psycho Bunny Classic V-Neck T-Shirt
With a name like Psycho Bunny, it's clear that the company doesn't do things the ordinary way. In the case of its Classic V-Neck, that's a good thing — emblazoned with its eye-catching bunny-and-crossbones logo, you should style this tee however you see fit. In a neutral heather grey color, it'd be a nice move to wear with faded denim or khaki shorts — or as your post-beach tee for weekend excursions. Just be sure to show off that logo as much as you can — that's the way it should be. – Shop Now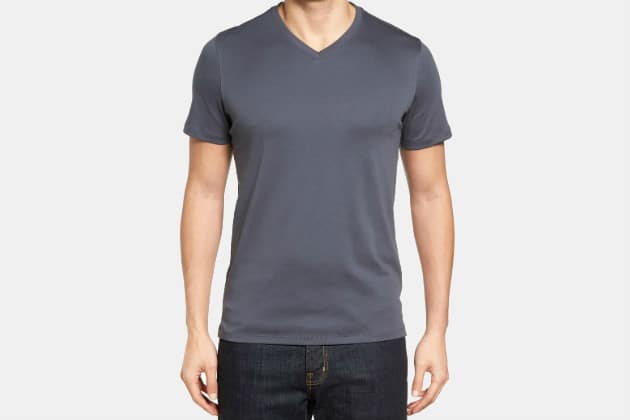 Georgia Regular Fit V-Neck T-Shirt
It's rare that a T-shirt could be described as sleek, but that's the case with the Georgia Regular Fit V-Neck T-Shirt, made with ultra-smooth cotton jersey fabric. Available in a range of clean, warm weather-ready colors, it could certainly be worth picking up one or two — or three. After all, you'll surely want to wear them with plenty of other spring style essentials — like a light wash denim jacket, navy chinos and white leather sneakers, for starters. It's also rare to get such a quality tee for an agreeable price, and that's what you're getting here. – Shop Now