The 18 Best Men's Tank Tops For Summer
Bear in mind, when we're talking about the best tank tops for men, we're not talking about that old college or high school sports T-shirt you've "modified" on your own (although one could argue you need one for sentimentality). No sir, we're talking about tank tops that blend technical function, easygoing style and serious good looks to wear to the beach, to wear to the gym, to throw on any time you feel like it around the house this summer.
A tank top signifies one thing loud and clear: Warm temperatures are here, and now is high time you started celebrating — and dressing like it. Many brands are taking a technical approach to crafting highly functional tank tops for indoor and outdoor workouts aplenty, innovating long past the sleeveless cotton tees of days gone by. The future of workout style (and summer style in general) is here, and it might just start with a functional, highly wearable tank top.
They also feature designs that are more akin to your favorite T-shirt, which makes a tank top a surefire upgrade from any you might have worn in the past. You'd be surprised how many of your favorite brands are making options that fit both the right style mold (see Todd Snyder below) and feature perfect functionality — you likely need one of each in your wardrobe. Yes indeed, a tank top is a crucial men's summer style essential, so now's the perfect time to find the best one (or three) to add to your summer wardrobe rotation.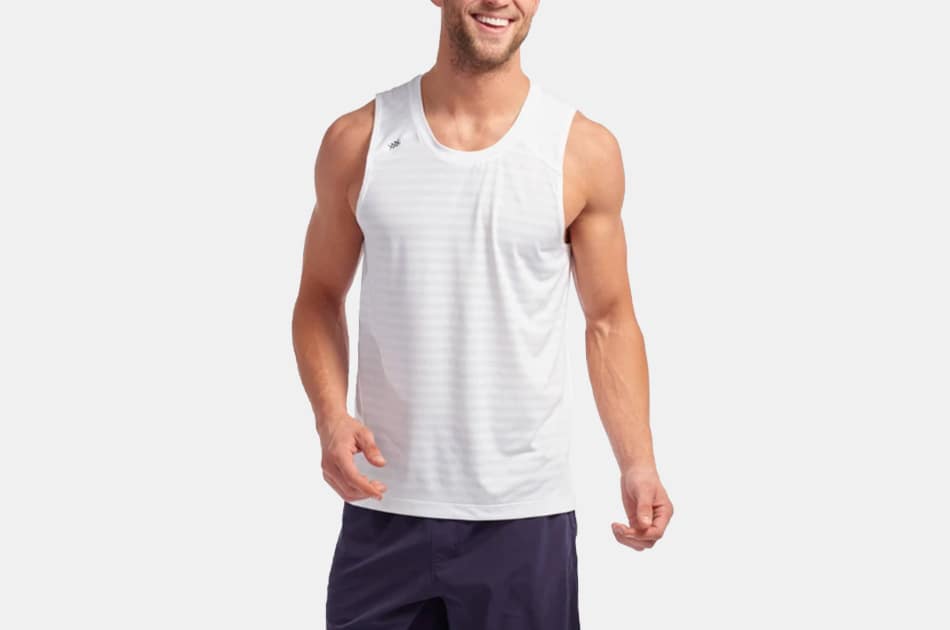 Rhone Swift Tank Top
Rhone prides itself on making functional, modern gear for the guy on the go, and that goes for its line of performance shorts, tees, outerwear and naturally, the aptly named Swift Tank Top. Wear it to give your morning workout a shot in the arm, knowing that it's got anti-odor, moisture-wicking capabilities and is designed for putting in lots of miles on the track.
Price: $58
Materials: Ultra-lightweight mesh stripe fabric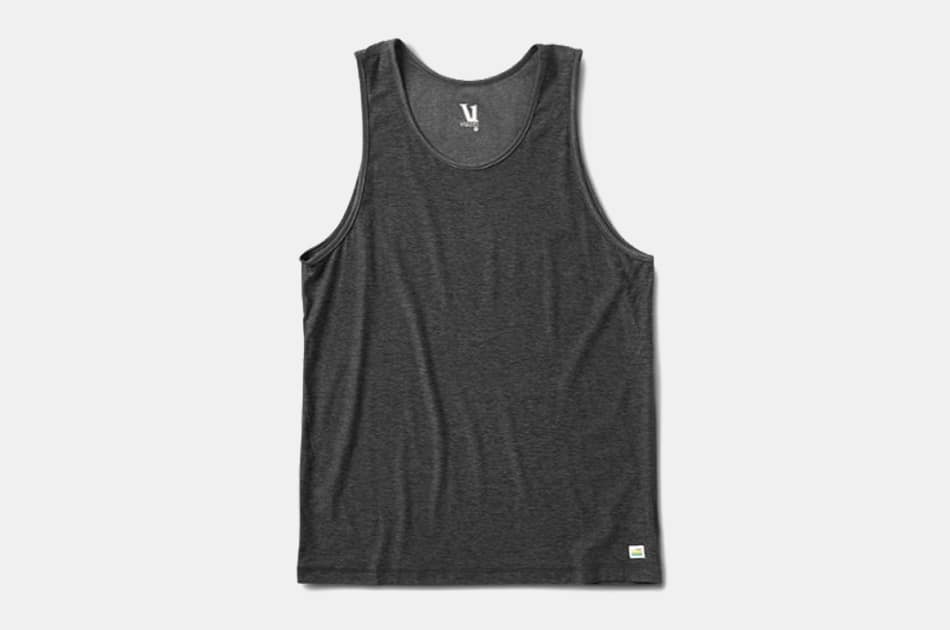 Vuori Strato Tech Tank Top
Tank tops should serve a dual purpose when it comes to keeping you cool and helping you get around in beach or workout-ready form, any day of the week. If you want to shed extra layers in the summer heat for your next socially distanced walk or workout session, then you best get a tank top that can live up to that challenge admirably. Vuori uses performance stretch jersey fabric to get the job done, and they deliver a tank that looks as great on the beach as it does back in the gym.
Price: $40
Materials: 96% Polyester, 4% Elastane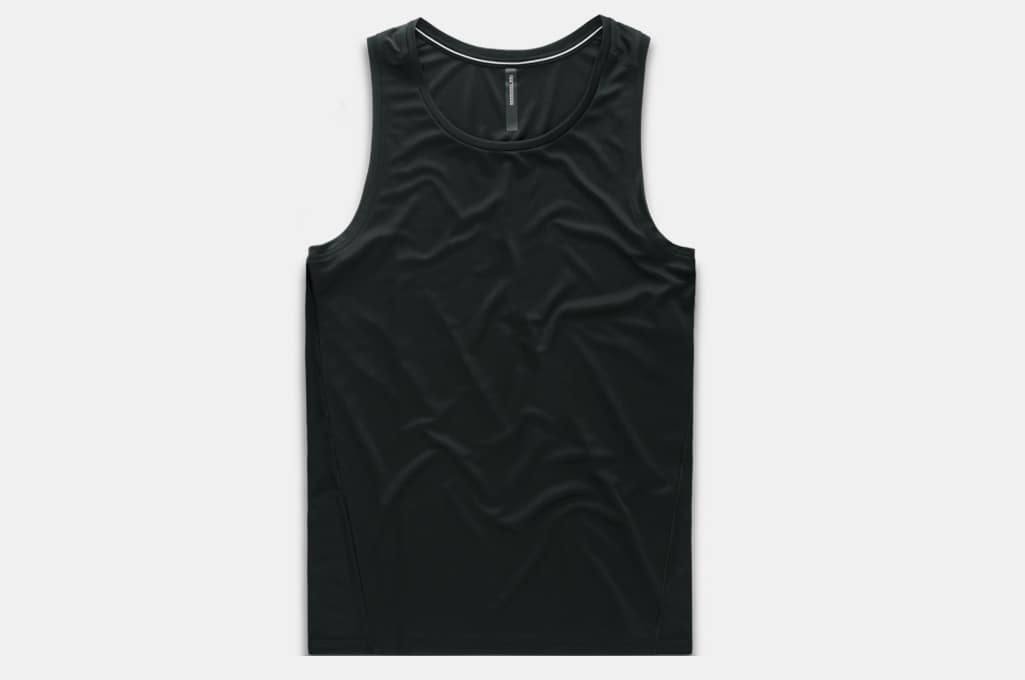 Ten Thousand Lightweight Tank Top
Wear this featherweight tank top on your next run, and you'll stay cool and dry even after hours of pushing the pace. Made from premium Italian polyester, this tank top is designed with anti-odor coating, micro-ventilation that makes it ultra-breathable, anti-chafe seams to prevent rubbing, and a minimalist construction that will hang comfortably on your frame no matter how hard you run, jump, and play. It's the perfect solution for HIITers, CrossFitters, Yoga lovers, and sprinters, with all the moisture-wicking and quick-drying properties you want in an exercise tank.
Price: $54
Materials: 100% Polyester microfiber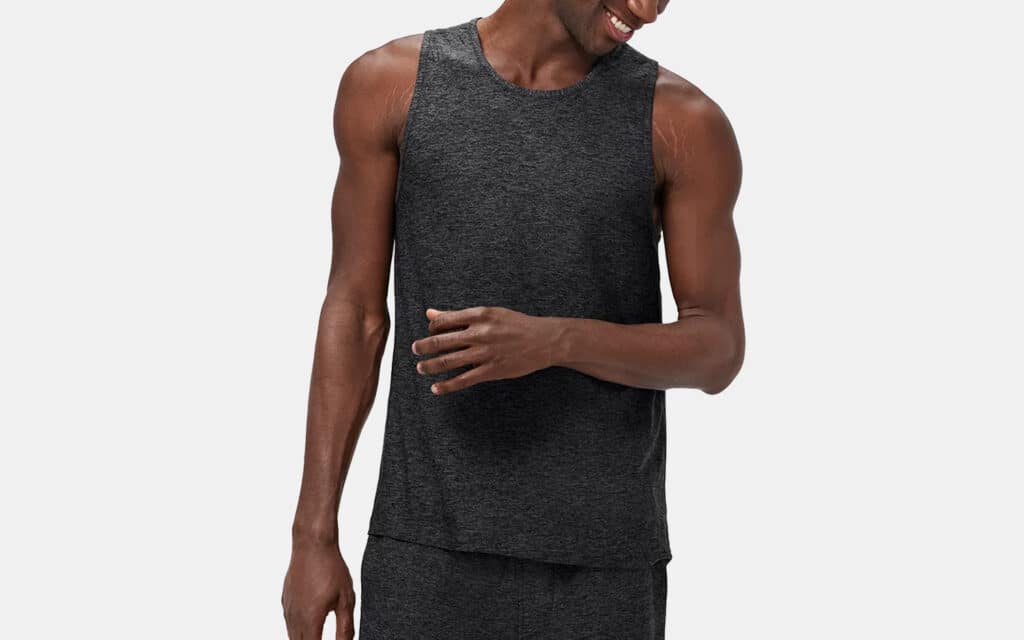 Outdoor Voices All Day Tank
The All Day Tank by Outdoor Voices is the ultra-versatile shirt you'll love wearing all summer long. Lightweight and cloud-soft, it's designed to resist chafing and stay dry/cool even when the heat is cranked up to the max. Sizing runs slightly on the large side, giving you just enough room to stretch and twist if you're playing sports, but it fits your form nicely to accentuate your physique in just the right ways. Pair it with your favorite sweatpants, joggers, or running shorts—it's in style and beautifully comfortable no matter the weather, occasion, or sport of choice.
Price: $52
Materials: 94% Polyester, 6% Spandex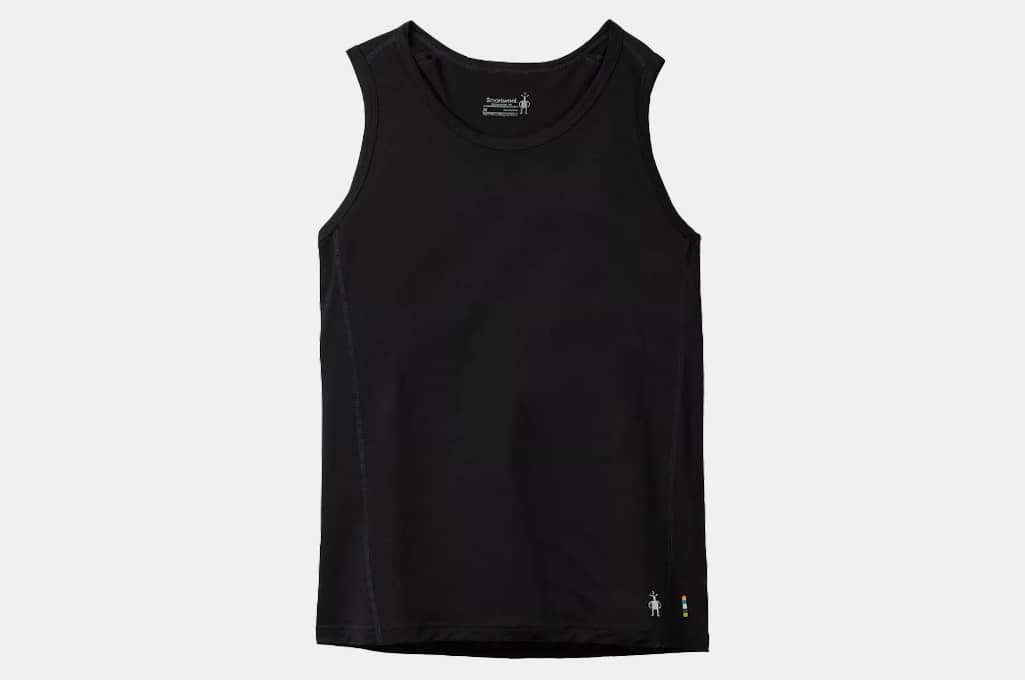 Smartwool Men's Merino Sport Ultralite Tank
Smartwool has done some pretty amazing things with their clothing, combining ultra-tough Merino wool with versatile synthetic fabrics. The Merino Sport Ultralite Tank is proof that they know how to do it right. This high-performance tank is designed to be both soft and sturdy, functional and stylish, capable of keeping up with any active lifestyle or weekend vacation. The combination of Merino and Tencel maxes out odor-resistance and breathability, and it's capable of both regulating your temperature and quickly drying in a pinch. Other amazing features include anti-chafing seams and reflective details for night running—the ultimate all-day-every-day tank top.
Price: $50
Materials: 53% Merino Wool, 47% Lyocell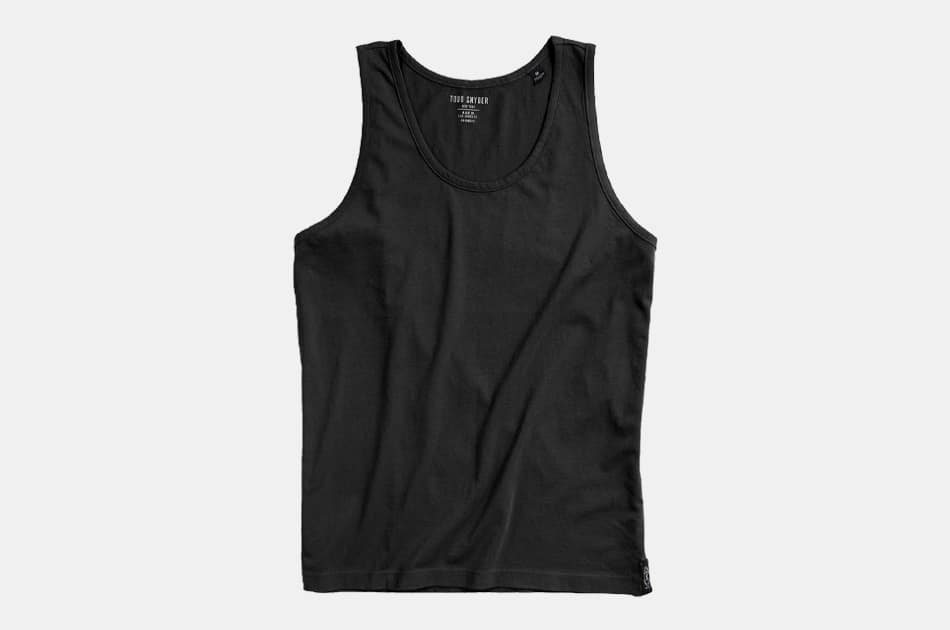 Todd Snyder Made In L.A. Tank Top
If you want a stylish tank top that's less technical and more about classic, old-school and retro-inspired style points, then Todd Snyder's Made In L.A. Tank Top is the one you want. Snyder's brand makes a number of casually cool pieces in Los Angeles, including stretch selvage denim, and it's fitting that a lightweight knit like this breezy tank top finds its roots under the California sun. If ever you thought a tank top couldn't be premium and ready to throw on underneath, say, a stonewashed denim jacket with chinos, well, think again.
Price: $58
Materials: 100% Garment dyed cotton jersey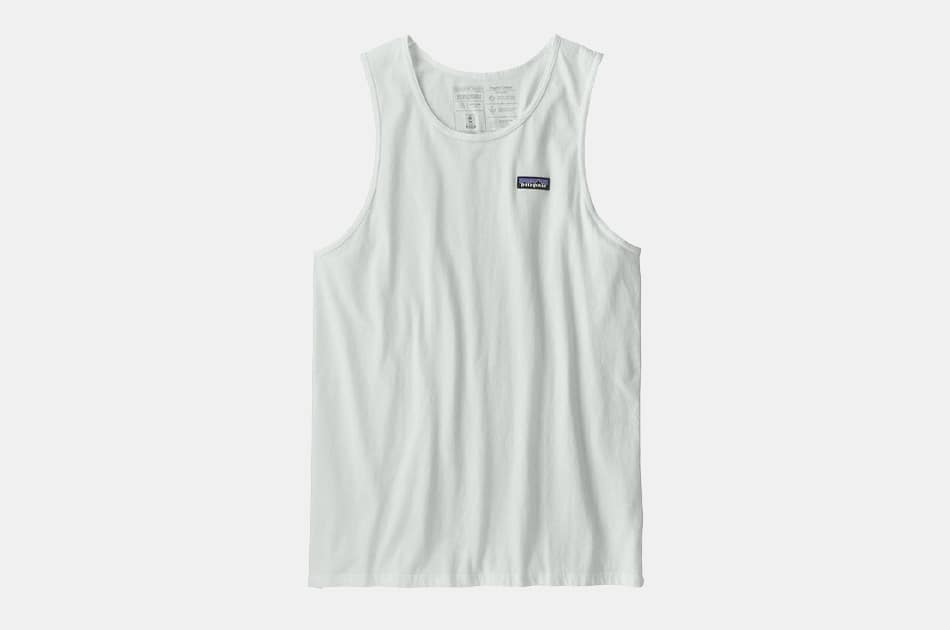 Patagonia P-6 Label Organic Tank Top
Organic cotton and sustainability is often the name of the game when it comes to Patagonia, and this tank top more than delivers on both those fronts. Subtly stylish and featuring the Patagonia logo for a bit of eye-catching visual interest when out on the beach or on the trail, this is a tank top that goes above and beyond a bargain bin offering — it's everything you need in your hunt for the best men's tank top.
Price: $35
Materials: 100% Organic cotton jersey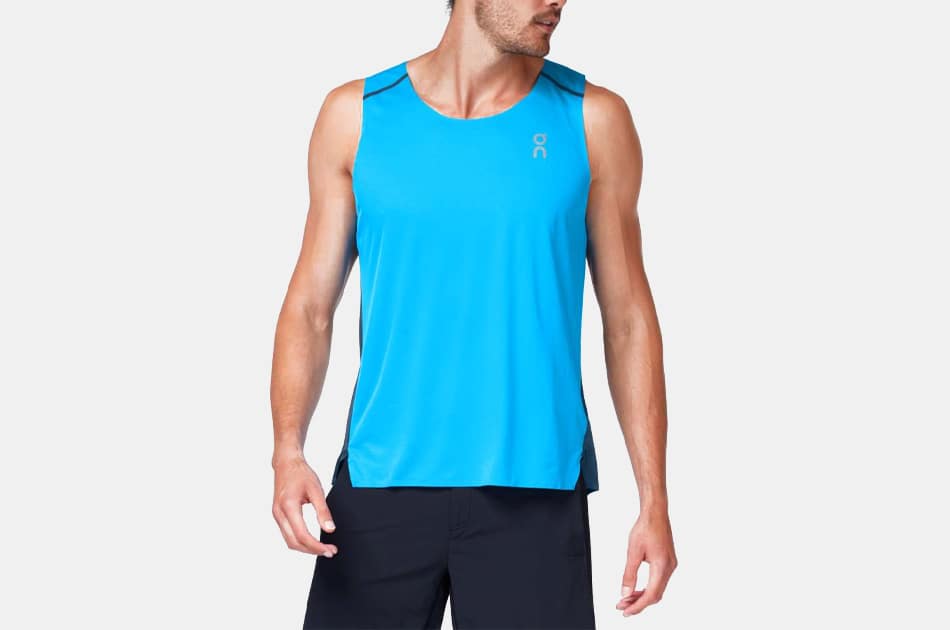 On Tank-T
Gaining speed and shaving off crucial seconds during a run is critical, and the best gear can certainly help you get closer to doing that — take the On Tank T, made specifically for running and speed training. With options like a cool black-and-green combo, you'll stand out from the field in matters of style and performance, too. Plus, the price is more than agreeable — pick up multiple to power daily training sessions.
Price: $70
Materials: 100% Polyester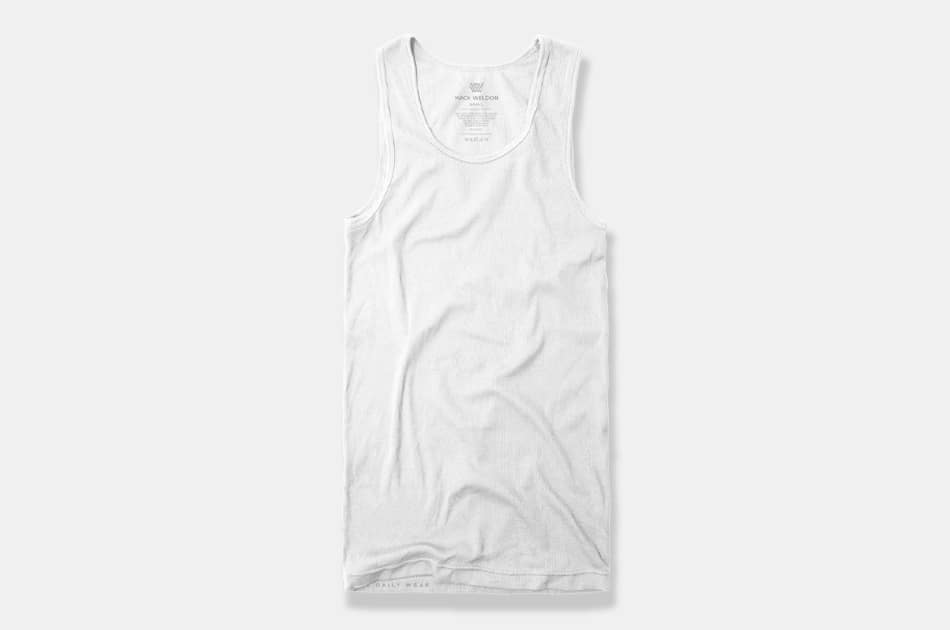 Mack Weldon 18-Hour Jersey Rib Tank
Mack Weldon has quite the penchant for making gear guys love across the board, from its laidback lounge pants and soft tees to functionally minded gear like the 18-Hour Jersey Rib Tank. Made from a helpful blend of cotton, modal and spandex, this tank is the perfect layer underneath a dress or casual shirt, complete with sweat-wicking and breathable qualities.
Price: $28
Materials: 47.5% Cotton / 47.5% Modal / 5% Spandex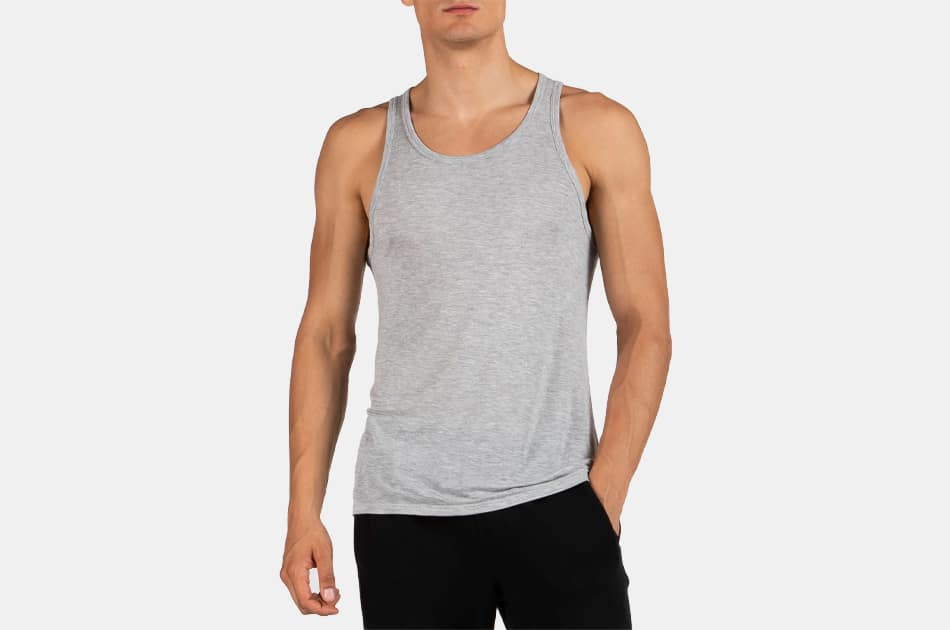 ATM Modal Jersey Tank Top
Yes, there's such a thing as a designer tank top — a precisely made tank that would add a dash of laidback style when worn underneath an open Hawaiian or camp collar shirt, for instance. This ATM Modal Jersey Tank Top, made from super-soft modal jersey yarn, is the perfect option when you want a tank top that's less technical and absolutely stylish in its own right.
Price: $70
Materials: 100% Modal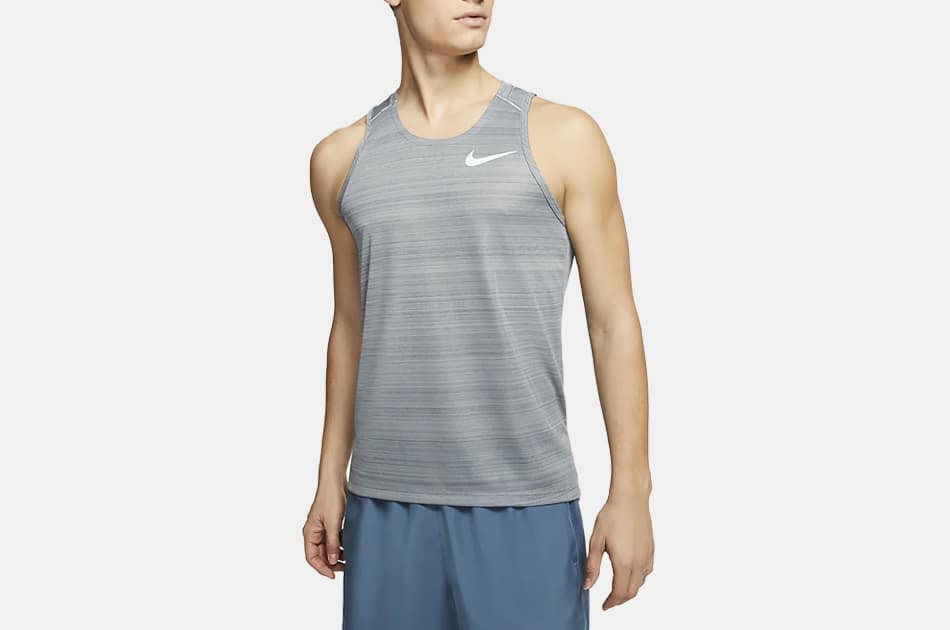 Nike Dri-FIT Miler Running Tank Top
If you don't have some form of Nike gear on when training, you might not be maximizing your workout gear to its full potential, nor your training sessions themselves, for that matter. That's because, as any burgeoning fitness enthusiast or seasoned hand knows, the right gear makes a big difference — and Dri-FIT technology can keep your next run moving along speedily and sharply, thanks to its moisture-wicking technology.
Price: $35
Materials: 100% Polyester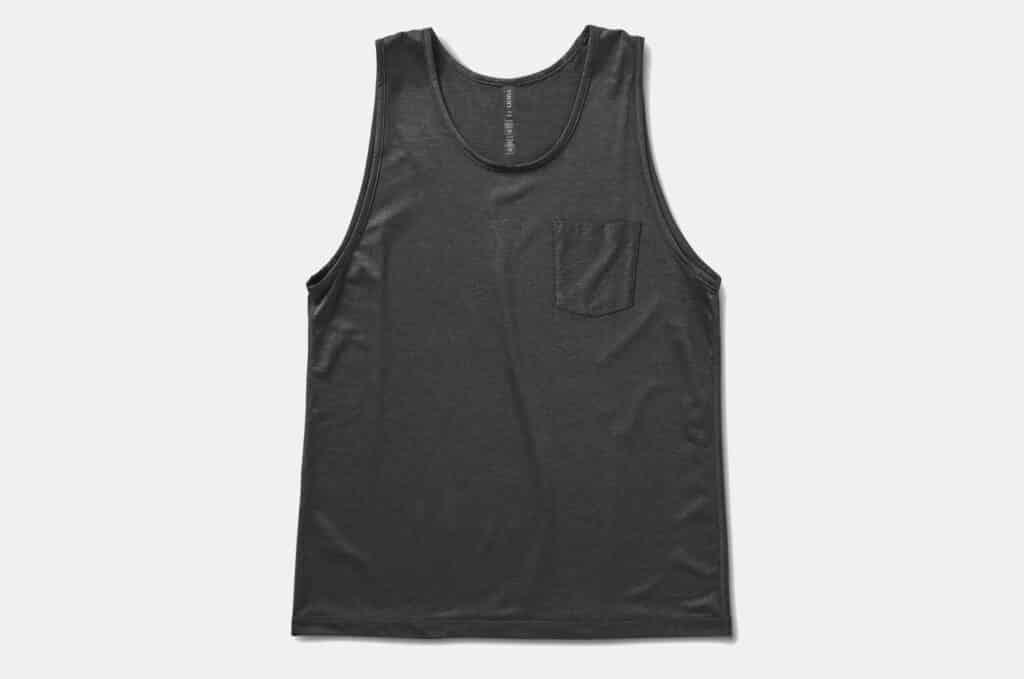 Vuori Tradewind Performance Tank Top
Sometimes, you just want to throw on a tank top that's going to get you through your workout at a high level without thinking too much about it. The Vuori Tradewind Performance Tank performs so well, it's your best bet — no doubt about it. Made from a sweat-wicking blend of polyester and elastane, we'd suggest you pick up one in each color.
Price: $42
Materials: 89% Recycled Polyester, 11% Elastane
Reigning Champ Lightweight Jersey Tank Top
Reigning Champ may be a new brand on the clothing market, but the Lightweight Jersey Tank Top definitely sets a high bar for its competitors and rivals. The classically-styled tank is simple and frills-free, with a trim athletic fit, scoped bottom hem, and rib-bound collar and arms—basically, everything you love in a tank top, but done better than ever. The Canadian-made shirts are actually hand-crafted in Vancouver using only premium cotton, and it's designed for year-round use. Wear it in the summer as your workout shirt or a base layer in the winter, this tank can handle it all.
Price: $55
Materials: 100% Cotton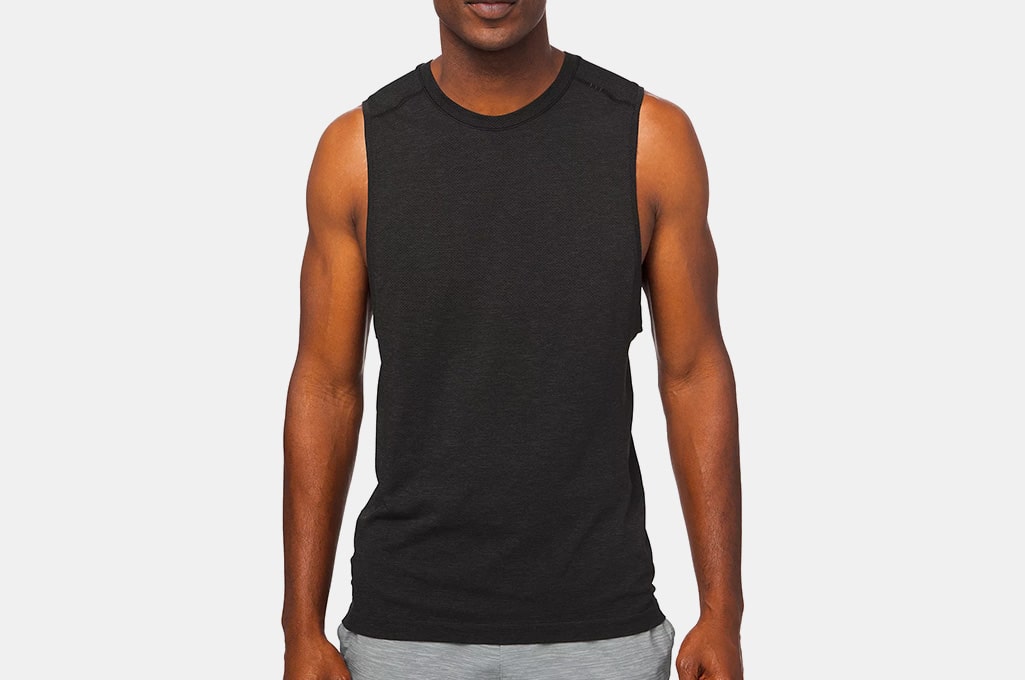 Lululemon Metal Vent Tech Sleeveless 2.0
Put those guns on full display with Lululemon's Metal Vent Tech Sleeveless tank. Designed specifically for athletes, it's an ultra-breathable, super-lightweight, no-chafe tank top that will stretch and shift with you no matter what you do. The slim fit is always stylish – lounging on the beach, going for a run, or hitting the weights — and you'll find it's beautifully durable.
Price: $68
Materials: 49% Nylon, 43% Recycled polyester, 4% Elastane, 4% X-static nylon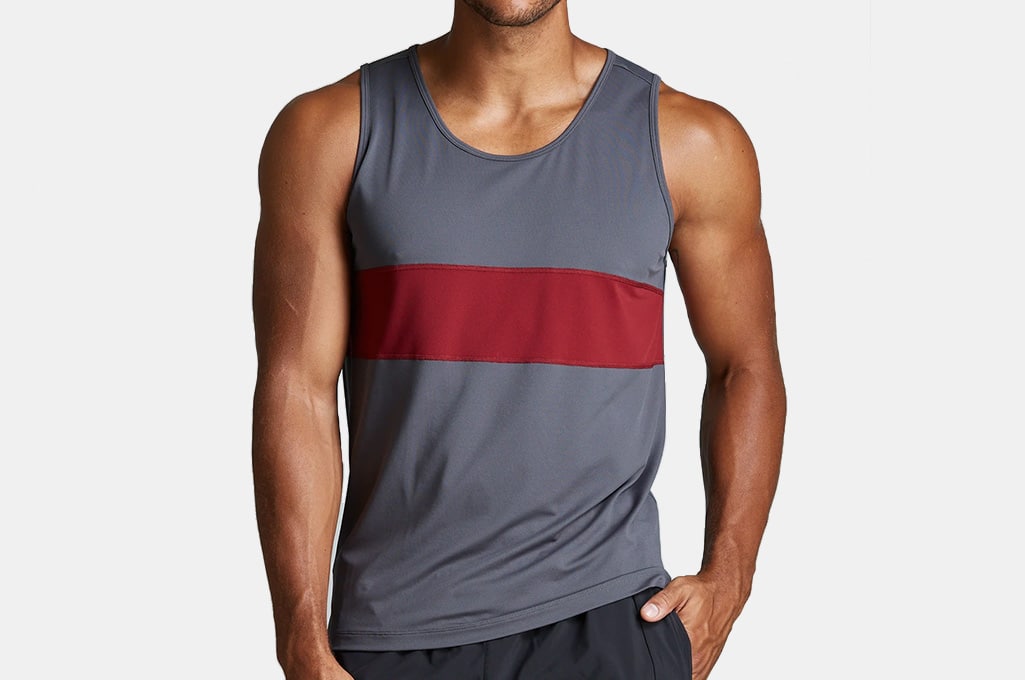 Fourlaps Dash Tank 2.0
Be your bold, authentic self with the Dash Tank 2.0. This shirt combines the two things you love most: performance and flair. The Fourlaps signature mesh fabric is super light, breezy, wicks away sweat, and minimizes odors so you smell fresh and clean all day long. With bright colors and a classic style, this tank will make you the boss at the gym, on the beach, and around town. Best of all, it's built for excellence and made using 88 percent sustainable material.
Price: $48
Materials: 91% Recycled Polyester, 9% Spandex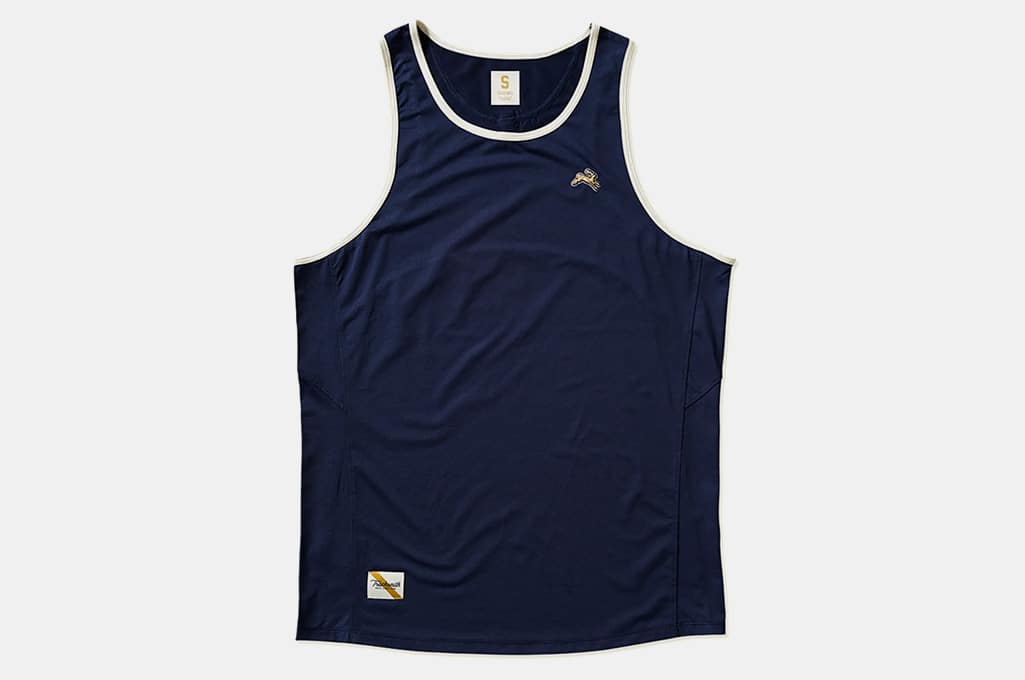 Tracksmith Twilight Tank
Runners take note: the Tracksmith Twilight Tank is for you. Built for race day but compatible with any run — endurance, triathlon, Iron Man, Tough Mudder, you name it — this tank is feather-light, subtle in its style, and incredibly comfortable. Made from luxurious Italian silk-soft fabric, it's the perfect shirt to keep you cool on even the hottest days.
Price: $62
Materials: 85% Polyester / 15% Elastane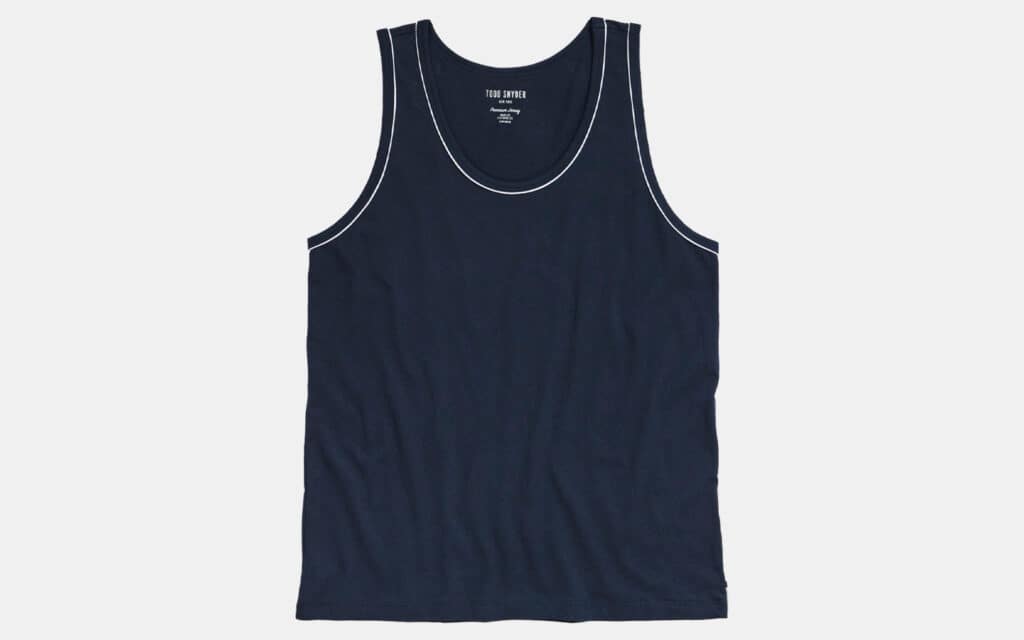 Todd Snyder Tipped Tank Top in Navy
When the weather is warm and you want to look your best on the courts or the streets, slide into this Todd Snyder tank and be ready to turn heads. The Tipped Tank Top in Navy combines a deep, rich color, super-soft fabric, a sporty cut, and a tailored fit that you're guaranteed to love. You can even wear it beneath a button-down shirt to blend elegance and casual confidence in just the right way. This American-made tank top is the perfect addition to your summer wardrobe, and at a price you can love.
Price: $58
Materials: 100% Cotton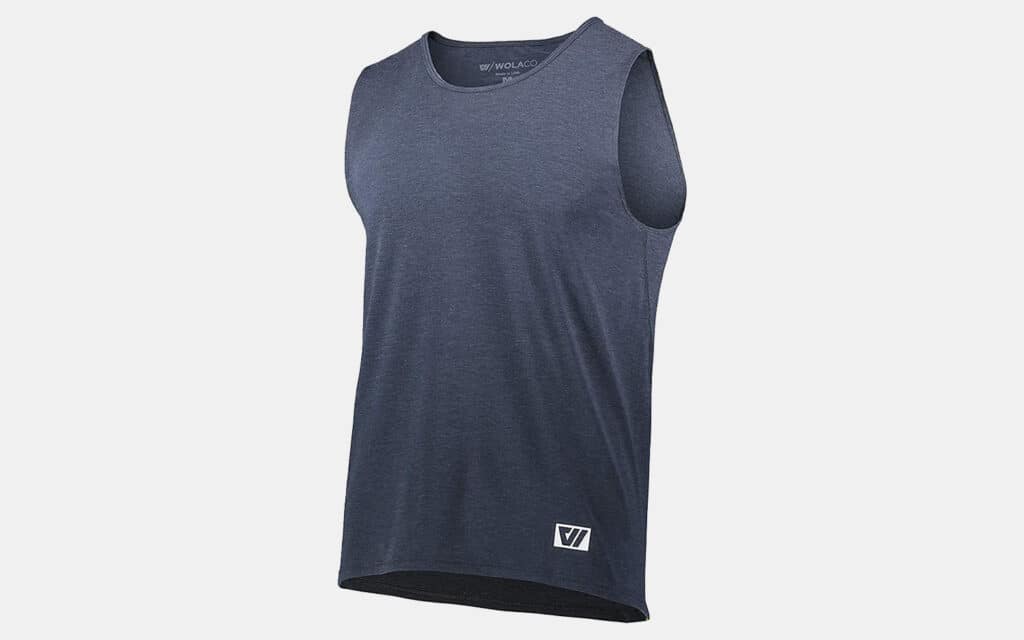 WOLACO Clinton Featherweight Tank Top
Andy here: I've been wearing this ultra-light tank top for months now and absolutely loving it! It's not just insanely light, but it's soft to the touch, breathable as all heck, and both quick-drying and moisture-wicking to keep me from overheating during the hot Canadian summers. But what I really like best is the fit; it's structured to accentuate the breadth of my shoulders, arms, and chest while slimming me right down at the torso. I've used it at the gym, on my runs, bouldering, kayaking, hiking, even as a base layer while snowboarding, and it's handled it all with ease. It's a tank I keep coming back to because it just works for what I need.
Price: $48
Materials: 74% Polyester, 19% Tencel, 7% Spandex
Disclosure: Clicking on these links and making a purchase may earn us a small referral fee, at no extra cost to you. Learn more here.
freestar.config.enabled_slots.push({ placementName: "gearmoose_leaderboard_btf", slotId: "gearmoose_leaderboard_btf" });