The 15 Best Men's Tank Tops
Bear in mind, when we're talking about the best tank tops for men, we're not talking about that old college or high school sports T-shirt you've "modified" on your own (although one could argue you need one for sentimentality). No sir, we're talking about tank tops that blend technical function, easygoing style and serious good looks to wear to the beach, to wear to the gym, to throw on any time you feel like it around the house this spring and summer.
A tank top signifies one thing loud and clear: Warmer temperatures are here (or at least, on the way), and now is high time you started and celebrating — and dressing like it. Plenty of your favorite brands are taking a technical approach to crafting highly functional tank tops for indoor and outdoor workouts aplenty, innovating long past the sleeveless cotton tees of days gone by. The future of workout style (and summer style in general) is here, and it might just start with a functional, highly wearable tank top.
They also feature designs that are more akin to your favorite T-shirt, which makes a tank top a surefire upgrade from any you might have worn in the past. You'd be surprised how many of your favorite brands are making options that fit both the right style mold (see Todd Snyder below) and feature perfect functionality — you likely need one of each in your wardrobe. Yes indeed, a tank top is a crucial mens's summer style essential, so now's the perfect time to find your favorite option (or two, or three).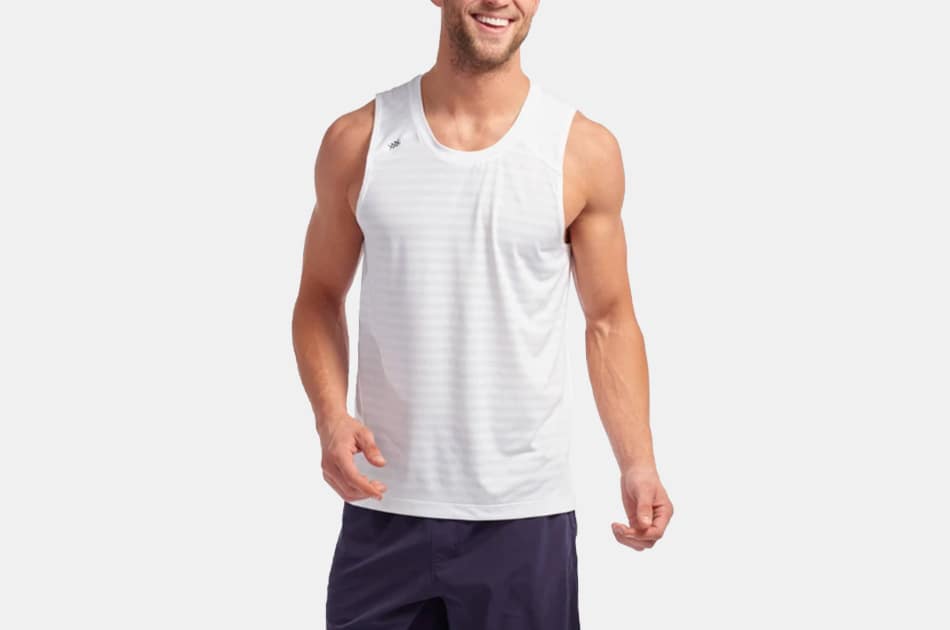 Rhone Swift Tank Top
Rhone prides itself on making functional, modern gear for the guy on the go, and that goes for its line of performance shorts, tees, outerwear and naturally, the aptly named Swift Tank Top. Wear it to give your morning workout a shot in the arm, knowing that it's got anti-odor, moisture-wicking capabilities and is designed for putting in lots of miles on the track.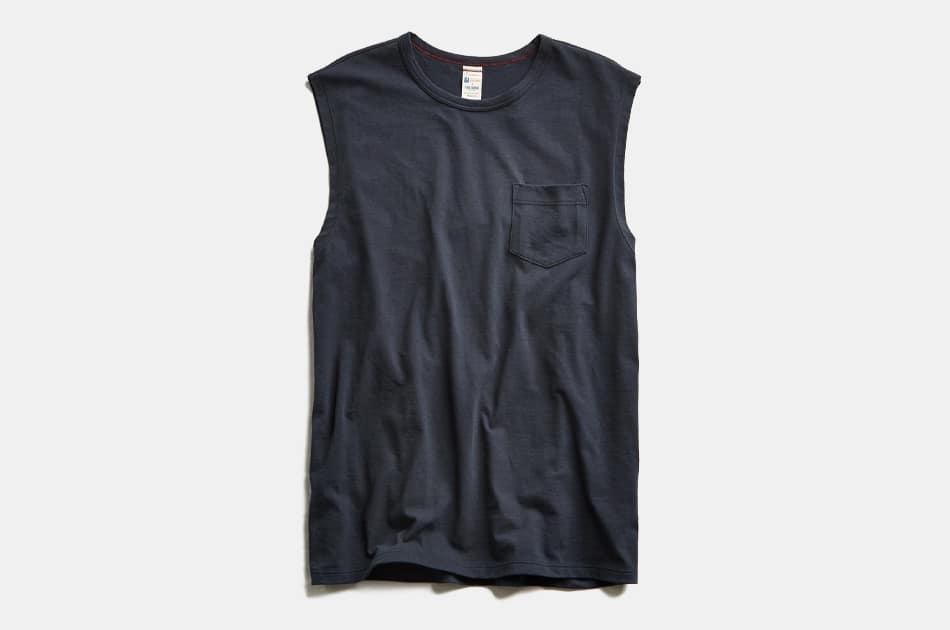 Todd Snyder x Champion Muscle Tank
One of America's foremost menswear designers continues his ongoing partnership with Champion in a way that's both cool and old-school inspired. This muscle tank is as good as it gets, simply designed with a front chest pocket in a classic navy color from rugged cotton jersey fabric. Wear it with tailored swim trunks and boat shoes the next time you get out on the water, then throw on a camp collar shirt on top of it to head to the bar afterward.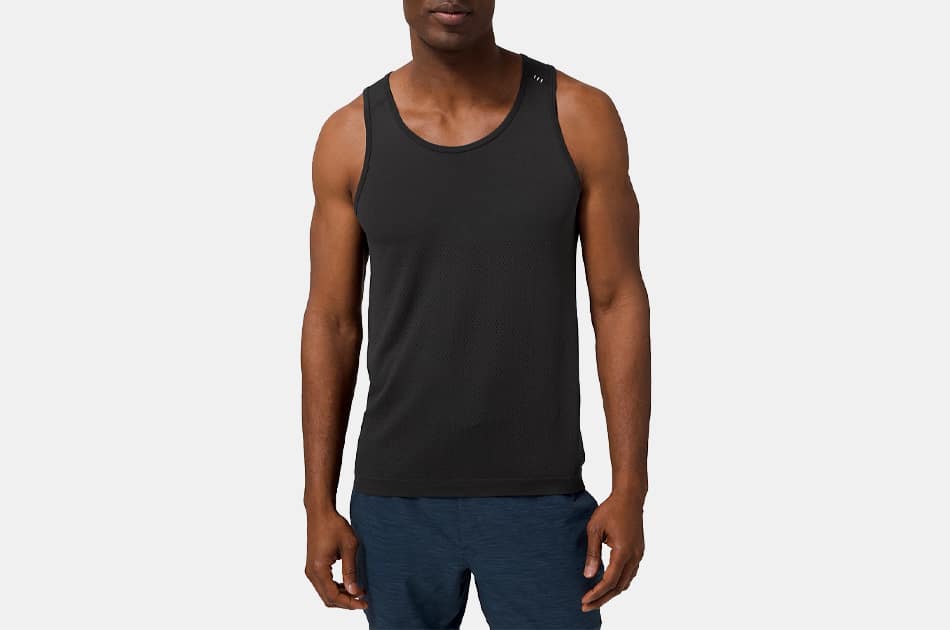 Lululemon Metal Vent Breathe Tank
Lululemon has quietly earned a place in the wardrobes of guys who value both form and function in recent years — and if your wife or girlfriend is a fan of the brand, perhaps they've pointed you in the right direction when it comes to Lululemon's lifestyle and athletic gear for guys. The Metal Vent Breathe Tank is an all-purpose training tank, available in no-nonsense colors for top-notch performance.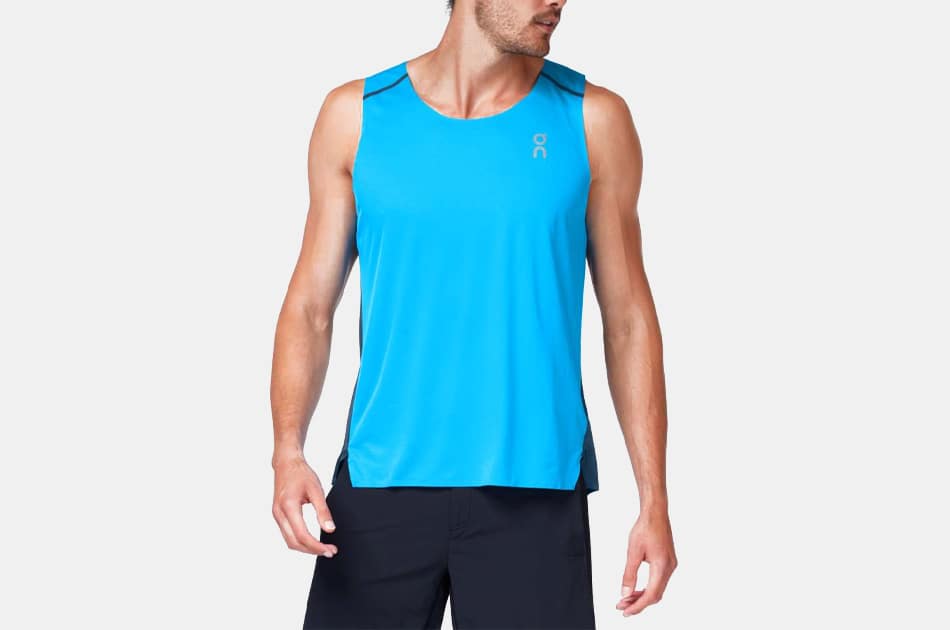 On Tank-T
Gaining speed and shaving off crucial seconds during a run is critical, and the best gear can certainly help you get closer to doing that — take the On Tank T, made specifically for running and speed training. With options like a cool black-and-green combo, you'll stand out from the field in matters of style and performance, too. Plus, the price is more than agreeable — pick up multiple to power daily training sessions.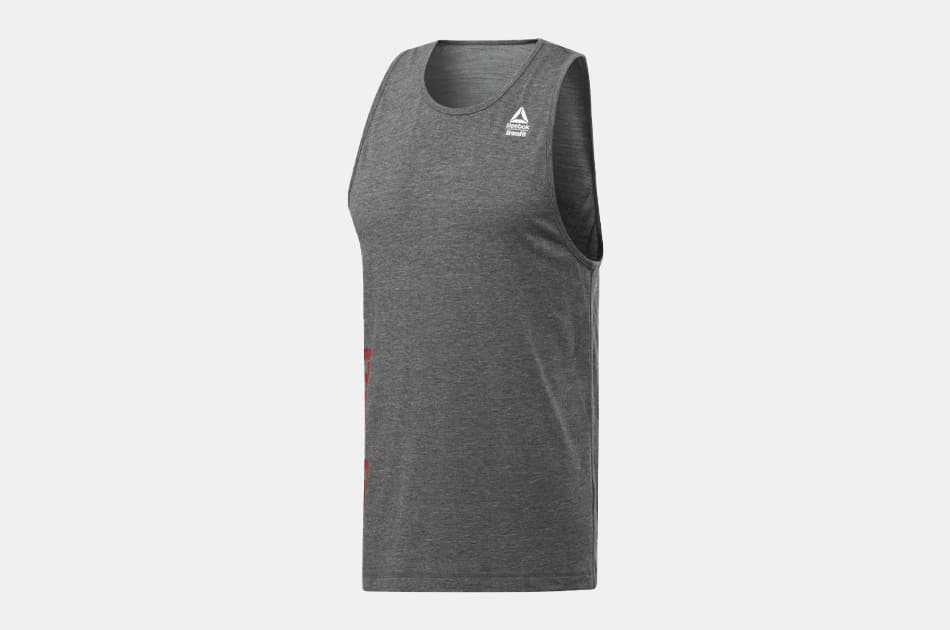 Reebok Crossfit Activchill + Cotton Tank Top
Just as CrossFit programs can be specific and highly tailored, so too can the gear you wear to knock out grueling workouts. Enter Reebok and the Crossfit Activchill + Cotton Tank Top, made in simple style and available for under $45. It's the kind of workout essential you'll want to grab multiple of, all the better to wear during plenty of tough workout sessions this spring and summer.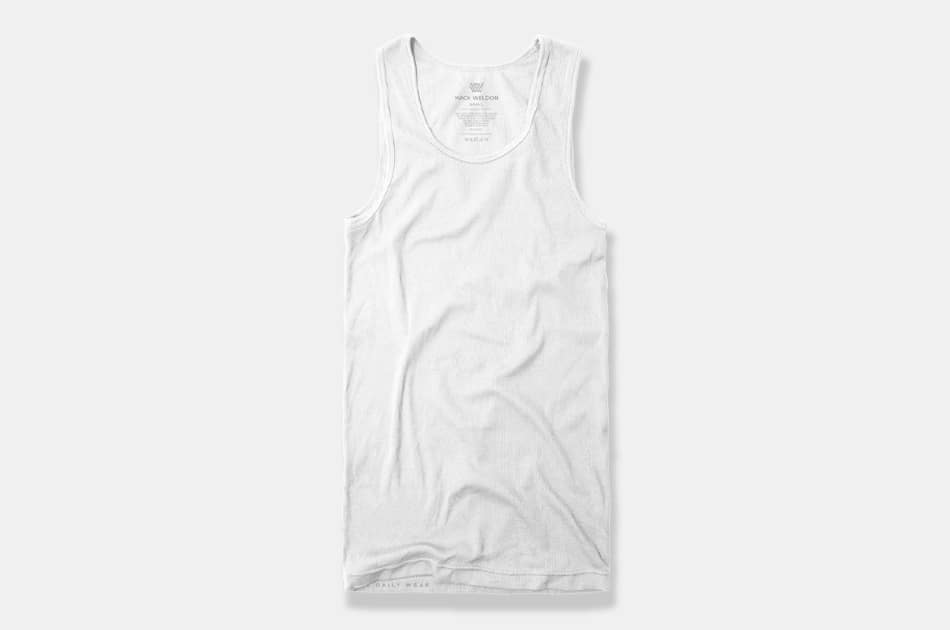 Mack Weldon 18-Hour Jersey Rib Tank
Mack Weldon has quite the penchant for making gear guys love across the board, from its laidback lounge pants and soft tees to functionally minded gear like the 18-Hour Jersey Rib Tank. Made from a helpful blend of cotton, modal and spandex, this tank is the perfect layer underneath a dress or casual shirt, complete with sweat-wicking and breathable qualities.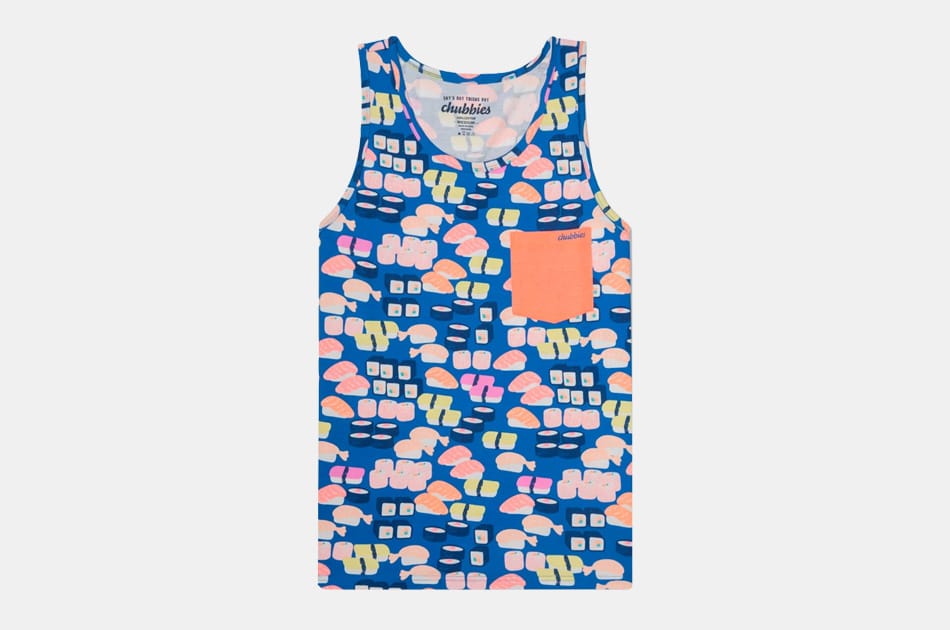 Chubbies The Nigiris Tank Top
You know Chubbies fun, colorful shorts — and the best pairing alongside said shorts might just be something like the easygoing Nigris Tank Top, which just so happens to be ideal for knocking back some cold brews at the beach, on the water or at the pool. The eye-catching pattern would also work well with some tan chino shorts from Chubbies — no doubt about it.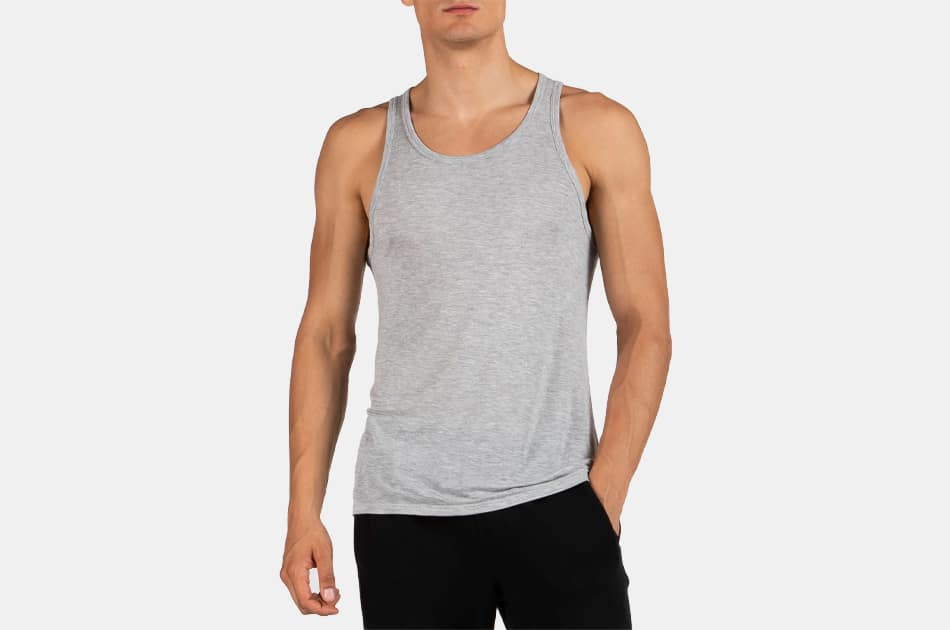 ATM Modal Jersey Tank Top
Yes, there's such a thing as a designer tank top — a precisely made tank that would add a dash of laidback style when worn underneath an open Hawaiian or camp collar shirt, for instance. This ATM Modal Jersey Tank Top, made from super-soft modal jersey yarn, is the perfect option when you want a tank top that's less technical and absolutely stylish in its own right.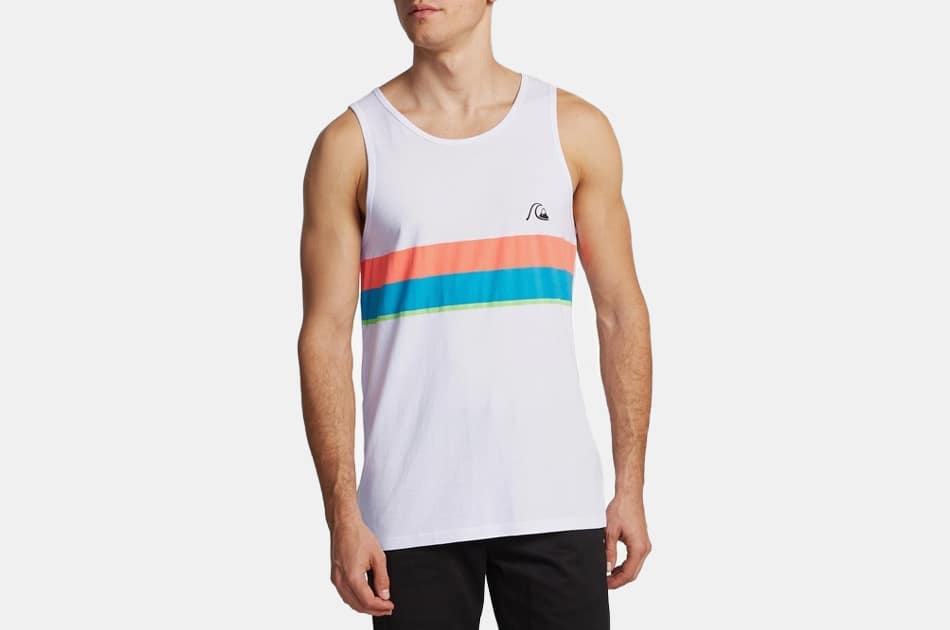 Quiksilver Seasons Tank Top
What are you going to throw on to head to the beach or the boardwalk, or right after you stepped out of the surf from catching some waves? The answer lies right here: The Quiksilver Seasons Tank, a beach bag and vacation essential that's fit to wear with a cold beer in hand on a bright summer day.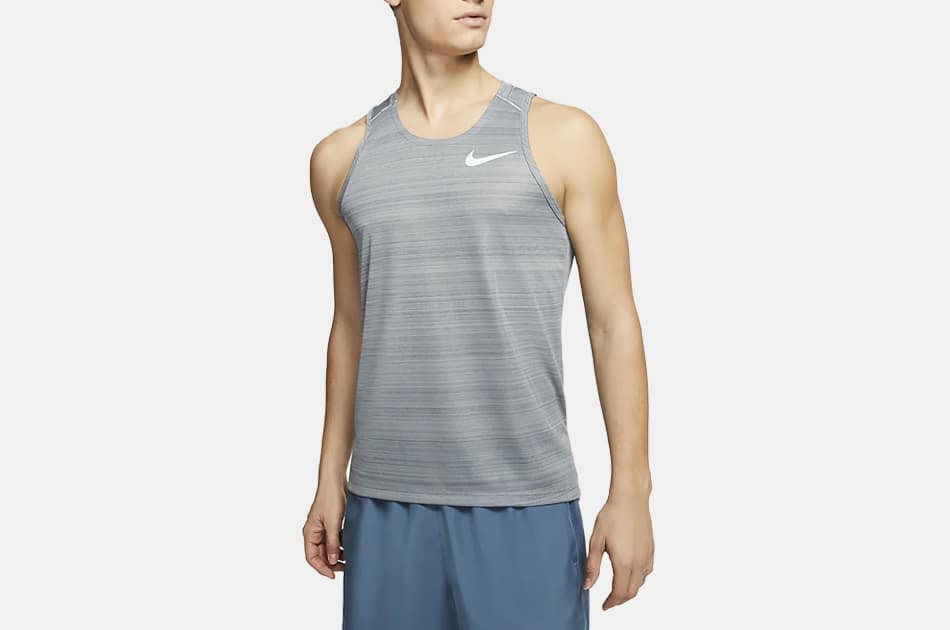 Nike Dri-FIT Miler Running Tank Top
If you don't have some form of Nike gear on when training, you might not be maximizing your workout gear to its full potential, nor your training sessions themselves, for that matter. That's because, as any burgeoning fitness enthusiast or seasoned hand knows, the right gear makes a big difference — and Dri-FIT technology can keep your next run moving along speedily and sharply, thanks to its moisture-wicking technology.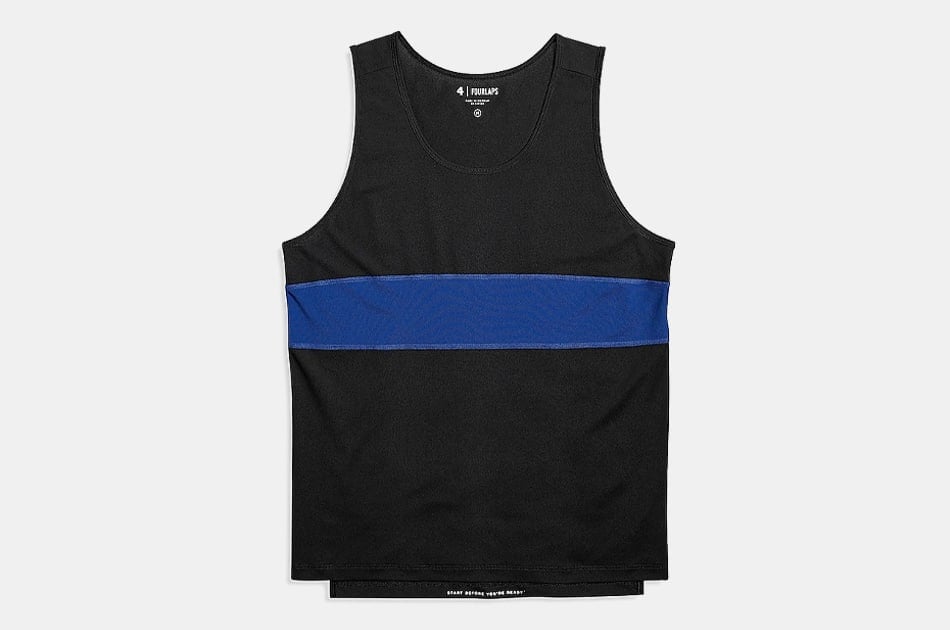 Fourlaps Dash Tank Top
Fourlaps encourages guys to "start before you're ready," a fitting adage when it comes to getting out there and knocking out a speed workout or lifting session — and it's only fitting that the Fourlaps Dash Tank Top is made to help the fitness-inclined tackle workouts with ease. Made from anti-microbial and moisture-wicking fabric, the Dash Tank Top also features some bold and on-trend colorblocked design for perfect workout style.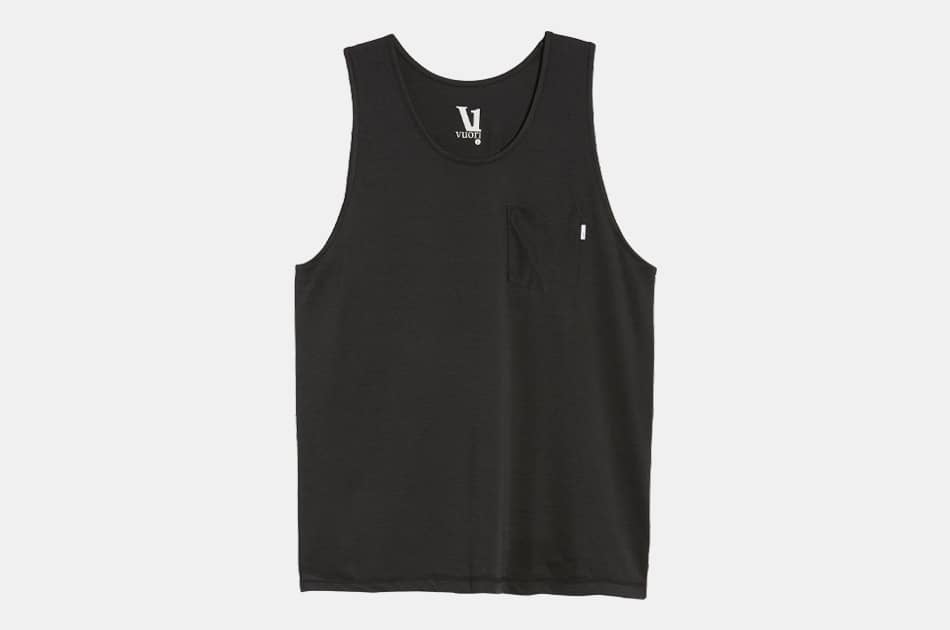 Vuori Tradewind Performance Tank
Sometimes, you just want to throw on a tank top that's going to get you through your workout at a high level without thinking too much about it. The Vuori Tradewind Performance Tank performs so well, it's your best bet — no doubt about it. Made from a sweat-wicking blend of polyester and elastane, we'd suggest you pick up one in each color.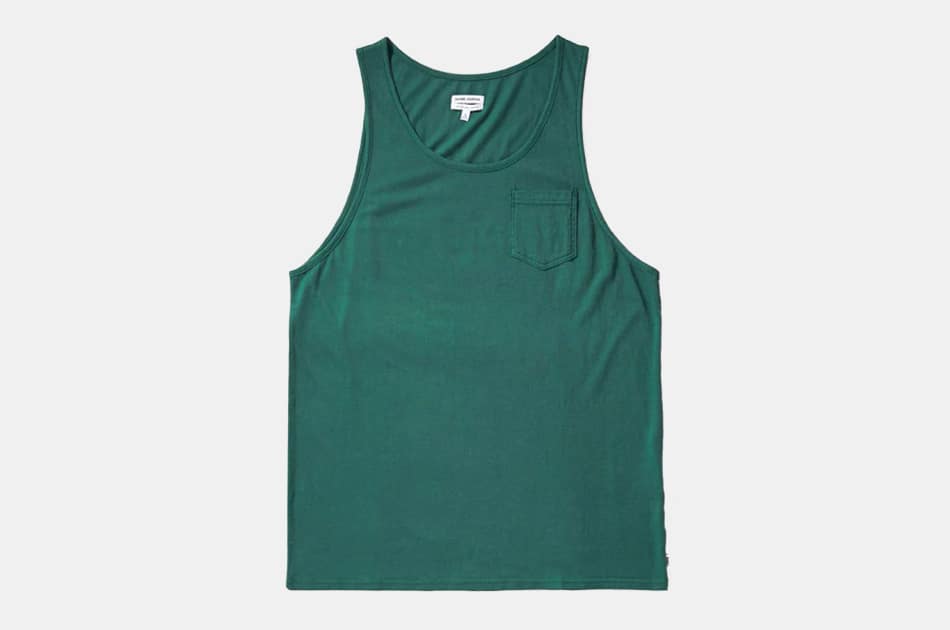 Banks Journal Primary Tank
Banks Journal takes the ordinary and upgrades it in a way that pays homage to the past and yet sits nicely here in the present day. The affordably priced Primary Tank is but one fine example of this approach. We love the organic, garment-dyed cotton, plus the cool Seaweed color and easygoing design, perfect for rocking this tank on its own to a beach bar (when the time comes),or else wearing underneath an unbuttoned grey short-sleeve shirt for casually sharp style.
The North Face Men's Active Trail Tank Top
To make your next trail run or hike as efficient as possible, turn toward the brand that outfits you for every other one of your adventures — The North Face. While rugged parkas might seem the norm with this brand, they also make a nicely functional tank top for the trail, one you should surely use as a base layer the next time you need it.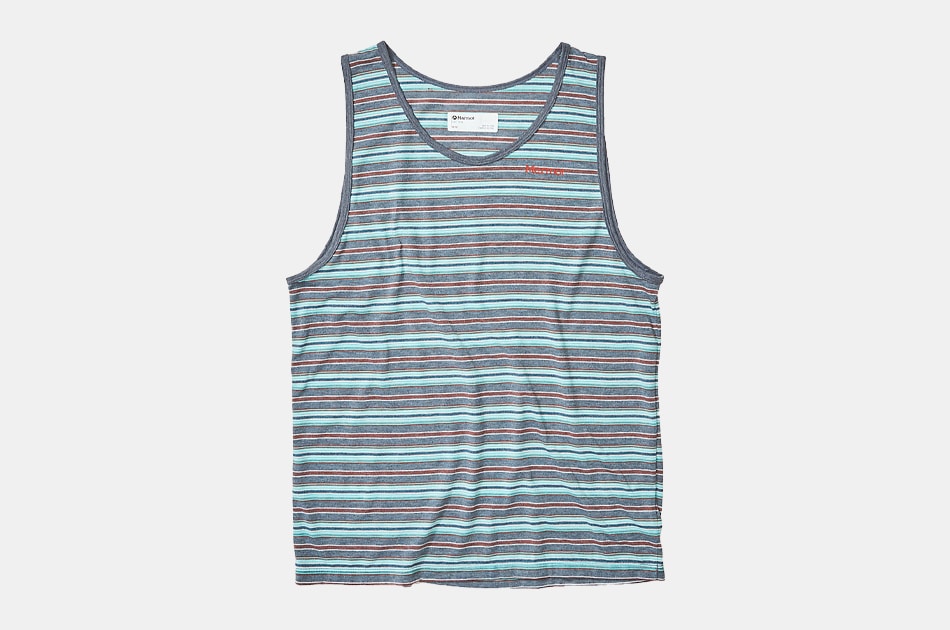 Marmot Men's Amp Tank Top
When you want a tank top that packs a serious bang for your buck and gives you more than you'd expect, get the Amp Tank Top from Marmot. It features built-in SPF protection plus DryRelease fabric from the brand for moisture-wicking properties — not to mention, it's available in a cool array of striped patterns for some added adventure style.
Disclosure: Clicking on these links and making a purchase may earn us a small referral fee, at no extra cost to you. Learn more here.