The 16 Best Hawaiian Shirts For Men
The days of the Hawaiian shirt being a style afterthought, a piece that you only throw on when lounging at a friend's pool party … well, those days are long gone. Hawaiian shirts combine laidback ease and classic patterns and colors with the right type of styling details for 2018. Which is to say, the fits have been updated, the design touches have been dialed in, and the range of brands making a stylish men's camp shirt has grown exponentially since the days when your dad wore one routinely.
The best Hawaiian shirts simply just work with everything from light wash denim to slim rolled chinos — footwear that leans classic and casual also works wonders here. Try one with canvas sneakers, leather loafers, or even suede chukkas. Feel like throwing on a lightweight navy blazer and grey chinos? These Hawaiian shirts can work with that combo, too. And for day after day of laidback relaxation at an outdoor patio or your favorite brewery, they just get the job done — even off the clock. You'll be blown away by how stylish the Hawaiian shirt can be — trust us. Here are the 15 best.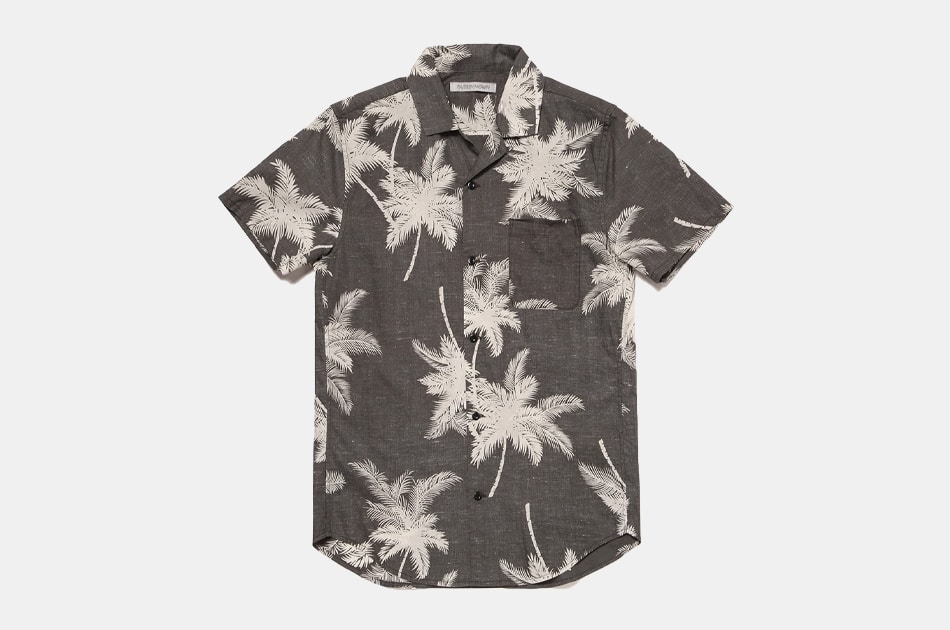 Outerknown BBQ Shirt
It's fitting that Outerknown has dubbed its latest summer style essential the "BBQ Shirt," because it's practically made for long days manning the grill and knocking back cold ones. It's reasonably priced at $78, and made from a blend of organic cotton and hemp for an extra dose of knockout style. Corozo buttons drive home the small design details you've come to expect from Outerknown, while the classic fit offers mobility, breathability and just a hint of modern style. It's really the complete package. Now, you just need grilling supplies — and maybe a cold one, right?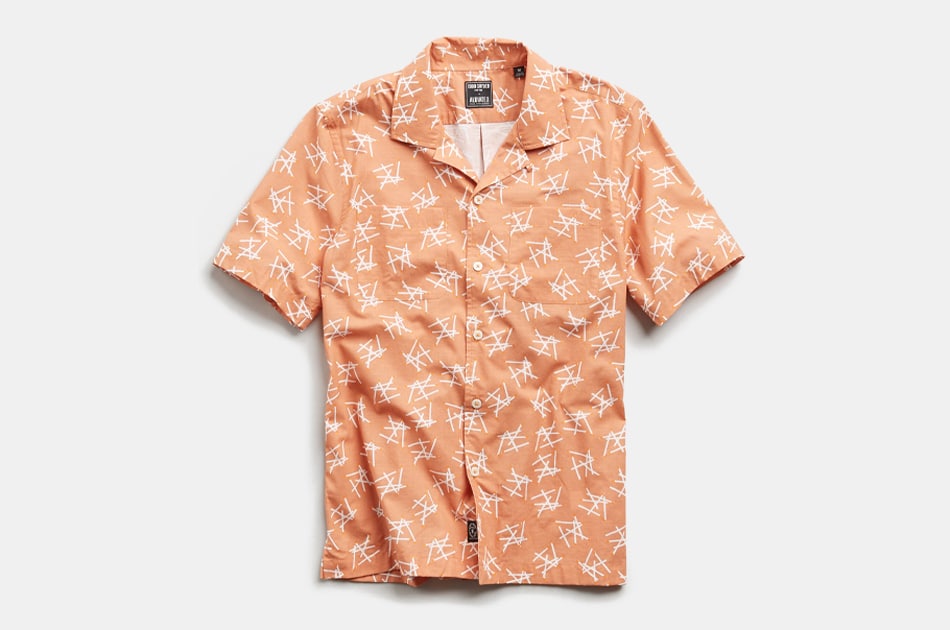 Todd Snyder Limited Edition Matchstick Camp Shirt
There's just something about designer Todd Snyder's collections that consistently feels of another time and place — in the best way possible, too. Whether he's drawing inspiration from classic collegiate styles from his home state of Iowa or from decades gone by — in the case of this stylish camp shirt — the end results are usually pretty enviable and enjoyable. This limited-edition camp shirt is a surefire way to take your spring style ensemble from good to great. It's ready for backyard BBQs and beach beers — and maybe an easygoing Casual Friday — when the time comes.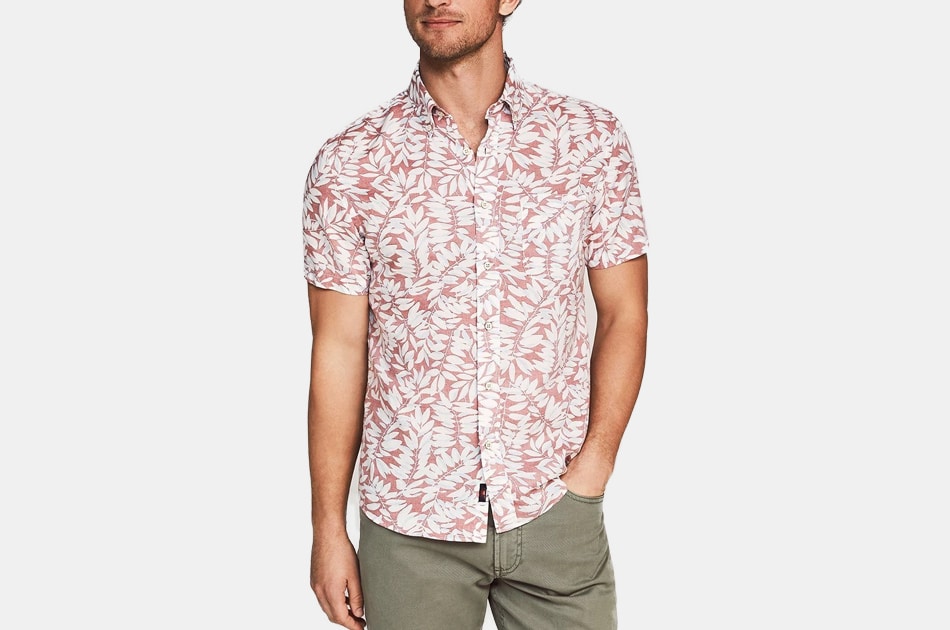 Faherty Short-Sleeve Playa Shirt
Hawaiian shirts oftentimes come from brands that are reliable and well-known for producing other essential menswear picks — take Faherty Brand, for instance. With a dash of ocean-inspired cool and the type of styling potential that works at the beach or back at the bar, this family brand has the market cornered on easygoing essentials for warm weather — like the Short-Sleeve Playa Shirt, for example. Faherty uses some of the best fabric and the coolest designs in the business, and the approach is no different here.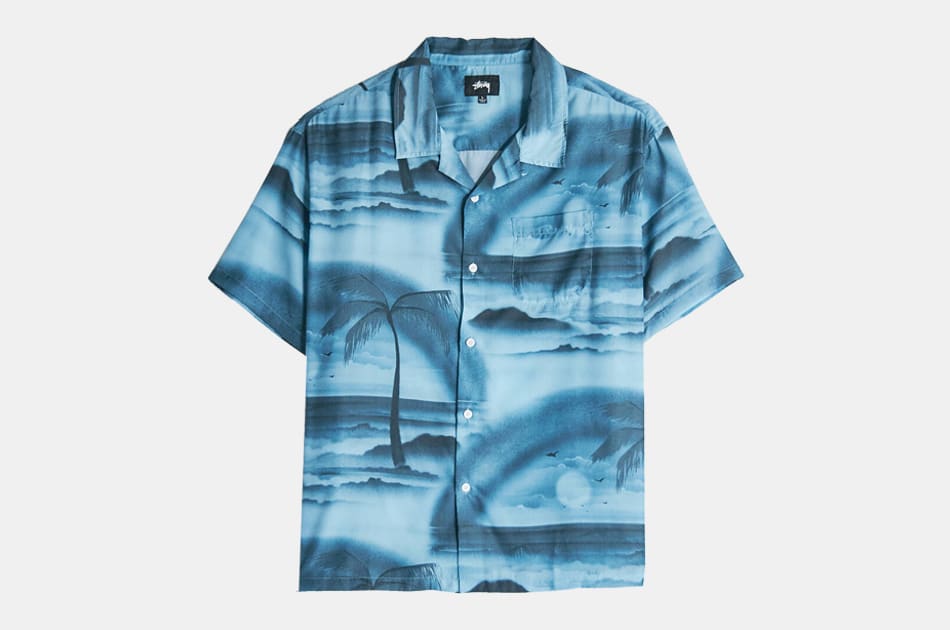 Stüssy Island Shirt
Yes, legendary brand Stussy is giving the Hawaiian shirt some much-needed refreshing here — men's Hawaiian shirts are now modern, ever-so-slightly edgy, and decidedly easy to wear with everything from classic tan chinos to slim black denim or olive cotton shorts. Stussy's take is both retro and yet modern in its own way, the kind of shirt you wouldn't look out of place rocking atop a white tee with black workwear pants. The polyester fabric is as cool and breezy as it gets for spring and summer.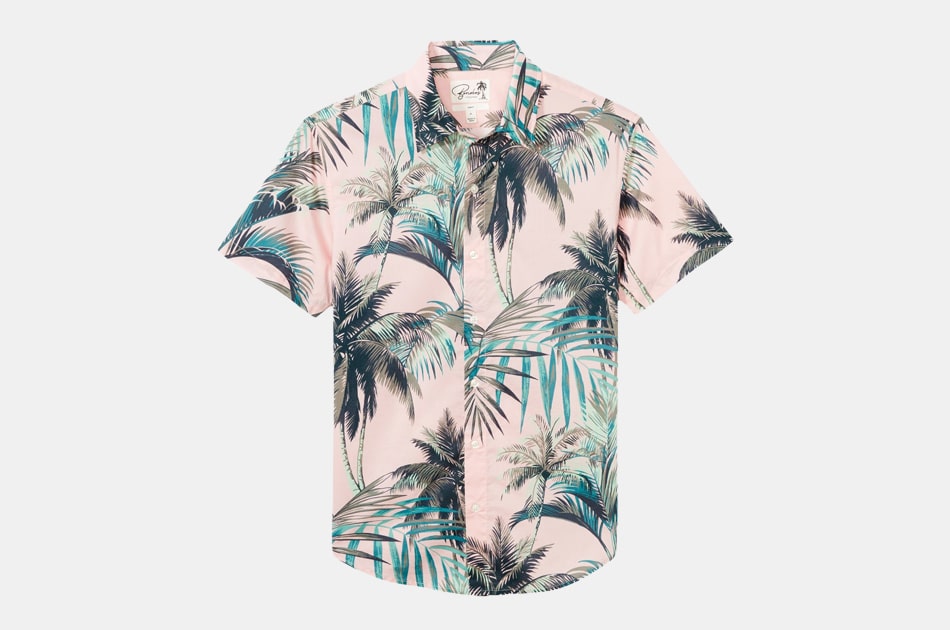 Bonobos Riviera Short Sleeve Shirt
Bonobos does a nice job at combining an irreverent touch with the type of style essentials that you didn't know you needed. Case in point: This blue printed shirt featuring … yes, bananas. It's fun, it's slim-fitting and you can style it exactly as you would a classic tee (try it with khaki chinos and white canvas sneakers). It might not be the first shirt you reach for to wear to the office on a casual Friday, but it should assuredly be the shirt you reach for to wear to a backyard BBQ or a night of patio drinking on the town. It's casual, cool and confident — exactly how you'll feel when wearing it this summer.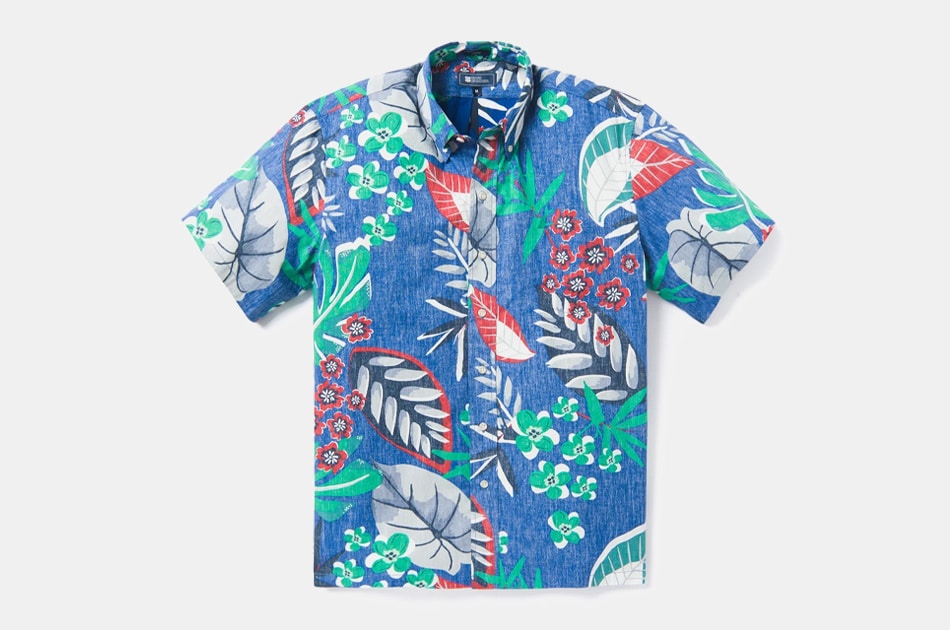 Reyn Spooner North Hilo Hawaiian Shirt
Reyn Spooner absolutely has the pedigree and history needed to deliver one of the best Hawaiian shirts for today's stylish gentleman — the company has been emphasizing doing just that for decades. Picking up a classic Hawaiian shirt from a pioneering brand is but one way to get things right if you're just dipping your toes into the world of Hawaiian shirts, and from the classic construction to the timeless fit, there's no wrong way to go here.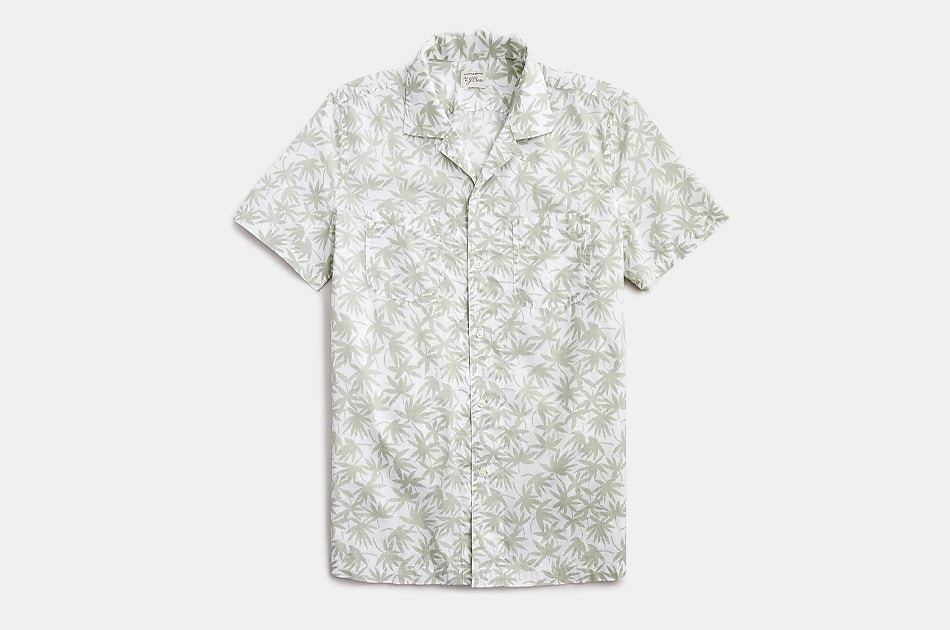 J.Crew Floral Camp Shirt
It wouldn't be a list of stylish Hawaiian shirting without J. Crew, and that's why it's fitting that the Floral Camp Shirt is so well-executed in terms of design, fabrication and color. J. Crew can nearly do no wrong when it comes to updates on classic silhouettes that are just unique enough, and this breezy camp shirt (able to be paired flawlessly with linen trousers and leather loafers) is exhibit A in that regard. The even better part? This is going to pair up seamlessly with the brand's sleek chinos and sharp leather dress shoes for an expert course in seasonal dressing.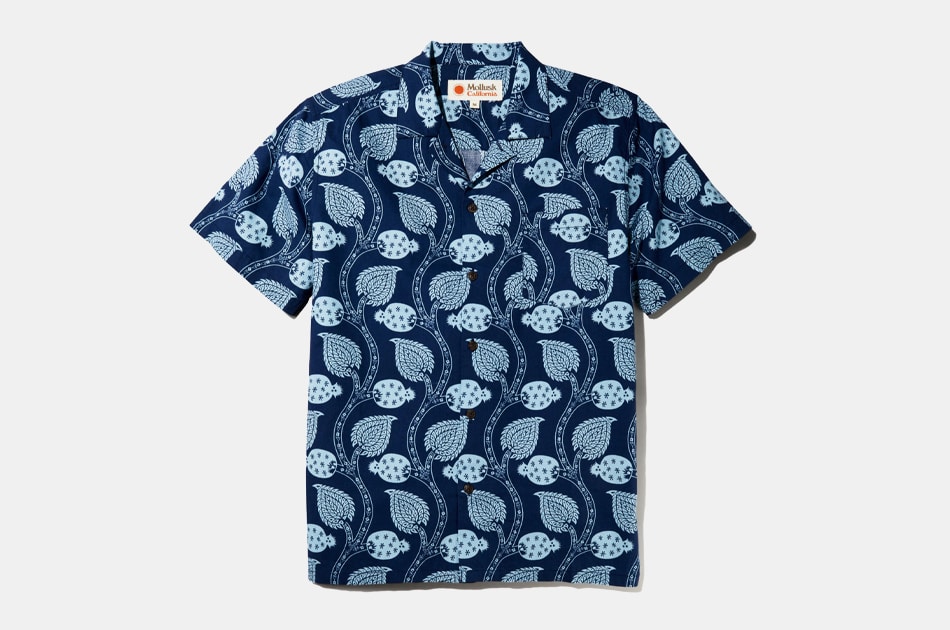 Mollusk Surf Shop Aloha Shirt
With a brand name like "Mollusk Surf Shop," it's a safe bet these guys know a thing or two — or, OK a heck of a lot of things — about crafting a men's Hawaiian shirt. The Aloha Shirt is aptly named and strikingly designed, and it's also available via one of our favorite online retailers, Bespoke Post, so there's no time like the present to add it to your shopping cart.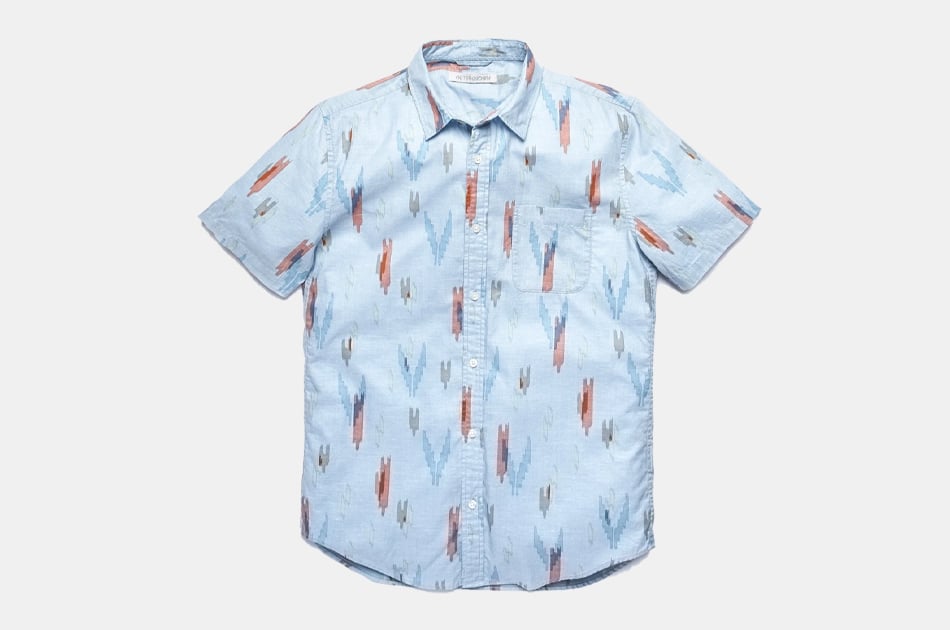 Outerknown S.E.A. Shirt
The team at Outerknown does a standout job at sticking to its ongoing mission to improve the world's style while heavily emphasizing a better planet for all. From improved fabric to eco-conscious production, the S.E.A. line of essentials (including denim and shirting) checks all the right boxes if you want a sustainable and stylish ensemble. The Faded Denim Mojo pattern is a unique and fresh take on the Hawaiian shirt, to top it all off. Get this shirt as soon as you can, then wear it with the brand's sustainable tees and denim as often as you like this spring and summer.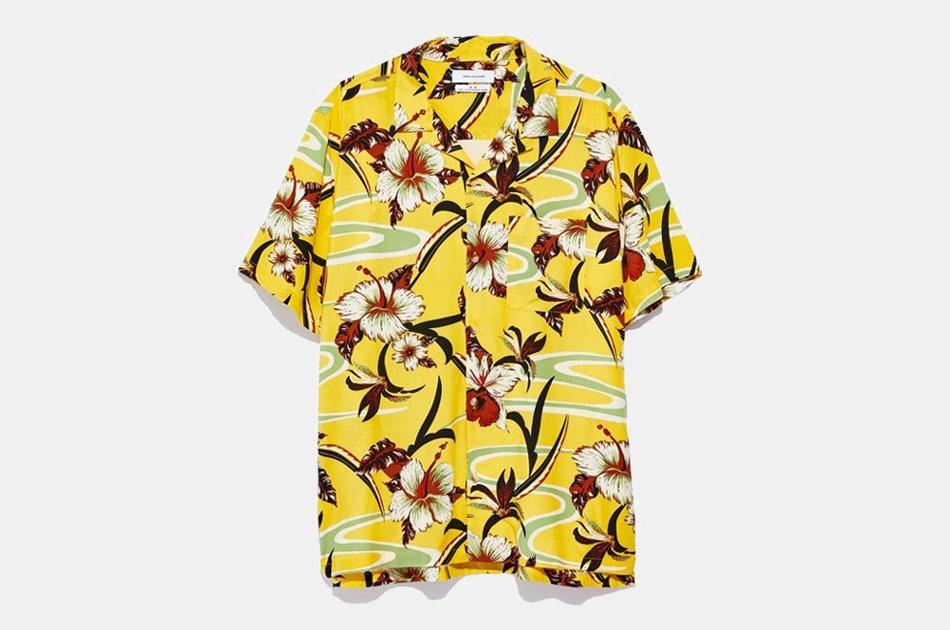 Urban Outfitters Hawaiian Shirt
Who hasn't caught themselves browsing the seemingly endless digital pages of Urban Outfitters for pleasant surprise after pleasant surprise in the way of unique men's style essentials? Take this Hawaiian shirt, made with classic rayon for an updated and fresh take on the silhouette. While you're there, maybe pick up some durable canvas VANS sneakers to complete your look.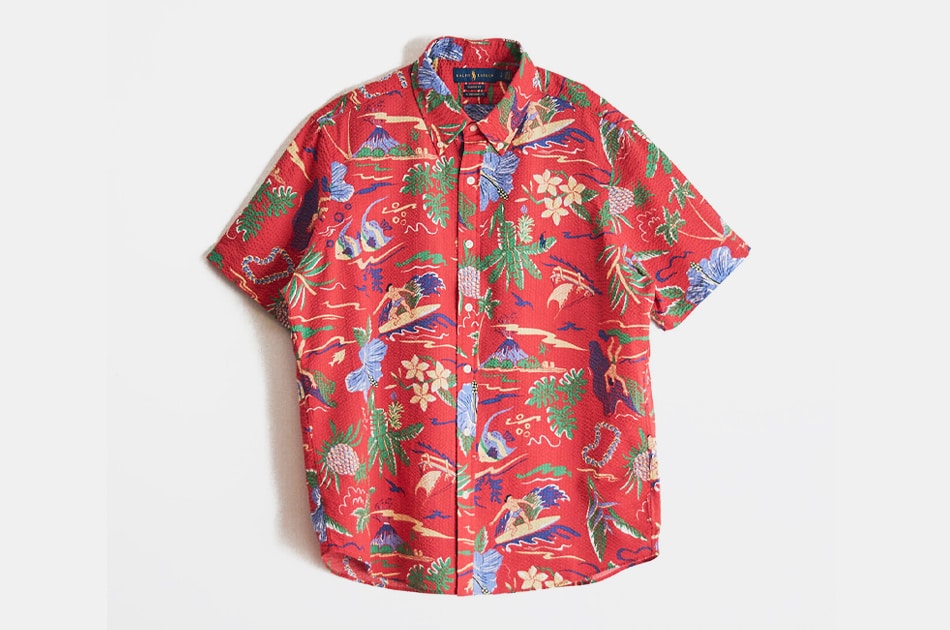 Polo Ralph Lauren Seersucker Shirt
The Hawaiian shirt in the world of Ralph Lauren is made up of that classic, highly breathable, super-easy-to-wear fabric known as seersucker. The puckered cotton design allows air to flow easily through the fabric, and that means this stylish Hawaiian shirt is even easier to wear on sweltering summer nights, no matter how hot it gets. It's also a natural fit to wear with Polo Ralph Lauren chinos — at least, we think so. Staying cool in style? Sign us up.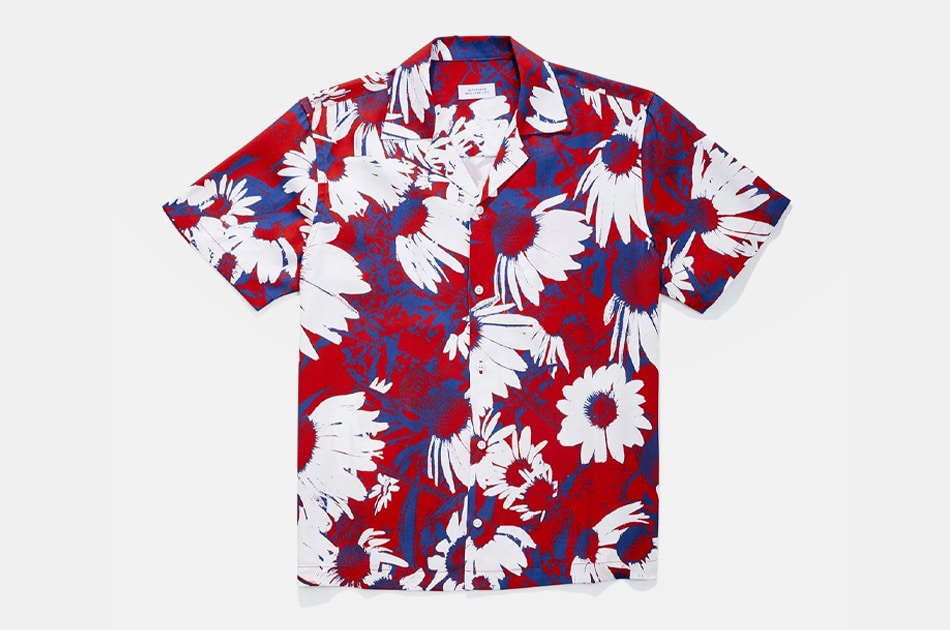 Saturdays NYC Canty Daisy Print Short Sleeve Shirt
Saturdays NYC continues to make good on its promise to outfit today's modern man in equally modern and impressive styles, and that's perhaps no more clear than with this subtly stylish, simply outstanding Hawaiian shirt. Wear it with the brand's light wash denim, rolled at the ankle, for some eyecatching-yet-versatile spring and summer style.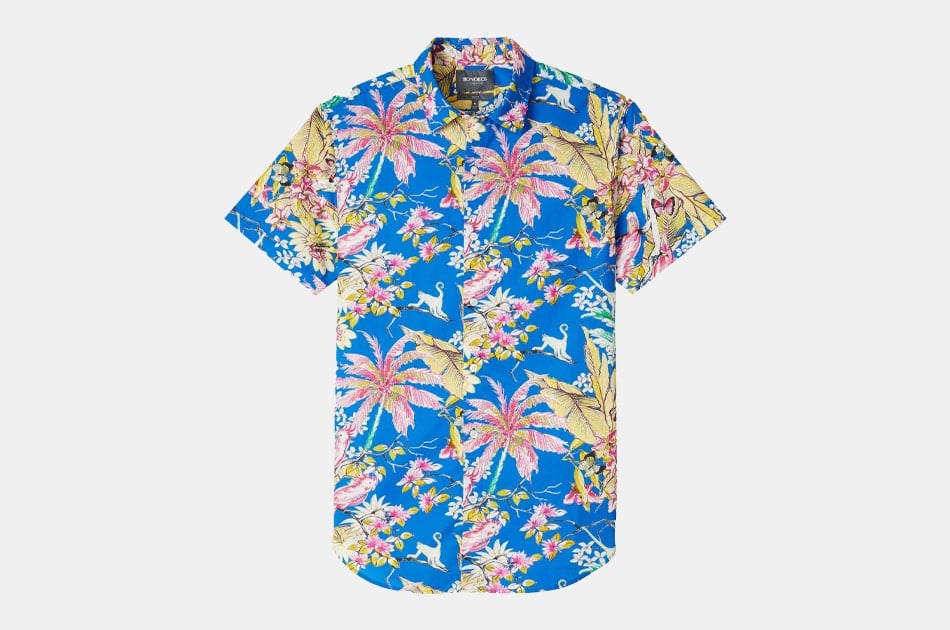 Bonobos Amalfi Premium Short Sleeve Shirt
Every time we come across a new release from Bonobos, we're pleasantly surprised — the brand that reinvented men's chinos for a wider audience now knows exactly how to bring fashion-forward summer style essentials to the masses, and that's very good news for all parties involved. Take the Amalfi Premium Short-Sleeve Shirt, a perfect pairing with the brand's slim chinos thanks to its Blue Cerulean Tropical print and shell buttons — the very definition of a refined short-sleeve shirt if ever there was one.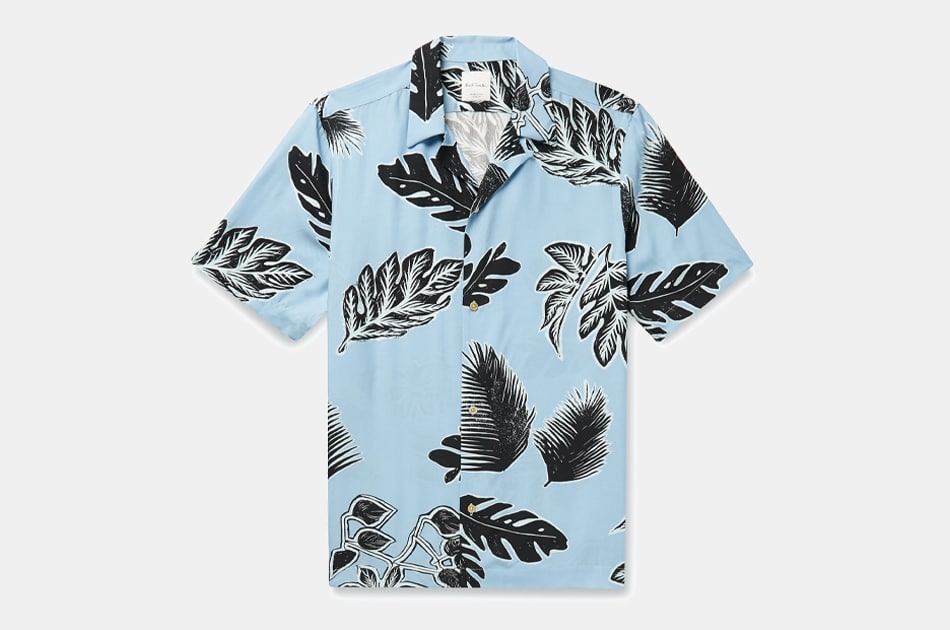 Paul Smith Camp-Collar Printed Woven Shirt
For a more refined take on the Hawaiian shirt (one that's no less wearable and versatile, though) turn towards the inimitable digital menswear retailers at Mr. Porter. The Paul Smith brand does things with a dash of refinement and yet easygoing styling potential, and that's what you get with this camp-collar woven shirt. Wear it to your favorite rooftop patio when it's' time to head out on the town again.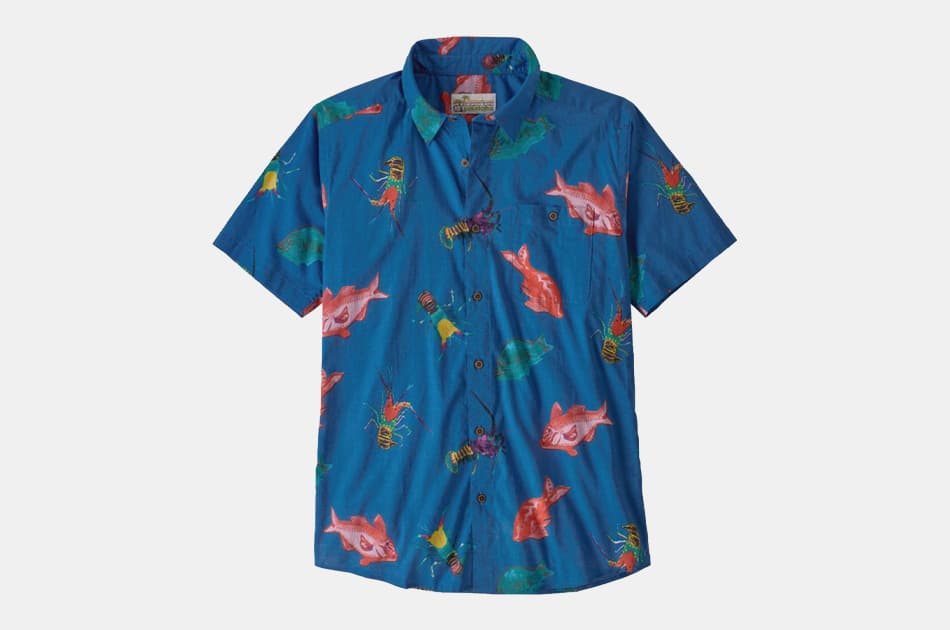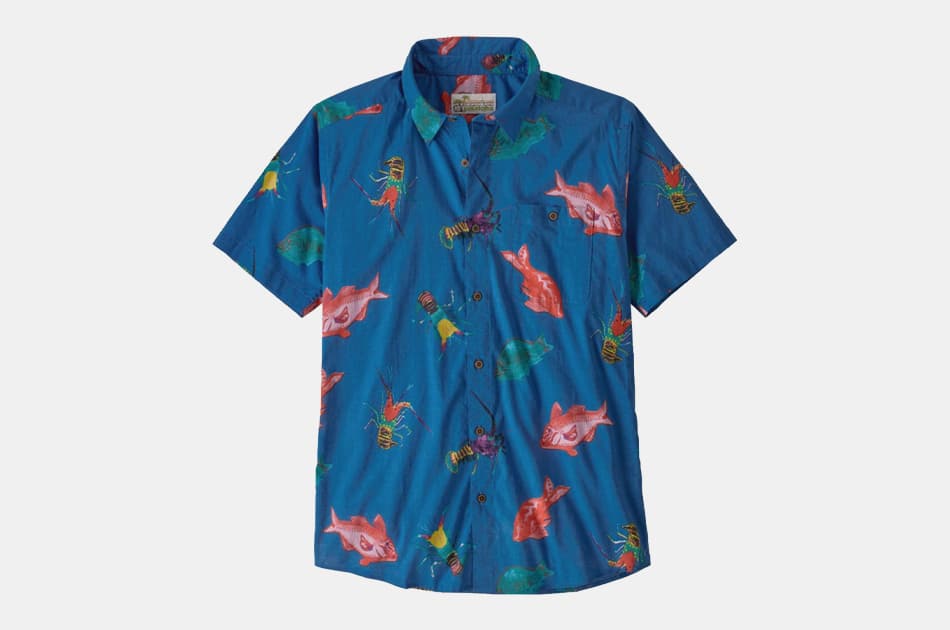 Patagonia Men's Malihini Pataloha Shirt
If you haven't been paying attention to the menswear world — a tricky and fast-moving endeavor in the best of times — it might seem surprising that Patagonia is now making gear that stylish guys everywhere can appreciate. That's right — this classic outdoors brand now deserves a spot in your wardrobe this season. The Malihini Pataloha Shirt is a timeless brand staple that's exactly what you need right now. Made from organic cotton to wear light and easy, this breezy shirt is perfect for outdoor lounging and patio drinks aplenty.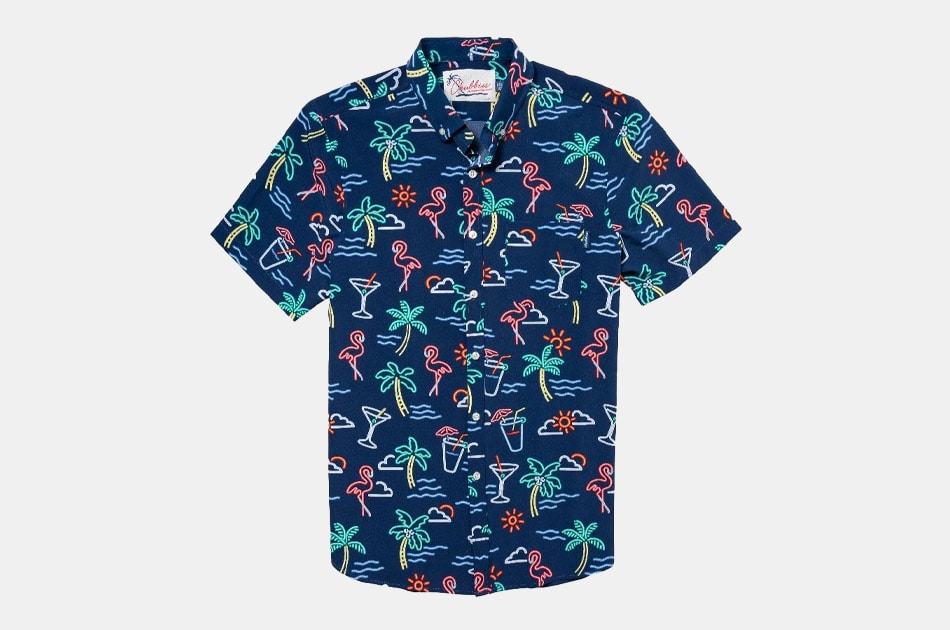 Chubbies One Man Wolf Pack Shirt
Chubbies takes on the Hawaiian shirt with an ease and a sense of fun befitting its colorful and much-loved shorts (yes, those shorts). For the modern man who wants to bring an irreverent dash of fun to his spring style (something we'd recommend doing from time-to-time), there's the One-Man Wolf Pack Shirt, featuring stretch fabric and a versatile fit, plus an eye-catching design.
Disclosure: Clicking on these links and making a purchase may earn us a small referral fee, at no extra cost to you. Learn more here.