12 Best White T-Shirts For Men
When is a T-shirt more than a T-shirt? When it's a well-made, well-crafted, seriously stylish, plain white T-shirt. Even better: When it's what we consider to be one of the best men's white T-shirts.
The humble, classic white T-shirt has taken on a life of its own in recent years, evolving from undershirt to daily standalone style staple for well-dressed guys the world over — but particularly where it first started that evolution: In the States. Plenty of American brands and designers are updating the white T-shirt with premium fabric, great quality and an even better fit — all of which makes the white T-shirt an essential spring and summer style move, fit for layering with a chambray shirt or wearing all on its own. Brands like Buck Mason are even offering unique cuts with touches like a curved hem, an even cooler design detail that looks … just plain great.
The best white T-shirts for men are also an able menswear move when worn with equally classic menswear essentials, like rugged dark denim and black high-top sneakers. Heck, you can even wear it with a lightweight navy cotton blazer, tan chinos and white sneakers to the office. Seriously. The white T-shirt gets an upgrade, starting today. Shop accordingly.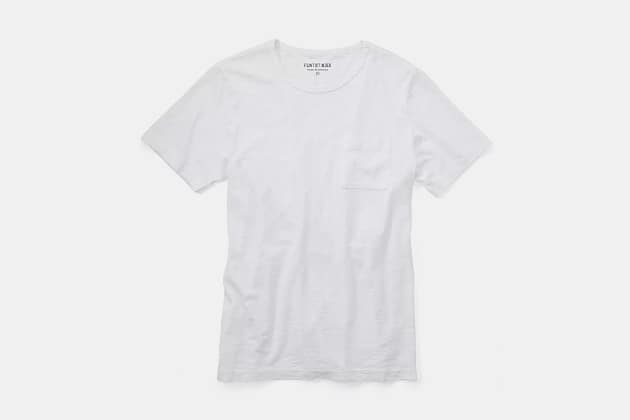 Flint and Tinder Slub Pocket Tee in White
Flint and Tinder, the in-house brand at Huckberry, really can outfit you from head to toe, and they've turned that considerable attention to things as simple (yet essential!) as the white T-shirt. The brand's Slub Pocket Tee is affordable and stylish, priced at under $30 and able to be worn with everything from dark denim and chukka boots to tan chinos and white leather sneakers. Simple and stylish as that. – Shop Now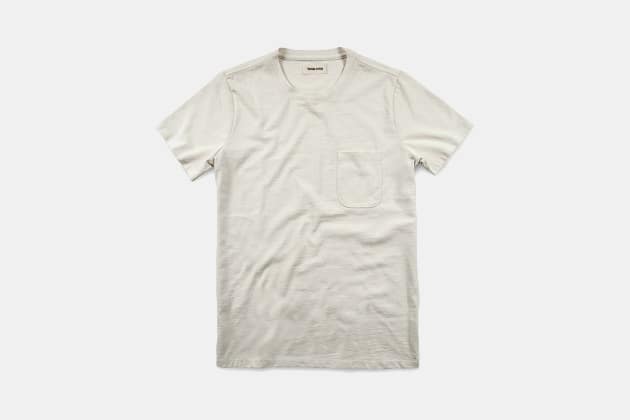 Taylor Stitch Heavy Bag Tee
Taylor Stitch is another brand that's turned its considerable design acumen toward sustainable, essential everyday style — take the Heavy Bag Tee, for starters. Cut with a trim-yet-mobile fit from a blend of upcycled cotton and polyester, this tee pairs very well indeed with the brand's indigo shirting, dark denim and beautiful leather boots. It's truly the next great thing you need to buy from Taylor Stitch — trust us on that. – Shop Now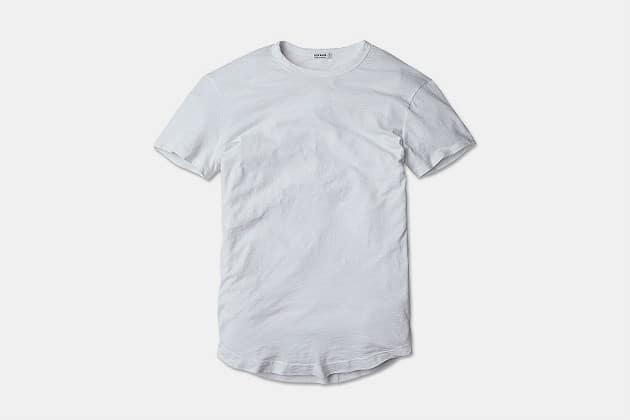 Buck Mason Slub Curved Hem Tee
The best of the bunch might just be the classic Slub Curved Hem Tee from Buck Mason. Well, a new classic, that is. The curved hem adds an interesting design detail to the everyday staple, which we'd recommend wearing with jeans and black high-top sneakers to a rock concert — that look is nearly as essential and summer-ready as it gets. Premium, tailored and well-cut — here's your new favorite white tee. – Shop Now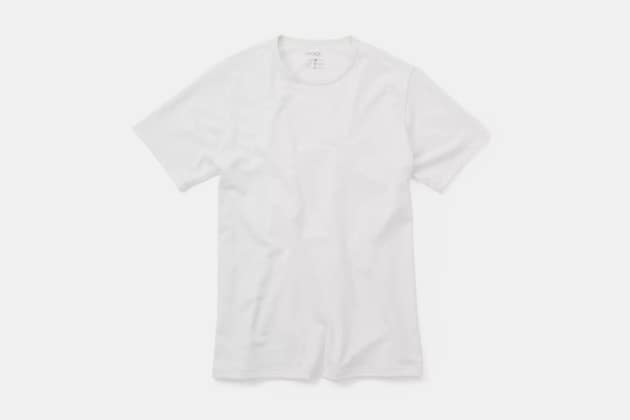 Proof Passage Tee
The best white T-shirts for men often have a little something extra built in, whether it's the quality of the fabric or the wearability of the silhouette — or both, in the case of the Proof Passage Tee. Designed to be perhaps the perfect travel T-shirt, it'll wick away moisture and resist odors while looking crisp and classic. Wear it with a navy bomber jacket, olive chinos and white canvas sneakers for a polished summer travel look. – Shop Now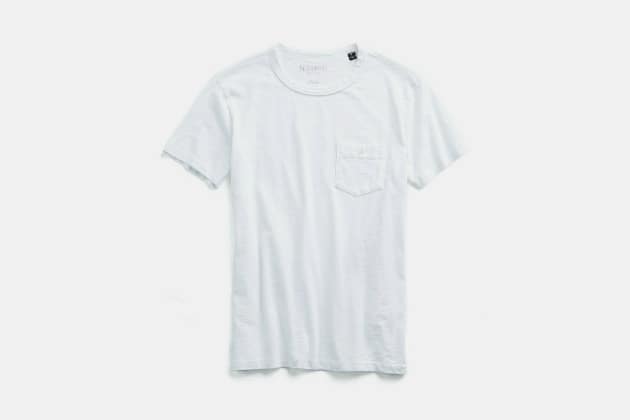 Todd Snyder Made In L.A. Pocket T-Shirt in White
Just as with many of our other picks for the best men's white T-shirts, the simple style staple gets a serious upgrade thanks to lauded American menswear designer Todd Snyder. It only makes sense, then, that his pocket T-shirt, with a crisp and cool design, would be made in America (L.A., in fact). The garment-dyed cotton makes it breezy and elevates the look and feel — in short, it could be the perfect summer T-shirt. – Shop Now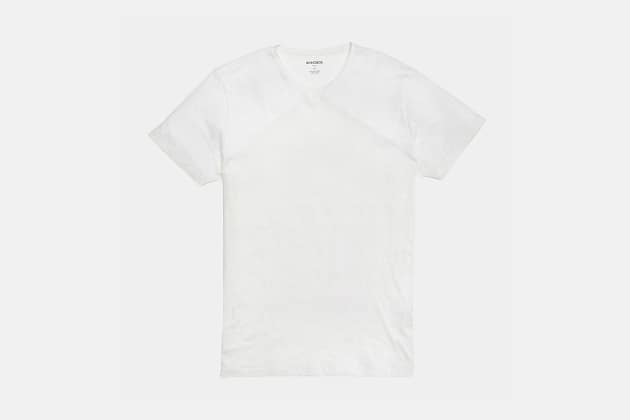 Bonobos Superfine Crew Neck Tee
Finding the perfect white T-shirt to pair with your Bonobos chinos doesn't have to be hard. In fact, it can be as easy and simple as picking up the Bonobos Superfine Crew Neck, a T-shirt that's every bit as well-made as the brand's lauded pants. The fit of Bonobos T-shirts is as quality as the rest of the brand's gear, and the drape and shape of this tee will last and last all summer long. – Shop Now
Outlier Strong T-Shirt
Again, white T-shirts that simply look sharp are no longer part of the equation — your T-shirt should bring a little something extra to the table. Take, for instance, the Strong T-shirt from Outlier. It's every bit as, well, strong and wearable as you'd expect, made from nylon jersey designed to break in over time. It's a T-shirt that's going to pull double-duty — wear it with white sneakers and a khaki cotton suit, or pair it with navy cotton chinos and suede chukkas for pared-down, off-duty style. – Shop Now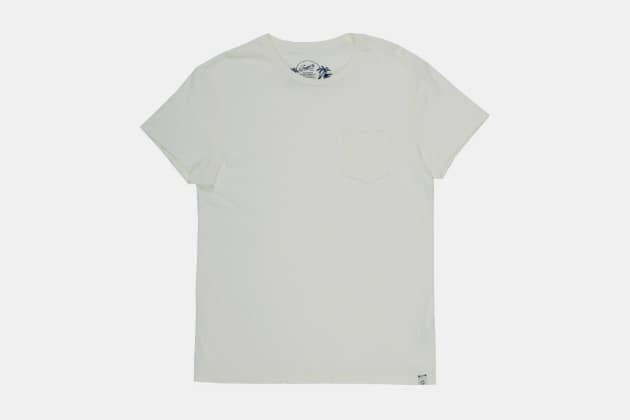 Grayers Madison Jaspe Loose Knit Pocket Tee in Optical White
Clean and classic should be the name of the game when hunting for a white T-shirt, and Grayers balances that equation perfectly with its well-made, affordably priced pocket T-shirt. The use of slub cotton twisted in unique ways makes for a tee with depth and style, as at home with Nantucket red chinos and a light wash denim jacket as it is with black jeans and tan suede Chelsea boots — one T-shirt, endless style options. – Shop Now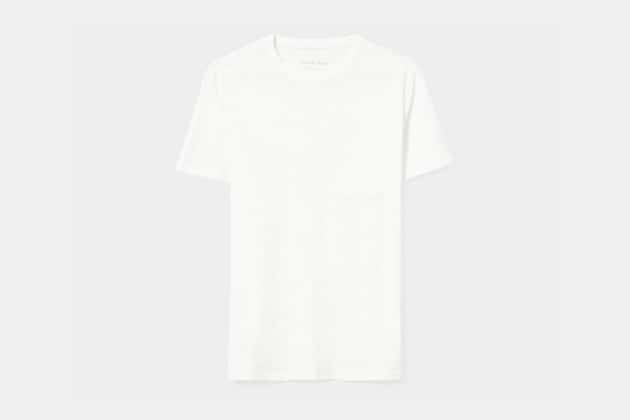 Everlane Sun-Faded Slub Crew T-Shirt
Everlane continues to take a transparent, considered approach to style, and that even trickles down to simple essentials like the classic T-shirt. In particular, the brand's midweight cotton slub T-shirt is well-made and well-fitting, all the better for wearing on its own or layered beneath a classic plaid shirt this summer. It'll also look great with the brand's inky blue denim. If you want sustainability and nuanced design in one package, here's the T-shirt for you. – Shop Now
Flint and Tinder Heavyweight Tee
The basics are anything but basic when it comes to Flint and Tinder — that's absolutely the case with the Heavyweight Tee, made from premium carded cotton and crafted in America. It's the sort of T-shirt that looks great on its own or layered with a chambray shirt for rugged style — that's exactly what you want in terms of a T-shirt for essential summer adventures. We think this tee would look great with olive chinos and tan suede chukkas in particular. – Shop Now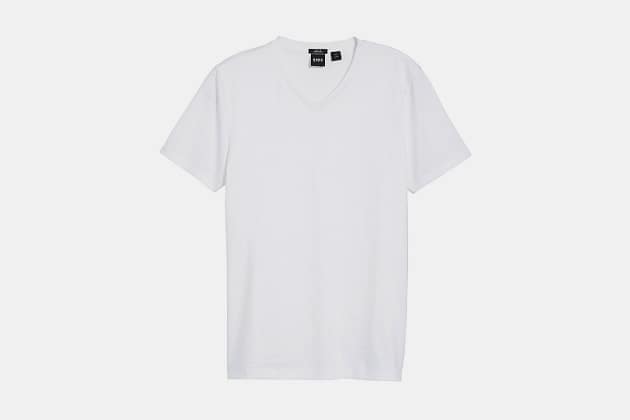 Boss Slim fit V-Neck T-Shirt
Is it worth it to drop more than $80 on a T-shirt? When that T-shirt is a luxurious addition to your closet from BOSS, then yes. This is the type of white tee to wear with a lightly structured olive or khaki cotton suit with white sneakers and a slim dress watch — it's a premium upgrade to your basic white T-shirt, and we think that should be celebrated this summer (and well beyond). – Shop Now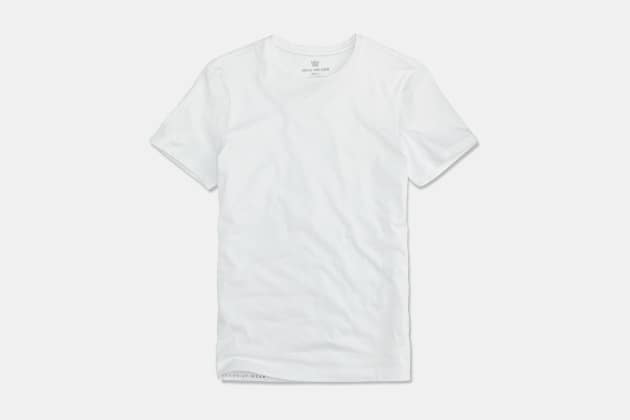 Mack Weldon Pima Crew Neck T-Shirt
Mack Weldon is another brand doing basics better than average — much better, to say the least. The Pima cotton used in this simple, crisp crewneck makes the difference here; resulting in a sporty tee that pairs with everything from a khaki cotton suit to a denim jacket and grey chinos. Again, the difference comes in the type of fabric and fit — that's what separates the best white T-shirts for men. – Shop Now