If your daily routine is continuously evolving, then your everyday carry arsenal most likely gets an update every so often to accommodate it. Multi-tools, wallets, and other EDC tools are also constantly changing to meet the demands of consumers, which in turn is providing them with more gear to choose from.
A solid EDC collection doesn't have to break the bank to perform up to snuff. For those looking to update their current EDC or start from scratch without going into serious debt, we've compiled this ever-changing list of EDC essentials priced at just under $30.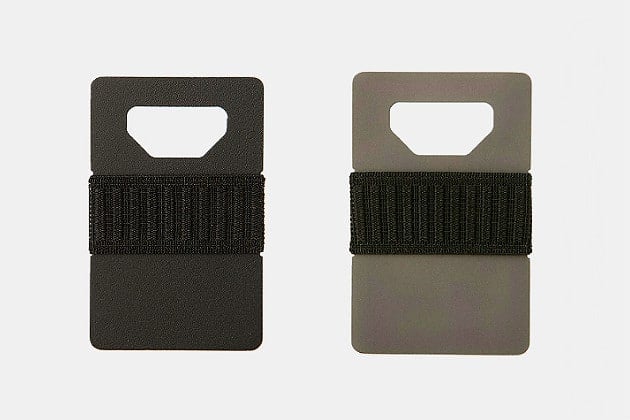 Spine Titanium Wallet
The Spine Minimalist Wallet is front pocket carry the way it was intended to be — lightweight, slim, and a means to popping open bottles of your favorite craft beer. The Spine Wallet is crafted from grade 5 titanium, which renders it extremely lightweight, water resistant, corrosion-resistant, and stronger than most any other wallet on this list, and features a durable elastic band that secures your cards and cash and an integrated bottle opener for popping open bottles on the fly. – Buy It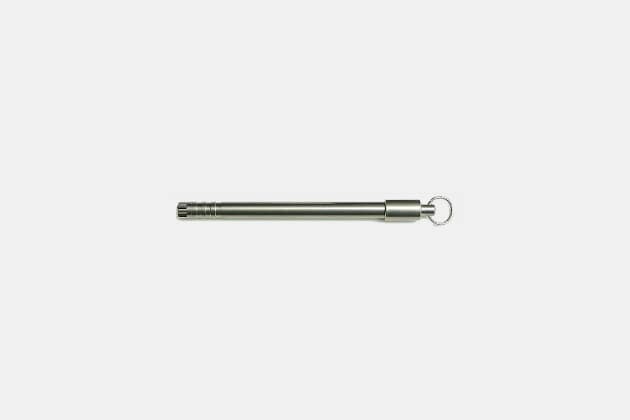 PicoPen
Made from durable stainless steel, the PicoPen attaches seamlessly to your keychain or backpack via the integrated key ring, while the pen's cap securely snaps in place by a magnet. It also weighs a mere half of an ounce — which is just light enough to forget you're carrying it until you need it. – Buy It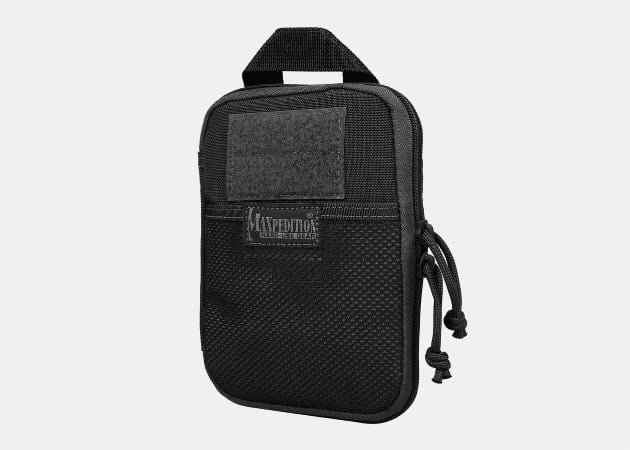 Maxpedition EDC Pocket Organizer
This every day carry organizer brings the perfect blend of style and utility to the table. Made of of 1050 Denier water and abrasion resistant light-weight ballistic nylon fabric, the Maxpedition EDC Pocket organizer comes equipped with a full clamshell opening main compartment with dual zips and a slip pocket on the left and right side with nine and six organization divisions respectively. – Buy Now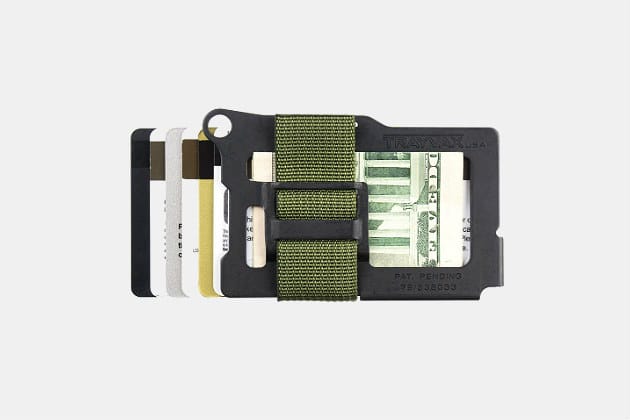 Trayvax Summit Minimalist Wallet
Trayvax Wallets have become very popular in the past half decade or so. Trayvax Wallets are best known as utility wallets — which means they're designed to wear hard against the elements and to withstand the toughest of conditions. The latest in the Trayvax line is the Summit — the first minimalist wallet by the brand aimed to cut down on weight and to simplify your everyday carry. To keep the Summit Minimalist Wallet's design simple, Trayvax built it from only two components, which keeps it lightweight and slim while still offering RFID protection. – Buy It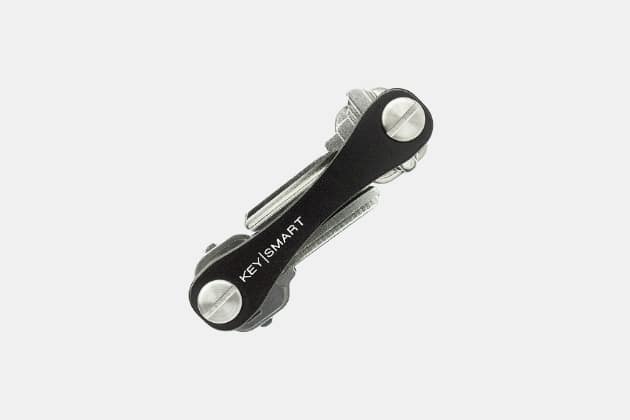 KeySmart Key Organizer
Eliminate key jingle, minimize your carry, and maximize your organization in one step. KeySmart holds 2-8 keys in a lightweight but seriously sturdy frame, machined from aircraft-grade aluminum. Just about any hardware store key will fit and the included loop lets you attach a car key or fob. Keys are stored smooth side out to cut down on scratches to your screens in a package smaller than a pack of gum. Unscrew the stainless steel hardware with a flathead or a coin to take your key carry from a jumble on a ring to sleek and silent organization. – Buy It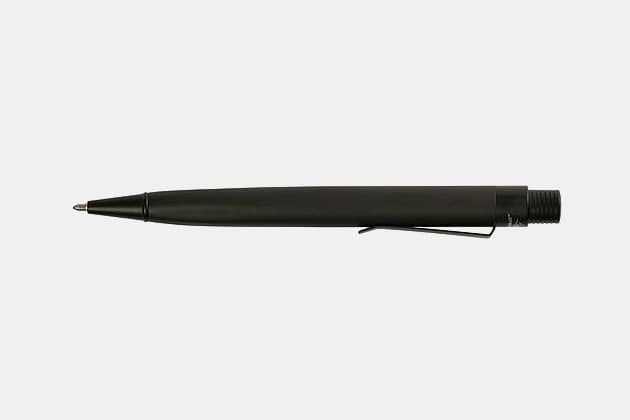 Fisher Zero Gravity Pen
A pen should be a staple in your everyday carry for jotting down notes, ideas, and to-do lists on the fly. What makes the Fisher Zero Gravity Pen so unique in this capacity is it's ability to write at any angle, including zero gravity. You may not be headed to outer space any time soon but if you are, you'll be able to write down your experience when you get there. – Buy It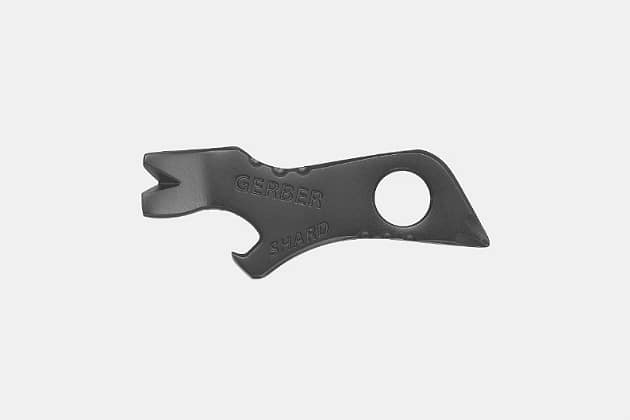 Gerber Shard
The Gerber Shard Keychain Tool is neither big nor flashy, yet provides you with everything you may need in a pinch: two flathead screwdrivers, a cross driver, pry bar, wire strippers, and the always-necessary bottle opener. Its boasts a unique yet humble design, crafted from stainless steel coated in titanium and will efficiently get the job done. – Buy It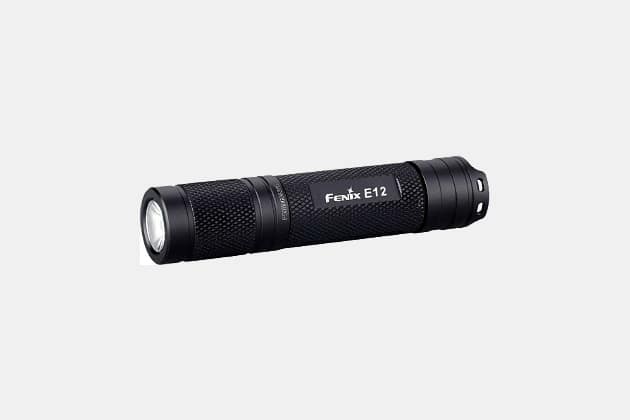 Fenix E12
No unnecessary bells and whistles on the Fenix E12, but that's what makes this classic keychain flashlight such a great one to carry everyday. It's machined aluminum alloy exterior will stand up to the daily abuse of keychain and pocket carry, while an easy-to-operate tail cap switch turns the device on and controls it's selection of brightness settings. Additional features include 130 lumens of light output from a single AA battery, a reach of 88 meters, and a run time of up to 22 hours. – Buy It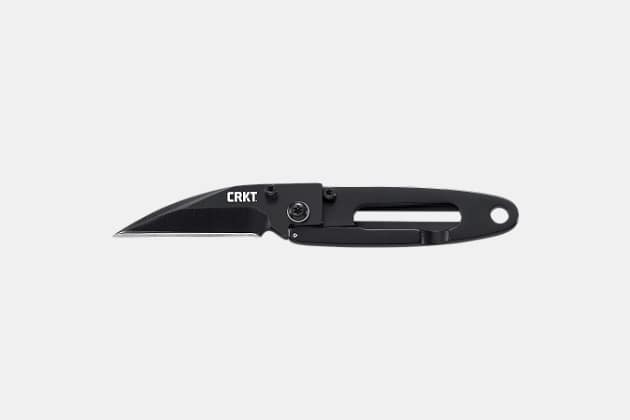 CRKT Delilah's P.E.C.K.
When it comes to EDC keychain knives, it can prove difficult to find one small enough to carry comfortably on your keychain yet up to the rigors of everyday cutting tasks. Luckily, there exists CRKT's Delilah's P.E.C.K. — a suitable keychain knife alternative to the popular Micro Recon 1 Knife above.
The Delilah's P.E.C.K. (short for Precision. Engineered. Compact. Knife.) weighs in at less than ounce, meaning it won't weigh you down during the day, while a closed length of 2.625 inches takes up a minimal amount of pocket real estate. Finally, a sharp 3Cr13 steel, frame lock Wharncliffe blade is more than adequate for tackling daily cutting tasks. – Buy It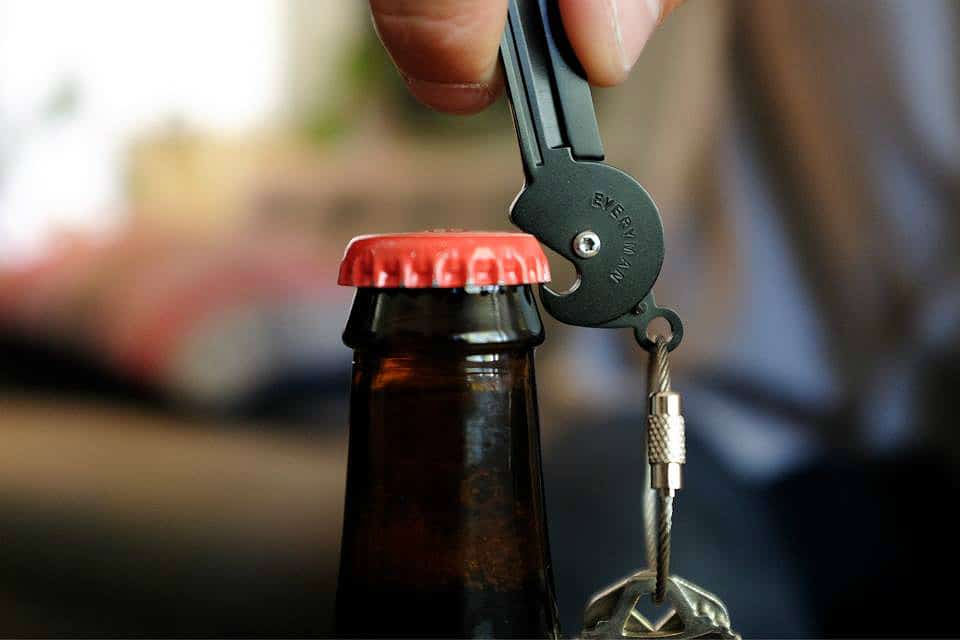 Porter Key Knife
An everyday carry favorite, the Porter Key Knife is a key-sized utility folding knife with an integrated bottle opener. While small in size like the other keychain knives on this list, it is a formidable addition to any everyday carry collection, essentially replacing both your bulky EDC knife and bottle opener in one fell swoop while integrating seamlessly into your current keychain setup. – Buy It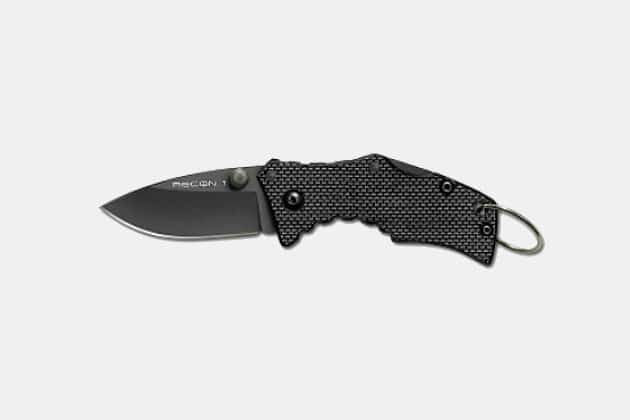 Cold Steel Micro Recon 1 Knife
When Cold Steel crafted a miniature version of their popular Recon 1 folding knife years ago, they we're also giving us what many consider to be the best keychain knife on the market.
Just like it's Recon 1 big brother, the Micro Recon 1 sports a heat-treated, AUS 8 stainless steel blade — in a more compact, keychain-friendly design. It's 2-inch blade features a black teflon coating that resists both rust and glare while providing a consistent lubrication during cutting tasks while G-10 handles, a heat-treated spacer, and Cold Steel's Tri-Ad lock blade-locking system render it a suitable backup keychain knife to it's larger counterparts.
For seamless integration into your current keychain, Cold Steel ditched the standard pocket clip and opted instead for a small key ring. Available in your choice of a spear point or a tanto point blade design. – Buy It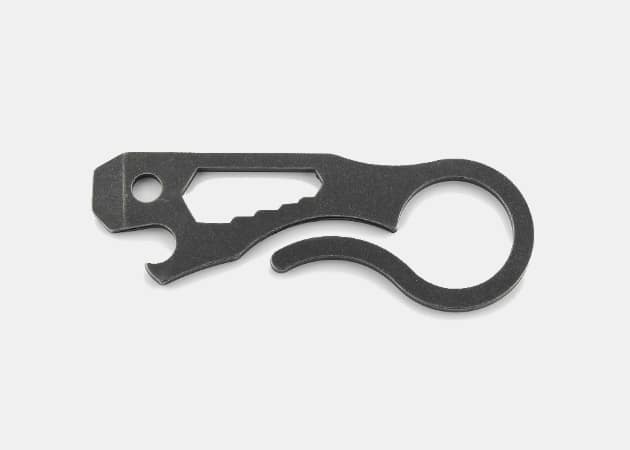 CRKT Viva Pocket Multi-Tool
When it comes to everyday carry, the more functional the tools you carry are, the less bulky your pockets and keychain will be. A great place to start minimizing your EDC is with the CRKT Viva Pocket Multi-Tool. Built from stonewashed 3cr13 stainless steel, the Viva Multi-Tool measures in at only 4 inches and features an assortment of built-in tools including a flathead screwdriver that doubles as a pry bar, 5 different sized hex wrenches, and a bottle opener. Carry it in your pocket, on your belt, or attach it to your keychain via an integrated key ring. – Buy It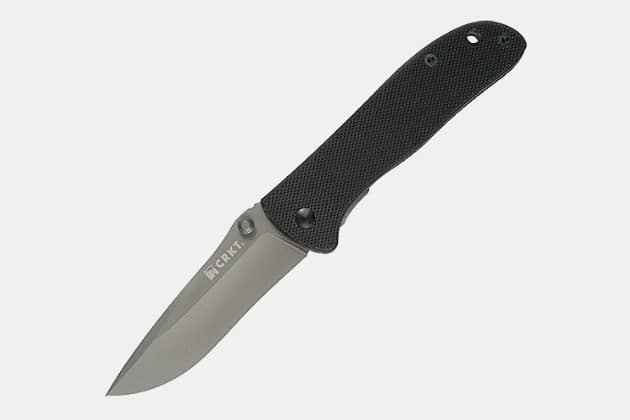 CRKT Drifter Knife
The most affordable CRKT knife on the market, probably, is the Drifter Knife. For a little over 20 bucks this stainless steel frame-lock folding knife offers it's user a sharp 8Cr14MoV stainless steel blade, an integrated pocket clip, and the peace of mind knowing you didn't spend your entire paycheck on an EDC knife. – Buy It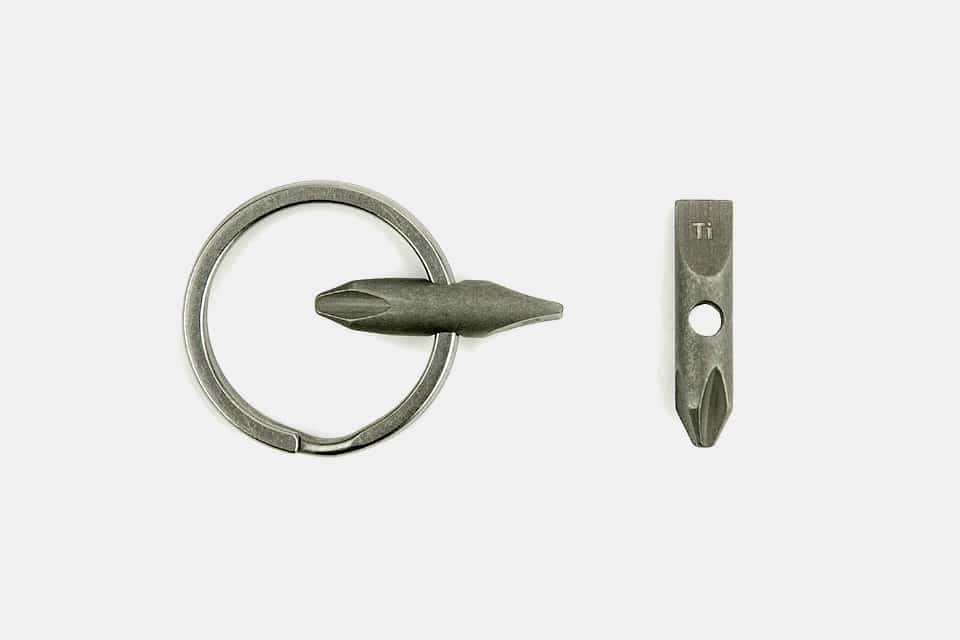 Titanium Pocket Bit
Never underestimate the pure functionality of a piece of EDC equipment simply because of its compact size. Especially the Titanium Pocket Bit by Big Idea Design. Roughly the width of a standard house key and weighing in at a mere 4.2 ounces, the Titanium Pocket Bit is small, lightweight, keychain friendly, and a worthy addition to your existing EDC collection.
Available in a hex or round body, each Titanium Pocket Bit is built from grade 5 titanium alloy and features a 6mm flat head on one side and a #2 Phillips head on the other that work in conjunction with the included titanium key ring to loosen and tighten screws or pry open boxes. And yeah, it also pops open bottles of Newcastle. Take that, PBR. – Buy It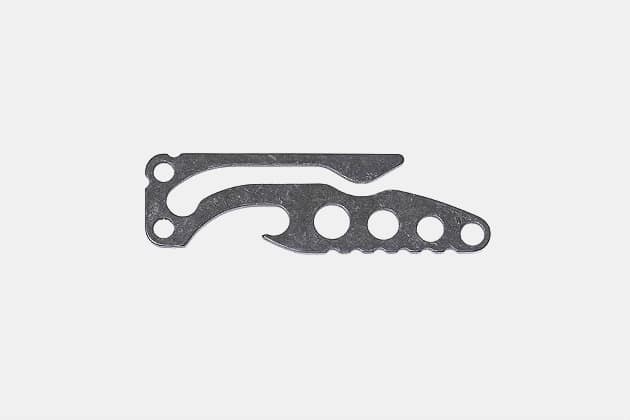 Pickpocket Alpha Multi-Tool
A bottle opener is one of man's most essential tools — especially for the craft beer lover. For some, opening a cold bottle of suds on the fly has become somewhat of a daily routine, which is what makes the Pickpocket such a necessary piece of everyday carry gear.
It features a strong, titanium construction and boasts a small yet fully-functional design intended to fit nicely in your already-crowded pocket space. On the opposite side of the Pickpocket Multi-Tool's bottle opener is a built-in pocket clip for attaching it to your belt or pocket, allowing for quicker access to your bottle-opener. The result is more bottles opened in less time, and an enjoyable, unforgettable experience for everyone. – Buy It
Disclosure: Clicking on these links and making a purchase may earn us a small referral fee, at no extra cost to you. Learn more here.
freestar.config.enabled_slots.push({ placementName: "gearmoose_leaderboard_btf", slotId: "gearmoose_leaderboard_btf" });