The 18 Best American-Made Jeans for Men
Finding the right pair of jeans is like making a new best friend. They'll stick with you through thick and thin, and always make sure that you're looking your best. But just like making friends, it's not always so easy to find one that fits you just right.
That's why when the GearMoose crew is looking for a new pair of denim, we turn towards jeans made right here in the US of A. So we've collected the best American-made jeans for men in one convenient place, with a wide range of styles, fits, colors, and finishes sure to suit anyone's tastes.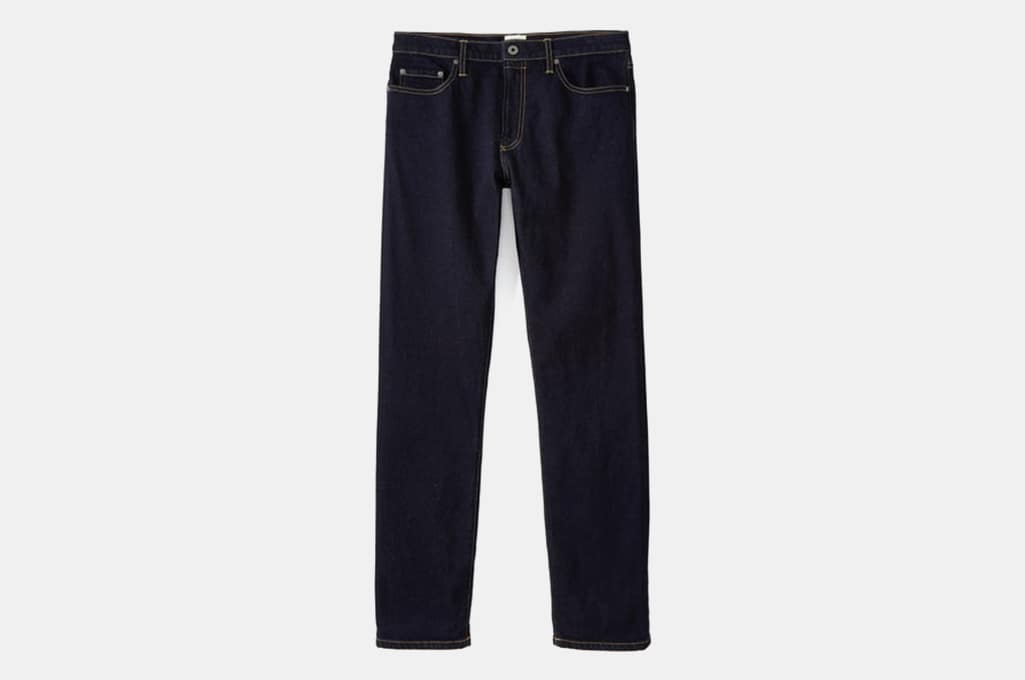 Flint and Tinder All-American Stretch Denim
It's rare to find a pair of jeans as comfortable and fashionable as the Flint and Tinder All-American Stretch Denim at such a reasonable price. That's why they've become one of our staple jean choices: They're just the right combination of quality, fit, and affordability. Go for the slim fit in a dark indigo finish, and you'll have a pair of pants that's perfect for everything from lounging to work to going out on a date. And that slim fit isn't the sort of skinny that will leave you with the "cheap hotel" syndrome (no ball room) either—it's made for guys with an athletic build, and specially designed to be comfortable through the crotch.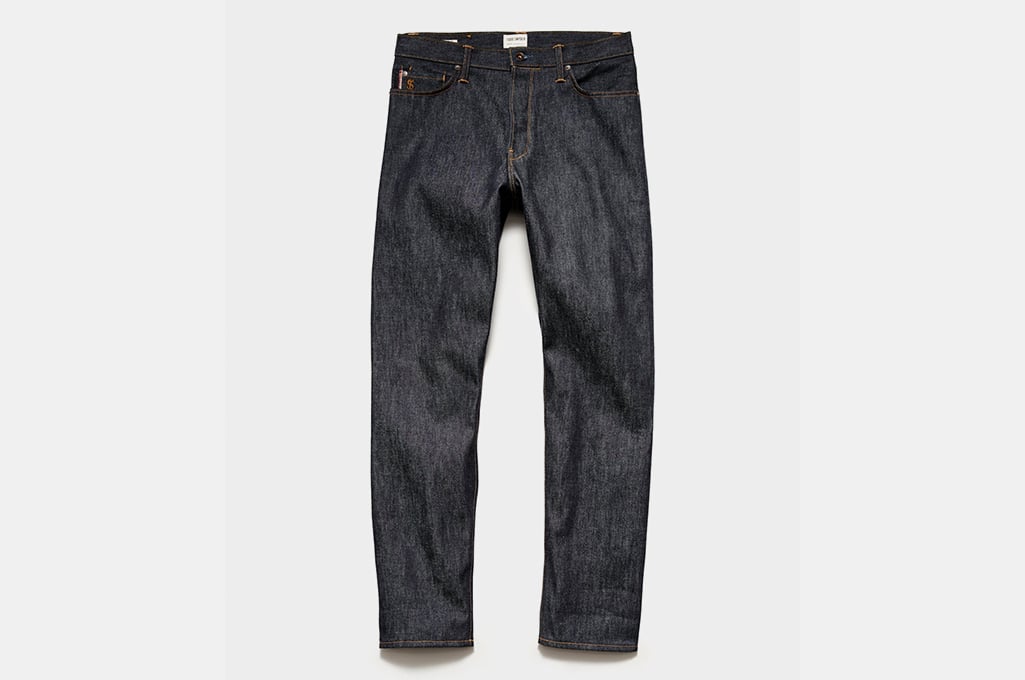 Todd Snyder Relaxed Fit Made in USA Raw Selvedge Jean
You've no doubt heard of small batch beers and whiskeys. But did you know that this same sort of lovingly detailed approach to making products has been brought into the denim world as well? Todd Snyder's Relaxed Fit Raw Selvedge Jeans are a perfect example, made in tiny batches in the town of Vidalia, Louisiana from only the finest of denim. The cotton for these jeans is locally grown in Vidalia, and even woven and dyed in the same location. Then it's shipped off to LA for the final cut, sew, and finish, yielding a premium pair of jeans that's designed to age as well as a fine wine or whiskey.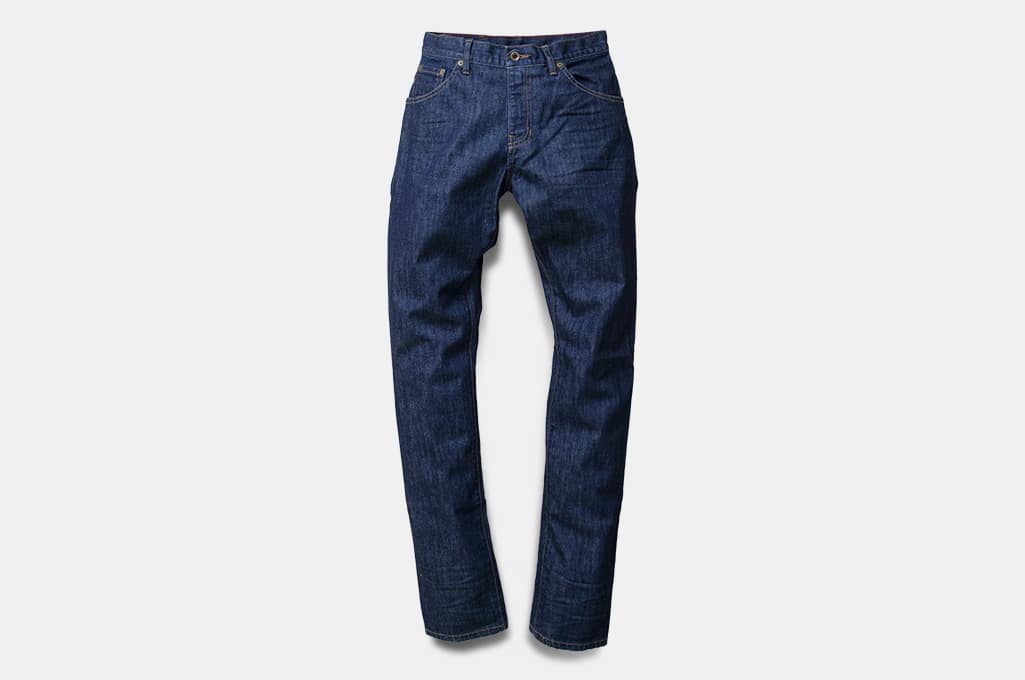 Raleigh Denim Workshop Graham Resin Rinse
Classic American jeans have a look and feel that's just as comfortable working out in the field as it is being worn around town. But this traditional style has largely fallen out of favor with fashion designers, leaving few examples of roomy but good looking pairs of jeans. Raleigh Denim Workshop is turning that around, offering traditional fit jeans made with a fine attention to detail that sets them leagues apart from chain store brands. The Graham Resin Rinse jeans are our particular favorite, with a generous fit through the seat and thighs and a tapered leg that gives them an additional touch of class.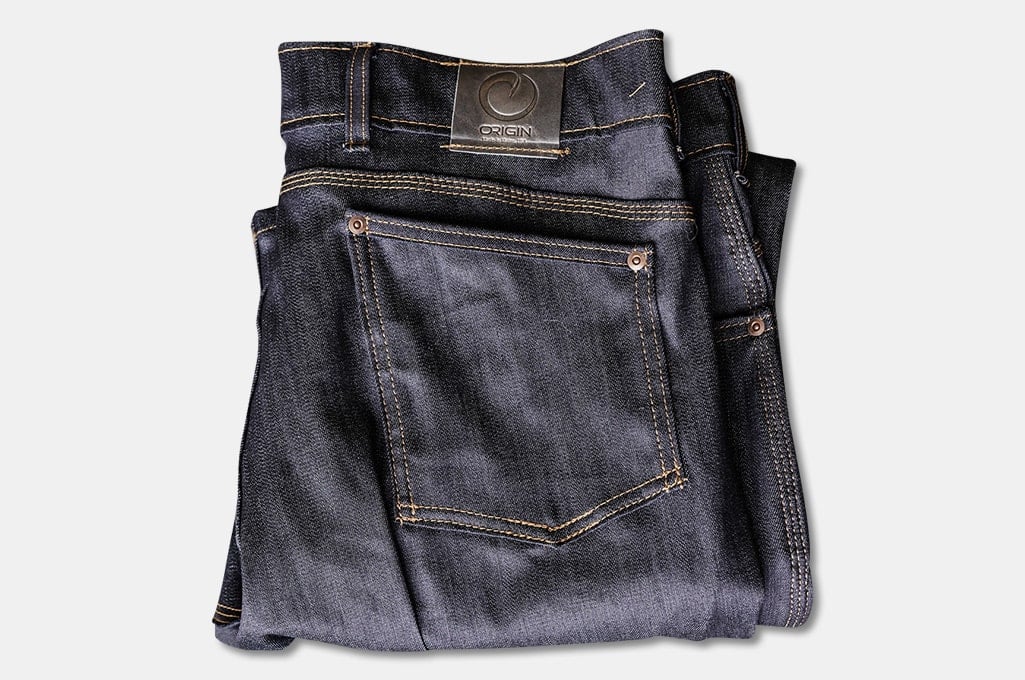 Origin Delta 68 Denim Jeans
Author and retired Navy SEAL Jocko Willink paired up with jiu jitsu coach and longtime American-made businessman Pete Roberts to create the Origin Delta 68 Jeans—one of the hardest-wearing pairs of jeans that you'll ever find. They're made from American-grown and -spun cotton, given a healthy dose of stretch, and then finished with triple-reinforced seams. If you've ever wanted a pair of jeans that can keep up with whatever the day throws at you, these are an excellent choice. And their interesting mix of a classic fit and boot cut details make them quite a handsome standout, too.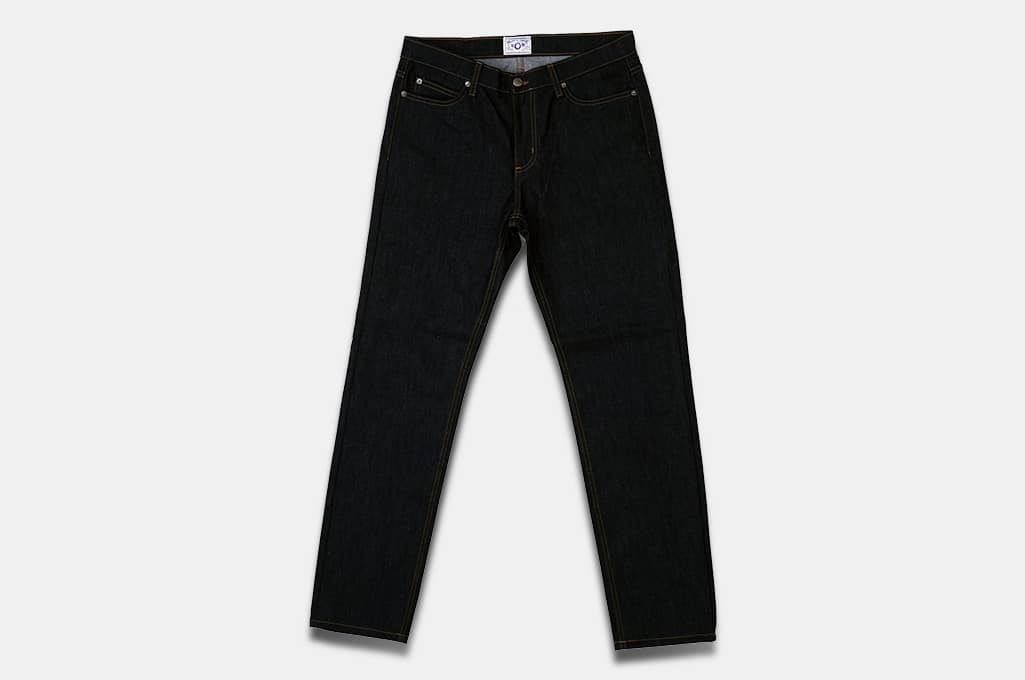 Rustic Dime Slim Straight | Raw
It's absolutely ridiculous how affordable Rustic Dime's clothing is, given its high quality and made-in-America status. But it's true: Even at a mind boggling 60 bucks for their Slim Straight raw denim jeans, you get a finely crafted pair of pants that's made to break in like a good leather wallet. If you're not familiar with raw denim, it takes a little bit of time to really get a good patina—something on the order of wearing them for six months without a wash is standard, but raw denim purists insist on a year or more. So if you're willing to make an investment of time (and being especially careful not to spill anything on your jeans), you'll end up with a crazy affordable pair of the best looking jeans around.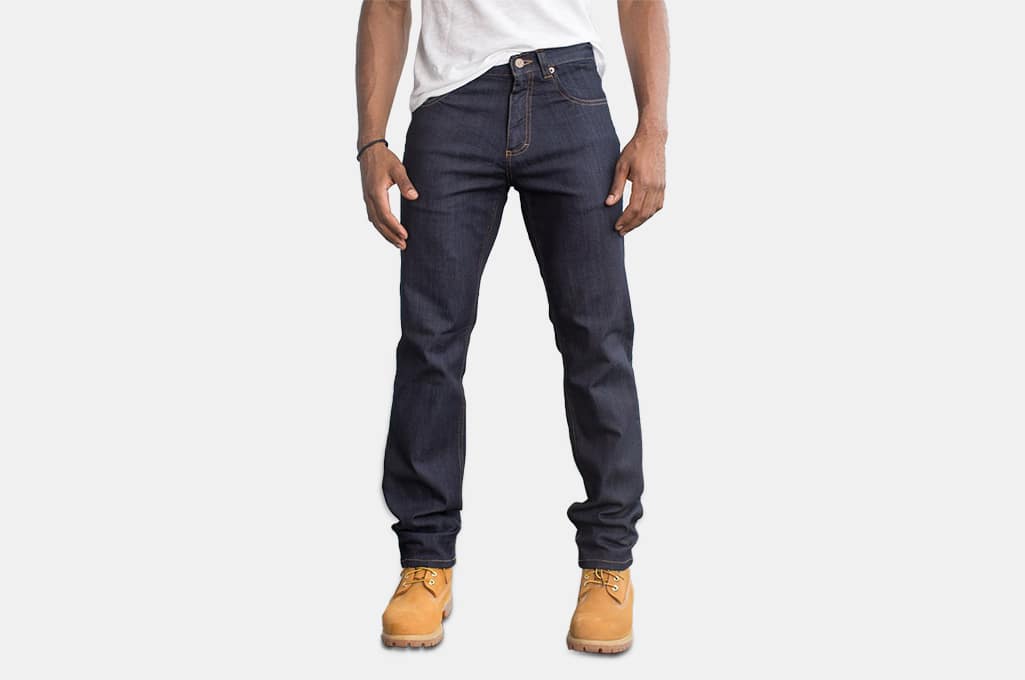 Dearborn Denim & Apparel Tailored Fit Dark Wash
Chicago-based Dearborn Denim strikes a fine balance between form, function, and price by sourcing their cotton from just over the border in Paras, Mexico. Their jeans are all designed, cut, and sewn in Chicago, where they take exceptional care to create jeans with a tailored fit that looks great from the moment you try them on. Made of a medium-weight denim, their Tailored Fit Dark Wash jeans are built to last and will break in nicely over time to create a textured look. Excellent jeans for everyday wear, and cheap enough that you can buy a couple pairs to rotate through.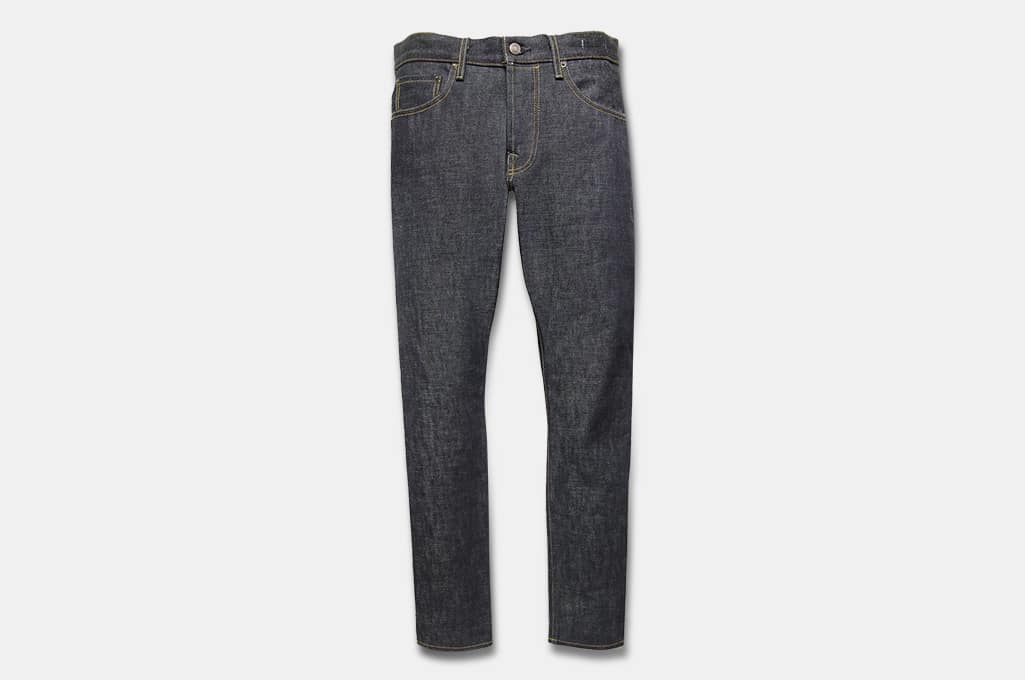 Imogene + Willie Barton Slim Japanese Selvedge Jean
Denim aficionados know that some of the best-wearing jeans in the world are made from Japanese denim. But the trouble with buying direct from Japan is that you'll pay an arm and a leg for shipping—not to mention the inflated cost of the jeans to begin with. Imogene + Willie offer a reasonable compromise with their Barton Slim Japanese Selvedge Jeans. They're made from 13.5 ounce Nihon Menpu Japanese selvedge denim, but are designed, cut, and sewn right here in the United States. As a result, you'll get the long-wearing benefits of Japanese denim with the more reasonable price of US-made goods.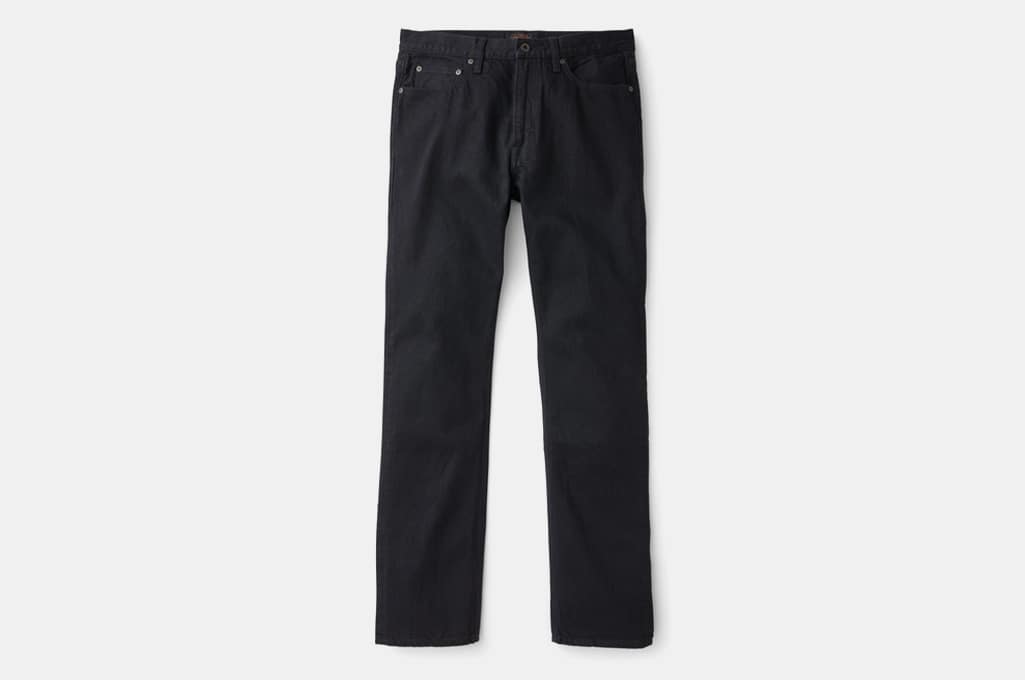 Filson Rail-Splitter Jeans
I'm firmly of the opinion that straight-leg jeans need to make a big comeback. Often associated with blue collar workers, their silhouette can take a turn for the worse if you don't pair them with the right shoes. But slap 'em on over a nice set of leather boots, and straight leg jeans look like a million bucks. Filson's Rail-Splitter Jeans are a fine example of the style, with tightly woven denim that creates a hard-wearing pair of pants that are as fashionable as they are functional. Metal shank buttons and double-reinforced pockets add the finishing touches to this work-and-play-ready pair of jeans.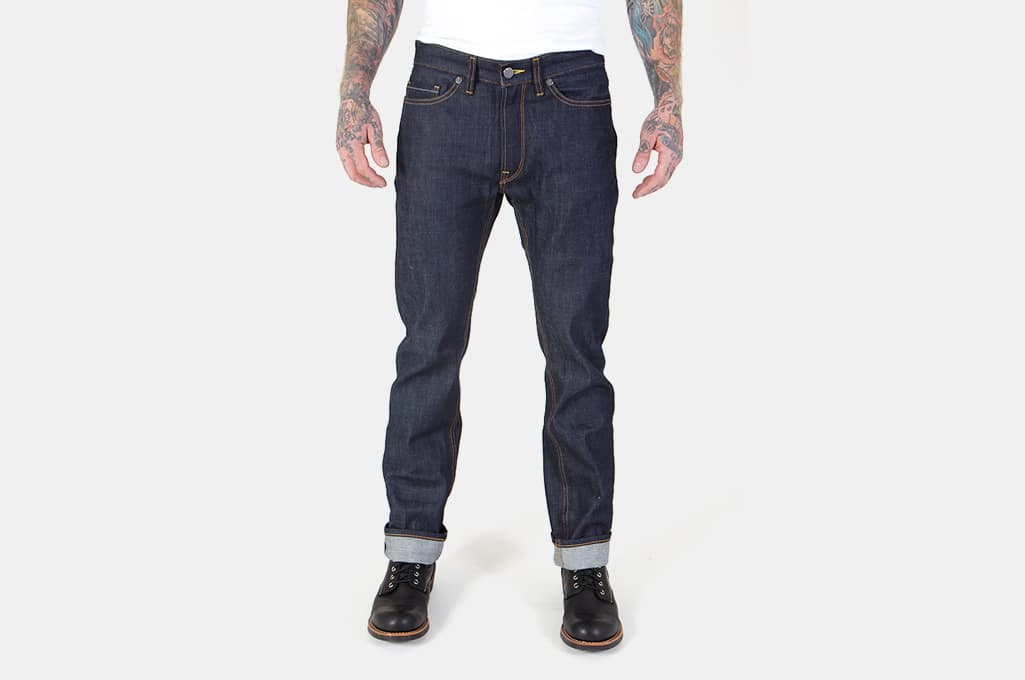 Stoval and Young The Martin Copper Jeans
Greensboro, North Carolina is home to the legendary White Oak plant from Cone Denim Factory, a genuine mecca for jeans enthusiasts. Their denim is widely regarded as some of the finest you'll find in the United States, with both remarkable durability and softness that are so hard to achieve in the same piece of denim. Stoval and Young use 12 ounce White Oak Cone denim to create their Martin Copper jeans, designing, cutting, and sewing them by hand in San Francisco. Detailed with Oregon-sourced leather and a chain stitched hem, they're a heritage clothing item that's as close to buy-it-for-life as you can get with jeans.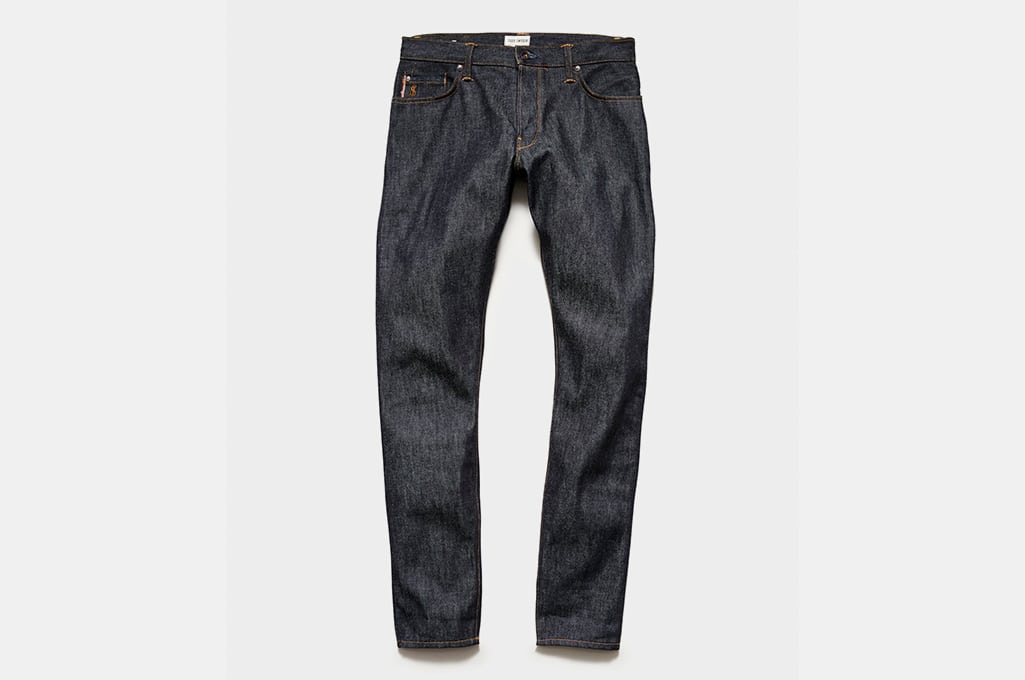 Todd Snyder Slim Fit Made in USA Raw Selvedge Jean
Remember the small batch denim from Todd Snyder's Relaxed Fit Jeans, featured above? The same top quality handmade fabric is used in their Slim Fit Raw Selvedge Jeans, too. The raw denim can be a little snug and stiff when you first start wearing them, so be prepared for a lengthy break-in period; some denim folks wait six months to a year before washing their raw denim, just to make sure it has the perfect look and feel. But since they're not pre-washed and softened, raw denim jeans will last about twice as long as a standard pair, too.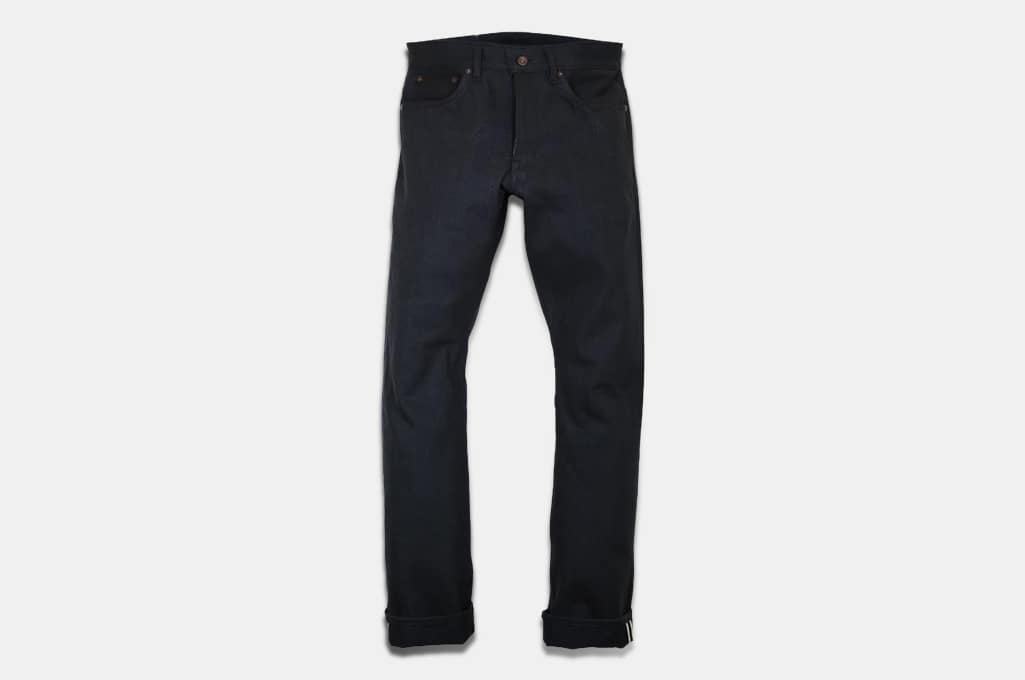 Railcar Fine Goods New Rebels X067 14.4 Double Black Selvedge Jean
There are black jeans, and then there are Railcar Fine Goods' Double Black Selvedge jeans. The denim for these bad boys is made with a charcoal-black face, then doubled down with a solid black weft, too. Even as they break in, these New Rebels jeans will maintain a pitch-black coloration that's perfect for pairing with a polished pair of boots. The 14.4 ounce denim is pretty hefty as well, making these a great pair of fall and winter jeans—and an even better choice for looking like an absolute badass while wearing a leather jacket and riding a motorcycle.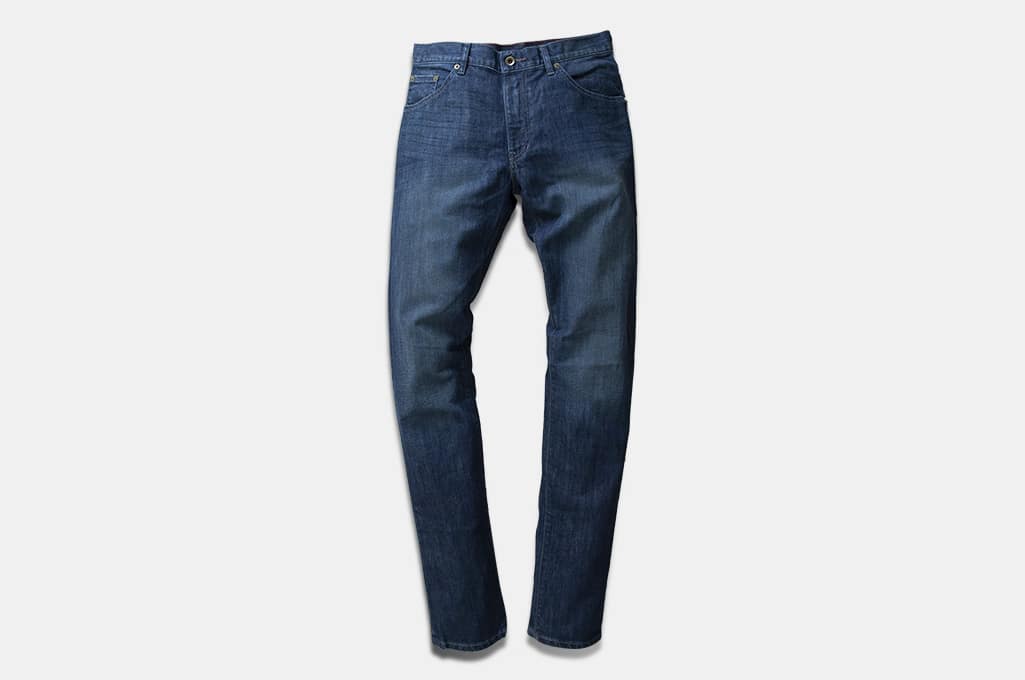 Raleigh Denim Workshop Martin Mason Jeans
Cone Mills denim makes another appearance in Raleigh Denim Workshop's Martin Mason jeans, lending its incredible softness and durability to handmade jeans built to last for years. They're hand-sewn in downtown Raleigh, North Carolina, and have the slimmest and most tapered fit of any jeans that Raleigh Denim Workshop offers. And because of this deeply tailored fit, they happen to be the Workshop's most popular jeans, too. If you're looking to dress to impress a date, they're a fine choice that'll show off your best assets in style.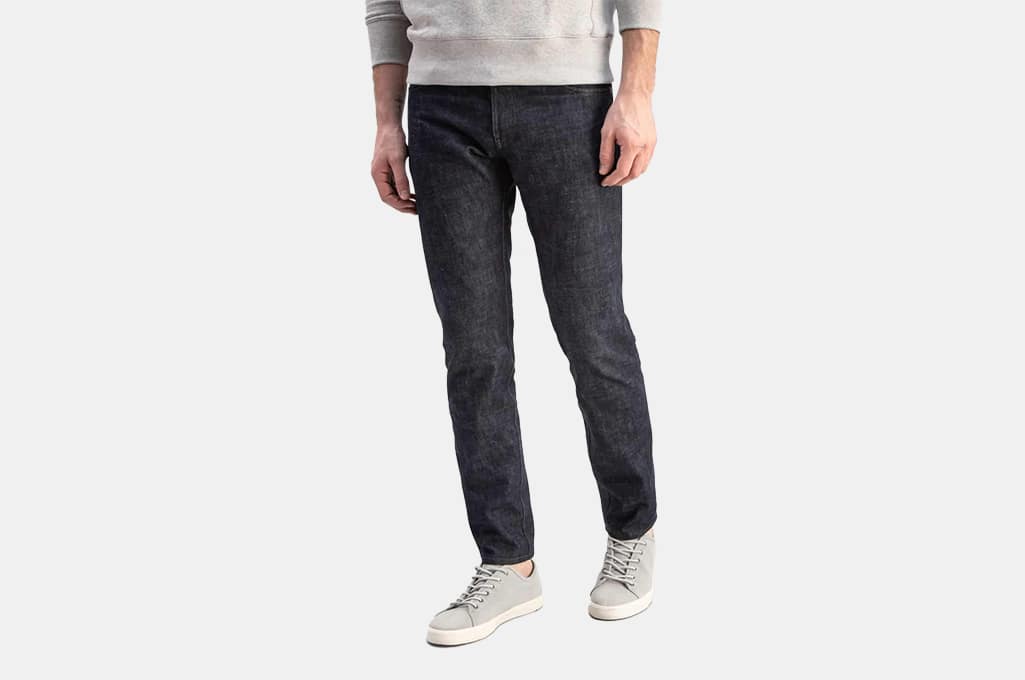 Todd Shelton Pro Soft Darks Jeans
Todd Shelton's lightweight denim Pro Soft Darks jeans are my number one choice for summertime wear—and since you can do an at-home try on to check for your best fit, they're also one of the best pairs of jeans that you can order online. True to their name, these jeans are soft as heck and comfortable enough to lounge around the house in. But with their dark wash finish, they're also a versatile wardrobe piece that can be dressed up or dressed down in an instant. Pair it with a white tee and sandals for casual get-togethers, or go for your nicest boots and a button down to up your style quotient.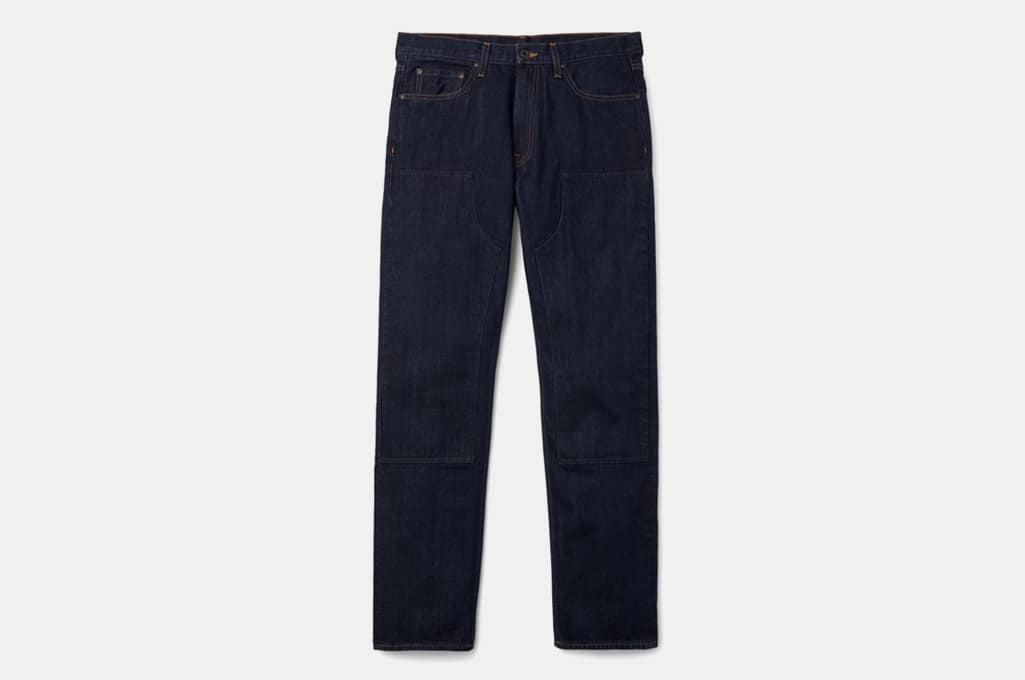 Filson Bullbuck Double-Front Jeans
Tightly woven denim is more durable than softer and lighter weaves, but it can also be a bit stiff and unforgiving as you break it in. Filson's Bullbuck Double-Front Jeans get around this issue altogether by starting with a hefty raw denim, then giving it a good wash and dry to pre-shrink it to the exact sizing you want. Straight-legged and made with double-reinforced seams and pockets, they're designed to hold up to whatever you can throw at them—making them a great pair of work jeans, and an equally useful option for the frequent traveler. Add in double layers of denim in the most abrasion-prone spots, and you get one of the most durable pairs of jeans you've ever worn.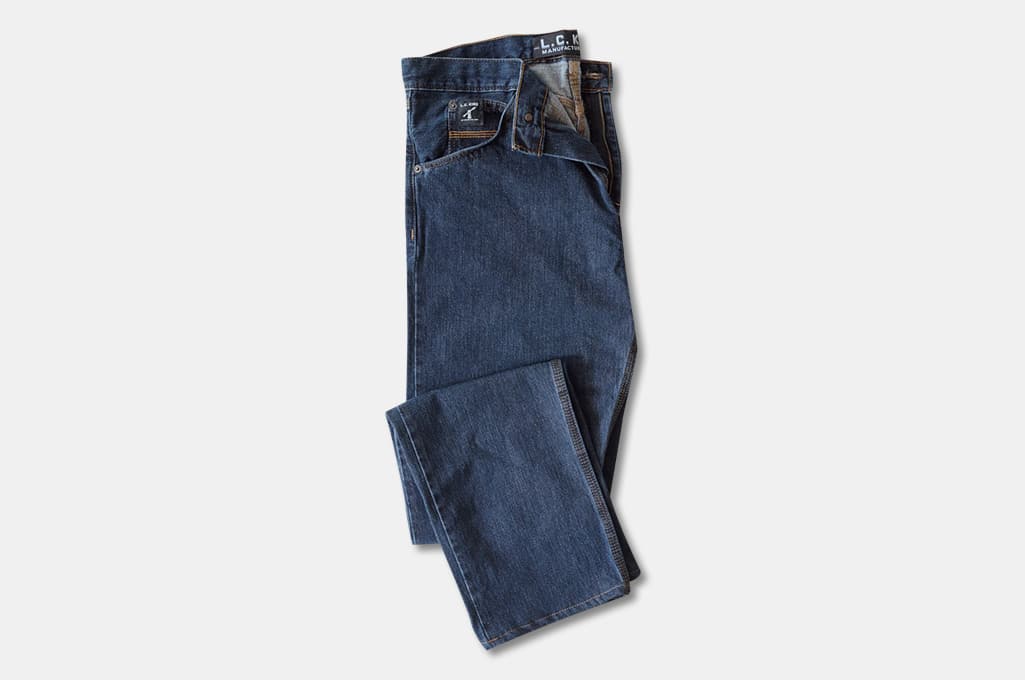 L. C. King Washed Denim 5 Pocket Jean
Bristol, Tennessee is home to L.C. King's denim works, where multi-generation sewers work on heritage machines to create ultra durable and surprisingly comfortable jeans. Their Washed Denim 5 Pocket Jean is everything you want in a classic pair: Made of midweight 11.5 ounce indigo-washed denim, with a relaxed straight leg fit and extra-reinforced seams and hems. Washed low and slow before they leave the factory, these jeans will come with a finely tuned patina and unbeatable softness, all without sacrificing the durability of the original material. An excellent choice for the man looking for a classic Western wear fit.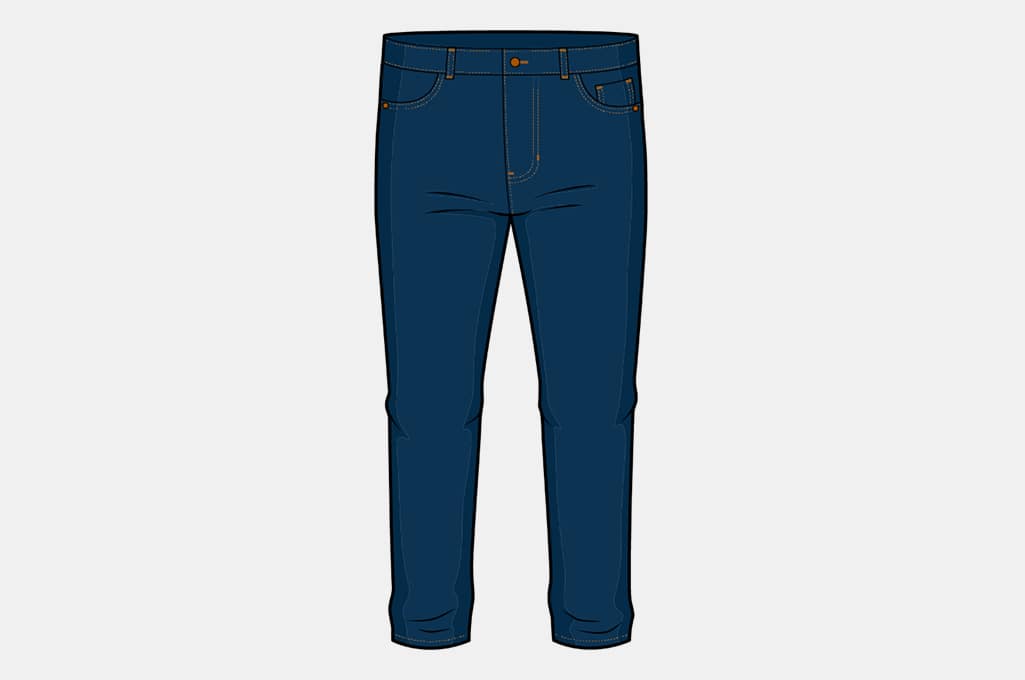 Detroit Denim Co. Custom Jeans
Have you ever wanted to be in control of every aspect of your jeans? It can be a pain to sort through the exact fit, fabric, wash color, and detailing of dozens of different brands. That's why Detroit Denim Co. has pioneered the idea of a Custom Jean Builder: The perfect tool for denim-obsessed dudes to create their ideal pair of jeans. Choose your fabric and fly, one of five distinct leg styles, and finish up with your size and body shape, and voila—the perfect fit and finish for your custom pair of jeans. Better yet, Detroit Denim Co. offers a repair program, ensuring that you'll be wearing your favorite jeans for years to come.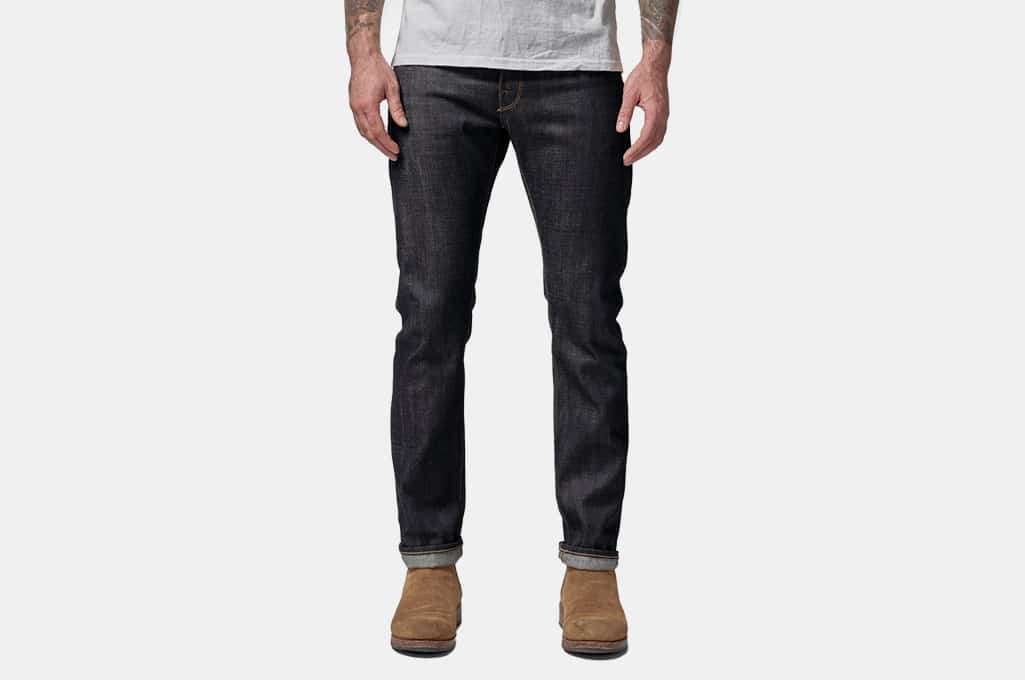 Shockoe Atelier Slim Low Tension Jeans
Kuroki Mills in Ibara City, Japan produces the 12 ounce slub selvedge denim that Shockoe Atelier weaves into an atypical pair of jeans. Their Slim Low Tension jeans have a low-rise fit and heavyweight denim, but they're also surprisingly soft and comfortable—that's what you can get when you're using real top quality denim. They're designed to be broken in for months before giving a first wash, with black coated buttons that will naturally fade to reveal copper over time. If you're looking for a pair of project jeans, these will give you plenty to notice and think about while you're watching them develop a rich patina.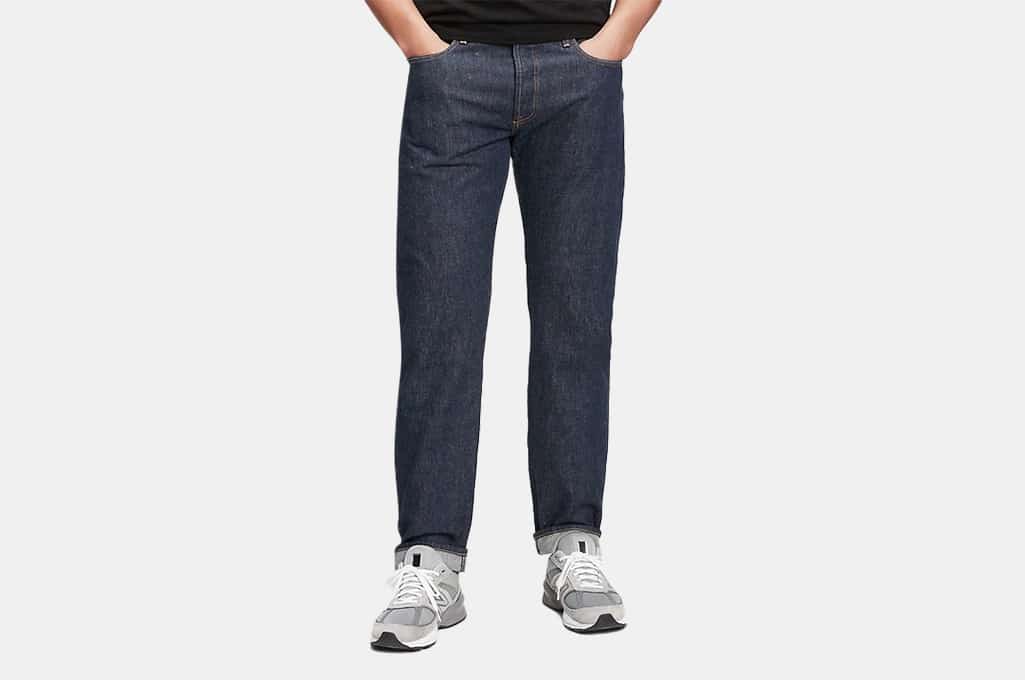 Gap Made in the USA 1969 Premium Straight Fit Jeans
Louisiana's Vidalia Mills makes another appearance with Gap's Made in the USA 1969 Premium Straight Fit Jeans. Using their heritage looms, the denim experts at Vidalia Mills created a heavy 14 ounce denim that's great for wintertime or workwear. A classic five pocket style gives them a touch of old school charm, and the relaxed fit through the legs and seat make them a truly casual pair of jeans. The waist on these jeans runs true to size, though, so order your usual size in these jeans if you want a roomier overall experience.
Disclosure: Clicking on these links and making a purchase may earn us a small referral fee, at no extra cost to you. Learn more here.
freestar.config.enabled_slots.push({ placementName: "gearmoose_leaderboard_btf", slotId: "gearmoose_leaderboard_btf" });