16 Best Apple Watch Chargers
Charging your many mobile and wearable devices can be a pain. Do you litter your nightstand or desk with a half dozen charging cables, scatter them around the room so you don't overload a single outlet, or simply swap chargers between compatible devices to cut down on the cable clutter?
The good news is, you needn't continue to tangle with sundry wires winding around table legs. A new brand of charging docks lets you maximize the battery life on multiple devices — including your Apple Watch — with pads or uprights that take up little tabletop surface and charge with only a single wire. Even better, several are designed with active wearables like the Apple Watch in mind.
If you've got every Apple device on the market, including the coveted Apple Watch, there are plenty of chargers to consider when you want to keep your watch and every other mobile gadget up and running with less hassle and clutter.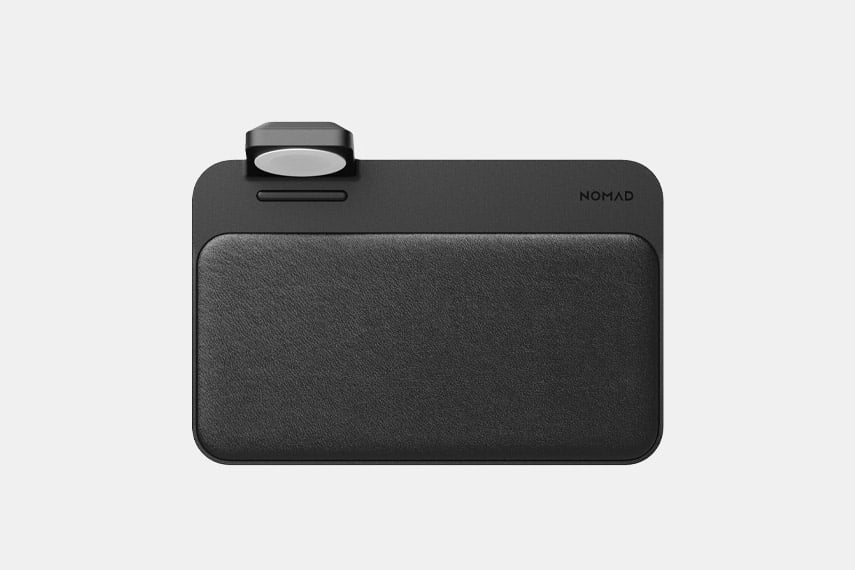 Nomad Base Station Apple Watch Edition
The bedside Base Station is a true innovation, designed to stand in not only for your typical charging cables, but also your standard alarm clock.  The frictionless charger features a padded leather base over a durable aircraft grade aluminum frame, and you'll enjoy three separate charging coils for your iPhone, wireless charging AirPods case (or other device), and of course, your Apple Watch.  The best part is the upright base for your watch, which puts the face in a vertical orientation so you can see it on the night stand when you wake in the morning.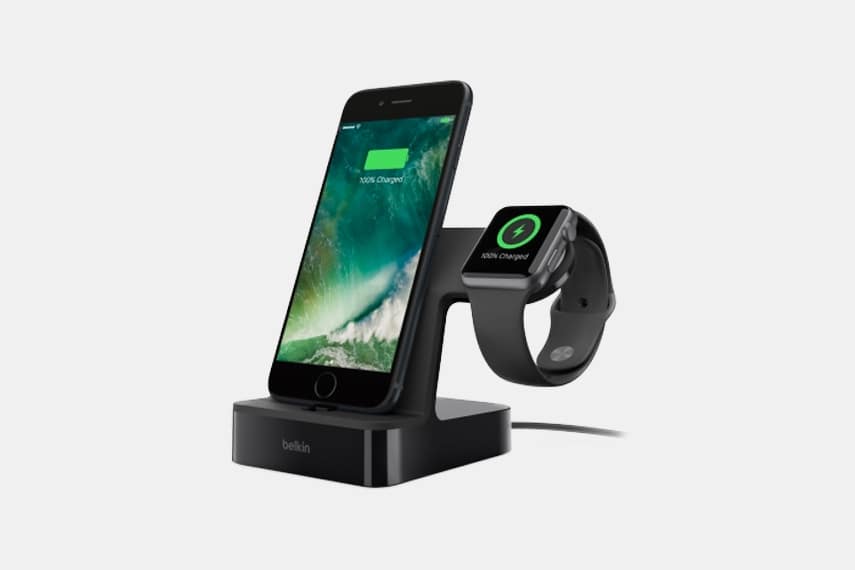 Belkin PowerHouse Charge Dock for Apple Watch + iPhone
The inverted L-shape of this charger puts your iPhone and Apple Watch in proximity while they charge so you can easily keep an eye on both at the same time. Your watch snaps into place on the built-in magnetic charging module fitted in the outstretched arm, while your iPhone docks on the lightning connector in the base and rests against the back panel support. Dial in the perfect height for the lightning connector so you don't have to remove your protective case as you dual charge devices.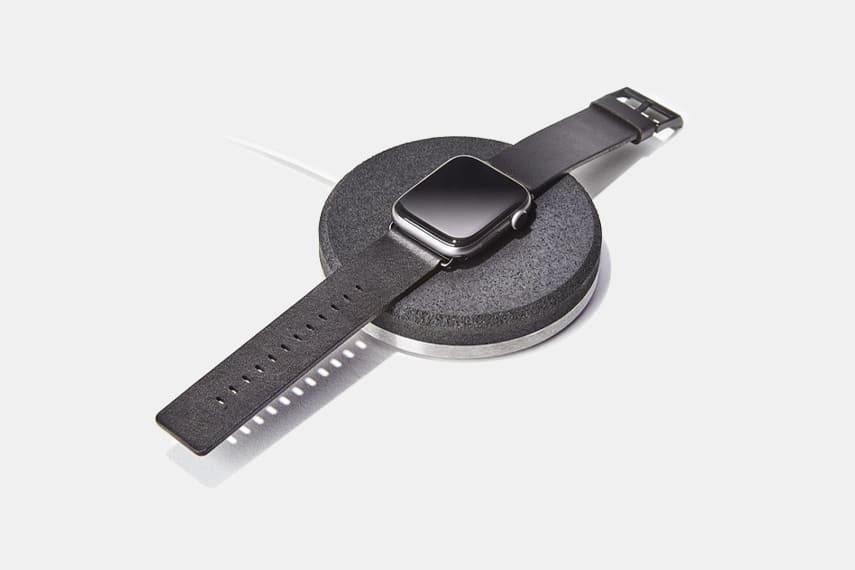 Grovemade Apple Watch Dock
At first glance, you might understandably mistake this hockey puck-shaped charging dock for a drink coaster, what with its brushed stainless steel base and machined cork top. Then you might wonder how the heck it charges your Apple Watch. It's all part of a "tech that doesn't look like tech" mentality, featuring simple, classic, designs that get the job done without adding any weird plastic pieces to your décor. This dock does the job with soft cork to rest your watch on and a weighted base that stays put.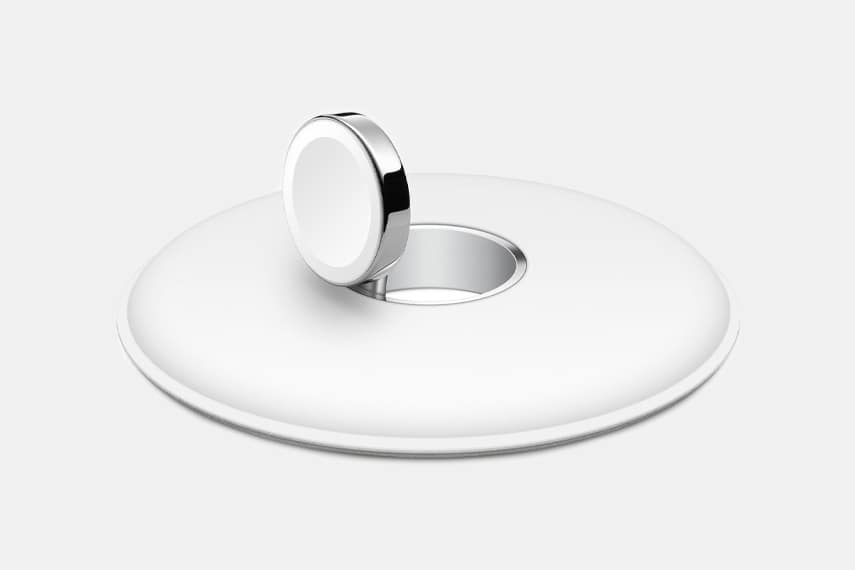 Apple Watch Magnetic Charging Dock
This offering from Apple itself is naturally well-suited to charging any model or size of Apple Watch and it attaches to the charging cable the comes with your watch. You can drape your watch flat on the disk-like surface or you can pop up the center circle and let magnetism do the work of holding your watch upright during charging. Side docking auto prompts nightstand mode so you can use your watch as an alarm clock. At just over four inches in diameter, it won't take up much space on your bedside table or anywhere else you like to charge up.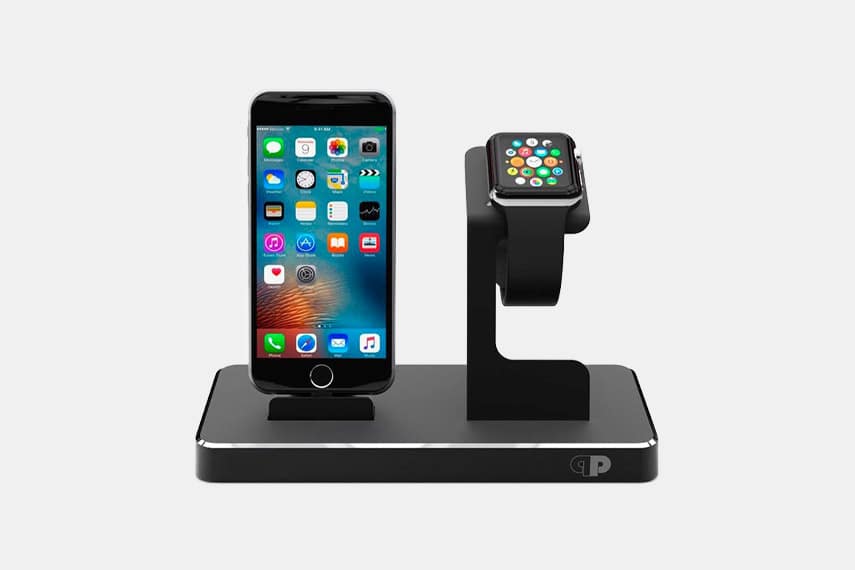 ONE Dock Power Station Dock
Perhaps you're not one to lay your devices flat, or maybe you're trying to save space on your nightstand. Either way, this slim, 3×8-inch charging station meets your needs with props to charge devices (iPhone and Apple Watch) in the full, upright position. Compatible with several phone and watch models, this dock in premium, high-grade aluminum with a weighted base quickly charges devices and gives you the option to use nightstand mode. There are even two built-in USB ports for simultaneous charging of up to four devices at once.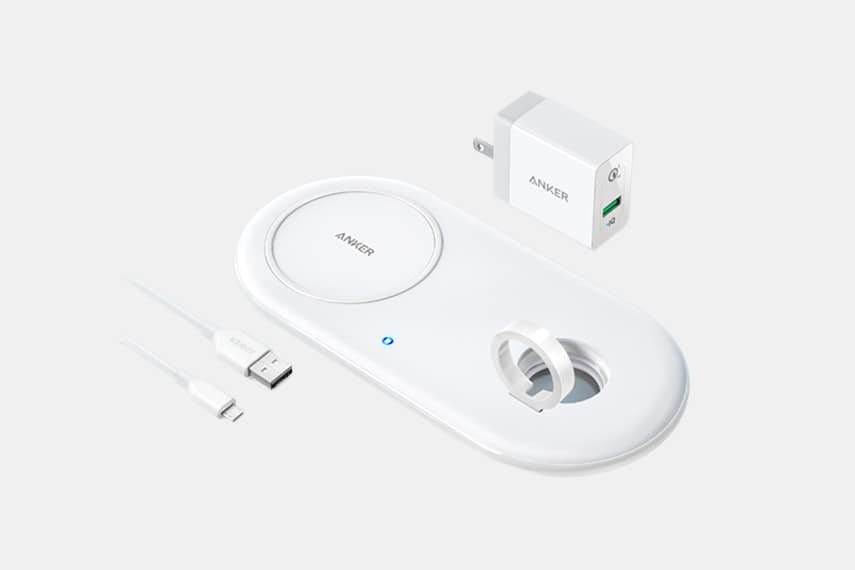 Anker PowerWave+ Pad with Watch Holder
Another flat-pad design, this ovoid, pill-shaped charger comes with a bit of a twist. While you can lay your iPhone or other devices flat on the surface to charge, the ring that holds your magnetic watch charger pops up to create a vertical charging base so you can easily use nightstand mode. In other words, you can replace your standard alarm clock with this charging dock to save space on your bedside table. Full-speed wireless charging works even through phone cases and this dock is certified safe.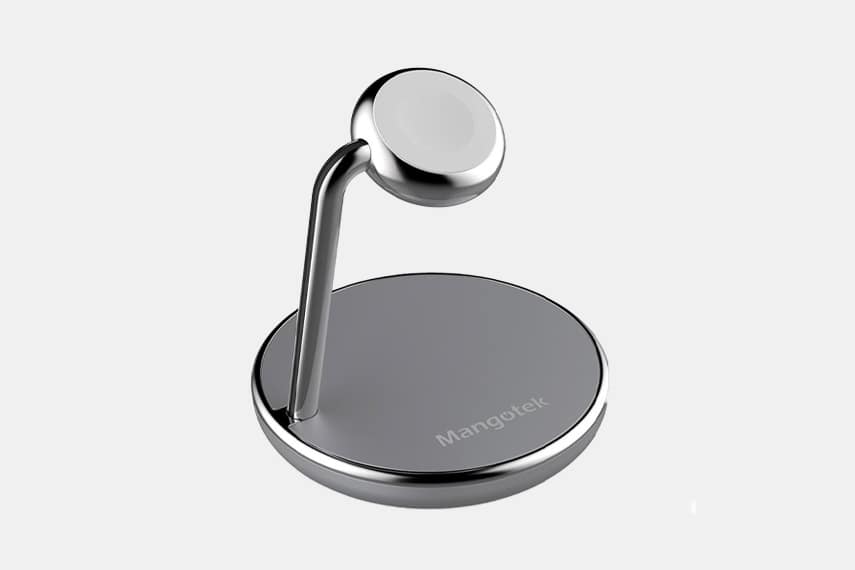 Mangotek Magnetic Apple Watch Charging Stand
This docking station looks a bit like one of those purse hooks women hang off the edge of a table or bar top in restaurants, but when upright, it's actually the perfect base for your Apple Watch, compatible with all models. The back of your watch grabs the strong magnet up top and stays put while charging, and the 2-in-1 design means you can charge your iPhone at the same time, thanks to a built-in USB port (which also works with your Apple tablet, camera, PSP, power banks, and so on).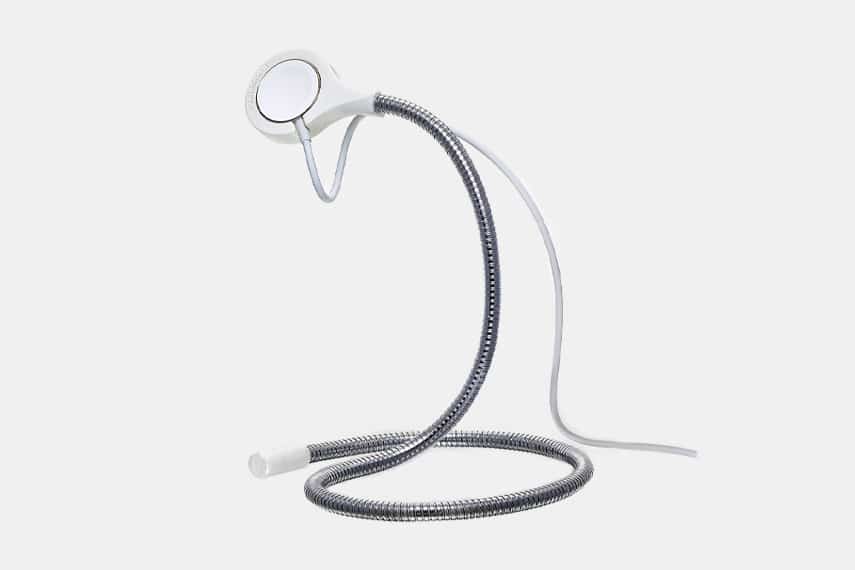 Fuse Chicken Bobine Watch Apple Watch Dock
It claims to be the "world's most flexible Apple Watch dock", and it's probably true considering there don't seem to be a ton of competitors shooting for flexibility. Still, this noodly dock is nothing if not versatile, thanks to its bendable proportions. 24 inches of bendy wire can be looped at the bottom to create a base, with the remainder going vertical to hold the charger and your watch. Or you can use included dash stabilizer clips for convenient car charging. Finagle it for optimal balance.
Griffin WatchStand
This watch stand is inexplicably tall compared to other models, with a monolithic post extending straight up from the center of the base. At a height of over 7 inches, this feature is ostensibly to deliver a good viewing angle of your watch face as the wearable device charges. It should work great if your bed frame sets your mattress a bit above the top surface of your nightstand. A non-slip base and no-scratch padding are nice additions to protect your desk or tabletop surfaces.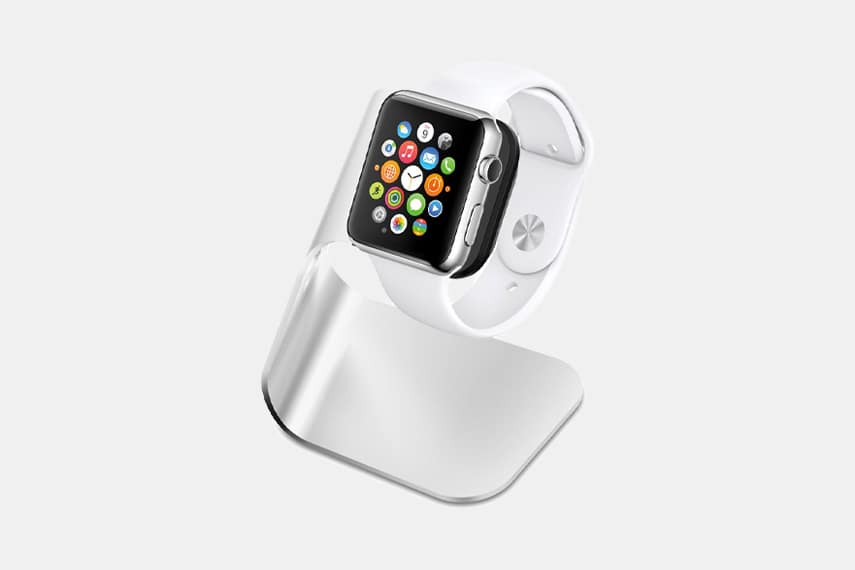 Apple Watch Stand S330
This C-shaped stand in premium aluminum and flexible TPU is simple, elegant, and perfectly suited to nearly any setting or décor. Nanotac reusable gel pads stick this docking station firmly to any surface for no-slip hold when you add the weight of your watch to the mix, and a circular cut-out in the upper surface makes adding your charger a cinch. At roughly 4x4x2.5 inches, this tiny stand is just right for charging your 38 or 42mm Apple Watch and it provides you with sophisticated style.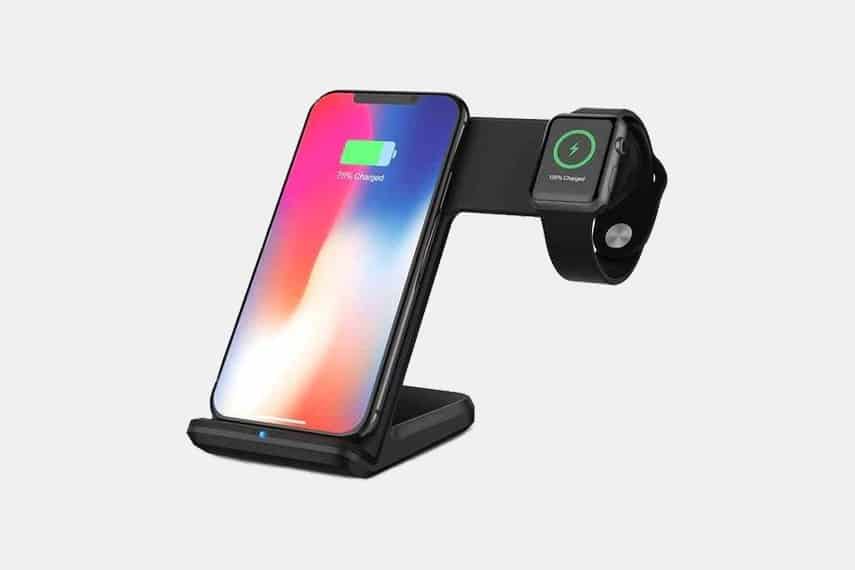 Moderno Wireless Charging Stand
Plugging and unplugging devices can be such a hassle, but Moderno has the solution with their Premium Wireless Charging Stand, designed to quickly fuel both your iPhone and Apple Watch batteries simultaneously. The small base fits just about anywhere, with sturdy backing that extends up to support your phone vertically during charging. An extended arm lets you hang your watch on the side for charging and easy viewing. Place your iPhone in portrait or landscape position on the base when streaming videos for optimal viewing.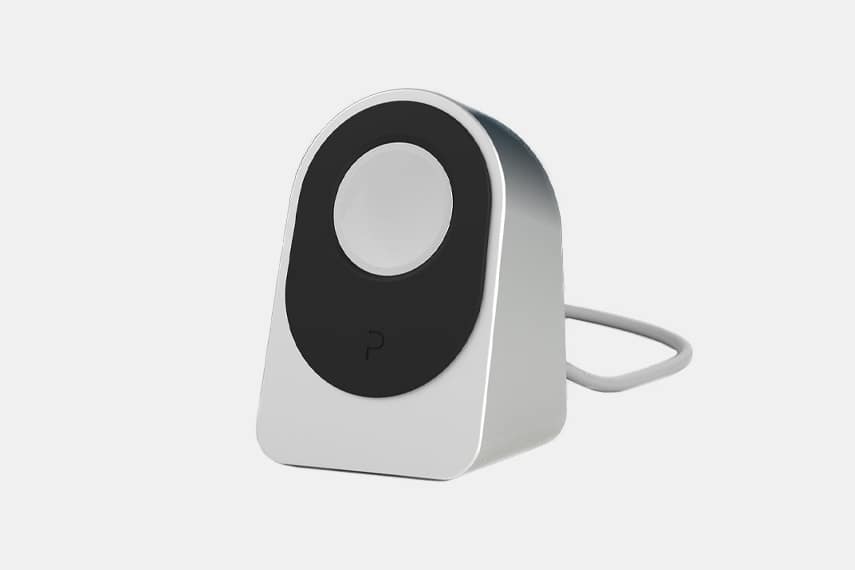 Proper Apple Watch Dock
You probably won't find another watch dock that looks quite like this one, which resembles nothing so much as a squat metronome or small, wireless speaker, with it's rounded, rectangular form. Where does your watch go? Right over the top, with the band clasped to hold it in place. It's like positioning a head lamp on your noggin. This not only keeps the watch and band from flopping around or getting scratched, but it also makes the face easy to see in nightstand mode. Instant alarm clock.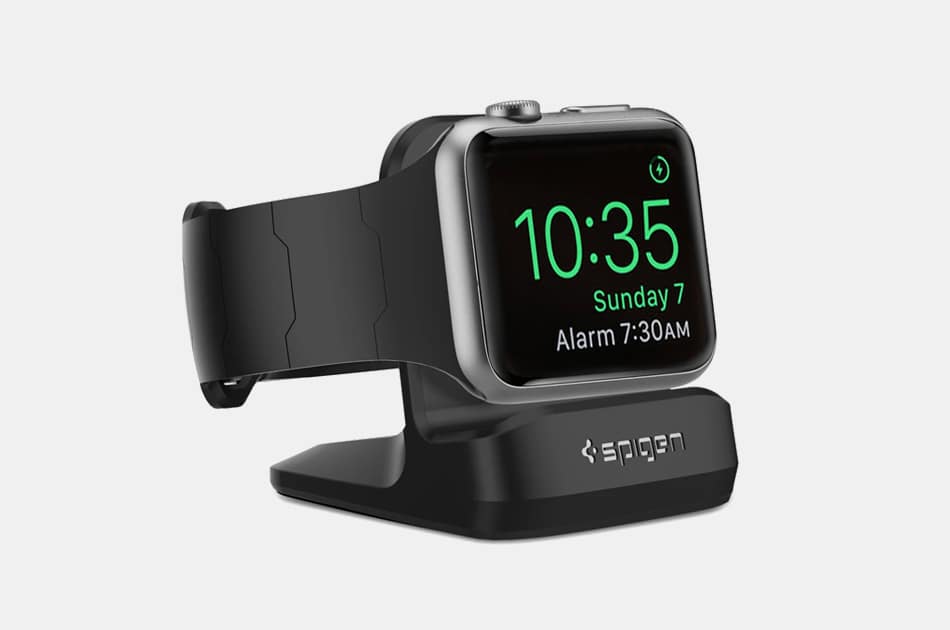 Spigen Apple Watch Night Stand S350
Minimalism is the name of the game with this diminutive charging dock, designed to work with 38, 40, 42, and 44mm models (including Apple Watch Series 1-5). Made entirely from resilient TPU, this base won't scratch or mar your pricy wearable, and the vertical resting surface is accentuated by a small lip that your watch rests on to ensure stable docking. The cutout is customized to fit your Apple Watch charger, and you can slide your watch onto the dock with the wristband open or closed. With a footprint of just about 2"x2" and five colors to choose from, this tiny charger is the perfect addition to any nightstand.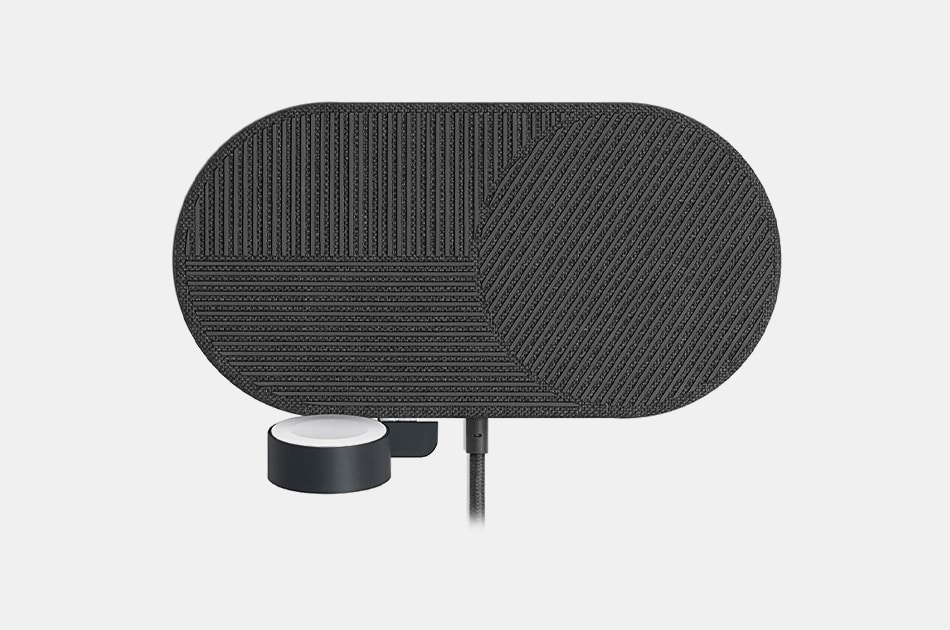 Native Union Drop XL Wireless Charger Watch Edition
If you're looking for convenience and versatility, you'll enjoy both with this horizontal pad, featuring a capsule-shaped base that you can use to charge your iPhone (8 and above), Apple Watch, and other Qi devices (in case you mix and match OS). The addition of an attachable, upright puck means you can charge two devices on the base while you slap your watch on the puck, where you'll enjoy better visibility from a prone position. Construction in aircraft grade aluminum ensures durable design, while the silicone tread surface keeps devices from slipping, as well as overheating.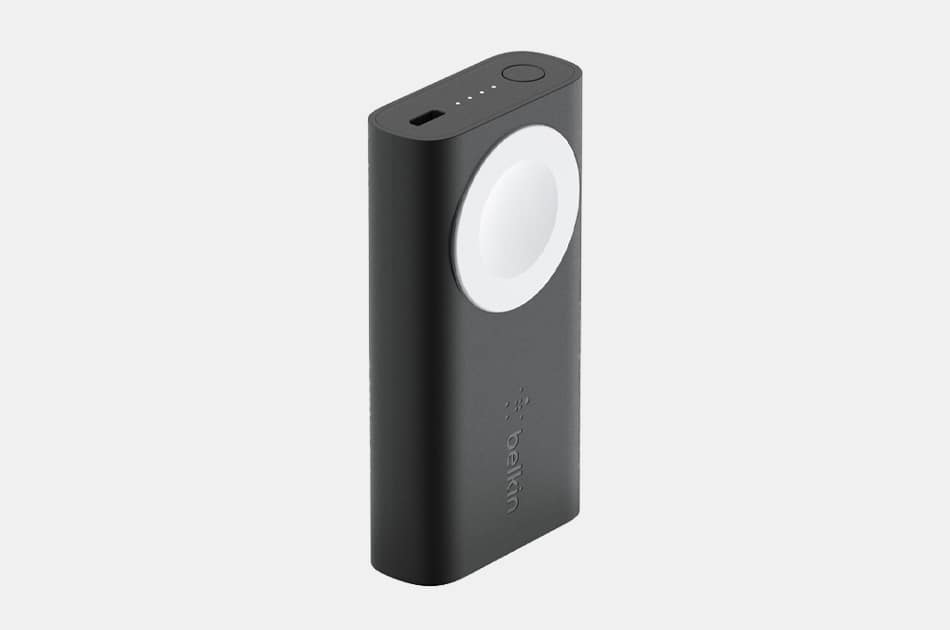 Belkin Boost Charge Power Bank 2K for Apple Watch
Whether you prefer to charge your wearable upright on your nightstand or lying flat on your desk, this versatile charger meets all your needs and provides the perfect angle for viewing your watch face. Lightweight and travel-sized at about 2.5 ounces, with dimensions of roughly 3"x2"x1", you can pop this power bank in a pocket or pack and take it anywhere for on-the-go charging capabilities. Enjoy up to 63 hours of battery life for Series 1-4 Apple Watches with this handy power bank, and then recharge the bank with included micro-USB cable.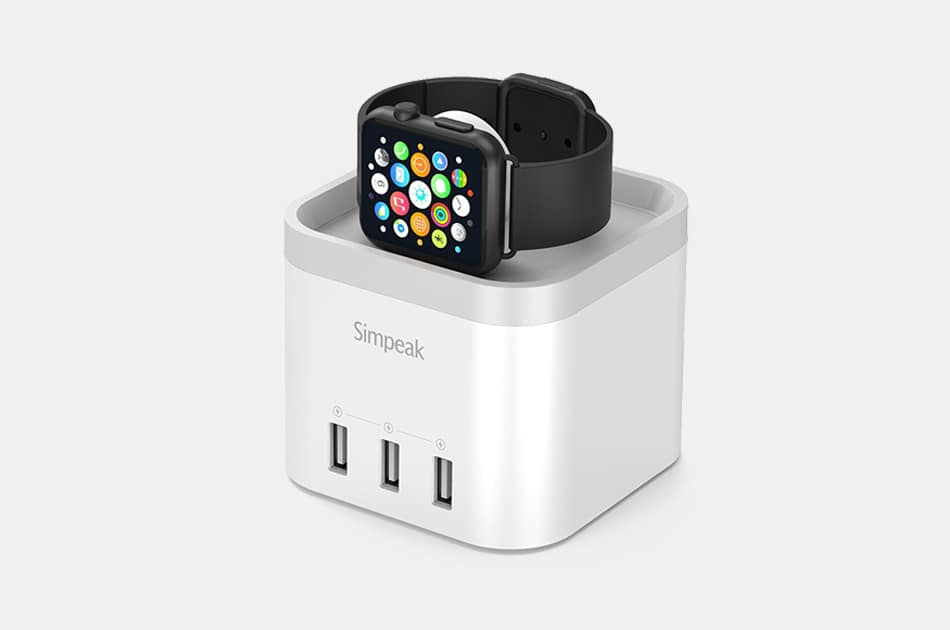 Simpeak 4 Port USB Charger Station
These days, you have so many devices to charge. Wouldn't you prefer one station that charges them all? With this charger, you'll get your wish, thanks to a vertical puck on the top of the cube to display your Apple Watch in nightstand mode during charging, along with 3 USB ports in the base for phones, tablets, or other mobile devices. Smart chips auto detect devices when plugged in, delivering the fastest charging speed available (up to 2.4 amps), although charging cables are not included. Works with Apple Watch Series 1-5, as well a variety of Apple and Android devices.
Disclosure: Clicking on these links and making a purchase may earn us a small referral fee, at no extra cost to you. Learn more here.
freestar.config.enabled_slots.push({ placementName: "gearmoose_leaderboard_btf", slotId: "gearmoose_leaderboard_btf" });