The 20 Best Activity Trackers Of 2019
Wearable devices are still improving all the time, but they've already become ingrained in our daily lives, telling us when our heart rate is up, when we've met our step-count goal for the day, and even when we're receiving phone calls or text messages.  In fact, wearable devices have become so popular that it can be hard to figure out which activity tracker best suits your needs.
Even if you lean toward Fitbit or Apple due to brand loyalty, there are still several options to choose from, and if you're interested in branching out and trying new brands, you could find yourself comparison shopping dozens of activity trackers.  There are some criteria you can use to narrow your search, such as whether you want to use your device primarily for fitness or connectivity (or both).  Do you need it to be waterproof?  Do you want it to play music or integrate with other apps?
Of course, having a slew of reviews handy can also help you to quickly compare the best activity trackers to find the one most likely to deliver the features and functionality that perfectly suit your on-the-go lifestyle.  Here are 20 of the best activity trackers on the market today — in no particular order — for those looking to keep tabs on their sleep and fitness goals.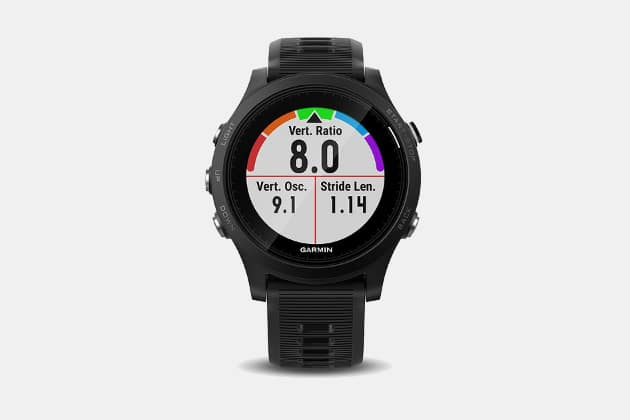 Garmin Forerunner 935
The premium Garmin smartwatch can be had for a gasp-inducing 500 bucks, so you're probably wondering what you'll get for the money.  The chunky styling is sure to catch attention, as are swap-in QuickFit wristbands in bold, Day-Glo hues.  In terms of features, you'll get all the tracking and connectivity basics, along with extras like training status tools for performance monitoring (to optimize exercise efforts), anaerobic training effect metrics to track improvement, and training load to compare recent training history to your optimal fitness range. – Shop Now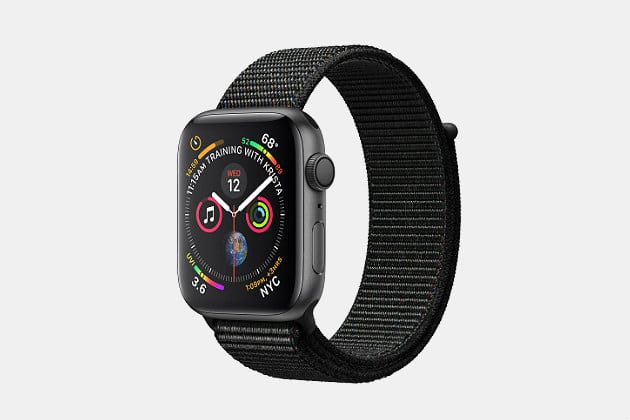 Apple Watch Series 4
Fitbit may have been the first big sport watch on the digital market, but Apple certainly caught up quickly with a line of wearable devices that offer amazing connectivity, in addition to heart rate monitoring.  While Fitbit isn't always the best at tracking in-place activities like yoga, the Apple Watch Series 4 delivers all the metrics you need for optimal exercise tracking.  Create a custom workout face, set individual goals like a target running pace, track cadence and mile splits, and crank your favorite playlist or podcast to get moving. – Shop Now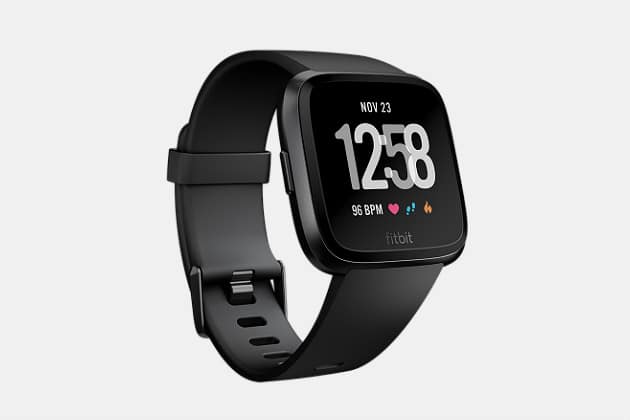 Fitbit Versa
Even within the Versa line from Fitbit, you have three options to consider: the Versa Lite, the standard Versa, and the Versa Special Edition.  As you can imagine, each ascending tier delivers additional features.  For the standard Versa, you'll get step, calorie, heart rate, pace, distance, swim lap, and sleep tracking, as well app integration, notifications, and 15+ exercise modes (swim, run, etc.).  It even has female health tracking.  It's not the smallest Fitbit, but you won't have to squint to see on-screen info.  Swap out bands to customize your look. – Shop Now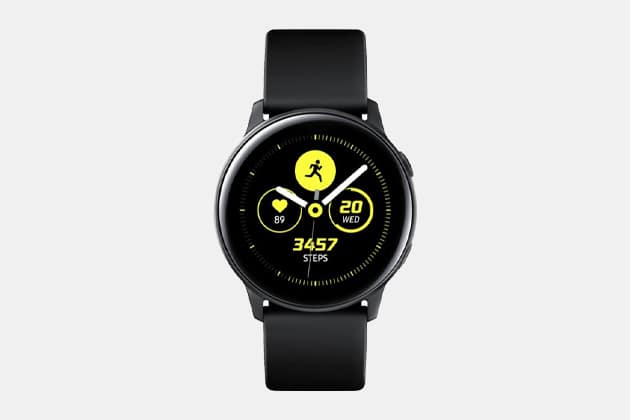 Samsung Galaxy Watch Active
The Samsung Galaxy line is a major contender in the mobile world, giving Apple a solid run for its money, and the smartwatch scene is no exception.  This model is flatter than most and features an elegant, round face, as opposed to bulkier square and rectangular wearables.  It's got all the same bells and whistles with activity trackers, talk-to-text connectivity, and even a stress monitor that offers mindfulness sessions to calm you, but it features discreet, traditional watch styling for those who want a more refined accessory. – Shop Now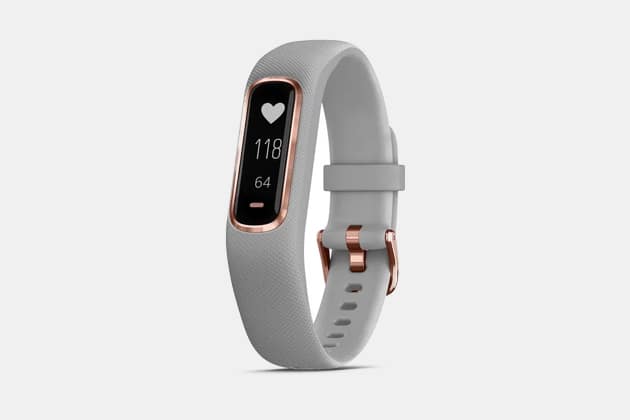 Garmin Vívosmart 4
Another smart solution from Garmin, this bracelet-like watch will fit right in with your collection of silicone armbands.  The inset watch face solves the common problem of high-profile smartwatches that often catch on things like cabinet shelves.  Aside from being stylish and practical, this streamlined smartwatch offers fitness, sleep, and stress tracking capabilities, along with call and text notifications, and text reply for Android users.  Battery life lasts up to seven days on a charge and it goes in the shower or swimming pool so you never have to take it off. – Shop Now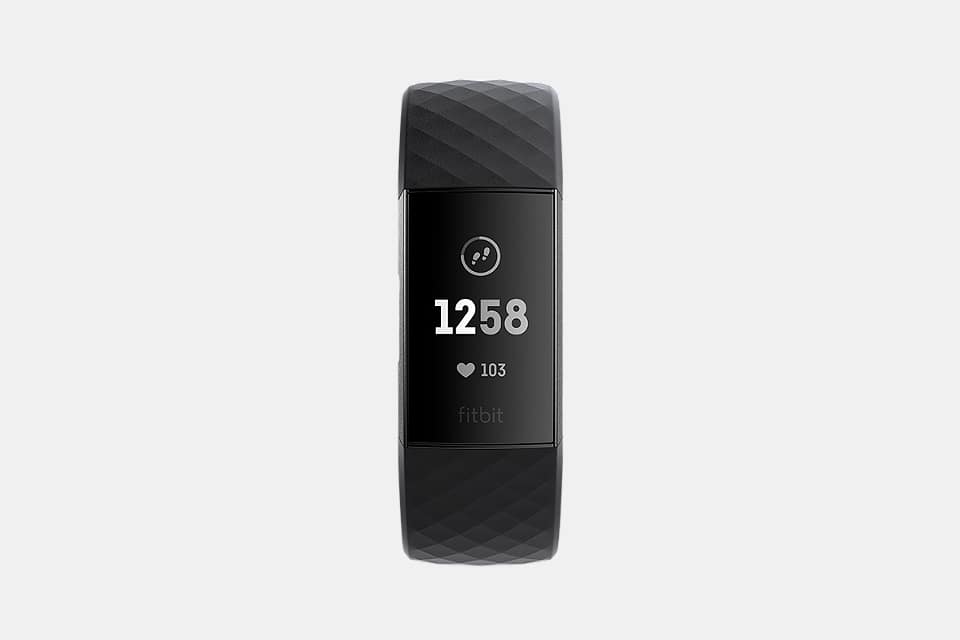 Fitbit Charge 3
This slim Fitbit won't take up much real estate on your wrist, thanks to an elongated, rectangular face that delivers data in a vertical format.  Even better, it offers advanced tracking features, including 24/7 heart rate, female health, and auto sleep tracking, among other metrics.  You can call up data on your smartwatch or view the app dashboard on your smartphone.  Set goals, get guidance, gain insights about your body, and follow guided breathing sessions to relax with a waterproof (up to 50m) smartwatch that goes with you everywhere. – Shop Now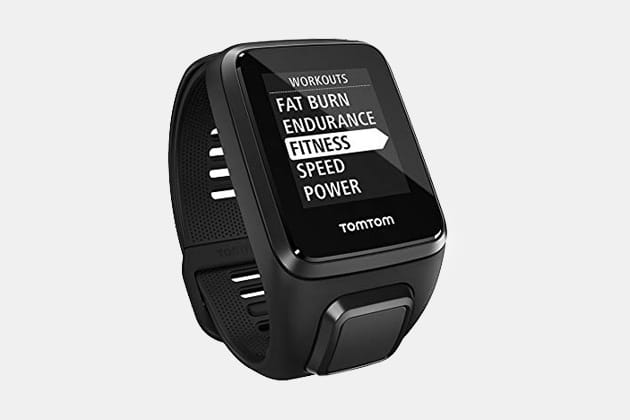 TomTom Spark 3 Activity Tracker
Garmin expanded into wearable devices, so why not TomTom?  Silly name aside, this activity tracking smartwatch funnels tracking metrics to a smartphone app dashboard so you can set goals and monitor progress daily.  Track heart rate, sleep habits, and more.  To be honest, this wearable isn't breaking any ground when it comes to function, and the same goes for its simple styling, but with a price tag starting at just under $130, you'll get the basic functionality you need, paired with the competitive pricing you prefer. – Shop Now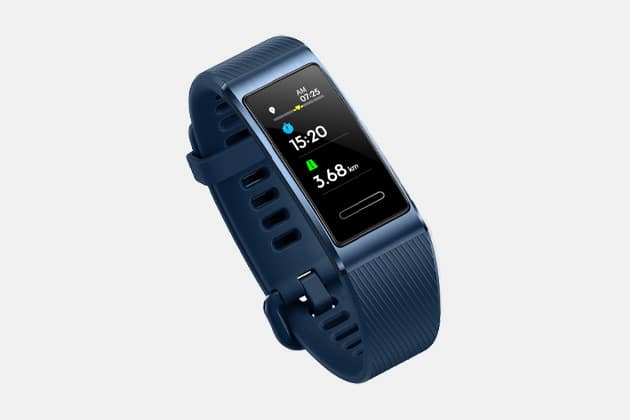 Huawei Band3 Pro
This activity tracker is not only slender in width, but it's also relatively flat compared to many other activity trackers on the market.  What's sure to stand out as soon as you put it on, however, is the AMOLED color display, paired with clickable touchscreen.  The sleek styling really does go with just about any outfit (maybe not black tie) and you'll get precision heart rate monitoring, as well as in-depth sleep analysis that pinpoints sleep issues and delivers up to 200 potential solutions, thanks to development with Harvard Med School's CBD center. – Shop Now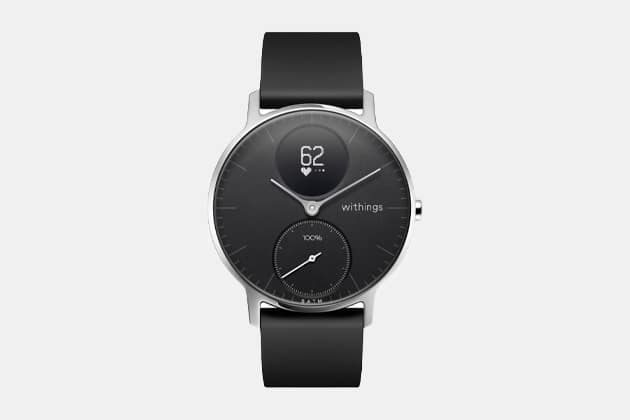 Withings Steel HR Hybrid Smartwatch
This smartwatch is nothing if not stylish, thanks to a traditional, round face and a pairing of analog and digital components.  Despite classic styling, the digital face delivers multisport tracking features, heart rate monitoring, and impressive extras like water resistance to a depth of 50 meters and 25 days of battery life.  You'll also enjoy customizable notifications, changeable bands for personalized wear, and support for calling, texting, and apps.  It's compatible with iOS and Android devices, and the low-energy Bluetooth means you won't drain your battery with wireless connectivity. – Shop Now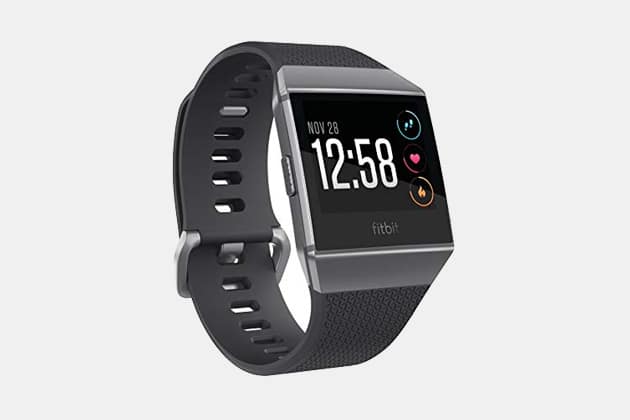 FitBit Ionic
Fitbit is arguably the gold standard in fitness wearables, and the Ionic model looks to prove the theory correct with superior functionality that includes personalized guidance and insights.  Who needs a personal trainer when your activity tracker offers personal coaching and long-term health insights based on heart rate monitoring, fitness tracking, sleep stages, and female health tracking?  Plus, you can store and play music, including playlists from Pandora and Deezer, and connect with apps for notifications and wallet-free payments.  There really is a lot to love with this high-functioning Fitbit. – Shop Now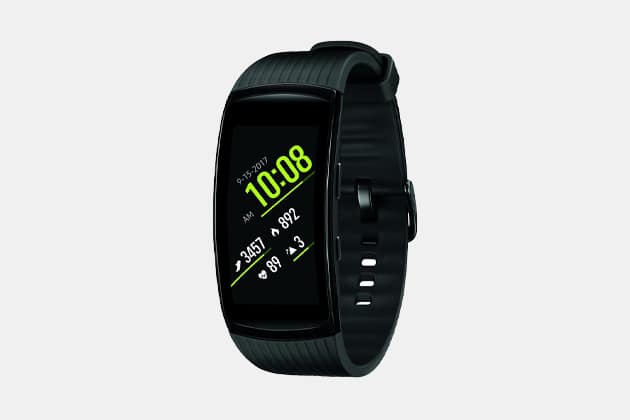 Samsung Gear Fit2 Pro
It may be bulkier than the Samsung Galaxy Fit, but it's also more robust in terms of features and function.  It integrates with Under Armour fitness apps, as well as MapMyRun and MyFitnessPal to track routes, fitness progress, and more.  Music storage means you can always add tempo to your workout, it's compatible with iOS and Android, and continuous heart rate monitoring assists with calculating accurate all-day calorie burn.  Plus, you can read and respond to texts and emails, and the long-lived battery lasts for days between charges. – Shop Now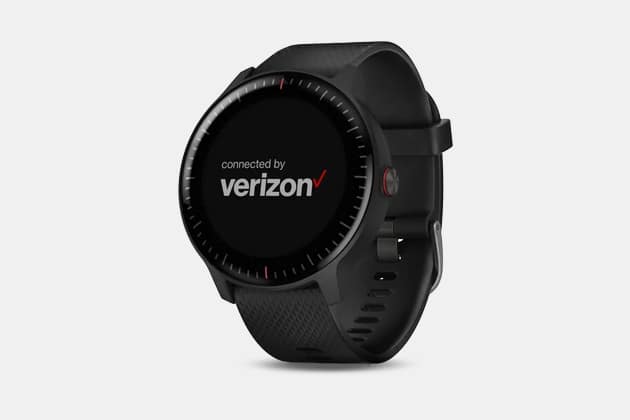 Garmin Vívoactive 3 Music
Pretty much everyone had a Garmin or TomTom back in the day, but with standard nav in cars and Google maps on your smartphone, you hardly need these products anymore.  Luckily for Garmin, they branched out and got in the wearable game.  This GPS smartwatch uses Verizon connectivity to deliver texting capability and access to music downloads (up to 500 songs), along with Bluetooth connectivity for wireless headphones.  With over 15 sports apps preloaded, you don't have to do much to get this smartwatch exercise ready. – Shop Now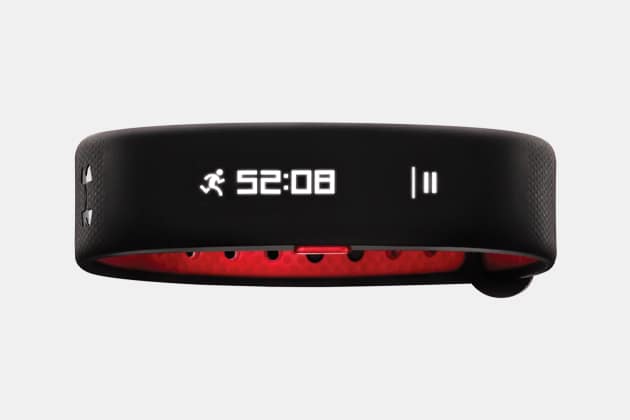 Under Armour UA Band
If you're familiar with UA products, you know they're designed to make fitness easier on every level, and the UA Band lives up to the credo with a comfortable, diminutive, streamlined smartwatch you can wear all the time.  It's water-resistant and stays on during workouts, it integrates with essential apps to deliver notifications (reminders, texts, updates and challenges, etc.) and it tracks activity and sleep to help you optimize for fitness and health.  View daily progress reports and use personalized insights and recommendations to improve. – Shop Now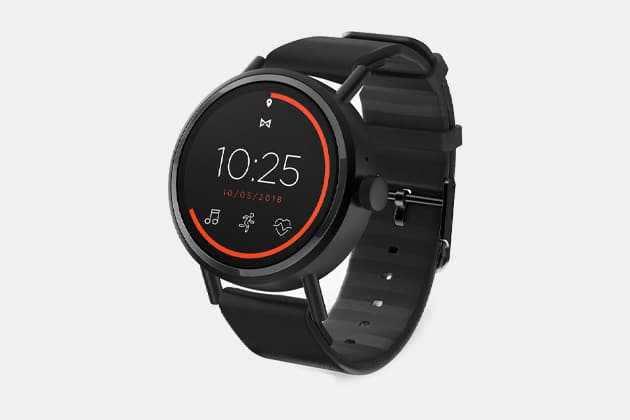 Misfit Vapor 2
If you like the look of a tactical watch, you're going to find the design of this activity tracker appealing, with its raised, rounded face and sweatproof, textured strap.  You're also sure to appreciate the phone-free music player with smartphone notifications and alarms, standalone GPS for activity routes, metrics, and stats, and the fact that it's compatible with Google Pay so you can make purchases with your wearable device (thanks to Wear OS by Google).  Available in multiple color (watch/strap) combos, as well as two face sizes (41mm or 46mm diameter). – Shop Now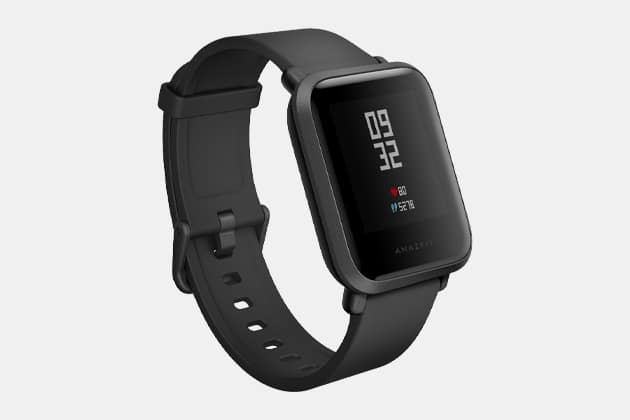 Amazfit Bip
The Amazfit Bip may look like your standard fitness tracker, but this model delivers a touch display that's always on (so you don't have to whack it with force to get a reading) and an incredible 30 days of battery life for superior utility.  It also has a GPS, barometer, geomagnetic sensor, 3-axis accelerometer, and PPG heart rate sensor.   Get calls, texts, and app notifications, as well as activity tracking with stats and detailed GPS routes.  In addition to all that, this off-brand offering comes in at under a hundred bucks, making it a lot more affordable than competing activity trackers. – Shop Now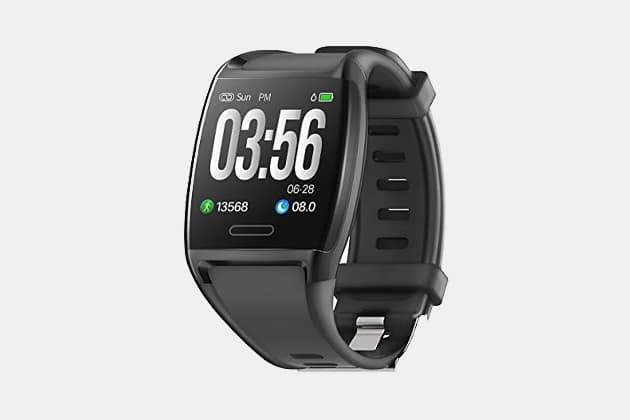 HalfSun Activity Tracker
At 1.3 inches, the screen is rather large, but this only serves to better display the super HD full-color screen, and the dimensions are ergonomically designed for fit and function.  With this smartwatch you can record daily stats like steps, distance, heart rate, and even blood pressure, and you'll have access to features like sport modes, control of your smartphone camera to take pics, and phone GPS to record a map of your exercise route.  These extras make the HalfSun Fitness Tracker stand out from the pack. – Shop Now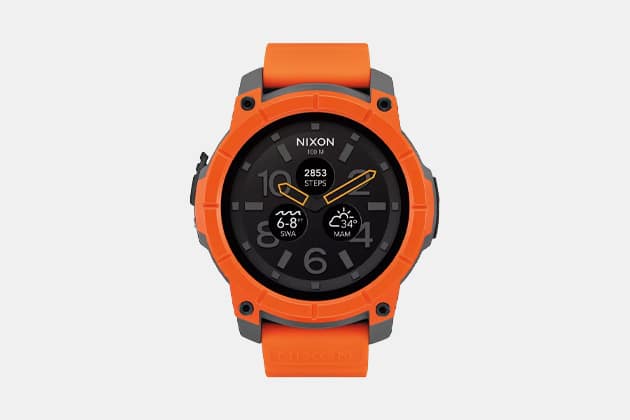 Nixon Mission Smartwatch
Most smartwatches these days have at least a modicum of fitness functionality, but until now, none were geared toward action sports like surfing and snowboarding.  Thanks to partnerships with Surfline and SnoCountry, Nixon's Mission smartwatch delivers shred alerts to ensure that you never miss a moment of adrenaline-filled action.  This rugged smartwatch holds up to surf, snow, and whatever you throw at it, and it integrates with apps like Google Fit, Google Maps, Google Play Music, Weather, Flights, and more.  Stay on track and live your life to the fullest with the Mission smartwatch. – Shop Now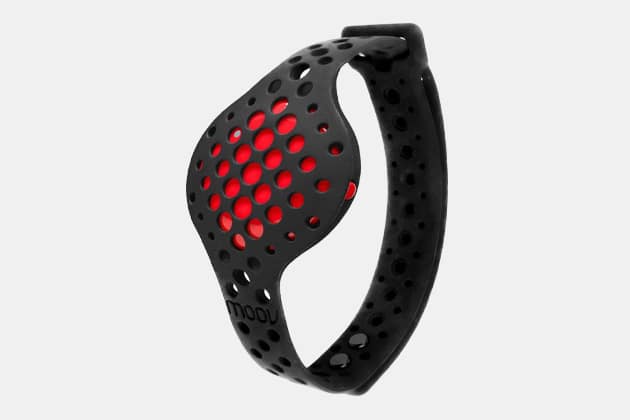 Moov Now
Do you wish you had a wearable device that could correct your form, reduce injuries, and coach you to reach your personal fitness bests?  Wish no more.  Move Now can coach you through running, circuit training, indoor/outdoor cycling, swimming, cardio boxing, and more.  It's ultralight at just 15g and it's equipped with trackers like motion landing impact to analyze your form and deliver real-time coaching.  It's waterproof and dust proof, it integrates with iOS or Android, and it offers up to 6 months battery life, depending on usage. – Shop Now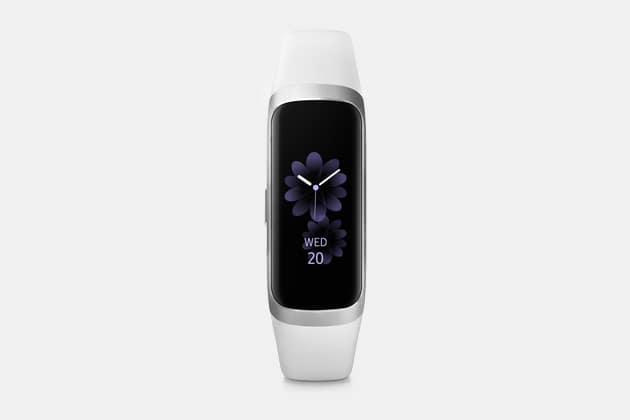 Samsung Galaxy Fit
If good looks were miracles, Samsung would have the unicorn of smartwatches.  This slick beauty is slim and low profile, with an inset watch face that delivers vibrant color and touch capability with AMOLED display.  It weighs jut 24g (less than an ounce), so it's no stretch to say you'll forget you have it on until notifications come through.  The tradeoff is that it's less powerful and feature-filled than the Gear Fit2 Pro, but you'll still get a heart rate sensor, accelerometer, and gyroscope, along with Bluetooth connectivity (no WiFi). – Shop Now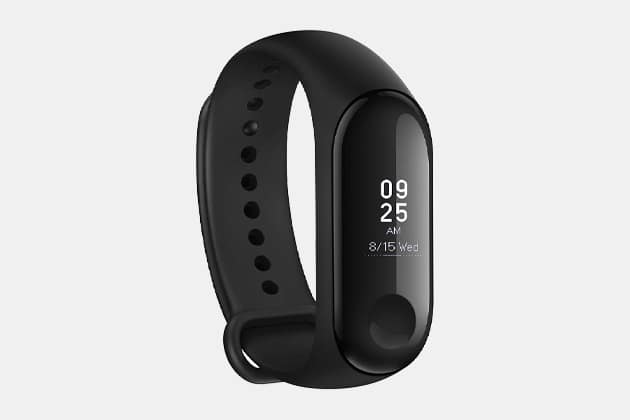 Mi Band
Cool colors and slim styling set the Mi Band apart from other smart wearables immediately, but the 30-day battering life and military grade sensors will make you a true believer in the function and finesse of this tiny armband.  Like most smartwatches, it tracks activity and sleep cycles and syncs with a smartphone app to deliver analysis and suggestions for improvement.  It also delivers enhanced security with a swipe/unlock feature linked to your smartphone.  Aluminum alloy sensors and a hypoallergenic silicone band round out the reasons you need this wearable. – Shop Now
Disclosure: Clicking on these links and making a purchase may earn us a small referral fee, at no extra cost to you. Learn more here.