10 Best Smartwatches In 2018
In a society that's ever more digital, where more and more of us spend more time on our phones, there's something to be said for devices that can ease that screen time even just a little bit — like a smartwatch that helps keep your phone in your pocket and out of your hands, for instance.
The smartwatch of today is technologically savvy, yet more than a little stylish. With the right design and the right accessories, the smartwatch can even become an everyday companion that looks terrific and helps you stay as connected as you want to be. The best smartwatch combines durability, technical qualities and a design that's simply on-point for the guy on the go.
From powerhouse brands like Apple to more traditionally minded timepiece brands like Skagen and Nixon, the market is a crowded one — that's why we did the leg work for you to sift through the best smartwatches for men. Teamed with a classic Oxford, rugged tan chinos, classic chukka boots and a handy canvas messenger bag, you're looking at your new favorite everyday uniform — with more technical quality than you'd expect. That sounds like a good deal to us, to say the least.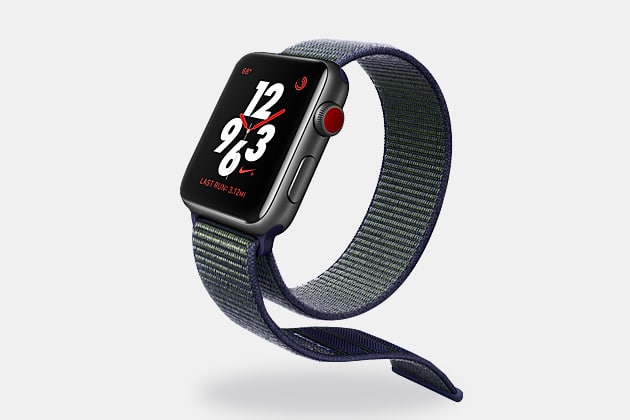 Apple Watch Series 3
Best Overall Smartwatch: The company that's become a part of so many of our daily lives has turned its considerable attention toward the third edition of the Apple Watch, with an eye toward giving you "the freedom of cellular," built into a handy watch. The ability to make calls and send texts with just your wristwatch once seemed like something out of the future, but Apple makes it a reality here. Apple Music gives you much-needed streaming capability, while you'll stay plugged in thanks to notifications from your favorite apps. It's the type of all-in-one design for which the company is known. – Shop Now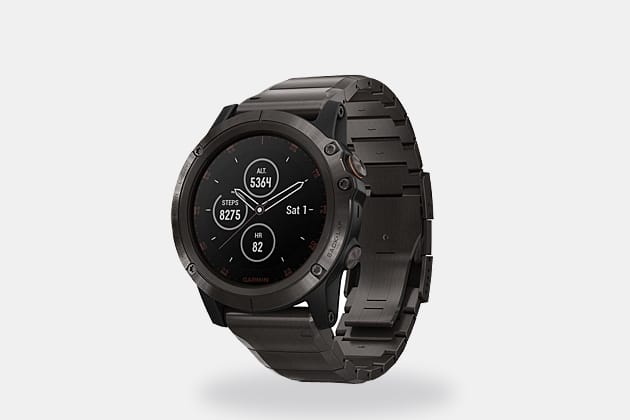 Garmin fēnix 5X Plus
Best MultiSport Smartwatch: It only makes sense that Garmin would turn its attention toward compartmentalizing its technological savvy into something like the understated, useful Garmin Fenix 5X Plus. Available in rugged, durable case sizes ranging from 42mm to 51mm, the Fenix is a multisport wristwatch made with a DLC titanium bezel for maximum toughness in nearly any conditions. It can even last up to 20 days in smartwatch mode in terms of battery, a feature that's useful as heck when you're off-road on outdoor trips for days at a time. Don't knock the price until you've checked out just how functional the Fenix 5X Plus can be. – Shop Now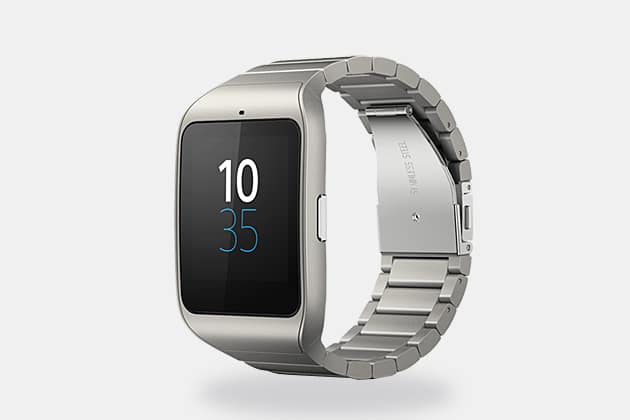 Sony SmartWatch 3
Best Minimalist Smartwatch: At the end of the day, a smartwatch should do exactly what it sets out to do — make life, as Sony says, both more simple and smarter. An astonishing two-day battery life gives you the ability to throw this watch on, forget about it and head out the door — no questions asked. And while you're on the go, you get helpful, handy features like GPS and a compass, built into a handy and stylish wristwatch that'll also track your activity. The fact that it's simple and sleek isn't a bad thing, either. – Shop Now
Garmin Descent Mk1
Best Tactical Smartwatch: Garmin makes a return to this list of the best smartwatches for 2018, not least in part to the robust utility you get with each timepiece from the lauded brand. The Descent MK1 Dive Watch is a strong, tough dive watch through and through, made to track diving activity while tracking barometric pressure and other crucial data for going beneath the surface. It's a hefty purchase at nearly $1,500, but that kind of versatility and toughness can't be overstated when you're heading out on a deep sea dive — this is definitely the one watch you need right now. – Shop Now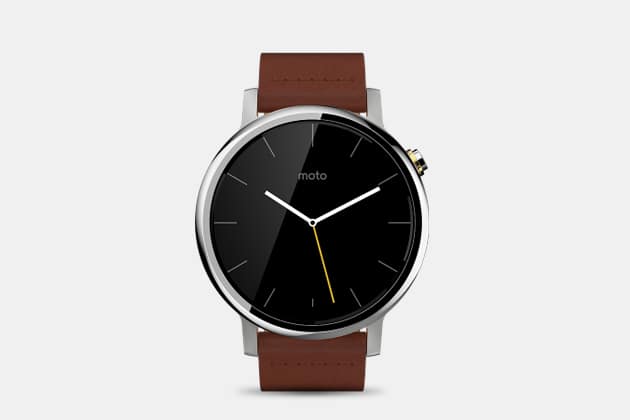 Moto 360
The Motorola Moto 360 takes the nuanced approach to design and details that many only find with a traditional timepiece. The customizable dial options, many of which look as clean and crisp as your favorite dress watch, are one-of-a-kind, while the built-in Moto Body activity tracker helps ensure you stay fit, healthy and looking great (on top of wearing a stylish watch, of course). AndroidWear also provides timely information at a glance, a crucial feature that shouldn't be overlooked if you're a man on the go. We like the cognac leather strap option the best — you just might, as well. – Shop Now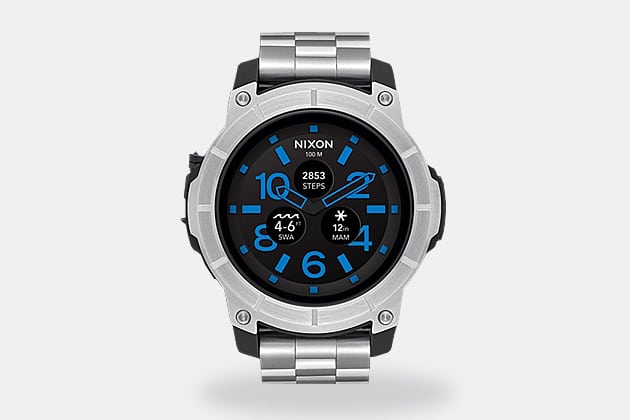 Nixon Mission Smartwatch
Nixon is known for rugged, adventure-ready timepieces that have injected the watch category with some sporty swagger, and the brand's Mission Smartwatch is no different. The Mission Smartwatch is, notably, what the brand calls the "world's first action sports smartwatch," and that makes it about as essential as it gets if you like to hit the slopes or go off-road. With water-resistant capability and a remarkable polycarbonate and stainless steel case, the Mission Smartwatch can handle whatever you throw at it — the real-time surf and snow alerts should come in pretty handy, too. – Shop Now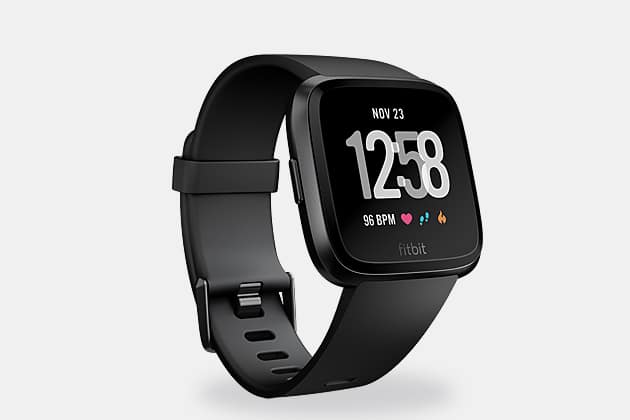 FitBit Versa
It's only fitting that Fitbit makes our list of the best smartwatches for 2018, given the bold features with which they've outfitted the Fitbit Versa Smartwatch. From a battery life that lasts more than four days to features like a 24/7 heart rate tracker, the Versa Smartwatch gets the job done and can go a long way toward helping you kickstart your fitness goals. Start with personalized on-screen workouts, then use the SmartTrack functionality to record exercises like running or biking. The Fitbit Versa Smartwatch could be the handy workout companion you never knew you needed. – Shop Now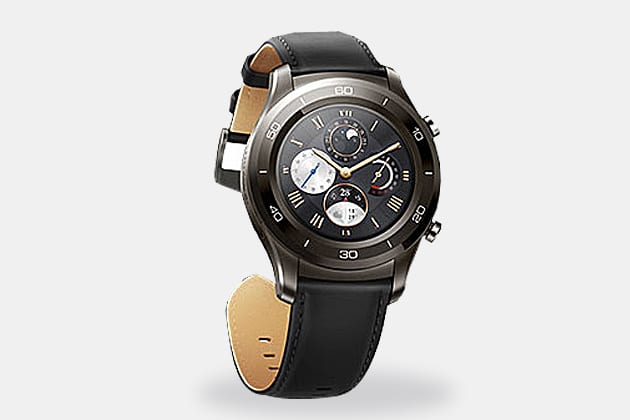 Huawei Watch 2
The Huawei Watch is, as the brand says, "made for free spirits" — but it's got all the functionality you need, with no missed areas for improvement. It's a decidedly functional and striking watch for keeping with such a laidback ethos, and that's positive if you dig features like water resistance and a ceramic bezel. You can customize your watch — more refined or more casual — and still keep the utility you need to take on the day, whether that's back-to-back meetings or extensive travel. With the ability to track things like workout data and use Google Assistant, the Huawei Watch 2 provides plenty of needed functionality, right to your wrist. – Shop Now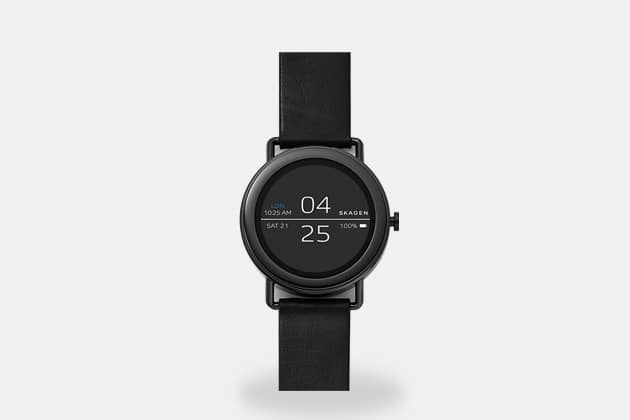 Skagen Falster Smartwatch
Skagen is among a host of more traditionally focused watch brands that have turned their attention toward updating classic timepieces with decidedly modern functionality. So it goes with the Falster Smartwatch, featuring Wear OS by Google, plus an interactive touchscreen that allows you to track your activity and receive smartphone notifications. It's the sort of handsome, understated design that simply looks great and provides just what you need when it comes to connectivity. At 42mm in terms of case size, the Falster is sized just like your favorite casual watch — with plenty of extra bells and whistles. – Shop Now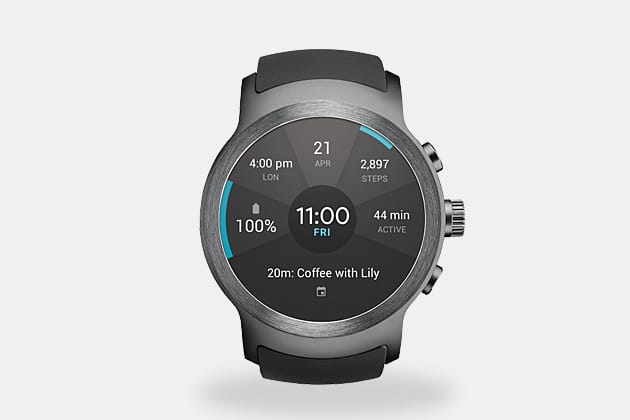 LG Watch Sport
The best smartwatches for 2018 have some important qualities built right in — that is to say, they should be durable and tough enough to protect the astonishing technology contained therein. And with that being said, the LG Watch Sport does an admirable job of living up to the hype, starting with a screen that's optimized for visibility in bright conditions. It's those kind of remarkable details that make the LG Watch Sport so darn useful to wear on your wrist, even if you consider yourself to be more of a traditional watch fan. Added touches like a fitness tracker make this an all-in-one watch that's too good to go without. – Shop Now
Disclosure: Clicking on these links and making a purchase may earn us a small referral fee, at no extra cost to you. Learn more here.
freestar.config.enabled_slots.push({ placementName: "gearmoose_leaderboard_btf", slotId: "gearmoose_leaderboard_btf" });