The 10 Best Smart Alarm Clocks
The Internet of Things has made an undeniably large impact on our daily life. From home security to smart watches to activity trackers and now smart alarm clocks, combining modern software with traditional tools is revolutionizing life for millions of people.
Whether you're a dedicated enthusiast or just getting into smart home gadgets, a smart alarm clock is the best smart item to change your morning routine for the better. In this roundup, we've scoured 10 of the best smart alarm clocks available on the market today, with options to fit every budget and style.
Make A Smart Decision About Buying A Smart Alarm Clock
On the surface, a smart alarm clock is essentially the same as a regular alarm clock you can pick up at your local Walmart or on Amazon. However, what sets the former apart from the latter is the "smart" part. The best smart alarm clocks pair with your other smart devices via your Wi-Fi and allow you to perform certain actions via voice commands such as set alarms, check the weather, listen to your favorite playlist, and even set your alarm to wake you up to your favorite song. The possibilities are endless. Read below for the 10 best.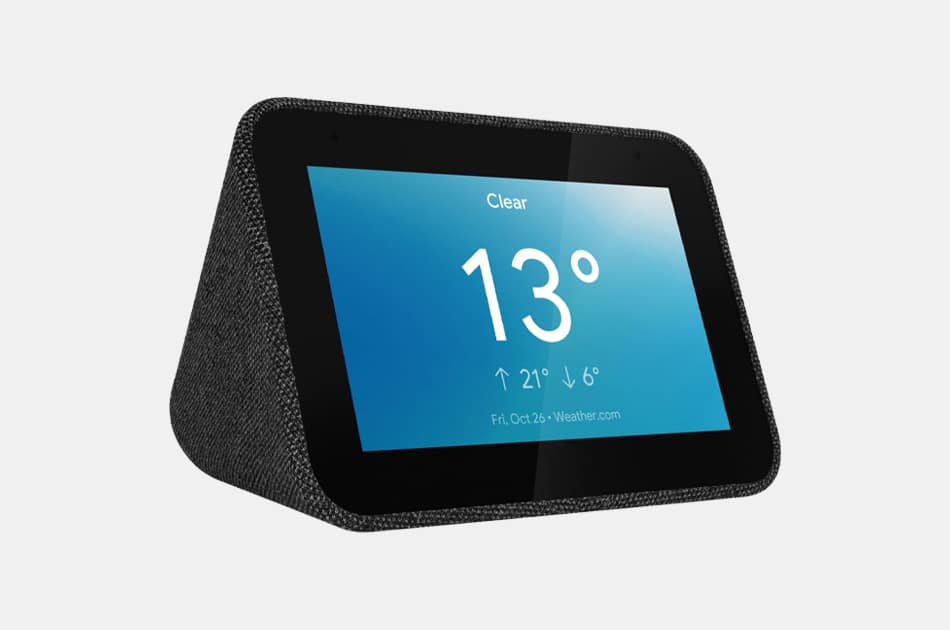 The Smartest: Lenovo Smart Alarm Clock With Google Assistant
Smarter than the average smart clock
Winner of both a Techradar awards 2019 Top Pick and a reddot Design Award, Lenovo's smart alarm clock makes it easier for you to put your phone away at night without losing its most important features. Offering smart home connectivity with voice-activated commands, you can access your calendar, music, home security, and more just by saying "Okay, Google". And with 1 full gigabyte of RAM, it's as fast and responsive as smart clocks get.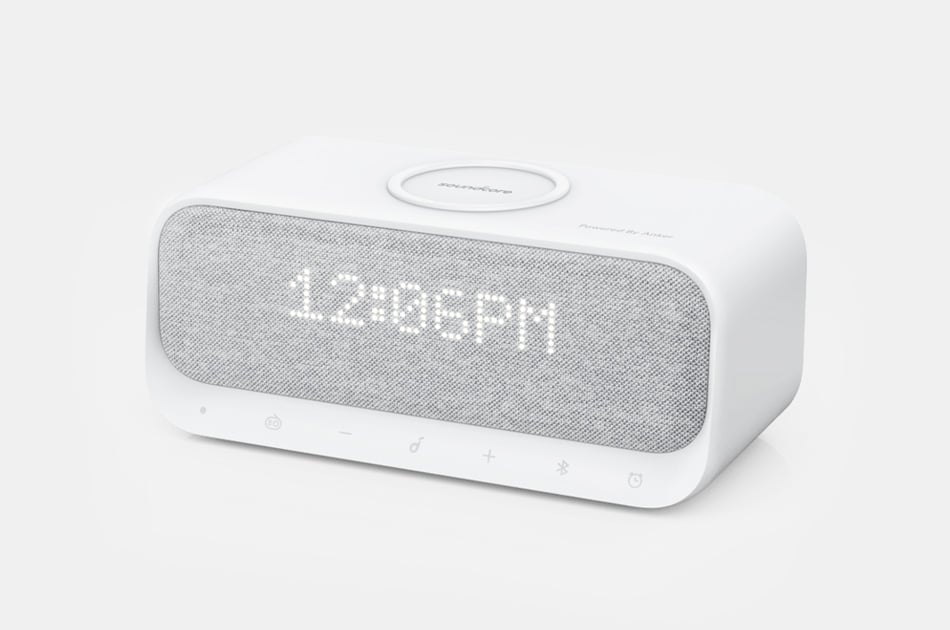 Best Alarm Functionality: Anker Soundcore Wakey
15 Separate Alarms
Anker's Wakey smart clock is a beautifully designed piece of technology that combines all of your nightstand essentials into a compact speaker. It features wireless charging for Qi-compatible devices, smartphone integration through the Soundcore app, and the ability to set dozens of sounds or radio stations as your wakeup call. If you're an especially heavy sleeper, the ability to set up to 15 separate alarms is a lifesaver.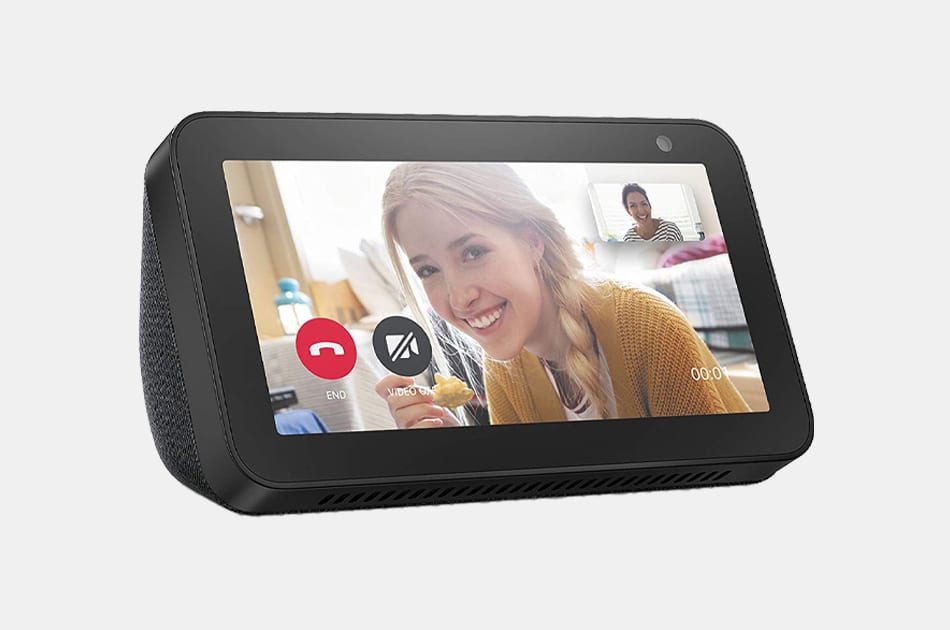 Best For Video: Amazon Echo Show 5
An Alarm Clock With Video Calling and Messaging
Compatible with all of Amazon's Alexa-powered devices, the Echo Show 5 is far more than a simple alarm clock. The 5.5-inch smart display can be set to a clock face, or quickly transformed into a mini movie screen or display for video calling and messaging. It's one of the only smart clocks we've seen that's built to protect your privacy, too — the microphone and camera turn off with one press of a button, and a built-in shutter quickly covers the camera.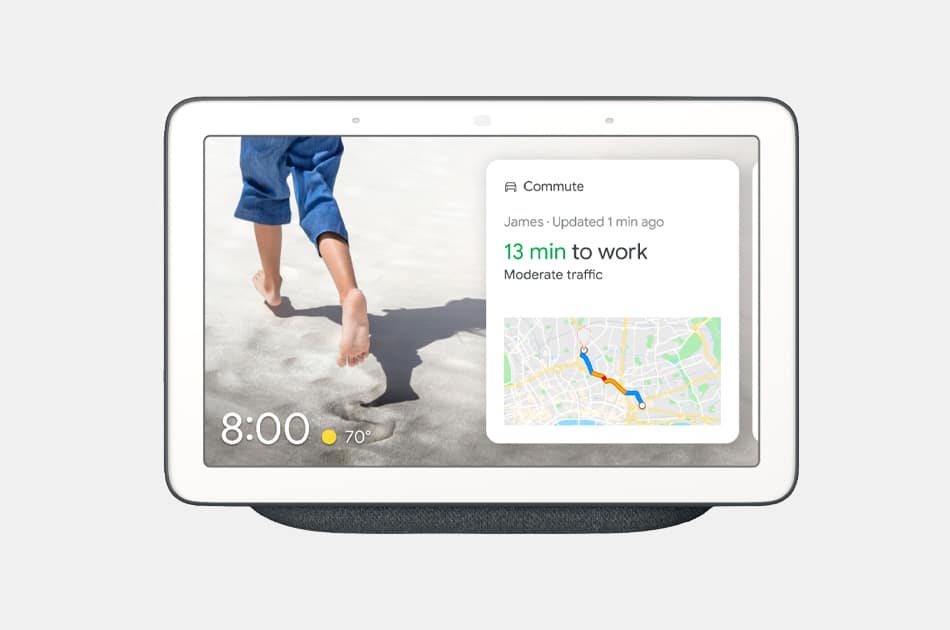 Best For A Smart Home: Google Nest Hub
A Do-It-All Smart Alarm Clock
Google's do-it-all Nest Hub is an exceptionally helpful smart home gadget with a whole slew of functions to get your morning off to a great start. The 7-inch touchscreen display is complemented by far-field microphones and a full-range speaker, making it easy to access the built-in Google Assistant. Our favorite aspect of the Nest Hub is definitely its personalized morning routines — activate it with "Good morning, Google" and you'll be able to see your whole day planned out in one convenient space.
The best smart alarm clock is one that does what you need it to do, and is of course compatible with other smart devices you are currently using. An alarm clock that pairs well with your other smart devices will improve productivity. For even more productivity, consider upgrading your home or office with some of these products.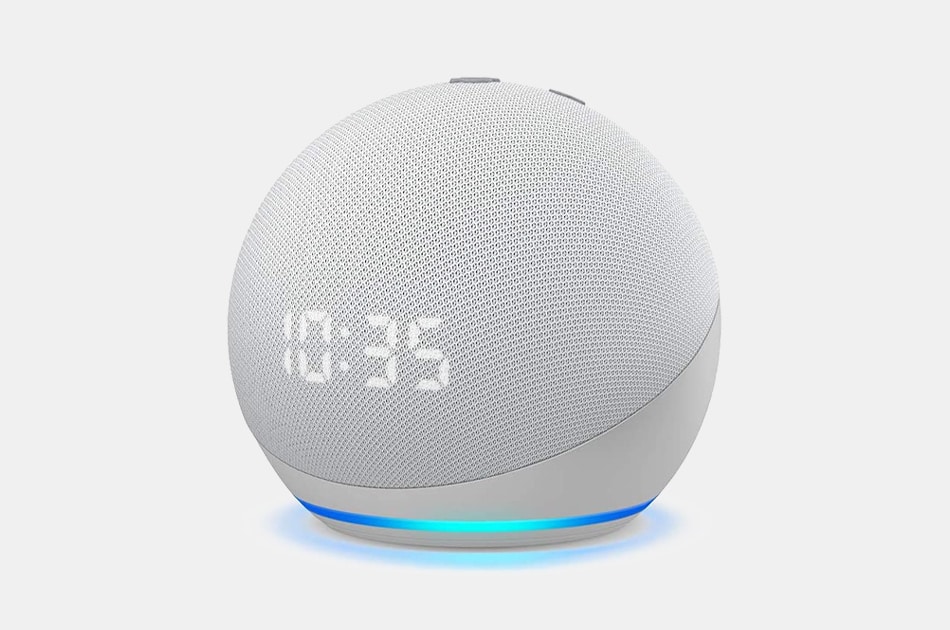 Best For Alexa: Amazon Echo Dot Smart Speaker With Clock
Affordable and Streamlined
One of the most affordable smart alarm clocks available today, Amazon's Echo Dot is a streamlined speaker and clock that's tailor-made for your bedside table. Fully integrated with Alexa, the Echo Dot can take voice commands to control any of your smart home connected devices. Like Amazon's other smart clock offerings, it's built with privacy-protection measures that can disconnect the microphone with the push of a button.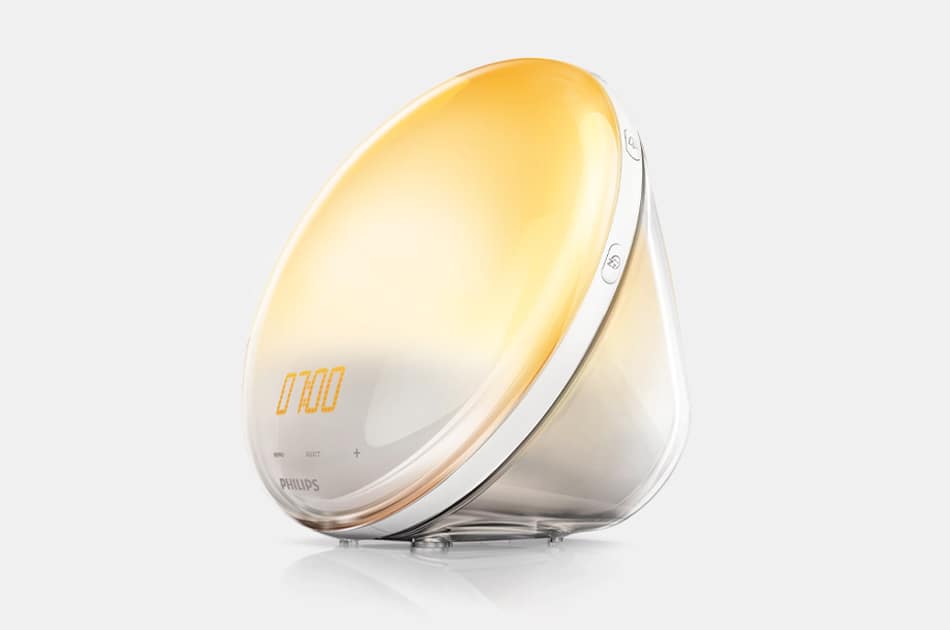 Most Unique: Philips SmartSleep Wake-up Light
A Smart Alarm Clock That Wakes You Up Gently
If the jarring noise of an alarm clock beeping is enough to wreck your nerves, then let us introduce you to the Philips Smartsleep — a wake-up light that's backed by Philips' clinical sleep and respironics department. It uses a gradual introduction of light combined with softly growing sounds to rouse you from slumber more slowly, leaving you feeling refreshed and better rested each day. Plus, with a 90-day no hassle money back guarantee, you can try it out in your home to see if it's right for you.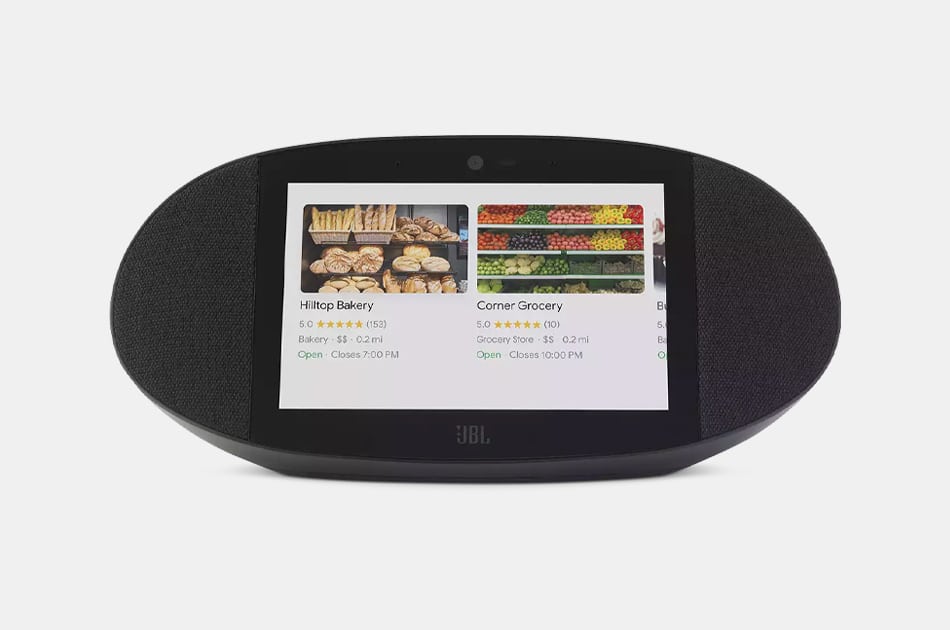 Best Sound: JBL Link View Smart Alarm Clock
Superb Sound Quality
Whereas most smart alarm clocks are built to emphasize their visual components, JBL's Link View focuses first on recreating the legendary sound quality of their larger speakers. It has the clearest and most pleasant sound of any smart alarm clock featured in this review, but it's no slouch in other areas either. A 5 megapixel front-facing camera and integration with Google Assistant mean that it's fully capable of helping you to stay in touch with family through video calls, and control any other smart home devices you may have.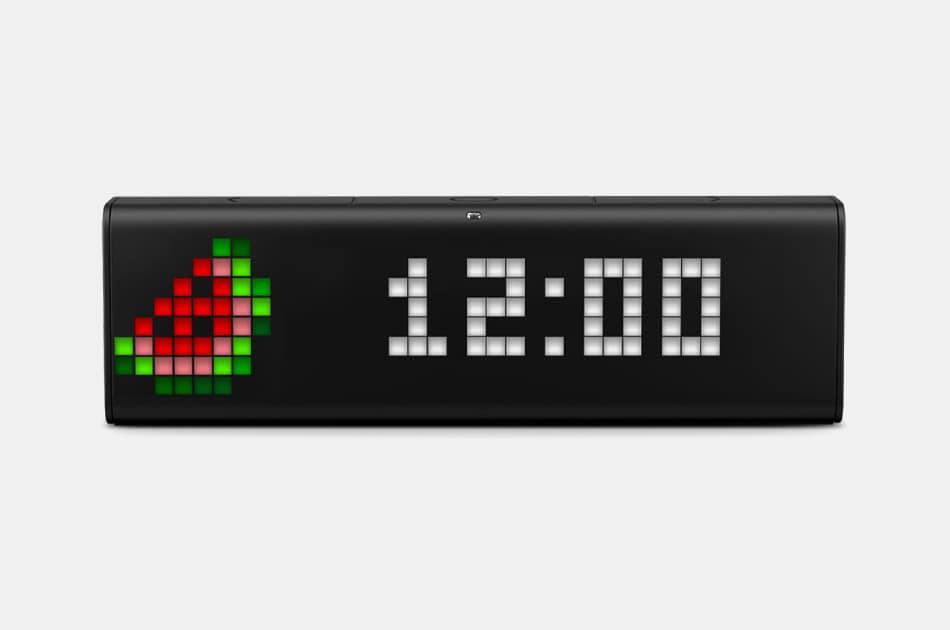 Best Looking: LaMetric Time
Compatible With Both Google Assistant and Alexa
The smart clock with many faces, LaMetric's Time smart alarm clock is easily the most visually striking example you'll find in this category. The old-school lightboard style marquee can be programmed with dozens of different images, and makes for a great conversation starter at work or at home. Download the LaMetric app, and you can take advantage of smartphone connectivity and compatibility with Google Assistant or Alexa.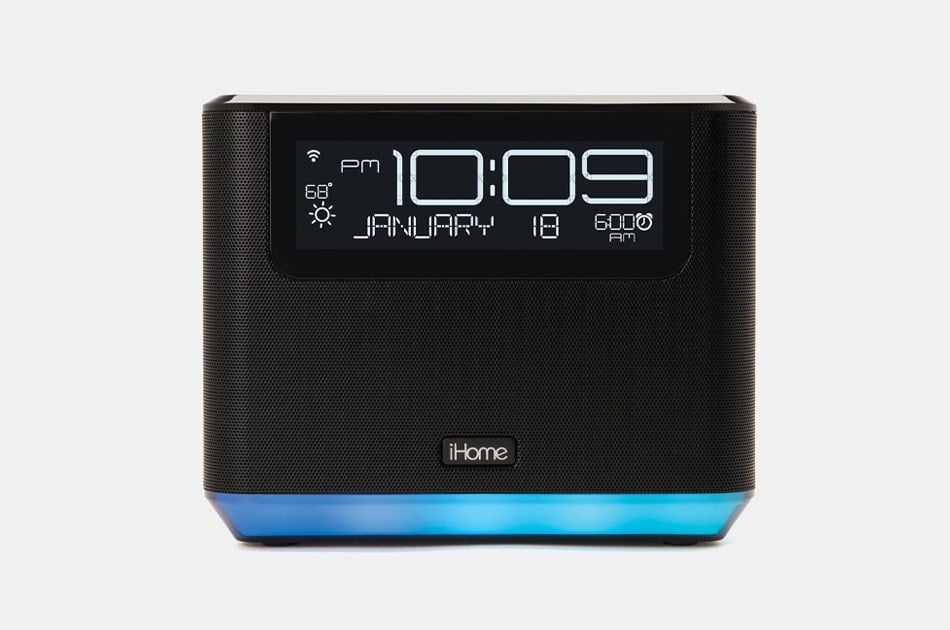 Best Dedicated Bedside Clock: iHome iAVS16 Bedside Smart Speaker
A Full Range Of Smart Home Controls
With Amazon Alexa compatibility built into the design of this iHome smart speaker, you'll have access to a full range of smart home controls. Making calls, playing music, setting alarms, and much more are available with the press of an Alexa button or through voice commands, making the iAVS16 a great option for IoT enthusiasts. Unlike many other Alexa-enabled smart clocks, it features only a clock screen rather than a smart screen; in our opinion, this makes it the better option for a dedicated bedside smart alarm clock.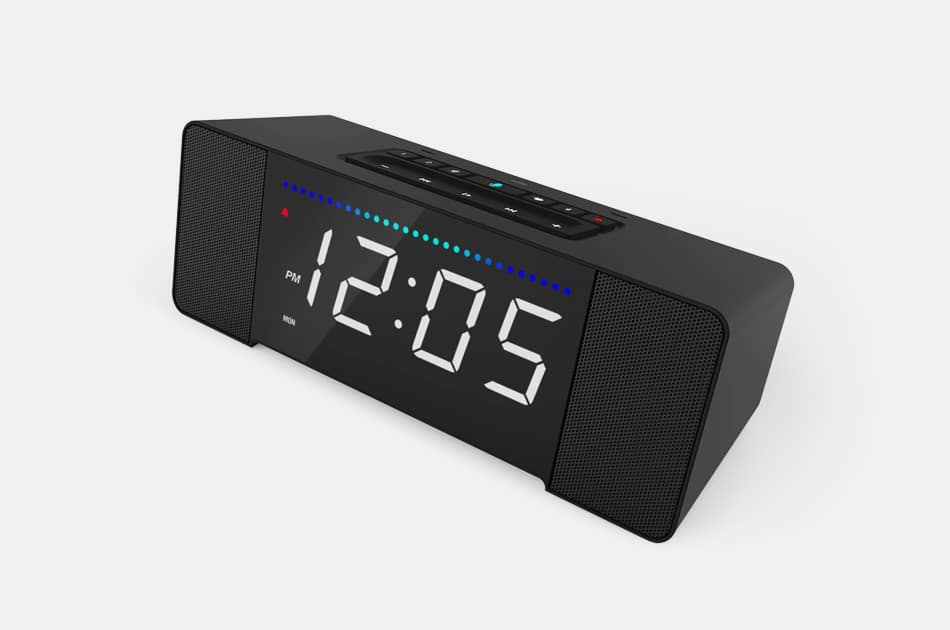 Best for Charging Devices: Sandman Doppler Smart Alarm Clock
6 USB Charging Ports
If you have a lot of gadgets that need overnight charging, then you're in luck: The Sandman Doppler smart alarm clock features an impressive 6 USB charging ports. It has Amazon Alexa built in for all your smart home control needs, a programmable auto-dimming clock face display, and speakers that provide excellent sound quality with deep bass. We especially like the integrated cable management system underneath the clock that makes it easy to keep your cords from turning into a tangled mess.
Disclosure: Clicking on these links and making a purchase may earn us a small referral fee, at no extra cost to you. Learn more here.
freestar.config.enabled_slots.push({ placementName: "gearmoose_leaderboard_btf", slotId: "gearmoose_leaderboard_btf" });