Our 12 Favorite Beef Jerky Brands
Jerky was one of the first portable foods. Neanderthals took down a wooly mammoth and dried the meat to bring it home. Mongol warriors storming Asia used dried sheep to keep up their daily 3,600 calorie intake. Salt cod kept Vikings alive on their epic voyages. But what was once meat plus salt plus time started getting all weird with nitrates and glutamates and benzoates and other hard to understand stuff.
Now we're in this renaissance of sorts. Beef jerky brands are going back to basics, using intelligent techniques, good cuts of meat and real ingredients to make some of the best beef jerky this side of the ice age.
Our list of the 12 best beef jerky brands covers the best examples of companies going back to what makes jerky delicious. Beef, salt, time, and some delicious spices. And while there's no mammoth on our list, we're pretty sure you'll find something to satisfy.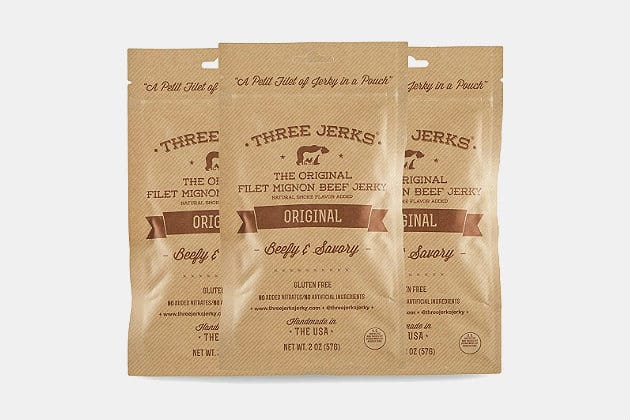 Three Jerks Jerky
From a dude's kitchen to Kickstarter to Shark Tank to national distribution, Three Jerks Jerky has come a long way (losing one of the three founding Jerks along the way). What sets their jerky apart? In addition to the usual — no MSG, no nitrates, no artificial stuff — Three Jerks uses a different cut of beef than most brands. Filet mignon, usually reserved for a steakhouse plate is the only cut they use. Get flavors as diverse as Memphis BBQ, hamburger, and maple bourbon churro. – Shop Now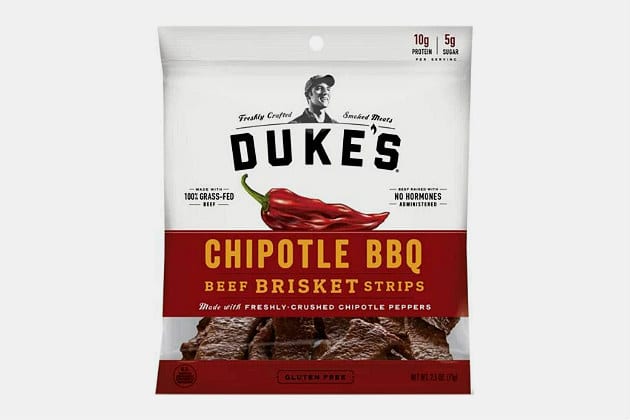 Duke's Beef Brisket Strips
Putting Duke's on a jerky list almost seems incorrect, because they don't call their stuff jerky. It's marinated and smoked grass-fed brisket strips. But we're pretty sure that's just a fancy way of saying jerky and this is indeed a fancy product. Not made from leftover cheap cuts of Purina grade beef, Duke's uses grass fed brisket steak cut into strips. Their marinades aren't 50% sugar like some brands and their spices come from actual whole ingredients. Think of it as jerky nonpareil (another word for fancy). – Shop Now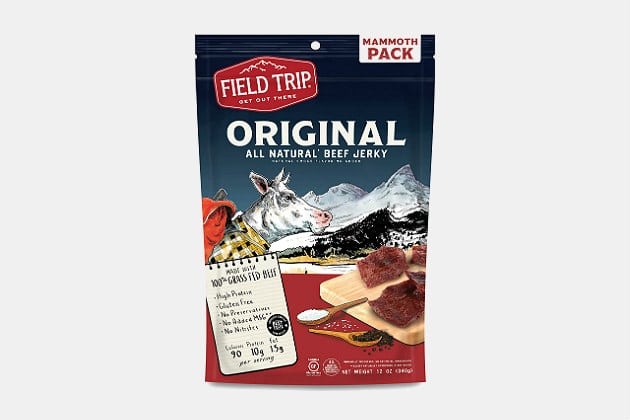 Field Trip Jerky
Field Trip, a company owned and operated out of Brooklyn, was started by three friends on a mission to make better jerky for people who liked to get out and do stuff. Their offerings go beyond beef jerky in the form of turkey, chicken, and pork jerky, as well as beef, pork, and turkey sticks — and they just introduced pork rinds. None of their stuff has corn syrup or nitrates and the beef is grass fed. – Shop Now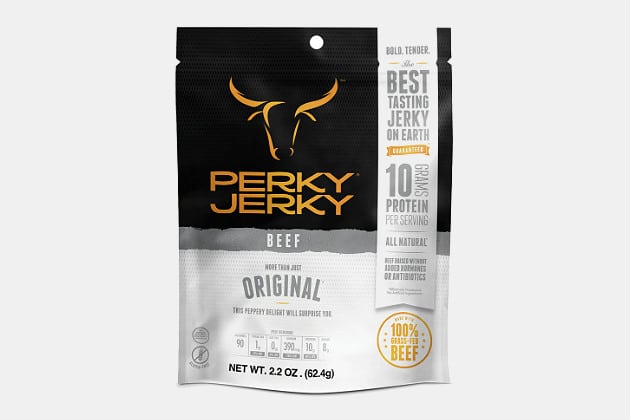 Perky Jerky
Normally we're averse to the idea of "perky." It brings to mind a morning person spewing sunshine in a world where the rest of us just want to go back to bed. But for this stuff, we make an exception. Perky Jerky claims to have the best jerky (turkey, beef, or pork) and they aren't afraid to slap on a guarantee to back it up. If you end up not loving it, they'll replace, refund or donate to a charity in the amount of your purchase. – Shop Now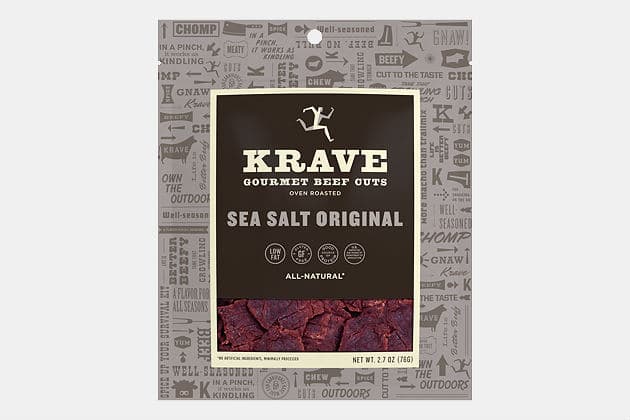 Krave Beef Jerky
Born in Sonoma, California, Krave Jerky uses gourmet cuts of meat, all natural ingredients, and a proprietary process to make their jerky extra tender. They aren't saying what the process is, but we're pretty sure it's tiny house elves with even tinier meat tenderizer mallets just going nuts. The result is a high-protein snack with fewer than 100 calories per serving and flavors that include pink peppercorn and black cherry barbeque. – Shop Now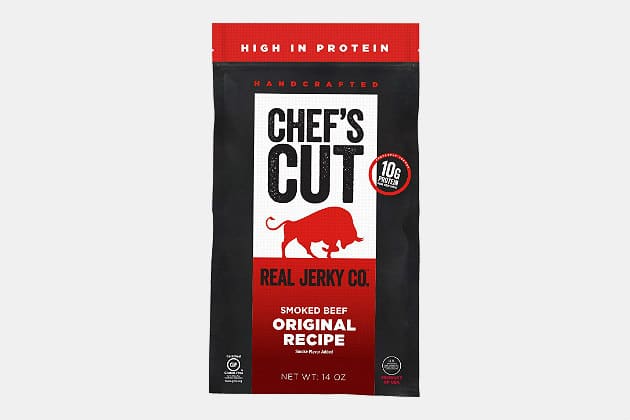 Chef's Cut Real Jerky Co.
A chef who loved to play golf started bringing his secret recipe jerky to the links. One guy liked it so much he insisted they go into business together and Chef's Cut was born. They began peddling their jerky wares to country clubs and golf courses around the country, gaining fans along the way. Now even if you've never held a 9-iron you can get in on Chef's Cut offerings — which includes chipotle cracked pepper and their new Korean barbeque chicken jerky. – Shop Now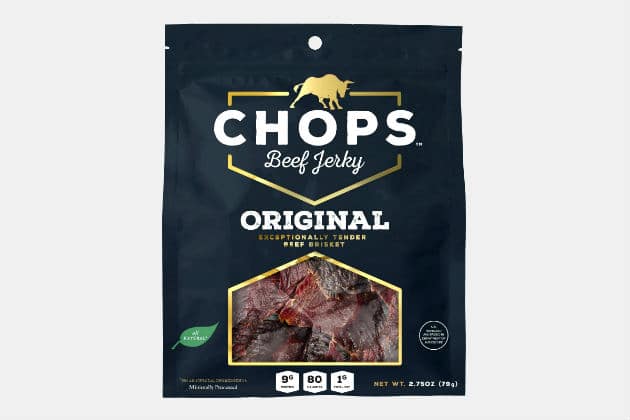 Chops Beef Jerky
Some people are into all those imaginative jerky flavors, maple lime elderflower and the like. Others prefer to stick with the classics — teriyaki, chili pepper, sweet & spicy and original. This brand, Chops Beef Jerky, definitely falls into that latter category. Ignoring all the miscellany and ballyhoo other brands get into, Chops keeps it classic and classy with their four flavors made from USDA Choice & Select beef brisket and real ingredients. – Shop Now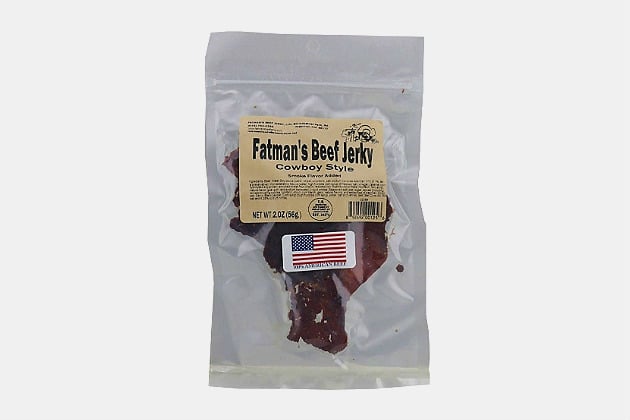 Fatman's Beef Jerky
Beef jerky, to state the obvious, starts with beef. This jerky brand can probably claim more experience in that department than any other brand on our list. Fatman's Jerky was founded ten plus years ago by a guy who was in the New Mexico cattle and meat packing business for 25 years. New Mexico jerky tends to be a bit drier than some jerky's around but many feel that just concentrates the flavor and gives it a texture that the gummy stuff just can't give. – Shop Now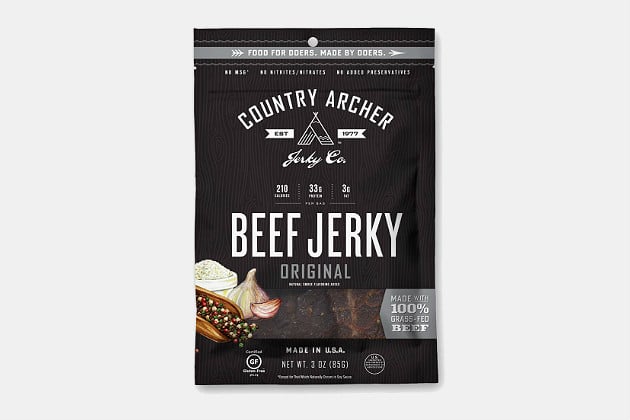 Country Archer Jerky Co.
All these new kids to the jerky game got you skeptical? Here's a brand that's been doing the slice/marinate/dry thing for over forty years. Country Archer only uses grass fed beef and cage-free turkey with real, mostly organic ingredients and an extended marinating time. Flavors like mango habanero do the trick of delivering protein along with a metabolism boost while something like the citrus rosemary turkey jerky takes you on a mini culinary adventure. – Shop Now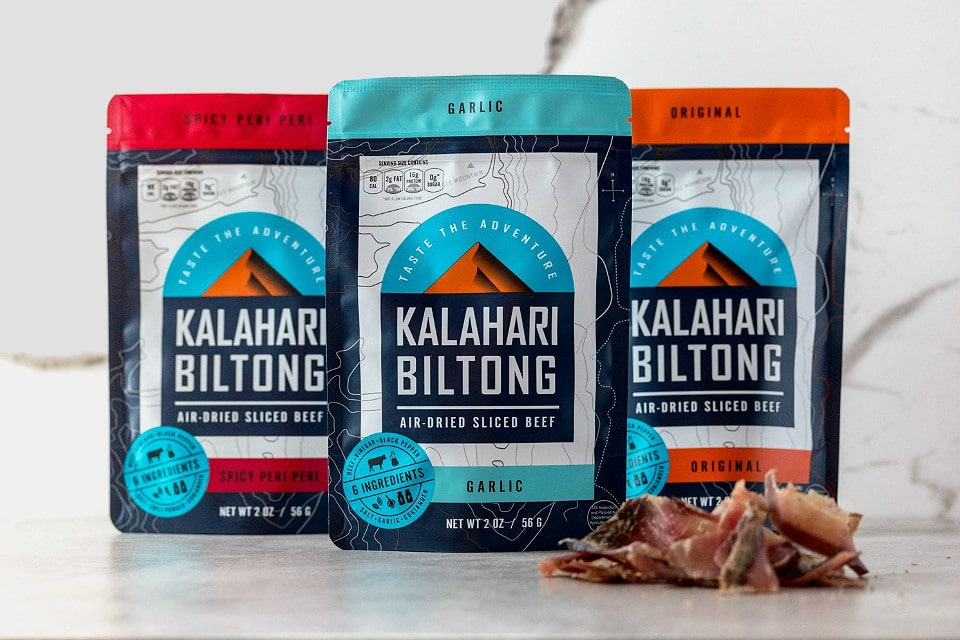 Kalahari Biltong
Soy sauce works to tenderize jerky. Sweeteners work to flavorize jerky. So if you're avoiding soy and sugar, does that mean you forego the dried meat all together? Go with Kalahari Biltong and get your beefy snack while still adhering to your health principles. Instead of soy sauce, they use vinegar and instead of sugar, they've gone with spices instead. Instead of heat drying, Biltong is air dried for two weeks for a flavor and texture that's somewhere between dry aged beef, jerky and prosciutto. – Shop Now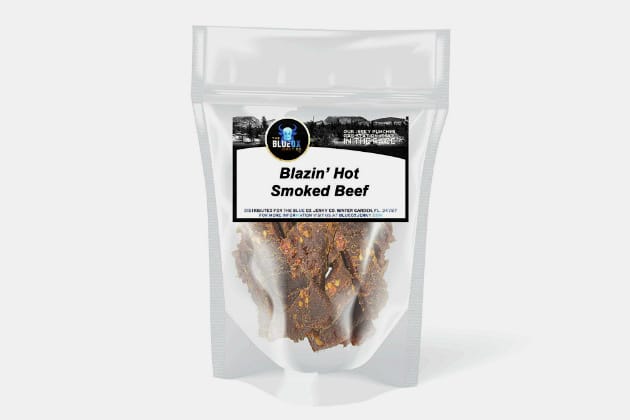 Blue Ox Jerky Co.
Here's a brand that proudly "punches gas station jerky in the face." If the usual offerings of beef and turkey jerky have you craving something a little less ordinary, Blue Ox Jerky company has your meat curiosities covered. The Florida-based jerky company marinates and dries up buffalo, elk, and venison in addition to the usual suspects. Why is it called Blue Ox? The story they tell features Paul Bunyan's brother, the blue ox in a barn fire, and buckets of teriyaki. – Shop Now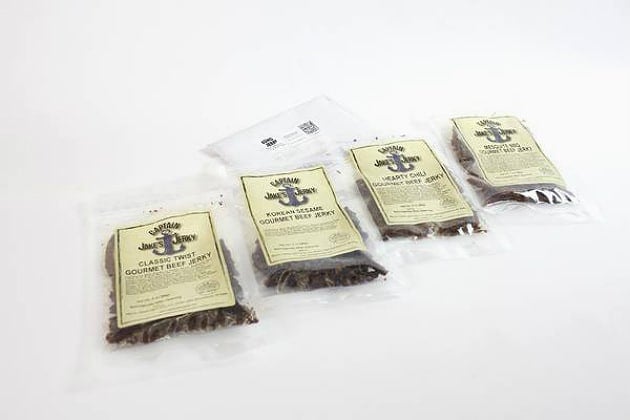 SumoJerky
Seems each jerky brand says they're the best, each promising more wonders on the taste buds than the next. So perhaps all you know for sure right now is that you'd like to eat some beef jerky soon. SumoJerky is the Netflix of jerky (the old-school, red envelope in the mail Netflix, not streaming Netflix [because when streaming jerky is available, we will absolutely let you know]). Each month they'll send you the best gourmet jerkies from around the globe, all tested to be awesome, all guaranteed to not suck. – Shop Now
Disclosure: Clicking on these links and making a purchase may earn us a small referral fee, at no extra cost to you. Learn more here.
freestar.config.enabled_slots.push({ placementName: "gearmoose_leaderboard_btf", slotId: "gearmoose_leaderboard_btf" });