Portable grills aside, the great outdoors can deliver breathtaking views, pulse-pounding close encounters with wildlife, and the opportunity to see what you're truly made of.  Whether you prefer a relaxing weekend of communing with nature or you like to test your limits with extreme hiking experiences, getting out of the city and into the wilds can leave you feeling rejuvenated and free.
Of course, you're going to have to refuel at some point, and having a portable grill handy certainly helps, especially if you prefer a hot meal at the end of a long day of hiking, after hours spent lazily pulling trout from a nearby stream, or a while tailgating before your favorite team takes the field.  Carting along your heavy, bulky home grill is obviously out, which is why you need a compact and lightweight portable grill that will easily stow with your other camping and tailgating gear, whether it's a permanent fixture in your trunk during the summer months or stuffed in the garage for the winter.
If you're looking for the best portable grill for solo camping adventures or outings with family and friends, here are just a few of the finest grilling solutions for your consideration.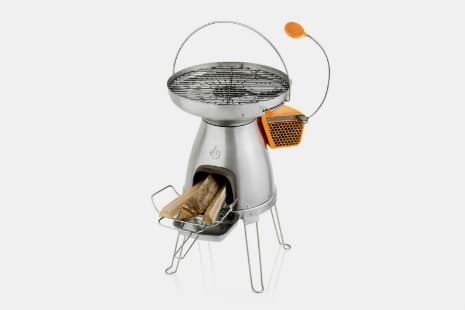 BioLite BaseCamp Grill
What's better than a lightweight, camping grill that's both portable and offers a handy way to cook your trout and boil your camp coffee?  How about one that can convert the energy from the heat produced into electricity to charge your mobile devices? All you have to do is add wood to the burn chamber and light it up to heat your grilling surface, which can fit up to eight burgers or even a pizza (with the addition of the pizza dome).
The heat created by your fire simultaneously fuels a powerpack that puts out 5W to charge an attached, flexible USB light, as wall as any devices you want to hook up.  A smart LED dashboard helps you monitor fire and power. – Shop Now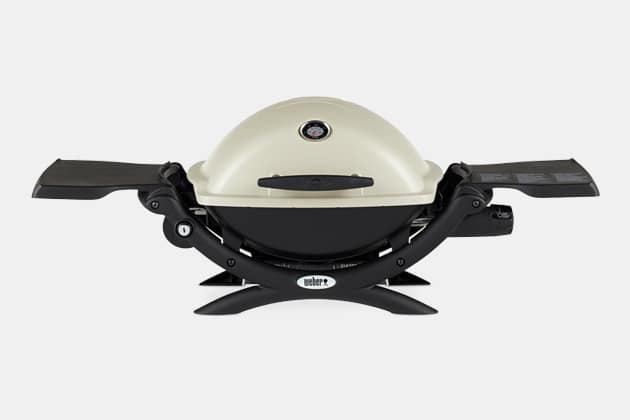 Weber Q1200 Propane Grill
With 189 square inches of cooking surface, you'll surely fit a few salmon steaks and sliced veggies on this generous camping grill, and two side tables make it easy to rotate food items on and off the grill or set down grilling tools.  You will need a disposable liquid propane tank to get it going, but the infinite control burner valve allows you to get the precise char you want on steaks and veggies alike. – Shop Now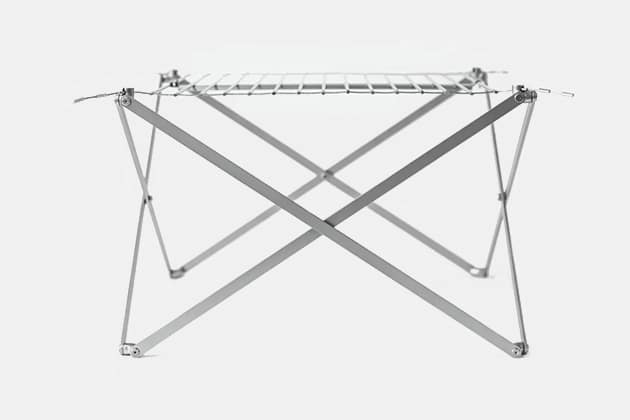 Wolf & Grizzly M1 Portable Grill
Minimal doesn't begin to describe this portable grill kit, which is essentially a metal grate on table legs that you place over a fire.  You can drop your meats and veggies directly on the "grill" surface or place pots and pans on top so food doesn't have to go directly in the flames.  It's super lightweight and folds up to diminutive dimensions for easy packing and storing.  Comes with carry case, cleaning tool, drying cloth, and Allen key for assembly. – Shop Now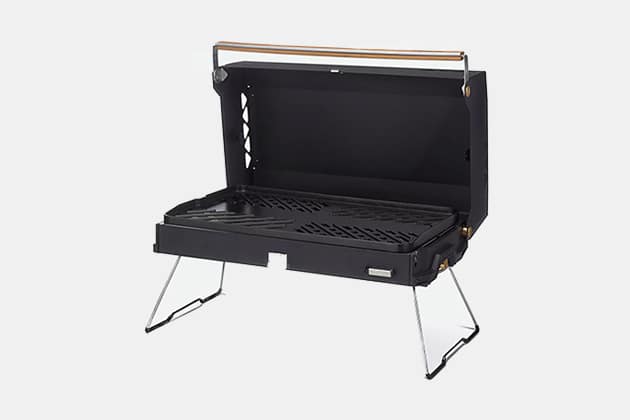 Primus Kuchoma Grill
At just nine pounds and sporting relatively flat dimensions, this grill is a great option for extended camping trips and it stores easily when not in use.  After grilling your daily catch, you can remove the non-stick grill grate and drip tray for easy cleaning (or toss them in the dishwasher when you get home).  If you want to keep food warm, simply turn off the heat, close the domed steel lid, and let the sealed-in heat do its work. – Shop Now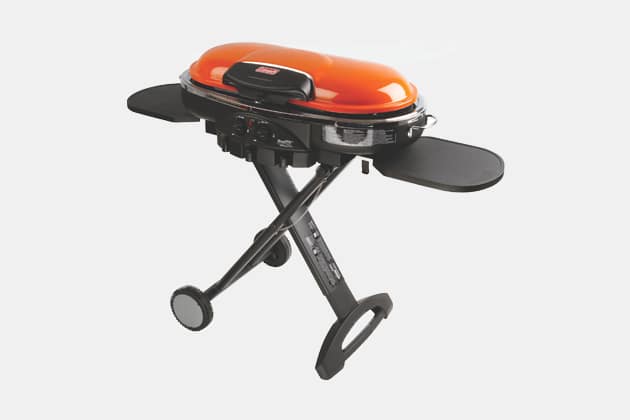 Coleman Roadtrip LXE Grill
When the legs are folded up, this grill looks a bit like a carry-on bag, complete with rolling wheels and handle.  The upside is that it's extremely easy to tote around, and the legs unfold with the ease of an ironing board.  It comes with a durable cast iron grill surface, which you can swap out for a griddle (not included) if you want.  With 258 square inches of cooking surface, you'll have no trouble feeding a large group. – Shop Now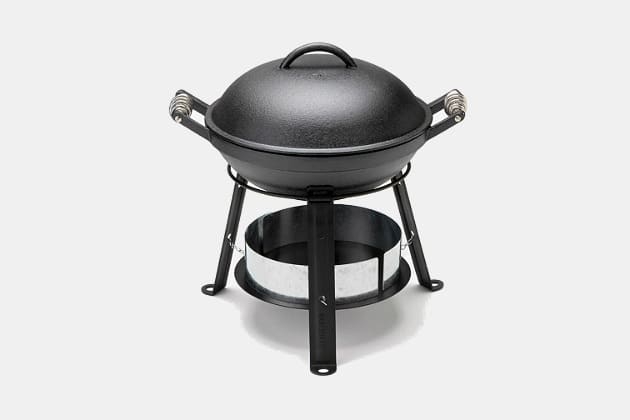 Barebones All-in-One Cast Iron Grill
When it comes to camping, multi-purpose tools are a must.  The Barebones All-in-One Cast Iron Grill, while not exactly lightweight at 26 pounds, is at least equipped with a slew of smart features that essentially deliver a grill, a skillet, a smoker, a roaster, a deep fryer, a slow cooker, a stock pot, and a wok all in one.
The trick is that all of the interchangeable pieces can be packed inside the durable, approximately 17"x17"x10" cast iron, bowl-shaped body, which acts as both a traditional grill base and a cooking surface.  Compatible with open fire and coal cooking alike, this convertible grill is the only one you'll ever need, unless they invent a new model that's also a rice cooker. – Shop Now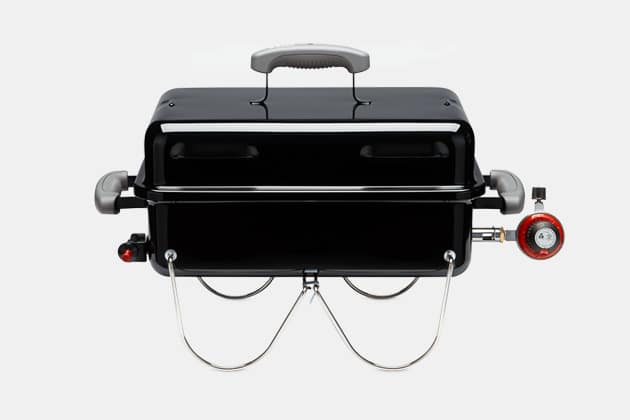 Weber Go-Anywhere Grill
The classic, rounded corners of this rectangular grill are easy on the eyes, the porcelain-enameled base, lid, and steel cooking grate are lightweight, durable, and easy to clean, and you can choose from liquid propane or charcoal burning models, depending on your grilling preferences.  Fold up the plated steel legs to lock the lid in place, strap it to the back of your motorbike or stash it in the trunk, and head into the great unknown for your next adventure. – Shop Now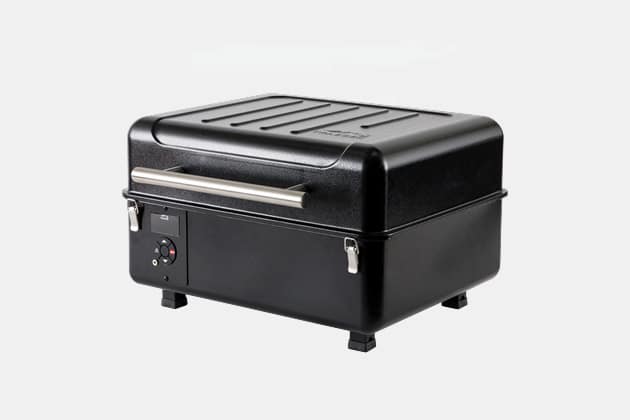 Traeger Ranger Pellet Grill
You might not automatically assume that a portable grill is suited to precision cooking, but when it comes to this boxy wood-burner, you'd be wrong.  It uses wood pellets so you can give your food that cooked-over-the-campfire smoke without actually tending an open flame.  It also features a digital arc controller for setting the temp in 5-degree increments, as well as a warming function.  Unfortunately, it is 60 pounds, so you probably won't be packing it far. – Shop Now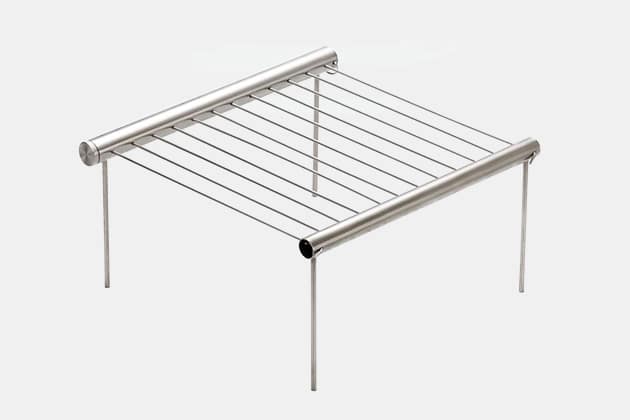 UCO Grilliput Portable Camping Grill
You'd be hard pressed to find a simpler design than this 11×9-inch stainless steel grate on four legs that clocks in at just under a pound and a half.  It folds flat for transport or storage, easily unfolds when you want to set it over a campfire, and is just the right size to grill a couple of trout or a few small steaks to feed 2-3 people.  Compact, lightweight, and easy to use, it doesn't get any more basic than this. – Shop Now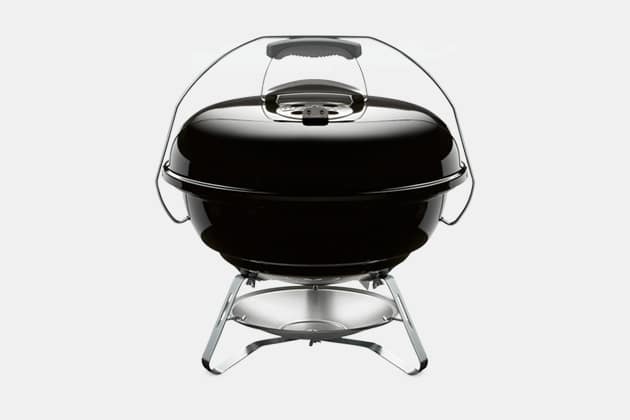 Weber Jumbo Joe Portable Charcoal Grill
Weber products are a staple of backyard grilling, but when you need something portable and lightweight enough for weekend camping trips or tailgating shindigs, the Jumbo Joe delivers on both scores.  It also offers a lot of grilling real estate, with a cooking area measuring a whopping 240 square inches to squeeze in hot dogs, burgers, and buns.  It runs on charcoal and features a heavy-gauge steel charcoal grate, a plated steel cooking grate, an aluminum ash catcher, and more. – Shop Now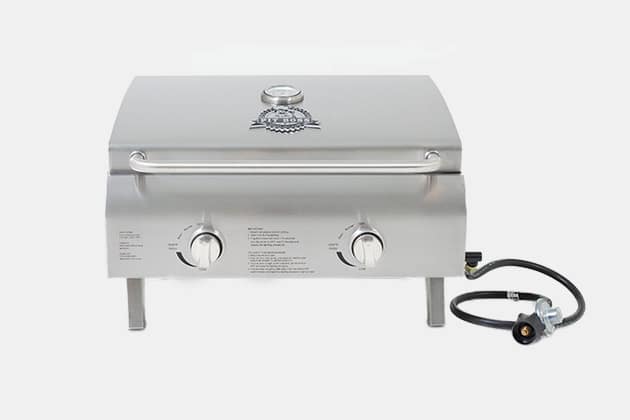 Pit Boss 200P
The 30-pound Pit Boss delivers 275 square inches of cooking space inside its sleek, shiny, stainless steel shell, which means you can keep your crew of hungry campers well-fed without making some of them wait while you grill the next batch of meat-candy.  You'll also enjoy two independently controlled burners that allow you to grill up two different dishes at appropriate temperature settings at once.  Sear a slab of beef on one side while gently toasting up buns on the other. – Shop Now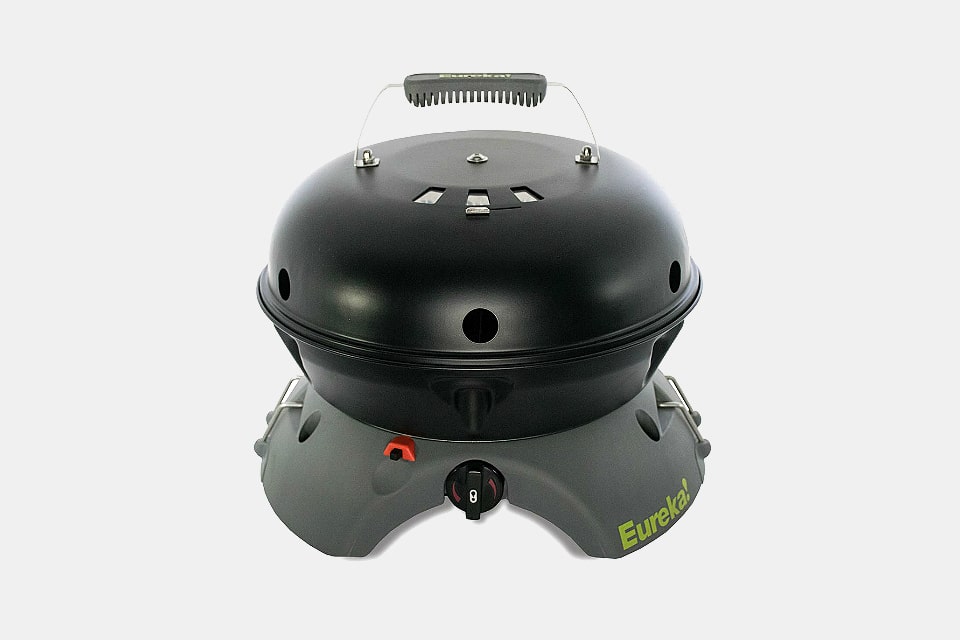 Gonzo Grill
The rounded dome of this grill is a familiar look, but what's inside will astonish you.  The cast iron cooking surface begs to be seasoned with your meat of choice and the removable drip tray is dishwasher safe for convenient cleaning.  What you're sure to love most, however, is the convertible feature.  Swap in the griddle to cook up some flapjacks or toast a grilled cheese on your camping trip, then switch back to the grill surface for steaks or boiling a pot of water. – Shop Now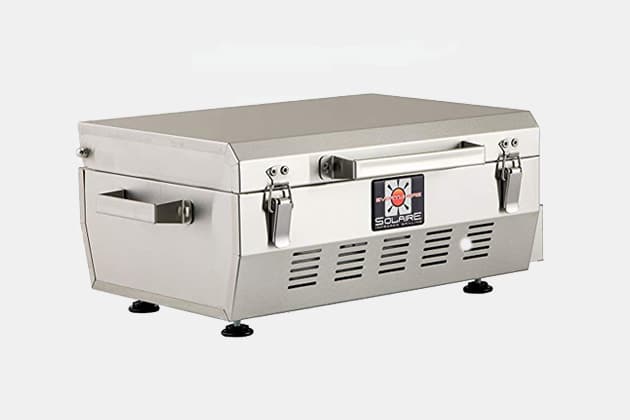 Solaire Everywhere Infrared Grill
As portable grills go, this metal box looks pretty slick, with convenient spring-loaded latches to keep the lid shut during transport.  Duh – why don't all grills have this handy feature?  You'll also enjoy 140 square inches of cook space, infrared ceramic and stainless steel burner, and easy push-button ignition.  At fifteen pounds, you won't want to pack this grill very far, but you'll find it's perfect for grilling burgers and dogs at daytime picnics in the park or complementing your laid-back camping trips. – Shop Now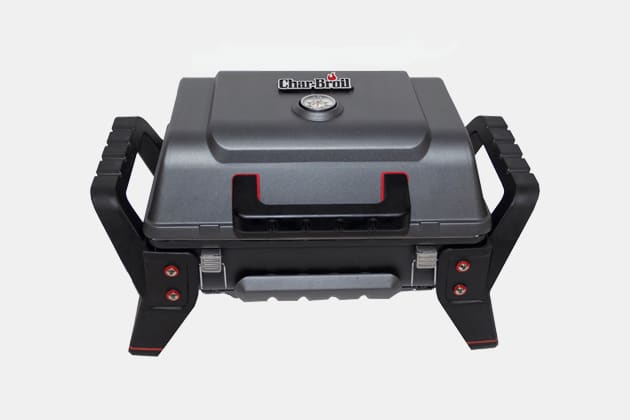 Portable Grill2Go X200 Gas Grill
At 26 pounds, this certainly isn't the lightest portable grill, but it's relatively easy to manage, thanks to the lightweight aluminum die cast construction with stainless steel burner and grate.  Notable features include a push button ignition, a TRU-infrared cooking system, and something you won't find on most portable grills: a lid-mounted temperature gauge.  This will help you to avoid flare ups and get the temperature just right, whether you're grilling fish, burgers, or brats. – Shop Now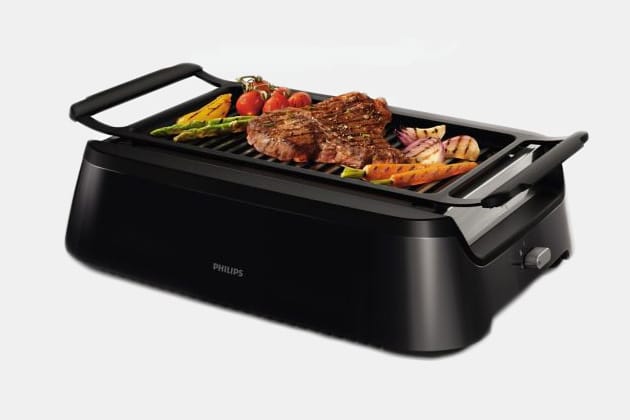 Philips Smoke-less Indoor BBQ Grill
The beauty of this smoke-free grill is that you can use it indoors or out, thanks to advanced infrared technology that eliminates 80% of the smoke most grills produce.  This means you can grill on the patio all summer long and still enjoy juicy burgers and char-grilled chicken when the rain and snow drive you indoors.  In addition, all removable parts (including the non-stick cast aluminum grill) are dishwasher safe.  Convenience is the name of the game with this portable grill. – Shop Now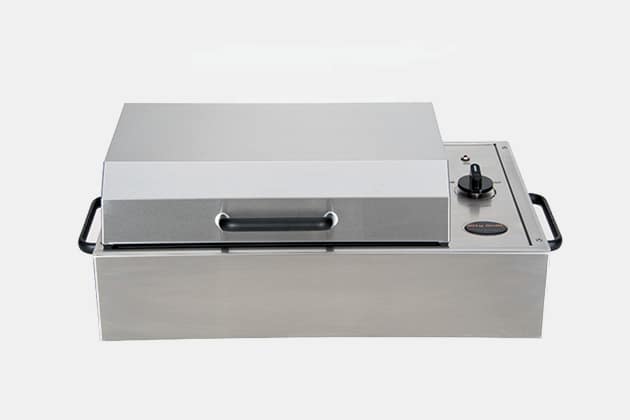 Kenyan Portable City Grill
Touted as a solution for urban living (and ostensibly, small apartment balconies), this tabletop grill is roughly 21x12x9 inches and weighs 27 pounds.  It also comes with a six-foot cord, and this is because you have to plug it in to use it.  This means you won't likely be taking it on camping trips in remote areas, but you could still tote it to the park for a picnic or to camping areas that feature outlets. – Shop Now
Everdure Cube
Charcoal cooking never looked so great, thanks to this cube shaped grill that looks more like a cooler than a cooker, complete with a top that comes apart to reveal a bamboo prep board situated atop a food-grade storage tray.  The bottom portion is durable and lightweight steel surrounded by a heat shield to protect surfaces, and flanked by handles that remain cool so you won't suffer a singe if you grab the grill while it's still hot. – Shop Now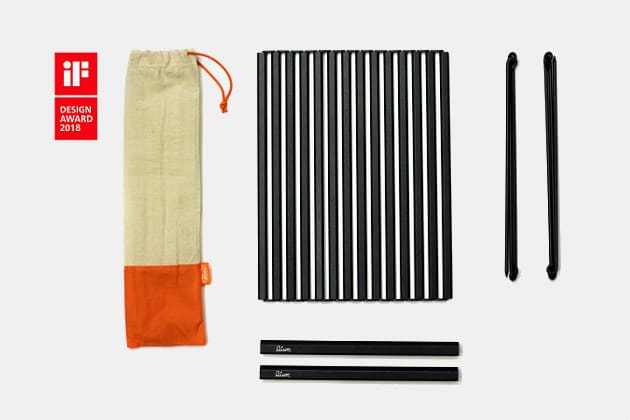 Bison Gears Rolling BBQ Grill
When you hear the name of this grill, you might assume it's a monster on wheels, but that is about as far from the truth as you can get.  The "rolling" descriptor has to do with the fact that you can break down the framework of what is essentially a metal grate in order to roll it up for easy storage and transport.
This 1.2-pound minimalist beauty in non-stick, Teflon-coated aluminum assembles in under a minute to create a roughly 10"x12" cooking surface that you set over an open flame.  Balance it atop the rocks ringing your fire, secure it with a stake stand, and grill.  Then slide off the rigid side bars and roll the whole kit into a portable 2×12 inches. – Shop Now
Disclosure: Clicking on these links and making a purchase may earn us a small referral fee, at no extra cost to you. Learn more here.
freestar.config.enabled_slots.push({ placementName: "gearmoose_leaderboard_btf", slotId: "gearmoose_leaderboard_btf" });