The 10 Best Outdoor Pizza Ovens
Oh, the satisfying crunch of a lightly crisped crust encasing soft, porous bread. The tang of acidic tomatoes and zesty spices, paired with perfectly fused creamy mozzarella and salty pepperoni and accented by a sprinkle of bright, fresh basil. There's nothing quite as tantalizing as authentic, wood-fired pizza, straight from a brick oven.
Until recently, chowing down on the genuine article meant that you either had to seek out a local eatery with a pizza oven or spend thousands of dollars installing a bulky, wood-fired monstrosity in your own backyard.
But necessity is the mother of invention, and we can all agree that there should be a more compact and affordable way to sling pies for our own personal enjoyment.
Luckily, some smart inventor types felt the same way, so you can now find a bevy of outdoor pizza ovens to fire up your backyard pie fest. Here are a few of the best outdoor pizza ovens that should do the trick nicely.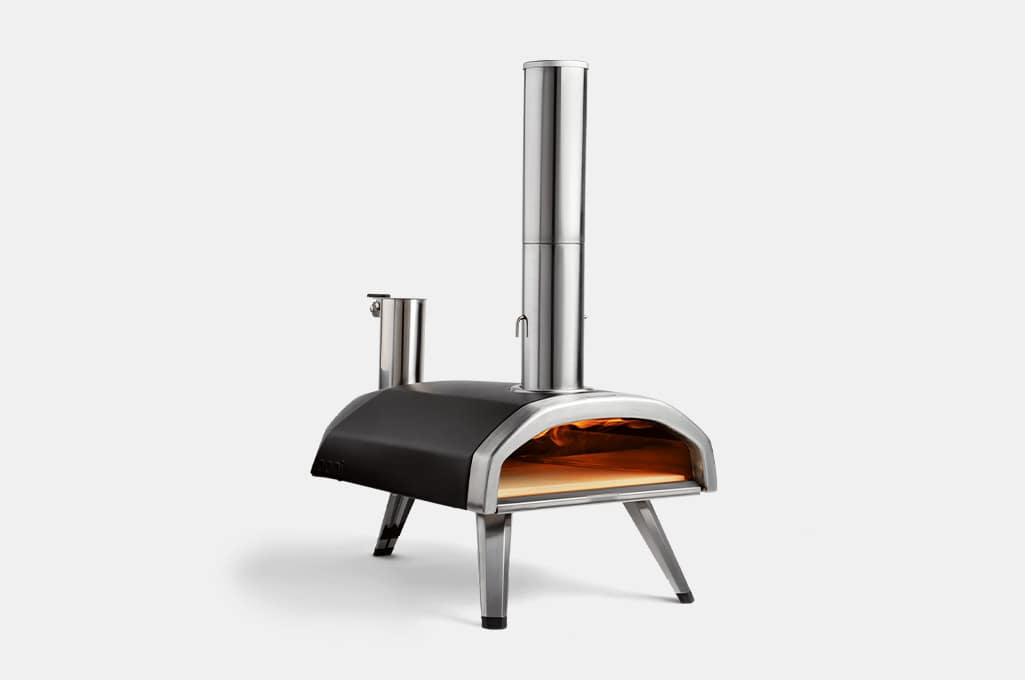 Ooni Fyra 12 Wood-Fired Outdoor Pizza Oven
Ooni did it first — and some would say best — with their portable, pellet-fueled pizza oven. Even better, they've continued to innovate the outdoor pizza oven since they first hit the market in 2012, adding new oven sizes, fuel sources, and features meant to meet consumer demand. 
This particular model is geared for pies up to 12 inches. It reaches temps of up to 950°F in just 15 minutes. Once it's hot, simply pop in your pie and pull out stone-baked perfection in as little as 60 seconds.
At 22 pounds, it's designed to be portable, so you can break it down, pack it up, and get your slices on the go, too.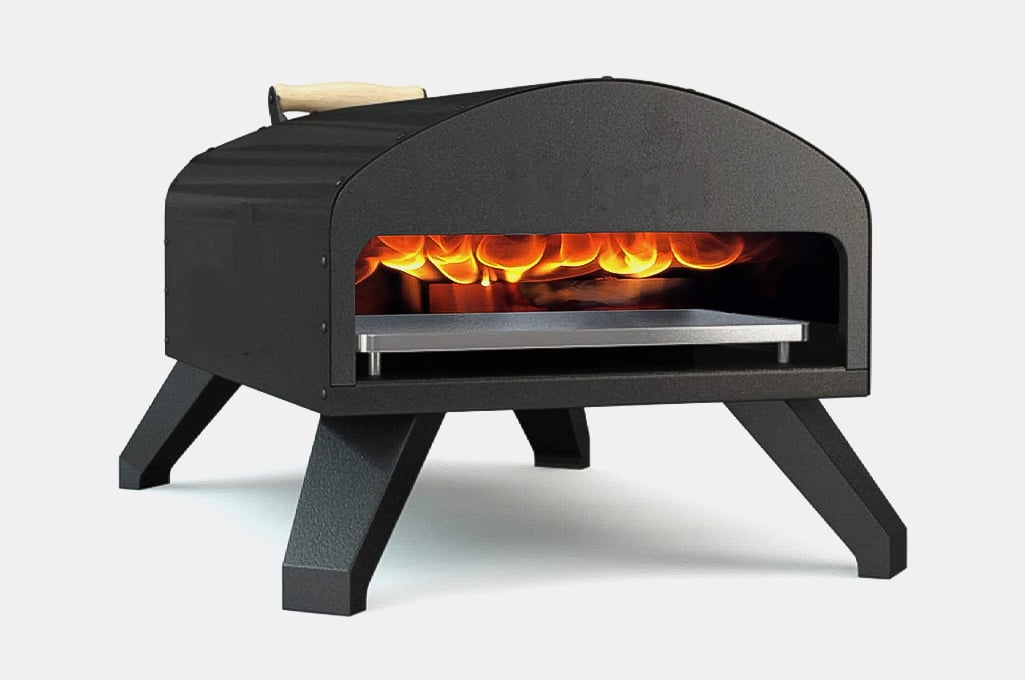 Bertello Outdoor Pizza Oven
A Shark Tank alum, Bertello's claim to fame is authentic Neapolitan pizza in under two minutes. Designed to work with wood, pellets, charcoal, or gas (burner sold separately), this versatile pizza oven heats to over 930°F. It includes a Cordierite cooking stone that can handle quick heating and high temps without cracking or other damage. 
The 12.5 inch by 13.5 inch cooking surface accommodates standard 12 inch pizzas, and while it's not the lightest at roughly 35 pounds, it's still fairly portable. There's a 90-day return window, too, if it doesn't live up to your expectations, but we don't think you'll need it.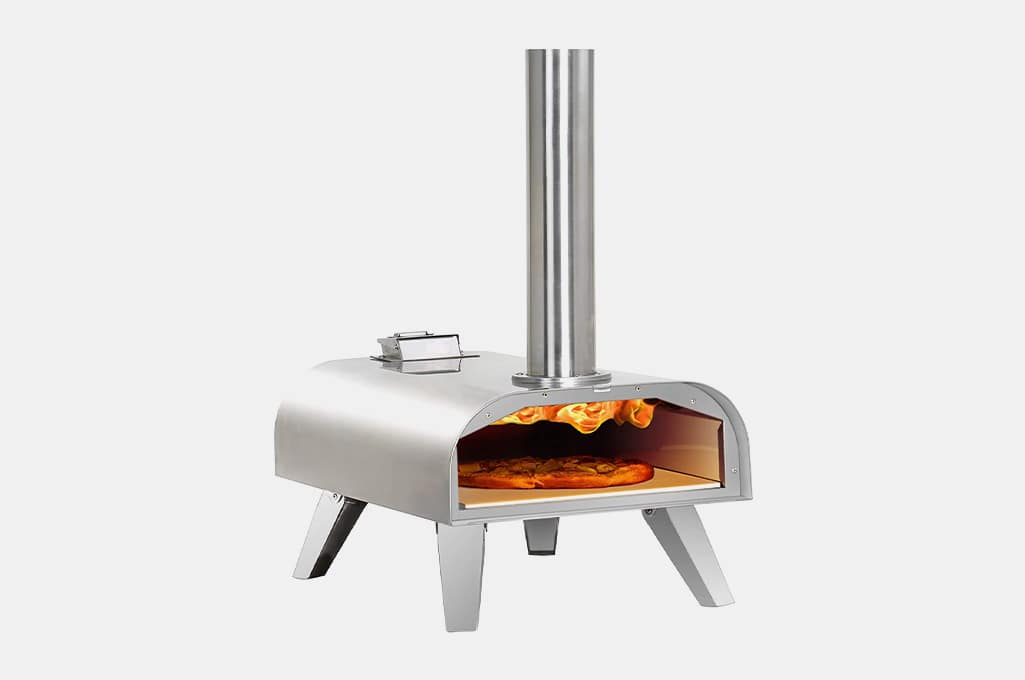 Big Horn Outdoors Pizza Oven
Sleek and stylish, this stainless steel cooker is the equivalent of an old-school Airstream, but for portable pizza production. It weighs just 25 pounds, has foldable legs, and assembles without tools, so you can take it anywhere. Move it between your backyard and a buddy's deck with ease. 
Wood pellet operation heats up in just 18 minutes, with a max temp of 860°F that will toast your pizza pie in just 90 seconds. It does a great job of cooking up steak, salmon, and veggies too.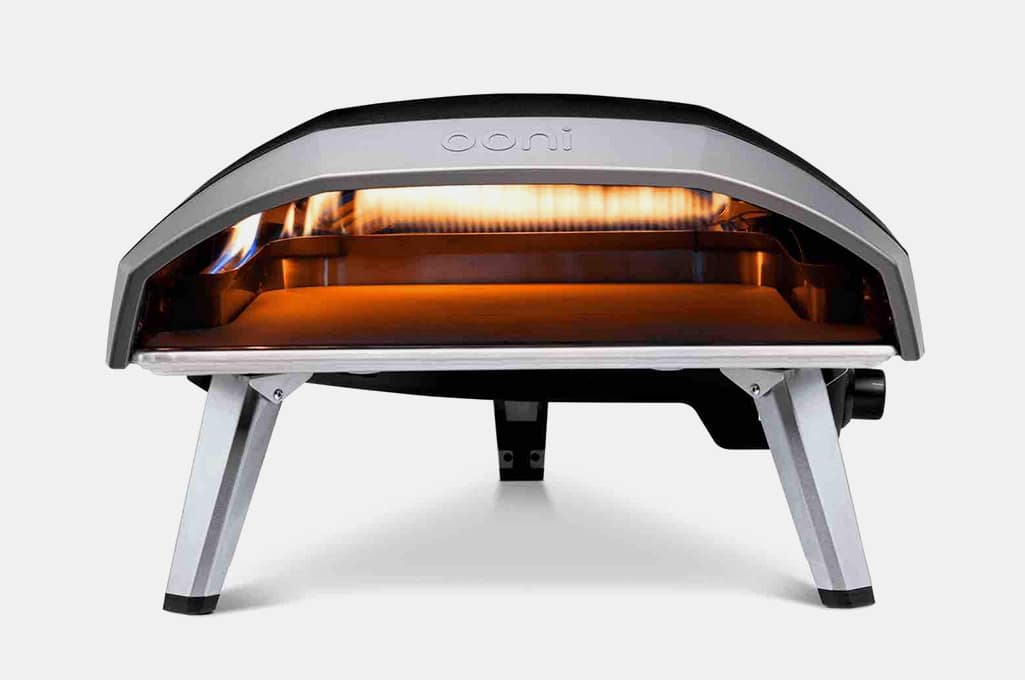 Ooni Koda 16 Gas-Powered Pizza Oven
If you're more concerned with the size of your pies than optimal portability, the larger Ooni model has you covered with a cooking surface designed for extra-large pies up to 16 inches in diameter, along with bulky meat joints, breads, and more. 
This oven heats to 950°F in 20 minutes, after which you can bake fully cooked pizza masterpieces in just 60 seconds. Avid chefs are sure to enjoy the innovative, L-shaped flame which means that they only have to rotate the pie once during cooking.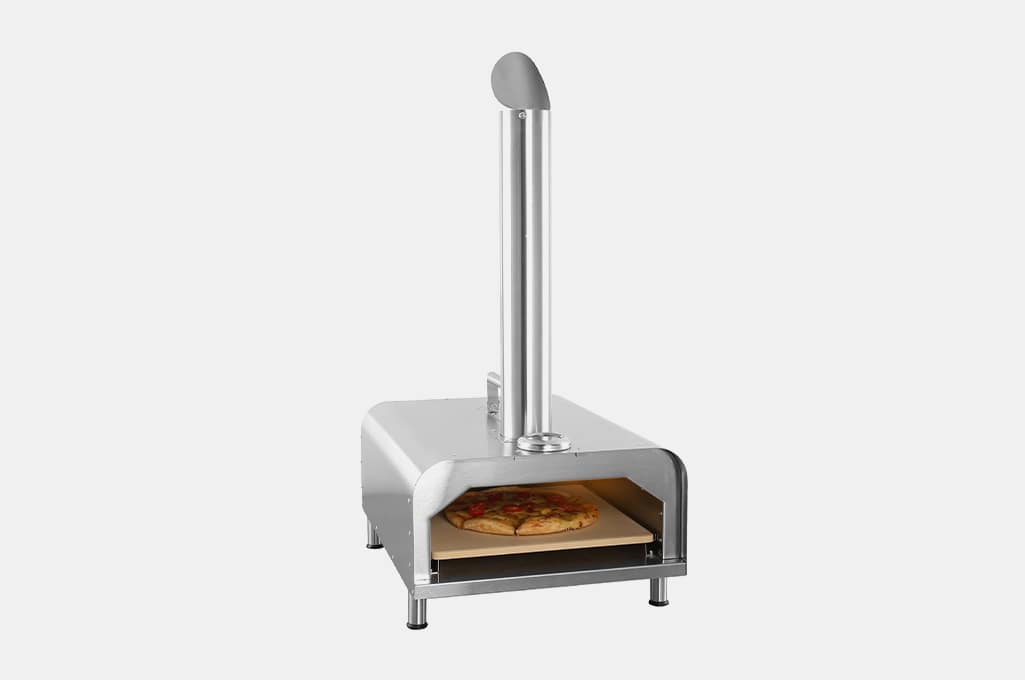 Gyber Fremont Wood-Fired Pizza Oven
In an apples-to-apples comparison, this outdoor pizza oven doesn't quite measure up to Ooni, but it's still a very decent portable option at 38 pounds, especially considering that the parts are detachable for easy cleaning and transport. 
It heats to 800°F and cooks pizza pies in just three to four minutes on its 13 inch cooking surface. It also comes with a pizza stone and a "shovel," which is just about the best name ever for a pizza paddle.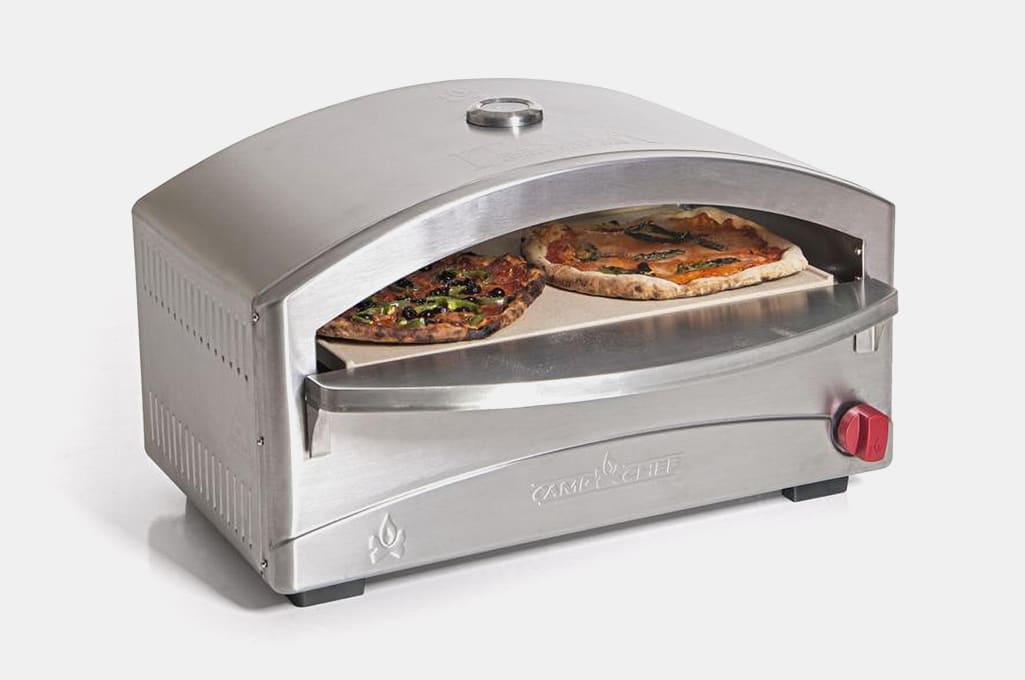 Camp Chef Italia Artisan Pizza Oven
If you're interested in a pizza oven that can transition from inside to out, this stainless steel model might be just what you're looking for. It runs on a one-pound, disposable propane bottle. It weighs 47 pounds, so it's not easily portable, but this oven makes up for it with interior dimensions of 13.25 inches by 20 inches, which means that you can cook more than just a 12 inch pizza (bake bread, roast meats, and more). It reaches temps of over 700°F and preheats in 15 minutes.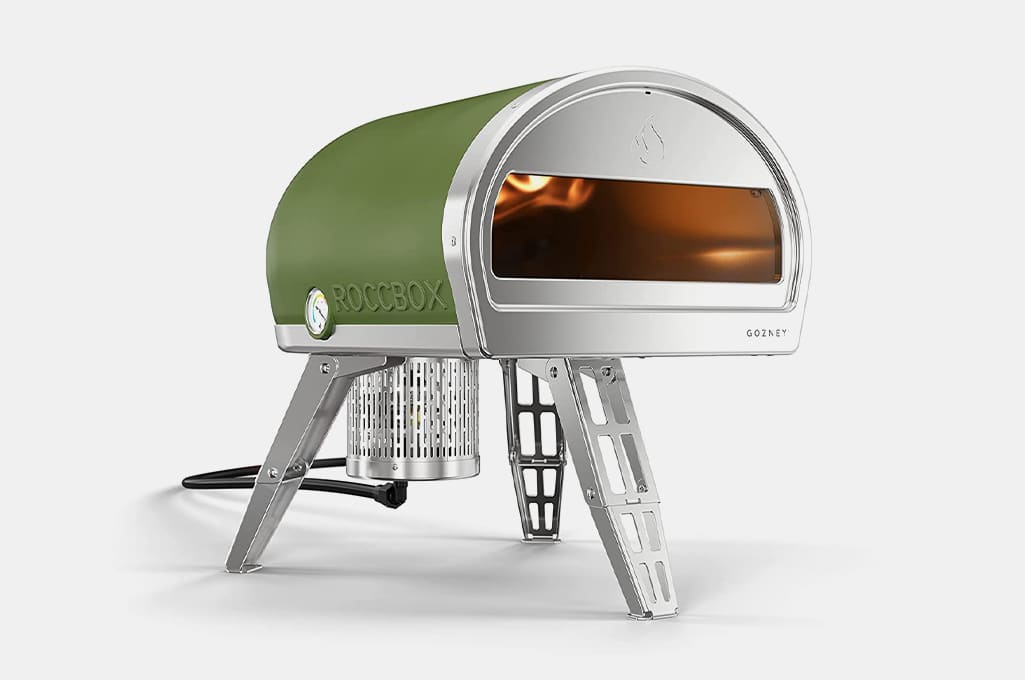 Roccbox Portable Outdoor Pizza Oven
At first glance, this oven reminded us of a doll-sized tube hotel, perhaps due to its curved shape and modern color palette (choice of olive, gray, or green). With that being said, the pizza oven on stilts delivers superior function. 
Choose from gas or dual fuel (gas/wood) options. Enjoy temps of about 950°F without worrying about burning your fingers on the outside shell — the colorful exterior is safe-touch silicone. 
The legs retract for compact storage, but at over 60 pounds, it's not terribly portable. Still, it comes with a built-in thermometer, a pro-grade pizza peel, and even a bottle opener, so there's a lot to love.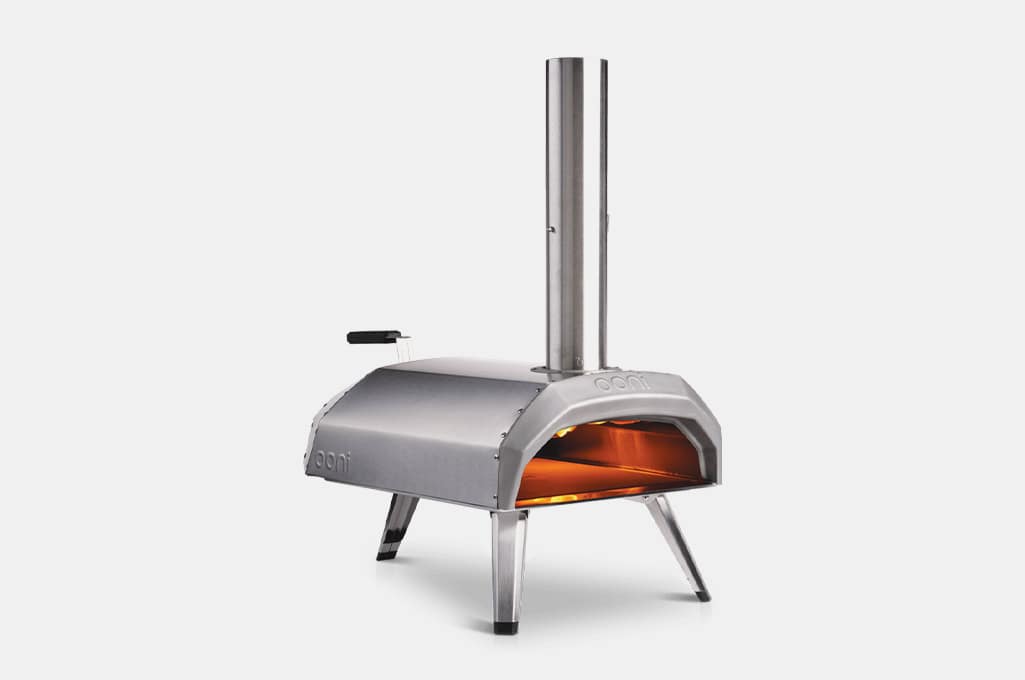 Ooni Karu 12 Multi-Fuel Pizza Oven
Another offering from Ooni, this oven for 12 inch pies offers incredible flexibility, thanks to the option to cook with wood, charcoal, or a detachable gas burner (sold separately).
With detachable parts and a weight of roughly 26 pounds, it's super portable. Like all their models, it's guaranteed to reach temps of at least 950°F — in just 15 minutes for the Karu. Best of all, the price is right. At under $350, it's one of the less expensive pizza ovens on this list — although extras like a pizza peel and carry bag are not included.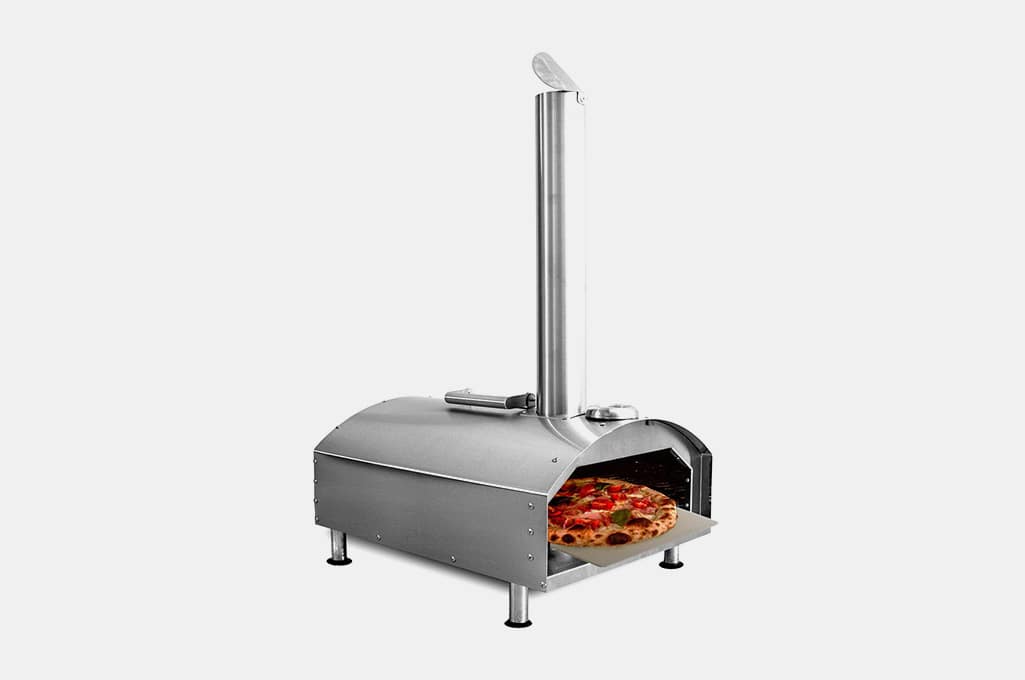 Deco Chef Outdoor Pizza Oven
If you're dealing with limited outdoor space, you might be fretting over whether to get a grill or a pizza oven. Deco Chef offers a streamlined solution with a two-in-one product that features swappable baking surfaces, including a grill and pizza stone.
Whether you want to cook fast, authentic pizza pies, sear steaks, or grill up a stack of chicken wings, you can do it all with this versatile, stainless steel oven that reaches 950°F with hardwood pellet fuel.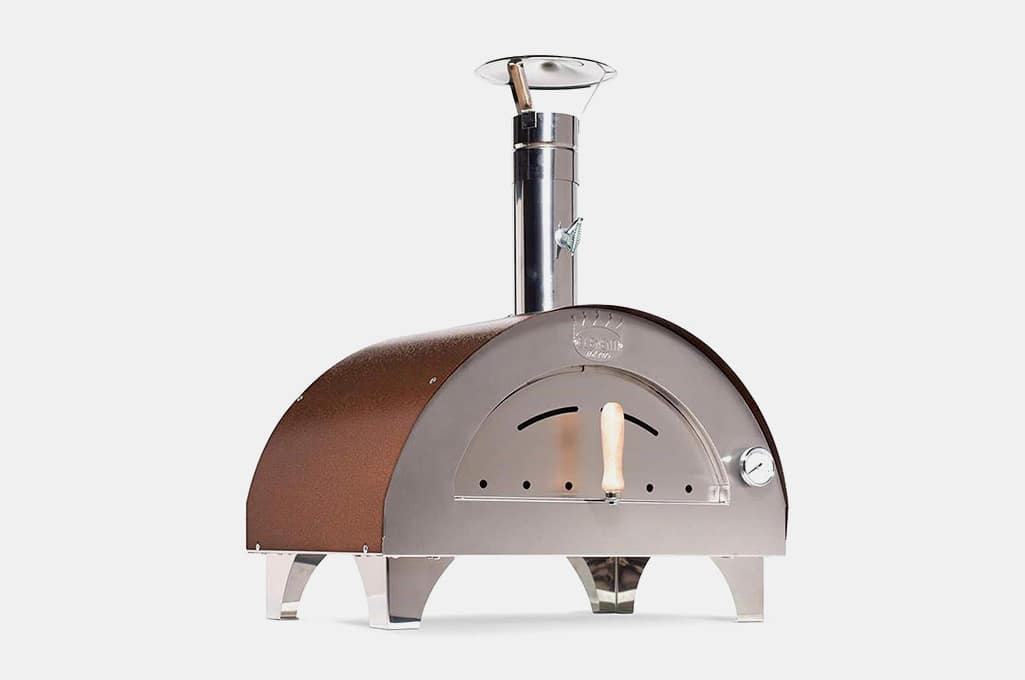 Clementi Clementino Pizza Oven
This hemispherical hotbox in stainless steel is a little pricier than the average pizza oven, coming in at $999, but you get a lot more cooking potential for your money, thanks to interior dimensions of 24 inches by 16 inches. This means you can pump out extra-large pies, bake bulky bread loaves, or roast decent-sized meat cuts, despite the relatively compact size of the pizza oven in general. 
Authentic wood firing results in temps of 750°F in about 15 to 20 minutes, so you can cook pizza in about two minutes flat.
Disclosure: Clicking on these links and making a purchase may earn us a small referral fee, at no extra cost to you. Learn more here.
freestar.config.enabled_slots.push({ placementName: "gearmoose_leaderboard_btf", slotId: "gearmoose_leaderboard_btf" });