The 15 Best Portable Fire Pits
Whether early man discovered fire by striking two rocks together or Prometheus stole it from the gods and gave it to humanity, there's no denying the primal pleasure of sitting around a campfire, roasting meat or marshmallows and thumbing your nose at the bane of encroaching darkness. While the Eagle Scouts among us are perfectly capable of safely starting their own fires with nothing more than a twirling stick and some kindling, the rest of us could use a little help.
Good news, fellow grill-masters. There's no shortage of fire pits available to light up your backyard or add the perfect char to the catch of the day on your camping trip. These durable, portable fire pits will serve you admirably whether you're toasting skewers of meat and veggies or telling ghost stories into the wee hours.
If you're looking to light up the night, add a little warmth to your gatherings, and get your grill on, you'll be truly impressed with these incredible products, some of which take flames from primitive to progressive thanks to a slew of innovative features. Here is our list of the 15 best portable fire pits on the market today.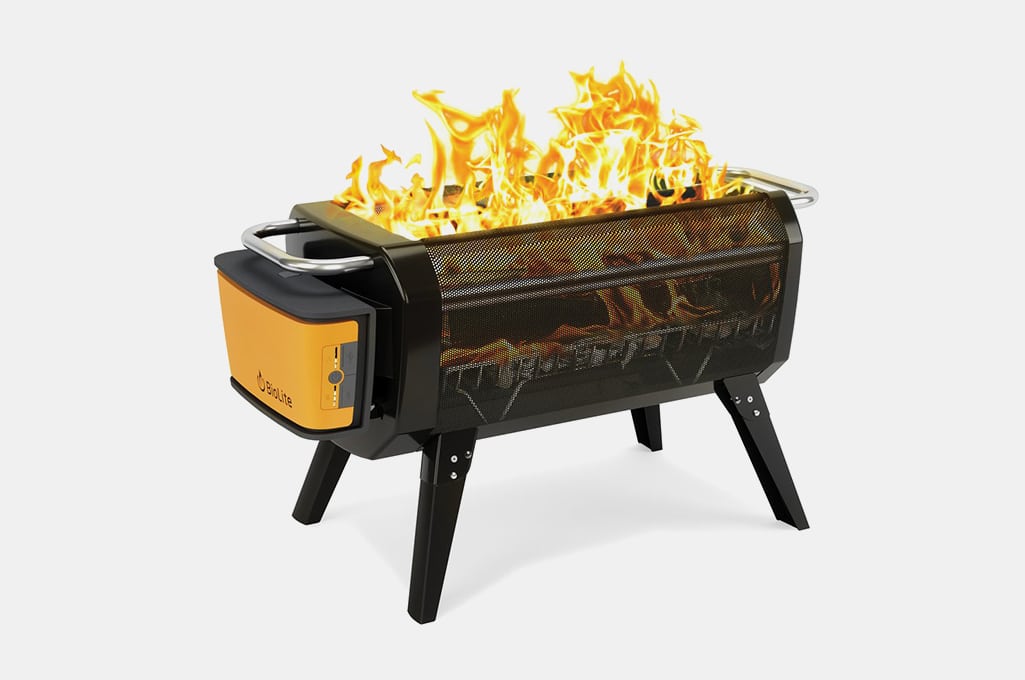 BioLite FirePit+
Take the BioLite FirePit+ with you wherever you go, and it'll make lighting a fire easy as a breeze. You can literally start a fire at the click of a button, and use your smartphone to control the flame size and heat output via the BioLite app. This wood-and-charcoal-burning fire pit is designed with a special body that radiates the heat outward to maximize warmth even in the coldest weather, and with the built-in battery, you get runtimes between seven hours (on max heat) and thirty hours (on low heat).
Solo Stove Ranger Compact Fire Pit
Compact and lightweight are two things campers are sure to appreciate when they're hauling gear to a remote campsite, and this handy fire pit offers both. At roughly 15" in diameter and 12.5" high, it's fairly diminutive (as fire pits go), and a weight of 15 pounds is relatively portable, compared to many other models. Made of 304 stainless steel with a double wall design, this mighty mini gobbles chunk wood fuel and pulls oxygen from bottom vents for the perfect amount of solo heat.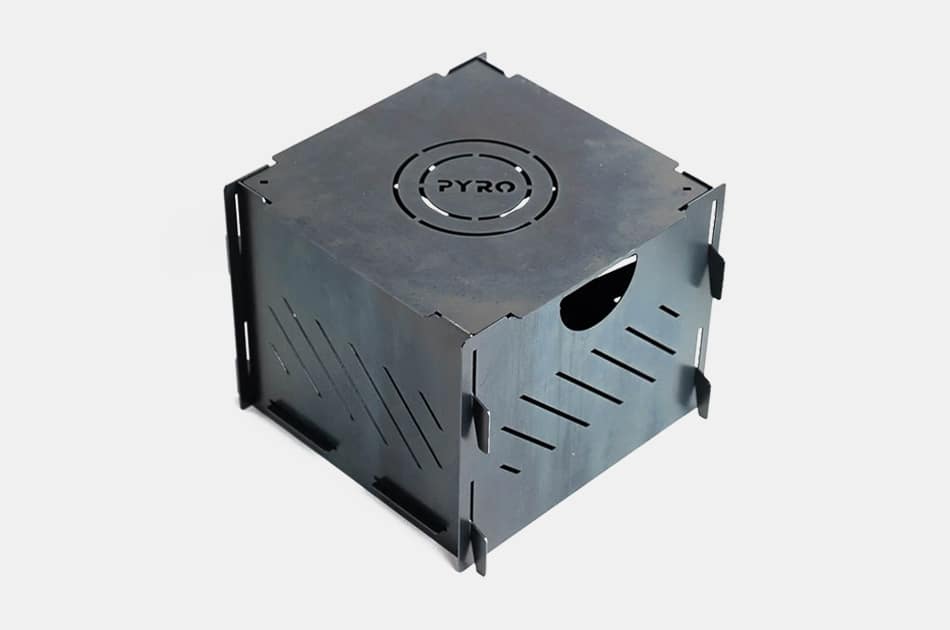 Bad Idea Pyro Cage MINI Portable Fire Pit
If your idea if easy assembly is "fit tab A into slot B", you'll have no trouble with this mini fire pit, with six pieces (four sides, top, and bottom) that store flat and operate on a quick-assembly principle. The box is 14 gauge steel with precision laser-cut vents for airflow. Coming in at a total weight of 18 pounds and dimensions of about 13x13x11.5" when assembled, this box is big enough to provide heat for a group while controlling dangerous embers. Included lid handle keeps fingers burn-free when adding more fuel to the fire.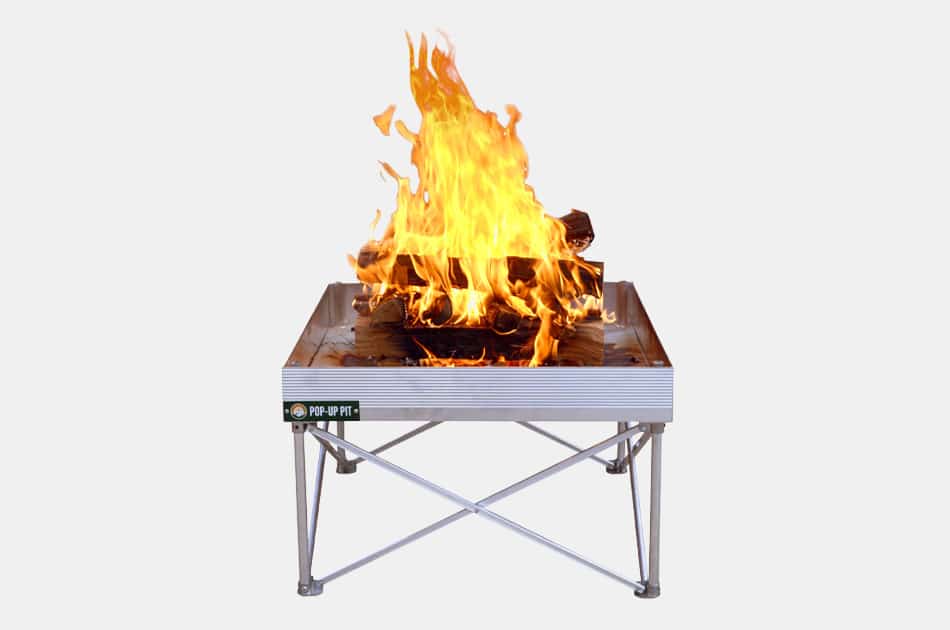 Campfire Defender Pop-Up Portable Fire Pit
This pop-up fire pit can be set up in under 60 seconds with no tools required, it can rest on any surface, and it cools down in just 90 seconds when fire is extinguished, thanks to aluminum construction. When set up, it offers a 24×24" surface for wood or charcoal and holds 125 pounds of weight, with no holes for ash to fall through. When you're done, it folds down to fit in a 5x5x27" bag. Plus, a weight of under 8 pounds ensures easy carry to even distant campsites.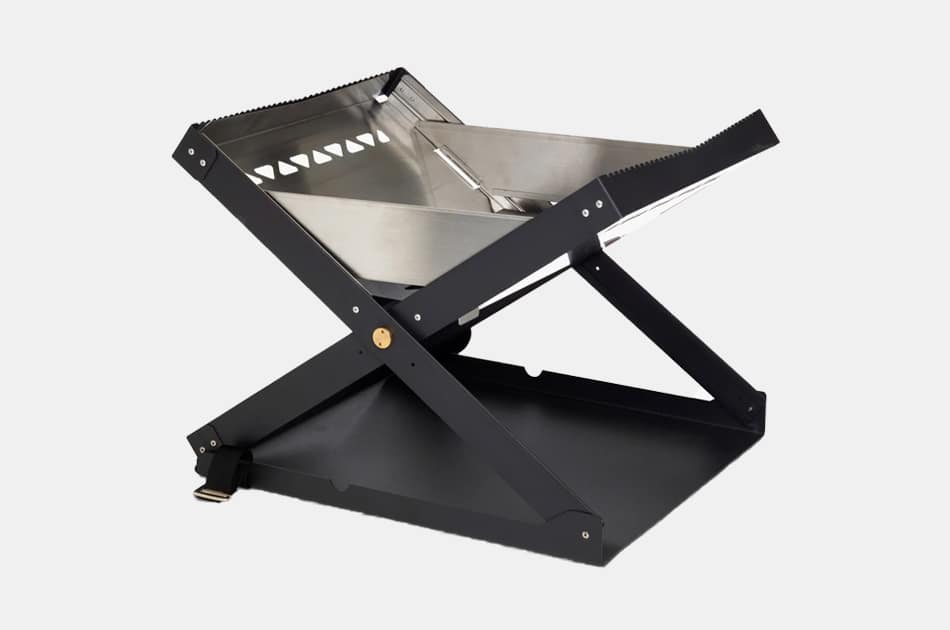 Primus Kamoto Openfire Pit
This fire pit may look like a side table from your dorm days or a souped up TV tray from Nana's house, but it delivers utility in a number of ways, starting with simple, fold-down construction for portability, as well as a weight of just over 13 pounds. Durable stainless steel and powder-coated steel and an attached ash tray ensure no-trace campfires, while the bottom air inlet and wind protection on the sides aid in effective combustion. The Kamoto Openfire Pit comes in two sizes.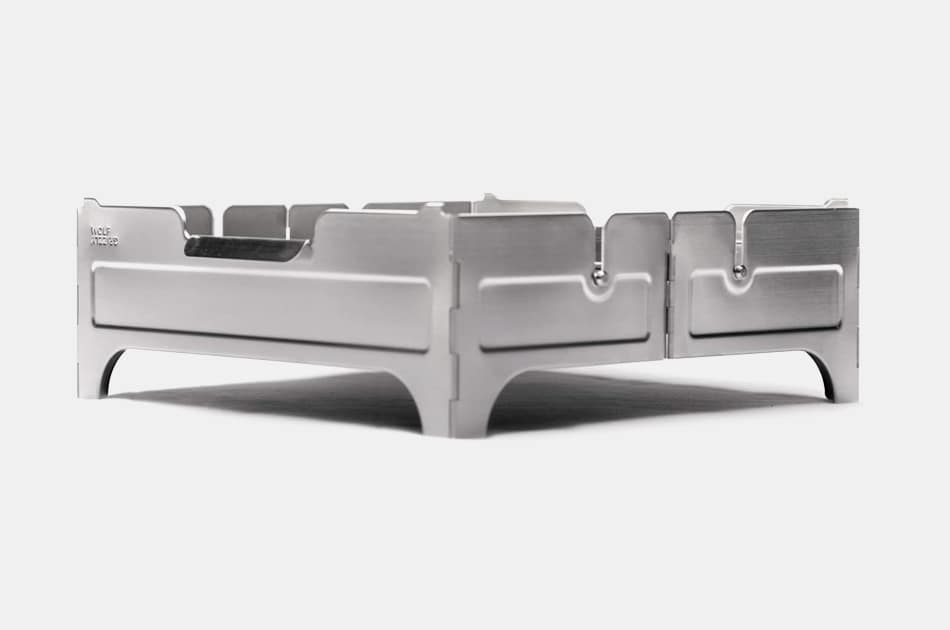 Wolf and Grizzly Fire Safe Portable Folding Fire Pit
"Thoughtfully engineered" doesn't begin to cover just how well-designed this folding fire pit is. When assembled, you'll enjoy a simple box of roughly 11×11" with a corrugated bottom for stacking wood or charcoal. Even better, there are only two parts – the hinged box and bottom – that easily fold down and pack flat in the included carrying case, coming in at an incredibly low weight of just 2.2 pounds. Portable, lightweight, and easy to assemble and disassemble, this backyard bonfire bed is hard to beat.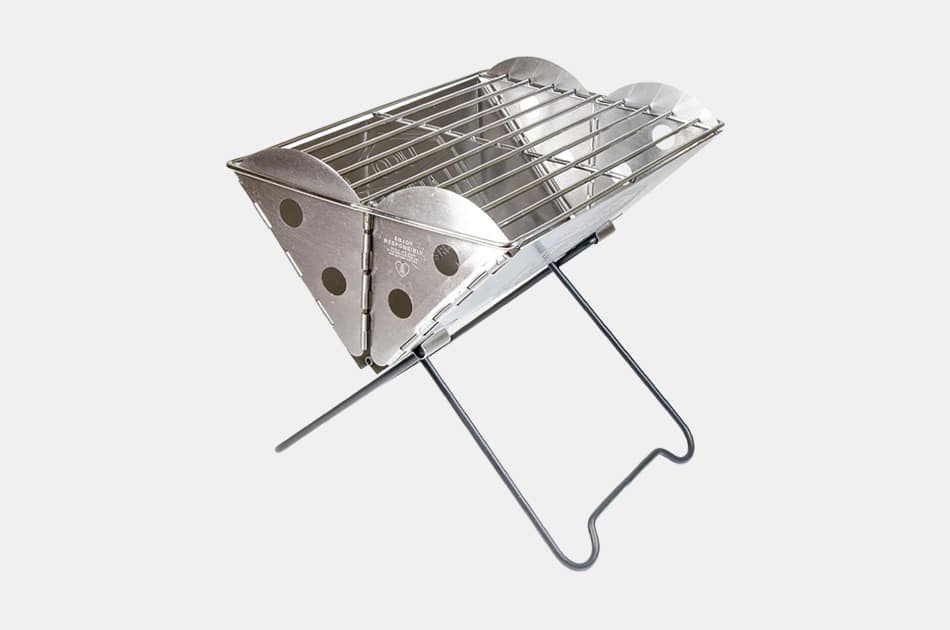 UCO Flatpack Grill and Fire Pit
At first glance, this foldable fire pit looks a little flimsy, with it's wire legs and tin-can construction.  That said, it's made from durable stainless steel that can be folded to just 1.5-inch thickness for transport and storage.  You probably don't want to put full-sized logs in it – chunks of wood or charcoal are going to serve you better here.  With a weight of just 3.2 pounds and a price tag of $49.99, this option is easily the most economical for campers looking to cut both cost and carry weight.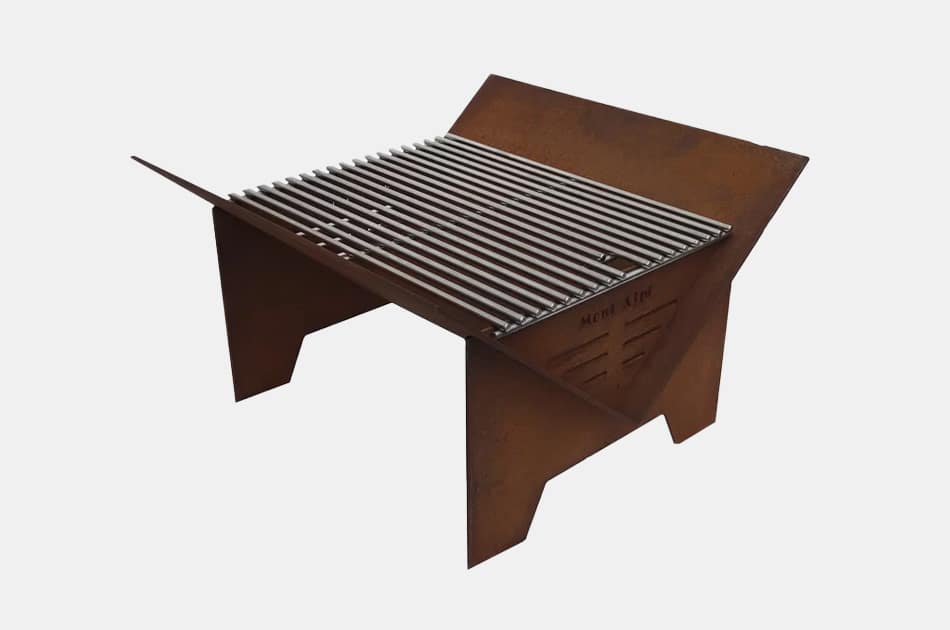 Mont Alpi Steel Wood Burning Fire Pit
Portable fire pits tend toward utilitarian, and this one is no different, but the pre-rust finish on sturdy steel adds a bit of rustic flair to a market dominated by nude steel models. For a minimalist wood-burner, this BBQ bin has it all, with included fire pit, ash catcher, grill grate, and carry bag. Pop it up or pack it flat in under a minute. The 24-pound weight is the only downside, but the carry case has sturdy handles to make toting easier.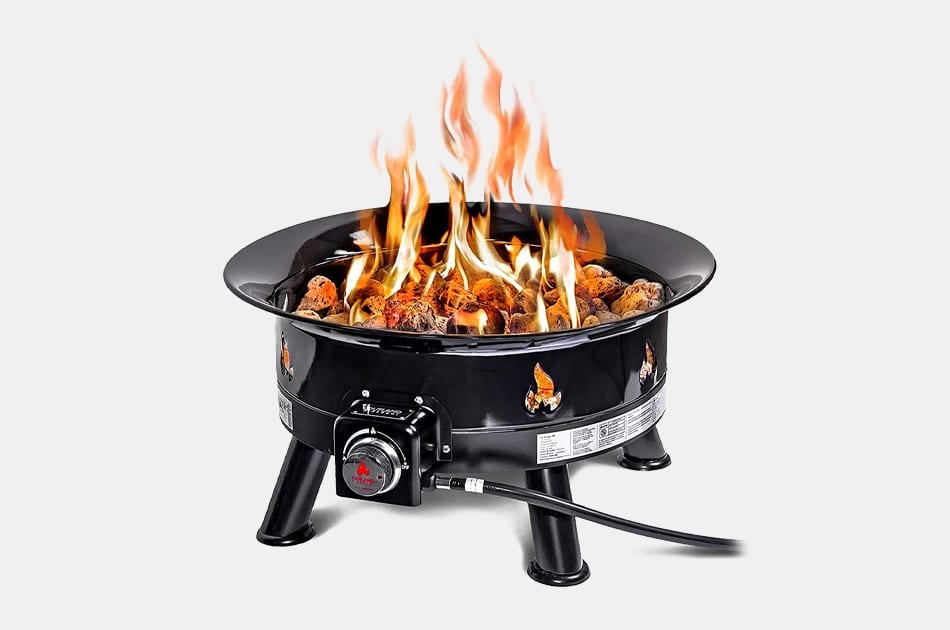 Outland Firebowl Propane Fire Pit
If you want to hit the ground running, this no-mess, no-assembly fire pit is the perfect fit for your fast-paced lifestyle. An all weather, CSA approved fire bowl is 24x24x13" (WDH) and 22 pounds (6.6 of which is natural lava rock), and it runs of propane fuel to produce 58,000 BTU of safe, smokeless flame that you can adjust with a knob on the bowl. A pre-attached 10' hose lets you store the propane tank out of sight.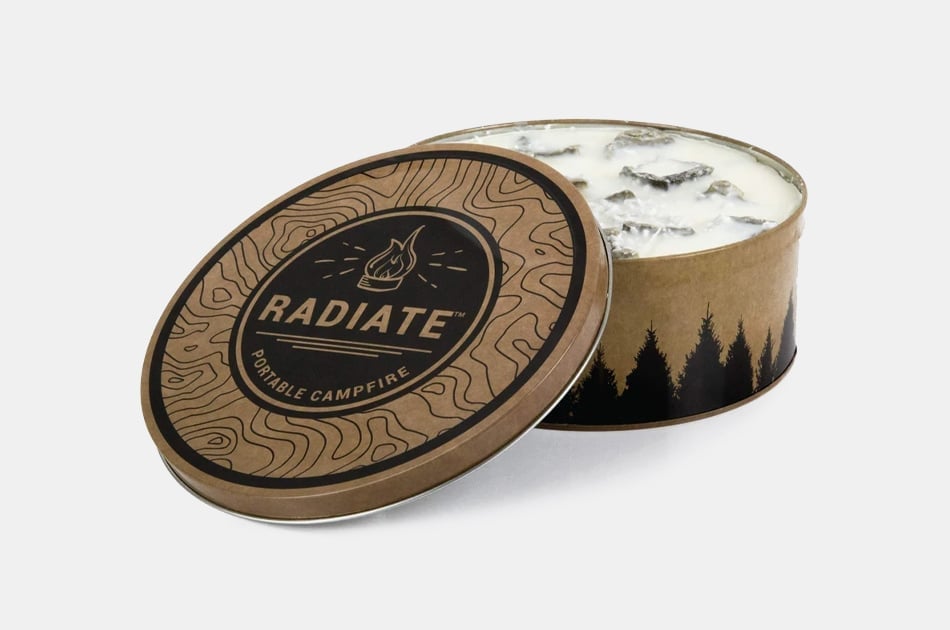 Radiate Portable Campfire
Have you ever wished your 2-ounce can of Sterno was about 4 pounds and smelled like lemon and eucalyptus? Good news – your wish has been granted in the form of this portable, easy-light campfire in a can, made from recycled soy wax and paper briquettes designed to burn ember-free for 3-5 hours, with no smoky smell and a clean-up process that includes putting the lid on the can and chucking it in the trash. With a 30-year shelf life, there's no reason not to save on multi-pack purchases.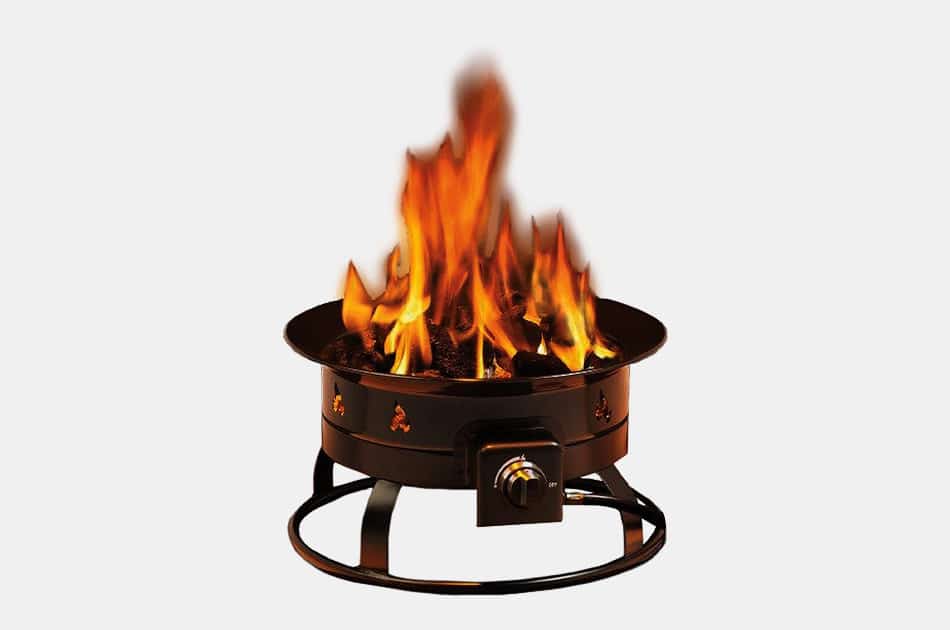 Heininger Portable Propane Fire Pit
Another propane-fueled fire pit, this puppy pumps out an impressive 58,000 BTU of clean, smokeless flame and comes equipped with a 10-foot hose for the propane tank so you can tuck it behind a cooler or lawn chair…you know, if you can't stand to look at an unsightly propane tank. The 19-inch diameter drum includes decorative rocks and the whole kit and caboodle comes in at 22 pounds, so you're not going to want to carry it far, especially not with a 5-gallon propane tank in tow, as well.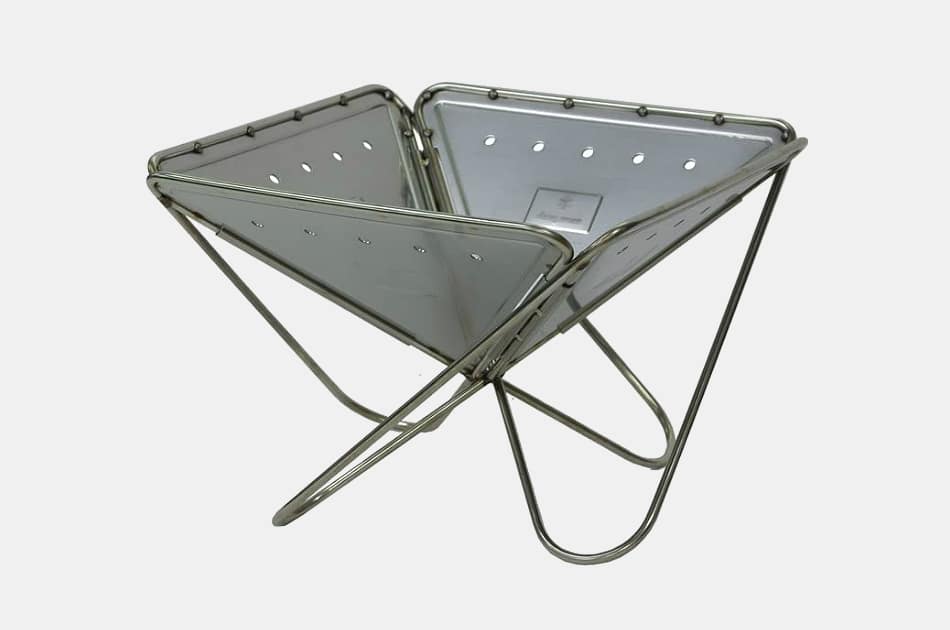 Snow Peak Pack & Carry Fire Pit
This eminently portable fireplace folds flat for easy storage and transport, and at under eight pounds, you avoid both bulk and added weight when hiking and camping – nylon carry bag is included in the $150 price tag. It burns both charcoal and wood and you can add a variety of streamlined accessories for grilling and other types of cooking. What really separates this product from others, however, is the fact that you can get it in three different sizes to meet your particular outdoor cooking needs.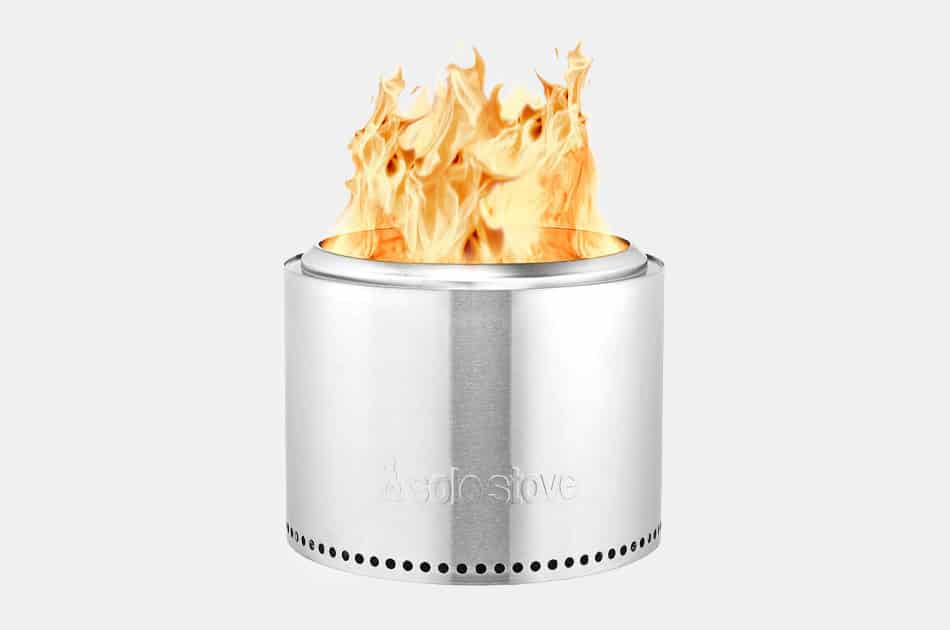 Solo Stove Bonfire Portable Fire Pit
This fire pit looks a lot like an upgraded version of the homemade washing machine basket variety, so why would you buy it instead of cannibalizing your old appliances? First of all, it's made from durable stainless steel that weighs just 20 pounds, so it's safe and portable, which you may not be able to say for your average washer drum. It also has patented airflow technology that minimizes smoke and ensures you get the most burn time from your logs. Worth it? You decide.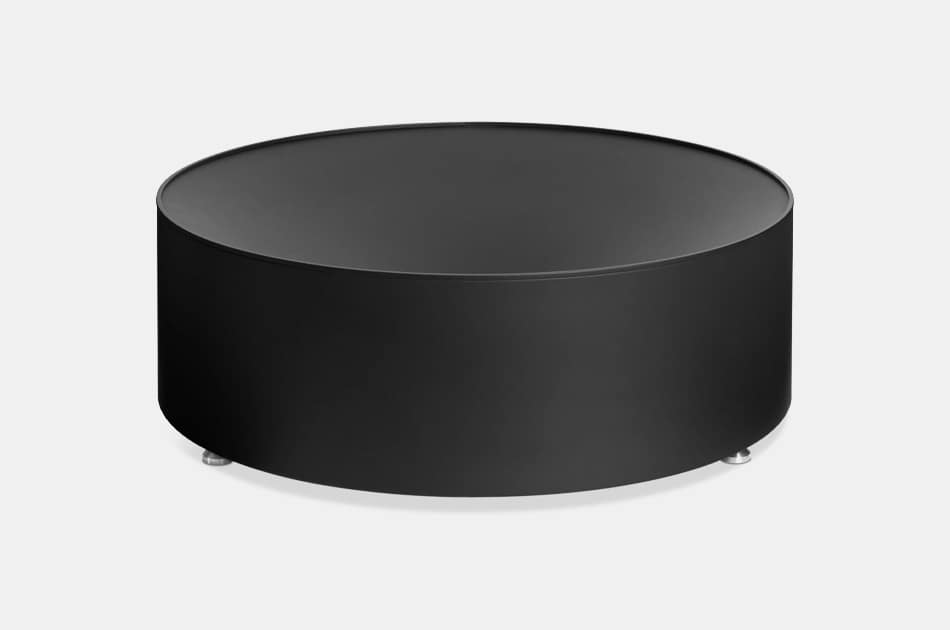 Blu Dot Smokey Fire Pit
This drum-shaped fire pit is nothing if not sleek, thanks to black, powder coated steel that ensures it will fit right in with a modern aesthetic. The tagline – "only you can prevent ugly fire pits" – speaks volumes. In terms of portability, it's worth mentioning that the dimensions are a bit daunting, with a height of 11" (plus height-adjustable feet) and a diameter of 32". That said, it will look fantastic in your manicured backyard, and you could easily haul it to a park cookout, a tailgate party, or even a campsite with nearby parking.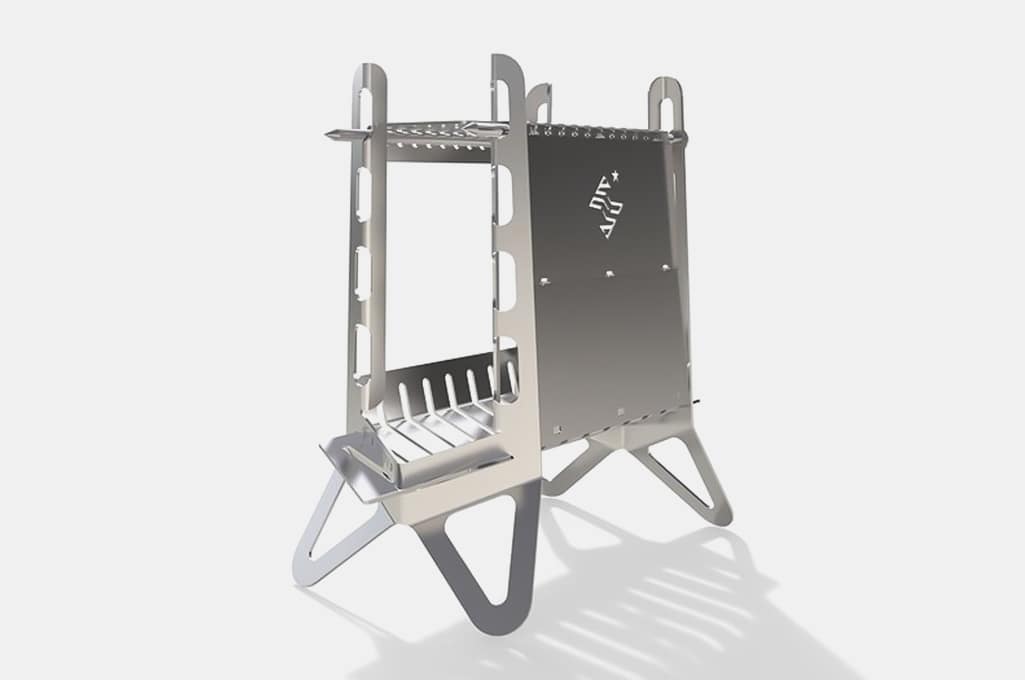 Sportes Firewall Firepit + Wind Blades
Sportes takes durability and convenience to the next level with the Firewall Firepit + Wind Blades. This solidly built steel device can go from fire pit to fire ring to grill (complete with adjustable dial to control your heat output) in a matter of seconds, with a Wind Blade barrier specially designed to make it easy to start a fire even on the windiest day. When you're done, simply disassemble it into its individual components for easy transportation on any camping or hiking trip.
Disclosure: Clicking on these links and making a purchase may earn us a small referral fee, at no extra cost to you. Learn more here.
freestar.config.enabled_slots.push({ placementName: "gearmoose_leaderboard_btf", slotId: "gearmoose_leaderboard_btf" });