The 10 Best Bolt-Action Pens For Everyday Carry
The smooth and satisfying act of operating a bolt action pen is something a plastic click pen just can't replicate. As you sit and ponder your next words or hash out a plan, having something to occupy your hands can free up your mind and let the best ideas just come to you, which is why we recommend adding a quality bolt action pen to your EDC.
The pens on our list are built from the best materials, from titanium to brass to anodized aluminum, and each one has been precision-engineered to deliver that tactile twist and push deployment. Many also feature tactical advantages, with glass-breaker tips and advanced grip construction. Select one (or a few) of these bolt action pens and you'll always have something to write with — and something satisfying to do with your hands as you plan your next move.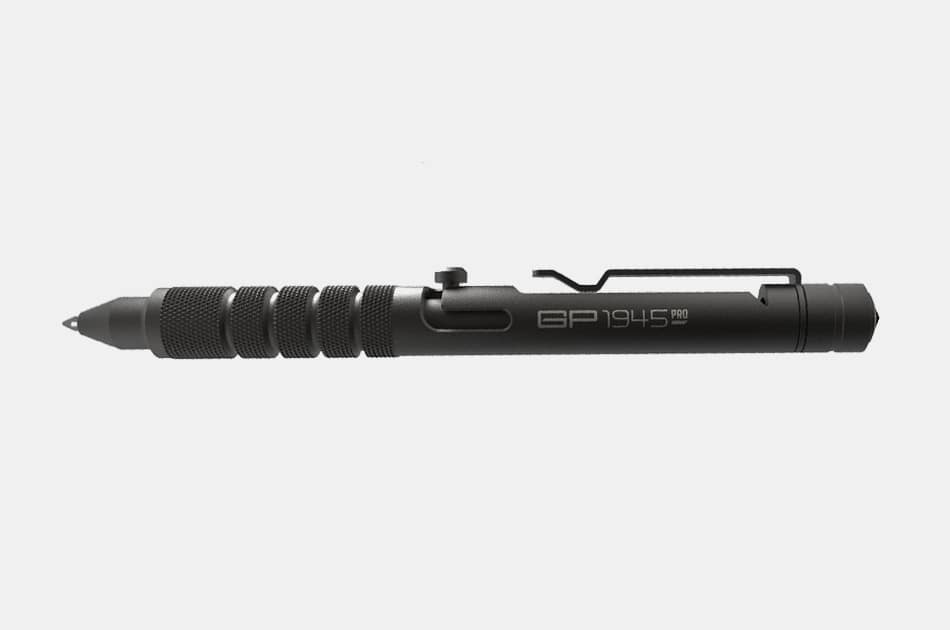 GP 1945 Bolt Action Plus Pen
This pen comes from GPCA, whose name happens to stand for General Purpose California. But the thing is, this pen is far more than just "general purpose." It's bolt action, obviously, with smooth deployment, but at the end opposite the ball point, you not only have a tungsten steel glass breaker, but an emergency whistle as well. The knurled grip features single-centimeter and single-inch reference measurements and the titanium body is tougher than most nails.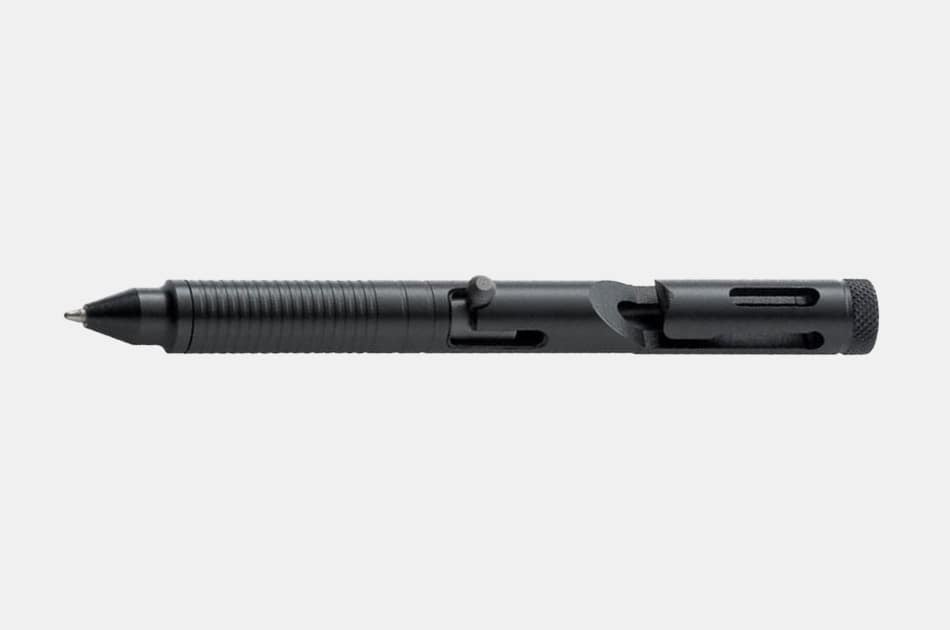 Boker Plus Bolt Action Tactical Pen
If you want your EDC done right, turn to a 150-year-old knife maker. The Bolt Action Tactical Pen from Boker is made from anodized CNC aluminum so it's light but burly and the design is all about the pen's tactical nature. As a last-ditch defensive tool, the Boker comes in strong. The back end is flat for secure thumb placement and the pocket clip is integrated into the barrel, so there's nothing getting in the way of your grip.
Nitecore NTP30 Bolt Action Tactical Pen
You might know Nitecore for their high-performance EDC flashlights, but they're in the business of outfitting the whole gamut of your carry. The NTP 30 is constructed out of our favorite EDC material, light and ultra-strong titanium which means it'll last a good long time. The bolt-action feature not only deploys the pen (quality, long-lasting Schneider ink), but when you slide the bolt the other way, the tungsten glass-breaker tip is revealed for harrowing escapes from vehicles or etching markings on pretty much anything.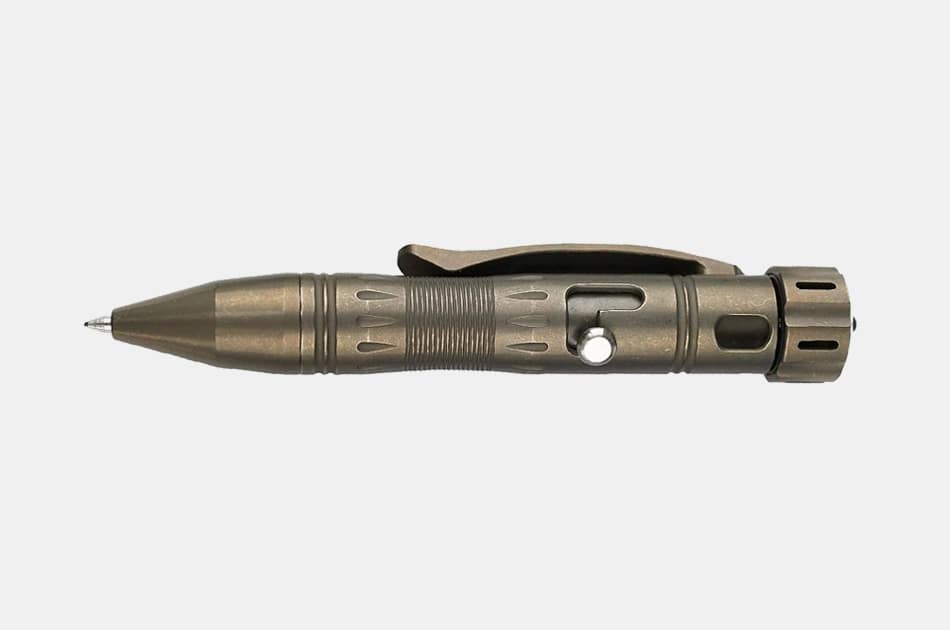 MecArmy TPX10 Mini Titanium Bolt Action Pen
How about two fidget-worthy features instead of just one? In addition to the bolt-action mechanism, the top of the TPX10 Mini pen from MecArmy has a ball-bearing top that spins virtually frictionlessly with a flick of the thumb. Made from twelve separate CNC'd parts, the precision-built pen is palm-sized and ready to occupy your hands for hours on end.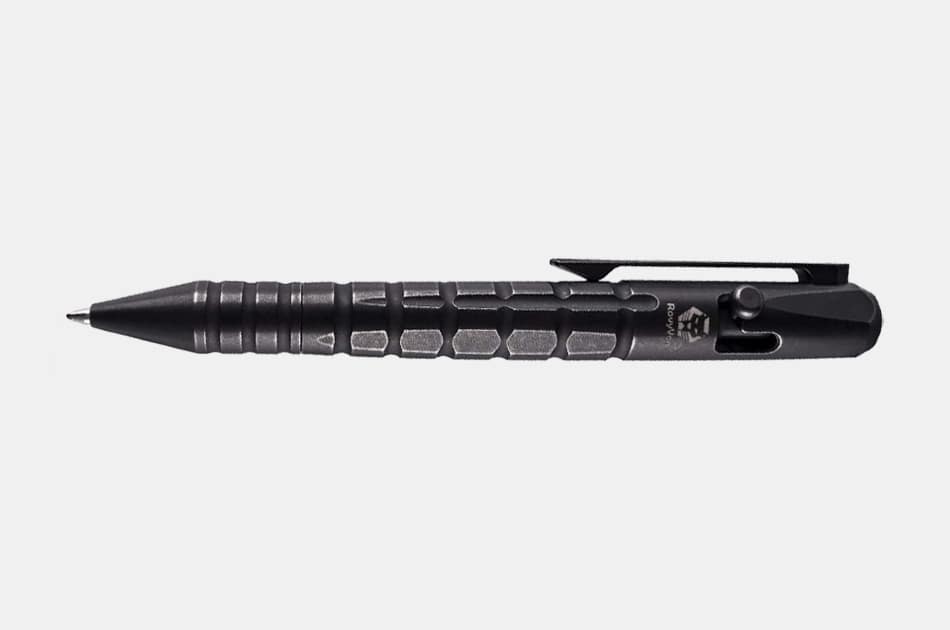 Commander C10 Titanium Tactical Bolt Action Pen
With its kubaton stylings, the Commander Titanium pen from Rovy Von just looks like it means business. Packed with a long-lasting Schmidt P900 ink refill and cased in a tough and lightweight titanium barrel, it's a no-frills EDC pick that'll pair nicely if you're also carrying a black oxide titanium folder. The ceramic ball at the end will take on glass-breaking duties if you're ever in a bind and the full year warranty adds that extra peace of mind.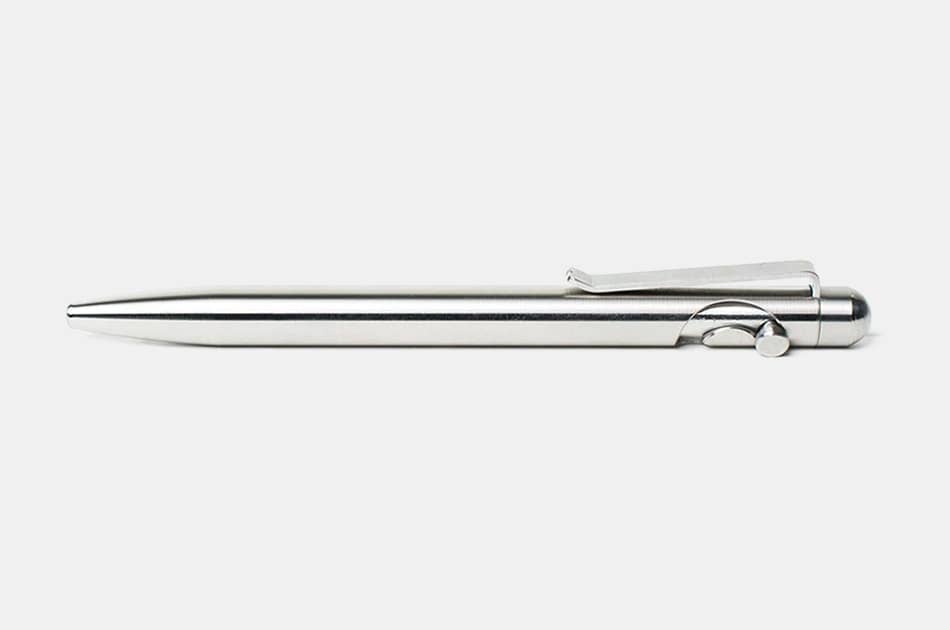 Tactile Turn Titanium Bolt Action Pen
Quality pens — bolt-action especially — are all about the way they feel in the hand, a fact Tactile Turn understands implicitly. The Texas-based company focuses pretty much exclusively on producing quality writing implements and every piece they put out comes from their machine shop in Garland. Their Bolt Action Pen is what they recommend to first time customers, and for good reason. The action is meticulously precise for fluid, satisfying deployment and the pen itself is an example of quality, Texas-made craftsmanship.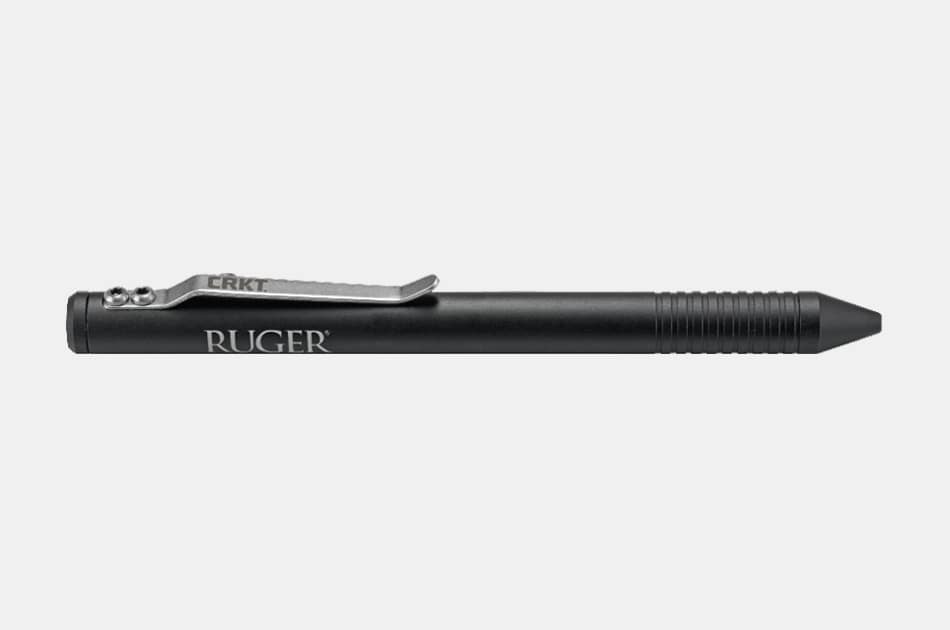 CRKT Ruger Bolt-Action Pen
Bolt action is a term borrowed from firearms, so a bolt-action pen made in partnership with Ruger seems only logical. Part of the line of knives made by CRKT for Ruger, their take on the pen features a blacked-out anodized aluminum body and the writing function is handled by a Fisher Space Pen refill — the gold standard when it comes to ink, with its ability to write upside down, in the rain, and yes, in space.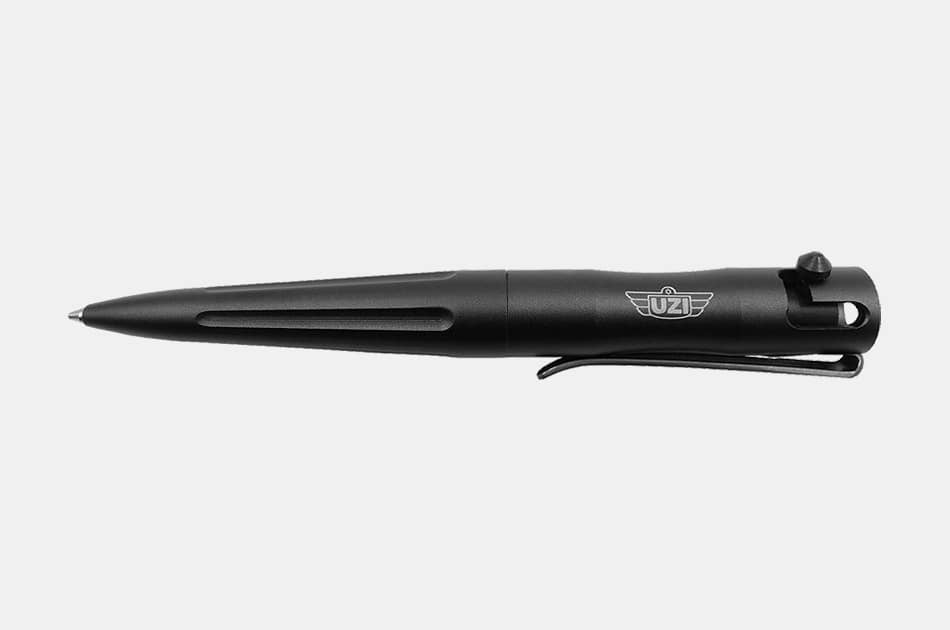 UZI Bolt Action Tactical Pen
Here's an option trusted by the US Military and Secret Service. The UZI is an angled, wedge-shaped tactical pen built from aircraft-grade aluminum and just might be the most popular pen on our list. Coming from their wide range of personal defense tools, it's what you want to have on you when the situation calls for something even mightier than a pen. And the fact that it uses Fisher Space pen refills makes is one ideal piece of your EDC.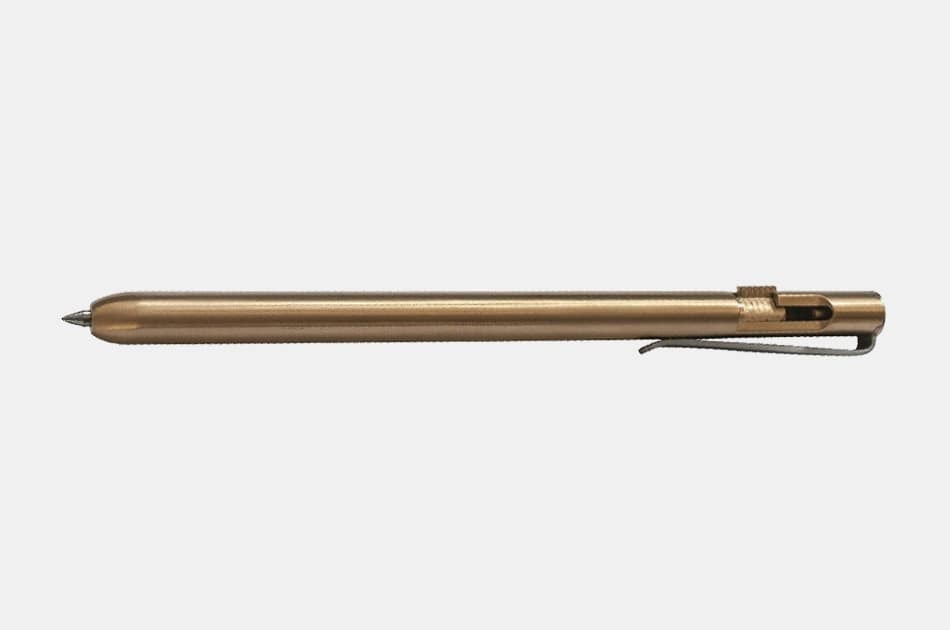 Boker Plus Brass Rocket Pen
Elegant might be the best word to describe this offering from Boker. Designed by lauded knife maker Darriel Caston of D Rocket Designs, the Brass Rocket Pen showcases the designer's love of non-standard, hardworking materials. Over time, the brass barrel will develop a unique patina, giving it a vintage appeal and a timeworn quality. Combine that with the tougher than tough Boker construction and it's a piece of carry that will only get better as the years and decades go on.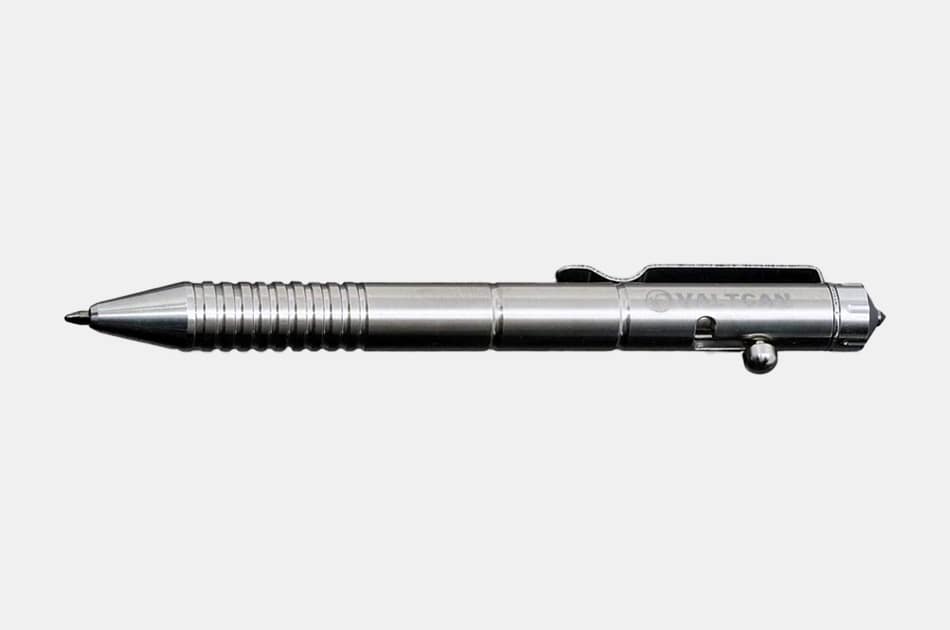 Valtcan Titanium Bolt EDC Pen
Valtcan specializes in titanium, and their bolt action pen offering has a CNC-machined barrel, polished to a shine with concentric grooves for grip. Designed for military, patrol, or outdoor use, the pen puts reliability at the forefront. The entire pen disassembles for cleaning and adjustment, and the tungsten tip at the back end can break glass when called upon. Refill with Schmidt P900 or Fisher Space pen cartridges and carry this knowing you've got dependability in your pocket.
Disclosure: Clicking on these links and making a purchase may earn us a small referral fee, at no extra cost to you. Learn more here.