The 15 Best Men's Boot Socks
If you read this site on the regular, you're hopefully acquainted with some of the best men's boots on the market. After all, there's no time like the present to stock up on rugged winter boots aplenty. And yet, it begs the question, what are the best men's boots without a pair of the best men's boot socks?
Knit thicker than regular socks to stand up to the construction of rugged leather boots and chilly fall and winter weather, the best boot socks use quality fabrics, remarkably tough design, and the sort of long-lasting dependability that's a perfect match for your favorite boots. The great news is, many of your favorite brands are making boot socks with the best of 'em, and all at agreeable prices (leaving you with more cash to spend on new boots). Stock up and step out in style.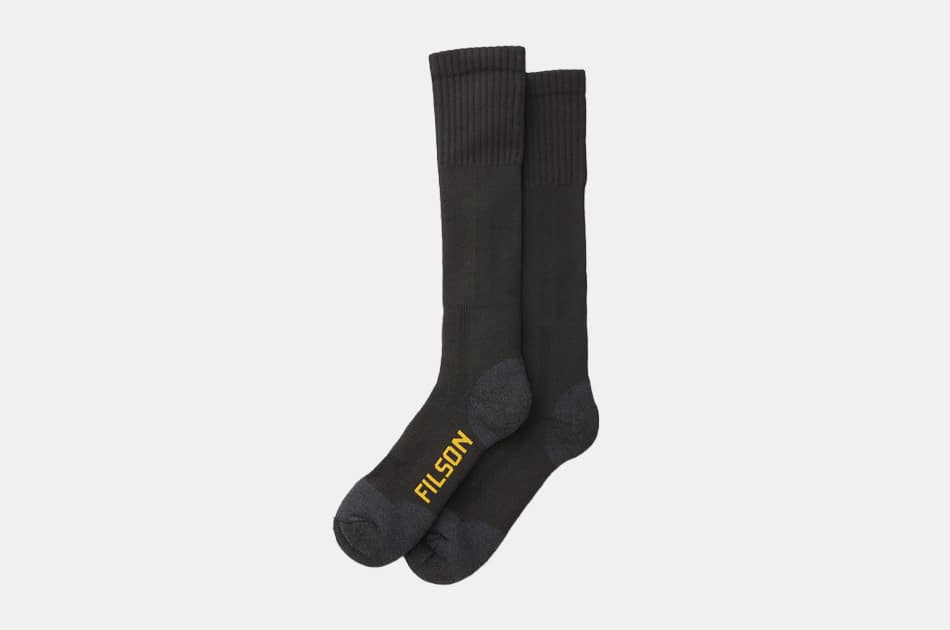 Filson Midweight Technical Boot Socks
Filson's flannel shirts, work pants, and durable outerwear are the stuff of legend around these parts, and the brand's boot socks pass that quality test just as easily. Made from technical fabric designed to provide comfort and functionality, these socks are sure to stand the test of time alongside the rest of your Filson gear, and we'd say that's nearly a guarantee.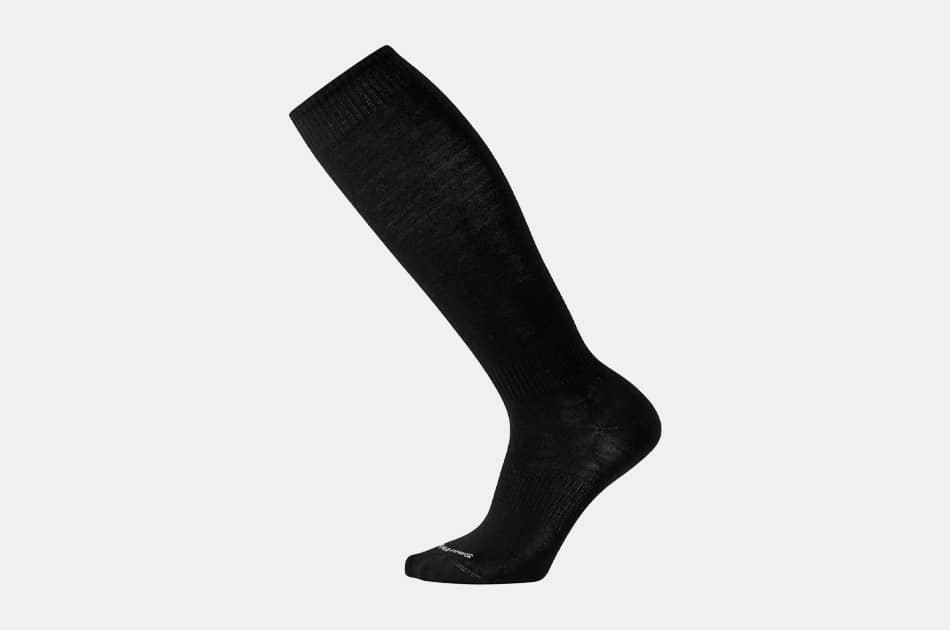 Smartwool Over-The-Calf Boot Socks
Smartwool delivers time and time again when it comes to the ideal blend of form and function, and if it's boot socks you seek, you're certainly in luck. These over-the-calf socks are designed to stay up without slipping, ensuring a dependable fit and the kind of reliability you need when lacing up your favorite boots out in the field.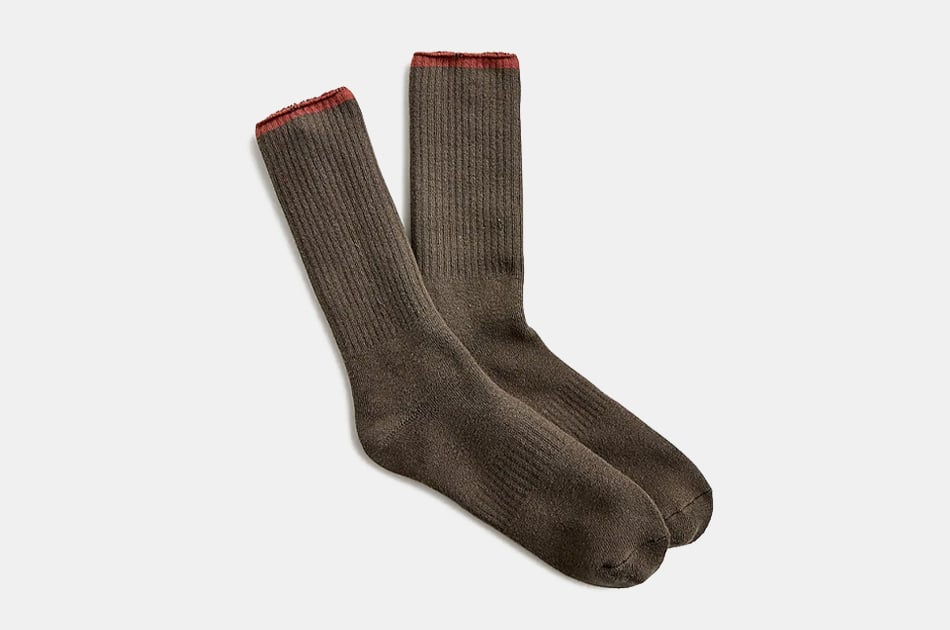 J.Crew Lodge Socks
The right boot socks hit the mark on multiple fronts, and that's the case with the stylish, rugged and reliable J. Crew Lodge Socks. Consider them an excellent companion to rugged moc toe leather boots, selvedge denim, and a classic cardigan for winter days at home and on the road. And when you've got to slip off your boots, there's not a more stylish pair of socks to wear around the house.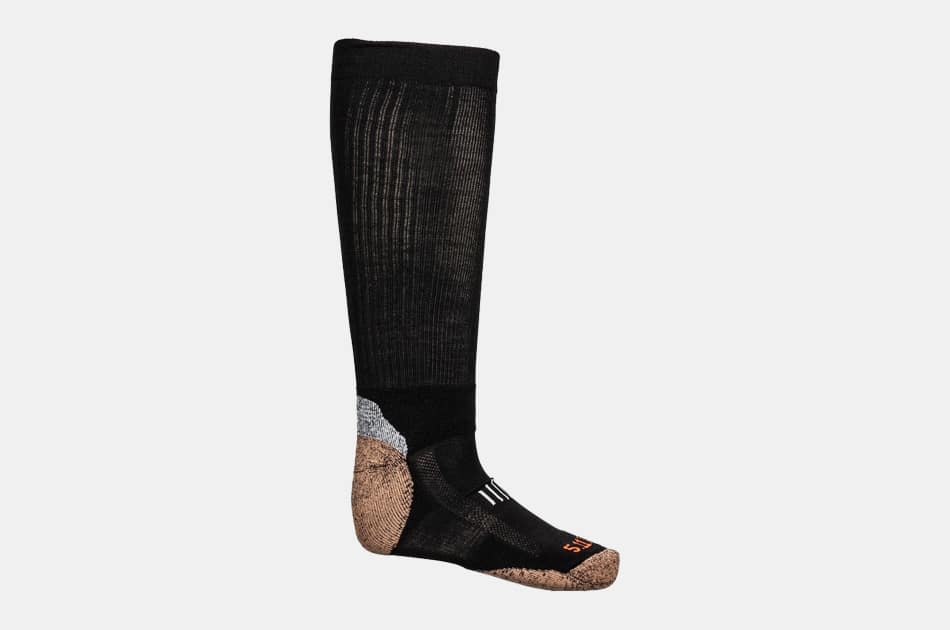 5.11 Merino OTC Boot Socks
5.11 Tactical delivers the kind of gear you can count on when you need it the most, be it for pursuits more tactical or more casual. When you need to pair up your 5.11 Tactical boots with the best boot socks, it only makes sense to get yourself a pair from the brand itself. If you want quality and functionality you can count on, you want these socks.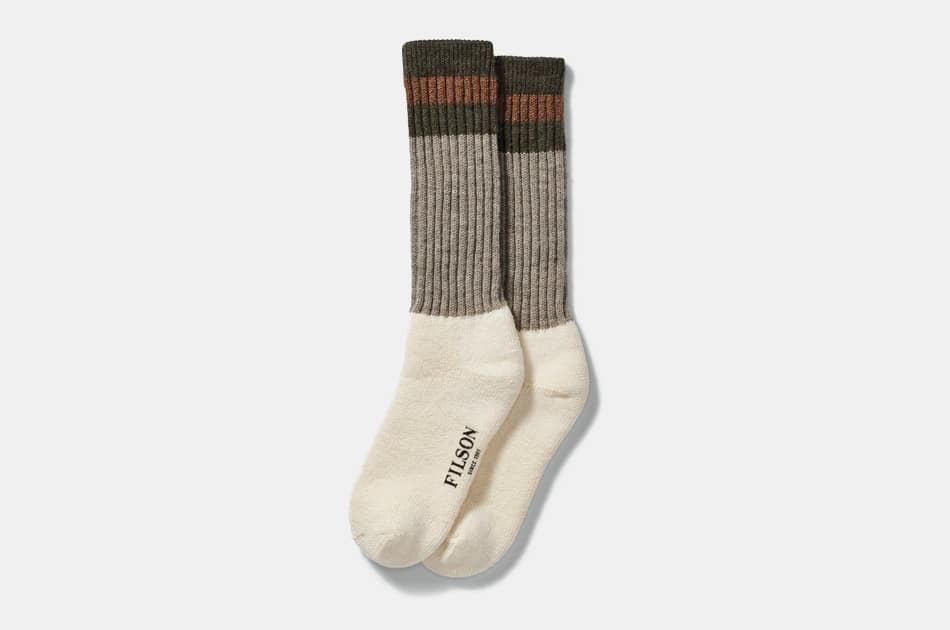 Filson 1970s Logger Thermal Socks
If we've said it once, we've said it hundreds of times — Filson's reputation for making the best gear and the most "unfailing goods" definitely precedes itself. The brand assuredly doesn't cut any corners either, and that's the case with the 1970s Logger Thermal Socks, made the right way to stand up to years of wear and tear.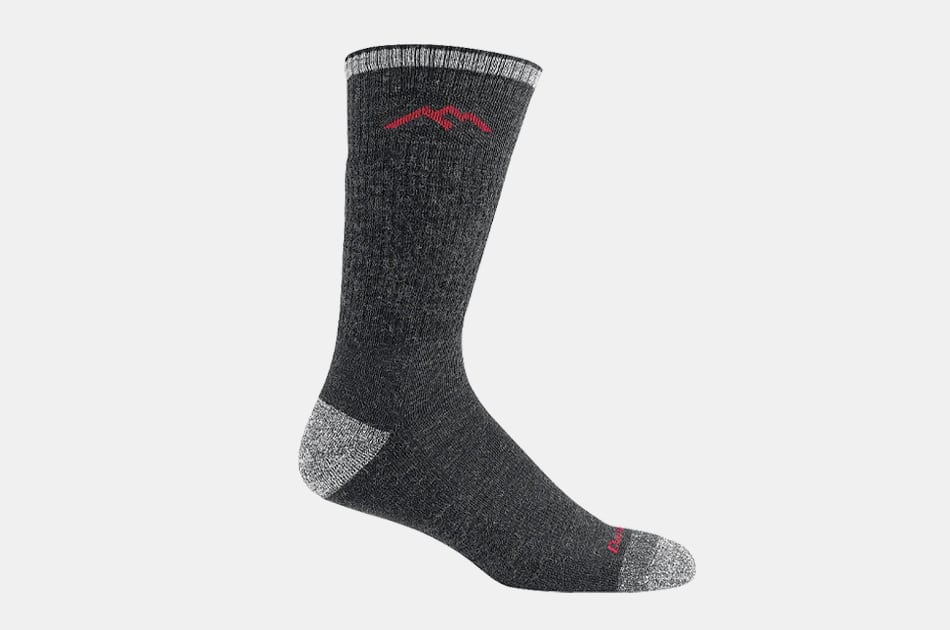 Darn Tough Hiker Boot Socks
Here's the scoop: If you spend too much time out in the field or on the trail without the proper socks (or boots, for that matter), you're assuredly going to feel it in a hurry. Take care of that problem upfront and give your feet a gift they'll thank you for, because these Darn Tough Hiker Boot Socks readily stand up to their name.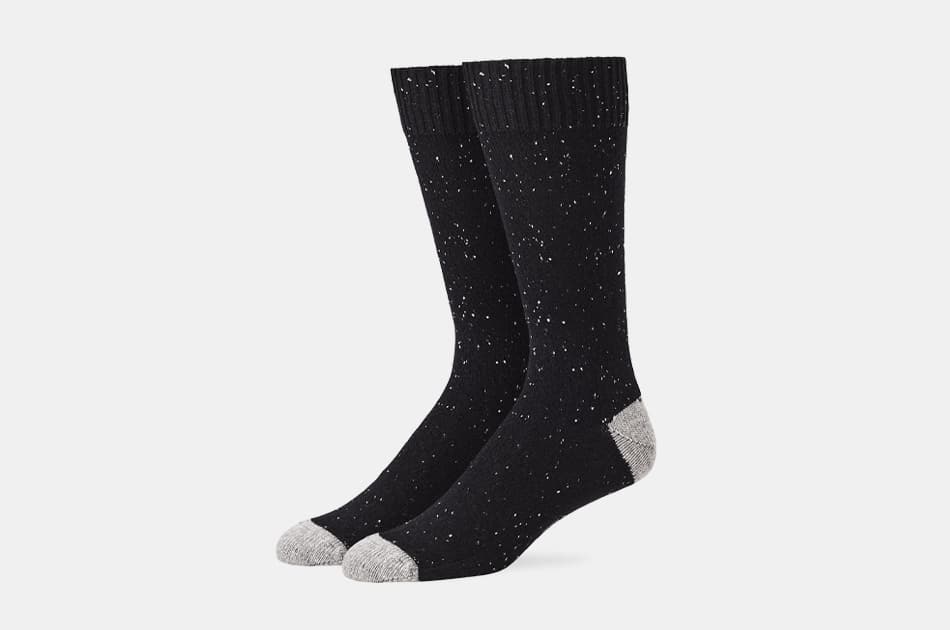 Mack Weldon Cashmere Extended Crew Socks
When you want performance and style in one package from head-to-toe, you certainly want to look into what Mack Weldon has to offer. Be it the brand's moisture-wicking T-shirts, cozy sweatpants, functional basics, or these comfortable, refined socks, the Mack Weldon name means quality in every stitch.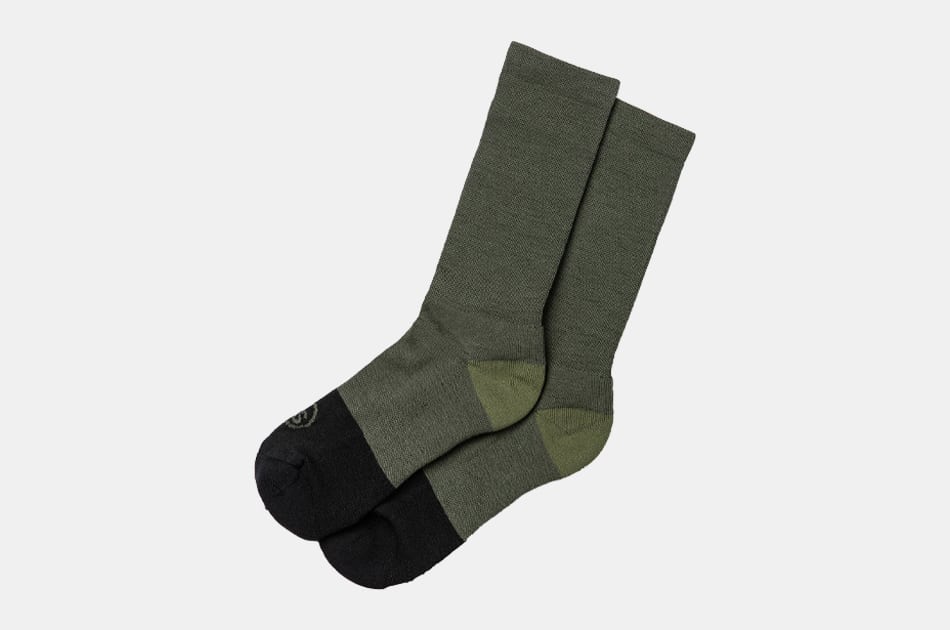 Taylor Stitch Merino Socks
There's a great chance that if you've tried out even just one style essential from Taylor Stitch, then you're a fan for life. The brand inspires devotion from plenty of fans across the board, and we'd wager you'll feel the same way right down to the brand's timeless and modern accessories, including these travel-friendly merino socks.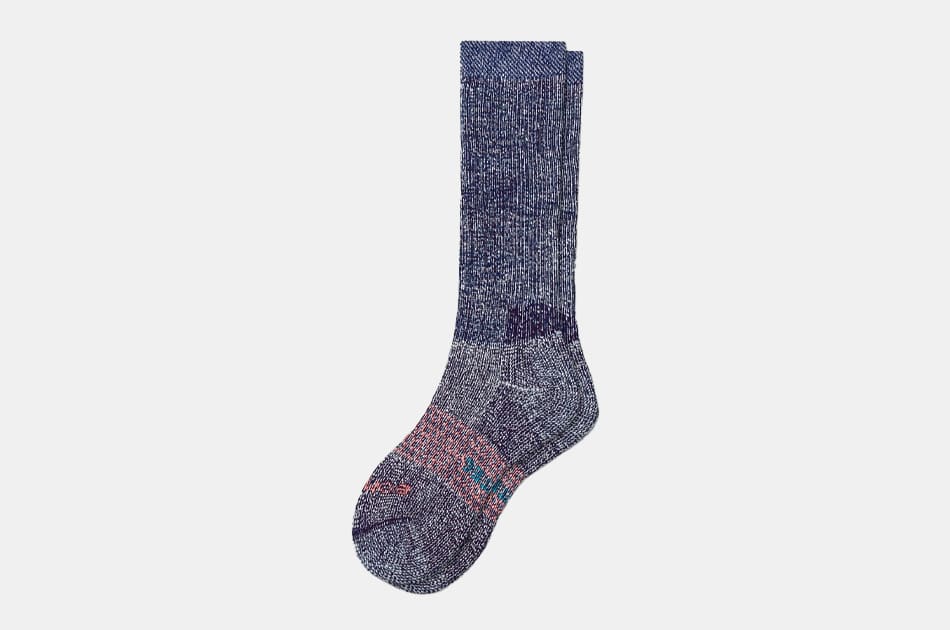 Bombas Work Boot Calf Socks
Bombas cut its teeth making some of the best socks on the planet, so you can rest assured knowing that they've put that same approach to the test in the making of the aptly named Work Boot Calf Socks. Team them up with your favorite pair of rugged leather boots for quality you just can't beat.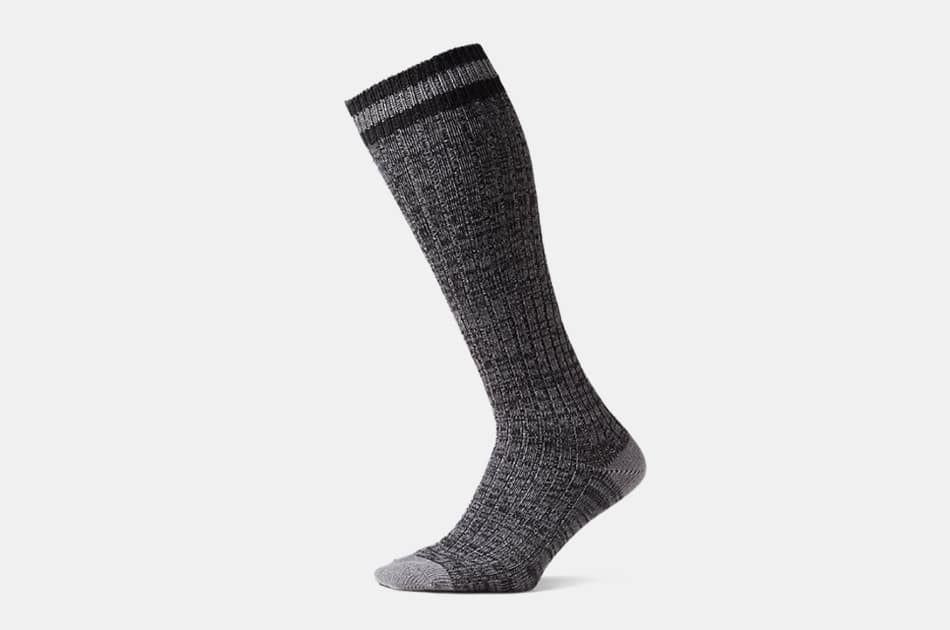 Eddie Bauer Cotton-Blend Ragg Boot Socks
Eddie Bauer's outerwear and gear has stood the test of time and held up on all kinds of excursions and adventures, so you can certainly be sure that even something as simple as a pair of socks hits the right mark when it comes to blending form and function.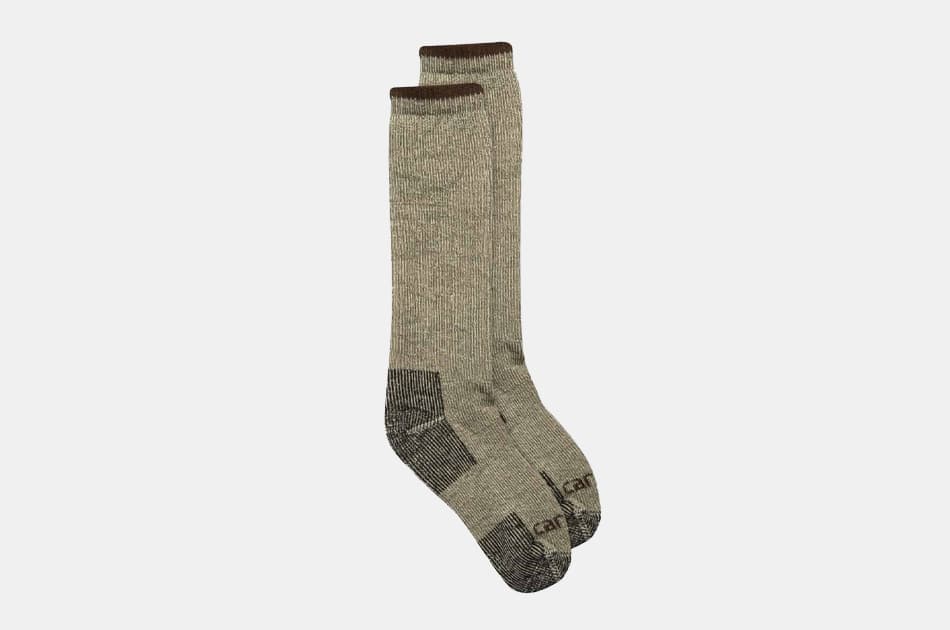 Carhartt Arctic Wool Heavyweight Boots Socks
For a hard day's work out in the field or the shop, you know that Carhartt gear can pass muster (to say the very least). That's perhaps no more true than with the Arctic Wool Heavyweight Boots Socks, the kind of dependable and rugged socks you're going to want on your feet all winter long. Just add a Carhartt workwear jacket and call it good.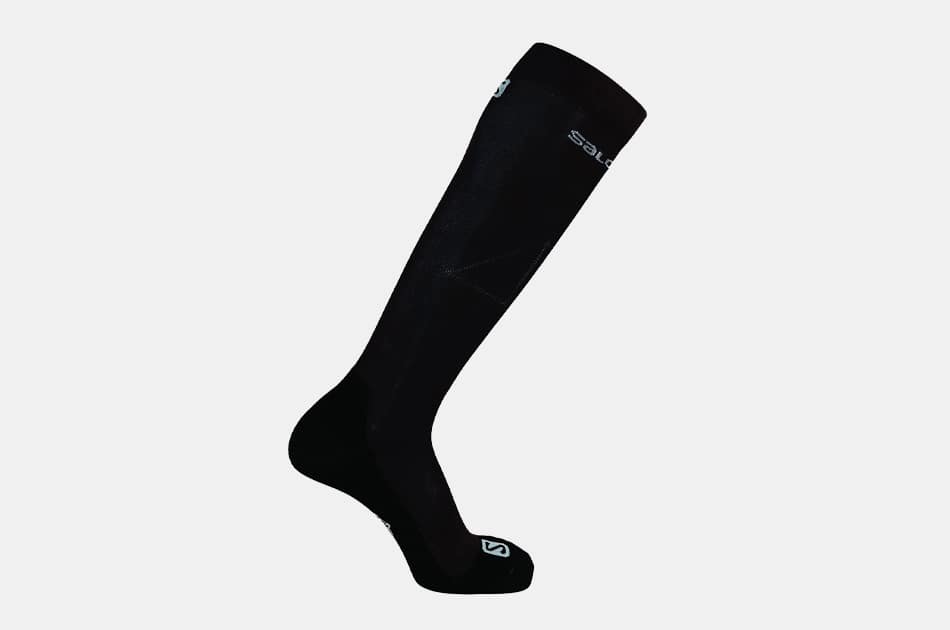 Salomon GST Socks
Salomon doesn't cut corners when it comes to making the best outdoor gear for all kinds of inclement weather on the slopes and off. It's an approach we admire, and one that also comes in quite handy in your search for the best boot socks for men: The GST Socks fit the bill quite nicely, we think.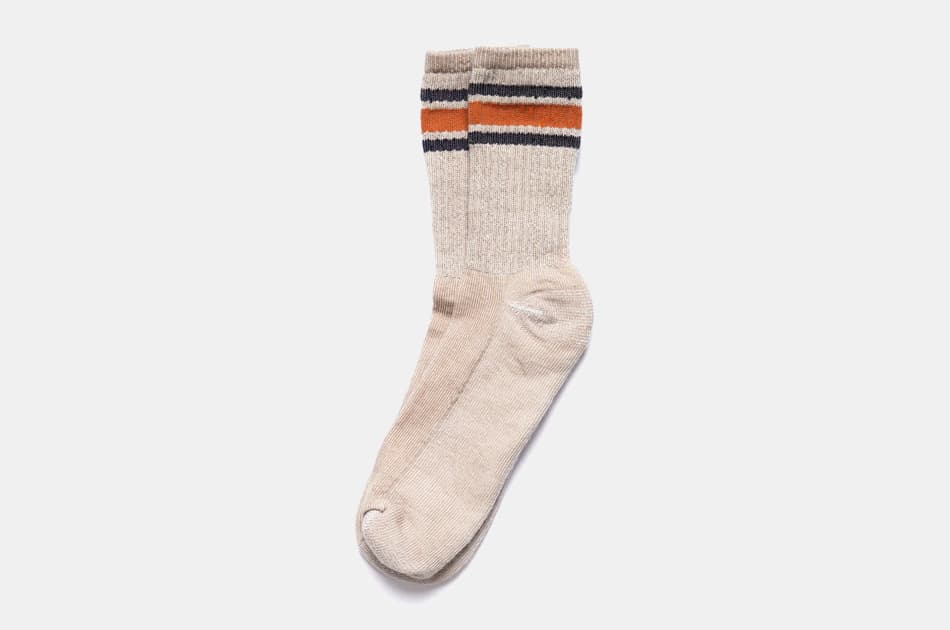 American Trench Merino Activity Sock with Silver
Once you try out American Trench socks, we think you might not go back to wearing any other brand (aside from any of the brands on this list, that is). The Merino Activity Socks use real silver to provide anti-microbial qualities, to go along with plenty of serious style points. All that's missing is your favorite pair of boots.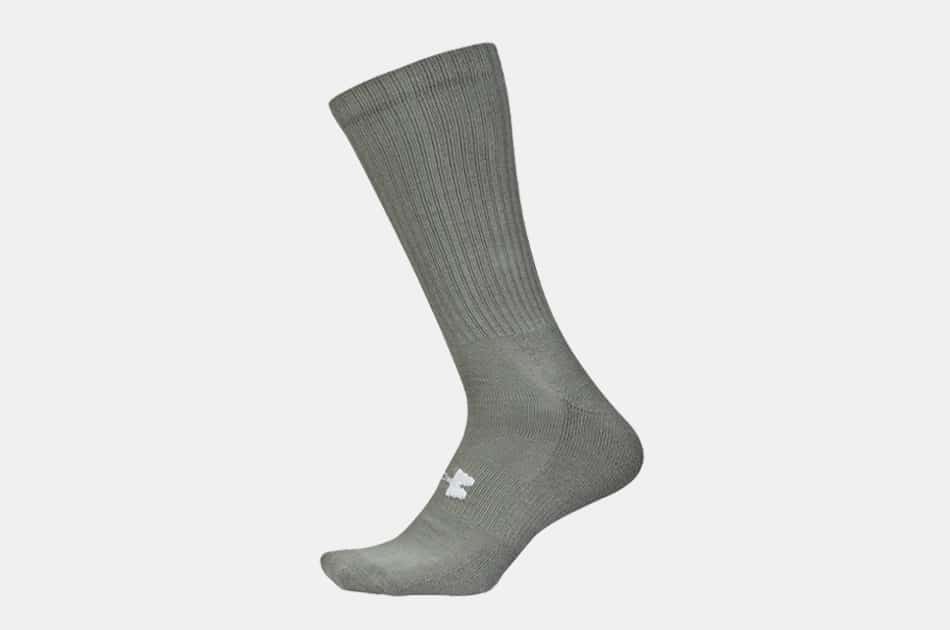 Under Armour HeatGear Tactical Boot Socks
If you've tried out Under Armour's athletic gear or top-notch training shoes, you're going to like what else the brand brings to the table in terms of the performance-minded Tactical Boot Socks. Affordable for the quality and performance, they could just become your new go-to socks.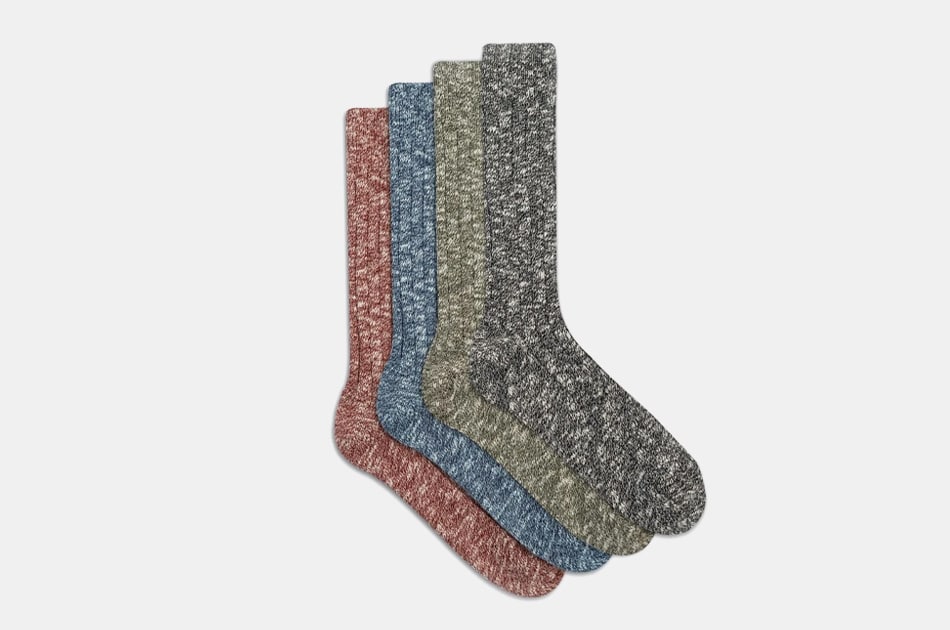 Thursday Boot Co. Sodello Classic Boot Sock
Once you've stepped out in rugged, utterly classic boots from Thursday Boots, little else compares in terms of fashion-forward looks and weather-ready performance. It only makes sense, then, that the Sodello Classic Boot Socks would wrap things up rather nicely as far as finding the best boot socks for men.
Disclosure: Clicking on these links and making a purchase may earn us a small referral fee, at no extra cost to you. Learn more here.
freestar.config.enabled_slots.push({ placementName: "gearmoose_leaderboard_btf", slotId: "gearmoose_leaderboard_btf" });