The 12 Best Carbon Fiber Wallets
Carbon fiber is fascinating stuff. Stronger than steel at a fraction of the weight, it makes hyper cars go hyper fast and optimizes wind turbine blades. It's also quite pricey. So while a carbon fiber McLaren might not be on your shopping list right now, the small size of a wallet makes it a perfect candidate for taking advantage of this space age material. Carbon fiber wallets, when done right, can last decades, and they'll look cool the whole time.
We rounded up twelve of the best carbon fiber wallets you can buy right now. Depending on your EDC preferences, you can go for a traditional bifold (made from untraditional carbon fiber) or head into minimalist territory with lightweight wallets made even lighter thanks to their carbon fiber components. Every style and budget is represented, giving you twelve ways to carry your essentials — in sturdy, lightweight style.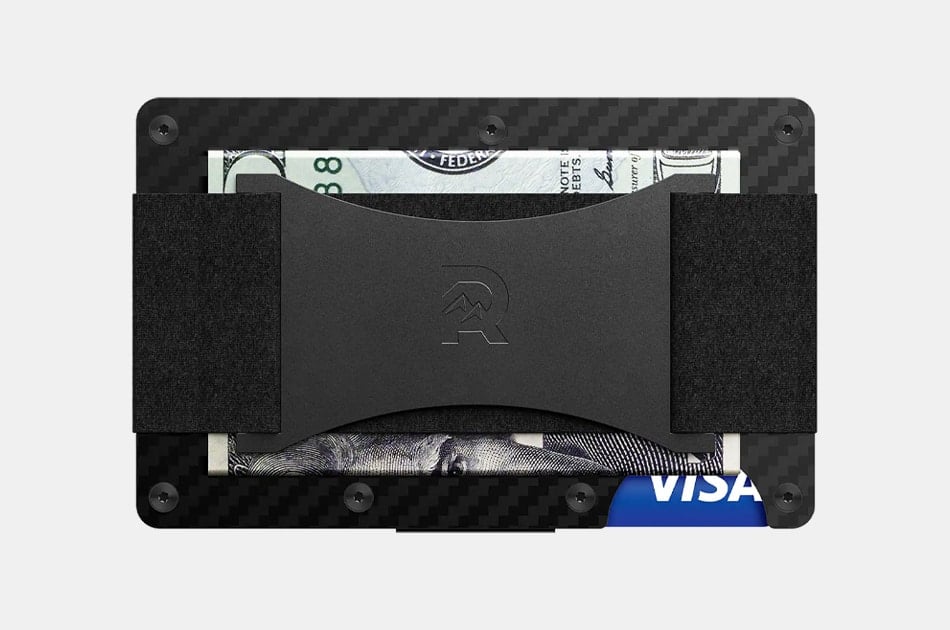 The Ridge Carbon Fiber Wallet
We used and abused the Ridge Wallet, finding it to be solid, sleek, and functional — an ideal minimalist wallet. Wrap that Ridge in 3k carbon fiber and now you have an even lighter, yet still tough-as-nails wallet that carries exactly what you need. The Ridge Carbon Fiber Wallet has the capacity to carry from one to twelve cards between two plates held together with an extra durable (and replaceable) elastic band. Pick either a money clip or money strap to hold your cash and complete the overall utility.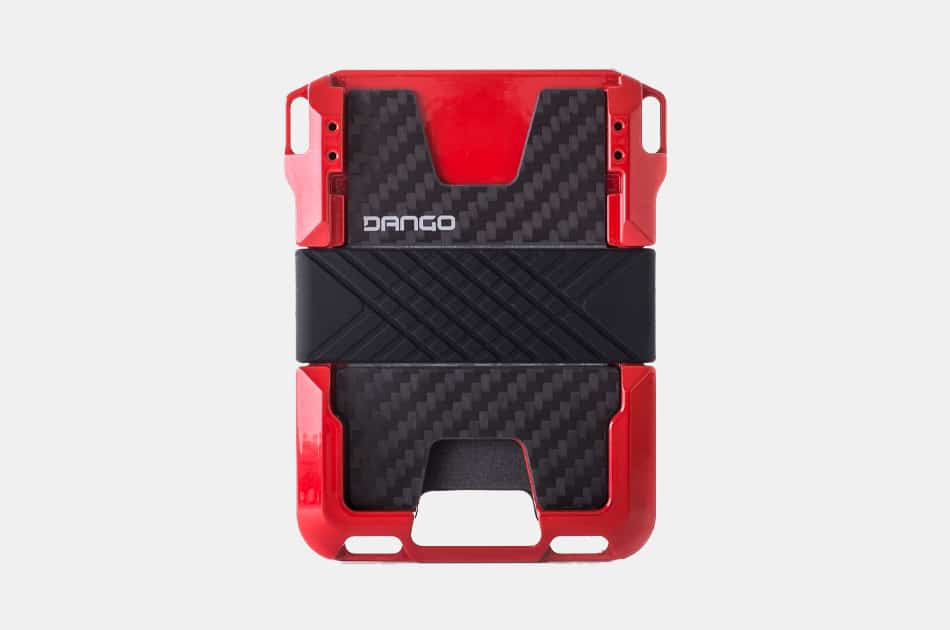 Dango M1 R-Spec Wallet
Dango has a long history of building minimalist wallets that look like no other wallets out there. Now they're offering one that does echo something familiar: high-performance sports cars. Like a candy red Aston Martin or a bespoke Bugatti, the R-Spec version of the Damgo M1 is built from high-end materials and exacting detail: carbon fiber on the back plate, powder coated aerospace-grade aluminum chassis, and top-grain leather bolted to the front plate. The M1 R-Spec Wallet will accommodate ten cards, plus cash in the silicone strap, and it's compatible with Dango's in-wallet MT04 multi-tool.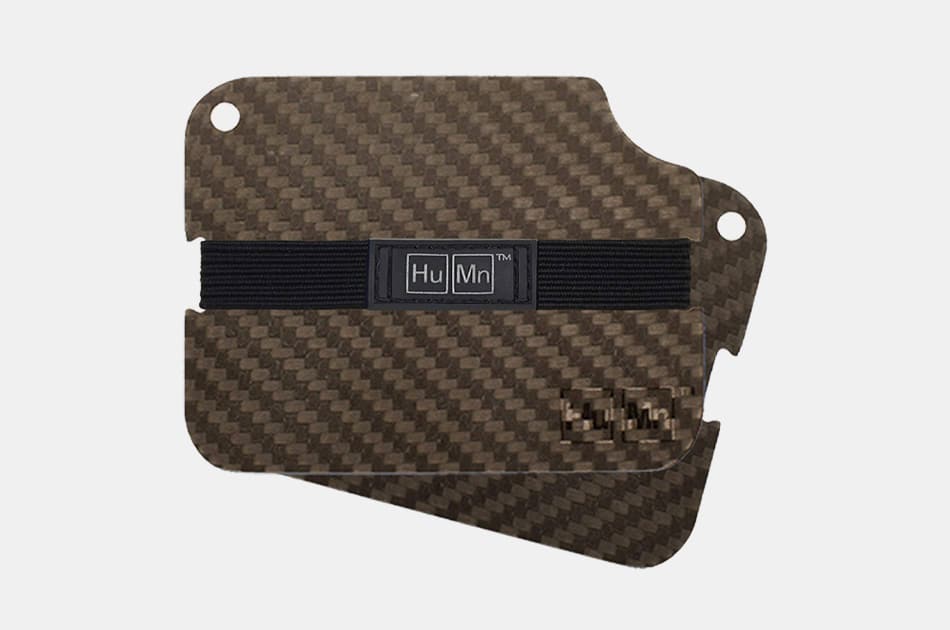 HuMn Carbon Fiber Wallet
Taking the simplicity of the minimalist wallet and paring it down even further, HuMn Wallets are made up of two plates surrounded by their Shock Strap elastic band. No bolts, no rivets, no stitching. Their first wallets were made from a rainbow of Bright Dip Anodized aluminum, but now you can get your HuMn wallet made from 3K carbon fiber sheets. The wallet can hold six cards inside, plus a few business cards and cash in the strap on either side of the exterior.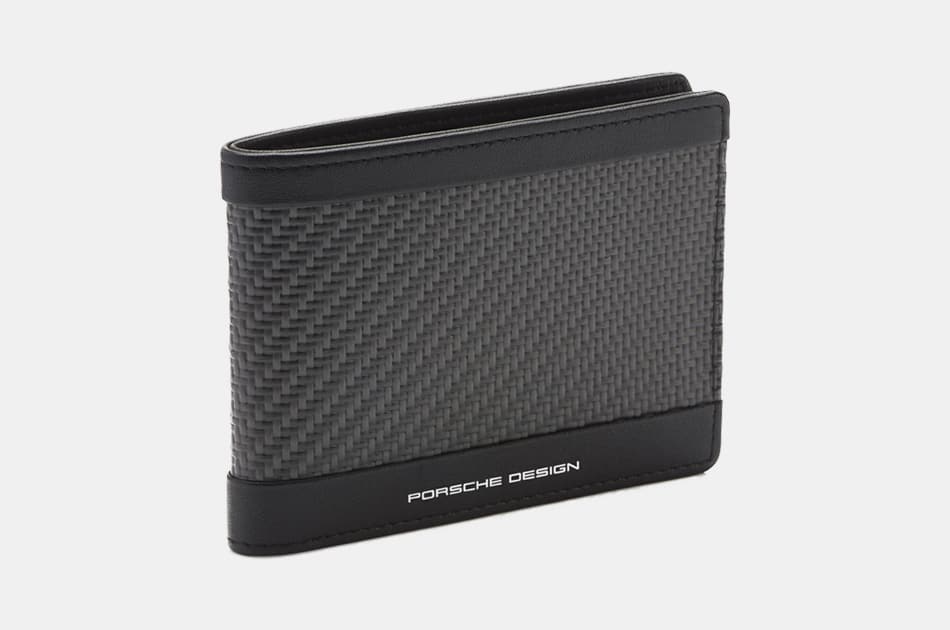 Porsche Design Carbon Fiber H6 Wallet
If you want a wallet with some design heritage behind it, go for one from Porsche Design. A subsidiary of the car company, Porsche Design was founded by F.A Porsche who was the grandson of Porsche's founder and the one who designed the original 911. The company makes everything from eyewear to timepieces to phone cases — each piece a study in form following function. Their leather and carbon fiber H6 Wallet is a simple bifold with slots for six cards plus two ID pockets and two compartments for cash.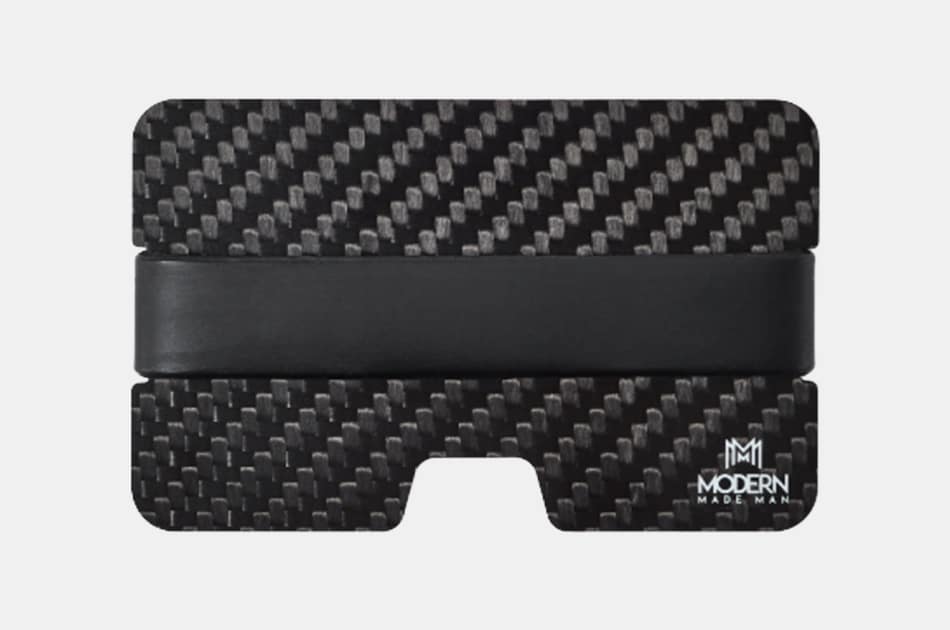 Modern Made Man Carbon Fiber Wallet
Another entrant in the race towards simplicity, the Carbon Fiber Wallet from Modern Made Man also happens to be one of the lowest priced options on our list. Just three elements make up the wallet's design — two carbon fiber plates and a strap. This time the strap is rubber and will expand to hold up to ten cards, or a mix of cards and folded bills.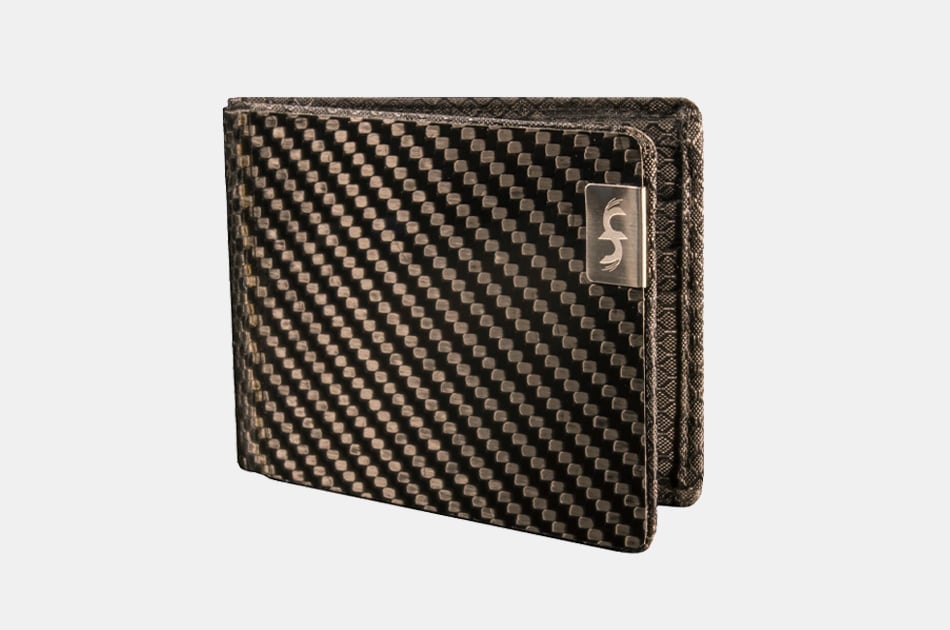 Common Fibers Carbon Fiber Bifold Wallet
Carbon fiber is an innovative material. The three engineers behind Common Fibers wanted to push that innovation even further, dreaming up new ways to use the strong and light stuff. Many of those ideas required a carbon fiber hinge — which didn't exist. Years of experimentation (involving lasers, no less) lead to the invention of the CF-Lex hinge, the technology that's behind all products Common Fibers makes. Their Carbon Fiber Bifold Wallet is their original offering and offers an eight card capacity, a bill fold cash compartment, and a colorful (or just black) ripstop nylon interior.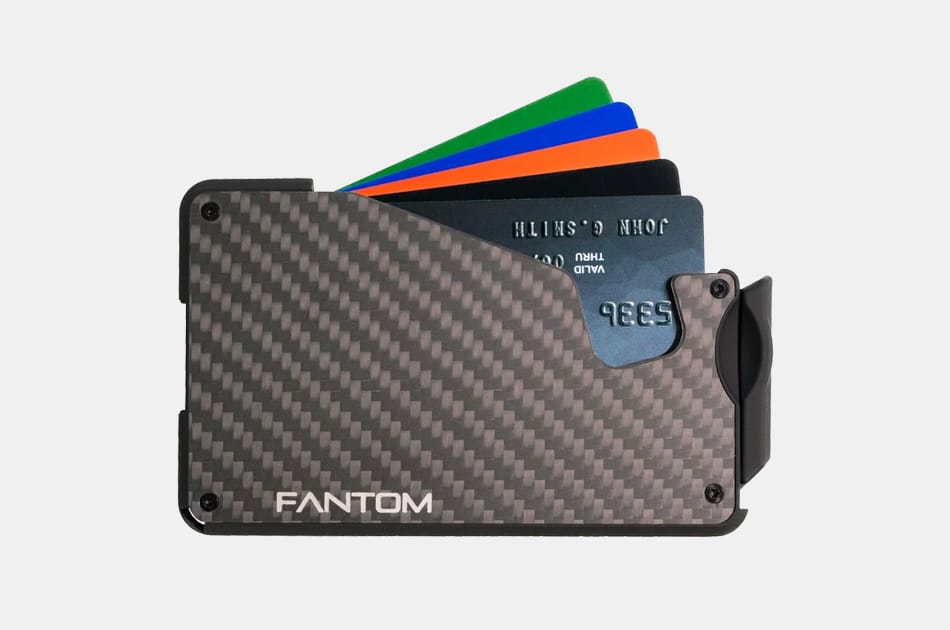 Fantom Carbon Fiber Wallet
Getting at your cards and bills in a minimal wallet requires more effort than just flopping open a bifold. If you want a more automated minimalist experience, Fantom built the wallet for you. A pull lever at the top perfectly fans out your cards so you can pick the one you need. The aluminum frame wallet comes in your choice of thickness — the thinnest holding four to eight cards, the biggest between eight and thirteen. You can opt to add a money clip and even a coin compartment if you don't like your pockets to jingle.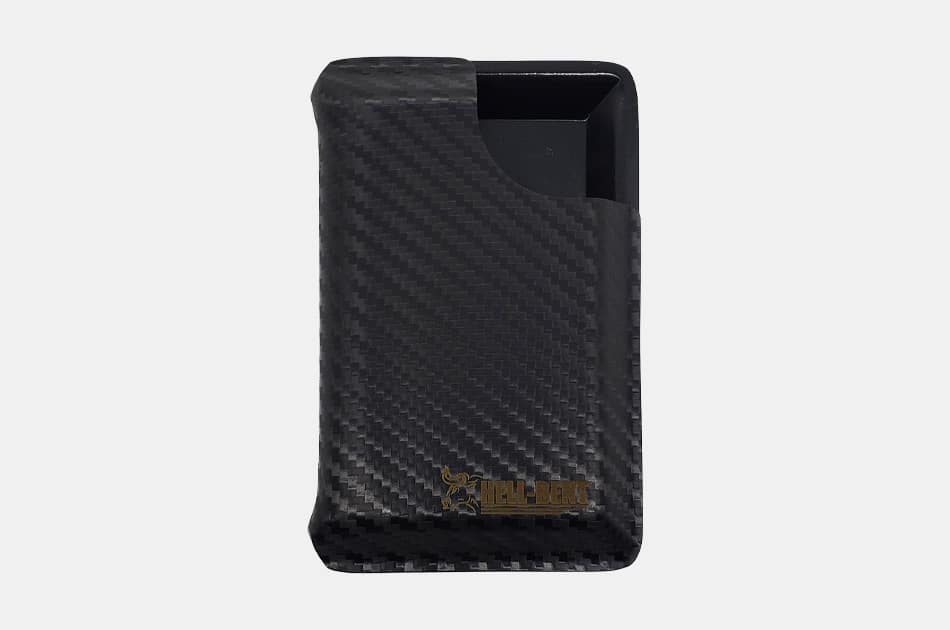 Hell-Bent Black Carbon Fiber Combat Wallet
Hell-Bent started out making Kydex holsters, then started applying the impact-resistant, molded thermoplastic to wallets. Their Carbon Fiber Wallet is essentially a sheet of Kydex precision molded into a patented shape that holds your cards firm with built-in tension. To complete the look, it's finished with carbon fiber. The notch allows you to slide out and fan your cards to get at what you need and the medium and large sizes accommodate any Hell-Bent money clip — including the carbon fiber clip if you want to keep things consistent.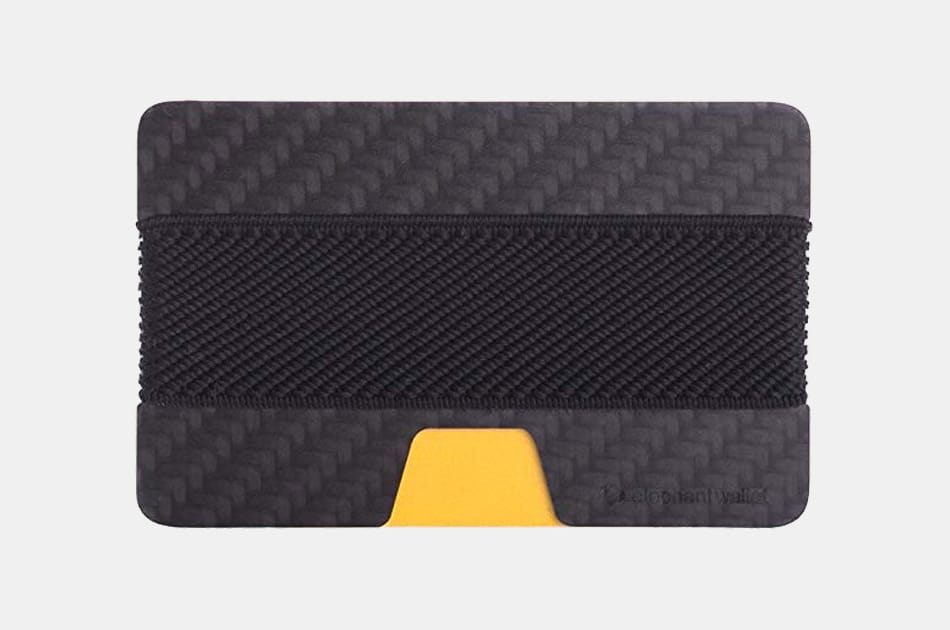 ElephantWallet Carbon Fiber N Wallet
Family-owned Polish company ElephantWallet puts out a variety of minimalist wallet designs — from simple elastic bands to aluminum cases to plate-and-band configurations. Each is made from a wide range of materials including wood, silicone, leather, aluminum — and of course, carbon fiber. The Carbon Fiber N Wallet is made from two carbon fiber plates secured with an elastic band. With a one to sixteen card capacity and a relatively low price point, it's a good entry point into minimalist carbon fiber EDC.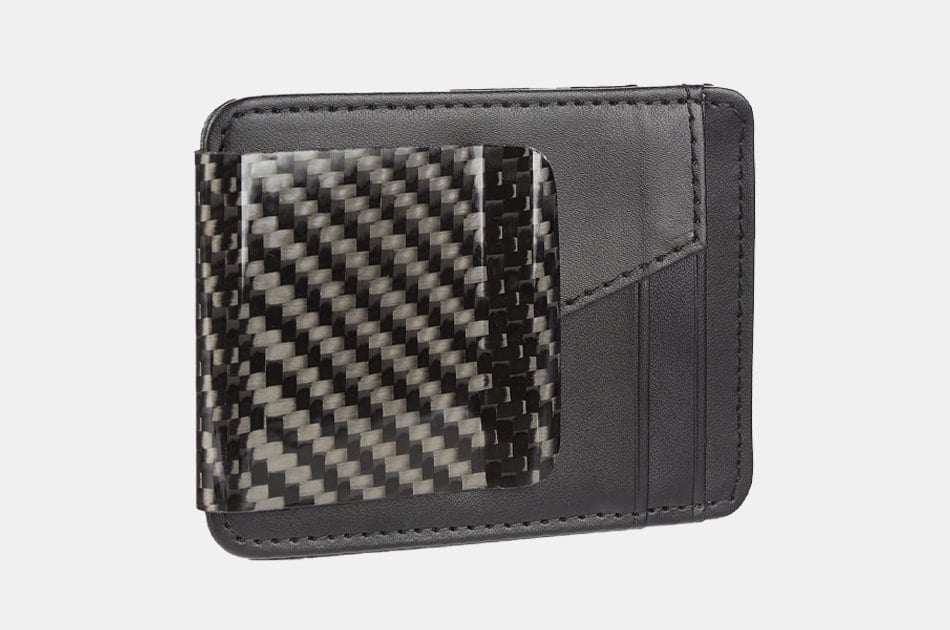 RC Fibers D15 Carbon Fiber Money Clip
Here's a subtle shift on the minimalist wallet design. The carbon fiber on the RC Fibers D15 wallet comes in the form of a beefy money clip. A leather insert has the capacity to hold four cards, with one cut-out slot for fast-access. Wrap your bills around the insert then slide the carbon fiber clip over the whole affair for slimmed-down EDC that's a step more complex than a stand-alone money clip.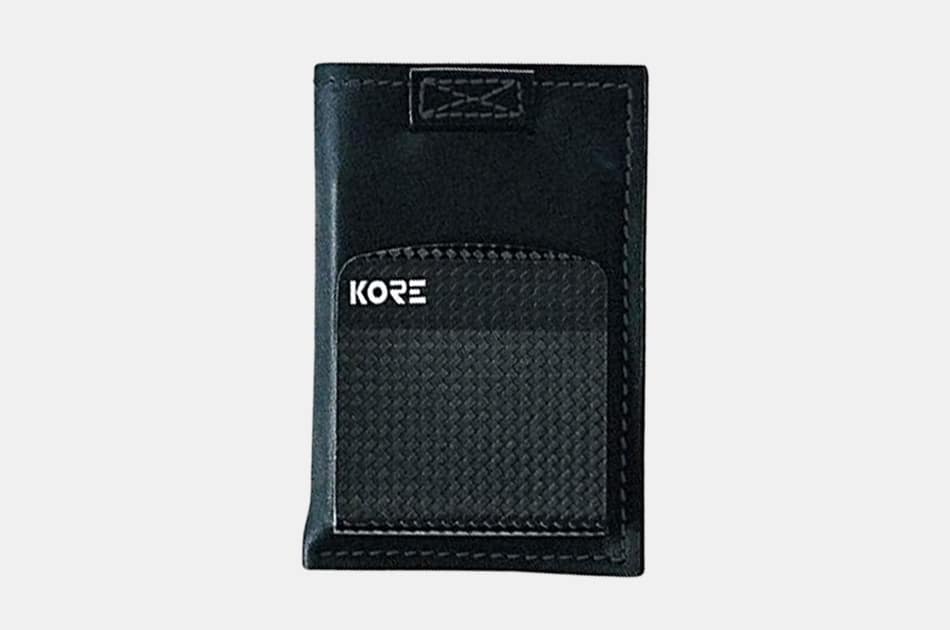 Kore Slim Wallet + Carbon Fiber Money Clip
Known for their hyper-adjustable belts and magnetic-arm sunglasses, Kore is also in the slim wallet business. The Slim Wallet + Carbon Fiber money clip features an extra wide carbon fiber money clip which you can choose to use by itself or slot into the slim leather wallet. Access your cards (it'll hold up to eight in the main compartment) with a pull on the integrated tab that lifts out your plastic, then tucks away when you return your cards. There's an easy access pocket in front that'll hold one or two cards and the money clip holds your bills with a simple half fold.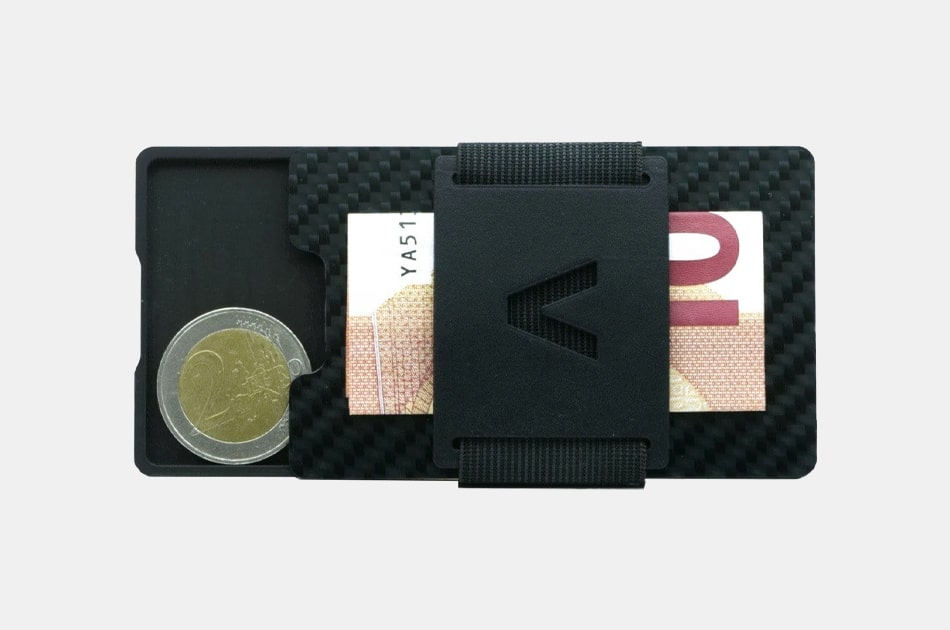 Aviator Carbon Fiber Wallet
Custom-made in Germany, each Aviator wallet is built to hold exactly as much as you want it to. Choose between three different card capacities (thanks to the adjustable inner elastic, you can always change that capacity later), then decide if you want a coin holder or not. If you deal in cash often, opt for the carbon fiber cash plate that upgrades the elastic cash strap for easier bill handling. The Aviator Carbon Fiber Wallet employs a simple push-and-fan system for card access and uses a drawer-like action for the coin holder. For added luxe, the frost-finish carbon fiber is made by a German manufacturer of race car parts.
Disclosure: Clicking on these links and making a purchase may earn us a small referral fee, at no extra cost to you. Learn more here.
freestar.config.enabled_slots.push({ placementName: "gearmoose_leaderboard_btf", slotId: "gearmoose_leaderboard_btf" });