The 15 Best Men's Chelsea Boots
Is there a boot silhouette that can take on so many different forms and capture different vibes quite like the classic Chelsea boot? At once a staple of classic style, worn by rockers for decades, today's Chelsea boots can lean more rugged (worn-in leather or suede), or just as sharp and dressy as you'd like. And our list of the best men's Chelsea boots will cover all those bases — just you wait.
The Chelsea boot is a sleek, sharp addition to any man's footwear rotation, up there with the lace-up work boot or durable hiking boots as an essential for the chillier parts of the year. Chelsea boots can dress up slim blue denim and a striped henley, and they can stylishly complement a richly textured fall blazer or worsted wool suit — it's all on the table. If you haven't given the style a shot yet, the below list of the best men's Chelsea boots is one way to get acquainted with what could become a go-to pair of fall boots.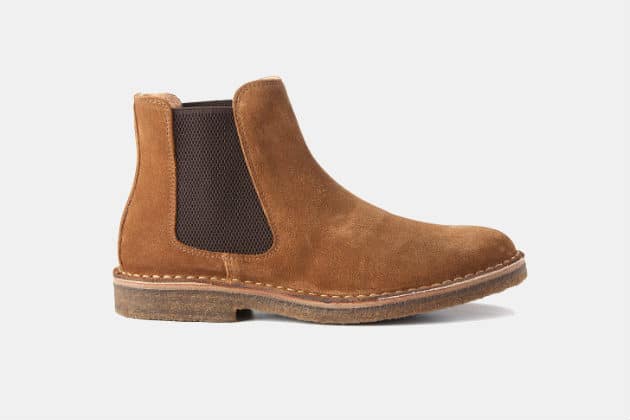 Astorflex Bitflex Chelsea Boots
From suede chukkas to surprisingly durable lace-up boots, Astorflex takes a careful, nuanced and sustainable approach to its craft. The brand's Bitflex Chelsea Boot is no different — it's a particularly versatile and sharp Chelsea boot to buy if you're just dipping your toes into the market. Made in Italy by a sixth-generation family business and done up with excellent construction, they're a prime choice. Plus, they're available for a shockingly affordable price, the Bitflex Chelsea would pair especially well with black denim and an indigo denim jacket — plus your favorite white henley. – Shop Now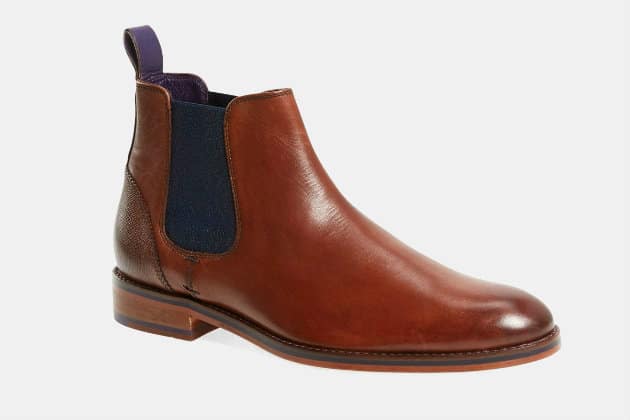 Ted Baker London Camroon 4 Chelsea Boots
Ted Baker has a terrific handle on sensible, tailored style for the gentlemen on the go, so it should come as no surprise that the Camroon 4 Chelsea Boots fit right in with the brand's ethos. Featuring contrasting side panels for a bit of added flash, the Camroon Chelsea Boots should be an easy style move if you want to stand out from the crowd a little more. That's particularly the case when peeking out from underneath a worsted wool suit or burgundy corduroys — don't forget to add a charcoal cardigan. – Shop Now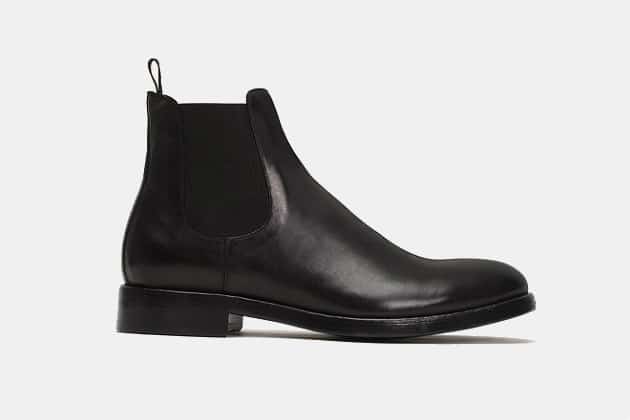 Frye Chase Chelsea Boots
When it comes to craftsmanship and quality, the Frye brand speaks for itself. If you haven't yet acquainted yourself with their gorgeously crafted, durable boots, let the Chase Chelsea Boot be your first introduction. And it's a heck of an introduction, at that: Made in Italy, the Chase Chelsea Boots come in two shades of antiqued leather, the type of patina that'll only get better with time. With a leather lining for comfort and an investment-level price tag approaching $500, you'd be hard-pressed to find a better pair of boots on the market. – Shop Now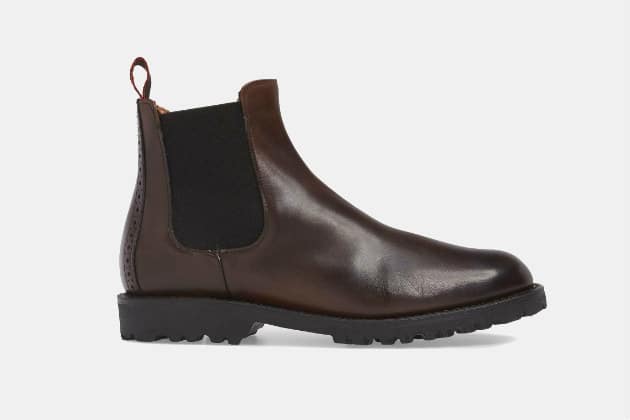 Allen Edmonds Tate Chelsea Boots
A new introduction to the Allen Edmonds line this fall, the Tate Chelsea Boot takes everything you love about the classic Chelsea boot and places it atop a grippy, weather-ready sole. In the case of the sleek, stylish Tate Chelsea Boot, that means you get suit-ready quality with the functionality of an XL ExtraLight sole for added durability. It's a fine footwear pick any day of the week, no questions asked. If you needed a Chelsea boot to wear with a gray flannel suit, I think we found it for you — right? – Shop Now
Common Projects Suede Chelsea Boots
Don't look now, but the brand that makes your favorite pair of white leather sneakers — heck, possibly the best pair of white leather sneakers out there — can also make a heck of a pair of Chelsea boots. Common Projects has taken the minimal silhouette of its classic sneakers and done up these boots in cool khaki suede with a crepe rubber sole, perfect for teaming with blue denim, grey chinos or dark olive corduroys. They're an investment that'll set you back more than $500, but it's definitely worth it. – Shop Now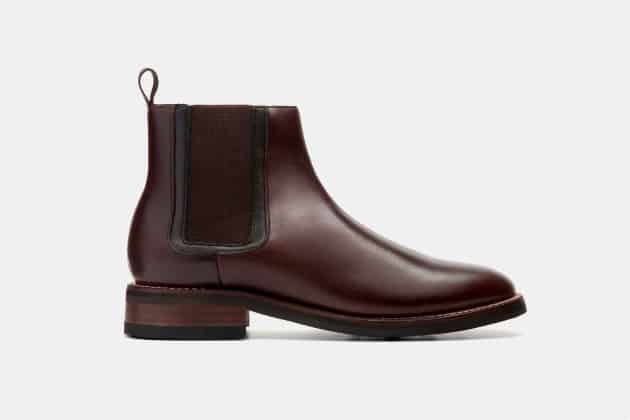 Thursday Boot Co. Duke Chelsea Boots
If you're hip to the Chelsea boot scene and want to add a pair to your rotation that's super-sleek and dressy enough to wear with a suit, meet the Duke Chelsea Boot from Thursday Boot Co. The brand's distinctive silhouettes are sharp and affordably priced — perfect for picking up a few pairs for fall and beyond. The Duke should certainly be on that list, what with Goodyear welt construction and a studded rubber outsole (the better to prevent you sliding on wet pavement this fall and winter). – Shop Now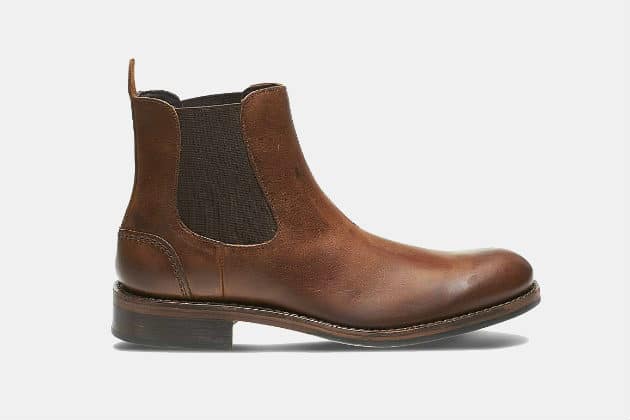 Wolverine Montague 1000 Mile Chelsea Boots
If there's one thing we know for sure about Wolverine, it's that the brand knows how to get the job done when it comes to the exceptional craftsmanship behind the 1000 Mile line. In addition to the brand's gorgeous lace-up boots, that approach carries over easily to the Montague Chelsea Boots, made from cool black suede and finished with a Horween Predator Leather upper for one-of-a-kind quality. They're even finished with a Goodyear welt, so you can keep on wearing them with rugged fall essentials for years to come. – Shop Now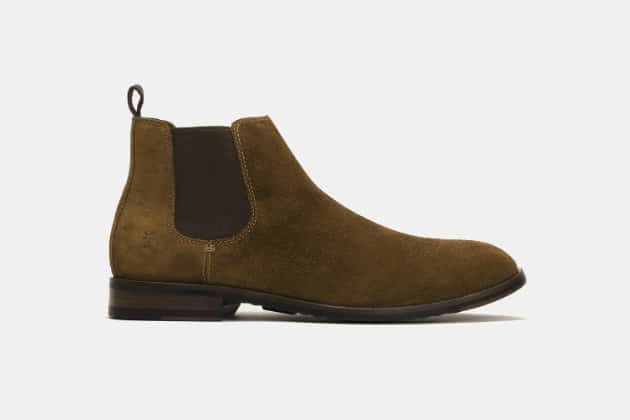 Frye Sam Chelsea Boots
Frye easily fills up another slot on this list with yet another ridiculously well-made pair of Chelsea boots fit for the season ahead (and the months beyond that). The Sam Chelsea Boot sports a lower price tag than other pieces from the brand, but packs in just as much style and durability. Antiqued cognac leather is our favorite choice for the Sam Chelsea Boot, and the slim profile of this particular pair makes it a worthy complement to navy chinos or corduroys, plus a tan herringbone blazer this fall season. – Shop Now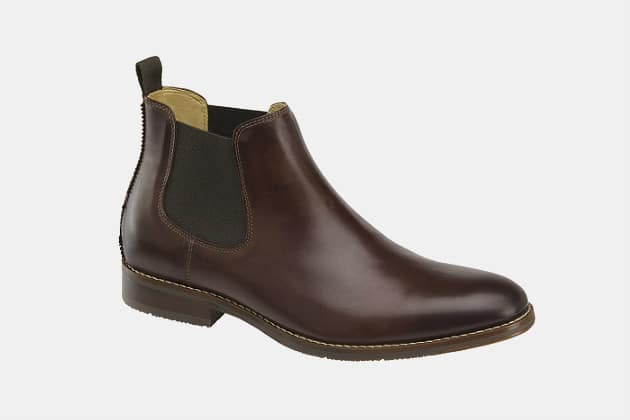 Johnston & Murphy Garner Chelsea Boot
Last but not least in our rundown of the best men's Chelsea boots — Johnston and Murphy. The lauded brand has excelled for years at making accessible styles for guys that look great and don't eat up a whole lot of coin; such is the case with the Garner Chelsea Boot. In a neat taupe suede color — it should look great with black or blue denim — the Garner Chelsea Boot is sleek, refined and slightly edgy; feel free to wear them with a black moto jacket to a concert if you like your Chelsea boots with some character. Snap them up for under $200, and they'll take you plenty of different places. – Buy It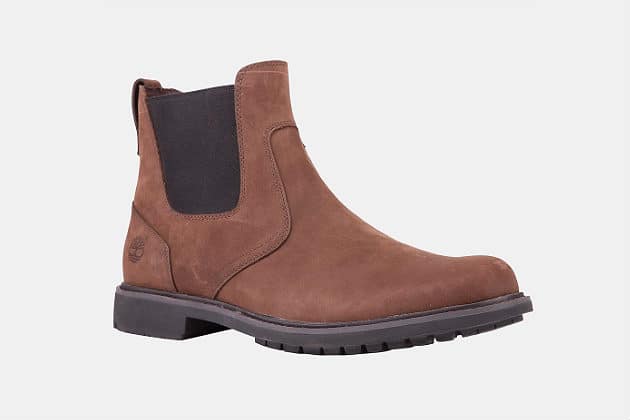 Timberland Stormbuck Waterproof Chelsea Boots
Want a boot that builds of the classic heritage of Timberland's waterproof construction boots, yet features a sleeker look and feel? Specifically, the sleek look and feel of a stylish Chelsea boot? That's where the Stormbuck Waterproof Chelsea Boots come into play — with the type of functionality you need for fall and a silhouette that doesn't look half-bad underneath your favorite jeans or olive chinos, the Stormbuck simply means you should make more space — and quickly, at that — in your closet alongside your classic Timberland boots. – Shop Now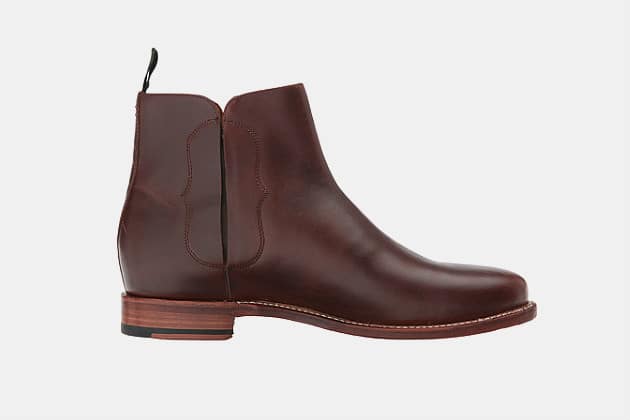 Ariat Maxwell Chelsea Boots
With a dash of Western style — fitting given Ariat's product assortment — the Maxwell Chelsea Boot is a cool, edgy way to switch up your footwear rotation this fall. Crafted to last (and featuring a slightly high price tag of $325), you're definitely getting a durable pair of Chelsea boots for the season ahead. They're made in the USA with a resoleable Goodyear welt, which means you can — and should — wear them with everything from tapered blue denim and a chambray shirt to grey chinos and a navy blazer. – Shop Now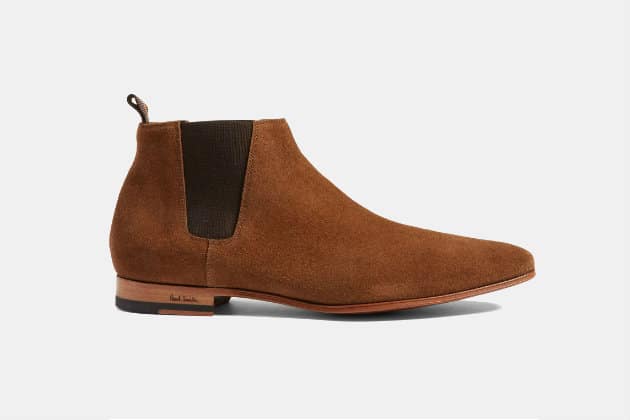 Paul Smith Marlowe Chelsea Boots
Paul Smith calls its Marlowe Chelsea Boot "charming," and you'd be hard-pressed to argue that — this boot is sleek, refined and stylish (plus, it's readily available at Nordstrom). With a shorter cut than other Chelsea boots and premium, made-in-Italy construction, these boots should be a new go-to when you're looking for a pair of tailored footwear that moves through the fall season with ease. We like the Camel Suede best for pairing with sharp navy chinos or burgundy corduroys for can't-miss fall style this season. – Shop Now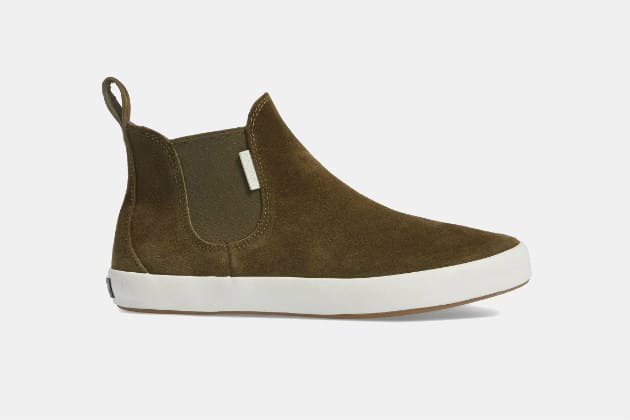 Sperry Wahoo Chelsea Sneaker Boot
Don't turn away from Sperry when the temperature starts to drop — products like the Wahoo Chelsea Boot should definitely make you think twice. Just as with the brand's iconic boat shoes, quality and craftsmanship are paramount, and that's just as true with these stylish Chelsea boots. Part boot, part sneaker, they're the sort of mobile, versatile footwear to wear with your favorite pair of faded denim and a grey crewneck sweater on the weekend. And during the week? They'll work with a merino cardigan, a crisp white shirt and charcoal trousers. – Shop Now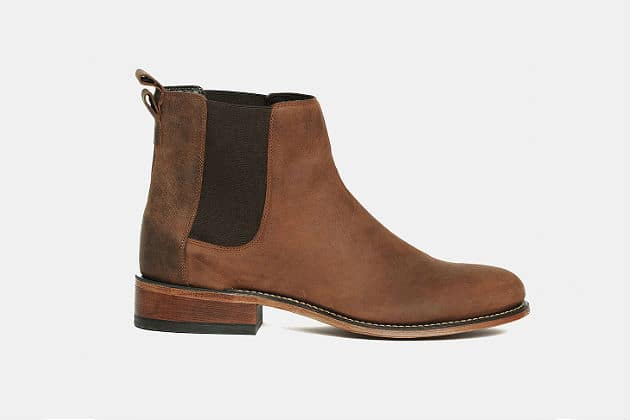 Mark Albert Classic Chelsea Boots
Chelsea boots with a bit more rugged appeal are what's on the table here when it comes to Classic Chelsea Boot from Mark Albert. Crafted with care and attention to detail to rival some of the more well-known brands on this list, the Classic Chelsea Boot features a unique and sharp Western last, plus strong Goodyear welt construction and a stacked leather henley. Chelsea boots like these are the kind to wear with a shirt jacket and a textured white chambray shirt alongside a pair of grey broken-in denim. – Shop Now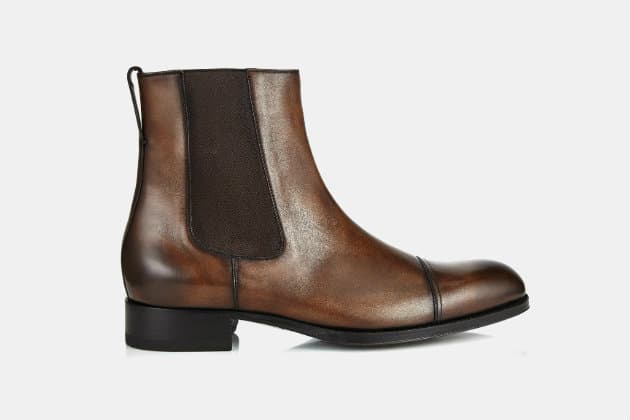 Tom Ford Edgar Leather Chelsea Boots
Tom Ford — the brand and the man himself — simply does not compromise when it comes to quality. That much is evident when it comes to the brand's Edgar Leather Chelsea Boots; with a price tag approaching $2,000, this is one pair of Chelsea boots not to be trifled with. They could be the very last pair of Chelsea boots you buy for a very long time, in fact. And once you've got them in hand (and on your feet?) Wear them all the time, with everything from Tom Ford denim to a Tom Ford suit (a guy can dream, right?). – Shop Now