20 Best Cold Weather Sleeping Bags
The calendar does not dictate when you go camping. If you want to get out there in February, you're doing it. And we respect that. But we also want you to avoid hypothermia. Here's our list of 20 cold weather sleeping bags that will keep you as warm and comfortable as possible when the nighttime temperatures drop — and just keep dropping.
You'll see a good selection of down options, along with a selection of (generally more affordable) synthetic sleeping bags. Our list includes bags with temperature limit ratings from 20° to negative 20° (with two that go all the way to negative 40°).
We called out the fill power for the down bags and the material used in the synthetic ones, along with the rating, pack weight, and shape of the sleeping bags (mostly mummy, but with a few alternatives too). Dive in, stay warm, and camp when you feel like it — not just when everyone else does.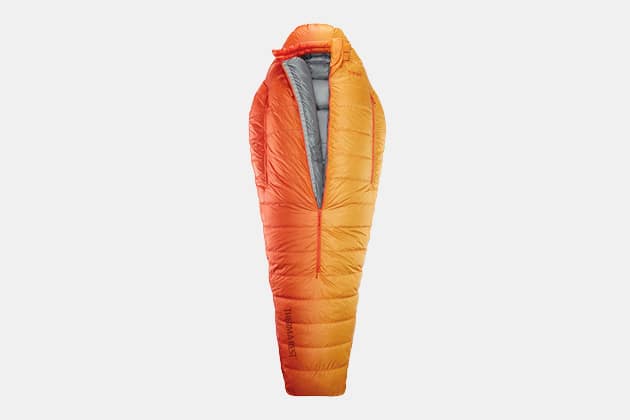 Thermarest Polar Ranger -20F Sleeping Bag
Limit: -20°F • 3lbs 4oz • 800FP Down • Mummy
This center zip bag was developed with the input of Eric Larsen, a guy who has explored both Poles and Everest — AKA a guy who knows cold. The side zip ports let you stick out your arms to drink your morning coffee without abandoning built up heat, but when zipped, draft tubes keep out the cold. Integrated clips pair with Thermarest mattresses for slip-free sleep and the down is responsibly sourced. With a four-below zero comfort rating and a twenty below limit, the Polar Ranger is ready for extremes. – Shop Now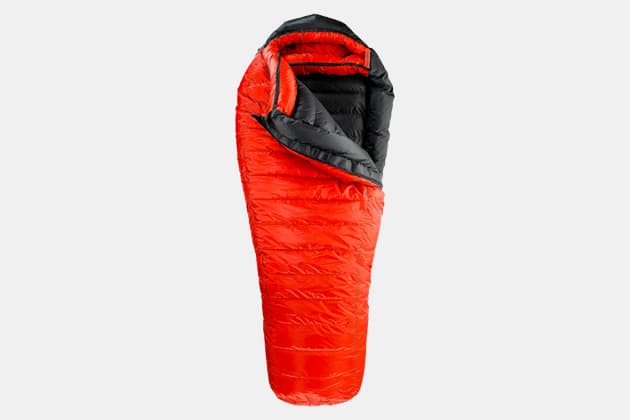 Western Mountaineering Bison Expedition -40 Degree Sleeping Bag
Limit: -40°F • 4lbs 10 oz • 850FP Down • Mummy
Camping when it hits forty below zero is not amature hour. Luckily Western Mountaineering doesn't make sub-par gear. All their gear is meant to last decades and they manufacture all of it in their California factory. Their goose down is among the highest loft power available — collected in Eastern Europe from naturally molting geese. The Gore Windstopper fabric keeps out the wind and elements while the ten inches of loft keep your body heat effectively in place. The collar seal at the shoulders is down-filled and the stuffed hood features a large ruff to seal your face from the cold. This is a top-of-the-line company making a top-of the-line bag that could be a literal lifesaver. – Shop Now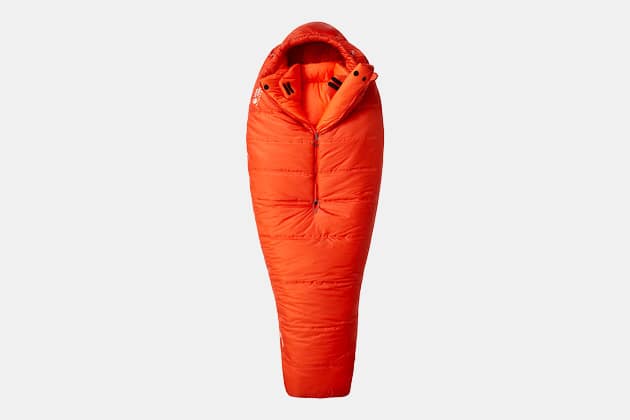 Mountain Hardwear HyperLamina Sleeping Bag
Limit: 0°F • 3lbs 13oz • Thermal.Q Synthetic • Mummy
If you're looking to stay warm without killing your wallet, go with this mummy bag from Mountain Hardwear. A center half zip and face gasket keeps your body heat inside and the "Lamina" refers to a technique that welds the insulation to the shell and lining, preventing it from bunching and shifting, and thereby letting in the cold. Insulation is also concentrated where you need it — at your core and feet. In all, it's a lightweight yet relatively inexpensive synthetic fill pick. – Shop Now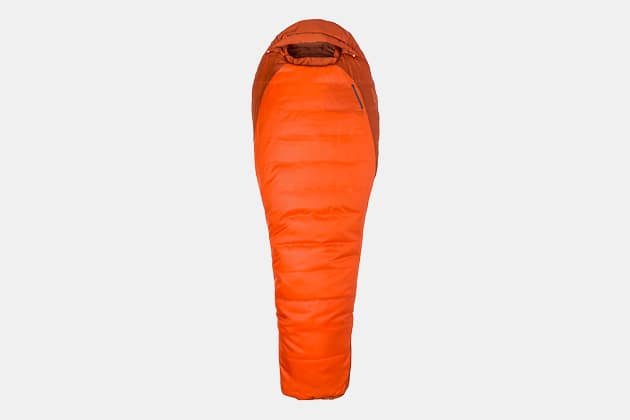 Marmot Trestles 0 Sleeping Bag
Limit: 0°F • 4lbs 9oz • SpiraFil Synthetic • Mummy
Here's another budget-respecting bag, this time from Marmot, with a few bonus features that lift the bag from just another synthetic fill mummy. The main, full-length, two-way zip is on one side, and a second zip on the opposite side lets you fold down the top of the bag when the heat gets too hot, or for easy in/out. There's a stash pocket at the chest and their "feely" draw cords make it easier to cinch down and zip up in the dark. – Shop Now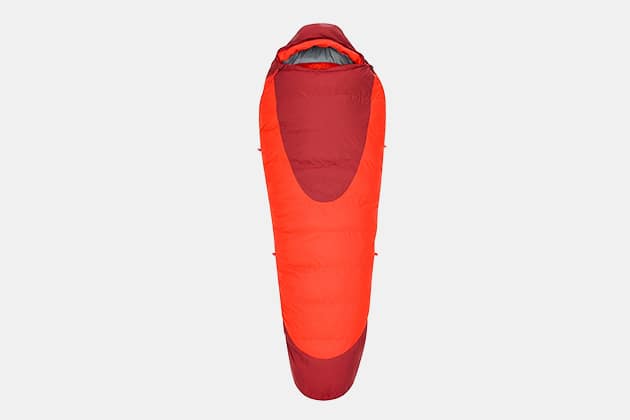 Kelty Cosmic 0 Sleeping Bag
Limit: 5°F • 4lbs 2oz • 600FP Down • Mummy
At one of the lower price points for a down bag lies the Cosmic line from Kelty. The Cosmic 0 is their coldest rated bag and uses their DriDown fill that manages to keep its loft even in wet/damp conditions. It's got an anti-snag backer on the two-way, full length zipper and it's got a tougher shell than other bags with a 50 denier ripstop shell that's also down-proof. – Shop Now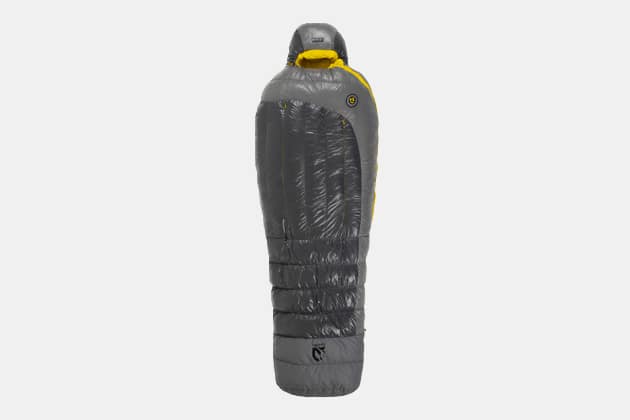 Nemo Sonic Down Sleeping Bag
Limit: 0°F • 3lbs 0oz • 800FP Down • Mummy
Nemo is all about design — smart details and features that set their stuff apart from basic outdoor gear. The innovation here is two "thermal gills" built into the shell at the chest. Zip them open to let your body heat vent out without letting in drafts. The footbox is waterproof but breathable and the stretch stitching at the knees let you (thankfully) bend your legs for those who don't sleep like an actual mummy. Offset full side zip, responsible down, and Nemo's lifetime warranty further set this mid-priced bag apart. – Shop Now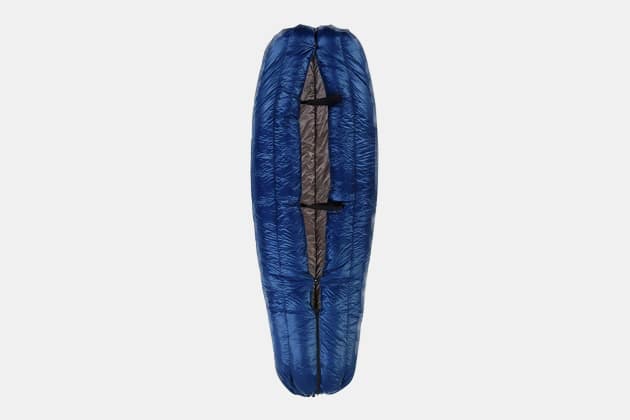 Enlightened Equipment Revelation Quilt
Limit: 0°F • 1lb 13oz • 850FP Down • Quilt
Coming from a shop in Minnesota, Enlightened Equipment gear is made to order. That means you get to customize everything from the color to length to temp rating of your quilt — but you'll need to wait a few weeks to get it. The Revelation is their flagship product and it's a bit different than a typical bag. In cold weather you'll flip the opening beneath you and cinch down the quilt to your sleeping pad with the straps. Instead of an attached hood, you'll use a hat or one of EE's hoods. The lack of zippers and absence of extra insulation beneath you saves weight, and the more adaptable shape lets side and stomach sleepers do their thing. – Shop Now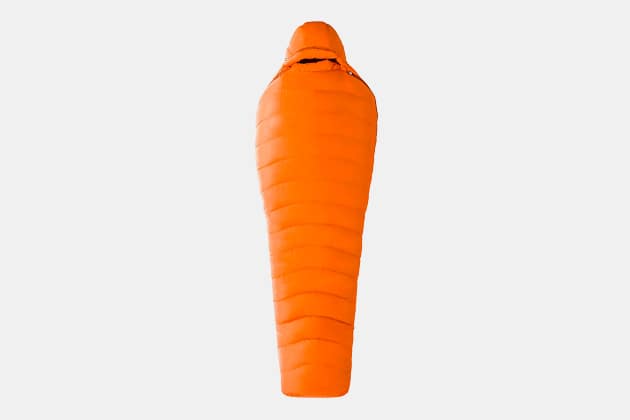 Marmot Lithium Sleeping Bag
Limit: 0°F • 2lbs 9oz • 800FP Down • Mummy
Like their Trestles bag, Marmot's Lithium bag has a zip down front for access and heat venting, and it's rated to 0° but in this version you get 800 fill power down, pushing the price up but cutting the weight nearly in half and reducing pack volume by about 10 liters. There's also a multi baffle hood that cinches down, making sure that head of yours stays toasty all night. – Shop Now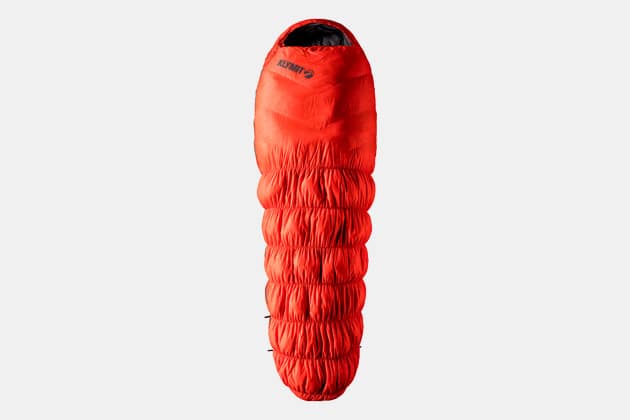 Klymit KSB 0° Down Sleeping Bag
Limit: 1°F • 3lbs 11oz • 650FP Down • Mummy
Short people who are tired of that cold pocket beyond your feet should take a look at Klymit's offering. The "length locks" shorten the bag up to 15 inches so people in the 5'3" range stay warmer. A stash pocket keeps important stuff close at hand. And for those who enjoy moving their lower limbs during sleep, the stretchable baffles on the lower half of the bag offer a wider range of movement than most mummy bags. – Shop Now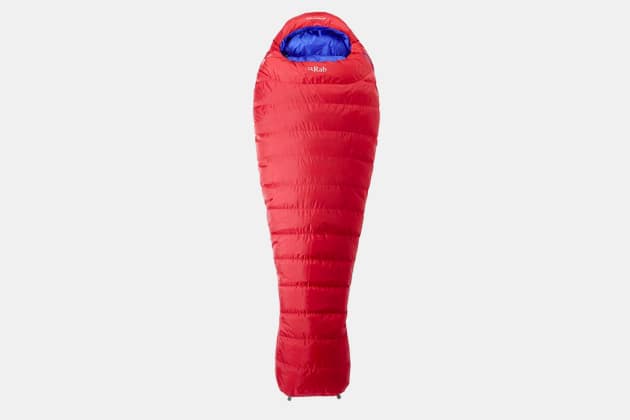 Rab Neutrino Endurance 600
Limit: 15°F • 2lbs 6oz • 800FP Down • Mummy
Rab, a UK company founded by climbers, makes gear and equipment for other climbers. Their Neutrino bag is intended for lightweight mountaineering excursions and for those who don't mind (or even enjoy) spending their nights in a bivy clinging to a rock face. You get your choice of left or right-hand three-quarter main zip, and two Neutrino Endurances can be zipped together. The down is RDS certified, the outer material is windproof and the inner fabric is treated with a natural odor control agent made from silver salt — perfect for keeping your bag fresh after a night of fear sweating about the drop beneath you. – Shop Now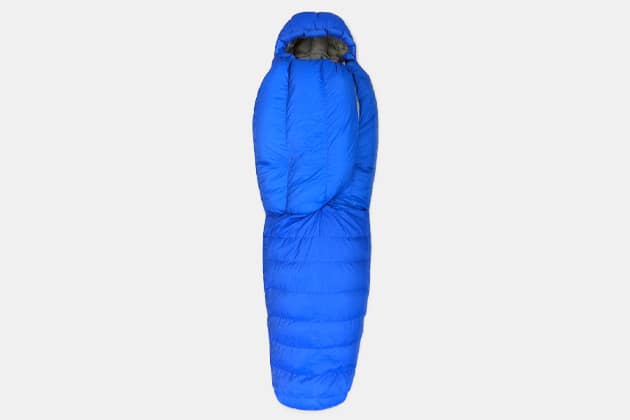 NoZipp Sleeping Bag 0°F
Limit: 0°F • 3lbs 1oz • 850FP Down • Mummy
Just about every decent bag out there has some sort of zipper-snag prevention built in. That's because zippers, while very useful, kind of suck. So you can probably guess the idea behind NoZipp. Instead of figuring out ways to make zip closures better, they replaced the zipper altogether with sets of precision-aligned magnets. A large overlap at the chest keeps out drafts and they've even designed it so you can close the bag up tight when it's cold and expand the overlap when it's a bit warmer. – Shop Now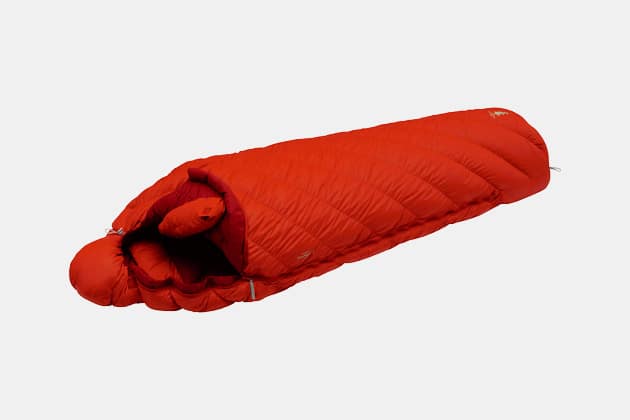 Montbell Down Hugger 650
Limit: 0°F • 3lbs 7oz • 650FP Down • Mummy
Founded by the guy who opened the first rock climbing school in Japan, Montbell has been making light and fast gear for outdoor adventuring since the 70s. Their Down Hugger bag uses a patented spiral stretch construction that combines bias cut fabric, gathered seams, and elasticized thread to help the bag (and insulation) move with you as you sleep. That, along with the shoulder collar and tunnel hood, does an excellent job of eliminating dead zones and drafts. – Shop Now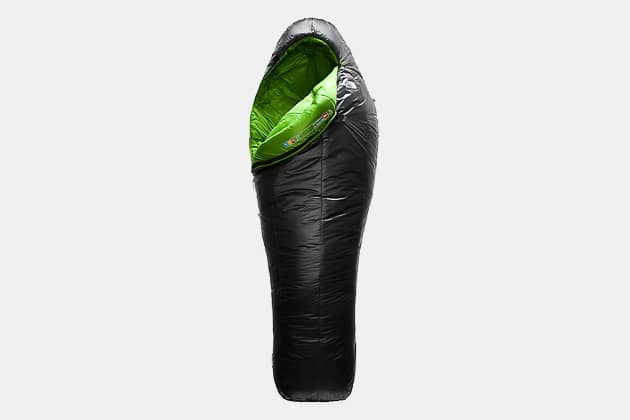 The North Face Guide 0 Degree Sleeping Bag
Limit: 0°F • 3lbs 11oz • HeatSeeker Synthetic • Mummy
Designed in collaboration with climbing expedition guide company, Alpine Ascents International, the Guide 0 is a synthetic fill bag with vertical baffles making it 17% more compressible than others in its class. The insulation is made by Thermolite with a mix of shorter staple and longer filament fibers giving the bag a great lower temp rating related to its pack weight. Pad loops let you attach the bag to a sleeping pad for less slippage in the night. – Shop Now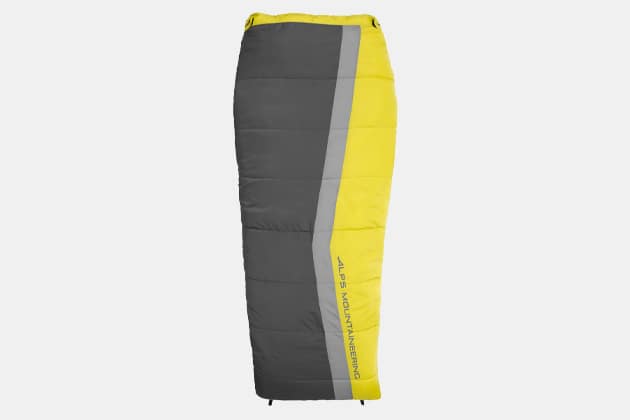 Alps Mountaineering Drifter 10°
Limit: 10°F • 6lbs 3oz • TechLoft Synthetic • Tapered Rectangle
For those who just can't hack a mummy bag, a tapered rectangle might suit you better. There's still room to move, but the tapering reduces dead zones at your feet. The Drifter from Alps Mountaineering is a synthetic fill bag with multiple width fibers treated with a siliconized finish for improved insulation. Weighing over six pounds, the bag isn't the lightest on the list, but it is one of the more affordable. The design allows you to zip two bags together with a zipper system that allows for individual venting options. – Shop Now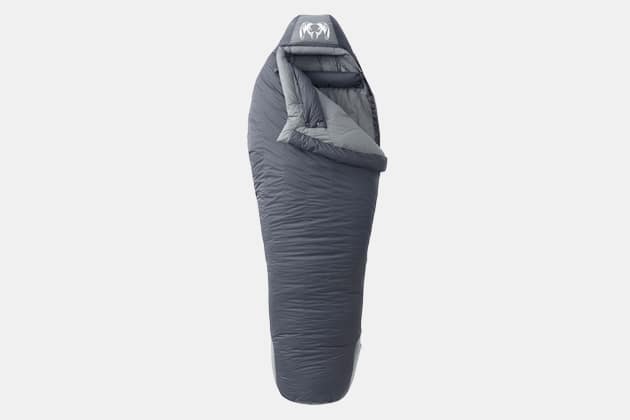 Kuiu Super Down Sleeping Bag 15°
Limit: 15°F • 1lb 14oz • 865FP Down • Mummy
Kuiu makes equipment specifically targeted at mountain hunters — but even if you're not bagging a big horn, this bag will keep you warm and will do it for under two pounds of carry weight. The down is treated with a water-repellent finish so the insulation retains its loft and warmth even in wet conditions. The ultralight outer fabric is breathable, down-proof, and waterproof with a two-way stretch for better comfort when you move. Flow gates in the vertical baffles prevent the down from shifting and full-length dual slider zippers let you vent at the feet or top. – Shop Now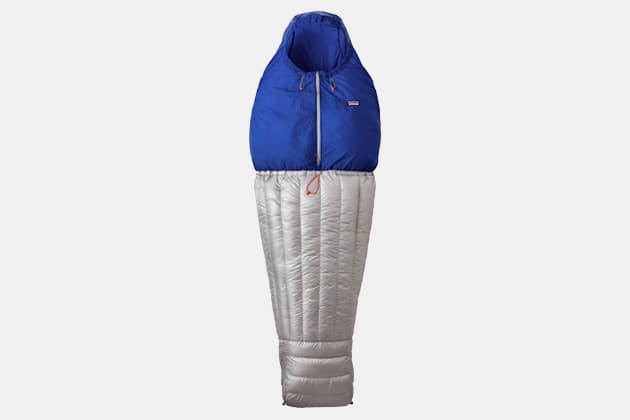 Patagonia Hybrid Sleeping Bag
Limit: Variable • 1lb 1oz • 850FP Down • Elephant Foot
A key to saving weight is making your gear do double duty. This hybrid bag from Patagonia is a fully insulated bottom half paired with a nylon upper that seals around you while wearing your cold weather parka. Chances are if you're cold-weather camping, you're already sporting a cold weather jacket, so Patagonia figured you're basically wearing the top half of a sleeping bag already. At just a hair over a pound, it's the lightest option on our list, and the smallest pack size, perfect for the weight/pack conscious who ask a lot from their gear. – Shop Now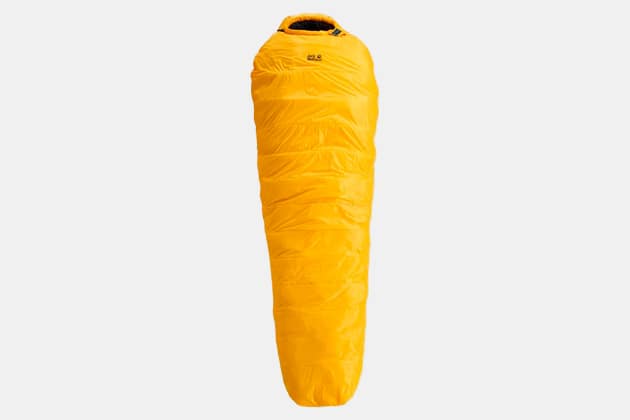 Jack Wolfskin Base Camp Sleeping Bag
Limit: -20°F • 8lbs 4oz • Maxloft Synthetic • Mummy
German outdoor company Jack Wolfskin makes this extreme cold-rated bag. With a comfort level of four below zero and a limit of twenty below, this is the bag for that March Denali trip you've been pondering. A tougher nylon lining inside the footbox lets you keep your boots on for extra warmth and there's extra insulation in cold-sensitive regions. The outer fabric is wind and water resistant, and the single chamber construction lets the insulation reach maximum loft. For a mummy bag, there's a good amount of wiggle room thanks to the extra wide cut and while it's not a super super light sleeping bag, it's definitely a super warm one. – Shop Now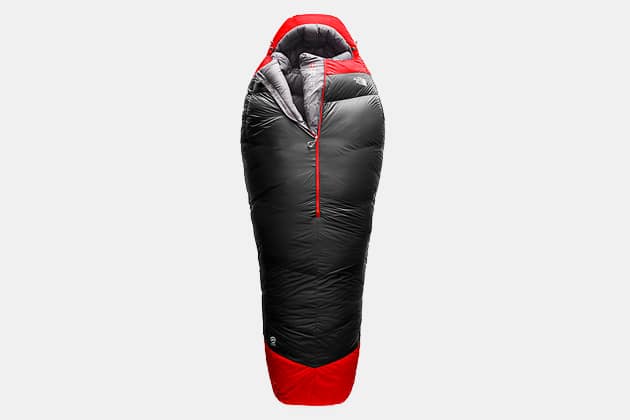 The North Face Inferno -40F Sleeping Bag
Limit: -40°F • 3lbs 14oz • 800FP Down • Mummy
Here's another serious cold weather sleeping bag, this one from The North Face. The Inferno is part of their Summit Series, a line of gear aimed at the alpine/climber set. Here you'll find a center half zip and an internal storage pocket, plus a full draft collar with overlap. The cut is a little wider to allow for more layers and movement inside the bag. – Shop Now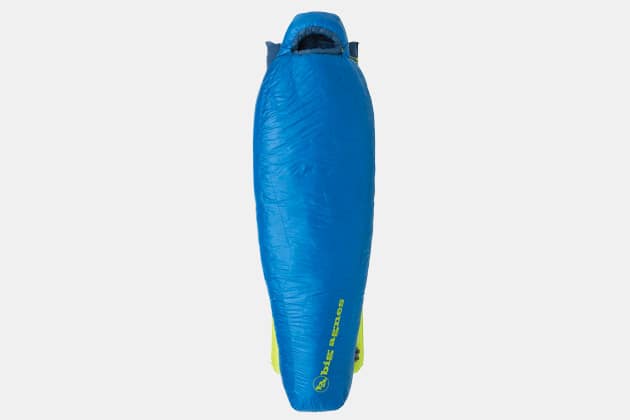 Big Agnes REM Beryl SL 0
Limit: 0°F • 3lbs 2oz • 650FP Down • Mummy
You're totally secured in the warmth of your bag when slowly you begin to drift off your sleeping pad. Big Agnes can fix that. Their patent-pending REM system attaches an optional sleeve to the underside of your sleeping bag that accepts any twenty inch-wide pad. But since it attaches just at the top, your legs aren't confined to the pad and are free to move (as much as the bag will allow). Their down is RDS certified and treated with a PFC-free water repellant. – Shop Now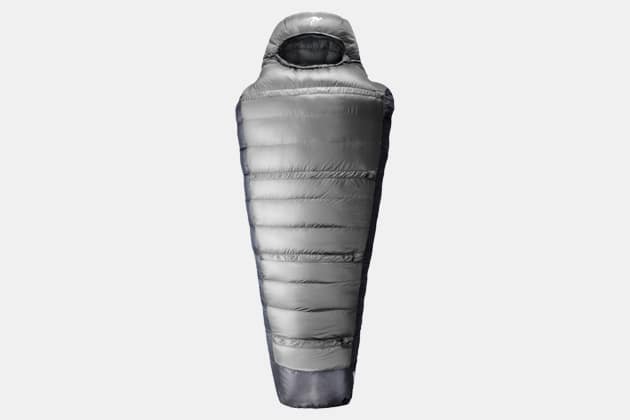 Kammok Thylacine Sleeping Bag
Limit: 20°F • 2lbs 3oz • 750FP Down • Mummy
All of these cold-rated bags are great. Until they're way too hot. If you're expecting a bit of the unexpected in the weather, this liner-optional bag from Kammok is a great pick. The down liner is sold separately and zips into the Thylacine base bag. With it you'll add another twenty degrees of warmth to your bag — bringing the bag to a zero degree rating. You can further adjust your warmth level with the custom-fit straps that cinch the bag closer to your body and keep cold air from moving around. A stash pocket on the outside fits your phone and the pillow pocket on the hood keeps your pillow (or jacket) from escaping from beneath your head. – Shop Now
Disclosure: Clicking on these links and making a purchase may earn us a small referral fee, at no extra cost to you. Learn more here.
freestar.config.enabled_slots.push({ placementName: "gearmoose_leaderboard_btf", slotId: "gearmoose_leaderboard_btf" });