Some cult movies had disappointing box office returns. Others got eaten alive by the critics. A handful were hits from the get-go and a couple started out merely so-so in the general consensus. In whatever way a cult film begins, at some point it transcends its status as one film among the millions and becomes something treasured and defended by a passionate fanbase.
Unlike the avalanche of movies coming at us now, these 35 cult '80s movies have stood the test of time and have proven themselves verifiably awesome. If you haven't given these cult classics a rewatch, now is the time.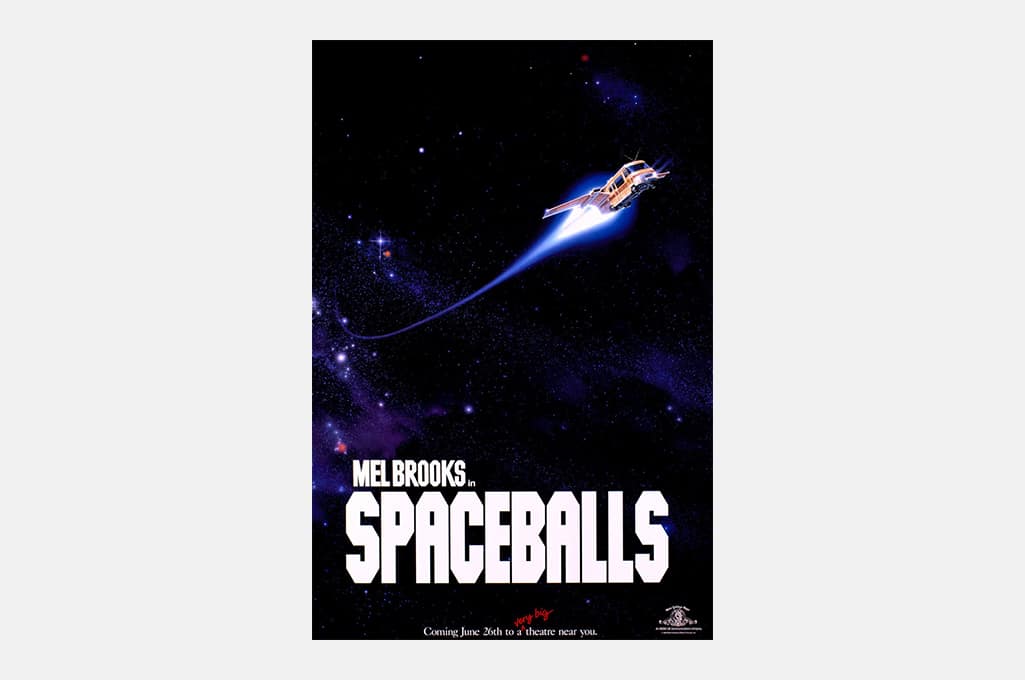 Spaceballs (1987)
"Now you see that evil will always triumph because good is dumb."
Jamming the radar. A pick to comb the desert. Discovering Lord Helmet is the hero's father ('s brother's nephew's cousin's former roommate) — it's hard to pick a favorite part from the Mel Brooks classic. Riffing on Star Wars (which was just as big in 1987 as now) Spaceballs is a precision-tuned procession of gags and puns, crossed with slapstick, product placement, and expert schwartz-weidling.
The Evil Dead (1981)
"Let me out of here, I'm all right now."
If you've watched a horror film from the last few decades (or even a Coen brothers movie) it owes a debt of gratitude to The Evil Dead. Shot on a begged and borrowed budget in a cabin in the woods, it follows five college students who find a book that releases a hoard of demons. Funny, scary, and increasingly gory, it's a masterclass in horror.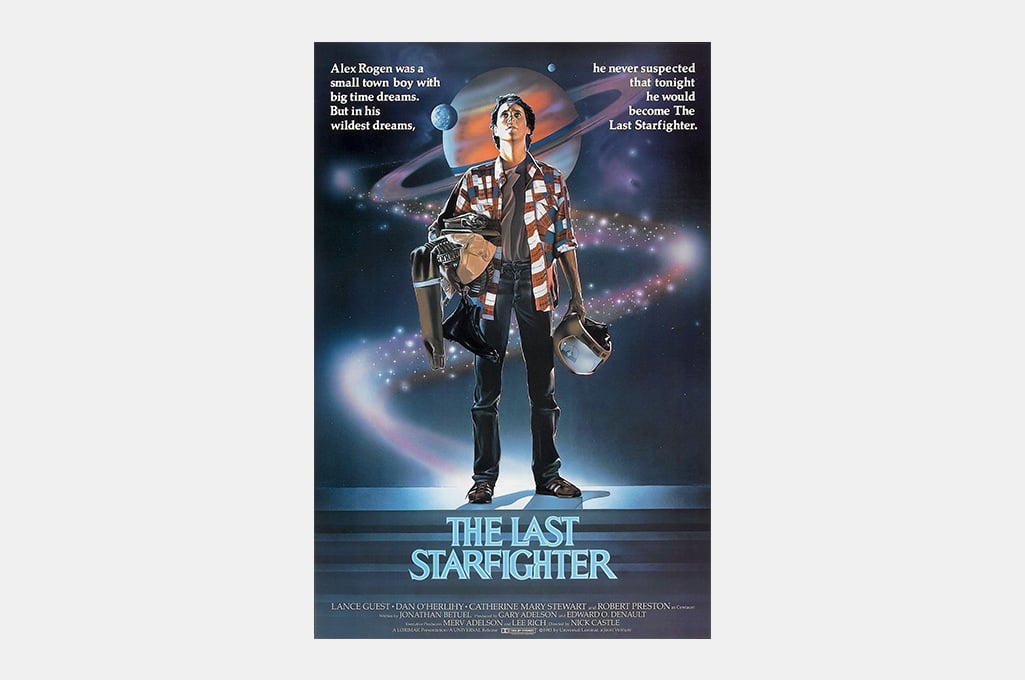 The Last Starfighter (1984)
"Greetings, Starfighter."
Any kid pumping quarters into the Star Wars arcade game in the '80s wished this movie were real. When a teenager with a boring life beats a video game, he's contacted by space aliens who reveal the game was actually a test to find the best starfighter to defend their home world from evil. Watch for some early CGI and a feel-good take on the space opera.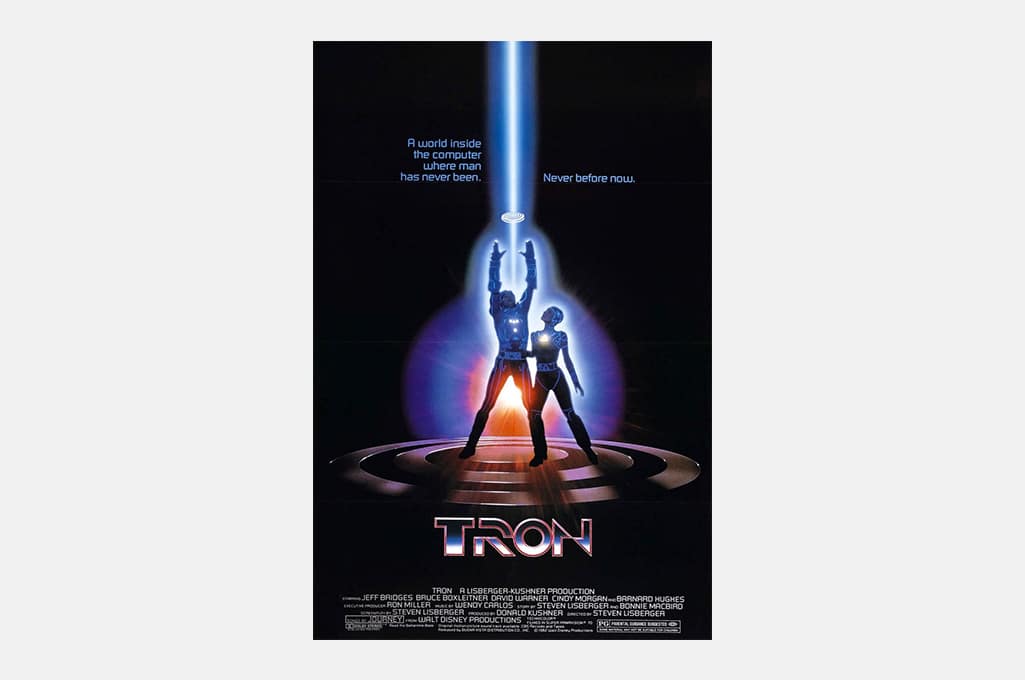 Tron (1982)
"On the other side of the screen, it all looks so easy."
Tron not only anthropomorphized the inner workings of software, it did it in a way that looked screamin' cool. The light bikes, circuitry suits, and neon-on-black environments blew away audiences who were just getting familiar with computers. About a programmer who must battle his way out from inside a program, this Disney venture didn't fare especially well upon release, but soon the pure bliss of '80s future style won the world over.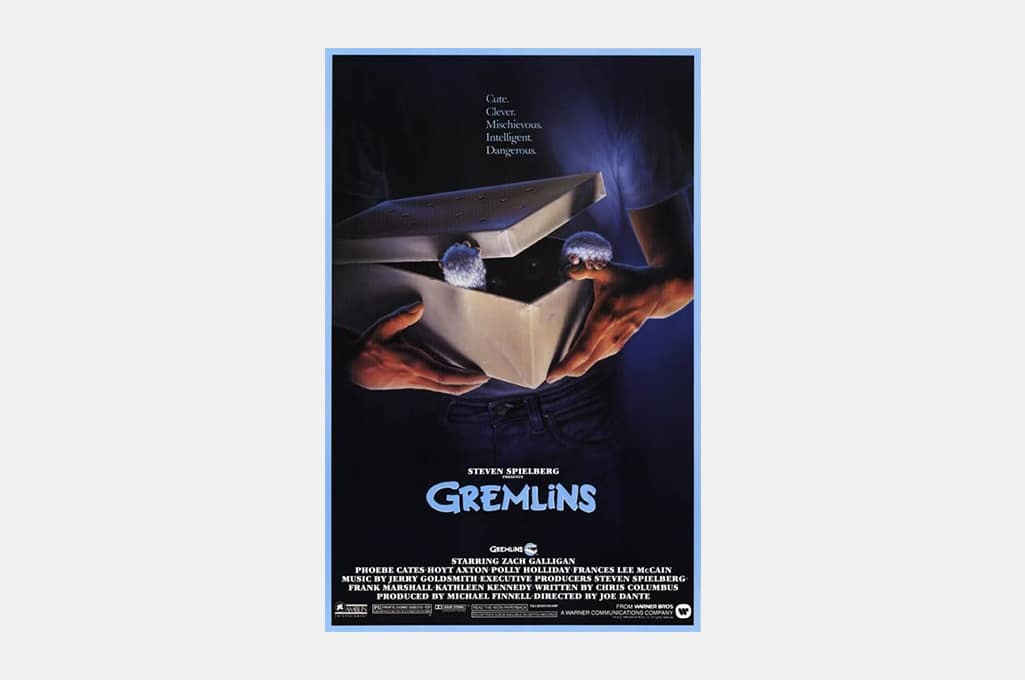 Gremlins (1984)
"Look Mister, there are some rules that you've got to follow…"
We all know the rules when you bring home a Mogwai: No bright lights. No getting them wet. And absolutely no food after midnight. A rewatch might reveal Gremlins to be a slightly darker and more violent "family" movie than you remember, which just makes it cooler. Watch for special effects that hold up, in a movie that's smart and witty, with a nice dollop of Christmas satire.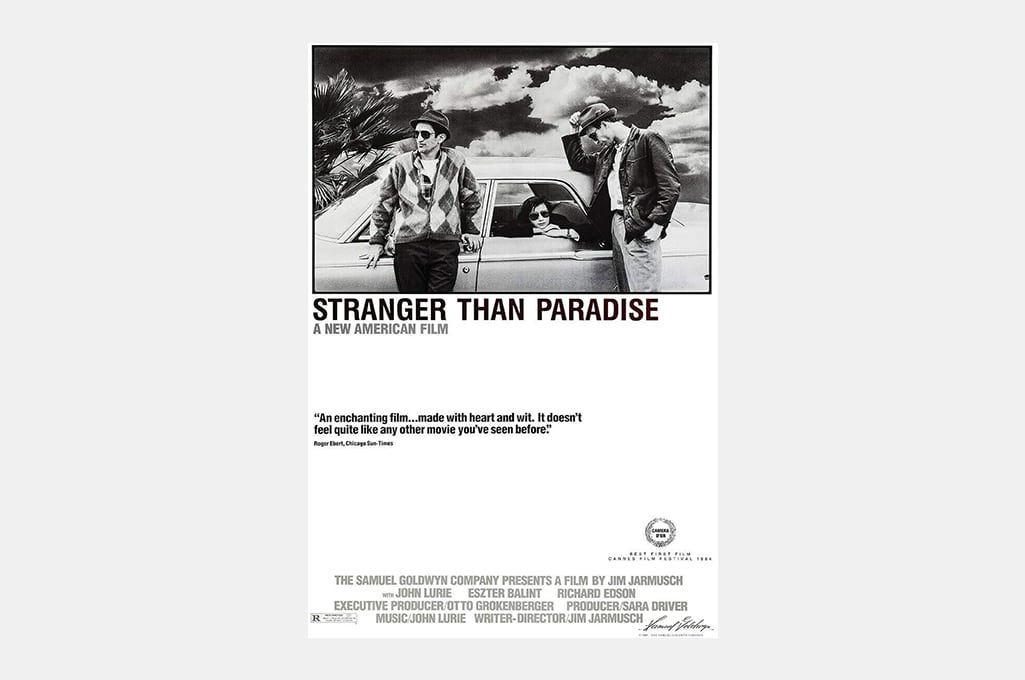 Stranger Than Paradise (1984)
"It's funny, you come to someplace new, and everything just looks the same."
If you ever wanted (or still want) to be an indie filmmaker, at one point you studied this film with your nose a half inch from the screen. Aimless, plotless, grimy, and slow, Stranger Than Paradise is also a dang masterpiece. Jim Jarmush mingles humor with palpable boredom as it follows two friends and a Hungarian cousin as they go from NYC to Cleveland to Florida.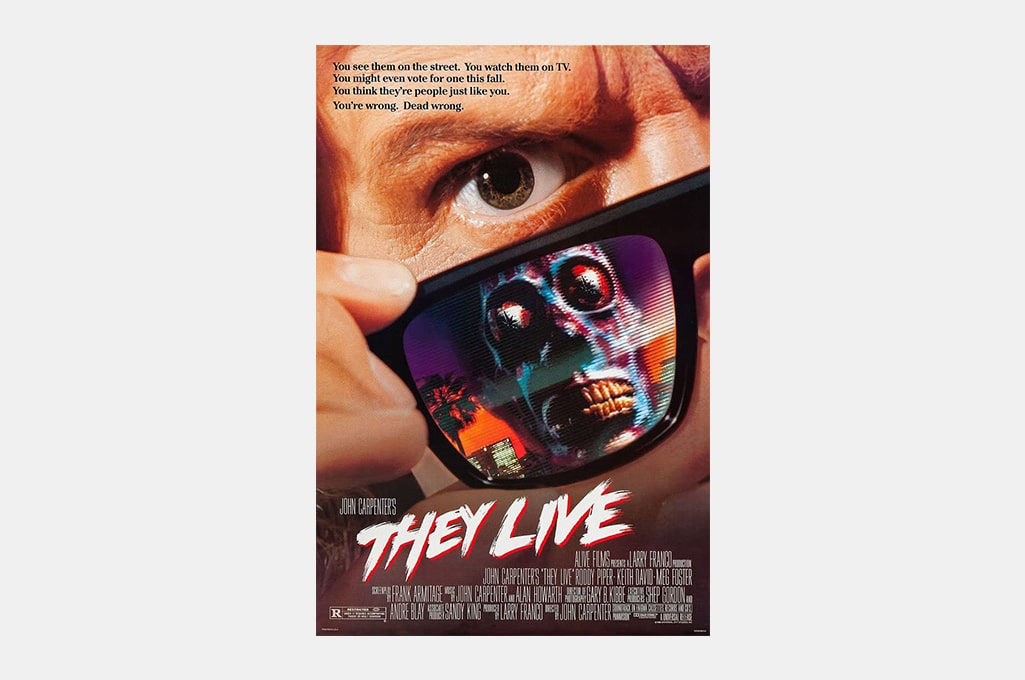 They Live (1988)
"They live. We sleep."
After the deserved success of Halloween, John Carpenter was busy in the '80s doing about a film a year (with three of them on this list). When a guy finds sunglasses that reveal subliminal messaging in advertisements and show the upper class to be a race of aliens bent on domination, something must be done to reveal the truth to the world.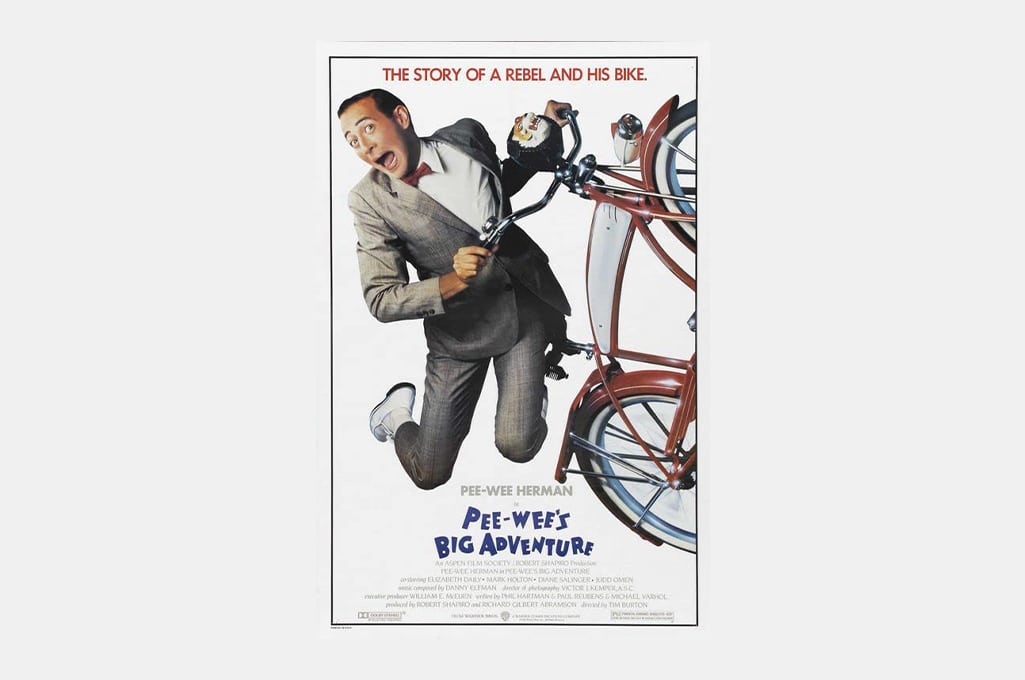 Pee-Wee's Big Adventure (1985)
"You don't want to get mixed up with a guy like me, I'm a loner, a rebel."
A manchild in a bowtie hunts for his stolen bicycle across the Southwest, enraging and charming an eccentric cast of characters everywhere he goes. Funny and weird and colorful, Pee-Wee's Big Adventure paved the way not only for Tim Burton's career but also the bizarrely artistic Saturday morning kid's show, Pee-Wee's Playhouse.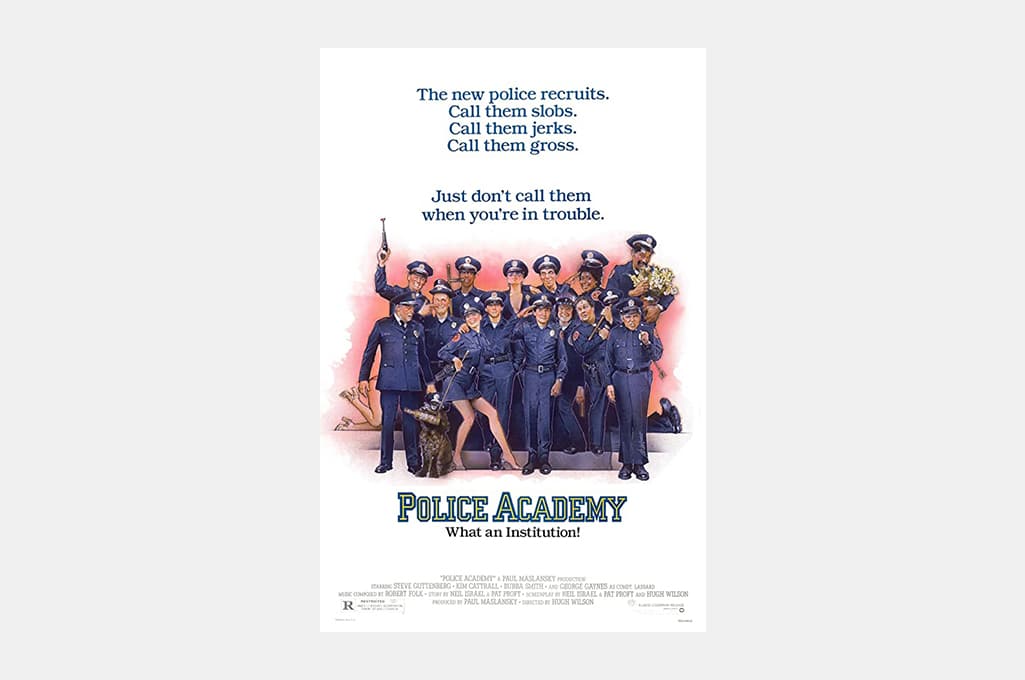 Police Academy (1984)
"Thank you sir, I make everybody sick."
When they lower the standards for admission to the police academy, some very interesting cadets show up. The laughs are low-brow and body-oriented, but something about this freight train of schtick succeeded — as it spawned six sequels.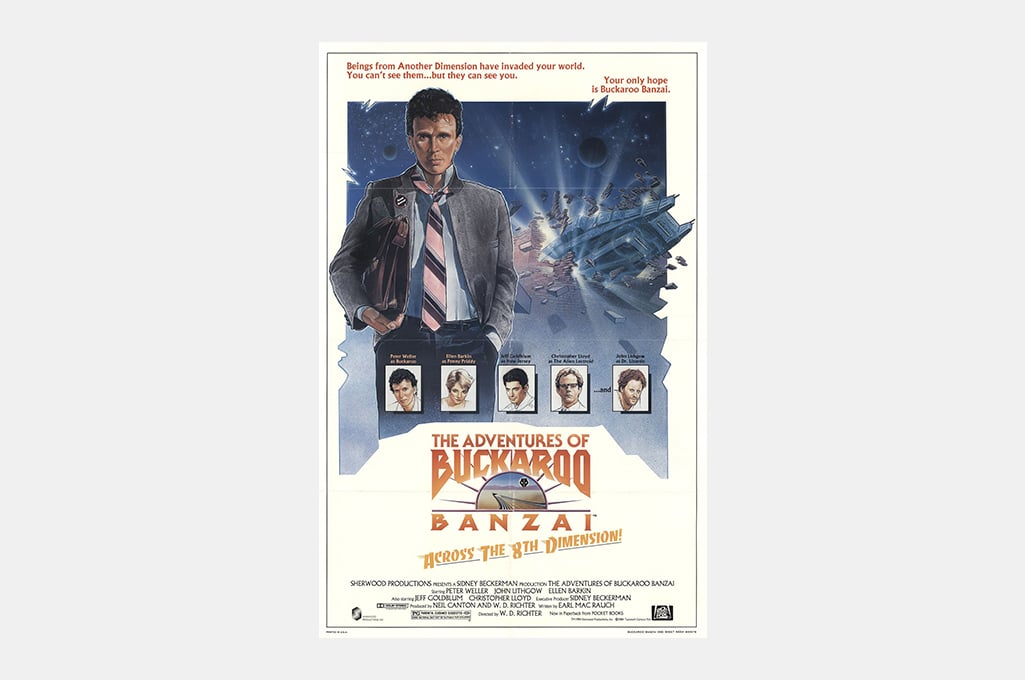 The Adventures of Buckaroo Banzai Across the 8th Dimension (1984)
"Laugh while you can, monkey boy!"
You'd be hard-pressed to find a more badass hero than Buckaroo Banzai. He's a scientist, jet car driver, rock star, and martial arts expert in one. With John Lithgow and Christopher Lloyd as two of the craziest bad-guys ever and an insanely bonkers sci-fi plot, Buckaroo Banzai tells the story of Rastafarian aliens, alternate dimensions, and of course, saving the world.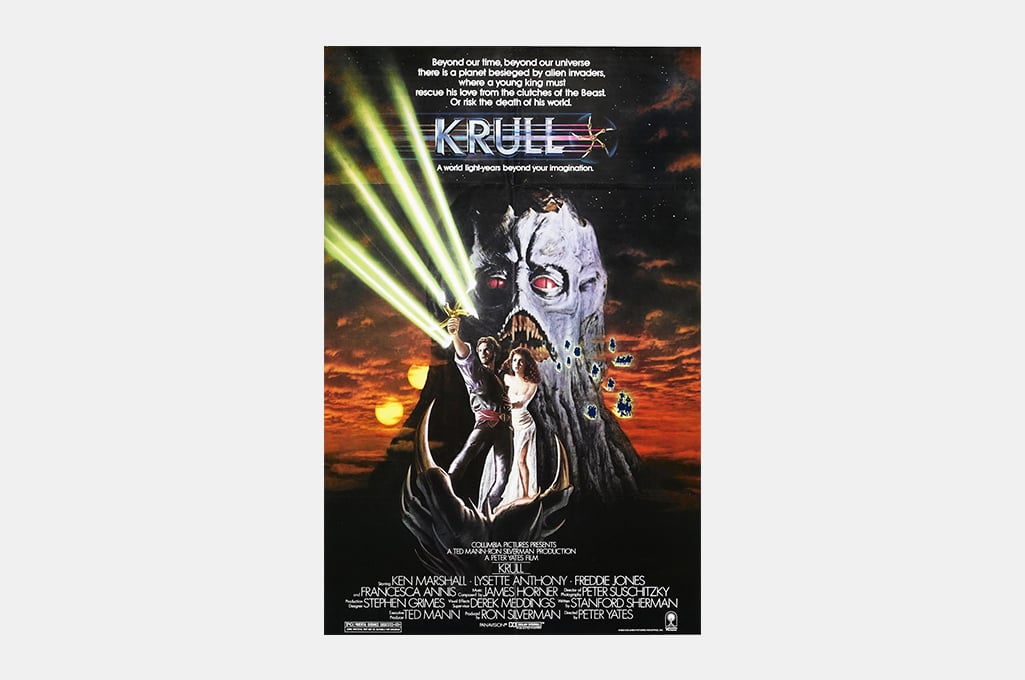 Krull (1983)
"Death and power are close cousins."
All cult movies lists require a few movies so bad they circle back around to awesome. Mythical throwing stars, castle spaceships, crystal spiders, eyeball-shaped prisons, and horses with flaming hooves are just a few of the fantasy-soaked delights waiting for you in this rescue-the-princess epic.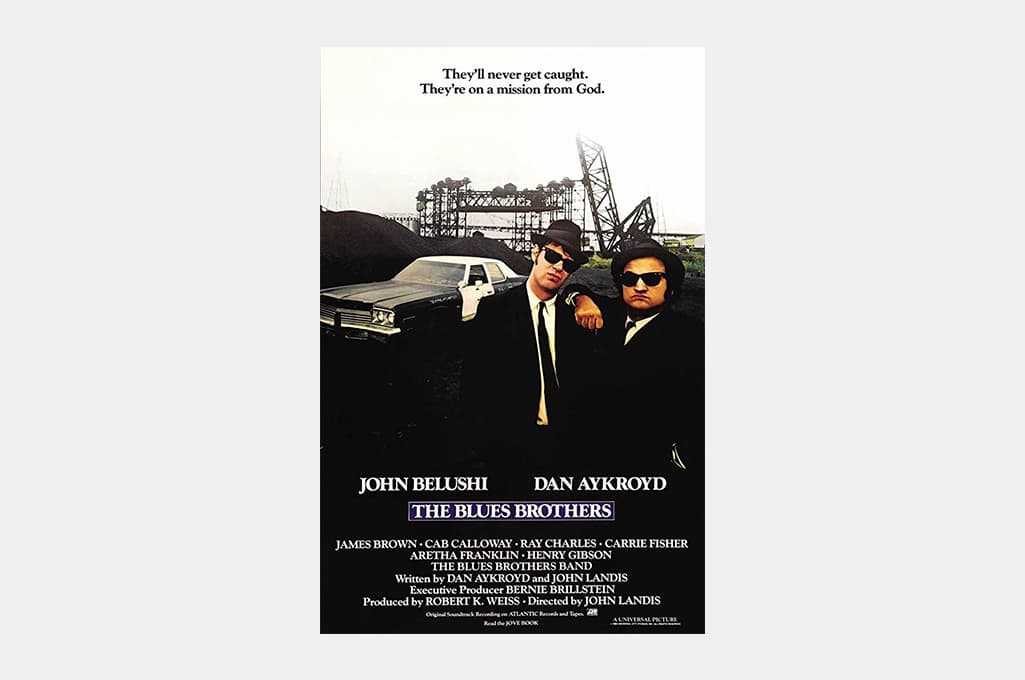 The Blues Brothers (1980)
"We got a full tank of gas, half a pack of cigarettes, it's dark… and we're wearing sunglasses."
When you're fresh out of jail and the Catholic orphanage that raised you is in danger of going under, what else can you do but get the band back together? The first SNL feature film, The Blues Brothers is a raucous, joyous trip with some fabulous musical numbers from none other than Aretha Franklin, James Brown, and Ray Charles.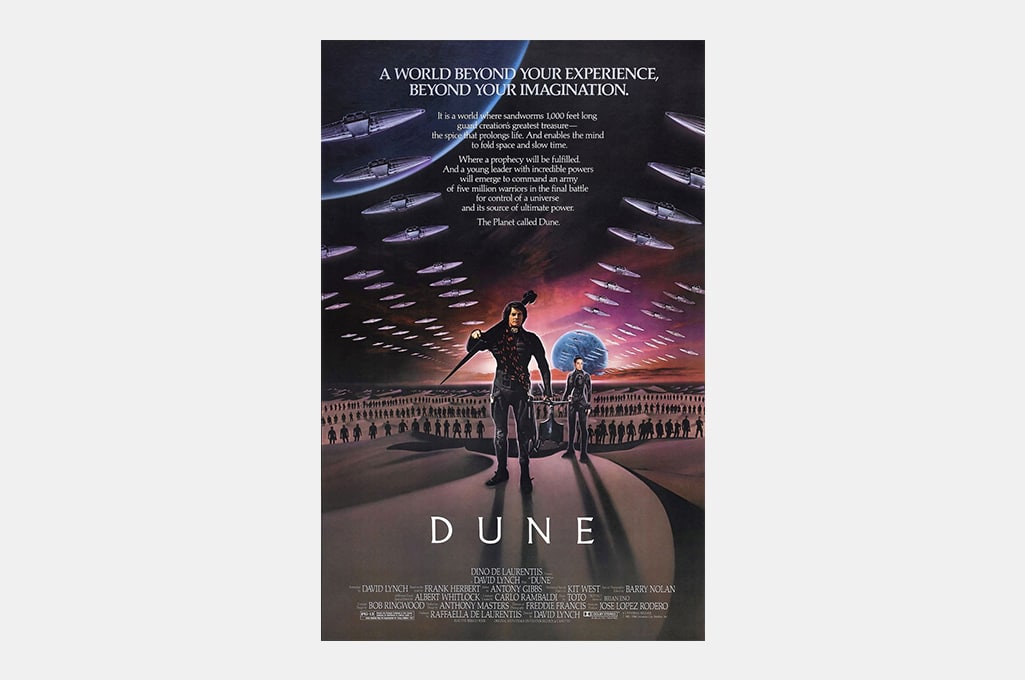 Dune (1984)
"Fear is the mind-killer."
The spice! David Lynch put his trademark surrealism on Dune, a dazzling adaptation of the bestselling sci-fi novel of all time. Set thousands of years in the future, humans have colonized thousands of planets, but interstellar travel is dependent on a substance found on just one planet. Control of that planet is in jeopardy and the mayor of Portland is the only one who can save it.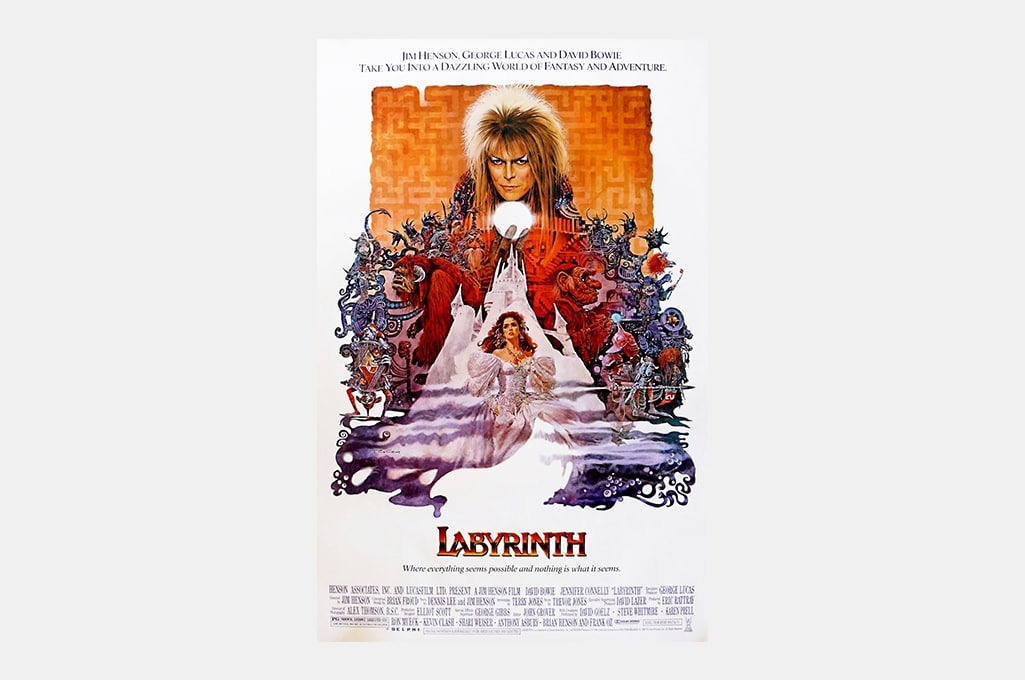 Labyrinth (1986)
"Dance magic!"
There just aren't enough musical fantasies in the world. That's OK. It'd be tough for them to top this. With David Bowie as the goblin king and Jennifer Connelly as a teen lured into his realm to save her baby brother, Jim Henson's Labyrinth is filled with magic, imagination, mesmerizing sets, and a cast of monster puppets — that we all need every now and again in our lives no matter how old we get.
Heathers (1989)
"And to think there was a time when I actually thought you were cool."
The cast, the poster, the initial premise (good-looking teens at a Midwestern high school) were all meant to pull in anyone looking for another John Hughes movie. That's not what this is. Murders, faked suicides, blowing up the school. Filled with vicious one-liners and darker than dark humor, Heathers is the highschool movie for those who saw the experience as more of a farce than coming of age drama.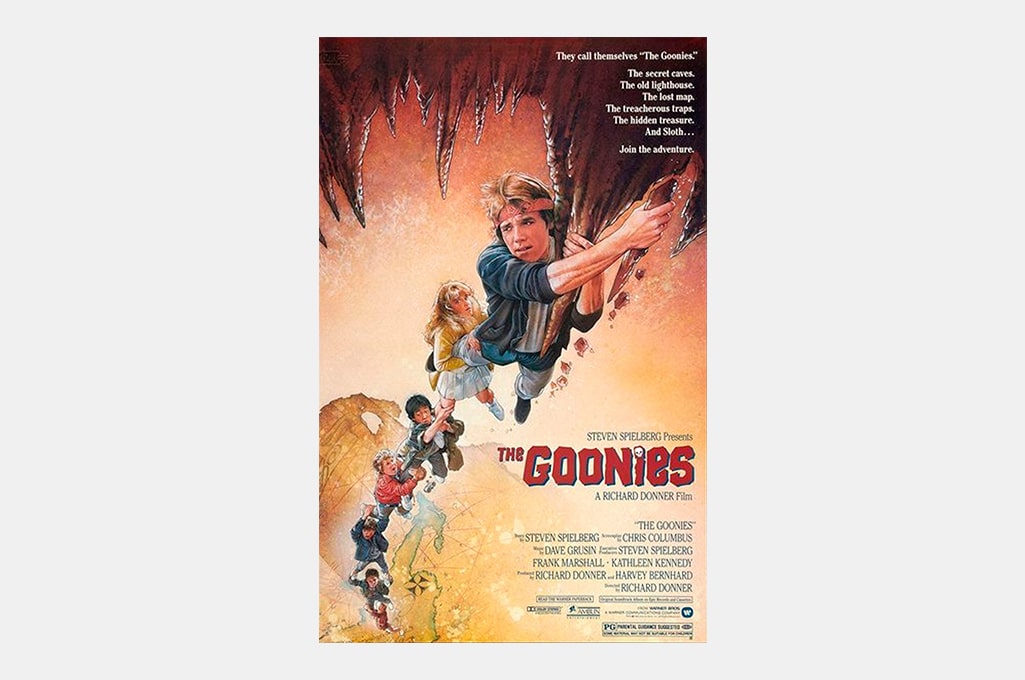 The Goonies (1985)
"Goonies never say die!"
Every kid from the '80s wanted to be a Goonie. And why not? Pirate ships, treasure maps, actual treasure, booby traps, mob families, and of course, misfit kids saving the say. The Goonies now is just as excellent as it was back then, reminding us all what it was like to believe in possibilities.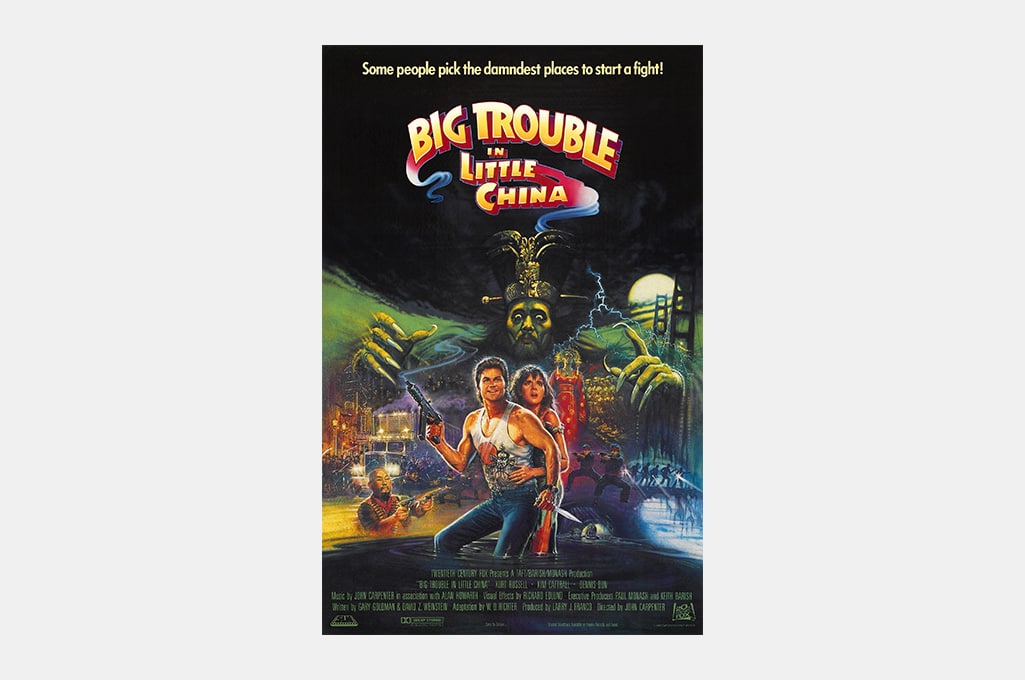 Big Trouble In Little China (1986)
"You know what ol' Jack Burton always says at a time like this?"
For John Carpenter's next entry on the list, he sends up kung-fu movies with Kurt Russell as the wisecracking hero in a tank top who must save green-eyed girls from an ancient sorcerer in San Francisco's Chinatown. Like most cult movies, it didn't fare well at the box office, but this mix of action and comedy (and relative cultural sensitivity) is an enduring winner.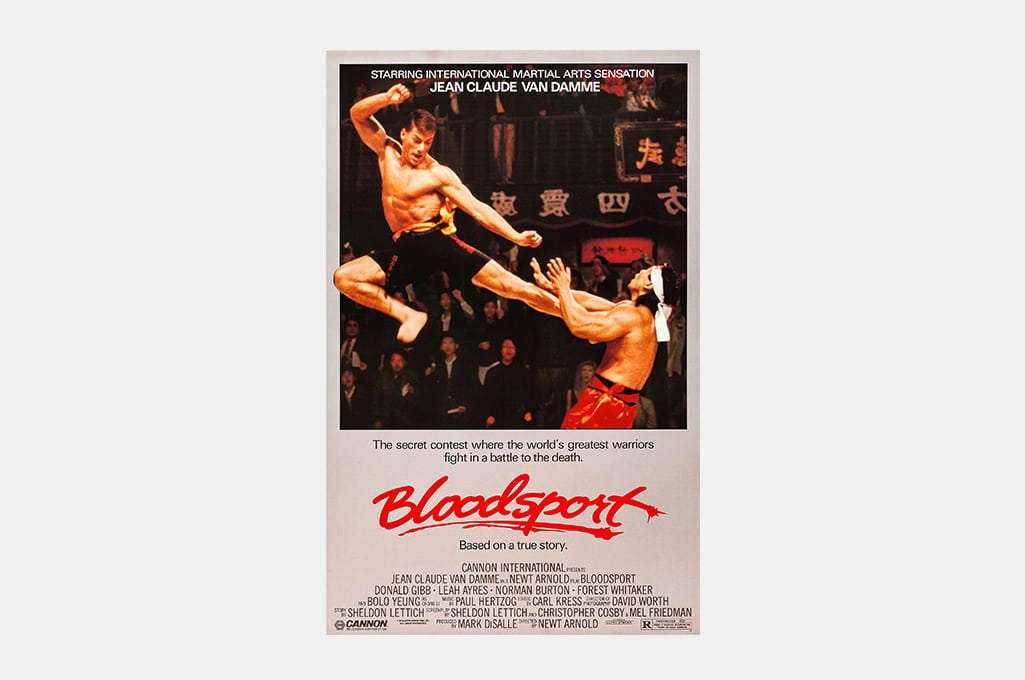 Bloodsport (1988)
"That hurts me just looking at it."
Then as now, the reason to watch Bloodsport is for Jean Claude Van Damme and his off-the-charts athletic abilities (including an insane aptitude for doing the splits). The training sequences are like tourture scenes and the fight scenes are like crunchy, full-contact ballet. Don't look for a consequential plot, this one is all about kicks to the jaw.
Highlander (1986)
"There can be only one."
Immortal warriors sword fight in an NYC parking garage — so begins a franchise that would eventually include five movies and a pretty enjoyable '90s fantasy series. Flashing between mid-'80s New York and 16th century Scottish Highlands, Highlander follows one of the last immortals, who must fight and win against the other immortals… until there is only one.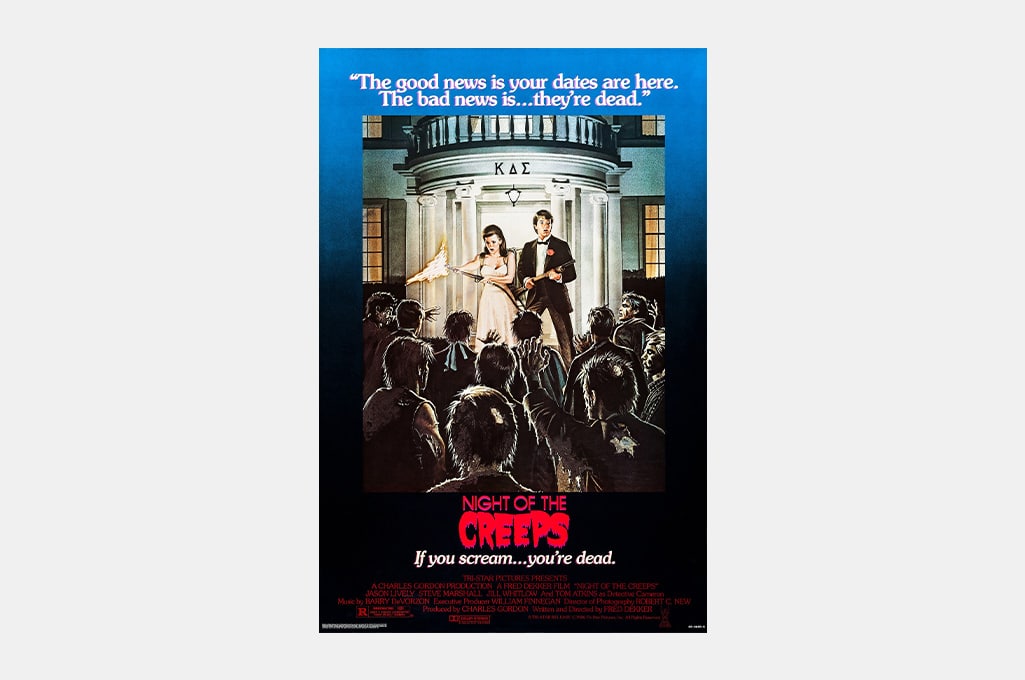 Night of the Creeps (1986)
"What is this? A homicide, or a bad B-movie?"
Fans of horror and B-movies rejoice in this movie's existence. Zombies, alien body invasions, axe murdering asylum escapees, teens in peril. Night of the Creeps is an homage to the conventions of horror and low-budget cheese fests but manages to be funny — and even scary in its own right.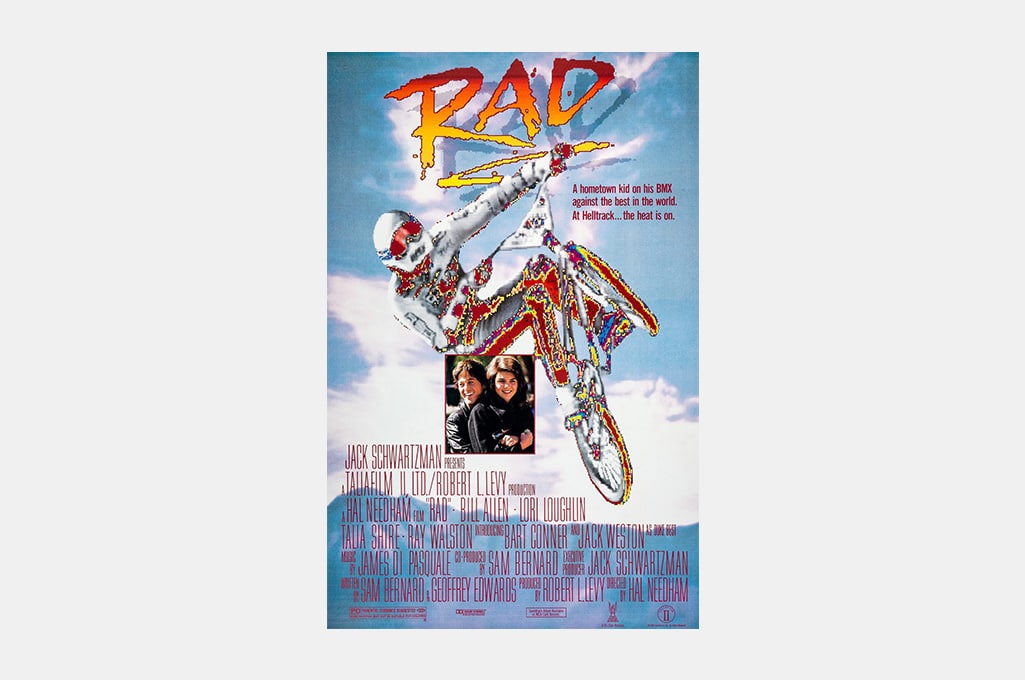 Rad (1986)
"Ok, dudes, let's walk this sucker."
Like Karate Kid but with BMX bikes, an average kid struggles to compete against the flashy, well-financed, and better trained big shots in the high-stakes final competition that will change everything. Deliriously '80s, it's the only movie we can think of with a bike dancing sequence at the prom.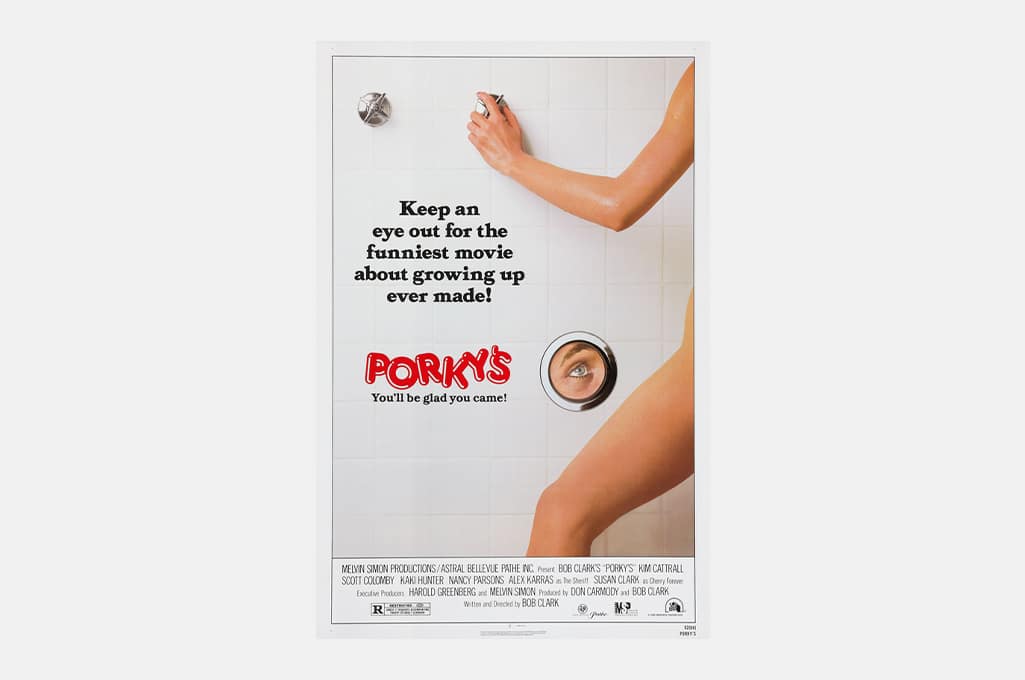 Porky's (1982)
"I've got you now, Tommy Turner!"
Things were… different in the '80s. A movie about — and mostly intended for — teenage boys, the raunchy, bawdy Porky's crams in as many dirty jokes as will fit in the run time and is particularly remembered for a shower peep hole scene and the ensuing search for an offending member.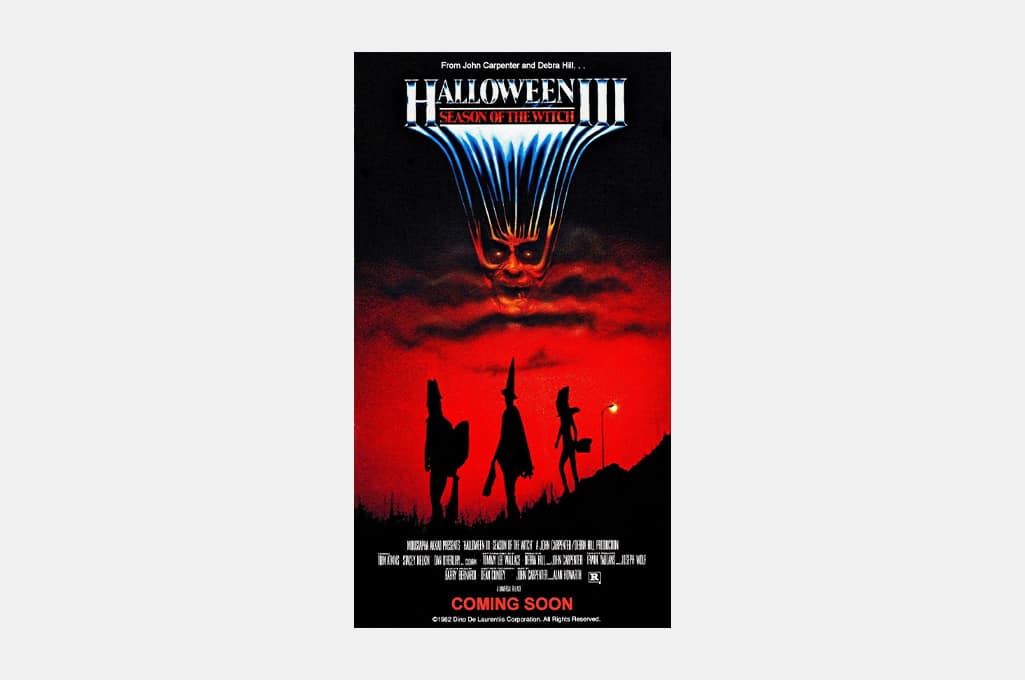 Halloween III: Season of the Witch (1982)
"It's almost time, kids. The clock is ticking."
The Halloween franchise was supoosed to focus on different stories based around the October holiday. But when Michael Myers failed to show up for round three, audiences weren't impressed. Halloween III is an odd and creepy tale of Halloween masks that could be triggered by a TV signal to kill the wearers, releasing deadly bugs and snakes from their corpses. What better way to bring about a new age of witchcraft?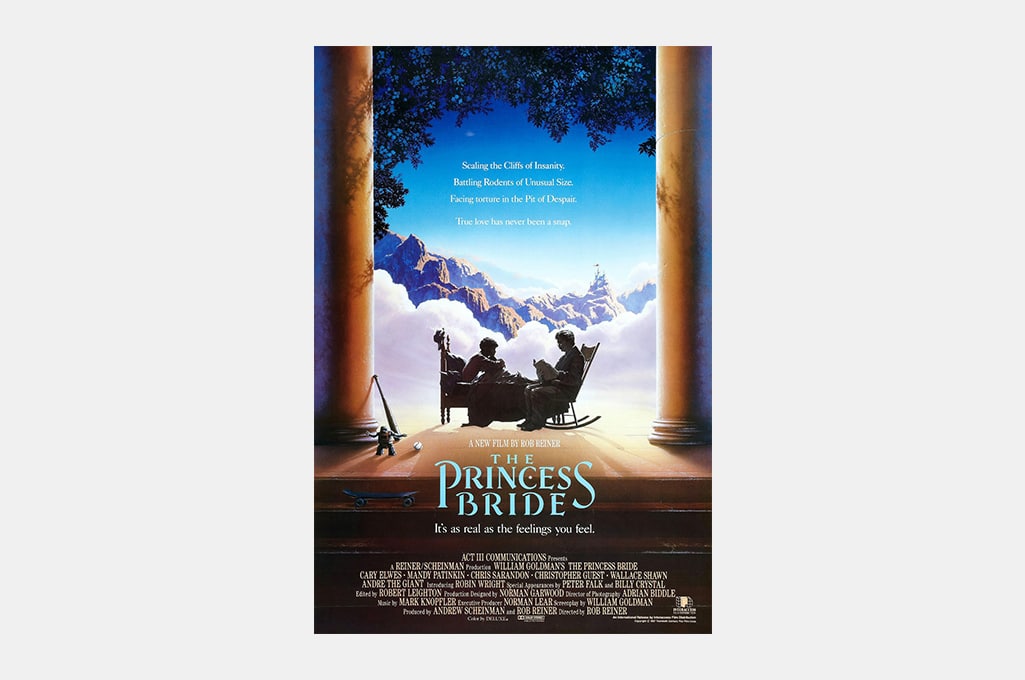 The Princess Bride (1987)
"Hello. My name is Inigo Montoya. You killed my father. Prepare to die."
There was a Far Side comic I saw as a kid. In it, three people stand in an otherwise empty room whining about a movie. They represent the sum total of those who didn't like Dances with Wolves. I didn't get the joke at the time, but now I do. DWW was simply universally loved. That's exactly how I see The Princess Bride. Adventurous, hilarious, endlessly quotable, it's perfection in cinematic form.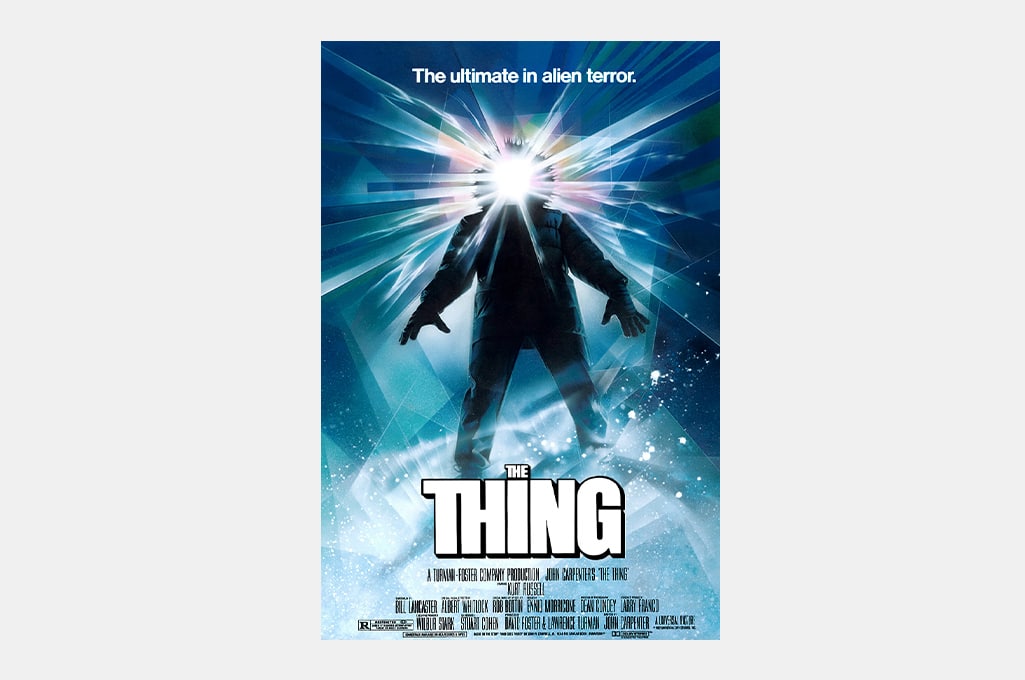 The Thing (1982)
"If we've got any surprises for each other, I don't think we're in much shape to do anything about it. "
Isolation, paranoia, and the bleak Antarctic landscape sets the scene for a deadly parasitic alien that can take the form of anything it kills, animal or human. Carpenter and Russell first teamed up for The Thing, a terrifying and gory horror classic that, insanely, is screened every year at the Amundsen–Scott South Pole Station, just after the last plane departs, leaving researchers and staff alone at the station for the darkest winter on Earth.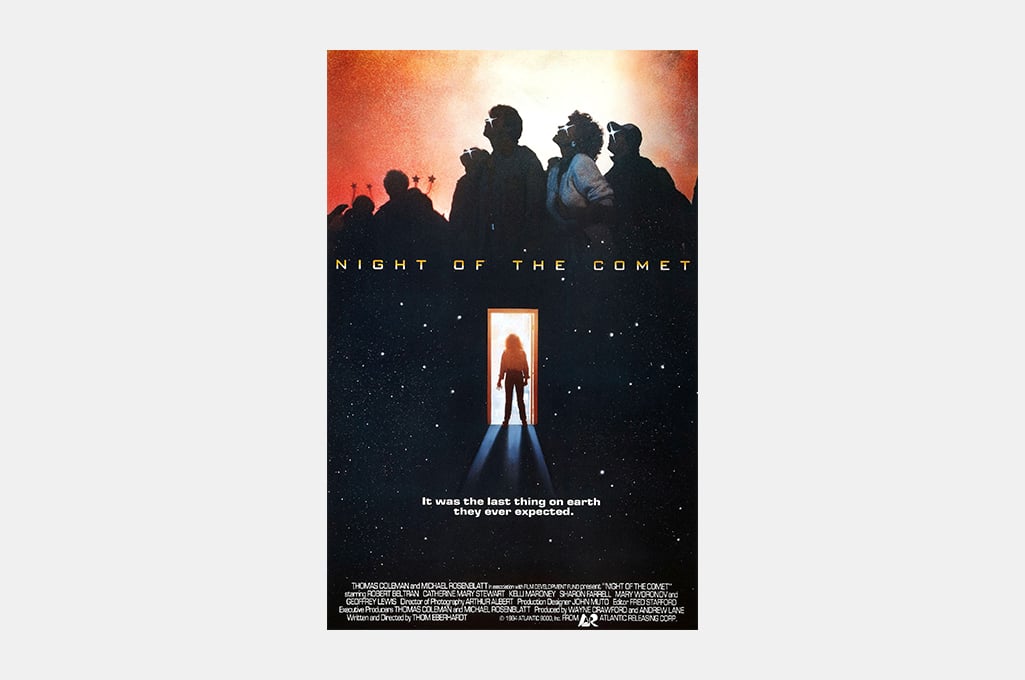 Night Of The Comet (1984)
"Daddy would have gotten us Uzis."
In all of the theories submitted for the demise of the dinosaurs, somehow zombies were never on the table. When Earth passes through the tail of a comet, the dust disintegrates some, zombifies others, and leaves the few remaining humans fighting for survival. Watch for a fun, '80s-teen take on the apocalypse and some resourceful female leads.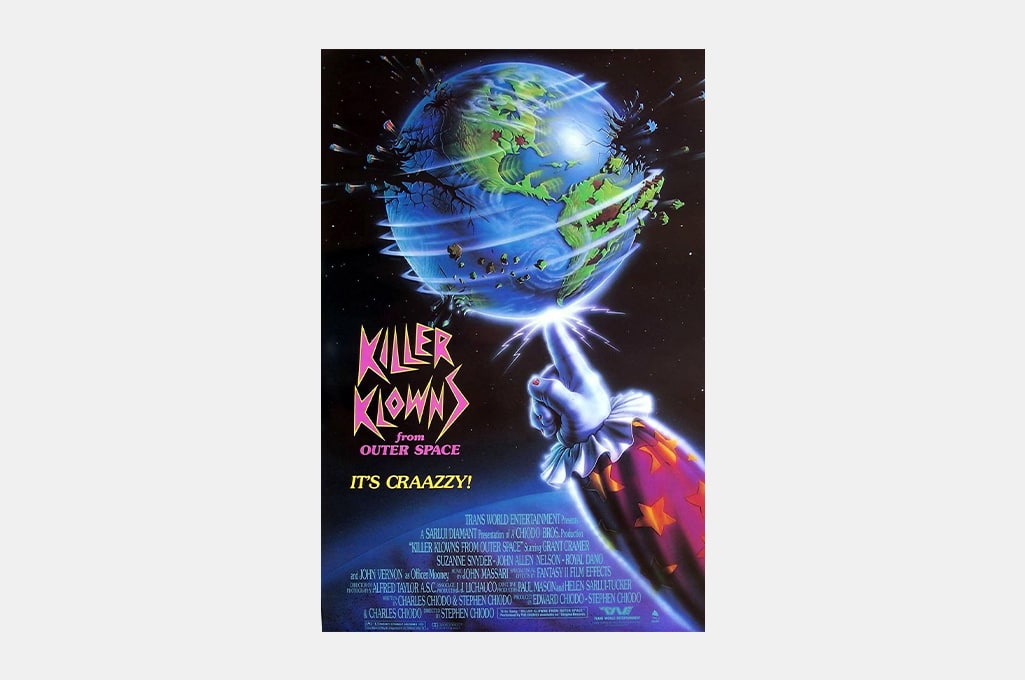 Killer Klowns from Outer Space (1988)
"Maybe, they're just crusin' through the galaxy and stopped here. For a bite to eat."
This bizzarro alien invasion flick packs in more clown and circus references than, well, clowns in a clown car. Darkly funny, Killer Klowns from Outer Space spells out its goal in the title, then delivers on it with full-tilt enthusiasm. The special effects makeup on the Klowns is particularly terrifying — not recommended for the coulrophobic.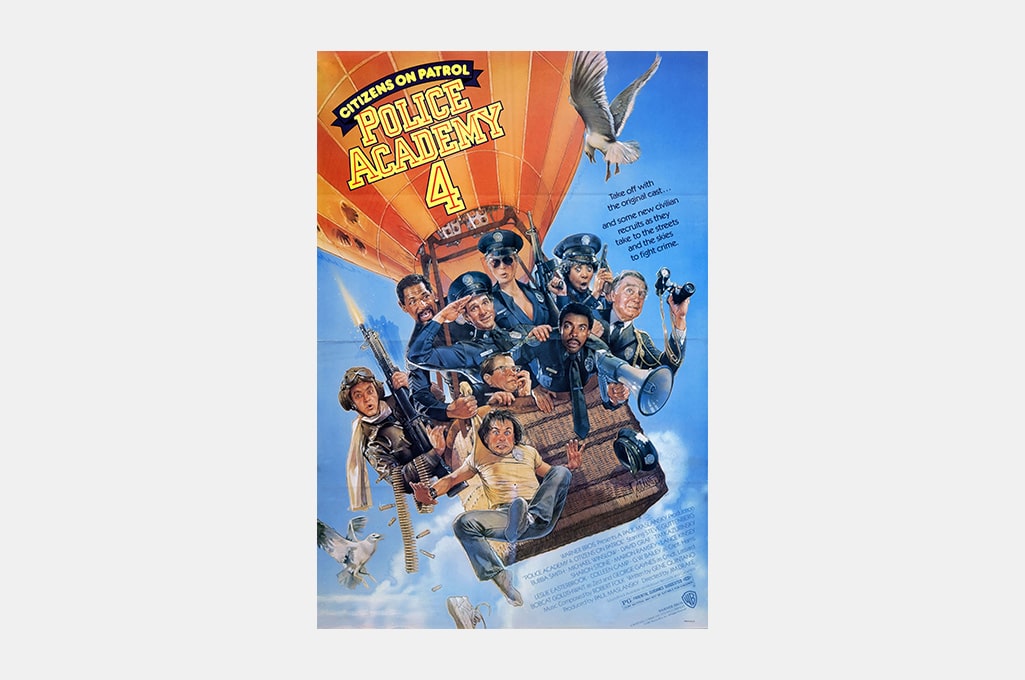 Police Academy 4: Citizens on Patrol (1987)
"Gee, sir, I thought you could only get contempt of court for opening your mouth!"
Sure, it has a rare zero percent on RT, but critics' love or lack of love for a movie doesn't matter. The love comes from the fans, those for whom repeated watchings ingrained the story in the soul. As the title suggests, Police Academy 4: Citizens on Patrol adds ragtag members of the community to the ragtag band of police officers. The bulk of the Academy cast returns, and nobody is phoning it in.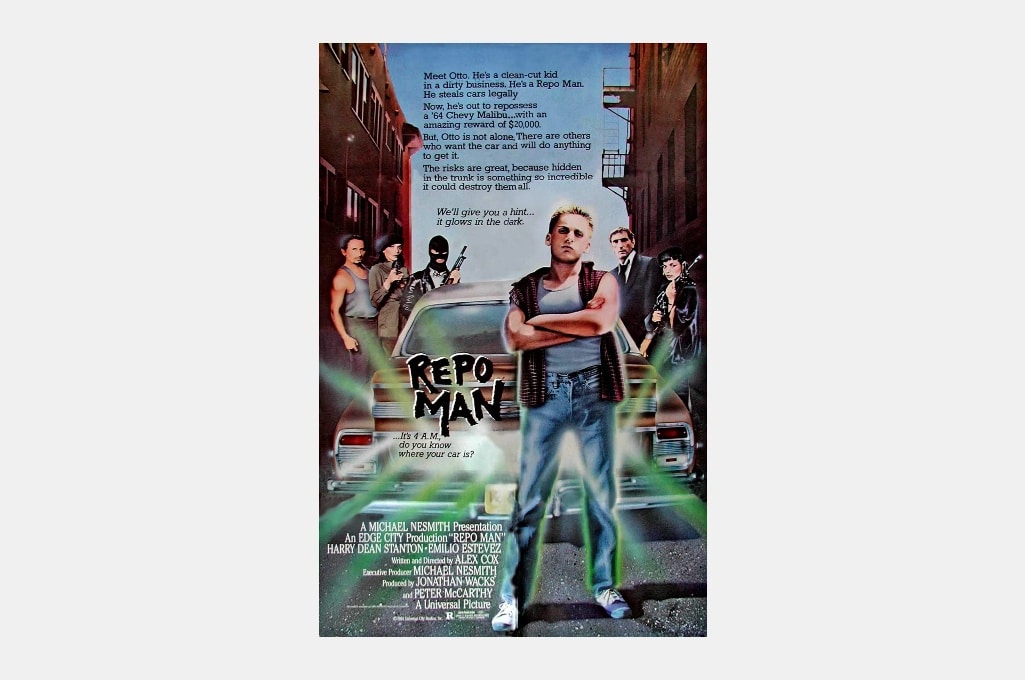 Repo Man (1984)
"Life of a repo man's always intense."
LIke an overstuffed trunk full of cult movie treasure, Repo Man is an "intense" mix of punk rock, alien invasions, televangelism, government conspiracies, and the LA RIver. Emilio Estevez stars with Harry Dean Stanton on a quest for one very particular Chevy Malibu. The film was bound for obscurity but the killer soundtrack, including an opening (instrumental) track by Iggy Pop, brought it back into the light.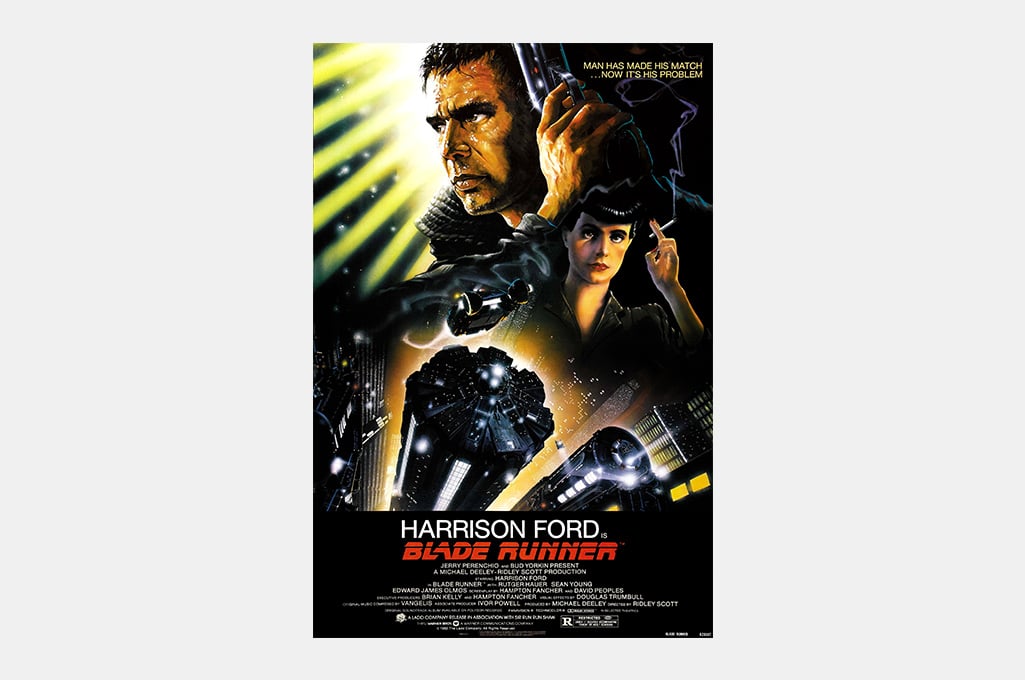 Blade Runner (1982)
"All those moments will be lost in time…like tears in rain."
Tough to believe now, but this Ridley Scott sci-fi masterpiece wasn't an immediate success. It's a blend of bleak but beautiful future cityscapes and a classic noir detective story. Harrison Ford's Rick Deckard is tasked with finding and "retiring" escaped replicants, artificial humans created to work on off world colonies. If you didn't rewatch it in 2019 (the year the action takes place) do so now.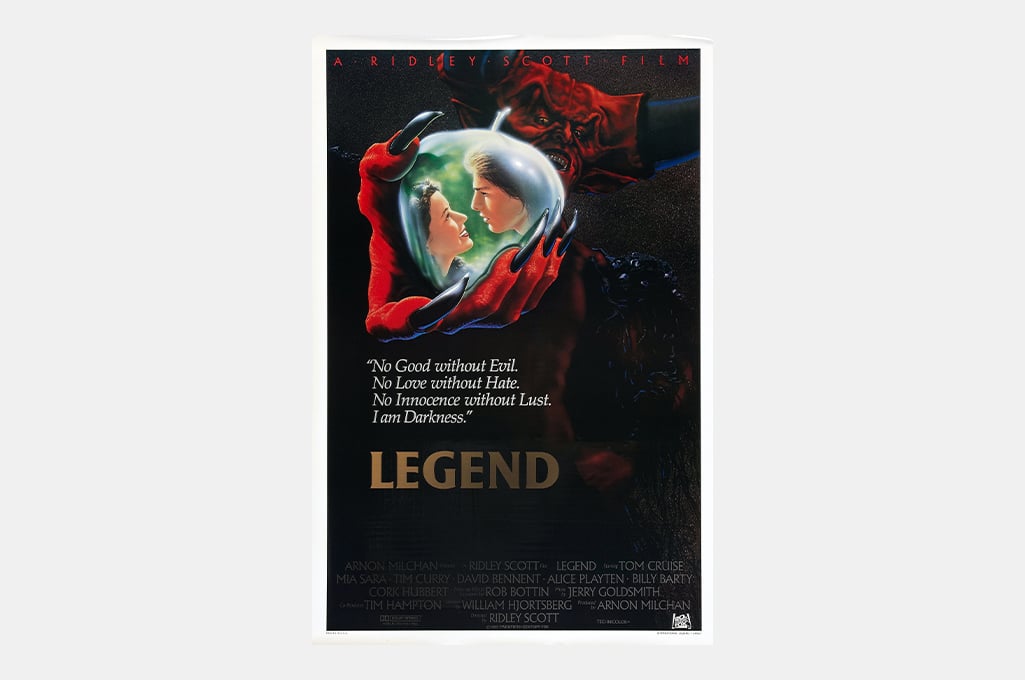 Legend (1985)
"Black as midnight, black as pitch, blacker than the foulest witch."
Containing one of the best all time evil laughs in cinema (courtesy of Tim Curry's deliciously terrifying Lord of Darkness) Legend is an epic fantasy of goblins, faeries, unicorns, swamp monsters, and of course Tom Cruise and Mia Sara's enchanting faces. A visually stunning way to get lost in a fairytale for 90 minutes.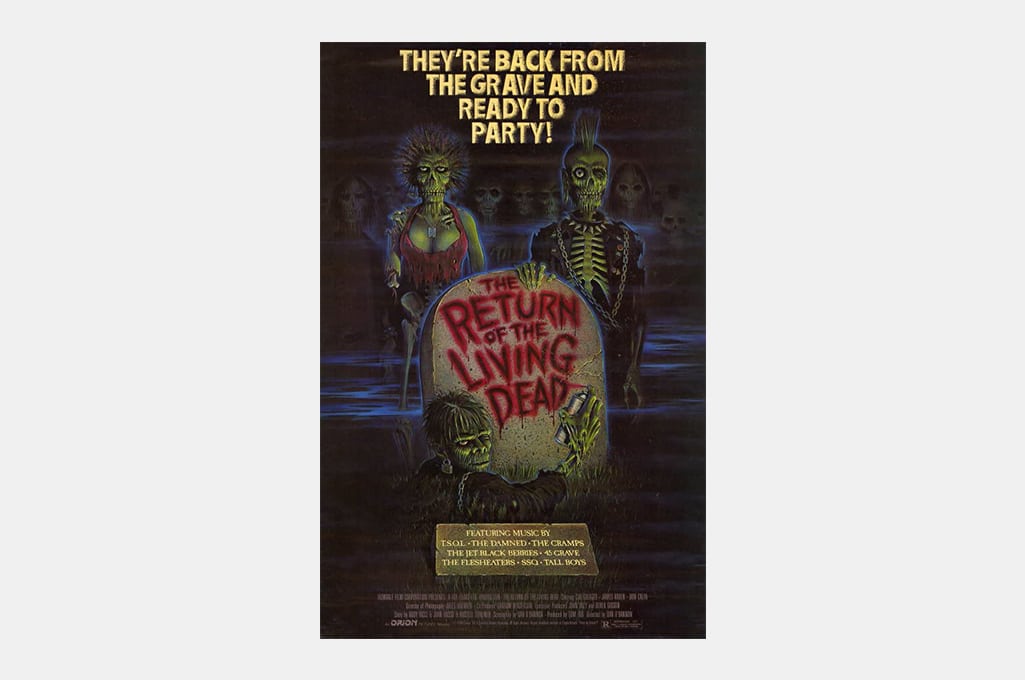 Return Of The Living Dead (1985)
"Send more cops."
A medical warehouse worker tells the new hire that Night of the Living Dead was based in reality—and the proof is in the basement. When they unwittingly release toxic zombie dust, the living dead return, and they're after brains. With a gang of punk kids, inventive kill techniques, and plenty of goopy gore, this Romero-less sequel goes at it full blast.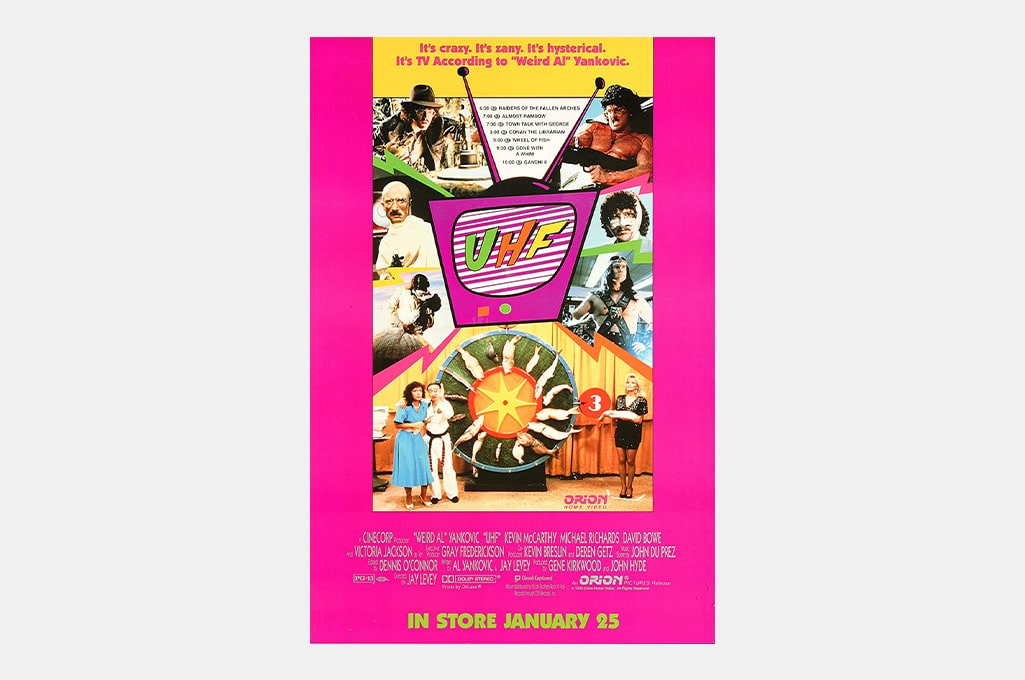 UHF (1989)
"For those of you just joining us, today we're teaching poodles how to fly."
Stretching Weird Al's fabulous parody abilities beyond the short format music video, UHF lets him take on action movies, kid's shows, game shows, and more by giving his character control over an ailing low-budget TV station. Goofy and zany, it's more a collection of parts, but those parts are all pretty funny.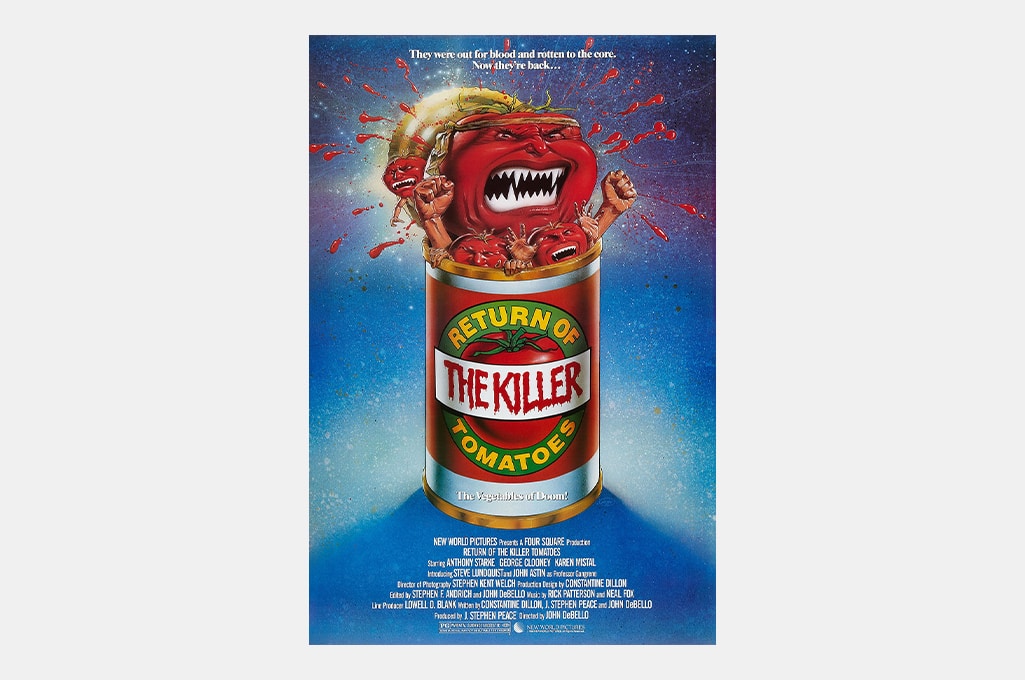 Return of the Killer Tomatoes (1988)
"The girl of my dreams is a vegetable!"
Intentionally dumb and agressivly derivative, Return of the Killer Tomatoes is gleeful in its B-movie-ness with a story about tomatoes bent on destroying humanity. Taking place ten years after the events of Attack of the Killer Tomatoes, this time, the tomatoes can take human form, George Clooney gets in on the action, and only product placement can save them.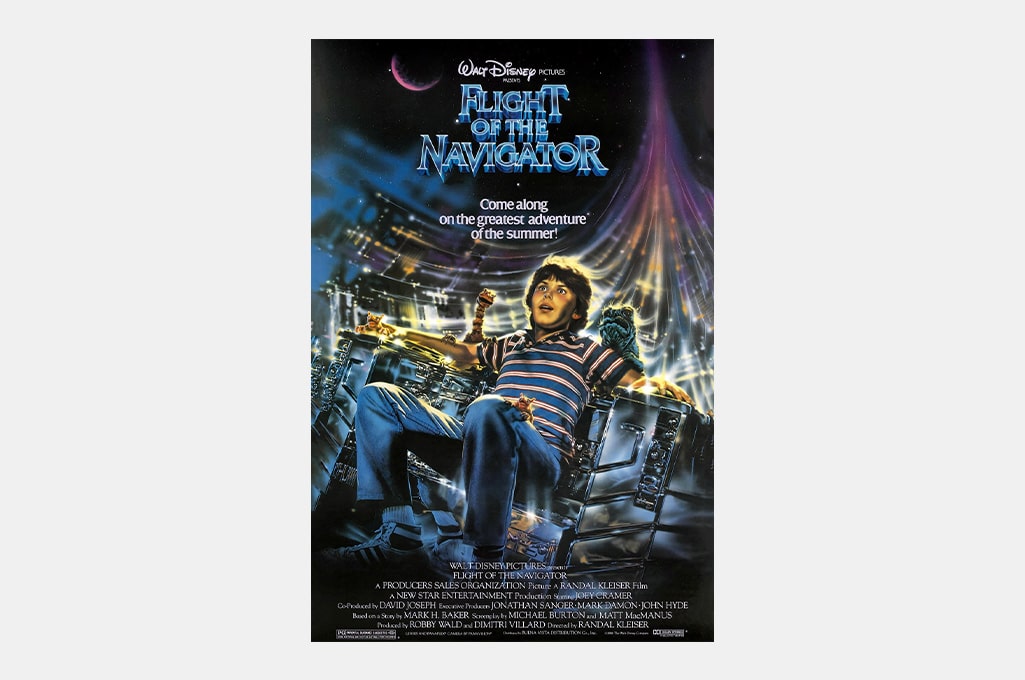 Flight of the Navigator (1986)
"Oh. A Threat. Oh, I'm really scared. Look, I'm shaking."
Time travel, space travel, synth music, and a brain full of star maps. Watching this as a kid, you're left with the firm belief that such an adventure is totally plausible. If you've since grown up and have a grown up's understanding of "reality," it's time to get back in the shiny navigator's seat and fly around with Max and his life samples collected from across the universe.
A Christmas Story (1983)
"Be sure to drink your…Ovaltine. Ovaltine?!"
Even if you've never seen it, you've heard the lines: "You'll shoot your eye out." "Like a deranged Easter Bunny." "Fra-gee-lay. Must be Italian." You probably even know about the leg lamp. If somehow every holiday season has come and gone without you yearning alongside Ralphie for the coveted Red Ryder BB gun, it's time to head back to midcentury Indiana.
Disclosure: Clicking on these links and making a purchase may earn us a small referral fee, at no extra cost to you. Learn more here.
freestar.config.enabled_slots.push({ placementName: "gearmoose_leaderboard_btf", slotId: "gearmoose_leaderboard_btf" });