12 Denim Shirts To Consider Adding To Your Rotation
Maybe you think your shirting collection is already full to the brim, packed with as many possible types of shirts as you can muster. Here's the thing: If you truly focus on men's style essentials, the types of pieces you can wear darn near anywhere with relative ease, there's one type of shirt you absolutely, positively need in your closet.
Folks, that would have to be the rugged denim shirt. Constructed out of, yes, the same cotton denim as found in your favorite pair of blue jeans, the denim shirt is something of a very close relative to the chambray shirt, yet often heartier in build, construction and fit, with differing washes and weaves (witness the picks on this list of the best denim shirts that straddle the line between "casual shirt" and "rugged overshirt").
The point is this: The denim shirt's rich heritage, from its workwear-inspired roots to its role as a symbol of edgy, modern style, is hard to beat. We're talking the sort of style points most other shirts can only envy: You can wear the right denim shirt atop a crisp white tee or a rugged henley just as easily as you can throw it on under a grey cotton blazer to mix up the pace of your work week ensemble — your dress shirt, stylish as it might be, can't quite do that.
In short, the denim shirt works for a day at the office (try it under a shawl cardigan), then wears well for happy hour, and then keeps on coming through in the clutch all weekend. Give it a wash, then get it ready to go for the next week. That's what the best denim shirt can do for you — let's help you find yours.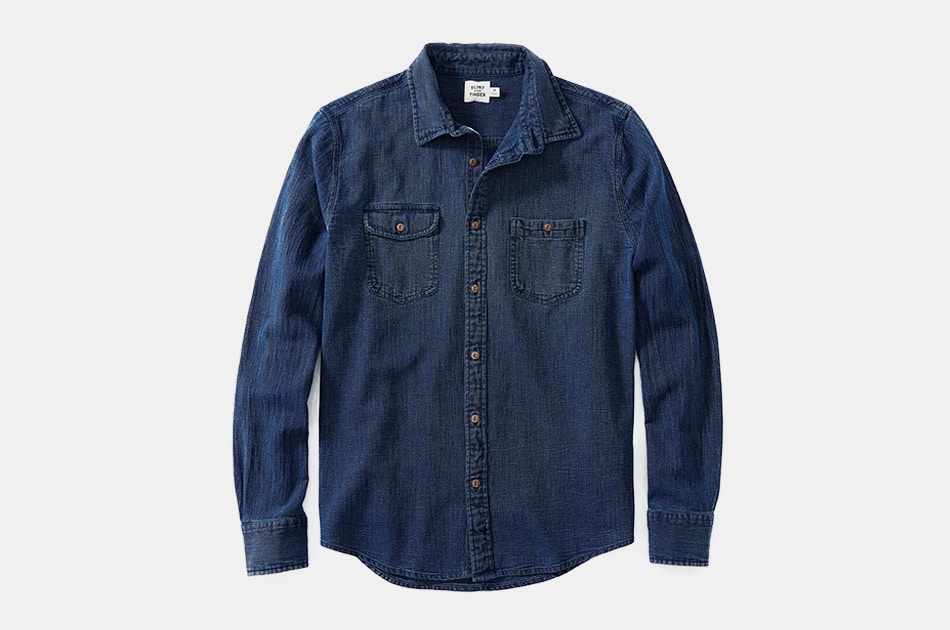 Flint and Tinder Indigo Work Shirt
The best denim shirts really do start from the ground up, featuring the kind of details and construction that would make any stylish guy proud to wear them. That's the case with the Flint and Tinder Indigo Work Shirt, made with a unique Japanese basketweave fabric and translated into one of the toughest work shirts on the market. The greatness of denim lies in its tough versatility, and that's the case with this shirt, too.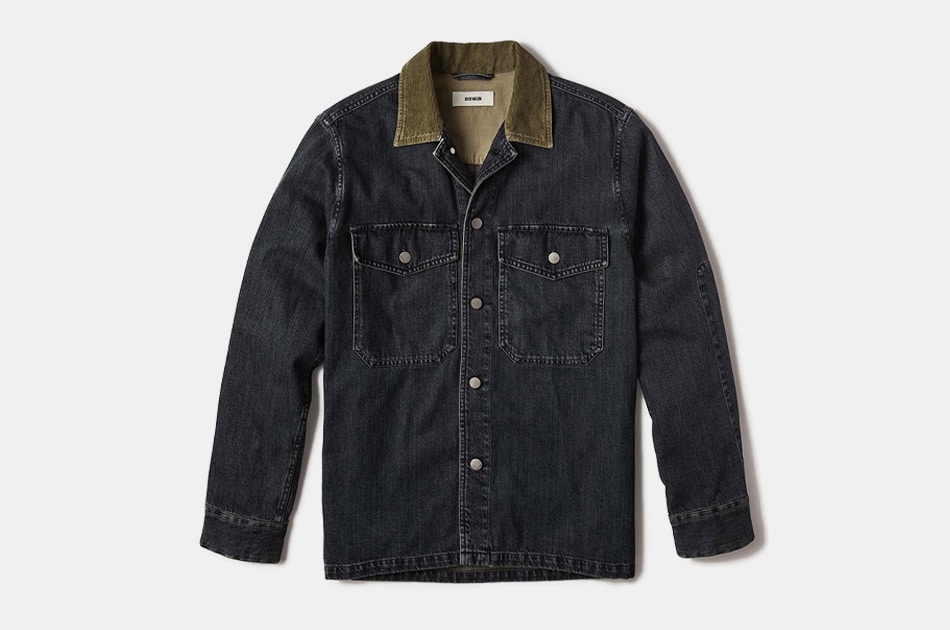 Buck Mason Medium Wash Two-Pocket Denim Field Shirt
Here's the denim shirt we alluded to earlier, one that actually wears more like an overshirt than a classic denim shirt. That kind of rugged versatility and timeless appeal is to be expected from an all-American brand like Buck Mason, which updates the basics for the modern man in new and exciting ways — like the way they've flipped this pleasingly faded denim shirt on its head with tough front pockets, a classic corduroy collar and plenty of tough layering potential (this is where your favorite henley comes into play).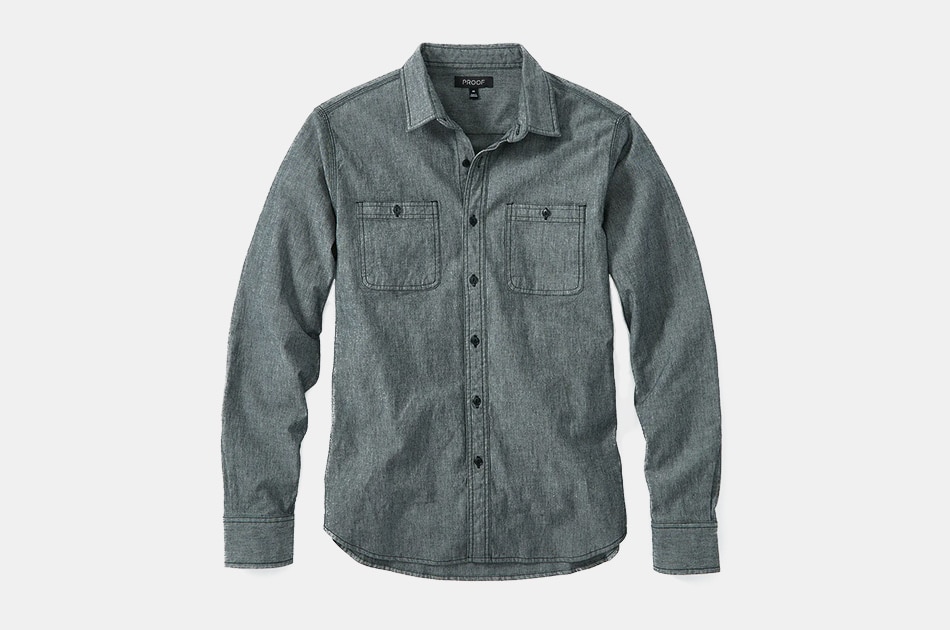 Proof Strong Shirt
Proof specializes in making the sort of highly versatile gear that's cut to move and provide high performance — plus, a healthy dose of versatile style. We love pieces like the Proof Rover Pants (blending a five-pocket fit with work pant-inspired fabric), and the perfect pairing with the Rover Pants would have to be the equally travel-ready Proof Strong Shirt. Made from a seriously unique Japanese Cordura chambray fabric, this denim shirt is rugged and travel-ready — exactly what you need in your life right now.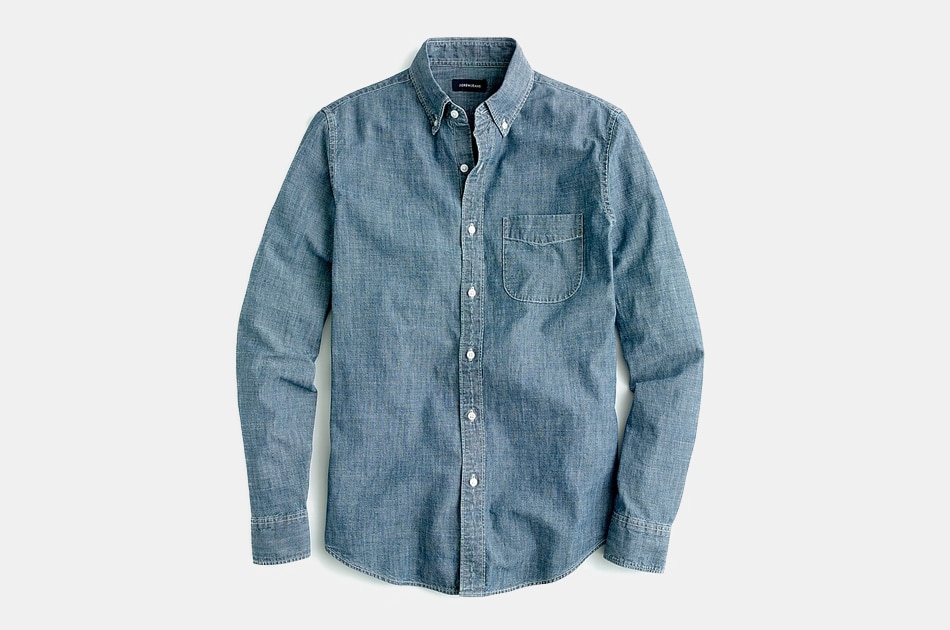 J. Crew One-Pocket Denim Shirt
For all that J. Crew has done to change the way men dress — and more specifically, dress up — this is still a brand that knows how to do casual gear the right way. Although the Ludlow Suit and the brand's handsome footwear partnerships have amped up on-duty style, shirts like the rugged-yet-easygoing One-Pocket Denim Shirt deliver perfectly laidback style. To wit: You can wear this shirt underneath a chore coat for a fall hike just as readily as you can throw it on to grab beers with your buddies. That's a great denim shirt right there.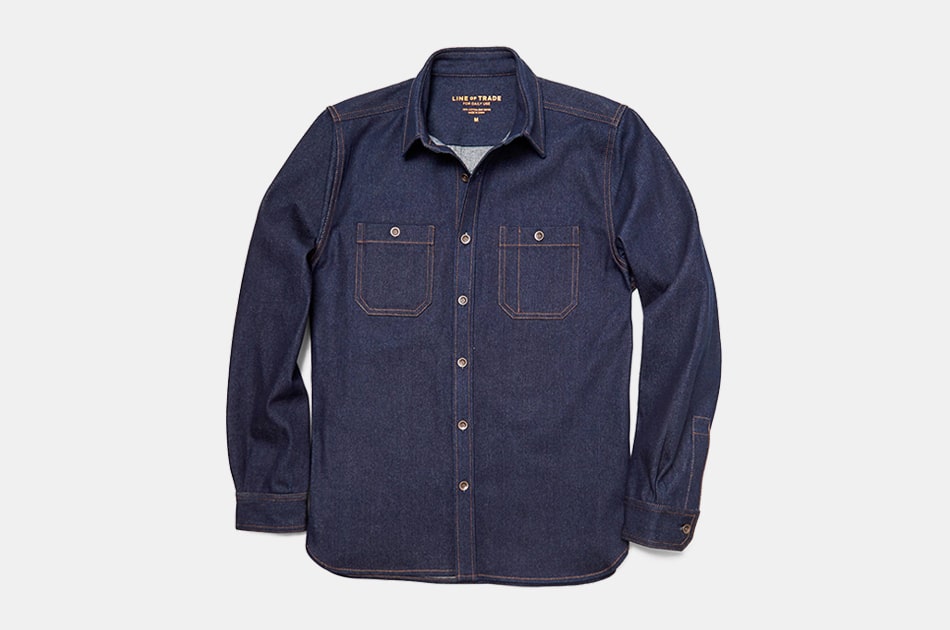 Line of Trade Raw Denim Work Shirt
Great gear for guys is just what Bespoke Post does, be it through the lauded E-commerce sites monthly boxes or its rotation of rugged, tough-yet-versatile gear for the nuanced man (that's you). The Line of Trade Raw Denim Work Shirt strikes the perfect balance between outdoors-minded and city-friendly, done up in a rich, raw indigo denim and finished with copper color metal buttons. This is the right denim shirt to layer up with a charcoal slub tee for Friday night cocktails, then keep handy when you hit the trail on Saturday.
Todd Snyder Indigo Denim Shirt
It's only fitting that a designer like Todd Snyder, with as clear a focus on classic American menswear as can be, would make one heck of a denim shirt. The Indigo Denim Shirt is a new American classic in its own right, priced as a worthwhile investment and a surefire way to upgrade your shirting game this season.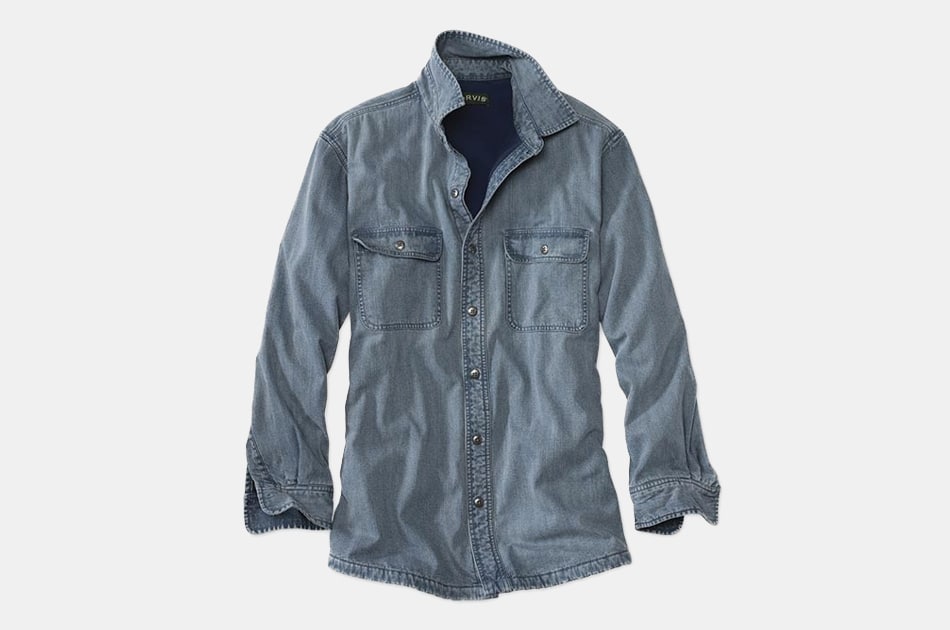 Orvis Lined Teton Denim Shirt
Is there anything that Orvis can't do? The brand's wildly dependable outerwear and rugged field pants are a perfect pairing with cozy thermals for chilly winter mornings, and your arsenal of Orvis gear just got even better. The Lined Teton Denim Shirt amps up the classic denim shirt through a warm fleece lining inside of a tough 8oz. cotton denim exterior.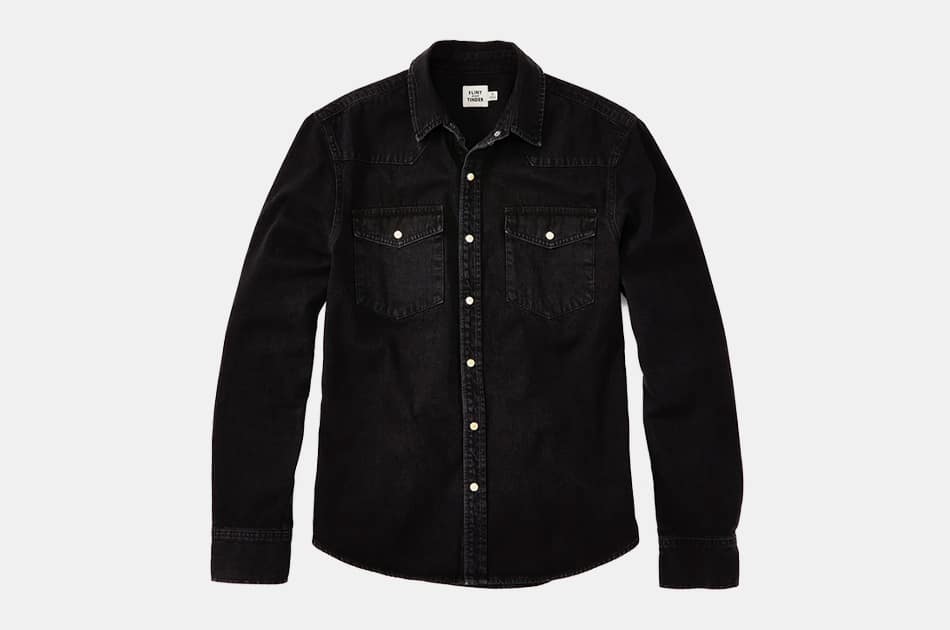 Flint and Tinder Bone Button Western Shirt
We turn once more to a new take on the denim shirt from Flint and Tinder, this time inspired by the classic Western shirts of days gone by. Similar to its counterparts at Taylor Stitch, Flint and Tinder has taken great care to craft this rich denim shirt out of the best fabric (in this case, an 8oz. cotton denim), and they've finished it with burnt bone buttons.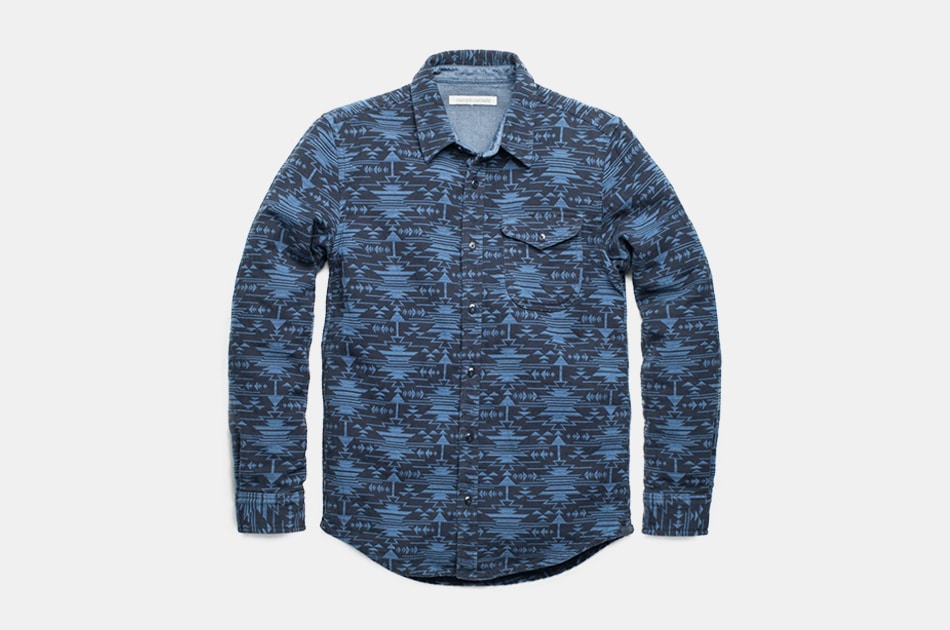 Outerknown Jacquard Blanket Shirt
Whenever we get wind that Outerknown is cooking up something new — and likely very covetable — we pay close, close attention. Such is the case with the recently introduced Outerknown Jacquard Blanket Shirt, a seriously cool jacquard-print take on the brand's classic, super-soft and layering-friendly Blanket Shirt. The combination of style and sustainability together makes this an unexpected favorite on fall or winter weekends in equal measure.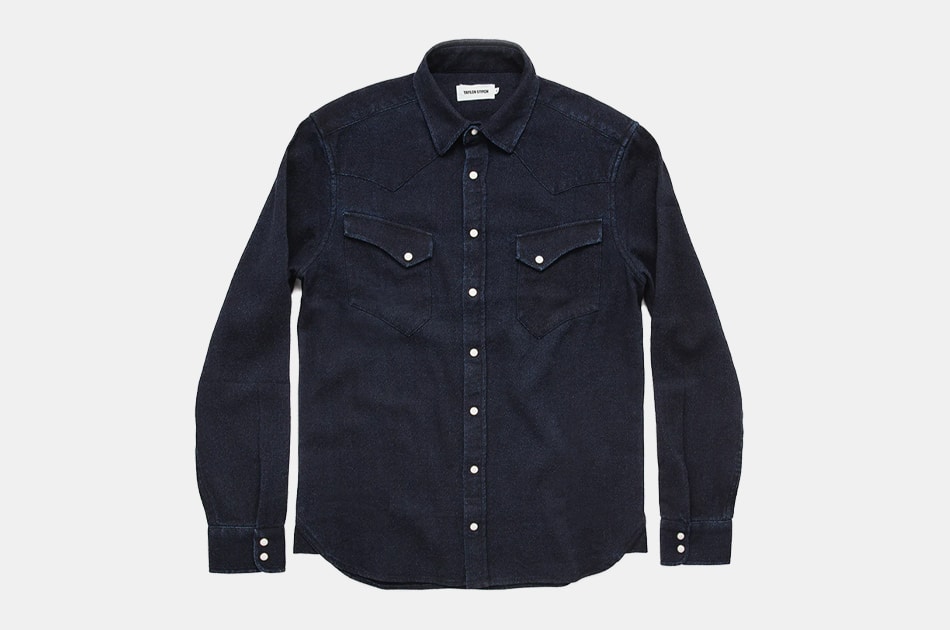 Taylor Stitch Western Shirt
The best denim shirts can take on many forms, from the classic one-pocket denim shirt to the tough work shirt to this deep indigo Western shirt from the always-reliable menswear team at Taylor Stitch. This Western shirt is something of a new icon, featuring a rich indigo crepe fabric that'll wear in wonderfully over time. It's also finished off with YKK Western snaps with antique brass settings — this is a denim shirt inspired by the old days, and yet perfectly modern at the same time.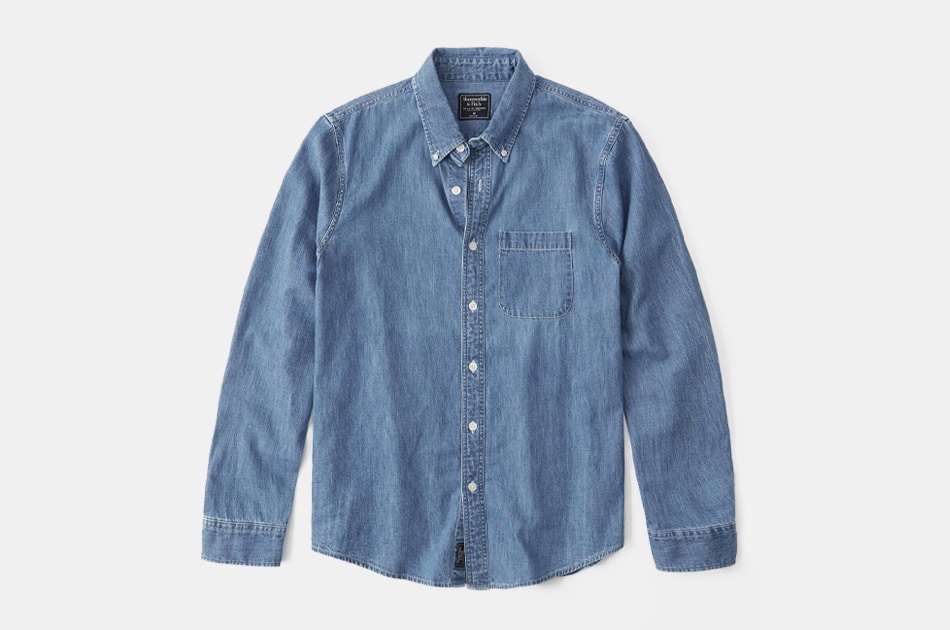 Abercrombie & Fitch One-Pocket Denim Shirt
Among brands that continue to surge forward in terms of new and high-quality style staples, Abercrombie & Fitch really hasn't slowed down in years — and simple, subtly stylish yet dependable pieces like the Abercrombie & Fitch One-Pocket Denim Shirt back up that ethos quite nicely. It's washed just enough to stand out quietly when paired with anything and everything, from a tan chore coat to a charcoal blazer.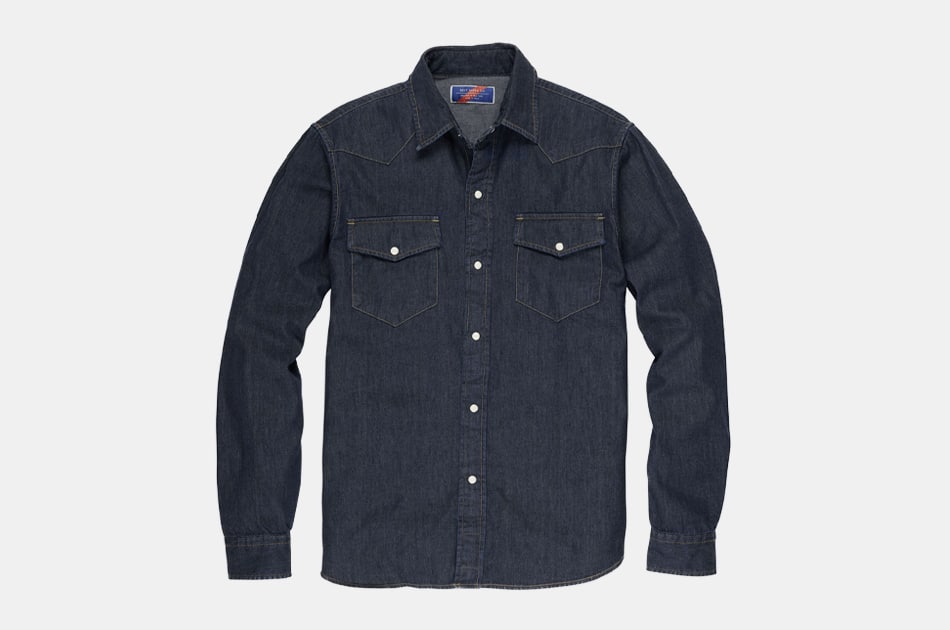 Best Made Co. Denim Western Shirt
The difference with Best Made Co. really is right in the name — they specialize in making the everyday classics with some next-level care and quality, and the best example of that at the moment might just be this rugged, fall and winter-ready Best Made Co. Denim Western Shirt. It's everything you love about a stylish denim shirt, made even better by, yes, Best Made Co.
Disclosure: Clicking on these links and making a purchase may earn us a small referral fee, at no extra cost to you. Learn more here.