15 Denim Shirts To Consider Adding To Your Rotation
Maybe you think your shirting collection is already full to the brim, packed with as many possible types of shirts as you can muster. Here's the thing: If you truly focus on men's style essentials, the types of pieces you can wear darn near anywhere with relative ease, there's one type of shirt you absolutely, positively need in your closet.
Folks, that would have to be the rugged denim shirt. Constructed out of, yes, the same cotton denim as found in your favorite pair of blue jeans, the denim shirt is something of a very close relative to the chambray shirt, yet often heartier in build, construction and fit, with differing washes and weaves (witness the picks on this list of the best denim shirts that straddle the line between "casual shirt" and "rugged overshirt").
The point is this: The denim shirt's rich heritage, from its workwear-inspired roots to its role as a symbol of edgy, modern style, is hard to beat. We're talking the sort of style points most other shirts can only envy: You can wear the right denim shirt atop a crisp white tee or a rugged henley just as easily as you can throw it on under a grey cotton blazer to mix up the pace of your work week ensemble — your dress shirt, stylish as it might be, can't quite do that.
In short, the denim shirt works for a day at the office (try it under a shawl cardigan), then wears well for happy hour, and then keeps on coming through in the clutch all weekend. Give it a wash, then get it ready to go for the next week. That's what the best denim shirt can do for you — let's help you find yours.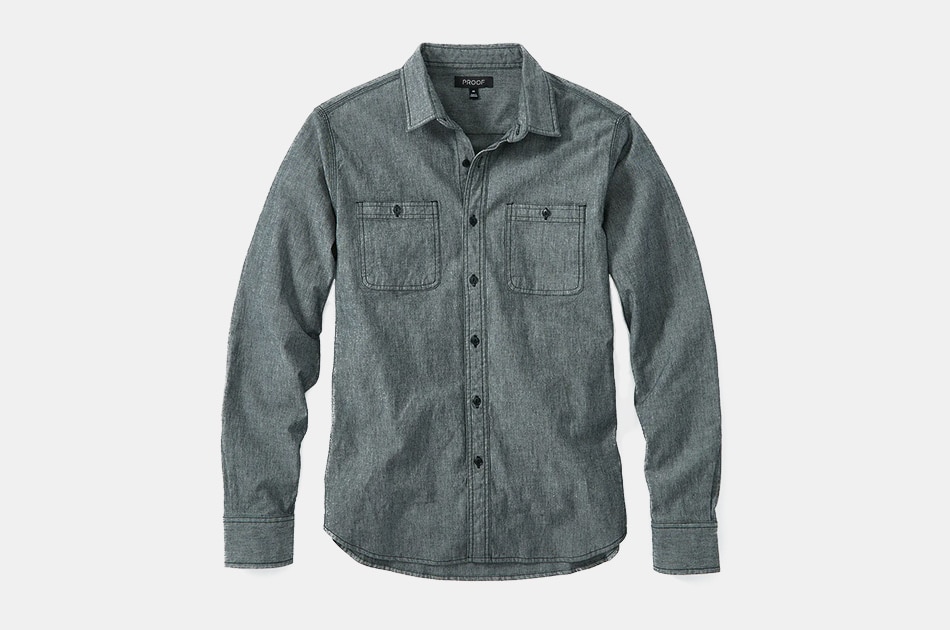 Proof Strong Shirt
Proof specializes in making the sort of highly versatile gear that's cut to move and provide high performance — plus, a healthy dose of versatile style. We love pieces like the Proof Rover Pants (blending a five-pocket fit with work pant-inspired fabric), and the perfect pairing with the Rover Pants would have to be the equally travel-ready Proof Strong Shirt. Made from a seriously unique Japanese Cordura chambray fabric, this denim shirt is rugged and travel-ready — exactly what you need in your life right now.
Todd Snyder Indigo Denim Shirt
It's only fitting that a designer like Todd Snyder, with as clear a focus on classic American menswear as can be, would make one heck of a denim shirt. The Indigo Denim Shirt is a new American classic in its own right, priced as a worthwhile investment and a surefire way to upgrade your shirting game this season.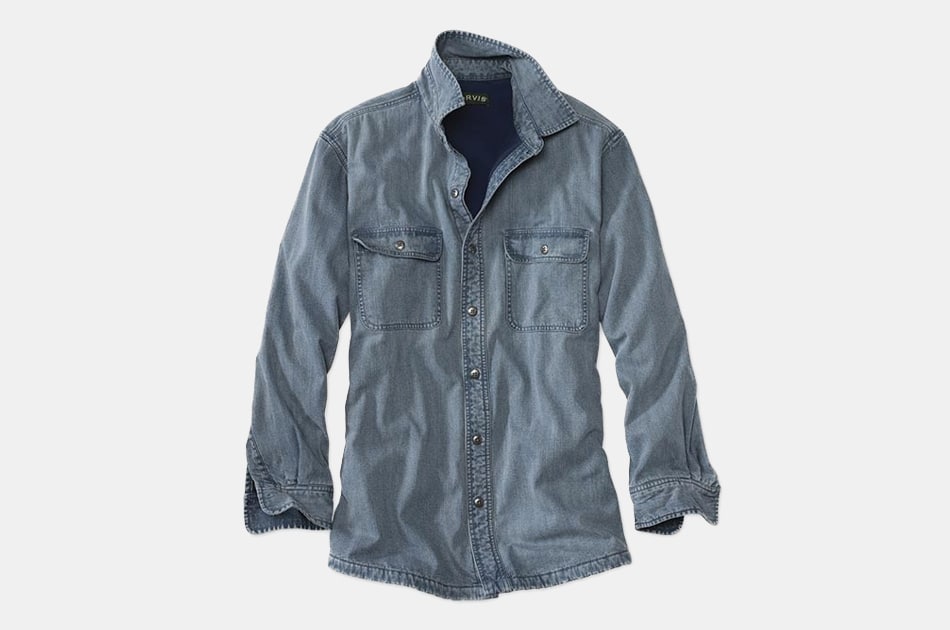 Orvis Lined Teton Denim Shirt
Is there anything that Orvis can't do? The brand's wildly dependable outerwear and rugged field pants are a perfect pairing with cozy thermals for chilly winter mornings, and your arsenal of Orvis gear just got even better. The Lined Teton Denim Shirt amps up the classic denim shirt through a warm fleece lining inside of a tough 8oz. cotton denim exterior.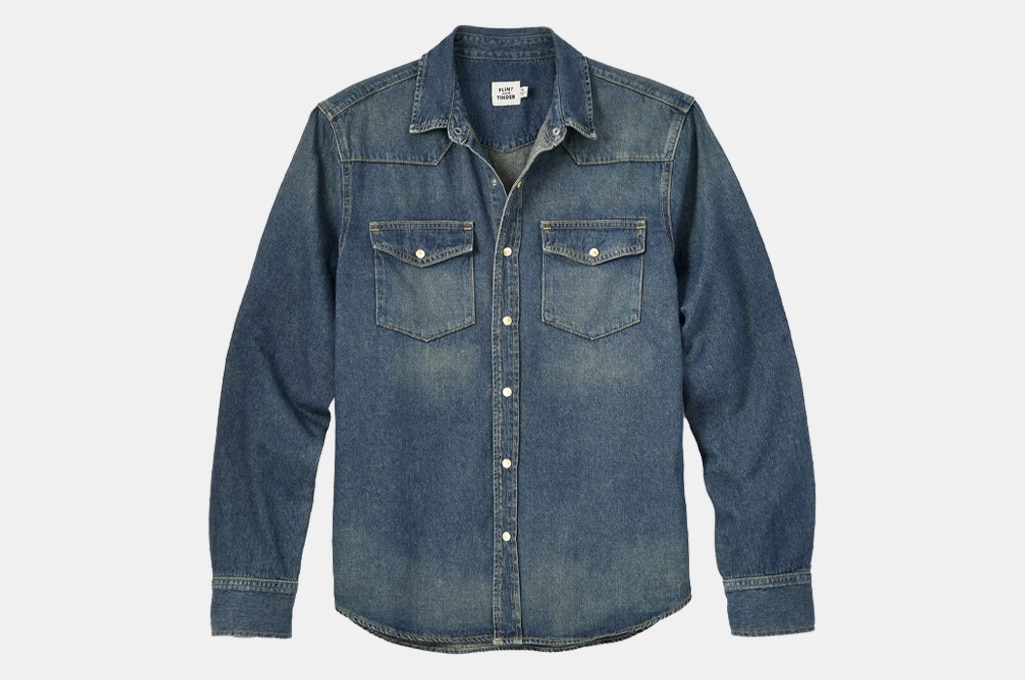 Flint and Tinder Bone Button Western Shirt
Throw on this throwback to the Wild West, and you'll always look your best. Flint and Tinder brings a true taste of the good old days with the Bone Button Western Shirt, an authentically American shirt that combines the iconic frontier design with top-quality Southern manufacturing. Say goodbye to buttons; this shirt uses cow bone snaps, a sturdier, safer, and more reliable choice to keep your shirt in place when riding or roping. Made with eight-ounce denim, it's the perfect balance between lightweight comfort and hard-wearing durability.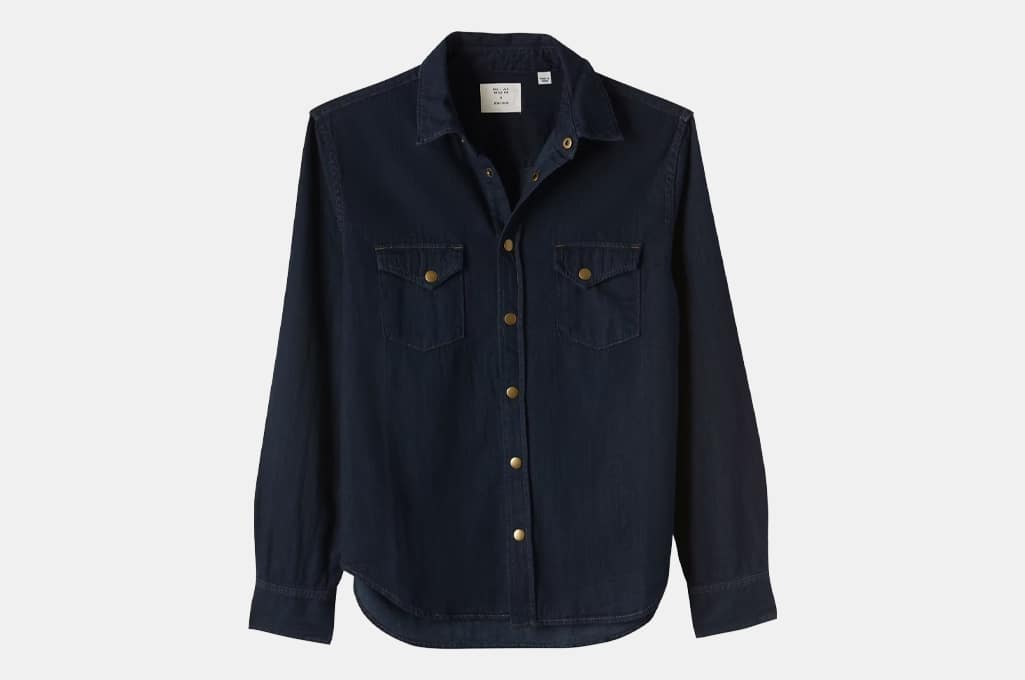 Billy Reid Denim Shirt
Going out for the night and need a shirt to dress things up? Look no further than the Billy Reid Denim Shirt. This shirt uses distressed denim to give it a weathered look, which pairs perfectly with the antique brass snaps, single-barred cuffs, and double chest pockets. This is the shirt that lets everyone know you've seen some adventures and have great stories to tell. Best of all, the pure cotton denim is luxuriously soft and can stand up to hardcore use. Just beware: the slim fit may mean you need to order a size up.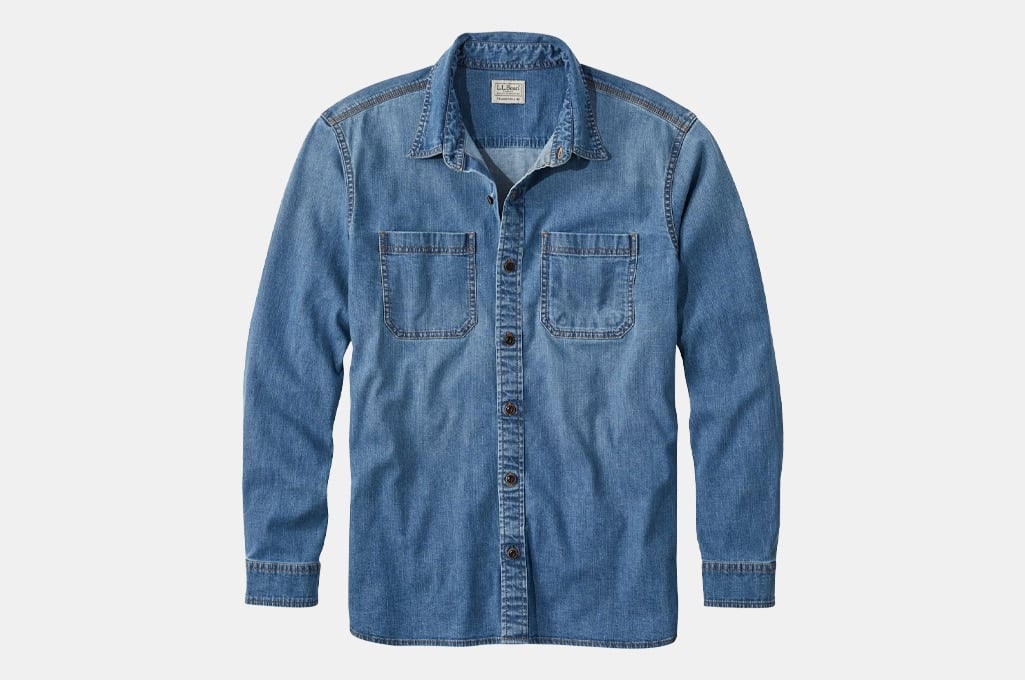 L.L.Bean Men's BeanFlex Denim Shirt
Denim can look casual and relaxed, too. That's exactly what you get with L.L.Bean's BeanFlex Denim Shirt. Made to be untucked and worn loose, this shirt keeps you cool, comfortable, and dry all day long. Thanks to its addition of spandex into the cotton fabric, there's just enough flex that the shirt will move and bend with you, making it perfect for all of your everyday activities. With its triple needle stitching and gusseting along the side seams, you can trust that this is a shirt tough enough to handle anything life can throw at it.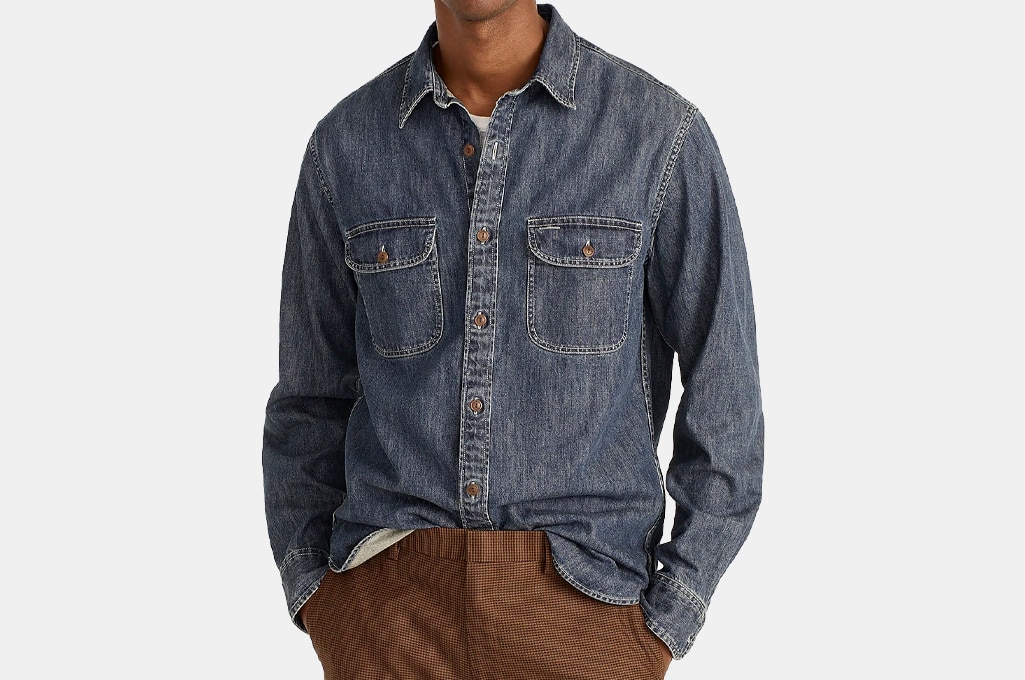 J.Crew Midweight Denim Workshirt in Dark Wash
Always look good on the job site with the J.Crew Midweight Denim Workshirt. As the name indicates, it's a mid-weight shirt that will be thick enough to keep you warm when the weather cools down, but it's light enough that you won't sweat or overheat during the summer months. The dark wash not only gives it a classy look, but helps to hide stains and dirt that accumulate during your work day. Thanks to its traditional full cut, you'll find it's got plenty of room in the sleeves and chest to give you total freedom of movement—perfect for a tough-as-nails work shirt.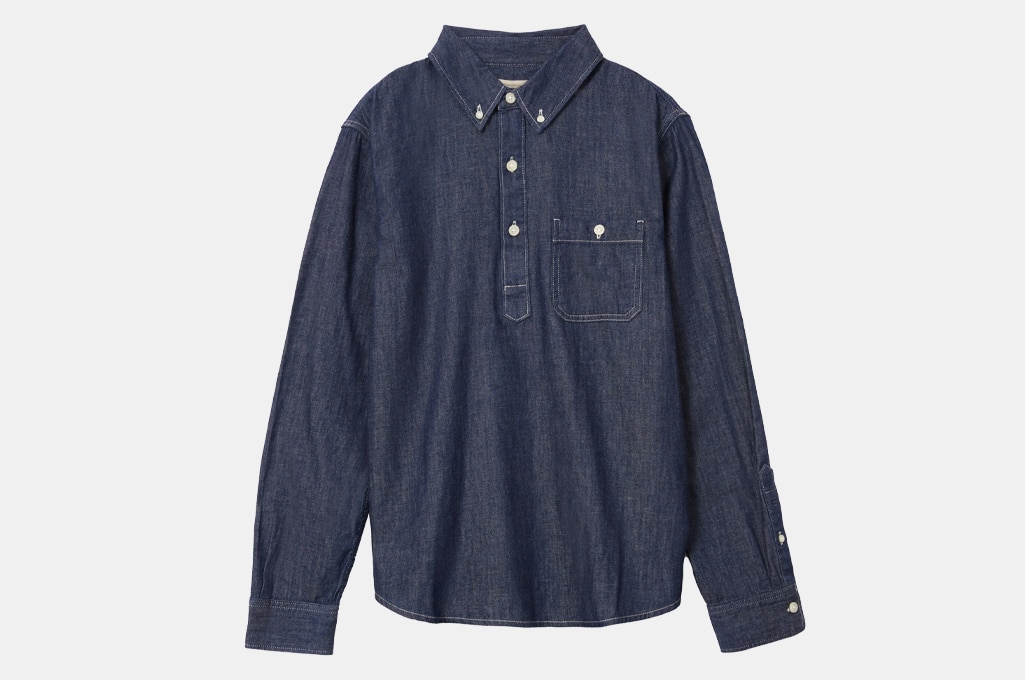 Everlane The Denim Popover Shirt
Everlane delivers the perfect shirt to pop on over a lightweight tee or tank, the ideal way to dress up your outfit in a hurry when you need to go from the job site or garage workshop to drinks with friends in a hurry. The Denim Popover Shirt is made in Sri Lanka and uses only organic cotton. Not only is it a more sustainable product, but the brand promises total transparency in its pricing, sharing the costs of materials, transportation, hardware, duties, and labor so you know you're paying a fair price for a quality garment. Add this to your spring and fall wardrobe and you'll never regret it.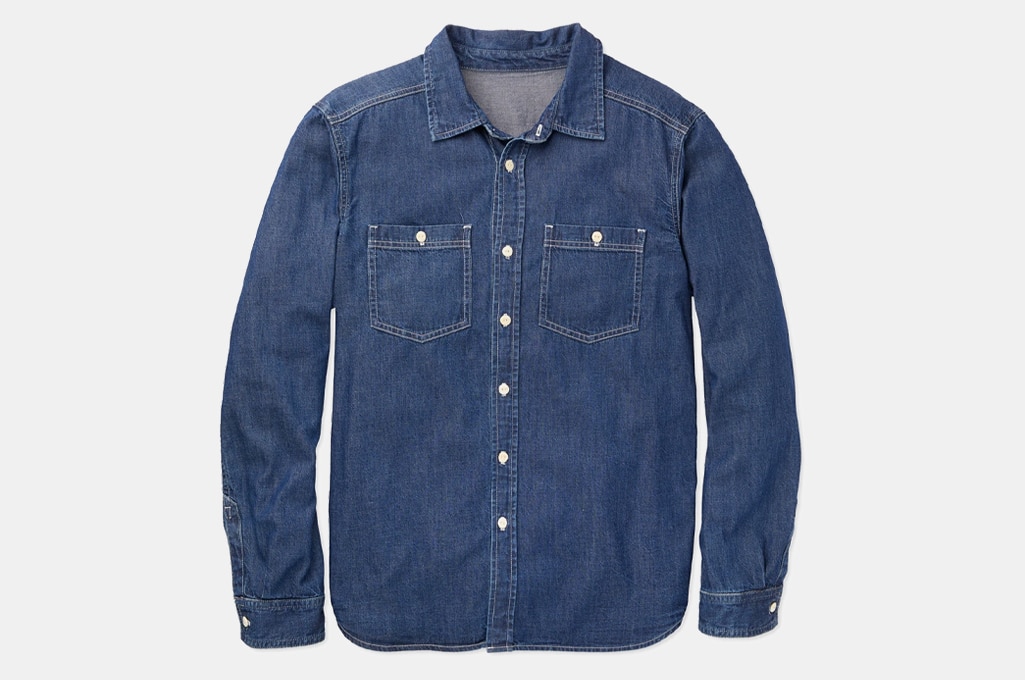 Outerknown Wyatt Denim Shirt
Outerknown brings a classy and versatile addition to your wardrobe with the Wyatt Denim Shirt. This long-sleeved buttondown is cut in the classic fit, and it grows more beautiful the more you wear it. It's made using premium denim sourced from Japan's Kaihara mill, one of the most renowned manufacturers of premium blue denim in the world. Best of all, there are no synthetics or chemicals in this shirt, just pure organic cotton denim that will wear hard and look amazing.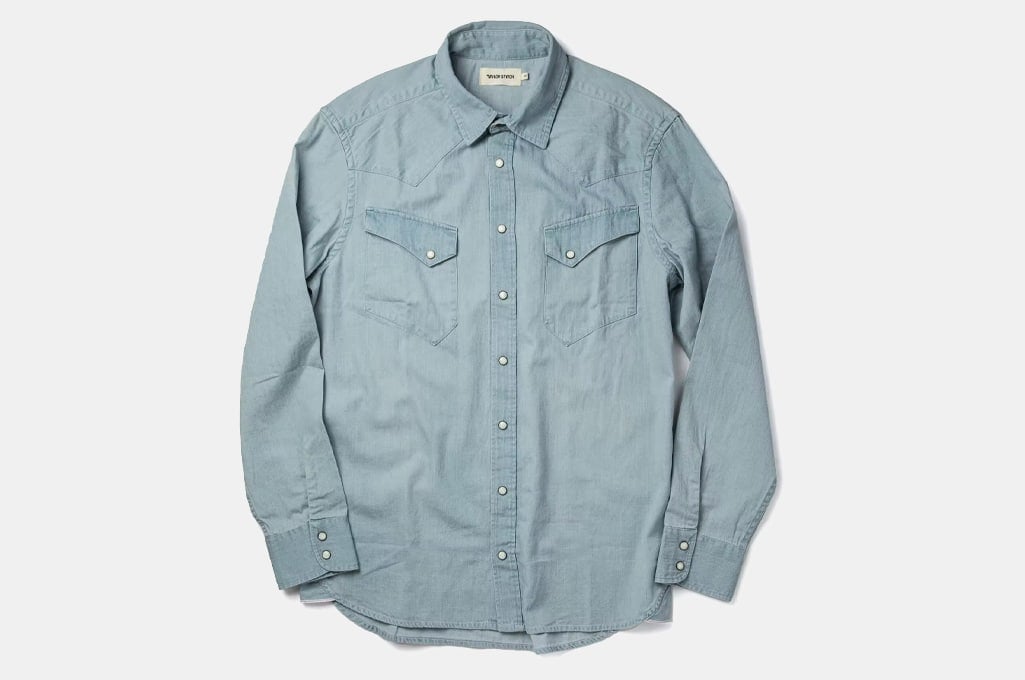 Taylor Stitch Western Shirt in Washed Denim
Nothing says "low-key stylish" like the Taylor Stitch Western Shirt in Washed Denim. This denim shirt has that washed, vintage look that you've been craving, and is surprisingly soft on your skin from the moment you put it on. The Western-style front and back yokes pair with the double-snap cuffs, YKK western snaps, and antique brass concho top button to complete the "Western" flair that will turn any pair of jeans into a classy night-out outfit. Made using lightweight selvedge denim, it's a shirt that will last for many great years of use and look good every time you wear it.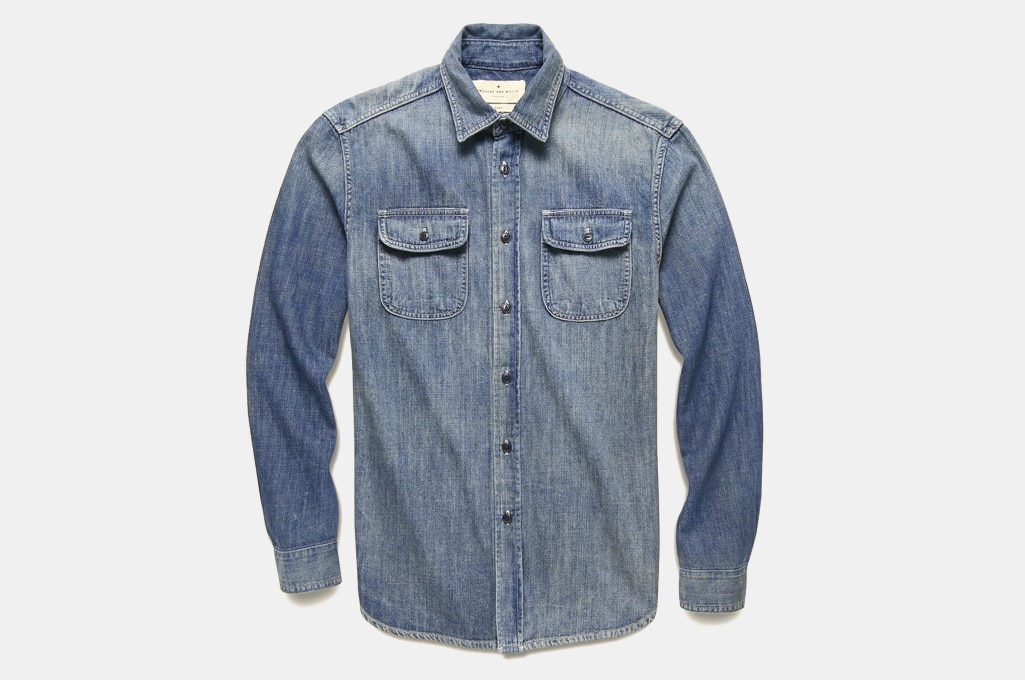 Imogene + Willie Earl Selvedge Denim Shirt
When the days grow short and the nights grow cool, you're going to want to have this Imogene + Willie shirt close at hand. The Earl Selvedge Denim shirt is made using mid-weight selvedge denim that is garment-washed to give it the time-worn, relaxed look that sets it apart from the crowd, and a true-to-size fit that makes shopping a breeze every time. It's even pre-shrunk to ensure it always fits just right, and you'll love how "broken in" it feels right out of the box.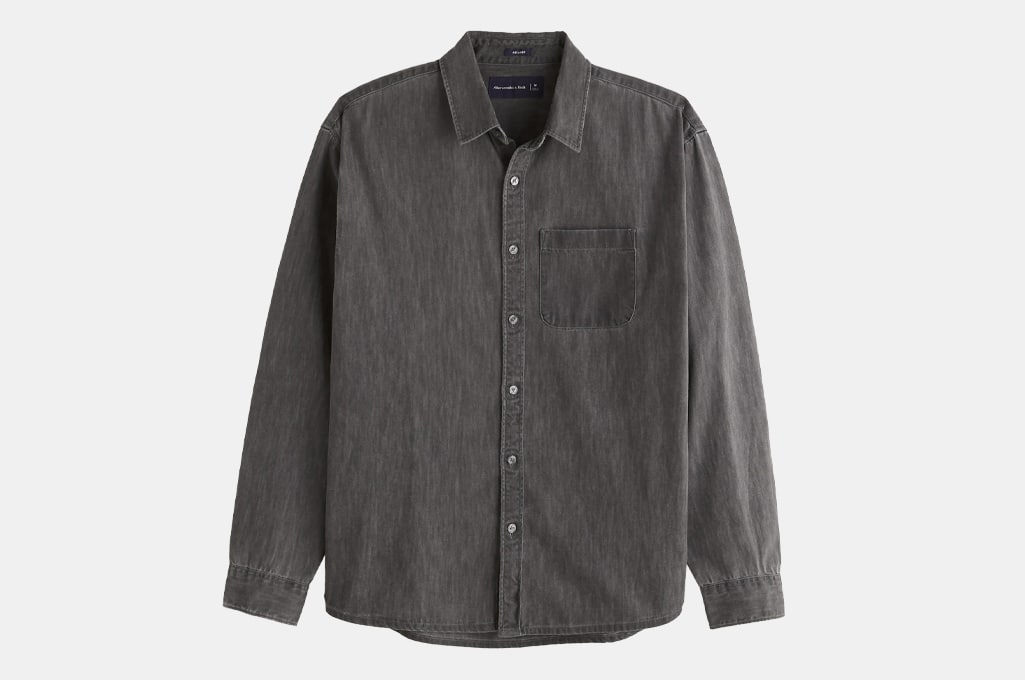 Abercrombie & Fitch Relaxed Denim Button-Up Shirt
Abercrombie & Fitch knows a thing or two about style for guys, which is why this Relaxed Denim Button-Up Shirt is one of our classiest picks. There's nothing flashy about it, but it delivers premium quality, maximum comfort, and a low-key style that pairs perfectly with just about any casual pants. You'll love the fit—neither too tight nor too loose—and the material is super-soft to the touch. Whether you wear this to work or out on the town, you'll always be comfortable and look your absolute best.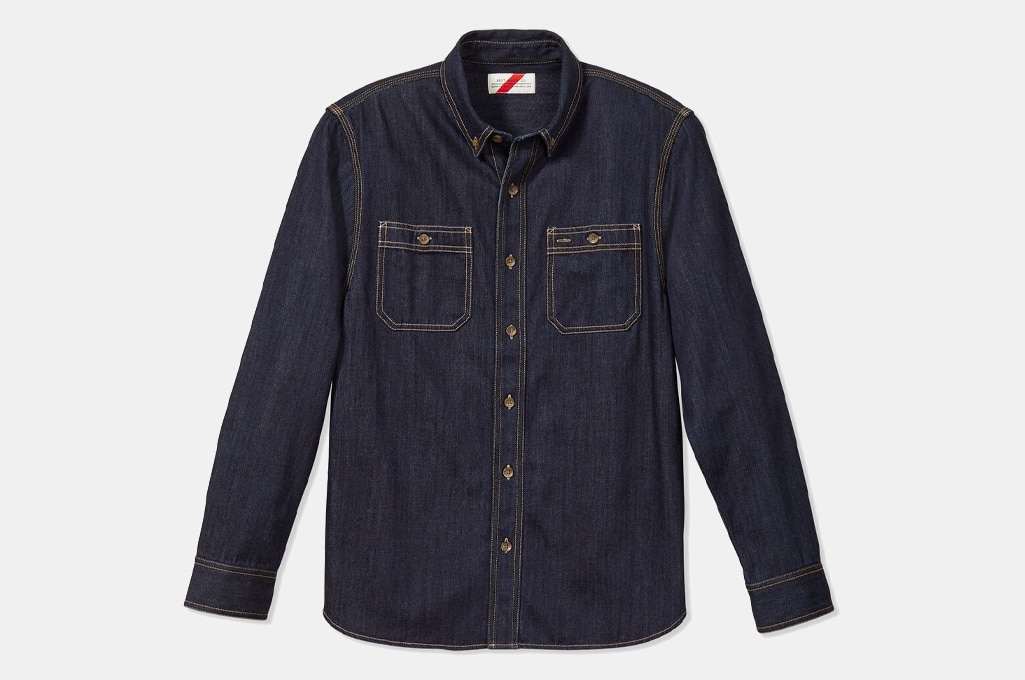 Duluth Trading Co. Men's Best Made Washed Denim Shirt
There's just something about dark denim that you've got to love. Take one look at Duluth Trading Co. Men's Best Made Washed Denim Shirt, and you'll be reminded of nights spent out in the open, sitting around a campfire, singing songs and enjoying the wonders of nature. That's exactly the sense the shirt is designed to evoke—it's a throwback to the days when men were men and the work was physical, demanding, and rewarding. From its thick fabric to its sturdy, slightly starched feel to its cuff-to-elbow patches, it's a shirt that screams "tough made for tough men."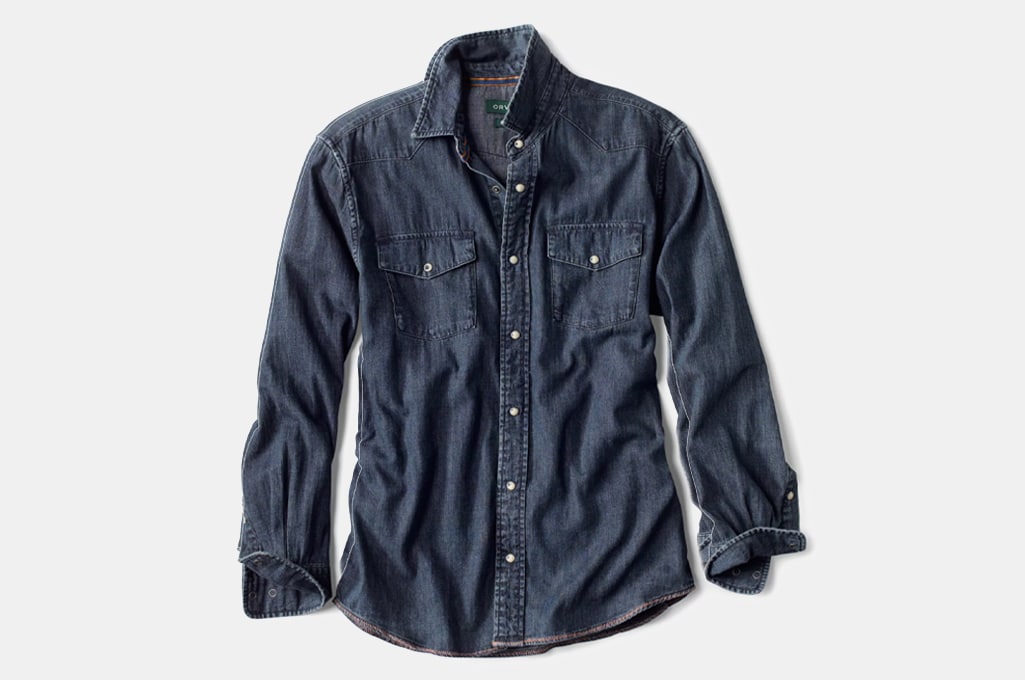 Orvis Great Bend Washed Indigo Shirt
Looking for a thicker, tougher denim shirt? The Orvis Great Bend Washed Indigo Shirt is made using 10.5-ounce denim, a heavier-weight fabric than most of the others on our list, but one that gives it a longer lifespan and better protection against the elements. Despite its weight, it's still one of the most versatile and comfortable denim shirts you'll ever own. The more you wash it, the softer it will get and the more the color will set in. It's guaranteed to age gracefully and stay comfortable until the day you hang it up in your closet one last time.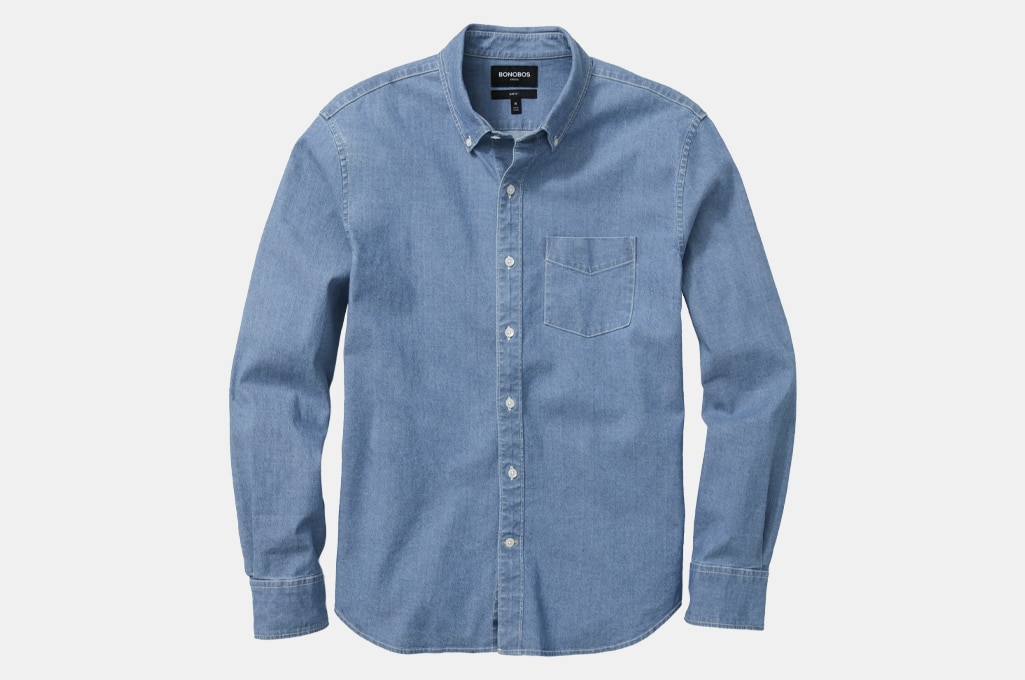 Bonobos Stretch Denim Shirt
On those days when you need to stay active, throw on the Bonobos Stretch Denim Shirt for maximum comfort. Made with a blend of cotton denim and synthetic elastane, it's a shirt built to be tough and rugged but with just enough flex to keep up with anything you want to do—from hiking to camping to riding to skateboarding. It only comes in slim fit, so it's perfect for tall and lean guys who want a long-sleeved shirt to pair with their favorite jeans or cargo shorts. As long as you've got this shirt on, you'll be ready for literally anything.
Disclosure: Clicking on these links and making a purchase may earn us a small referral fee, at no extra cost to you. Learn more here.
freestar.config.enabled_slots.push({ placementName: "gearmoose_leaderboard_btf", slotId: "gearmoose_leaderboard_btf" });