The 12 Best Dry Bags for Camping and Hiking
Picture this: You're midway through a weekend trip. Maybe you went to the beach for fun in the sun. Or maybe you hit the trails for an unforgettable week of hiking and camping.
Either way, you're going to have some damp and dirty clothes — so what do you do with them? You can pack them away in your bag, sure. But they'll just make a mess of all your other gear.
You can get ahead of the curve for any multi-day trip by making sure to pack a dry bag. These convenient waterproof storage devices have become a must in my travel equipment list, and once you check out our review of the 12 best dry bags for camping, hiking, and trips to the beach, we think you'll agree that they're essential for any serious traveler.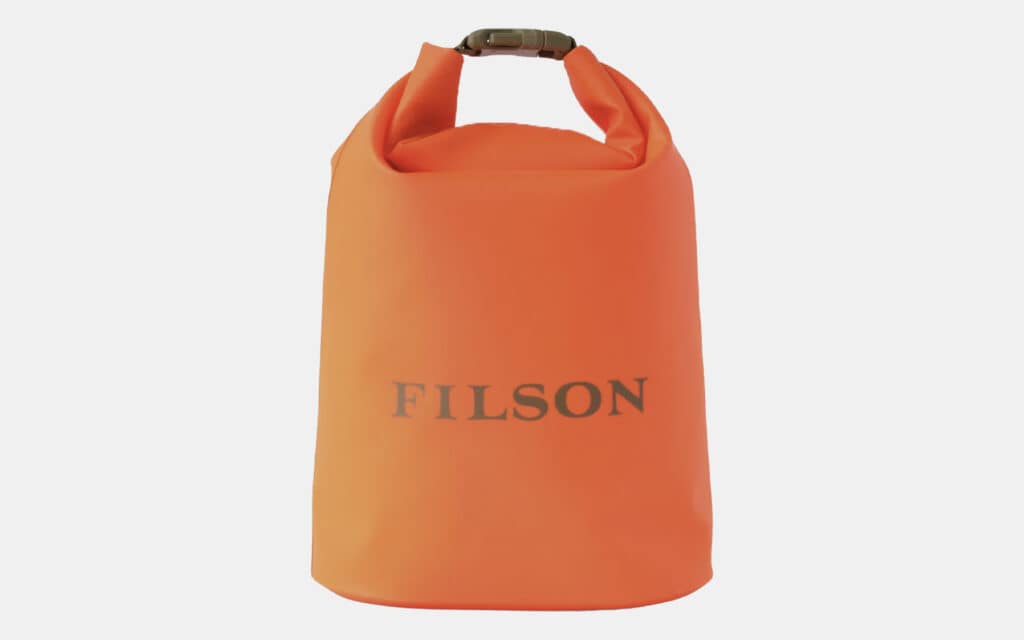 Filson Small Dry Bag
All of Filson's gear is buy-it-for-life durable, and that goes for their Small Dry Bag, too. Made with a TPU (waterproof) coated 840 denier nylon, they're about as rough and tumble as dry bags come; you can carry these anywhere with no worries of rips or punctures. At 4.5 liters the bag is as small as its name implies, making it ideal for storing small electronics or a change of clothes. And thanks to its buckled roll-top closure, this bag is both completely waterproof and easily rolled down for storage in tight spaces when it's not in use.
Price: $40
Capacity: 4.5 liters
Sea to Summit Lightweight Dry Sacks
For the best value dollar for dollar, check out Sea to Summit's three part set of Lightweight Dry Sacks. For under $60, you get bags in three different sizes: 4, 8, and 13 liters. That's a lot of storage space for any camping, beach, kayaking, or hiking trip. The colorful exteriors make it easy to identify which bag you've stored something in, and bright white laminated interiors make it just as easy to search for whatever you've stored inside. The lightweight performance comes with a slight tradeoff of durability, though; be careful not to drag these through the brush, as they're made with just a 70 denier nylon.
Price: $55
Capacity: 4, 8, and 13 liters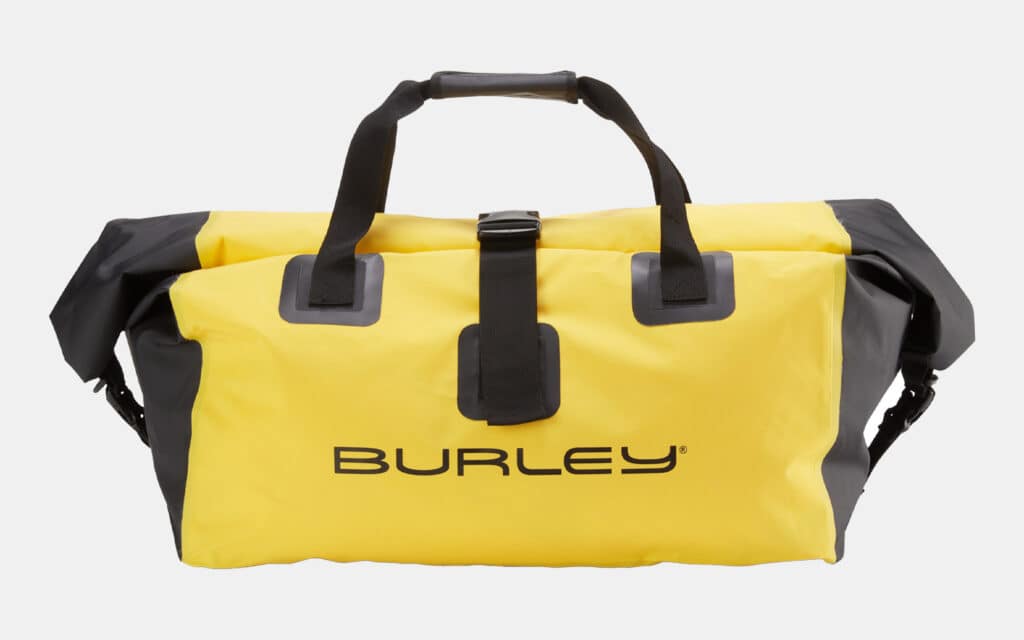 Burley Dry Bag
Of course, not every dry bag is sized for stowing away in your larger pack. In fact, some of them—like Burley's Dry Bag—are large enough to use as a full pack in their own right. Measuring in at a beefy 75 liters, the Burley bag is about as big as a dry bag gets; even so, it's still sold at under $100, making it a phenomenal deal for water sports enthusiasts. A 500 denier nylon exterior gives it a good balance between durability and weight, and heat-sealed seams ensure that it's fully waterproofed as long as you're not immersing it for long periods of time.
Price: $90
Capacity: 75 liters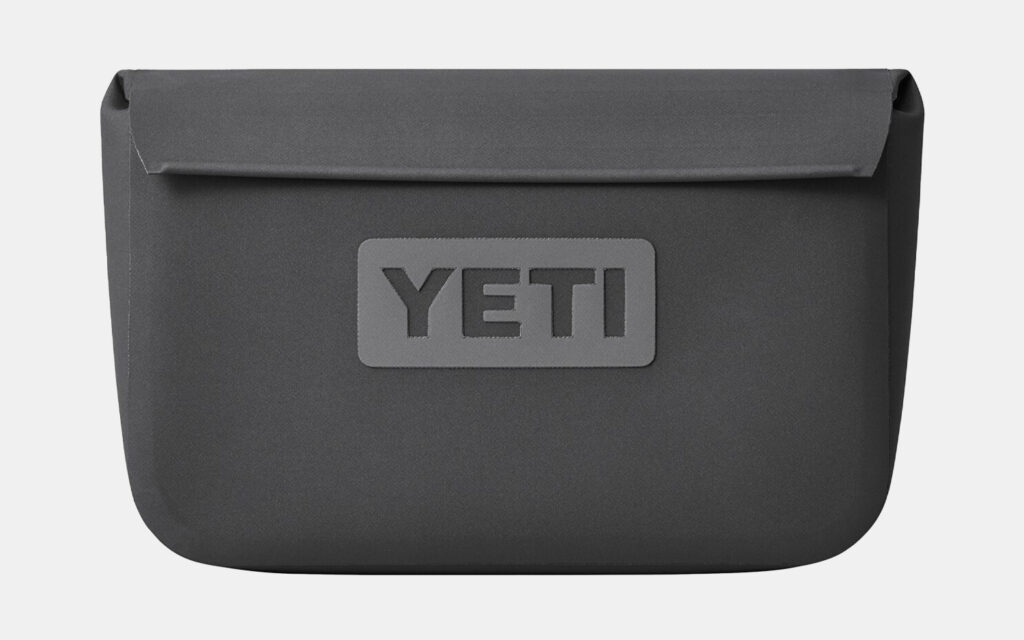 Yeti Sidekick Dry Bag
Though Yeti is better known for their coolers and insulated mugs, they put the same attention to detail into all of their camping and adventuring gear. The Sidekick Dry Bag is a good example of this, with a unique design that's atypical of the dry bag category. It's a perfect companion to the brand's larger coolers, and can be used to safely store your dry essentials and electronics in an easy access side pouch. Rounded out by quick to open magnetic closures, it's a great addition to a casual camper's beer and food setup.
Price: $50
Capacity: Approximately 2 liters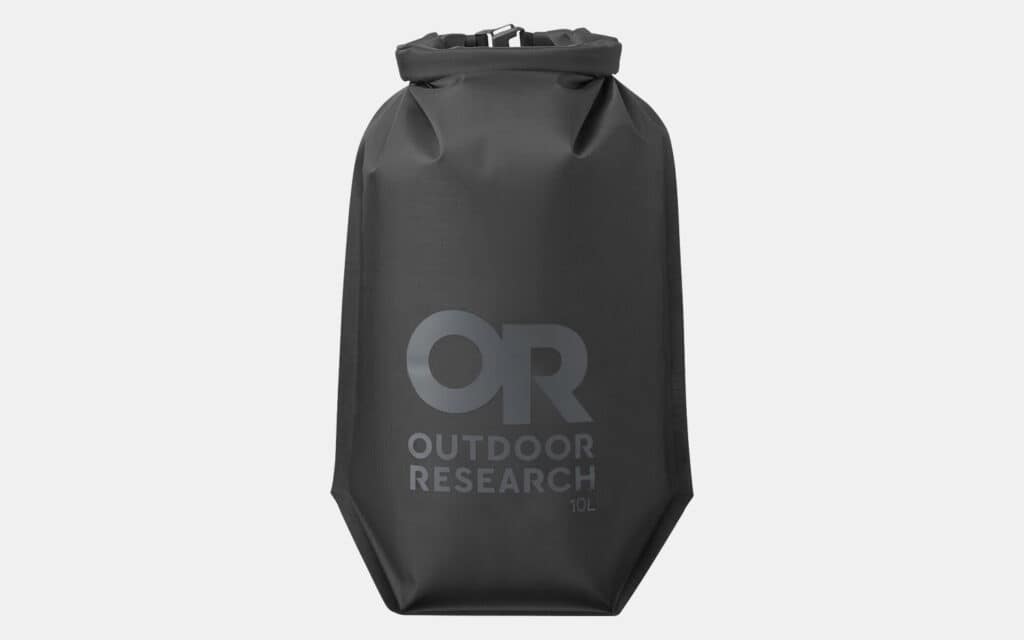 Outdoor Research CarryOut 10L Dry Bag
The Outdoor Research CarryOut 10L Dry Bag fits in a Goldilocks niche in this category: It's neither too big nor too small, neither too heavy nor too light. A roll top closure and easy snap buckle make it simple to store and access all your gear. It's available in two muted colors. And to top it all off, it comes with a lifetime warranty from the manufacturer. Put all that together with a sub-$40 price point, and it's a good middle of the road dry bag for just about any purpose.
Price: $32
Capacity: 10 liters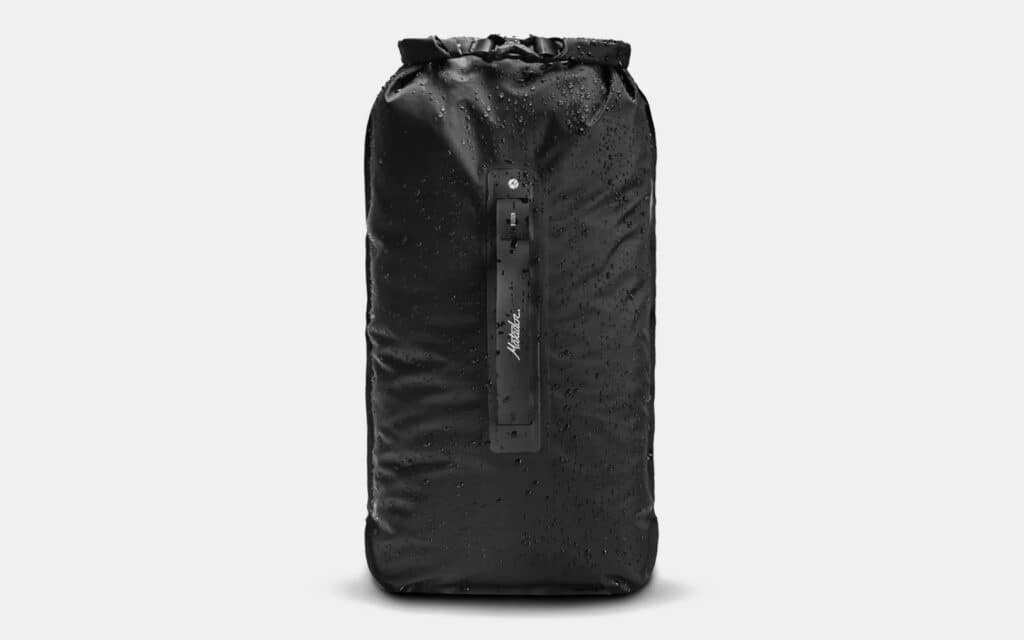 Matador FlatPak Dry Bags
Offered in two versatile sizes—two liters and eight liters—Matador's new FlatPak Dry Bags are an easy go-to choice for all your traveling needs. They're waterproof rated to IPX7, meaning that they will keep your gear completely dry for up to a minute under three feet of water. If you have any electronic equipment that you want to make sure is absolutely safe on a trip to the beach or the river, they're perfect; but they're also exceptionally handy to have around for storing your dirty clothes on longer trips, too. The fact that they can stand up when fully loaded but also fold down flat when not in use is just the icing on the cake, as is the side view window for easy access to whatever you have stored.
Price: $30+
Capacity: 2 liters or 8 liters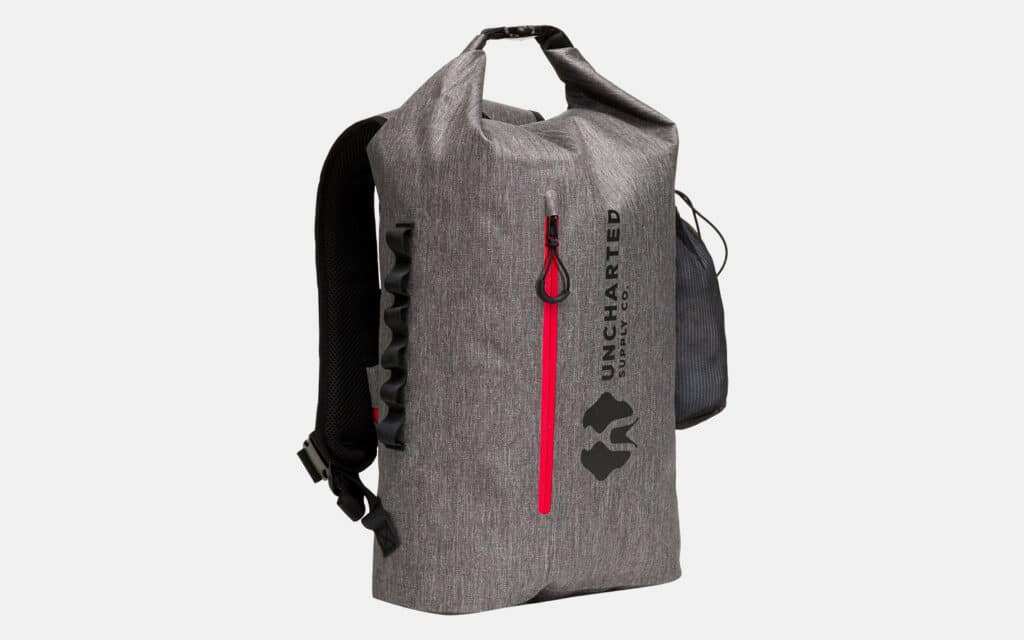 Uncharted Supply Co. Seventy2 Shell 32L Dry Pack
Normally, you would pack a small dry bag to complement your standard backpack. But for Uncharted Supply Co.'s Seventy2 Shell Dry Pack, this logic is reversed: The backpack is made with a waterproof TPU-coated exterior, and complemented with mesh storage pockets on the outside for any of your dirty or wet gear. That makes it a true all-in-one system for hiking and camping, and a darned fine addition to the gear closet of anyone who lives in a wet environment like the Pacific Northwest. As an added bonus, it's also compatible with Uncharted's Seventy2 system of survival first aid kits.
Price: $129
Capacity: 32 liters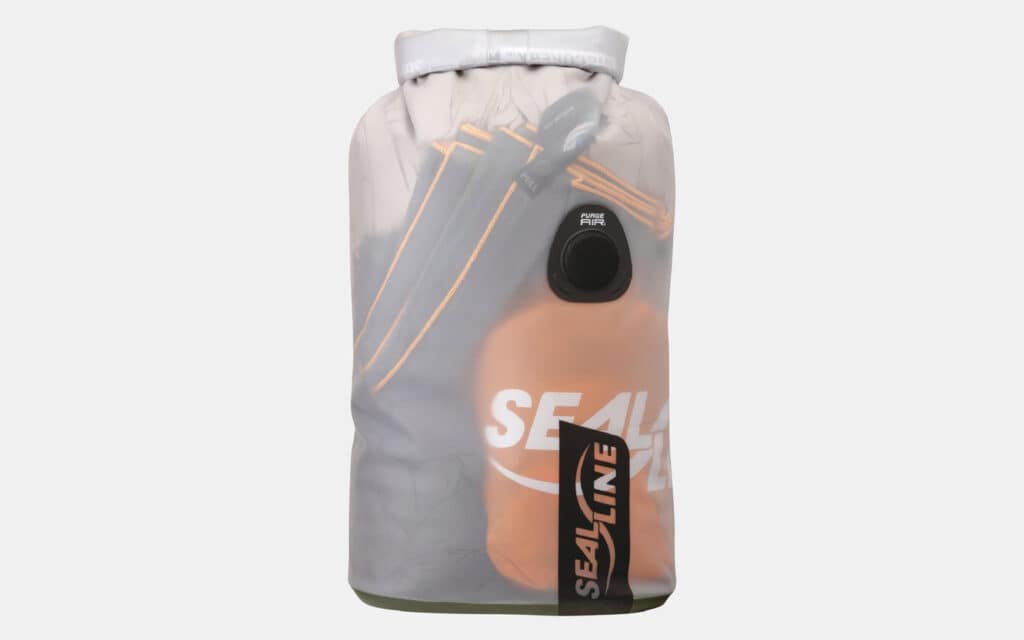 SealLine Discovery View Dry Bag
Dry bags and stuff sacks usually have one particular weakness: After you've filled them, it can be pretty rough to dig through multiple items to find the exact thing you need. SealLine's Discovery View Dry Bag fixes this problem by using a translucent polyurethane material in its construction, giving you a full view of the bag's contents without even having to open it up. That means there's a tradeoff for lesser durability, but honestly if you're tossing this in your full-sized backpack it's really not a concern.
Price: $34.95
Capacity: 10 liters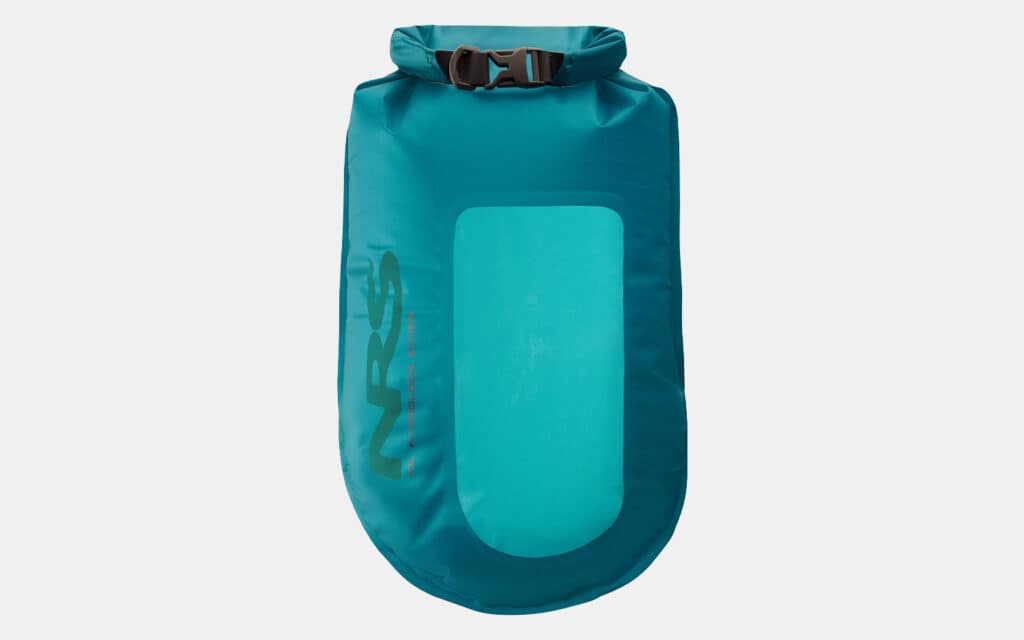 NRS Ether HydroLock Dry Bag
One thing you should know about dry bags: They're built for different levels of waterproofing. While any given dry bag can keep your things safe in a heavy downpour, not very many of them can withstand being submerged in water for lengths of time. NRS Ether's HydroLock Dry Bag is in the latter category, thanks to a waterproof zipper seal system that means it can be fully submerged (at least for a little while). If you're looking for a dry bag to take on boating trips of any kind, this should be first on your list.
Price: $50
Capacity: 10 liters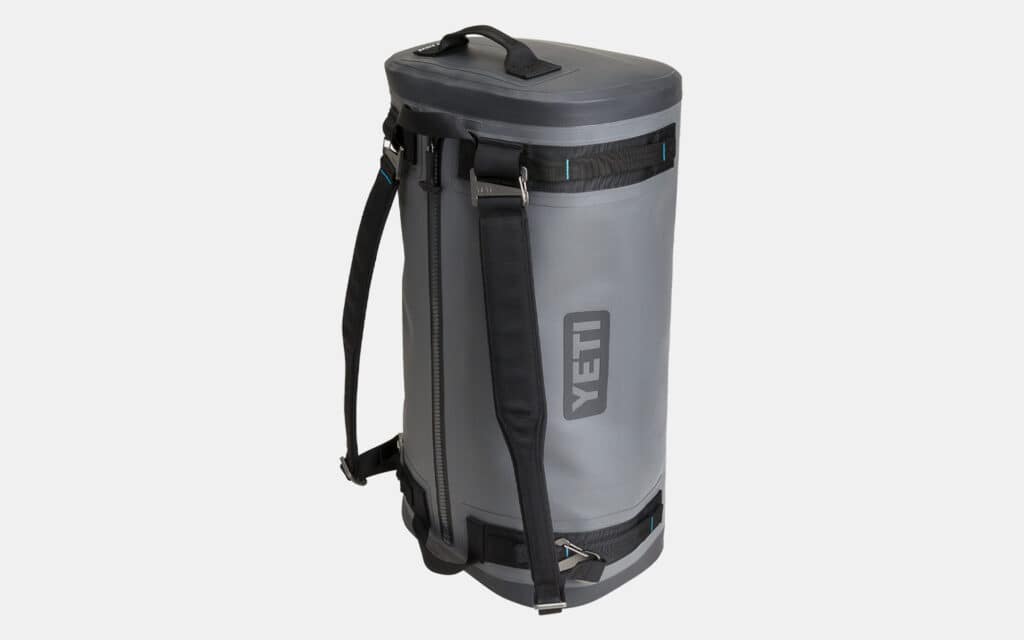 Yeti Panga 50 Dry Duffel
At this point, we're getting out of the area of conveniently sized dry bags and into full-sized bags for days out on the water. And if I could only choose one bag to take with me to the beach, it would have to be Yeti's Panga 50 Duffel. The price tag may come as a bit of a shock, but take this into account: This is the only bag of this size that can be fully immersed in water without fear of your gear getting soaked. And its durable high-density nylon shell is tough as nails too, so you can use this as an everyday carry bag without fear of damage.
Price: $300
Capacity: 50 liters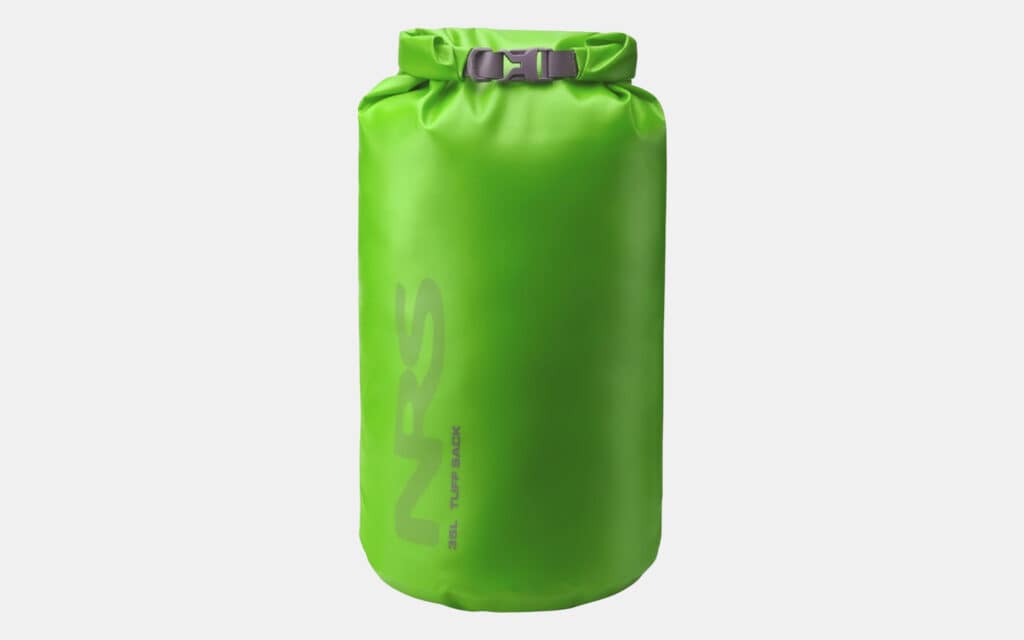 NRS Tuff Sack Dry Bag
So far, the bags we've featured have covered quite a range of sizes, shapes, and styles. But for one bag that covers every size you could possibly need, look towards the NRS Tuff Sack Dry Bag. Available in sizes ranging from 5 liters to 55 liters, it covers the whole gamut of dry bag options—at affordable prices, to boot. And while there aren't very many bells and whistles here (it's a pretty standard dry bag design), the four colorways also give you options for color-coding your gear across multiple bags.
Price: $23+
Capacity: 5 to 55 liters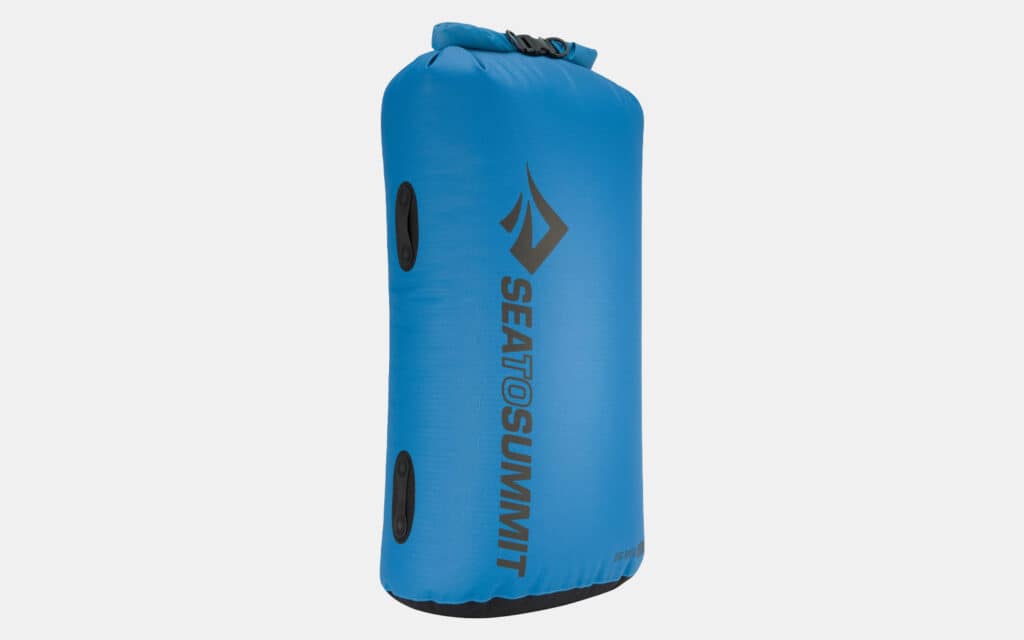 Sea to Summit Big River Dry Bag
To finish things out, here it is: The largest traditional dry bag we could find. Sea to Summit's Big River Dry Bag is true to its name, coming in at a whopping 65 liter capacity. That makes it an ideal choice for serious water sports enthusiasts, so if you're kayaking, canoeing, or rafting, put this at the top of your list. Because in addition to its huge storage capacity, the Big River Dry Bag is made with a respectable 420 denier laminated nylon fabric, making it a great combination of durable and easily manageable on long trips.
Price: $65
Capacity: 65 liters
Disclosure: Clicking on these links and making a purchase may earn us a small referral fee, at no extra cost to you. Learn more here.
freestar.config.enabled_slots.push({ placementName: "gearmoose_leaderboard_btf", slotId: "gearmoose_leaderboard_btf" });