The 12 Best Flipper Knives
Folding pocket knives, particularly flipper knives, have become a literal staple in the everyday carry community since, well, the rise in popularity of everyday carry in the past 2 decades. Whether it be for self defense, everyday cutting tasks, and anything in between, no EDC kit is complete without one.
Why a flipper knife? Of the many different styles of EDC pocket knives on the market today, flipper knives have seen a significant rise in popularity over other knives with other blade deployment mechanisms — such as automatic knives and manual opening knives — because they are readily available from most knife brands and offer a simple-to-use, low maintenance path to rapid, one-handed blade deployment.
So how do flippers work? Specifically, flipper Knives feature a tab, or bar, if you will, integrated into the design that, when flicked with the index finger, provides rapid deployment of the knife blade with one hand. It makes deploying a manual-opening knife faster than utilizing the traditional thumb studs — or Spyder hole for you Spyderco enthusiasts out there — and it allows one to deploy a blade with an assisted-opening mechanism at lightning speeds. The two main benefits of a flipper knife over a manual-opening knife, of course, being speed and one-handed blade deployment.
Who invented the flipper knife? While there are many theories out there about who actually invented the flipper knife, we don't for sure know. Were sure someone out there in the knife world has the answer. And while their use has been recorded well before the 1980's, there is no doubt that Kit Carson and CRKT made flipper knives popular again with with the M16 knife. We also can't overlook Ken Onion's own contribution with his speed-safe assisted opening mechanism.
A Few Words On The Best Flipper Knife
The best flipper knife, or the best of anything for that matter, is of course a subjective term, meaning what we deem a list of the best flipper knives may not be the actual list of the best in your opinion. Opinions vary, and so do the reasons each person carries the gear that they do and the tasks that said person asks of his or her tools.
While we do make a small commission on any Amazon links below, Amazon can and does frequently provide a slightly better purchase price than buying directly from the manufacturer. We consider this mutually beneficial. Read on for our list of the 12 best flipper knives for everyday carry.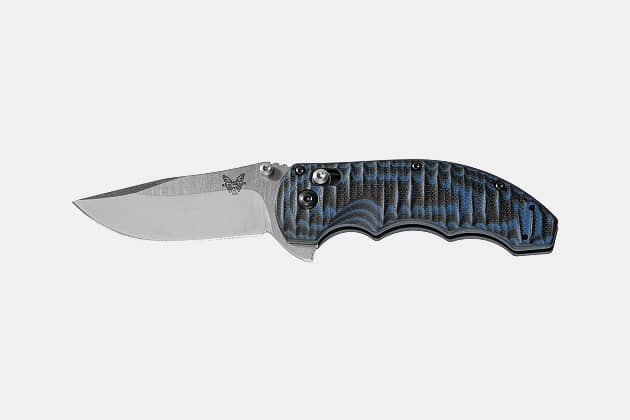 Benchmade 300 Axis Flipper Knife
Blade Material: 154CM Stainless Steel • Blade Length: 3.05″ • Overall Length: 7.15″ • Weight: 4.68+ oz
The first pick on our list is the Axis Flipper knife by a well-known American brand, Benchmade. Designed by custom knife maker Butch Ball, the 300 is a beefy knife at first glance — from the oversized, heavily-contoured G10 handles to the thick drop-point blade. The blade itself is crafted from 154CM stainless steel. many consider 154CM steel a step down from S90V or S35VN, but it tends to hold an edge well and is rugged enough to withstand daily cutting chores given the pure thickness of it on this model.
Where the Benchmade 300 really shines is it's Axis locking system — a versatile locking mechanism invented in 1988 that utilizes a spring-loaded bar that moves forward between the knife's handles on a track and locks firmly into place on the blade's tang once deployed. The main advantages of this locking system are evident. There is no need to ever place your fingers in the direct path of the blade when closing it, its a simple mechanism to operate, and is completely ambidextrous. – Buy It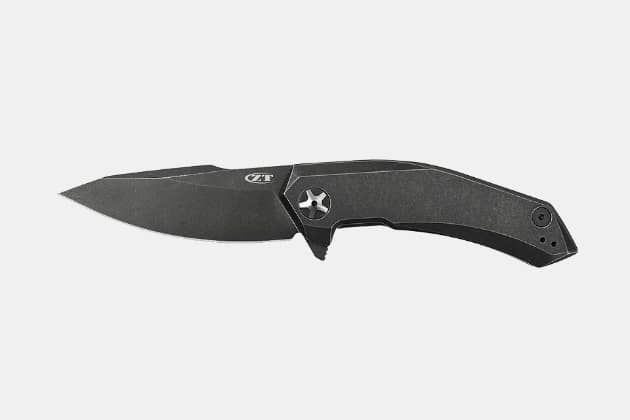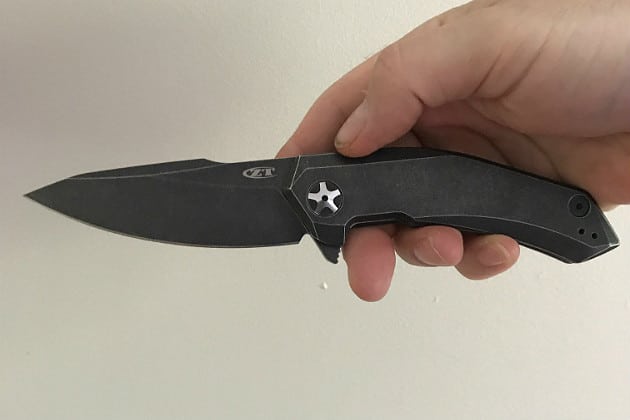 Zero Tolerance 0095BW Titanium Flipper Knife
Blade Material: S35VN Steel • Blade Length: 3.6″ • Overall Length: 8.4″ • Weight: 5.3 oz
Arguably a favorite flipper knife among EDC enthusiasts, the American-made 0095 knife by Zero Tolerance is a hard-use folding knife made from premium materials. The knife features a blackwash finish throughout — from it's contoured titanium handle to it's harpoon-shaped blade. The blade itself is crafted from S35VN steel — a step up from S30V steel that provides improved edge retention, a better-looking finish, and more stability during cuts.
The 0095BW sports a sturdy frame lock with a hardened steel lock bar that seems to firmly lock the blade in place during use. And then there is the flipper. One swipe of the flipper mechanism with your index finger and the 0095BW knife's harpoon blade will deploy in a surprisingly smooth fashion. Its neither spring loaded nor boasts a torsion bar. Instead, the knife's flipper utilizes a ball bearing system for smoothly deploying the blade in a controlled and elegant manner. – Buy It
Emerson CQC-7BW Flipper
Blade Material: 154CM or S35VN • Blade Length: 3.3″ • Overall Length: 8.0″ • Weight: 5.0 oz
Emerson knives are nothing if not cutting edge (no pun intended) and this upgraded flipper version of their widely popular CQC-7BW model — also known by the brand as the "Flipper 7" — is hands down one of the best tactical folders of the 21st century. And while the knife's newly-integrated flipper makes easy work of deploying the S35VN steel blade, it's the revolutionary Emerson Wave feature that has us so enamored with this knife.
The Emerson Wave is arguably the fastest blade deployment system in existence that allows the knife carrier to deploy the blade as it is being pulled from his or her pocket. Theoretically, this is faster than an automatic knife, and much more legal depending on where you live. See it in action in the video below. – – Buy It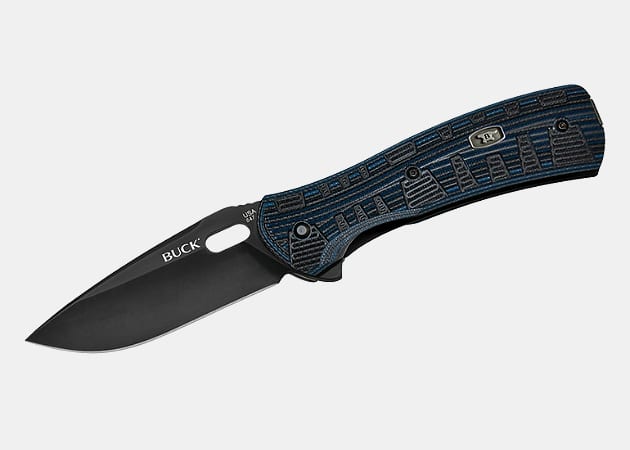 Buck Knives 847 Vantage Force Pro
Blade Material: S30V Steel • Blade Length: 3.25″ • Blade Shape: Drop Point • Weight: 4.6 oz
You'll probably never have to worry about receiving a dull blade when ordering from Buck Knives. They're typically sharp straight out of the box. The popular 847 Vantage Force Pro is no exception. Not only is it sharp, it's S30V blade will retain it's edge after heavy use which, in conjunction with beefy G10 handles and a thick drop point blade shape, makes it a solid choice as a heavy-duty utility knife. Additional features include a reversible, deep pocket carry pocket clip, and one-handed opening capabilities via a blade hole or integrated flipper. – Buy It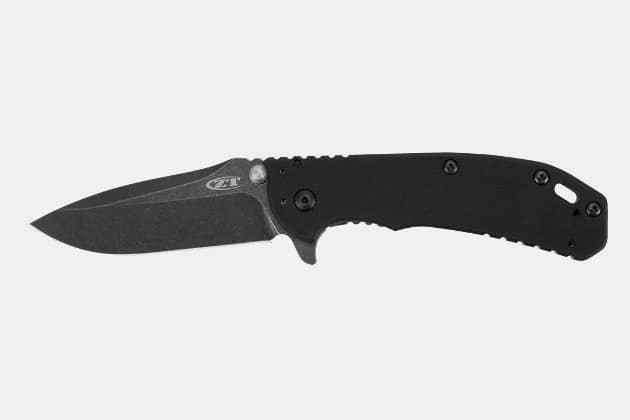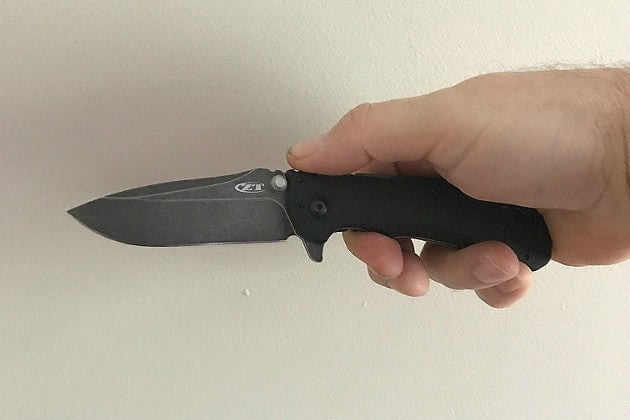 Zero Tolerance Hinderer 0566 Assisted Opening Flipper Knife
Blade Material: S35VN Steel • Blade Length: 3.25″ • Overall Length: 7.70″ • Weight: 5.4 oz
Our unhealthy love affair with Zero Tolerance knives continues with the brand's 0566 Assisted Opening Flipper Knife — designed by custom knife maker Rick Hinderer. At just under 4.5 inches when close, the 0566 feels just a bit smaller than some larger EDC knives, which makes it an ideal model to clip into your pocket for everyday carry no matter what kind of pants you might be wearing. Deployment of the blade is best accomplished via the knife's flipper that, in conjunction with Zero Tolerance's assisted opening system, opens much quicker than any other knife on this list (save for the Emerson CQC-7BW).
The blade itself is crafted from S35VN — a strong, high-end blade steel that seems to hold an edge really well. And while the blade itself will hold an edge well, you'll hold the handle even better thanks to a finely-textured G10 handle that feels substantial while holding the knife. Additional features include a frame lock with lockbar stabilizer, a versatile pocket clip that can mounted tip up, tip down, or for left-handed carry, and an optional blackwash finish. – Buy It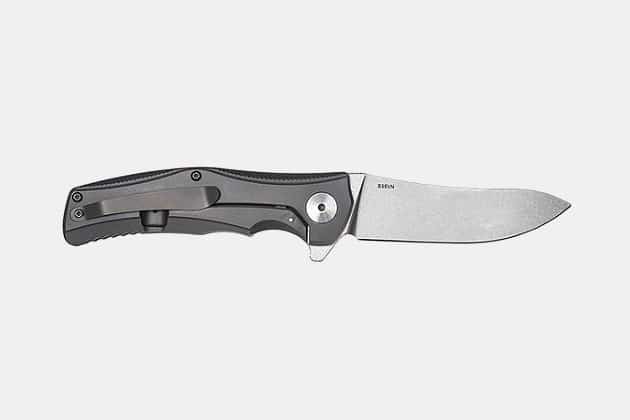 Reate Hills Titanium Flipper Knife
Blade Material: S35VN Steel • Blade Length: 3.5″ • Overall Length: 8.3″ • Weight: 5.6 oz
When designing everyday carry knives, the ethos at Reate Knives is detailed perfection. A perfect example of this is their Hills Titanium Flipper Knife. Despite it being a larger EDC knife, it features a clean, minimal design with a solid 6AL4V titanium handle that keeps overall weight down, a high-end S35VN steel blade, and an integrated ball bearing system with a flipper mechanism that allows for quick and simple blade deployment on the go. Its got everything you need from an everyday flipper knife, nothing you don't, and is one you'll happily hand down to one of your children in 20 years. – Buy It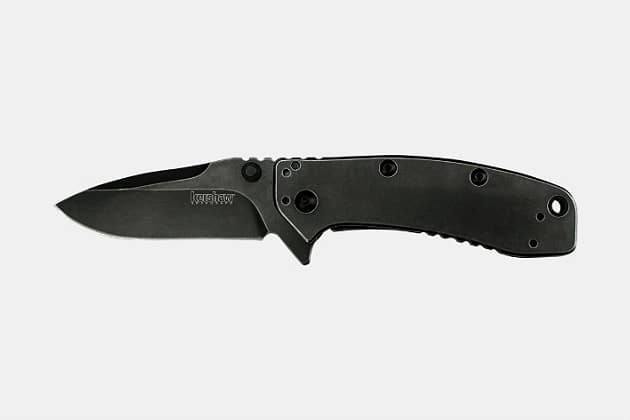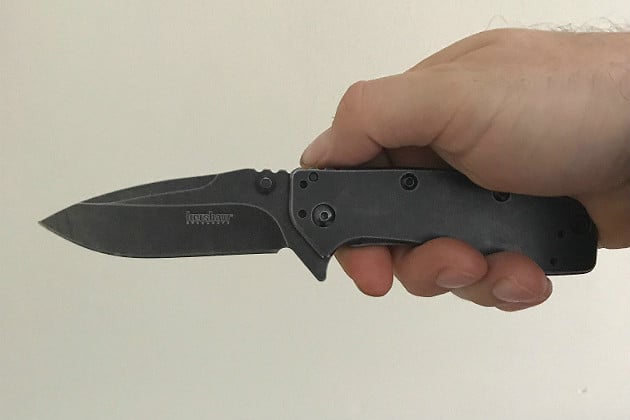 Kershaw Cryo II
Blade Material: 8Cr13MoV • Blade Length: 3.25″ • Overall Length: 7.75″ • Weight: 5.5 oz
Budget Flipper: For it's relatively low price, you just can't beat the quality and craftsmanship of the Cryo II. From it's coated stainless steel frame to it's easy, one-handed opening mechanism, you'll likely buy the Cryo II at some point, swap it out with a more expensive flipper knife just because you can, and eventually go right back to carrying the Cryo II. It just happens.
This popular kershaw knife is another designed by famed knife maker Rick Hinderer and features Kershaw's SpeedSafe assisted opening mechanism that delivers a really satisfying blade deployment via the flipper. A frame lock and lock bar setup keep the blade securely in place, while an optional blackwash finish will only look better with age. – Buy It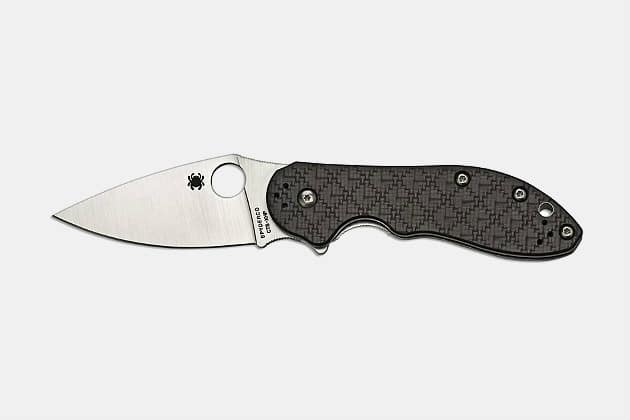 Spyderco Domino
Blade Material: CTS XHP steel • Blade Length: 3.13″ • Overall Length: 7.68″ • Weight: 4.1 oz
The great thing about Spyderco knives is that they don't typically include more bells and whistles than is absolutely necessary. And the Spyderco Domino Flipper — the second flipper knife by the brand behind the Souther Folder — features a clean, minimalist design that delivers on every front. The Domino's blade is machined from CTS XHP steel with a full-flat grind and deploys unassisted via ball bearing washers. While the integrated flipper is the opening mechanism of choice for most, hardcore Spyderco fans can still make quick use of the blade's Spyder hole for blade deployment on the fly.
The handle consists of a carbon fiber scale on one side and a titanium scale on the other side that helps keep weight down while housing the Reeve Integral Lock mechanism. A unique four position pocket clip allows for tip up or tip down carry, depending on your preference. It's a lightweight knife with a slim profile that renders it a solid choice for everyday carry. – Buy It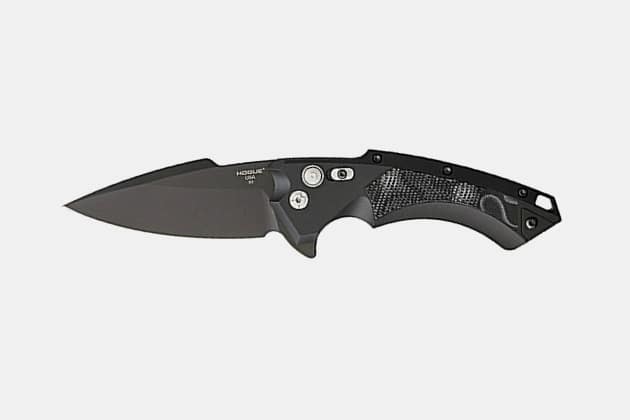 Hogue X5 Folding Knife
Blade Material: CPM 154 Stainless Steel • Blade Length: 4.0″ • Overall Length: 9.3″ • Weight: 5.1 oz
The Hogue X5 is one of the most unique knives you'll ever encounter, from it's button lock flipper mechanism to it's beautifully-machined handles. It's also one of the largest flipper knives you'll find on this page. The X5 was designed by knife maker Allen Elishewitz and comes in 2 distinct blade sizes: a 4 inch and a smaller 3.5 inch. The knife's blade is made from a heat treated CPM 154 steel that provides good edge retention similar to S35VN, and is deployed via a button lock flipper. The button flipper rests on the handle near the blade and, for safety reasons, a lock that resides directly beneath the button — and flush with the handle — locks the blade into the opened position.
What really sets the Hogue X5 apart from most other knives — besides the button flipper — is it's handle design. Call it futuristic if you will, the aluminum and G-10 handles feature an aggressive, angular design that have been described by some as almost too aggressive which can create some discomfort during hard use. Keep this in mind and be sure to watch a video review of the knife here. – Buy It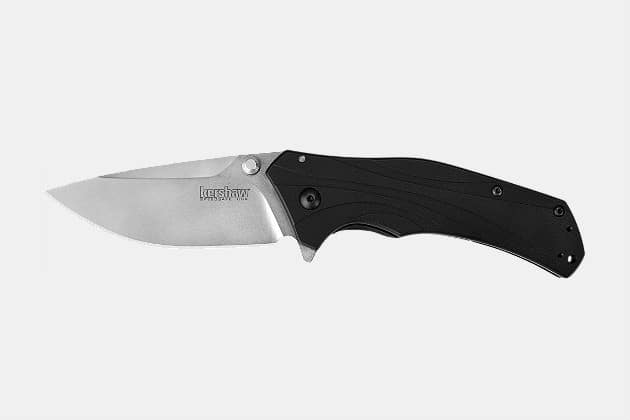 Kershaw Knockout
Blade Material: Sandvik 14C28N • Blade Length: 3.25″ • Overall Length: 7.9″ • Weight: 3.4 oz
A Lightweight Yet Strong Flipper Knife: If your gear is already weighing you down and you're looking to lighten up your overall pocket load, then the best EDC knife to add to your collection is the Kershaw Knockout. As it's name suggests, part of the machined aluminum frame has been removed completely (knocked out) and replaced with a steel plate to create a sub-frame lock. Less steel and more aluminum keeps the Knockout's weight down to a paltry 3.4 ounces. It may weigh less, but don't worry, it's 3.25 inch Sandvik 14C28N blade renders it large enough and rugged enough for everyday cutting tasks. And the Kershaw SpeedSafe opening mechanism ensures rapid, one-handed blade deployment. – Buy It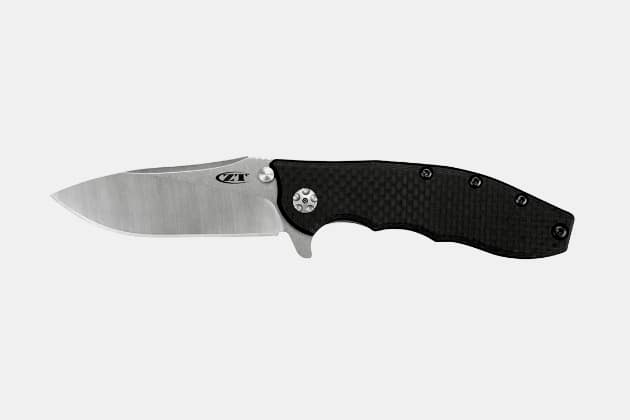 Zero Tolerance 0562CF
Blade Material: CPM-20CV or CTS-204P • Blade Length: 3.5″ • Overall Length: 8.3″ • Weight: 5.5 oz
Another solid knife from the partnership between Rick Hinderer and American knife brand Zero Tolerance is the 0562CF. Slightly bigger than it's 0566 counterpart listed above, the ZT 0562CF is the Zero Tolerance model you would want clipped in your pocket if your day consisted of numerous knife-wielding tasks. Why? It has a corrosion-resistant, very strong CPM-20CV powdered steel blade (earlier models) or CTS-204P that both provide superb edge retention during hard use.
And just like the 0059BW model, it utilizes a KVT ball-bearing system in place of an assisted opening mechanism for smooth yet controlled blade deployment via the flipper. A carbon fiber and stonewashed titanium handle adds a bit of flare to an otherwise heavy-duty working knife. It's got everything you need in an EDC flipper and nothing you don't. – Buy It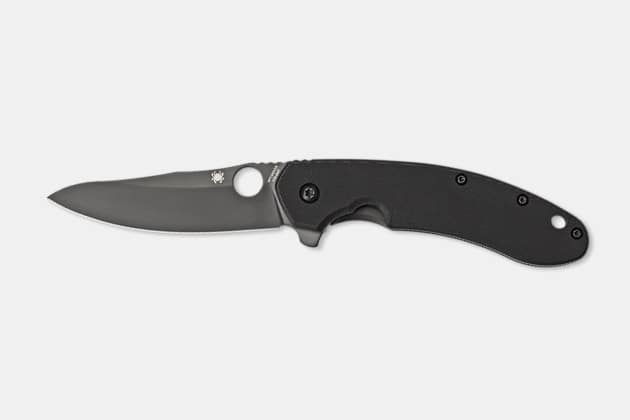 Spyderco Southard Folder
Blade Material: CTS 204P • Blade Length: 3.46″ • Overall Length: 7.96″ • Weight: 4.1 oz
Designed by Brad Southard and inspired by Kit Carson's flipper design, the Spyderco Southard Folder is the brand's first attempt at a flipper knife, and quite possibly their best. It's a slim design with titanium and textured G-10 on the ergonomic handle scales, which help form the Reeve Integral Lock for safely keeping the blade in place. A small G-10 panel also prevents over-travel fo the blade once the lock mechanism is released. – Buy It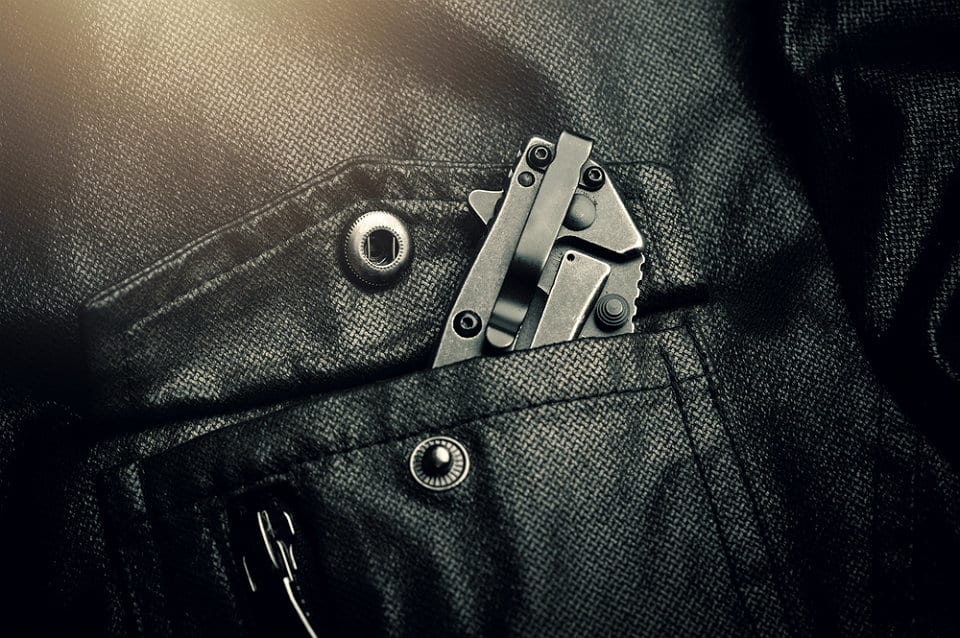 Disclosure: Clicking on these links and making a purchase may earn us a small referral fee, at no extra cost to you. Learn more here.
freestar.config.enabled_slots.push({ placementName: "gearmoose_leaderboard_btf", slotId: "gearmoose_leaderboard_btf" });