10 Products To Help You Recover From A Hangover
You know the symptoms all too well: piercing headache, unbearable nausea, lethargy, and loss of appetite — otherwise known as the hangover from hell. And while you probably have a cupboard full of go-to hangover remedies, be it Pepto, ibuprofen, or prescription meds, there are a slew of ingenious new products that may help alleviate your hangover woes.
So, if you find yourself wastin' away again in margaritaville, it might be time to start venturing into a new territory and put these remedies to the test. From fizzy drinks and gummies to pills, patches and collagen, this new crop of hangover cures promise to alleviate some of the symptoms associated with a hard night of drinking.
Here are 10 products to help you kick your hangover as quickly as possible.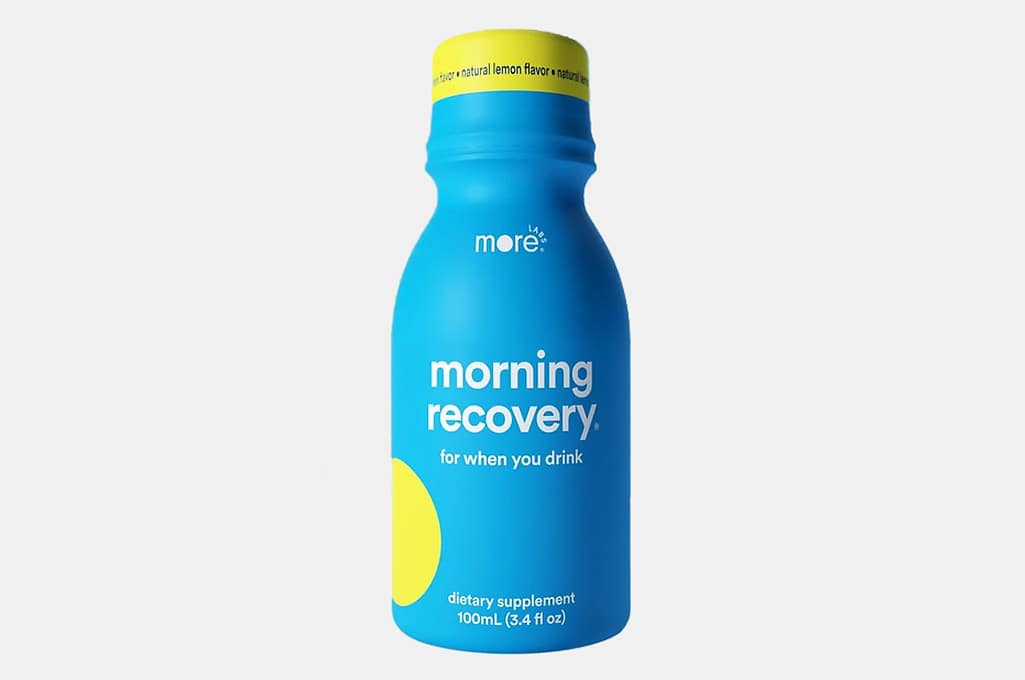 More Labs Morning Recovery Drink
Say sayonara to rough mornings with this drink for when you drink. Morning Recovery is a liver-boosting supplement designed to help the body detox and metabolize alcohol to help you wake up feeling sharp and ready to get on with your day.
The company partnered with Dr. Jing Liang of the USC School of Pharmacy to produce the formula, which includes a blend of super herbs, adaptogens, vitamins, and minerals, plus the superhero ingredient, DHM, which helps accelerate the breakdown of toxins that accumulate in the body while drinking. For maximum effect, take it at your first toast of the night, in between rounds, or right before bed.
Price: $36 for a pack of 6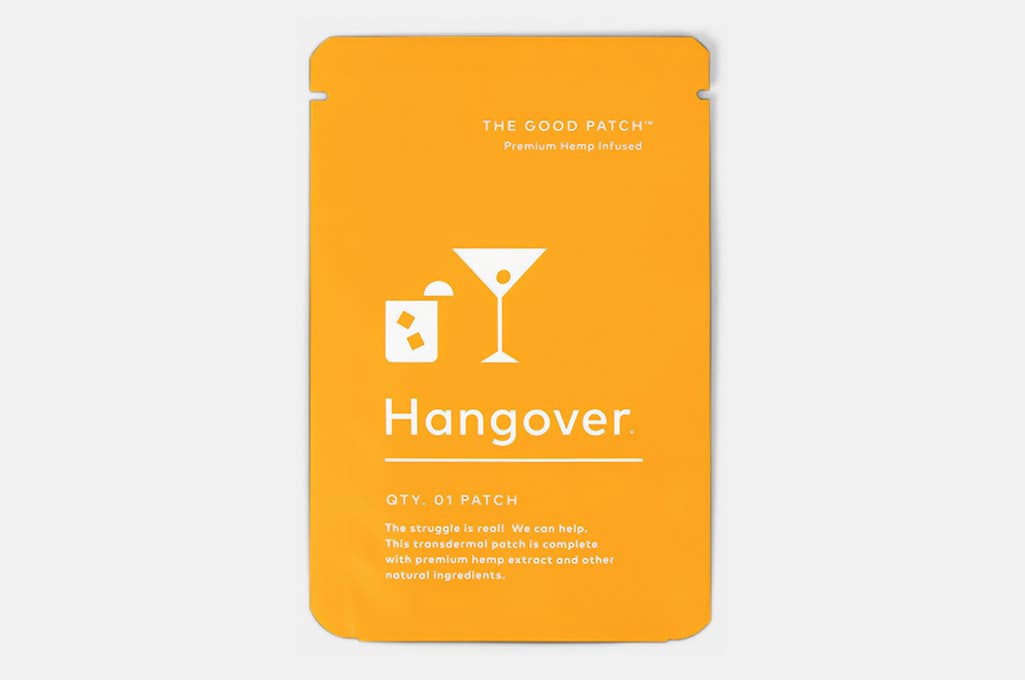 The Good Patch Hangover Rescue Patch
Can a simple patch be the answer to your hangover cure? Made with plant-based ingredients including green tea, vitamin B1, and peppercorn, the Hangover Recuse Patch claims to help you enjoy a night out without needing a morning in.
Before you start drinking, place one patch on the inside of your wrist (or any venous area), to experience a sustained release of ingredients for up to 12 hours. It's also gluten-free, dermatologically tested, paraben free, and vegan.
Price: $12 for a pack of 4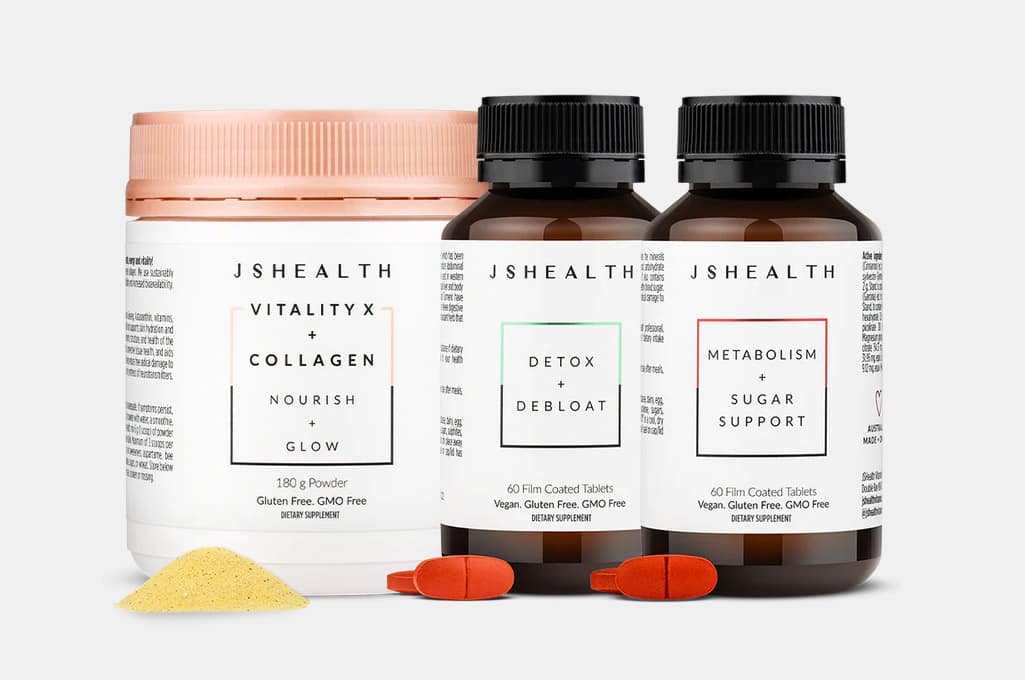 JS Health Recovery Kit
While it may be tempting to hang out in bed all day after a night spent indulging in one too many, you eventually have to get up and face the day. JS Health's Recovery Kit is designed to support energy levels, sugar cravings, and liver health, and they'll help you get there via three of their most popular products.
To avoid "hangover skin" the kit includes the brand's Vitality X + Collagen, which along with helping to maintain skin's hydration, supports energy production, and relieves digestive discomfort. Next, Metabolism + Sugar Support banishes sugar cravings and boosts metabolism to help your body feel nourished, and finally, the Detox + Debloat capsules are made with milk thistle, turmeric, and fennel to aid in liver health and support natural cleansing and detoxification.
Price: $100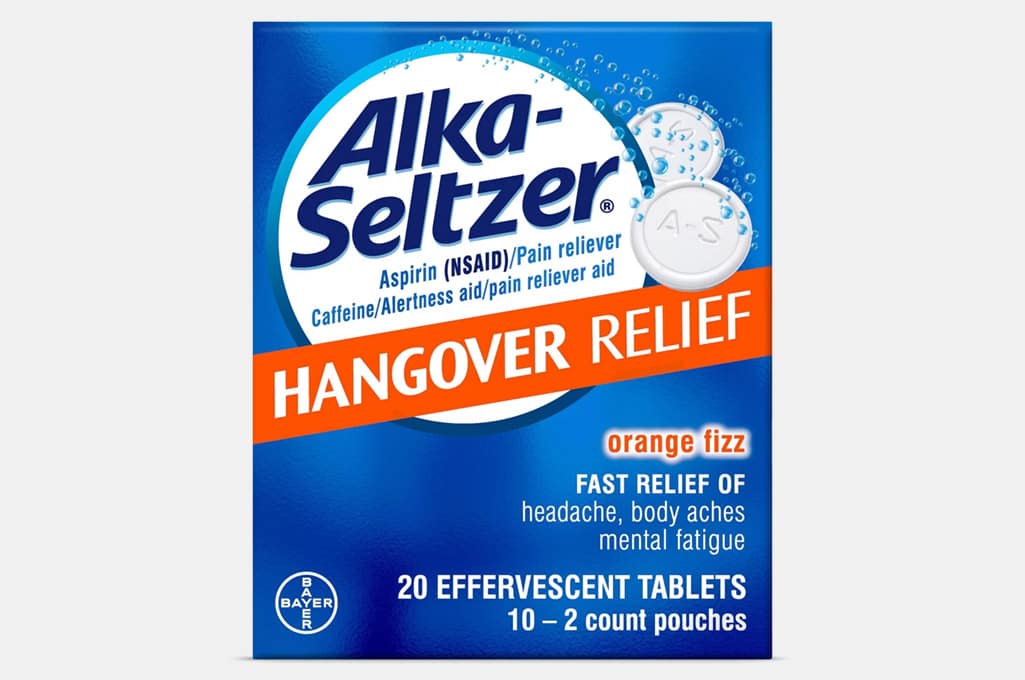 Alka-Seltzer Hangover Relief Effervescent Tablets
It may be an oldie, but it's definitely a goodie. For generations, the masses have been plopping and fizzing their hangovers away with the help of Alka-Seltzer tablets. A combination of aspirin and caffeine provides relief from pain and helps to restore mental alertness, and it can be taken anytime symptoms occur. The company promises that once you dissolve two of these orangey tablets in four ounces of water, blessed relief will be yours in as little as fifteen minutes.
Price: $5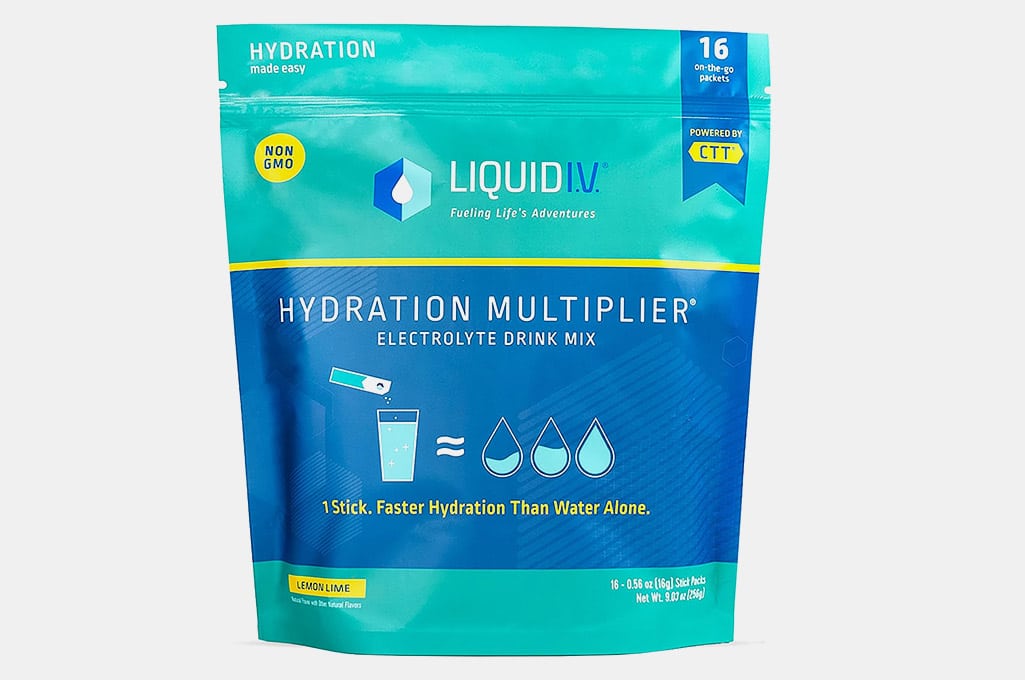 Liquid IV Hydration Multiplier Packs
If you wake up feeling like there's an elephant sitting on your head, consider reaching for a drink packed with electrolytes — electrically-charged minerals including calcium, sodium, potassium, and magnesium — which can get depleted from your body when you drink. Hydration Multiplier is a drink mix that delivers hydration to the bloodstream faster and more efficiently than water alone.
Powered by Cellular Transport Technology, or CTT, this delivery system is designed to enhance rapid absorption of water and other key ingredients into the bloodstream. A single packet will turn the contents of your water bottle into a delicious lemon-lime concoction, with three times the electrolytes of traditional sports drinks.
Price: $23+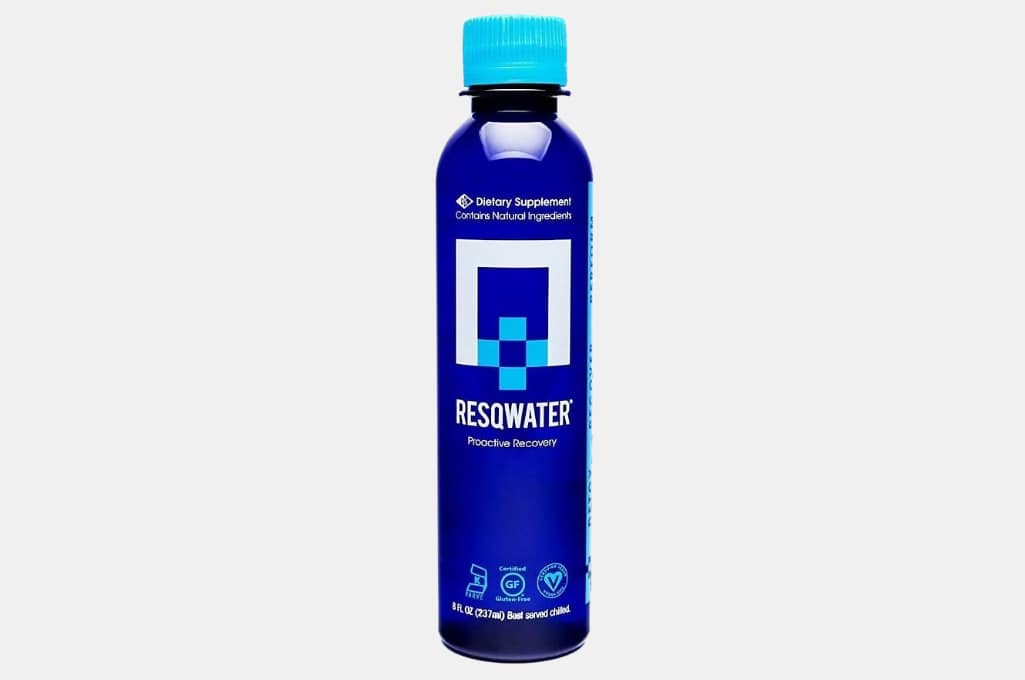 RESQWATER Enhanced Recovery Sports Drink
When dealing with a hangover, the last thing you need when trying to recoup is a drink loaded with artificial colors and sweeteners. At just five calories per eight-ounce bottle, Resqwater is a sugar-free sports drink that's chock-full of good-for-you ingredients like milk thistle, which supports healthy liver function, and prickly-pear extract, which acts as an antioxidant, protecting proteins and lipids from damage while alcohol is being broken down.
It also contains N-Acetyl-Cysteine, an amino acid that provides the body, the liver, and all cells with the antioxidant protection it needs to better perform their functions.
Price: $70+ for a pack of 12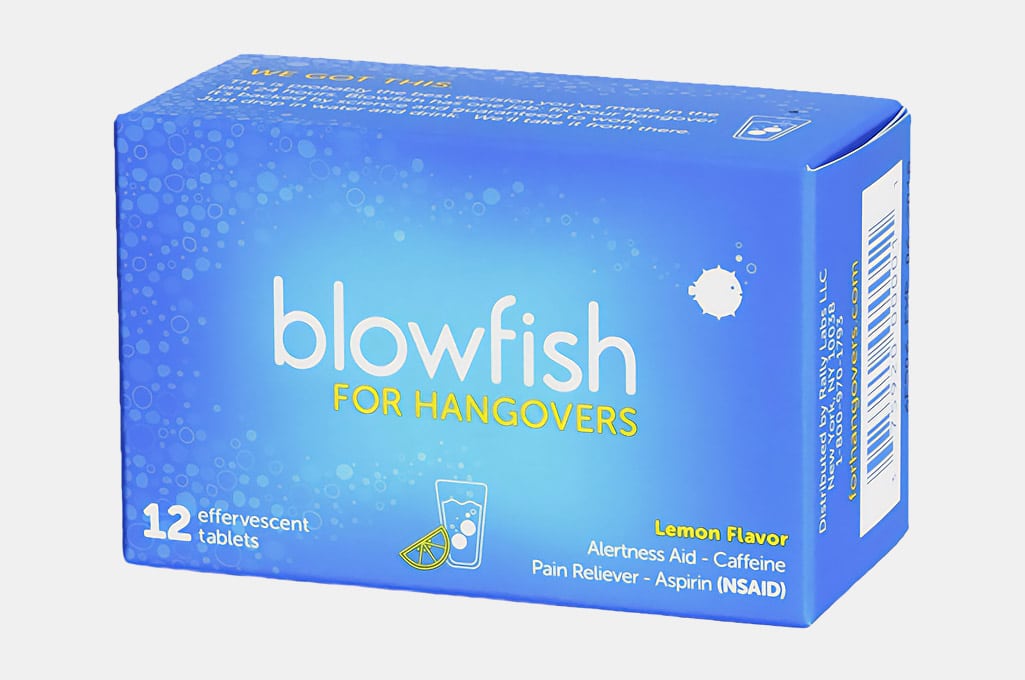 Blowfish For Hangovers
Boasting a formulation that's FDA approved, Blowfish combines 60 mg of caffeine and 500 mg of aspirin in a water-soluble tablet. Simply pop one (or two) into some H20 as soon as you wake up, and drink when the fizzing stops. Because it's designed specifically for hangovers, Blowfish was engineered to be gentle on your stomach and the effervescent delivery method works twice as fast as regular pills.
Price: $12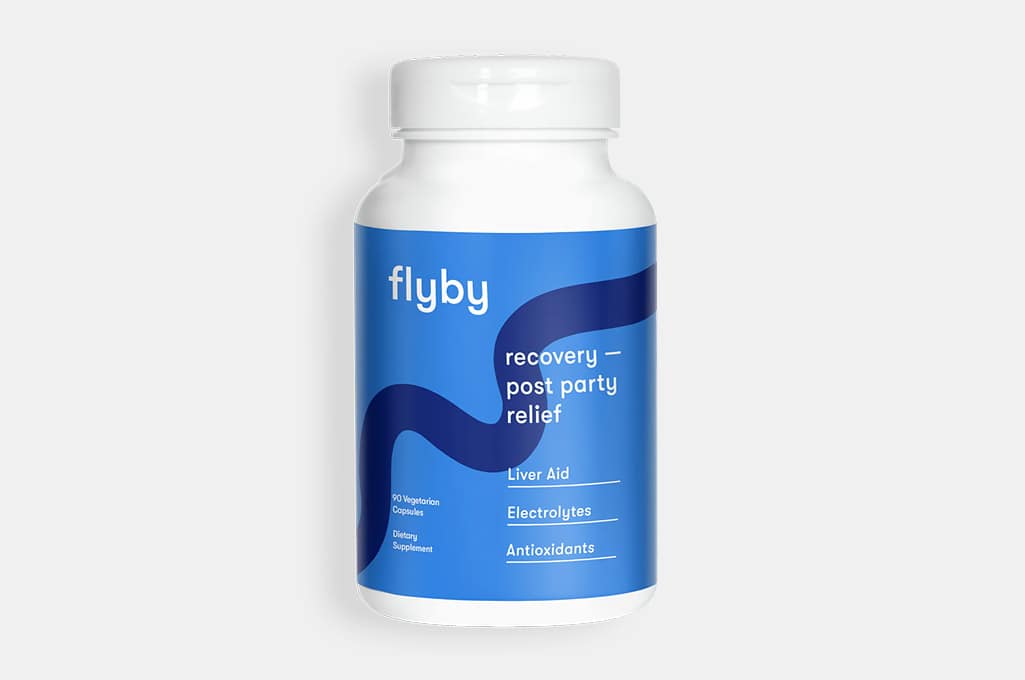 Flyby Hangover Recovery Pills
It was on a trip to Tokyo that Flyby founder, Edwad Huai took his first Japanese party supplement before indulging in an all-you-can-drink izakaya with a few close friends. 101 bottomless sake's later, he woke up feeling great, with a newfound appreciation for the potential of vitamins and detoxifying compounds.
Three Flyby capsules before your first drink and three before bed, will help replenish lost vitamins, minerals, and amino acids. Ingredients include vitamin B complex, electrolytes, chlorophyll, and the star ingredient, Dihydromyricetin (DHM), which is derived from the Aisan raisin tree, and said to be able to boost the body's ability to produce ADH, an enzyme that helps expedite the breakdown of alcohol.
Price: $18+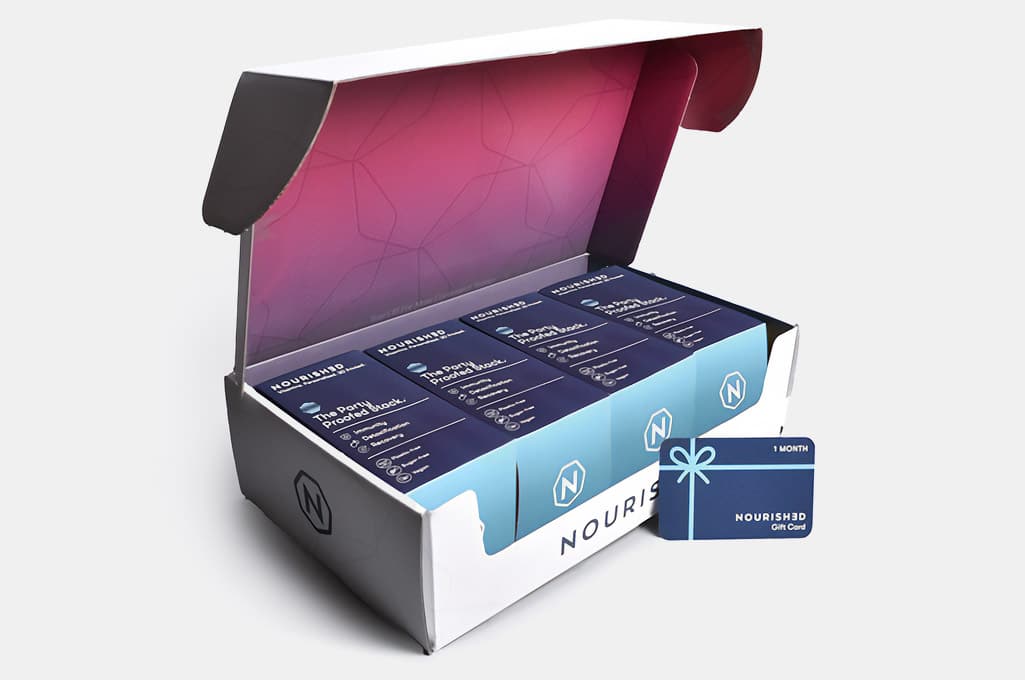 Nourished The Party Proofed Gift Box
Does a pill a day keep the hangover away? Formulated to help improve natural immunity, aid in mood regulation, and support recovery and detoxification, the Party Poofed Gift Box by Nourished contains a four week supply of the brand's Party Poofed stack.
Designed to be taken daily, the 3D-printed, fruity gummies are packed full of vitamins and nutrients, chosen for their ability to soothe nausea, increase energy levels, and reduce muscle pain and soreness. The stack of clinically-proven micronutrients includes a blend of ginger, vitamin B12, and milk thistle.
Price: $80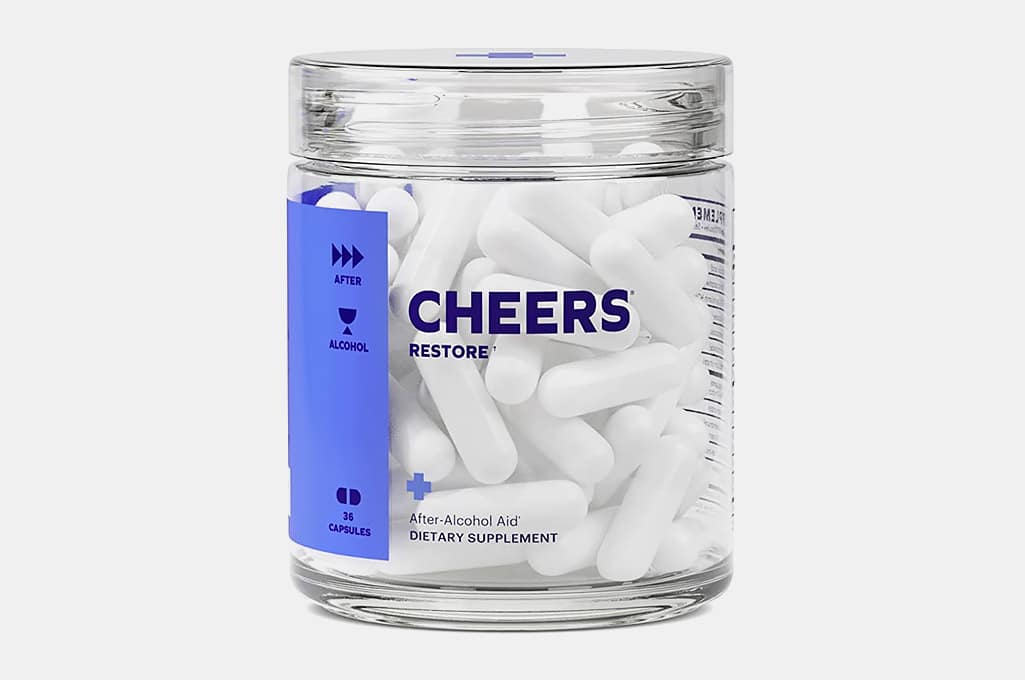 Cheers Restore Capsules
Containing twelve total ingredients including a selection of vitamins, minerals and electrolytes, and a whopping 1200 mg of dihydromyricetin — the highest amount of DHM per dose on the market — Cheers Restore is designed to help you feel less like a wet noodle the next day after one too many dirty martinis. When you drink, alcohol binds to GABAAa receptors in your brain, making you feel relaxed.
When you stop drinking, your GABAa receptors go into withdrawal, causing you to feel irritable. The brand's Restore capsules are said to reduce GABAa rebound, replace lost vitamins, and provide your liver with what it needs to break down alcohol and its toxic by-products. Take two to four capsules after a night of drinking and the brand promises you'll wake up feeling at least 50% better.
Price: $35
Disclosure: Clicking on these links and making a purchase may earn us a small referral fee, at no extra cost to you. Learn more here.
freestar.config.enabled_slots.push({ placementName: "gearmoose_leaderboard_btf", slotId: "gearmoose_leaderboard_btf" });