12 Best Laptop Stands For 2019
From the name, it would seem that laptop computers are ostensibly designed to function while perched on your lap, but anyone who has worked this way understands the discomfort and neck pain that result from such an arrangement.  While you certainly can use your lap in a pinch, there are also a slew of peripheral devices to help make using your laptop a lot more comfortable, functional, and ergonomically sound.
 
There's no reason to hunch your shoulders, round your back, strain your neck, and generally contort your body just to balance your laptop on your thighs.  With the right laptop stand, you can resume a normal, comfortable posture while you tap out work emails, scroll Reddit, or stream the latest episode of GoT on your laptop.  Whether you've got a desk handy, you're using a coffee table, or the only available surface is your lap, a suitable laptop stand can improve the way you work, regardless of location.
 
With options for adjustment and a slew of handy features, your perfect laptop stand is just waiting to improve your life, and your posture.  Here are a few of the best laptop stand models to use in your home office daily or while traveling with your laptop.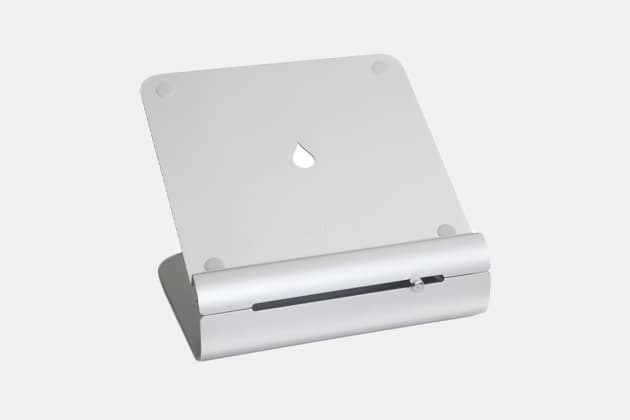 Rain Design iLevel 2 Adjustable Laptop Stand
One of the biggest problems with laptops is the low height of the monitor, which forces you to strain your neck while looking down.  The flat, compact keyboard doesn't exactly help your ergonomic situation, either, forcing you to hunch your shoulders to type.  iLevel offers solutions on both scores with an adjustable laptop stand that delivers height and vertical swivel to raise your eyes and your hands.  In essence, you get to engineer your own ergonomics to create the best viewing angle, and you can even add an external keyboard.  Plus, it improves airflow to alleviate overheating. – Shop Now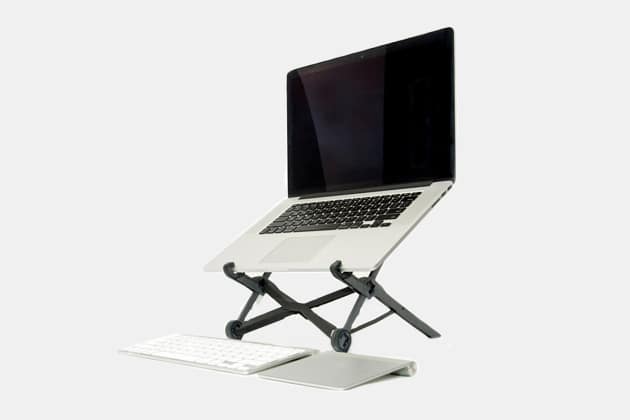 Roost Laptop Stand
Laptops are on-the-go electronics, meant to work anywhere you need them, from your home or office, to coffee shops and airports.  In other words, you need ergonomic solutions designed for lightweight, compact carry, and that includes your laptop stand.  The Roost model delivers with a collapsible stand that weighs just 5.5 ounces, folds to a slender wand of just 1.3×1.2×13 inches for stowing, and opens up to support your laptop and add 6-11 inches of adjustable height.  It also features patent-pending pivotal grips that adjust to secure your laptop base to the stand. – Shop Now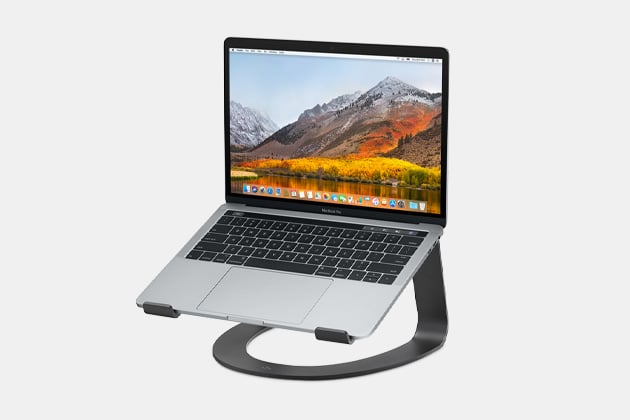 Twelve South Curve Stand for MacBook
This minimalist stand is both practical and attractive, with a single-piece, U-shaped base that curves up into two flat arms to hold your laptop.  The flowing design in aluminum with a matte black finish is both durable and visually appealing in its simplicity.  It's also an ergonomic design meant to minimize strain on the back and neck during use.  The configuration allows you to easily add an external keyboard and mouse, positioning them under your suspended laptop for ideal ergonomics.  Open construction offers optimal airflow, as well. – Shop Now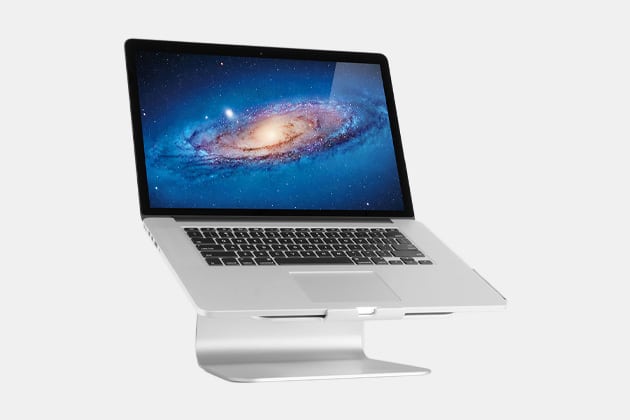 Rain Design mStand 360
A laptop stand on a lazy Susan might sound like a terrible idea until you try this swivel-base model that lets you rotate your stand to share your work with a neighboring desk or show a new cat video to anyone in the vicinity of your workstation.  Solid aluminum provides a stable base and acts as a heat sink to cool finicky laptops, the tilted design ergonomically improves the viewing angle, and a handy cable outlet makes for easy organization.  Anodized aluminum complements Macbooks, but the base works with many laptop models. – Shop Now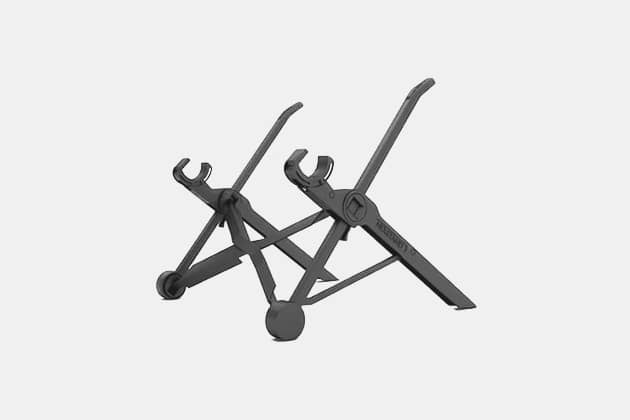 NextStand K2 Laptop Stand
Another foldable model that travels with you and your laptop, this one is hard to beat with just 8 ounces of carry weight, folded dimensions of approximately 1.5×1.5×14 inches, and an easy-action, pop-out design that literally unfolds in a single second.  A skid-free base ensures stability, while pivoting arc grips adjust to hold your laptop securely on the base.  Offers eight height adjustments to elevate your laptop 5.5" to 12.6" above the surface of your desk or table while angling it forward for ideal ergonomics.  Minimal contact with the laptop improves airflow to keep your laptop from overheating. – Shop Now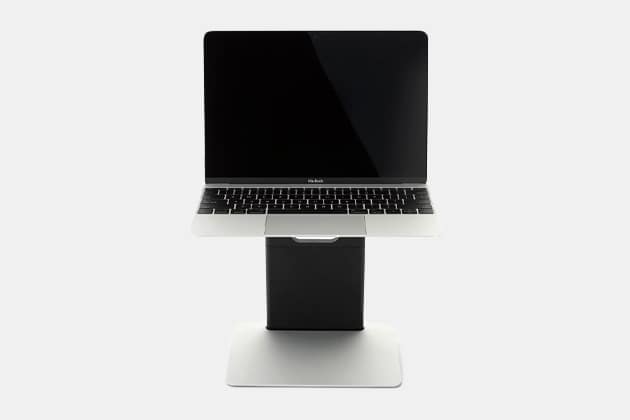 The Tiny Tower Laptop Stand
If you use your laptop in a lot of different locales, you're going to love the height adjustment opportunities offered by this laptop stand.  The simple design isn't super impressive at first glance – it's essentially two aluminum rectangles in anodized finish (the base and the laptop support surface) connected by an adjustable back piece.  What makes it unique is that you'll enjoy 17 levels of height adjustment with push-button functionality, allowing you to use it on everything from your standard desk, to the living room coffee table, to a tray table on an airplane.  It also stows flat for portability. – Shop Now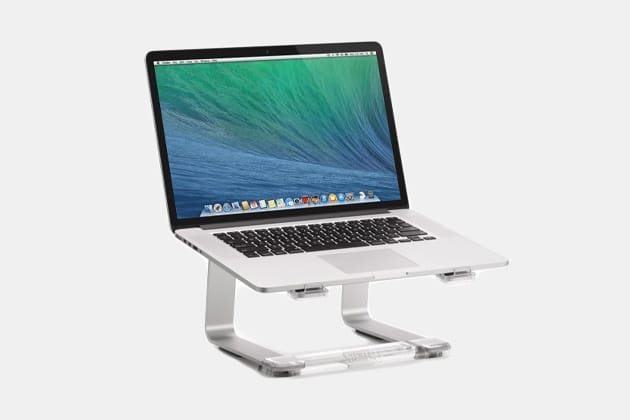 Griffin Elevator
It's hard to find anything to dislike about this simple design.  The aluminum frame is lightweight and sturdy.  The gripping surface on the upper arms holds your laptop secure at 5.5 inches above the table surface and a stop at the front of the base keeps your external keyboard from sliding.  Quick assembly and disassembly make for easy transport capability, and minimal contact with your laptop allows for 360-degree airflow for cooling.  It's simple, functional, attractive, and portable.  Adjustable, it is not, but otherwise, it's a very handy (and affordable) option. – Shop Now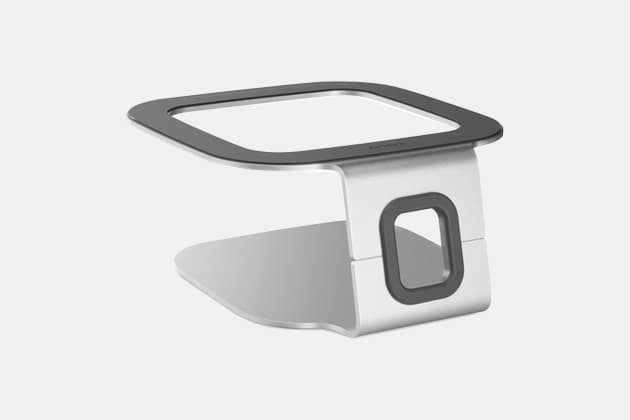 Belkin Loft for Macbook
This 3-piece design offers easy assembly – the top and base of the stand just click into a central ring at the back to created an elevated viewing angle for your laptop.  Rubber grip surfaces keep your laptop in place, an open design allows room for external components (keyboard, mouse) and airflow to keep your laptop cool, and the open ring at the back makes for easy cable management and optimal organization.  It's a simple design compatible with Macbook Air and Pro models, as well as laptops from a variety of other manufacturers. – Shop Now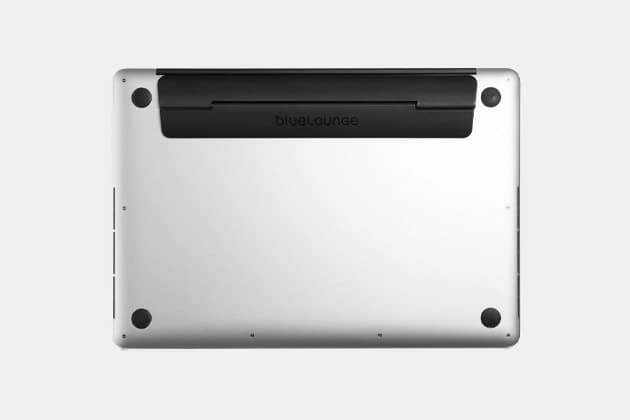 Blue Lounge Kick Flip
In my book, a kickflip is a skateboarding maneuver, but this little kicker is actually a handy device that attaches to the rear base of your laptop to kick it up a notch, so to speak.  Think of it like a sturdy pop socket to prop up your laptop.  It goes on flat, but the folding edge hinges at the middle and flips to create a backward facing V that elevates the rear of your laptop by over an inch, angling the keyboard for improved ergonomics. – Shop Now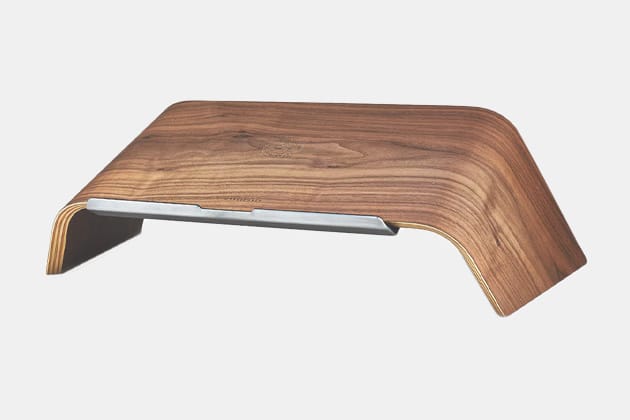 Grovemade Laptop Stand
Pairing traditional and modern elements can make for a very chic combo when done right.  While you might not immediately gravitate toward a wooden laptop stand, this angled lap desk in polished walnut is sure to catch your eye.  Simple and elegant, it's comprised of a single swath of walnut that creates an angled platform on which to place your laptop.  A vegetable-tanned leather lining on the flat surface and a precision-cut, stainless steel stop on the front lip keep your laptop securely in place during use. – Shop Now
Jubor Adjustable Laptop Stand
If you're interested in a laptop stand that delivers ergonomic appeal without adding a lot of height, this is the angled model you're seeking.  Two flat, folded arms hinge at the front to angle your entire laptop forward, creating a more ergonomic viewing and typing arrangement.  The stand weights just 9.5 ounces and folds to 11.4 inches in length for easy stowing and transport, but it still supports up to 30 pounds when open.  Features 4-point, non-skid pads to hold your laptop securely in place, adjusts from 26-30 degrees for optimal ergonomics, and improves airflow to prevent overheating. – Shop Now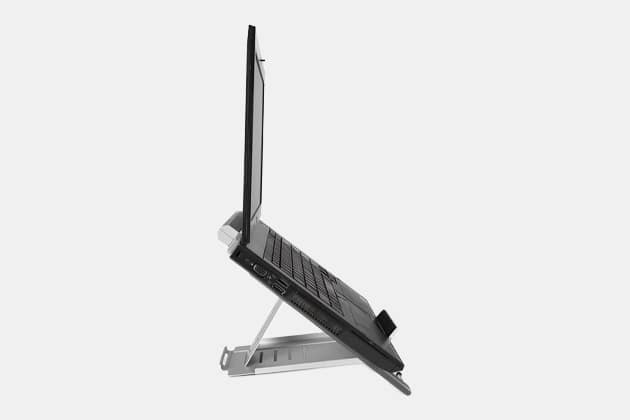 Goldtouch Go! Travel Laptop Stand
When you first open this laptop stand, you might think it looks more like a stand for your cookbook, but in fact, it's meant to elevate your monitor by standing your keyboard almost upright (although it offers six incline positions).  Naturally, this will make it difficult to use your keyboard, which is why it works best when paired with an external keyboard.  Still, this is an ideal solution for travel because the stand folds flat so you can slip it right into your messenger bag or backpack along with your laptop. – Shop Now